Explore a sea of flavor with dynamic and delicious snacks perfect for celebrating Shark Week.
Shark Week is a thrilling time for ocean enthusiasts and casual viewers alike, and what better way to enhance the experience than with themed snacks? From shark-inspired cupcakes to ocean blue popcorn, this article offers a deep dive into creative and mouth-watering snack ideas that are sure to make your Shark Week viewing party a hit.
Stay tuned for a variety of quick, easy, and fun recipes that will not only satisfy your taste buds but also capture the excitement of this annual television event. So, get ready to sink your teeth into these sharktastic snack ideas!
Shark Fin Popcorn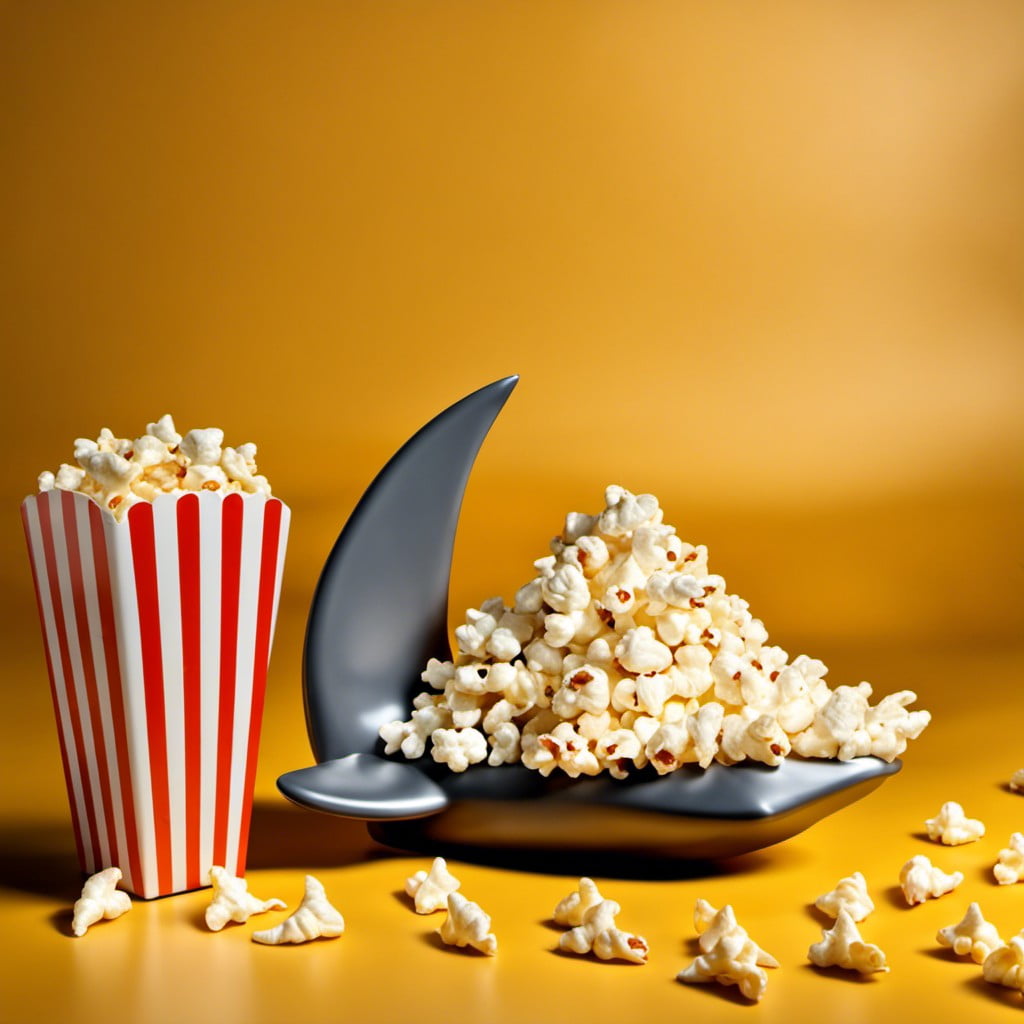 Crafting this snack involves minimal ingredients and limited prep time. Begin by preparing your popcorn using your preferred method – air popped, microwave, or stovetop. The emphasis here is on the presentation.
Once the popcorn is ready, sprinkle a light dusting of blue sugar crystals over the top. These represent our 'ocean vibes' and add just a whisper of sweetness.
The pièce de résistance, however, is adding gummy shark fins. Remember to do this while the popcorn is still warm to secure the fins properly. It truly makes for a delectable and visually enthralling Shark Week snack, perfect for the whole family.
Blue Gummy Shark Candy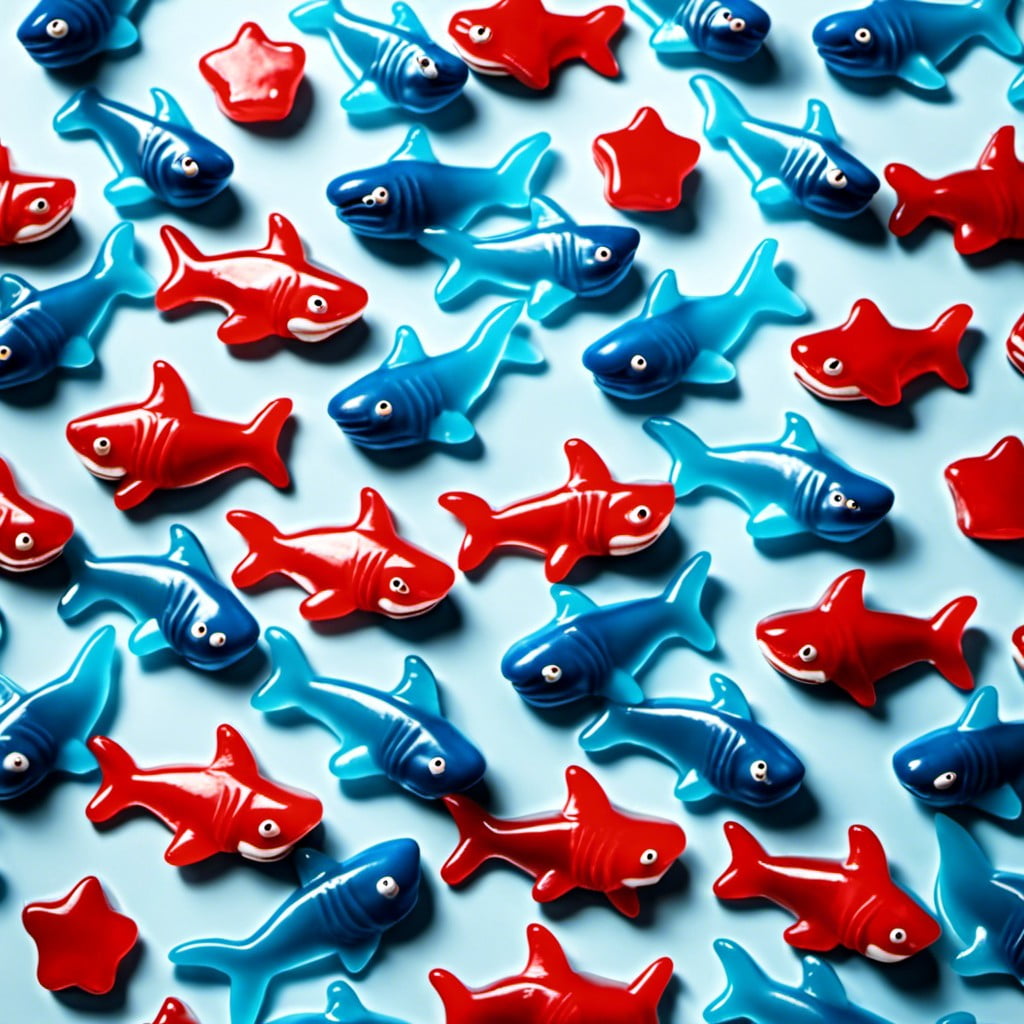 These radiant sea creatures provide a novelty and vibrancy that can truly elevate your snack table. Available in most candy stores or online, these blue gummy treats are not only reminiscent of our oceanic friends, but they are also downright delectable.
The combination of the sweet blue raspberry flavor and a hint of cream creates a juxtaposition of bold flavors and soft textures, making it a popular choice for both children and adults alike.
For a more personalized touch, they can also be prepared at home using a shark mold, blue gelatin, and some creativity. It's not only about the eating experience, but also the joy of preparing them. Remember, the visual appeal is half the fun, and with their sharp teeth and fin details, these gummies can add a dash of humor and intrigue to the table. Furthermore, using them as cake or cupcake toppers can enhance the aesthetics of your other shark week desserts as well.
In terms of nutritional moderation, these candies are low in fat but do contain sugar. Therefore, ensure they are enjoyed in balance with other healthier options. Whether you're entertaining guests or planning a quiet family evening, enjoying shark week can be a memorable experience with these exciting treats.
Shark Bite Cupcakes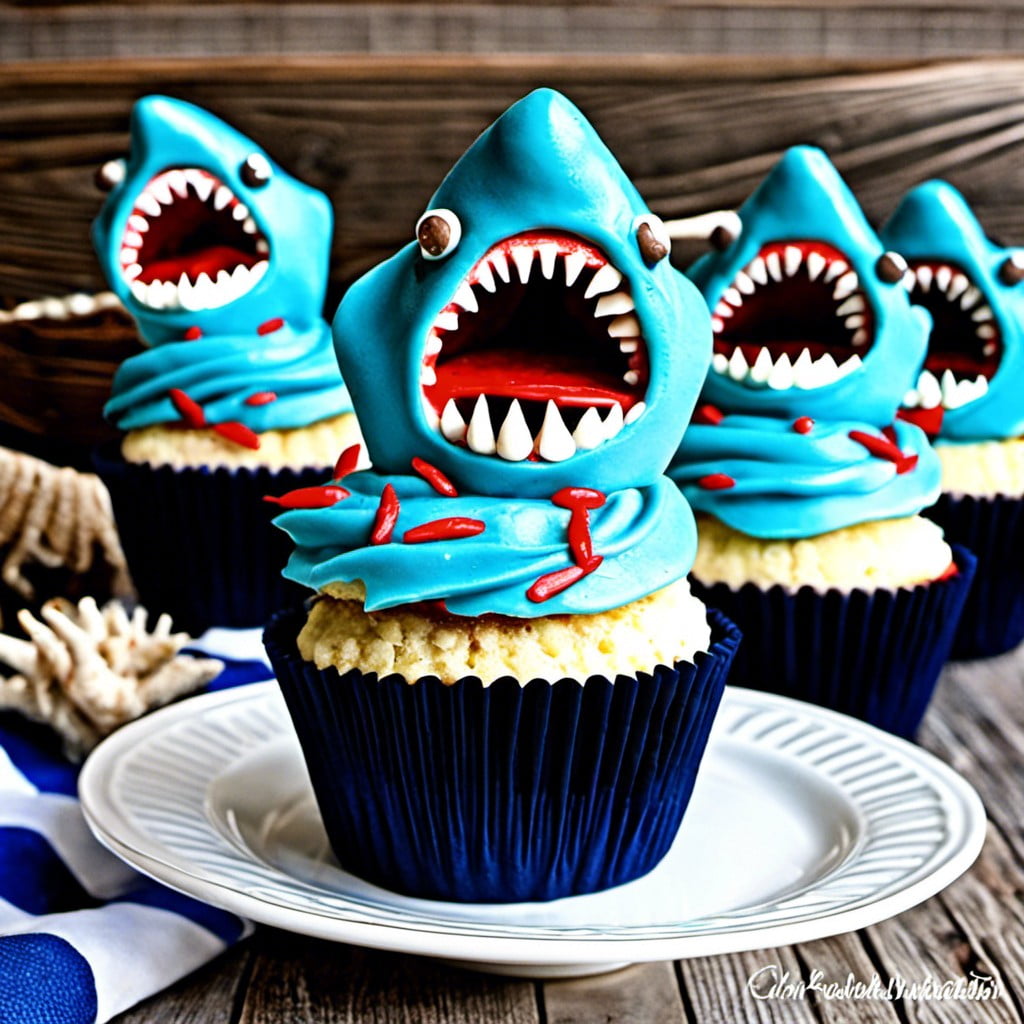 A guaranteed crowd-pleaser, these cupcakes pull double duty by satisfying your sweet tooth while fitting into the shark week theme. Start with any flavor of cupcake as the base. It could be a homemade recipe or store-bought, customized with blue frosting to replicate the look of the ocean.
Next comes the fun part – carving out a small portion at the top center of the frosting to create an impression of a shark bite. You can add a little bit of red frosting or strawberry jam to mimic blood for a touch of drama.
But don't stop there! Add a hint of attention to details by placing a shark fin-shaped sugar cookie or fondant piece right on the frosting. It's the finishing touch to bring your shark week theme to life.
And voila! You've your very own shark bite cupcakes, ready to make any shark week celebration a hit. Chewy, moist, and fun, they're more than just a treat, they're part of the festivities! Just remember to snap a picture before they're all gobbled up—you'll want to remember how good they looked.
Ocean Jello Cups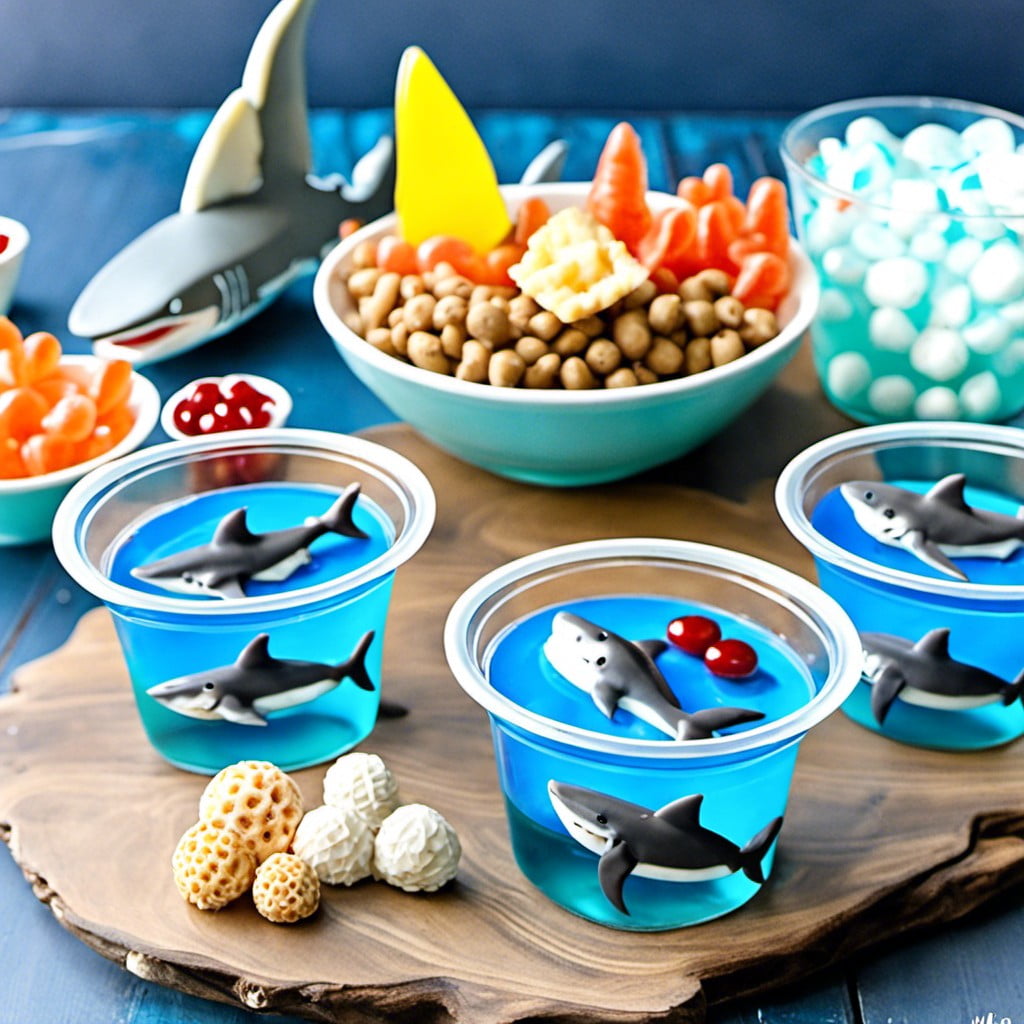 Diving into the details, this vibrant and aesthetically appealing recipe consists of blue jello, portraying the sparkling ocean and candy fish to emulate aquatic life. Variations can include colored candy pearls and gummy seaweed for an extra touch.
The preparation involves making the jello as per instructions, but remember to cool slightly before adding candy fish. For a layered oceanic effect, partially set one layer before adding the next. Chill until thoroughly set.
Served in transparent cups, these are not just a tasty treat, but also add to the overall visual effect of your Shark Week spread. Plus, they're a big hit with children. Enjoy the combination of the fruity, sweet flavor of jello with delightful gummy candies within.
Shark Shaped Cookies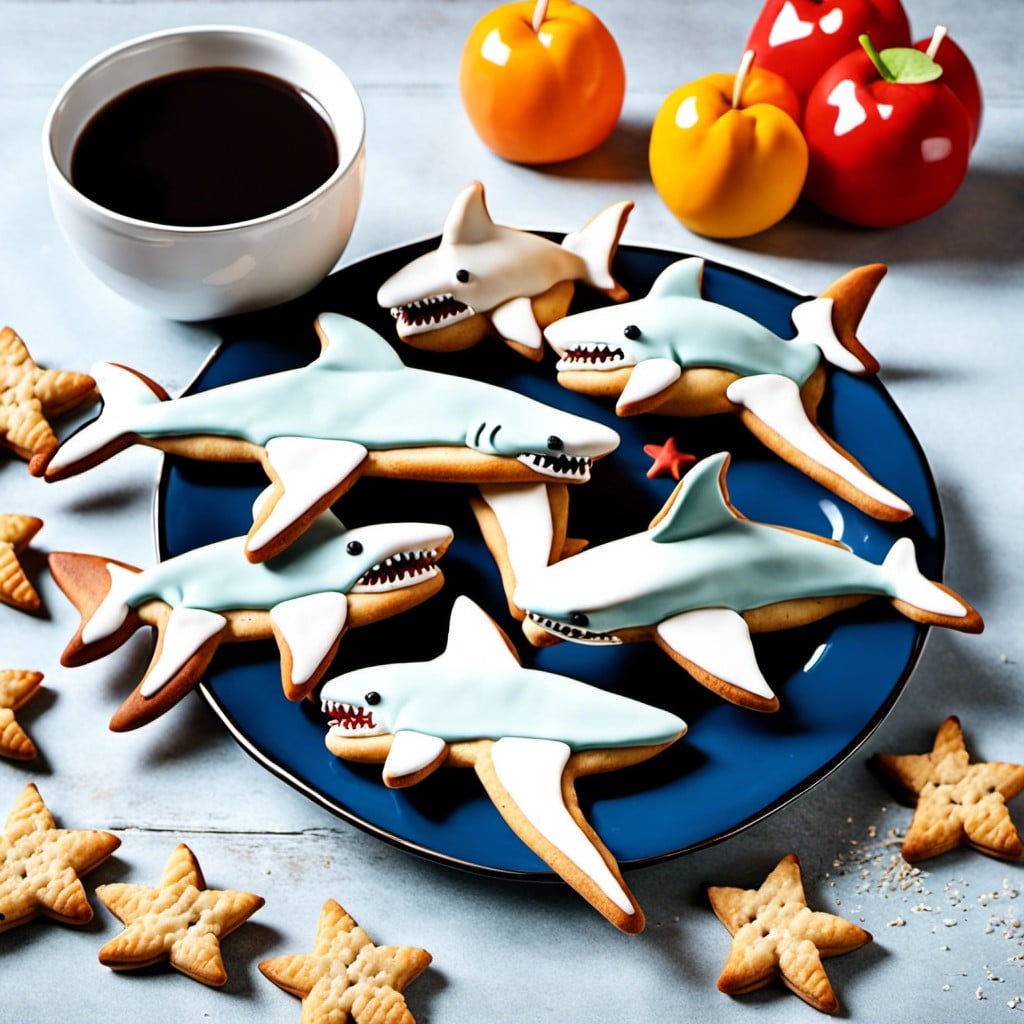 For a fun spin on a classic dessert, consider incorporating a dangerously delightful twist. A batch of homemade cookies can be easily transformed into toothsome shark shapes with the help of a simple shark cookie cutter. Opt for a standard sugar cookie or chocolate chip dough, or if you're feeling particularly oceanic, a blue-tinted vanilla cookie could add a splash of colour to your snack spread.
Baking these treats is an activity that both kids and adults will enjoy, bringing a sense of creativity and excitement to your Shark Week celebrations. The final touch, icing, can be used to add eyes, fins, and a toothy grin to these toothy-treats.
Remember to involve everyone in the decorating process, it's a fun activity that brings out the creativity in all ages. For an added learning opportunity, discuss different types of sharks and try to design each cookie to resemble a different species. Not only will you be stirring up delicious treats, but also fun facts about the deep blue sea.
Shark Attack Popcorn Mix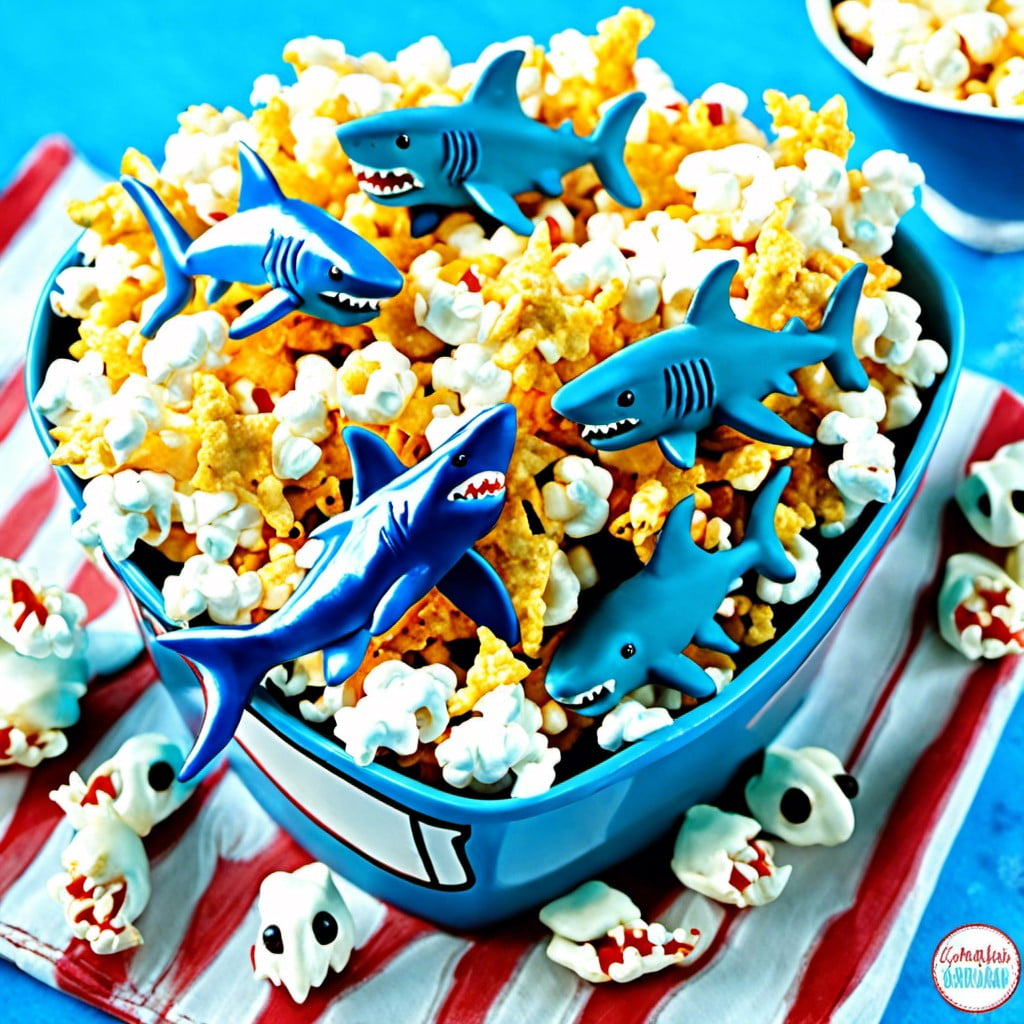 For a snacking experience that's every bit as suspense-filled as a shark documentary, this popcorn mix is a must-try. Begin with your favorite popcorn brand. Once it's popped, take a moment to toss it in melted white chocolate. This gives it the salty-sweet duality that popcorn lovers can't resist.
While the chocolate is still warm, sprinkle in some gummy sharks. The red or blue gummies contrast against the white chocolate and give the popcorn an "aquatic" feeling. Don't forget to add sea salt or seaweed seasoning for extra oomph. These provide just enough sea flavor to keep your taste buds guessing. With the final addition of edible glitter or silver sugar pearls, the theme comes full circle, representing the sparkle of the ocean under the sun.
Once you've mixed everything together, let it cool. The result? A dive-worthy snack that's crunchy, sweet, a bit salty, with a hint of the sea — a flavorsome companion during your shark week watch party.
Quick tip: Pay close attention to portion size, as this treat is incredibly moreish!
Underwater Fruit Salad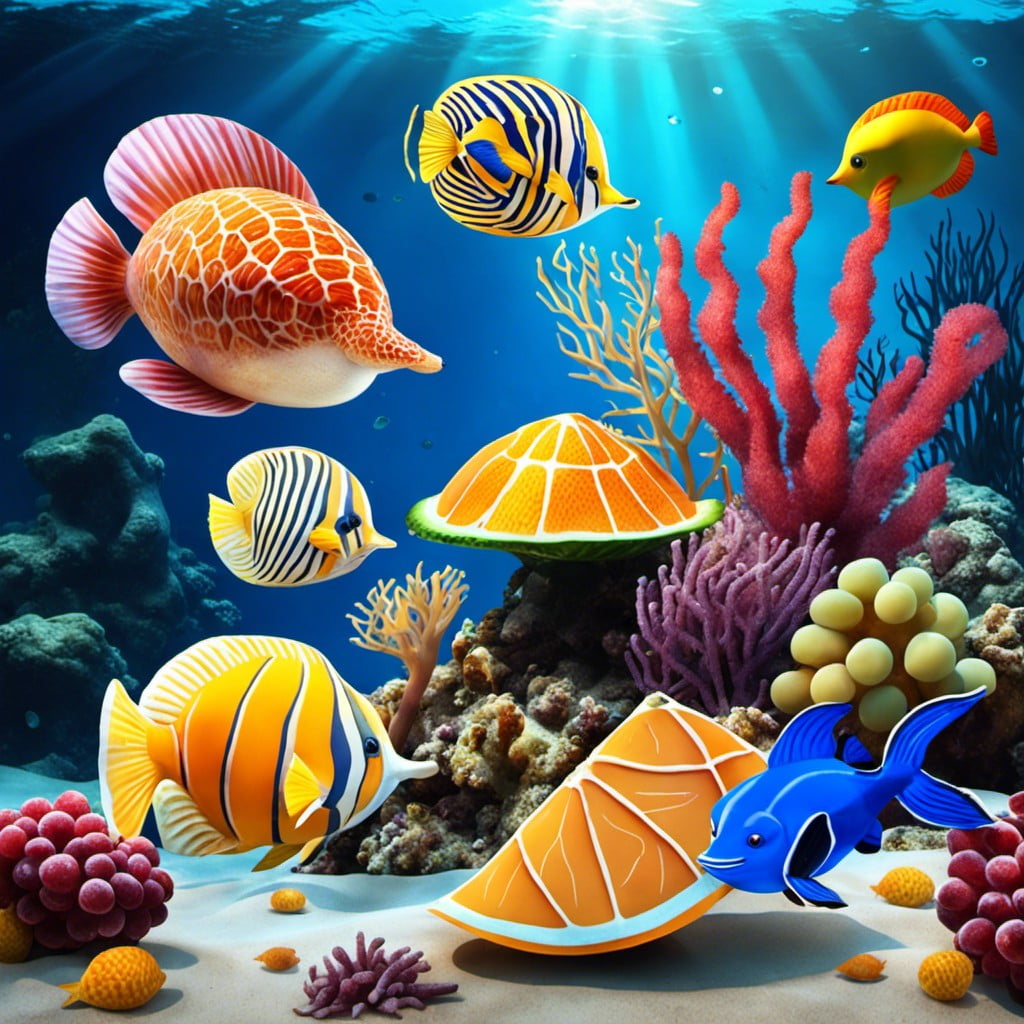 Dive into this healthful yet fun portion! A mix of cool, tropical fruits like pineapple, kiwi, and blueberries can mimic the varied life found beneath the sea depth. Play up the theme by using watermelon and cantaloupe baller to create pearl-like fruit balls and add grapes to imitate seaweed. For an extra twist, add a dollop of blue tinted whipped cream or yogurt on top to represent foamy sea waves. To serve, consider clear cups or bowls to display the beautiful colors of your underwater creation. A perfect treat to keep the excitement high while ensuring a boost in vitamins!
Shark Teeth Cheddar Bites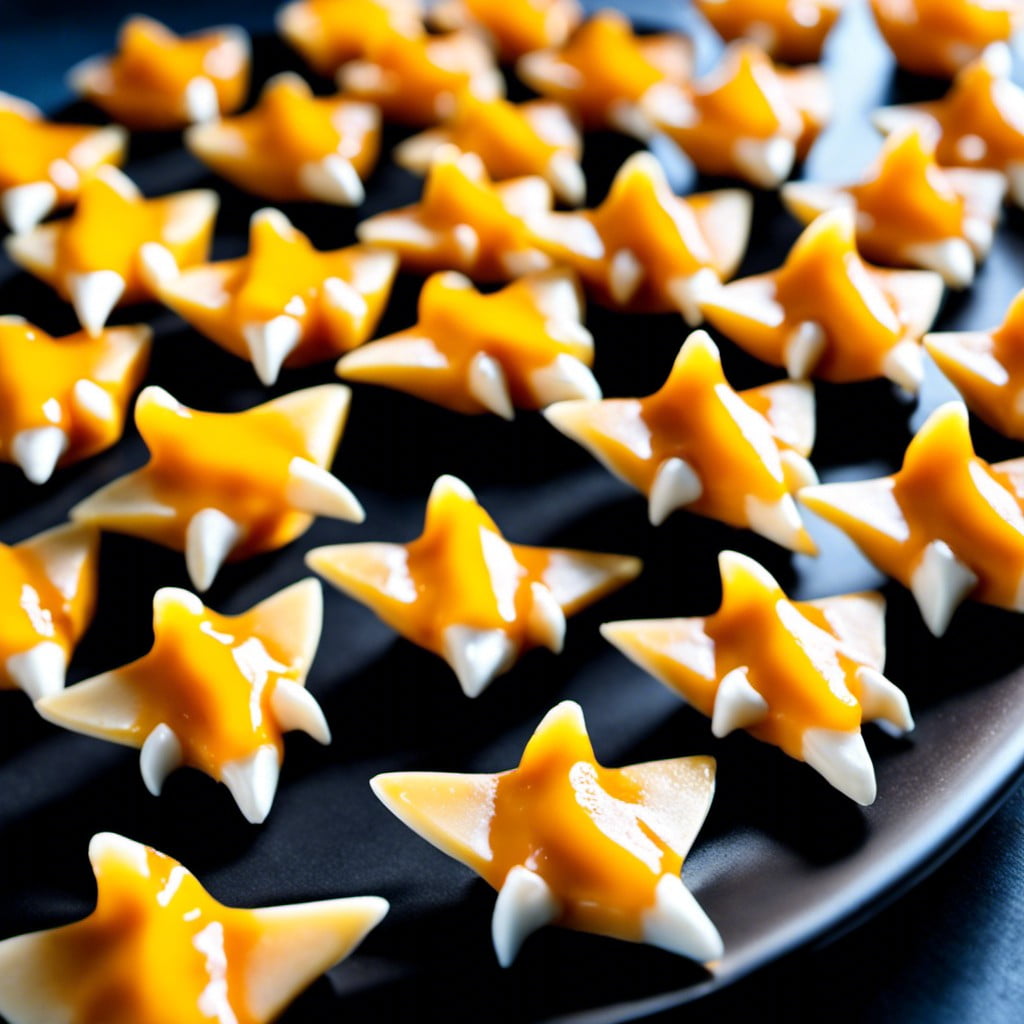 Shark Teeth Cheddar Bites are delightful cheese-filled snacks, easy to make and a hit with kids. Begin by cutting cheddar cheese into small triangle shapes that resemble shark teeth. Ensure these are bite-sized for ease of eating.
A simple recipe, yet visually impactful and perfect for a shark-themed snack spread. Adding a playful dash of edible seaweed or green veggies around could mimic the ocean flora, suggesting a playful, underwater adventure.
These savoury bites, packed with calcium and protein, offer a versatile snack option for guests with different diet preferences. They can be paired with a variety of dips like salsa or guacamole as the firm, full-bodied cheddar holds up well against strong flavors.
Remember, presentation is key here. Arrange them in a way that is reminiscent of a shark's open mouth, accentuating the theme and making your snack spread more visually appealing. The Shark Teeth Cheddar Bites are sure to delight taste buds while keeping with the theme of the night.
Ocean Water Punch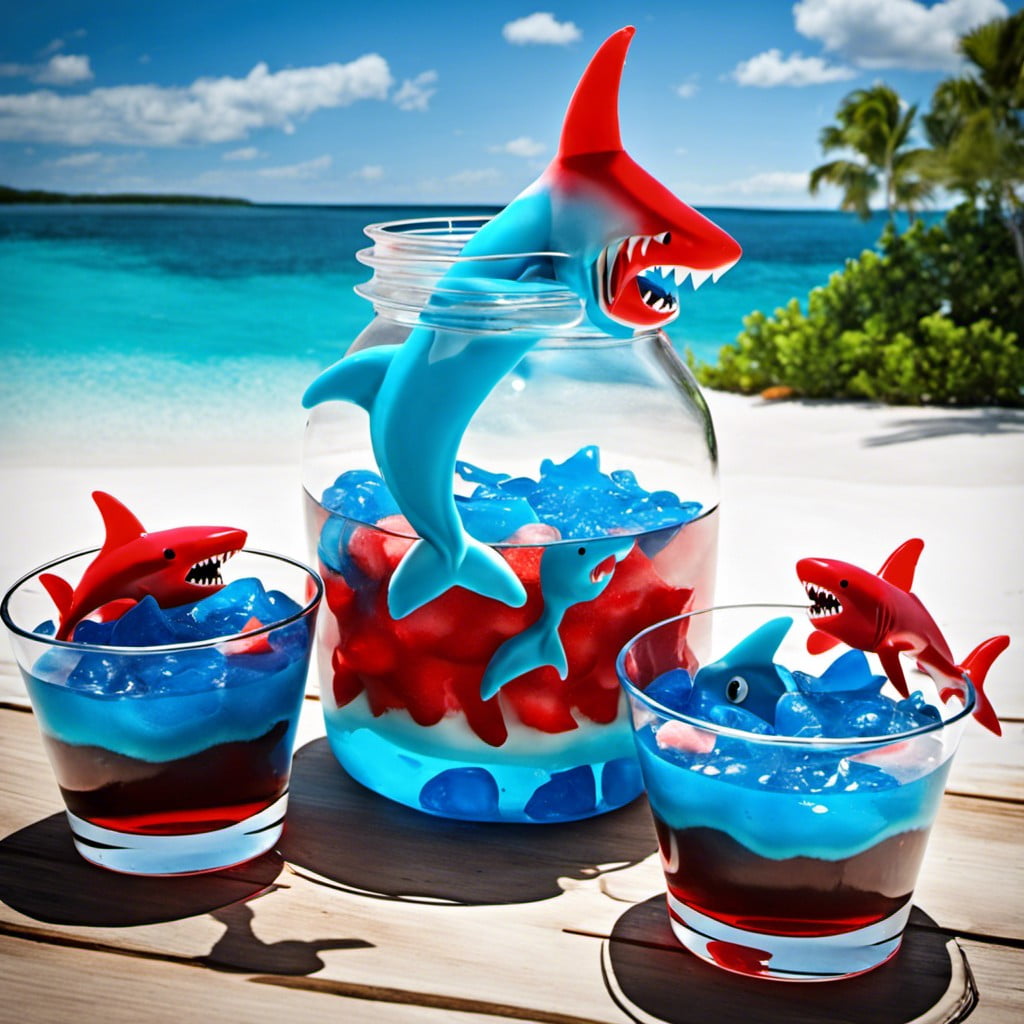 This refreshing beverage brings the cool effects of the ocean into your living room. The magic lies in the ingenious blend of two simple ingredients – lemon-lime soda and blue food coloring. The soda lends a tinge of sweetness, while the coloring gives it the captivating blue of the deep seas.
It's a hit among both children and adults, and its fizzy bubbles mimic the ocean's froth, offering a timely refresher as you dive further into an exhilarating shark-filled adventure.
While savoring this drink, you'll feel one with the sea, bringing an extra dollop of excitement to your Shark Week viewing. Serve it on rocks or chilled, and consider adding a fun straw or an umbrella for that festive touch. Plus, it's simple to make – you'll have your Ocean Water Punch ready in no time.
Shark Infested Blue Jello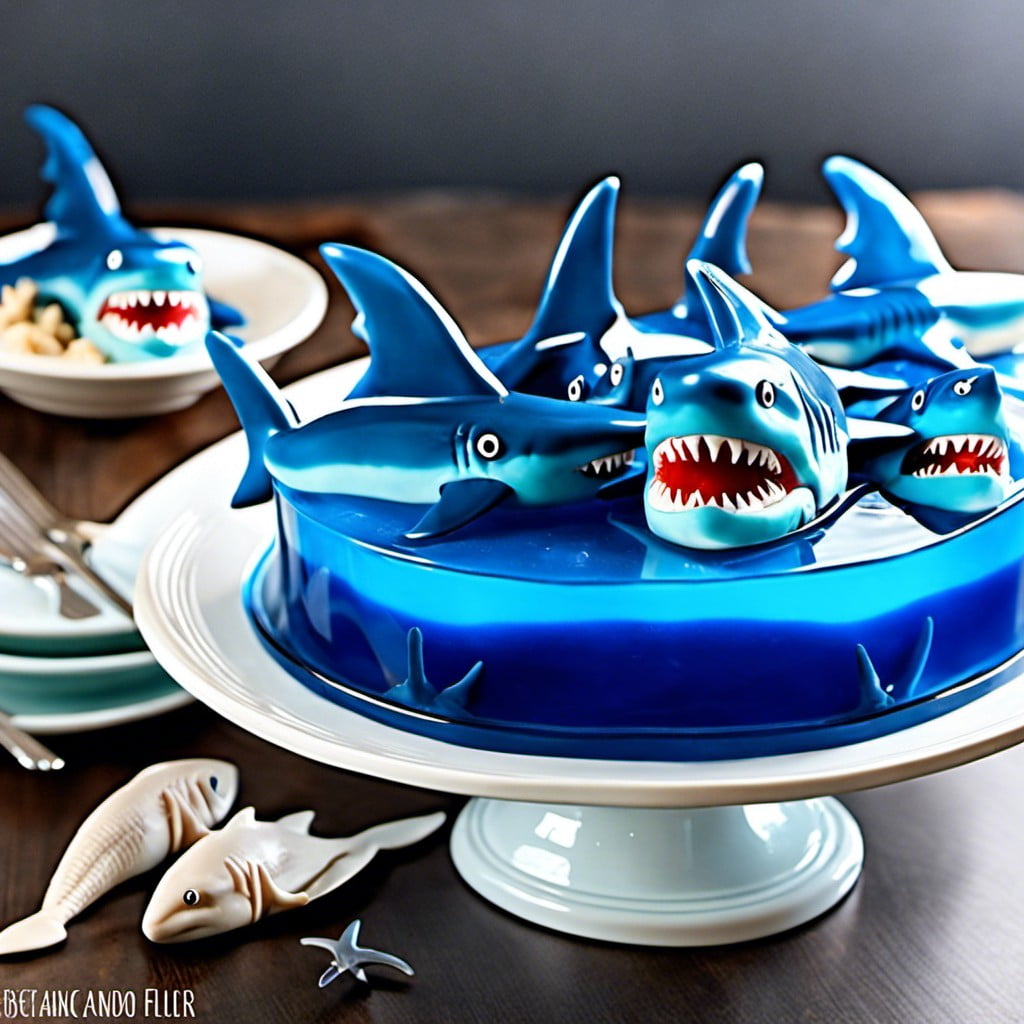 Delightfully resembling a tiny shark-infested ocean, this snack simply nails the theme! Clear blue jello serves as your 'water', with toothsome gummy sharks ready to swim around. A tried-and-true recipe, favored for its simplicity and visualization!
Step 1: Follow the instructions on your favorite blue jello mix – berry blue tends to be the crowd-pleaser! Let it cool for a few minutes after heating.
Step 2: Distribute the gummy sharks evenly in individual serving glasses. Pour in the slightly cooled jello mixture, ensuring the sharks float with some completely submerged for a realistic touch!
Step 3: Pop these into the fridge to set. When fully firm, they'll be ready to serve up some shark-infested fun!
Pro Tip: Adding a dollop of whipped cream on top can denote foamy 'sea spume' adding to the aquatic illusion!
Remember to keep a firm hand with your sharks – too many and they might become an unappetizing jumbled mass instead of playful sea predators.
Sand Dollar Cookies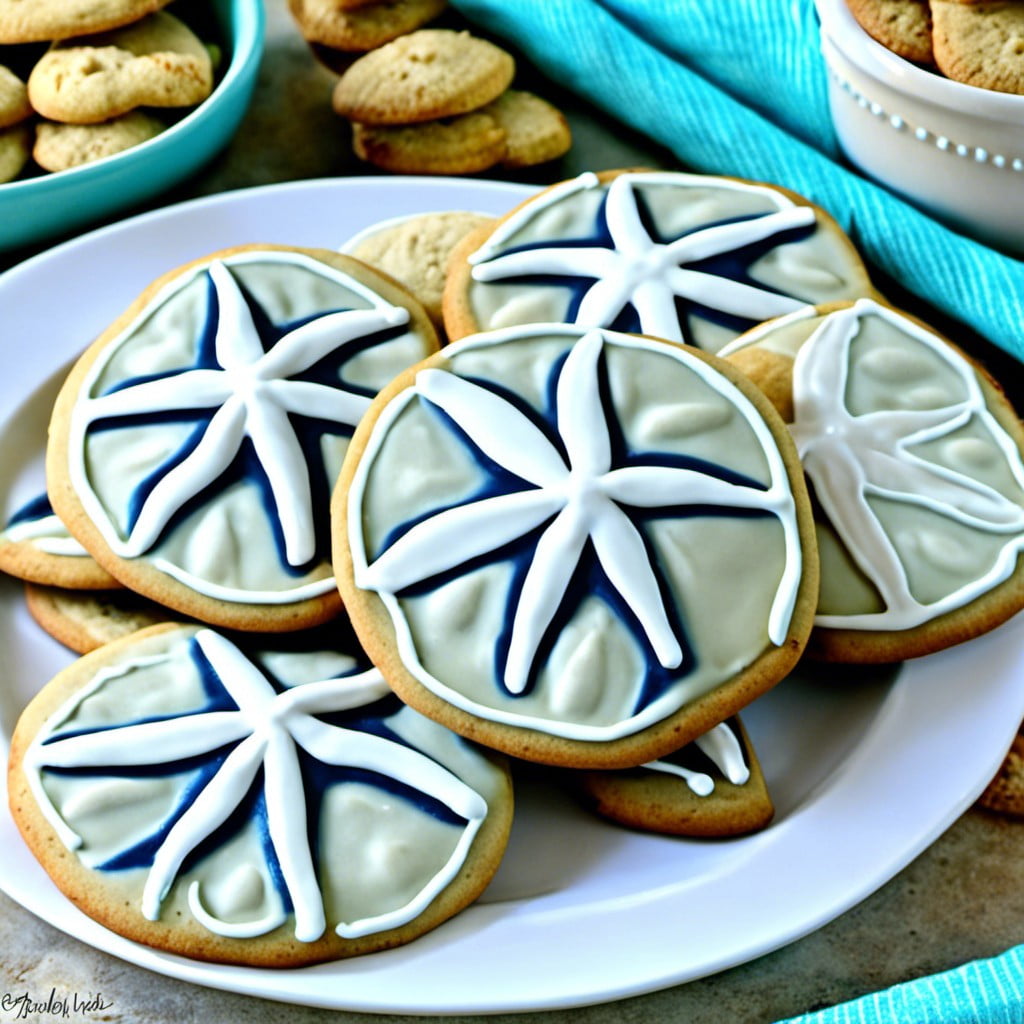 Crafting these delightful treats is as simple as making basic sugar cookies and using clever decoration techniques. With a round cutter and skillful use of almonds, you can replicate the unique pattern of a sand dollar.
First, prepare your favorite sugar cookie dough, roll it out and cut small round shapes. Then, press five almond slices lightly into each cookie, arranged like the natural star pattern on a sand dollar. Bake as per your recipe's instructions and ensure the cookies are completely cool before further decoration.
To achieve the sandy appearance of a real sand dollar, dust the tops of the cooled cookies with a mixture of powdered sugar and cinnamon. The final product adds not only a visually appealing treat to your snack spread but also a fun nod to the thematic oceanic flair.
In terms of taste, sand dollar cookies offer the sweetness of an ordinary sugar cookie, complemented by the subtle crunch and nutty flavor of almonds, making them a delightful companion to a cup of coffee or a cold glass of milk while diving into shark week programming.
Remember, these cookies can be made in advance and stored in airtight containers, reaffirming their practicality for your shark week snack preparation.
Submarine Sandwiches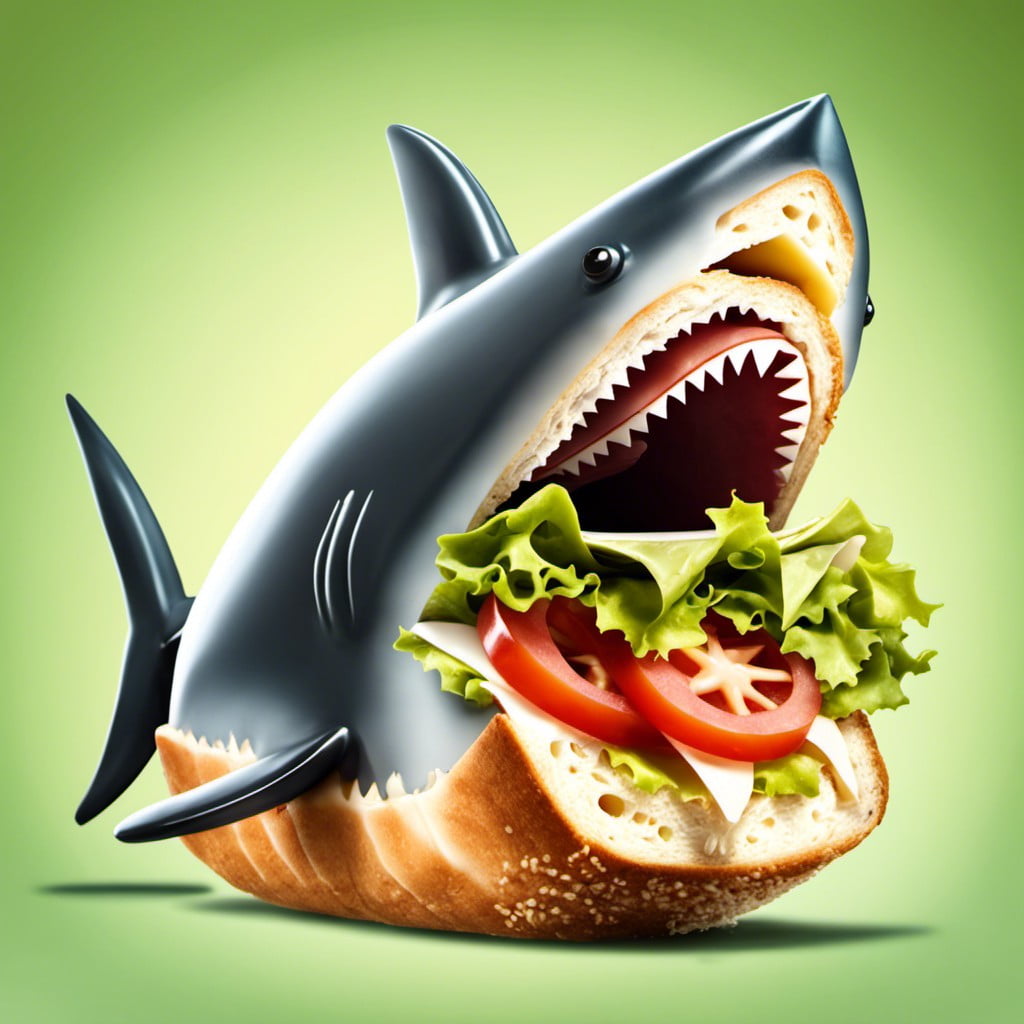 Built to emulate the magnificent creatures of the deep sea, these sandwiches are straightforward and versatile. Choose multi-grain, white or whole wheat bread as the base. Then, select from an array of fillings, such as turkey, ham, roast beef, or a vegetarian option like avocado and sprouts.
Condiments like mayonnaise, mustard or relish can add extra flavor. Don't forget the crunch – lettuce, tomato, cucumber, and pickles are great choices. Lastly, use a large cookie cutter or a sharp knife to shape the sandwich into a submarine. Up the fun quotient by making these sandwiches with the children in your life and take the opportunity to teach them about the different types of submarines and their uses.
Quick to prepare and easy to eat, these fun-sized delights are a must-try.
Sea Salt Pretzels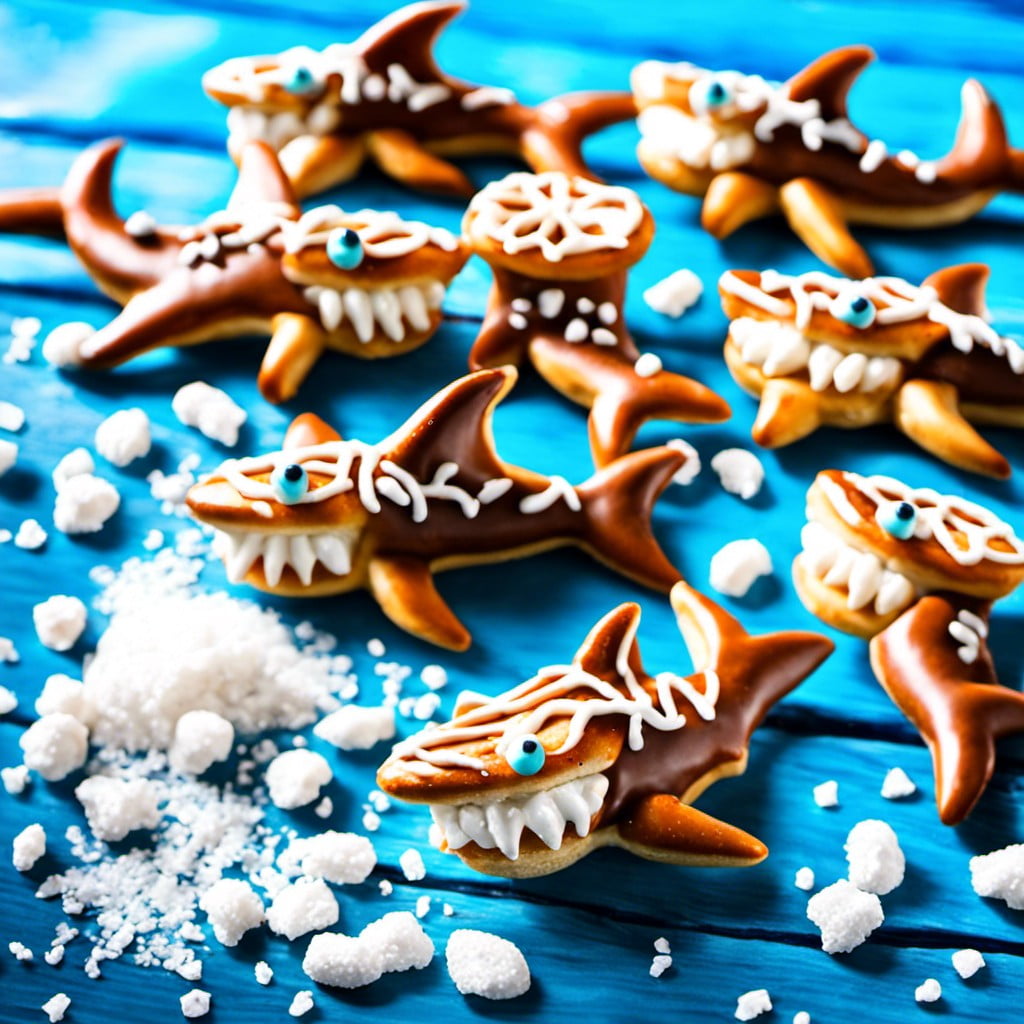 Designed to echo the air of the ocean, these pretzels are twists of mouth-watering joy. With two main ingredients – soft pretzels and sea salt – your snack is not only quick to prepare but also a favourite among many.
To start, simply acquire your soft pretzels from the local baker or supermarket. The varying shapes make it visually appealing, lending to the 'shark week' theme.
The sea salt acts as a flavourful addition. Sprinkling a moderate amount over the warm pretzels allows the salt to adhere to the surface, delivering a delightful crunch with each bite. The taste is reminiscent of sea air, connecting your tastebuds to the ocean theme.
Dipping sauces such as creamy cheese or tangy mustard can add an excitement factor, inviting a broad range of palates. However, the pretzels certainly hold their own without adornment.
Remember, enjoy the preparation process and let the sea salt pretzels transport you to a coastal experience right in the middle of shark week.
Shark Colored Ice Pops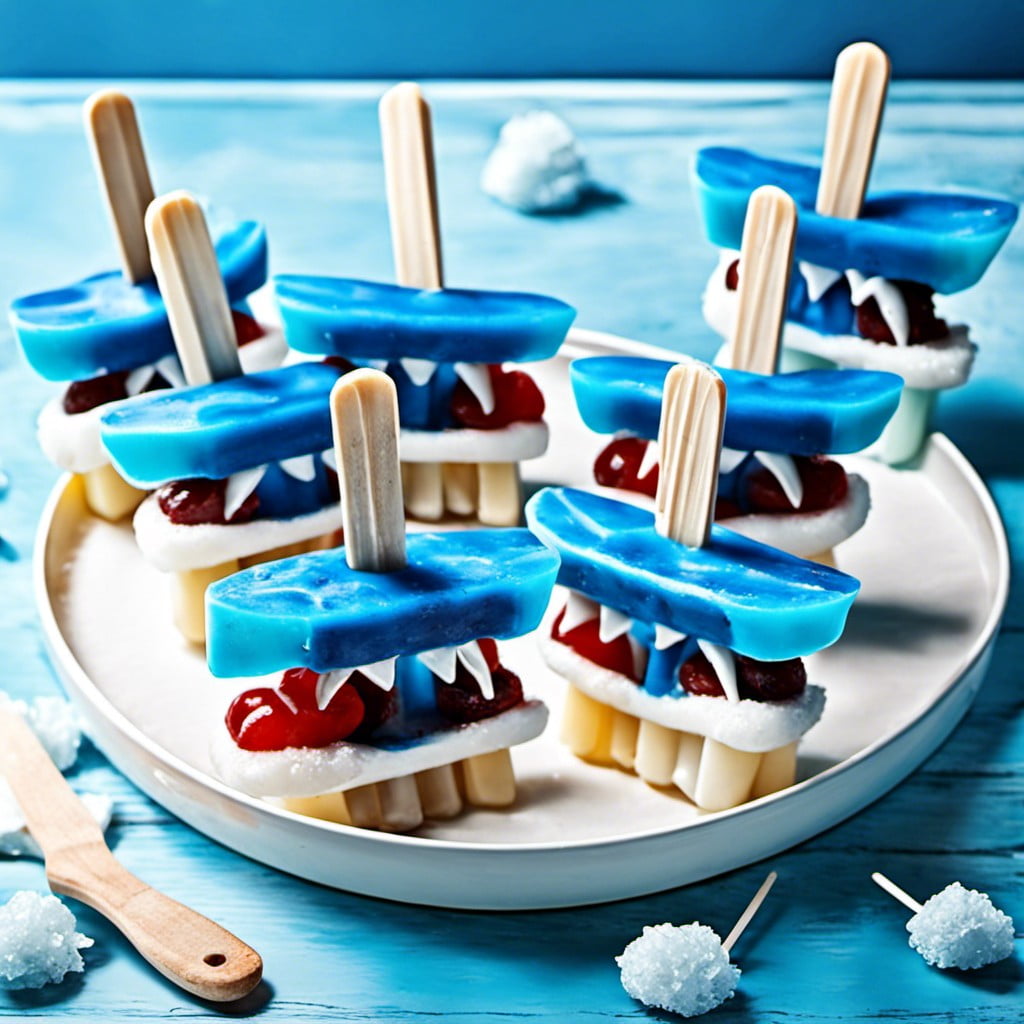 Crafting these frosty treats is a breeze with molds and a blend of fruit juices or water and food coloring. Assemble a selection of vibrant blue shades to replicate the various hues of shark skin. For a fun twist, consider integrating gummy sharks into the ice pops before freezing.
Key Points:
Selection of Molds: Use shark-shaped molds for a fitting tribute to the mighty ocean predator. If these are hard to find, any water creature mold will suffice.
Choice of Liquid: Fruit juices, such as blueberry or blue raspberry, can provide natural coloring and flavor. Alternatively, blend water with blue food coloring.
Gummy Shark Add-in: Insert these tasty candies before freezing the popsicles for a fun surprise. This works best in clear or translucent liquids, enabling the gummies to be visible.
Freezing Time: Remember, timing is crucial. Hold off on adding the sticks until the ice pops are semi-frozen to maintain their vertical position.
Plan ahead and give your ice pops enough time to solidify completely before serving, for a rejuvenating, shark-themed indulgence, perfect to beat the summer heat during Shark Week.
Seaweed Dip With Raw Veggies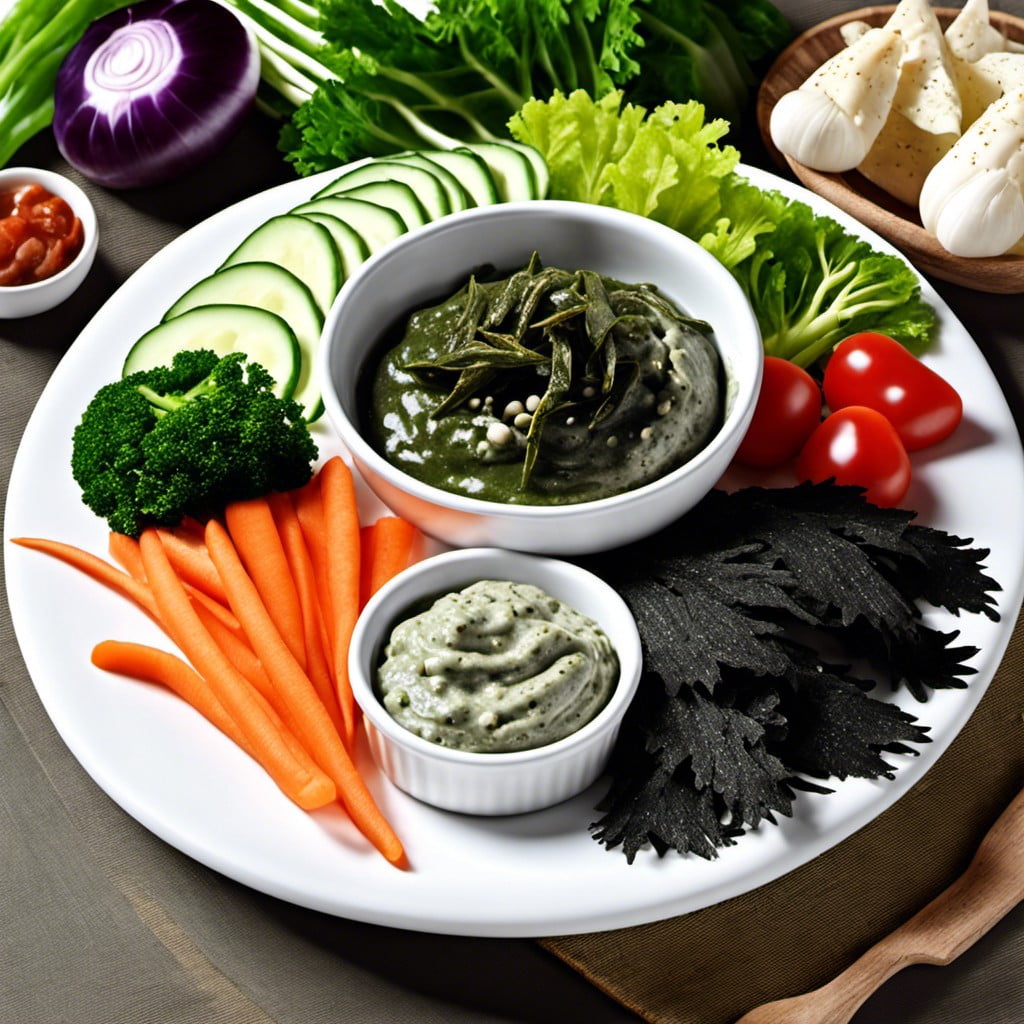 A delectable choice, this dip gets its distinct flavor from dried seaweed, also known as nori. Ideally, nori should be folded into your favorite creamy dip base, such as hummus, yogurt or cream cheese – providing an exquisite taste profile reminiscent of the sea.
For the vegetables, opt for crisp and light choices like cucumber, bell peppers, and cherry tomatoes. These veggies are full of nutrients and take on the flavor of the seaweed dip beautifully. Their crisp bite also contrasts nicely with the creaminess of the dip, creating a pleasing texture.
Although this snack is great for Shark Week, the health benefits make it ideal for anytime snacking. Seaweed is low in calories, high in nutrients like Vitamin K, iodine, fiber, and it's a great source of omega-3 fats. The raw veggies also contribute to your 5-a-day, making this snack a guilt-free choice.
Saltwater Taffy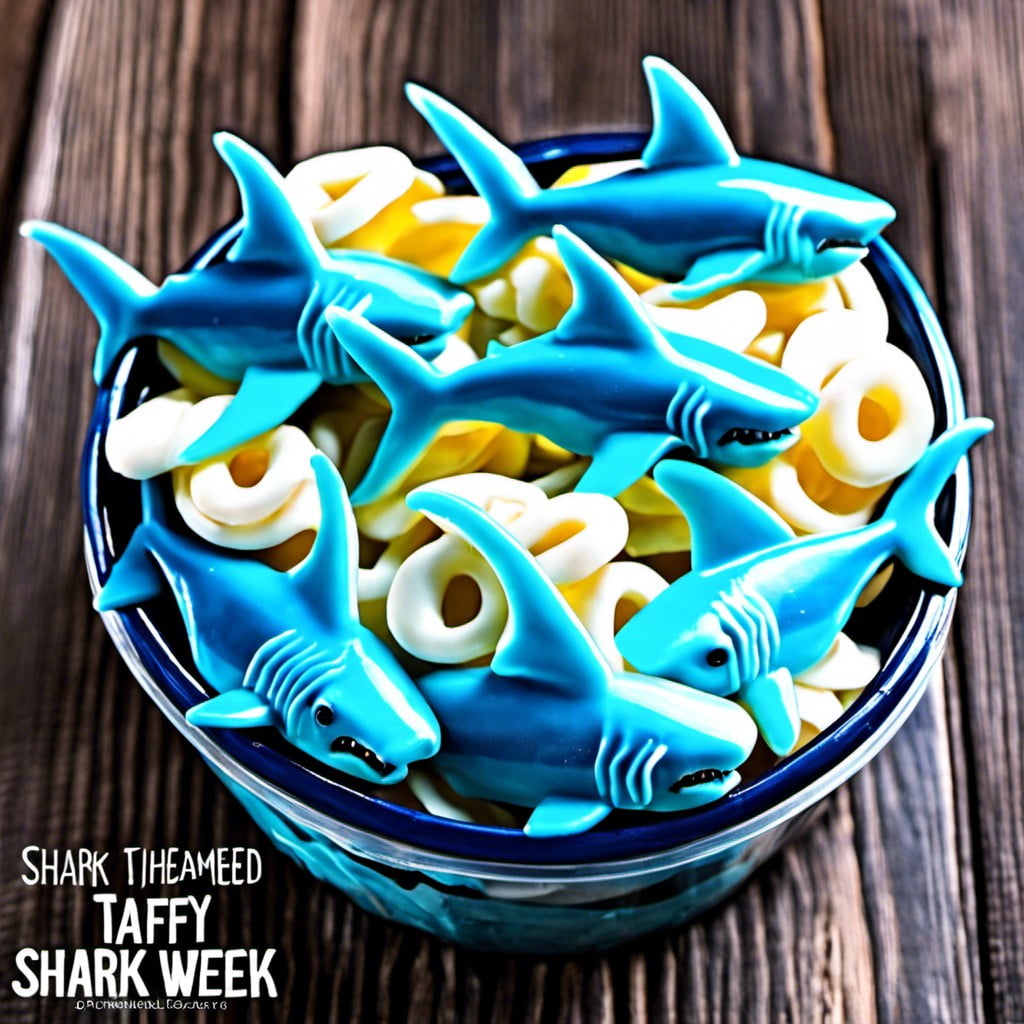 Saltwater Taffy, a classic seaside treat, offers a playful addition to your Shark Week snack spread. It's known for its distinctive chewy texture and multitude of flavors, from classic vanilla and strawberry, all the way to more experimental options such as watermelon, banana, and even chocolate.
Its name, contrary to popular belief, doesn't derive from any saltwater content, but rather a nod to its origin in Atlantic City, a famous coastal town. You might find shark-themed assortments with blue and white taffy, mimicking ocean waves and shark's fin. This choice adds both a delicious, sweet chew and a fun pop of color to your snack table.
Don't worry about overindulgence – despite its sugary appeal, taffy is a small, individual treat that lends itself to portion control. Marinade in nostalgia as you unwind each piece, savor its flavor, and get ready for the next thrilling shark encounter.
Blue Corn Tortilla Chips With Salsa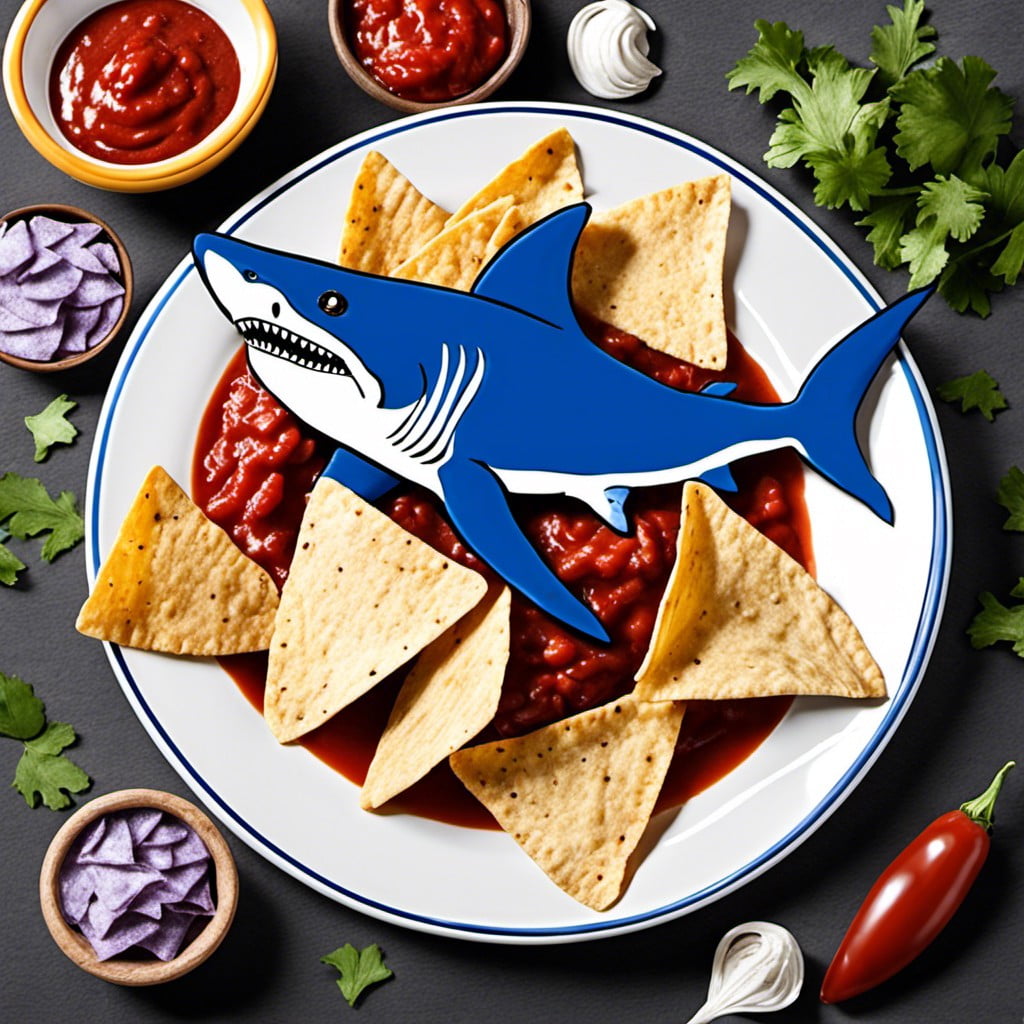 Dipping into a bowl of salsa with Blue Corn Tortilla chips is like taking a plunge into the deep blue ocean. The chips, easily found in most supermarkets, have a vibrant blue hue reminiscent of the sea, tying them into our shark week theme.
1. Recipe Selection: Choose a salsa recipe that suits your preference – it could be traditional tomato, fruity mango-peach, or a tangy tomatillo salsa for a distinctly oceanic green color.
2. Presentation: Arrange the chips like the perimeter of a shark's open mouth with the salsa bowl representing the throat – a great way to stick with our shark week theme.
3. Health Benefits: Besides being visually appealing, blue corn has a higher protein content and less starch compared to white corn. Pair this with a fresh, homemade salsa for a snack that's not only thematic but healthy too.
4. Variation: For extra flavor, consider a smoky chipotle salsa or a sweet pineapple version. You can even offer two or more options to cater to different tastes.
5. DIY Option: Make your own chips by buying blue corn tortillas, cutting them into triangles, and baking until crisp. For a more authentic flavor, lightly sprinkle sea salt over them.
Coral Reef Rice Krispies Treats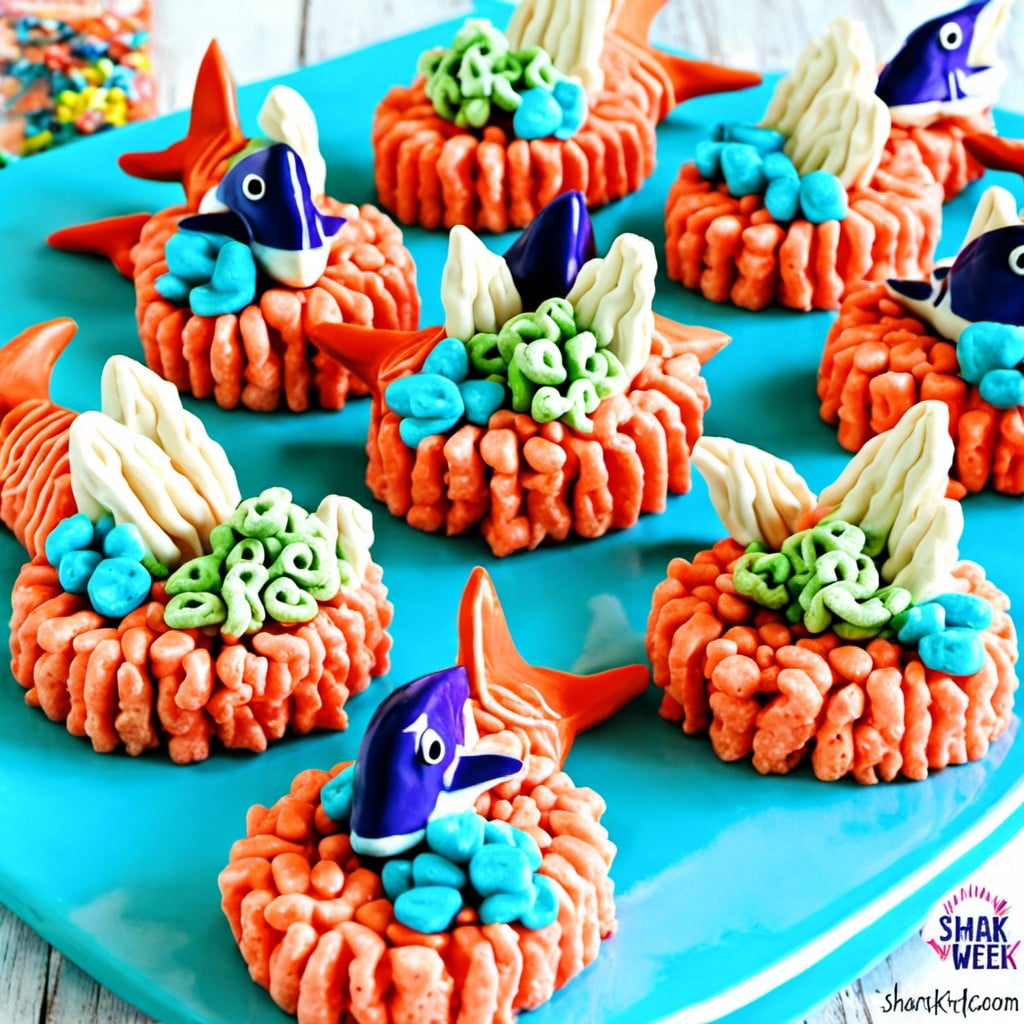 Indulge in the sensation of exploring the briny depths with these aquatic-themed sweet treats. The essence of these delightful goodies lies in their colourful and mesmerising resemblance to a coral reef, truly making your snack an underwater adventure.
1. Melt marshmallows and butter in a large saucepan, a process well-known to any Rice Krispies Treats connoisseur.
2. Once melted, fold in Rice Krispies cereal, stirring until each piece is coated in the sweet, sticky mixture.
3. Next, be prepared to dive deep. Sprinkle your choice of edible ocean-themed sprinkles and candies into the mixture. Think vibrant hues and fun shapes that resemble marine life to emulate the beauty of a coral reef.
4. Press the mixture into a pan, allowing it to set until it achieves that desired crispy yet chewy consistency. A coral-like appearance can be achieved by moulding your Rice Krispies Treats into uneven, branching shapes before they fully harden.
5. As a finishing touch, you might opt to drizzle some blue icing over your treats, symbolising the crystal clear, sun-dappled waters of a healthy coral reef.
Creating these treats not only results in a visually enticing snack but also serves as an engaging, hands-on activity. So, put on your imaginary scuba gear and delve into this delectable, ocean-themed delight.
Seashell Pasta Salad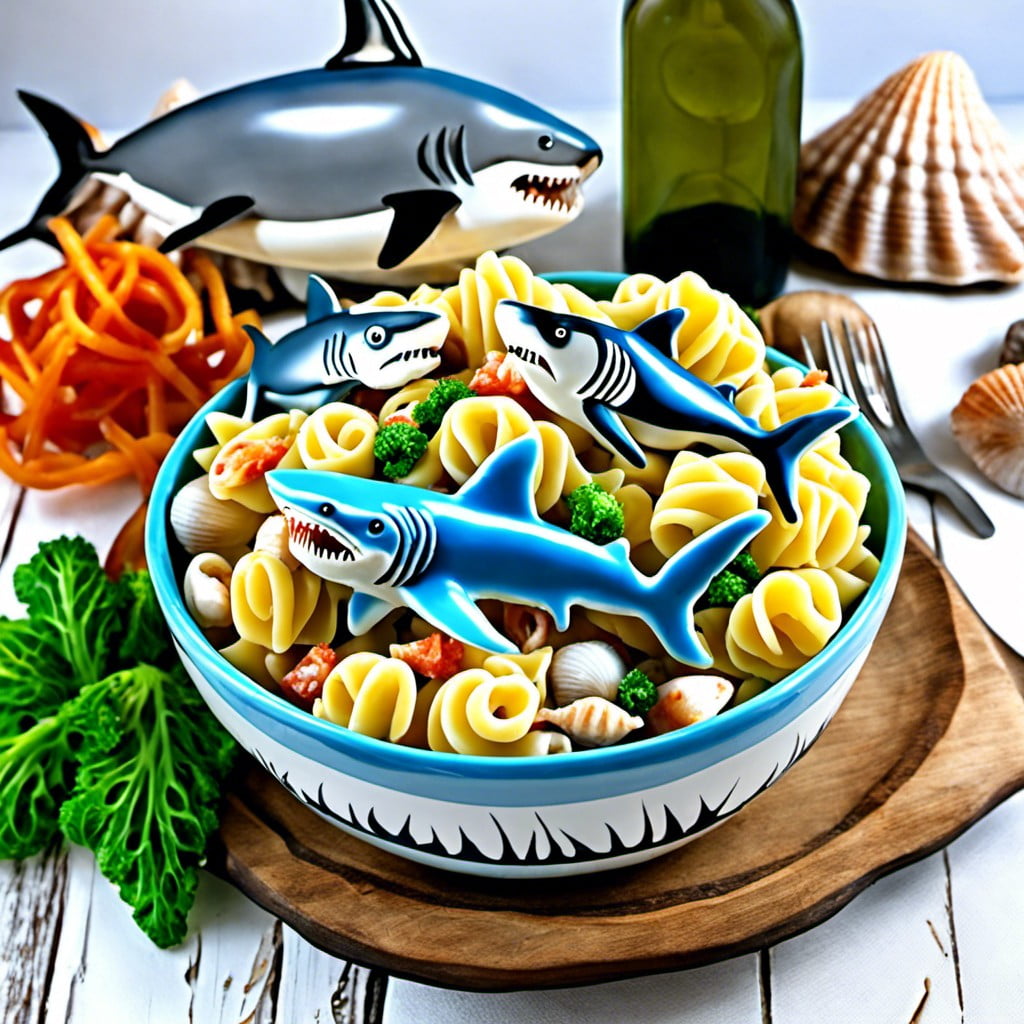 Preparing this delightful salad is a breeze with easy to find ingredients such as shell pasta, cherry tomatoes, cucumber, feta cheese, and fresh herbs.
Cook the pasta al dente to prevent it from getting too soft when mixed with the dressing.
Utilize colorful vegetables to add vibrancy and mirror the vibrant marine life, cherry tomatoes and cucumber are perfect options.
The feta cheese brings a tangy, salty flavor that's reminiscent of the ocean, while fresh dill or basil add a burst of green color and herbaceous flavor that mimics seaweed without the brininess.
A simple vinaigrette dressing finishes off this salad, but for a more creamy alternative, a light mayonnaise or Greek yogurt dressing works perfectly too.
Serve it chilled for a refreshing and satisfying bite during your shark week viewing.
Surfboard Pizza Bites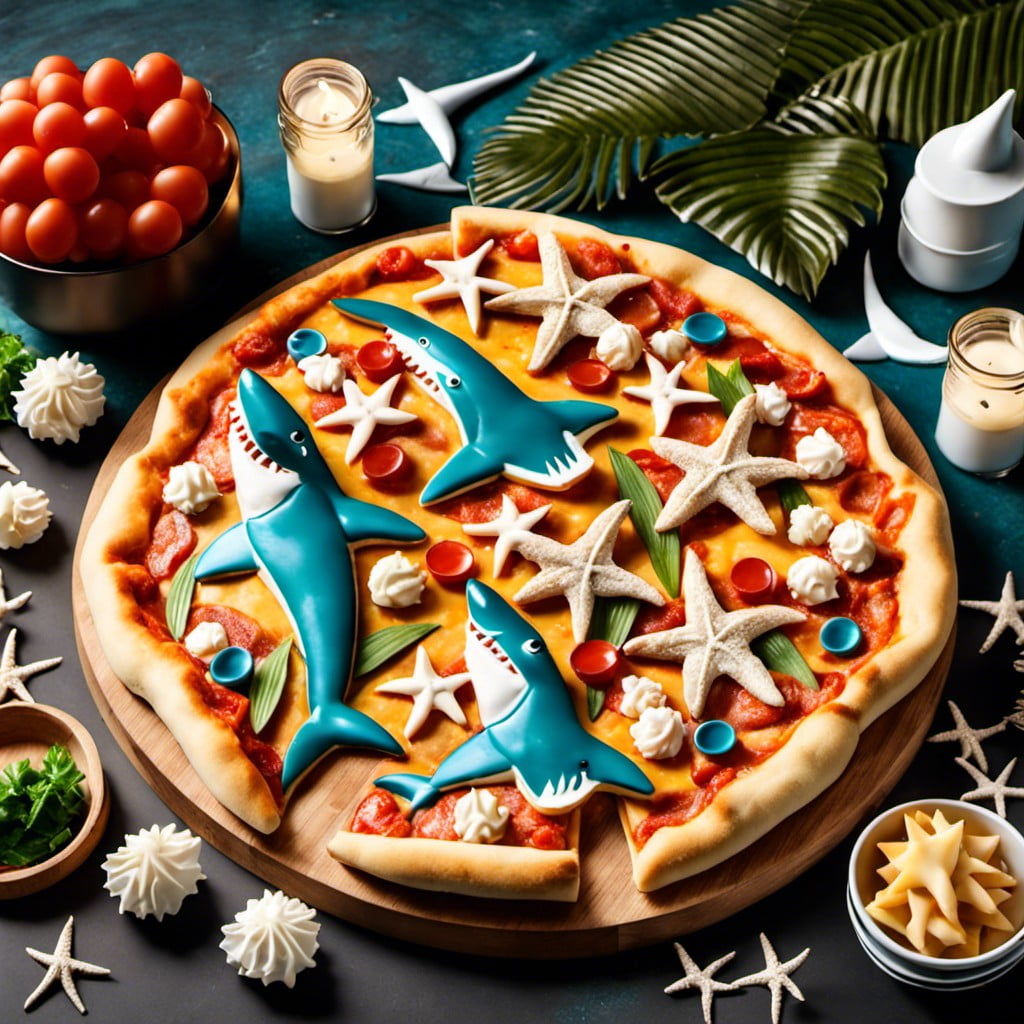 Crafting these edible surfboards involves mini flatbreads, a spread of marinara sauce, and toppings of your choice. These bite-size snacks are perfect for kids and adults alike, offering a fun spin on traditional pizza.
Key Elements:
Mini Flatbreads: Acts as the "board". Whole wheat flatbreads work great for healthier twist.
Marinara Sauce: This provides the classic pizza flavor. Don't shy from experimenting with different sauces like barbecue or Alfredo for a twist.
Toppings: Customize each "surfboard" with toppings of choice. Pepperoni, bell peppers, olives, and shredded cheese are crowd-pleasers.
Baking: Bake these bite-size treats until cheese bubbles and turns golden brown.
Decoration: Use a squeeze bottle with ranch dressing or barbecue sauce to draw fun patterns, making each surfboard unique.
Presentation: Line up on a serving platter with cocktail sticks for easy pickup and fun presentation.
The goal is to add flair to your Shark Week event and let your guests enjoy a delicious snack they can grab and go. Plus, it's a creative way to get the talk of sharks flowing at your party.