Explore the vibrant taste of Hawaii with these luau snack ideas, guaranteed to transport your palate straight to the tropical islands.
Planning a luau and looking for snack ideas? You're on the right track! A luau is not just about the vibrant decorations and Hawaiian music; it's also about the mouthwatering snacks that transport your guests straight to the tropical islands.
From sweet pineapple salsa to savory Kalua pork sliders, this article provides a variety of luau snack ideas that are both easy to make and packed full of authentic Hawaiian flavors.
Keep reading to discover how these tropical treats can elevate your luau party to new heights.
Grilled Pineapple Skewers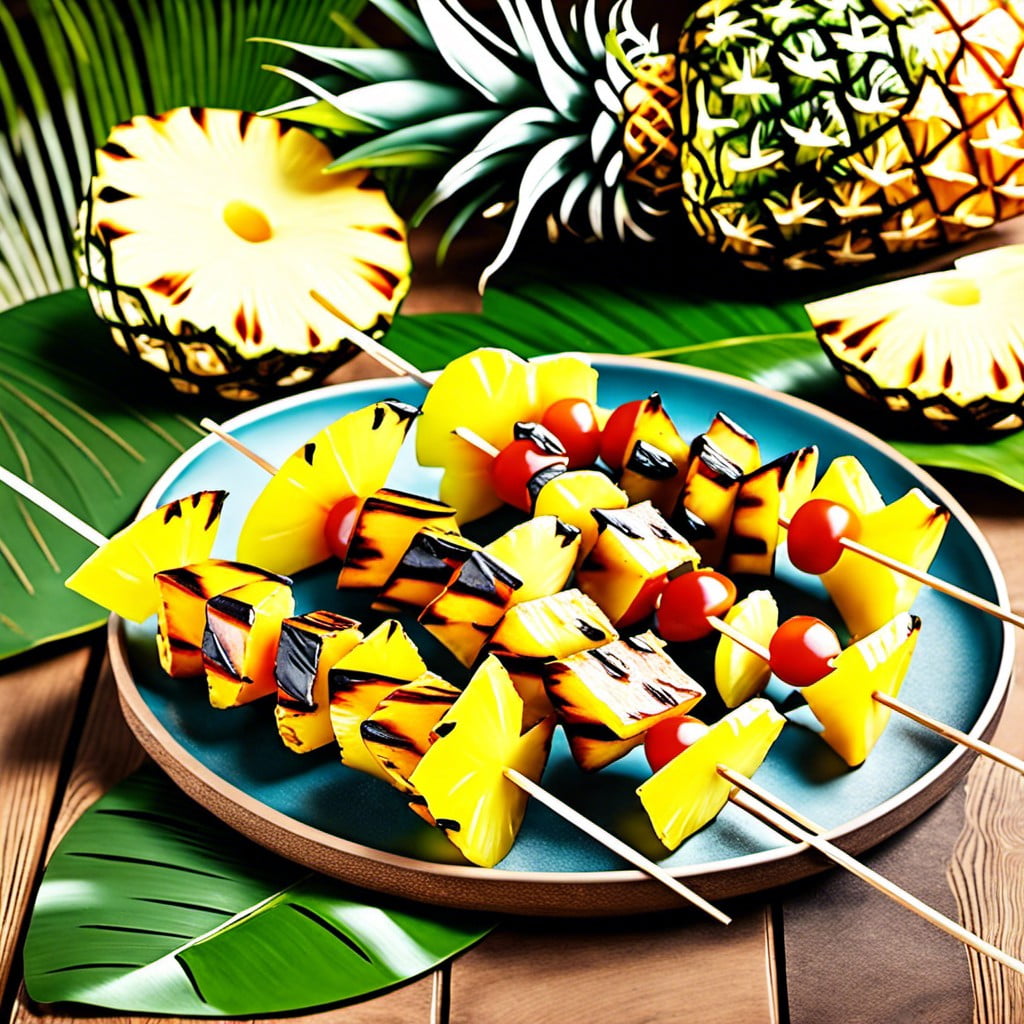 These flavorful skewers are a classic crowd-pleaser at any luau feast. To create them, you will string juicy cubes of fresh pineapple along a barbecue skewer. Proceed to brush them with a simple glaze of honey and cinnamon to bring out the natural sweetness of the fruit.
You then grill the skewers for a few minutes until the pineapple is lightly charred, adding a delightful smoky flavor to the fruit's inherent tropical essence. The result is a dish that is deliciously sweet, satisfyingly smoky, and ridiculously easy to enjoy. It's the perfect blend of simplicity and distinctive flavors that we traditionally associate with Hawaiian cuisine.
Coconut Shrimp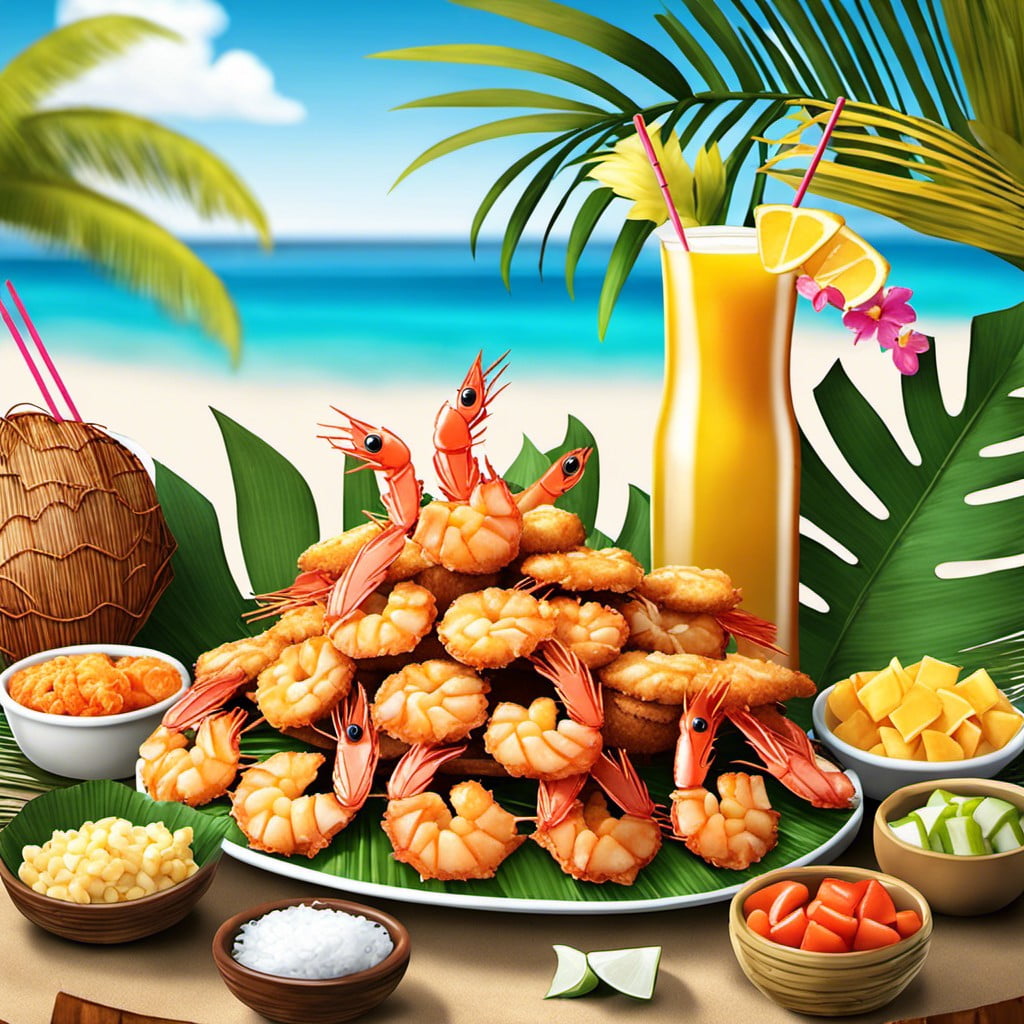 A favorite in Hawaiian cuisine, the Coconut Shrimp is a savory-sweet snack that creates a burst of tropical flavors in every bite. It pairs jumbo shrimp with a crisp, golden crust of shredded coconut, the two key components that provide its unique texture and taste.
Here are a few points to understand the essence of this Hawaiian snack:
1. Use of jumbo shrimp: Jumbo shrimp is the cornerstone of this delicious snack. Its size makes it perfect for a satisfying bite and allows the flavors to shine through.
2. Coconut breading: The standout feature is its coconut breading. The shrimp are first dipped in a batter, then rolled in shredded coconut before frying. This double-action process results in a perfectly crispy, golden exterior with a sweet flavor hint.
3. Deep-frying: The coconut shrimp is deep-fried until it reaches a golden-brown perfection. This gives it an irresistible crunch on the outside while keeping the shrimp juicy inside.
4. Sweet Chili Dip: Often, coconut shrimp is served alongside a sweet chili dip. This spicy and sweet condiment amplifies the tropical, sweet sensation, making your taste buds dance.
Tropical Fruit Salad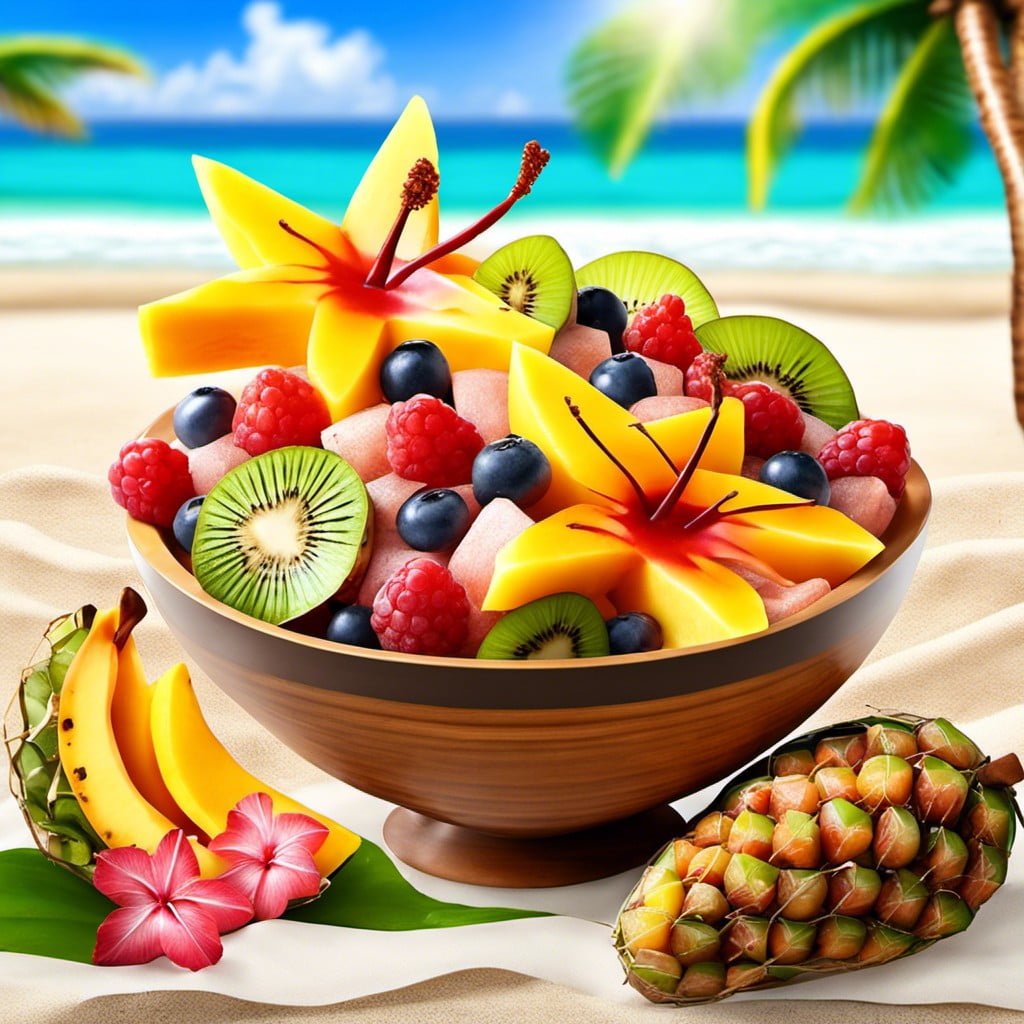 Building on a base of fresh fruits such as pineapple, mango, and kiwi is integral. Don't hesitate to experiment with exotic selections like papaya, star fruit, or lychee if they're available.
To give your salad an authentic tropical twist, drizzle a dressing made from fresh lime juice, honey, and finely chopped fresh mint. This zesty combination not only amplifies the fruit flavors but adds an extra refreshment factor, ideal for a festive Luau ambiance.
Presentation is key – consider serving each portion in hollowed-out pineapple halves for a fun, aesthetically pleasing touch. Just remember, the quality of the fruits is paramount, so make sure they're ripe and bursting with flavor.
Teriyaki Chicken Wings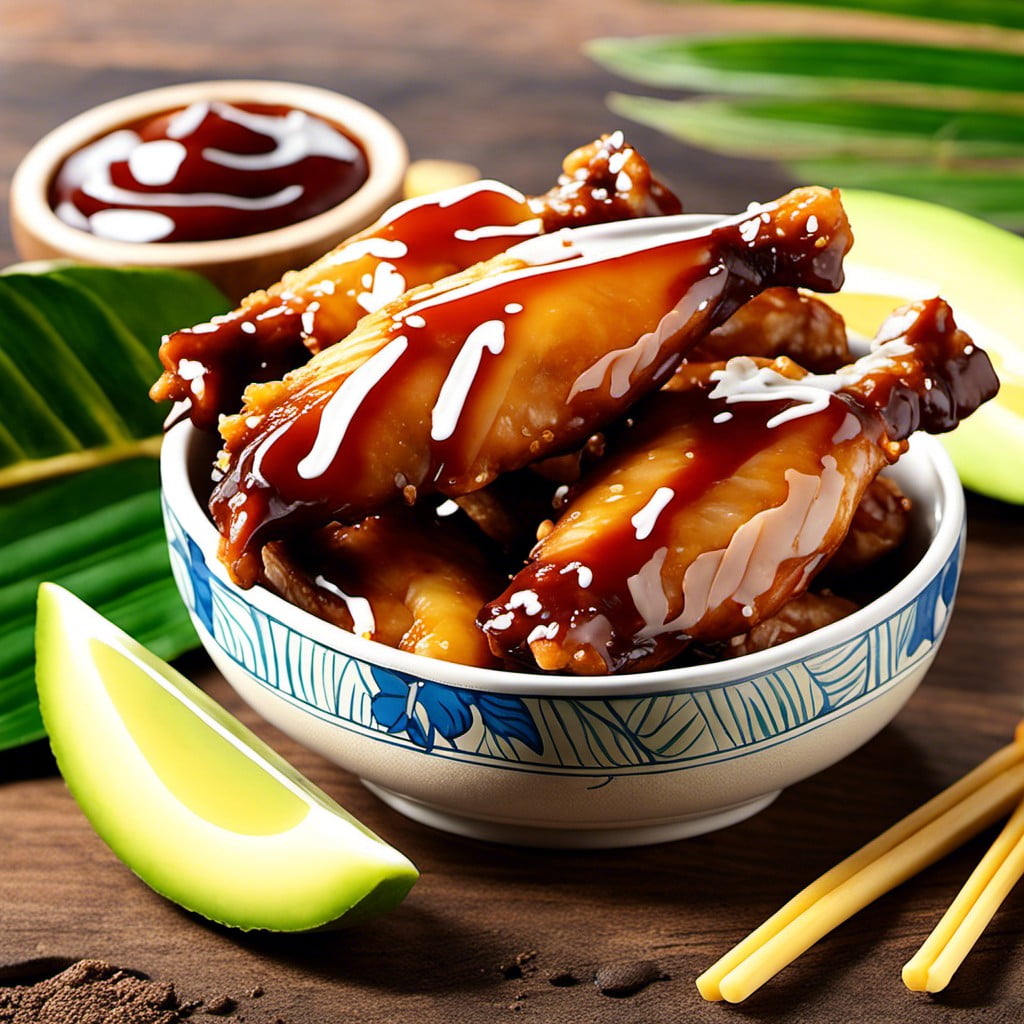 With the tender, succulent meat and an addictively glossy glaze, these wings truly represent the fusion of sweet and savory. The beauty of this dish lies in the balance of flavors provided by the soy sauce, ginger and generous amounts of garlic, which makes up the titular teriyaki sauce. Despite the exotic-sounding name, home cooks find it quite easy to prepare, with most ingredients likely already stocked in the pantry.
Not only does the teriyaki sauce infuse the wings with an earthy umami taste, the sugar content helps to create an irresistible caramelization when grilled or broiled, enhancing not just the flavor, but also the visual appeal. Served hot off the grill, they are perfect for capturing the tropical, inviting vibe of a luau. Also, consider pairing these wings with a tangy pineapple salsa or slaw to cut through the rich flavors and introduce a fresh contrast.
Spam Musubi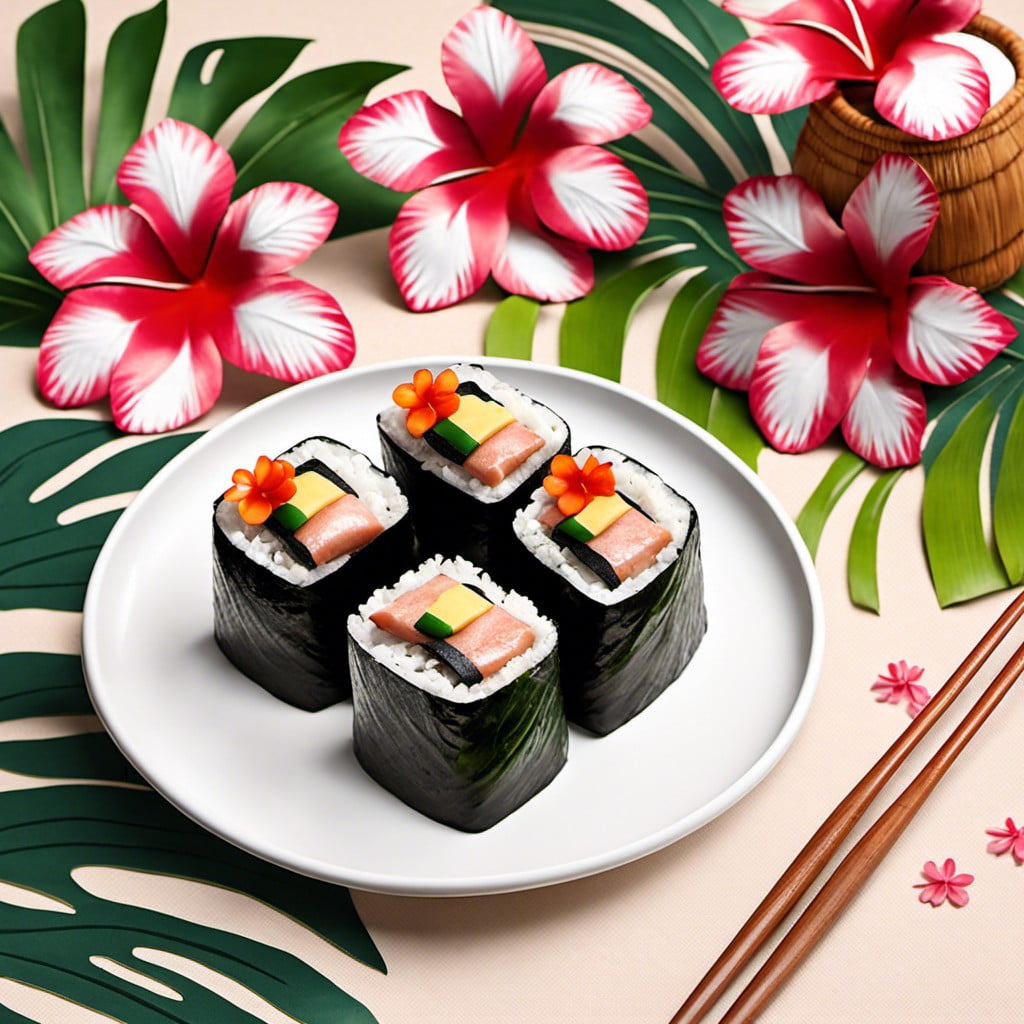 Originally from Japan, the concept of Musubi has been embraced and tailored to the Hawaiian palate via the inclusion of canned Spam. This snack, which is often enjoyed during luaus, involves a slice of grilled or seared Spam laid over a compact mound of sushi rice and wrapped together with a strip of nori, or dried seaweed.
1. Versatility: Easy to customize with variations including scrambled egg, pickled plum, pineapple, or teriyaki sauce.
2. Convenience: It's a handheld snack, perfect for on-the-go lunches or munching during luau parties.
3. Taste and Texture: The savory, salty Spam pairs brilliantly with the subtly sweet and vinegar-infused rice, while the nori adds a briny crunch.
4. Uniqueness: It is a delectable testament to the blend of Japanese and American influences in Hawaiian gastronomy.
5. Creativity: This recipe encourages culinary playfulness, inviting hosts to experiment and create their own versions.
6. It's kid-friendly: Young guests at the party will love these bite-sized treats. They're as fun to eat as they are to make.
Maui Onion Dip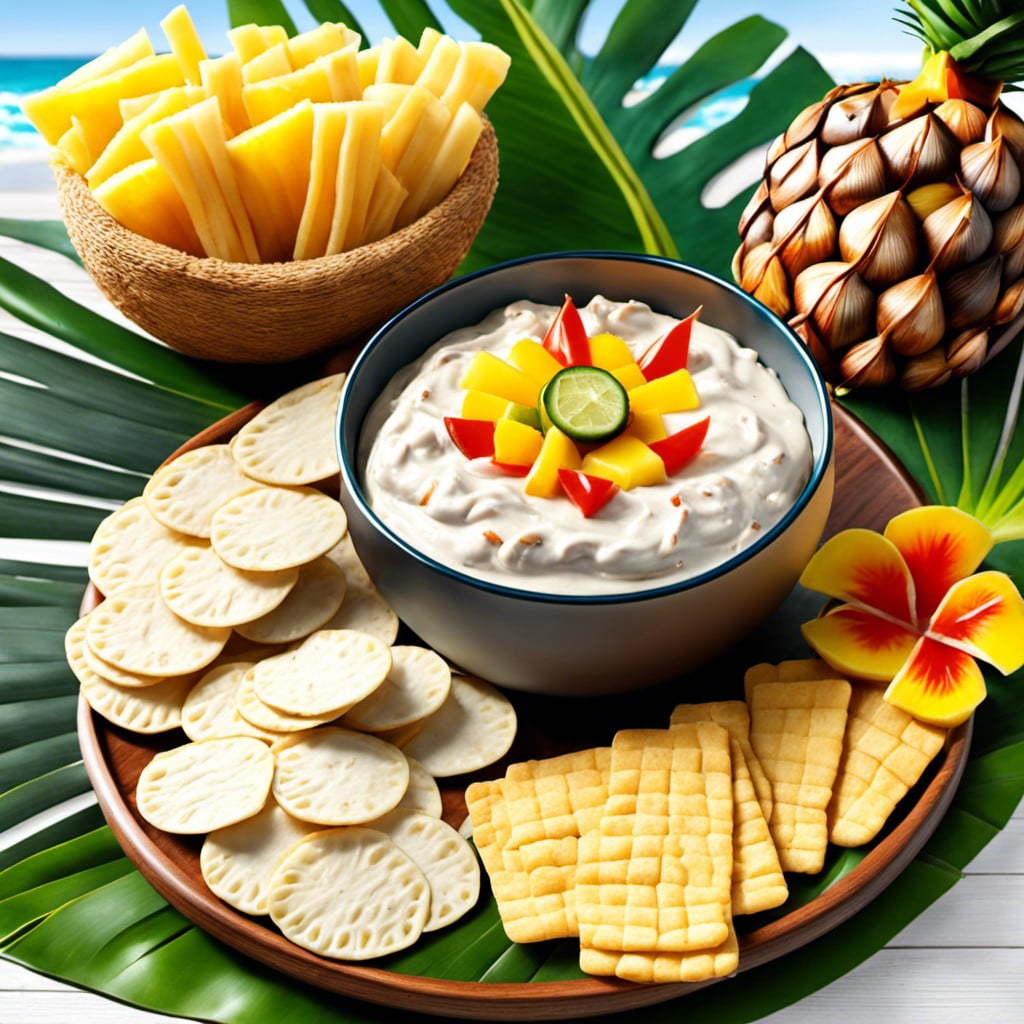 Known for its distinct sweet flavor, Maui onions bring a unique twist to this traditional appetizer. This Hawaiian variation of onion dip combines cream cheese, sour cream, and the star ingredient – finely chopped Maui onions.
The mix is sautéed until the onions are transparent, releasing their sweetness. To heighten the flavor, a tad bit of garlic and a pinch of black pepper are added. It's not uncommon to add a small amount of Worcestershire sauce for some depth.
It's the perfect accompaniment for taro chips, a favorite in Hawaiian cuisine. Remember that the flavor deepens if refrigerated overnight before serving.
This dip is definitely a crowd-pleaser at luaus, bringing an authentic taste of the islands to any gathering.
Hawaiian Pizza Bites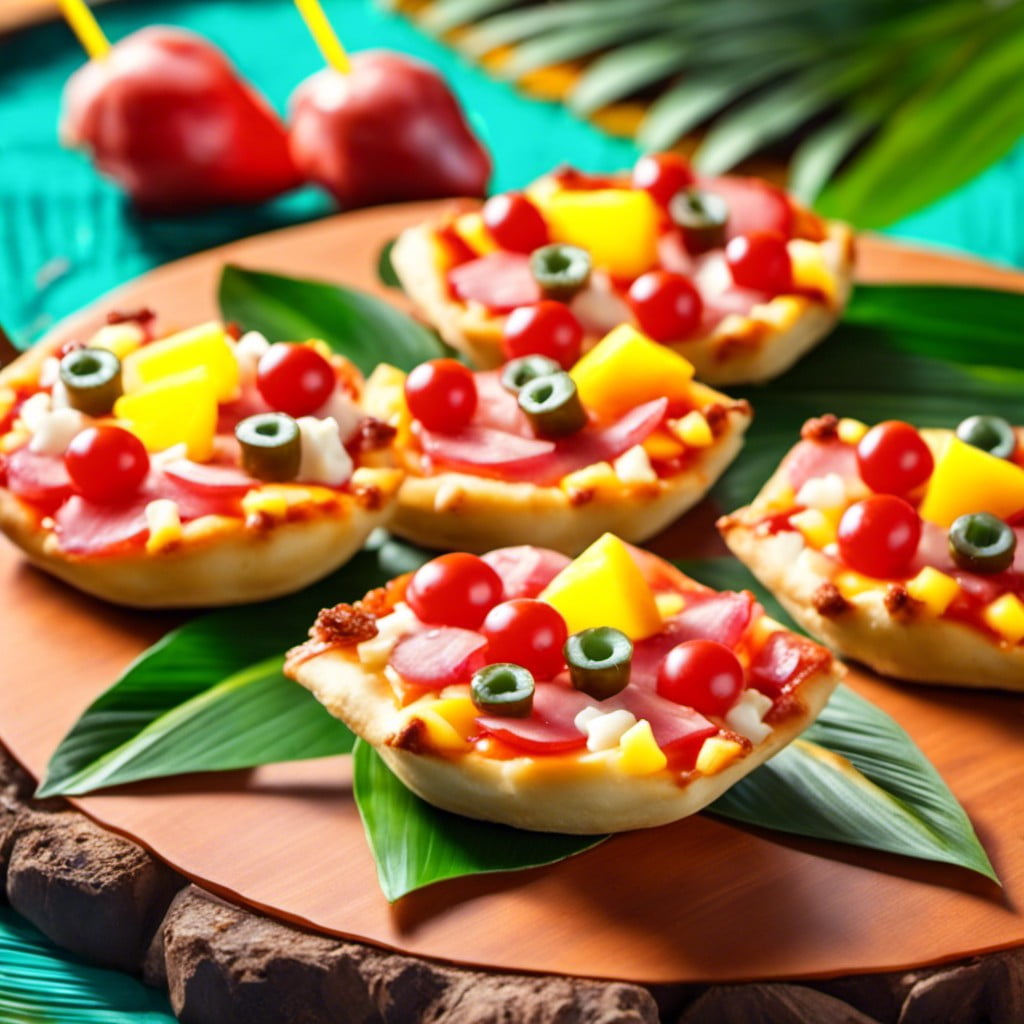 Crafted from bite-sized pieces of lightly toasted crust, moistened with tangy homemade tomato sauce, each piece gets a hearty topping of lush mozzarella, savory ham, and sweet, juicy pineapple.
Baked until the cheese approaches a state of golden perfection, the finished result achieves a blend of textures and flavors that simply sing on the tongue.
The charm lies in the contrast – the crispness of the crust against the melt-in-your-mouth cheese, the tart tomato sauce working to counterbalance the sweetness of the pineapple.
Meanwhile, the ham presents a savory note that resonates well against the blend of sweet and tart.
Miniaturized for convenience, these bites maintain all the appeal of their full-sized counterpart making them a top choice for any luau snack spread.
To take it a step further, garnishing with fresh basil just before serving adds a pop of color and injects a touch of fresh, aromatic flavor that rounds out the bite nicely.
For a fun twist, consider using Canadian bacon or even prosciutto in lieu of traditional ham.
You can also experiment with different types of cheeses to add depth to this snackable delicacy.
Ahi Poke Cups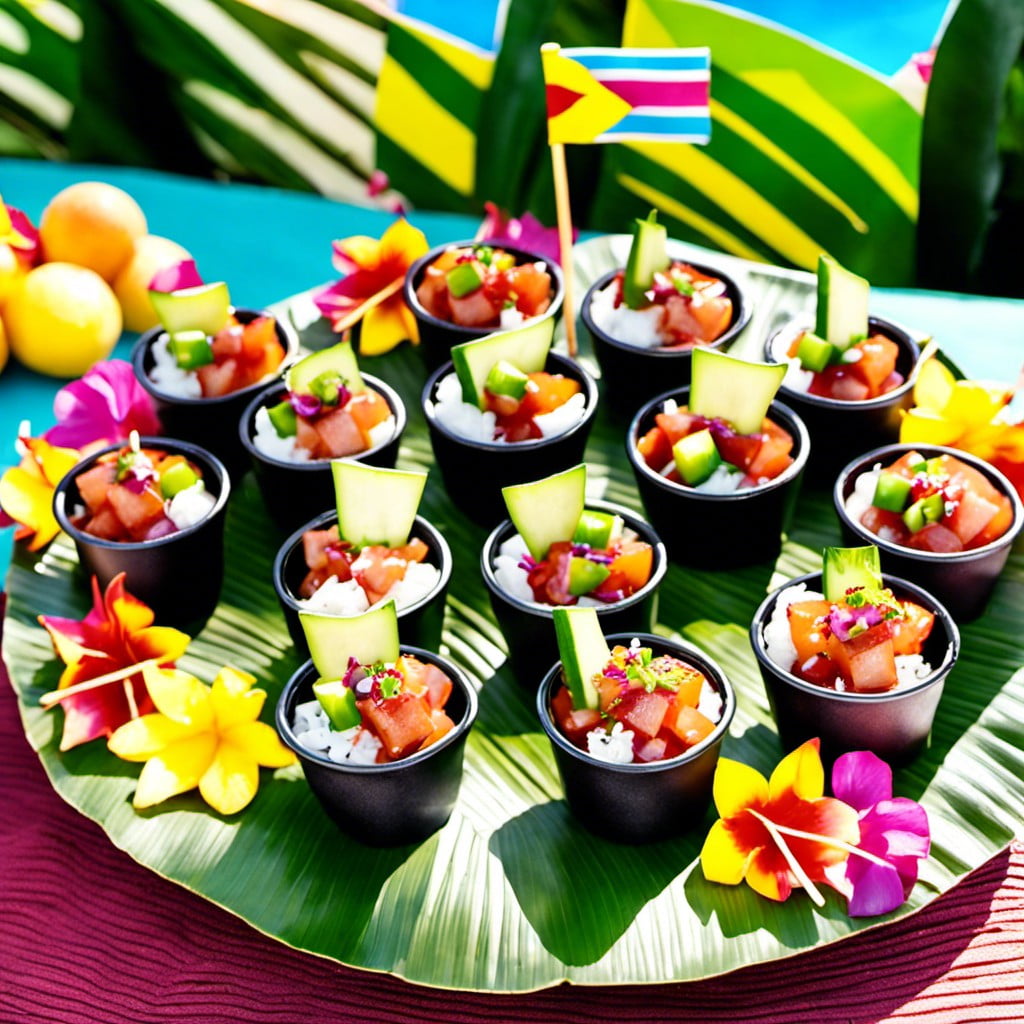 These delightful appetizers blend the savory flavors of tuna, a staple in Hawaiian diet, with sweet mango and crunchy cucumber.
The fish, typically seasoned with soy sauce, sesame oil, and chives, is nestled in bite-sized wonton cups for easy eating.
To further enhance the taste, each morsel can be topped with a hint of spicy mayo and a sprinkle of sesame seeds.
For those seeking a vegetarian alternative, tofu can seamlessly replace the tuna.
Served chilled, these cups encapsulate the refreshing and vibrant essence of the Hawaiian culinary scene.
Lilikoi Bars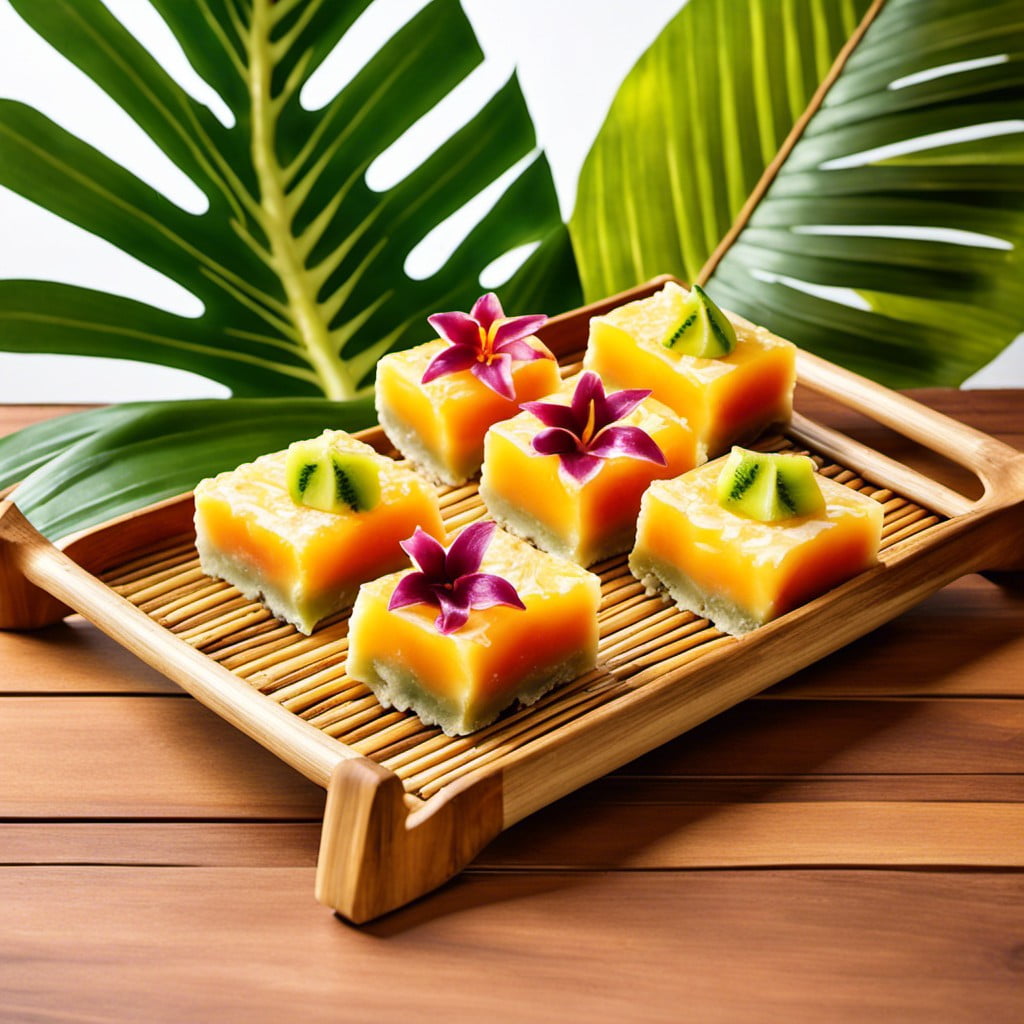 Originating from the Hawaiian islands, these sweet treats pack a powerful punch of tropical flavor. Distinctively tangy and citrusy, Lilikoi Bars embody the essence of passionfruit, or 'lilikoi' in Hawaiian tongue, layered atop a buttery shortbread base.
The highlight of these bars rests in the contrast between the rich, crumbly crust and the glossy, vibrant passionfruit filling that's both tangy and sweet. For an astoundingly authentic luau experience, consider topping these bars with a light dusting of confectioners' sugar or a sprinkle of shredded coconut.
Relatives of the classic lemon bar, these little delights promise a sunlit taste of Hawaiian paradise in every bite.
Banana-Coconut Pudding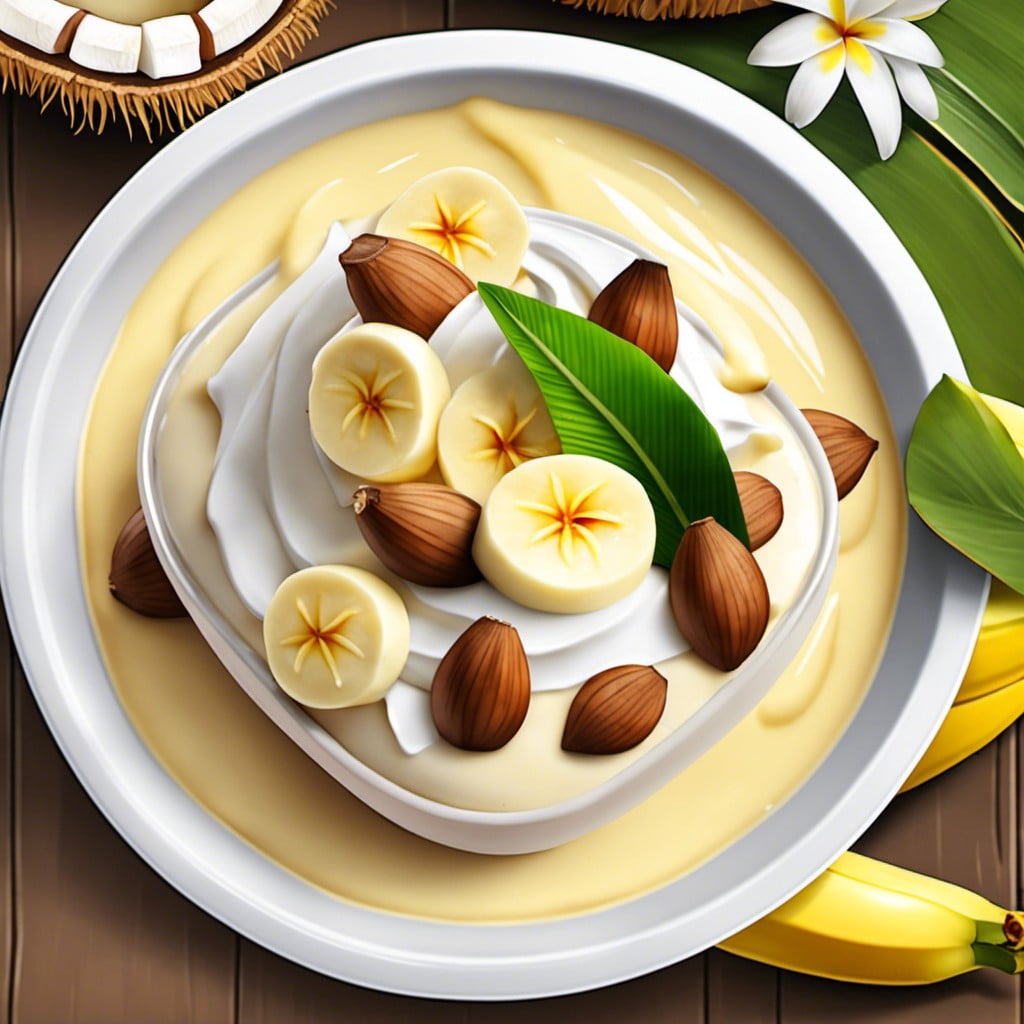 Native to tropical regions, bananas and coconuts lend a sweet, island-inspired flavor to this delectable pudding. Rich, creamy and indulgent, it requires simple ingredients that come together for a tantalizing dessert.
Here are key details:
1. Simple Ingredients: Ripe bananas, coconut milk, sugar, and vanilla extract form the base of this pudding. The addition of shredded coconut enhances the flavor profile.
2. Technique: The process involves simmering the bananas and sugar together until they reach a jam-like consistency, and then adding the coconut milk and vanilla for a custard-like base. The mixture is then chilled until set.
3. Serving Suggestions: Banana-Coconut Pudding can be served in individual dessert cups for personal-size portions. A garnish of toasted coconut flakes or a wafer biscuit adds a notch of sophistication.
4. Healthful Choice: Compared to many other desserts, Banana-Coconut Pudding is relatively healthier thanks to the nutrients in bananas and coconut milk. It's a treat that's lower in unsaturated fats and higher on the flavor scale.
This dessert is a nod to the tropical heritage of a luau and offers a sweet finish to the savory flavors typical of the feast. It creates a satisfying balance that feels both fresh and indulgent.
Taro Chips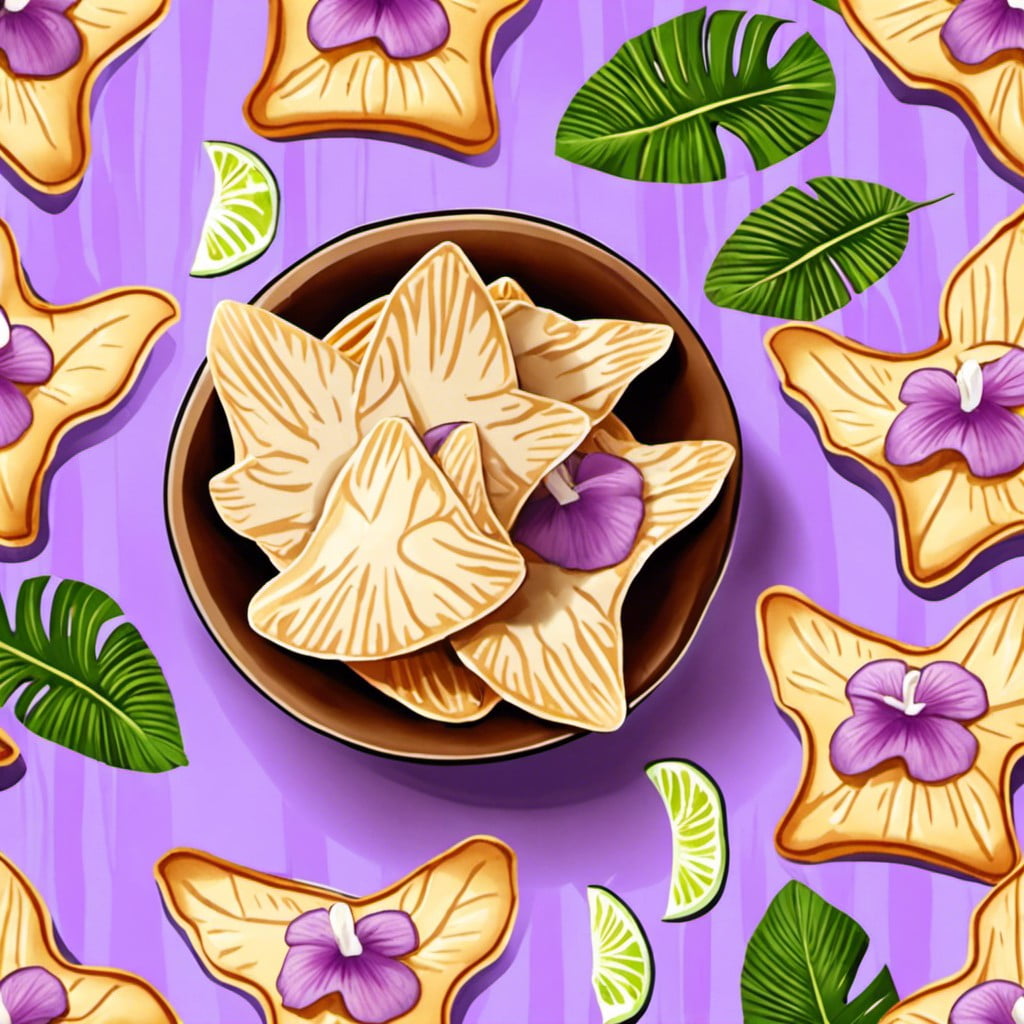 As a traditional Hawaiian staple, taro root provides a unique and healthier option to your average potato chip. Firstly, their vibrant purple hue and thicker texture allow them to stand out in the array of luau snacks.
Converting taro roots into snackable chips is simpler than it seems. All it requires is slicing the taro thinly and uniformly to ensure even baking or frying, then seasoning them with your choice of spices – sea salt, pepper, or garlic powder are common options.
Not only are taro chips delicious, they also offer a good source of dietary fiber, vitamins, and minerals. In terms of flavors, they carry a mildly sweet taste, somewhat nutty, and a touch earthy. This specific yet delightful flavor profile makes them a star in dips, or simply enjoyed on their own.
Remember to follow proper handling instructions while preparing taro, which includes wearing gloves to avoid sensitivity from the natural latex present in raw taro. Once cooked, however, they are perfectly safe and incredibly tasty – an exotic, crispy, and delightful addition to the luau snack table.
BBQ Pork Sliders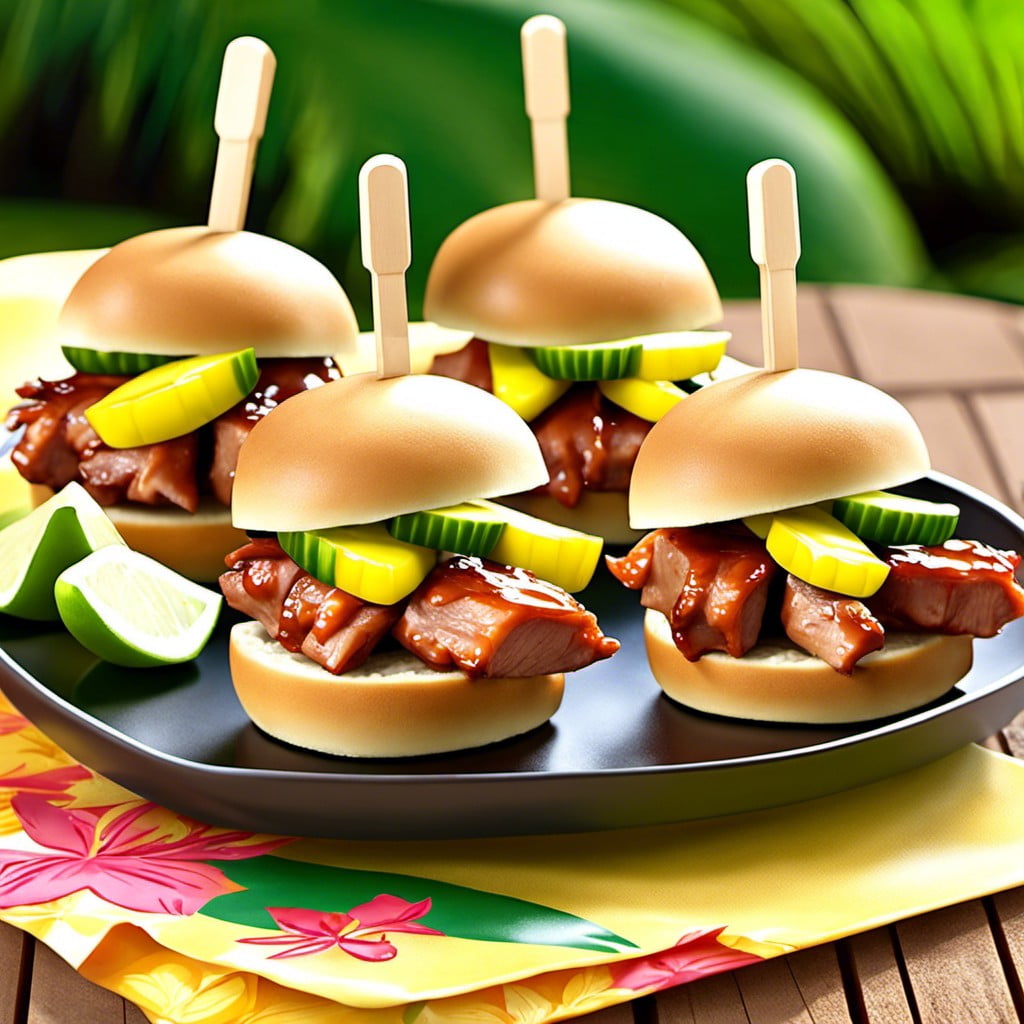 These mini sandwiches are perfect for grab-and-go eating at a lively luau. Tender, slow-cooked pork drenched in thick barbecue sauce offers a delightful contrast in textures when sandwiched between fluffy, slightly sweet Hawaiian rolls.
For an added zing, consider including a hint of traditional Hawaiian flavors by incorporating pineapple juice or chunks into your BBQ marinade. A tangy homemade coleslaw topping not only provides a beautiful crunch but also balances the rich pork and barbecue flavors.
It's also worth noting you have the flexibility to prepare these ahead of time or slow cook the pork during your gathering. These sliders are not just incredibly satisfying, but, with their miniature size, they also allow your guests to continue enjoying the diverse spread of luau snacks.
Hawaiian Chicken Kabobs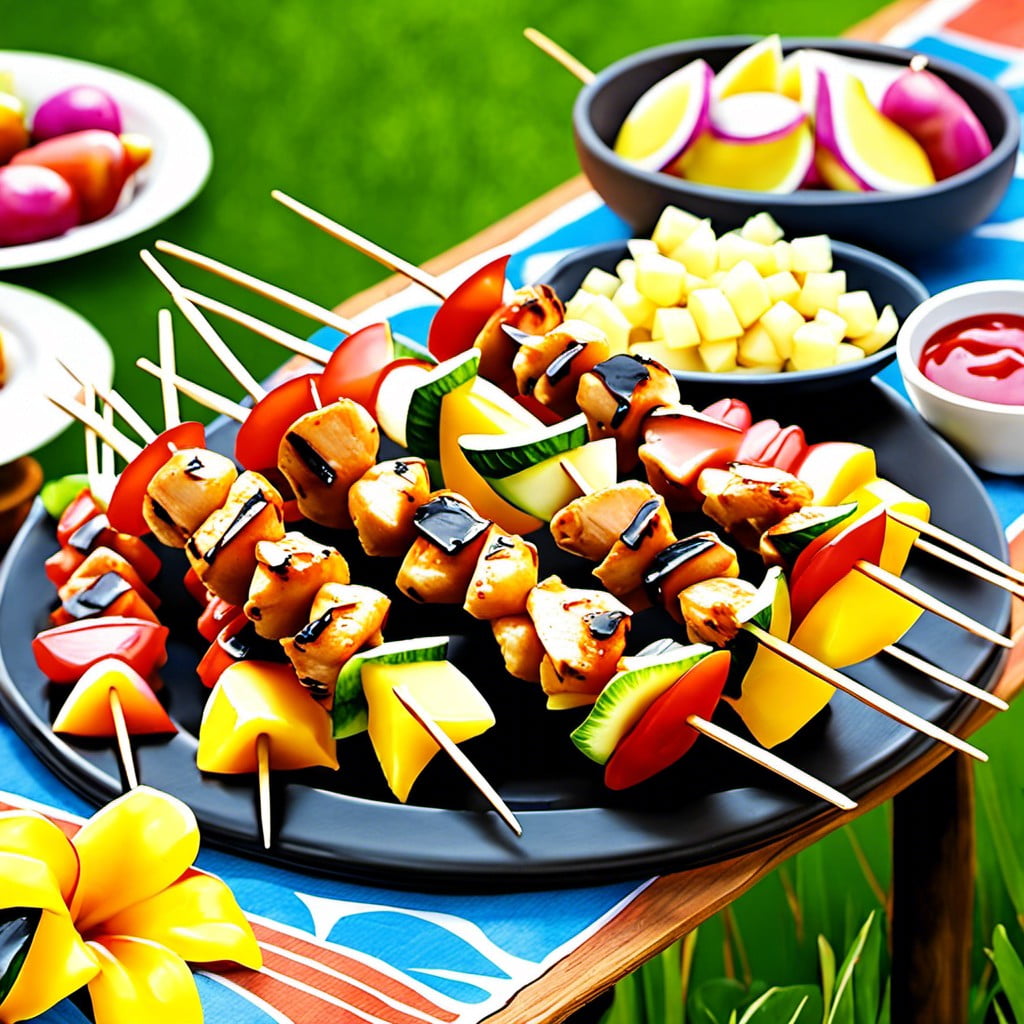 With their tangy marination, Hawaiian Chicken Kabobs hit your taste buds with a harmonious blend of tropical zest and savory smokiness. It all begins with chunks of chicken breast, marinated in a sauce that boasts the sweetness of pineapple juice, counterbalanced by the earthy attributes of soy sauce, and enhanced with the spiciness of ginger. This marination process is not a hurried affair; instead, it's an overnight soak to ensure each chicken piece absorbs the depth of flavors.
The marinated chicken is then skewered, alternating with pieces of bell peppers, pineapple, and red onions. These not only add a vibrant splash of colors but also reflect the abundant freshness that Hawaiian gastronomy is renowned for.
The kabobs are then either grilled or broiled, whichever suits your convenience. The direct heat cooks the chicken and caramelizes the fruits and vegetables, sealing in the juices and flavors. The result is a taste of Hawaii on a stick, ready to be enjoyed at your luau. It's a treat that illustrates how simple ingredients, when prepared with a little patience and care, can transport you to a tropical paradise.
Sweet Pineapple Salsa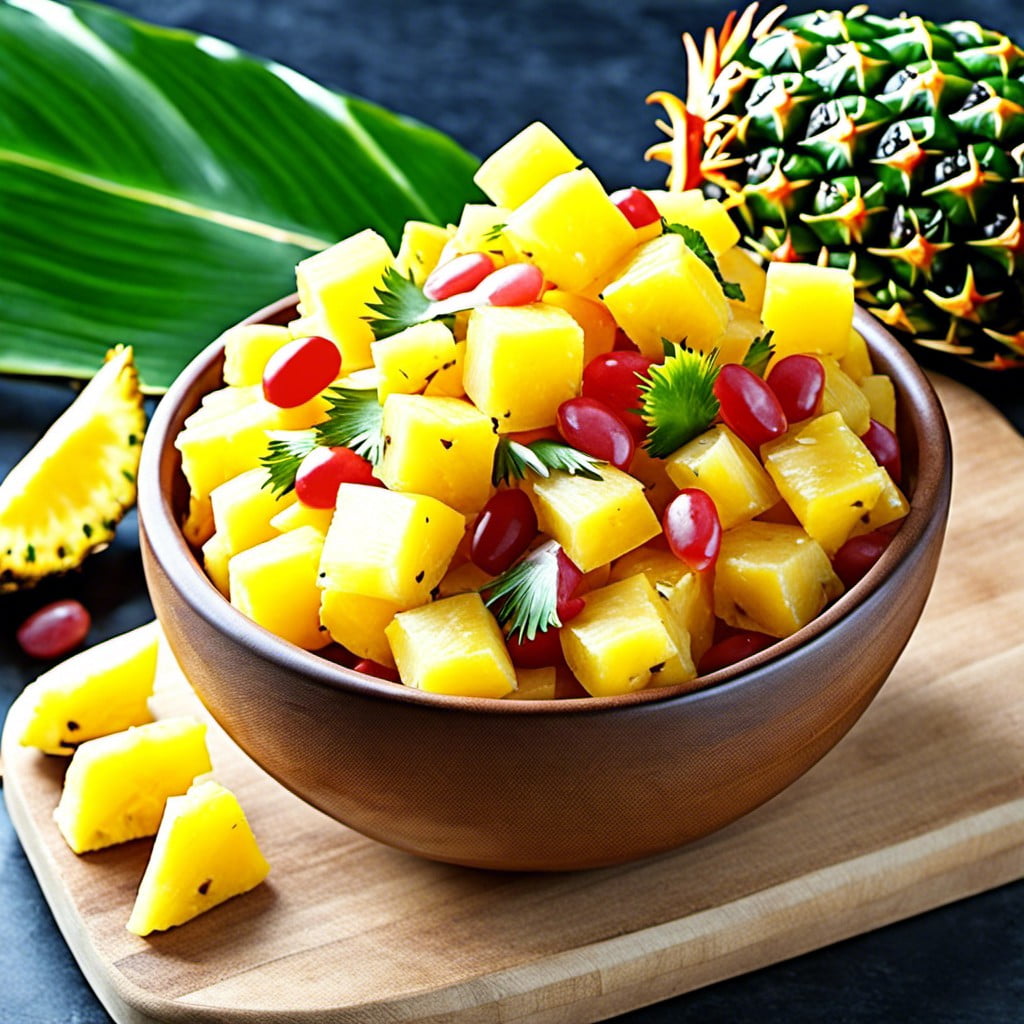 Imagine biting into a burst of tangy and sweet flavors, a perfect blend of fresh pineapples and ripe tomatoes, skillfully balanced with a kick of jalapeños and a hint of cilantro. That's the essence captured in each mouthful of this delectable treat.
1. Fresh Ingredients: The main components include ripe pineapples for a tropical sweetness, tomatoes for a bit of tartness, jalapeños for heat, and cilantro for that refreshing burst. Onion and lime are added to enhance the overall flavor.
2. Simple Preparation: The ingredients are finely chopped and mixed together. It's best if allowed to chill for a couple of hours to let the flavors marry.
3. Versatile Use: This salsa is great with a variety of luau snacks, it can be used as a dip for Taro chips or a topping for Hawaiian Chicken Kabobs.
4. Healthy Snack: It's not only delicious but also packed with vitamins, making it a guilt-free indulgence.
Remember, the trick to a great salsa is using ripe, high-quality ingredients.
Luau Ribs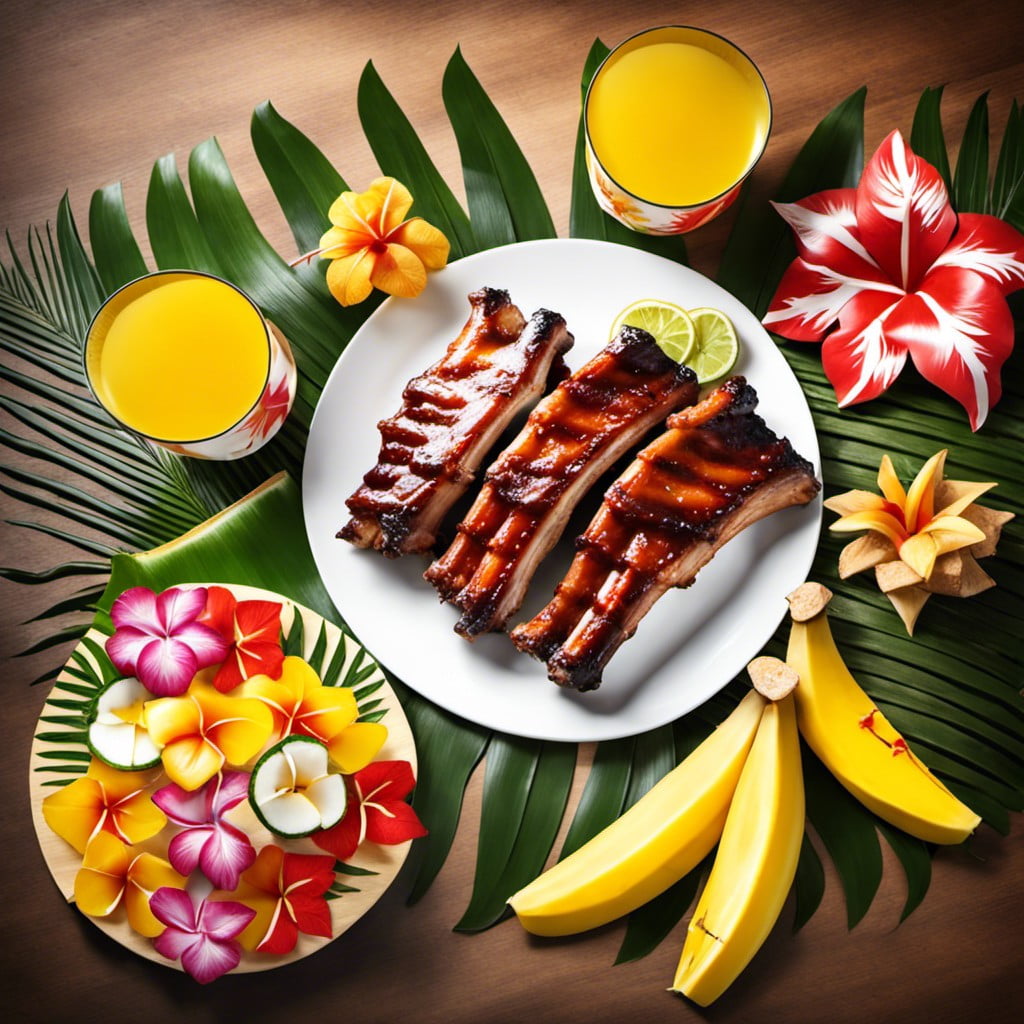 Crafted from tender, flavorful ribs marinated in a tangy, sweet-and-salty sauce, this appetizer melds Pacific influences perfectly.
Your chosen ribs – be it pork or beef – are seasoned with a blend of garlic, ginger, brown sugar, soy sauce, and ketchup to imbue them with a distinctively Hawaiian character.
These ribs are then cooked low and slow until they practically fall off the bone.
Typically, the cooking process involves an initial bake in the oven before finishing off on the grill to achieve the optimal balance of smoky char and succulent meat.
This offering is a gustatory travel ticket to Hawaii's famous beach-side gatherings, its flavors echoing the mellow sweetness and gentle sea-kissed breeze of a real luau.
Make sure to prepare in abundance; these finger-licking-good ribs always disappear first!
Tropical Trail Mix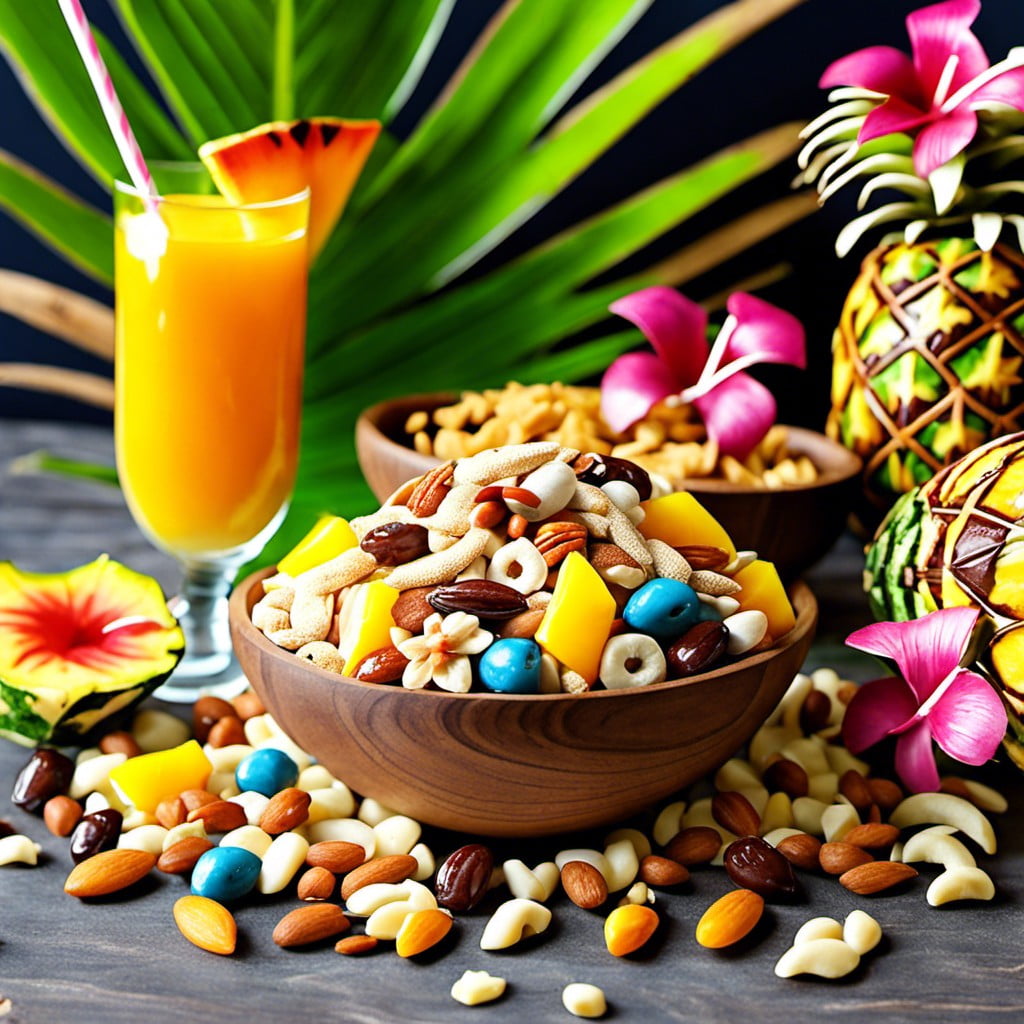 Brimming with a colorful variety, Tropical Trail Mix brings the essence of the islands directly to your taste buds. It's an easy-to-make snack mix that incorporates a variety of tropical fruits, nuts, and cereals for a delightful crunch.
Start with the basics like banana chips, dried mango, and dried pineapple for the fruit component. These offer a chewy sweetness that contrasts and complements the rest of the mix. For nuts incorporate a mixture of macadamia nuts and coconut flakes, both of which have strong tropical vibes.
The crunch can come from add-ins like cereals. Consider incorporating rice cereal squares or even toasted oat circles for that added bite. For a hint of sweetness, tie all the ingredients together with honey-glazed popcorn.
Finally, every great snack mix should have a surprise element – and in this case, it's chocolate. You can sprinkle in some white or dark chocolate chips. But remember, the goal is to maintain the tropical essence of the mix, so use the chocolate sparingly. The trail mix is easy to store, and even easier to portion out for any luau-themed party, making it not only flavorful but convenient as well.
Guava Cake Squares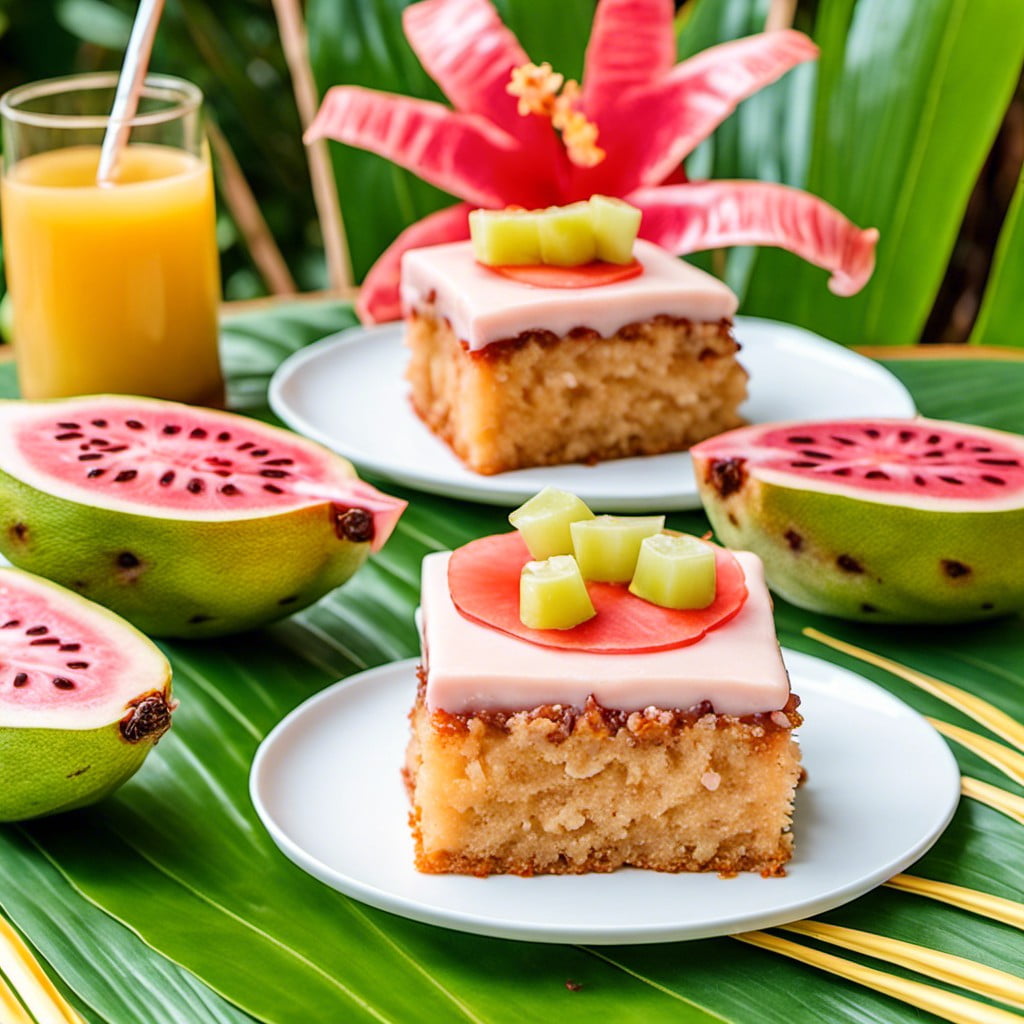 This tropical, fruity dessert is sure to be a hit at a luau. For a cake with a tropical island flavor, use guava juice concentrate that's been thawed. Incorporate cream cheese into the topping to create a rich, velvety texture. A hint of lemon zest incorporated into the cake batter will further enhance the fruity flavor.
Guava Cake Squares are easy to serve and ideal for a buffet-style gathering like a luau. When cooled, cut the cake into even squares. Sprinkle with confectioners' sugar for an elegant touch.
Pineapple Coconut Rice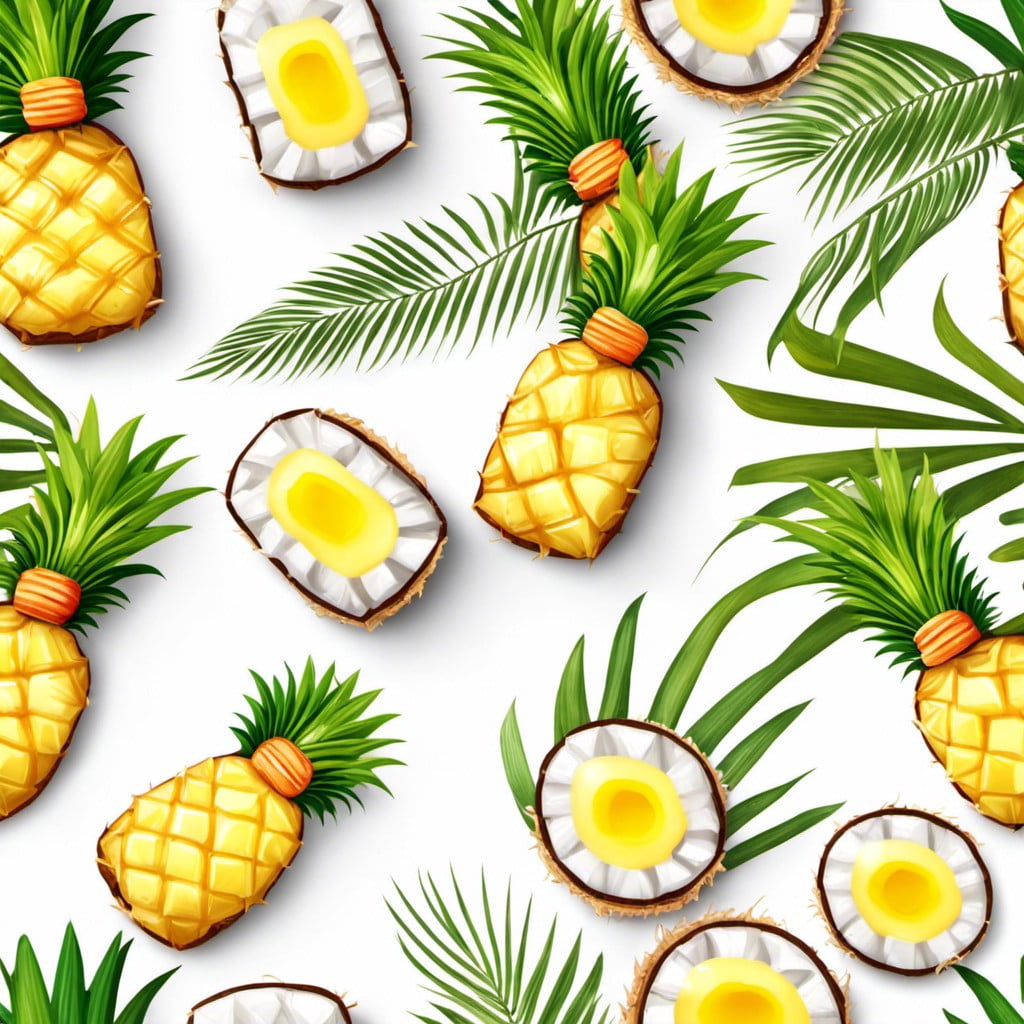 This luau-inspired side dish is a luscious blend of tropical flavors. Sweet pineapple chunks mixed with aromatic jasmine rice conjures the essence of the islands on your plate.
The rich, creamy texture supplemented by coconut milk makes it a delicious accompaniment for Hawaiian barbecued meats. Besides providing a delightful contrast to spicy or tangy flavors, it also adds color and zest to the luau spread.
Furthermore, it's simple to prepare, requiring only a few ingredients – jasmine rice, coconut milk, pineapple chunks, and a sprinkling of shredded coconut for added texture. You can also toss in some pineapple juice to enhance the fruity sweetness.
For a twist, consider garnishing with thinly sliced scallions to introduce a savory element. Show off your culinary skills and wow your guests with this sumptuous and visually appealing tropical delight!
Pulled Pork Nachos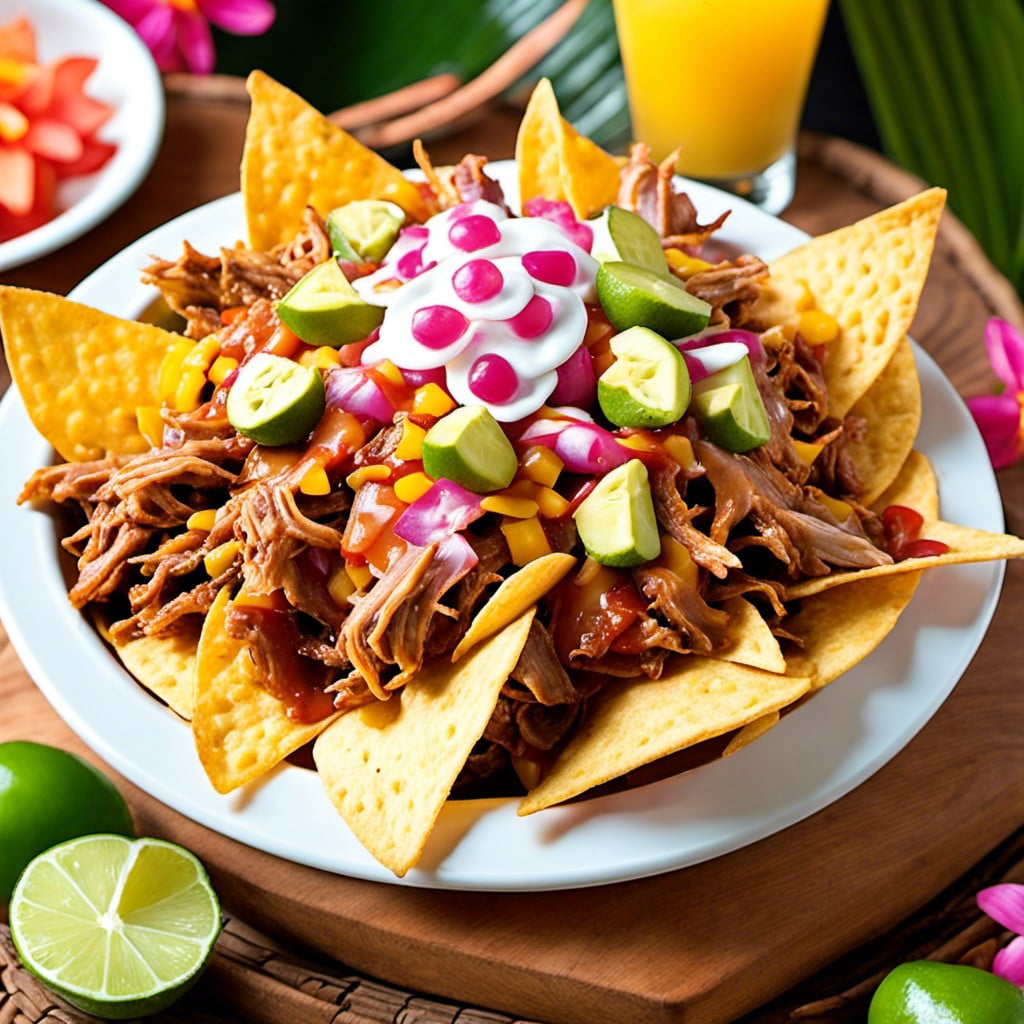 This party-friendly snack boasts a savory medley of tender, slow-cooked pork that's gently pulled apart, then generously heaped atop crispy tortilla chips. The addition of jalapenos and pineapples lend a delightful contrast, balancing the smoky flavor of the pork with a punch of tang and heat. Drizzles of sweet barbecue sauce and a sprinkle of melty cheese complete this luau-friendly fare, encompassing the tropical allure of classic Hawaiian cuisine.
Here are the concepts crucial to this snack masterpiece:
Slow-cooking the pork: This process ensures maximum flavor absorption and a melt-in-your-mouth texture in the pork. Opt for a shoulder or butt cut for best results.
Balance of flavors: The sweet-spicy-savory combination is a hallmark of Hawaiian cuisine. The pineapples and jalapenos work harmoniously with the pork and barbecue sauce.
Layering: Even distribution of pork, pineapples, jalapenos, barbecue sauce, and cheese over the tortilla chips enhances each bite.
Serving: Ideally served hot, the cheese should be warm and gooey. Garnish with fresh cilantro and a side of sour cream if desired.
Remember, the allure of Pulled Pork Nachos lies in their beautiful contrast of flavors and textures – from smooth and cheesy, to crispy and tangy, every bite is a new surprise. A luau snack that effortlessly brings a slice of Hawaii to your tastebuds.
Aloha Popcorn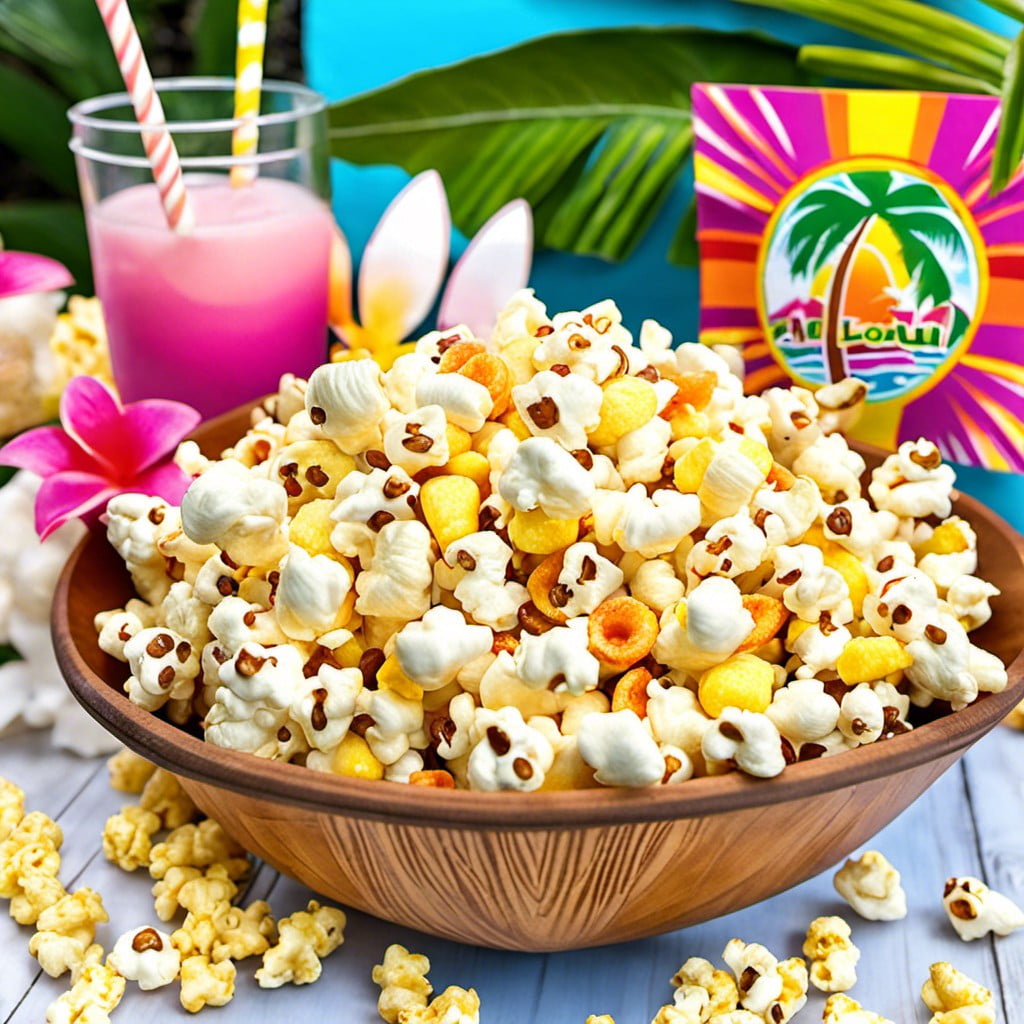 Crispy, sweet, salty and absolutely addictive, this snack emphasizes the spirit of Hawaii with its mix of tropical flavors. It starts with a base of finely popped kernels, ensuring a light and airy texture. To dress it up, a blend of caramel and coconut oil is prepared, providing a sweet, but not too heavy coating that clings to every piece. Sprinkled with a dash of sea salt, it perfectly balances out the sweetness.
But the real star of the show is the generous handful of toasted macadamia nuts tossed into the mix. These crunchy delights give an extra dimension to the popcorn, offering a satisfying crunch and a rich flavor that's unmistakably Hawaiian. The final touch, a light dusting of shredded coconut, is for that tropical spark. It's quickly toasted to bring out an aromatic depth that infuses the entire batch with a hint of island paradise. Besides their obvious gustatory appeal, these nuts and coconut also provide additional nutritional benefits, making the snack as wholesome as it's tasty.
Making Aloha Popcorn is a fairly straightforward process, an easy activity that could also involve the little ones to double the fun. As for serving, you can offer it in traditional popcorn bags, or perhaps in festive luau-themed containers for an extra immersive experience. You can even experiment by adding other Hawaiian-inspired ingredients to create your customized Aloha Popcorn. Just be warned, it tends to disappear quickly!