Explore the versatility of mini cucumbers with these innovative snack ideas to satisfy your cravings while keeping health in check.
Mini cucumbers are not only a refreshing, low-calorie snack but also a versatile ingredient that can be transformed into a myriad of delightful treats. This article provides a treasure trove of snack ideas featuring this crunchy, green veggie.
From simple, quick bites to more elaborate, gourmet-style treats, these ideas will inspire you to see mini cucumbers in a whole new light.
Whether you're preparing a snack for yourself, a family gathering, or a party, these mini cucumber snack ideas are sure to impress.
Stick around to discover the full details of each recipe, complete with preparation tips and flavor pairing suggestions.
Cucumber Sandwiches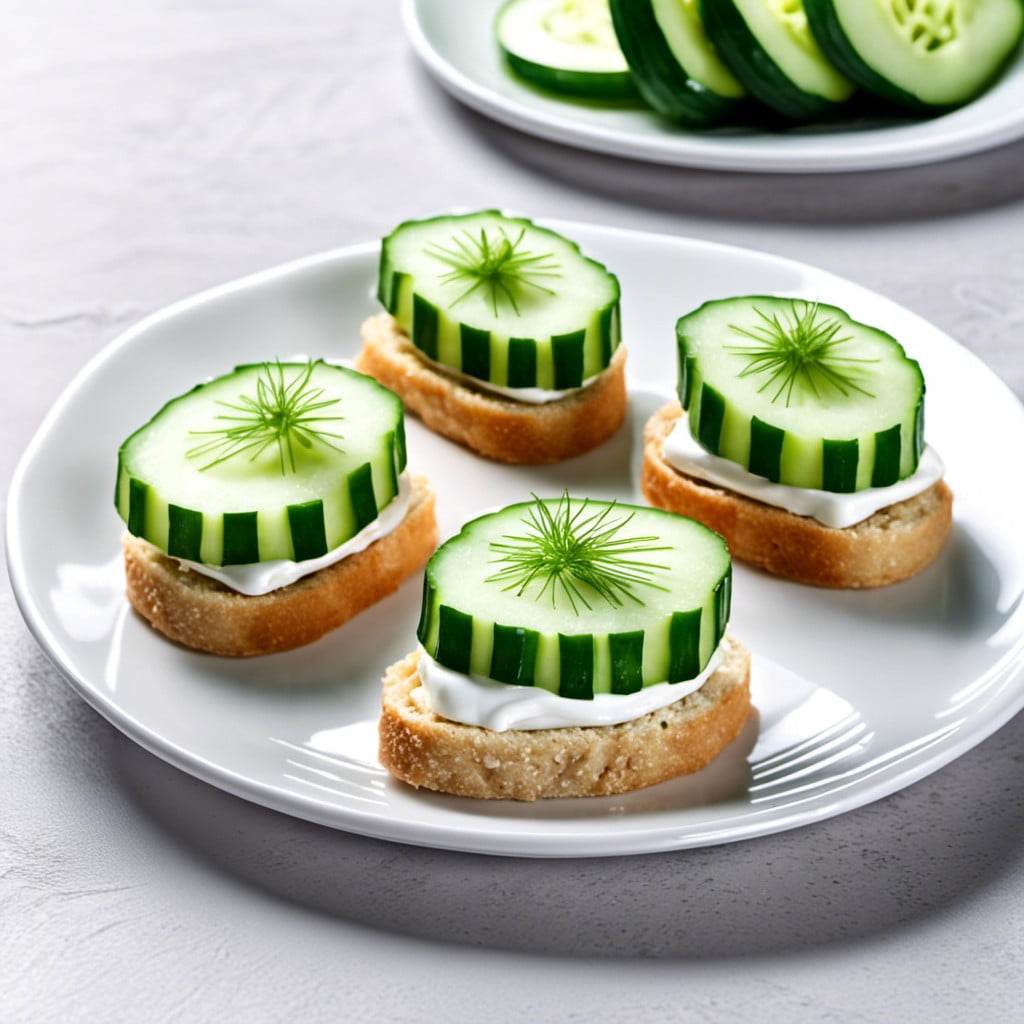 The simplicity of these delights lays the groundwork for their charm. To start, thin slices of fresh mini cucumbers are necessary. The bread of choice is often white or whole grain, depending on personal favor. To enhance the flavor, a light spread of cream cheese, butter, or another preferred spread is used. Options for garnish could include a sprinkle of sea salt, a dash of dill, or even a thin slice of smoked salmon for a luxurious twist.
Experimentation with different ingredients is highly encouraged. The end result is a light, refreshing snack that is equal parts satisfying and healthy.
Cucumber Sushi Rolls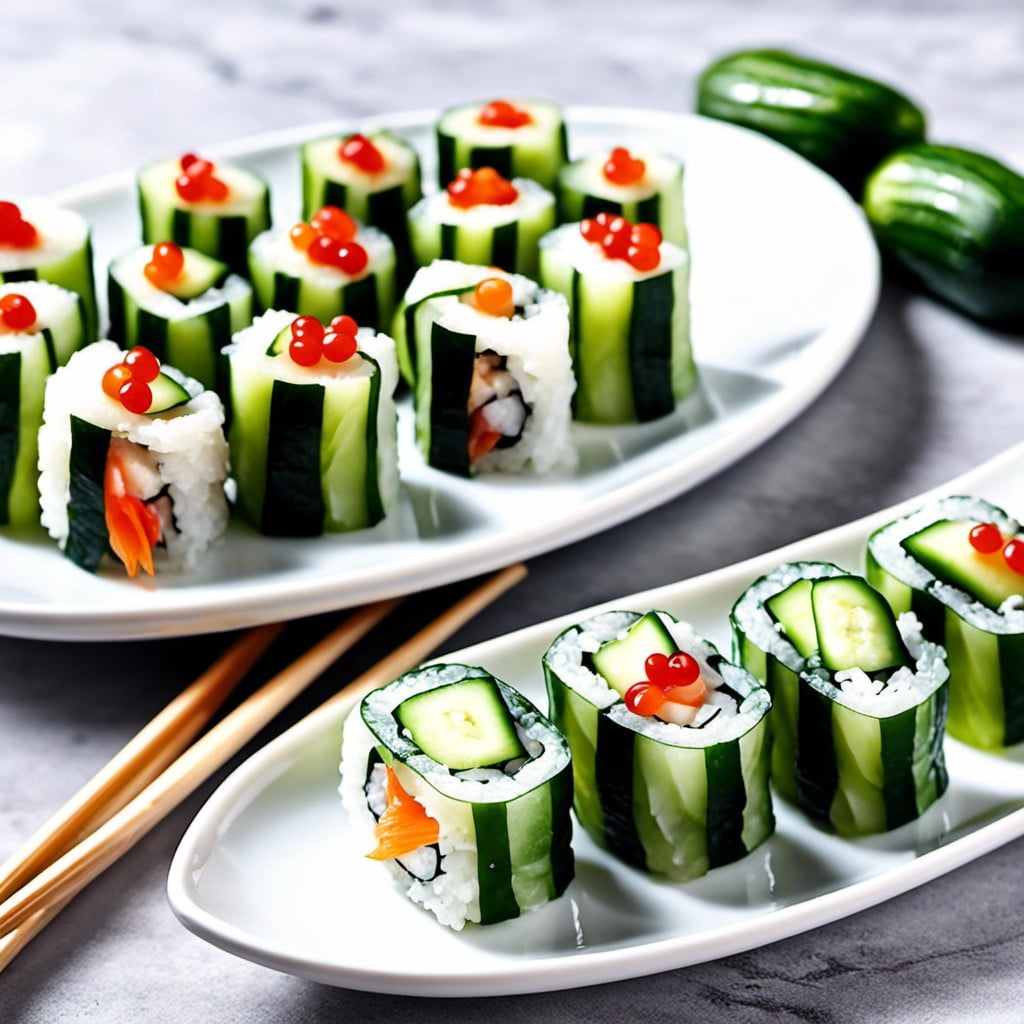 Mastering these bite-sized delights entails thinly slicing the cucumber, then using it as a swaddle for exquisite fillings. Your fillings can range from slivers of fresh fish – think salmon or tuna – to julienned vegetables, a combination that transforms a simple snack into a sophisticated gastronomic experience.
1. Remember to slice the cucumbers thinly – they need to be flexible enough to roll without breaking. A mandoline slicer can be a handy tool for this job.
2. Choosing the right filling is paramount. Stick to proteins that are easily sliced and sit well in a roll, such as smoked salmon or cooked shrimp. On the vegetable front, consider options like carrot, bell pepper, and avocado for a satisfying crunch and vibrant color.
3. Don't skip the sushi rice. Remember to use Japanese sushi rice, as it has the necessary stickiness to bind everything together. Make sure to season it with a mix of rice vinegar, sugar, and a pinch of salt for that authentic sushi flavor.
4. Once you've filled and rolled your cucumber slices, use a sharp knife to cut them into bite-sized pieces. A single cucumber roll can yield up to 5-6 delightful morsels.
Immune to the passage of time and global culinary trends, it invites you to play around with its fillings based on personal favorites or recipes you wish to experiment with. All the while, it ensures you have a healthy, yet lavish snack to nibble on.
Cucumber Hummus Boats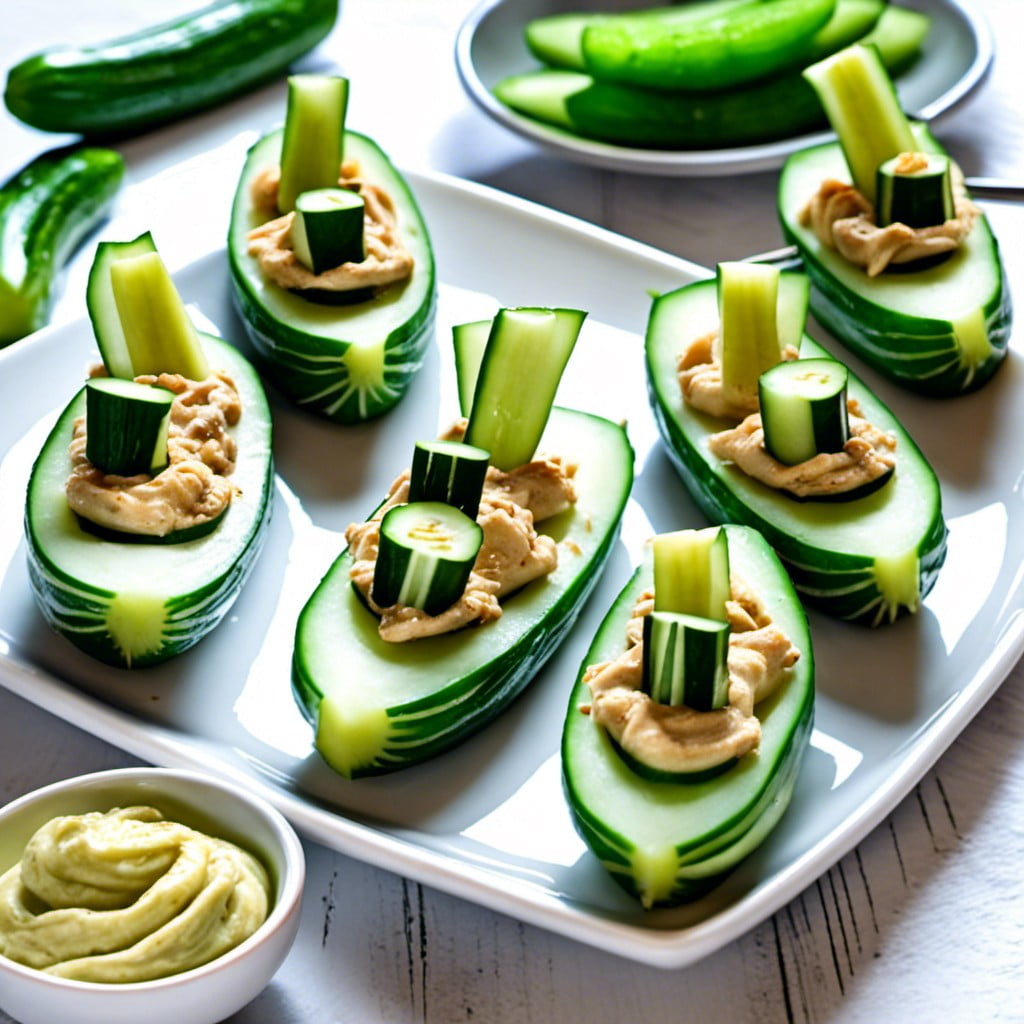 Harnessing the refreshing crunch of mini cucumbers, hummus boats make an innovative and tasty snack. Ideal for those seeking simplicity and nutrition, this snack is crafted by hollowing out sections of cucumber and filling this well with delicious, protein-rich hummus.
To add more textures and flavors, consider an assortment of garnishes. Sprinkle with paprika or fresh herbs like parsley before perching cherry tomatoes or olives on top. The slightly salty garnishes complement the cucumbers' mild sweetness while enhancing the hummus' savory flavor.
Importantly, this cucumber snack is customizable to suit personal preference. Opt for your favorite hummus variant – be it the traditional chickpea blend, edamame, or beetroot hummus, all entries add to the vibrant color scheme. As a bonus, this snack is gluten-free, vegan-friendly, and offers a delightful crunch with every bite!
Greek Salad Skewers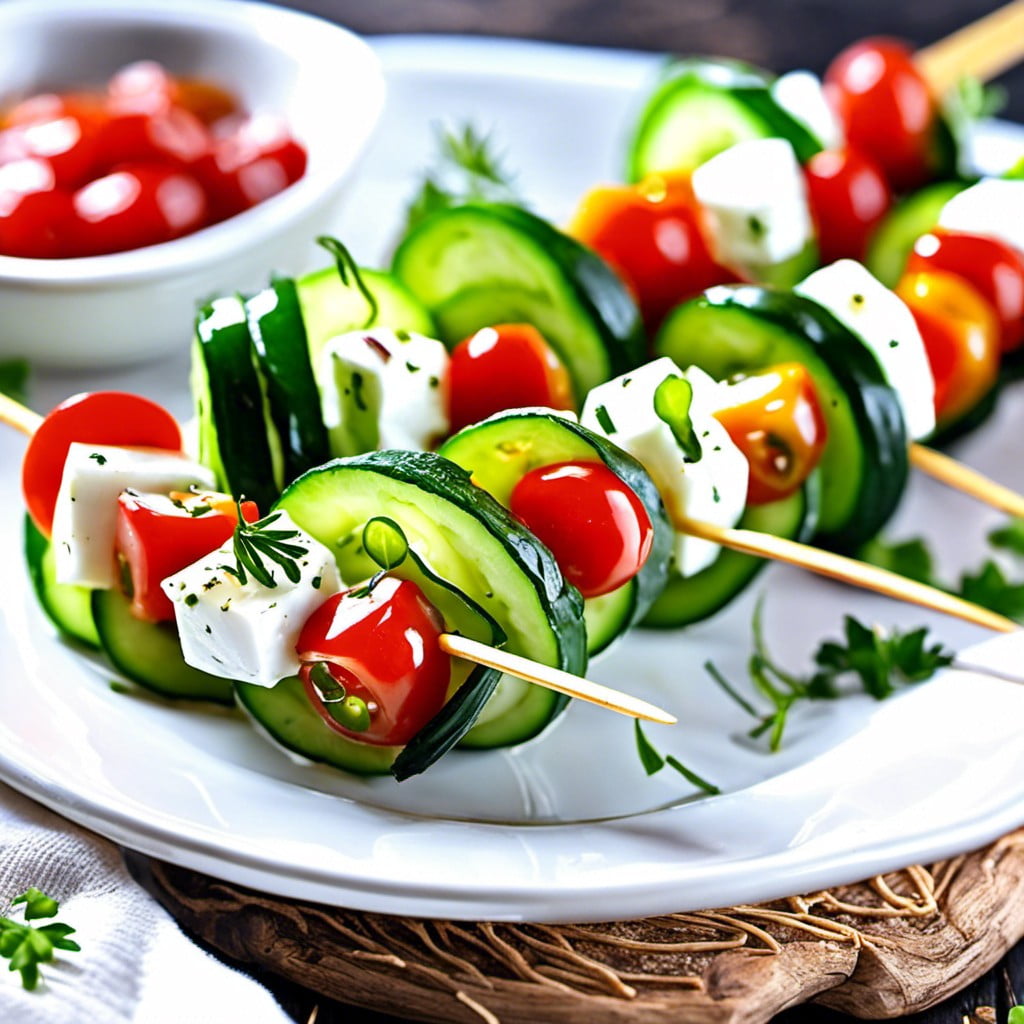 With layers of brightly colored vegetables, creamy feta, and a drizzle of tangy vinaigrette dressing, these skewers serve as handheld Greek salads.
Start by cutting mini cucumbers, kalamata olives, and cherry tomatoes into bite-sized pieces.
Then, thread these onto skewers along with cubes of feta cheese for a balanced blend of flavors and textures.
The contrast of the salty feta with the sweet tomatoes and the crisp, refreshing cucumbers creates a delightful sensation.
Amp up the flavor by brushing the skewers with a homemade vinaigrette made of olive oil, red wine vinegar, dijon mustard, dried oregano, and garlic.
Remember, just like a traditional Greek salad, the quality of the ingredients is key, so pick the freshest produce and finest feta you can find.
Cucumber Melon Salad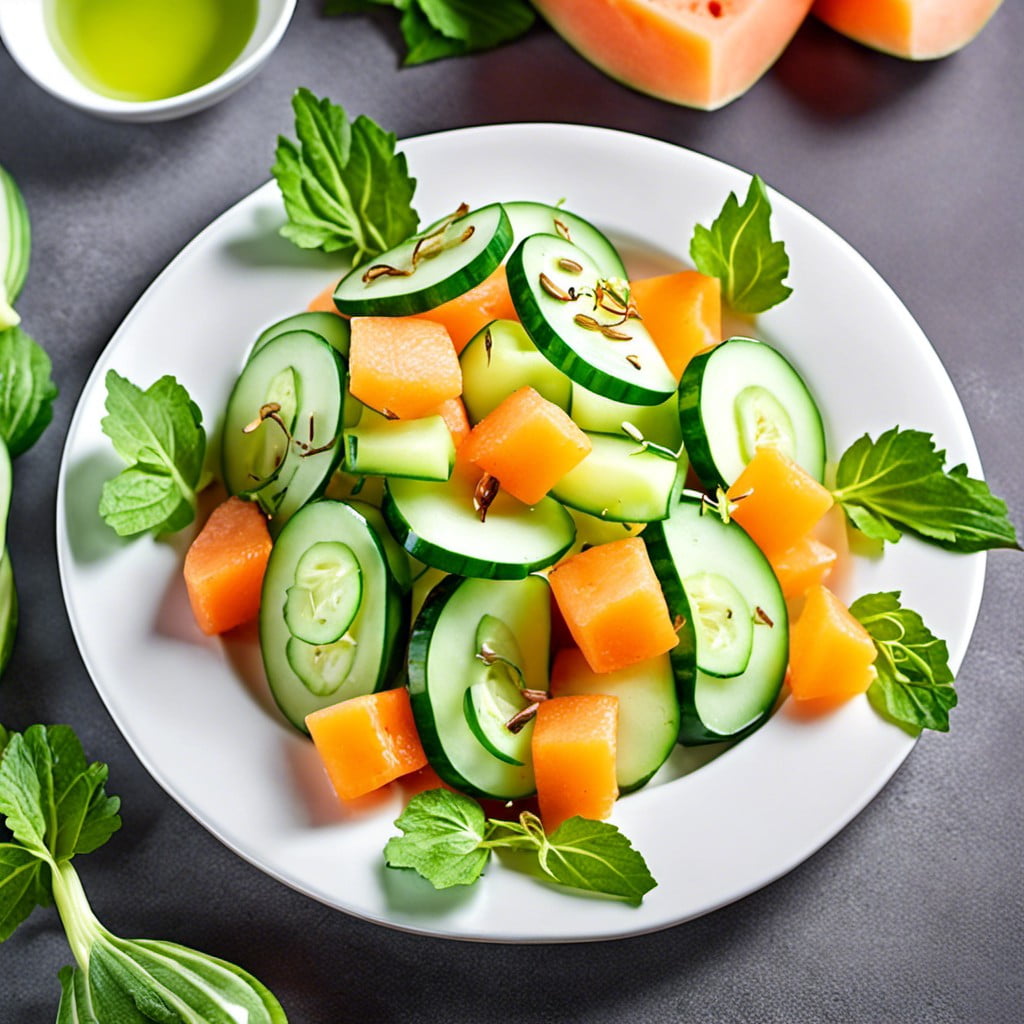 Blend honeydew, cantaloupe, and watermelon for a refreshing mix. Slice these along with cucumbers into uniform pieces for aesthetic appeal and easy consumption.
Toss in a bowl along with thinly sliced mint for added pop and freshness.
For the dressing, mix olive oil, freshly squeezed lemon juice, honey and a pinch of salt. This will create a beautiful balance of sweetness and acidity.
Drizzle it over the fruit and cucumber mixture, mixing thoroughly for even flavor distribution.
Remember, chill your salad for at least an hour before serving to allow flavors to meld together.
This salad is not only visually pleasing but also full of hydrating ingredients making it a perfect snack for hot summer days.
Also, varying melon types add a diverse nutrient profile, enhancing health benefits.
Mini Cucumber Wraps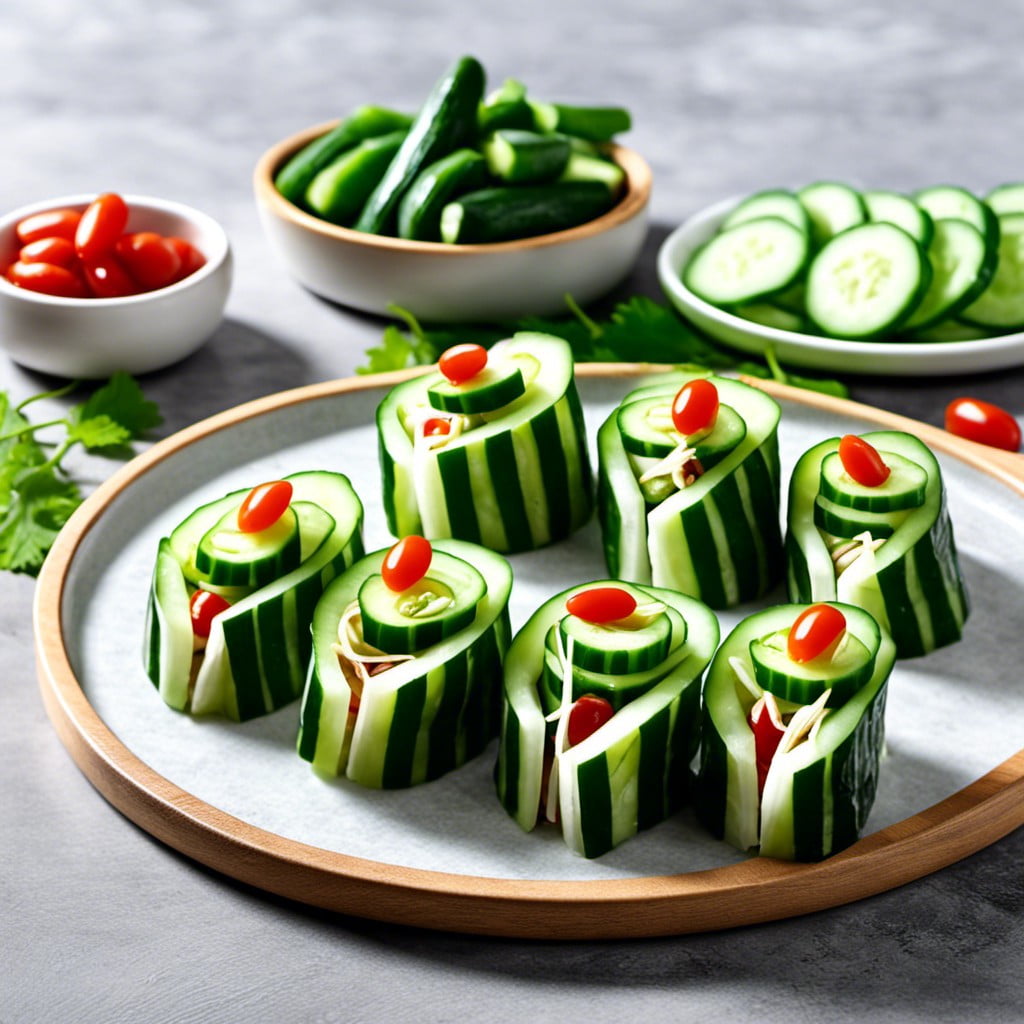 These wraps prove to be a versatile, light snack with a refreshing crunch. Begin by slicing your mini cucumber into thin strips using a vegetable peeler, the cucumber will act as your wrap.
Choose complementary ingredients for the filling such as finely shredded chicken, thinly sliced bell peppers, or carrot strips. Perhaps blend together cream cheese with some fresh dill and a squeeze of lemon for a tangy spread.
Lay your cucumber slice flat, smear on your cream cheese mixture, add your chosen fillings, and simply roll it up. The combination of texture and flavors will surely make it a crowd-pleaser.
These wraps are also a visually appealing addition to any snack platter due to their vibrant colors. Make sure to experiment with different fillings and spreads to suit your personal preferences.
Moreover, they are ideal for those seeking low-carbohydrate, gluten-free snack options.
Cucumber Bruschetta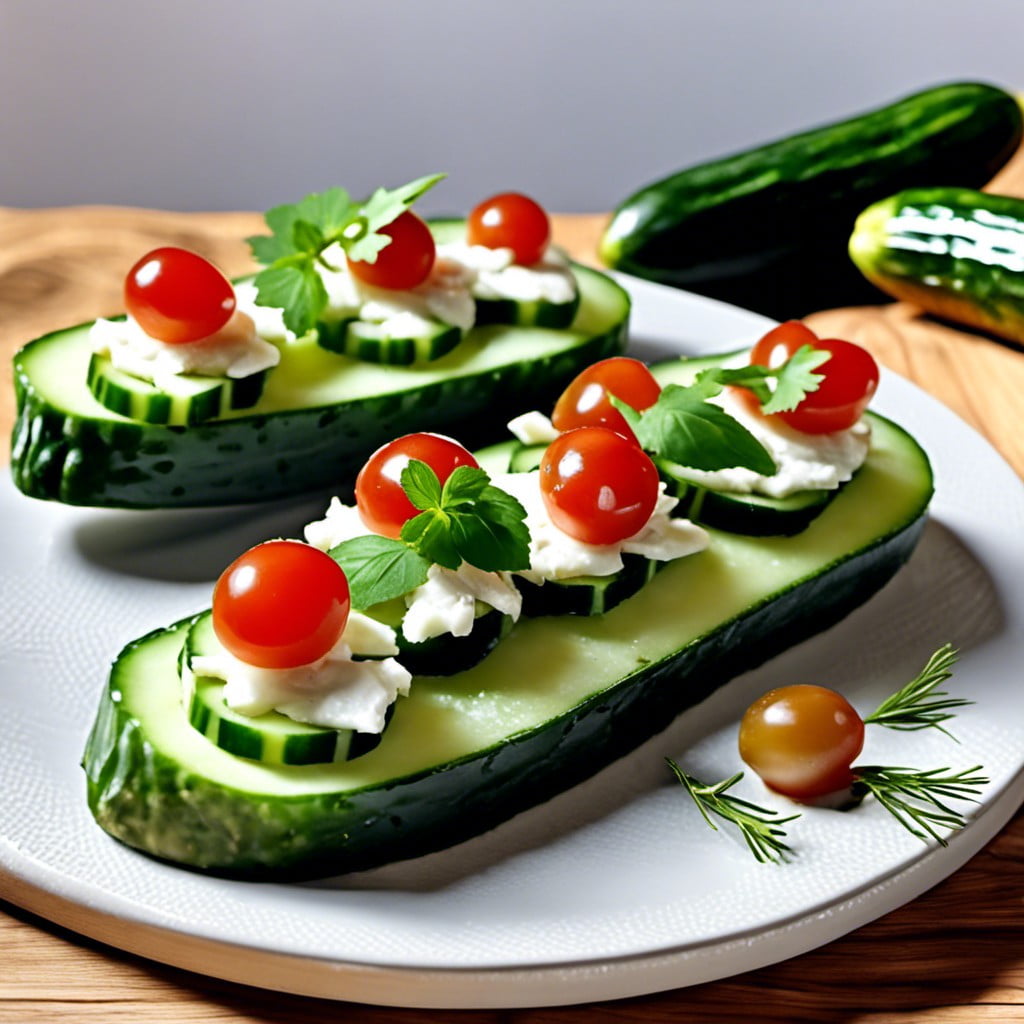 To prepare this novel twist on a traditional Italian appetizer, start by dicing your mini cucumbers finely, along with cherry tomatoes and red onion. Aim for tiny, crisp pieces that will match the size of those found in a traditional bruschetta mix. Adding cucumber gives an unexpected crunch and freshness to your topping.
Next, toss your finely-chopped decision in a complementary vinaigrette. Consider crafting your vinaigrette from scratch, perhaps combining olive oil, balsamic vinegar, salt, and pepper. Freshly minced garlic and chopped basil will balance the acidity and round out the flavors.
Rather than piling your topping onto slices of toasted baguette, this healthier variation calls for scooping it onto slices of cucumber instead. Therefore, you'll need a bigger cucumber variety, like English cucumbers, sliced.
Serve immediately. The juiciness of tomatoes coupled with the crunch of cucumbers creates a refreshing and texture-rich snack. These cucumber bruschetta bites celebrate the amalgamation of staple Mediterranean flavors, beckoning a joyous tryst of color, taste, and well-being.
Cream Cheese Stuffed Cucumbers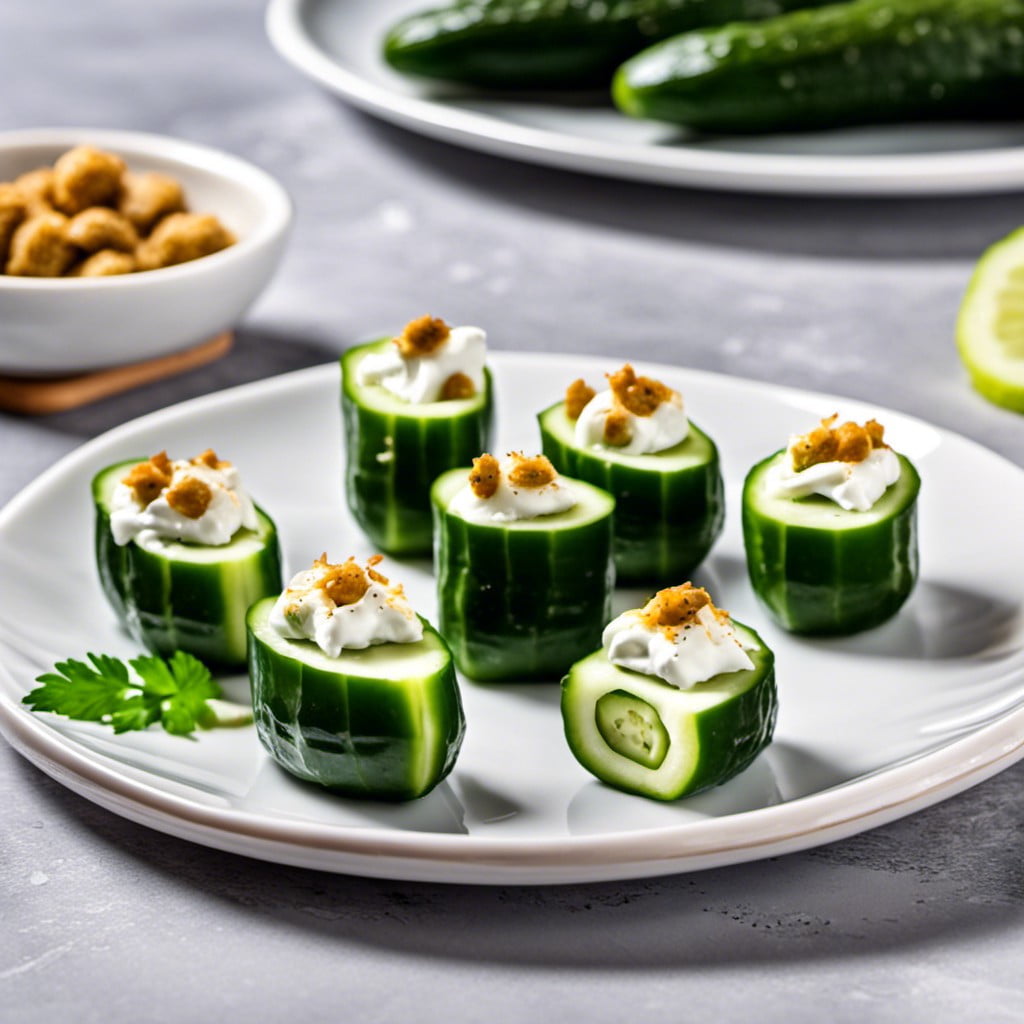 To prepare this refreshing treat, start by slicing mini cucumbers into thick halves. Next, hollow out the center of each cucumber piece, creating a small but deep cavity.
For the filling, blend cream cheese with a mix of finely diced fresh herbs like dill or chives. You have enough flexibility here to modify the filling according to your preference, be it spicy with jalapenos or tangy with lemon zest.
Once your filling mixture is smooth and well combined, fill each cucumber boat generously with a spoon or piping bag. These edible morsels offer a perfect blend of crisp cucumber and tangy cream cheese, making them a crowd favorite at any gathering.
They're simple to make, easily customizable, and will undoubtedly add a splash of charm and flavor to your snack spread.
Cucumber Veggie Rolls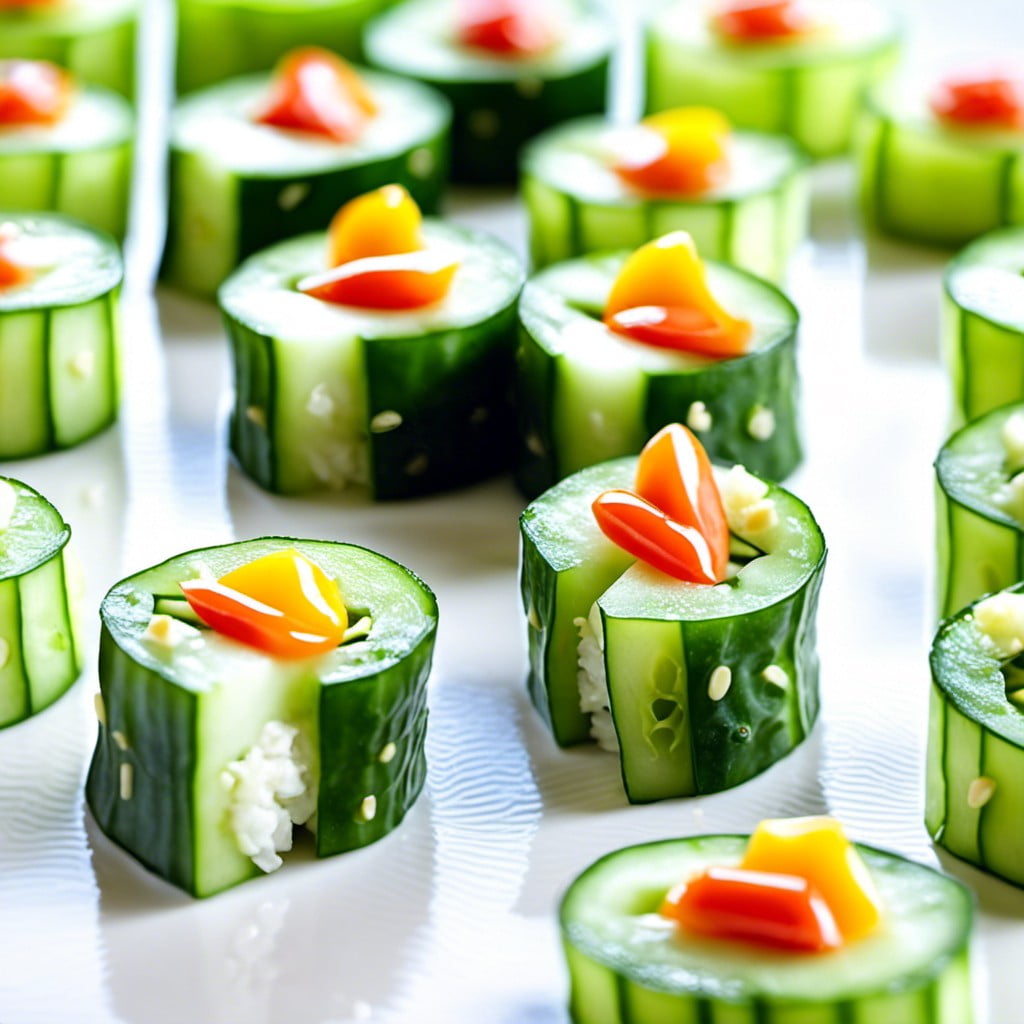 Peeling the cucumber lengthwise results in long, flexible strips which can be used as the wrapper for these veggie rolls. Each strip can be filled with an array of finely chopped colorful vegetables, like red bell peppers, carrots, and purple cabbage. Some may even add a smear of cream cheese or a drizzle of tahini for an added burst of flavor.
This concept brings a unique twist to the conventional way of eating cucumbers by turning them into a delightful, crunchy veggie wrap. Plus, it's an appealing way to incorporate a variety of vegetables into one's diet. Aside from being refreshing and delicious, these cucumber veggie rolls are also versatile.
Different vegetables, herbs, and dressings can be used according to one's preference or dietary requirements. Preparation is simple and doesn't involve any cooking, making it a quick and easy snack option.
Cucumber Pickles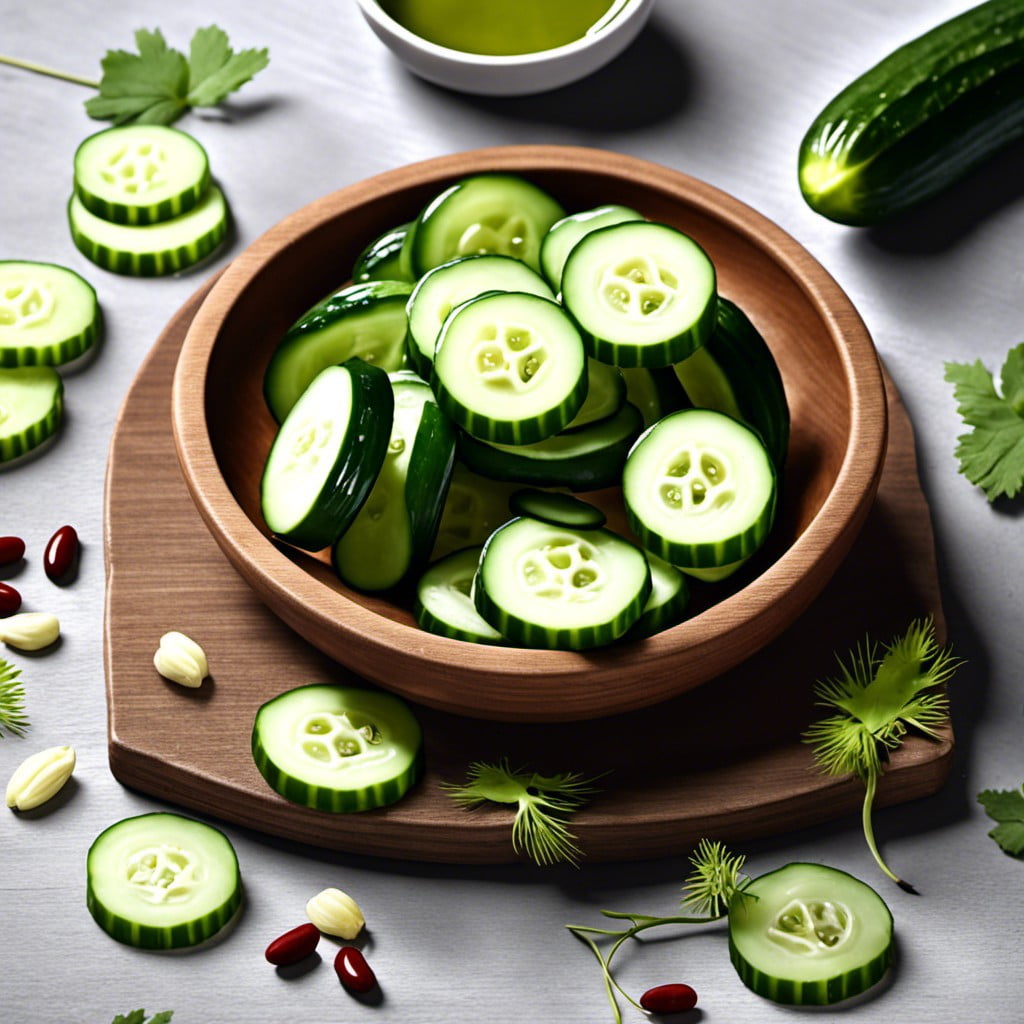 Given the slight tang of mini cucumbers, pickling them serves as a fantastic way to enhance their already robust flavor. To concoct this refreshingly crisp snack, you'll need minimal ingredients and a good portion of refrigeration time.
1. First off, a mixture of water, white distilled vinegar, dill seeds, salt, and optional garlic cloves are brought up to boil.
2. Mini cucumbers are washed thoroughly and packed tightly into jars, either whole or cut lengthwise as per one's preference for bite-sized snacks.
3. Pouring the hot vinegar solution over the cucumbers ensures they are submerged, their flavors ready to be drawn out and replaced by a tangy dill infusion.
4. The trick, however, is to let them rest in the refrigerator. It's a countdown of at least two weeks before these cucumbers transform into delicious little pickles, their new identity a delight to the taste buds.
So the next time you have some mini cucumbers on hand, venture to pickle them and enjoy the zesty transformation that is bound to elevate your snacking experience.
Guacamole Stuffed Cucumbers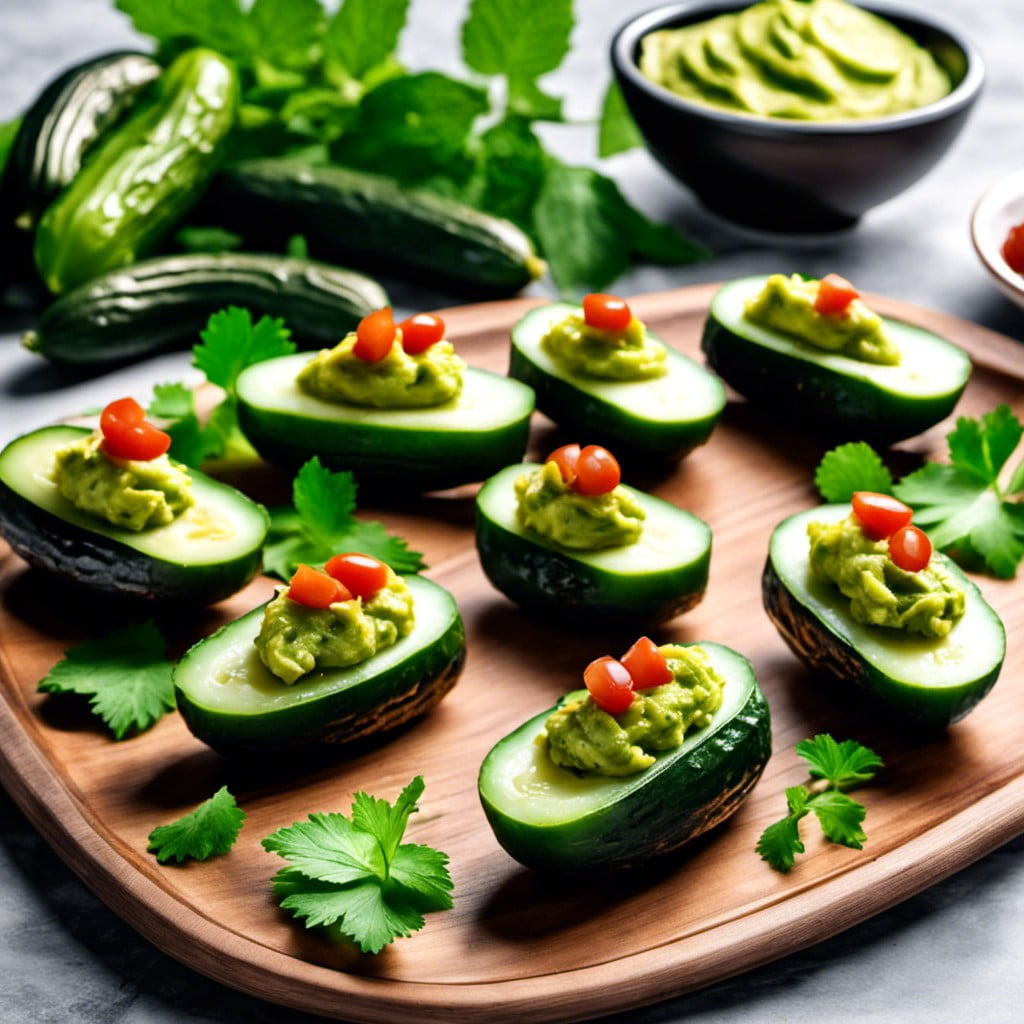 Preparation begins by peeling and slicing cucumbers into inch-thick rounds. Creating an indent in each slice forms an ideal cup for the guacamole.
It's best to use ripe avocados for a creamy, flavorful blend, mixed with diced tomatoes, finely chopped onions, cilantro, and a squeeze of lime for zest.
Fill each cucumber cup with the guacamole mix and garnish with a small cilantro leaf or a sprinkle of paprika for color.
Chilled and served, they offer a burst of freshness and flavor, combining the crispness of cucumbers with the richness of guacamole.
For extra convenience, prepare the guacamole earlier and fill the cucumber cups just before serving.
This snack is not only tasty and refreshing, but also healthy, packed with essential nutrients and vitamins.
Perfect for parties, gatherings or simply as a mid-day snack.
Cucumber Shrimp Bites
The crisp texture and the refreshing taste of chilled mini cucumbers perfectly complement the succulent shrimp. To make these bite-sized wonders, start by seasoning the shrimp with mild spices before cooking them until tender.
To assemble, first, hollow out the middle of a cucumber slice to form a small cup. Then, fill this cavity with a dollop of tangy cocktail sauce. Finally, place your seasoned shrimp on top. The result is a tantalizing mix of flavors and textures, making for a perfect bite-size snack that's both healthy and flavorful.
Whether serving at casual barbeques or sophisticated cocktail parties, these shrimp bites incorporate a medley of elements that work well together. The heat from the shrimp contrasts with the cool cucumber, while the cocktail sauce adds an inviting tanginess. Easy to prepare and full of wholesomeness, this dish is a real crowd-pleaser.
Mini Cucumber Pizzas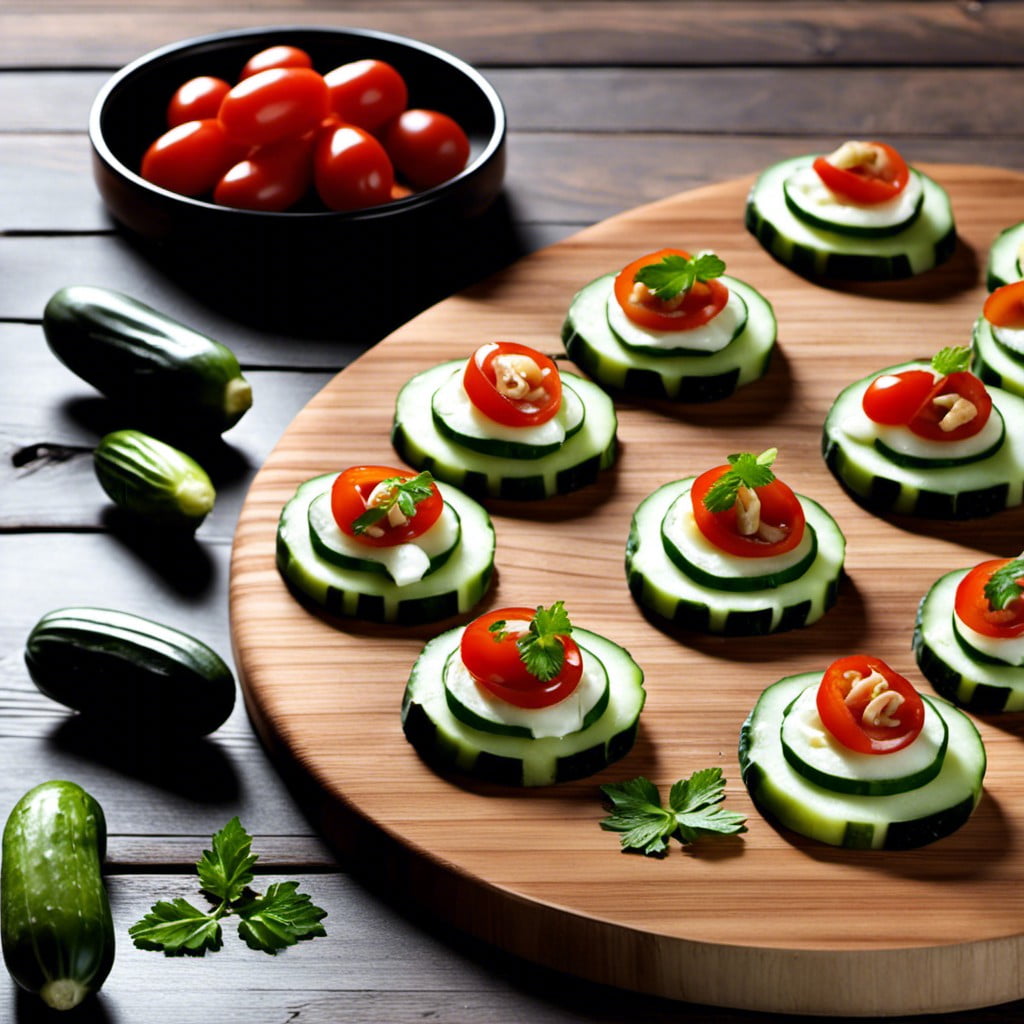 To create a toothsome, low-carb treat, swap a traditional pizza base for slices of fresh, crisp mini cucumbers. It's a refreshing and simple process.
Firstly, slice the cucumbers to about 1/2 inch thick. Spread a dollop of tomato sauce onto each piece, then scatter some finely chopped vegetables, such as bell peppers and onions, for added flavor and texture.
Feel free to get creative with seasonings: sprinkle oregano, rosemary, or your favorite pizza seasoning for that authentic pizza taste. Lastly, top it all off with a bit of shredded mozzarella cheese. You could either pop these into the oven for a few minutes, turning them into melty pizza bites, or serve them cold for a true burst of freshness.
It's not just a healthy snack, but also perfect for parties and get-togethers, with bite-sized convenience. Remember, good things often come in mini-sized packages!
Cucumber Tuna Salad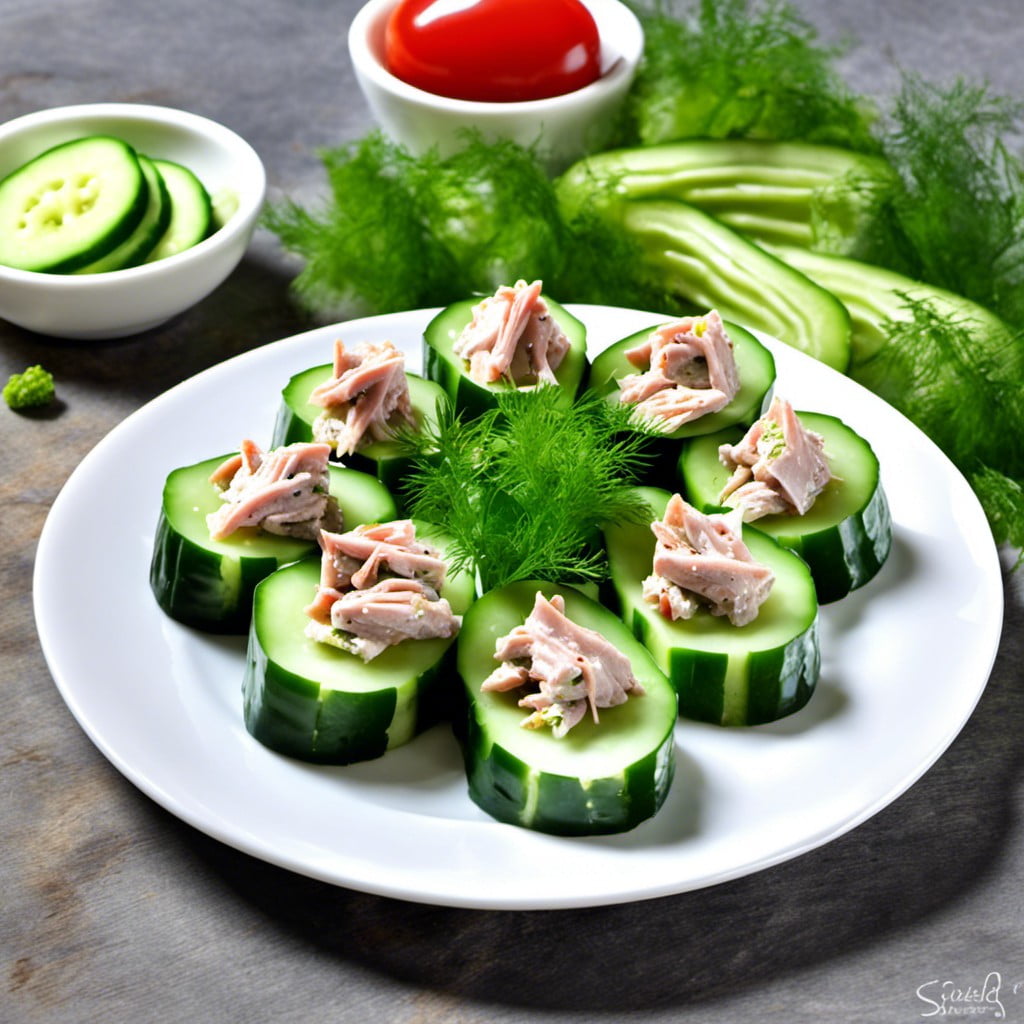 Dicing the mini cucumbers into small chunks, you combine them with a can of drained tuna, creating the primary base of this appetizing salad.
The crunchiness and slight sweetness of cucumbers pair perfectly with the delicate flavor of tuna, providing a balanced taste profile.
A spoonful of mayonnaise or Greek yogurt adds creaminess, while chopped onions and celery deliver additional crunch and flavor.
You may also include a hard-boiled egg for extra protein.
Sprinkle some salt, pepper, and dill to spice up the mix.
Consider serving this wholesome salad on whole grain bread or on its own for a light, refreshing snack.
Remember, mixing everything nicely ensures the flavors meld together for a palatable experience.
Cucumber Martini Appetizer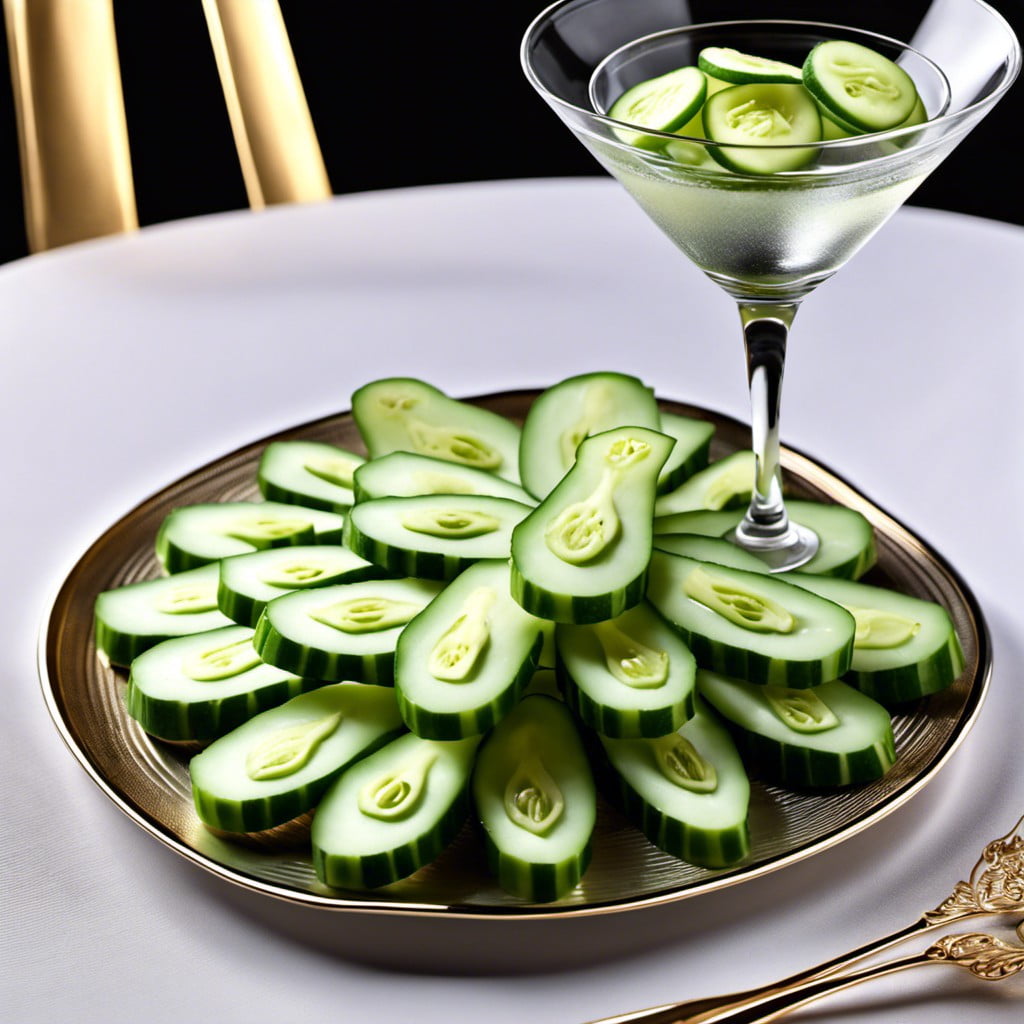 Let's proceed to crafting this enticing treat! Combining cucumbers with martinis introduces an elegant, sophisticated spin to your snack table. It requires only a few simple steps.
1. Ingredient Gathering: Fetch the needed items for this craft. Notable elements include vodka, dry vermouth, sugar, and of course, mini cucumbers.
2. Preparation: To ensure optimal flavor, beginning by muddling the cucumbers in a shaker. A thorough mashing is ideal to release the juices that make the drink vibrant. Add vodka, vermouth, and a dash of sugar, then shake vigorously.
3. Embellishment: Pour the drink into martini glasses, topped with a small slice of cucumber. The cucumber garnish provides a crisp, fresh contrast to the smooth martini base.
4. Serving: Treat your guests to cucumber martini appetizer at chilled temperature, which further amplifies the refreshing flavors.
Experiment with the proportions to customize the flavor to your preference, striking a balance between sweetness and the fresh cucumber taste. Such an appetizer combines fun and sophistication, making it ideal for dinner parties, gatherings, or a fancy light snack!
Cucumber Caprese Bites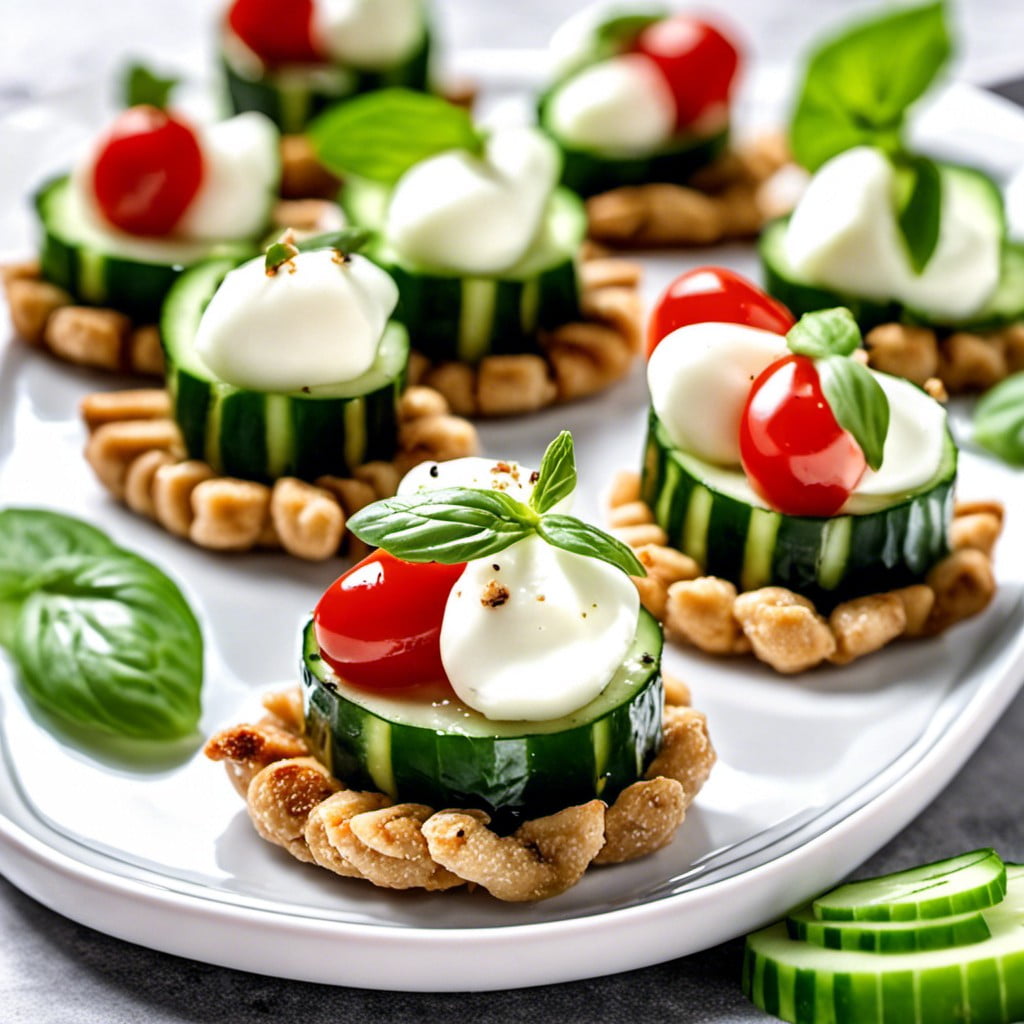 Crafting your Cucumber Caprese Bites begins with crisp slices of mini cucumber. Add on a fresh basil leaf followed by a juicy layer of cherry tomato and a slice of mozzarella cheese. Tie it all together with a toothpick.
To maximize flavor, prepare a tantalizing balsamic reduction for drizzling on top. This dipping sauce gives the snack an extra zing and enhances the natural flavors of the fresh ingredients.
Simple to make, these bite-sized refreshments are both healthy and delightful, making them an ideal choice for entertaining guests or for a light mid-afternoon snack.
Consider pairing them with a refreshing iced tea or a crisp white wine to bring out the delicate flavors.
Mini Cucumber Sliders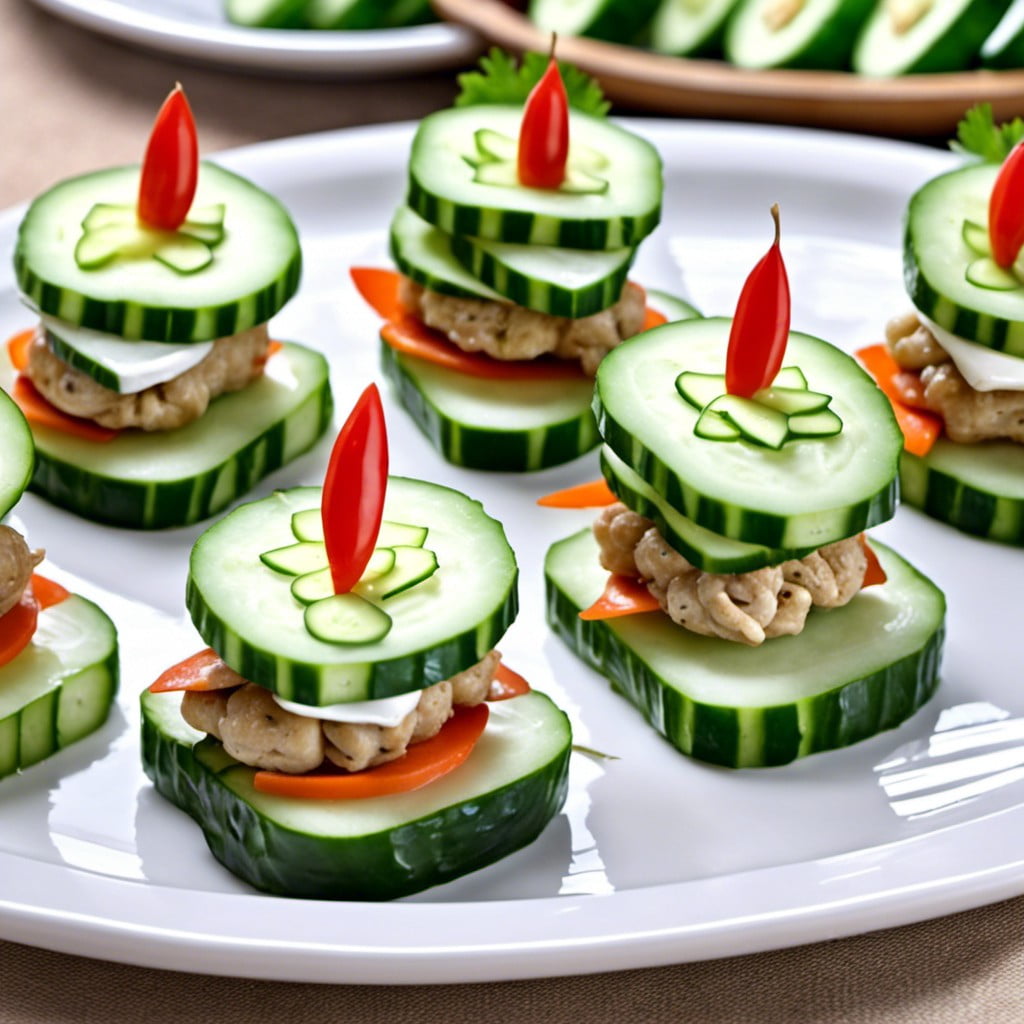 In this recipe, the mini cucumbers play a dual role. Firstly, they substitute traditional slider buns, offering a refreshing crunch with each bite. Secondly, they serve as the vessel for a remarkable medley of flavors.
1. Ingredients: The focus is on simple ingredients. Along with mini cucumbers, you can use grilled chicken, bell peppers, and low-fat cheese. You may enhance the taste by incorporating a low-calorie sauce or dressing like Cajun or mustard.
2. Preparation: Cut the cucumbers lengthwise and scoop out some of the seeds to create a space to hold the fillings. Arrange the chicken, bell peppers, and cheese on one half and cover with the other half. Secure them with a toothpick for ease of handling.
3. Health Benefits: With cucumbers' high water content plus the protein from the chicken, these sliders aren't just tasty, but also a healthy and balanced option.
4. Customizability: This recipe can be easily tailored. Swap chicken for smoked salmon for a pescatarian variation, or use hummus and avocado for a vegan alternative.
5. Serving Suggestions: These are perfect for parties as finger food, or use them in kids' lunchboxes for a fun twist to their daily meal.
Experiment with these sliders to deliver a tasteful surprise for taste buds while keeping things light and healthy!
Cucumber Tomato Bites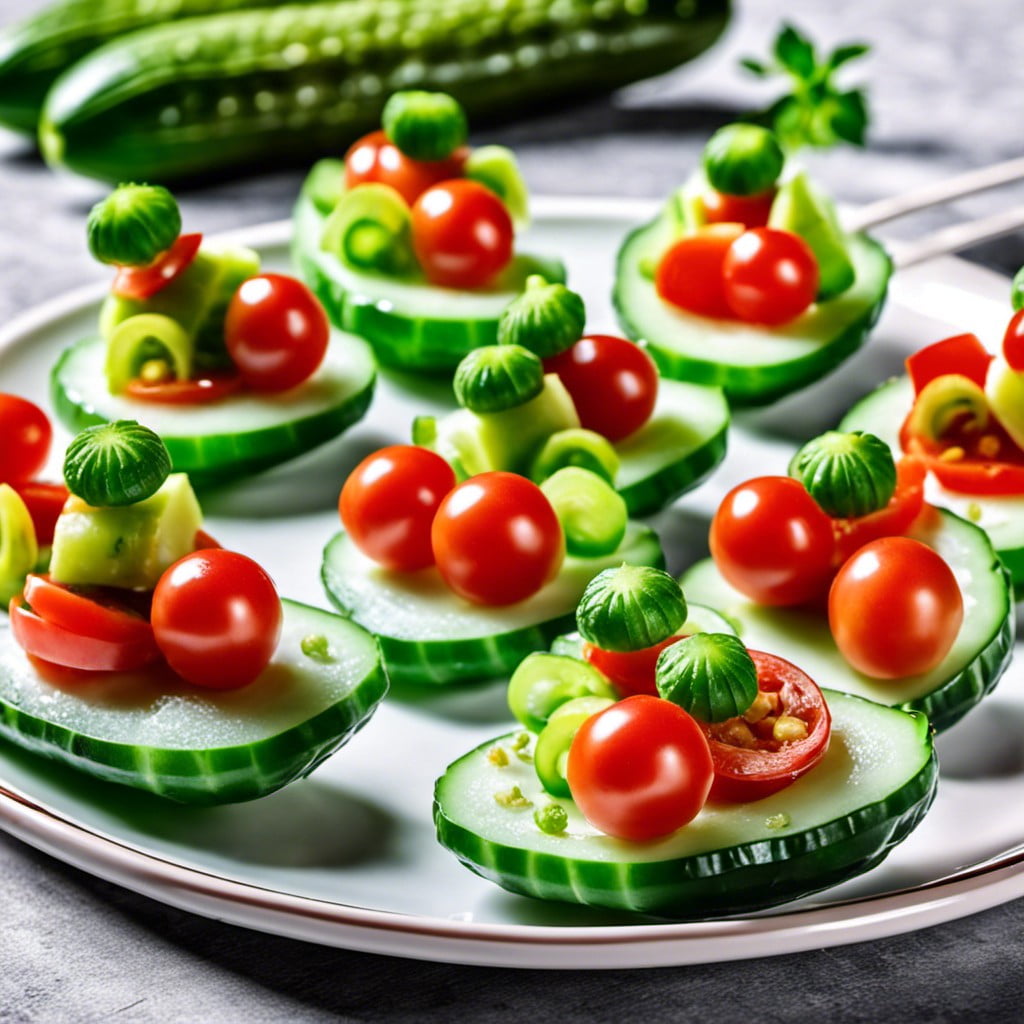 For a Mediterranean-inspired delicacy, you'll need cherry tomatoes, a ripe avocado, fresh basil, and of course, mini cucumbers.
Slice the cucumbers into thin rounds, and the cherry tomatoes in half.
Top each cucumber base with a slice of avocado, add some finely chopped basil, then finish off with a cherry tomato half.
Drizzle your creations with a blend of olive oil, balsamic vinegar, and a pinch of sea salt.
Voila! You now have a snack bursting with refreshing textures and enticing flavors.
Remember, quality ingredients yield the best taste, so opt for organically grown vegetables whenever possible.
Enjoy these bite-sized delights at room temperature for optimal flavor.
Cucumber Avocado Rolls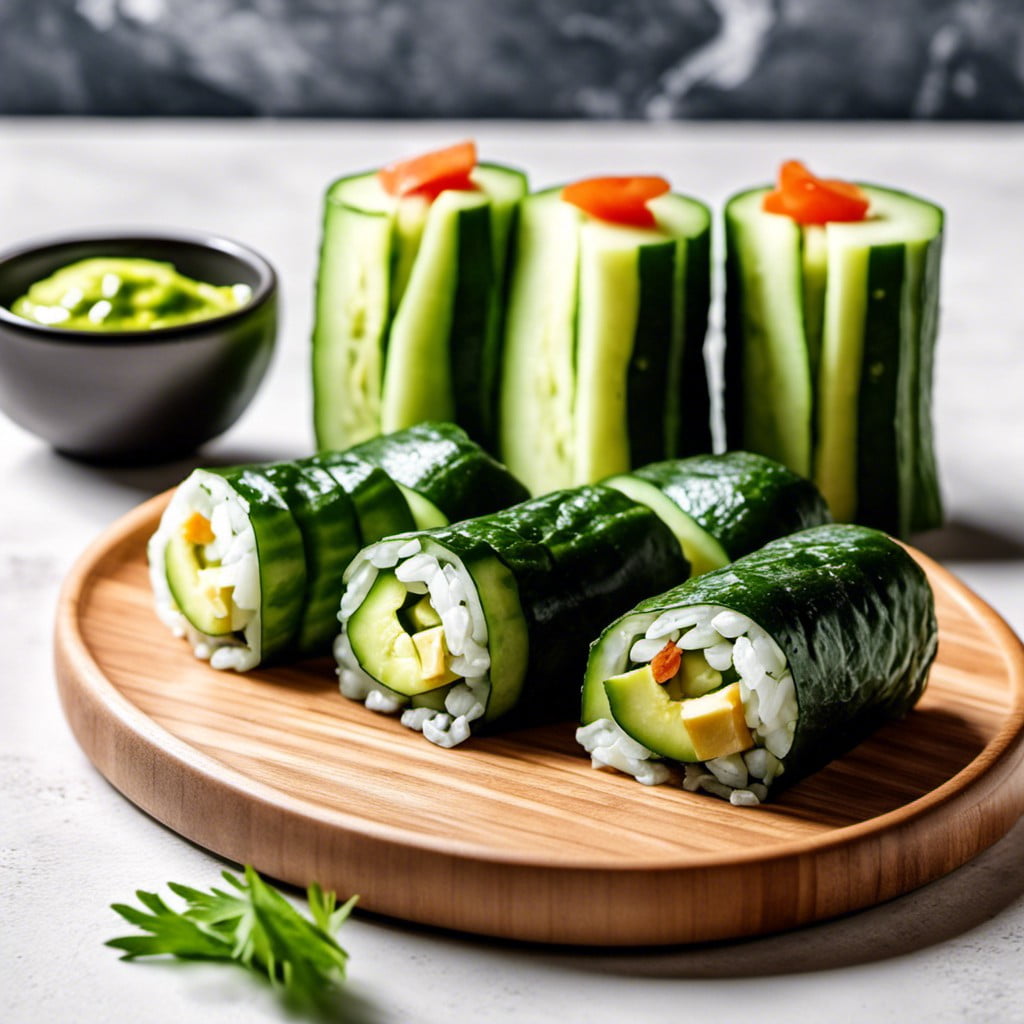 With the buttery creaminess of avocado playing off the crisp freshness of cucumber, this snack is as tasty as it is healthful. The beauty of this dish lies in its simplicity:
1. First, slice the mini cucumbers lengthwise into thin planks, ideally using a mandoline for consistent thickness.
2. Create the avocado filling by mashing ripe avocados and adding a dash of lemon juice, along with salt and pepper to taste.
3. Then, carefully spread a spoonful of avocado mixture onto each cucumber strip.
4. Finally, roll up the cucumber, securing with a toothpick if needed.
For a flavor-packed twist, add in diced tomatoes, cilantro, or a sprinkle of sesame seeds. These rolls are versatile, easy to make, and a perfect option for those seeking innovative, nutritious snack choices.
Cucumber Chicken Salad Bites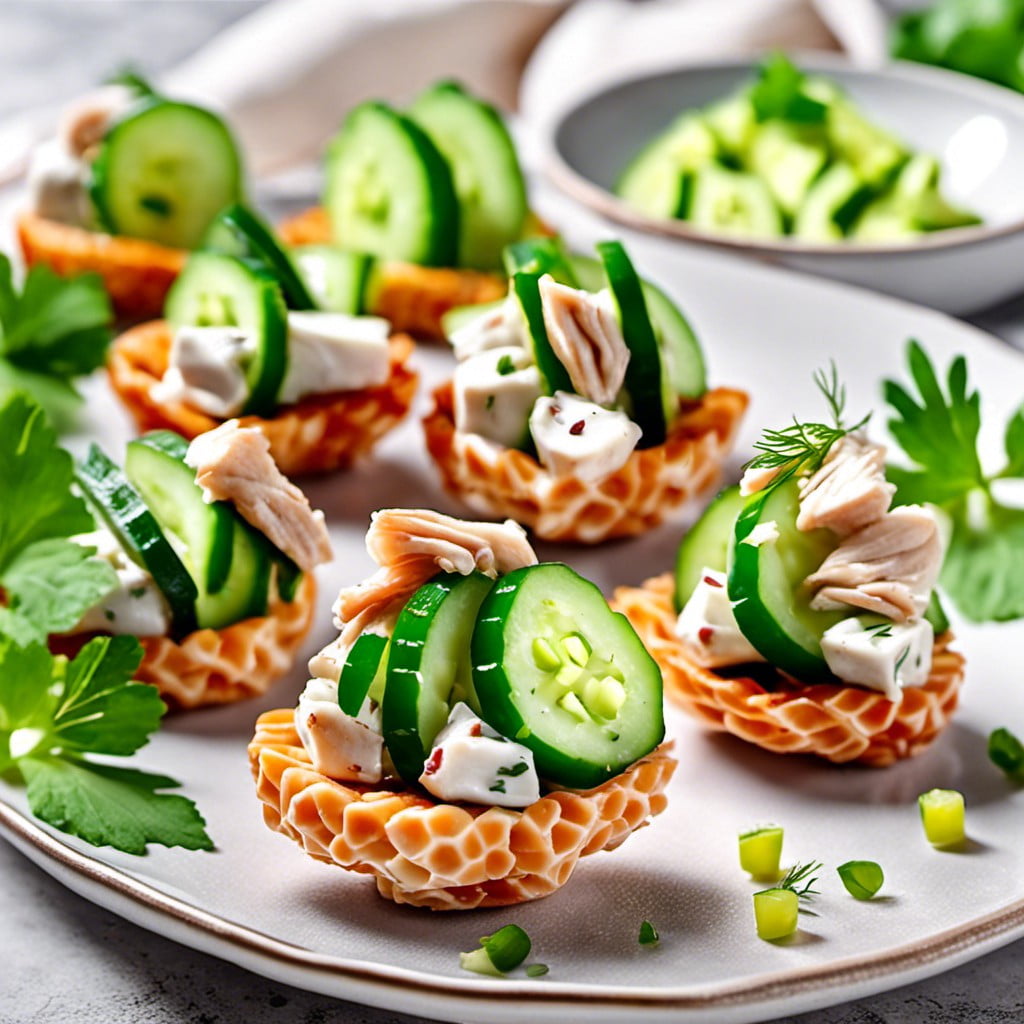 To create these bite-sized delights, start off by mixing chopped chicken, celery, and onions with a swirl of mayonnaise. Add a dash of salt, pepper, and a hint of fresh dill for a burst of flavor.
Hollow out the mini cucumbers to create a "boat," fill the grooves with the chicken salad mixture, top it off with chopped chives or dill, and voila! Not only do these snacks make for a visually appealing addition to your table, but they also meet the criteria for a healthy, gluten-free and low-carb appetizer.
What's even better is the flexibility of this recipe. You can play around with the chicken salad ingredients as per your preference. Be it Greek yogurt instead of mayo, or adding in some cranberries and nuts for that sweet, crunchy twist, feel free to give it your unique touch!
The subtle, fresh crunch of the cucumber complements the creamy, flavorful chicken salad beautifully creating a balance of textures and tastes that is sure to tantalize your taste buds.