Dive into a wave of flavors with these delightful beach party snack ideas that are sure to make your seaside gathering even more enjoyable.
Planning a beach party and looking for snack ideas? You're in the right place. This article offers a plethora of mouth-watering, easy-to-prepare, and transport-friendly snack options perfect for your sandy soiree.
Whether you prefer sweet or savory, healthy or indulgent, these suggestions will ensure your beach party is a culinary success. So, why wait? Dive in to discover everything from refreshing fruit skewers to portable pasta salads, crispy chips with zesty dips, and much more.
Get ready to make waves with your beach party snacks!
Fruit Kabobs
Creating these rainbow-colored delicacies is a breeze and they're ideal for a hot day on the beach. Simply skewer pieces of various fruits such as melons, strawberries, pineapples, grapes, and berries. For a tropical touch, add some mango or kiwi. Not only are they a healthy snack option, but their vibrant colors also add to the festive party atmosphere.
They're handheld, mess-free, and you can easily make them ahead of time. For a flavor twist, consider serving them with a side of yogurt dip or drizzled in honey. Remember, the key is in the variety of fruits you choose, the more colorful, the better!
Round off the preparation by refrigerating them until needed to keep them fresh.
Mini Sandwiches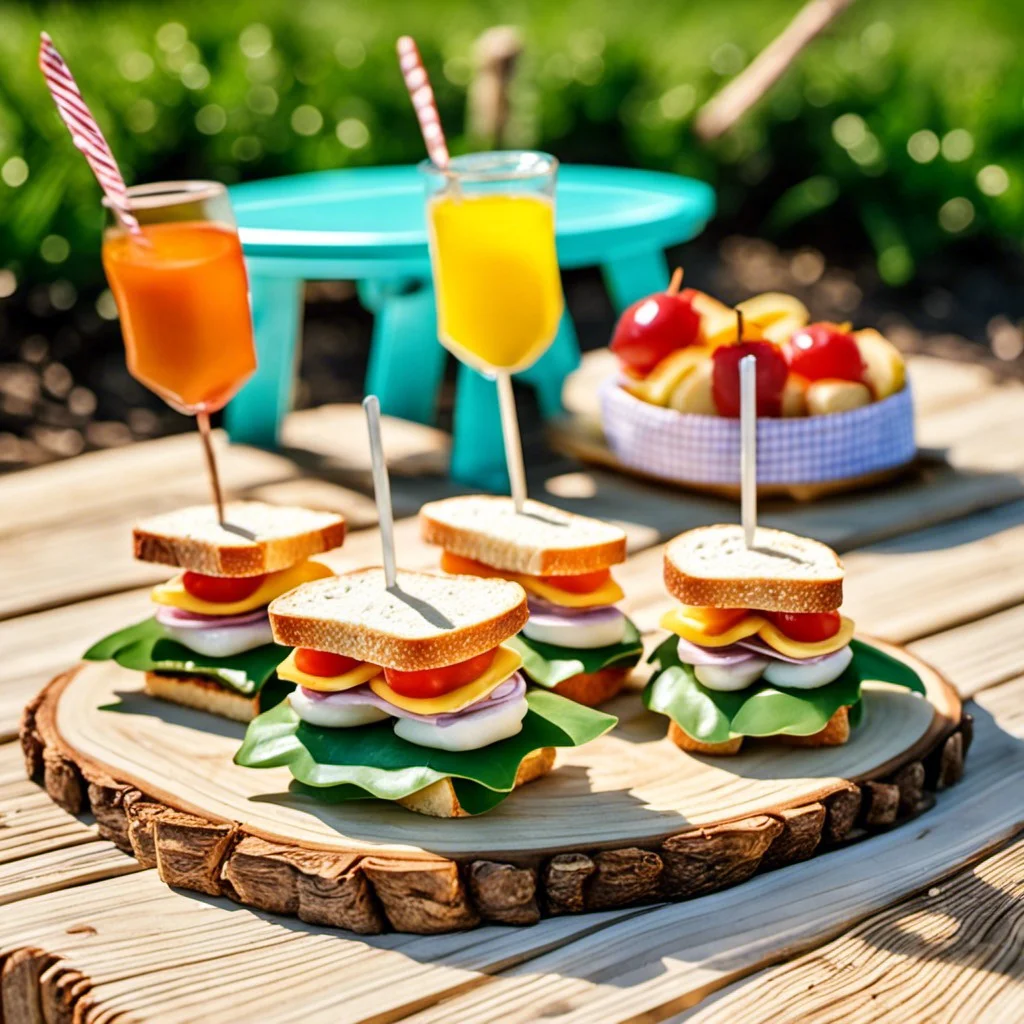 These bite-sized delights offer versatility at its finest. By using a variety of meats, cheeses, and spreads, each sandwich can be customized to cater to different taste buds.
For health-conscious guests, consider whole-grain or gluten-free bread options. Seafood, like tuna or shrimp salad, can echo the beachy theme. For vegetarians and vegans, consider fillings like hummus with cucumbers or grilled vegetables with pesto.
Display them on a laid-out platter for an easy grab-and-go option during the festivities, or wrap them individually for a quick, clean snack while playing beach games. For convenience, remember to securely fasten each sandwich with a toothpick to avoid any messy incidents.
Shrimp Cocktail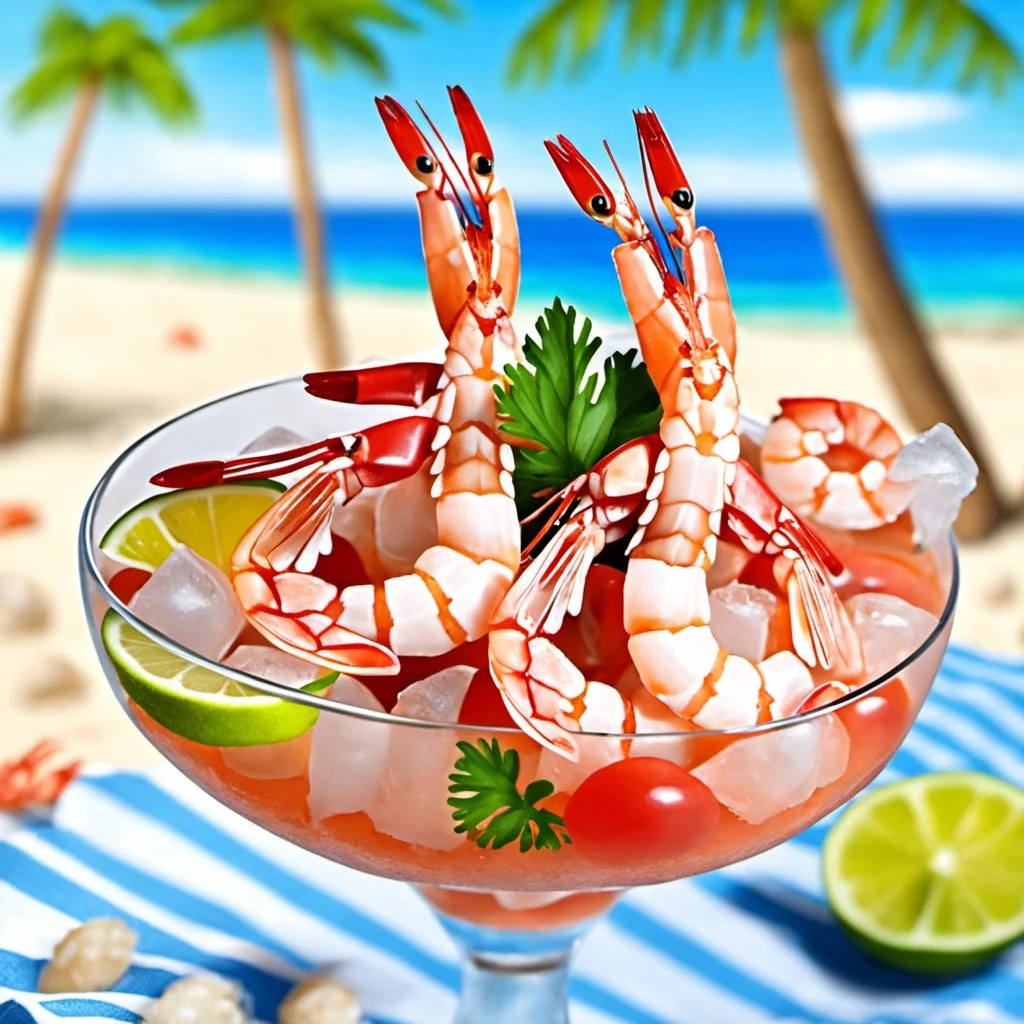 Ideal for seafood lovers, this simple appetizer sets a refreshing tone at your beach gathering. The key here lies in selecting fresh succulent shrimps, boiled to perfection in a tangy cocktail sauce, often having horseradish and hot sauces' distinct punch.
Here's how to make the perfect Shrimp Cocktail :
Ensure you have the freshest shrimp. This is crucial for taste and can make all the difference.
Use ice water to instantly halt cooking- This is vital in maintaining the crunchiness and avoiding an overcooked texture.
Prepare cocktail sauce – A blend of ketchup, horseradish, tabasco, and Worcestershire often does the trick. Adjust heat to preference.
Chill before serving – Cooling allows the flavors to meld well, enhancing the overall taste. It also provides a refreshing sensation amidst the beach heat.
Serve in a cocktail glass for aesthetic appeal – Stuff the glass with shredded lettuce at the bottom, followed by shrimps hanging on the rim and the cocktail sauce in the center.
Remember, presentation matters as much as taste. The inviting appeal of the shrimp cocktail at your beach party sets the mood for your guests. It isn't just about serving food; it's about creating a memorable experience.
Guacamole and Chips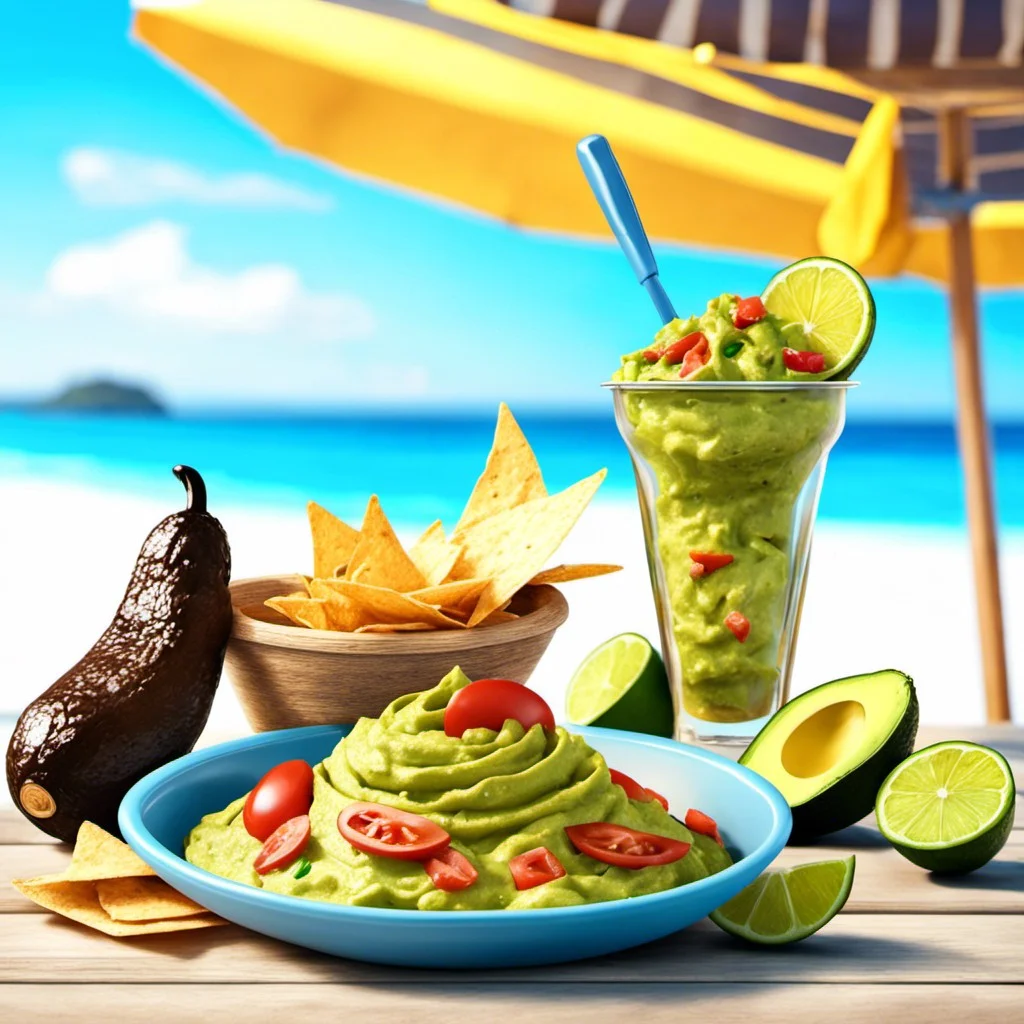 Boasting a delightful mixture of creamy avocados, ripe tomatoes, zingy lime juice, and a dash of cilantro, guacamole serves as the ultimate dip for your beach party.
Here's why:
1. Easy to make: Whipping up a batch of guacamole requires no special culinary skills or tools. Simply mix the ingredients in a bowl – ready in minutes.
2. Customizable: Add or subtract materials based on personal preference. Like it spicy? Toss in some jalapeños. Not a fan of tomatoes? Leave them out.
3. Nutritious: Avocados supply heart-healthy fats, while tomatoes offer a dose of antioxidants. It's a snack that suits those looking after their health.
4. Vegetarian-friendly: With only plant-based ingredients, there's no need for vegetarians or vegans to miss out on the pleasure of dipping and nibbling.
Pair with crunchy, salty tortilla chips for a snack that's just as tasty as it is satisfying.
Remember to keep your guacamole chilled before serving to maintain its freshness under the hot sun.
Vegan Wraps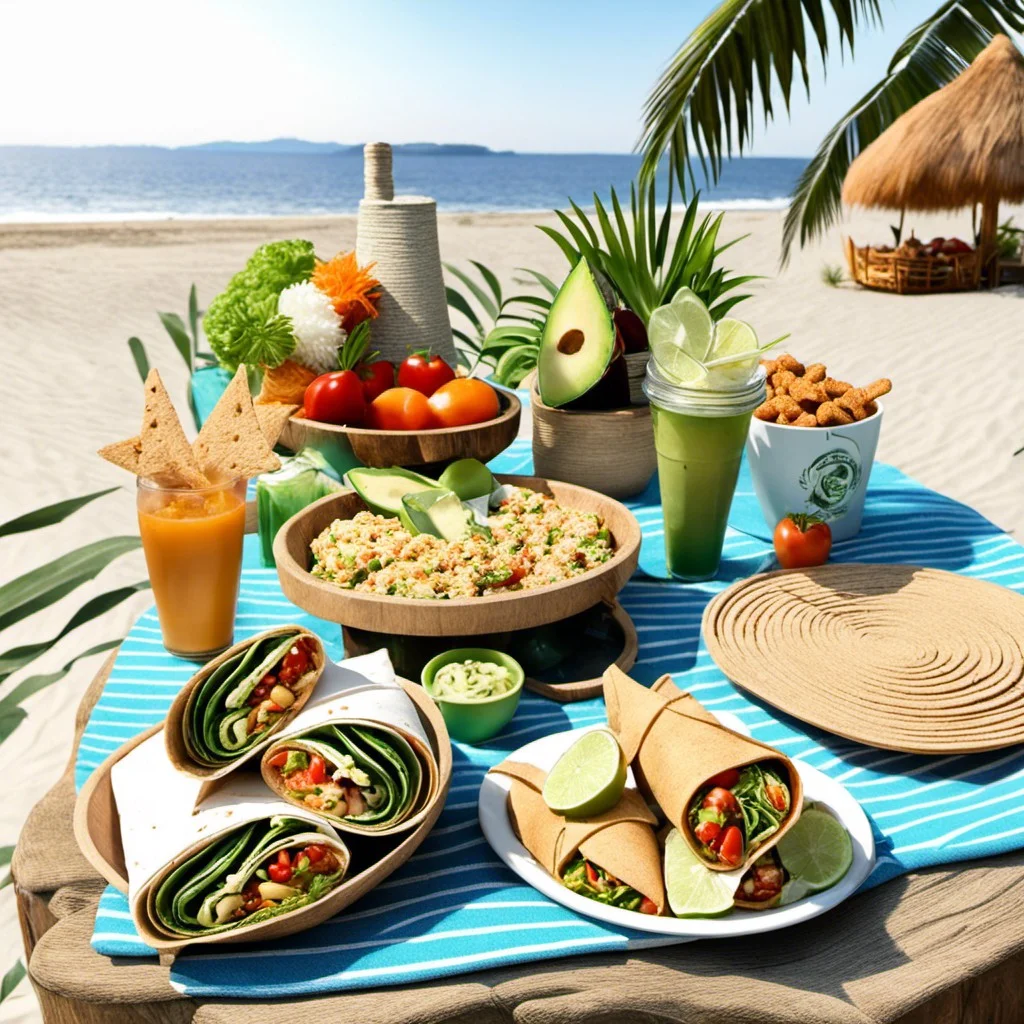 Crafting these delectable, health-focused delights requires only a few flavorful components. Start by selecting an assortment of your favorite fresh veggies – bell peppers, cucumbers, carrots, and spinach are among the crowd favorites. Consider including avocados for a fulfilling, creamy contrast. Choose whole-grain wraps to enhance your snack's nutritional value while providing a robust, hearty flavor.
To elevate the taste and nutritional content, a dollop of hummus or vegan pesto could be spread onto the wrap before loading it with veggies. Not only do these spreads introduce extra flavor dimensions, but they also offer a nutritional boost with added fiber, proteins, and healthy fats.
Once your wrap is loaded, roll it tightly and slice it into manageable, bite-sized portions – perfect for a quick beach snack! These vegan wraps are portable, refreshing, and bursting with colors that perfectly match the beach's vibrant atmosphere. Plus, they cater to those with dietary restrictions or preferences – a thoughtful touch to any party planning!
Pizza Bites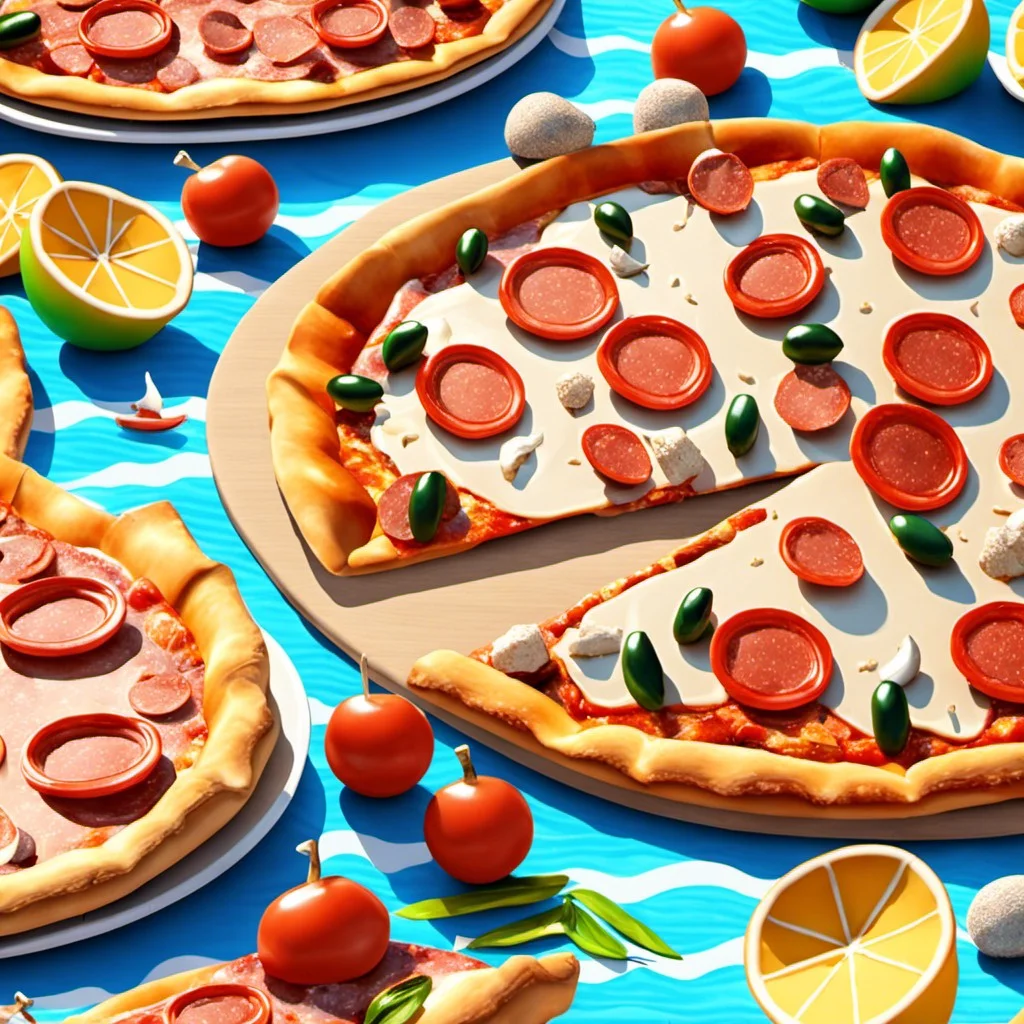 Cute and compact, these party staples are a hit with both kids and adults alike. The bread base, customizable toppings, and bite-sized format make them an easy and versatile option for a beach party. Some like them with a classic Margherita topping while others experiment with barbecue chicken or spinach and ricotta. You can even make them low-carb by choosing a cauliflower crust!
Here are a few points for consideration:
Bake ahead of time and simply warm them up at the party location.
Opt for a variety of toppings to cater to different tastes.
Consider different dough options – gluten-free, whole wheat, or even vegan to include everyone.
Drizzle your pizza bites with a bit of olive oil before baking for an extra crispy finish.
Don't forget dips! Offer a selection like marinara, ranch, or garlic butter for folks to dunk their pizza bites in.
Remember, personalization is your friend. You can never go wrong with a bite-sized food favorite that practically everyone loves!
Greek Salad Cups
With their refreshing flavors and lively colors, these appetizers offer an inviting crunch.
Prepared using ripe tomatoes, cucumbers, and olives, mixed with a sprinkle of feta cheese and drizzled with a sip of olive oil and vinegar, these offer a delectable bite-size taste of the Mediterranean.
The standout element is the use of crisp lettuce cups in place of traditional pita bread, which makes them lighter and gluten-free.
Notoriously easy to assemble and irresistibly Instagrammable, these will be a guaranteed hit with your beach party guests.
Grilled Fish Tacos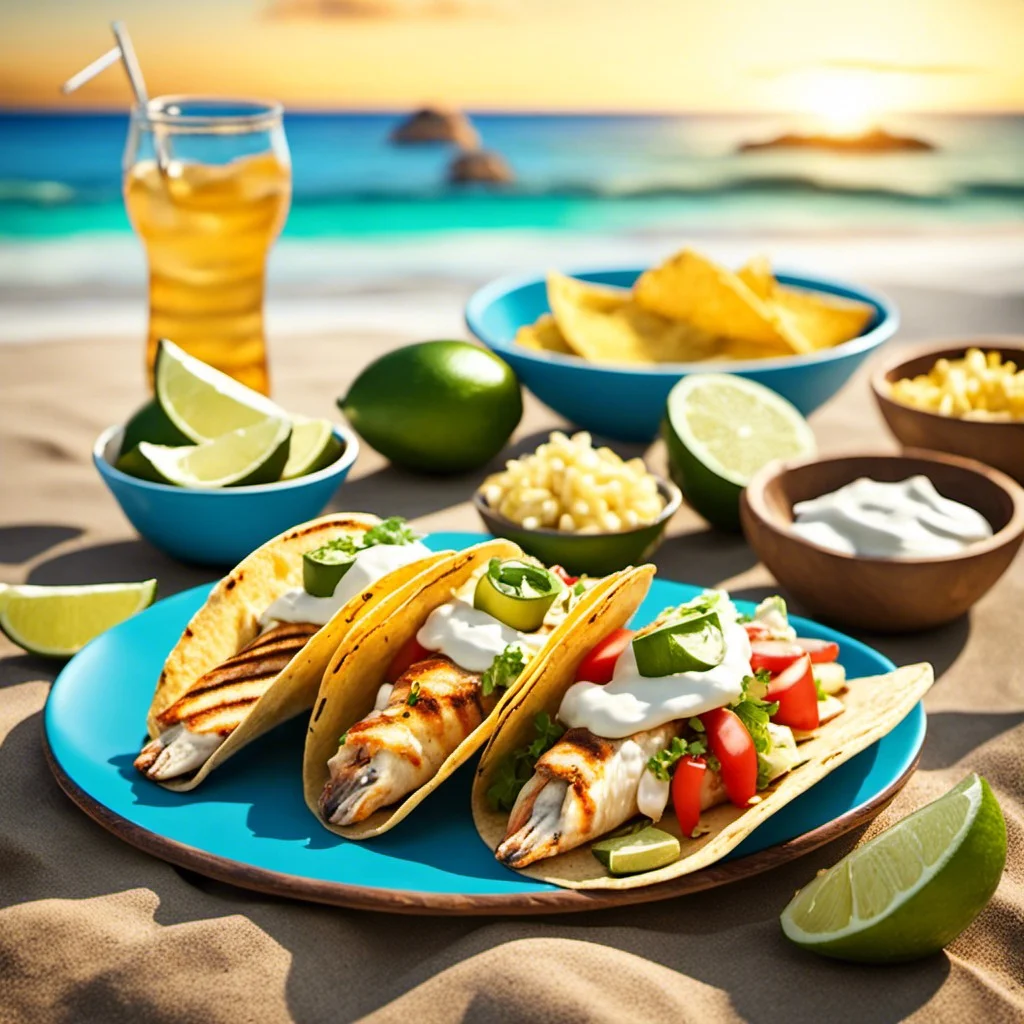 Nothing resonates more with a beach atmosphere than fresh, flavorful seafood. For these tacos, select a firm white fish like cod, halibut or mahi mahi. Then, marinate it in a mix of lime juice, chili powder, and garlic to enrich the flavor. Grill it over medium-high heat until it is lightly charred – a hint of smokiness will accentuate the beachy vibe.
Wrap the grilled fish in a soft tortilla and top it with a zesty cabbage slaw for a crisp contrasting texture. You can prepare the slaw with a combination of shredded cabbage, cilantro, remaining lime juice, and a touch of honey. Don't forget to add slices of ripe avocado for creaminess and a dollop of sour cream or Greek yogurt.
Final touch – a spoonful of vibrant, homemade salsa made from fresh tomatoes, onions, and jalapenos. A squirt of lime on top, and voila! Your grilled fish taco – juicy, tangy, smoky, and a little spicy – embodies all the flavors of a perfect beach party snack.
Watermelon Slices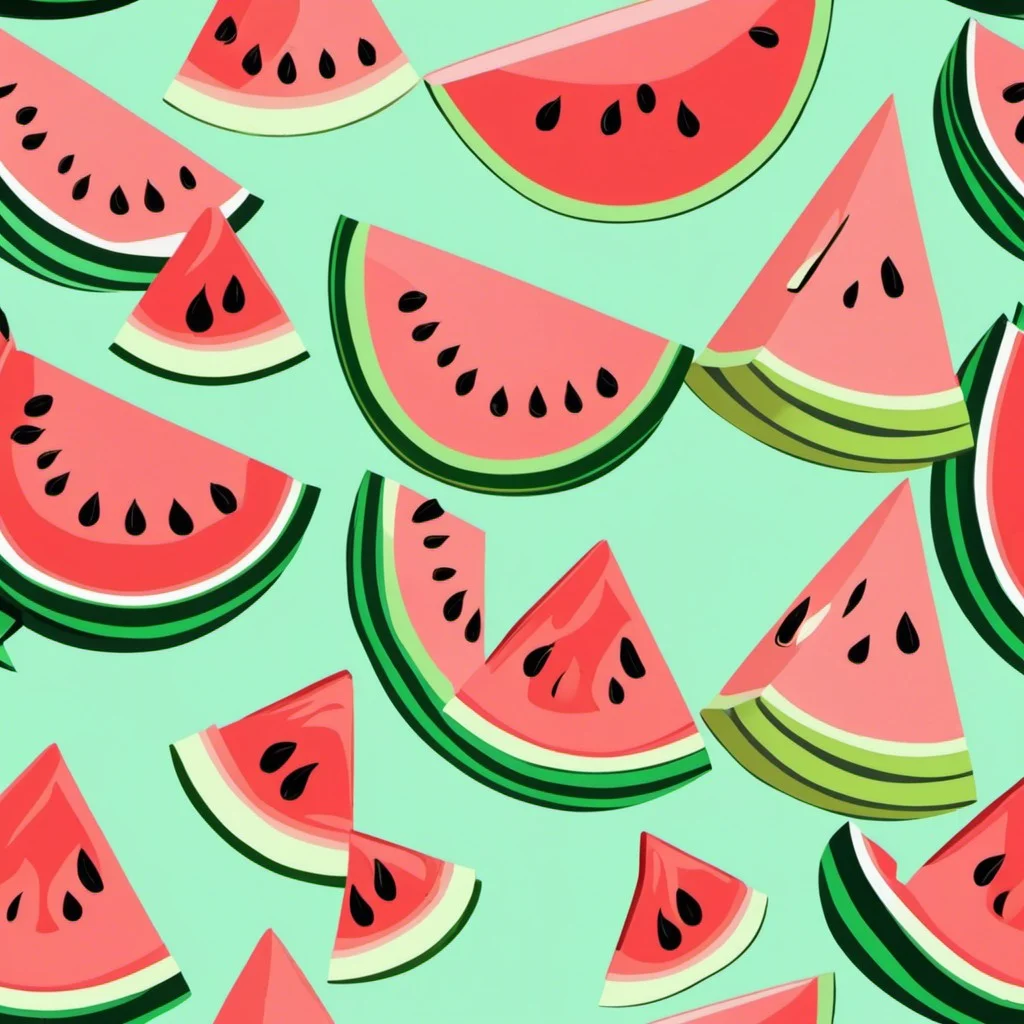 Perfect for a sunny beach day, watermelon slices offer both hydration and a sweet treat with less mess.
Pre-slicing the watermelon means guests can easily grab a piece and get back to the party.
With its high water content – about 92%, this fruit also helps to replenish fluids and cool down the body, essential for a hot day at the beach.
To maximize convenience, consider cutting wedges or cubic slices and preparing skewers or popsicles.
It adds a fun twist and makes it easier to hold between sandy fingers.
Cheese and Crackers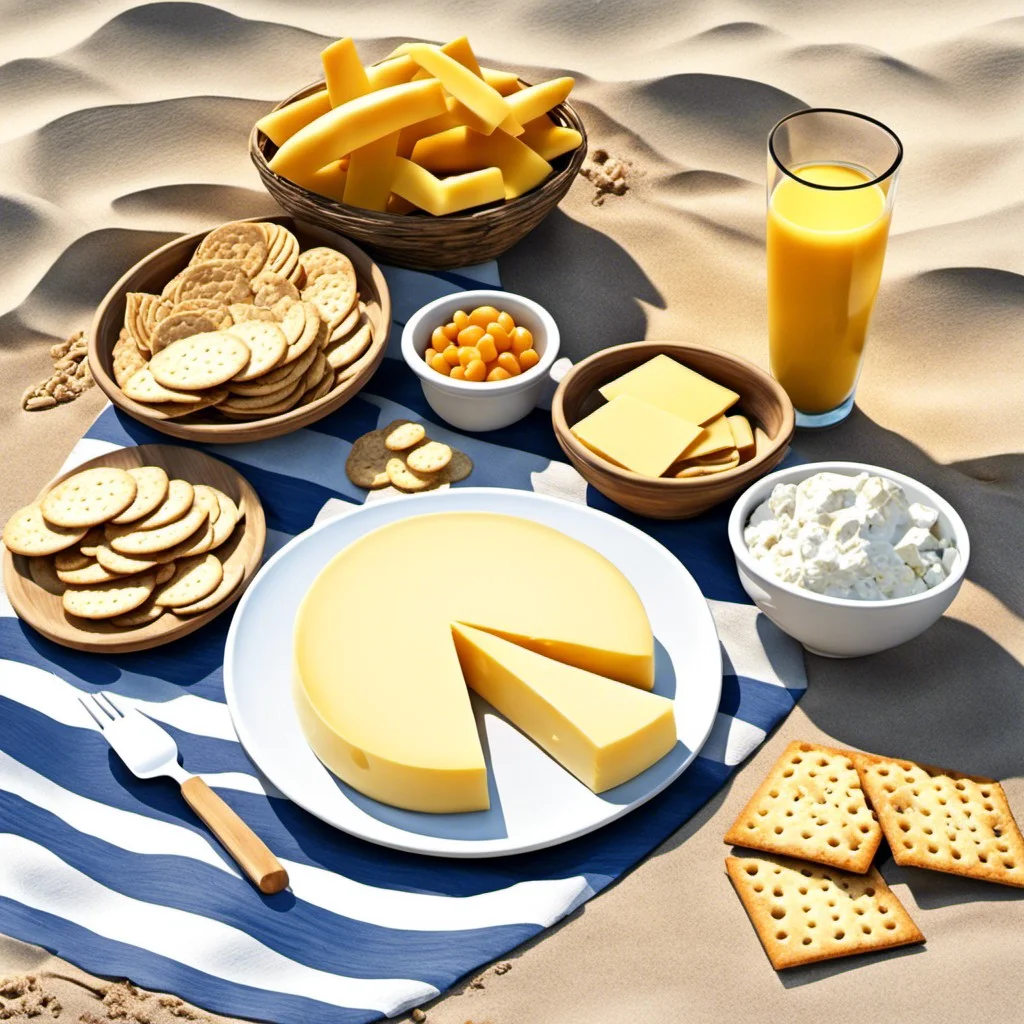 Packing some artisanal cheeses alongside a box of your favorite crunchy bite-sized biscuits instantly elevates any beach party spread. The rich and creamy texture of the cheese complements the crispy cracker, creating a combination that's truly satisfying.
Opt for an assortment of cheeses for variety – some crowd favorites are brie, cheddar, and gouda. Don't forget to bring a small cheese knife or cheese spreader for convenient serving.
Pairing it all together can be a fun activity for your guests to enjoy, with plenty of opportunities for flavor exploration. To keep everything fresh in the summer heat, consider a cooler box. In terms of practicality, this snack hardly occupies space, making it easy to carry.
BBQ Sliders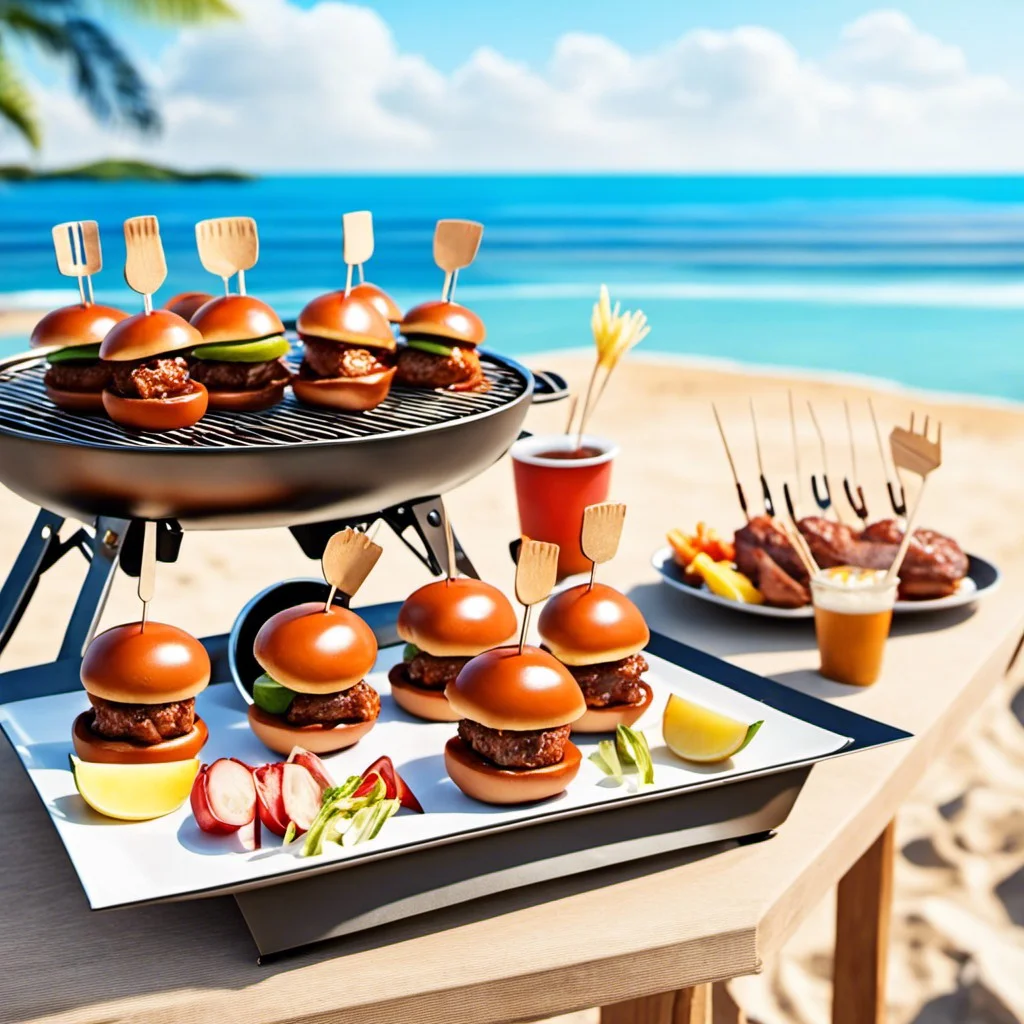 Featuring bite-sized buns filled with tender shredded meat smothered in a tangy, smoky sauce, these treats are a crowd pleaser. They're easy to eat with one hand, allowing party guests to keep the other free for a refreshing beverage.
For vegetarians, try a jackfruit version – it replicates the texture and flavor of pulled pork remarkably well. To switch things up, consider a variety of sauces or even a create-your-own slider station.
For the ultimate summery touch, pair them with mini portions of coleslaw or pickles on the side. This convenient, mouth-watering snack surely adds to the carefree and joyful atmosphere of a beach party.
Veggie Sticks and Hummus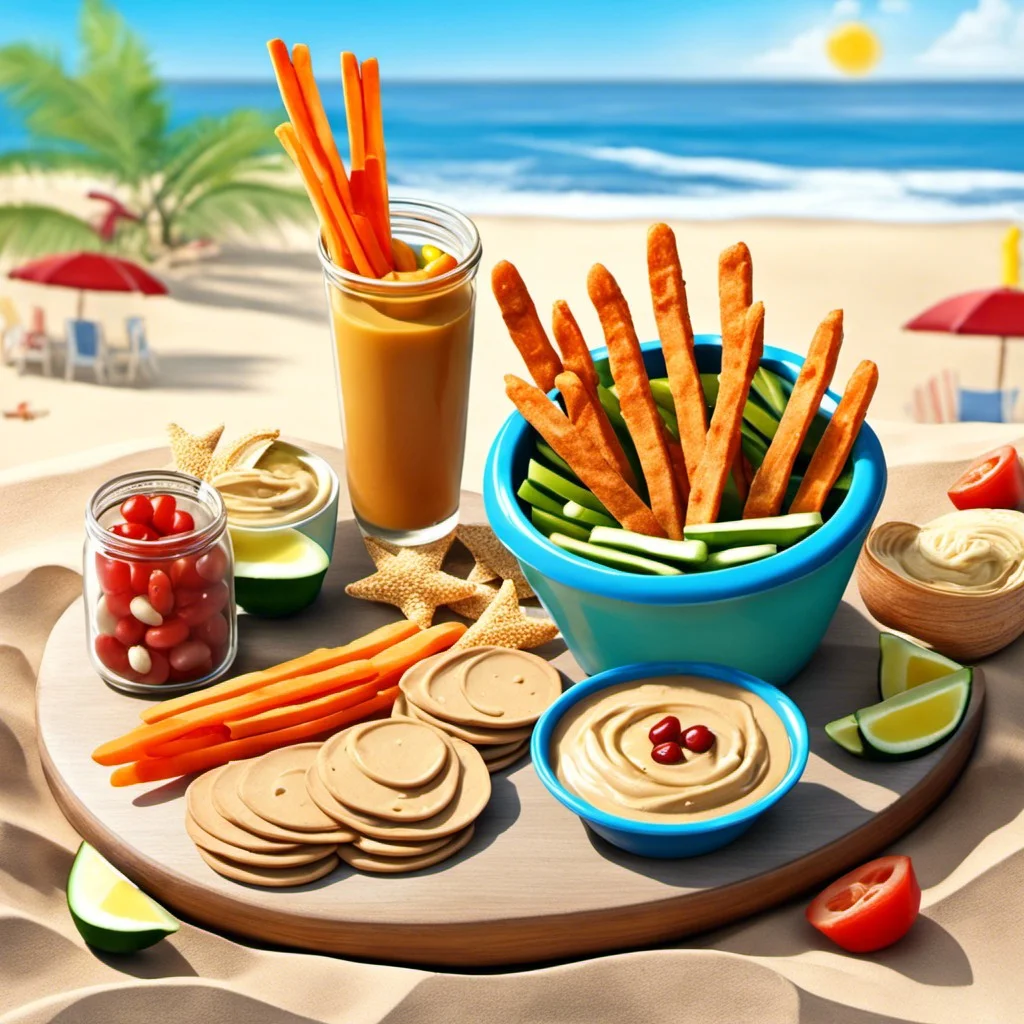 Freshly cut vegetables make for a colourful and nutritious snack. Go for a variety of types such as carrots, bell peppers, cucumbers, and cherry tomatoes for different textures and tastes. Serving it with hummus adds a creamy, rich element that's not only delightfully savoury but also packed with protein and fibre.
Point 1: Select a wide variety of vegetables for visual appeal and nutritional benefits.
Point 2: Cut the vegetables into handy, bite-sized pieces.
Point 3: Opt for store-bought hummus for convenience, or make your own for a home-made touch.
Point 4: Add spices or herbs to the hummus for an extra flavour burst. For instance, smoked paprika, parsley, or olives can do the trick.
Point 5: Keep the veggies and hummus chilled in a cooler to keep them fresh and crisp throughout the beach party.
This snack is a perfect cooling and crunchy treat to beat the summer heat, while also catering to health-conscious or vegetarian guests.
Crab Cakes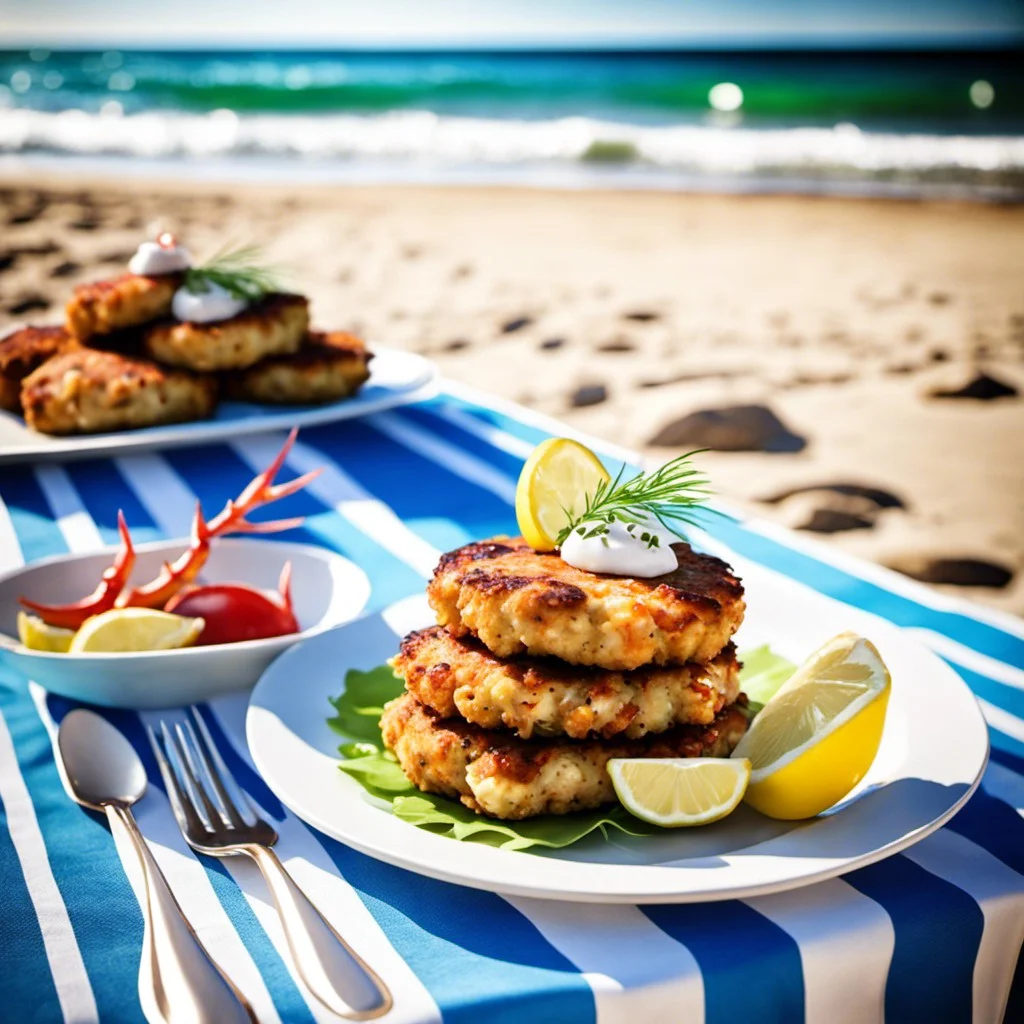 A beach party favorite, these delightful treats promise a burst of sea flavors with every bite. For preparation, a mixture of lump crab meat, mayonnaise, Dijon mustard, Worcestershire sauce, and Old Bay seasoning forms the base. Bread crumbs add structure, while finely diced celery and onions bring crunch and extra flavor.
After frying till golden brown, serve these treasures warm with a tartar or a spicy remoulade sauce.
Taking this to a gourmet level, introduce some fresh herbs like parsley or chives into the mix. For the health-conscious, baking offers a lighter but equally delicious version. Pairing suggestions include a chilled glass of white wine or an ice-cold beer to balance the richness of flavors. They are undeniably irresistible, providing beachy vibes and sea-side ambiance even in the confines of your backyard.
Don't forget to prepare enough batches, as these tend to disappear quickly!
Coconut Shrimp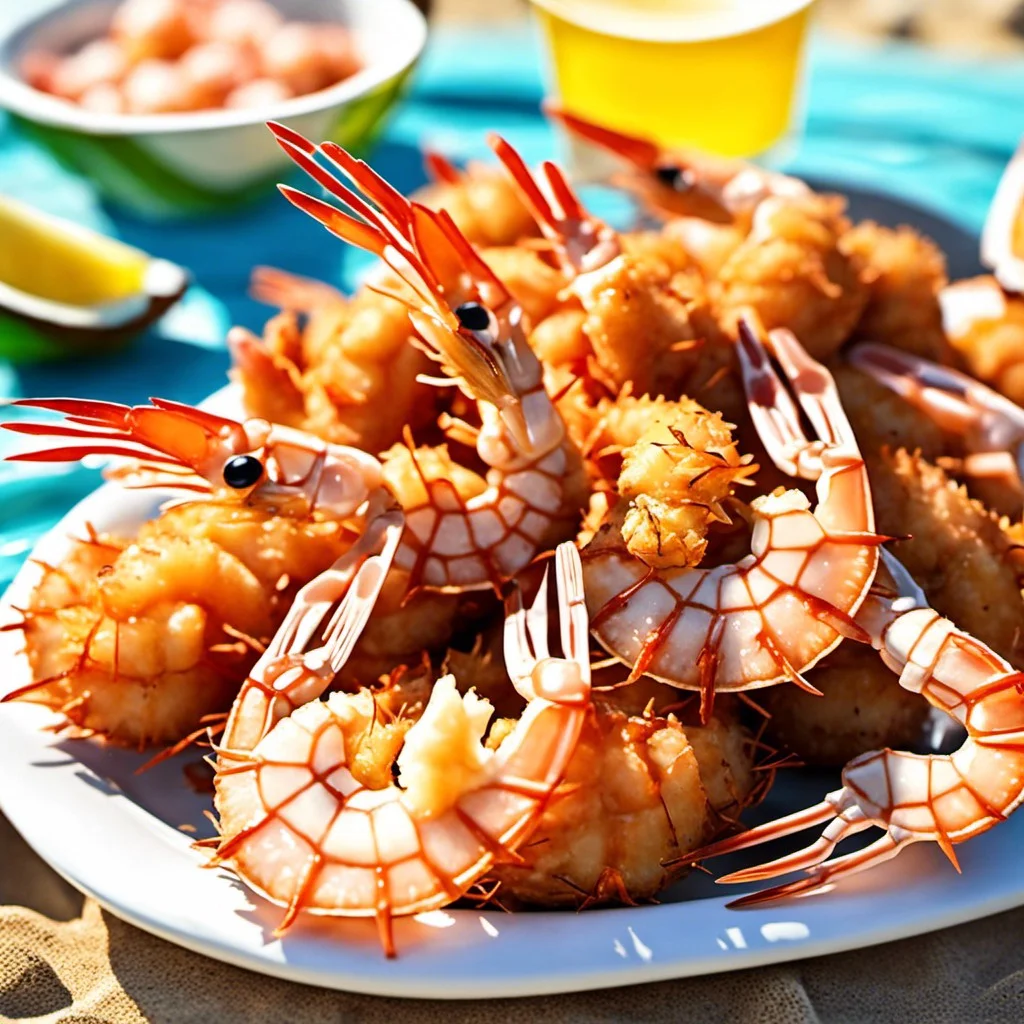 Coconut shrimp serves as a delightful and light appetizer, combining succulent shrimp with a sweet and crunchy coconut exterior. A perfect beach party snack, its tropical flair pairs wonderfully with a tangy dipping sauce, elevating the coastal vibes.
– Preparing it at home is straightforward. Start with fresh, peeled shrimp. For the coating mixture, mix shredded coconut with bread crumbs and seasonings.
– Dipping the shrimp into a mix of beaten eggs before rolling in the coconut mixture ensures the coating adheres well.
– After coating, fry them until golden brown. Remember, shrimp cook fast to avoid overcooking.
– For the dipping sauce, consider a sweet chili sauce, or a honey-mustard blend. A hint of citrus, from a squeeze of fresh lime or a spoonful of pineapple jam, complements the shrimp's flavor profile well.
– How about presentation? Skewer the fried shrimp on cocktail sticks for easy service. A palm fringed platter lined with lettuce or a bed of Hawaiian sweet rice really bring out the beach theme.
– Keep these snacks chilled if you're not serving them right away. A gentle reheating in an oven or over a grill should bring them back up to temperature without making them tough.
Remember, your beach party isn't about gourmet cooking – it's about fun, sun, and delicious food. These tropical treats certainly fit the bill.
Popcorn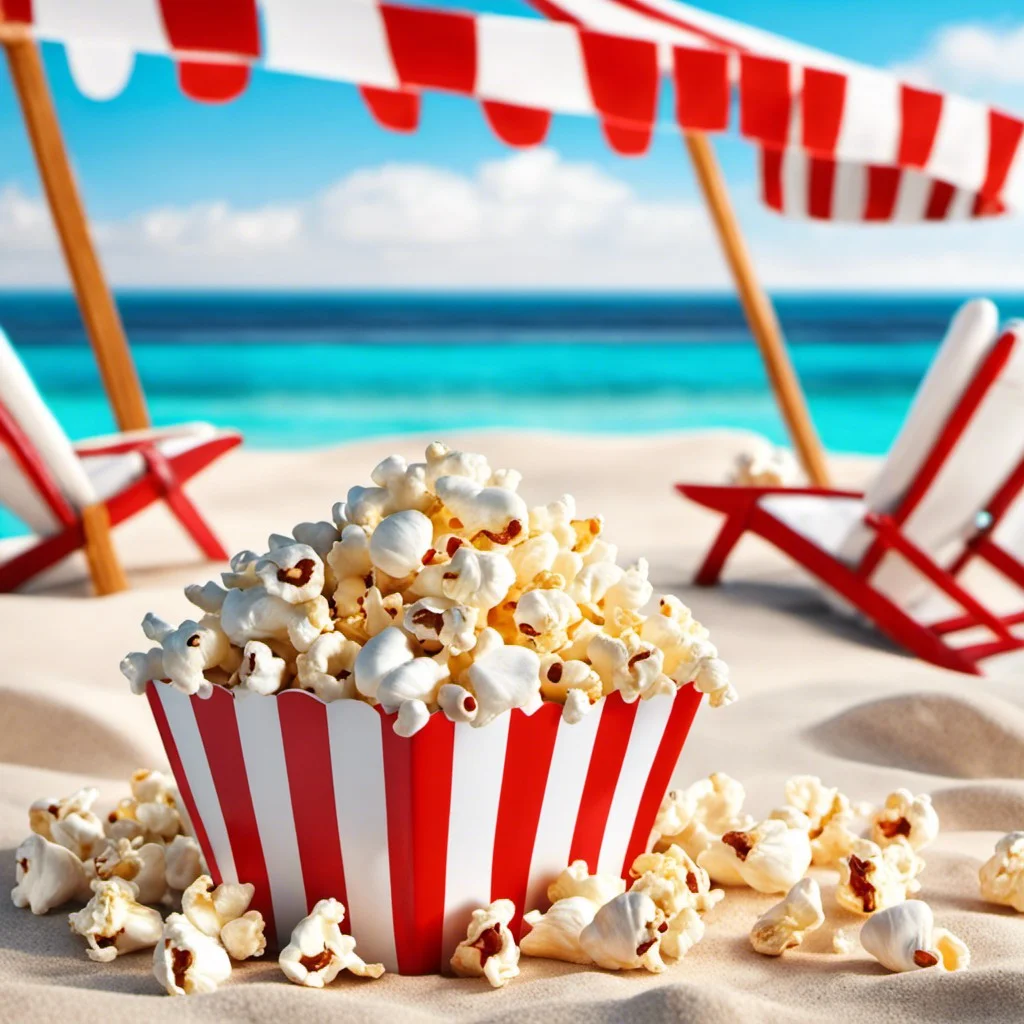 Every beach party calls for a light, crunchy snack that both adults and children can savor while soaking in the sun, and nothing fits the bill quite like popcorn. Offering an exceptional blend of taste and texture, popcorn is not just easy to carry, but also comes with a variety of flavor options that cater to different preferences.
Consider mixing sweet and salty by caramelizing half the batch and lightly salting the other. Spicing things up with chili powder or sprinkling parmesan cheese instantly diversifies your offering without the need for considerable extra time or ingredients.
Remember, pre-packaged microwave popcorn is handy, but air-popped kernels are a healthier alternative, allowing you to control the amount of salt and butter. They also give you the flexibility to play with flavors that suit your beach party theme. Homemade popcorn adds a personal touch, demonstrating the effort put into considering everyone's snack favorites.
Last but not least, don't forget the presentation. Serve popcorn in colorful paper cones or small, floral-print bags; they not only make for easy snacking on the beach but also add a charming visual element to your beach party setup.
Mini Hot Dogs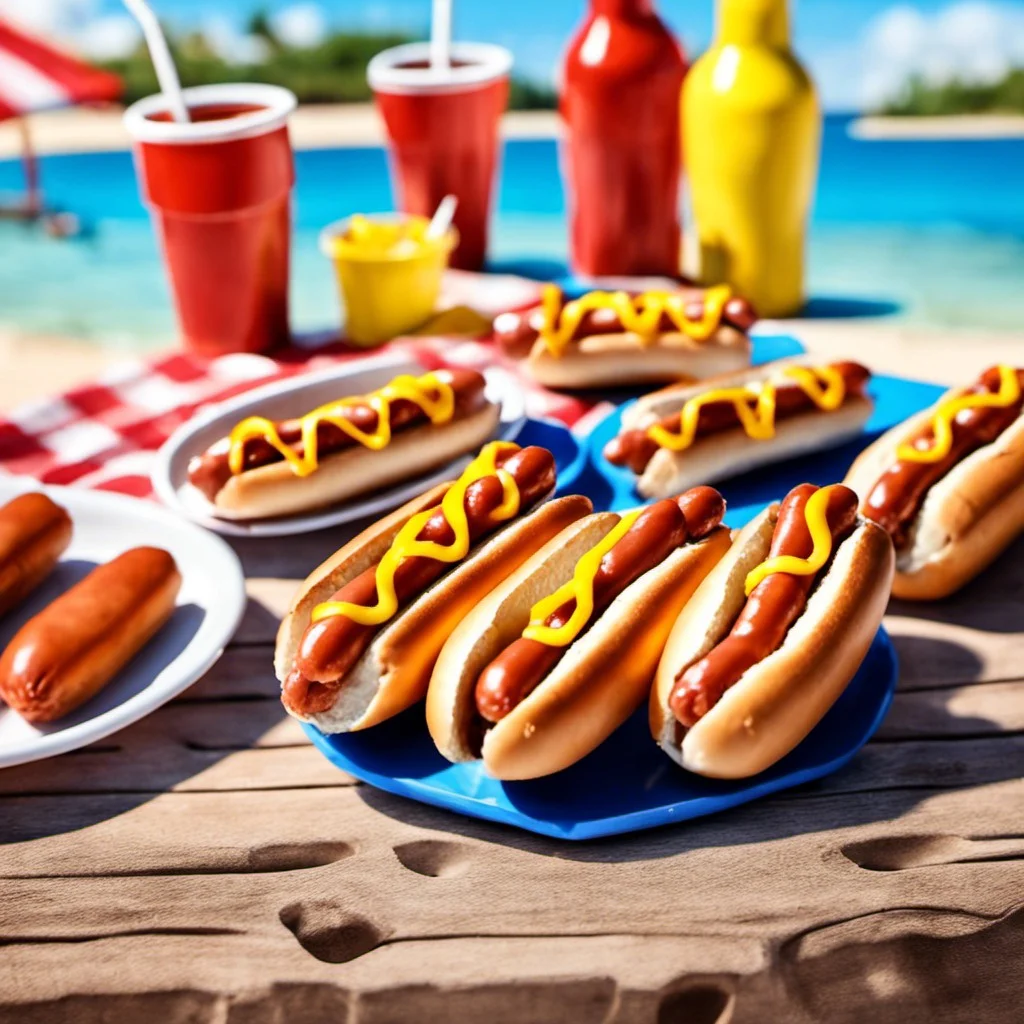 Nothing crowns the beach party vibe like these bite-sized delights. Fuss-free to prepare, these are grilled to achieve that unique smoky flavor, then snuggly wrapped in buns for the perfect grab-and-go treat.
Top them off with classics such as ketchup, mustard, and relish. For a gourmet twist, get creative with unique toppings, such as caramelized onions, melted cheese, or fresh coleslaw.
Mini hot dogs not only reduce waste by providing an ideal portion size but also offer versatility to cater to diverse palates, making them an undisputable beach party snack winner.
Grilled Pineapple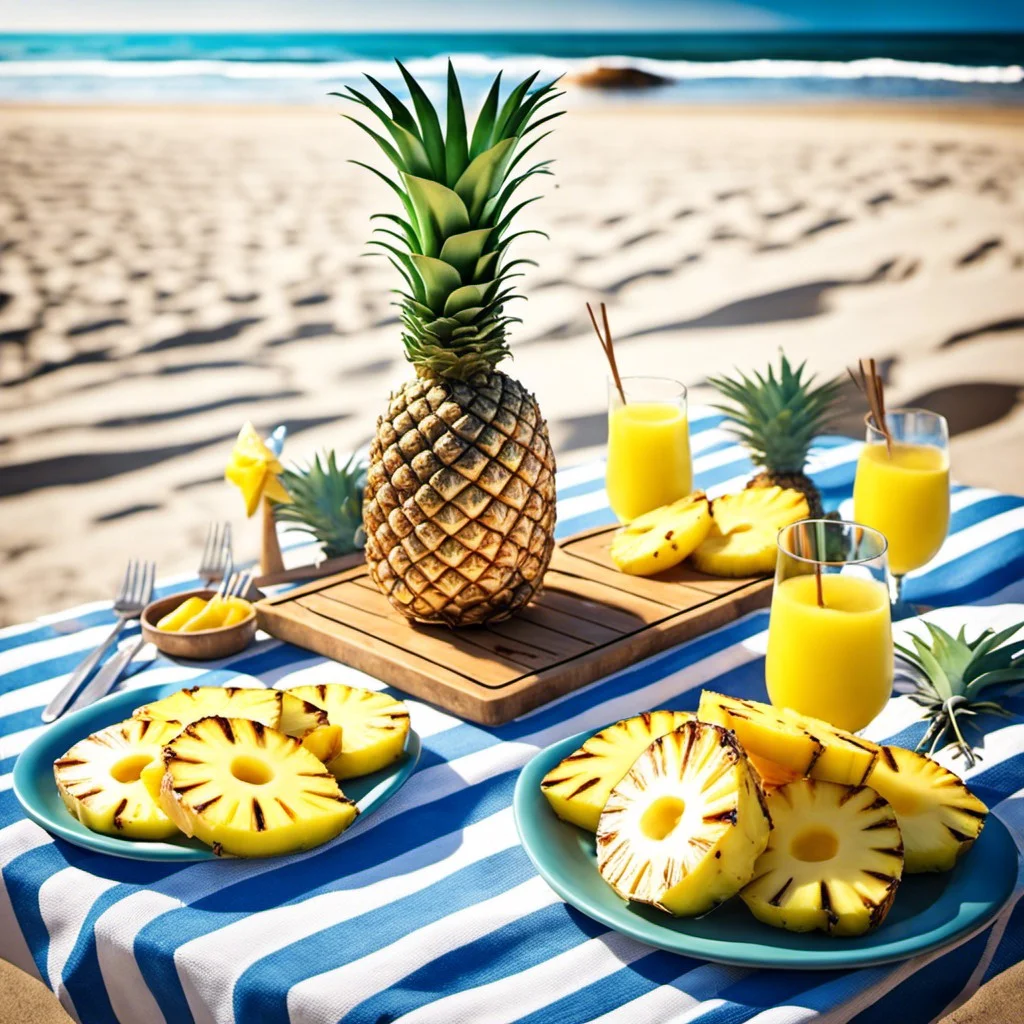 Chargrilled to perfection, pineapple gains an addictive smoky-sweet flavor that stands out at any beach party. It's also incredibly versatile – serve it on skewers for easy eating, in a tropical salad, or even as a zingy side for your beach BBQ.
For a caramelized finish, consider a brief marinade in honey or maple syrup before grilling; the natural sugars will enhance the fruit beautifully. Not only is this snack delicious, but it's also a rich source of dietary fiber and vitamin C.
Last but not least, when choosing pineapples, remember, the heavier they are, the juicier they'll be!
And for those looking to really impress their beach guests, why not try grilling the pineapple on a smoker? The added layer of smoky flavor will ensure your snack becomes the talk of the party. Just remember, the dish is best served fresh from the grill. So get your tongs ready, because this is a snack that cannot wait!
Ice Cream Cones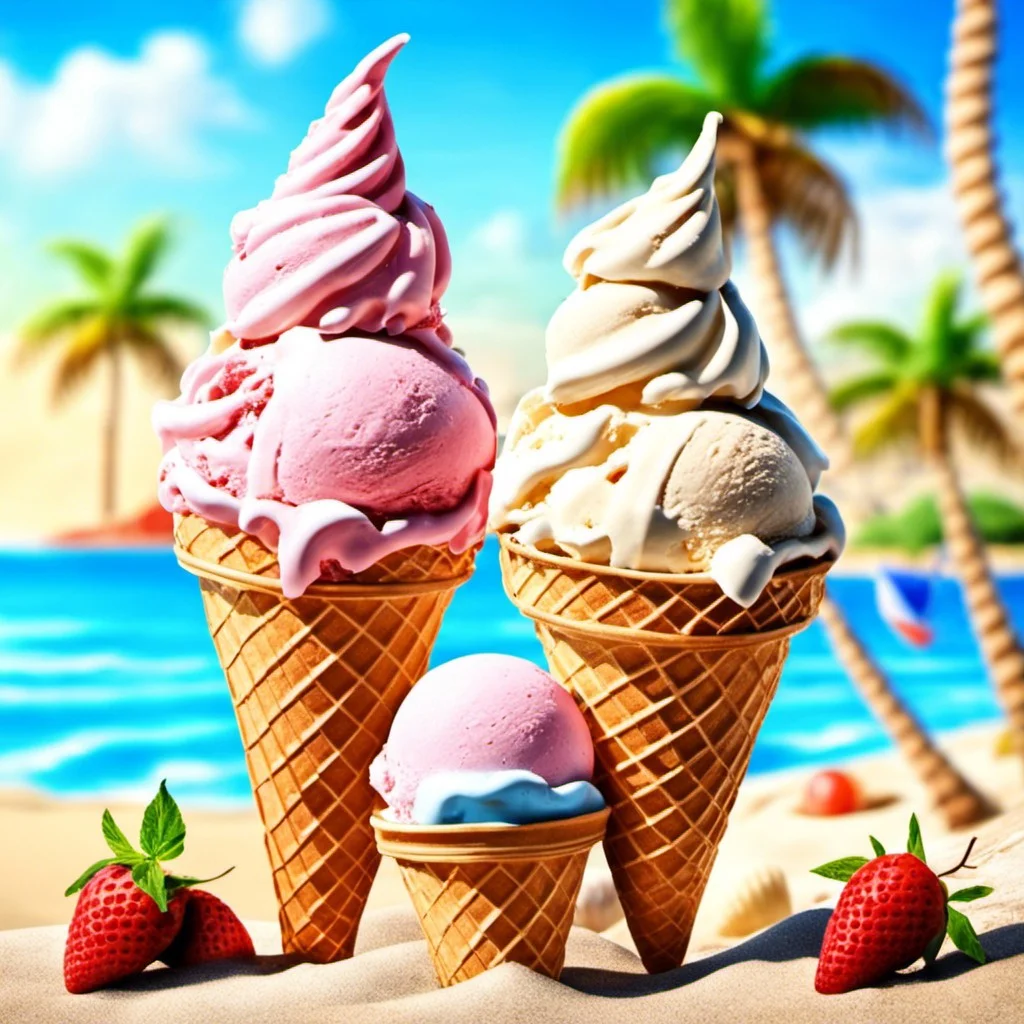 Perfect for hot beach days, ice cream cones perform double duty as a refreshing treat and a no-fuss, edible serving dish.
1. Choices Abound: Whether you're partial to classic vanilla, tangy sorbet, or creamy gelato, there is an ice cream flavor for everyone.
2. Personalize: Top with sprinkles, nuts, or fresh fruit to add an extra layer of flavor and texture.
3. Easy Prep: Pre-scoop the ice cream at home and store it in single-serve freezer containers. Bring cones separately to avoid sogginess.
4. Eco-Friendly: With edible cones, there are no dishes to wash or waste to dispose of, making this a green snack choice for beach parties.
Note, keep it chilled till it's time to serve to avoid melting!
Tropical Fruit Salad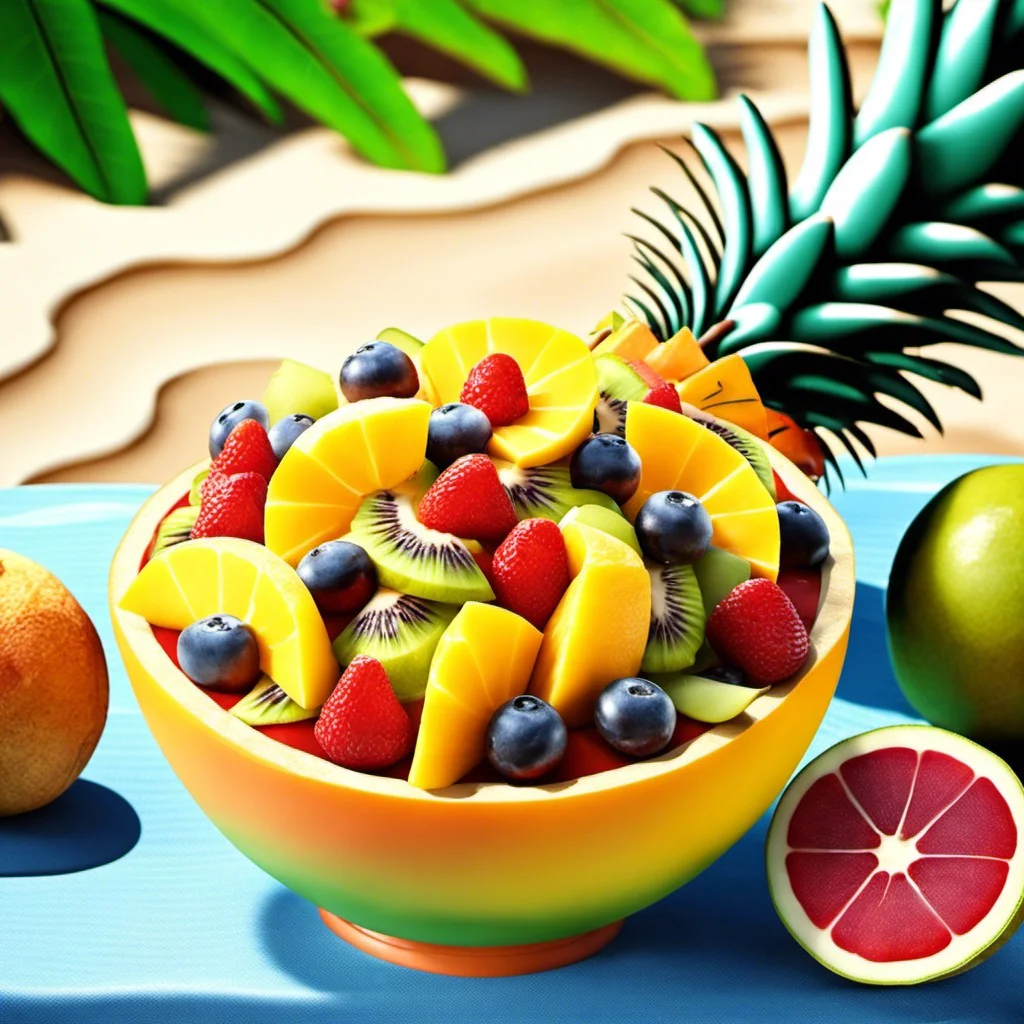 Chock-full of vitamins, minerals, and fibres, a tropical fruit salad marvelously complements a beach party. To prepare this luscious snack, you'll need fruits like mangoes, pineapples, bananas, and kiwis. Make sure to cut them into bite-sized pieces for easy snacking. Drizzle some lime juice over the top to enhance the flavors and prevent browning. You can add coconut shreds for a more beachy vibe and an exotic twist. Optional sweeteners like honey, agave, or maple syrup can be added to your preference. Lastly, chilling the fruits after preparation keeps them fresh and more refreshing. So, a cooler is necessary to transport it to the beach. Remember, the use of fresh and ripe tropical fruits is key to attaining the full, vibrant flavor of this fantastic beach party snack.
S'mores Kits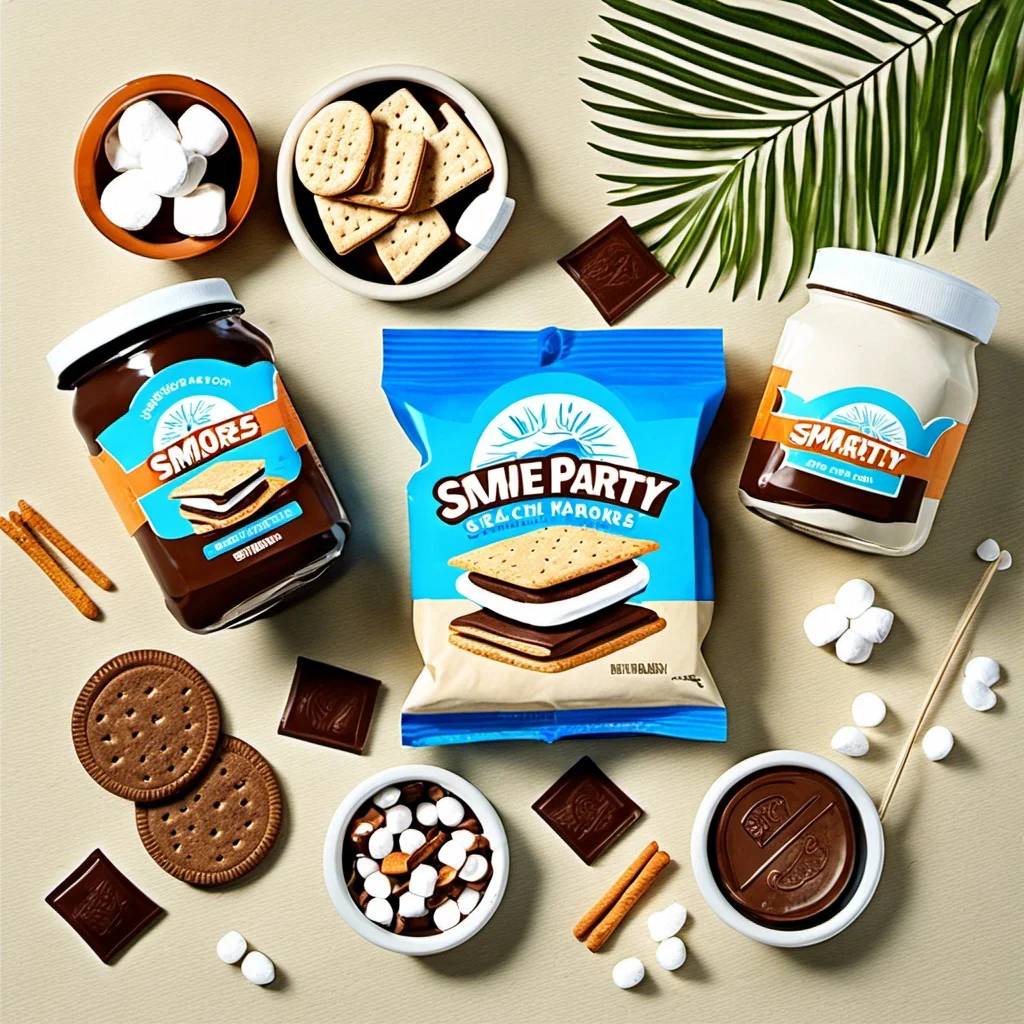 Perfect for a beach bonfire, these kits are a delightful twist on the traditional camping treat. Assembling them is simple yet joy-filled.
Start by placing two crackers on a plate, lay a piece of chocolate on one cracker, and set a marshmallow on the other. Package each set in a transparent bag, tying the top with a colorful ribbon for a festive touch.
Don't forget to pack a bag of wooden skewers for roasting the marshmallows. To elevate the fun, consider including a variety of chocolates and flavored marshmallows. Voila! You've got a no-fuss dessert that guests of all ages will love.
An interactive experience that brings out everyone's inner child, it doesn't get more hassle-free or momentous than this.