Discover a variety of delectable lake snack ideas that will keep your hunger at bay while you enjoy the serene beauty of nature.
Planning a lakeside getaway or simply a day out fishing? Picking the right snacks can make all the difference. This article dives deep into a variety of lake snacks that are not only delicious but also easy to pack and carry.
From nutritious nibbles to satisfy the health-conscious, to indulgent treats for those with a sweet tooth, we cover it all. So whether you're craving something crunchy, sweet, salty or a mix of everything, stay with us as we explore a world of flavors perfect for your lakeside adventure.
We promise to leave no stone unturned, ensuring your snack game is as exciting as your day by the lake.
Sandwiches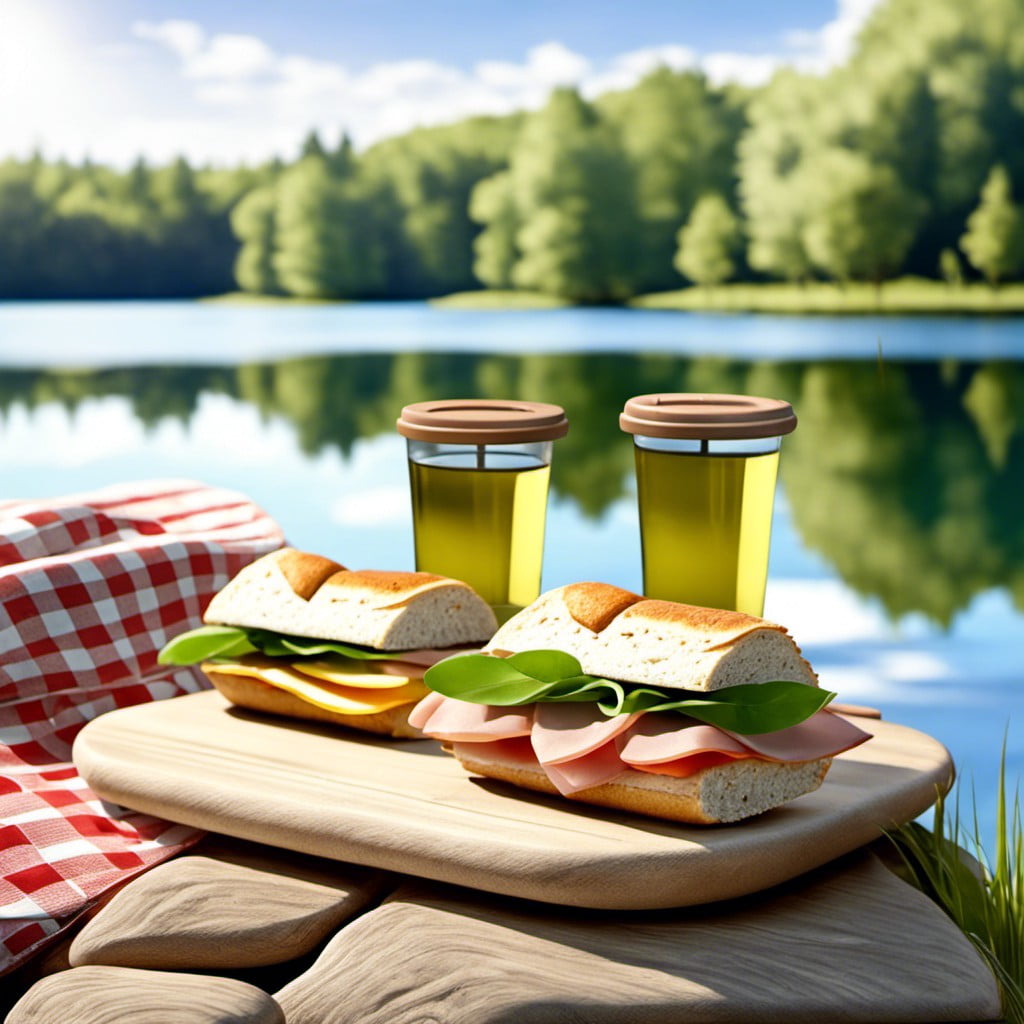 One cannot deny the convenience that sandwiches offer – easy to prepare, easy to eat, and exceptionally versatile! They provide a blank canvas for an array of delicious fillings.
From classic ham and cheese to more gourmet combinations like walnut and brie, there's a sandwich for every palate.
Layer in crispy lettuce, ripe tomatoes or tangy pickles for a fresh crunch. Don't forget to slather on condiments – mayonnaise, mustard, or even a tangy barbecue sauce, adding the right flavor punch.
For a healthier spin, use whole grain bread. Preparing your sandwiches the night before your lake trip will save you time, ensuring you have more moments to savor the tranquil lake view.
Veggie Sticks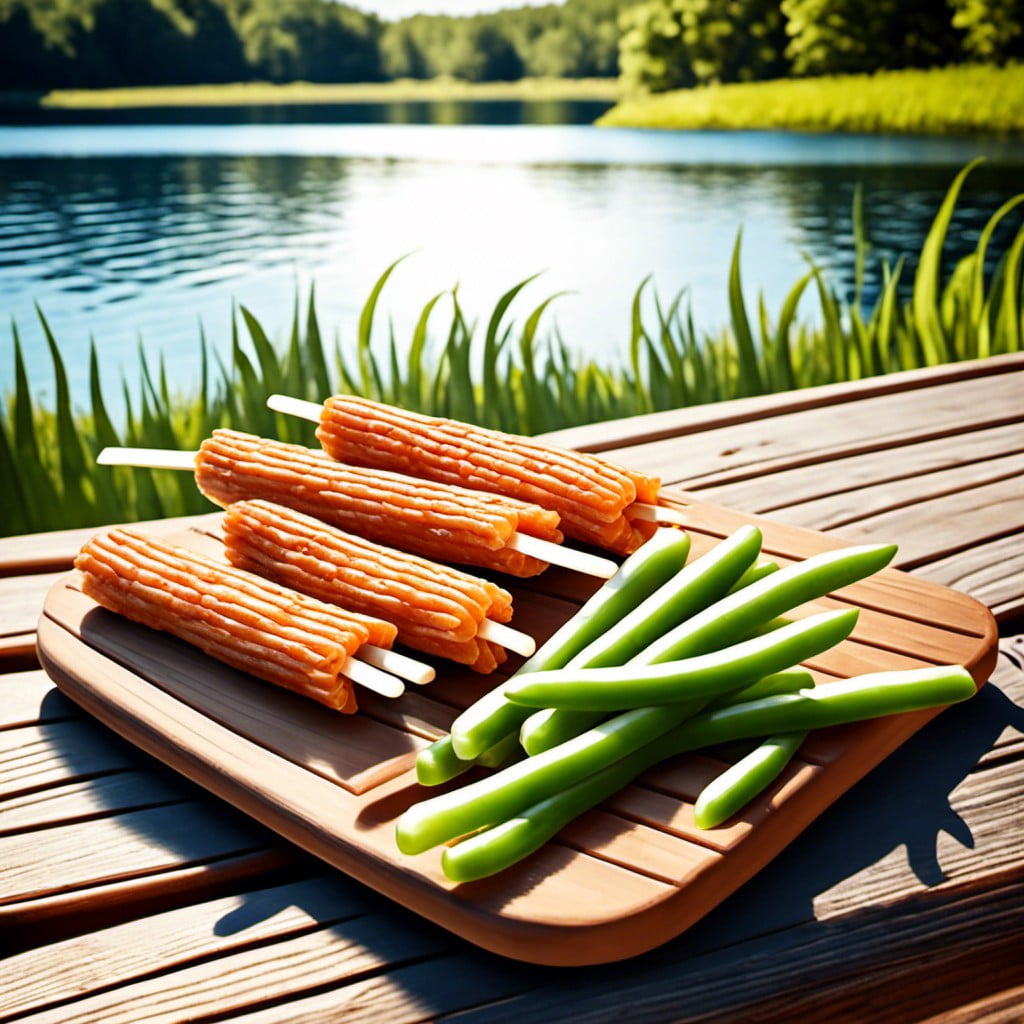 Ideal for any snack situation, these vibrant bites bring a splash of color to the picnic cloth, while promoting a healthier alternative to traditional snacking options.
1. Variety: Incorporate a range of vegetables such as carrots, cucumbers, bell peppers, and broccoli. This offers a diverse palette of flavors, textures, and health benefits.
2. Accessibility: Easy to pack, even easier to eat. The sticks can be enjoyed on their own or dipped into a variety of sauces.
3. Preparation: Just a few quick chops and the veggie sticks are ready to go. No need for any cooking or extra ingredients, keeping things simple and fuss-free.
4. Health-Conscious: Veggie sticks are inherently low-calorie and packed with essential nutrients, making them the perfect pick for an guilt-free, energy boosting snack.
5. Flexibility: Veggie sticks are versatile, complementing other snacks in this list, whether it's as a side to sandwiches or an accompaniment to dips.
Remember, presentation matters as well. An assortment of colorful veggie sticks not only looks appealing but also encourages balanced snacking throughout the day.
Chips and Dip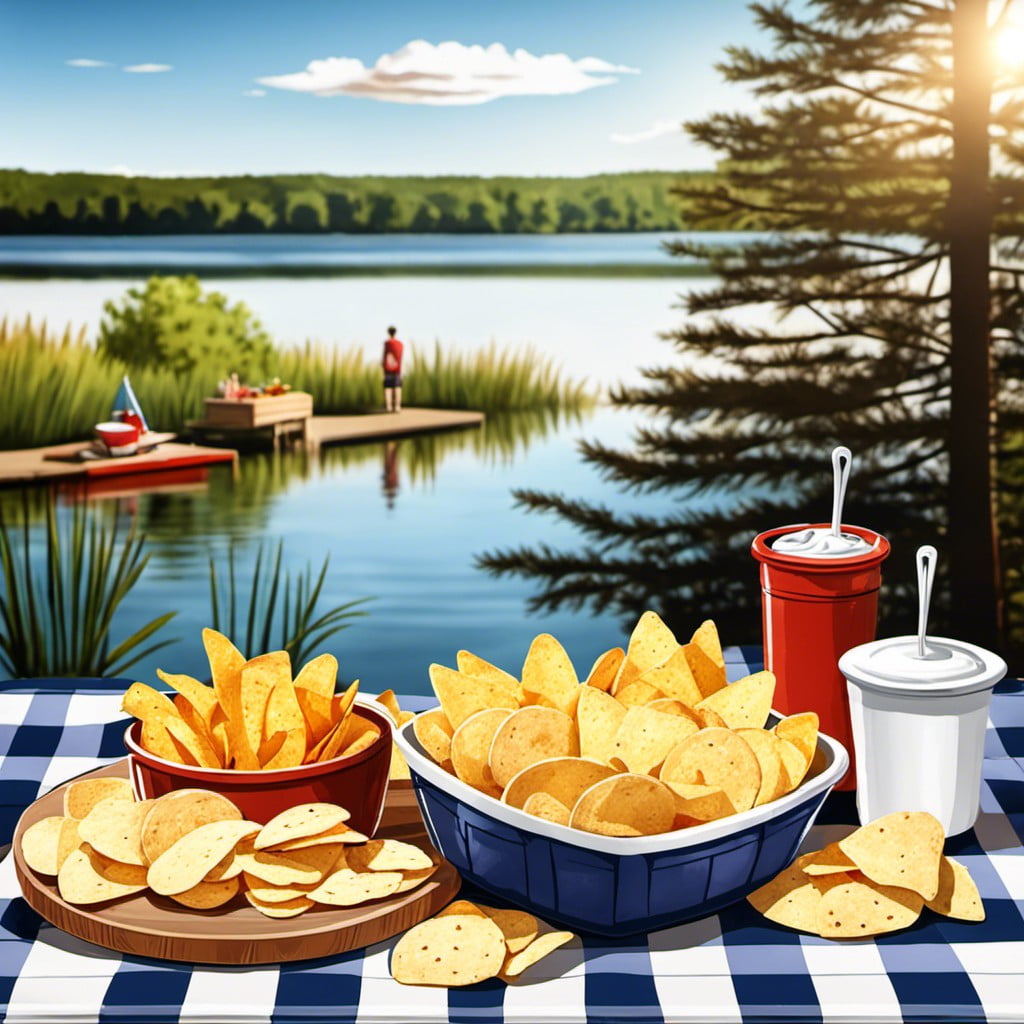 Opting for a variety of dips can transform a simple bag of chips into an exciting snack option by the lake. Guacamole, a classic choice, brings a dose of healthy fats and a fresh, zesty flavor. Salsa, be it mild or spicy, could act as a lighter, vegetable-packed option. Don't discount the benefits of a creamy yogurt dip, infused with herbs and garlic, perfect for a more indulgent treat.
It's important to consider the type of chips as well, with options ranging from classic potato to more adventurous beetroot or parsnip chips. Put thought into your selection, remember the sturdier the chip, the more robust dips it can handle. Be mindful of the lakeside environment and pack your dips in spill-proof containers, ensuring a hassle-free snack time.
In conclusion, chips and dip is an ideal lakeside snack due to its easy portability, variety and customizable aspects sure to please any palate. Remember, balance is key. As long as you're mindful of having a mix of light and indulgent options, everyone will be sure to find a dip they love.
Fresh Fruit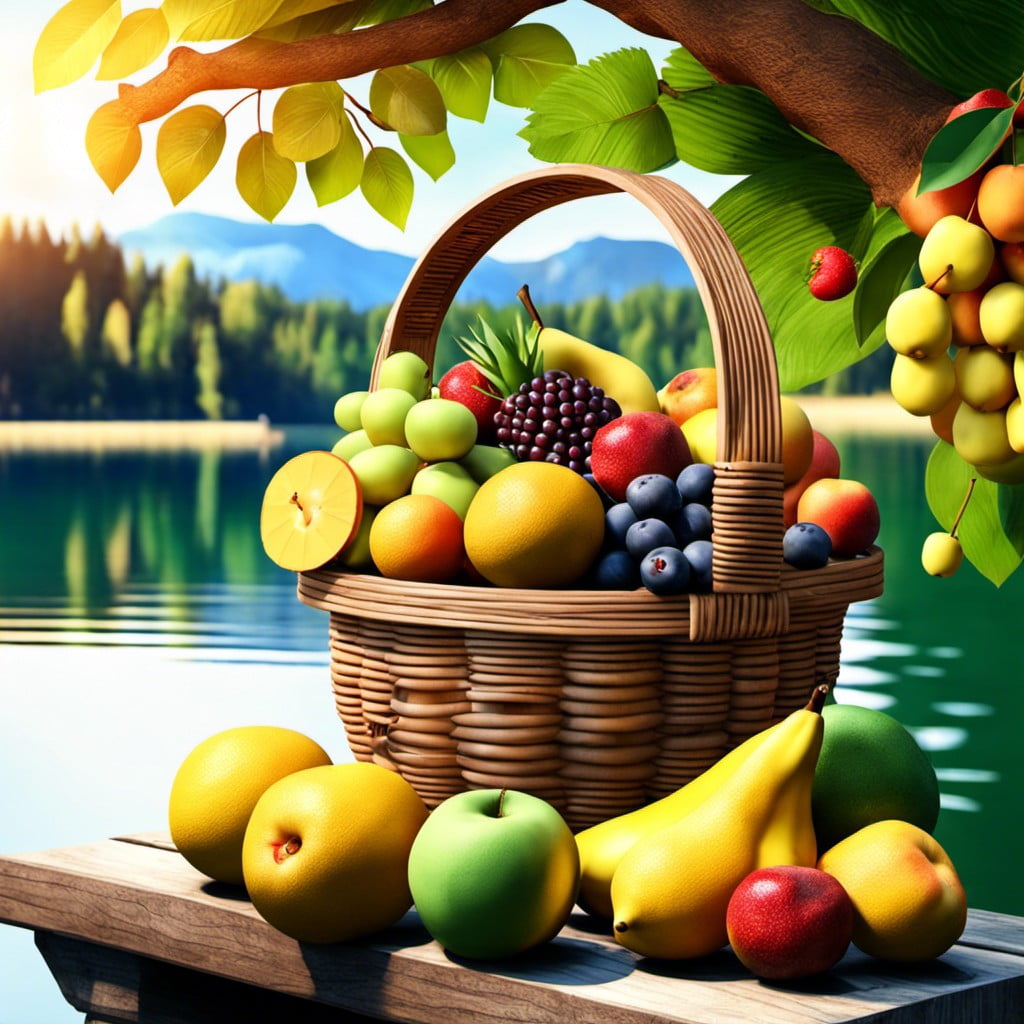 Full of vitamins, minerals, and natural sugars, fruit is a perfect pick for the lakeside. Opt for fruits that are less messy and easy to eat. Apples, bananas, and oranges come in their own natural packaging, making them convenient for travel.
Grapes, with their pop-and-go nature and sweet crunch, could double as a cool refresher. Cherries, too, add a burst of sweetness, but remember to carry a bag for the pits.
If you have a cooler, consider watermelon cubes or berries. They're juicy and hydrating, offering a satisfyingly healthy snack. It's crucial to keep fruits cool and safe to eat. So, pop these into a cool box before hitting the road.
Remember to pack some wet wipes as well – nature's desserts can sometimes leave you with sticky fingers!
Cheese and Crackers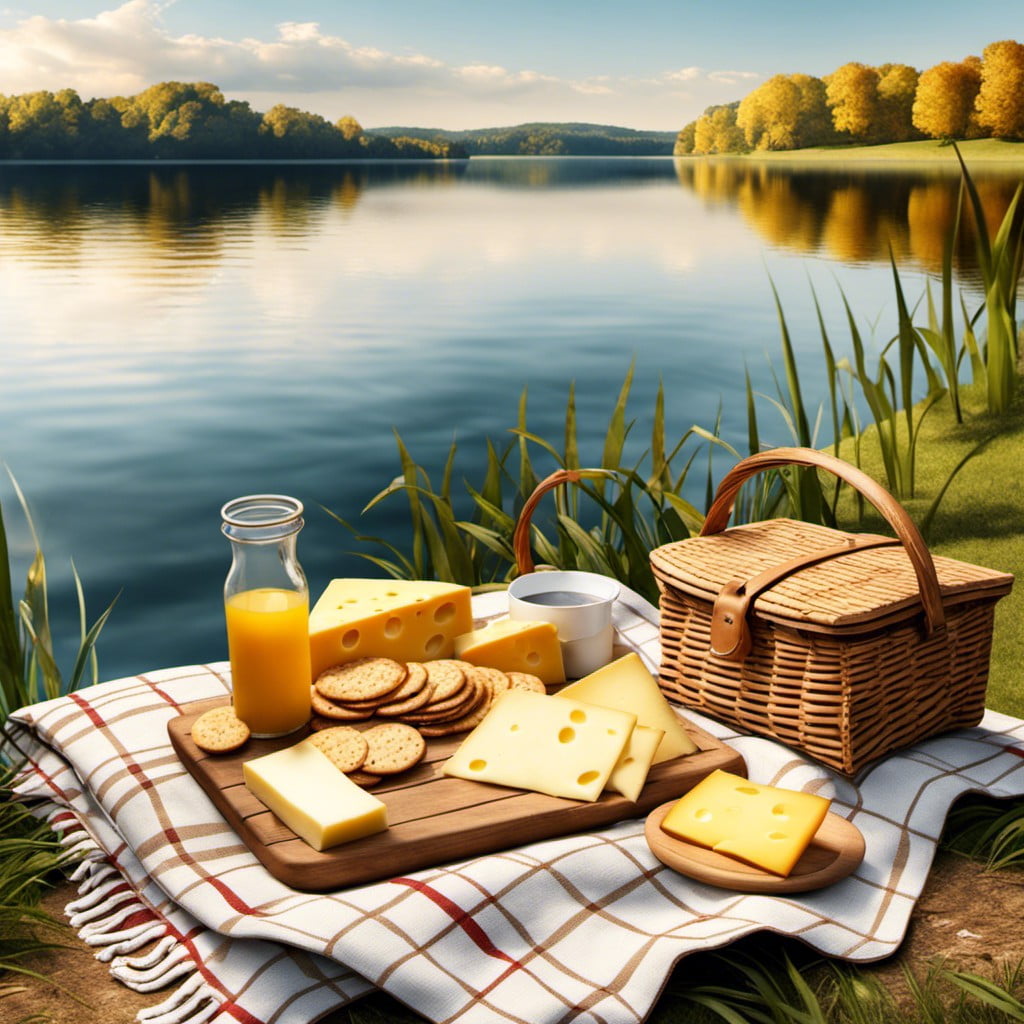 Boasting a delightful blend of soft or hard cheese varieties paired with various kinds of crispy crackers, it's a flexible choice adaptable to personal preferences. Its simplicity doesn't detract from its capacity to satiate, making it a perfect nibble for those who enjoy light fresh bites.
You can go traditional with a cheddar and saltine combo, or partners brie with a fig and olive cracker for a gourmet upgrade.
Further elevating the appeal, cheese and crackers require no refrigeration for short periods, are relatively mess-free, and are available prepackaged. It is always a great idea to carry a cutting board and a knife for a DIY gourmet experience by the lake.
Combining different textures and flavors, they offer a symphony of taste experiences in each bite – a crumbly, salty cracker paired with creamy, tangy cheese. Not to be underestimated, this snack dynamic duo presents a satisfying balancing act between savoury and refined.
Remember, cheese and crackers are not just about filling the stomach; they also trigger that much-needed dopamine release—providing a biteful of comfort on your lakeside day out.
Sausage Rolls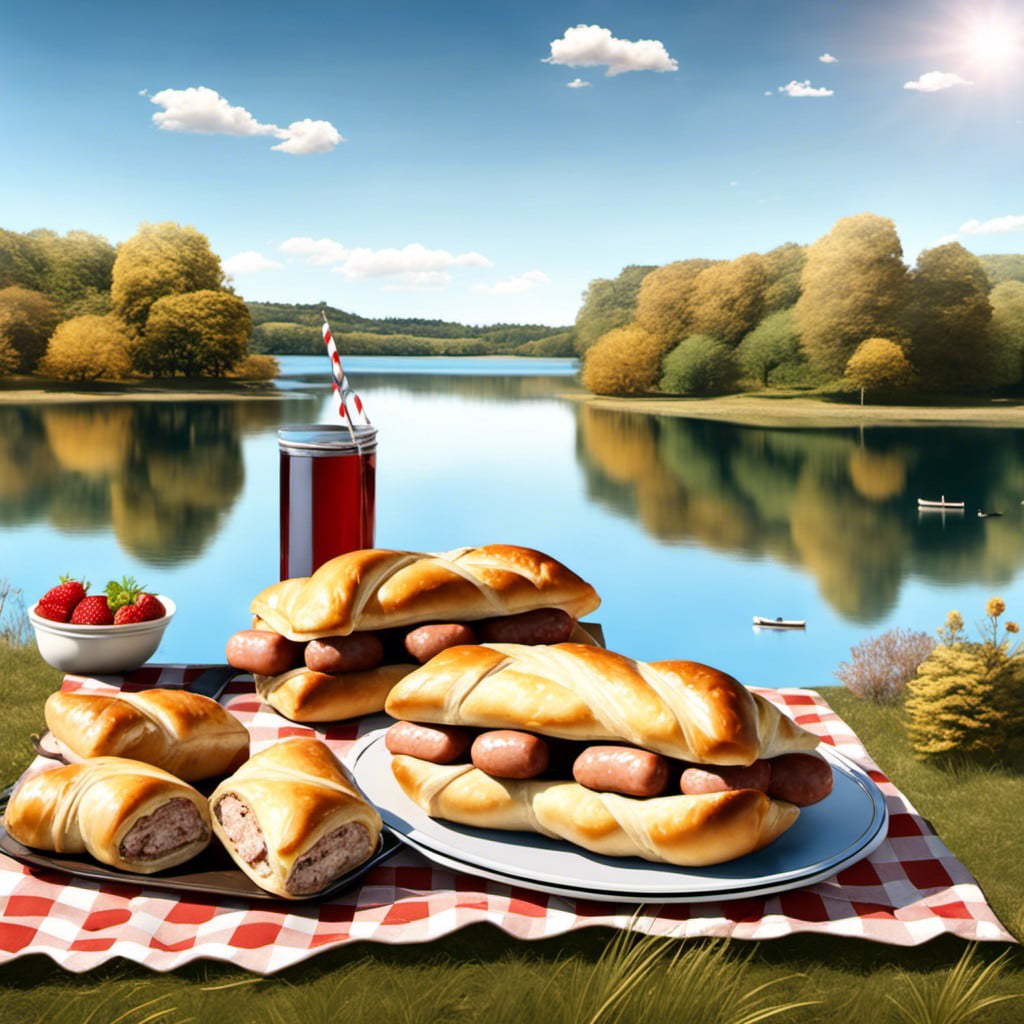 Nothing beats a delicious handheld snack on your lakeside voyage. Not only are these a nutrition-packed option, but they also require zero utensils, making them the perfect on-the-go treat.
Sausage rolls can be filled with a variety of ingredients including pork, chicken, or even vegetarian sausages for those with dietary restrictions. They are easily prepared beforehand, and can be eaten cold or warmed up on a portable BBQ. Packing them in aluminum foil keeps them fresh and easy to carry.
Remember, a bit of ketchup or mustard can enhance their flavor. Just make sure to store your sauces in a cooler to ensure they remain at a safe temperature. Surely, this savory delight will add a tasty touch to your day by the lake!
Hummus and Pita Bread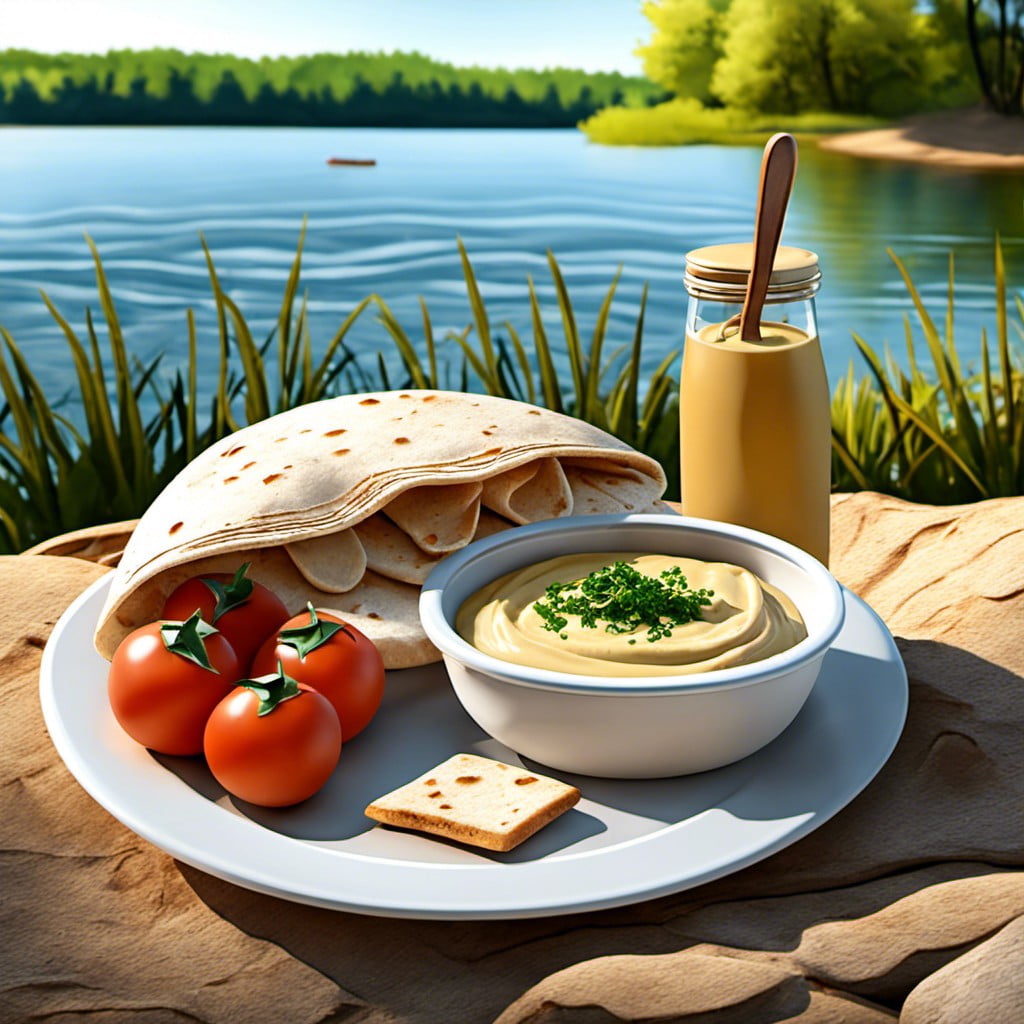 Rich in protein and fiber, hummus serves as a nutritious base on which to add further flavors. Spices like cumin and paprika can be tossed in for an earthy kick, while fresh ingredients like cilantro and lemon zest lend a bright, refreshing note.
Paired with its perfect accompaniment, pita bread, this snack becomes a light yet satisfying treat. The softness of the bread perfectly complements the creaminess of the hummus, creating a delightful textural contrast. Furthermore, pita bread is easy to pack and possesses a neutrality of flavor that serves to highlight the complex taste of the hummus.
For an added twist, consider pita chips for a crunchy alternative. Remember, while this is a simple snack, its versatility allows for endless variations—let your culinary imagination run wild!
Popcorn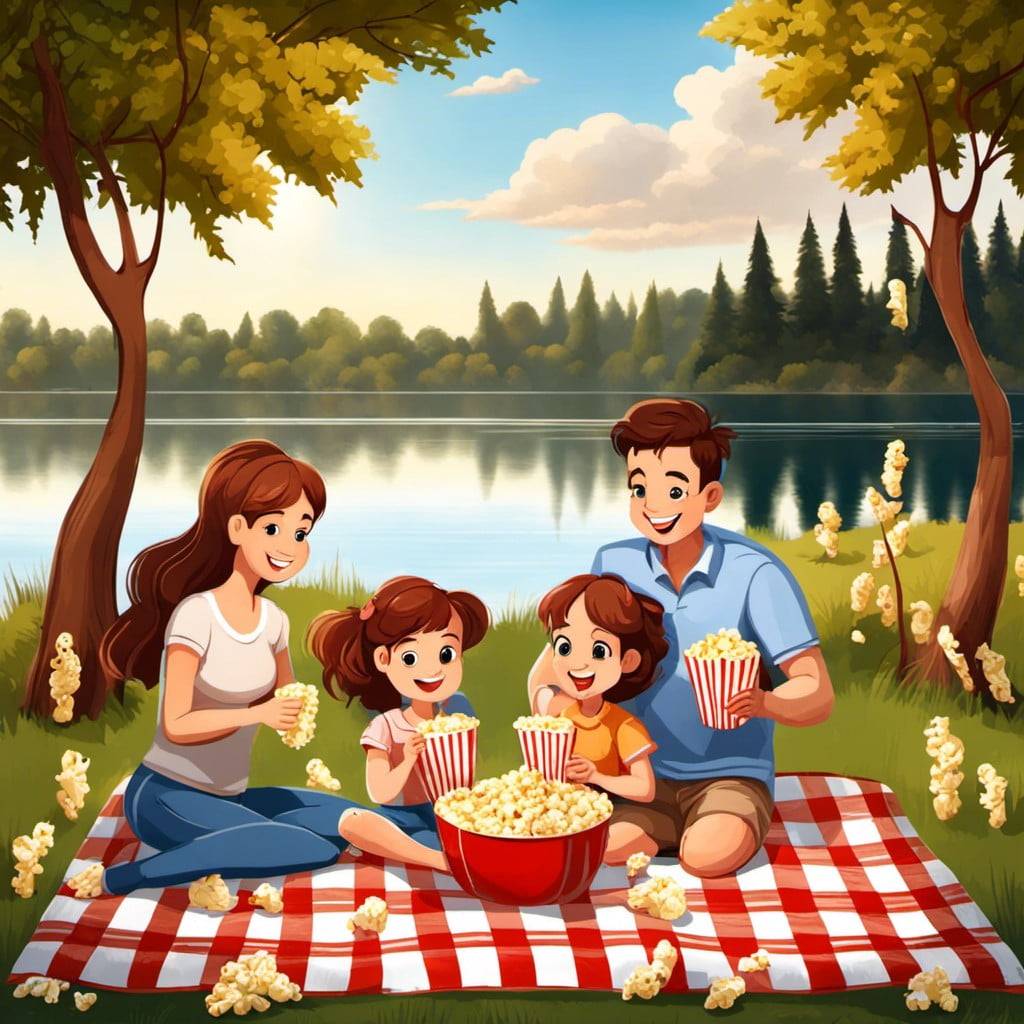 Perfect for munching and crunching, popcorn is a lightweight snack ideal for a day at the lake. It's not just low in calories but also in space, making it very portable.
To avoid sogginess, store it in airtight containers or resealable bags.
For an interesting twist, jazz it up with some extra flavors – consider tossing it in a mix of salt and nutritional yeast for a cheesy taste, or add some spice with a sprinkle of chili or smoked paprika.
Remember, popcorn can easily turn from a snack into a fun activity for the kids – they'll love helping to prepare and serve this delightful treat.
It's available in pre-popped packs, on-the-cob, or in loose kernels, accommodating various popping methods to suit your preference.
Granola Bars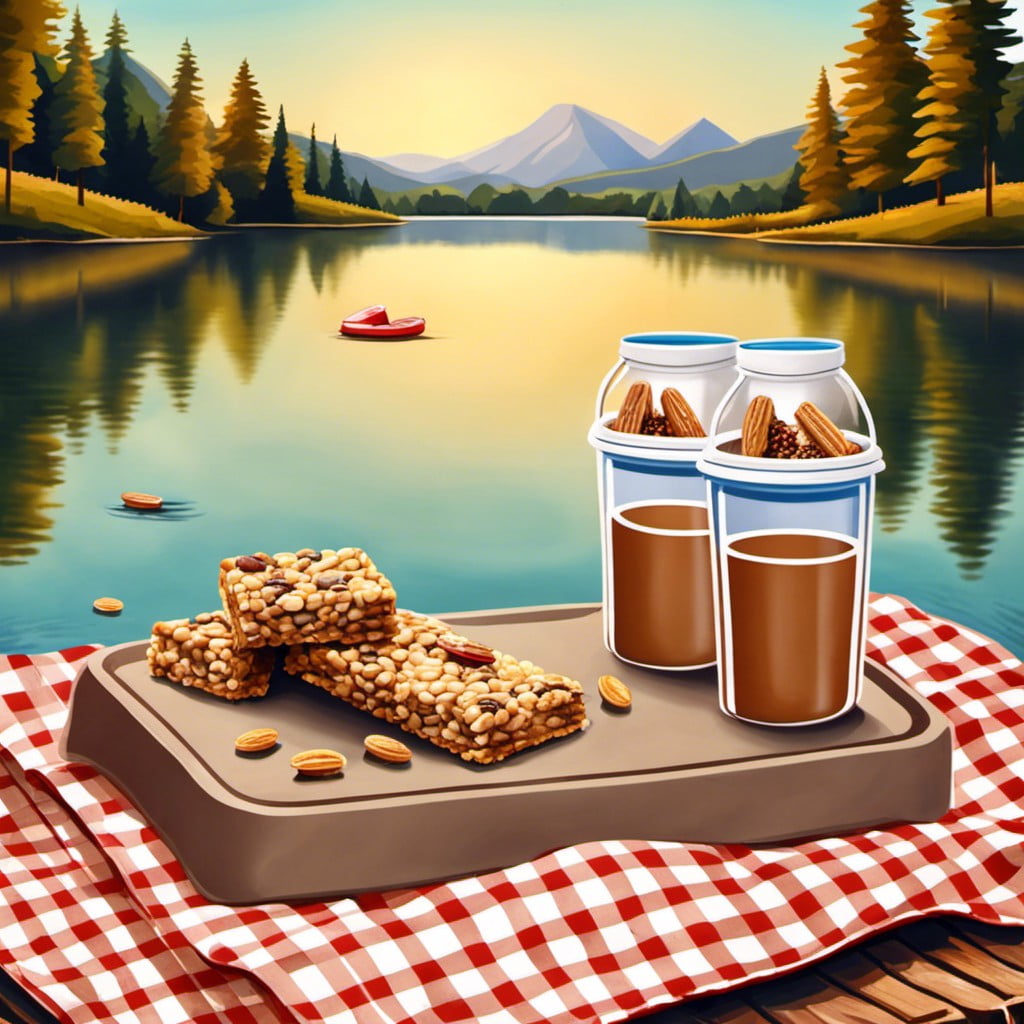 A perfect lake snack, granola bars are the epitome of convenience. Packed with oats, dried fruits, and nuts, they offer a balance of delicious flavors and nutritious elements.
This compact yet substantial snack is an excellent source of dietary fiber and vitamins, making it an ideal energy booster for swimming or boating. Moreover, their individual wrappings ensure they are mess-free and perfect for travel.
The variety in flavors, from chocolate to coconut, lets everyone choose their favorite. Plus, for health-conscious folks, there's an array of organic and low-sugar alternatives.
Undoubtedly, granola bars make the cut as a go-to for a day at the lake.
Pretzels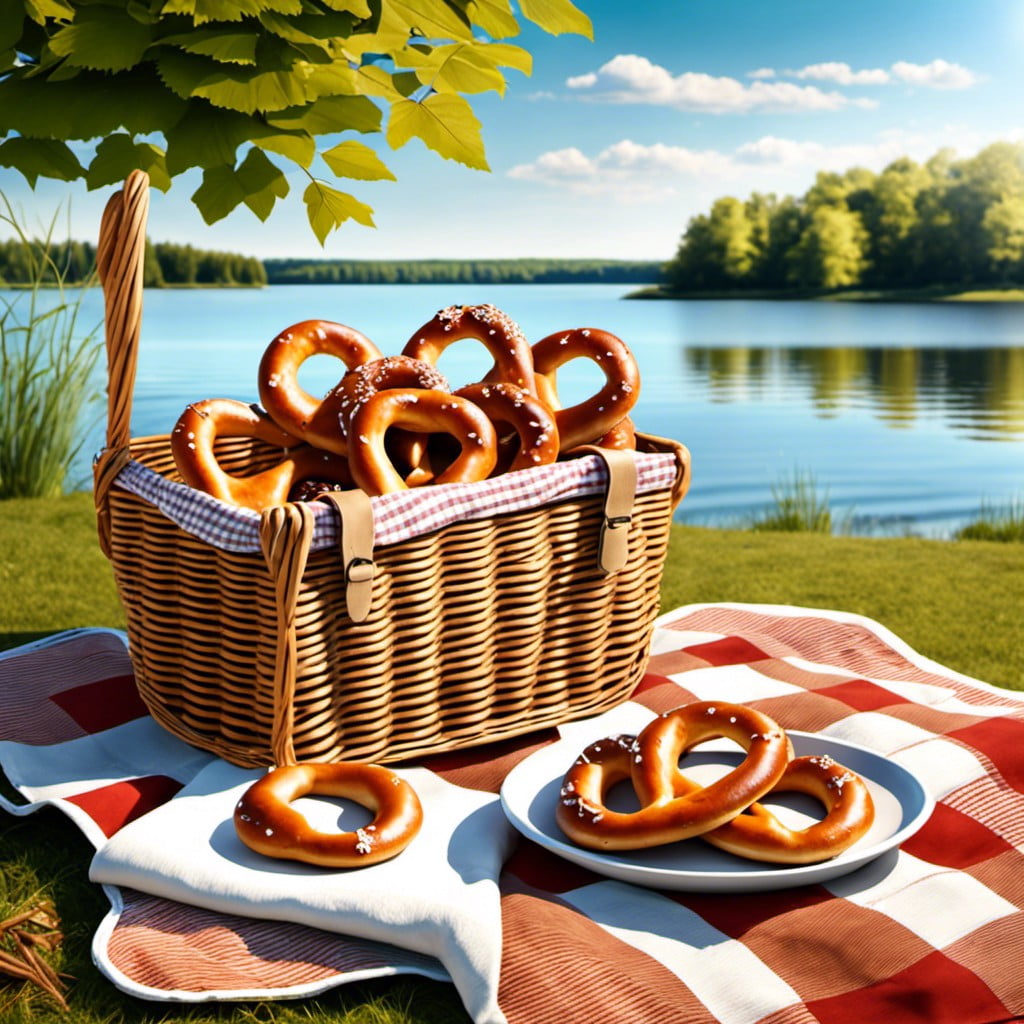 Well-liked for their salty twisty shape, pretzels are a timeless lake snack delight. They come in a variety of sizes and flavors to cater to different taste palettes, from tiny nibble-sized bits to large rods. One can also indulge in a pretzel's whole hearty wheat version for a healthier alternative.
Notable for their versatility, pretzels are frequently available in different forms such as sticks, loops, and even nuggets. Many are dusted with exciting flavors like ranch, honey mustard, and sour cream on top of the traditional salt.
Carrying them along the lakeside is hassle-free as they are usually sold in resealable bags, ensuring their freshness. Whether you prefer them on their own or paired with a cheese dip for an extra zest, pretzels are undeniably an ideal lakeside snack.
Trail Mix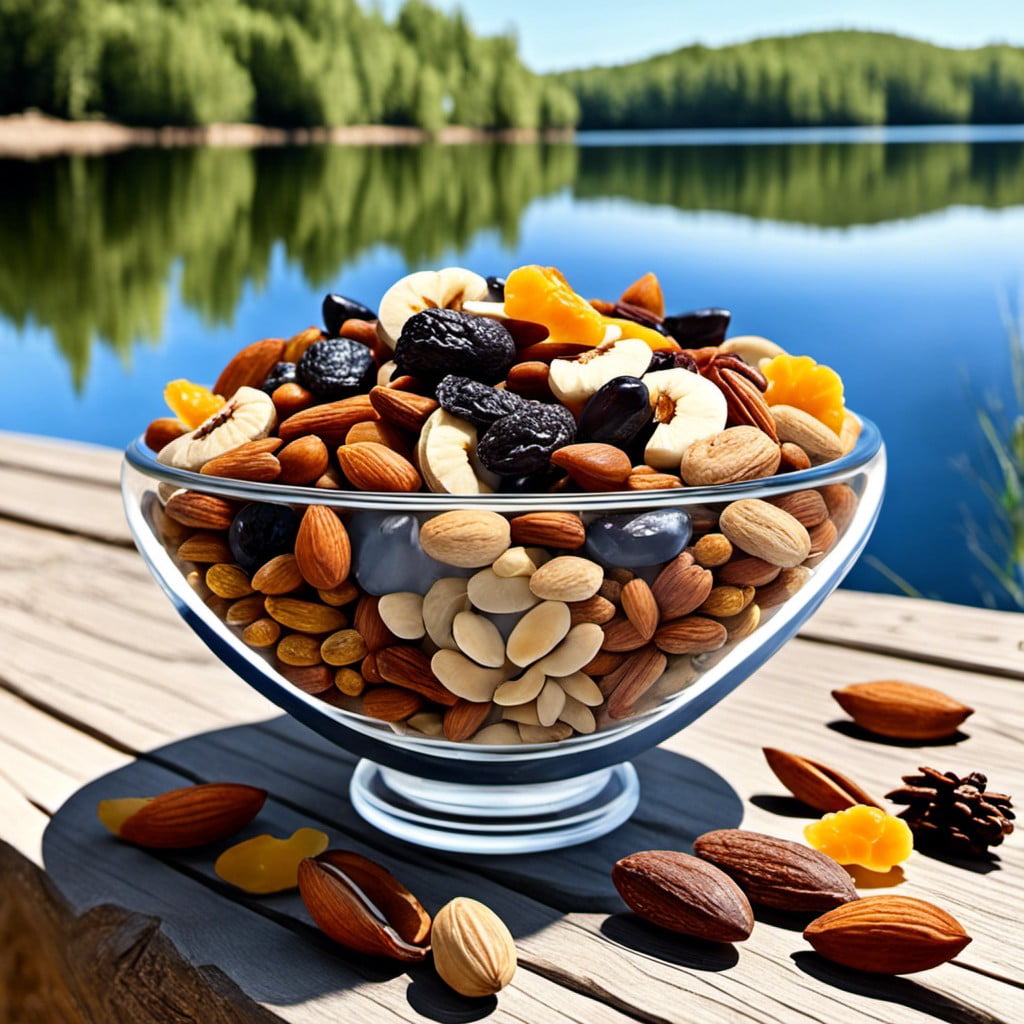 Offering a robust blend of nuts, dried fruits, seeds and sometimes, a sweet addition of chocolate, trail mix provides a balanced combination of protein and carbs – ideal for an energy boost while by the water.
The beauty of trail mix lies in its simplicity and adaptability. One might favor almonds, cashews and raisins spiced up with a drizzle of honey. Or perhaps you relish a tropical mix brimming with dried mango pieces, coconut flakes, macadamia nuts, and a dash of sea salt.
Those with a sweet tooth might gravitate towards a mix featuring chocolate chips, dried cranberries, and walnuts. Customize to your liking, there's really no wrong way to enjoy this versatile and fuss-free snack.
Jello Cups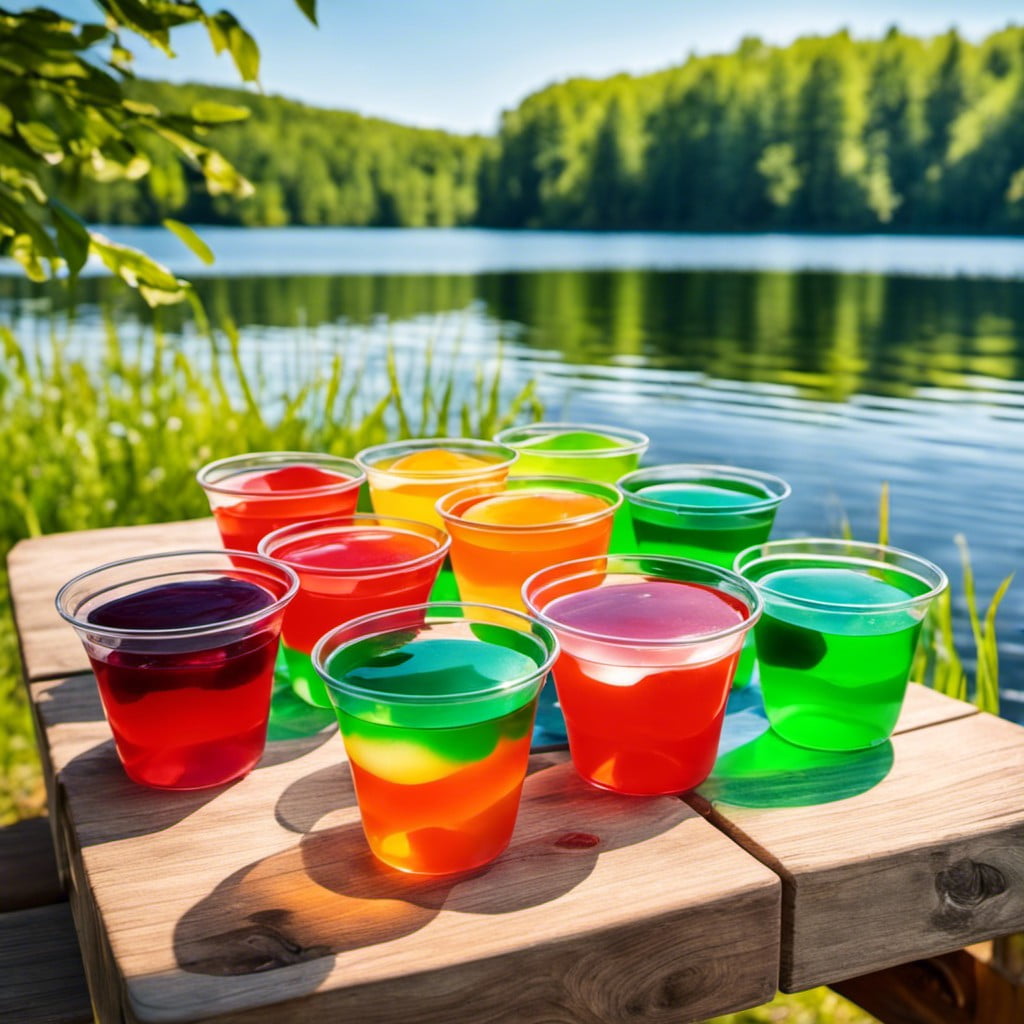 The simplicity and convenience of these often overlooked treats makes them an ideal choice for a lakeside snack. Notably, they're easy to pack as they come in their own individual cups, eliminating the need for any extra dishes. What's more, their gelatinous nature makes them resistant to melting or spoiling under the sun, unlike some other snacks.
Given their variety of flavors, each person can choose their favorite, be it classic strawberry, refreshing lime, or exotic tropical fruit mixes. For an adult twist, try creating your own versions at home with a dash of your favorite liqueur.
Remember, while they might look small, jello cups are quite filling. These fun and flavorful cups can easily satisfy your sweet cravings, while not being overwhelmingly heavy.
Lastly, as they are refreshingly cold, jello cups can also offer a much-needed reprieve from the warm lakeside weather. Just be sure to store them in a cooler or shady spot.
Grilled Corn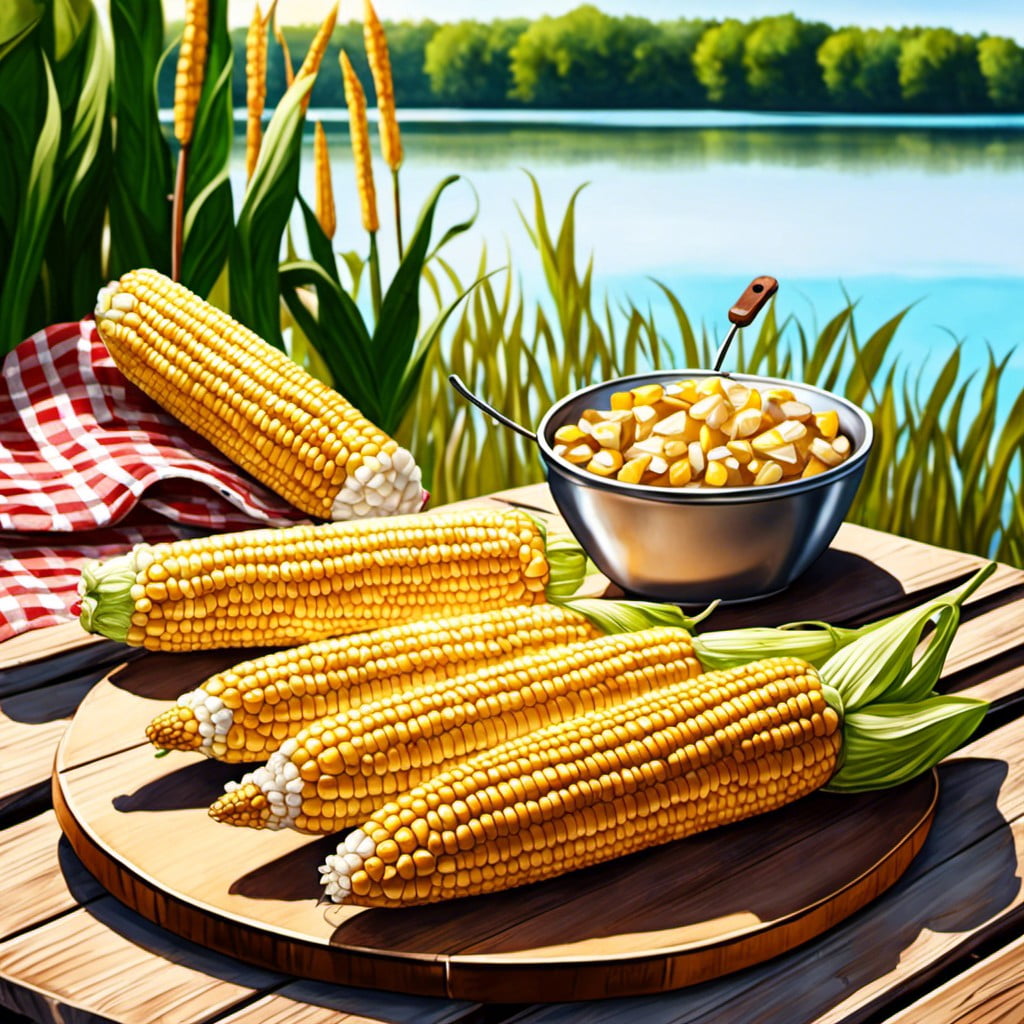 Grilled to perfection with a mouth-watering smoky flavor, this snack provides a mix of savory and sweet. Perfect for a day out by the lake, it's versatile, effortless, and packed with nutrients like fiber and Vitamins B and C.
To prepare this snack, strip back the husks without removing them entirely, discard the silks, then brush the corn with a mixture of melted butter and your choice of spices. Pull the husks back up to protect the kernels from direct flame, then grill until tender and slightly charred. A tip: experiment with seasonings like chilli powder and lime for an extra kick, or Parmesan cheese and Italian spices for a rich, indulgent twist.
Not only easy to prepare and cook, but corn is also a practical snack that requires no cutlery, making it an ideal choice for a lake day. Just remember to pack a bag to dispose of the cobs and husks to keep our beautiful outdoors clean.
Baked Beans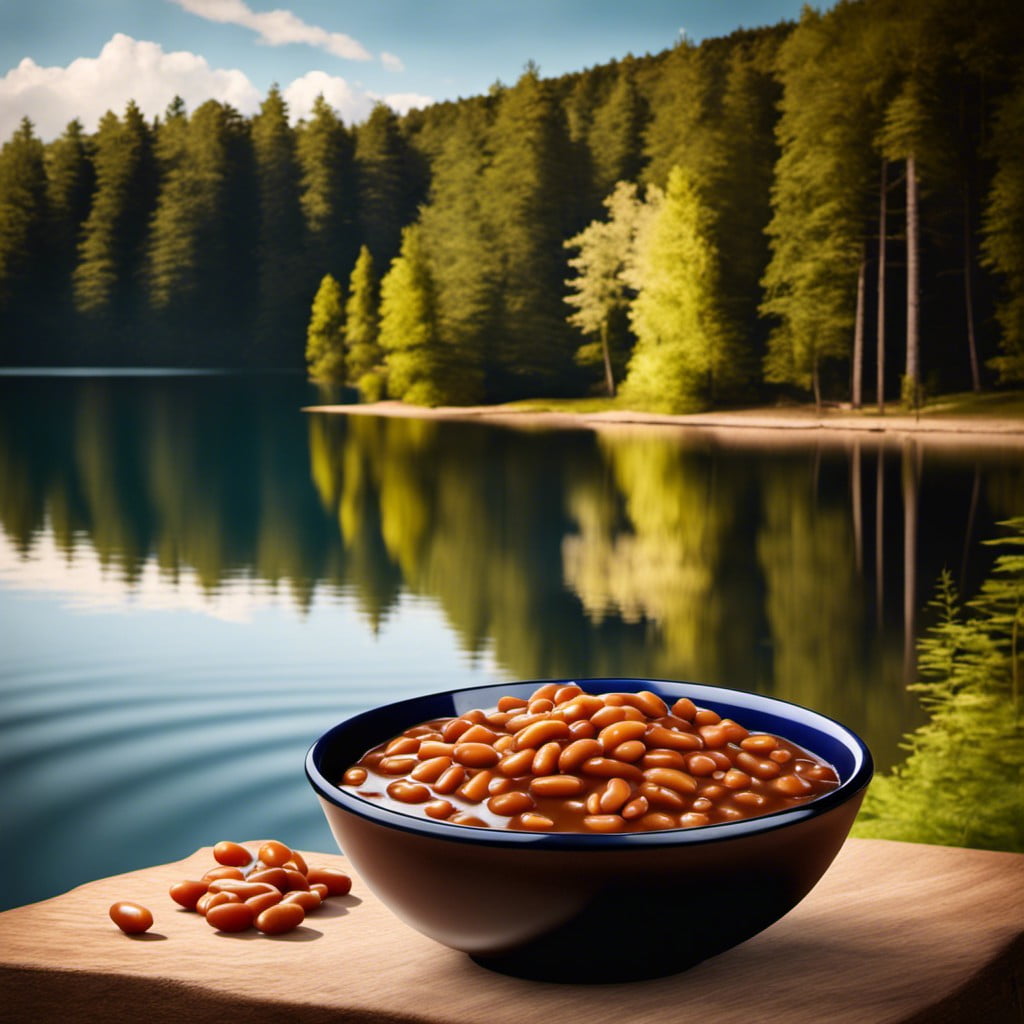 Packed with rich, hearty flavor, baked beans serve as a satisfying and convenient option when lakeside hunger strikes. They are not only nourishing but also easy to pack and hassle-free to prepare.
The preservative-filled canned versions are an option, yet nothing defeats the tantalizing taste of the homemade ones. For preparation, combine navy beans, tomato sauce, brown sugar, and your favorite spices, then slow cook until tender. The result is a tangy-sweet, protein-rich snack that fuels you adequately for your lake adventures.
Remember to pack them in a thermos to keep them warm and enjoyable. Beans also pair well with various other snacks, effectively satisfying your taste buds while providing a wholesome and filling meal.
Rice Cakes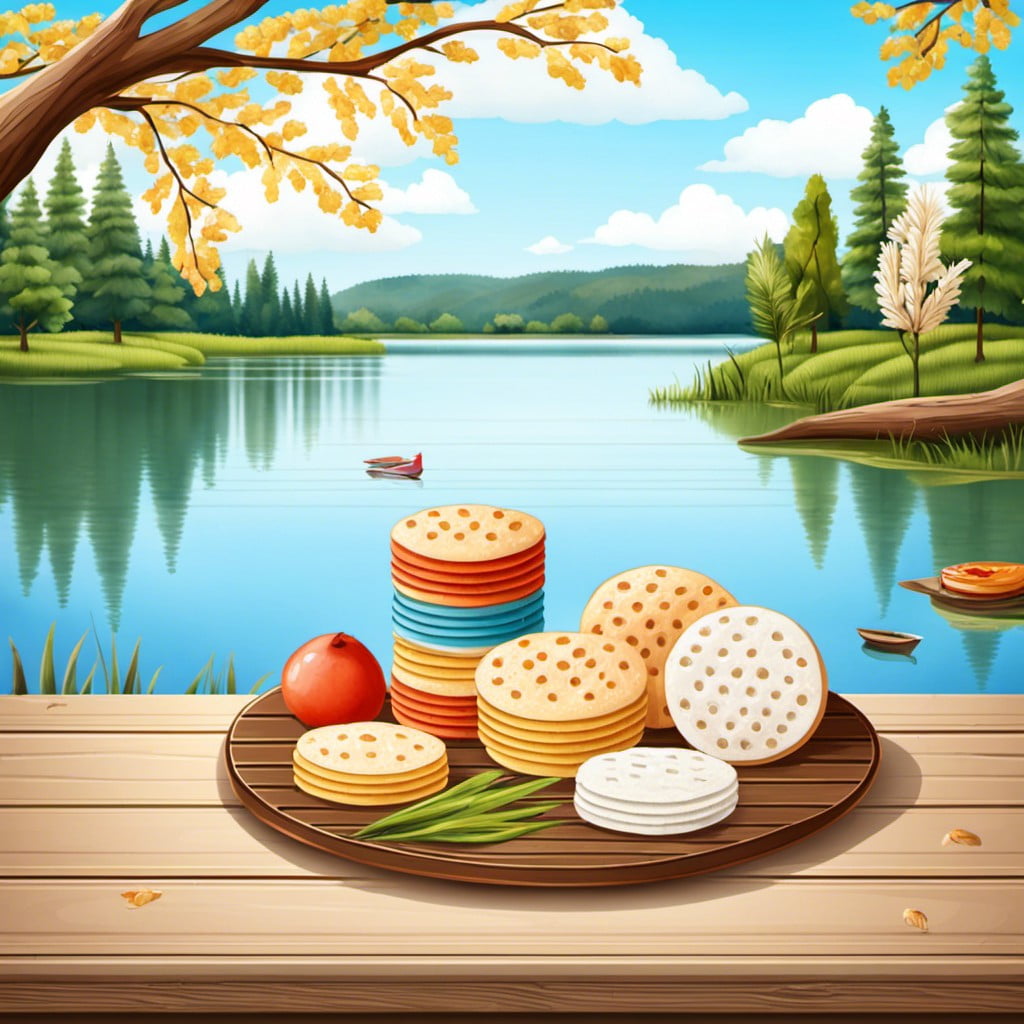 Perfect for those moments when you crave a little crunch, rice cakes provide a satisfyingly crispy snack and a health-conscious choice. Being relatively low in calories, they make a perfect base for a variety of toppings to suit diverse palates.
From creamy avocado and tomato slices for a nutritious twist, to almond butter and banana for a touch of sweetness, the possibilities are extensive. Additionally, they're easy to pack for your lake-side adventure, not easily squashed, and, most importantly, leave no messy crumbs to clean.
Ultimately, the adaptability, practicality, and health benefits make them an ideal addition to your basket of lake snacks.
Mini Quiches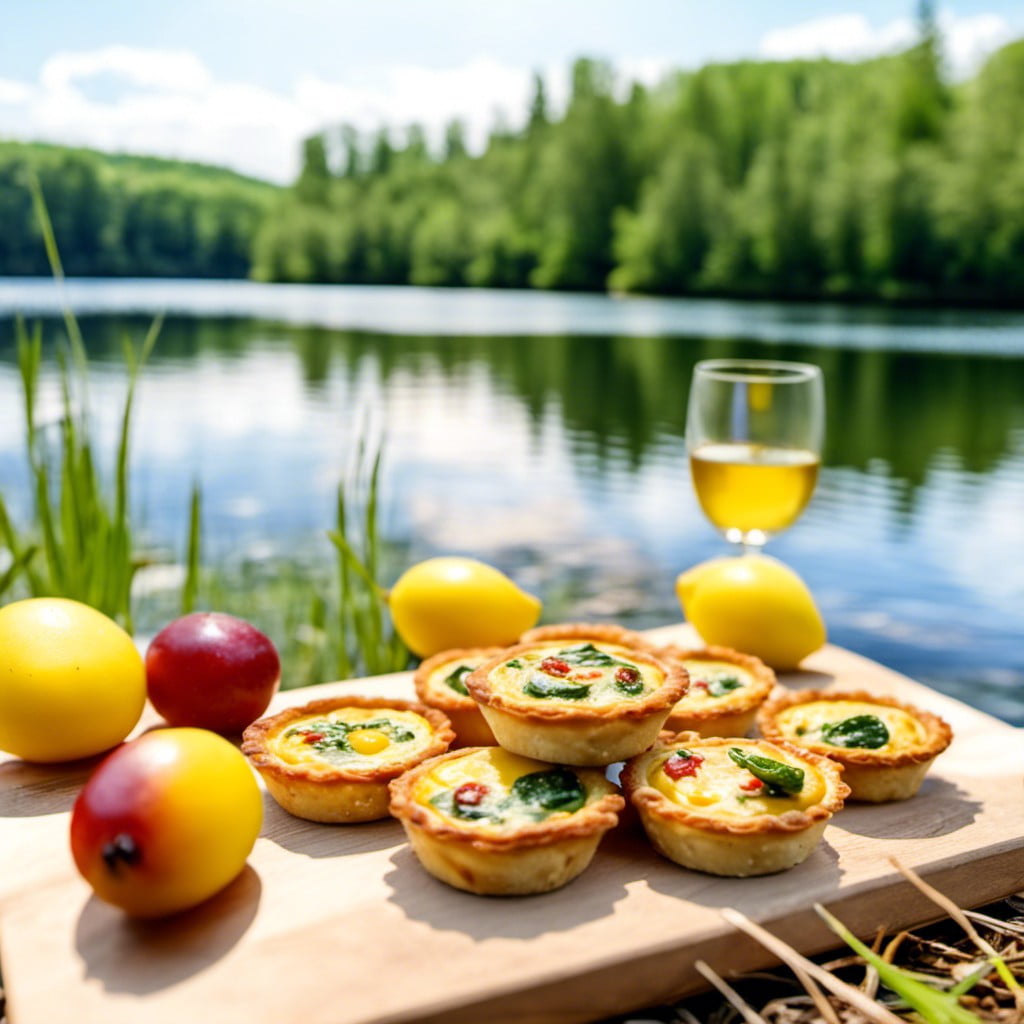 Bite-sized yet packed with flavor, mini quiches keep well in a cooler and are perfect for a grab-and-go snack. These tiny versions of the classic dish can easily be adapted to suit any taste, from meat eaters to vegetarians.
Prep ahead of time by baking a mixed variety including popular combinations such as ham and cheese, spinach and feta, or even mushroom and onion. The tender, flaky crust combined with a rich, creamy filling offers a satisfying contrast in textures.
If carrying around individual servings seems too cumbersome, prepare in a muffin tin for a segmented approach that's ideal for sharing. Remember to pack them in a sturdy container to prevent them from getting squashed among other items.
Cold Pasta Salad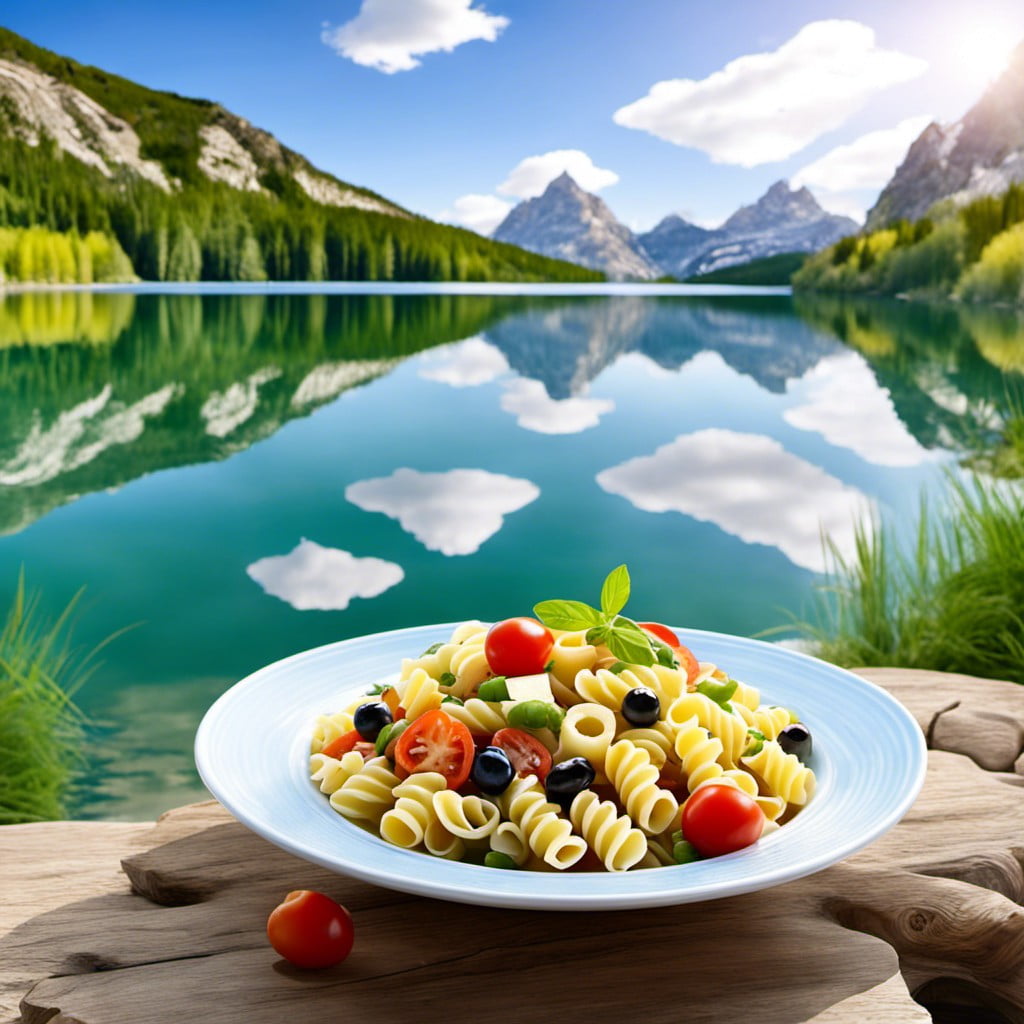 Packed with various nutritious ingredients, a cold pasta salad can be a crowning jewel of any lake-side snack pack.
First, consider mixing various types of pasta for unusual tastes and textures – fusilli, penne, bow-ties or shells provide endless possibilities.
Second, integrate freshness. Freshly picked garden tomatoes, crisp cucumbers, red onions, and smoked olives contribute to a refreshing taste.
Third, proteins like diced ham, shredded chicken or chickpeas can power you up for an afternoon of swimming or fishing.
Also, don't shy away from the dressing. Olive oil, lemon juice, garlic, oregano, salt, and pepper – basic but robust.
A cold pasta salad enables creativity in your lake snack game, and the proportion can be adjusted as per preference.
Chicken Drumsticks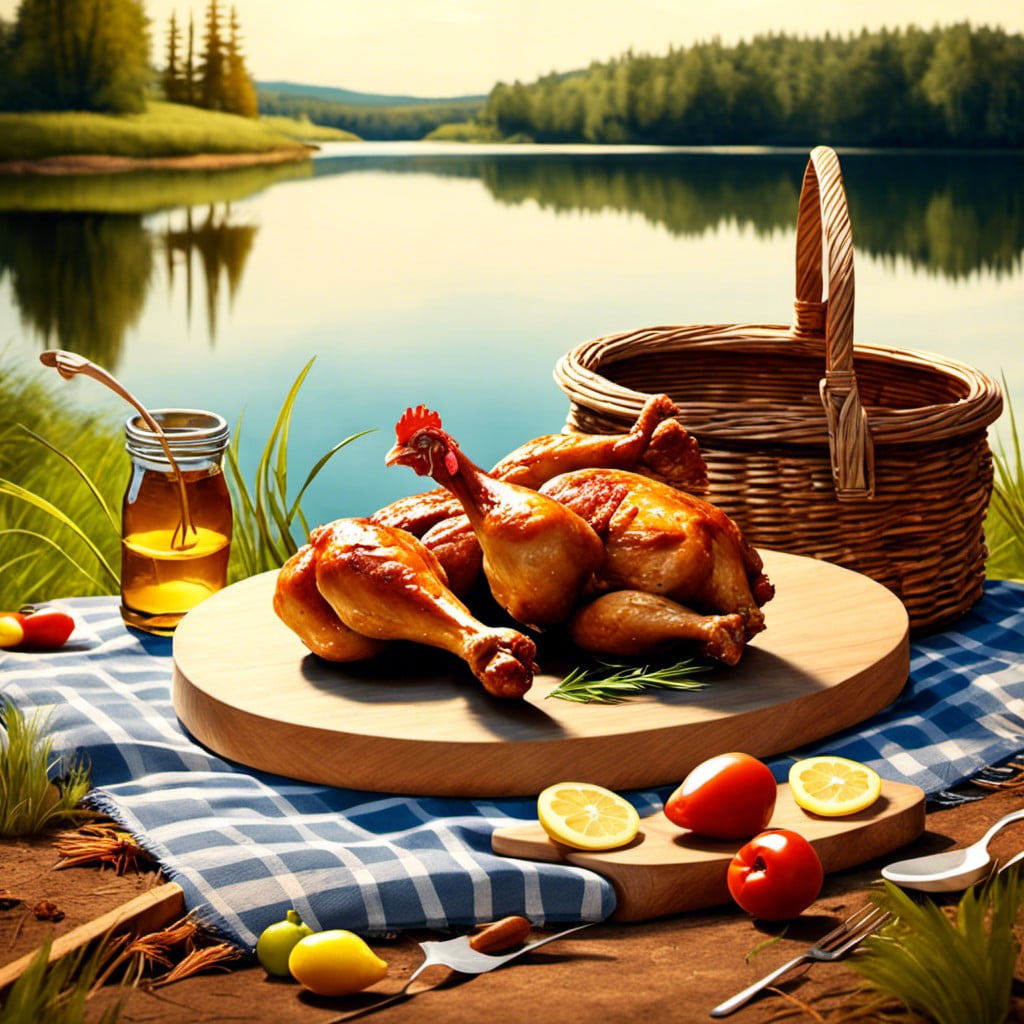 Often marinated in a zesty concoction of spices and herbs, these tender, juicy treats make for an ideal lakeside snack. Their portability means they can be easily transported in a cooler, staying chilled until you're ready to throw them on a portable grill.
They are not only taste satisfying but also rich in protein, providing the necessary energy for a day of lake activities. For vegetarians or health-conscious individuals, skinless options or alternative veggie-based recipes can serve as wholesome alternatives.
A final bonus is its no-fuss eating feature: no fork and knife needed, perfect for an outdoor experience. Remember to bring some napkins for greasy fingers! Choose from a vast variety of flavors – barbecue, lemon pepper, buffalo – the choices are endless.
BBQ Skewers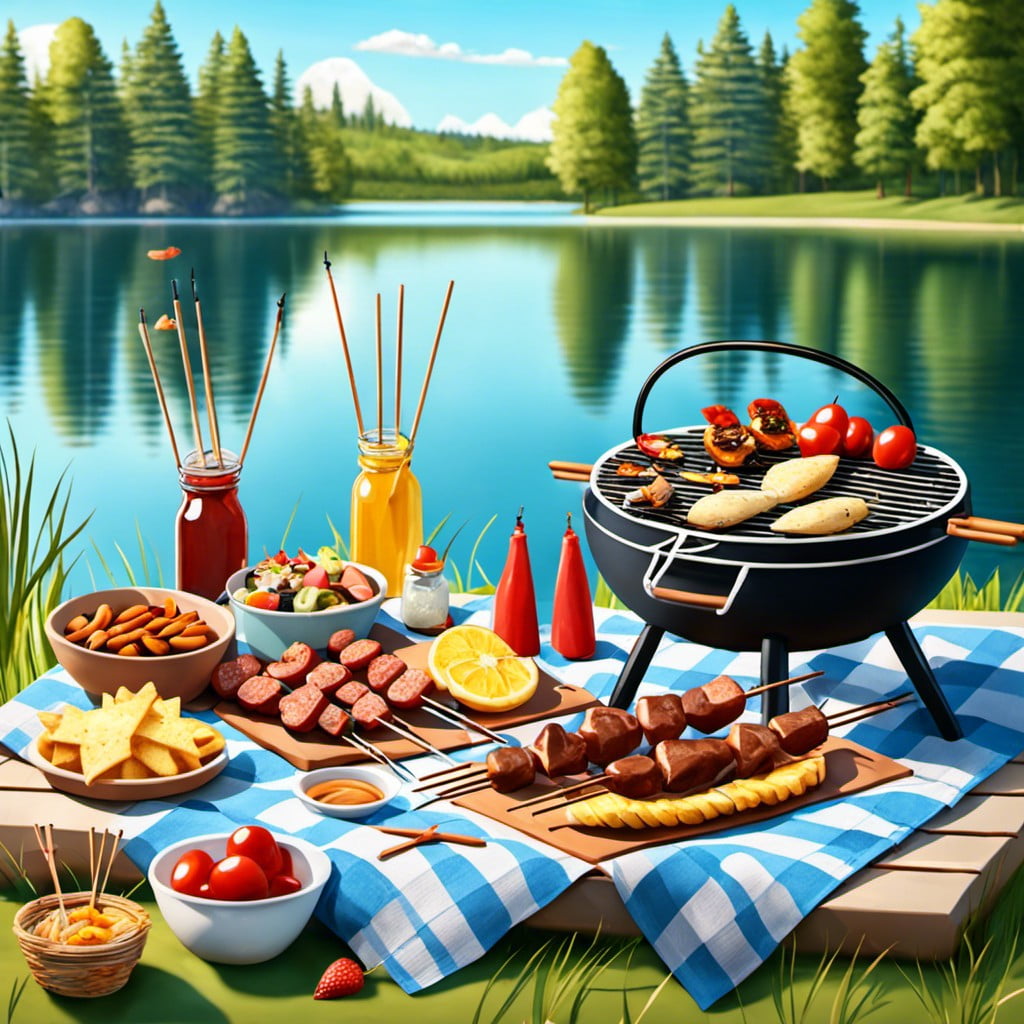 Elevating the traditional lake picnic to a more exciting flavor experience, BBQ skewers are a wonderful choice. Assembling these appetizing treats can be as easy as threading chunks of marinated meat, seafood or tofu, accompanied by a colorful array of vegetables onto skewers.
Opt for hearty vegetables like zucchini, bell peppers, and cherry tomatoes that will hold their own on the grill. Experiment with a variety of marinades, from tangy BBQ to zesty citrus or teriyaki. Be sure to marinate the ingredients a few hours in advance for rich, savory flavor.
Grill them until they're slightly charred and juicy, and you have a tasty lake snack that's both easy to prepare and delicious to consume. Remember to soak wooden skewers in water for at least 30 minutes before grilling to prevent them from catching on fire.
Watermelon Slices
Ideal for hot summer days, watermelon slices are not only refreshing but also packed with essential nutrients. With high water content, these juicy treats help maintain hydration while soaking up sun rays.
Moreover, watermelon is an excellent source of vitamins A and C, promoting good skin and immune function. All you need to do is slice a ripe watermelon and pack the pieces into a container. They're easy to handle and virtually mess-free, making them a great option for kids.
You can also get creative and use a cookie cutter to make fun shapes, adding a playful touch to your lake day snacks. Remember to pack them into a cooler to keep the slices cold and fresh throughout the day.