Explore a myriad of delectable snack ideas that effortlessly elevate your Labor Day celebrations.
Labor Day, the unofficial end of summer, calls for a celebration with delectable snacks that are easy to prepare and perfect for a backyard barbecue or a family picnic.
This article will guide you through a variety of snack ideas ranging from savory bites to sweet treats, all designed to enhance your Labor Day experience.
Whether you're looking for traditional American fare, want to experiment with international flavors, or need dietary-specific options, you'll find detailed recipes and preparation tips here.
So, get ready to impress your guests with an array of flavors that not only pay tribute to the hard-working spirit of Labor Day but also bid a delicious farewell to summer.
Mini Hot Dogs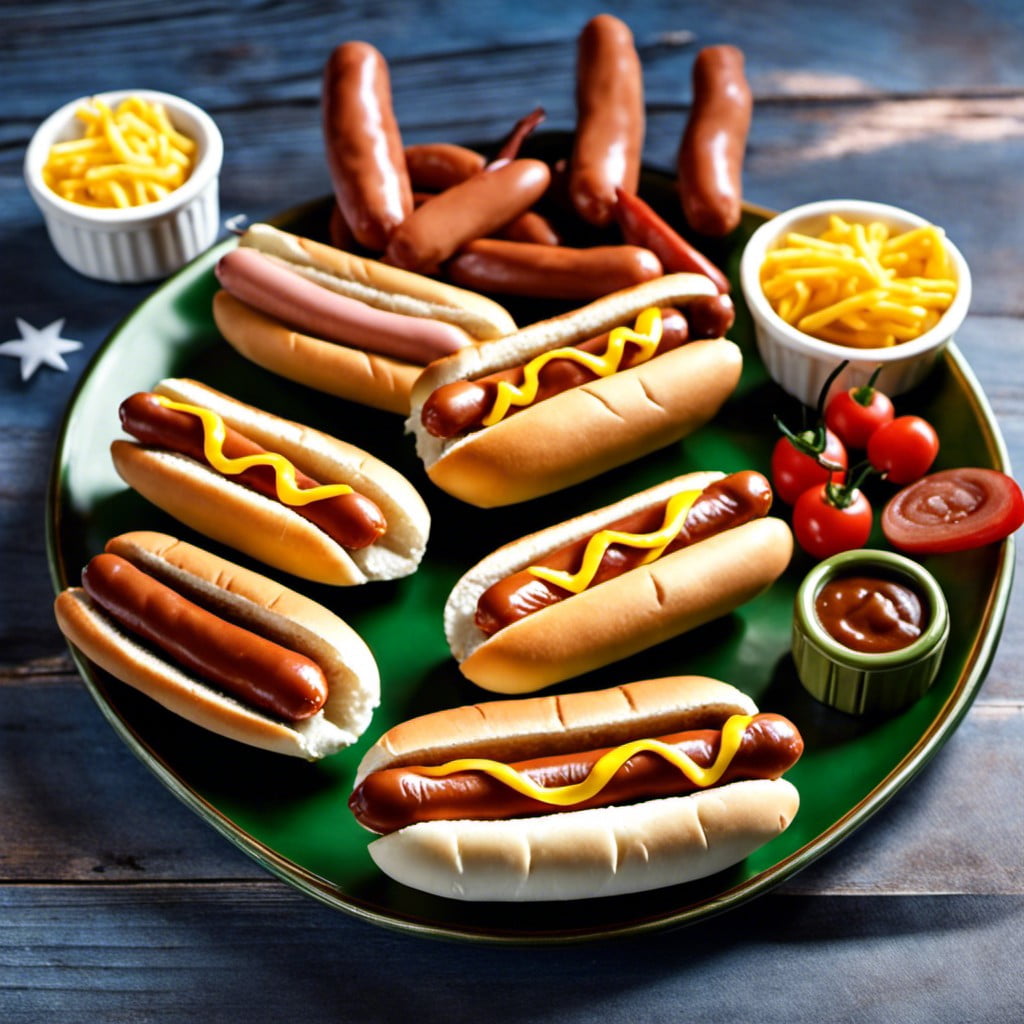 With their bite-size appeal and familiar flavor, these irresistible treats will likely disappear from the snack table before you know it.
Preparation is straightforward. All you need are cocktail sausages and crescent roll dough.
Wrap each mini sausage in the dough and bake until golden.
For a fun twist, consider adding a slice of cheese or a dollop of mustard inside the dough before baking.
Serve with a variety of dips — classic ketchup, tangy mustard or perhaps an adventurous barbecue sauce.
Remember, the beauty of these appetizers lies in their simplicity, so resist the urge to overcomplicate things.
The result will be a fun, fuss-free snack that resonates with both the young and the young-at-heart.
After all, who can resist the nostalgic charm of a good, old-fashioned hot dog shrunken down to a perfectly snackable size?
Enjoy the smiles these delightful bites will inevitably bring to your Labor Day gathering.
Veggie Platter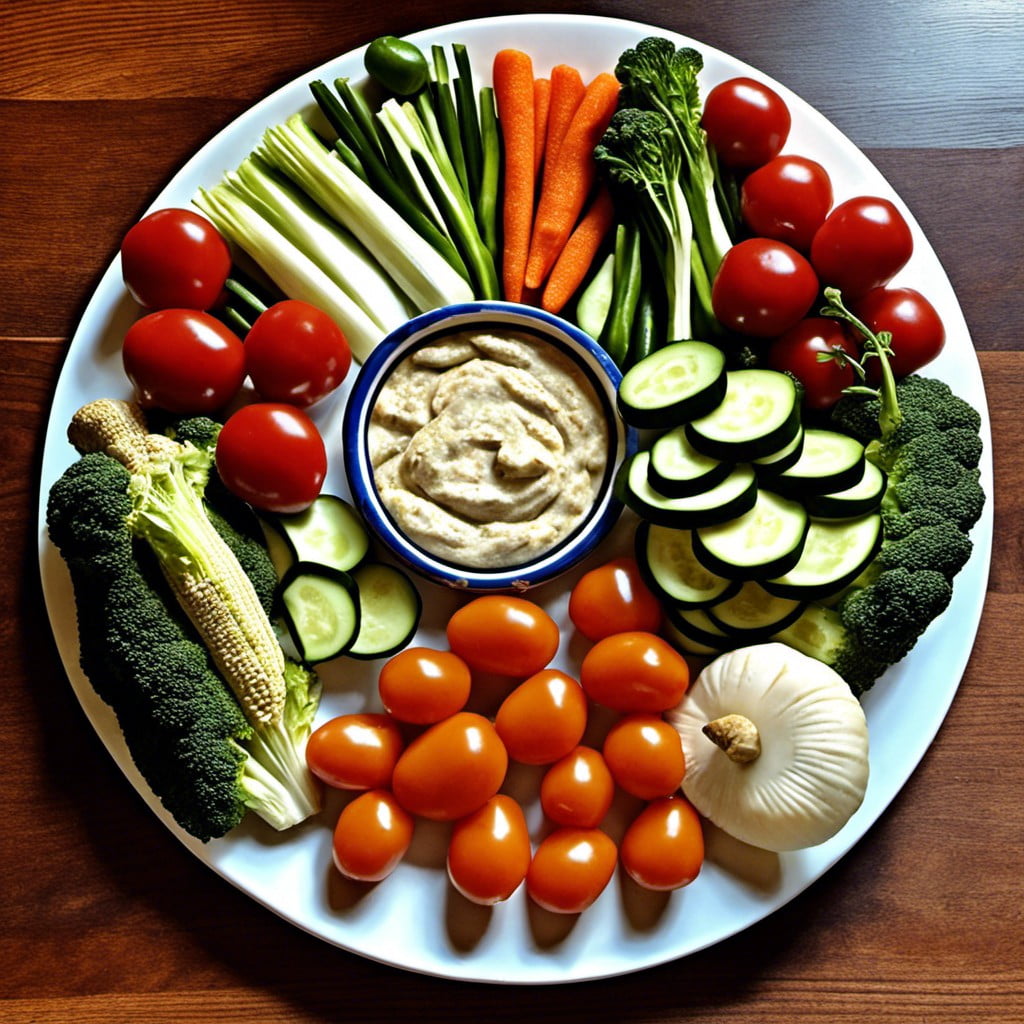 Creating a colorful and appealing assortment is the key. Begin with selecting an array of fresh vegetables like cherry tomatoes, bell peppers, cucumbers, carrots, and celery sticks. Cruciferous vegetables like broccolini and cauliflower also work great for a crunch factor.
Next, consider adding variety with dips. You could have a classic ranch dressing, a tangy hummus, and perhaps a vegan-friendly option like a delicious guacamole or artichoke dip. Keep them separated in small bowls for easy access.
Arrange the veggies and dips on a serving tray or board. You may organize by color, type, or just mix them randomly for a vibrant presentation.
Remember to keep extra veggies nearby for quick replenishment because, in a party setting, the platter can go empty pretty quickly!
Play with textures, colors, and tastes to have a delightfully healthy snack on your Labor Day gathering.
Fresh Fruit Kabobs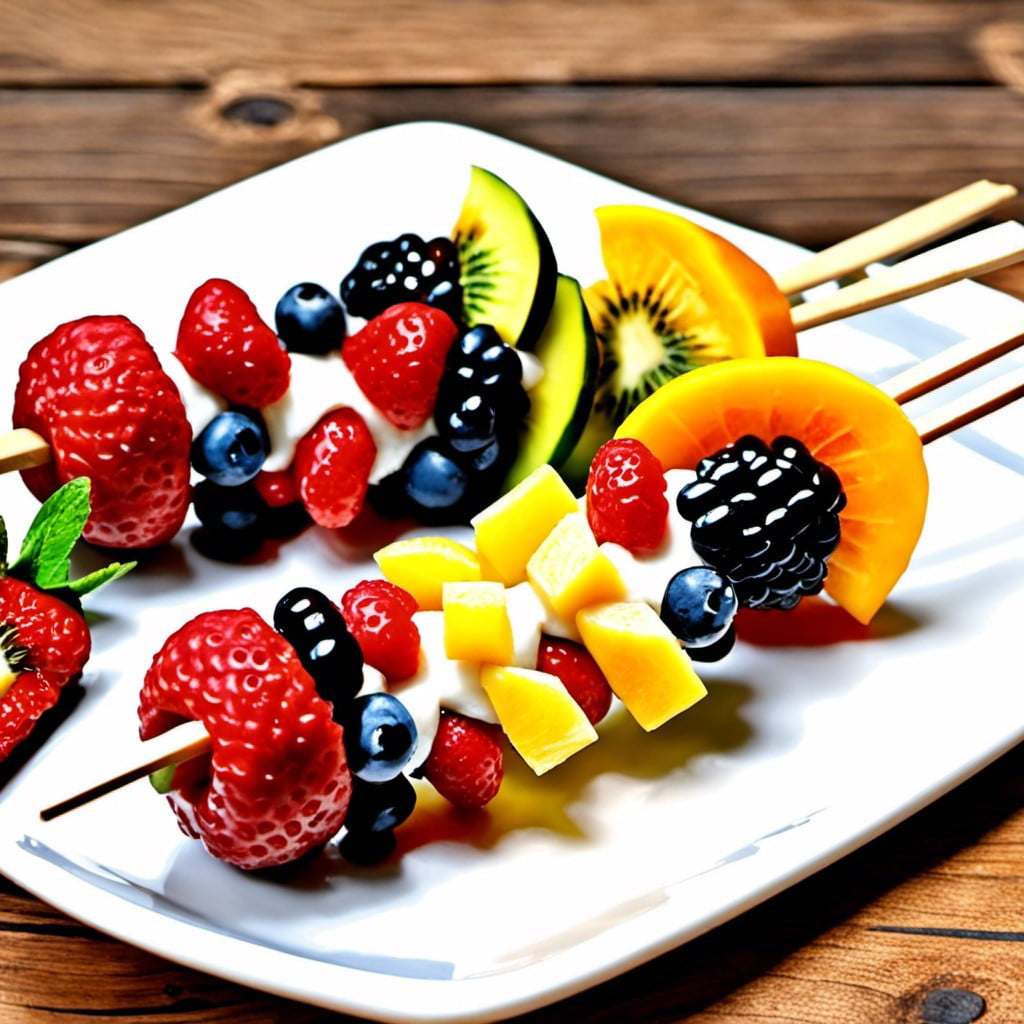 For a refreshing, healthy option on a hot Labor Day, nothing beats these appetizing offerings. Berries like strawberries and blueberries, along with thicker fruits such as pineapple and melons, work best for kabobs.
For an extra pop of flavor, consider using a honey-lime glaze:
Selection: Choose vibrant, firm fruits that can hold up on a skewer.
Preparation: Core, peel, and slice fruits into 1-inch pieces.
Assembly: Poke the skewer carefully into the fruit pieces, alternating types for a colorful presentation.
Glaze: Mix equal parts of honey and lime juice. Brush it onto the kabobs prior to serving.
Variation: Include some cheese cubes or marshmallows for a sweet-and-salty twist.
The bright visuals of the kabobs will add to your Labor Day festivities while providing a tasty, nutritive snack that can also cool down guests.
Cheese and Charcuterie Board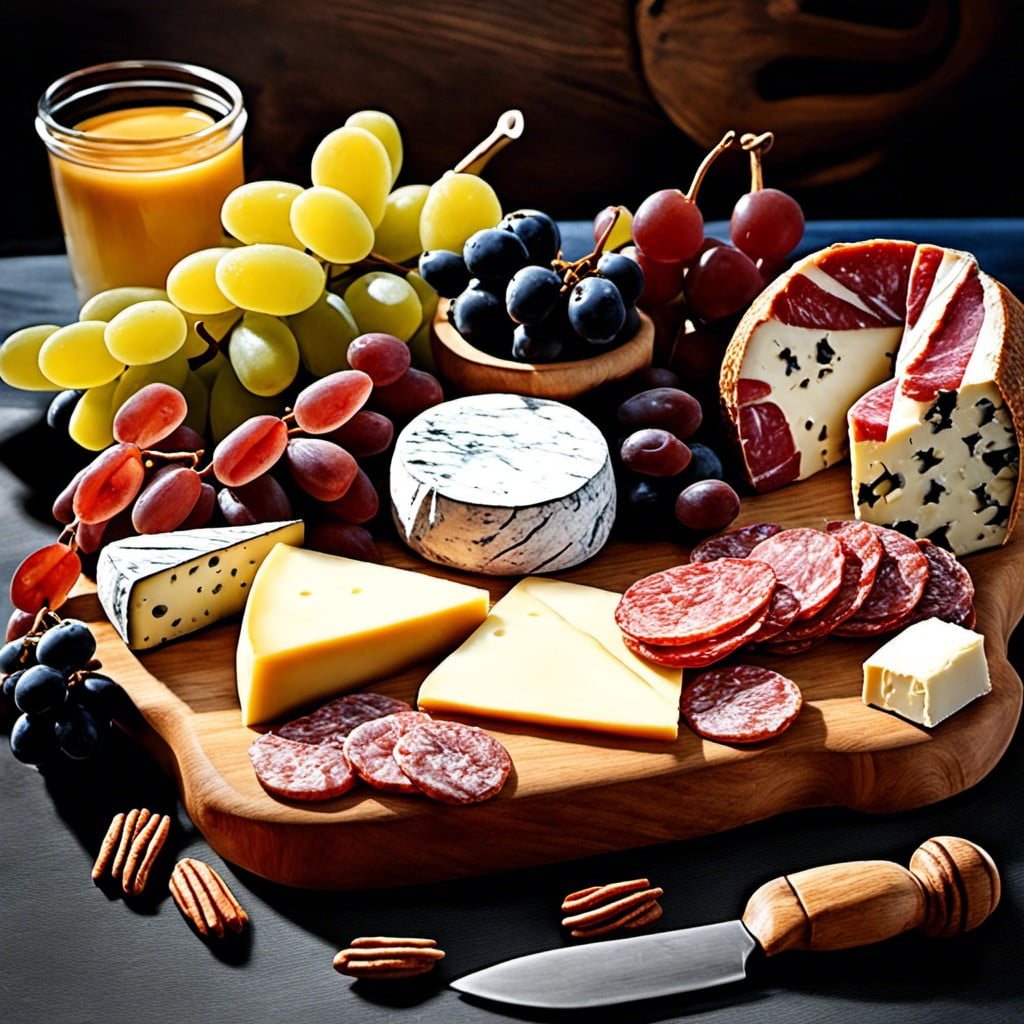 When assembling a cheese and charcuterie board, variety is key. You want the richness of creamy, hearty cheeses paired with the full-bodied flavors of different cured meats. Begin with at least three kinds of cheese, for instance, a soft Brie, a firm Cheddar, and a tangy Blue.
Next, select your meats. Prosciutto, salami, and soppressata are excellent choices, each one offering a unique taste and texture. Add slices of crusty bread or an assortment of gourmet crackers, which provide a satisfying crunch and a neutral base to balance the flavors.
Consider including a few accompaniments to enhance the overall experience. Olives, pickles, and spiced nuts can provide that crave-worthy salty element, while fresh fruits like sliced apples or grapes can offer a sweet and refreshing counter to the heavier cheeses and meats. Include a fig jam or honey to compliment the flavors and add an enticing sweet-savory dimension.
Remember, the arrangement is as crucial as the selection. Cluster each type of cheese and meat separately for a visually appealing spread that allows guests to sample and choose their preferred combination. Finally, serve with a variety of wines or craft beers to elevate your snack spread to a gourmet feast.
Chicken Skewers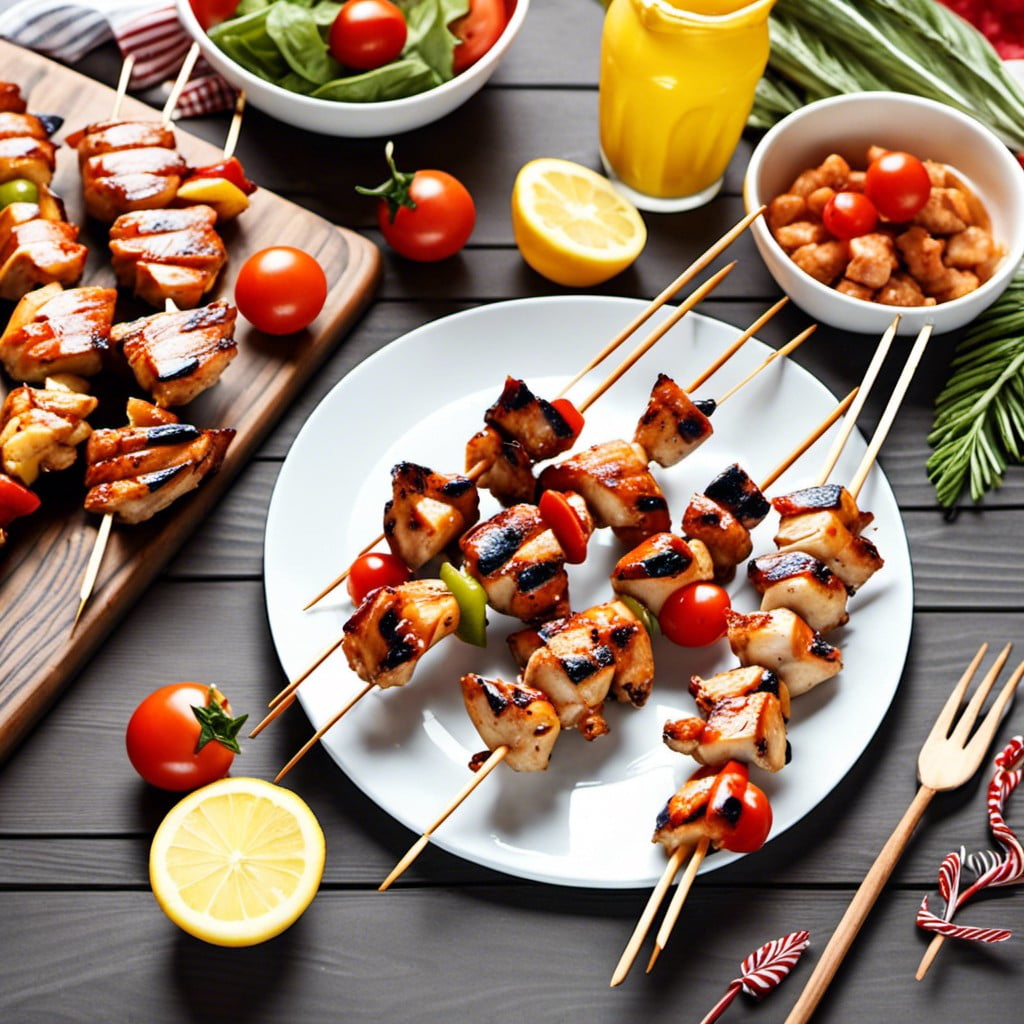 Marinated in a zesty blend of lemon juice, olive oil, and spices, these tiny grilled delights are both irresistible and easy to prepare.
Spices give an explosion of flavor, making each bite a delightful culinary experience.
Healthy and delicious, they pair well with a variety of dipping sauces, from tangy barbeque to a spicy sriracha mayo.
Skewer these with chunks of bell pepper and onion for an added crunch and blast of color.
Plus, they're perfect for both children and adults, making them a versatile snack option.
For those on a restricted diet, the marinade ingredients can be easily modified to suit individual preferences.
And remember, soaking the skewers in water beforehand prevents them from burning on the grill.
Serving them straight from the grill ensures the best flavor and temperature, ideal for any Labor Day gathering.
Deviled Eggs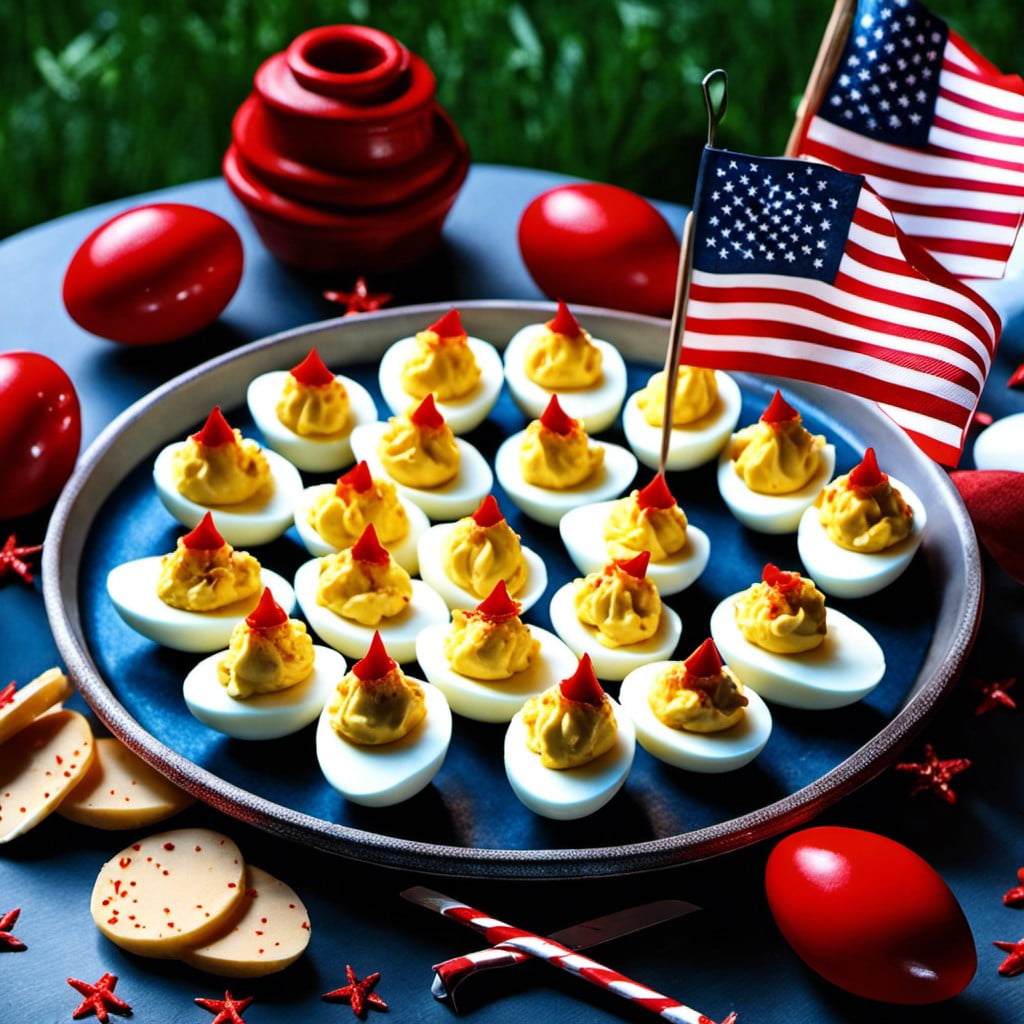 Bursting with creamy richness, deviled eggs never fail to charm the crowd. Eggs are hard-boiled, cut in half, and the yolk is mixed with ingredients like mayonnaise, mustard, and vinegar, resulting in a smooth, flavorful filling.
Enhancing this simple base with creative add-ins takes it to the next level. Sprinkle with smoked paprika for a hint of peppy heat, add bacon bits for a satisfying crunch, or incorporate finely chopped pickles for a tangy surprise. A fresh herb garnish, such as dill or chives, can add a pop of color and subtle layer of flavor.
Be sure to refrigerate these delights until serving time. Bite-size and packed with robust flavors, deviled eggs act as the perfect Labor Day snack, balancing out more substantial food options.
Guacamole and Chips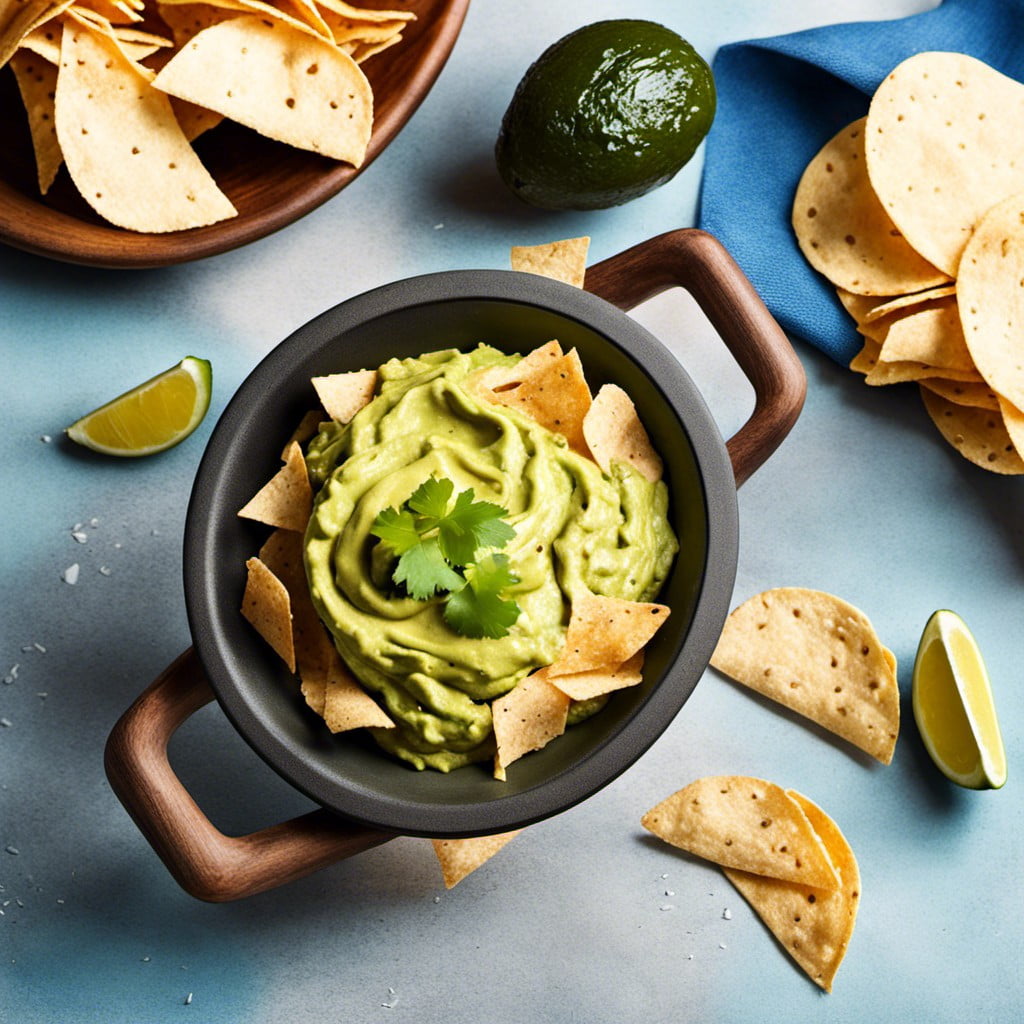 Cut open a ripe avocado, scoop out the luscious green flesh, and mash it gently with a fork, retaining a bit of texture for interest. Add diced tomatoes, chopped onions, fresh cilantro, a squirt of lime juice, and a pinch of salt. Mix it all together to create the creamy, zesty dip we know as guacamole.
The ideal accompaniment to your guacamole marvel, tortilla chips ensure the perfect shovel to transport the dip. Choose the sturdy, salt-rimmed ones. A sprinkle of lime is an exciting bonus.
Prep everything ahead of your Labor Day gathering. Ripen avocados at home for two to four days or buy already ripe ones, and prep the rest of the ingredients the morning of your event. Assemble just before serving to keep your chips crunchy and your guacamole at peak freshness. A squeeze of lime on the surface of the dip can help keep the guacamole from browning.
Calories and nutrients are not a concern at this point. A bit of indulgence doesn't hurt, especially when it's bursting with flavors that stoke your appetite and bring a spark of joy to your tastebuds! So go ahead, and dip into the tangy delight that is guacamole and chips, a sure-fire crowd-pleaser.
BBQ Ribs Bites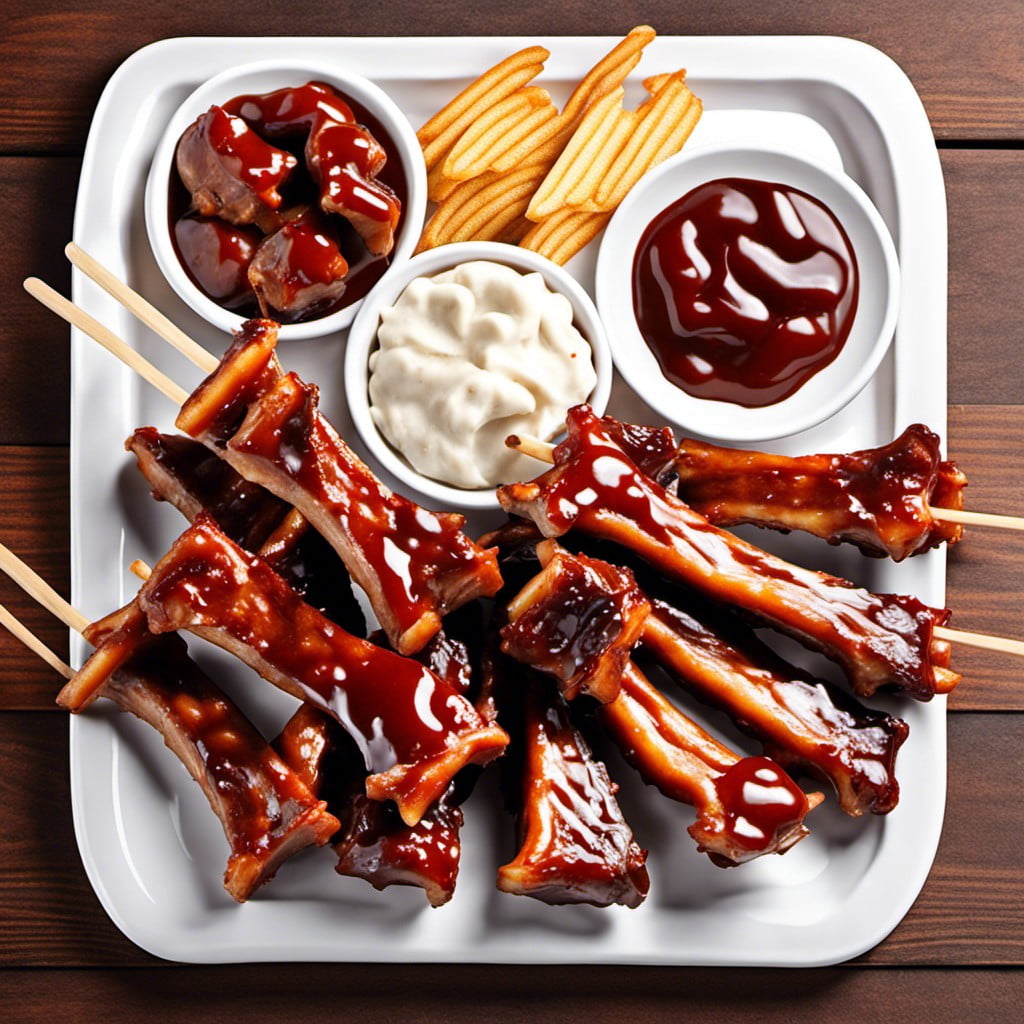 Known for their tender and juicy textures, these bite-sized delights bring the authentic barbecue flavors right to your backyard.
Preparation involves marinating the ribs in a rich sauce made up of brown sugar, ketchup, vinegar, and various other seasonings for an indulgent sweet and tangy taste.
They are then grilled to perfection, achieving a beautiful char that enhances their smoky aroma.
The result is a succulent treat bursting with flavors, where each nibble is met with a punch of quintessential barbecue.
Serve them on a platter, and watch as they disappear in no time.
Remember, using a slow-cooker can give them a melt-in-your-mouth tenderness and infuse the seasonings more deeply.
Shrimp Cocktail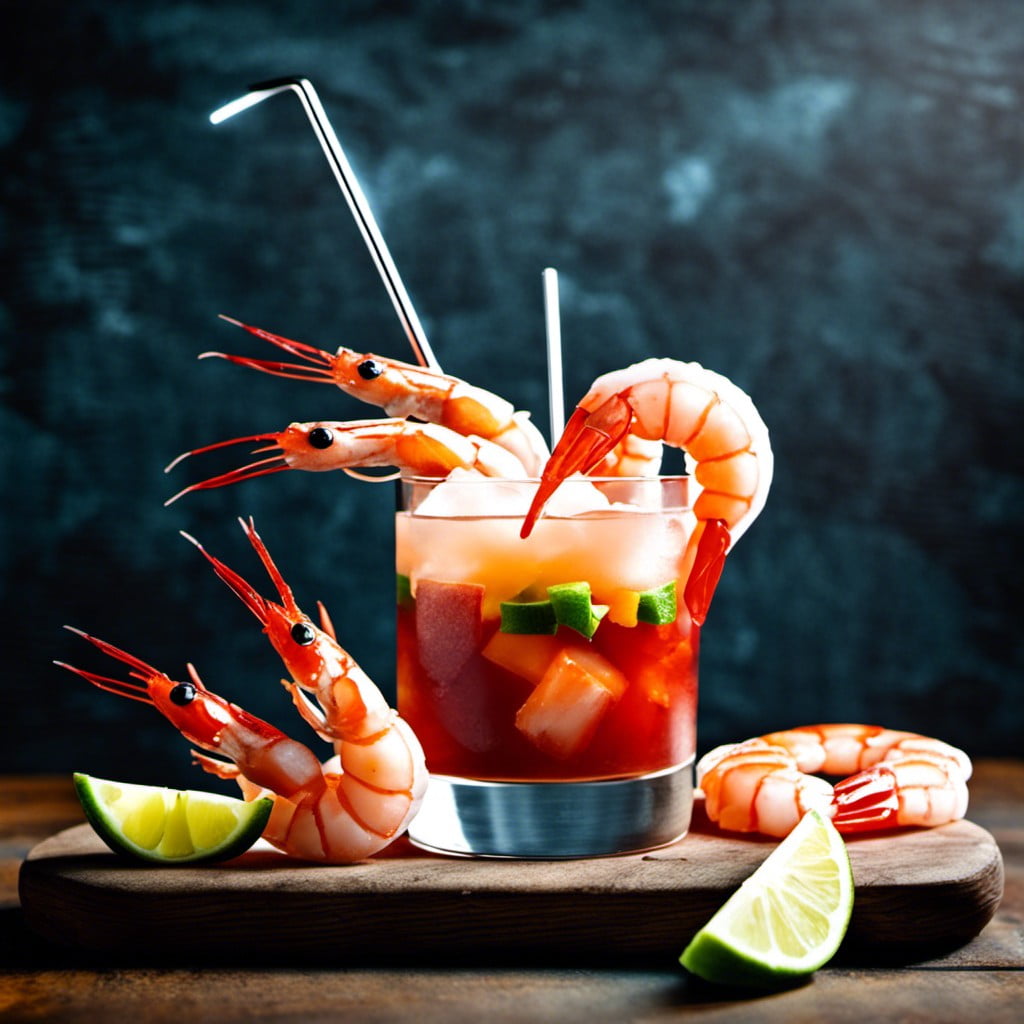 Serving up a classic like shrimp cocktail adds an elegant touch to your Labor Day snack spread. A refreshing marine zest, the shrimp are typically poached to perfection, their succulent, tender bites offering a delightful contrast against a tangy cocktail sauce.
It is the sauce that truly enhances this appetizer, traditionally a blend of ketchup, horseradish, Worcestershire sauce, lemon juice, and a dash of hot sauce for a little kick. Displaying them chilled on a bed of crisp lettuce or in a stylish cocktail glass can add a visually appealing touch. Plus, they're incredibly easy to handle, allowing guests to snack while mingling.
The versatile nature of a shrimp cocktail means it can be tweaked to individual taste preferences, for example by adding some extra hot sauce for spice-lovers. Care should be taken to ensure that the shrimp are cleaned and cooked properly to preserve their delectable taste while maintaining food safety.
Stuffed Mushrooms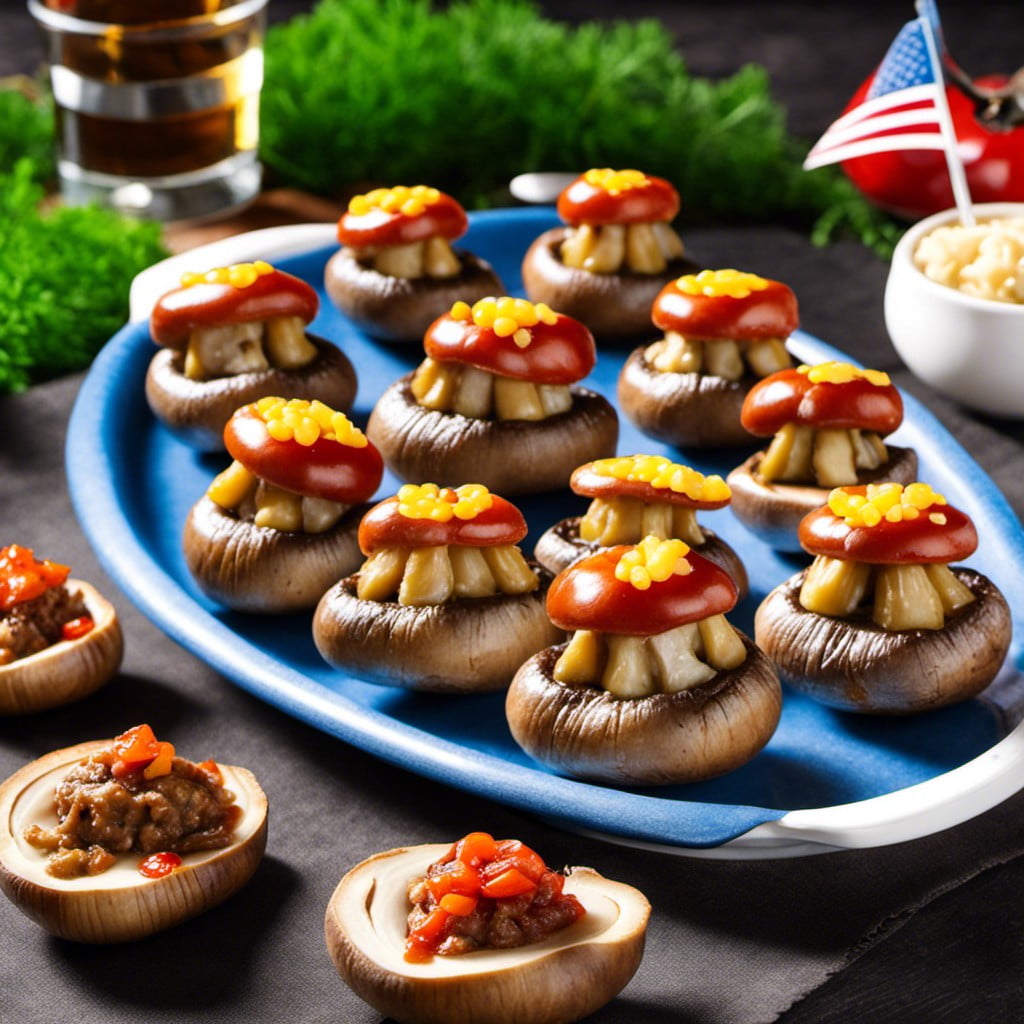 Incorporating the earthy flavors and hearty textures associated with Labor Day festivities, stuffed mushrooms offer an ideal bite-sized treat. This snack is versatile and adaptable, catering to different taste preferences.
1. Selection: Button or cremini mushrooms work best due to their size and ease of stuffing.
2. Preparation: The stems are removed to make space for the stuffing, and are often chopped and added to the stuffing for extra flavor.
3. Stuffing: The filling can vary, from a mix of cheese, breadcrumbs, and garlic to sausage or crabmeat for non-vegetarian options.
4. Cooking Method: They are typically baked until the stuffing is melted and golden in color, with the mushroom cap tender.
5. Presentation: Garnish with fresh herbs for an added pop of color and serve while warm.
Overall, the success of stuffed mushrooms lies within the incorporation of various textures and flavors for an unforgettable Labor Day snack.
Caprese Salad Bites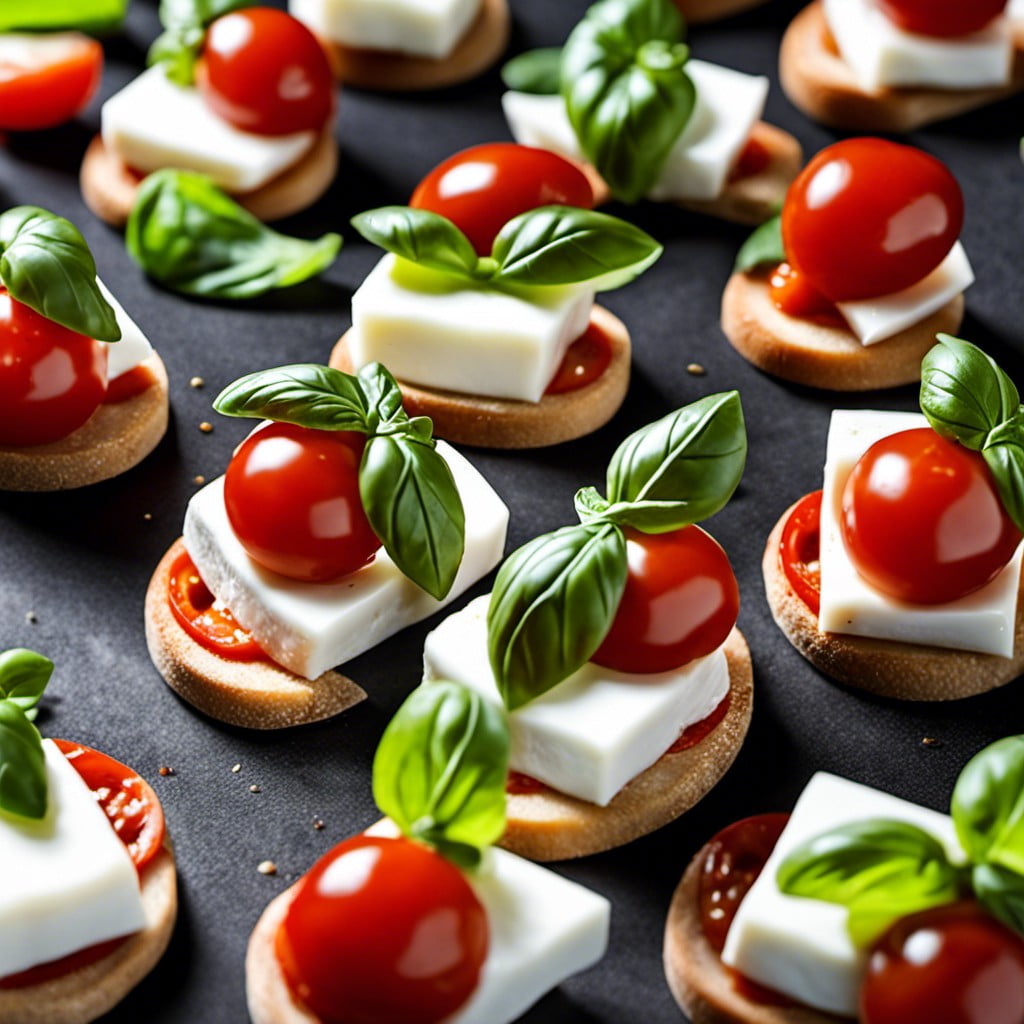 These delightful little bites offer a burst of traditional Italian flavors. Stack a cherry tomato, a basil leaf, and a small mozzarella ball onto a toothpick for easy handling.
Enhance the freshness with a drizzle of balsamic glaze and extra virgin olive oil for that extra tang. Remember, good quality mozzarella and ripe tomatoes are key for the best flavor.
They're ready in minutes, can be made ahead and are suitable for both vegetarians and gluten-free guests. The contrast of colors also makes them an attractive addition to your snack spread.
No cooking is required, just simple assembly – which even kids might enjoy helping with!
Bacon-wrapped Scallops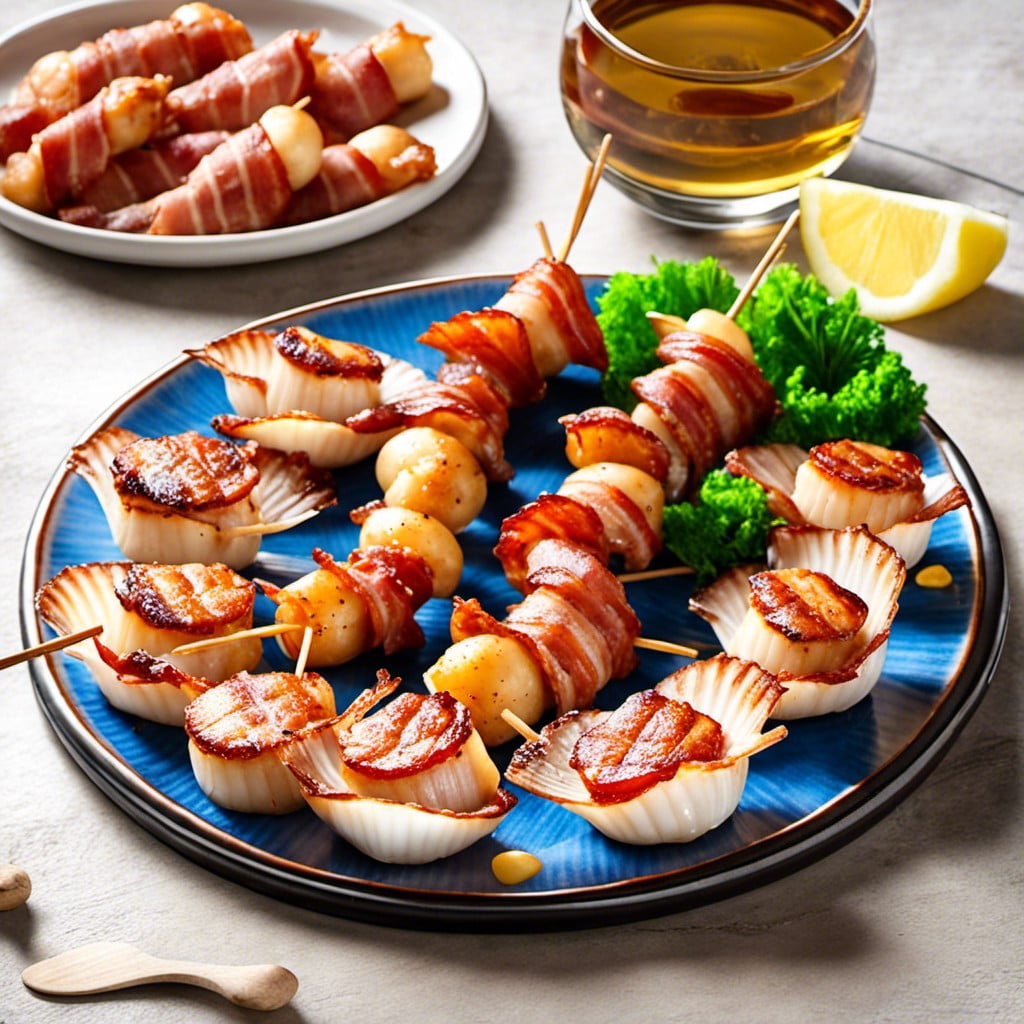 Bacon-wrapped scallops typically steal the show at any party. Their preparation, while effortless, ensures a gustatory delight that juxtaposes the ocean freshness of scallops with the smoky savor of bacon.
1. Choose large, plump scallops and quality bacon – this assists both the cooking process and the final taste.
2. As the bacon will need to cook at the same rate as the scallops to prevent any overcooking, partially precooking the bacon is advisable.
3. Wrap each scallop with a piece of bacon and secure with a toothpick.
4. Grill, pan sear, or bake – all options yield a delicious result.
5. While seasonings can vary as per preference, a dash of paprika coupled with a squeeze of lemon juice can amplify flavor.
Remember, both scallops and bacon can become tough when overcooked, so monitoring cooking time is essential to ensure a tender, flavorsome bite.
Sweet Corn Fritters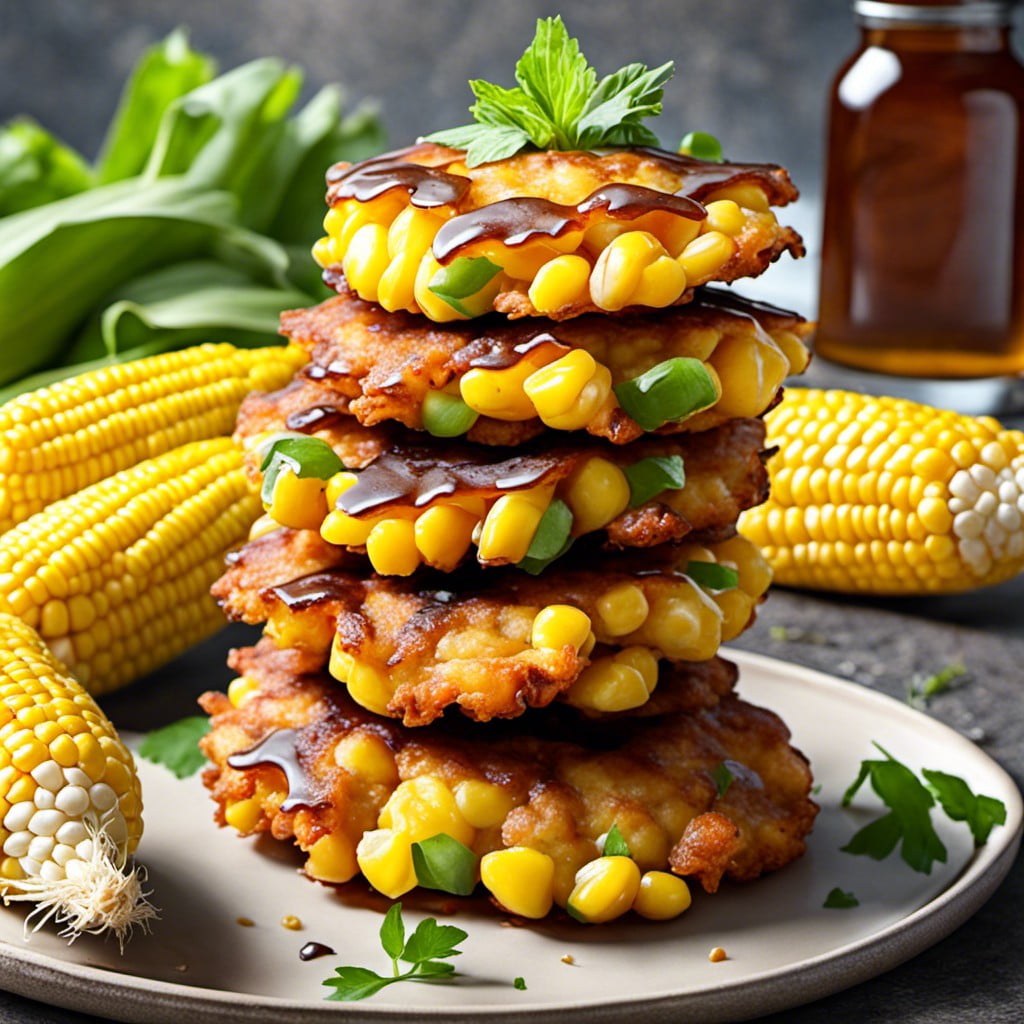 Golden, crispy on the outside and soft, moist on the inside, that's the essence of these delightful clusters. They are a perfect blend of sweet corn kernels and savory batter, bringing a burst of flavors in every bite.
Preparing them is relatively easy and quick. Here's a simple guideline:
1. Begin with fresh sweet corn, cut off the cob for the freshest taste. If not available, canned or frozen can be used, just ensure they are well-drained to avoid a soggy batter.
2. A good batter requires flour, a bit of sugar, and some baking powder. This provides structure and helps the fritters to puff up when frying.
3. For added flavor, toss in some finely minced onion, bell peppers, and herbs like parsley or chives. This will give a refreshing crunch and color contrast against the yellow corn.
4. Combine the batter ingredients with the corn, ensuring each kernel is well-coated. The consistency should be thick but still pourable.
5. Heat a pan with some oil and use a spoon or ice cream scoop to drop portions of the mixture into the pan. Flatten them slightly with the back of the spoon and cook until golden brown on both sides.
Serve them hot with a side of tangy barbecue sauce or a spicy salsa for a memorable Labor Day treat! Remember, even though it's a snack, it packs quite a punch to satiate those holiday appetites.
Grilled Cheese Sandwiches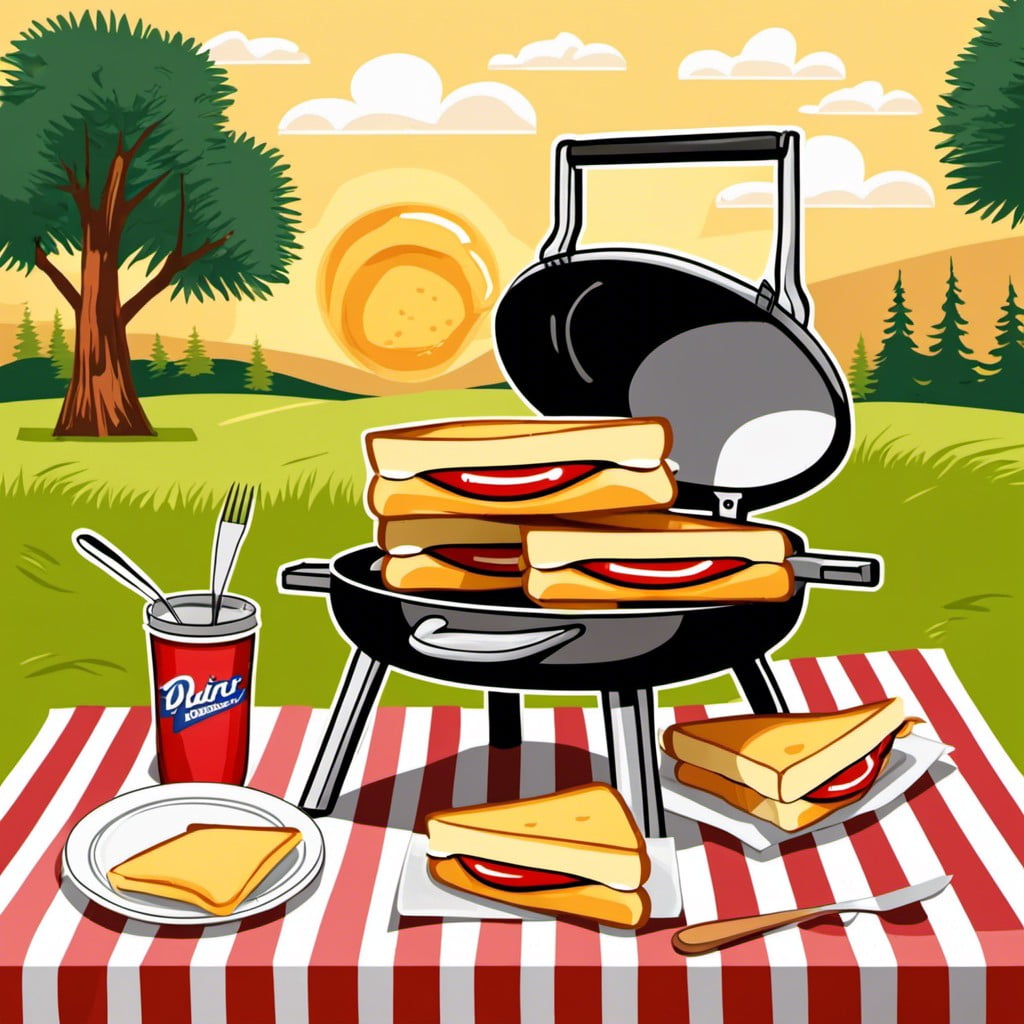 For a tailor-made Labor Day treat, try giving this comfort food classic a gourmet twist. Opt for an assortment of high-quality cheeses like Gruyere, smoked Gouda, or sharp Cheddar for a flavor-packed punch.
Add a layer of caramelized onions or a spread of fig jam for a surprising contrast that elevates your sandwich beyond the ordinary. Sourdough or rye bread bring an extra level of texture and taste. Remember to baste your bread with a generous amount of butter for that golden, crispy finish.
Pair these delightful sandwiches with a tangy homemade tomato soup or a flavor-rich bisque for an unforgettable Labor Day snack. Furthermore, these sandwiches are easily customizable to cater to a variety of dietary preferences, including gluten-free or dairy-free variations. So fire up your grill and get creative!
Pretzel Bites With Beer Cheese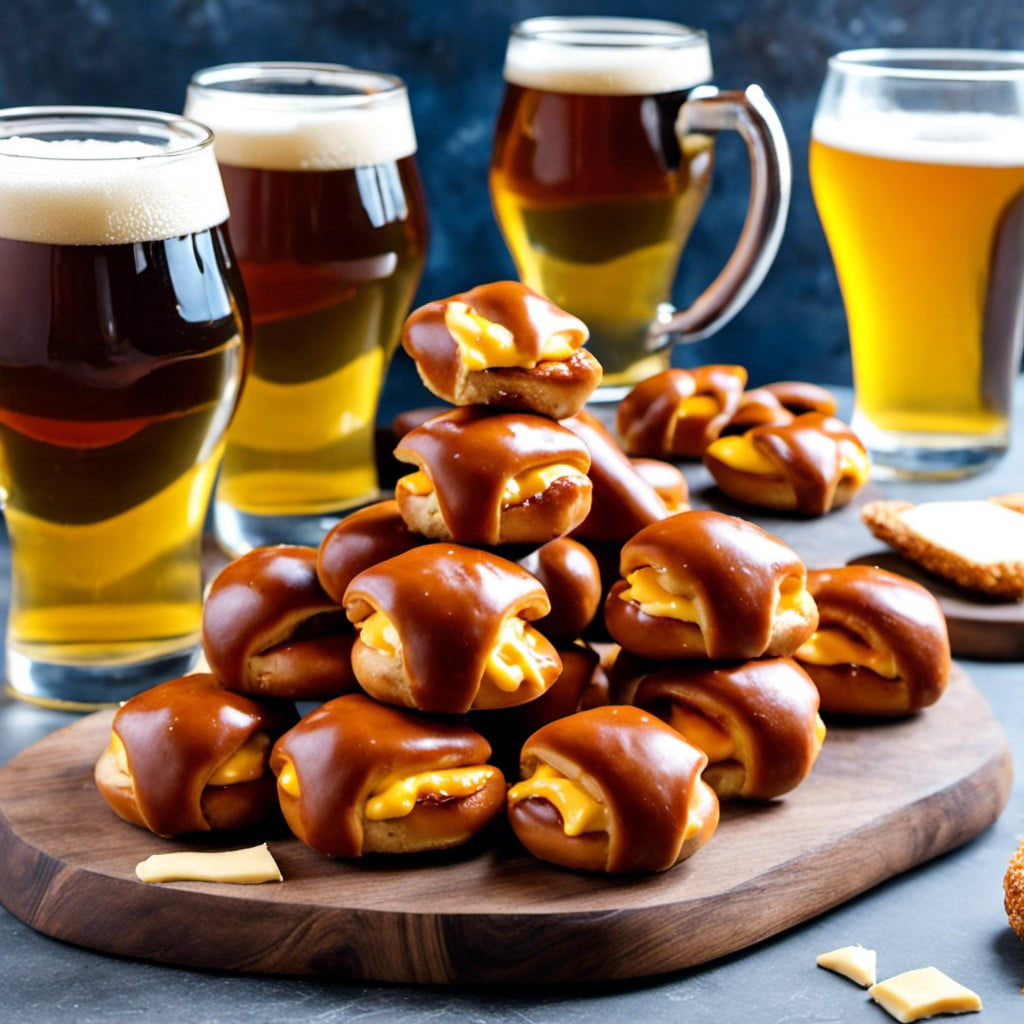 One of the stars of any Labor Day gathering, this snack benefits from the perfect marriage of salty, soft pretzels and the rich, savory delight of beer cheese. Small enough for snacking yet indulgent, pretzel bites offer a tempting twist on the traditional soft pretzel.
1. Preparing the Pretzel Bites: Pretzels are made from simple ingredients – yeast, sugar, flour, salt and butter. The yeast is activated by warm water and sugar, then combined with the rest of the ingredients. The dough is kneaded, left to rise, and cut into bite-sized pieces before being boiled briefly in a baking soda water mix. This unusual step gives pretzels their characteristic chewiness and subtle bitterness. The bites are then baked until golden brown.
2. Crafting the Beer Cheese: The main ingredients for this robust dip are cheddar cheese, cream cheese, garlic powder, and a beer of your choice. Lighter beers such as a pilsner or a pale ale typically work best, complementing rather than overpowering the cheese. The beer and seasonings are mixed first, with the cheeses added gradually until everything melts together into a lush, flavorful sauce.
3. Serving Suggestions: These comforting, bite-sized morsels are best enjoyed warm, with the beer cheese served on the side for dipping. Make sure to provide plenty of napkins – things could get deliciously messy!
Chilled Cucumber Soup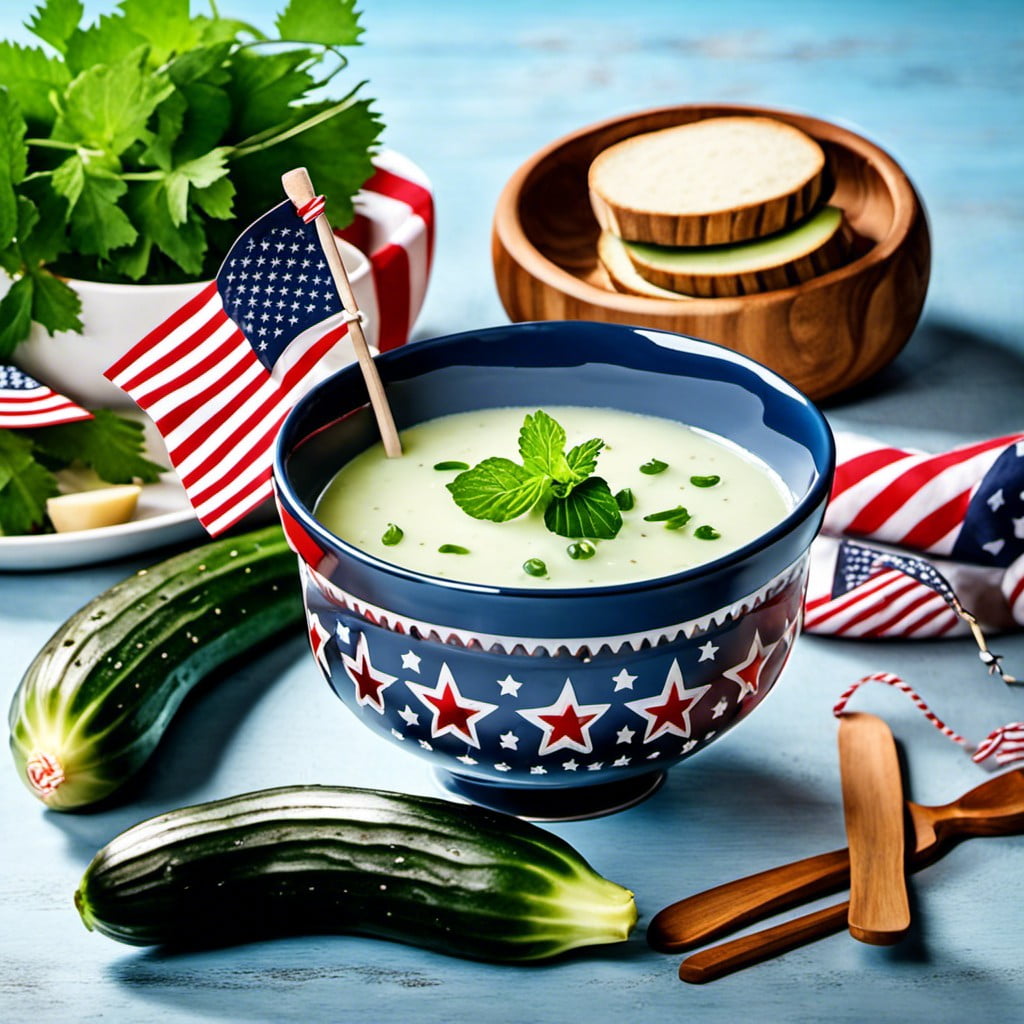 A chilled cucumber soup serves as the perfect palate cleanse with its light and refreshing flavor profile. It is easy to prepare, ideal for those unexpected Labor Day guests.
Here are a few key points:
Main ingredients: Cucumbers, dill, sour cream or yogurt, garlic, and lemon juice.
Preparation method: Simply blend all the ingredients together until smooth, then refrigerate for a few hours to allow the flavors to meld together.
Serving suggestions: Serve chilled, garnished with fresh dill and a dollop of sour cream or a drizzle of olive oil.
Pairings: This dish pairs well with a variety of Labor Day treats, providing a cooling contrast to the day's heavier offerings. Consider serving it alongside hearty sliders or spicy skewers.
Benefits: Not only is this soup delicious, but it's an excellent option for vegetarian or gluten-free guests. Plus, cucumbers are packed with hydration, making this a healthy choice.
Its coolness and versatility render chilled cucumber soup a welcomed addition to your Labor Day snack lineup.
Mini Sliders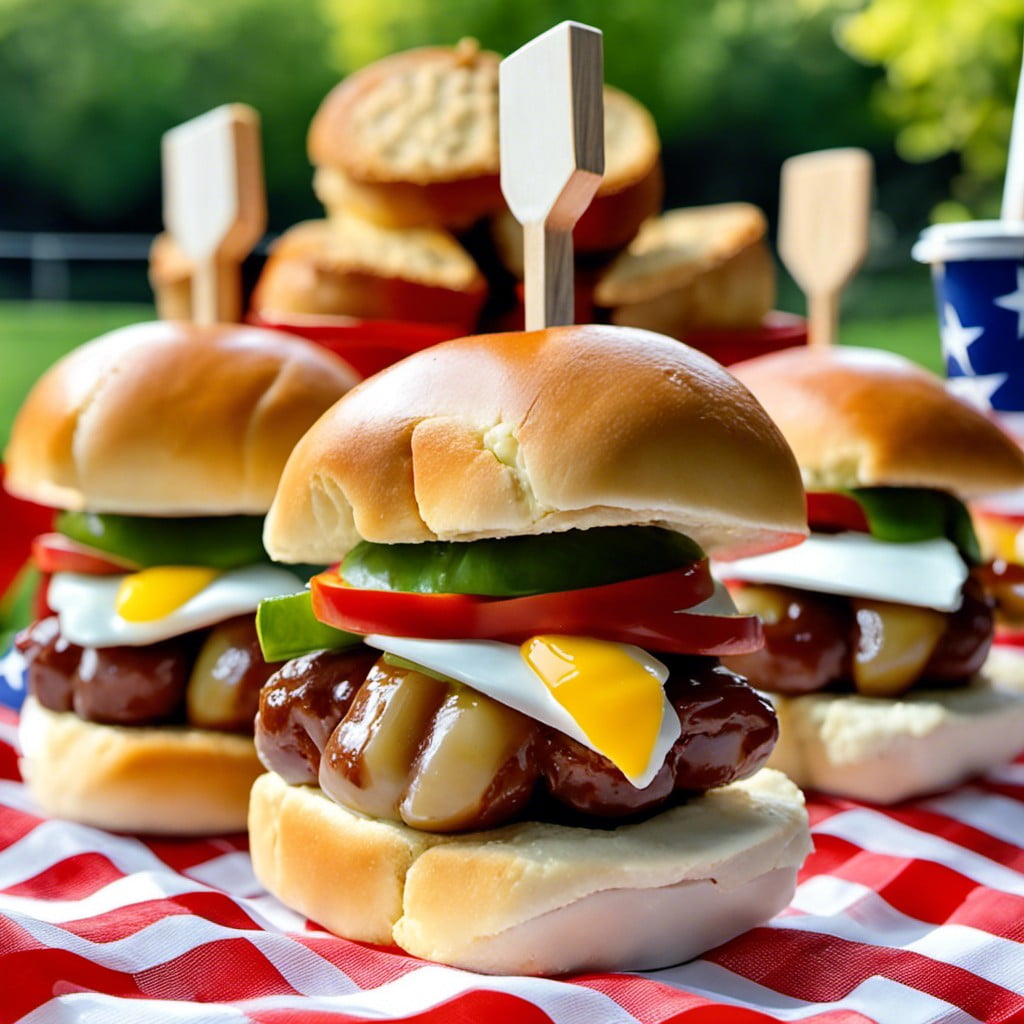 One can never go wrong with these bite-sized versions of a classic comfort food. Mini sliders offer variety, casual elegance, and uncomplicated serving, perfectly apt for a Labor Day gathering.
Beef, chicken, or veggie patties meticulously cooked and layered with melting cheese, crisp lettuce, and a tangy pickle slice between fluffy mini buns will make your guests come back for seconds.
To cater to different taste profiles, ensure to set up a DIY slider station with a variety of condiments, including spicy mustard, creamy mayonnaise, tangy barbecue sauce, and ketchup, along with optional toppings such as caramelized onions, sautéed mushrooms, and sliced tomatoes.
Remember, the secret to making delicious sliders is ensuring all components are well-seasoned, and the patties are cooked to perfection.
S'mores Dip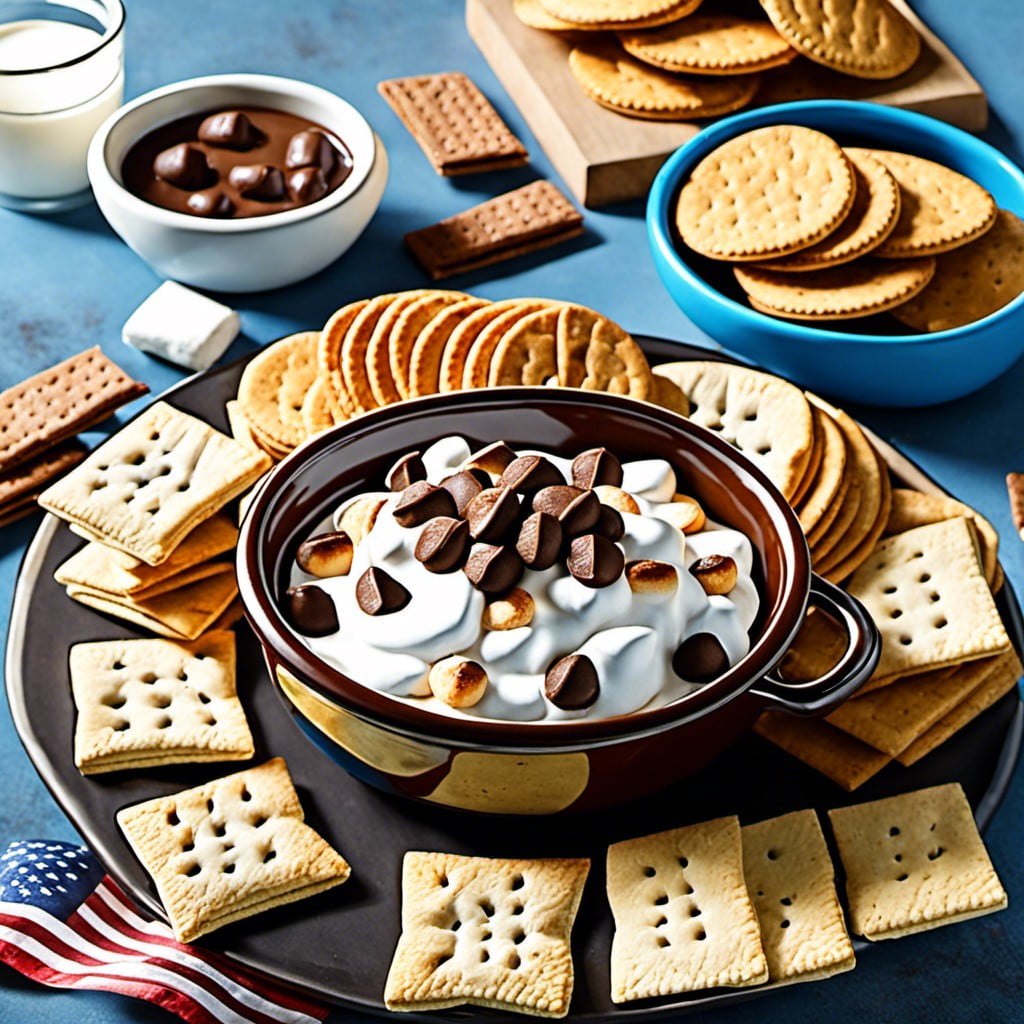 A surefire hit with both kids and adults, this indulgent treat offers all the gooey goodness of traditional S'mores without the need for a campfire. Fabricate this delectable dip by melting semi-sweet chocolate at the base of a cast iron skillet or oven-friendly dish.
Following this, a layer of marshmallows is added, which will morph into a golden, slightly charred topping after a few minutes under the broiler. Accompany your dip with a side of graham crackers for that imperative crunch, creating an authentic S'mores dining experience.
This dish is best enjoyed warm, yet is equally irresistible once cooled, making it an adaptable choice. Ease of preparation and flexibility in serving styles cement S'mores Dip as an endearing offering in any Labor Day Snack spread.
Pizza Rolls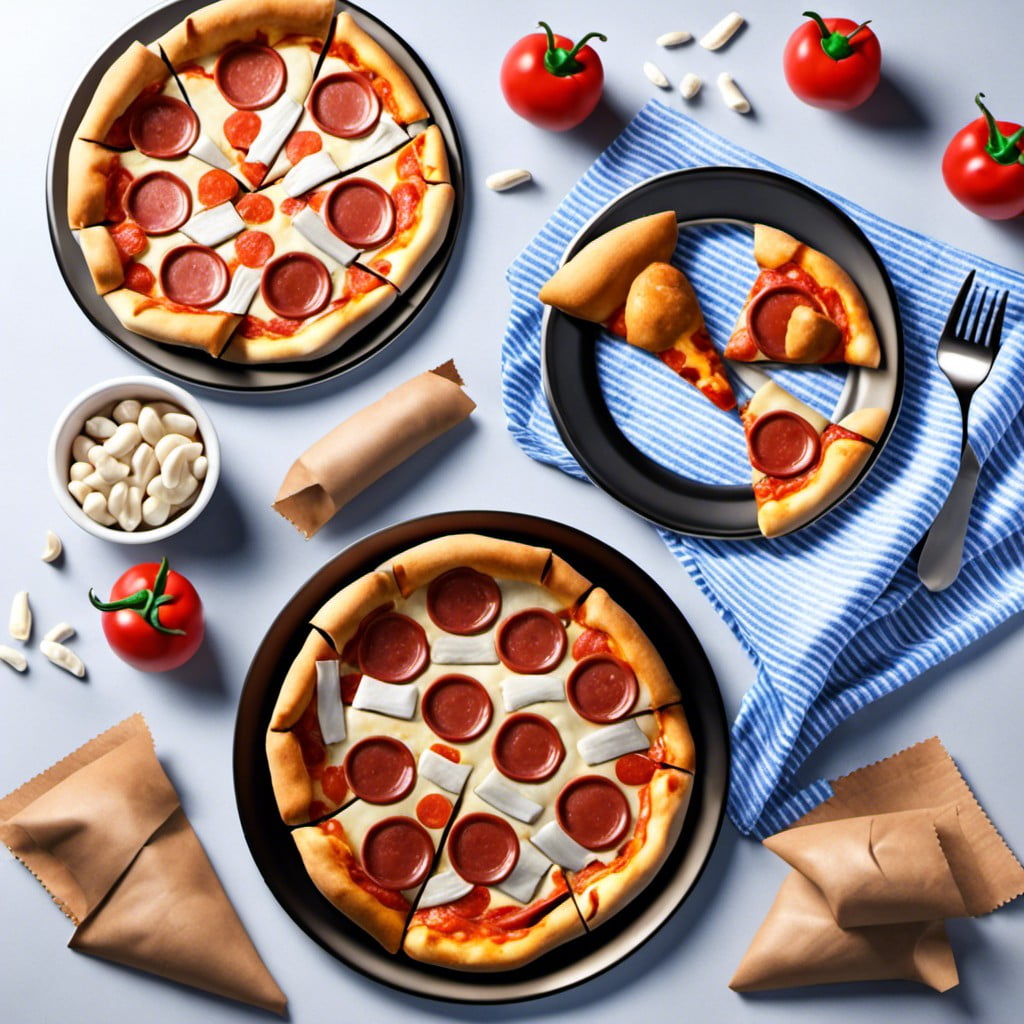 One of the easiest and most loved Labor Day picnic treats, pizza rolls are a quick fix for a crowd craving something savory and filling. These little bundles of joy can be homemade or store-bought, depending on your schedule and preference.
Homemade vs. Store-Bought: If you've got some extra time at hand and like to leave your personal touch on the servings, making pizza rolls from scratch is an excellent idea. Use pre-made dough, marinara sauce, cheese, and your favorite toppings, roll, slice, and bake. If you're pressed for time, numerous brands offer ready-to-bake options.
Toppings: When it comes to toppings, the sky is the limit. You can never go wrong with the classics: pepperoni, mushrooms, bell peppers, or olives. For a more gourmet experience, try sun-dried tomatoes, goat cheese, and spinach.
Serving Tips: Serve them hot out of the oven, alongside a small bowl of marinara for dipping. They're best enjoyed warm, so time them just right for your Labor Day picnic.
Remember, the key here is to keep it simple and tasty, ensuring your guests come back for more. Enjoy your cooking!
Watermelon Slices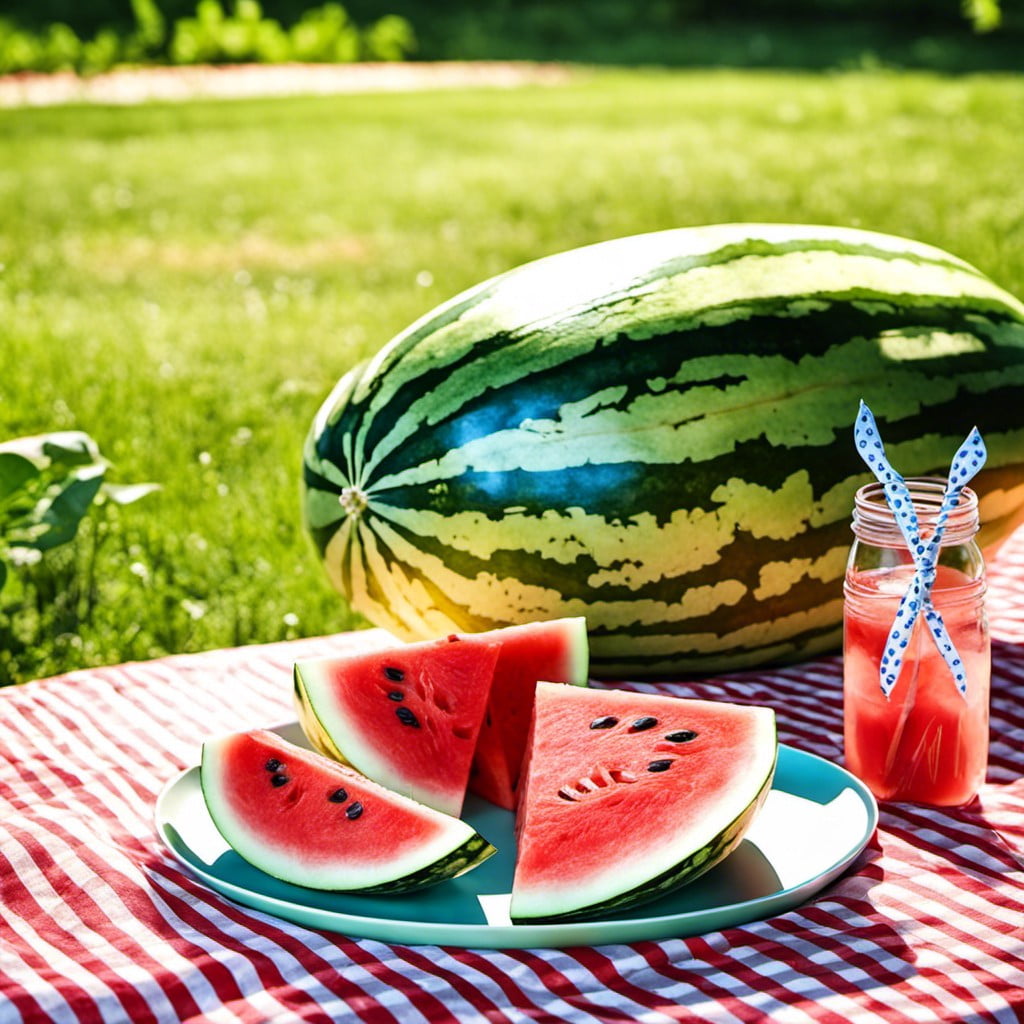 Offering a refreshing break in hot weather, these juicy treats heighten the festive spirit. Slicing watermelon into manageable, easy-to-grab pieces makes it a perfect snack.
Not only is it hydrating due to its high water content, but it also provides a natural sweetness that can satisfy cravings. Varied in its presentation, it can be served on a stick for a fun and mess-free option.
The addition of a sprinkle of sea salt or a drizzle of balsamic reduction can elevate its natural flavors. Remember to chill before serving to ensure a refreshing bite every time.
Also, it includes important nutrients like vitamins A, B6, and C, and is low in calories, making it a healthy choice.