Discover the most delicious and crowd-pleasing appetizers to serve at your next gathering, ensuring that your guests are impressed and satisfied from the very first bite.
When it comes to hosting a party, serving delicious appetizers is a must. Whether you're throwing a formal dinner party or having friends over for a casual get-together, the right appetizers can set the tone and get everyone in the mood for good food and great company.
But with so many options out there, it can be hard to decide what to serve. That's why we've put together this guide on the best appetizers to serve at your next gathering.
From classic crowd-pleasers to trendy new bites, we've got you covered with ideas that are sure to impress your guests and leave them wanting more. So let's dive in and explore some of the most delicious and easy-to-make appetizer recipes!
Classic Bruschetta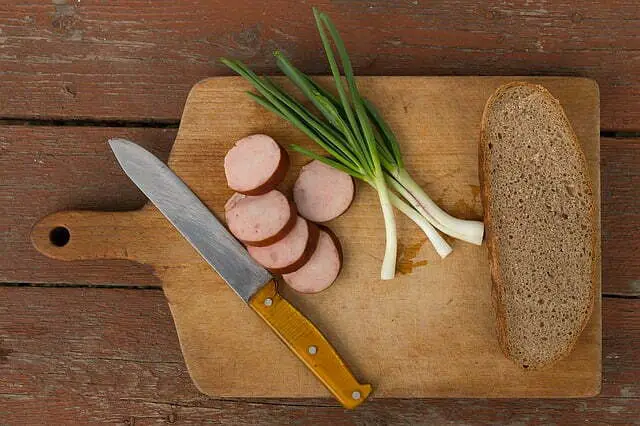 Classic Bruschetta is a simple yet delicious appetizer that never fails to impress. It's easy to make and can be customized with different toppings, making it perfect for any occasion.
To make classic bruschetta, start by slicing a baguette into thin rounds and brushing them with olive oil before toasting in the oven until crispy. Then top each slice with diced tomatoes, fresh basil leaves, minced garlic, salt and pepper before drizzling balsamic glaze over the top.
The combination of juicy tomatoes and fragrant herbs on crunchy bread creates an explosion of flavors in your mouth that will leave you wanting more. Classic bruschetta is also versatile enough to pair well with many other dishes or drinks such as wine or cocktails.
Stuffed Mushrooms
They're easy to make, delicious, and always a crowd-pleaser. The best part? You can customize them with your favorite ingredients to create endless flavor combinations.
To make stuffed mushrooms, start by cleaning the mushroom caps and removing the stems. Then, fill each cap with your desired filling – some popular options include cream cheese and herbs or sausage and breadcrumbs – before baking in the oven until golden brown.
Not only are stuffed mushrooms tasty on their own as an appetizer but they also pair well with other dishes such as salads or pasta for a complete meal. Plus, they're perfect for vegetarians who want something savory without meat.
Shrimp Cocktail
This dish is perfect for any occasion, from fancy dinner parties to casual get-togethers with friends. The best part about shrimp cocktail is that it's incredibly easy to make – all you need are some cooked shrimp and a delicious dipping sauce.
To prepare the shrimp, start by boiling them in salted water until they turn pink. Then remove them from the heat and let them cool down before peeling off their shells.
Arrange the cooked shrimp on a platter with some lemon wedges or parsley sprigs for garnish.
For the dipping sauce, there are many options available depending on your taste preferences. A classic cocktail sauce made of ketchup, horseradish, Worcestershire sauce and lemon juice can be prepared quickly at home or store-bought versions can also be used if you're short on time.
If you want something different than traditional cocktail sauces try making an avocado salsa or mango chutney which will add an extra layer of flavor to your dish.
Cheese Board
It's easy to put together and always looks impressive, making it the perfect addition to any gathering. To create a beautiful cheese board, start by selecting a variety of cheeses with different textures and flavors.
Some popular options include brie, cheddar, gouda, and blue cheese.
Next, add some accompaniments such as crackers or bread slices for your guests to enjoy with the cheeses. You can also include fruits like grapes or figs for sweetness and nuts like almonds or walnuts for crunch.
To make your cheese board even more visually appealing you can arrange everything on a wooden cutting board or slate platter in an aesthetically pleasing way – think symmetry! Don't forget about labeling each type of cheese so that everyone knows what they're trying!
Crispy Spring Rolls
These delicious bites are perfect for any occasion, from casual get-togethers to formal dinner parties. Made with crispy wrappers and filled with a variety of ingredients such as vegetables, meat or seafood, these rolls pack a flavorful punch in every bite.
One great thing about spring rolls is their versatility – you can customize them to suit your taste preferences and dietary needs. For example, if you're vegetarian or vegan, you can fill them up with tofu or mushrooms instead of meat.
To make crispy spring rolls at home is easier than it seems! You just need some rice paper wrappers (which can be found at most grocery stores), filling ingredients like shredded carrots and cabbage along with cooked shrimp/chicken/pork/tofu/mushrooms etc., dipping sauce (like sweet chili sauce) and oil for frying.
Once the filling has been prepared according to your liking- wrap it tightly in the rice paper wrapper before deep-frying until golden brown on all sides. Serve hot alongside your favorite dipping sauces!
Bacon-Wrapped Dates
The combination of sweet and savory flavors is irresistible, making them the perfect bite-sized treat for any occasion. To make this delicious appetizer, simply wrap pitted dates in bacon and bake until crispy.
For an extra kick of flavor, you can stuff the dates with cheese or nuts before wrapping them in bacon.
One reason why bacon-wrapped dates are so popular is because they're incredibly easy to make but look impressive on a platter. They're also versatile enough to be served at both casual gatherings and formal events alike.
If you want to take your bacon-wrapped date game up a notch, try experimenting with different types of cheese or adding spices like cumin or paprika for an extra burst of flavor. You can even drizzle some honey over the top before serving if you want something sweeter.
Mediterranean Hummus Platter
This dish is not only delicious but also packed with nutrients that will leave your guests feeling satisfied and energized. The base of this platter is homemade hummus, which can be made in advance to save time on the day of your gathering.
Once you have your hummus ready, it's time to add some toppings! Some great options include sliced cucumbers, cherry tomatoes, olives (Kalamata or green), feta cheese crumbles and roasted red peppers. To make things even more interesting try adding some pita bread wedges or crackers as well as fresh veggies like carrots sticks or celery stalks for dipping into the creamy goodness of this Mediterranean-inspired dip.
Your guests will love how colorful and vibrant this appetizer looks on display while enjoying its rich flavors that transport them straight to Greece!
Empanadas
These savory pastries can be filled with a variety of ingredients, making them versatile and perfect for any occasion. Whether you're hosting a game night or throwing an elegant dinner party, empanadas are the perfect finger food to serve.
To make empanadas, start by preparing the dough using flour, salt and butter. Then roll out the dough into circles and fill each one with your desired filling – from beef or chicken to cheese or vegetables.
Fold over the edges of each circle to create half-moon shapes before baking in the oven until golden brown.
Caprese Skewers
These simple yet elegant bites feature fresh mozzarella, juicy cherry tomatoes, and fragrant basil leaves all threaded onto a skewer for easy eating. Not only do they look beautiful on the plate, but they also taste amazing and are sure to be a hit with your guests.
To make caprese skewers, start by selecting high-quality ingredients. Look for firm and ripe cherry tomatoes that will hold their shape when threaded onto the skewer.
Choose small balls of fresh mozzarella or cut larger pieces into bite-sized cubes so that they fit well with the other ingredients.
Once you have your ingredients ready, simply thread them onto wooden or metal skewers in any order you like – alternating between tomato halves and cheese cubes is always a good option! Drizzle some balsamic glaze over the top before serving for an extra burst of flavor.
Smoked Salmon Blinis
These bite-sized treats feature tender pancakes topped with rich cream cheese and savory smoked salmon, making them the perfect combination of sweet, salty, and creamy flavors.
To make smoked salmon blinis at home, start by preparing the pancake batter according to your favorite recipe or using a pre-made mix. Once the batter is ready, heat up a non-stick pan over medium-high heat and spoon small dollops of batter onto it.
Cook until bubbles form on top of each pancake before flipping them over to cook on the other side.
Once all your pancakes are cooked through and golden brown in color let them cool down slightly before topping each one with some cream cheese spread followed by thin slices of cold-smoked salmon. Garnish with fresh dill or chives for added flavor.
Chicken Satay
This Southeast Asian dish features marinated chicken skewers grilled to perfection and served with a peanut dipping sauce. The combination of tender, juicy chicken and rich, nutty flavors makes for an irresistible bite that your guests will love.
To make Chicken Satay, start by marinating the chicken in a mixture of coconut milk, soy sauce, ginger, garlic and other spices for at least 30 minutes (or up to overnight). Then thread the chicken onto skewers and grill until cooked through.
Serve hot with the peanut dipping sauce on the side.
Not only is Chicken Satay delicious but it's also easy to prepare ahead of time which makes it perfect for entertaining. You can even set up a DIY satay station where guests can assemble their own skewers using different meats or vegetables if desired.
Deviled Eggs
They're easy to make, delicious, and always a crowd-pleaser. To make deviled eggs, start by boiling your eggs until they're hard-boiled.
Once the eggs have cooled down, peel them and cut them in half lengthwise. Scoop out the yolks into a bowl and mash them with mayonnaise, mustard, salt and pepper until smooth.
For an extra kick of flavor you can add some hot sauce or paprika to the mixture as well! Spoon or pipe the yolk mixture back into each egg white half for presentation purposes.
To take your deviled egg game up another notch try adding toppings such as crispy bacon bits on top or chopped chives for garnish!
Spinach and Artichoke Dip
This creamy, cheesy dip is always a crowd-pleaser and can be served with crackers, chips or bread. The combination of spinach and artichokes creates a delicious flavor profile that will leave your guests wanting more.
To make this dip, you'll need cream cheese, sour cream, mayonnaise, garlic powder and grated Parmesan cheese as the base ingredients. Then add chopped spinach (fresh or frozen) along with canned artichoke hearts to create the perfect texture for dipping.
This recipe can be made ahead of time which makes it an ideal choice for busy hosts who want to get everything ready before their guests arrive. Simply prepare the dip in advance then reheat it in the oven just before serving.
Charcuterie Board
It's easy to assemble, visually stunning, and offers a variety of flavors and textures that will satisfy everyone's taste buds. The key to creating the perfect charcuterie board is selecting high-quality meats, cheeses, fruits, nuts and crackers that complement each other.
When it comes to meat selection for your charcuterie board consider prosciutto or salami as they are crowd favorites. For cheese options go with brie or gouda which pair well with fruit like grapes or figs.
Add some crunch by including almonds or walnuts on the side along with some crackers such as water biscuits.
Thai Lettuce Wraps
These wraps are packed with flavor, thanks to the combination of fresh herbs, spicy chili sauce, and tangy lime juice. The best part? They're easy to make! Simply cook up some ground chicken or turkey in a pan with garlic and ginger, then add in diced water chestnuts for crunch.
Season the mixture with soy sauce and chili paste before spooning it into lettuce cups.
To serve Thai Lettuce Wraps at your next gathering, arrange the lettuce cups on a platter alongside bowls of chopped peanuts, sliced scallions, cilantro leaves and lime wedges so that guests can customize their own wraps according to their taste preferences.
Not only do these Thai Lettuce Wraps look beautiful on any party table but they also provide an excellent source of protein while being low-carb which makes them perfect for those who want something light yet filling.
Mini Quiches
These bite-sized treats are perfect for any occasion and can be customized to suit your taste preferences. Whether you prefer a vegetarian option or something with meat, mini quiches offer endless possibilities.
To make mini quiches, start by making the crust using flour, butter, and salt. Roll out the dough and cut it into circles using a cookie cutter or glass rim.
Place each circle in a muffin tin cup.
Next, prepare the filling by whisking together eggs and milk in a bowl until well combined. Add cheese (cheddar works great), cooked bacon bits (or ham if you prefer), chopped spinach leaves (or mushrooms) along with some salt & pepper to taste.
Pour this mixture over each crust-filled muffin cup until they're about 3/4 full then bake them at 375°F for around 20-25 minutes or until golden brown on top.
Crab Cakes
These delicious bites are perfect for seafood lovers and can be served in a variety of ways, from mini versions to larger patties. The key to making great crab cakes is using high-quality crab meat and the right combination of seasonings.
To make your own crab cakes, start by mixing together lump crab meat with breadcrumbs, egg, mayonnaise, Dijon mustard, Worcestershire sauce and Old Bay seasoning. Form the mixture into small patties or balls and fry them until golden brown on both sides.
For an extra touch of flavor and texture try serving your crab cakes with a side dipping sauce such as tartar or remoulade sauce. You can also add some fresh herbs like parsley or chives for added freshness.
Prosciutto-Wrapped Melon
This simple yet elegant dish is easy to prepare and always impresses guests.
To make this appetizer, simply cut a ripe cantaloupe into bite-sized pieces and wrap each piece with a thin slice of prosciutto. You can secure each piece with toothpicks if desired.
The combination of flavors in this dish is truly irresistible – the juicy sweetness of the melon pairs perfectly with the rich saltiness of the prosciutto. Plus, it's light enough to enjoy before any meal without filling you up too much.
If you want to take your presentation up a notch, try serving these bites on skewers or arranging them on an attractive platter alongside other complementary appetizers like cheese and crackers or fresh fruit slices.
Queso Fundido
This Mexican dish consists of melted cheese mixed with chorizo, peppers, onions, and spices. It's typically served hot in a skillet or baking dish with tortilla chips or warm flour tortillas on the side.
To make Queso Fundido at home, start by cooking the chorizo in a skillet until it's browned and crispy. Then add diced onions and bell peppers to the pan along with some minced garlic.
Cook everything together until the vegetables are tender.
Next, transfer this mixture to an oven-safe baking dish or cast-iron skillet before adding shredded cheese on top (traditionally Oaxaca cheese is used but you can also use Monterey Jack). Bake it in preheated oven for 10-15 minutes until bubbly golden brown.
Slider Varieties
They're perfect for parties because they can be customized with different toppings, sauces, and cheeses to suit any taste. Plus, they're small enough that guests can try a few different varieties without feeling too full.
When it comes to slider varieties, the options are endless. You could go classic with mini cheeseburgers topped with ketchup and mustard or get creative with unique flavor combinations like BBQ pulled pork sliders or spicy chicken sliders topped with avocado salsa.
One of our favorite slider recipes is the "Big Mac" Slider – inspired by the iconic McDonald's burger but made in miniature form. These little burgers feature two thin beef patties layered on top of each other along with special sauce (a mix of mayo, ketchup, relish), lettuce shreds and pickles all sandwiched between soft brioche buns.
Another great option is turkey burger sliders which offer a healthier alternative while still being deliciously satisfying when paired up nicely alongside some sweet potato fries!
No matter what kind you choose to make though – just remember that these tiny sandwiches pack big flavor!
FAQ
What are the top finger foods for various occasions and events?
Top finger foods for various occasions and events include mini sandwiches, sliders, sushi rolls, meat and cheese skewers, and shrimp cocktails.
How can one create a diverse and flavorful appetizer menu for a party?
To create a diverse and flavorful appetizer menu for a party, one should incorporate a variety of ingredients, textures, and flavors, using inspiration from various cuisines and balancing hot/cold, sweet/savory, and light/heavy options.
Which seasonal ingredients make for delicious and fresh appetizers?
In spring, seasonal ingredients that make for delicious and fresh appetizers include asparagus, peas, radishes, and strawberries.