Discover a selection of mouth-watering snack ideas perfect for showing your appreciation to teachers on any occasion.
Celebrating educators with thoughtful snacks is a fantastic way to express gratitude and appreciation. This article is brimming with snack ideas that are not only delicious but also easy to prepare and perfect for any teacher appreciation event.
From healthy options like fruit kebabs to indulgent treats like gourmet cookies, these snack ideas are sure to bring a smile to any teacher's face. Keep reading to discover a comprehensive list of snack ideas, along with tips on presentation and customization to suit dietary preferences.
Whether you're a parent, student, or fellow teacher, this guide will equip you with a multitude of snack ideas to honor the hard work and dedication of educators.
Apple-shaped Cookies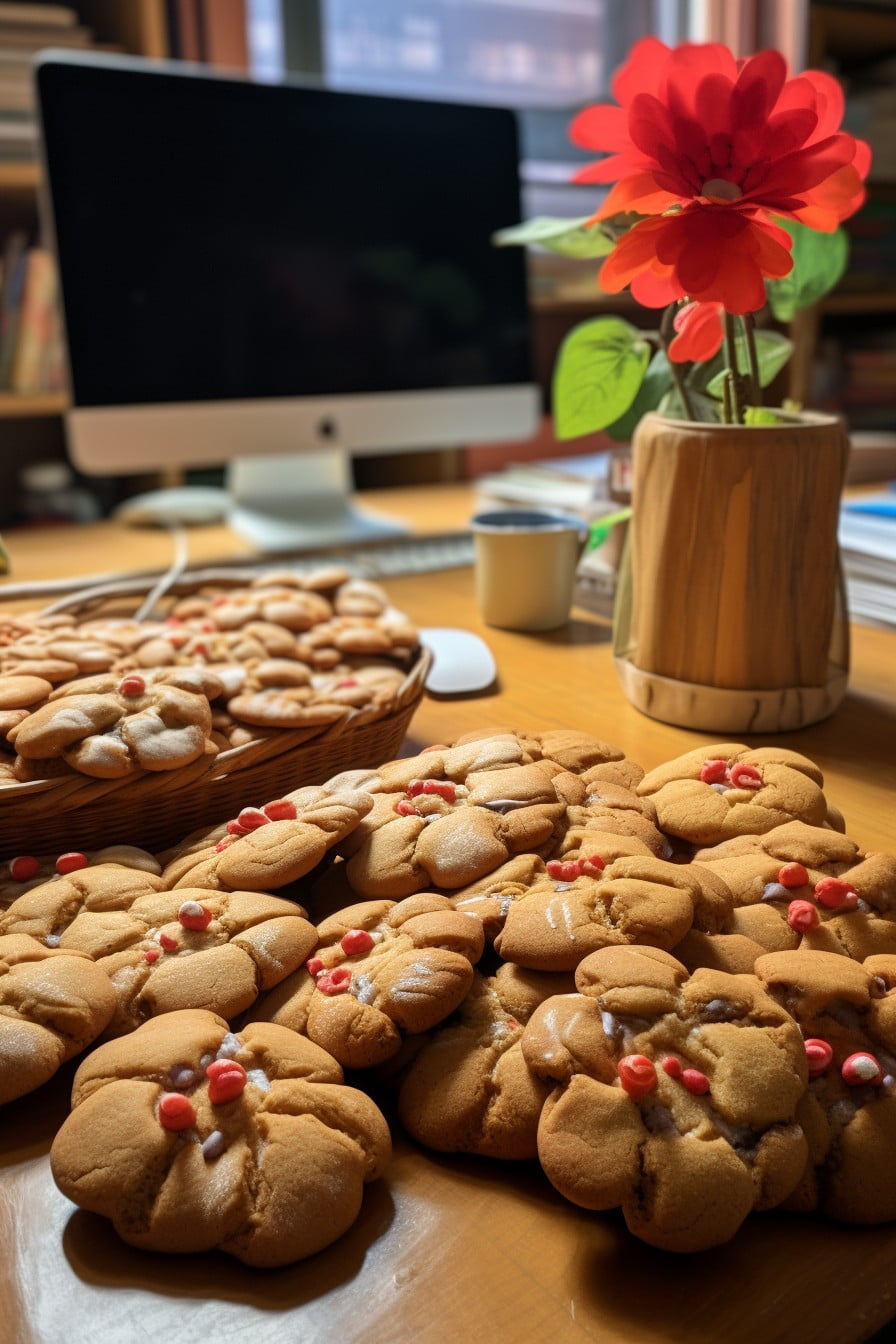 Creating these sweet treats can be fun and straightforward, requiring only a sugar cookie dough, a dash of red food coloring, and your apple-shaped cookie cutter.
The dough can be made from scratch or purchased from a store for convenience. Incorporate the red food coloring into the dough to achieve that apple-red hue.
Once your dough is ready, roll it out and press your apple-shaped cutter into the dough. The pop of red color makes these cookies visually appealing, while the apple shape keeps them on-theme.
They can be decorated with royal icing to enhance their visual appeal. Consider white icing for a delicious 'core' and leafy green details.
The end product is a tasty and thoughtful snack which will undoubtedly bring a smile to any teacher's face.
Pencil-shaped Cake Pops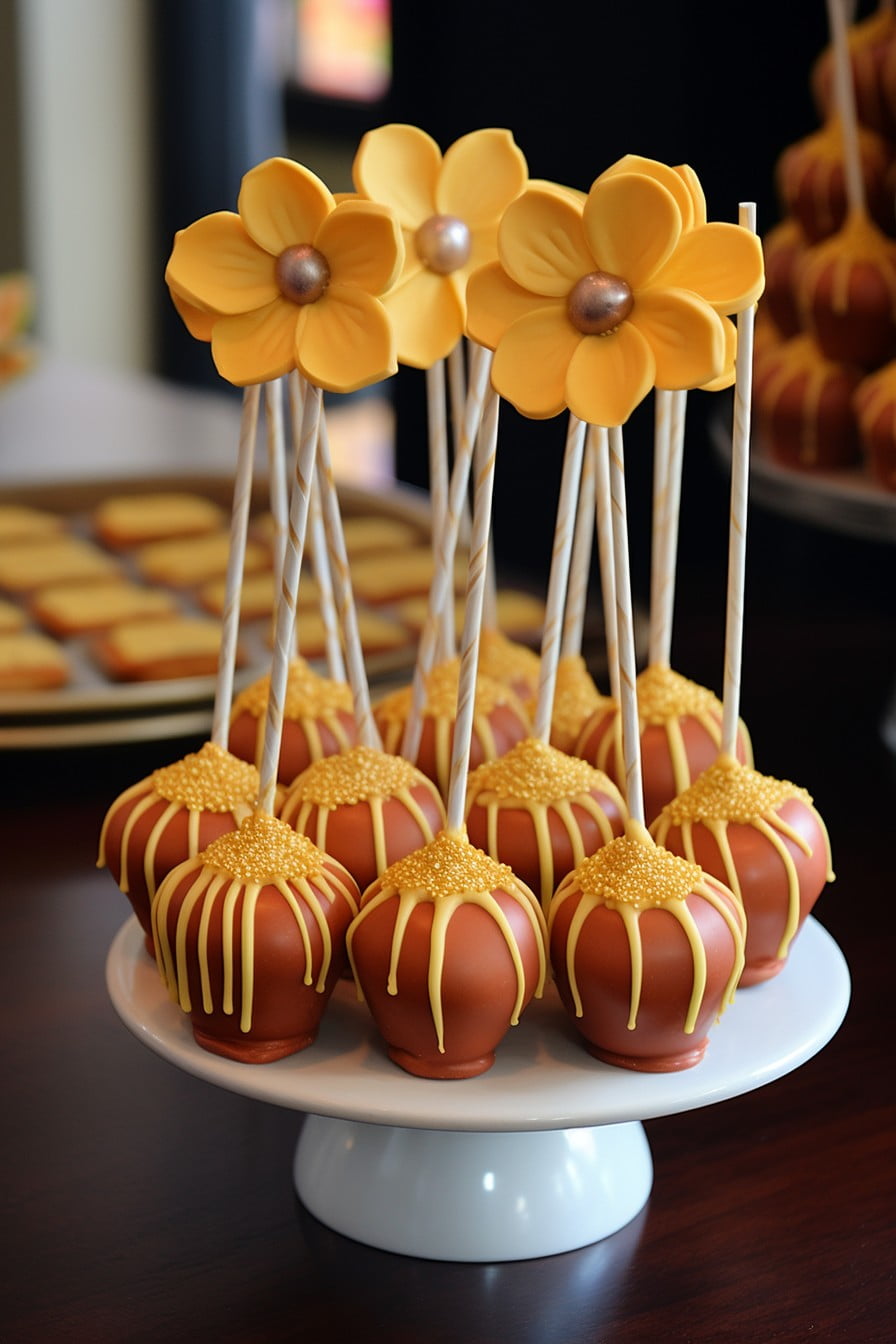 Opting for an amusing twist on the traditional, these clever snacks are a fun, bite-sized tribute to educators everywhere. Their uniqueness lies not only in their aesthetic allure; the cake inside ensures a delectable surprise in every nibble.
Creating them needs a touch of patience; precision is key. Start by baking a standard cake – any flavor works. Once cooled, crumble it up and mix with your frosting of choice. Shape this mixture into pencil-like forms. It's this shaping that brings out the creative part.
Remember, sometimes, imperfections make them look even more realistic. After shaping, dip them in colored candy melts to achieve the vibrant "pencil" look. A sharp tip crafted from fondant and a silver candy-coated base for the illusion of a metal eraser holder is a must. Ready on a stick, they're not just cake, but pops. So there you have it, a dessert that unquestionably falls into the 'almost too cute to eat' category.
Mind you, they aren't just about the looks; with every mouthful, the fluffy cake on the inside leaves a sweet smile on anyone's face, making them an ideal pick to make your favorite teachers' day.
Next is how to make a tasty popcorn mix…
Popcorn Mix With a Thank You Note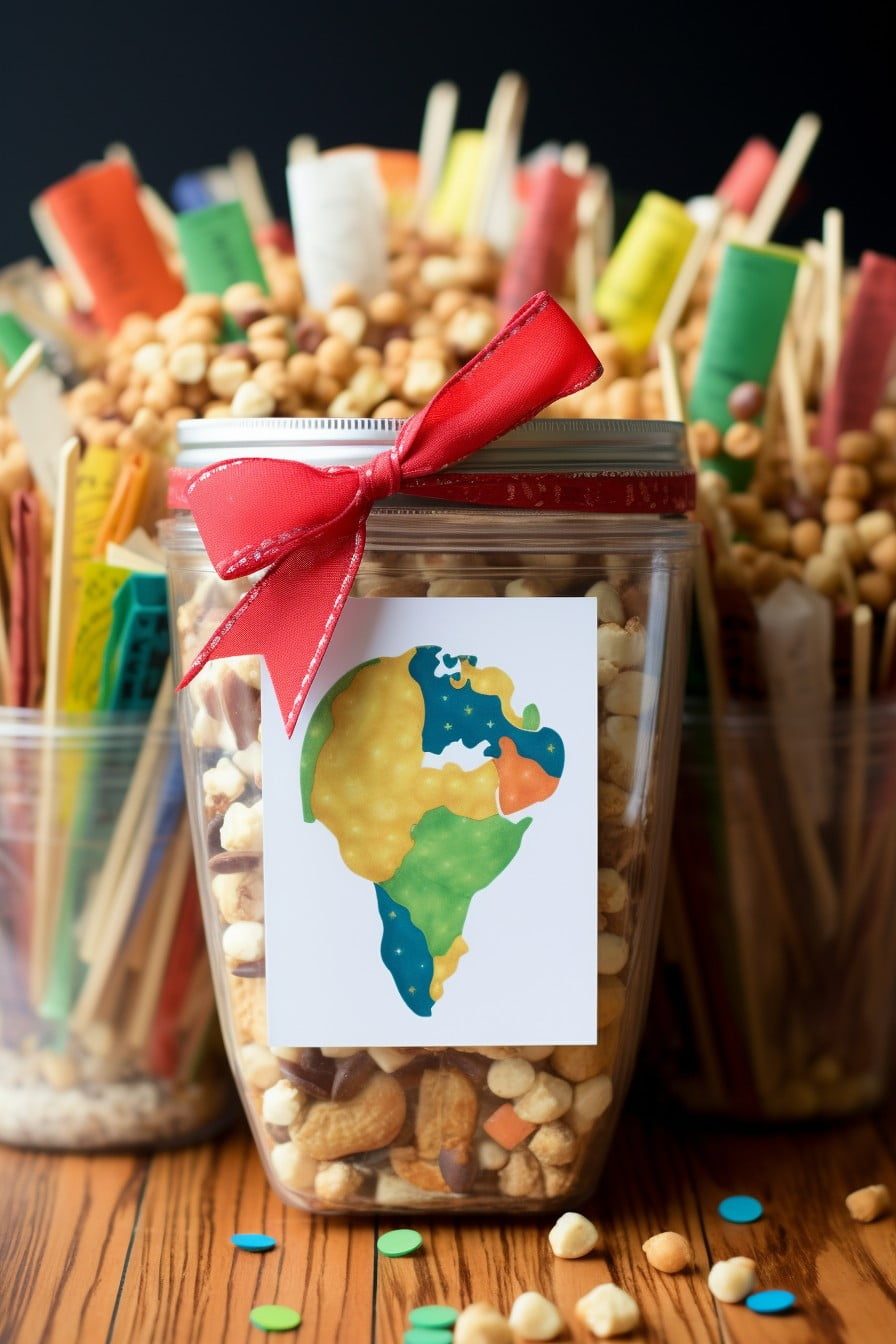 Creating this snack starts with buying or popping your popcorn. Choose your preferred kind – sweet, salty, or a mix of both, for a tantalizing taste variation.
Next, consider adding dried fruits, candies or nuts to add more textures and flavors to the mix. The extras you add will depend on what the teacher favors in their snack.
Incorporate a 'Thank You' note to give this snack choice a personalized touch. A short, heartfelt message will do the trick, ensuring it fits on a small piece of paper or card. Attach the note to the popcorn bag with a ribbon or colorful twine to make it extra special.
Remember to seal the popcorn bag tightly to maintain the snack's freshness and crunchiness. A DIY popcorn mix with a 'Thank You' note is a considerate and fun way to show your appreciation.
In the end, it's more than food. It shows thoughtful consideration and leaves a memorable impression.
Homemade Granola Bars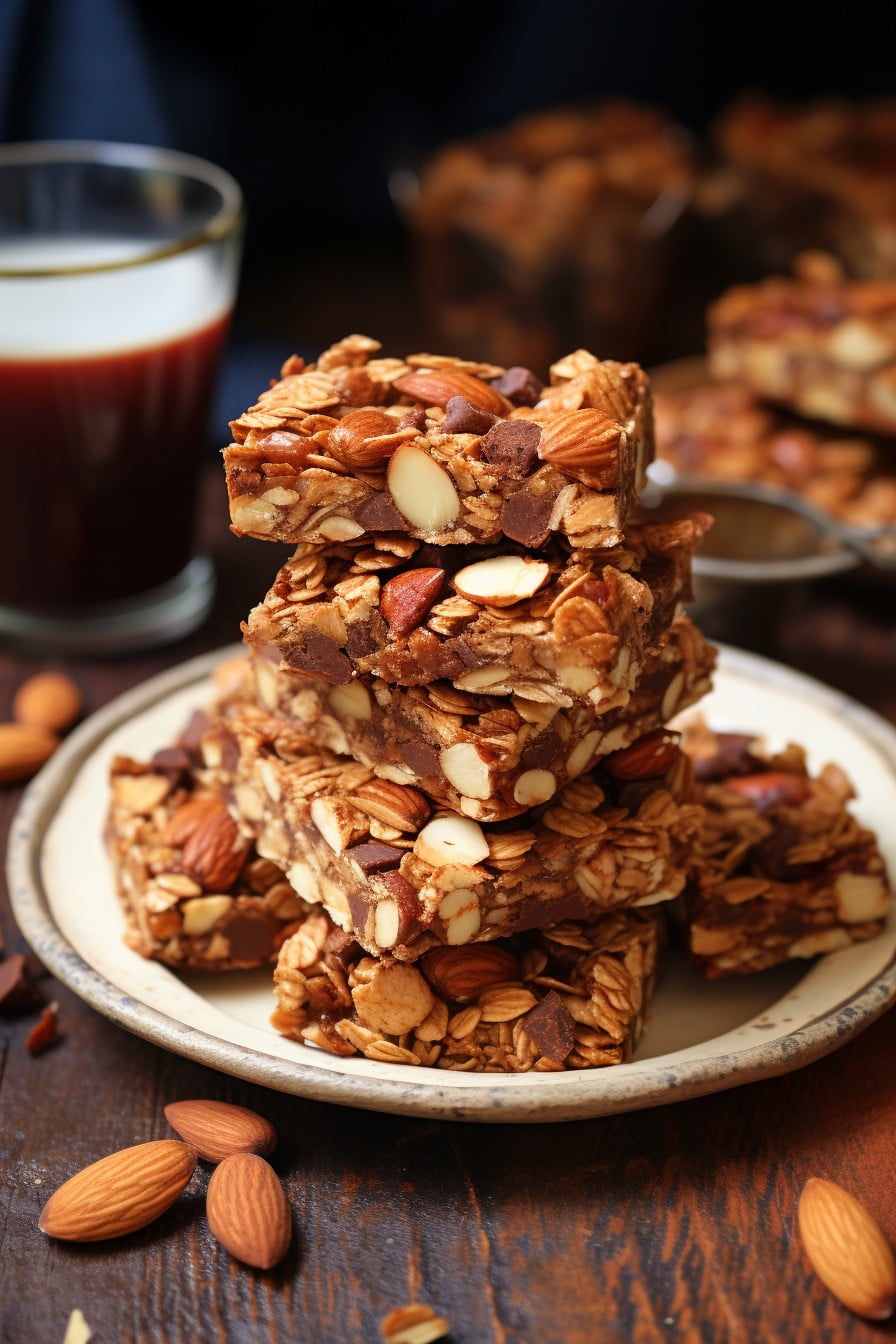 A common favorite among teachers, these nutritious treats are easy to prepare yet filled with delicious flavors. Start with a mix of oats, nuts, dried fruits, and a pinch of cinnamon for that perfect spicy kick.
For glue, consider natural sweeteners like honey or maple syrup for a healthier touch.
Don't shy away from customizing the recipe to suit individual preferences or dietary restrictions. Opt for gluten-free oats for those with intolerance, or switch to vegan-friendly sweeteners such as agave nectar. You can even consider a pinch of sea salt or a dash of dark chocolate chips for a gourmet touch.
Effortlessly packaged in a reusable snack box, they make for a practical, accessible nibble during a busy school day. With every bite, they offer a comforting reminder of the sweet appreciation felt for the teachers' hard work and dedication.
Mini Chocolate Chalkboards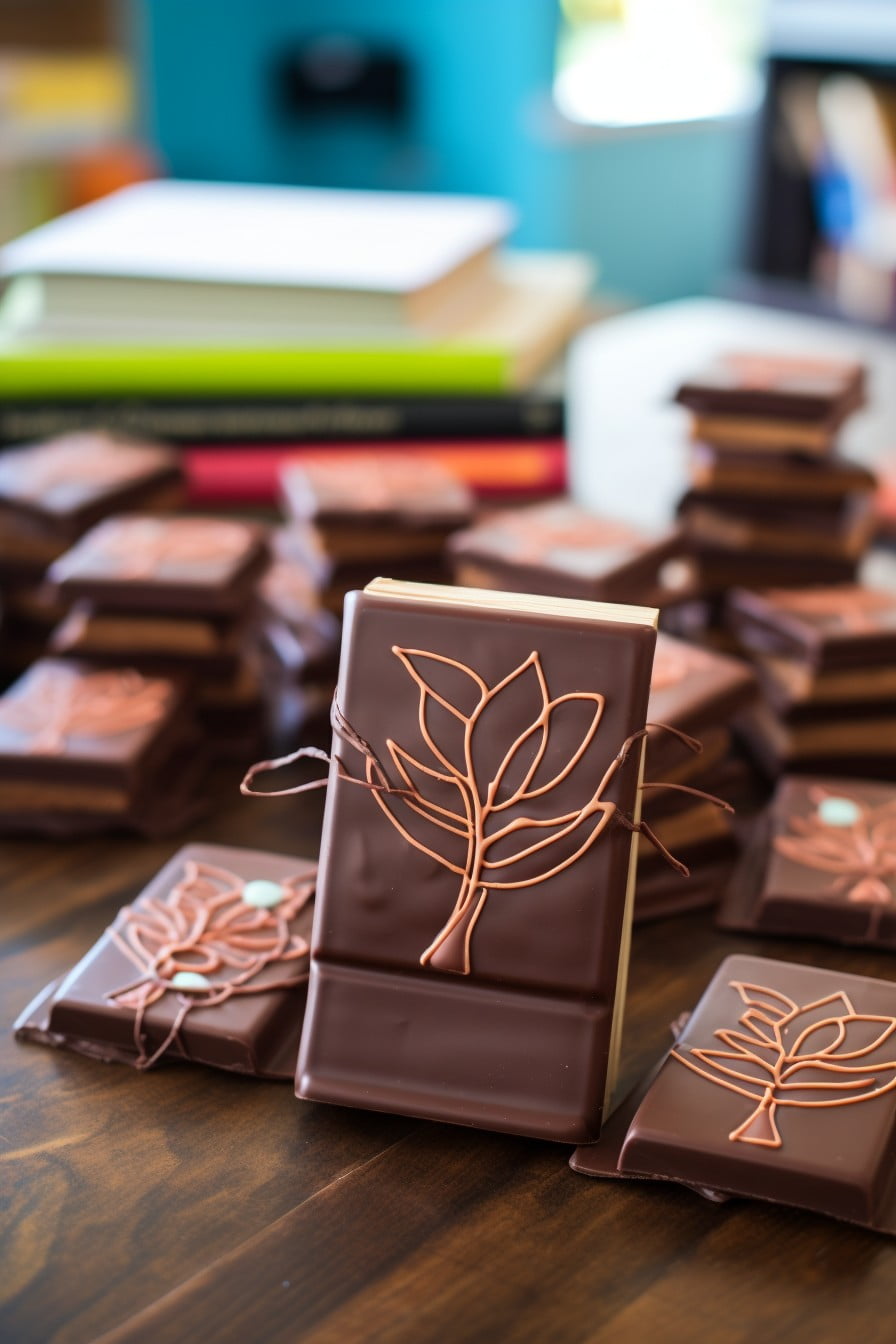 Crafting these delightful treats begins with a simple brownie base. After baking and cooling, cut the brownies into rectangular "chalkboard" shapes.
The fun truly begins when it's time to ice these mini chocolaty delights. Opt for a vibrant white icing to represent chalk, pipe on heartwarming messages such as, "A+ teacher" or "Thank you".
The final touch involves wrapping each brownie individually in clear plastic wrap, perhaps even tied with a ribbon in the school's colors for an extra thoughtful touch.
Quick tips to note:
Use a dense, fudgy brownie recipe to keep the treats intact when cutting them into the chalkboard shapes.
Piping work requires a steady hand. Practice on some parchment paper before moving to the brownies.
Consider food-grade markers in lieu of icing for easier, more precise writing on the 'chalkboards'.
Keep in mind any potential allergies. The treat should not only delight but also be worthwhile and safe for consumption.
Mini Apple Pies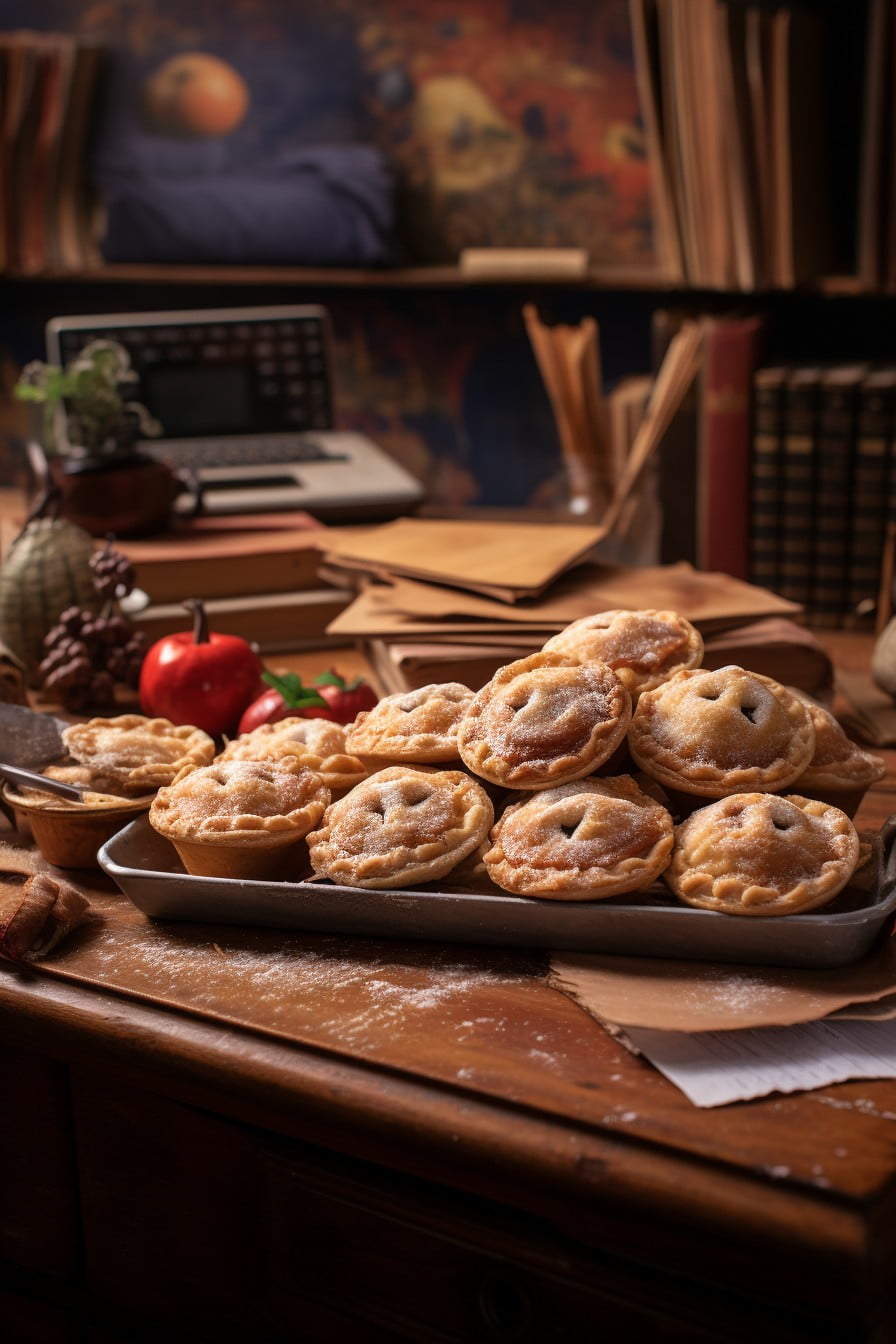 Delight in the simplicity and classic taste afforded by these hand-held treats. Crafting them can be as easy as using refrigerated pie crust and canned apple pie filling. However, the secret to an exceptional mini apple pie lies in homemade pie dough and a spiced apple filling.
1. Pie Dough: Combining flour, butter, sugar, and a pinch of salt, a homemade pie dough adds an unbeatable freshness to the pie. Optionally, you can add some cheddar cheese to the dough for that perfect savory-sweet balance that compliments apples so well.
2. Apple Filling: Chopped apples cooked with sugar, cinnamon, nutmeg, and a squeeze of lemon juice create a flavorful filling. Remember to cut apples into smaller pieces to ensure they fit into the mini pie shells.
3. Assembly and Baking: Roll out the dough, cut circles slightly larger than your mini muffin tins, fit them in, fill with the cooled apple mixture, and top with a dough lattice or a simple pie crust top. Bake them until golden, letting the irresistible aroma fill the your kitchen.
In addition, these mini treats are neat and easy to package, a great touch for your teacher appreciation gift. Don't forget they're best served warm, with a dollop of vanilla ice cream or a dusting of powdered sugar.
Book-shaped Rice Crispy Treats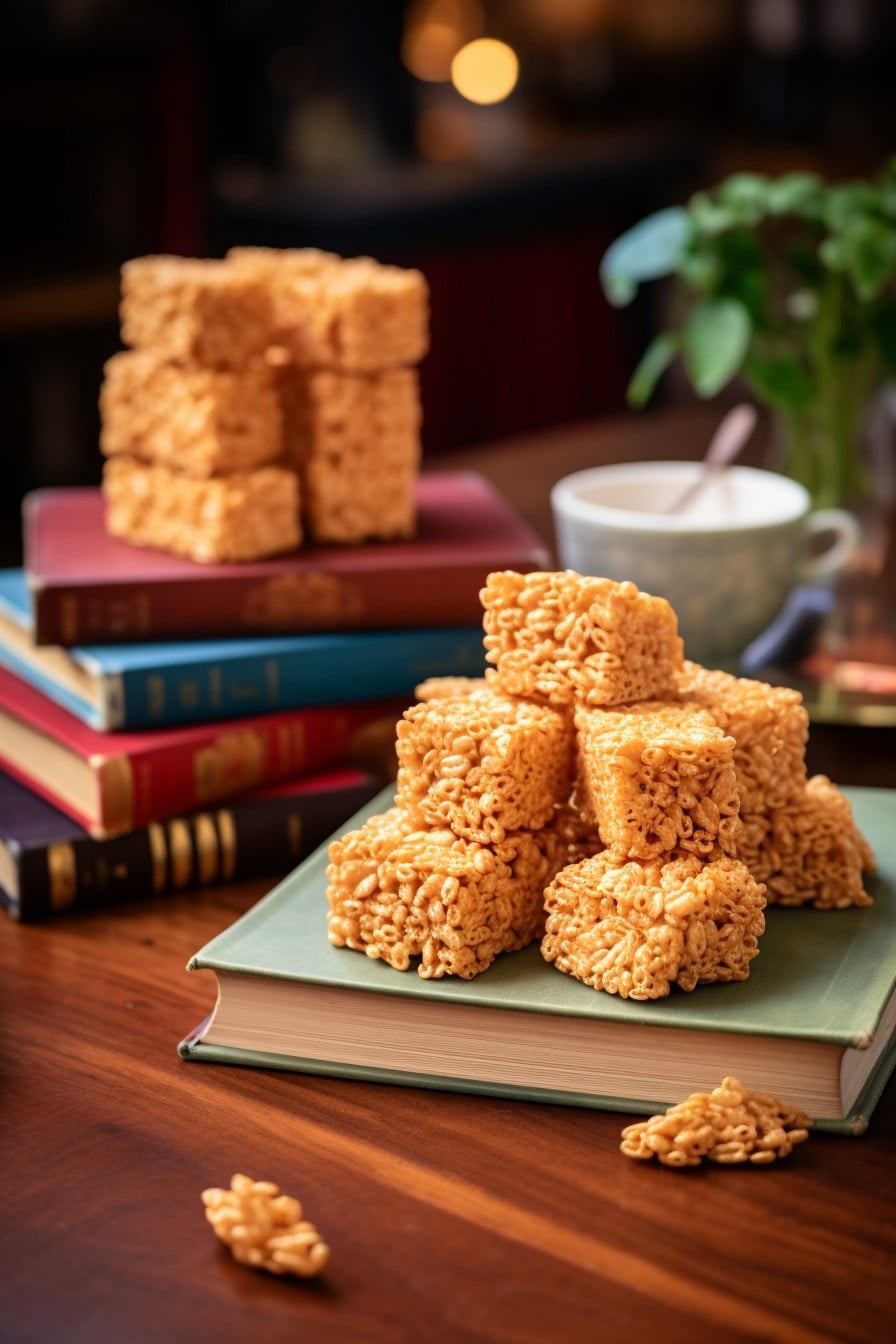 Creating these treats is easy, all you need are a few ingredients: rice crispy cereal, marshmallows, and butter.
Melt the butter and mix in marshmallows for a sticky base. Next, integrate the cereal into this smooth blend. Upon attaining a uniform mix, press it into a pan, allowing it to cool and harden into a solid block. Then, utilize a sharp knife to slice it into rectangular pieces, mimicking the shape of books.
For an added charm, icing can be used to illustrate covers. You might favor classic covers or simply inscribe "Thank You" on them. Remember, get creative and personalize this as per the tastes of the teachers. From vibrant colors to edible glitter, there's a multitude of decorating options.
While it's all about the presentation, be assured, these goodies hold up in the taste department too. Sweet, crunchy, and delightful, they have an enjoyable mouthfeel that's sure to be a hit. Easy to make, easy to customize, and full of taste – absolutely perfect for showing appreciation.
Alphabet-shaped Gummies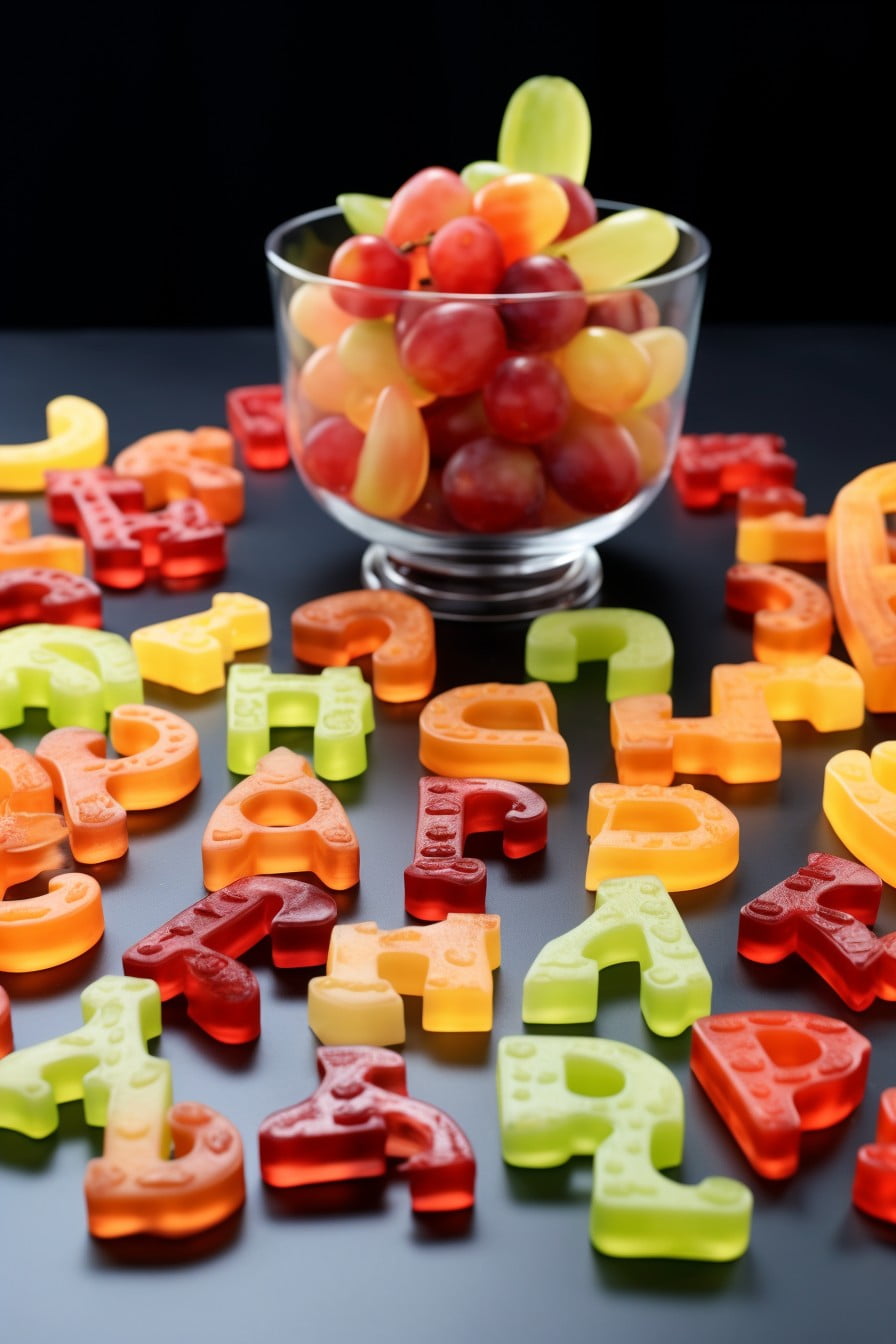 Crafting these delightfully sweet treats requires little effort. Opt for a gummy making kit, often found in stores or online. The trick is using a silicone mold featuring the alphabet to achieve the shape.
Most commercial gummy mixes come in various flavors – pick one or mix multiple for a flavor explosion.
These gummies aren't just enjoyable munchies, but also educational! Teachers can incorporate them into teaching sessions, transforming snack-time into an interactive learning experience. Consider using natural fruit juices for a healthier alternative, and don't forget – gelatin or its vegetarian alternative, agar-agar, is key to achieving the right consistency.
These treats can be stored in airtight containers for a good week, making them a convenient option. Now, time to enjoy creating these fun, educative gummies that teachers will undoubtedly appreciate.
Mini Cupcakes With Iced Thank You Messages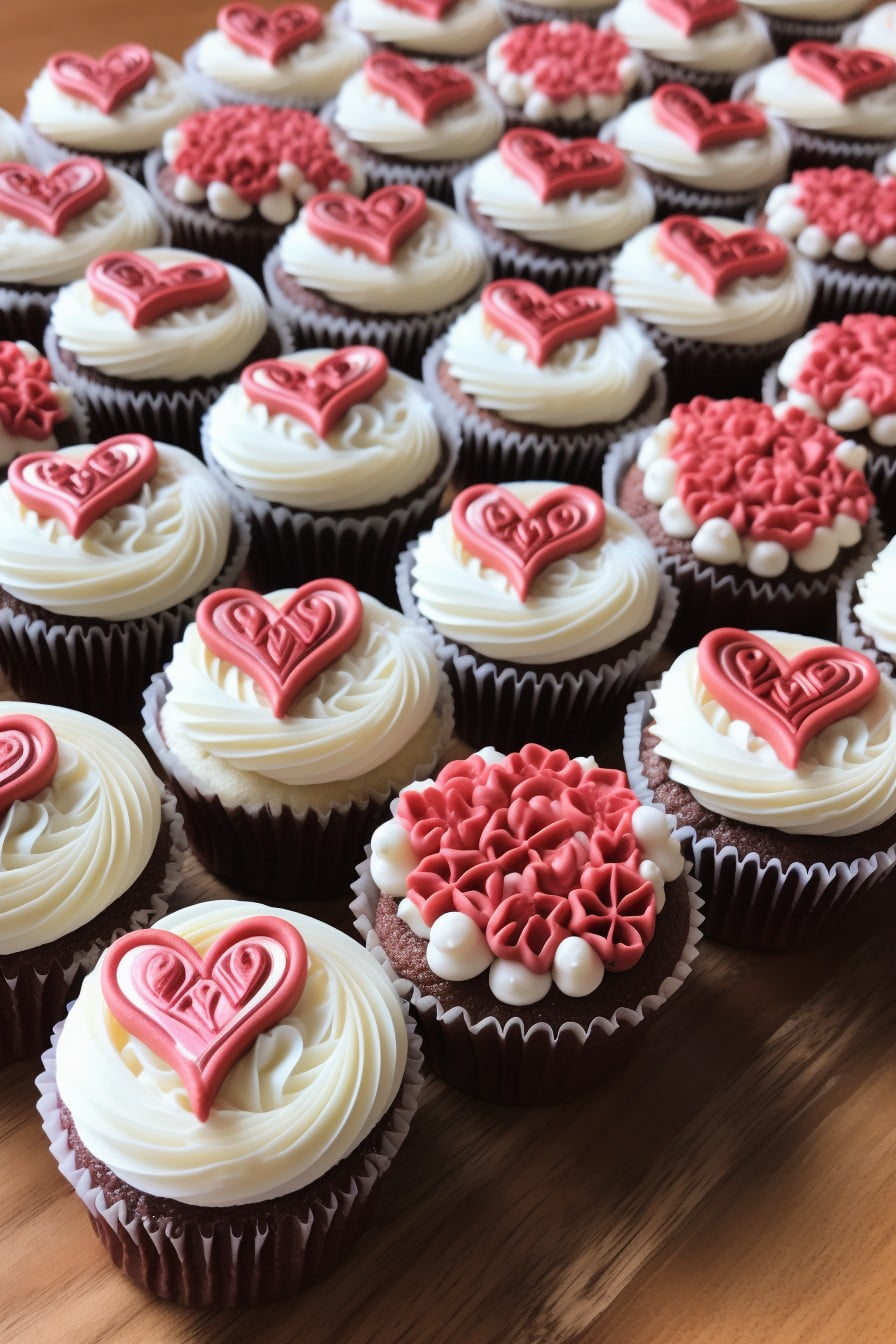 Creating these sweet treats is both easy and engaging. Start with your favorite cupcake base, be it vanilla, chocolate, or even red velvet.
Once cooled, top them off with a creamy frosting, perhaps matching it to the flavor of your cupcake for a cohesive taste experience.
Next comes the creative element with your icing pen. These pens can be found in most baking supply stores, offering a range of colors for your selection.
Jot down heartfelt messages like "Thanks!", "You're the best!", or "Star Teacher", to afford them personal charm.
Remember, these cupcakes serve not just as a snack, but a token of gratitude, so customize those icing messages to truly reflect your appreciation.
An optional final touch could be sprinkles that match the school colors. This will add visually appealing and fun texture without overwhelming the cakes' overall delicate flavors.
Remember to keep the cupcakes bite-sized to make them more snackable during an active classroom day.
Fruit Skewers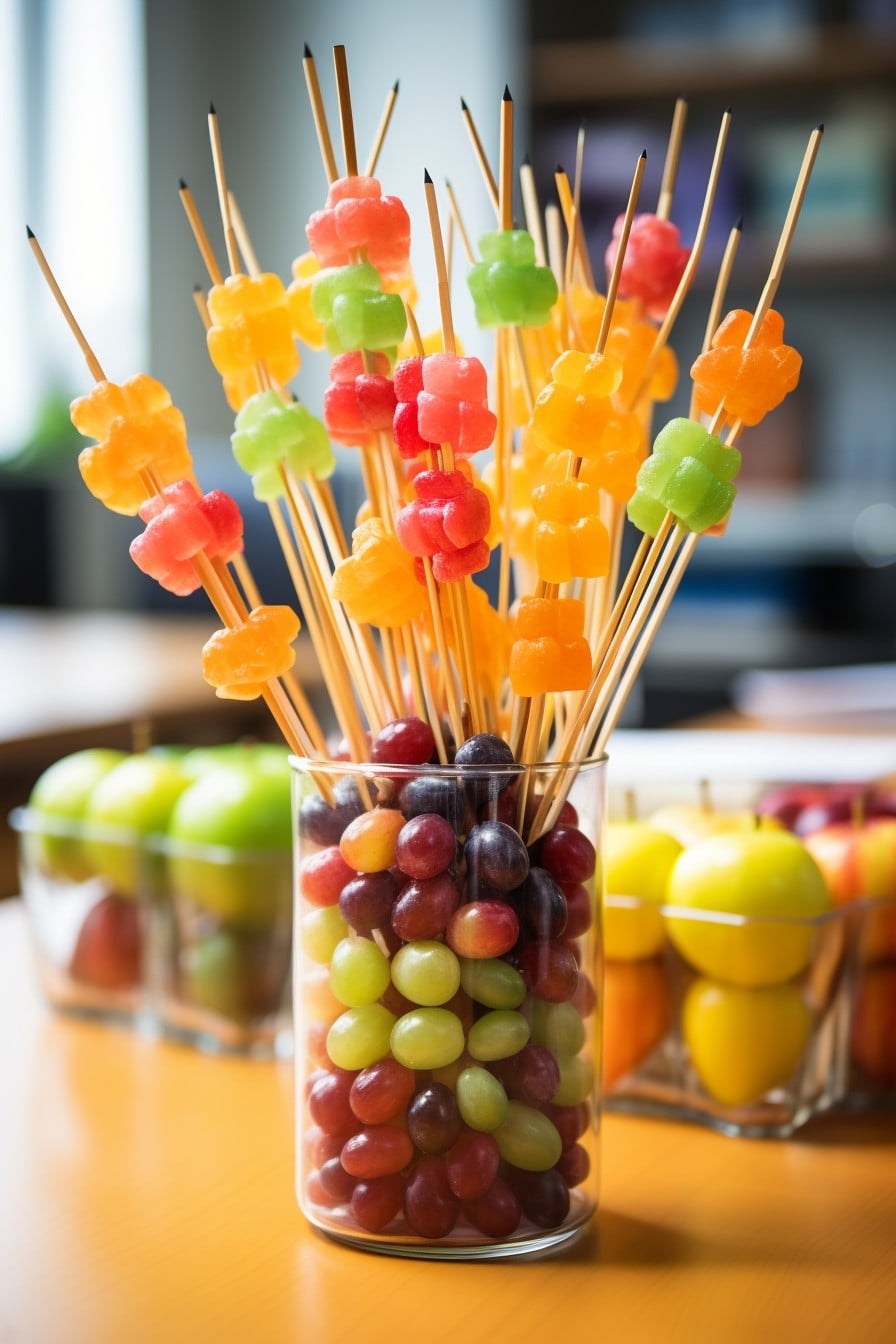 A delightful medley of fresh fruits provides a healthy and eye-catching alternative to traditional baked goods. Brighten up the staff room with an assortment of skewers packed with vibrant strawberries, grapes, pineapple chunks, and melon cubes.
If you're feeling creative, carve fruits like watermelon and pineapple into shapes that teachers can relate to for a personalized touch like stars or books.
To make, start with a variety of your favorite fruits, wash, and pat dry. Ensure you have wooden skewers at hand. Thread the fruit onto the skewers, alternating colors for a visually pleasing effect.
Remember, presentation matters, so serving these on a beautiful platter will be the cherry on top. Not only delicious, these fruit skewers are full of vitamins, making them a truly thoughtful gift.
Cheese and Cracker Platter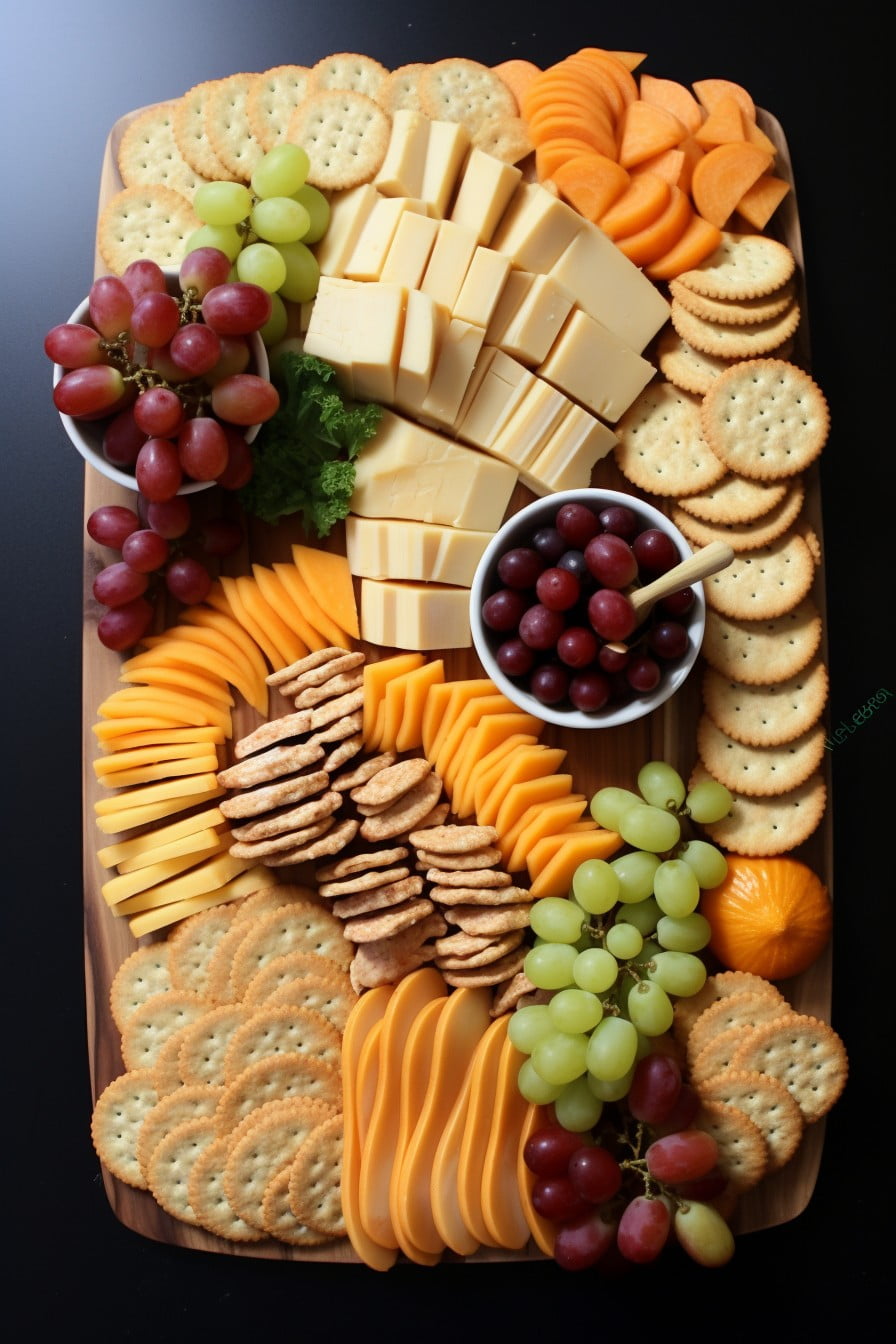 A successful cheese and cracker platter is all about variety and presentation. Include a mix of hard and soft cheeses, such as cheddar, brie, and gouda for diverse textures and flavors.
Add a touch of sweet with fruits like grapes and berries to complement the savory cheese. Crackers should range from wholesome multi-grain to lightly seasoned, serving as the perfect canvas for the cheese.
Incorporate some garnish in the form of fresh herbs to add color and vibrancy. Don't forget to label each cheese so teachers can select their cheese preference. For those with a bit more time and creativity, carve the cheese into fun shapes like stars or apples. Remember to serve with cheese knives for easy serving and enjoyment.
Nut and Dried Fruit Mix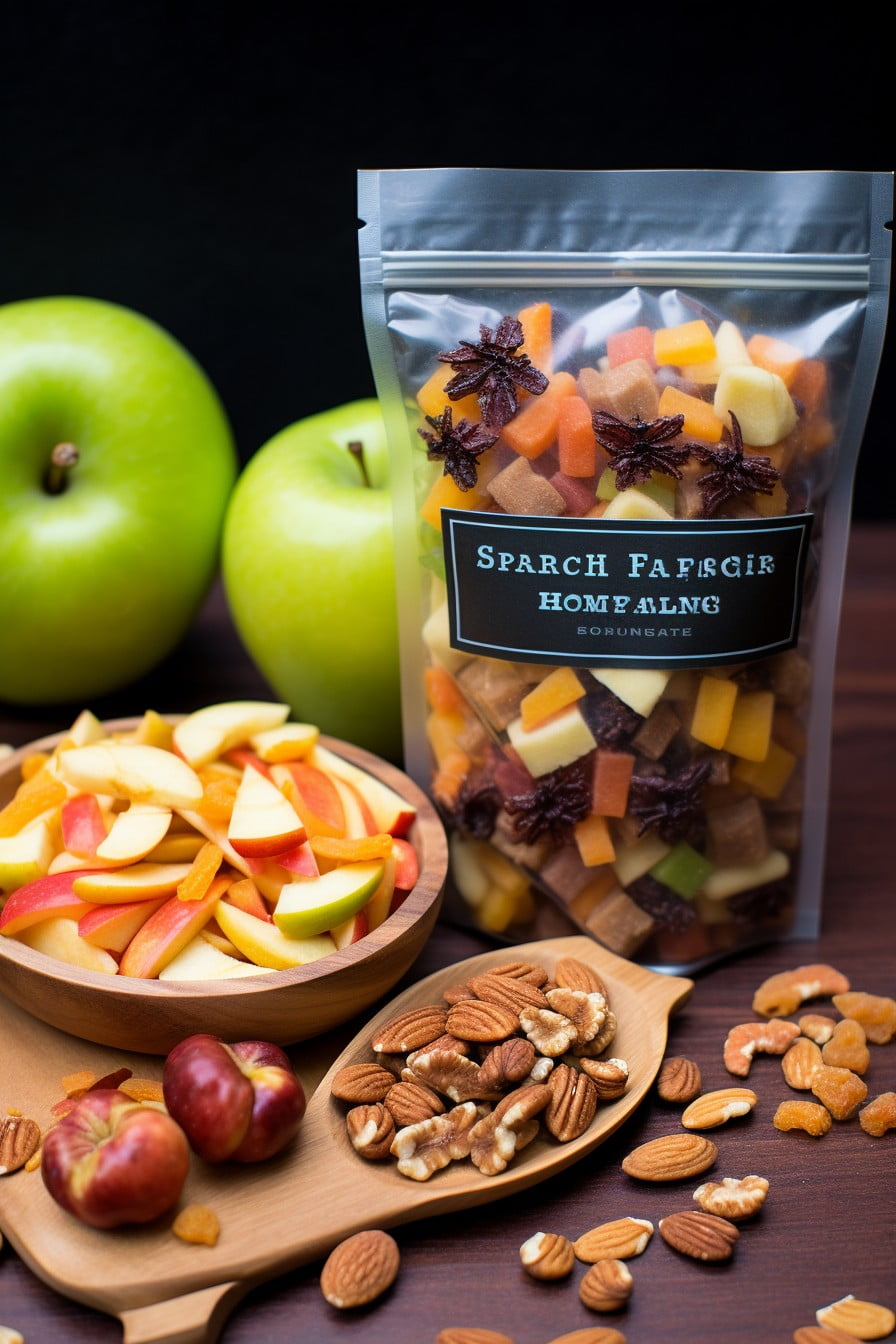 Preparing this snack is relatively straightforward. Select a mix of nuts such as almonds, walnuts, cashews, and pistachios for their rich and diverse nutritional values.
Then, complement the nut mix with an assortment of dried fruits – dried cherries, apricots, raisins, or cranberries offer a sweet contrast to the saltiness of the nuts.
For an extra touch of decadence, dark chocolate chips or yogurt-covered raisins can be included.
Packaging in individual sachets makes it easy for each teacher to savor at their leisure.
Remember, however, to make a conscious choice of ingredients, keeping in mind any potential food allergies among the beneficiaries.
Edible Bouquet of Chocolate-dipped Strawberries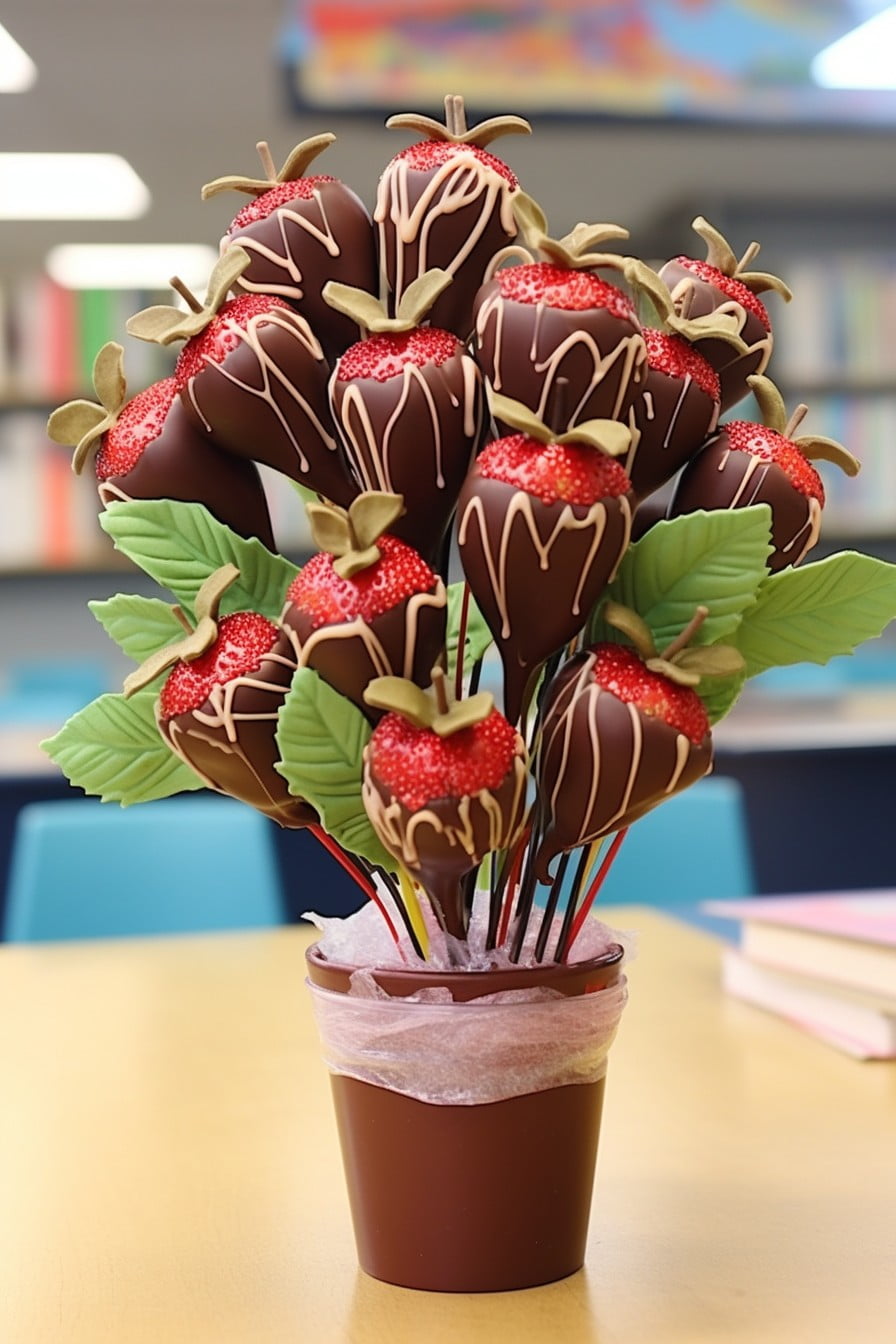 Creating an edible bouquet of chocolate-dipped strawberries combines the richness of chocolate with the juicy freshness of strawberries.
Start by melting your favorite chocolate — dark-, white-, or milk-chocolate will suffice.
Clean and dry the strawberries thoroughly after removing the stem.
Dip each strawberry into the melted chocolate, twirling to create an even coat before placing it on a tray lined with parchment paper to allow the chocolate to harden.
Assemble the strawberries once the chocolate has hardened.
Use skewers to create a bouquet, arranging them in a vase or mason jar.
If you wish, enhance the presentation by wrapping it in clear cellophane and tying it with a ribbon.
Remember, you have the final say on the bouquet's appearance, so feel free to express your creativity.
This is an exquisite, enjoyable gift that any teacher will love for its simplicity and homemade touch.
Star-shaped Sugar Cookies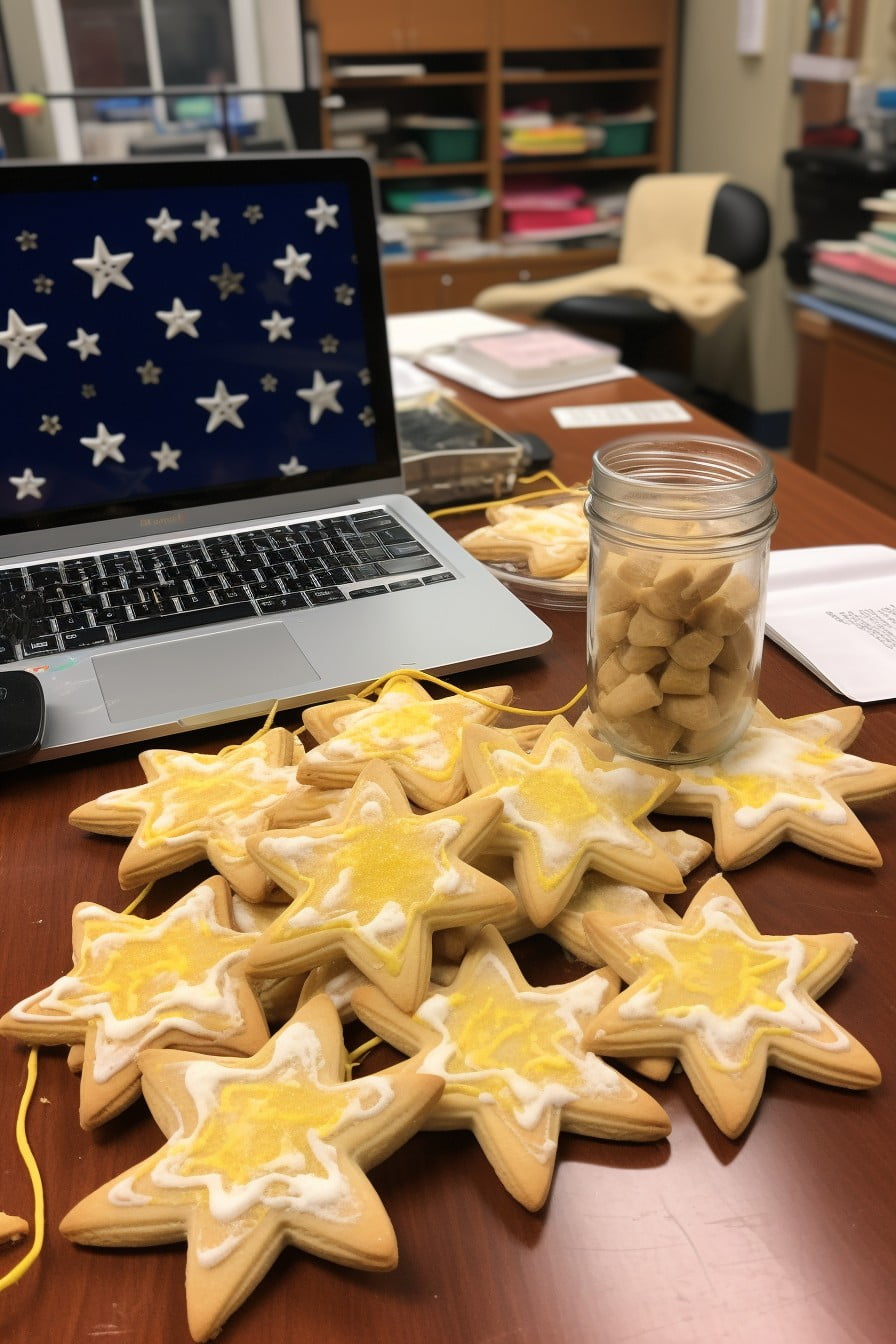 In the spirit of expressing appreciation with a celestial touch, these delightful treats add a twinkling surprise. Baking them is a breeze, and given a choice between store-bought and homemade, the latter will always carry a bigger punch – the effort shines through.
Here's the plan. Start with basic sugar cookie dough, made in your kitchen or picked from the store. Grab a star-shaped cookie cutter to stamp out the dough. Finish with a sprinkling of sugar crystals to give that starry night feel before baking. Once fully cooled, they can be packaged in a nice box or even tucked into a cute mason jar.
Remember, the essence lies not just in the exquisiteness of the shape but also in the taste. Aim for a pleasing balance – not too sweet, but enough to satisfy a sweet tooth. If you want to take it up a notch, try adding some zesty lemon flavor to the dough or sprinkle spice-infused sugar for an added kick.
Last but not least, for novices in the art of cookie creation, following YouTube video tutorials or step-by-step pictorial guides could be helpful. Regardless of skill level, baking cookies is a delightful and fulfilling venture, all the more when contributing to a worthy cause – showing gratitude to the educators in our lives.
Diploma Rolled Sandwich Bites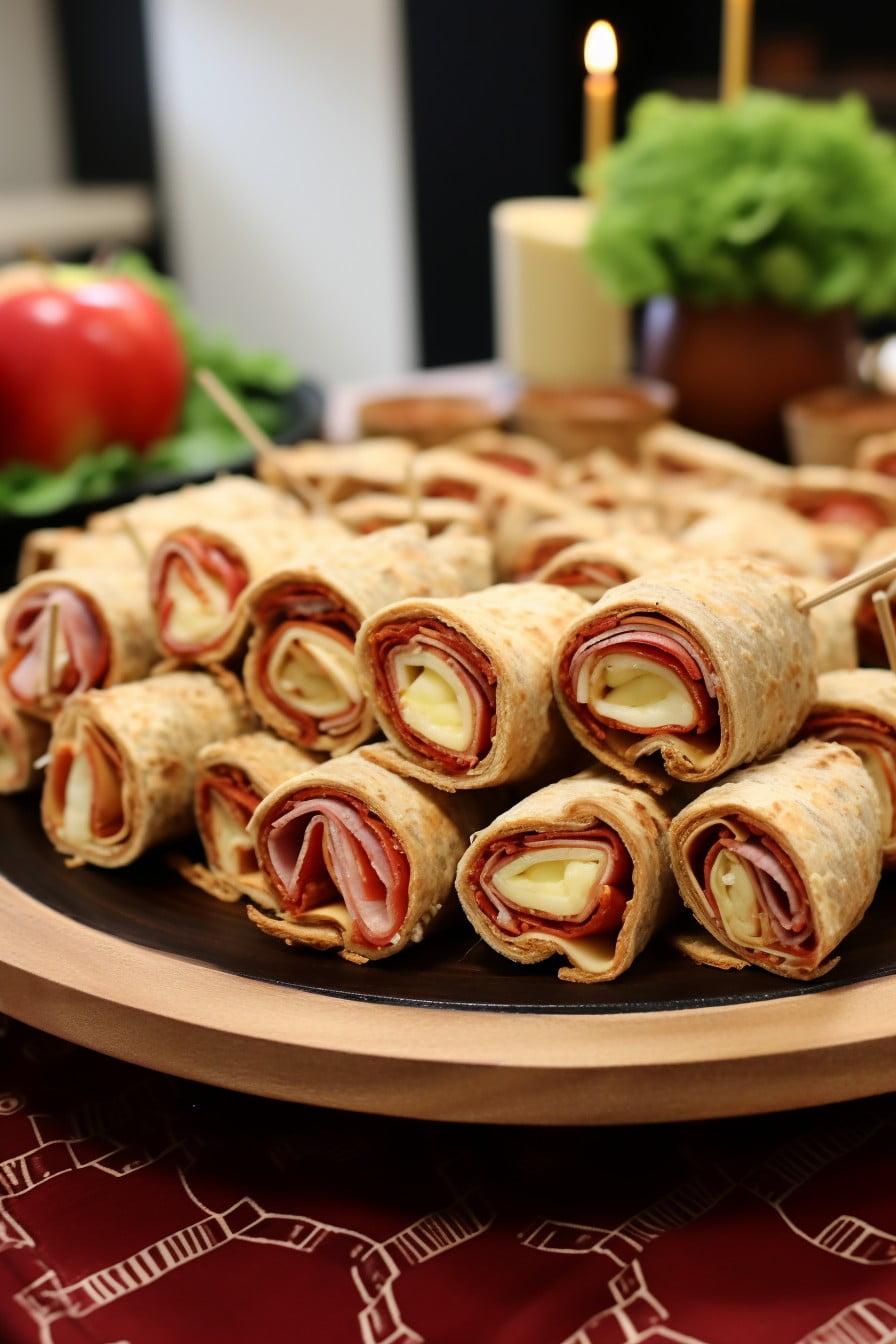 To craft these delectable bites, start by selecting a variety of your favorite sandwich fillings. Think ham and swiss, turkey and cheddar, or even cucumber and cream cheese for a vegetarian option.
Now, here's the fun part: instead of defaulting to the old stand-by sandwich squares, opt for flat, flexible bread like tortillas. Spread your chosen fillings, roll them up tightly, and secure with a toothpick.
The finished product? A stack of snackable delights that bear a striking resemblance to little diplomas. It's a creative nod to the scholastic setting, perfect for showing teachers your appreciation through a thoughtful, edible craft.
As a bonus, these are easy to eat on the go! In the busy world of education, food that can be enjoyed without interrupting the flow of the day is always a win. So, don't hesitate to bring in a platter of these for the next teacher appreciation event. It's a guaranteed success!
Chalkboard Message Brownies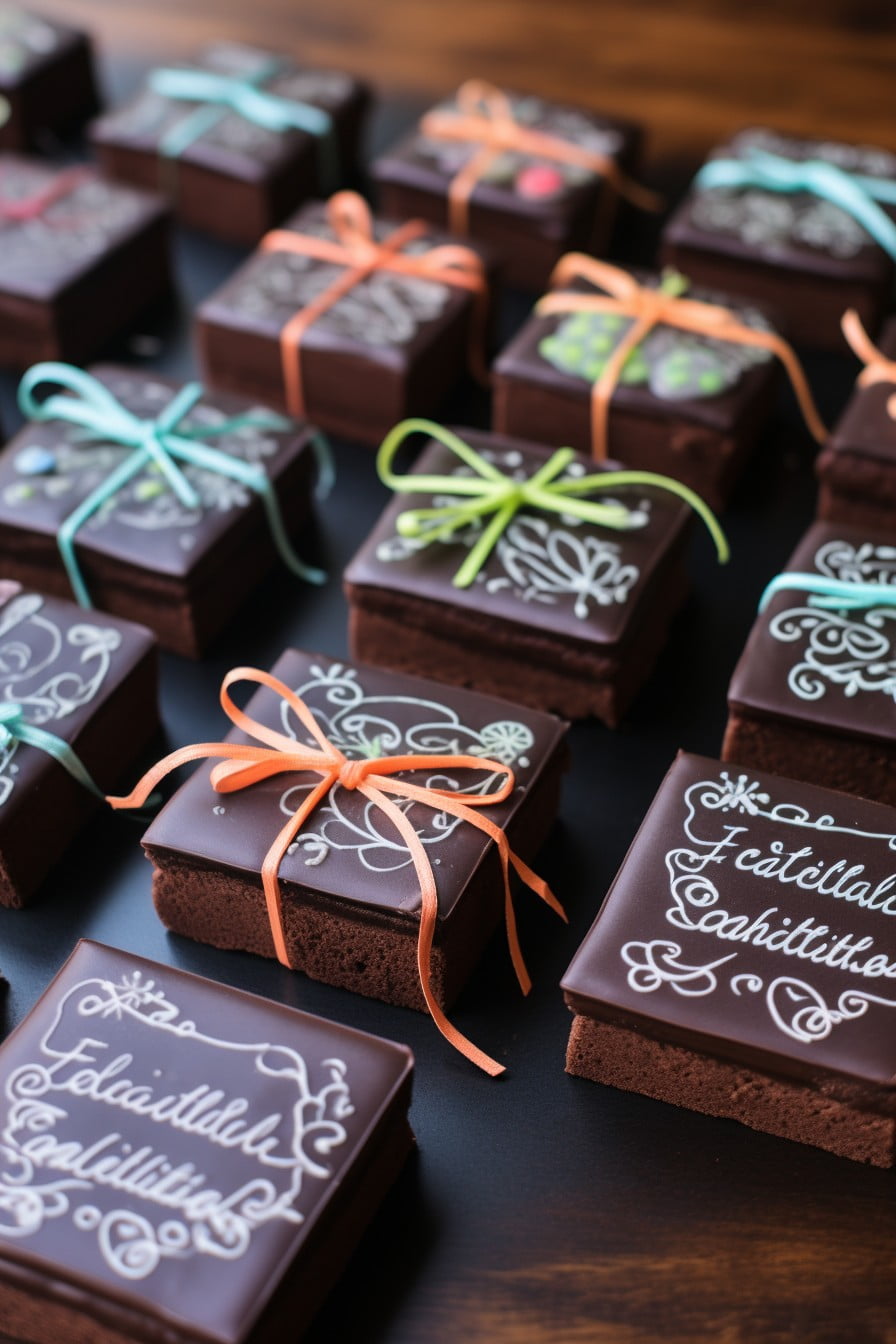 Crafting these delicious treats begins with baking a batch of your favorite brownie recipe. After the brownies have cooled, cut them into ideal serving size and ensure they somewhat resemble the rectangles you'd see in a traditional chalkboard. The creativity shines in the 'message' part, find a white icing pen, you can find these in most baking aisles. The flavor typically is vanilla, offering a wonderful contrast to the rich chocolate brownie.
Carve a heartfelt note, it can be as simple as "Thank you!". Due to the size of the brownie, shorter phrases or words work best. Remember, the goal here is to evoke admiration and thankfulness, every detail counts – including your handwriting. So, even if you aren't a master scribe, take some time to make each letter count.
Your brownies can be placed in a box lined with parchment paper, to replicate the authentic feel of a chalkboard, thus adding an extra layer of appreciation for your favorite educator.
Mini Coffee-flavored Macarons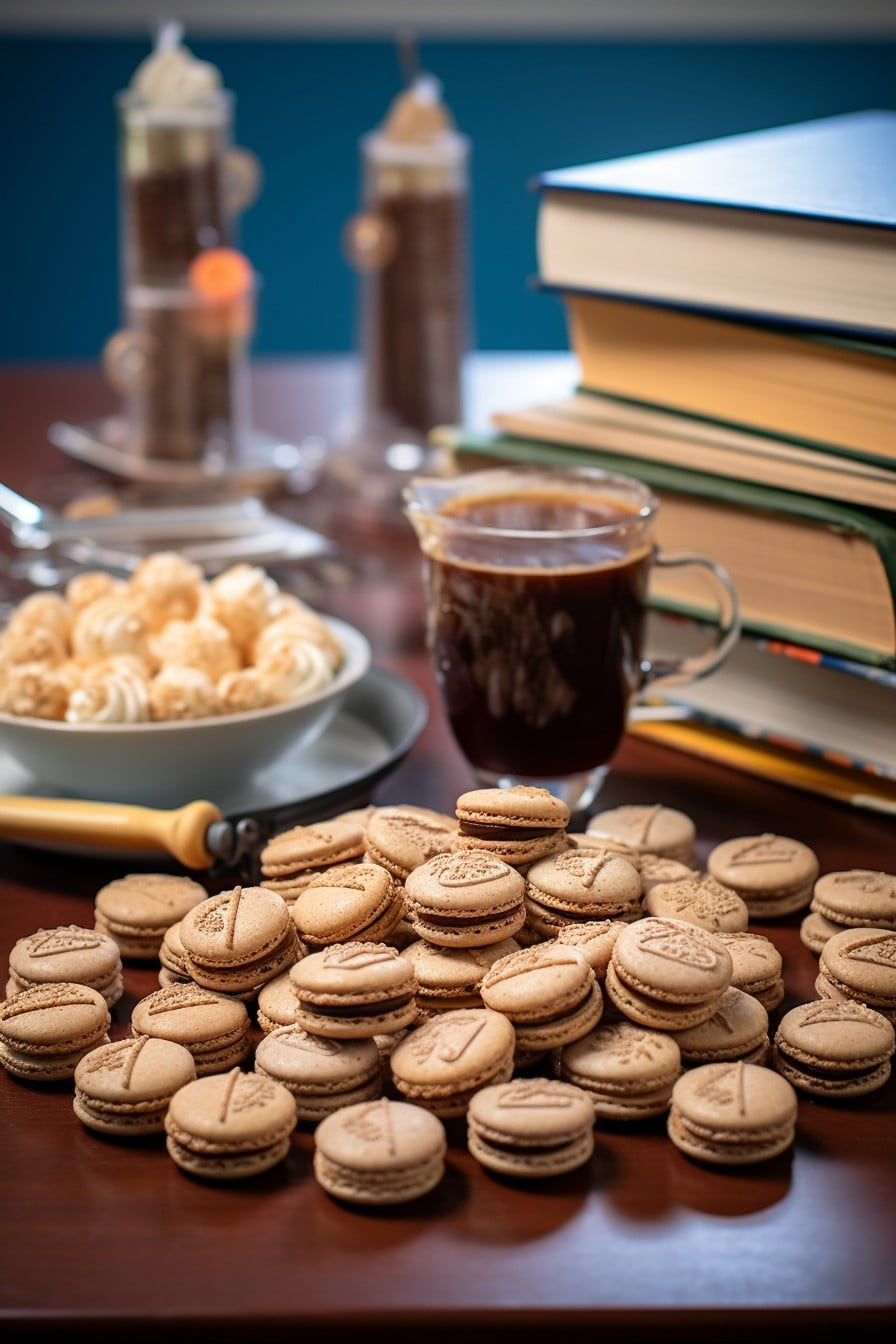 Crafting these petite pastries allows for an inventive, gourmet twist on a teacher's daily dose of caffeine. Macarons, characterized by their smooth, rounded tops, ruffled edges, and flavorful fillings, offer a unique canvas for culinary creativity. The key to infusing these treats with appetizing coffee flavor is through a careful balance of strong, freshly brewed espresso and sweet, airy macaron batter. Ground coffee provides an added texture and authentic coffee taste.
Presenting these mini macarons adds an element of charm, especially when beautifully arranged in a pretty box or jar. Completing the package with a hand-written note of recognition furthers the personal touch which is characteristic of this appreciation gift. Even if time is against you, it's reassuring to know that these coffee-infused delights are easily available in many local bakeries or patisseries. Thus, this option combines a delectable sweet treat with the universally loved flavor of coffee, making it an attractive choice on the list.
Chocolate-covered Pretzel Pencils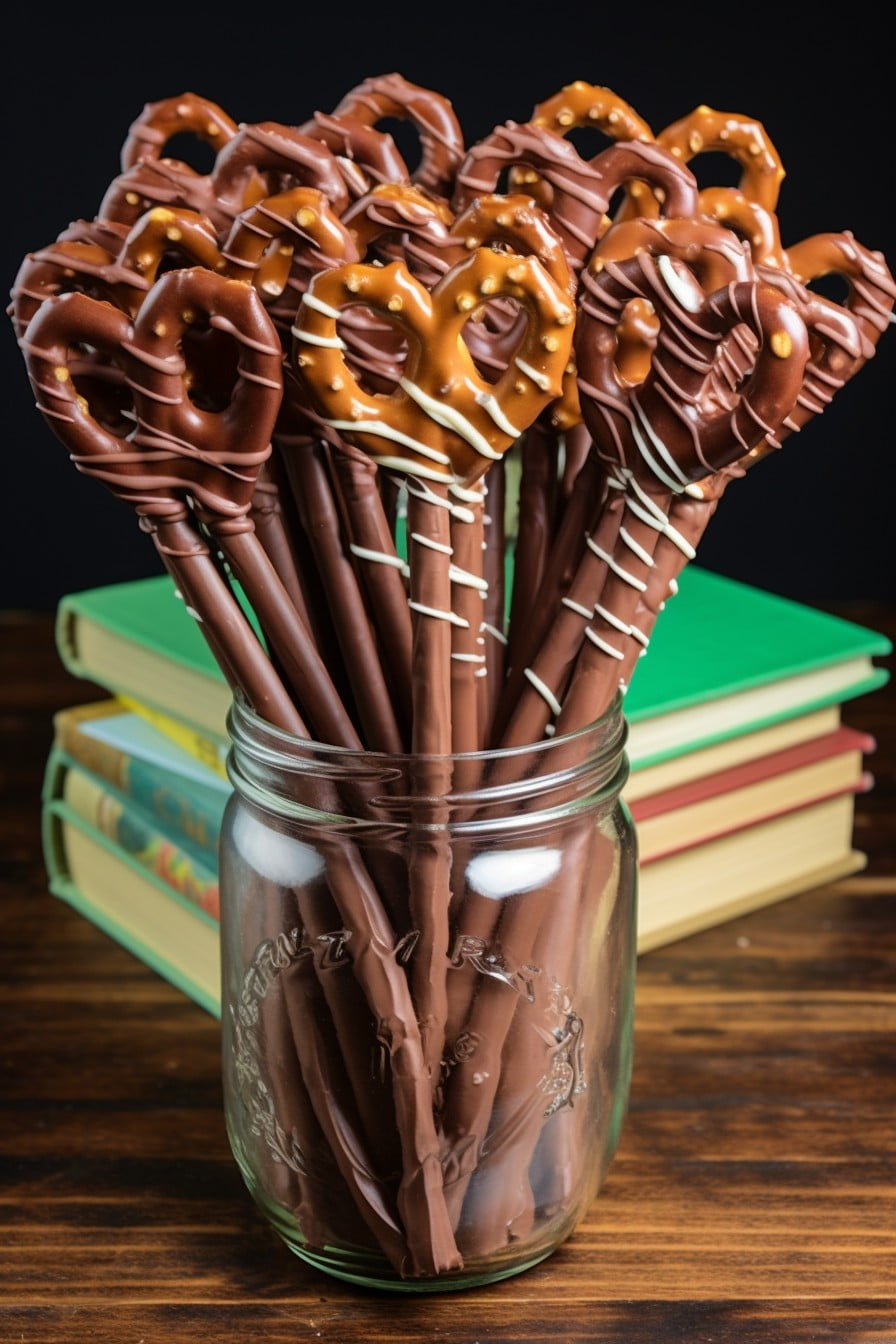 Creating these delightful snacks couldn't be more straightforward. With only a few ingredients like pretzel rods, white chocolate, and pink-colored sugar, this unique snack will surely draw admiration.
Begin by melting the white chocolate in a heatproof bowl over simmering water, ensuring it doesn't burn. Once fully melted, dip the pretzel rods two-thirds of the way into the chocolate. This forms the 'wood' of the pencil.
Next, while the chocolate is still wet, dip the tip of the pretzel into the pink sugar, which signifies the 'eraser.' Finally, leave them to dry on a piece of parchment paper. The result: a brilliant, pencil-like design on a deliciously sweet-and-salty snack.
Perfect as a symbolic teacher's gift, these pretzel pencils brilliantly embody the classroom while offering a tasty treat. Teachers will appreciate the thoughtfulness, creativity, and savory flavor that these unique snacks bring to their special day.
A Box of Assorted French Macarons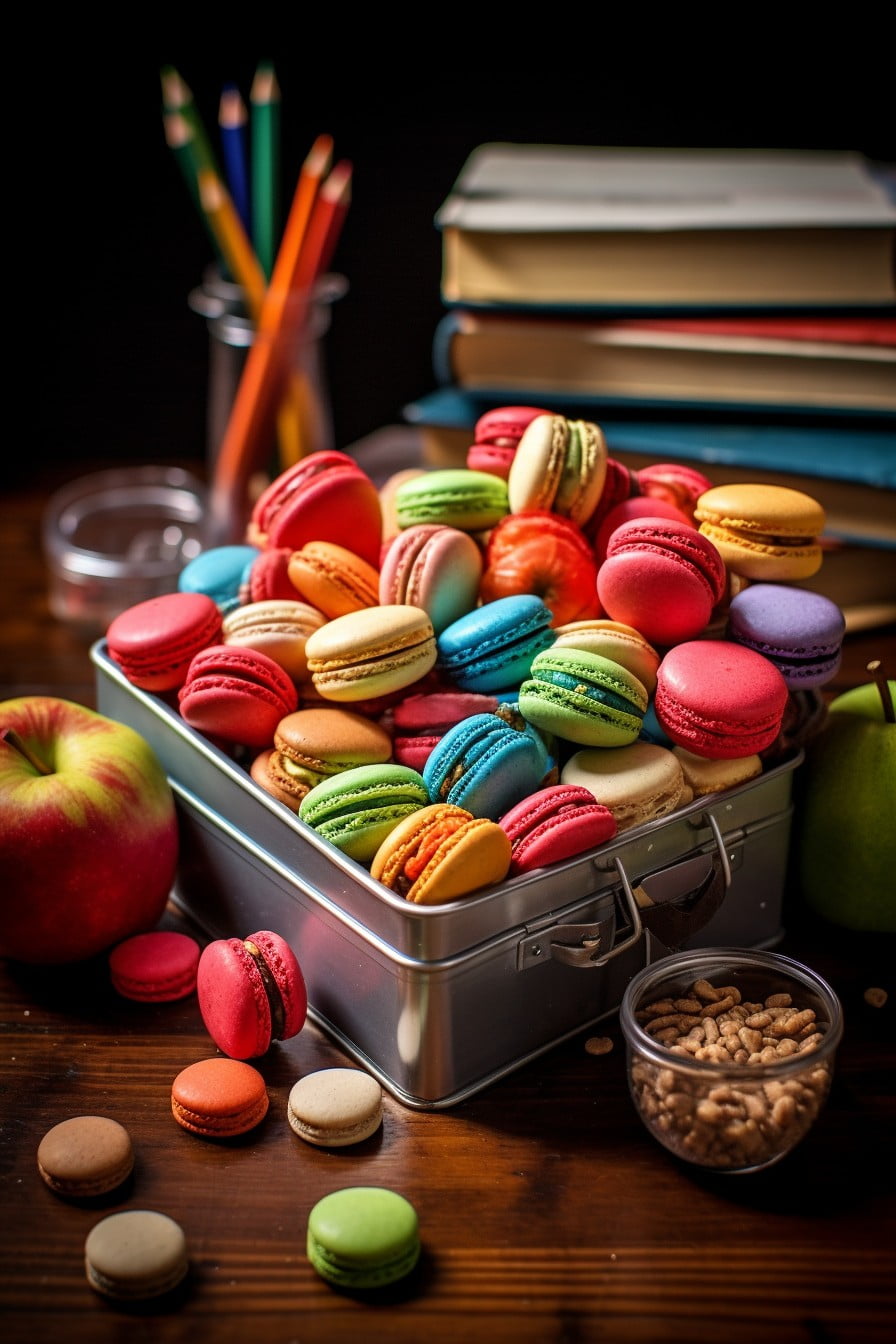 These delicate, colorful cookies are a sight for sore eyes, a taste delight, and a nod to the sophistication inherent in teaching. Handcrafted from almond flour, egg whites, and sugar, each macaron is unique with its own burst of flavor. This variety mirrors the many hats a teacher has to juggle daily, imparting knowledge while nurturing curiosity and resilience in each student.
Having an array transforms this into a great teacher appreciation gift. You could customize the collection, choosing flavors that echo school colors or various subjects. Imagine a lemon yellow for Math, a raspberry red for English, mint green for Science, and so on.
For an extra touch, these French confections could also be packed in an elegant, reusable box, tied with a ribbon in the school color. Not only is this an aesthetic treat, but it also underscores the importance of reducing waste, a valuable lesson teachers impress on students.
The key is to ensure the macarons are freshly baked, the texture just right – a crisp shell giving way to a chewy interior. Remember, each detail shows your appreciation for the care and dedication a teacher invests in shaping young minds.
Homemade Jam Jars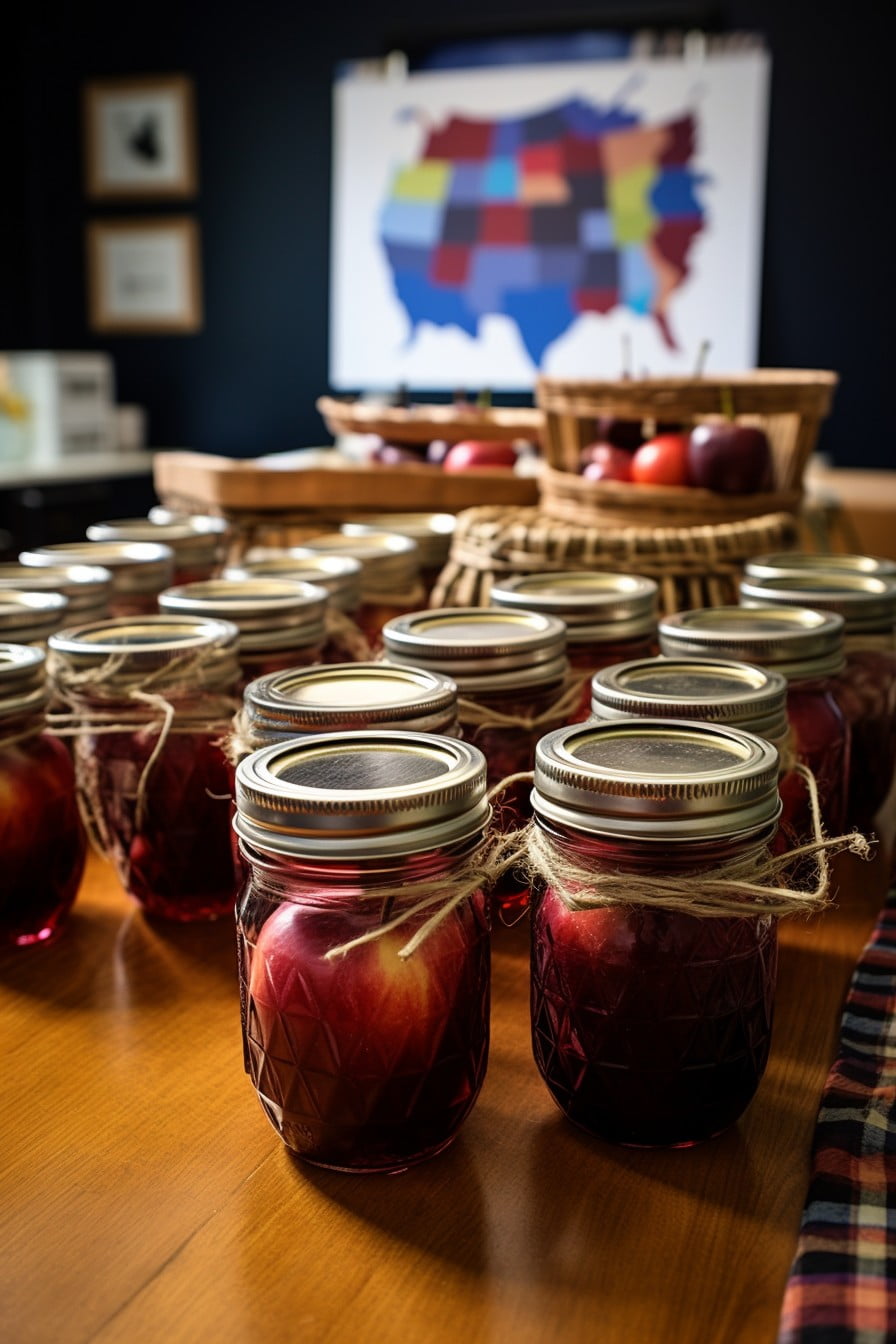 Crafting a homemade jam is a token of appreciation that combines simplicity with a personal touch. First, let's talk about the fruit options. The beauty of jam lies in its versatility; almost any fruit can be converted into this sweet spread.
From classics like strawberry and raspberry to unique options like pineapple or blueberry, each can be simmered down to a delightful jam.
Each jar tells a story, so consider personalized labels. They can express your gratitude, identify the jam flavor, or even include the date as a memento.
And let's not forget the presentation. Tie a piece of checkered cloth over the lid with a rustic twine to add a touch of vintage charm.
Remember, freshness and ripeness of the fruit play a crucial role in the flavor of the final product. Farmers markets are a good place to source the ripest, in-season produce.
The meticulous process is certainly worth the outcome – a jam full of flavor, prepared with love and appreciation, locked inside a charming little jar.
A delightful gift showcasing your effort and creativity.