Exploring various delectable snack ideas can be a unique and enjoyable way to show appreciation for employees, boosting morale while satisfying taste buds.
Searching for employee appreciation snack ideas? Look no further. This article is your one-stop-shop for all things snack-related that will make your team feel valued and appreciated.
From healthy options to indulgent treats, we've got you covered. We'll delve into a variety of options that cater to different dietary preferences, ensuring no one feels left out.
Whether you're planning a casual Friday treat or a grand annual celebration, this article will provide you with an array of snack ideas that are sure to please everyone on your team.
So, let's get started and explore the world of snacks that will make your employees feel truly appreciated.
Assorted Cheese Platter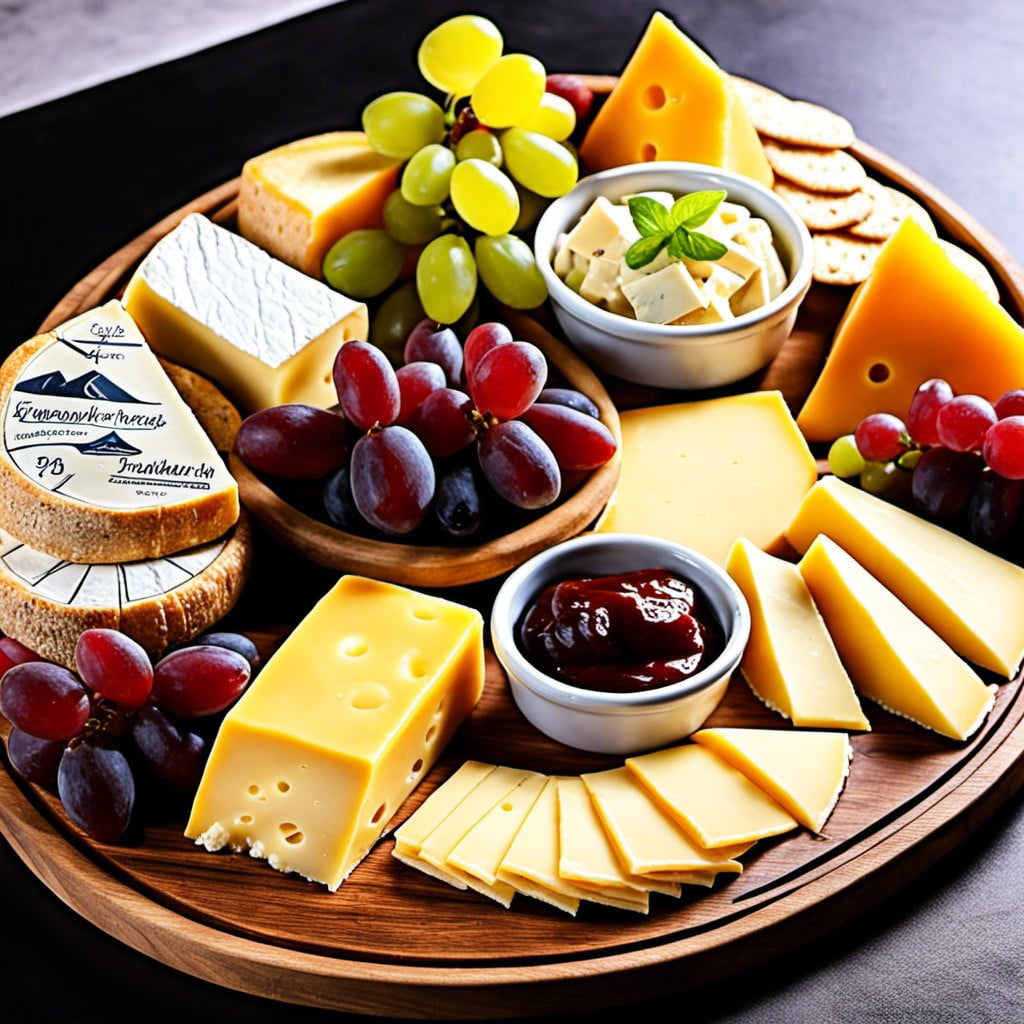 Choosing a variety of cheeses ensures there's something for everyone. Consider including a classic cheddar, a tangy blue, a delicate brie, and a spiced gouda.
Don't forget those who prefer plant-based options with a selection of vegan cheeses. Serve with an array of crackers or fresh, crusty bread.
For an added touch, include a selection of meats like salami or prosciutto. Enhance the platter with colorful garnishes such as fresh or dried fruits and nuts.
Practical tip: labeling each cheese allows everyone to discover new flavors. Remember to keep dairy products at a safe temperature to keep them fresh and inviting.
Fresh Fruit Basket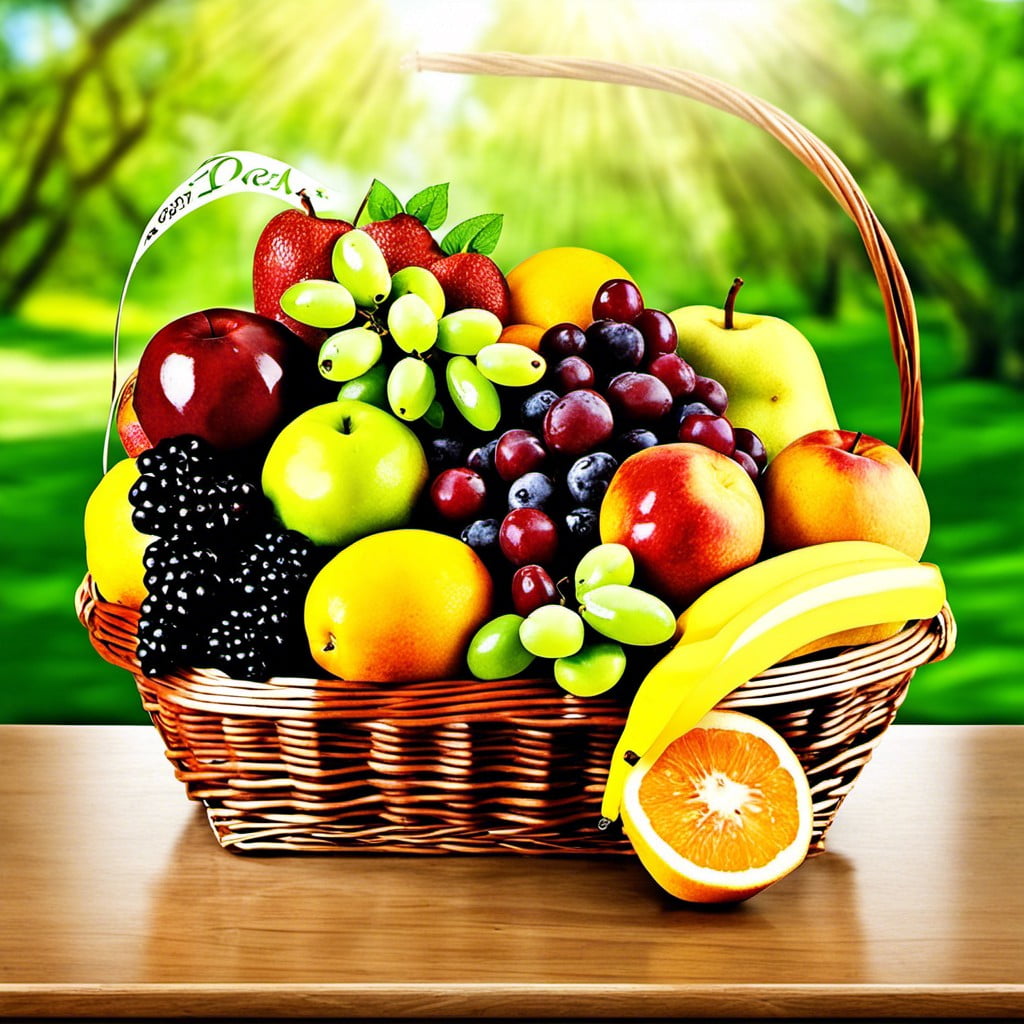 Naturally sweet, colorful and packed with vitamins, fresh fruit baskets present a delightful option. They not only offer a healthy alternative and delightful palate cleanser but also add a splash of color to any snack table.
To craft the perfect basket:
Choose a Variety: Include common favorites such as apples and bananas. Do not forget exotic fruits like kiwi or mango to spark interest. Aim for color diversity for a visually appealing spread.
Customize: Understand dietary needs and preferences beforehand. Consider including organic or locally sourced fruits if your audience prefers them.
Present Beautifully: Presentation matters with fresh fruit. It should look enticing. Consider using a nice wicker basket or a tiered platter for a show-stopping display.
Add Dippables: Consider accompanying the fruit with fun dips or spreads, like a low-sugar yogurt or nut butter, to enhance the flavors.
The essence of the fresh fruit basket is to prioritize health without compromising on the taste or visual appeal. No matter the type of event or dietary preference, it is a versatile choice that will leave everyone impressed and satisfied.
Cupcake Assortment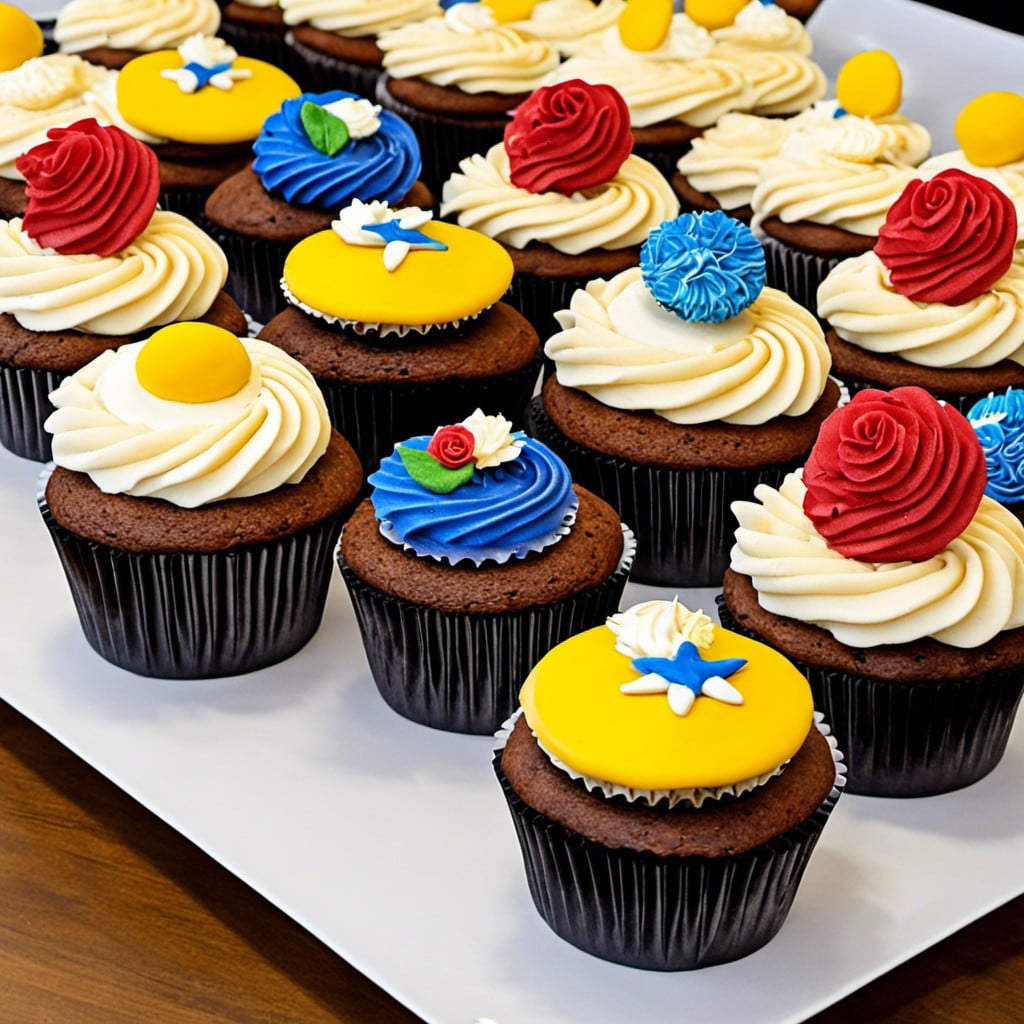 Be ready for a delightful feast for both the eyes and the taste buds. An assortment offers a variety of flavors to suit every liking, whether it be the rich decadence of chocolate or the fresh zestiness of lemon.
Recommended are classics such as vanilla and red velvet, along with a few unique options like matcha green tea or lavender honey.
This collection can also cater to different dietary needs such as gluten-free, vegan, or sugar-free selections.
Heavenly swirls of frosting atop these tiny cakes serve as an eye-catcher and are bound to bring smiles to the faces of your team.
For a personalized touch, consider cupcakes with edible toppers featuring the company's logo or each team member's initials.
Having these treats in bite-sized versions also allows for easy consumption during breaks or quick meetings.
And indeed, they are not just benchmarks of sweetness, they transform a regular workplace into a realm of diverse tastes and shared happy moments.
Gourmet Popcorn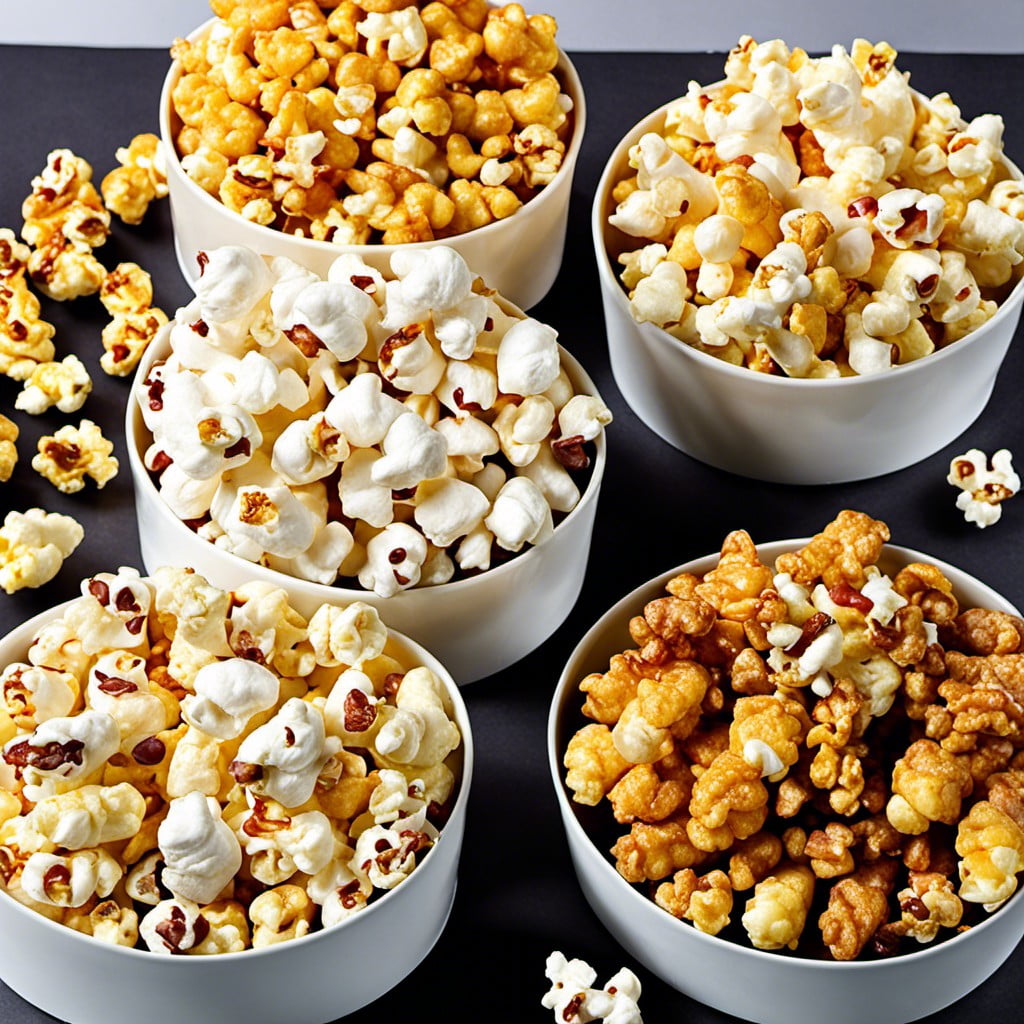 Offering a symphony of flavors, gourmet popcorn is a versatile snack. It caters to wide-ranging tastes – be it sweet, salty, cheesy, or spicy. For instance, think of crystalline caramel popcorn, dusted with just the right amount of sea salt. Or, a fiery sriracha flavor for those who love a good kick.
Moreover, you can go a step further by personalizing the popcorn tins. Perhaps with the company logo, reinforcing team spirit every time anyone reaches for a snack. Not only is it a delightful treat for the palate; it also fosters a sense of belonging in the workplace.
Lastly, gourmet popcorn is usually gluten-free, providing an inclusive snacking option that all employees can enjoy. Now that's a win-win!
Variety Nut Pack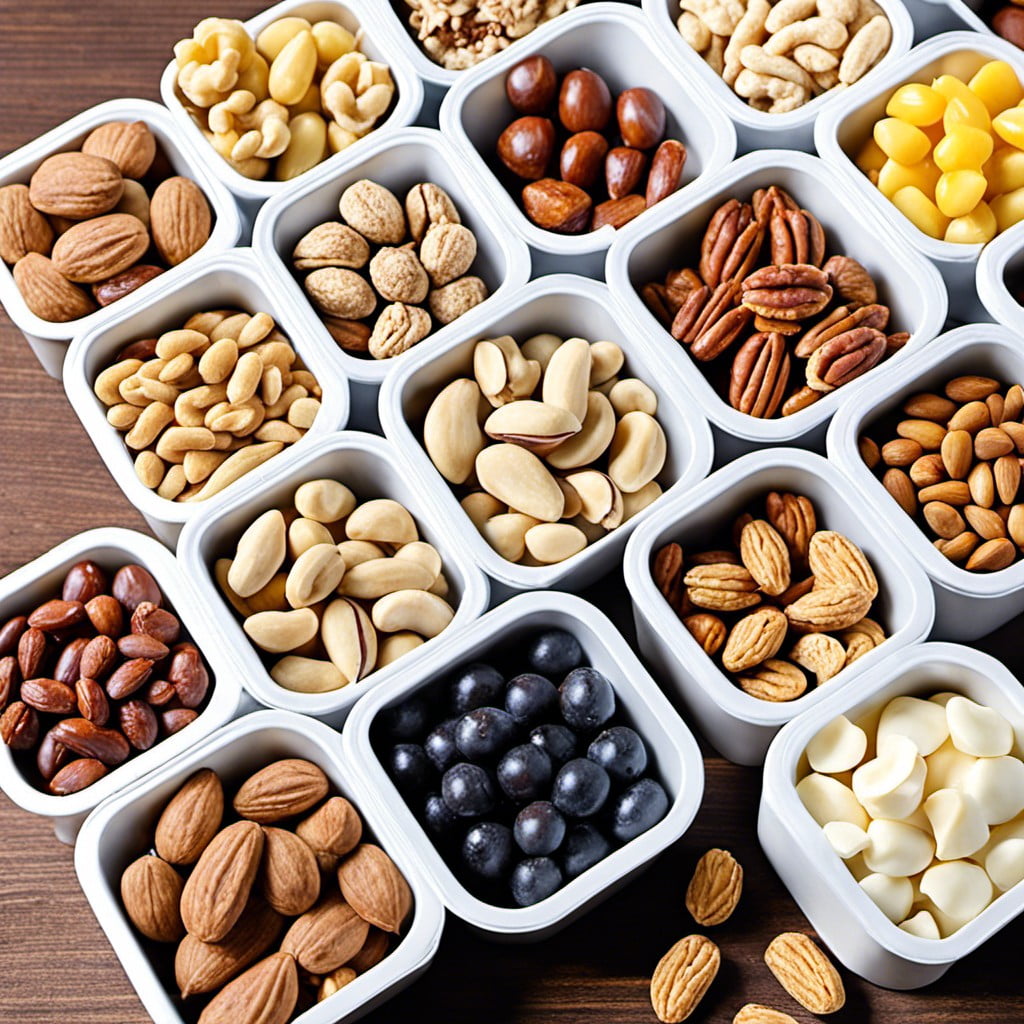 A veritable treasure trove of textures and flavors, this option provides a titillating mix of almonds, cashews, walnuts, pistachios, and more. Adorned with assorted seasonings, these heart-healthy munchies can also be easily customized to cater to dietary restrictions like low salt or no added sugar. The high protein content keeps the energy levels stable throughout the day while satisfying the palate. Moreover, they can be conveniently nibbled on-the-go, making them a practical choice for workplaces.
Ideal Pairings: Complement these quintessential nibbles with wine, cheese, or fruits for a more rounded snack time experience.
Note: Some employees might be allergic to certain nuts, make sure to check for any dietary restrictions beforehand.
Personalized Cookies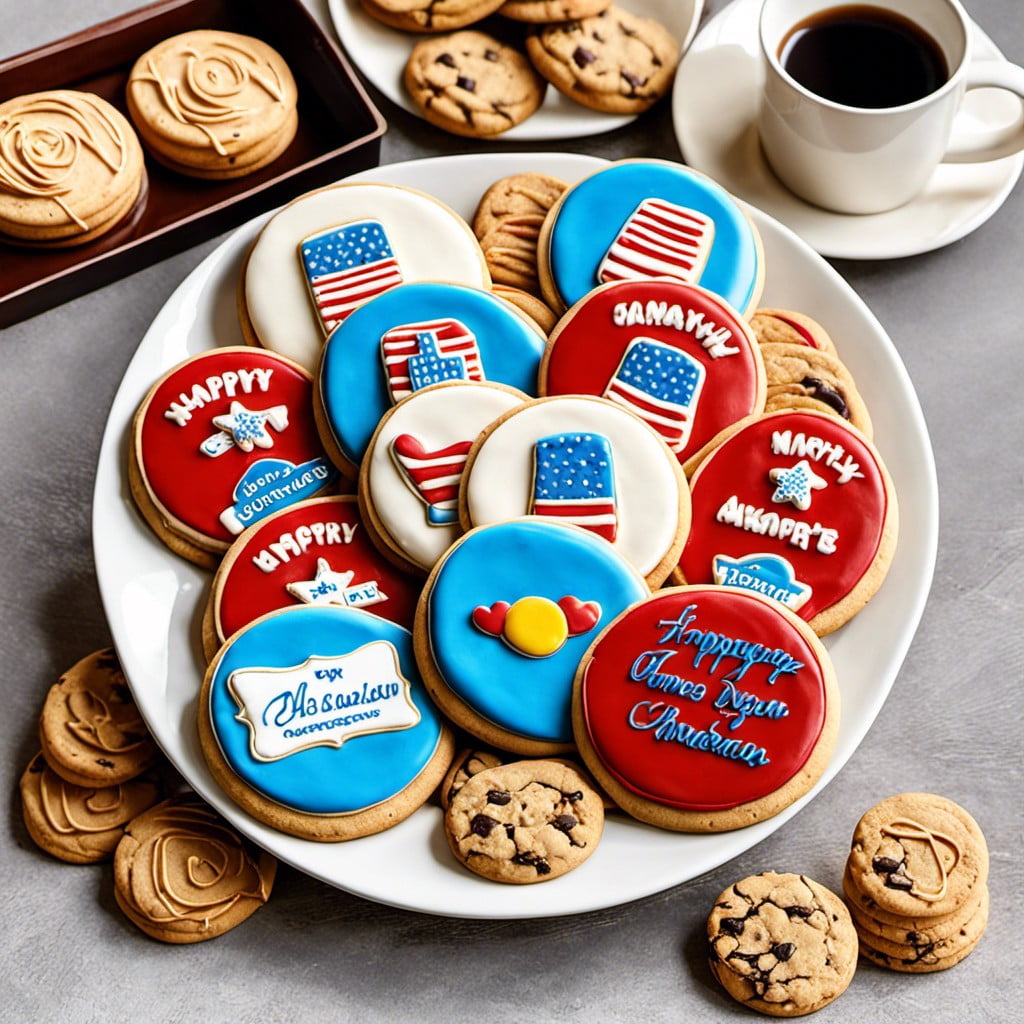 Having customized treats can certainly bring a smile to any employee's face. The beauty of personalized cookies lies in the limitless extent of customization. From their names or initials to the company logo, the options are endless.
You can even consider getting them in different flavors like chocolate chip, oatmeal raisin, or ginger snap. These cookies don't just taste divine, they also add a touch of individual recognition to the snack offering, providing an intimate experience that everyone will appreciate.
Furthermore, they present a fantastic opportunity to foster a sense of unity, working as an edible emblem of the company's culture and values. Imagine the intrigue and discussions that would arise when everyone receives a cookie with a different design, encouraging employees to connect and engage with each other more deeply.
Healthy Granola Bars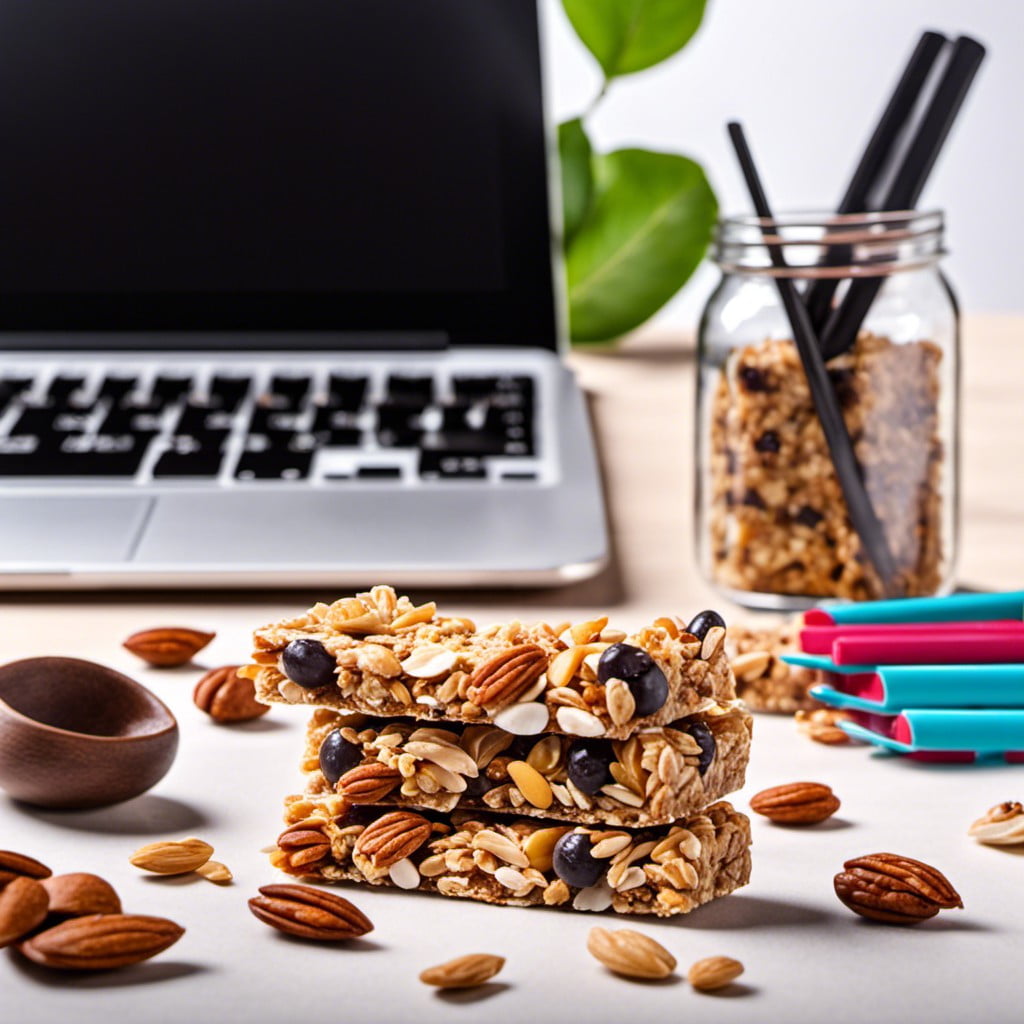 Whether aiming to boost employee's energy in the morning, or curb hunger between meetings, granola bars offer a healthy and convenient option. These nourishing bars contain whole grains, such as oats, paired with nuts and seeds; ingredients packed with fiber that can satisfy hunger while maintaining steady energy levels.
Creating a variety pack can cater to different taste preferences. Consider sweet flavor profiles with dried fruits like cranberries or a savory touch with almond and sea salt. Providing a variety will cater to different taste palates and dietary preferences.
Opt for brands with simple, natural ingredients to ensure the highest nutritional benefits. It is also beneficial to consider those needing gluten-free or vegan alternatives. Granola bars can not only satisfy the snacking need but also serve as a token of appreciation for the employee's dietary mindfulness.
Mini Sandwich Platters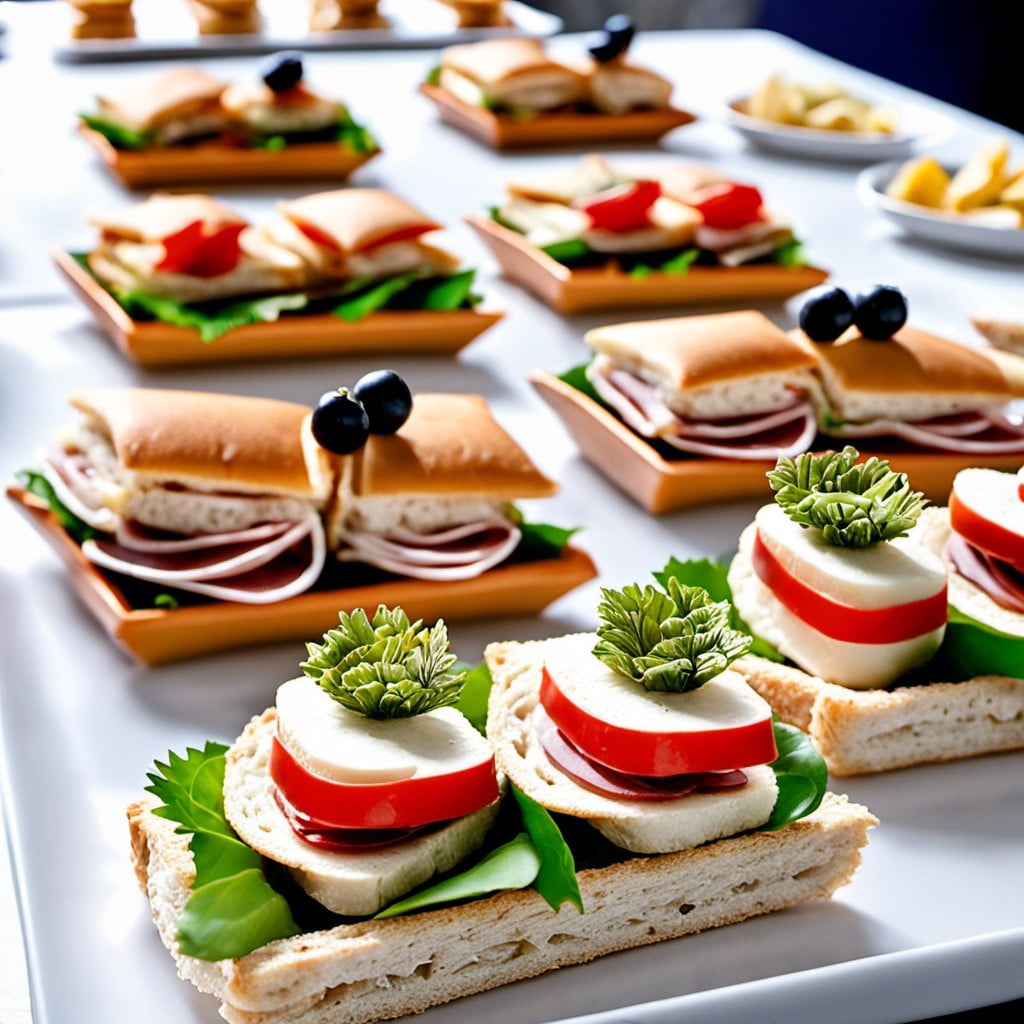 Offering a variety of bite-sized delights, these platters are crowd-pleasers, allowing your staff to pick their preferred fillings. Traditional options could include ham and cheese, turkey and avocado, or egg salad.
For a more gourmet touch, consider fillings like smoked salmon with cream cheese, chicken Caesar, or roast beef with horseradish. Opt for a choice of bread too – from classic white to multi-seed or rye.
Not only tasty, but they're also easy to eat during casual social gatherings or official meetings, cutting down potential mess and need for elaborate cutlery.
Chocolate Covered Strawberries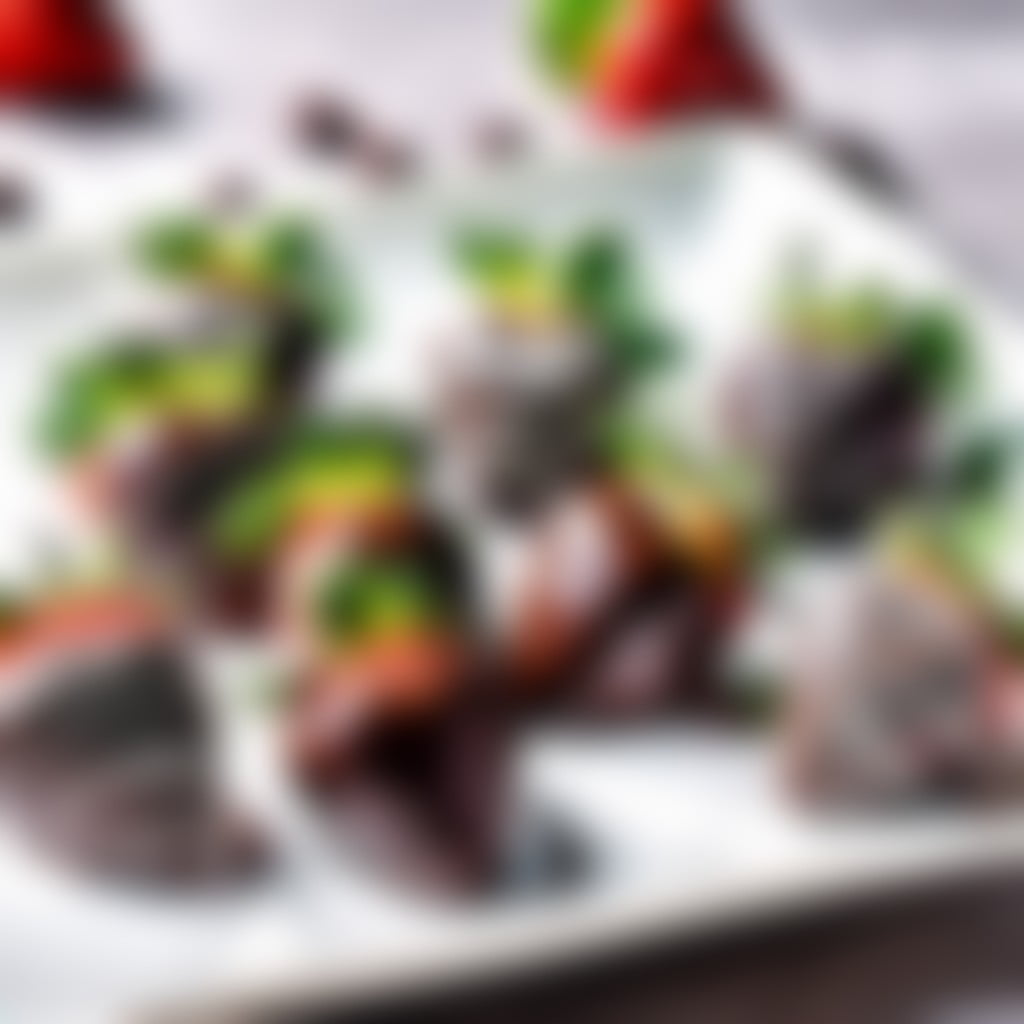 Few in-office treats can mimic the mixture of indulgence and sophistication provided by chocolate covered strawberries. They are an ideal choice when considering snacks that work well from boardroom to break room. They bring a sense of luxury to any team meeting or event, subtly demonstrating your appreciation for your employees.
The production process, wherein ripe, juicy strawberries are dipped in decadently smooth chocolate, results in a snack that is both aesthetically pleasing and delicious. The contrast between the sweetness of the chocolate and the slight tartness of the strawberries is a crowd pleaser, satisfying those with a sweet tooth and those who prefer something a bit tangy.
In addition, one shouldn't overlook the versatility of chocolate covered strawberries. While they are an excellent standalone snack, they can also accompany other desserts or create a beautiful and inviting centerpiece at a snack table.
Lastly, these delightful treats cater to most dietary restrictions, including gluten-free diets. Their presentation, flavor, and universal appeal make them a strong contender in the realm of employee appreciation snack selections.
Sushi Bites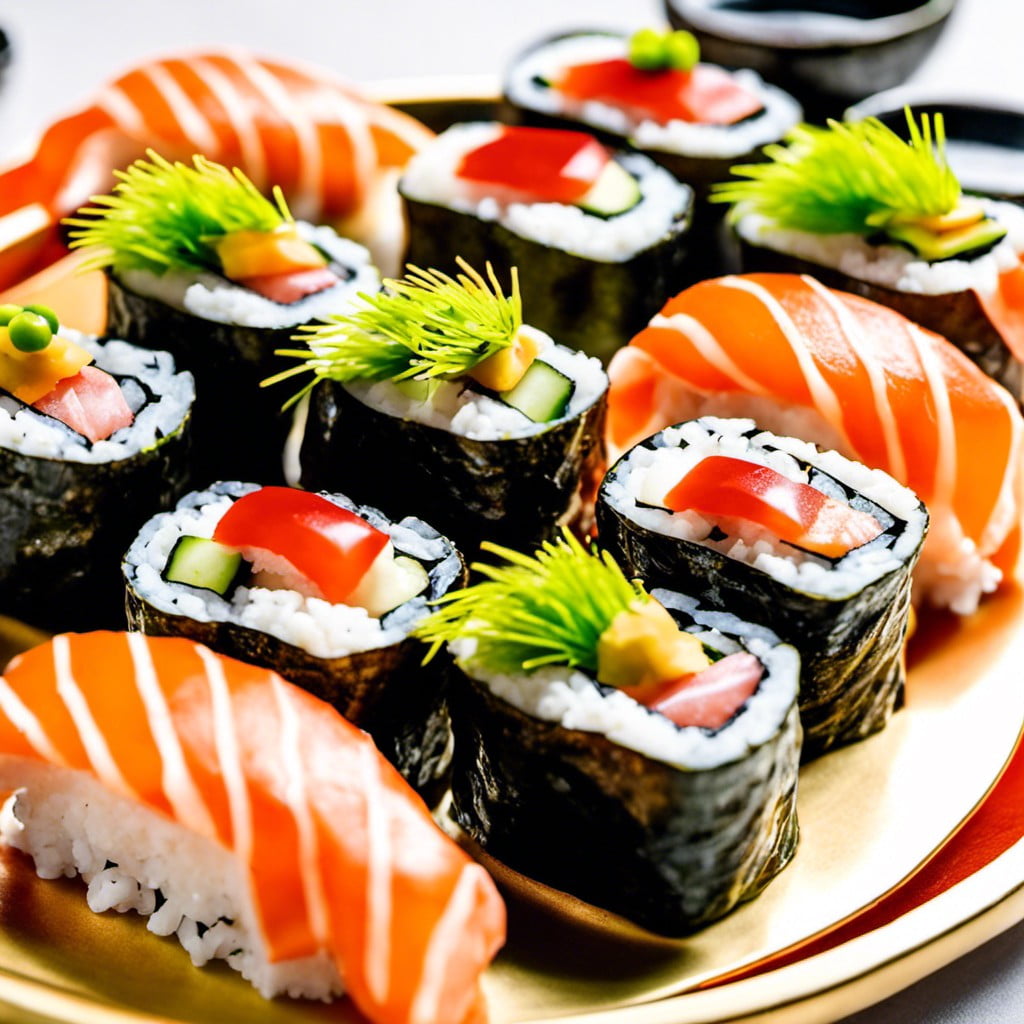 Dainty and delectable, these bite-sized delights are perfect for a mid-day snack break. They offer a refreshing change of pace, combining rice, seaweed, and a variety of fillings – ranging from succulent salmon to crisp cucumber, or creamy avocado.
Opt for a mix of Nigiri, Maki, and California rolls to provide diverse flavor profiles. They can be tailored to cater to vegetarians and seafood lovers alike, ensuring everyone's preferences are covered.
When selecting sushi bites, remember to choose high-quality ones from reliable sources to guarantee freshness and taste. Pair them with soy sauce, wasabi, and pickled ginger for the complete sushi experience.
Furthermore, consider including bento boxes that comprise sushi rolls, pickled salads, and even desserts for a filling and wholesome snack. Offering sushi bites not only introduces a popular global cuisine to the snack table but also adds an aspect of fun while promoting healthier choices.
Assorted Donuts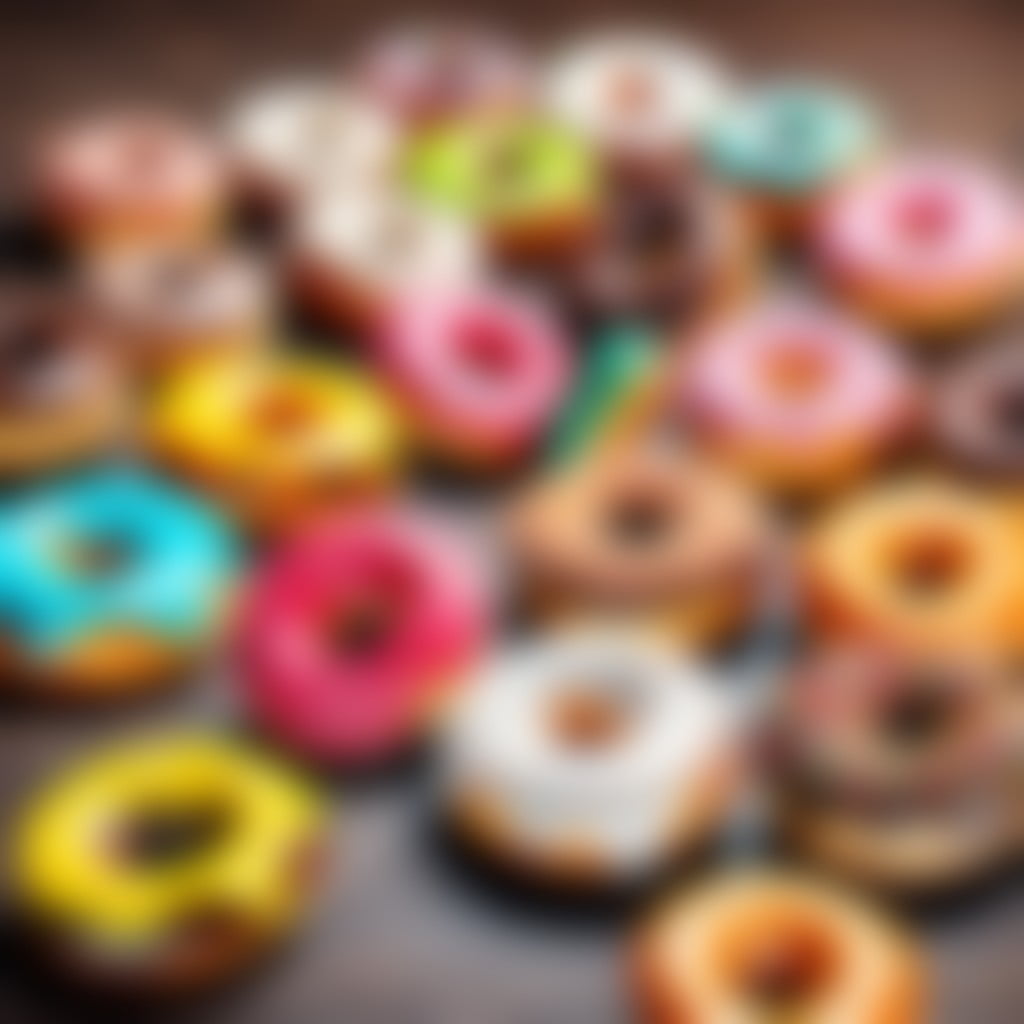 With their delightful assortment of flavors, designs, and frostings, these sugary treats are bound to bring joy to any team.
You can opt for the classics such as chocolate-glazed or powdered sugar, or go for creative ones like hibiscus, lavender, or crème brûlée.
Don't shy away from the jelly-filled or the old-fashioneds.
Each bite-sized donut caters to different taste preferences, ensuring everyone finds something they love.
Plus, they're perfect for quick snack breaks or enjoying with coffee during a meeting.
Keep in mind those with specific dietary requirements.
There are vegan and gluten-free varieties available so everyone can share in the appreciation.
Vegan Snack Box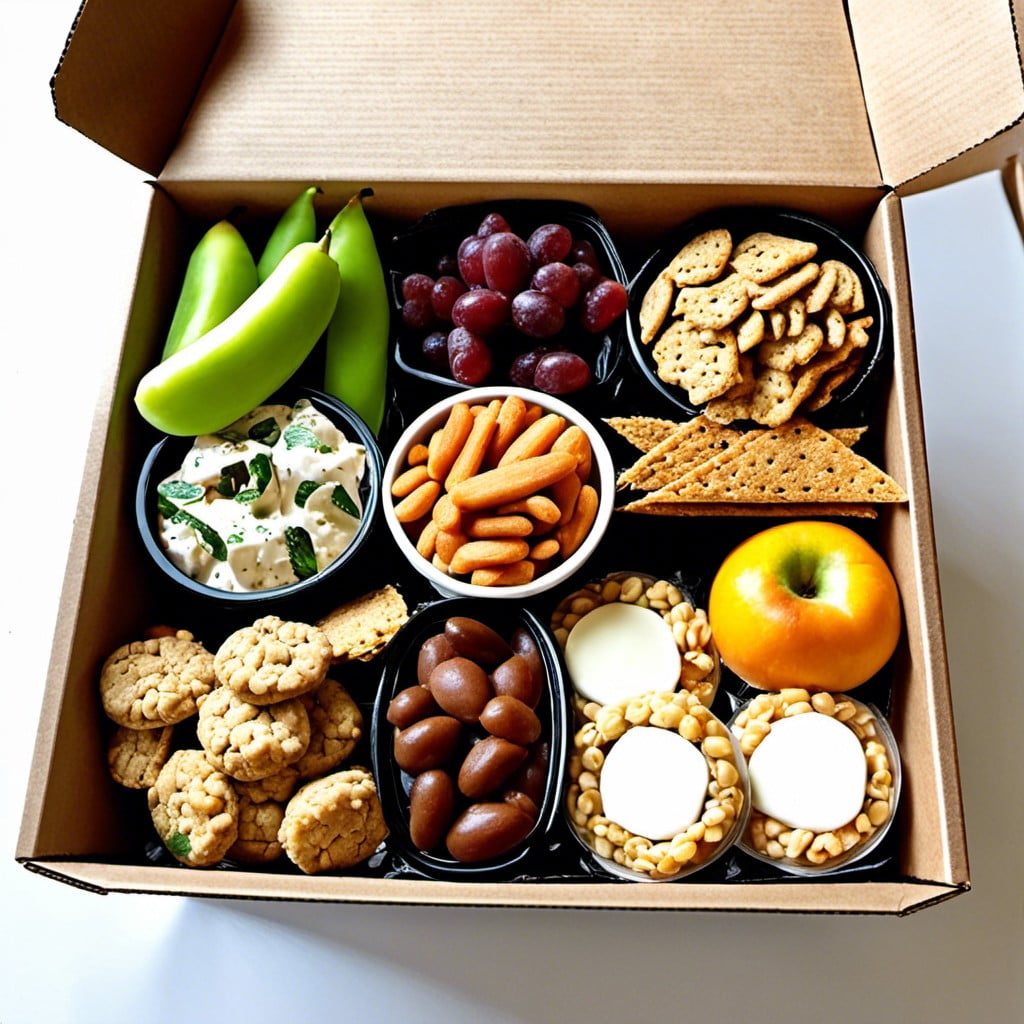 Catering to a variety of dietary preferences reflects thoughtfulness in your appreciation efforts. A Vegan Snack Box is a novel star in this regard. It's packed with wholesome edibles that underpin a vegan lifestyle, keeping all health-conscious connoisseurs in mind.
Included are snacks that echo the savory: think veggie chips, roasted chickpeas, or flavored hummus dips. Want to cater to a sweet tooth? You'll find fruit leathers, dark chocolate bites, or delightful dairy-free cookies. As a bonus, every treat disregards artificial preservatives, promoting not only a vegan, but clean-eating lifestyle.
Exploring snacks sans any animal products sends a powerful message of inclusivity and care, signaling your respect for diverse choices and lifestyles among your team. Now that's appreciation that leaves an impact.
Yogurt Parfait Bar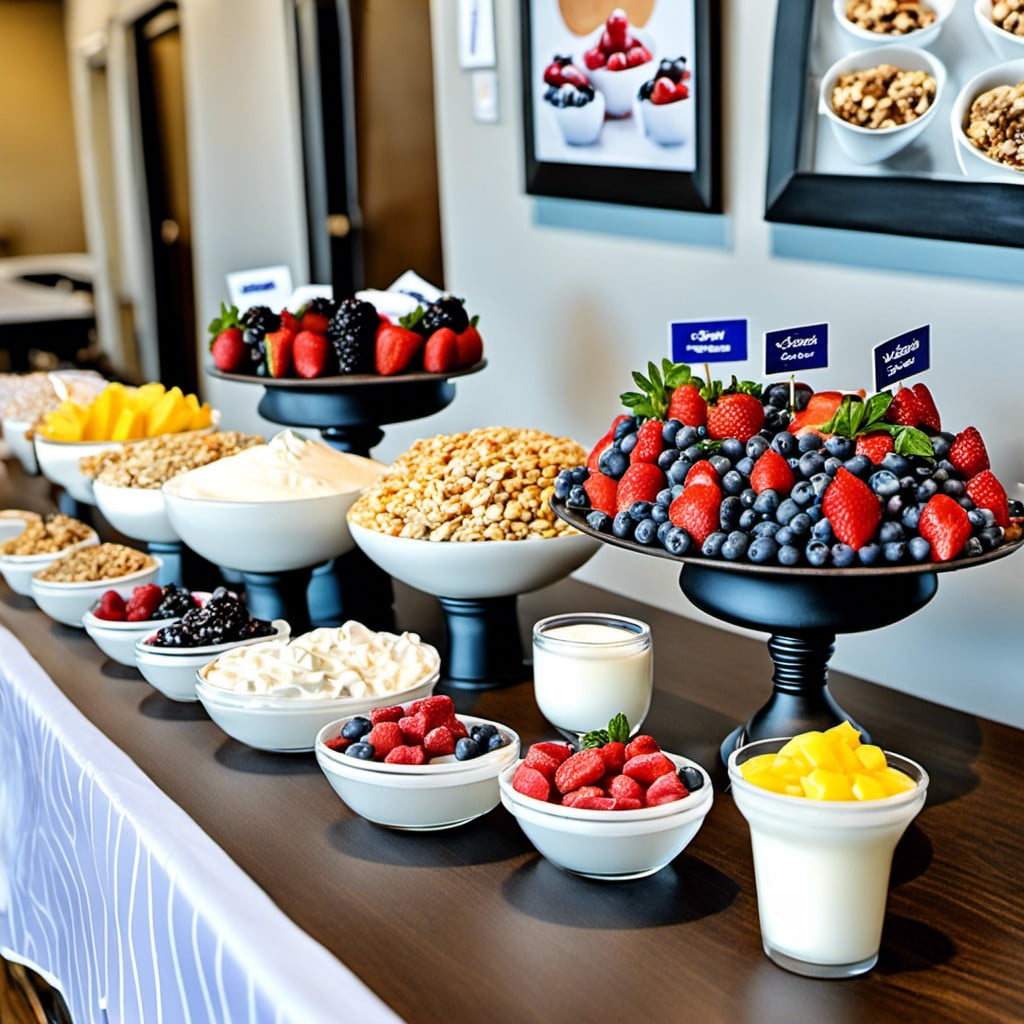 Offering a variety of fruits, granola, and yogurt flavors, a Yogurt Parfait Bar is a delightful addition to any appreciation event. It enables employees to customize their snacks, thereby catering to diverse dietary preferences.
1. Variety of Flavors: Providing various yogurt flavors caters to different preferences, from plain to exotic fruits or even dessert-inspired choices like chocolate or vanilla.
2. Fresh Fruits: Sliced strawberries, diced peaches, or blueberry toppings not only impart bright colors but also enhance the taste of the parfaits.
3. Granola and Nuts: Different types of granola and nuts add a satisfying crunch, and they pair excellently with the creaminess of yogurt.
4. Sweetener Options: Honey, agave syrup, or low-calorie sweeteners ensure everyone can sweeten their parfaits to their liking.
Remember, the parfait bar must have suitable serving utensils and enough cups for everyone. Lastly, proper refrigeration for the yogurt and fruits is necessary to maintain quality and freshness.
Mini Pizza Bites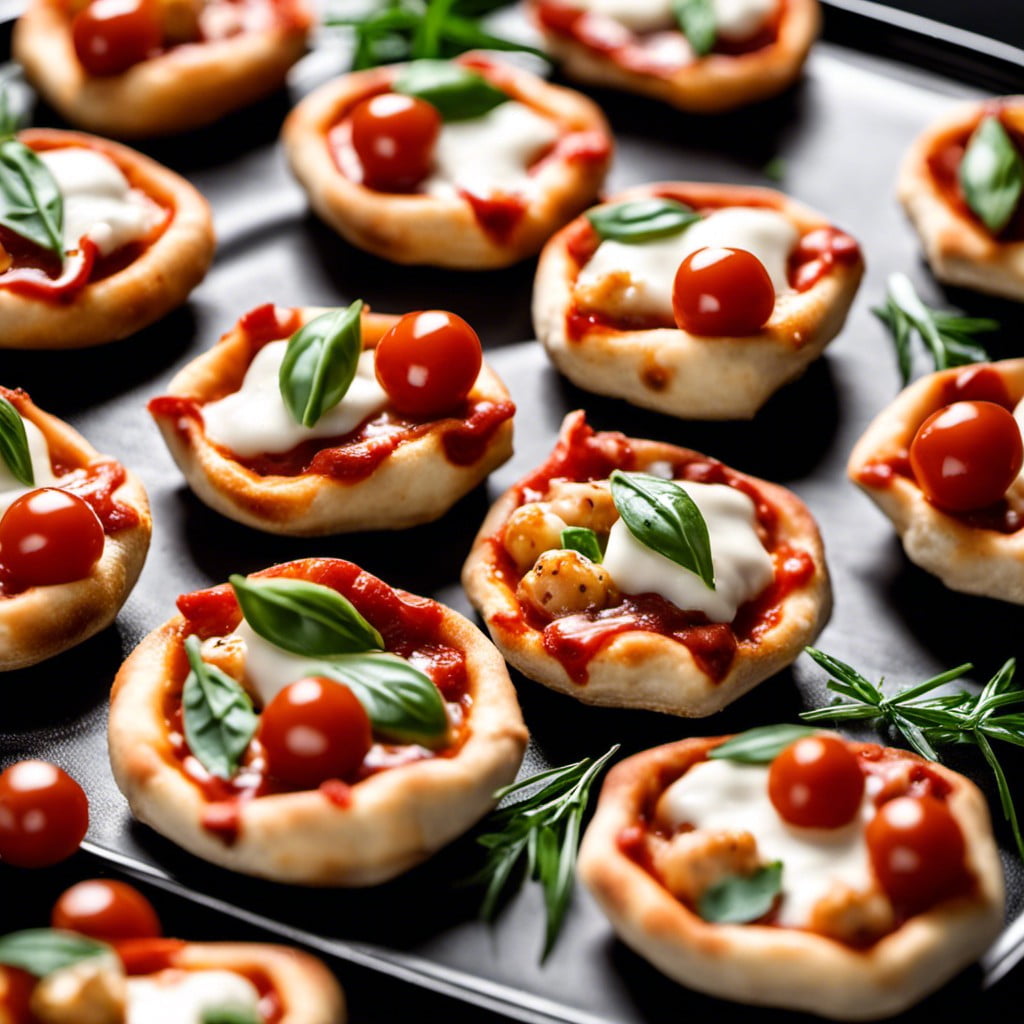 These bite-sized treats are bound to be an absolute hit among the crowd. What adds to their charm is the diversity they bring to the table – each mini pizza can be topped with a unique combination of toppings, meeting a range of taste preferences. You could go with the classic margherita, experiment with gourmet toppings like blue cheese and prosciutto, or even cater to the spice lovers with jalapenos and hot sausage.
For those with dietary requirements, alternative bases like cauliflower crust or gluten-free dough could be used, and dairy-free cheese options are available for colleagues who are vegan or lactose intolerant. Ordering from a pizzeria that offers mini variations might be easiest, but these can also be easily assembled and baked in office for a team-building cooking session. Not only will this liven up your workplace, but the mouthwatering aroma of freshly baked pizzas will boost employee morale too.
Now, who wouldn't appreciate a snack as individual and versatile as mini pizza bites? Minimal in size, yet maximal in flavour, they are genuinely the small wonders of the culinary world!
Gourmet Coffee Sampler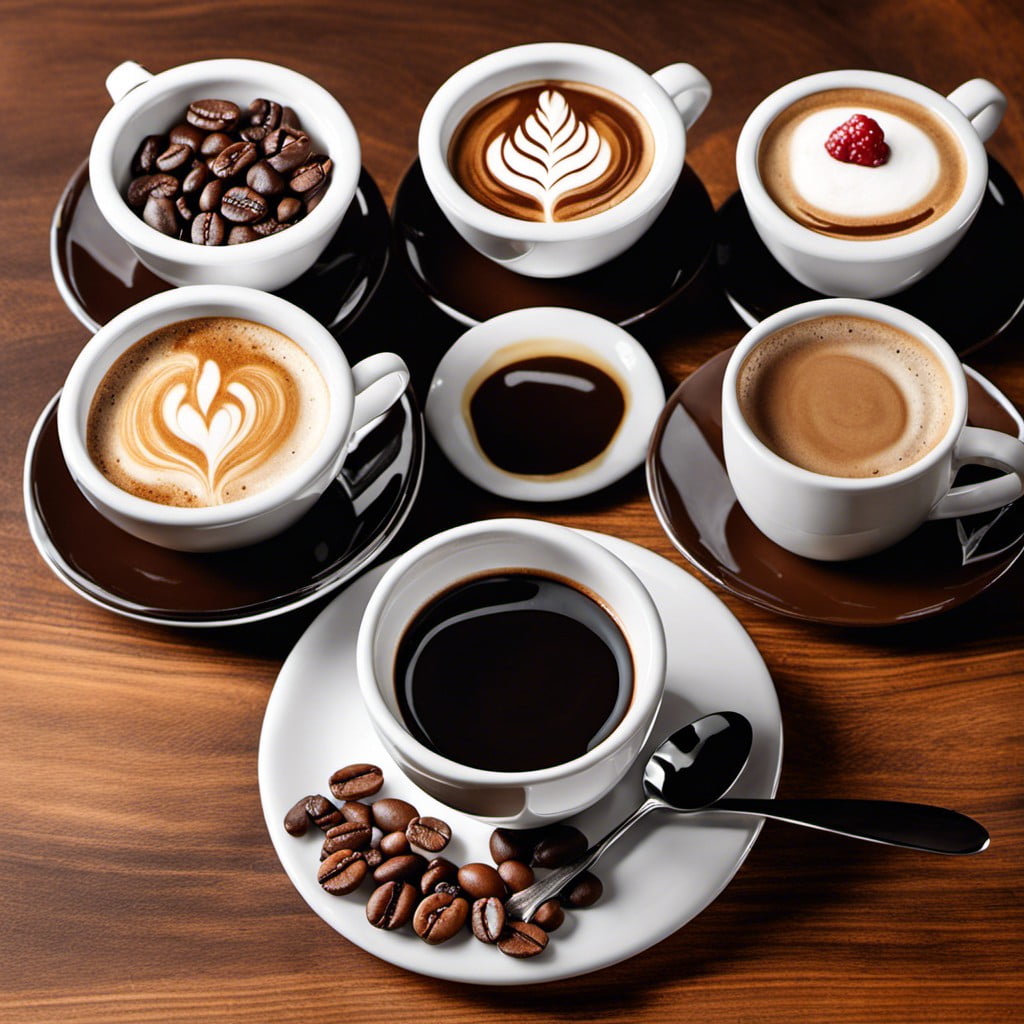 Stepping away from traditional snack ideas, a collection of carefully curated gourmet coffee samples gives your team an enjoyable, tastebud-tickling experience.
Indulge in beans sourced from various corners of the globe, each offering an exquisite taste and aroma.
From strong, full-bodied roasts to milder, nuanced flavors, there's a cup for every palate.
Paired with a short, informative note on each sample's origin and flavor profile, this unique appreciation gift keeps the coffee-loving employees motivated and satisfied.
Additionally, it allows employees to explore different coffee tastes, promoting an atmosphere of adventure and discovery.
Besides, it serves as a gentle reminder of the fact that, like the select coffee beans, each team member's contribution is unique and valuable.
Gluten-Free Treat Box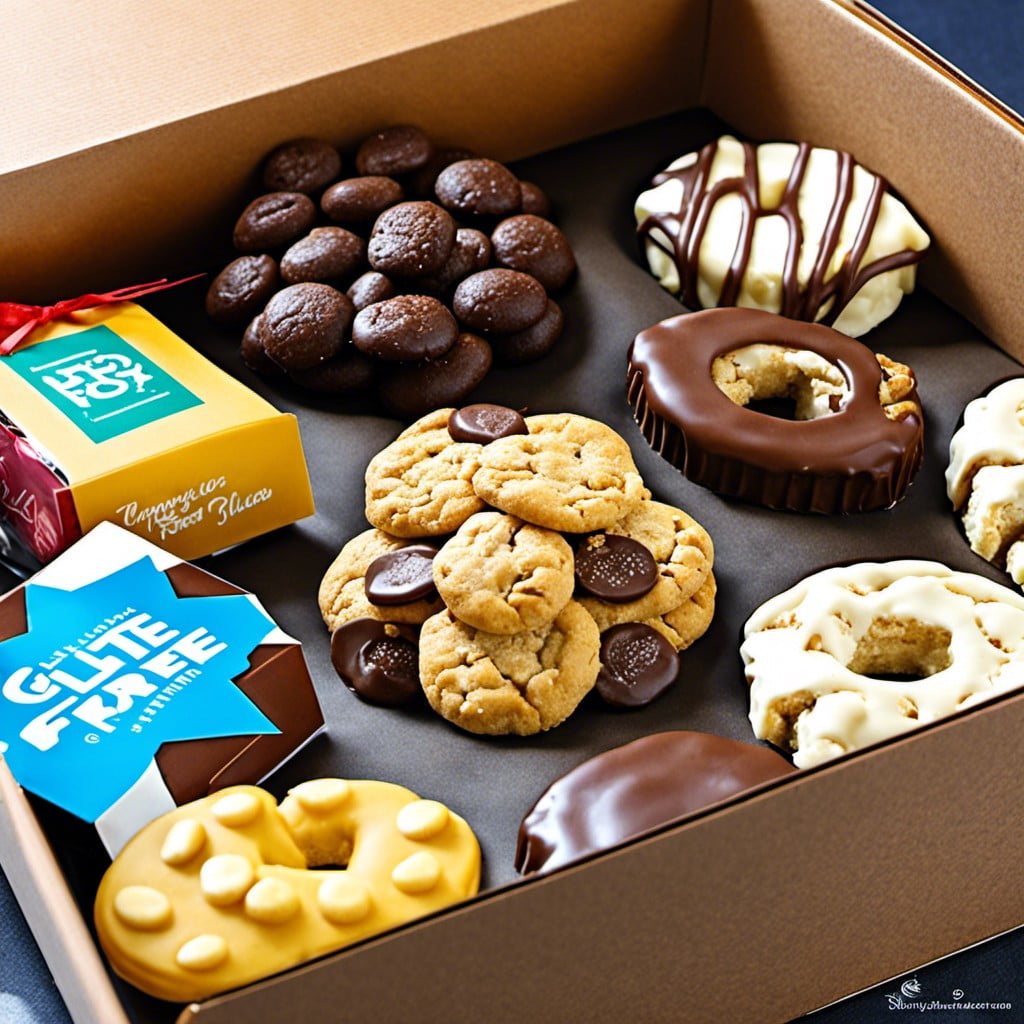 Ensuring everyone feels appreciated often means accommodating different dietary needs. Tailored to meet the needs of employees with certain food allergies or preferences, this box can include an assortment of tantalizing options.
Flourless brownies made with dark chocolate, crunchy nutty fruit bars loaded with fiber, or savory rosemary and sea salt crackers are just a few possibilities.
Sweet-tooth satisfiers such as honey almond flax granola or white chocolate macadamia nut cookies can satisfy cravings, while savory options like quinoa chips keep things balanced.
The inclusion of these specially crafted treats is a thoughtful way to show that everyone's needs are considered and respected. With this box, taste and healthfulness go hand in hand, showcasing a work environment that values inclusivity and employee well-being.
Ice Cream Sundae Bar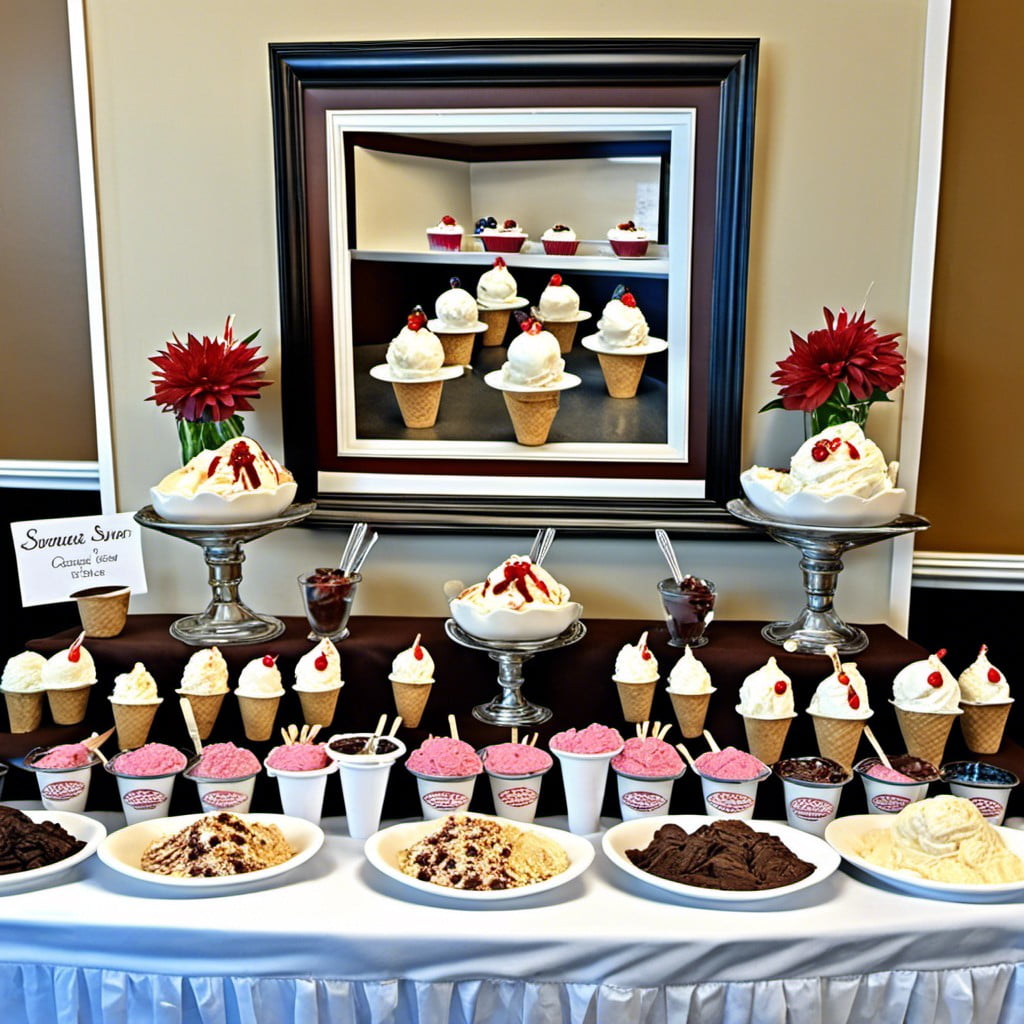 With a colorful array of toppings and multiple ice cream flavors, this idea never fails to excite. It invites employees to revel in some creative self-expression, allowing them to design their dessert exactly how they like it.
Here's a guide to setting up:
1. Varieties of Ice Cream: A selection of chocolate, vanilla, and strawberry would be just perfect. Consider lactose-free or vegan options, too.
2. Assortment of Toppings: Offer a range of nuts, sprinkles, candy pieces, chopped fruits, and marshmallows.
3. Sauces: Chocolate, caramel, and strawberry syrups would be the ultimate trilogy.
4. Whipped Cream: A must-have for a delightful finish.
5. Sustainable Serveware: Opt for biodegradable cups and spoons to ensure sustainability.
This set-up encourages personalization. Plus, it brings nostalgic feelings, bonding employees over shared childhood memories of ice cream fun.
Exotic Tea Assortment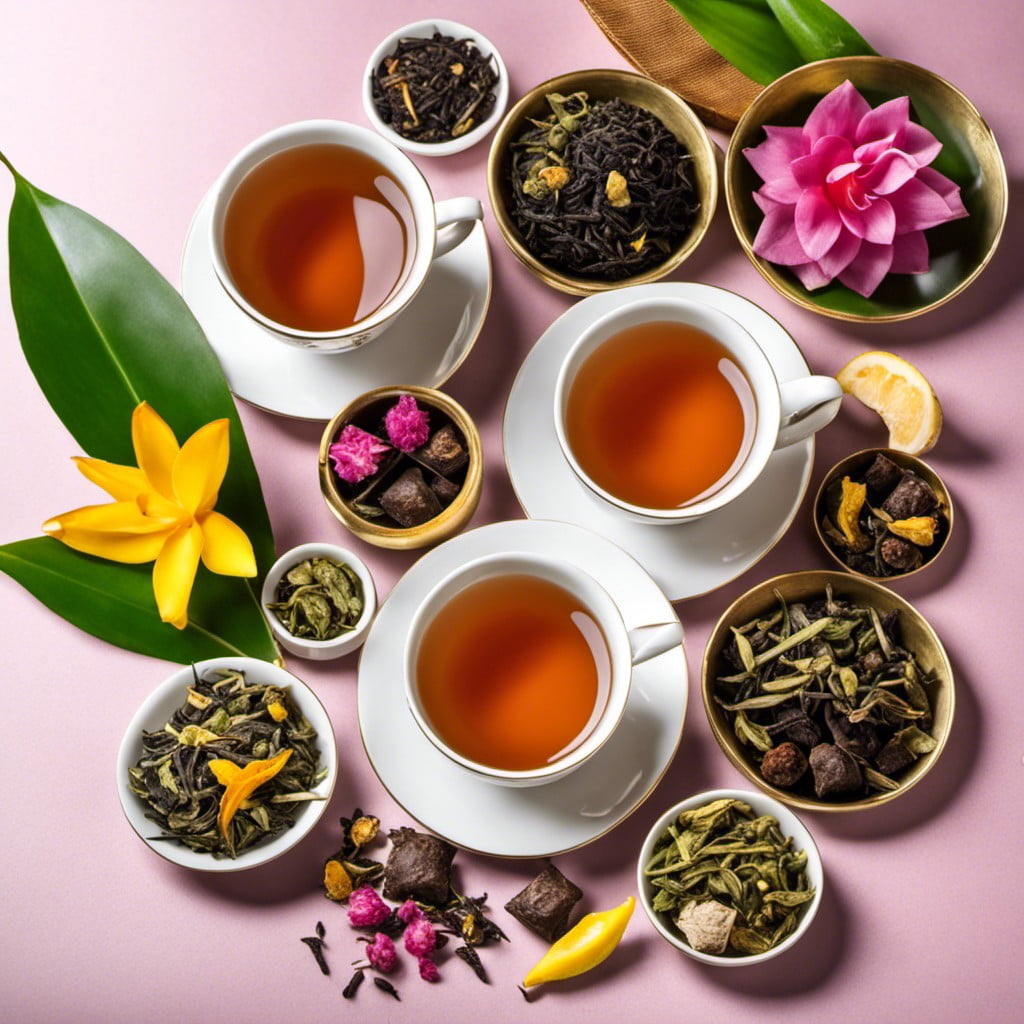 The diverse world of teas offers a multitude of flavors and benefits. From the grassy delicacy of Japanese matcha to the bold, smoky richness of Chinese lapsang souchong, every type has a unique character. A selection of these exotic teas brings an air of sophistication while catering to diverse taste preferences.
1. Flavor variety: Exotic tea packages can include herbal, black, green, white, oolong, and rooibos teas. Each type presents unique flavor notes, from sweet to savory.
2. Health benefits: Many teas contain antioxidants and compounds with health benefits such as improved digestion, heart health, and mental focus.
3. Cultural experience: Teas like Moroccan mint, Turkish apple tea, and Masala Chai give employees a taste of different cultures around the globe.
4. Break time ritual: Encourage employees to take a mental break. Let the process of brewing and sipping tea become a small, calming ritual to reenergize during their workday.
5. Accompaniments: Consider including honey sticks, lemon slices, or milk options to enhance your tea assortment.
Pretzel and Dip Station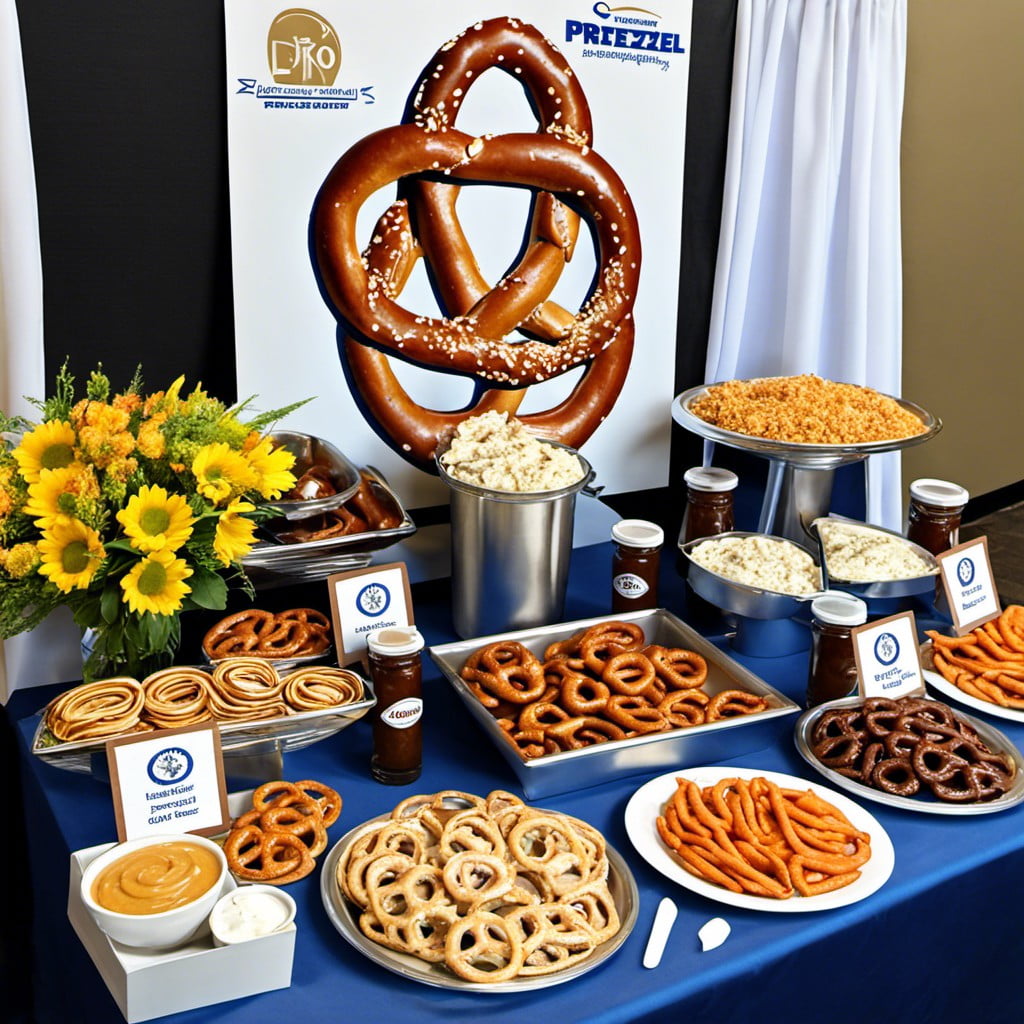 Offering both classic and unexpected flavors can take this fun food station to new heights. Start with a variety of pretzels: consider traditional twisted shapes, sticks, and even pretzel bites for more casual nibbling.
Next comes the selection of dips: a warm cheese sauce and tangy mustard are must-haves for any pretzel table. Get creative with other options like a sweet caramel dip, a rich dark chocolate sauce, or a spicy jalapeno cream cheese. Diversity in savory and sweet choices will cater to everyone's preferences.
Don't forget the details! Label each dip clearly and provide adequate spreading tools for easy dipping. Ensure the pretzels remain fresh and crisp throughout the event – consider warming trays or baskets for perfect presentation and taste.
In essence, a Pretzel and Dip Station is an engaging snack option that can be customized to suit an array of taste preferences, making it a standout choice for showing employee appreciation.
DIY Smoothie Bar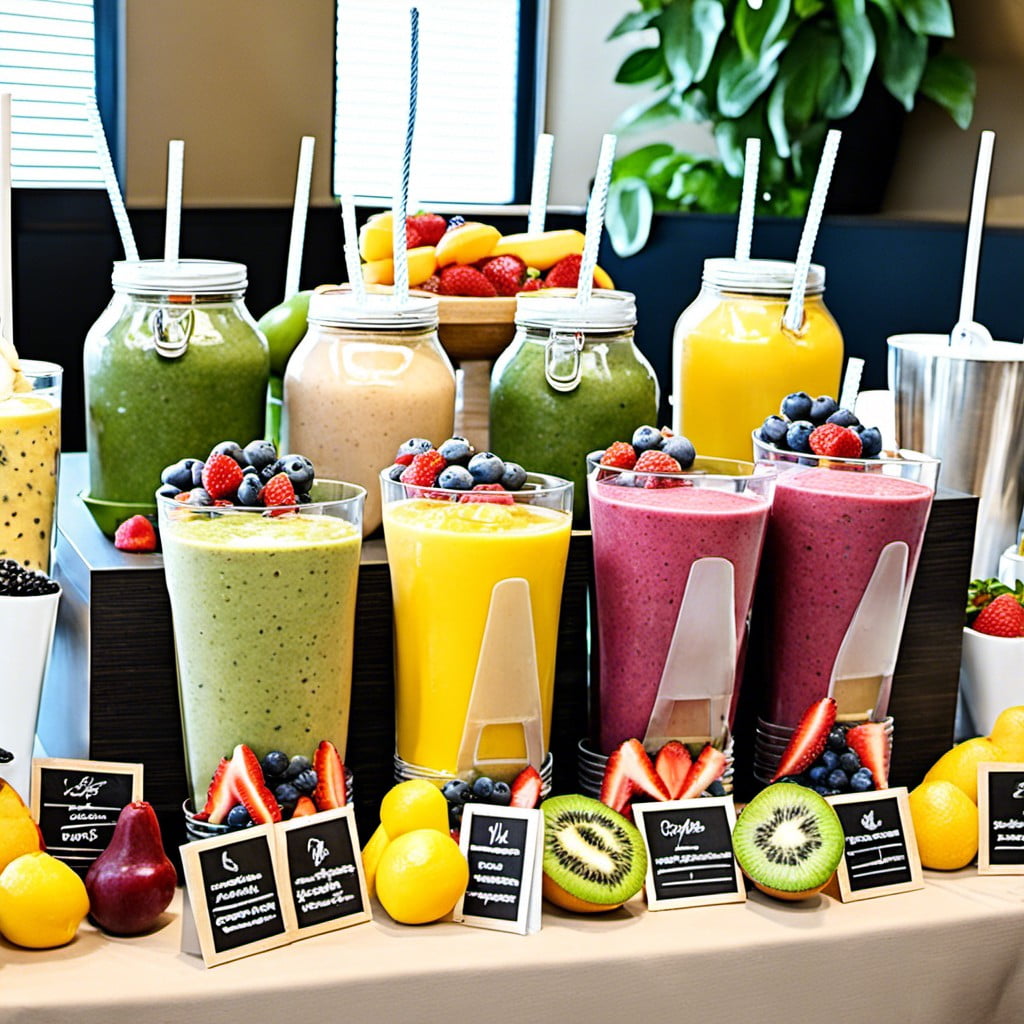 To set up a real crowd-pleaser, consider a variety of fruits along with both dairy and non-dairy milk options. Provide sweeteners such as honey or agave and a selection of extras like protein powder, chia seeds, or oatmeal for added nutritional benefits.
Make sure to offer both blenders and disposable cups, straws, and napkins. Keep the area clean and well stocked to ensure everyone has the opportunity to blend up something delicious.
Additionally, consider labeling the ingredients for ease of use and to cater to those with dietary restrictions. It's not only a healthy option, but it also adds a fun, interactive element to employee appreciation events.