Explore a frosty world of culinary creativity with these snowman-inspired snack ideas perfect for the winter season.
Looking to add a festive touch to your winter snack spread? Snowman snack ideas are the perfect solution to bring joy and creativity to your table.
This article will guide you through a variety of snack options, from healthy fruit-based snowmen to indulgent chocolate treats, all shaped like our favorite winter friend.
Whether you're planning a fun activity with kids or looking to impress at a holiday party, these snack ideas are sure to delight.
Stay tuned to discover detailed recipes, tips for assembly, and suggestions for customizing your edible snowmen.
Snowman Cheeseball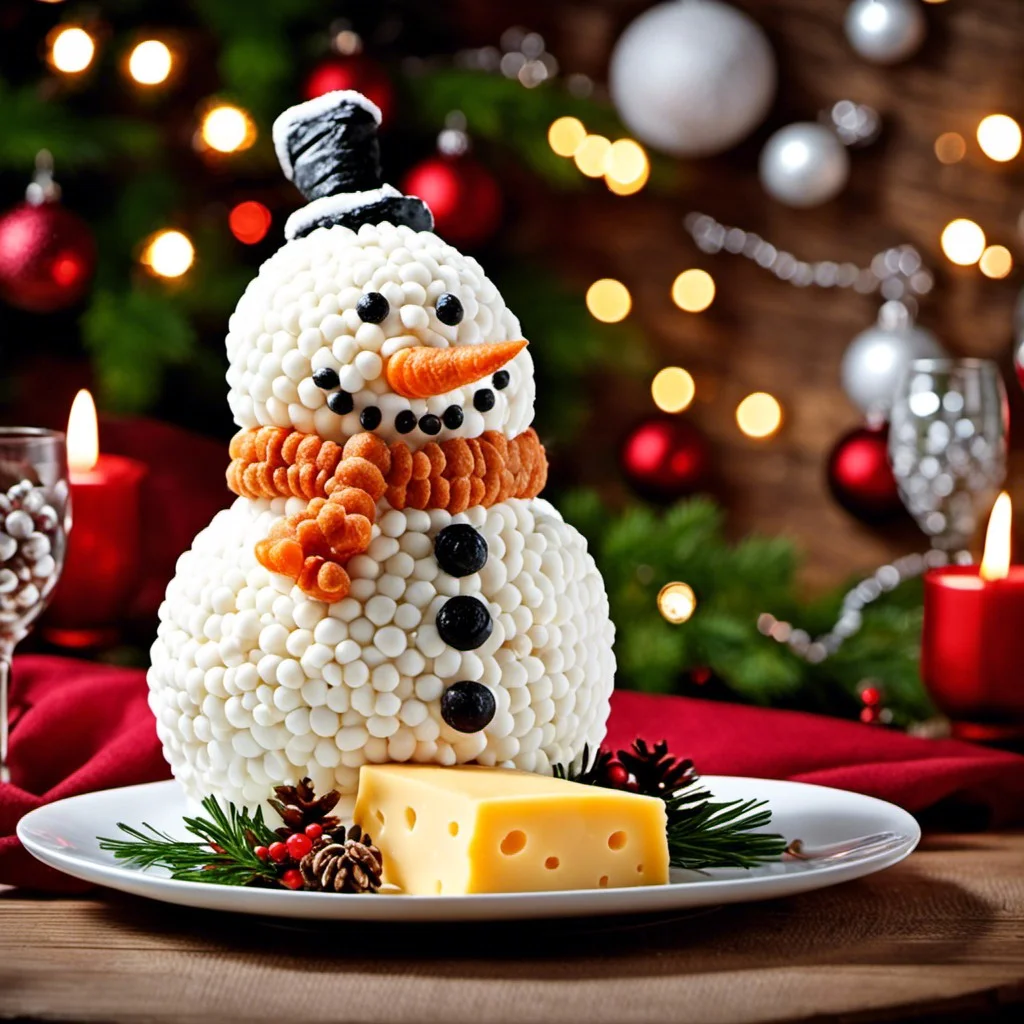 Moving right into the festive creation, the base of this prime appetizer is a cheese blend. Combining room temperature cream cheese with your choice of shredded cheddar or mozzarella offers an easy-to-shape mixture.
Play with flavors by adding aromatic garlic, chopped green onions, festively red diced pimentos or a dash of Worcestershire sauce. A tasteful blend of spices like paprika, cayenne pepper, and black pepper accentuates the cheese blend.
After the mixture is complete, chill it for about an hour. Once firm, it will be more manageable to mold. Shape the cheese blend into two balls – one larger than the other – to represent the snowman's body and head. A layer of shredded white cheese gives it a 'snowy' appearance.
Be creative with the snowman's features. Olive slices make perfect buttons while strips of bell pepper can form a smile. A baby carrot serves as a classic choice for the snowman's nose. Fresh herbs like rosemary or parsley sprigs can be used for arms.
Position your cheeseball snowman on a platter and surround it with an array of crackers, pretzels, or fresh veggies for guests to dip with.
By customizing the cheese blend and snowman features, you can achieve a variety of flavor profiles and a visually appealing appetizer that works for any winter celebration.
Marshmallow Snowman in Hot Chocolate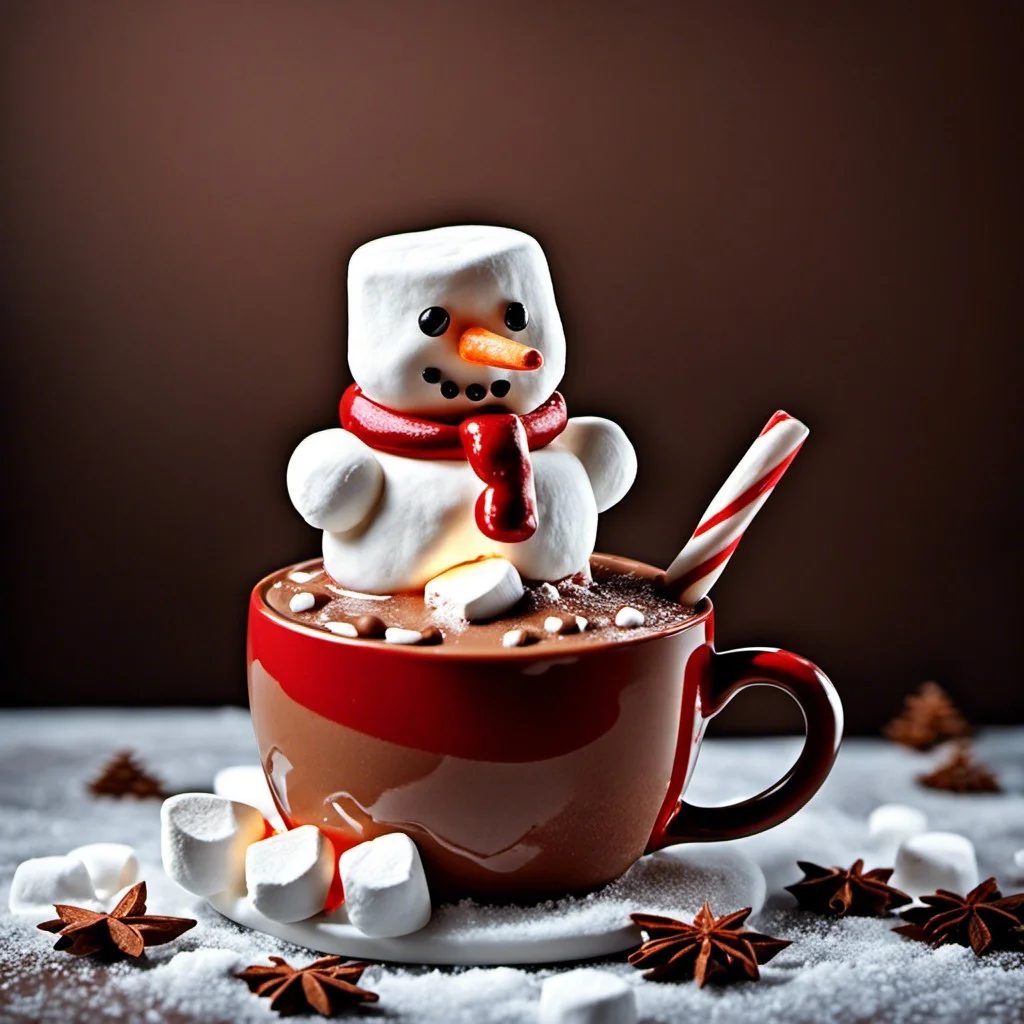 Creating these delightful treats starts with a steaming mug of hot chocolate – dark, milk, or white, it's entirely up to your taste preference. Sweet marshmallows take the center stage, transforming the drink into a whimsical snowy world.
Use three marshmallows for the snowman's body, ensuring they float on top of the hot chocolate. Edible ink pens will come in handy to draw the face and buttons. A tiny piece of carrot can serve as the cute, pointy nose, bringing this frosty character to life.
Remember, marshmallows will eventually melt so make sure to serve immediately for the best experience. They not only decorate the drink but also add a creamy, sugary layer that enhances the overall taste. You might also prefer mini marshmallows to add a fun twist to the presentation.
Chocolate-dipped spoons or peppermint sticks can be used as "arms" for the snowman, which not only look fun but also add extra flavor when stirred into the drink. A chilly winter evening with this whimsical beverage can certainly stir up some magic.
Popcorn Snowman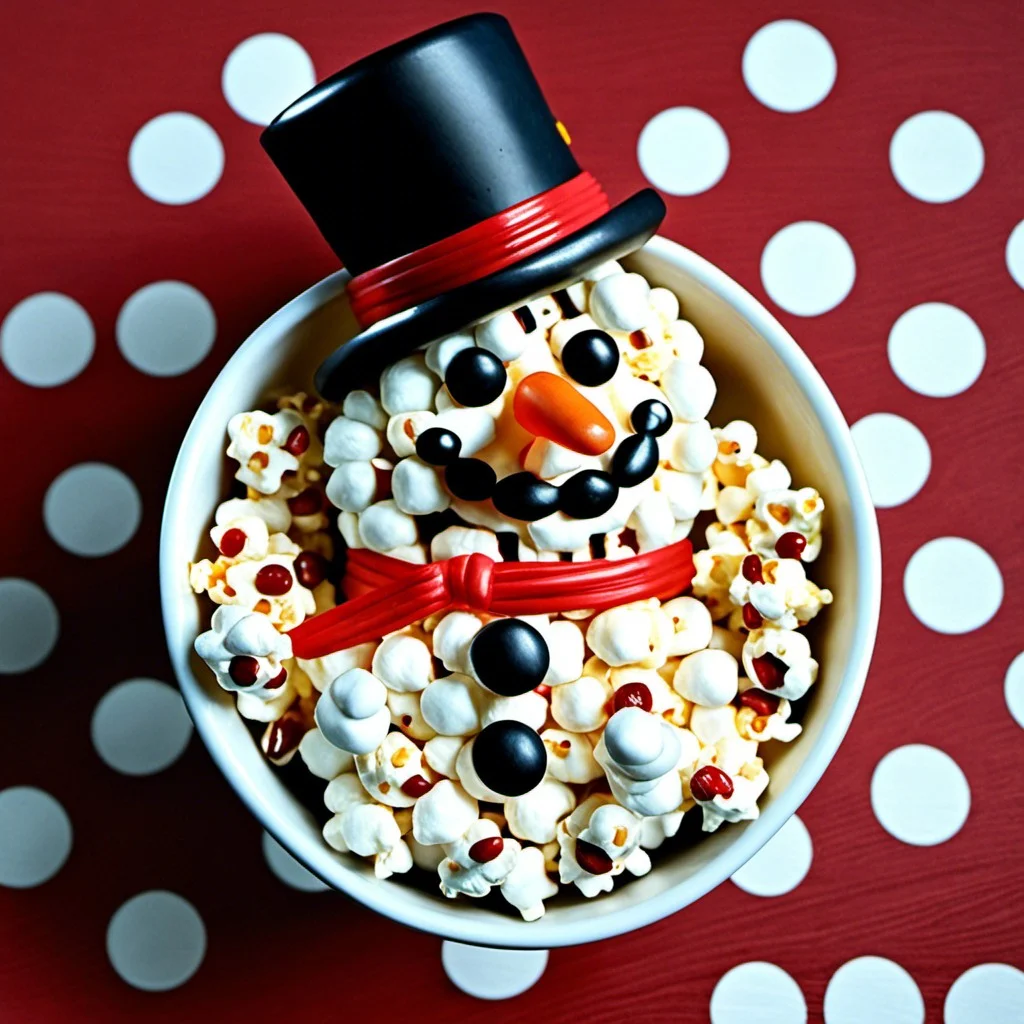 Creating this snack is a fun, simple process that involves minimal cooking and plenty of creativity. Start by popping a generous amount of popcorn – remember you are not just making a head, but also a body! A caramel glaze would make an extra tasty touch if desired.
Once your popcorn is ready, form two balls, one larger than the other. Toothpicks can serve as sturdy joiners, while pretzel sticks make excellent, edible arms. A scarf can be fashioned from fruit leather, and the face features can be made using assorted candies or icing.
Keep in mind: Popcorn Snowman isn't just a dish- it's an activity. Both children and adults will enjoy making their own sweet, fluffy snowman as much as they will munching on it afterward!
Some important points to consider:
Ensure that the popcorn is cool enough to handle, but not so cold that it won't stick together.
Consider using gloves when shaping. This will keep your hands clean and prevent the popcorn from sticking to your fingers.
The snowman might have a hard time standing up on its own. If this happens, use the bottom of a cup or a small bowl to help it stay upright.
Remember, it doesn't have to be perfect – it's supposed to be fun! Imperfections should be embraced as part of the charm.
Snowman Donuts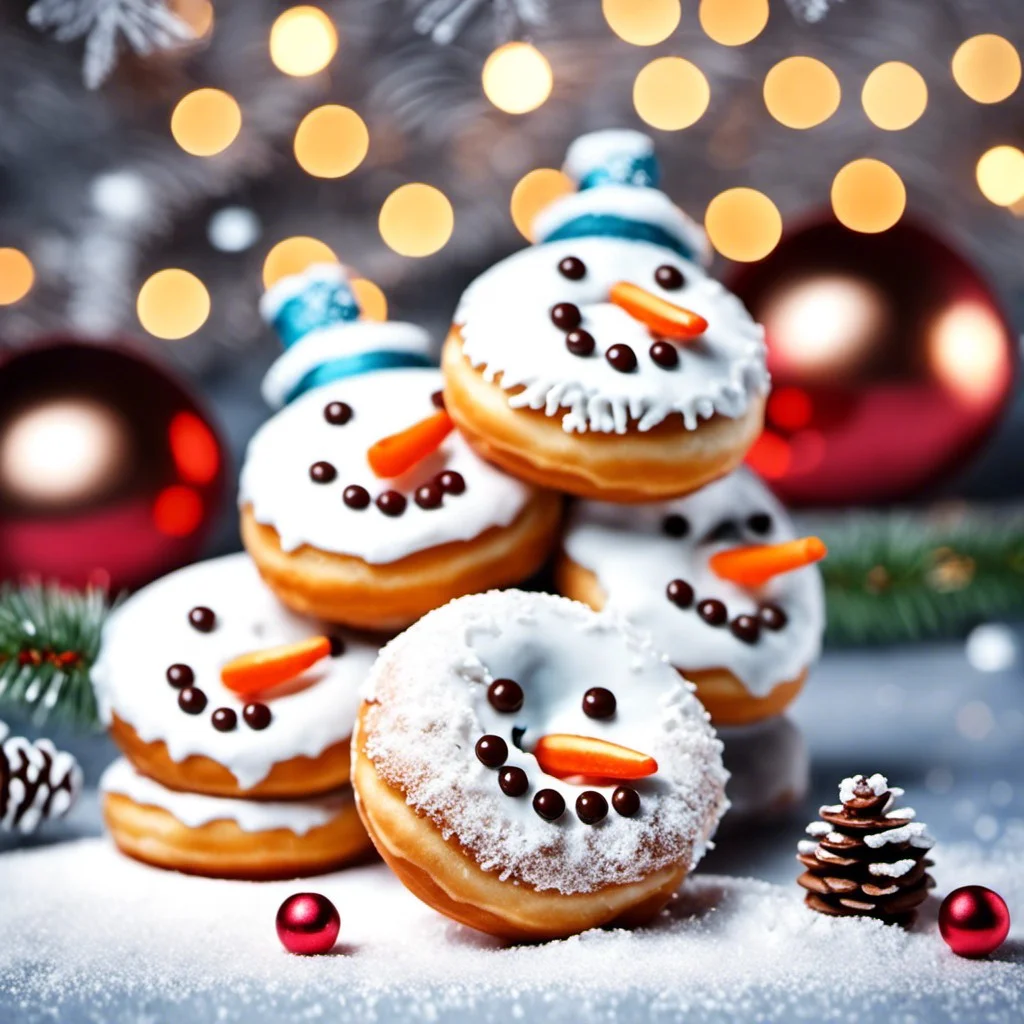 Creating these joyous treats is quite simple and requires very few ingredients, primarily, small and large-sized donuts, pretzel sticks and an assortment of decorative candies.
To assemble, use a large donut for the base and a smaller one for the head, assembled vertically. Pretzel sticks work perfectly for the arms, while various types of decorative candies can be used to create the eyes, buttons, a mouth, and the iconic carrot nose. This flexible snack not only encourages creativity, but also adds a festive flair to any winter party snack table.
Remember, there are no rules when it comes to decoration. So let imagination run wild and use whatever edible decorations are available. One tip – use icing or cream as edible glue to hold the candies onto the donuts.
Don't forget to engage your little ones in this fun project. Not only will they enjoy making their unique snowman donuts, they will also love savouring their creations.
These delightful snowman donuts, with their simplicity and charm, are sure to brighten up your winter days and evenings. Everyone will love crafting and enjoying these delightful treats.
Rice Krispies Snowmen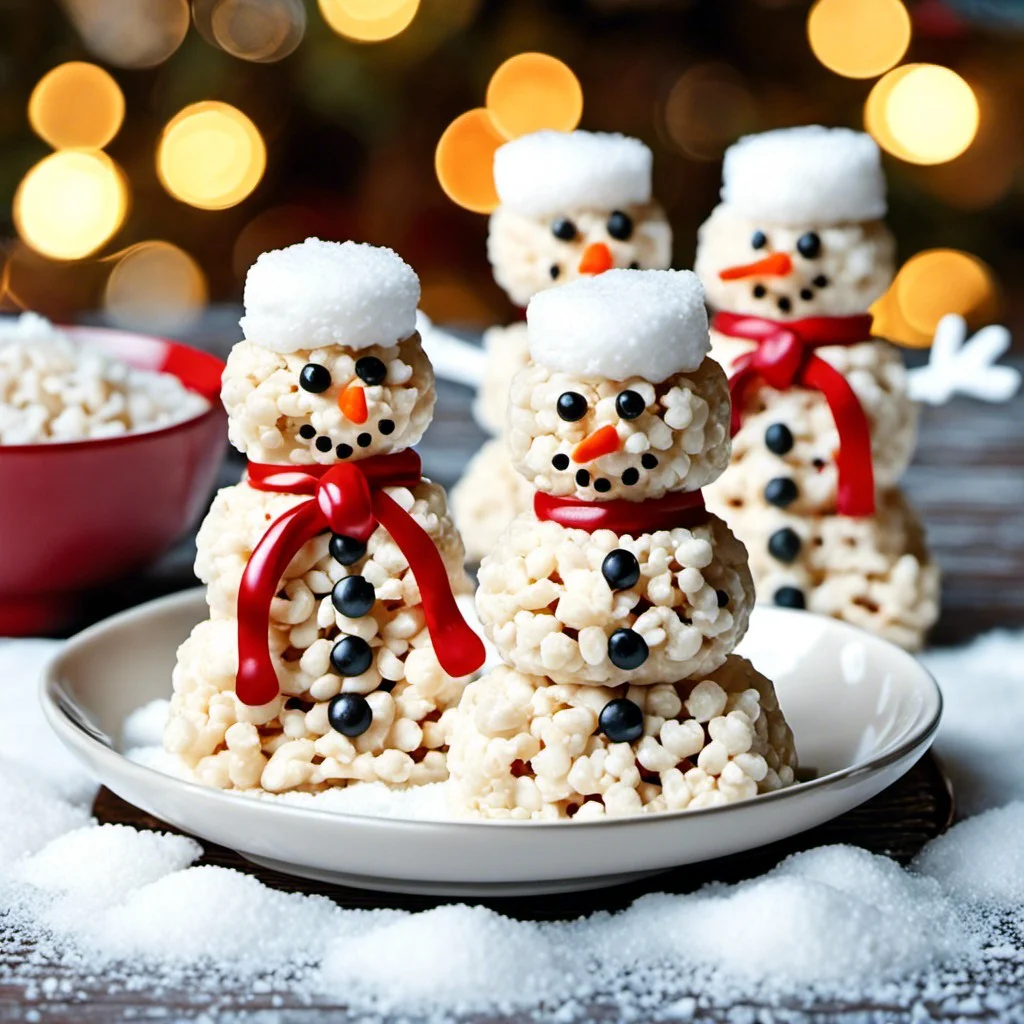 Creating these festive delights starts with a simple batch of Rice Krispies. Mix the cereal with melted marshmallows and butter until they're evenly coated, then mold the mixture into three differently-sized balls per snowman.
While the Rice Krispies balls are cooling, prepare your decorations. Classic choices include miniature M&Ms for buttons, pretzel sticks for arms, an orange Tic Tac for the carrot nose, and a licorice string for the scarf.
Assemble your snowman by stacking the large, medium, and small Rice Krispies balls atop one another and stick two pretzel sticks on the sides of the middle ball for the arms. Finish off the design by arranging the M&Ms, Tic Tac, and licorice string according to traditional snowman features.
Remember, these delectable little snowmen aren't just about great taste, they offer a fun and creative activity that both children and adults can enjoy during the holiday season.
Plus, it's a delicious way to bring everyone closer together in the kitchen. Don't forget to let your imagination roam free—alternatively, you may decoration options like chocolate chips, fondant hats, or colored sugar for a personal touch.
So, forge memorable moments with the family, one snowman at a time. Enjoy!
Snowman-shaped Sandwiches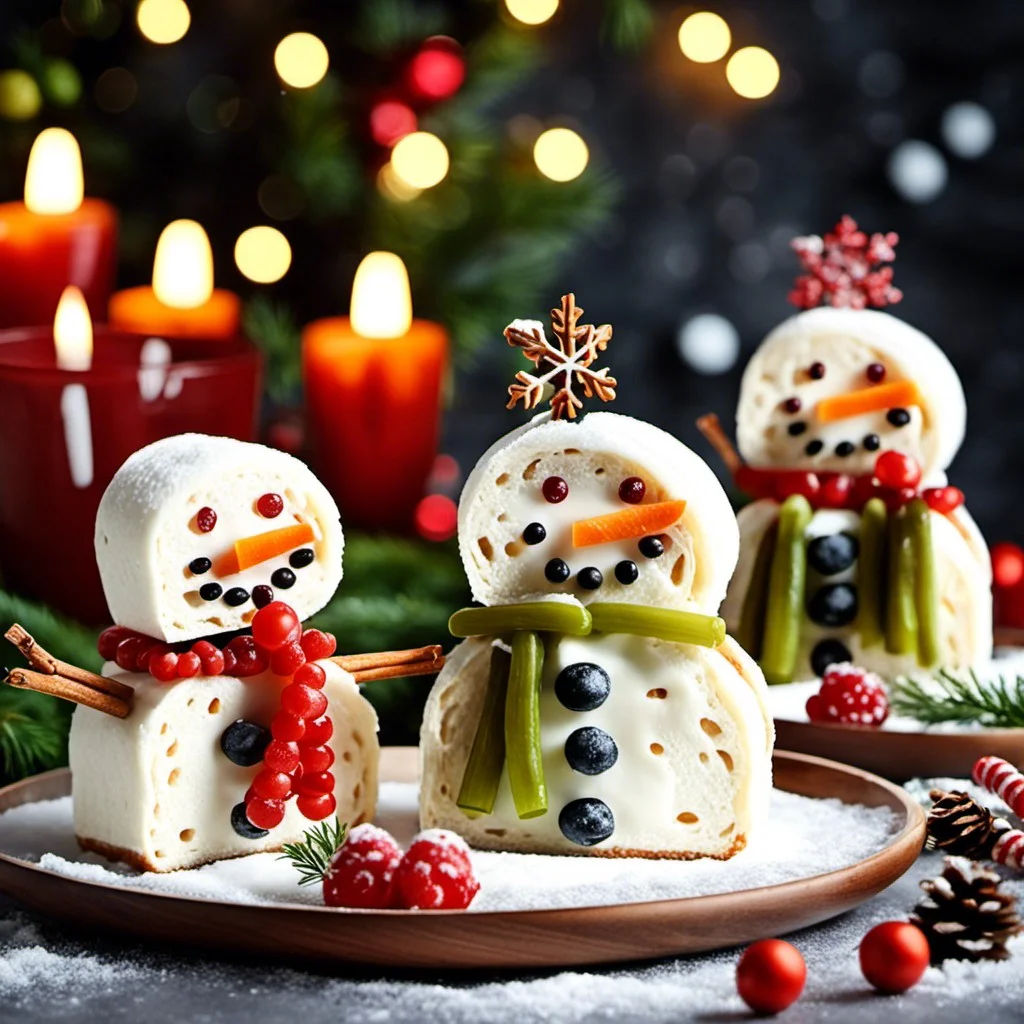 Creating these delightful treats is easy. Begin by using a snowman-shaped cookie cutter on your preferred sandwich bread.
Potential fillings could be cream cheese, peanut butter, or a simple meat and cheese combination – the options are as varied as your taste buds.
For a fun touch, use black olives or chocolate chips for eyes and carrots for the nose.
This is an excellent way to create a festive lunch, which children, in particular, are sure to enjoy.
Remember, the final touch of any dish is the presentation, so place these sandwiches on a blue plate to simulate a snowy environment.
A snowfall of powdered sugar can also add a visual appeal, but beware of any unwanted sweetness to savory sandwiches.
White Chocolate Snowman Bark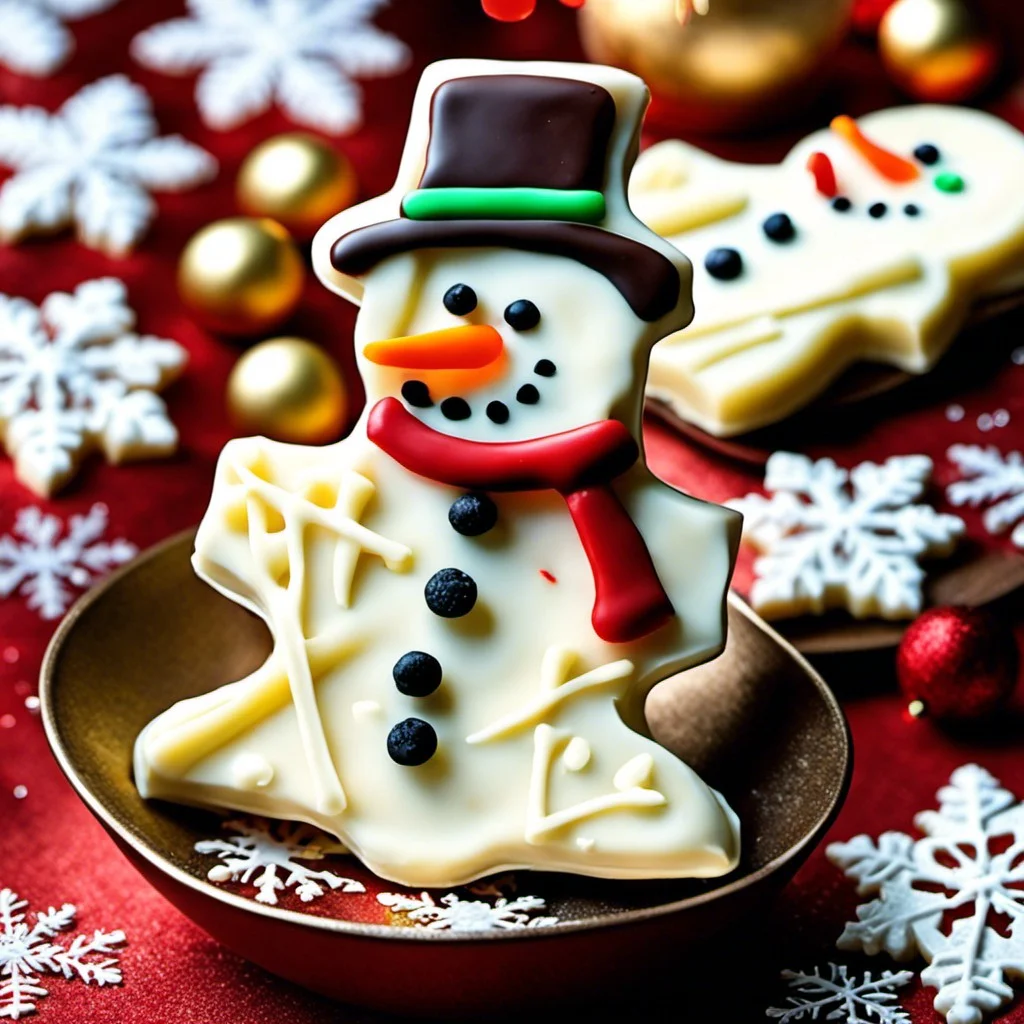 Crafted from silky, rich white chocolate, this festive treat is incredibly easy to prepare. First, melt the white chocolate until it becomes a smooth mixture. Pour it onto a lined baking sheet, spreading it evenly using a spatula.
The next step is the fun part – decorating! Black and orange candies can be used to create charismatic faces on the bark.
You can also add confetti sprinkles to represent the colourful scarves and buttons. Once decorated, the chocolate must be refrigerated until it's firm to be able to break into individual pieces.
This delightful, visually appealing snack encapsulates the joy of building a snowman, without the frosty fingers! An added advantage is that the color and taste of the chocolate closely mimic the snowy appearance and sweet character of our beloved snowmen.
Snowman Fruit Salad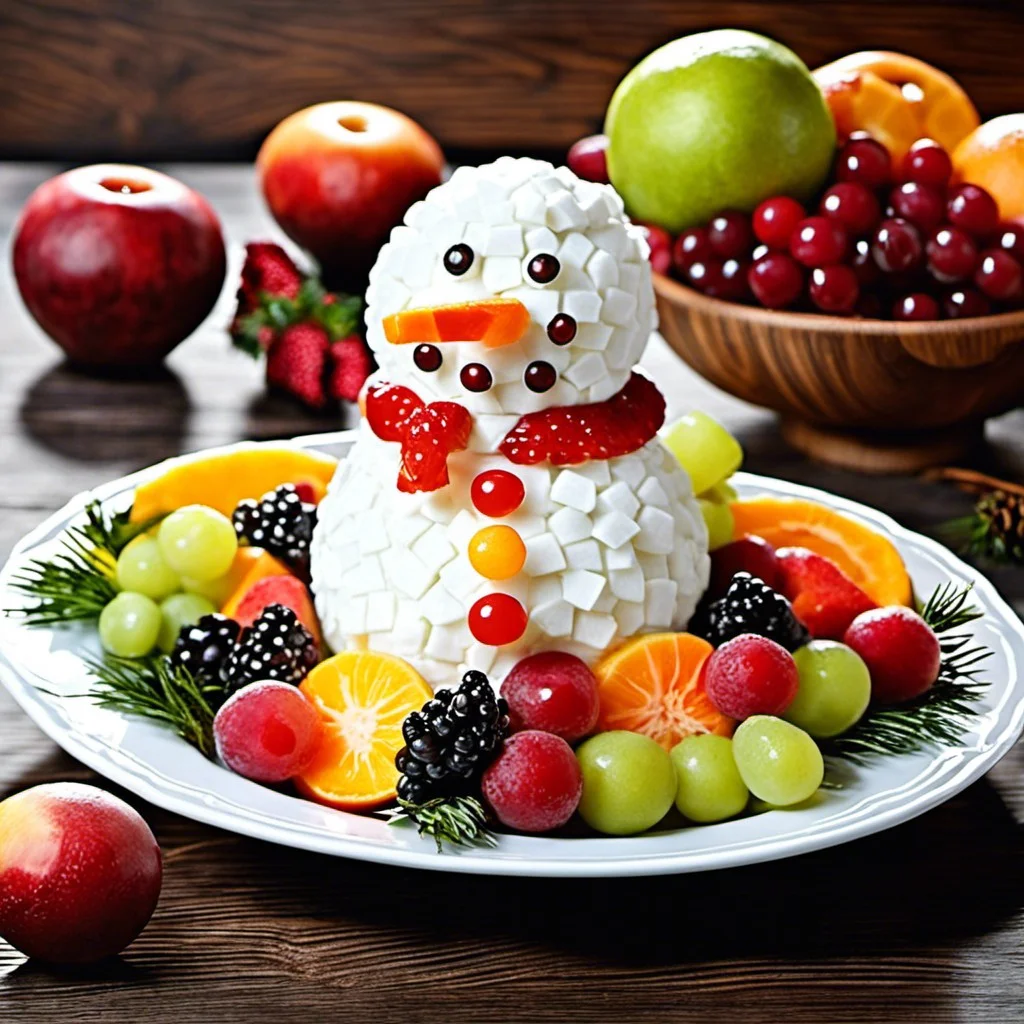 This treat brings a frosty touch to your classic fruit salad. Begin with larger fruits like melons or pineapples as the base for the body. Slice these fruits in circular pieces, stacking them up to mimic the tiered segments of a snowman.
Smaller fruits like blueberries or grapes work well for the eyes, buttons, and even a creative smile. For the hat and nose, consider using strawberries or slices of kiwi for a rush of added color. An optional sprinkle of coconut flakes gives the illusion of snow, adding an extra festive dimension.
This health-conscious, fun, and engaging approach to serving fruit can charm both kids and adults alike. Plus, it's an easy project for the whole family to embark on, encouraging creativity while promoting nutritional snack choices.
Great for parties, or simply brightening a winter afternoon, this snowman fruit salad is as delicious as it is visually stunning.
Mini Snowman Pizzas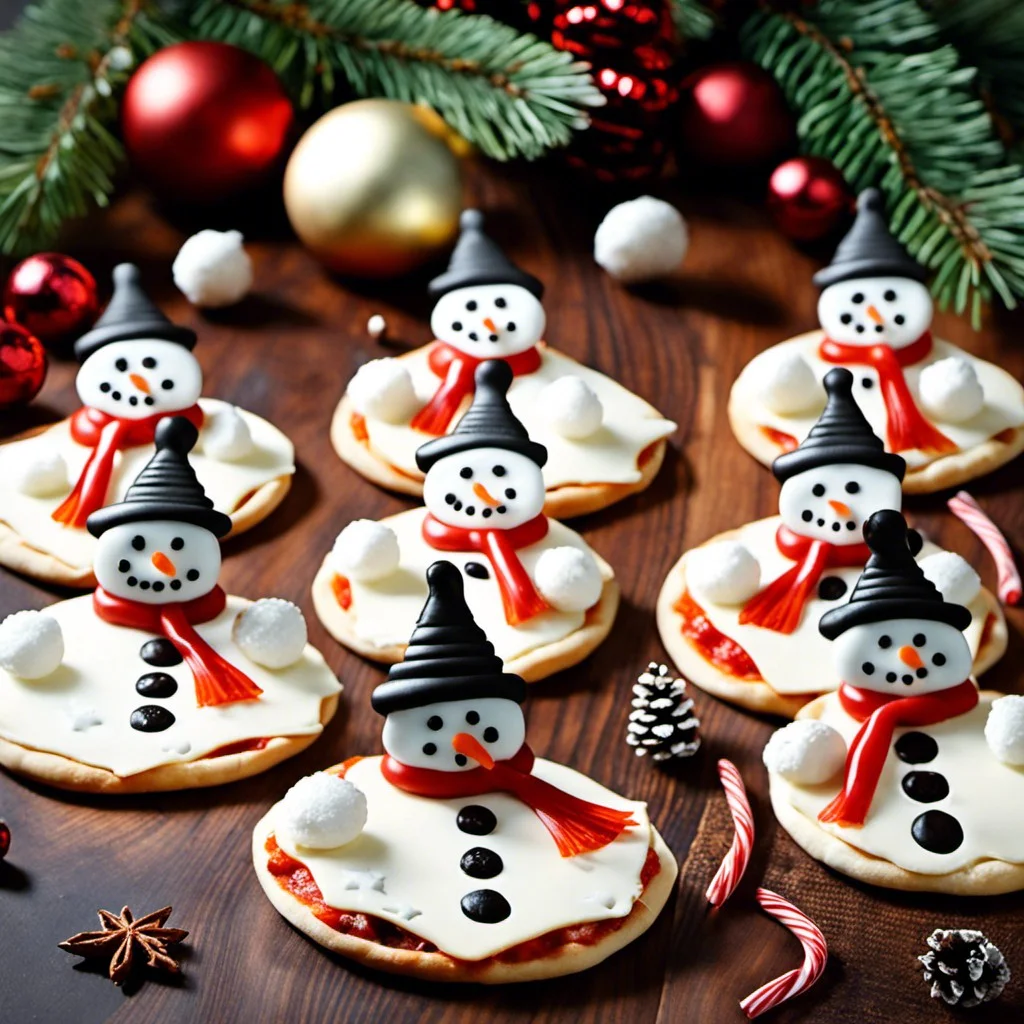 For a delightful twist on classic family dinner, these playful pizzas tout mozzarella rounds as snowy figures, complete with olive buttons, bell pepper scarves, and cherry tomato hats. Starting with a mini pizza base gives freedom to personalize each snowman according to individual dietary preferences.
Here are the key points to keep in mind during preparation:
Keep the base small for easy customization.
Utilize fresh ingredients for toppings, promoting both nutrition and taste.
Mozzarella rounds are ideal for snowman bodies, due to their malleable shape and perfect melting quality.
Consider other vegetables for decoration, such as bell peppers or spinach leaves – they add a pop of color and nutritional value.
The pizzas don't require much time in the oven. The goal is to just melt the cheese, maintaining the integrity of the snowman shape.
Creativity is encouraged. Allow children to design their own snowman for a fun, interactive mealtime.
Remember, it's not just a pizza, it's also a canvas to put your creative spin on traditional winter motifs. These mini snowman pizzas are sure to bring joy to the dinner table, while ensuring a wholesome meal is enjoyed by all.
Frosted Snowman Pretzels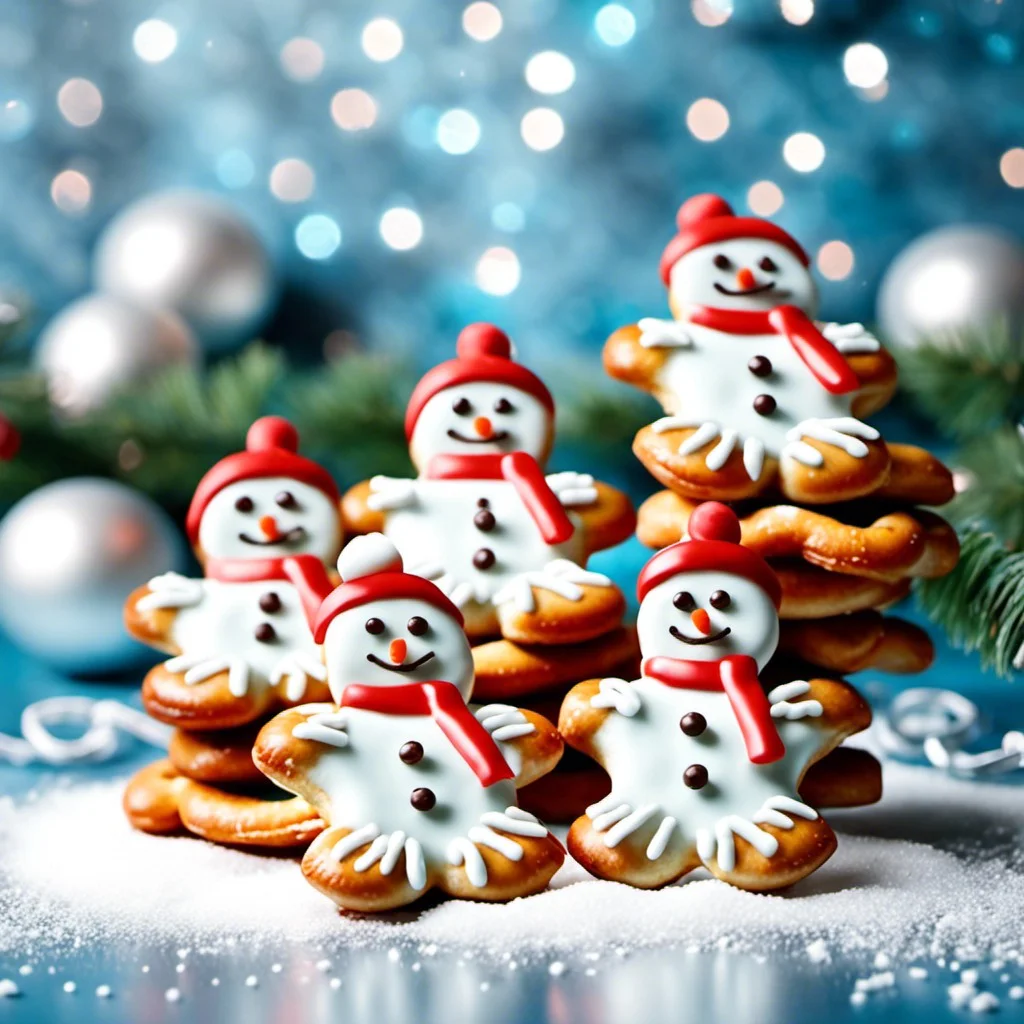 Deliciously sweet yet wonderfully simple, these treats encompass the wintery charm of a snowman, coupled with the crunchy appeal of pretzels. Creating frosted snowman pretzels is a breeze and it begins with mini pretzels and white chocolate.
To bring these edible snowmen to life, continue by melting white chocolate, ensuring a smooth consistency. Dip and immerse each pretzel into the molten mixture, wiping off any excess. Add an orange sprinkle for the nose and two mini chocolate chips for eyes before the chocolate sets.
To further define these snowman features, trace a mouth with dark decorating icing. Don't forget the accessory every snowman needs – a scarf. Use sour candy strips cut into lengths appropriate for tiny snowman scarves.
After assembly, let them sit until the chocolate hardens. Voila! A batch of cutely frosted snowman pretzels are ready to enchant anyone's snack time!
Snowman-shaped Sushi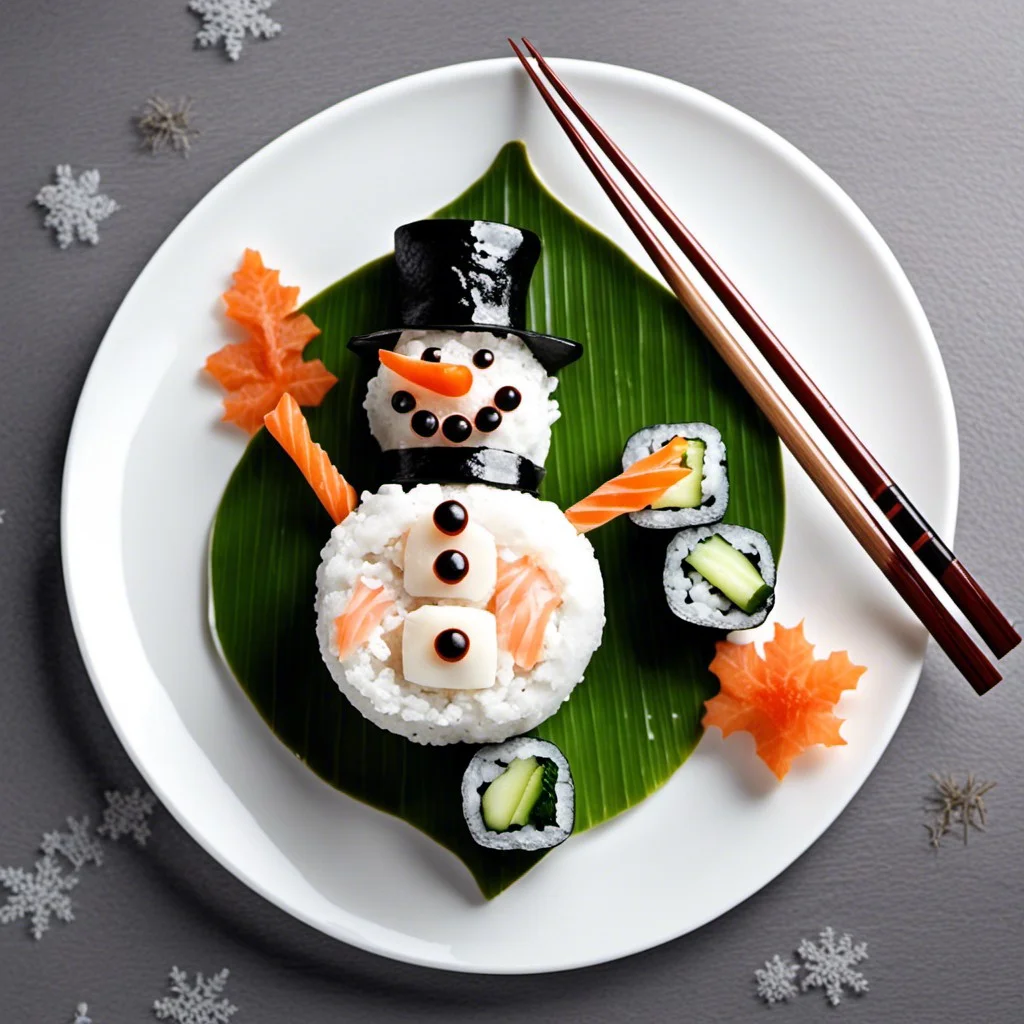 Crafting your culinary masterpiece begins with a ball of sushi rice sculpted into a snowman shape. Utilize a sheet of crisp, roasted seaweed (nori) for the hat, eyes, and mouth. A small carrot sliver serves perfectly as a mock carrot nose, while cucumber slices mimic buttons.
To boost the visual appeal, place your sushi snowman onto a bed of lettuce or sliced avocado, mimicking the look of snow-covered ground. For an extra layer of flavor, serve with soy sauce, pickled ginger, and wasabi.
Remember, practice makes perfect. Don't be disheartened if your first few attempts aren't Instagram-worthy. The fun lies in the process and not just the final product. Plus, regardless of the sushi snowman's aesthetic, it will still taste just as delicious. Happy sushi crafting!
Snowman Pancakes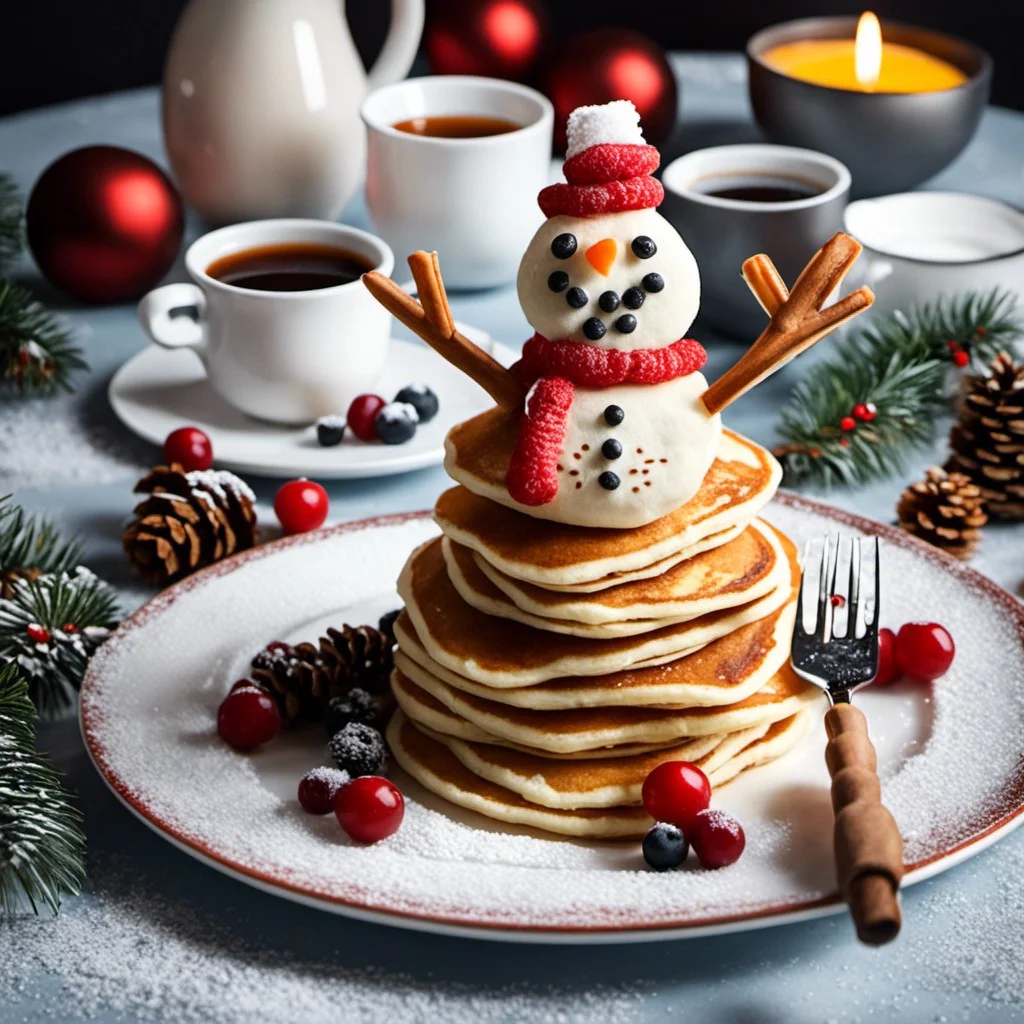 Whipping up a stack of fluffy pancakes has never been this fun! Here are a few points to make mealtime magical:
1. To create the snowman, form one large, medium, and small pancake. Stack these from bigger to smaller to form the body.
2. For facial features and buttons, use blueberries or chocolate chips, while a strip of bacon can serve as a delightful scarf.
3. A small piece of carrot makes for a quirky snowman's nose, adding a vibrant dash of color.
4. Don't forget hands! Use curved apple slices or long, thin pretzel sticks.
5. Make sure all elements are appropriately cooled before child involvement to keep the whole experience safe and enjoyable.
Enjoy these delightful snowman pancakes, packed with bountiful nutrition and providing an adorable feast for the eyes!
Snowman-shaped Grapes Skewers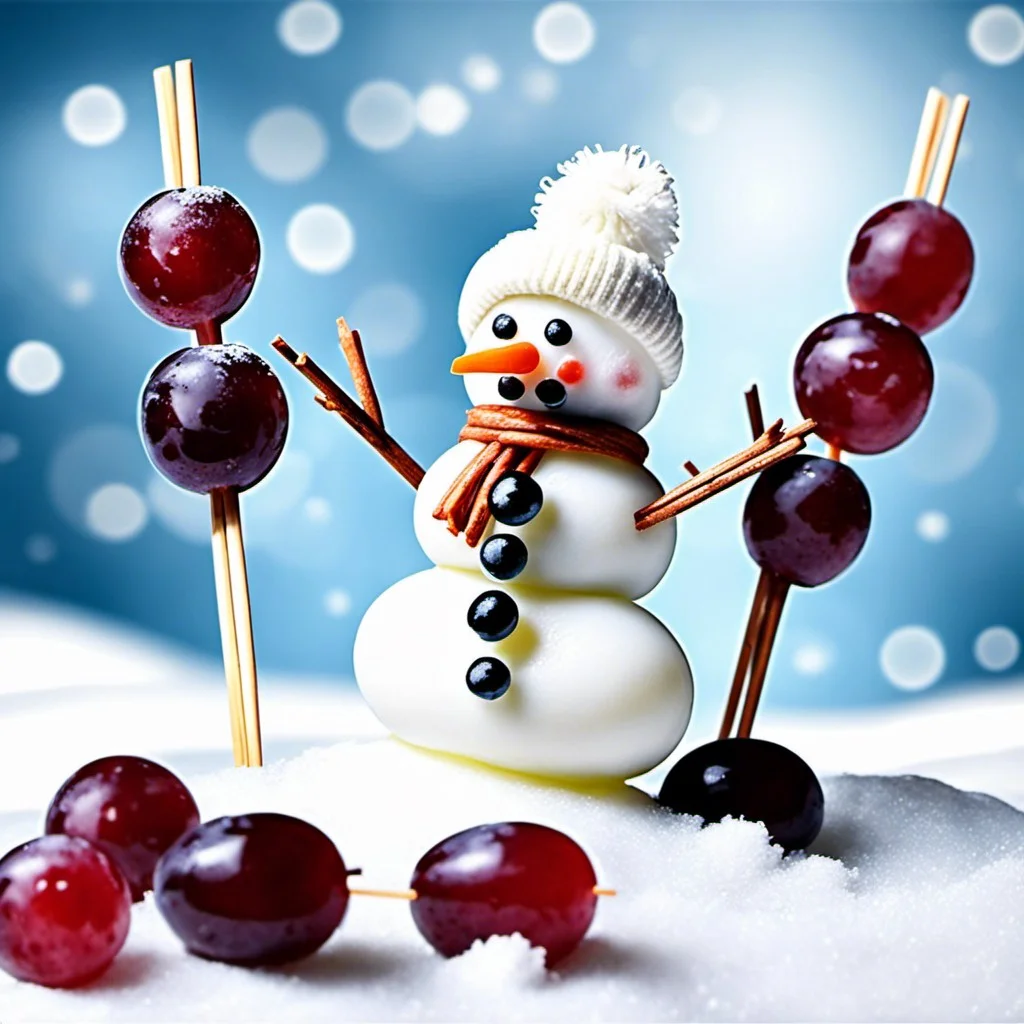 Creating this whimsical, frosty-themed snack is not only fun, but it also provides a healthy alternative amidst the holiday sugar overload. You'll need green grapes, small carrot pieces, and a bit of cream cheese for the assembly.
Here are some quick steps:
Skewer three or more grapes onto a kebab stick, depending on the desired height of the 'snowman'.
Use small carrot pieces to form the snowman's 'nose'. A dot of cream cheese can help the carrot piece adhere to the grape surface.
Finally, add two more dots of cream cheese as 'eyes'. Optionally, you can add tiny pieces of charred wooden skewer to these dots to further emphasize the eye effect.
It takes a moment to assemble, making it a quick, easy, and most importantly, delightful snack that will be appreciated by all age groups. They are a perfect addition to a holiday platter and a great way to get the little ones excited about eating more fruit.
Cream Cheese and Olive Snowman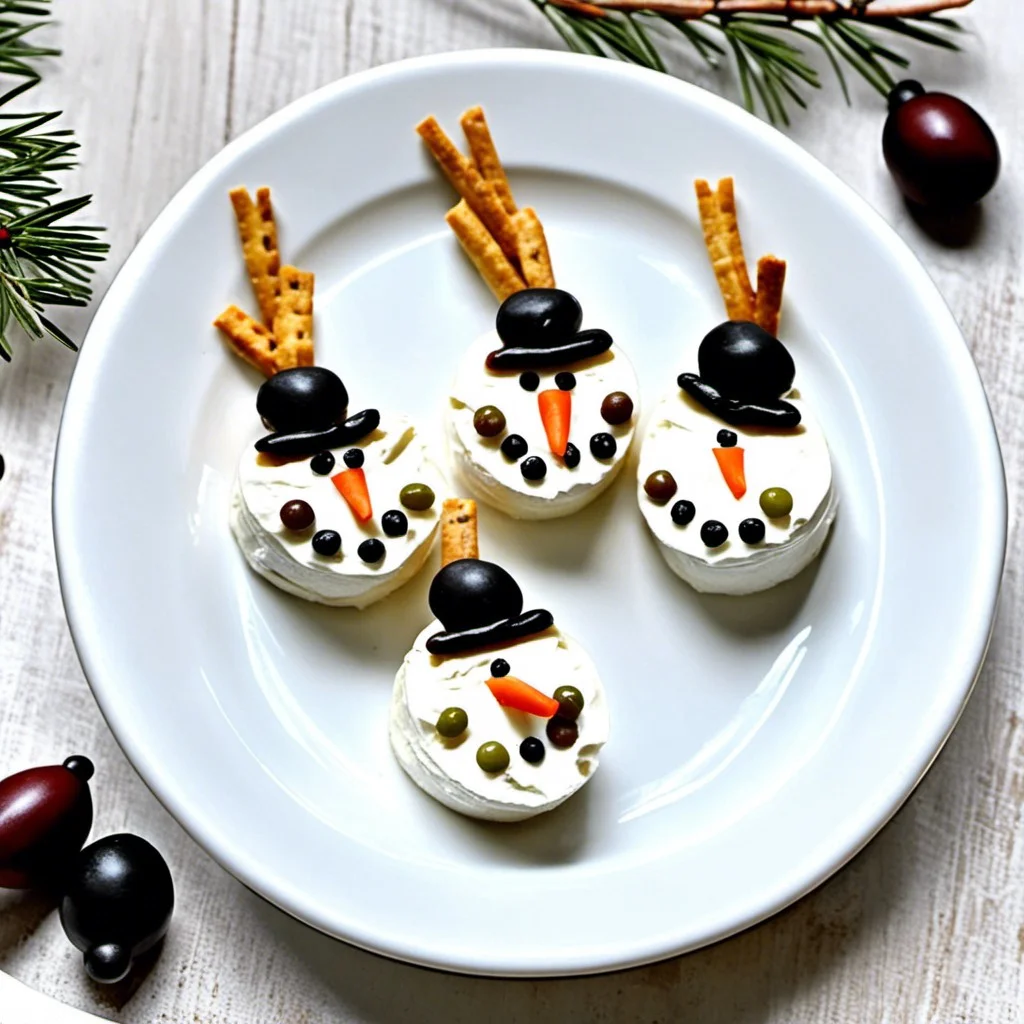 Creating this delightful snack is a simple, enjoyable task. Begin by shaping the cream cheese smoothly into two spheres – one larger for the snowman's body and a smaller for his head. Stack them carefully, using a toothpick for support if needed.
Next, place a color contrast using olives. Garnish the snowman with black olives for the eyes, mouth, and buttons. If you prefer a hint of red, consider using a sliver of red pepper or cherry tomato for a cheerful scarf aesthetic.
To bring the snack to life, construct the snowman's arms with pretzel sticks, adding dimension and crunchy texture. This creation adds an enticing visual and palate appeal to the festive tables.
Make sure to keep these snowmen chilled until serving time to maintain their shape and freshness. Just a quick note – cream cheese and olive snowman are not only adorable but also enticingly rich and tangy, sure to delight guests of all ages.
Snowman Cheese and Crackers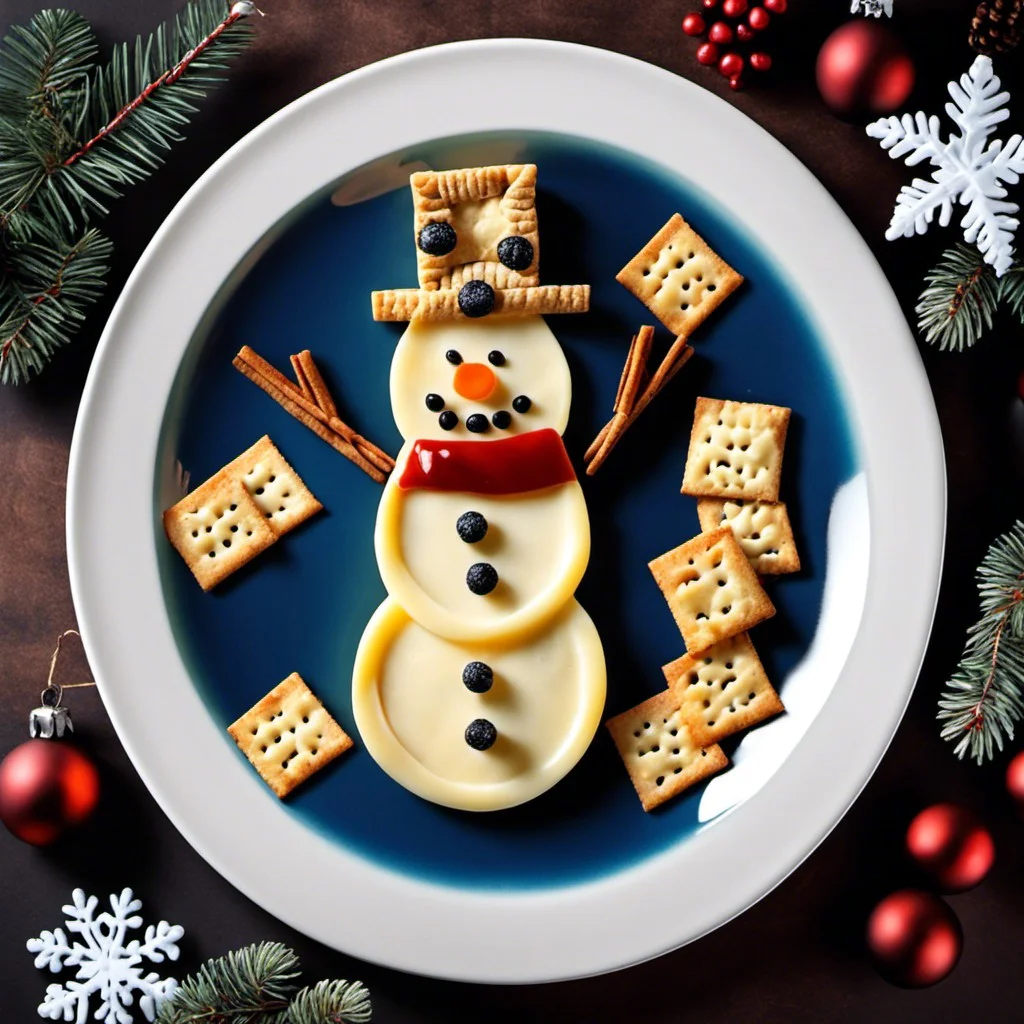 To create these delightful, wintry cheese and cracker combinations, you simply need a round cookie cutter, your preferred cheddar or other pale yellow, firm cheese, and a handful of whole wheat or white crackers. Carrot and black olive slices come into play for charmingly edible snowman features.
Let's break it down:
1. Using a cookie cutter, cut the cheese into two different-sized circles.
2. Layer these on top of a cracker, with the larger circle acting as the body and the smaller circle as the head of the snowman.
3. Slice a carrot thinly to use as the snowman's hat and nose, and arrange sliced black olives to make the eyes and mouth.
In no time at all, you'll have a festive and tasty winter treat that's sure to be a hit! Remember, creativity is key, and there's no wrong way to decorate these cheesy snow figures.
Snowman-shaped Cookies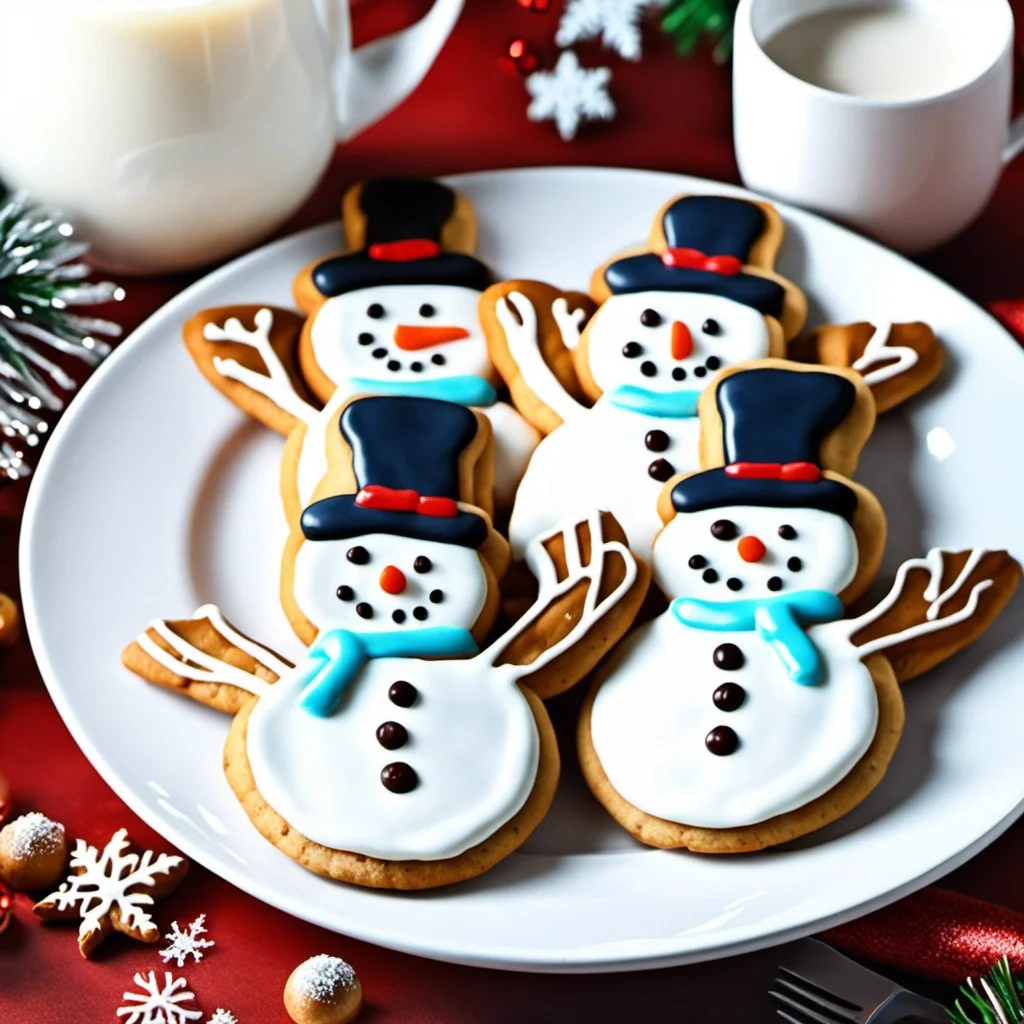 Baking these delectable treats is a joy-filled, interactive experience that blends creativity with culinary prowess. Start by whipping up your favorite sugar cookie dough. Once it's properly mixed, roll out the dough and use a snowman-shaped cookie cutter to establish your desired shape.
Next, while these sugary treats are baking to a golden brown in the oven, prepare your icing. A classic white royal icing serves as the perfect 'snowy' base for your edible snowman. Plus, it offers a blank canvas for decorations!
Let your cookies cool before applying the icing. Once this base has been established, let the fun part begin. Using various food colorings, design the iconic carrot nose, coal eyes and buttons, and twig arms.
For a festive touch, consider wrapping mini scarves made from fruit roll-ups, or hats made from chocolate-covered graham crackers. Keep the choices of decorations wide to allow for individual creativity and personal flair.
With the right preparation and a sprinkle of imagination, these snowman-shaped cookies serve as not only a delicious snack but also a source of festive entertainment. This artistic process can become a heartfelt holiday tradition that harmoniously combines the essence of the holiday spirit with the act of baking.
Snowman Cupcakes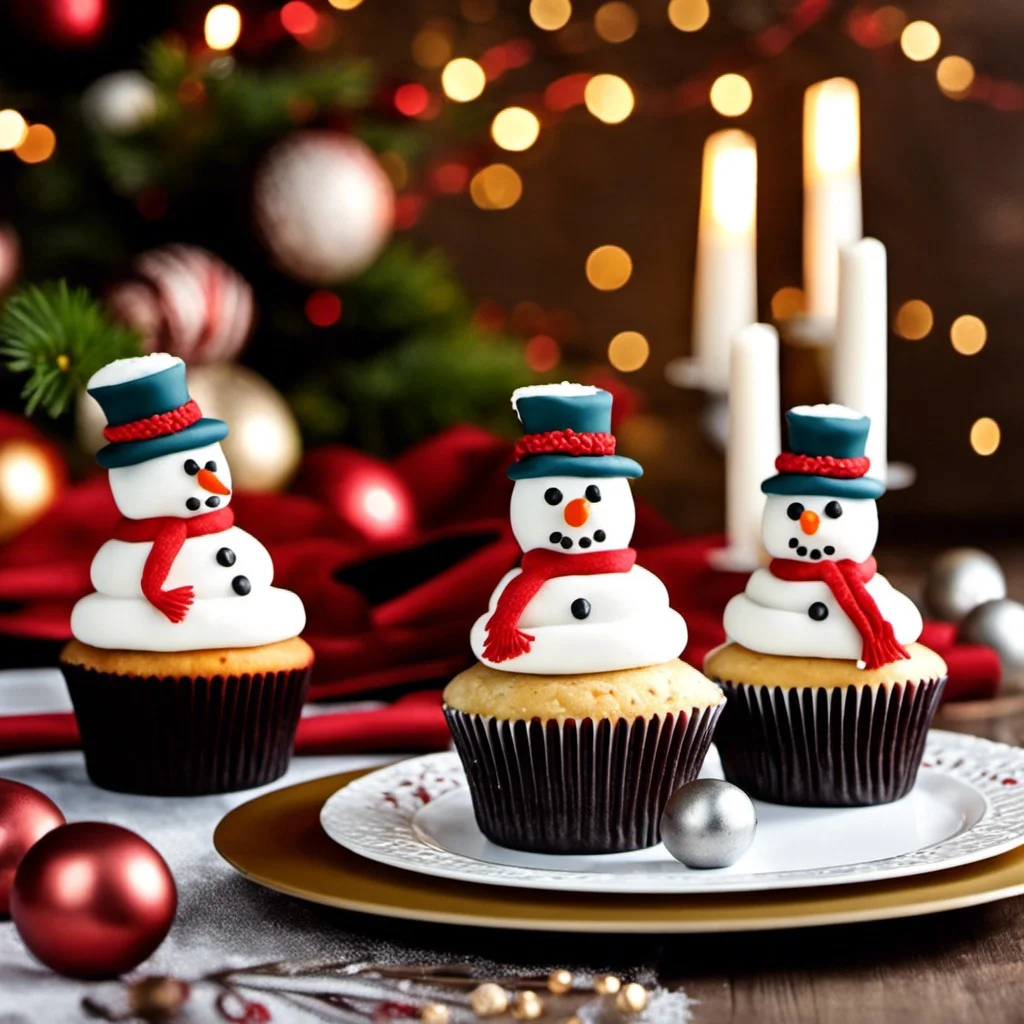 Moving onto these scrumptious delights, you'll find frosting a delightful snowman atop cupcakes easier and far more enjoyable than you might think. Here are a few key steps:
1. Bake your favorite cupcake variety. This could be vanilla, chocolate, red velvet, or anything else you fancy.
2. While the cupcakes cool, prepare frosting. Get creative with your options – it can be buttercream, cream cheese, or marshmallow frosting.
3. Divide frosting into two batches, keeping one white for the snowman's body, and adding food coloring to the second for details like hat, scarf, and buttons.
4. Frost the cooled cupcakes. Start by spreading a layer of white frosting as a base, then construct your snowman.
5. Use a piping bag to draw three circles for the body parts, carefully layering each on top of the other.
6. Finally, use your colored frosting to add a hat, a scarf, buttons, and a face, using chocolate chips or sprinkles for eyes and a shredded carrot or an orange jelly bean for a carrot nose.
Remember, the process can be as simple or as elaborate as you want, so don't hold back on personalizing and having some fun along the way!
Snowman Soup (White Hot Chocolate)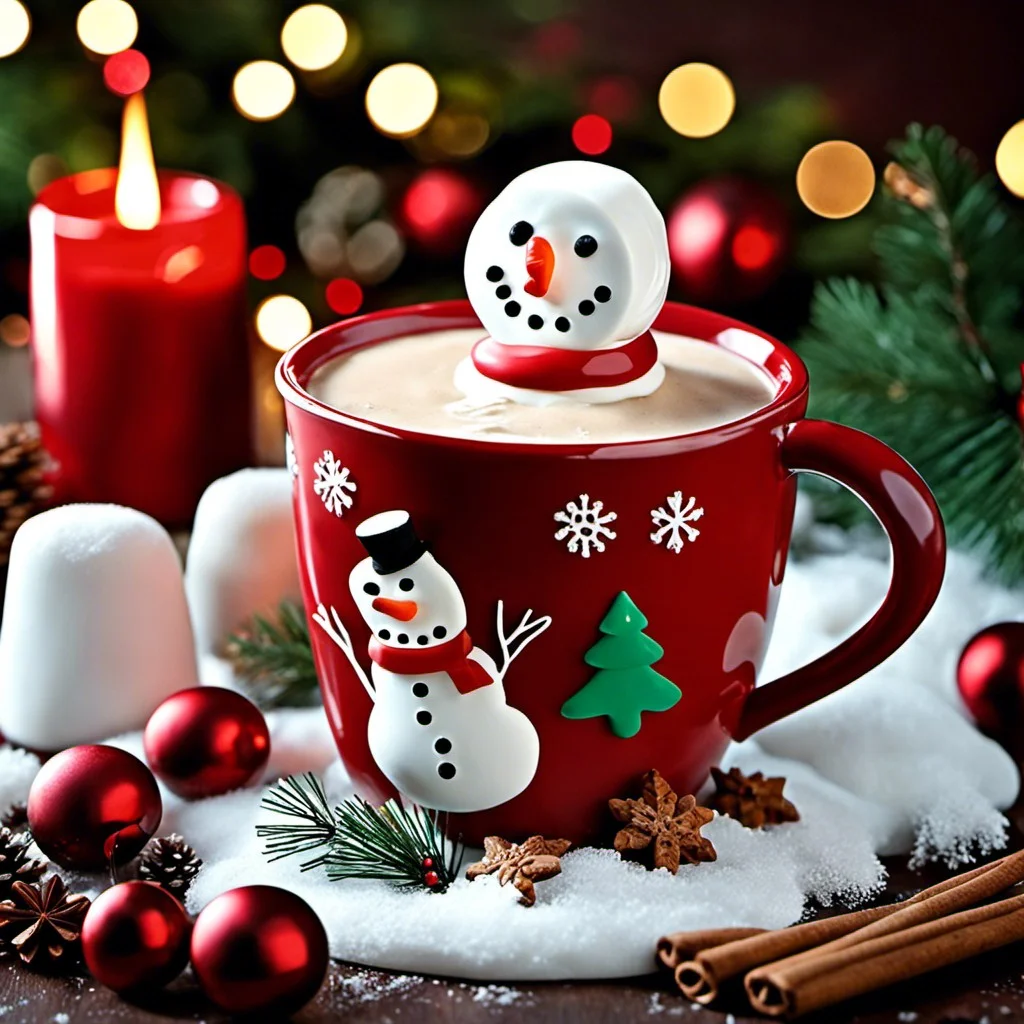 Delighting in its creamy texture and subtly sweet flavor, this festive beverage provides a warm and cozy antidote to winter's chill. Easy to create, it blends common household ingredients into a winter wonderland delicacy.
1. Base: A whole milk base is recommended for the creamiest texture. For a dairy-free option, almond or coconut milk can be used.
2. Chocolate: White chocolate chips are melted into the warm milk, giving the drink its distinctive white color and sweet taste.
3. Flavorings: To enrich the flavor, vanilla extract and a sprinkling of ground cinnamon can be added.
4. Snowman Decor: A cute snowman marshmallow or whipped cream snowman face on the top brings the festive cheer. Use decorative candies or food-safe ink markers for the face details.
5. Serving: This beverage is best served hot, ideally in a clear glass mug to show off the snowman element. A cinnamon stick stirrer is a nice touch.
6. Variations: Variation options could include adding in a dash of peppermint extract for a minty twist or a drop of orange extract for a citrus undertone.
This drink adds a charming winter touch to any gathering and is sure to become a favorite with both children and adults.
Snowman Bagels With Cream Cheese
Lend a festive touch to your breakfast table with these whimsical treats. Using plain or whole wheat bagels as your base, a generous slather of cream cheese becomes the perfect canvas for your snowy creation.
Craft a face using raisins or black olives for the eyes and buttons, a slice of carrot for the nose, and strips of red bell pepper or tomato for the scarf. It's a fun and healthy way to enjoy everyone's favorite morning staple.
Not only will the kids enjoy eating them, but they'll also love helping to put them together. It's the perfect opportunity to infuse a little creativity into their morning meal.
Snowman-shaped Watermelon Slices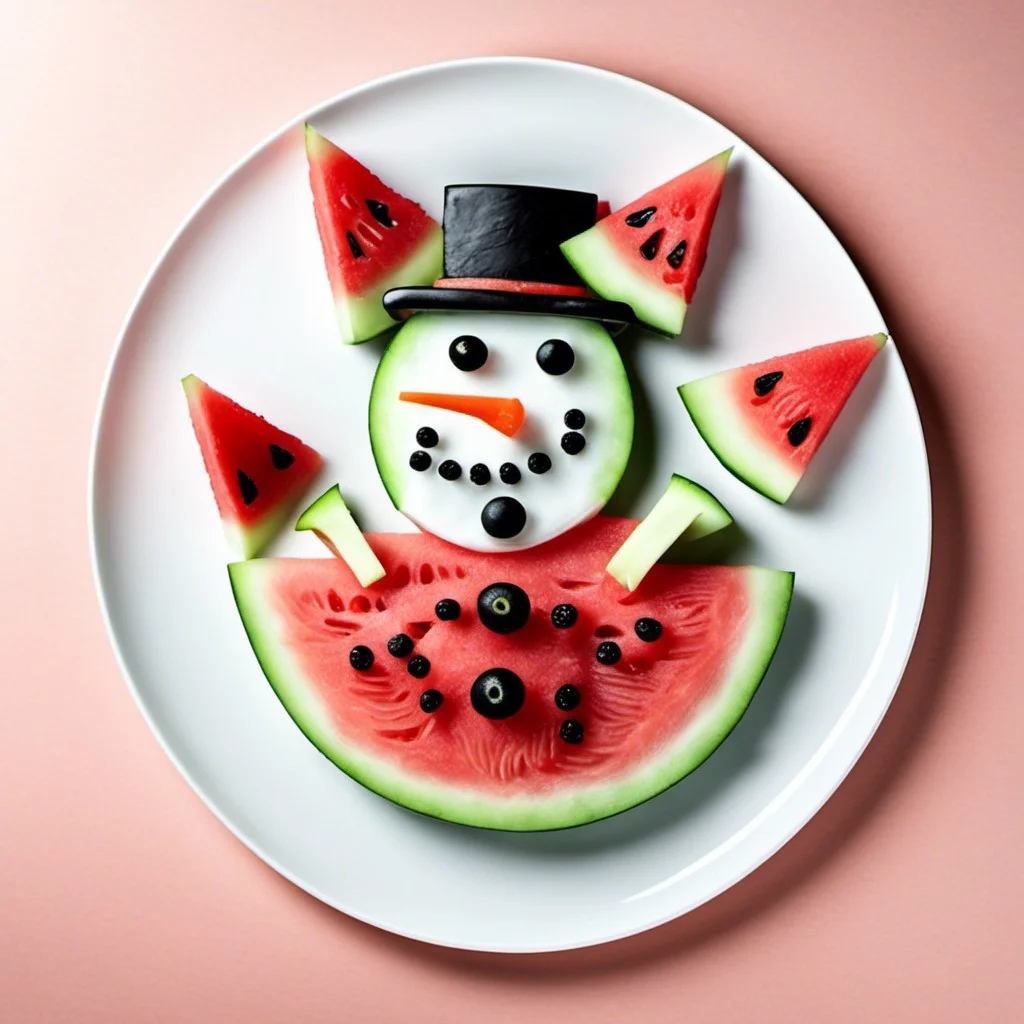 Carving up a juicy watermelon might not be the first thought when considering winter cuisine, but this refreshing summer fruit can be used creatively to stick with the snowman snack theme. Watermelon slices can be carefully trimmed to mimic the round silhouette of a snowman—an ideal, healthy treat providing a delightful contrast of colors.
1. Select: Seek a mature watermelon with a uniform shape and smooth rind to ensure the best carving experience.
2. Slice: Cut thick rounds to create a sturdy base for your snowman shape.
3. Shape: Use a sharp knife or cookie cutter to cut out a simple snowman silhouette, ensuring to include the round body and head.
4. Decorate: Use fruits like blueberries or grapes for eyes, a strawberry slice for a smile, and thin slices of kiwi or cucumber for the scarf.
5. Serve: Chill before presenting these refreshing treats to your holiday guests.
Remember, the added value of this snack is that it can cater to a variety of dietary restrictions, making it an all-inclusive treat.