Dive into a world of delicious and creative snack ideas inspired by everyone's favorite cartoon character, Mickey Mouse.
Dive into the magical world of Disney with creative Mickey Mouse snack ideas that are both fun and delicious.
From Mickey-shaped sandwiches to themed fruit platters, these snacks will transport you straight to Disneyland from the comfort of your kitchen.
Whether you're hosting a Disney-themed party or just want to add a touch of whimsy to your child's lunchbox, these ideas are sure to delight.
Keep reading to discover step-by-step instructions, ingredient lists, and tips for these enchanting snacks.
Mickey Mouse Shaped Sandwiches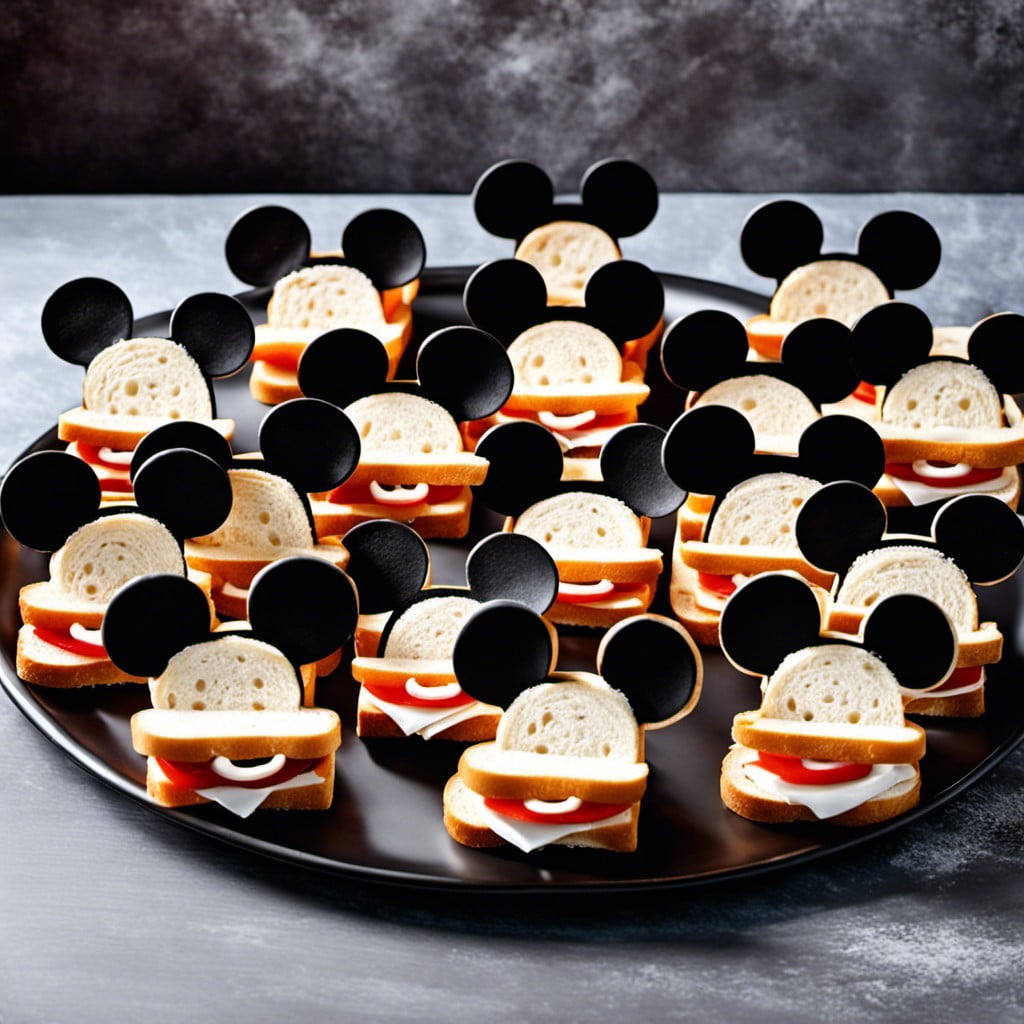 Crafting these adorable delicacies begins with choosing your preferred bread, filling, and, of course, a Mickey Mouse shaped cutter to bring the magic to life.
Whole grain, white, or even gluten-free bread can work, while popular fillings range from the classic peanut butter and jelly, to more adventurous options like ham and cheese.
The Mickey cutter is key in transforming a simple sandwich into playful food art, effectively taking care of picky eaters. It's easy to execute – simply prepare your sandwich then use the cutter. Invest in a cutter with the iconic Mickey ears for authenticity.
To add a creative touch, consider using different fillings for each segment of Mickey's face. Don't forget to ensure that the sandwich is properly sealed to avoid spillage.
Now, you've mastered a kid-friendly, fun, and satisfying snack that's perfect for parties, school lunches, or a fun surprise.
Mickey Pretzels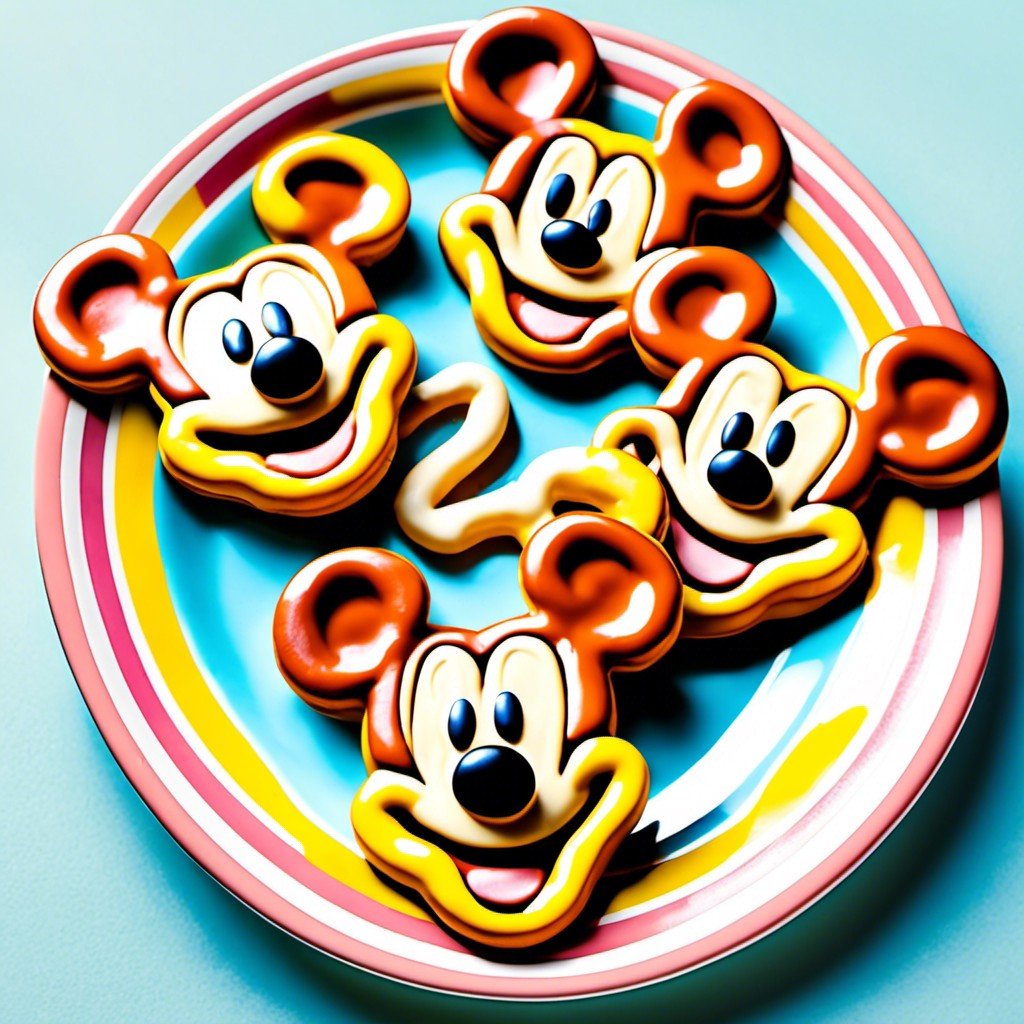 Easily recognized with its iconic shape, these pretzels are a delight for eyes and taste buds alike. Achieving the perfect Mickey silhouette involves creatively twisting your average dough. You begin with a basic pretzel mixture, let it rise and then divide into small sections.
Each section forms the main part of the face while two smaller portions make up the distinctive ears.
For added flavor, consider brushing a garlic-butter concoction onto the pretzels prior to baking. However, purity in taste can also be appreciated, by sticking to a traditional, lightly salted top. Dip sauces on the side, such as cheese or spicy mustard, can significantly enhance the snacking experience.
It's a fun family project that results in a delightful snack, embodying the spirit of everyone's favorite cartoon character.
Mouse Ear Cookies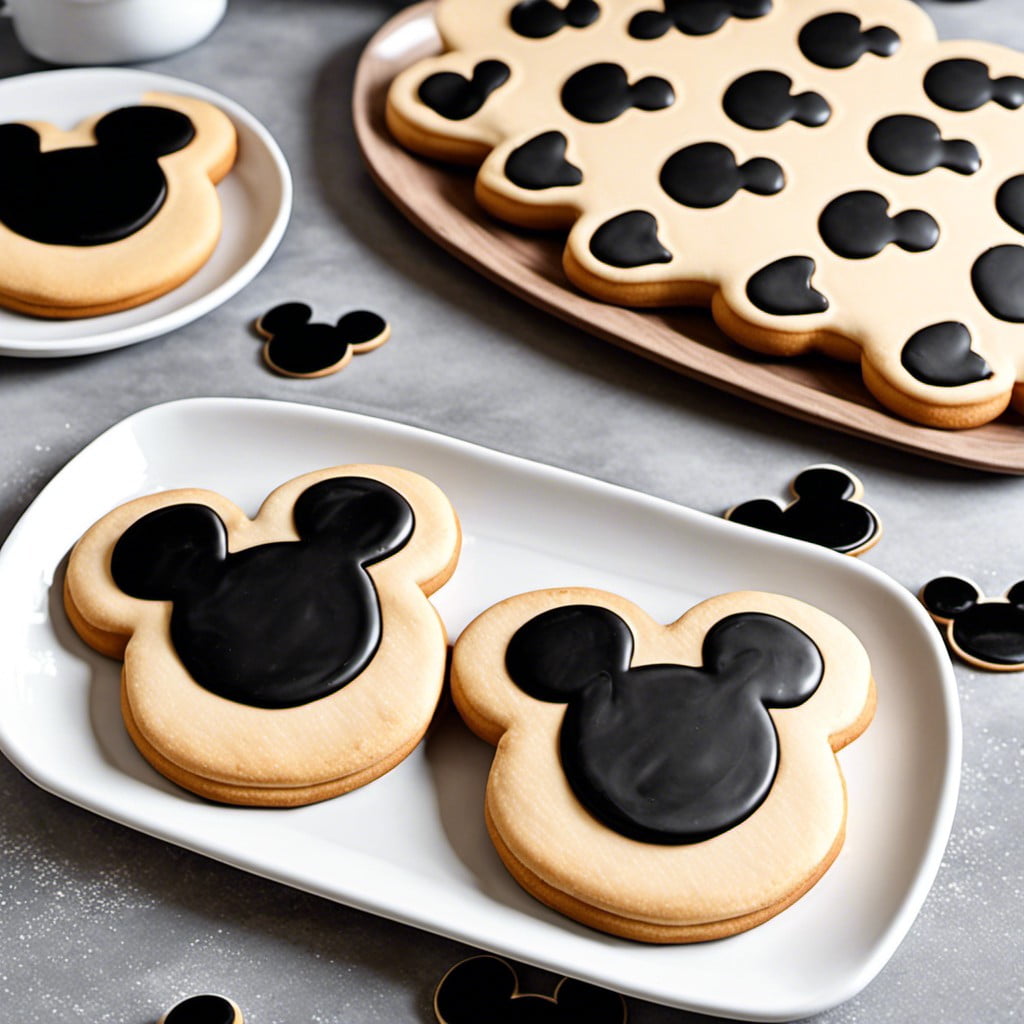 Mouse Ear Cookies are the perfect bite-sized treats for a fun-filled day or an exciting theme party. This traditional cookie takes a delightful twist when cut out in the iconic silhouette of Mickey's ears.
Here's how you can make them:
1. Basic ingredients: A simple sugar or chocolate cookie dough forms the base, combined with addition of black food coloring to mimic Mickey's color.
2. Shaping the cookies: Using a Mickey mouse ear-shaped cutter, cut out the cookies to duplicate the famous profile. Remember, the round ears are the key feature of this endearing character.
3. Baking tips: Bake them until the edges are crisp, while the middle remains soft for a perfect texture.
4. Decorative options: Post-baking, these cookies can be embellished with icing or kept plain; the choice is yours.
5. Serving: Whether served with a glass of milk or packed as a party favor, these cookies are bound to be a hit.
Remember, the essence of Mouse Ear Cookies lies not just in their shape, but in the joy and nostalgia they bring to both kids and adults alike. Make them your own by adding a personal touch to the recipe!
Mickey Fruit Salad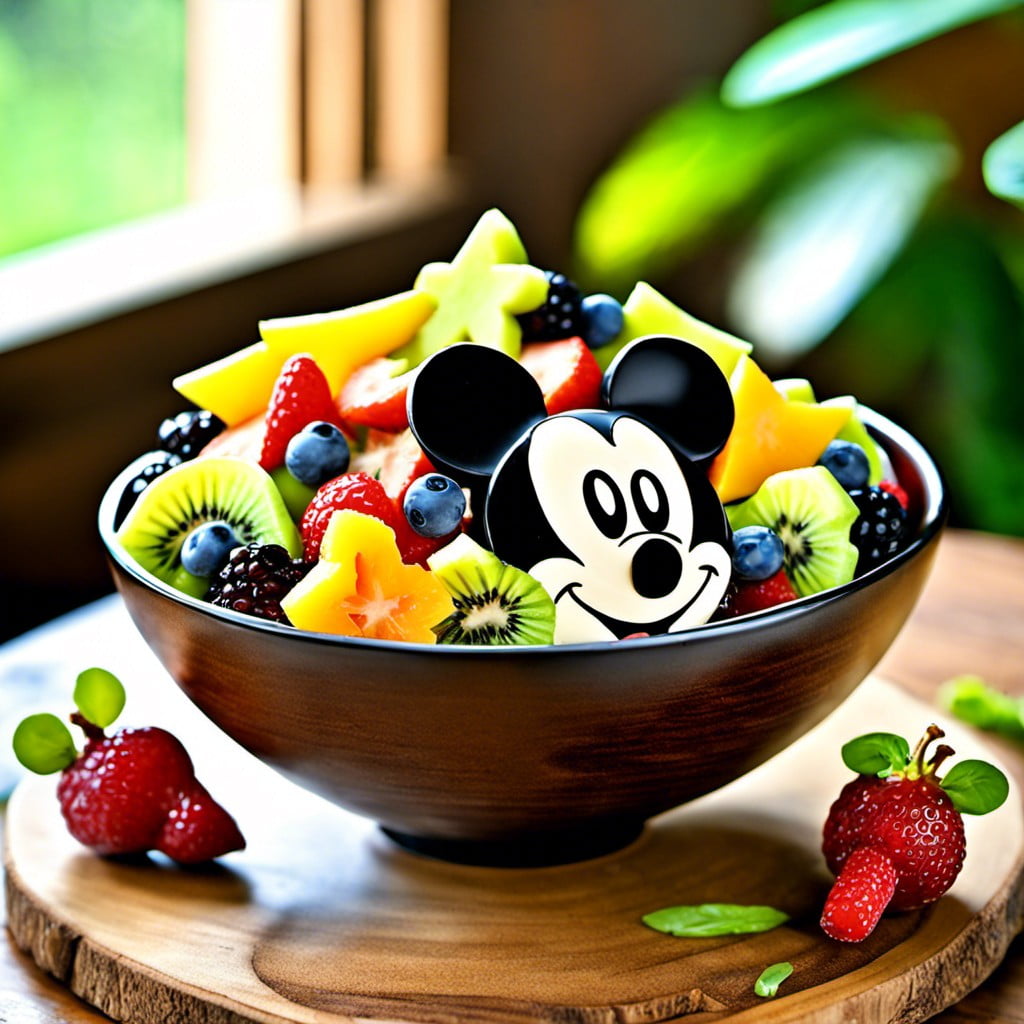 Cherries, blueberries, and sliced bananas become fun and delicious when arranged to resemble one of Disney's most iconic characters. Start by using a cookie cutter to fashion the melon into various Mickey Mouse shapes.
Next, take a handful of blueberries and cherries for the ears and buttons, respectively. Finally, cut a piece of banana for Mickey Mouse's famous gloves.
This fruit salad does not only taste good but also creates a centerpiece that will captivate both children and adults alike, adding a magical touch to an everyday fruit salad.
Ensure that all fruits used are fresh and ripe for the best flavour. Consider also serving it with a side of honey or yogurt for an extra burst of deliciousness.
Cheese Cubes in Mickey Shape
Start with a block of your favorite firm cheese, cheddar or Colby Jack work particularly well. Using a Mickey Mouse shaped cookie cutter, simply press down into the cheese to create the quintessential mouse shape.
These bite-sized cheese delightments don't just look fun, they're an easy way to present an ordinary snack in an extraordinary way.
You can serve them on a platter with crackers and grapes for a delightful Disney-themed cheeseboard. Alternatively, skewer them along with cubed ham and cherry tomatoes for a whimsical touch to your kabobs or charcuteries.
Though simple, this snack offers the versatility of being both a standalone nibble or an accompaniment to various other food items. It also encourages creativity, inviting cheese enthusiasts to experiment with different pairings and infusions.
Kids will undoubtedly love the playful touch, but let's not forget the adults, who will be equally enchanted by the fun twist on the regular cheese cube. Be mindful, however, that some cheeses may crumble; therefore, choose ones that are firm and easy to cut.
It might just spark a new tradition in your home, making snack time both a fun-filled and delicious activity.
Mickey Pancakes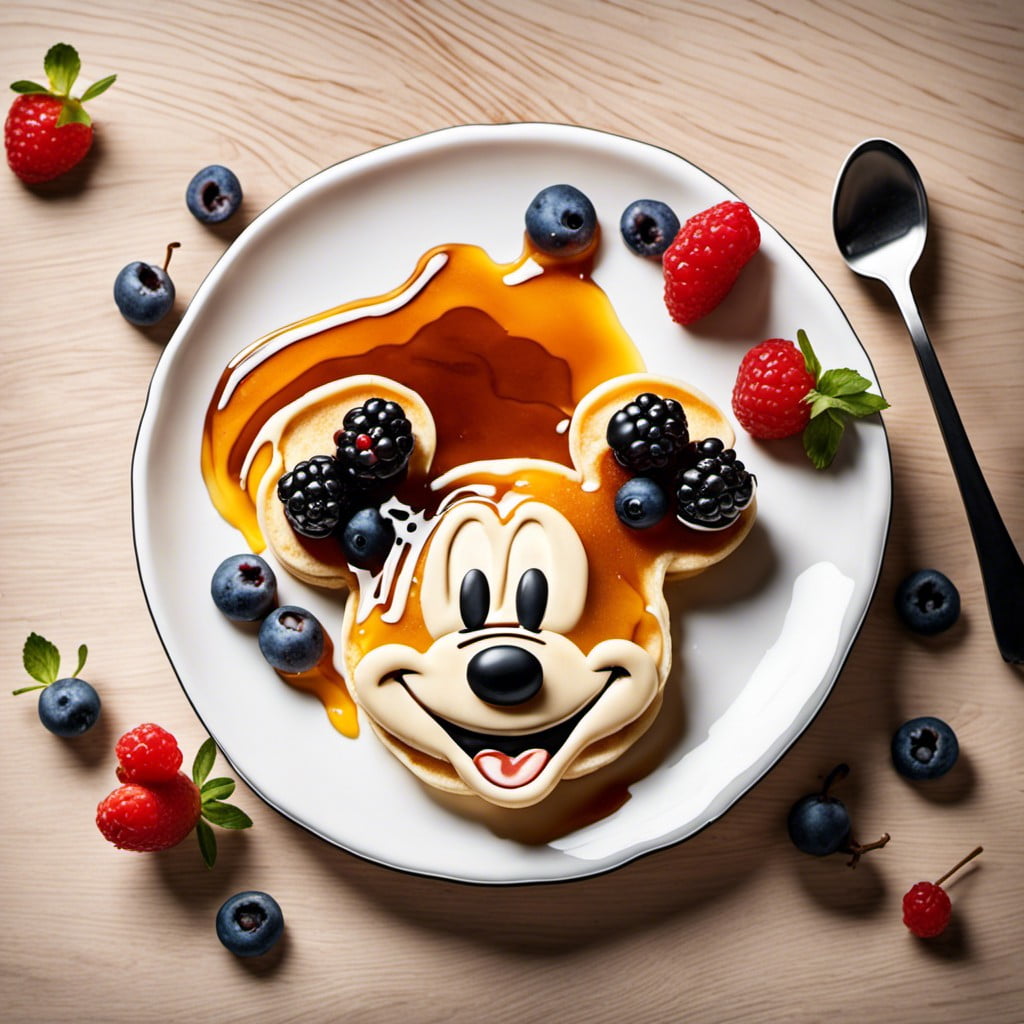 Making these adorable breakfast items is a breeze. Start with your favorite pancake mix, prepare as per the instructions given, and ensure it's a bit on the thicker side to hold the shape well.
Use a large round scoop for the face and two smaller ones for the ears, creating a perfect Mickey silhouette on the griddle.
You could go a step further with creativity, using strawberries or raspberries for a pop of color, symbolizing Mickey's iconic trousers.
Additionally, banana slices, blueberries, or chocolate chips can serve as the eyes and buttons.
Do remember to watch the heat; it's vital for maintaining the look, as pancakes can easily get overly brown.
Excite the kids more by adding whipped cream and a cherry on top, making it a fun yet nutritious treat.
Or, for an indulgent twist, drizzle some maple syrup or dust powdered sugar.
Quick and easy to make, yet immeasurably delightful, these pancakes guarantee a magical start of the day!
Mickey Mouse Pizza Bites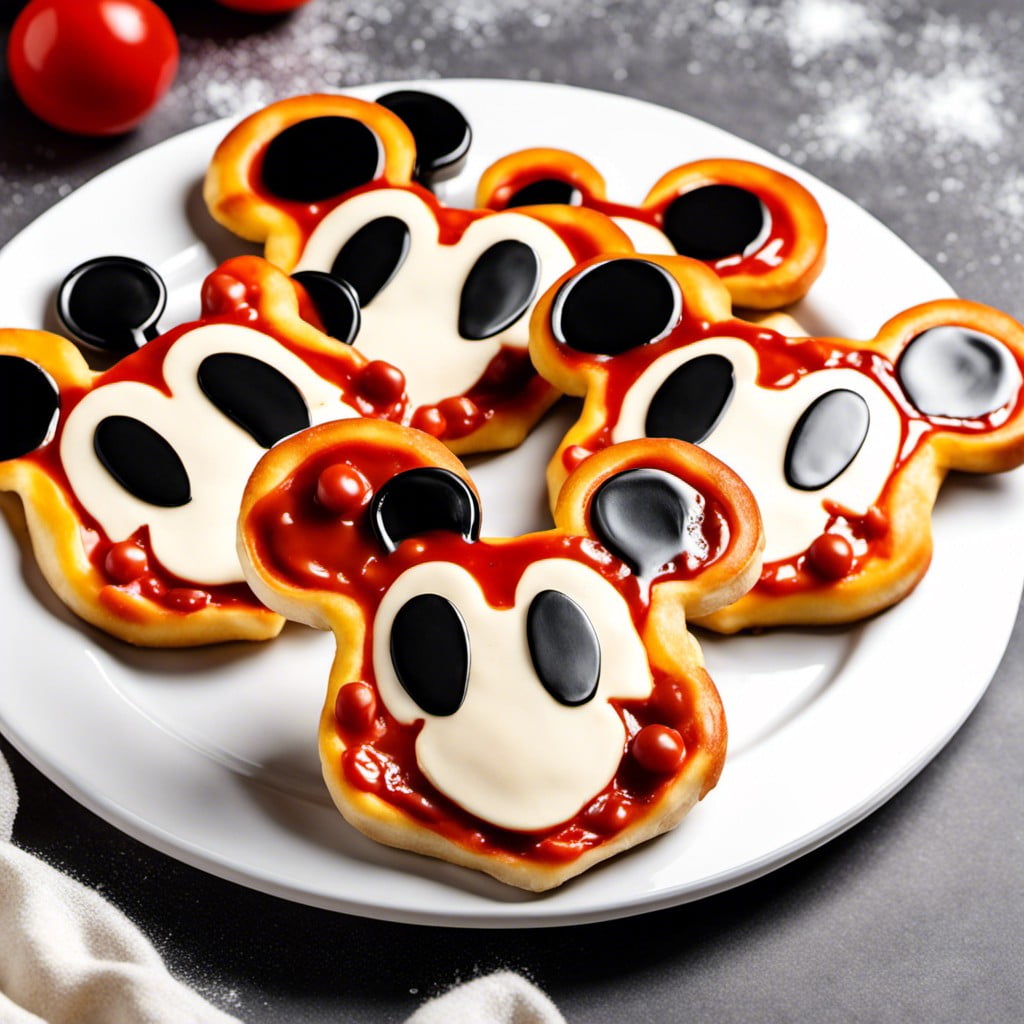 Creating these fun, bite-sized goodies couldn't be simpler. Begin by taking your usual pizza dough and cutting it into Mickey Mouse shapes using a cookie cutter.
Spread a thin layer of marinara sauce over each piece, followed by a sprinkling of your favorite cheese – mozzarella works particularly well.
Add your choice of toppings; mini pepperonis are a cute and tasty option.
Bake until the cheese is bubbling and the dough turns golden brown.
Serve these at your next gathering and be prepared for a round of applause. The iconic shape will have everyone grinning, and the familiarity of pizza ensures they'll be a hit with all ages.
With the added bonus of portion control, they're perfect for both little hands and diet-conscious adults.
Mickey Rice Krispie Treats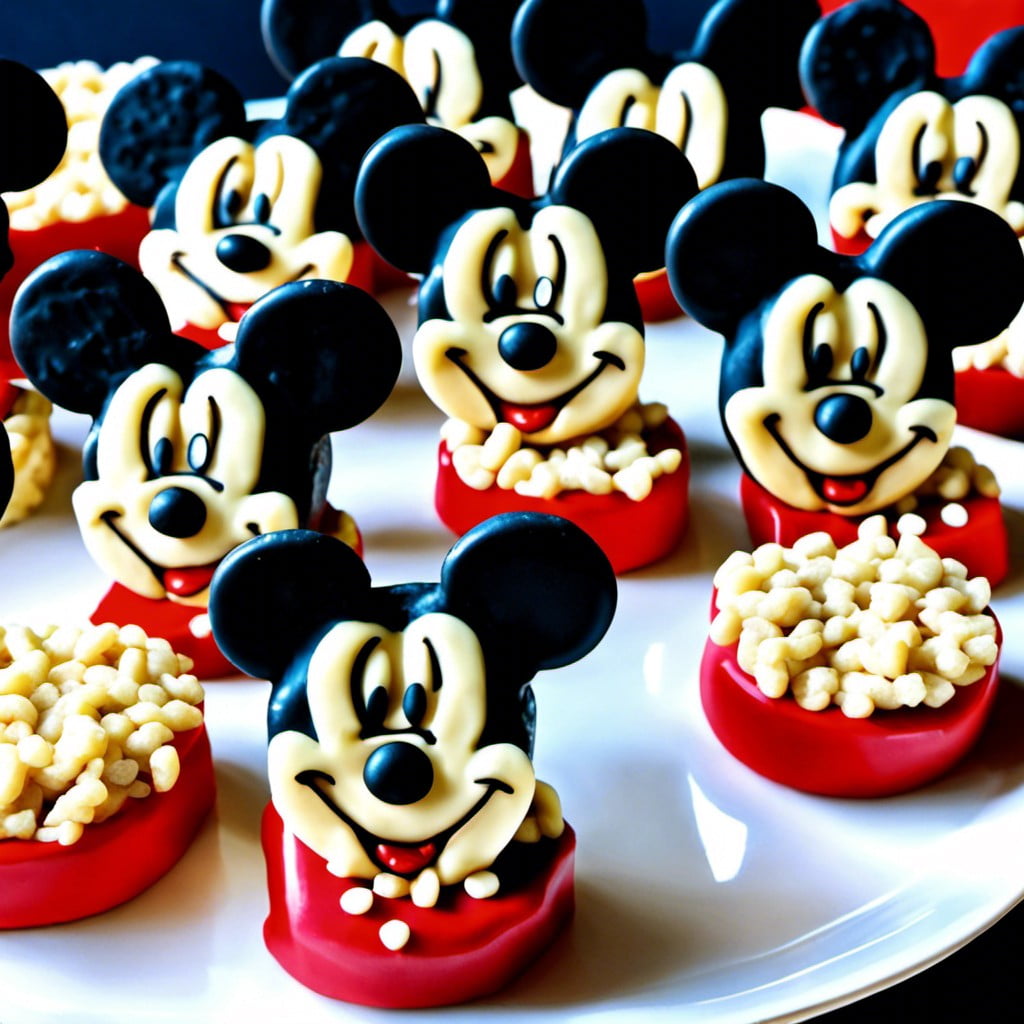 Creating these delightful treats is as simple as following your go-to Rice Krispie recipe. The key difference lies in the shaping. For this, you'll need a Mickey Mouse shaped cookie cutter, easily available online or at specialty baking stores.
While your mixture is still warm and malleable, use the cookie cutter to create the Mickey head shapes. Make sure to press the cutter down firmly to ensure the mixture takes on the full Mickey shape.
Remember to reserve some extra mini marshmallows, white chocolate chips, or fondant for decoration. They can be used to detail Mickey's iconic features such as his eyes, nose, and mouth.
For an added touch of magic, consider using colored sprinkles or edible glitter. This extra step will give your treats a dazzling finish reminiscent of the enchanting world of Disney.
This activity is perfect for kid's parties or simply as a fun kitchen project for Disney enthusiasts. With just a few easy steps, you can bring the famed character to life in the form of a tasty and crunchy snack.
Mickey Shaped Popcorn Balls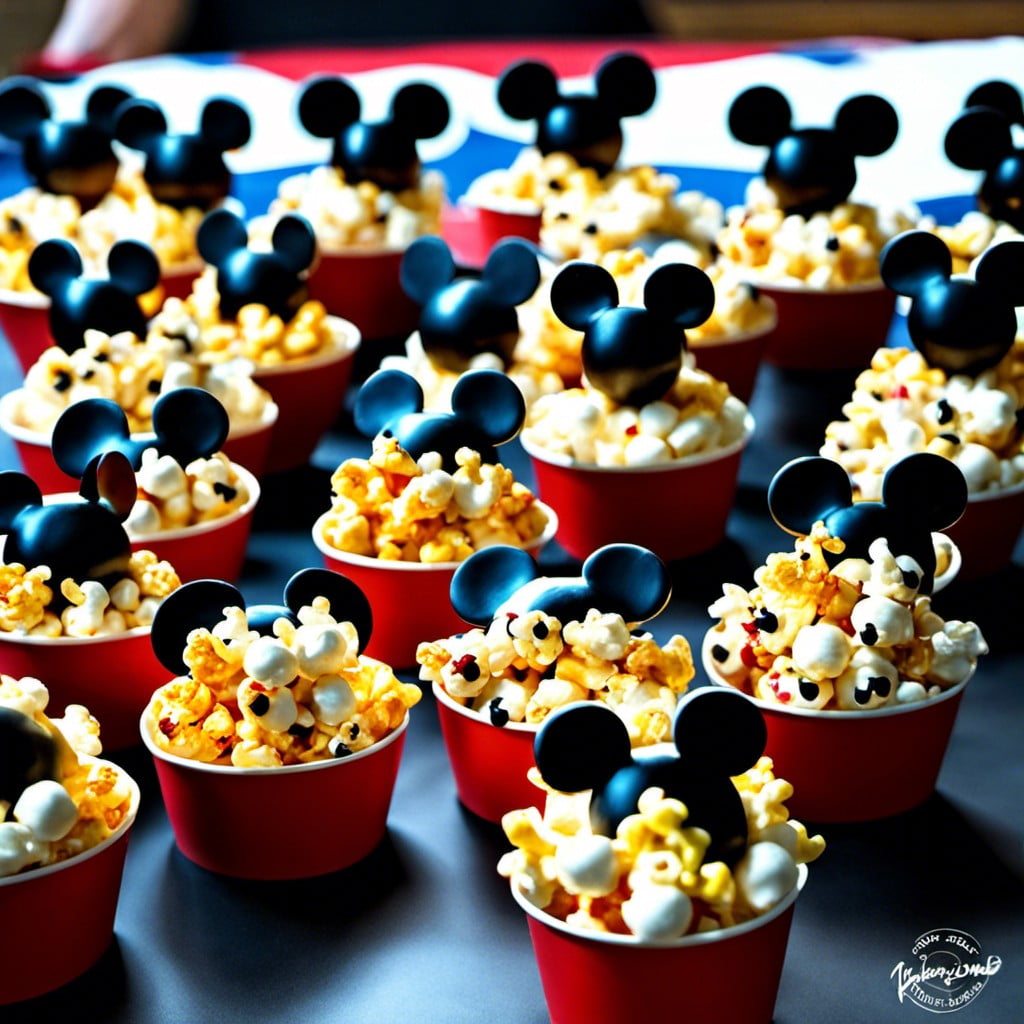 These delightful treats add a fun twist to a classic snack, with the Mickey Mouse shape emphasizing the theme. To start, you'll need popcorn, marshmallows, butter, and a Mickey Mouse shaped cookie cutter. Use the marshmallow and butter to create the sticky base that holds the popcorn together.
Push your popcorn mixture into your cookie cutter, pressing firmly to ensure it stays intact when removed. It's also a good idea to slightly grease the cutter beforehand to ensure easy removal of your popcorn ball.
To add some extra magic, consider dipping one side in melted chocolate or decorating with edible glitters or sugar decorations. Serve wrapped in clear plastic with a colorful tie for giveaways, or simply on a platter for immediate enjoyment. Remember, the key to successful Mickey shaped popcorn balls lies in the consistency of your marshmallow-popcorn mix and the right amount of pressure during shaping.
Mickey Mouse Cupcakes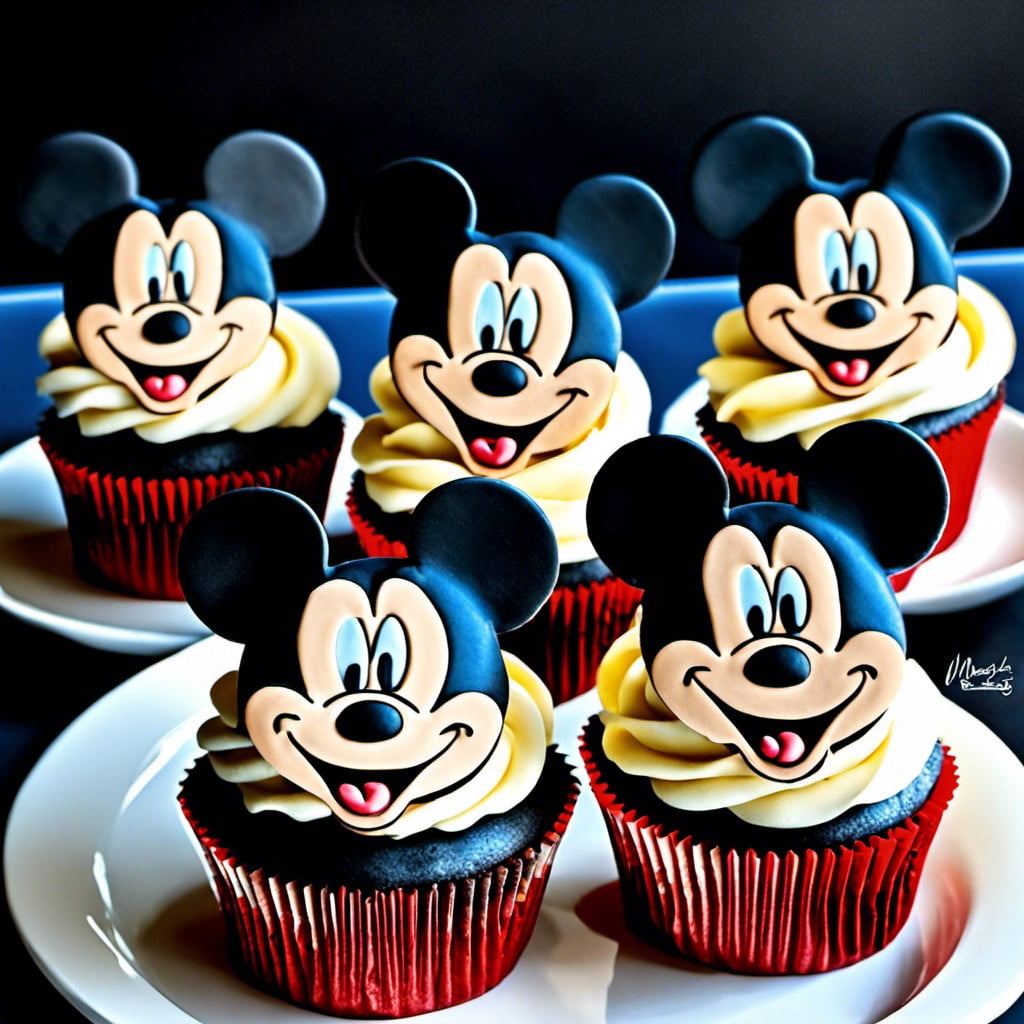 Crafting these delightful treats involves using regular cupcake recipes and adding an iconic touch. The secret lies in the decoration for an authentic Mickey Mouse appeal. Use chocolate cupcakes as they resemble Mickey's coloration – a truly immersive experience.
Begin with your favorite chocolate cupcake recipe. Once baked and cooled, coat them with a layer of smooth, creamy black icing to mimic the color of Mickey's face.
The final, and perhaps the most pivotal touch, is the characteristic Mickey Mouse ears. Two Oreo cookies, separated and with the cream removed, make the perfect pair of ears. Insert these on the top part of each iced cupcake.
Optional extra details may be added, like red paper cupcake holders or even tiny yellow candy shorts to truly breathe life into Mickey. Remember, imagination is the only limit when creating these magical cupcakes.
Mouse Ear Watermelon Slices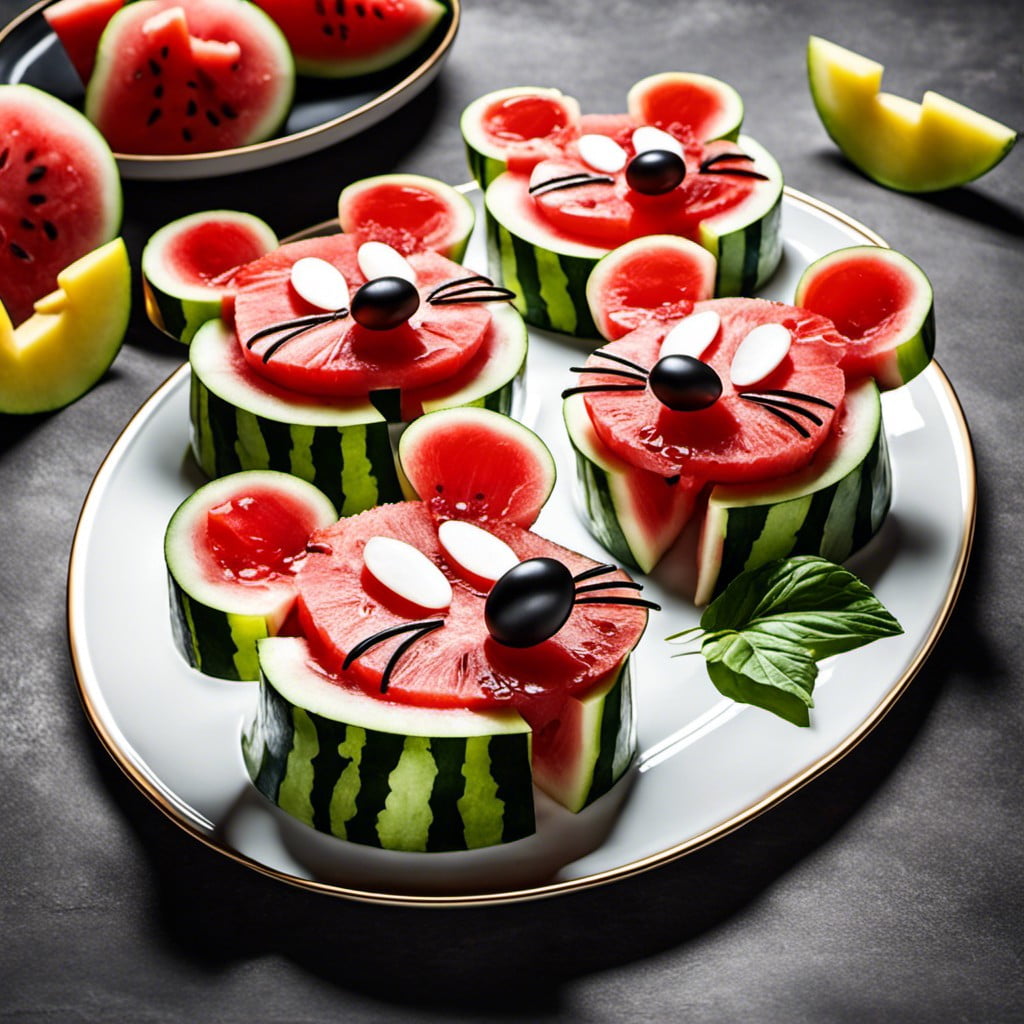 Harnessing watermelon's natural, refreshing sweetness, you can bring a hint of Disney magic right to your table. Begin by slicing the watermelon into round discs, approximately an inch thick. Be sure to keep these slices uniform for the best aesthetic outcome.
The epitome of simplicity, all this snack requires for morphing into an emblem of Disneyland is a Mickey Mouse shaped cookie cutter. Press this into your watermelon disc, allowing the watermelon flesh to fill every nook and cranny of the cutter. Upon removal, you'll be left with an instantly recognizable, mouth-watering, healthy snack symbolizing your favorite cartoon mouse.
As watermelon hosts a high-water content, these are an ideal pick for picnics and parties in warmer weather. For added allure, consider placing these onto a popsicle stick, giving you a fun, mess-free method of serving. For a more grownup take, consider adding a light sprinkle of feta, a drizzle of balsamic glaze, or pairing with prosciutto for an interesting play on sweet and savory flavors.
This snack celebrates not just the sheer joy that Mickey Mouse brings, but it is also a fun way to encourage fruit consumption, especially amongst younger members of the family. The appeal of the Mickey Mouse silhouette might just make them reach for a second helping!
Mickey Mouse Shaped Jelly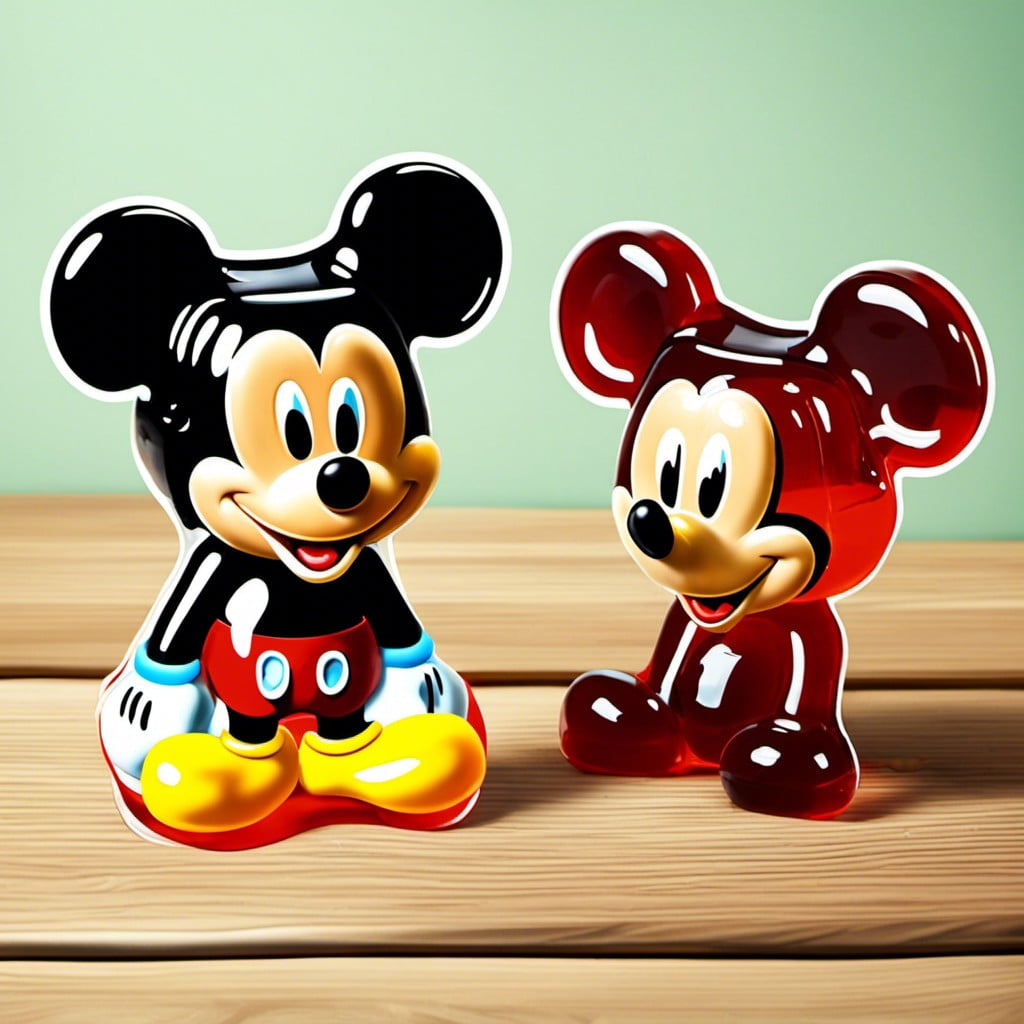 Creating this treat couldn't be simpler. All you need is your favorite flavor of gelatin and a Mickey Mouse shaped mold.
First, prepare the gelatin according to the package instructions. It's crucial to make sure the mix is smooth and without lumps for the perfect jelly texture.
Next, carefully pour the gelatin mixture into your mold. A useful tip is to place the mold on a sturdy, flat tray before pouring in the mixture, as this prevents any mishaps when moving it to the refrigerator.
Allow the jelly to set in the fridge for a few hours until firm.
Finally, gently pop your Mickey Mouse shaped jelly out of the mold, and voila, your fun and tasty snack is ready to enjoy!
The great thing about this snack is its versatility. You can choose any flavor of jellies or even mix multiple flavors to create a vibrant and colorful snack.
Mickey Mouse Chocolate Lollipops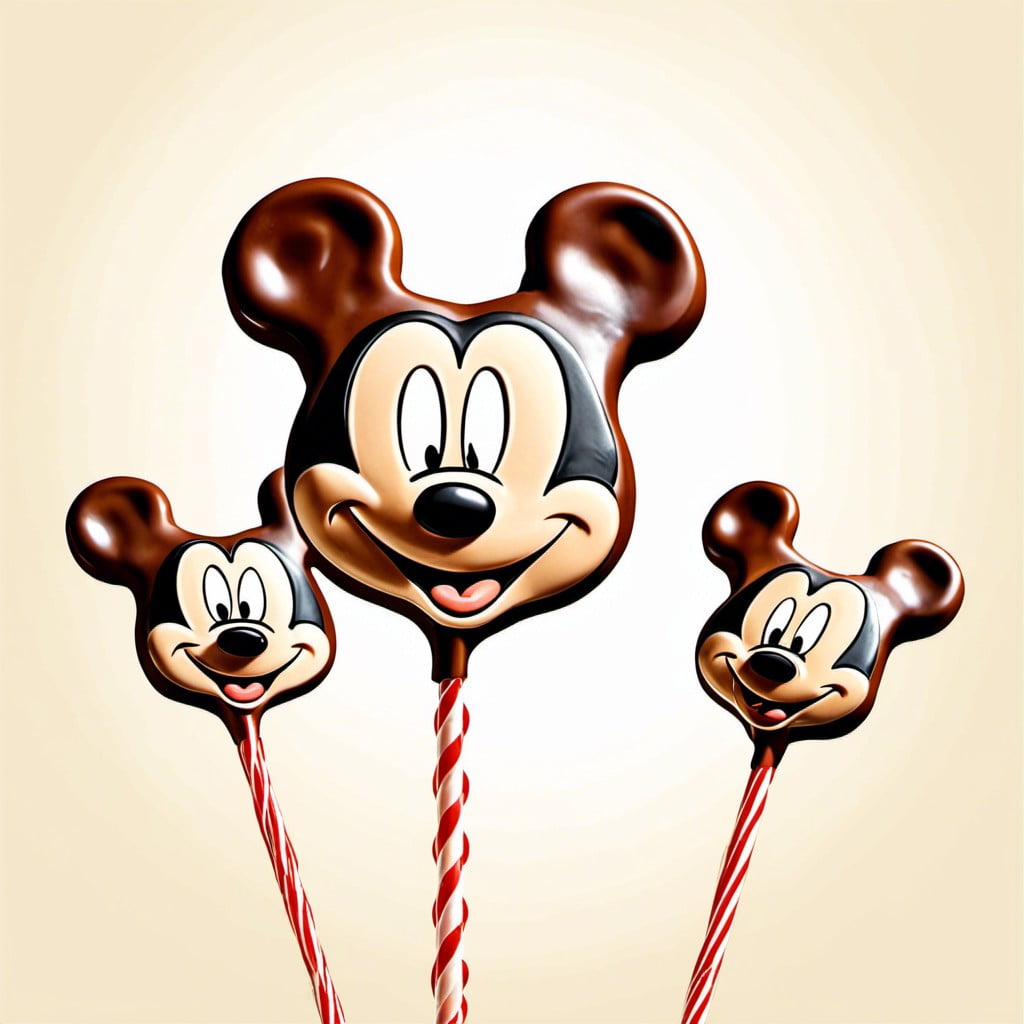 Creating these sweet treats is a fun and easy activity, perfect for kids and adults alike. What you'll need are lollipop sticks, a Mickey Mouse mold, and chocolate – either milk, dark, or white, based on your preference.
1. First, melt the chocolate carefully using a double boiler or in the microwave. If using a microwave, set it to half power and stir every 30 seconds to prevent burning.
2. Pour the melted chocolate into the Mickey Mouse molds, making sure to fill up each crevice for the iconic shape.
3. Insert the lollipop sticks into the molds. Be sure to wiggle them a bit for the chocolate to surround the stick, ensuring a strong hold.
4. Give the mold a few taps on the kitchen counter to bring up any air bubbles.
5. Place the mold in the fridge to allow the lollipops to set, usually taking about 1 to 2 hours.
To present these adorable treats, consider tying a colored ribbon around the stick or wrapping them up individually as party favors. Moreover, different types of chocolate or sprinkles can provide delightful variations. These lollipops promise an iconic, magical touch to any snack table.
Mouse Ear Ice Cream Sandwiches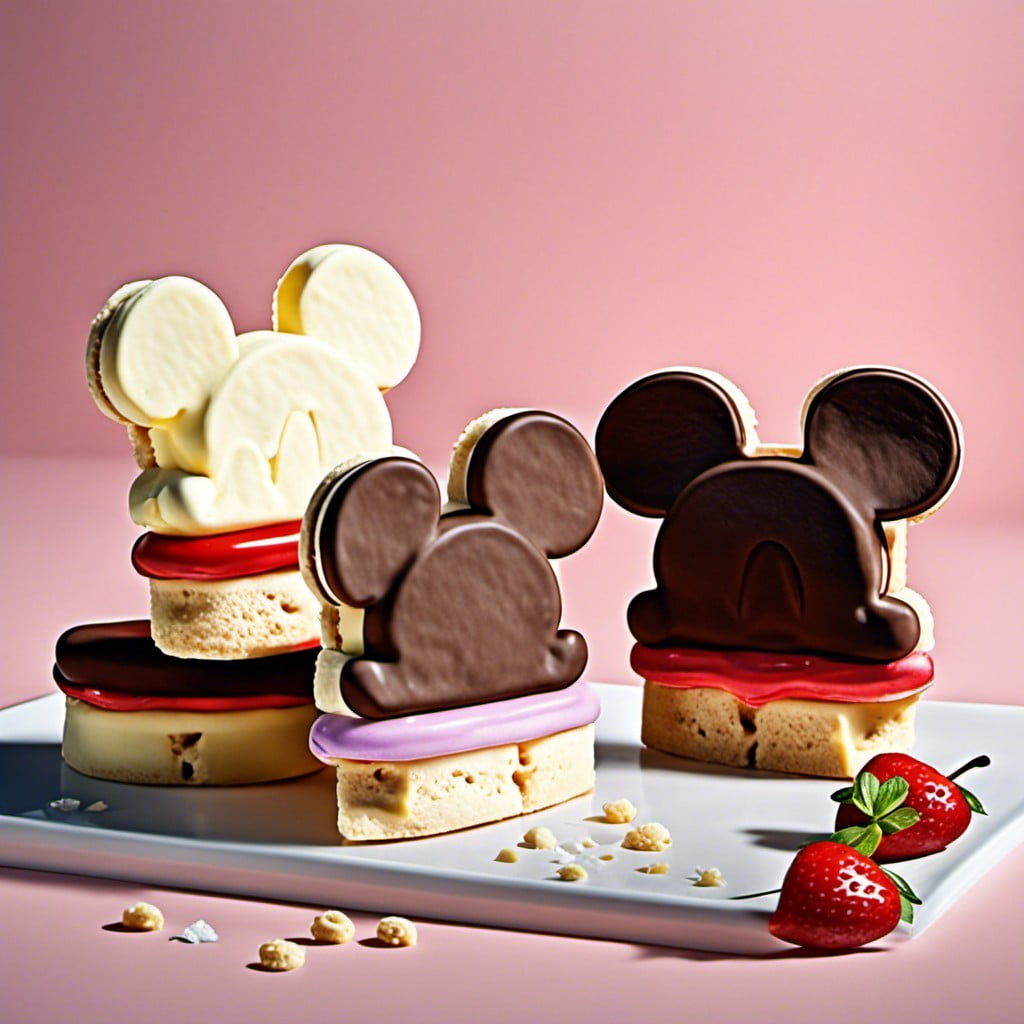 Creating these delightful treats involves the simple task of assembling vanilla ice cream between two chocolate cookies. Key to the preparation is the shape. Use a Mickey Mouse-shaped cookie cutter to achieve the iconic three-circle silhouette.
Additionally, these desserts can be customized with different ice cream flavors or cookie types, rendering them adaptable for various taste preferences. Perfect for themed parties or simply as a surprise for Disney-loving youngsters, these cold treats not only satisfy the taste buds but also serve as visually appealing delights replete with the charm of Disney's beloved character.
Their creation is filled with fun and requires minimal ingredients, making this a hassle-free and enjoyable recipe to explore.
Mickey Quesadillas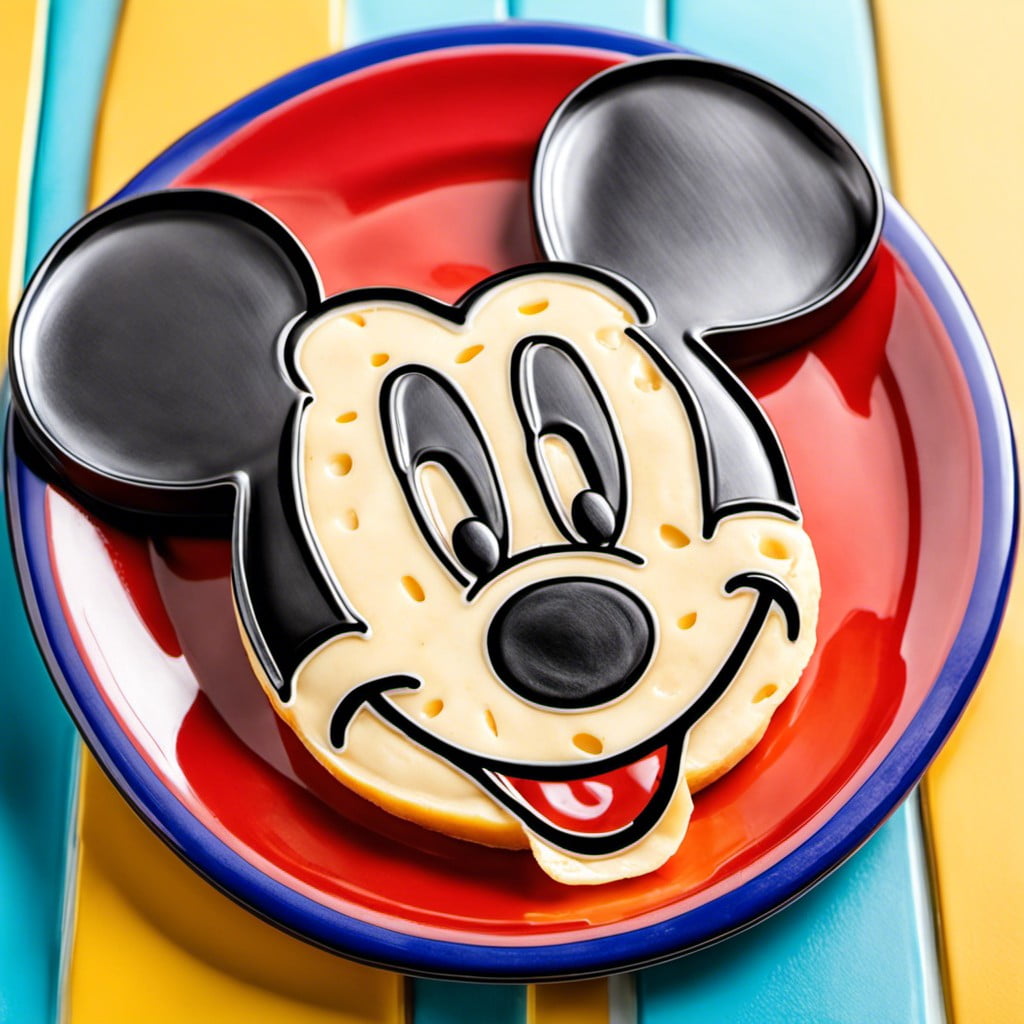 Creating this delightful snack is a breeze. First, gather your ingredients: tortillas, cheese, and a Mickey Mouse cookie cutter. For added nutritional value, feel free to incorporate veggies – think peppers, spinach, or tomatoes.
Press your cookie cutter into the tortillas, giving you the perfect Mickey shape. Sprinkle cheese, add your optional veggies, and cover with another tortilla cutout. Cook these on both sides until golden brown and the cheese is melted. Voila, you've transformed a simple dish into a magical Disney-inspired treat. Plus, it's a clever trick to sneak in some vegetables for the kids. Balance, after all, is a key part of any diet.
Mickey Mouse Shaped Burgers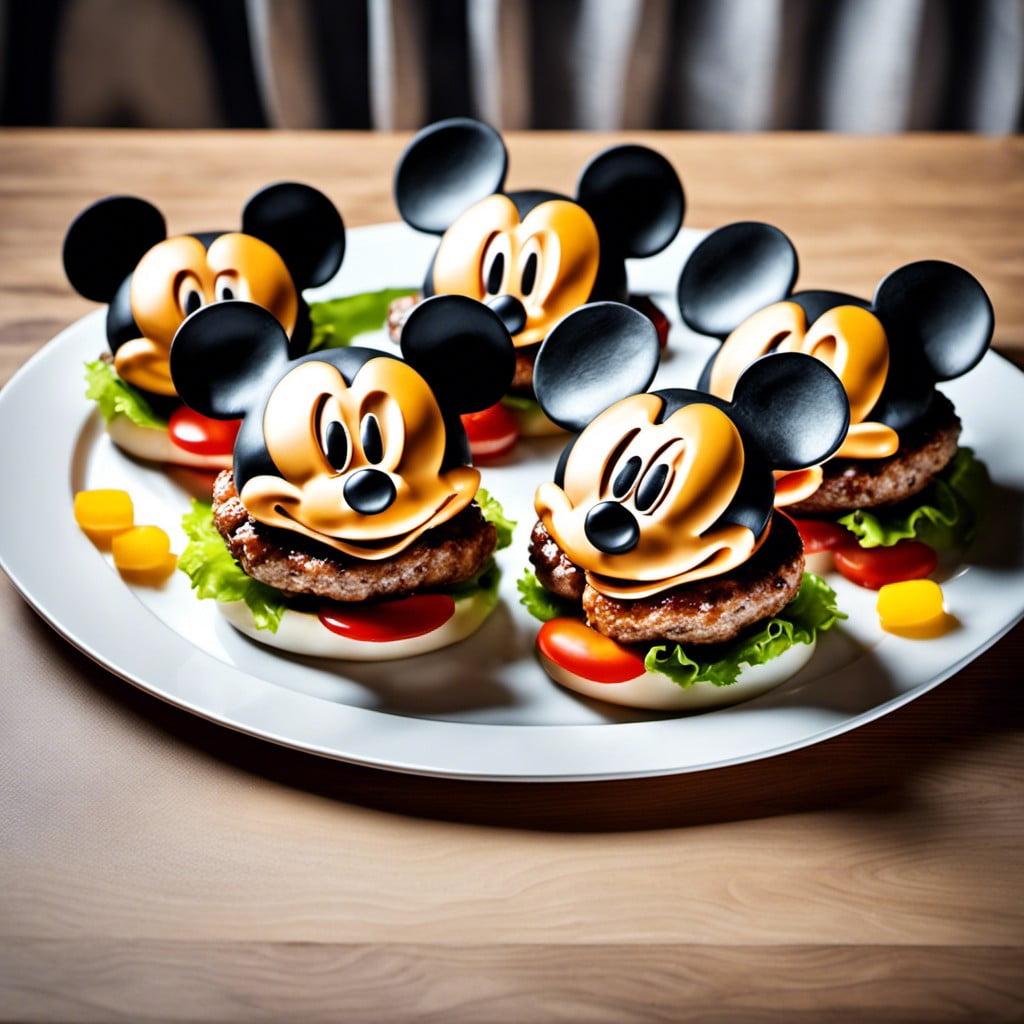 Crafting these delightful burgers requires minimal culinary prowess. Start with your favorite burger recipe and shape the patties as follows: a larger circle for Mickey's face and two smaller circles for his iconic ears. Ensure that the ear patties are attached securely to avoid separation during cooking.
A grill will provide the best flavor and visual appeal, but a stovetop pan would also do the job neatly. Cook your patties to desired doneness; assistance from a meat thermometer will ensure safety and precision.
A bun is optional, but if included, creativity can ensue. Some choose to cut their bun in the shape of Mickey's head to match, while others prefer a standard circular bun and rely solely on the patty to represent Mickey.
Toppings add vibrancy and diversity to the mix. Classic lettuce, tomato, and cheese never disappoint, while adventurous souls may opt for more unique accoutrements like caramelized onions or beetroot slices.
Remember, the real magic lies in the presentation. Arrange your Mickey Mouse Shaped Burgers in an enticing way and savor the delighted glances they receive. Taste, after all, isn't merely about flavor; it's also a visual feast. So, let your culinary creativity shine!
Mouse Ear Mini Pizzas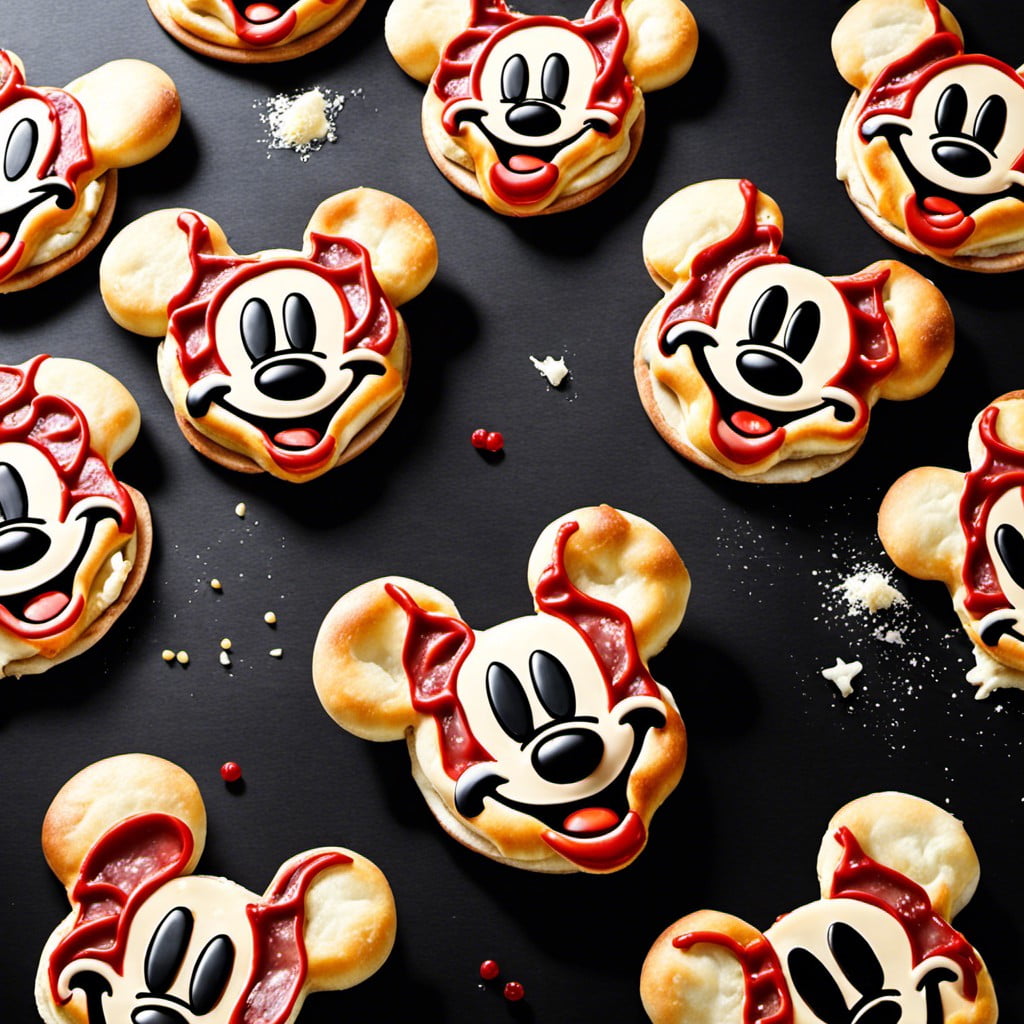 Start with mini pizza bases for this charming snack, these are readily available in most grocery stores. Top the pizzas with a layer of marinara sauce, covering them evenly.
For the classic Mickey Mouse silhouette, cut two smaller circles for the ears from another mini pizza base.
Highlight Mickey's endearing features with a combination of sliced peppers and black olives. Red or green peppers can enhance the vibrant appeal. Use black olives or tomatoes to fashion the details like the eyes and nose.
Sprinkle both the base and ear sections generously with mozzarella cheese.
Bake these appetizing mini pizzas until the cheese is bubbly and slightly browned. The heat will transform simple ingredients into a tasty tribute to the beloved character.
These miniature pizzas guarantee an enjoyable and thematic addition to any Mickey Mouse-inspired meal or party.
Mickey Shaped S'mores
Creating these delicious treats requires some preparation. For the classic s'more flavor, gather graham crackers, large marshmallows, and chocolate bars. Custom cookie cutters in the shape of Mickey's iconic silhouette will shape the graham crackers and chocolate, while a larger cookie cutter ensures the marshmallows fit snugly within.
Prepare ahead by pre-cutting all the components. Assembly is quick when done at the campfire or hearth. Once the marshmallow is toasted to the desired level of meltiness, place it on the cracker and top with chocolate. The finishing touch is the top graham cracker, also Mickey-shaped. These snacks are not only adorable, but they also capture the magic of Disney in a bite-sized treat that's perfect for every occasion – from an outdoor gathering to a themed party.
Enjoy the gooey marshmallow, the melty chocolate, and the crunch of the graham crackers with an extra dash of joy.
Mickey Mouse Donuts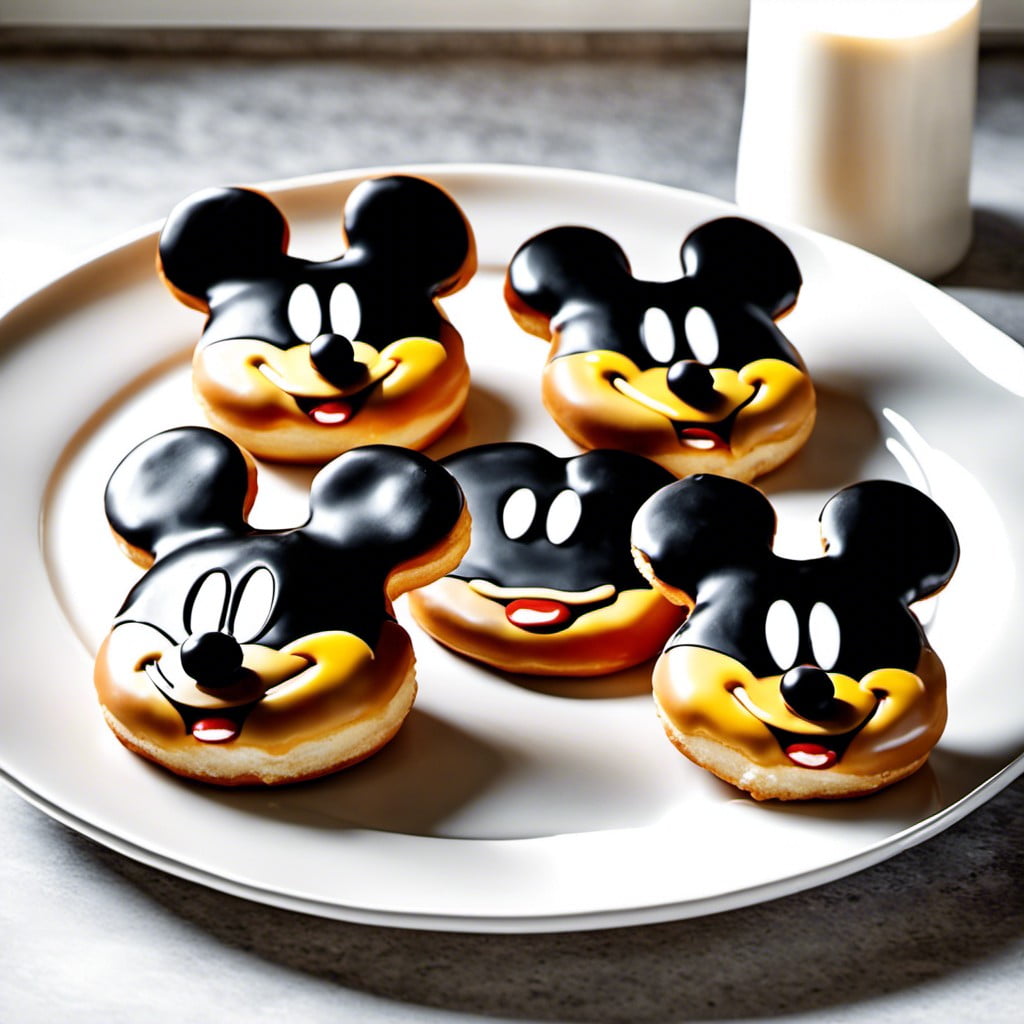 Crafting these sweet treats involves a bit of creativity and the right tools. Start by purchasing or baking your own plain donuts. Next, procure some chocolate glazing for a classic Mickey Mouse look or choose colored frosting based on the theme of your event.
For the ears, use either smaller donut holes or Oreo cookies. Attach them to the main donut with a dab of extra frosting and voila, you have your Mickey Mouse shaped donut. Remember to let them dry properly before serving.
When it comes to decorating, the options are tantalizingly endless. Switch up the color scheme for added fun, or consider adding special elements such as edible glitter, sprinkles, or candy eyes to create a range of expressions on the faces.
The key to successfully creating this snack lies in being patient and allowing your imagination to take flight. Try practicing a few times before the main event to perfect your technique and figure out what embellishments work the best. However, no matter how they turn out, these delightful donuts are sure to be a huge hit.
Mickey Mouse Cheese and Crackers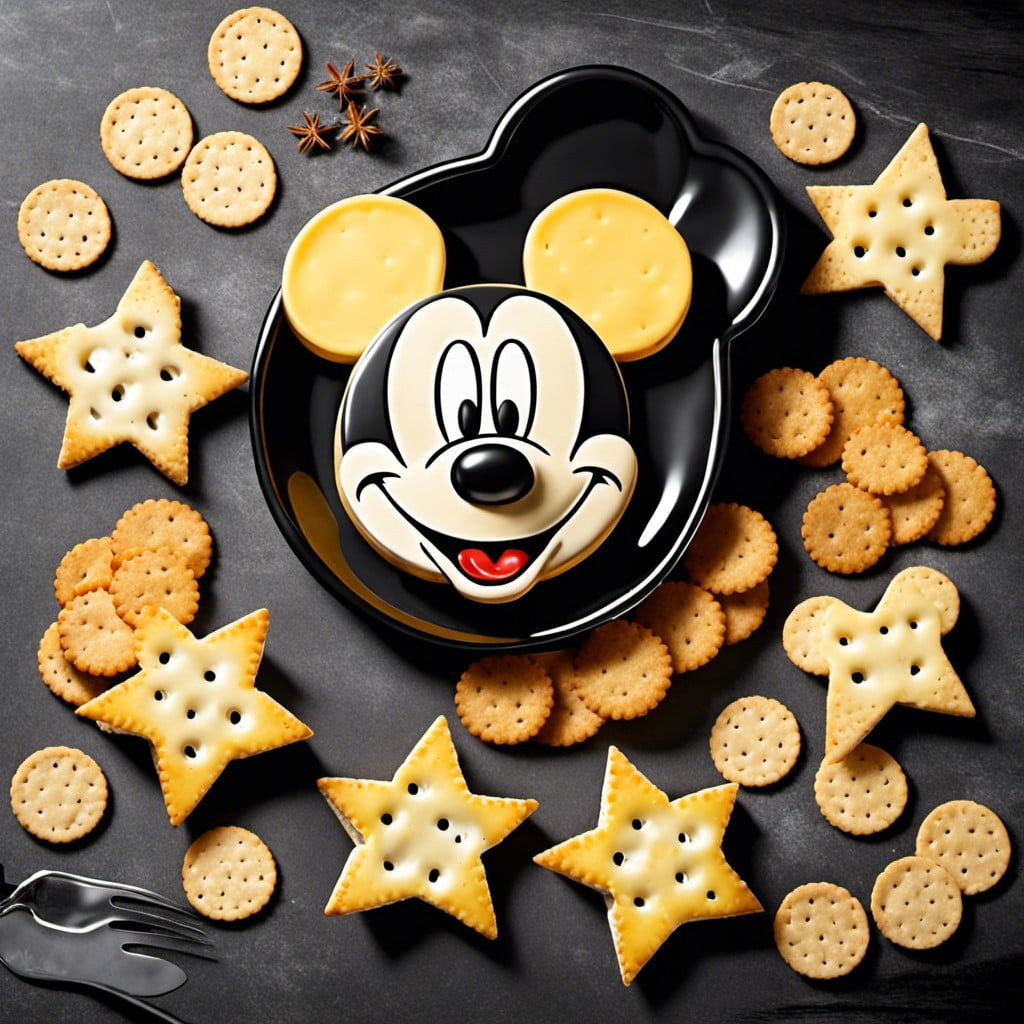 Crafting this snack is a straightforward procedure that rewards with an aesthetic and appetizing delight. Start with a hard cheese, like sharp cheddar or gouda. A simple cheese slicer should instantly transform the solid block into pliable, thin slices.
For the crackers, choose a variety that is large enough to be noticeable but small enough that it doesn't overshadow the cheese. A medium-sized butter cracker is often an ideal choice.
Next, you'll need a Mickey Mouse cookie cutter. If you don't own one, they are widely available online. Here comes the fun! Place your cheese slice on a flat, clean surface and press down firmly with the cookie cutter. Gently remove the Mickey Mouse shape and place on top of the cracker. Repeat this process until you have the desired amount of snacks.
Remember – presentation is key. Arrange the Mickey Mouse Cheese and Crackers artfully on a serving board or plate. Kids love them for their familiar shape and adults appreciate the creativity. Imagination and flavor go hand-in-hand with this crowd-pleaser.