Explore the versatility of Laughing Cow cheese with these innovative snack ideas that transform your ordinary meals into flavorful delights.
Laughing Cow cheese, with its creamy texture and rich flavor, is an ideal ingredient to elevate your snack game.
Whether you're seeking a quick bite between meals or a creative appetizer for your next gathering, this article offers a plethora of snack ideas featuring this versatile cheese.
From simple pairings to innovative mini-meals, you'll discover how to transform this humble cheese wedge into a culinary delight.
Stay tuned to uncover the full potential of Laughing Cow cheese in your snack routine.
Cheese Stuffed Peppers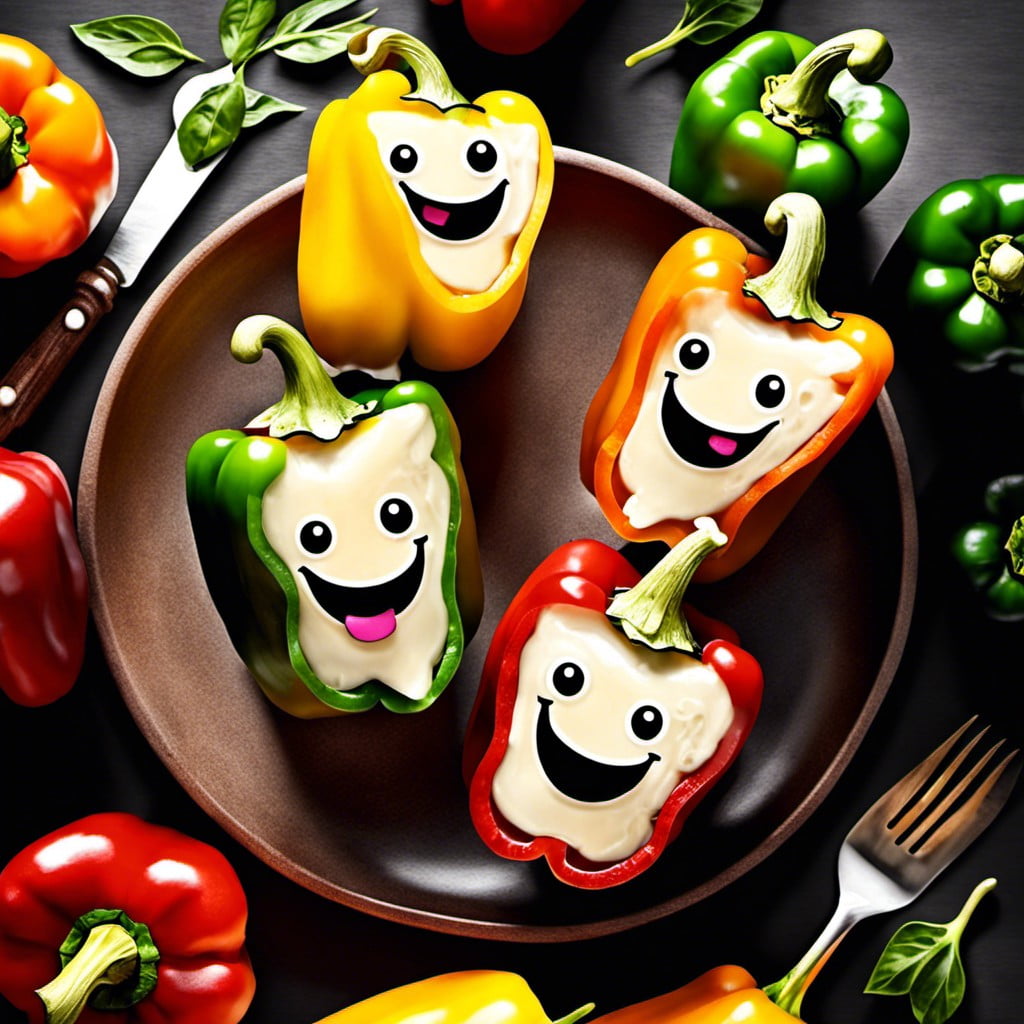 Offering a harmony of flavors, this easy-to-make treat is a delightful snack. It begins with selecting small bell peppers— think red, yellow, or orange for a vibrant plate presentation. When hollowed out, they turn into the perfect vessels for our laughing cow cheese. The softness of the cheese melds exceptionally with the crisp, slightly-sweet pepper exterior, providing both taste and texture in each bite.
Plus, the preparation is satisfyingly simple:
Start by slicing the tops off the peppers and removing the seeds.
Then, choose your favorite flavor of laughing cow cheese and stuff it into the cored peppers.
Grill, bake or broil until the peppers are tender and the cheese is melted, about 10 minutes for most ovens.
Remember, these are not only great appetizers but can serve as a low-carb snack throughout the day!
Cheesy Garlic Bread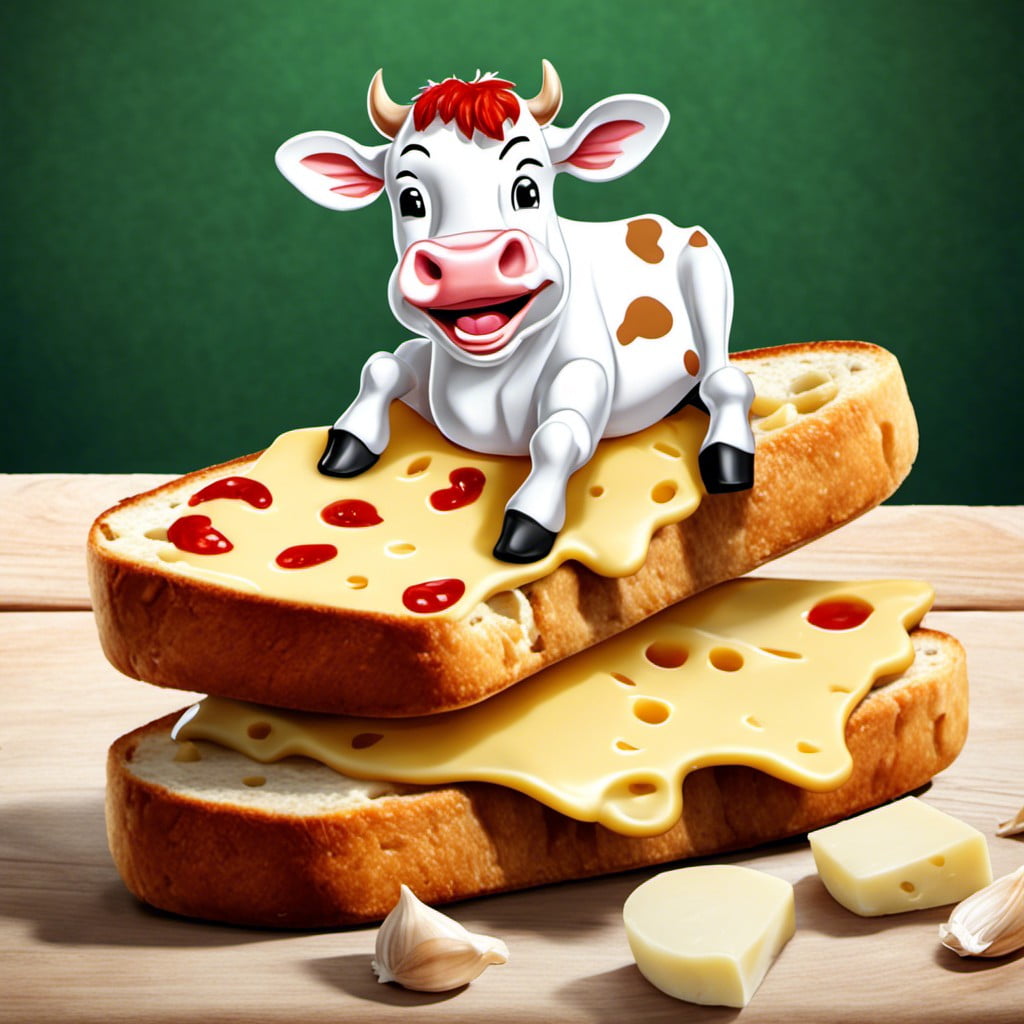 You might be surprised at the simplicity of this recipe. Start by preheating your oven to 180°C and cut a baguette into thick slices without slicing all the way through.
Take your Laughing Cow cheese wedges, ensuring they're at room temperature for optimal spreadability.
Then, mix finely chopped garlic and parsley into the cheese to create a flavorful blend.
Next, generously spread the cheese mixture in between the slices of the baguette.
Wrap the baguette in foil and bake in the preheated oven for 10-15 minutes, until the cheese is melted and bubbly.
You'll find this recipe elevates the traditional garlic bread to a creamy, cheesy delight.
The garlicky and slight tang of the Laughing Cow cheese wedges enhances each bite and leaves you craving for more.
Plus, it's just as simple and quick to make as regular garlic bread.
Serve it warm for maximum flavor!
Spinach and Cheese Pinwheels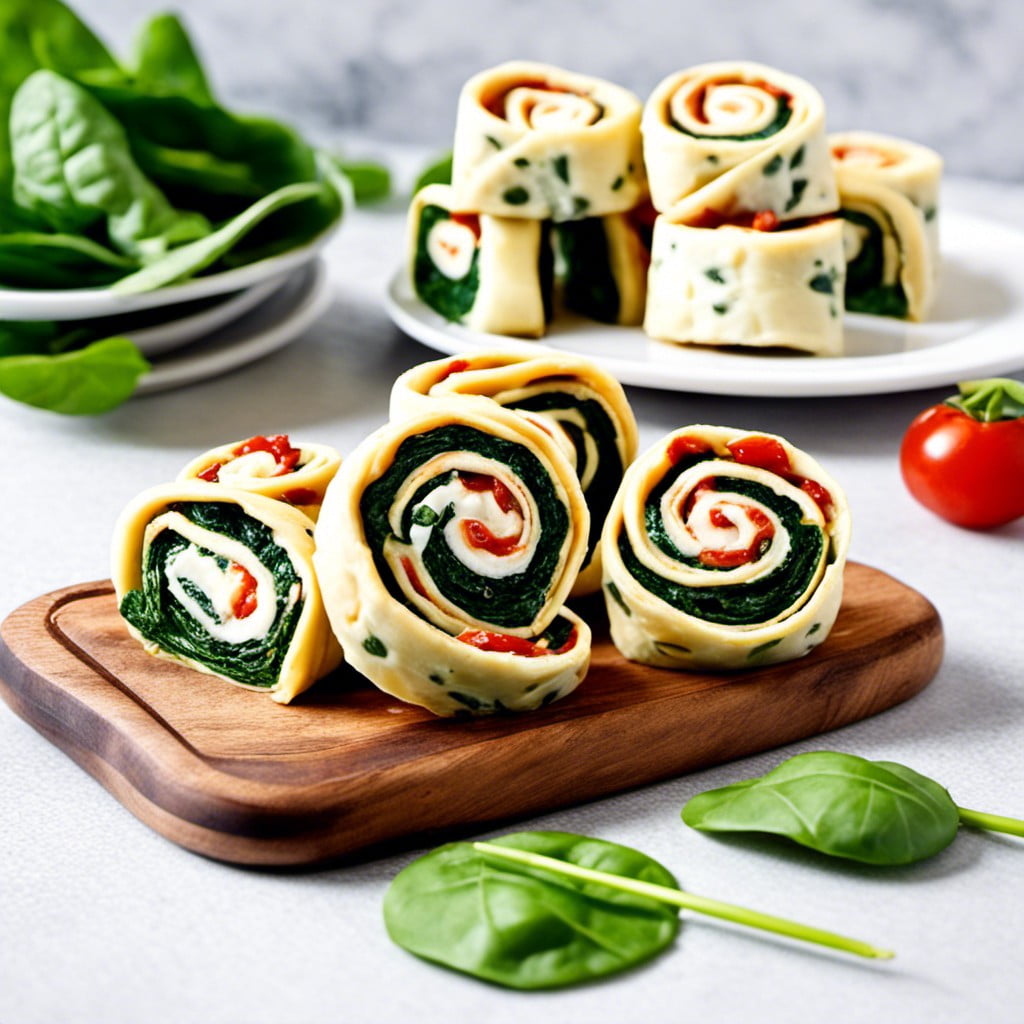 With fresh spinach as a colorful addition, these tasty pinwheels get a burst of creamy goodness from Laughing Cow cheese. To prepare, all you need is a sheet of puff pastry, a handful of spinach leaves, and a few wedges of Laughing Cow cheese.
1. The puff pastry should be rolled out thinly and evenly.
2. Spread Laughing Cow Cheese across the whole surface.
3. Layer spinach leaves on top of the cheese.
4. Roll the pastry tightly into a log shape.
5. Cut into slices and arrange on a baking tray.
6. Bake until golden and crispy.
The combination of crispy puff pastry, creamy cheese, and nutritious spinach gives you a delicious and well-balanced snack. If you wish to add an extra layer of flavor, sprinkle some garlic powder or your preferred herbs before rolling up the pastry. It's an ideal snack for any gathering, be it parties, picnics, or a cozy family brunch. Enjoy the burst of flavors in every tantalizing bite!
Cheese and Tomato Bruschetta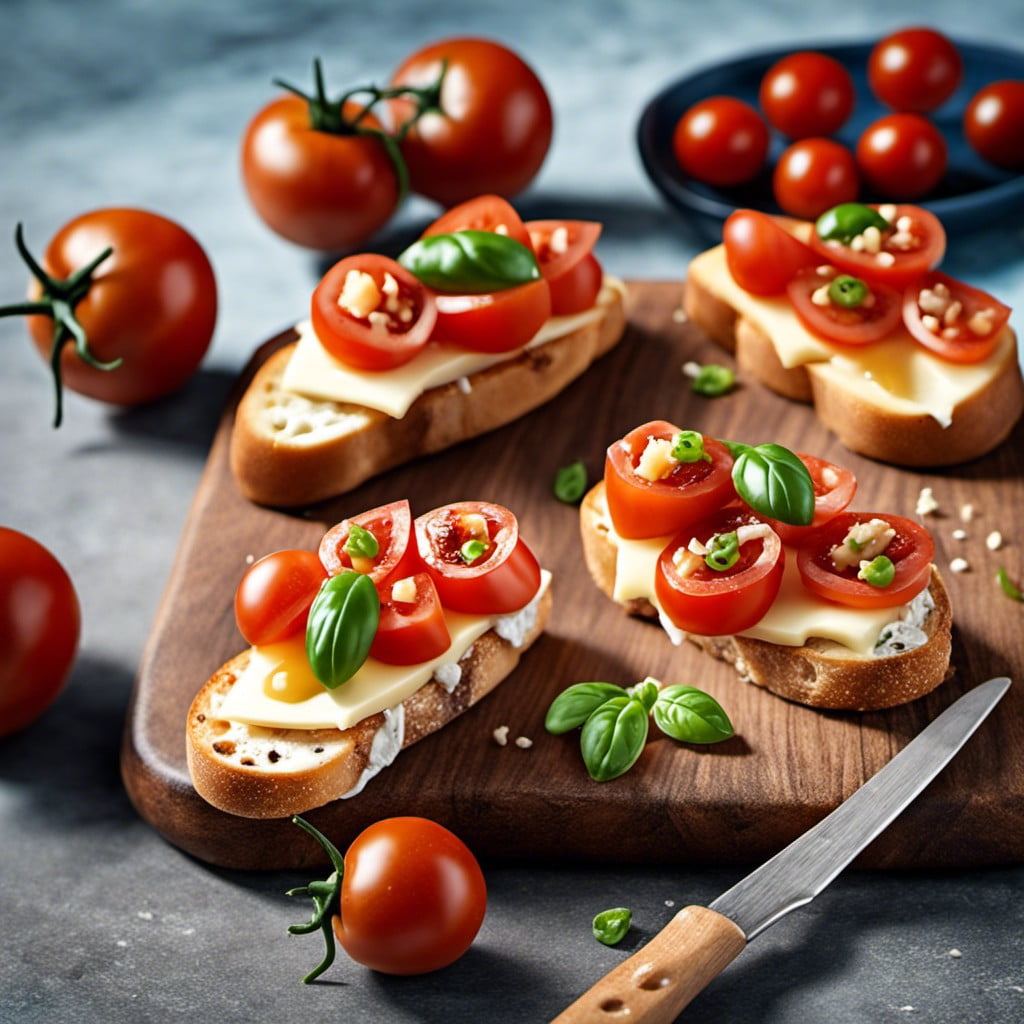 Acquiring a harmony of taste and texture can seem complicated, but not to worry. Start by slicing a fresh baguette and toasting it until it's golden and crispy. Once done, rub the crusty slices with a peeled garlic clove for that subtle, yet irresistible aroma.
Next, top the garlic-infused baguette slices with ripe, juicy tomatoes. Opt for cherry or plum tomatoes for their intense, concentrated flavor and less pulp. Make sure to deseed them first, as seeds could make your bruschetta soggy. Chop them finely but not too much – you want to keep some texture still intact.
It's now time for our star – the Laughing Cow cheese! This cream cheese is lightweight, creamy and packed with flavor. It pairs seamlessly with the tomatoes, cutting through their acidity. Choosing a spreadable cheese like this makes the application hassle-free – just spread a generous layer on top of the tomatoes.
Lastly, season your bruschetta with salt, pepper and a drizzle of extra virgin olive oil to bind the flavors. If you desire a touch of freshness, garnish with fresh basil leaves. Now you have a satisfying snack that beautifully balances texture, flavor, and simplicity.
Cheese Dip With Crudites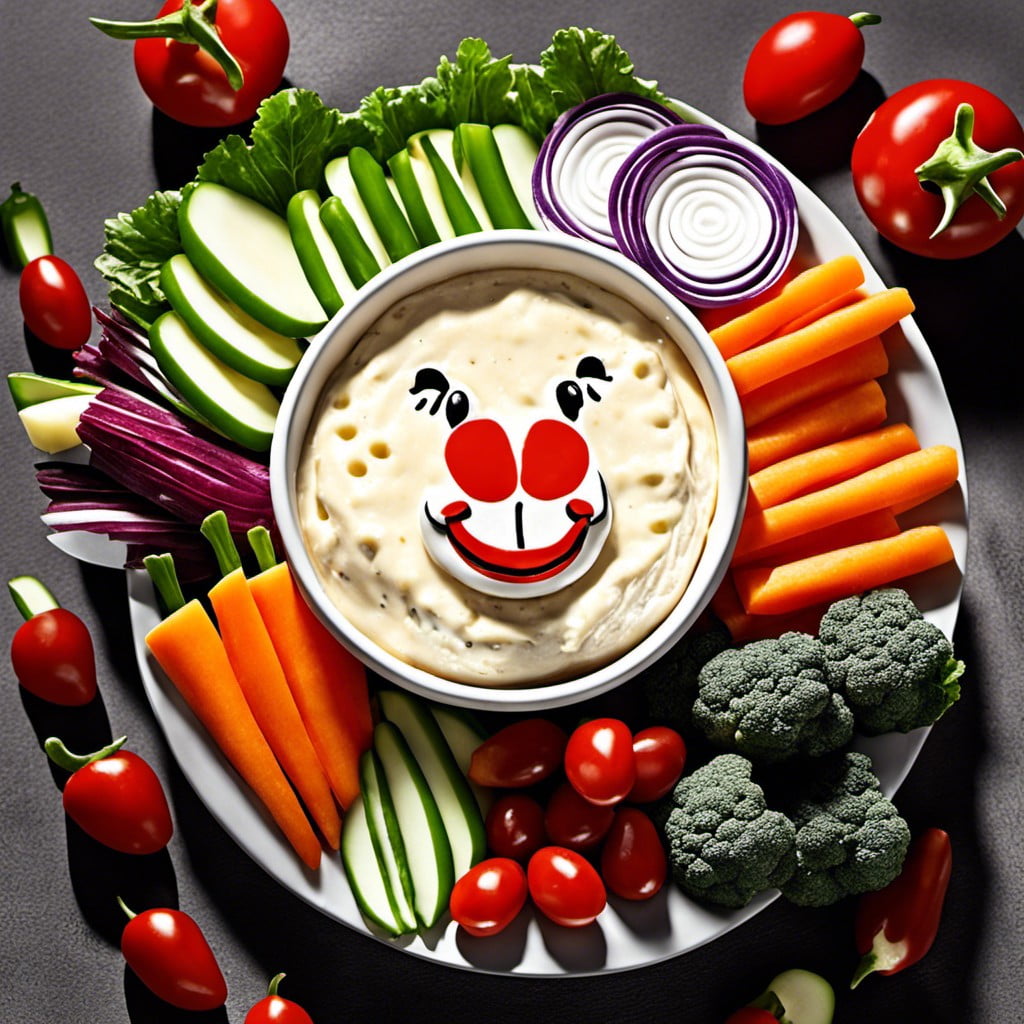 To begin, select a variety of fresh vegetables for your crudites, such as cucumber, carrot, bell pepper, and celery sticks. They should be chopped into bite-sized pieces for easy dipping.
For the cheese dip, all you need is your favorite variety of Laughing Cow cheese. It's creamy and easy to mix, making it an ideal choice for a thick and tantalizing dip. Add a dash of cayenne pepper if you prefer a kick of spice, or a splash of lemon juice for some tangy zest.
Mix the ingredients together until smooth. You can adjust the consistency based on preference – add a little milk to thin it out, or use more cheese for a thicker blend.
Serve your creamy cheese dip in a bowl, surrounded by the vibrantly colored crudites. This dish strikes a balance between indulgent and healthy, making it a guilt-free snack to enjoy at any time.
Toasted Bagels With Cheese Spread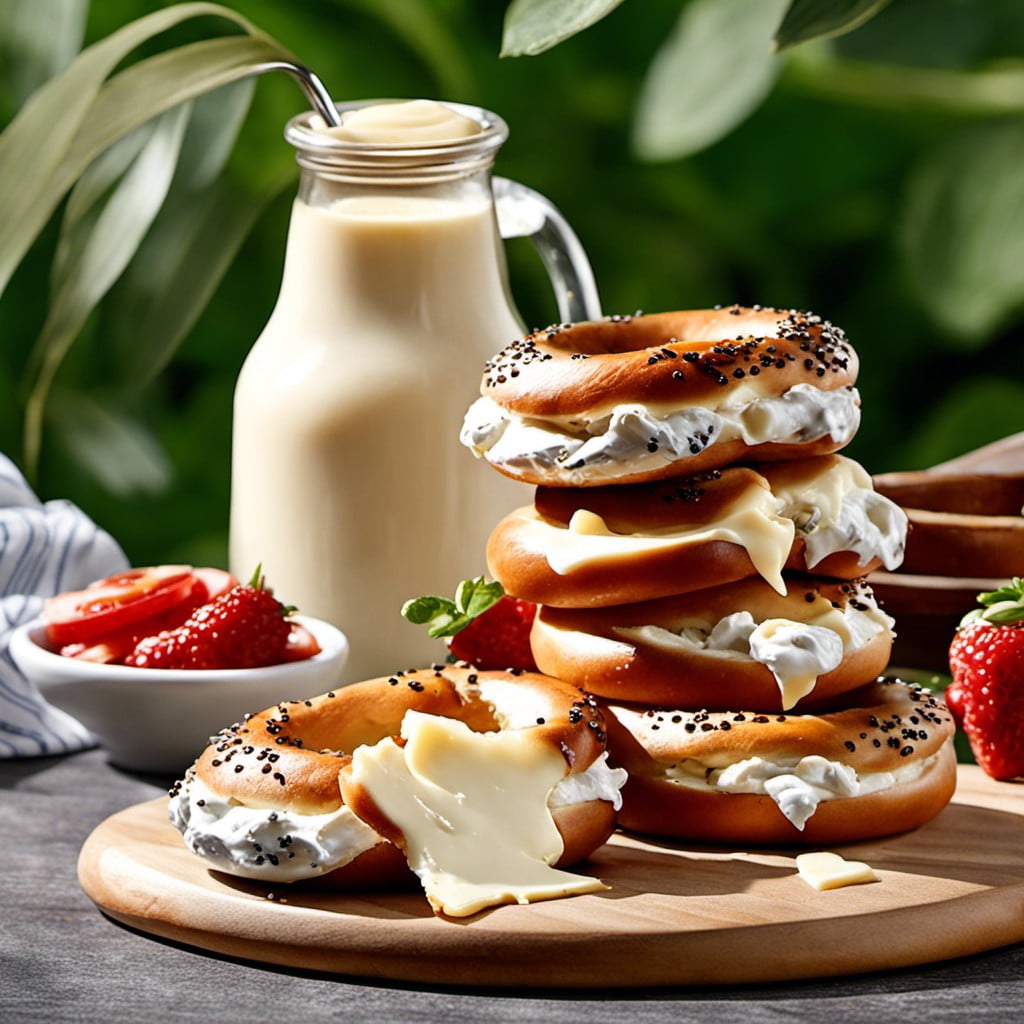 First off, grab your bagel and slice it in half. Go ahead and lightly toast your bagel halves for about 1-2 minutes, or to your ideal level of crunchiness.
After the bagels have reached their golden-brown perfection, it's time to grace them with a generous serving of creamy Laughing Cow cheese spread. The robust flavor of the cheese pairs wonderfully with the simplistic nature of the bagel, creating a delectable balance.
For added texture and zest, consider incorporating various toppings such as fresh slices of ripe tomatoes, sprinklings of aromatic herbs, or even a dash of your favorite spices.
This versatile snack can be tailored to fit any palate, making it a perfect solution for those instant hunger pangs at any time of the day.
Cheese and Ham Panini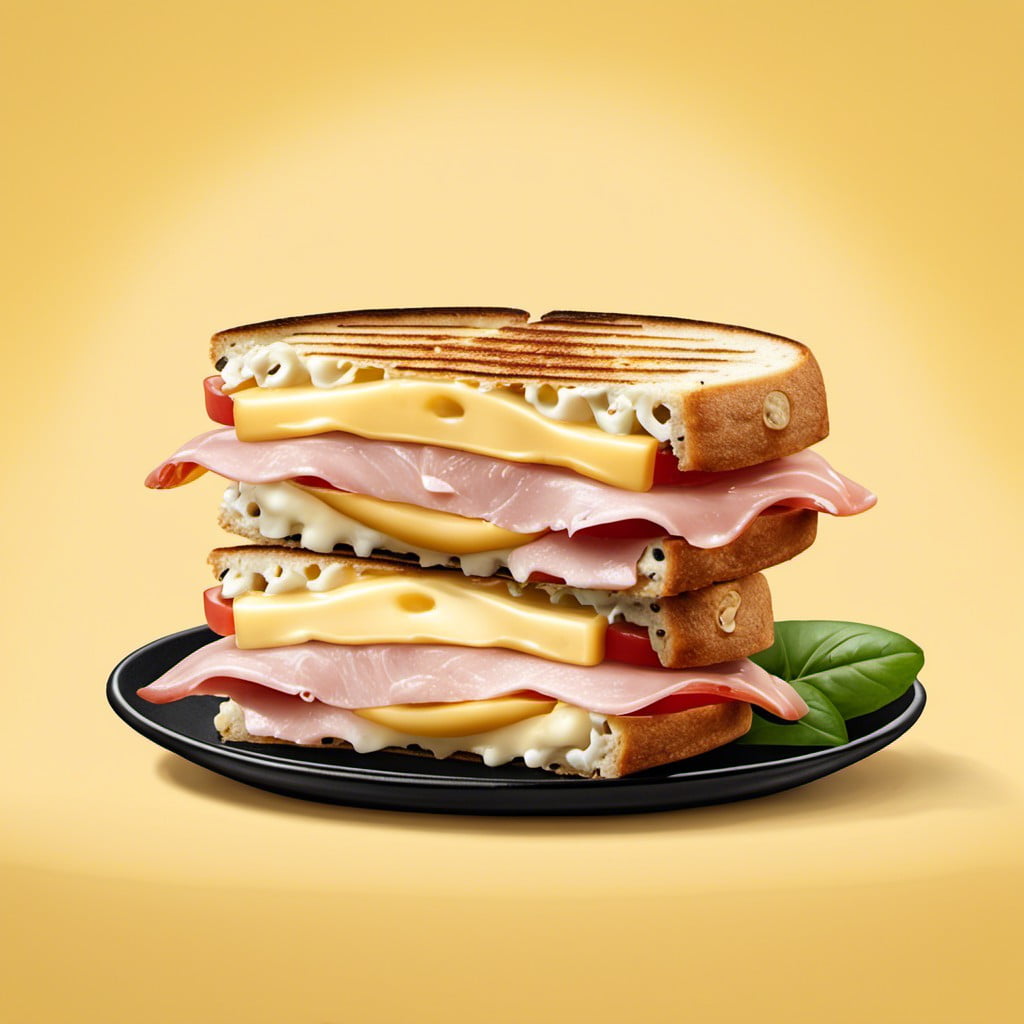 Let's move on to creating this delightful panini. You'll need a couple of slices of ham, a single wedge of Laughing Cow cheese, and your choice of bread.
To prepare, slice open the bread and spread the cheese evenly on one side. Add the ham, and if you want a dash of flavor, consider a sprinkle of herbs, perhaps oregano or basil. Grated or sliced tomato can also layer in additional tanginess.
Close the Panini, toast it on a panini press or grill pan until crisp and golden. Sounds tempting, doesn't it?
Now it's your turn to savor this delicious snack!
Mini Cheese Pizzas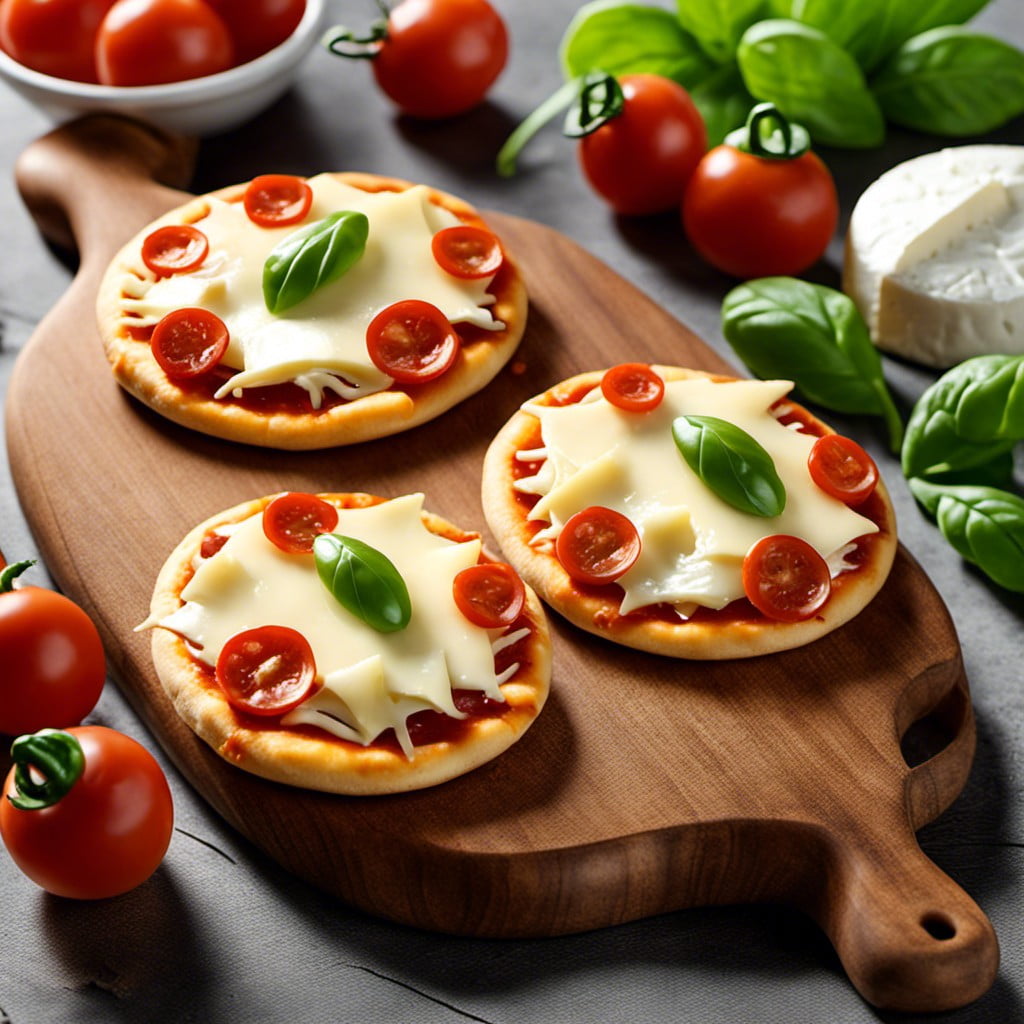 To create these bite-sized wonders, all you need are mini bagels, marinara sauce, and of course, Laughing Cow Cheese. Begin by spreading a thin layer of marinara sauce onto the bagel halves, ensuring a delightful tang in every bite. Then, apply a generous dollop of the creamy cheese for its distinct, melt-in-your-mouth texture to contrast the crunchy bagel base.
Pop the mini bagels into a pre-heated oven set at 180 degrees Celsius and bake until the cheese starts to bubble, mere hints of golden brown appearing at the edges. The heat intensifies the cheese's creamy richness while also lending a slight crispness to the outer crust.
These mini cheese pizzas not only make for a perfect quick snack but also a playful appetizer or an addition to a brunch spread. Whether for a slumber party or a sophisticated soirée, they're always a hit! Enjoy hot, right out of the oven for the ultimate cheesy experience.
Cheese and Spinach Omelette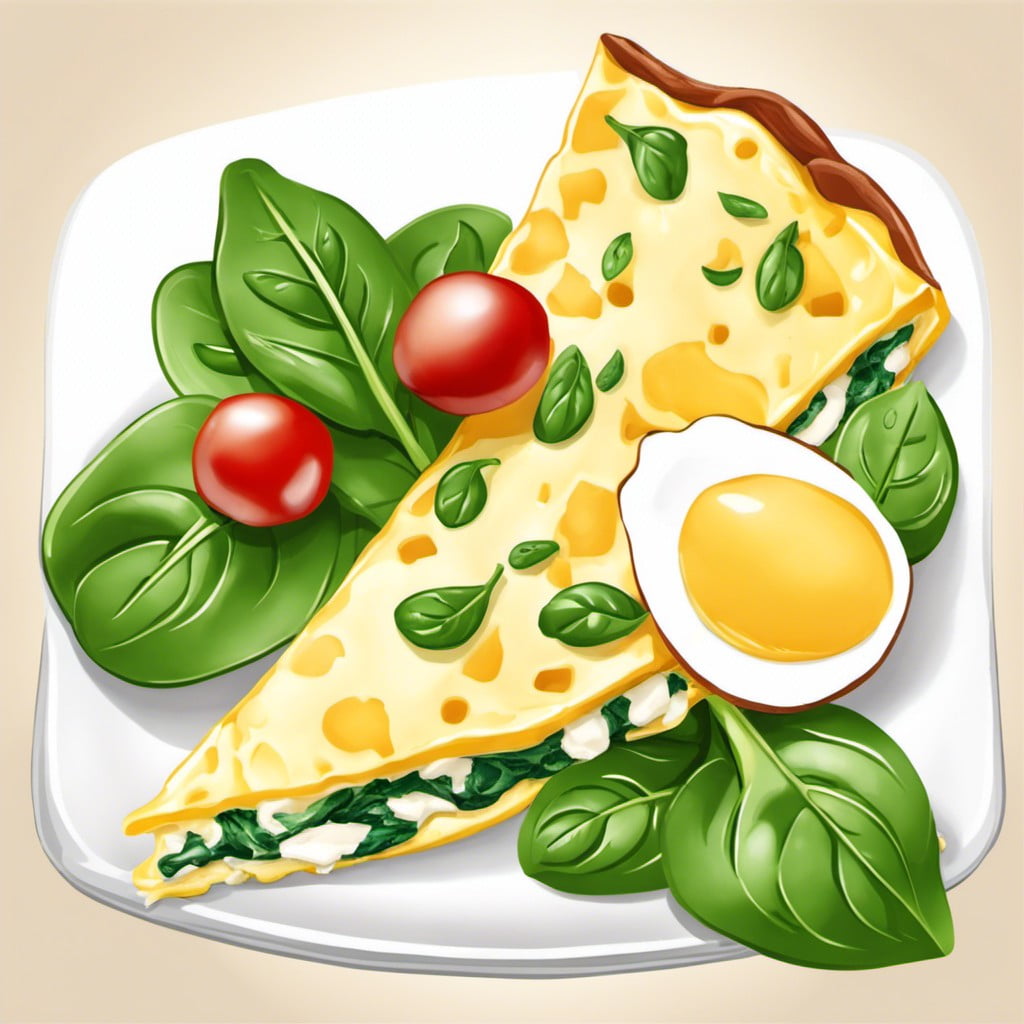 Incorporating spinach into your cheese omelette is a surefire way to elevate the dish from ordinary to extraordinary. The mineral-rich spinach adds a layer of taste and nutrition that blends perfectly with the creamy, flavorful Laughing Cow cheese.
For this quick breakfast or brunch dish, begin by sautéing fresh spinach leaves in a dash of olive oil until slightly wilted. In a separate bowl, whisk together two eggs until light and fluffy. Pour egg mixture over spinach in the pan and let cook until slightly set. Place pieces of Laughing Cow cheese onto the eggs. Once the cheese starts melting, and the eggs are completely set, fold the omelette in half.
The finished dish is a light, yet satisfying meal that also packs a significant nutritional punch. It's easy, delicious, and a sure hit with any cheese lover. Push the boundaries of your culinary adventures with this simple addition of a classic cheese into a favorite breakfast dish.
Crackers With Cheese and Chutney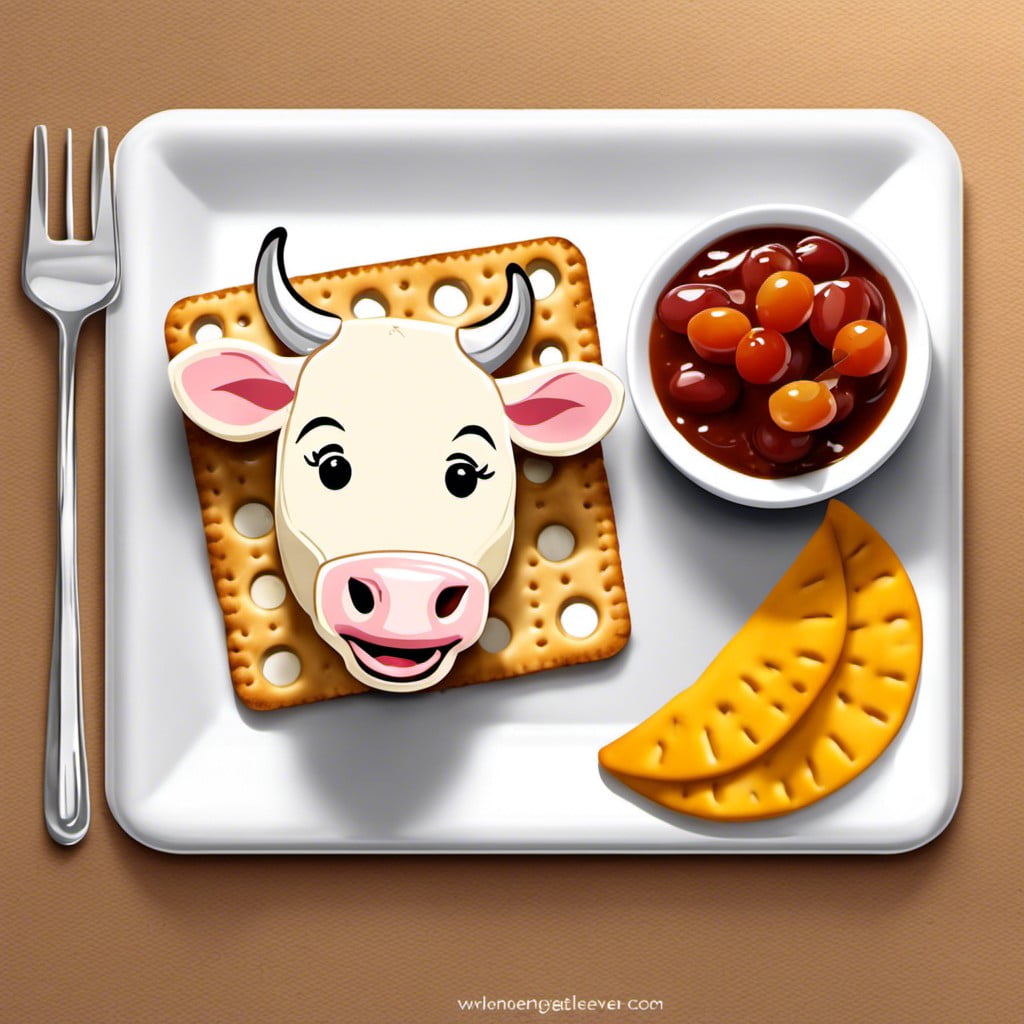 For a blend of sweet, savory, and tangy, consider a chutney topping. It adds an unexpected burst of flavor, complementing the richness of the cheese. Opt for popular choices like mango or fig chutney or experiment with unique choices like beetroot or spiced apple.
Place a moderate portion of Laughing Cow cheese on your preferred cracker – be it wheat, oat, or rice cracker. Add a dollop of your selected chutney on top for a delightful mini feast. The creaminess of the cheese pairs wonderfully with the zing from the chutney creating a perfect balance.
Want a bit of crunch? Consider adding a thin slice of apple or slivers of almond on top. This not only adds a different texture but also provides a refreshing twist. It's a quick, versatile snack – suitably light for an afternoon pick-me-up or sufficiently satisfying for an after-dinner treat!
Cheesy Guacamole Dip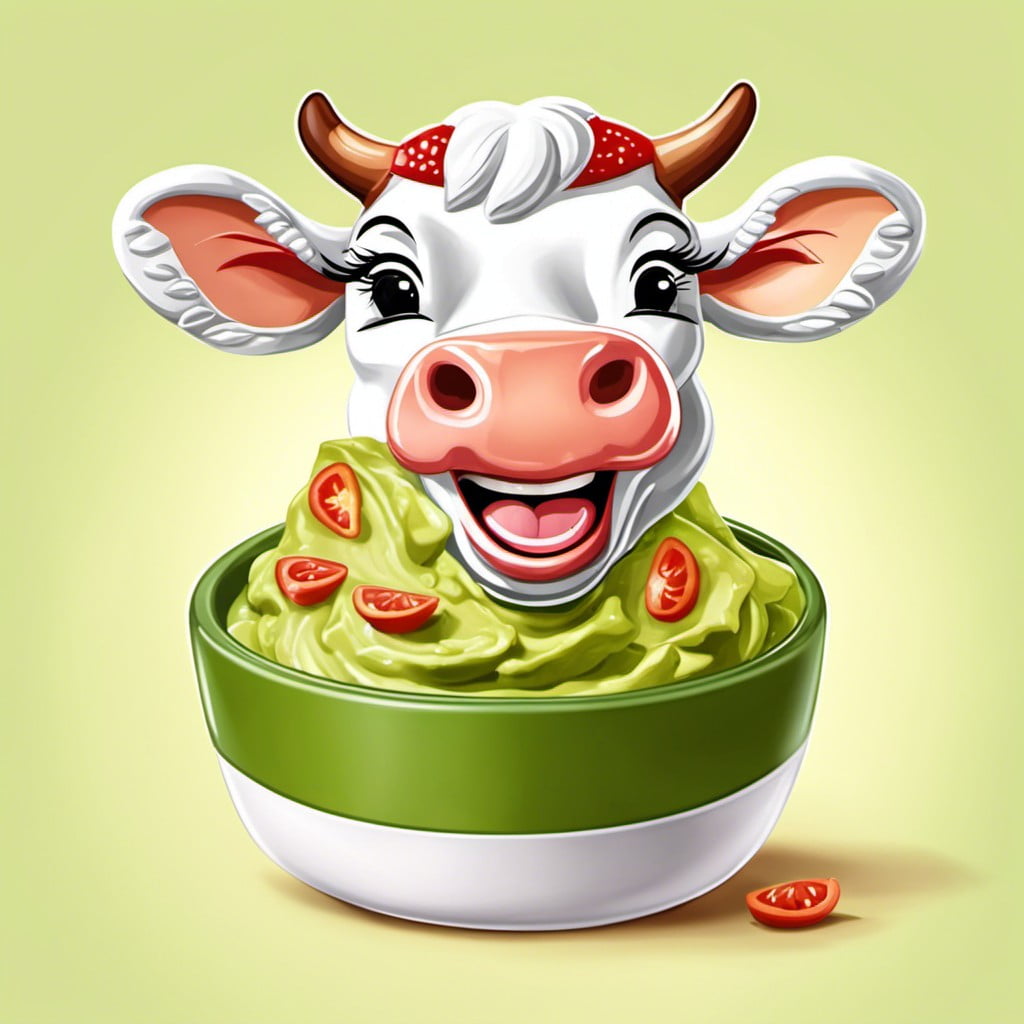 To make this delectable dip, start by choosing ripe avocados. This will give your guacamole its creamy texture, and allow it to blend smoothly with the Laughing Cow cheese. Gently mash the avocados, but don't overdo it; some chunks can add a nice surprise texture.
Next, incorporate your Laughing Cow cheese. The flavor punch and creaminess of this cheese perfectly complements the buttery avocado.
Liven up the mix with some diced red onion, tomatoes, and finely chopped jalapeno peppers. If desired, a bit of cilantro gives a wonderful lift. Be sure to add lime juice to maintain the lovely green color and bring a zing of freshness.
Serve with nachos, vegetable sticks, or pita chips.
Remember, adjust your seasoning as the cheese already has a certain salt content. Share this cheesy guacamole during a game night or at a brunch gathering – it promises to be the star of the festivities!
Cheesy Stuffed Mushrooms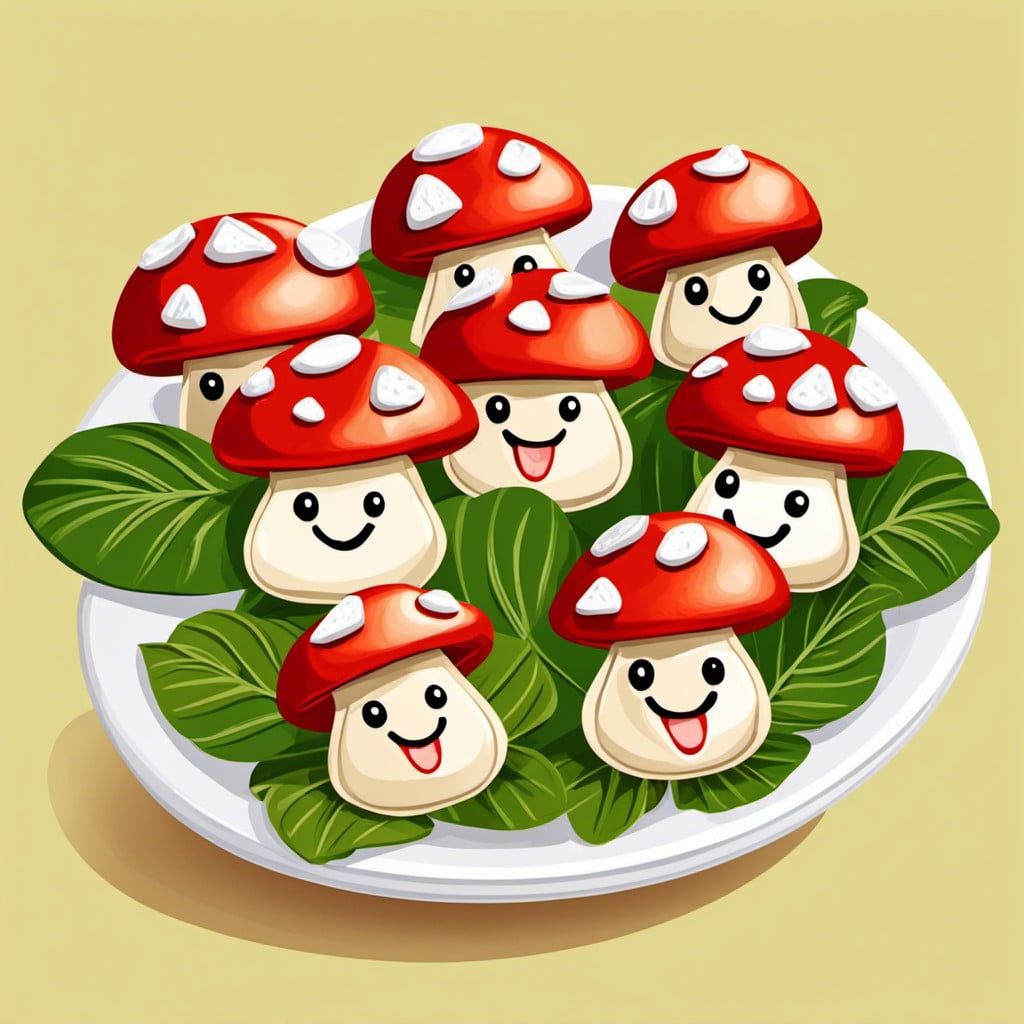 For a divine, bite-sized snack that satisfies, we combine Laughing Cow cheese, garlic, and herbs, then stuff the flavorful mixture into the caps of mushrooms. The result is a surprisingly hearty snack, perfect as an appetizer or coupled with a light salad.
Here's a quick walkthrough:
Preheat your oven and prepare a baking tray.
Start the stuffing by carefully removing the stems, providing ample room for the cheese mixture.
Combine Laughing Cow cheese with your preferred herbs, minced garlic, salt, and pepper. Spice it up as you like – maybe some chili flakes or a dash of smoked paprika!
Fill each mushroom cap with the cheesey mixture, taking care not to overfill.
Bake until the mushrooms are tender and the cheese turns golden, filling your kitchen with an irresistible aroma.
Serve immediately – they're best enjoyed warm.
The earthy mushroom coupled with the creaminess of Laughing Cow cheese creates a mouthwatering balance, while your choice of herbs adds personal flair to the dish. Try it for your next gathering; your guests will love the unique, delectable treat!
Cheese and Apple Slices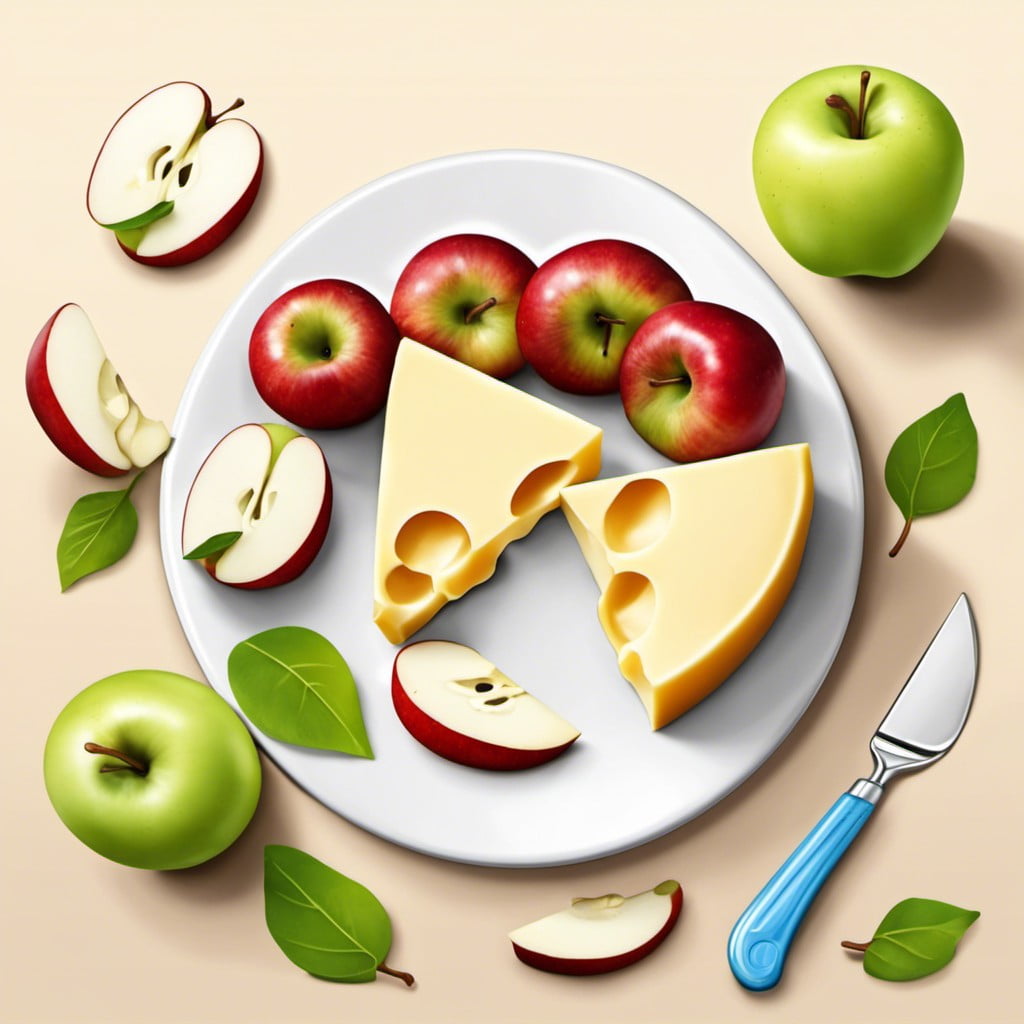 Pairing the surprisingly sweet Laughing Cow cheese with the tart crispness of apple slices offers a delightful flavor contrast. This snack can be prepared in just a few simple steps:
1. Thickness of slices: Cut an apple into thin rounds. The thinner the better — it's easier to bite into, sort of like a cracker.
2. Cheese spread: Spread a thin layer of Laughing Cow cheese over the apple slice. One wedge usually covers four medium-sized apple rounds.
3. Flavor Variations: If desired, you can sprinkle a little cinnamon or nutmeg on top for extra flavor.
This is an unbelievably easy and delicious snack. The creaminess of the cheese complements the refreshing crunch of the apple, making it an ideal healthy treat. Perfect for a midday snack or a light appetizer.
Cheesy Tomato Pasta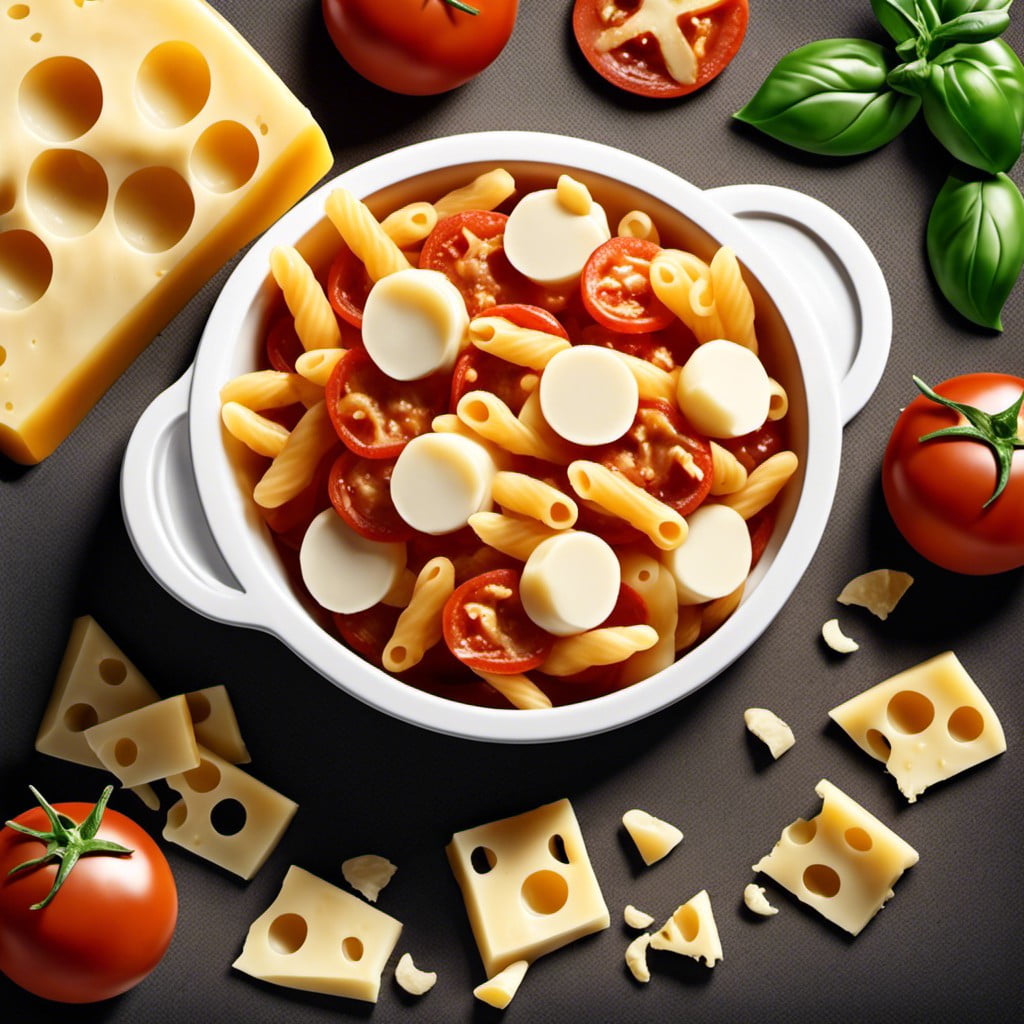 To achieve a rich, highly flavorful dish using the Laughing Cow cheese, simply follow these steps:
1. Boil the pasta of your choice until al dente. While the pasta is cooking, whip up a quick sauce by sautéing finely chopped onions and garlic in a little olive oil until golden and fragrant.
2. Add fresh tomatoes or good-quality canned tomatoes to the sautéed mix, letting the blend simmer until it forms a cohesive sauce.
3. Now, bring in the magic ingredient – Laughing Cow cheese. Stir in a few wedges until they melt, seamlessly blending with the tomato base to create a creamy, tangy pasta sauce.
4. Drain your pasta and mix it into the sauce, ensuring each piece is coated with the delicious, cheesy blend.
5. Pair with a peppery arugula salad or a slice of rustic bread, and you've got a veritable feast!
Remember, the real hero of this dish is the Laughing Cow cheese. It adds a unique creaminess and tang to the pasta, setting it apart from traditional tomato-based pasta sauces. It's not just a cheese; it's a game-changer in your kitchen!
Baked Potato With Cheese Spread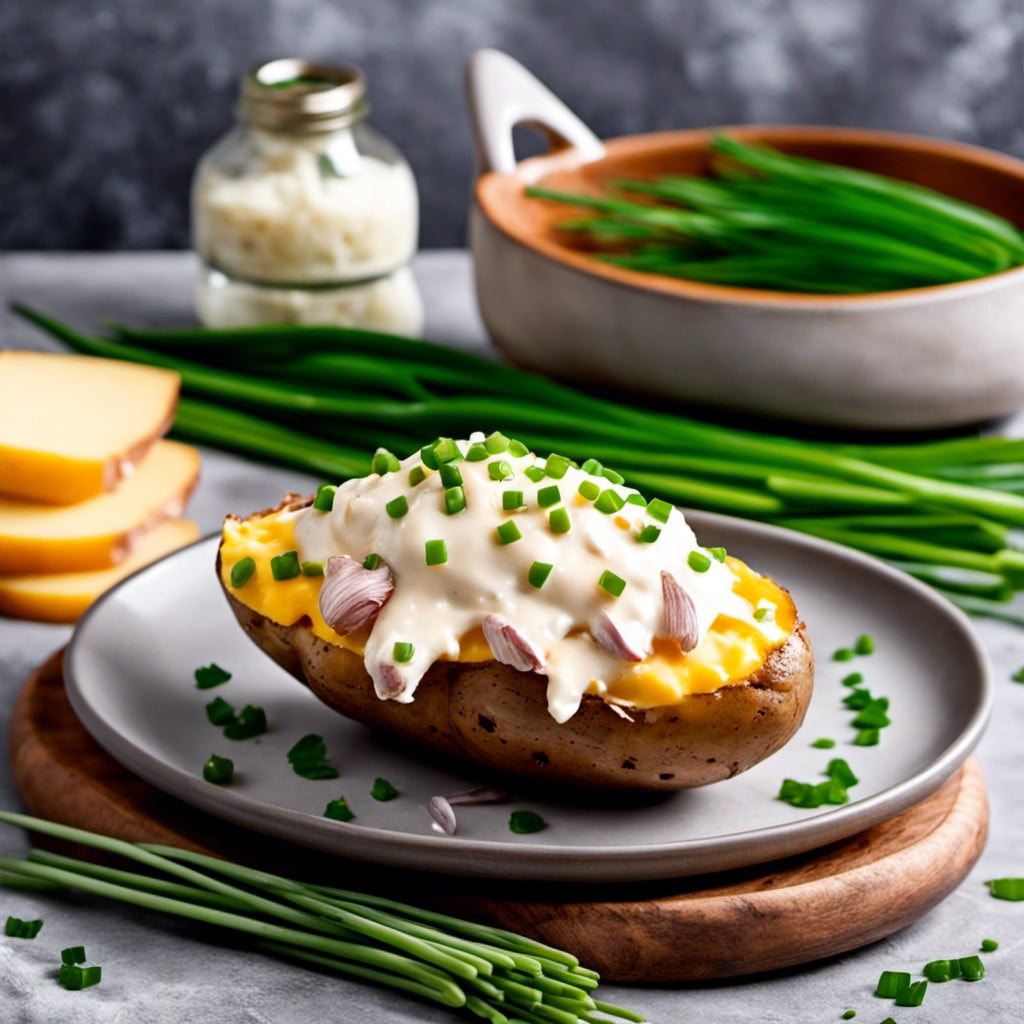 Ready for a hearty, comforting dish? Start by preheating your oven to 200 degrees Celsius (approximately 400 degrees Fahrenheit). Pick a medium-sized potato and prick it all over with a fork. Ensuring it's properly cooked, give it an hour in the oven.
Meanwhile, crack open a wedge of the Laughing Cow cheese spread. The creamy texture compliments the baked potato perfectly. You could opt for the original, or jazz things up with a flavored variant such as garlic and herbs.
Once the potato is cooked and slightly cooled, cut it open. Be careful not to cut all the way through. Fluff the potato interior with a fork to create a welcoming bed for the cheese spread.
Now comes the fun part! Distribute your cheese evenly over the potato. The warmth of the potato will soften the cheese further, creating a delightful creamy combination. Add a sprinkle of chives or spring onions on top for some color and extra flavor.
Voila! Savor the mouthwatering explosion of flavors. Perfect for a quick lunch or a relaxed dinner, and it only needs two main ingredients. This baked potato with cheese spread recipe shows simplicity is truly the pinnacle of sophistication in the culinary world.
Cheese Quesadillas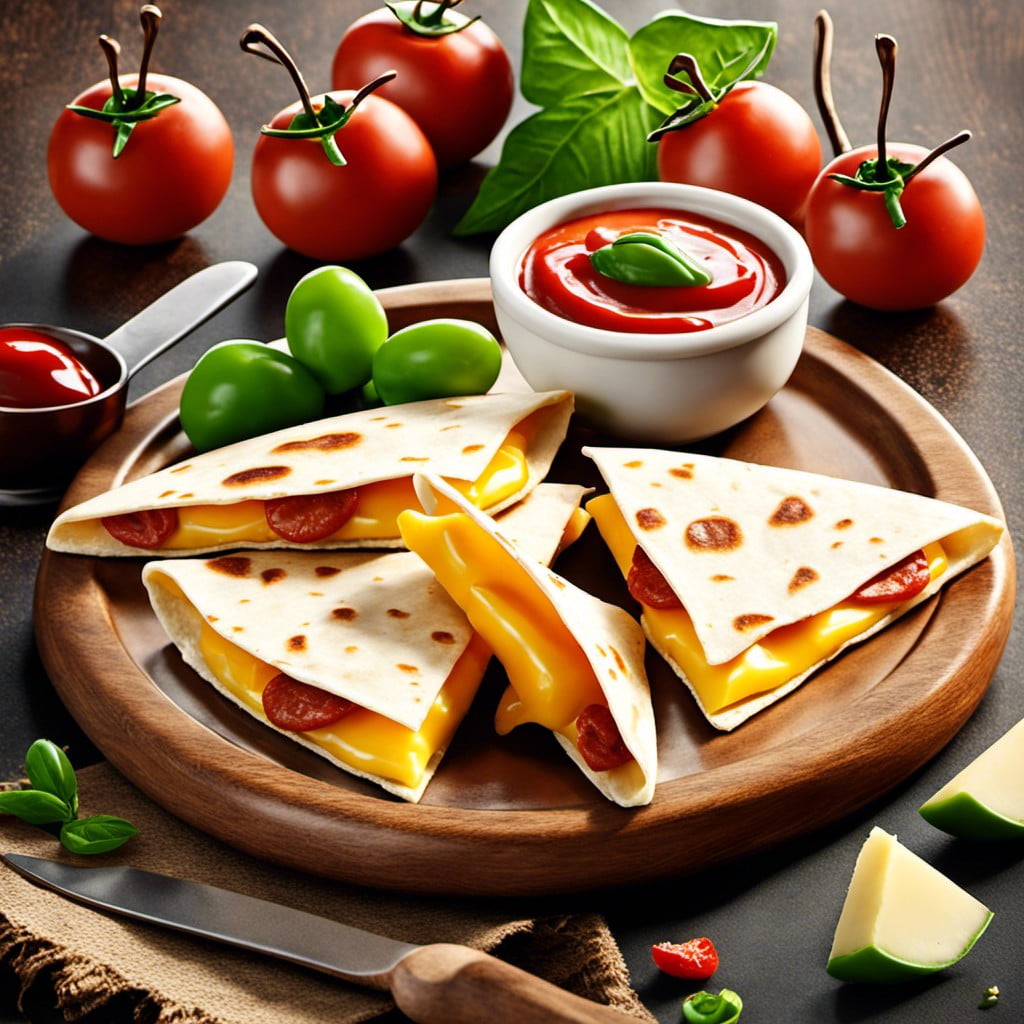 One of the cherished dazzlers, capable of transforming basic ingredients into magic, requires just three essentials: tortillas, Laughing Cow cheese, and your choice of fillings.
Let's delve into it.
1. Prepare your Ingredients: Start by gathering fresh tortillas, a wedge or two of your favourite Laughing Cow cheese, and options for fillings. These could range from sautéed onions, bell peppers, cooked chicken, to even diced tomatoes or coriander for a burst of freshness.
2. Assemble: Spread the Laughing Cow cheese on one side of the tortilla, add your filling, and fold the tortilla in half, to form a semi-circle.
3. Cook: Place the quesadilla on a hot, non-stick skillet. Cook each side for about 2-3 minutes or until golden brown and the cheese has melted.
The creaminess of the cheese with the crackle of the crust, laced with the flavourful fillings, makes a delightful bite at any time of the day. Experiment with fillings, mix and match the cheese variety, and discover new favourite combinations.
Grilled Cheese Sandwich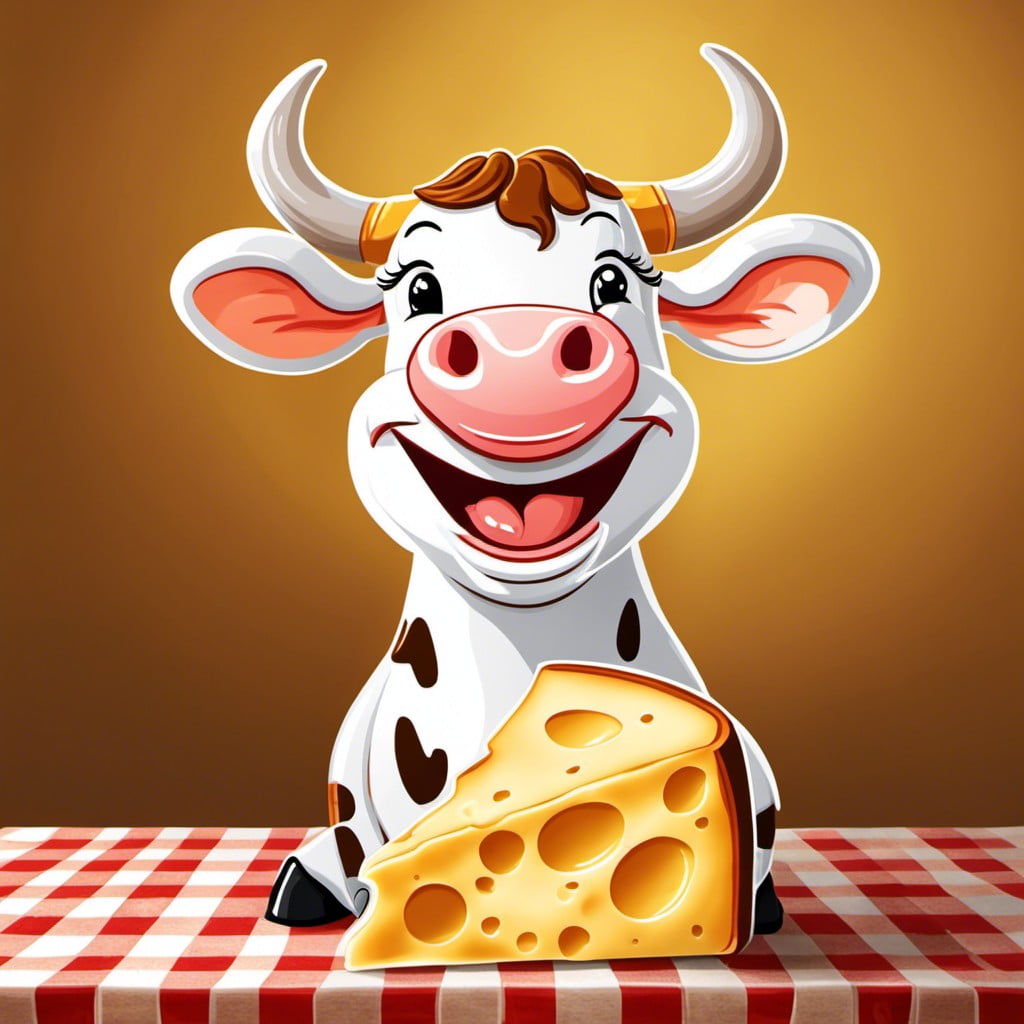 Intensify your grilled cheese experience with the creamy and mild Laughing Cow cheese. Start by evenly spreading a generous layer of the cheese on both sides of your preferred bread slices. Layer a couple of slices of your favourite cheese in between and then grill until it's golden and the cheese melts. This sandwich boasts a crispy exterior and gooey interior.
Experiment with flavors by adding thinly sliced apples for a sweet crunch, or bacon for a smoky richness. For an elevated taste, play around with herbs; basil or oregano works perfectly with cheese. Serve alongside a hearty tomato soup or enjoy it as is for a quick, delectable snack.
Cheese and Onion Tartlets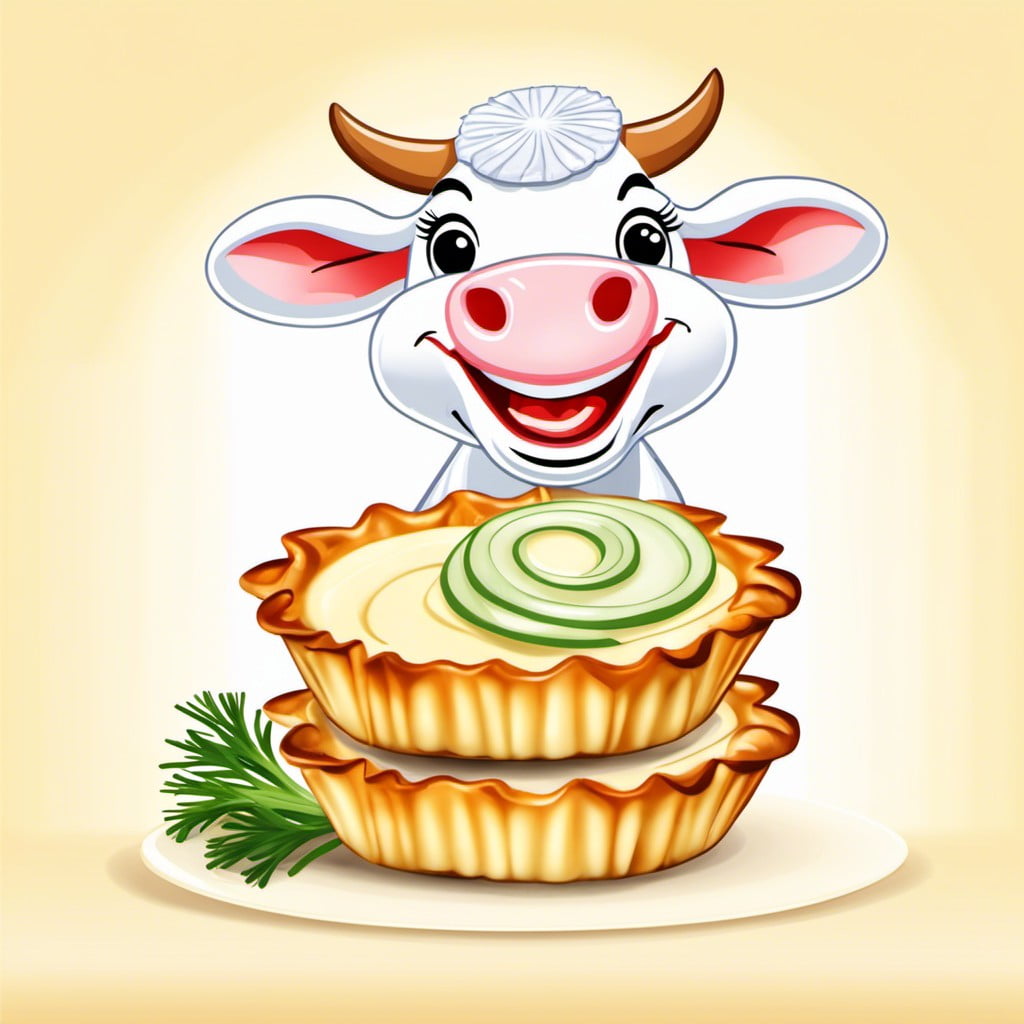 Starting with puff pastry as the base gives these treats a flaky and buttery foundation. The delightfully rich Laughing Cow cheese blends seamlessly with softly caramelized onions, spreading a sweet and savory joy all over the palate. Adding a sprinkle of fresh thyme elevates the flavor profile, providing a subtle earthiness that ties everything together.
The bite-sized tartlets are wonderfully versatile and present well on any snack platter. Here are the steps:
Preheat your oven and prepare the puff pastry, cutting into small squares.
Sauté the onions slowly, until beautifully caramelized.
Spread the softened Laughing Cow cheese on the puff pastry.
Top with caramelized onions and a sprinkle of fresh thyme.
Bake until pastry is golden and puffed.
Remember, the beauty of these tartlets lies in their simplicity, and the mellow cheese perfectly offsets the intensity of the onions. They are an elegant, yet easy-to-prepare snack that can impress any guest.
Cheesy Chicken Skewers
To set off, marinate chicken pieces in a mix of olive oil, garlic, herbs, and spices.
Insert these flavor-soaked pieces onto wooden skewers, alternating with bell peppers and onions for added color and texture.
Now comes the distinguishing part – brushing each skewer generously with melted Laughing Cow cheese.
Make sure every inch is covered for the ultimate cheesy experience.
Then, grill these skewers to perfection, ensuring the cheese melts slightly and imparts its creamy taste into every bite.
The result? Mouth-watering skewers packed with succulent chicken and a decadent cheese burst.
Can be enjoyed hot off the grill or packed for a picnic treat.
Remember, the key is in the cheese coating – it elevates the humble chicken skewer to an appetizing snack that's hard to resist.
Crispy Cheese Toasties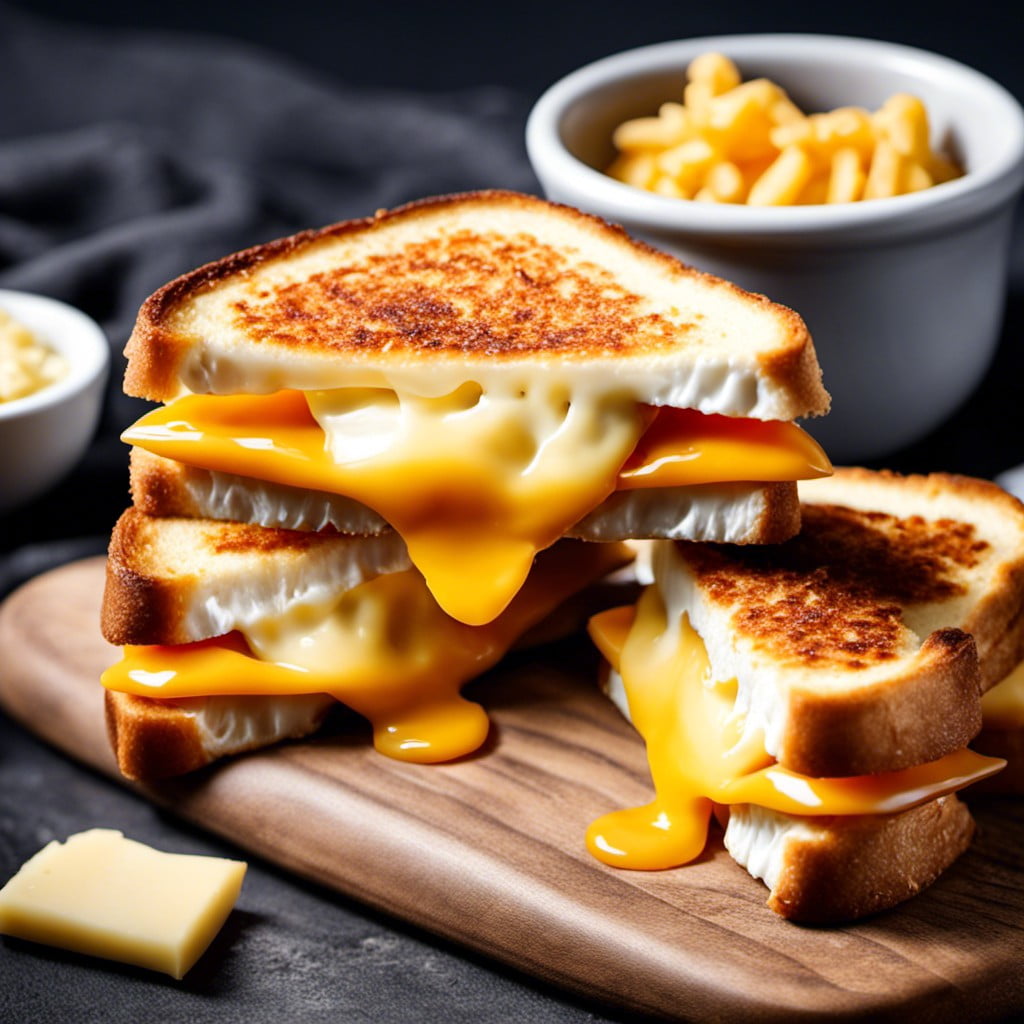 Who can resist a deliciously crispy cheese toastie? Let's dive right into its preparation.
Start with two slices of your favorite bread, but remember, denser breads such as sourdough or whole grain varieties generally hold up better.
Apply a generous spread of laughing cow cheese onto each slice.
For a heartier snack, consider adding fillings like thinly sliced turkey or ham.
Carefully assemble your sandwich and grill it over medium heat.
For that perfect golden-brown crust, press down on the bread with a spatula periodically while grilling.
This method not only secures fillings within, but also ensures cheese melts uniformly, lending its delectable creaminess throughout.
Enjoy the satisfying crunch of this versatile snack, perfect both for a midday treat or a light dinner.