Explore these fun and healthy Easter snack ideas that your preschoolers will absolutely love.
Easter is a time of joy and celebration, not least for preschoolers who look forward to the fun and festivities. One of the best ways to keep them engaged is through creative, themed snacks that are not only delicious but also healthy.
Whether you're planning a party or just want to make the holiday special, we have an array of Easter snack ideas that are perfect for preschoolers. From bunny-shaped sandwiches to colorful fruit skewers, these snacks are as delightful to look at as they are to eat.
Read on to discover easy-to-make, nutritious and kid-approved Easter snack ideas. The following details will guide you through each recipe, ensuring your Easter celebrations are a hit with the little ones.
Jelly Bean Trail Mix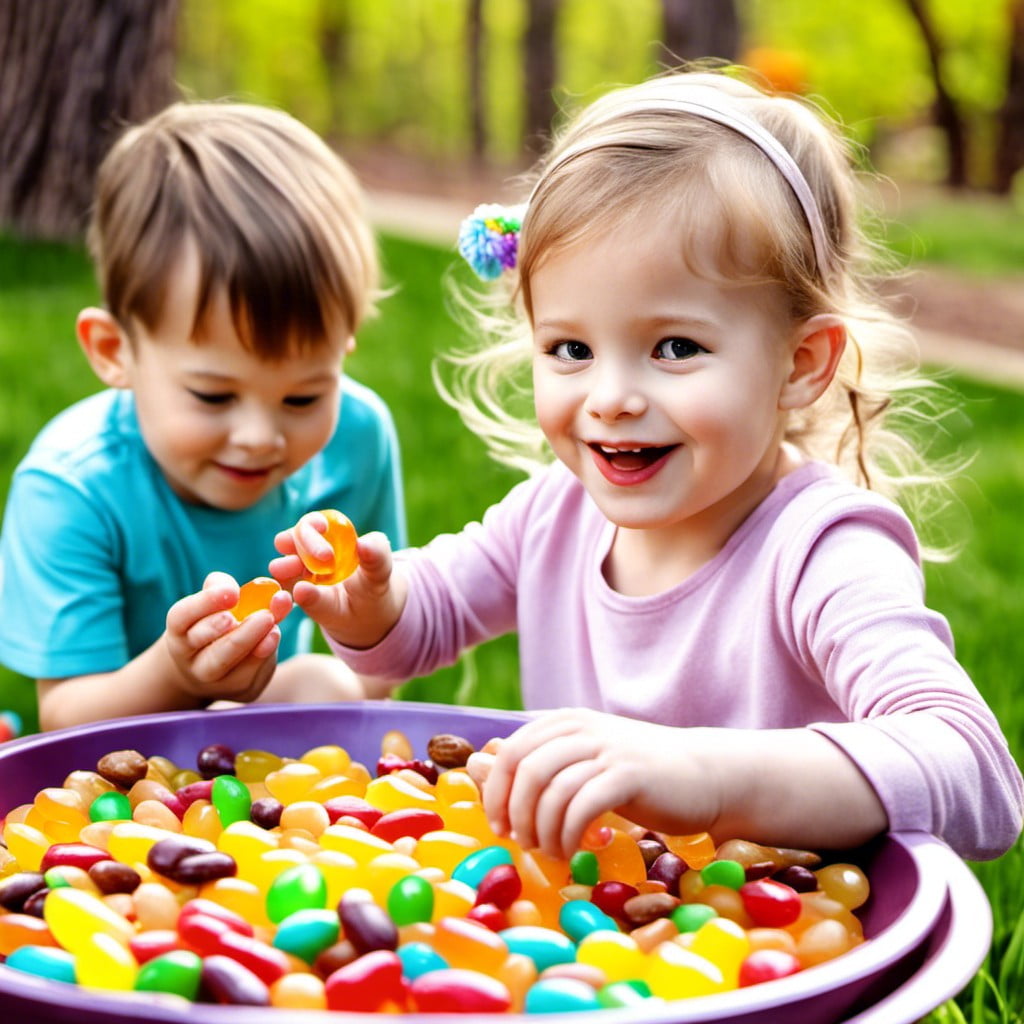 To create a tantalizing trail mix, combine a rainbow assortment of jelly beans with other tasty and healthy snacks. Toss in your little one's favorite crispy cereal, some chewy dried fruit, and a smattering of nuts if there's no allergy concern.
Consider adding mini pretzels or popcorn for an additional pop of flavor and texture.
Preparing the mix with your preschooler can turn into a fun counting or color identifying activity. Plus, the mix is a perfect on-the-go treat for Easter egg hunts and other festive activities.
Good to remember, however, trail mix is best suited for kids above four due to potential choking hazards.
Bunny Shaped Sandwiches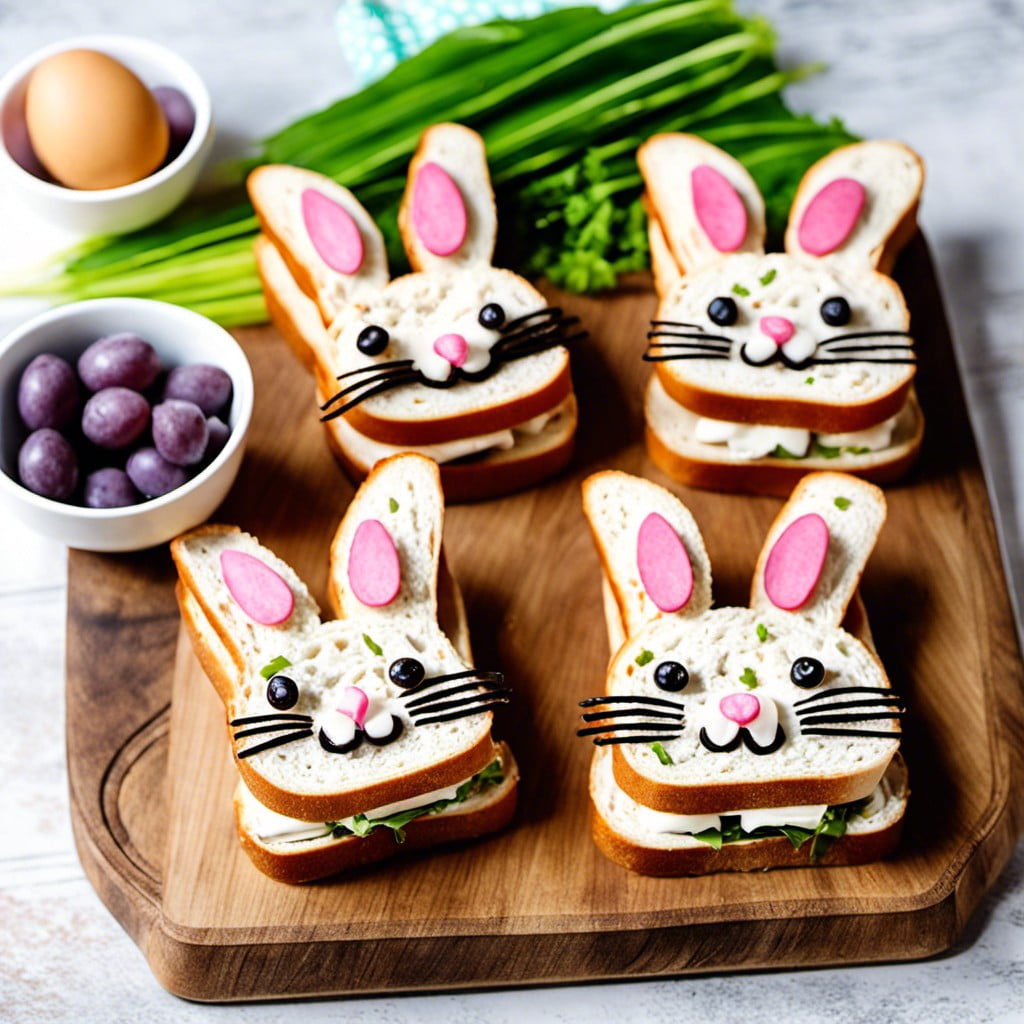 Crafting these adorable sandwiches is easy and enjoyable. First, select a whole grain bread, offering a great source of fiber.
For the filling, opt for nutritious ingredients such as ham or turkey slices, cheese, lettuce, and tomato.
After assembling the sandwich, use a bunny shaped cookie cutter to transform a standard lunchtime staple into a delightful Easter treat.
Don't forget the raisins to create eyes and a cute little nose!
Children will enjoy both making and eating this healthy and festive snack.
Finally, remaining bread bits could certainly go towards bread crumbs for another culinary venture, contributing to a zero-waste kitchen.
Easter Egg Fruit Salad
To create this vibrant dish, begin by hollowing out oranges, which will serve as cute little "Easter baskets". Filling these with a medley of your child's favorite fruits, chopped into bite-sized pieces will make for an eye-catching and nutritious snack.
Think berries, pineapple, kiwi, and melon. To enhance the taste, drizzle a honey-lime dressing over the fruit or sprinkle some shaved coconut for extra texture. Bright, fun, and brimming with vitamins, these fruit salads are sure to be a hit among the little ones.
Chocolate Dipped Strawberries
With their natural sweetness and juicy texture, strawberries lend themselves nicely to a bit of indulgence. Plunge the freshest, brightest specimens you can find into a pool of smooth, velvety melted chocolate. Dark, milk, or white chocolate would work depending on your little one's preference.
To add an Easter touch, drizzle different colored icing, or sprinkle pastel candy bits onto the chocolate before it sets. Not only are these easy to prepare, but your preschooler can participate in the dipping and decorating process. They're a delightful treat that combines both the refreshing element of fruit with the rich allure of chocolate – a balance that ensures they're not overly sweet, and add a glamorous touch to your Easter snack spread.
Carrot Patch Dirt Cups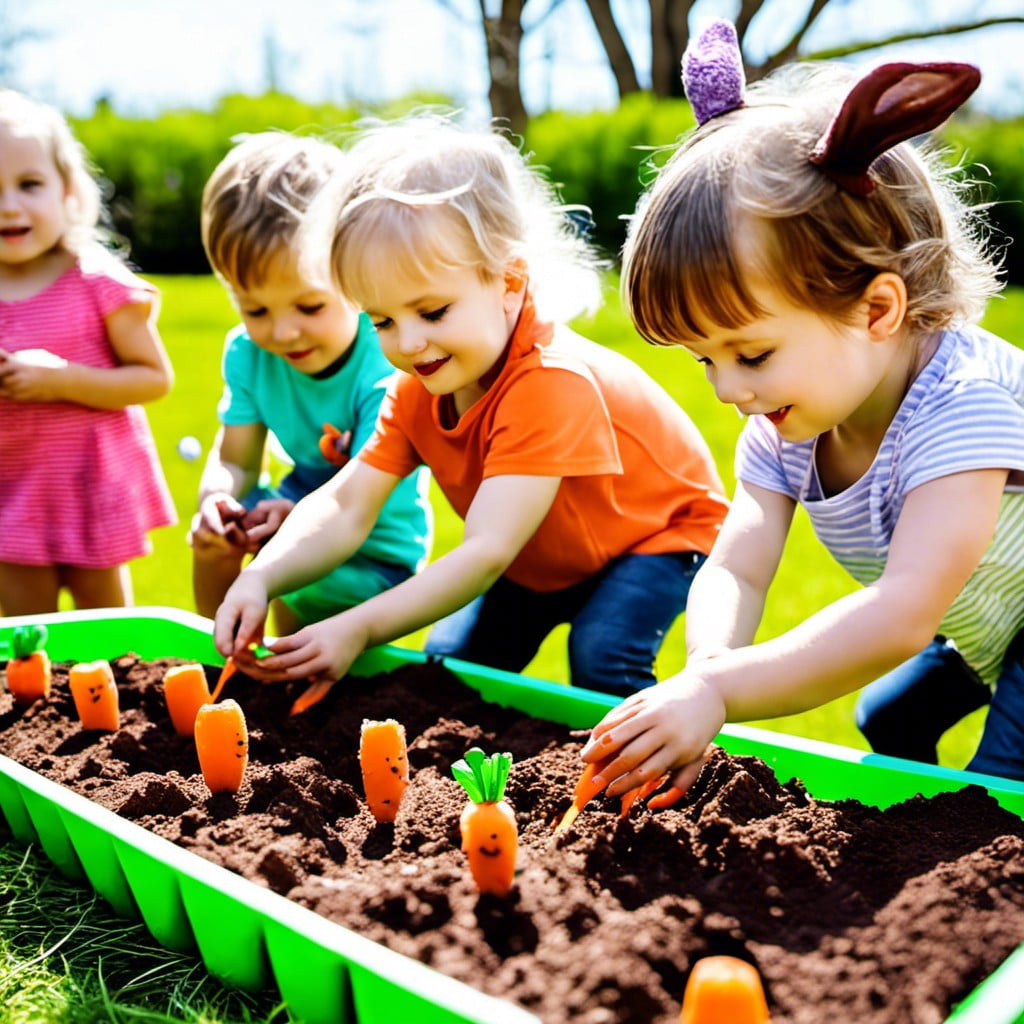 This Easter treat is as engaging to make as it is to consume, urging preschoolers to play with their food but in a good way! Composed of chocolate pudding that represents "dirt," topped with crushed chocolate cookies for a more authentic look. Nestled on this 'soil' are candy carrots, creating an adorable and delicious carrot patch.
Here's a handy guide:
1. Start by preparing the chocolate pudding according to the instructions on the box. This will act as the base.
2. Once the pudding is ready and has cooled enough, layer it into clear cups filling about three-quarters full.
3. The next layer is the crumbled chocolate cookies, which simulate dirt. The contrast of textures between the creamy pudding and crunchy cookies brings an interesting play of textures.
4. Then come the candy carrots—they're just orange-colored candy, but they add a real charm to these dessert cups. They peek out from the top, giving the illusion of a crop of carrots ready to be plucked.
5. Refrigerate the cups until you're ready to serve them.
Remember, creativity is key while making these, and it's more about the experience and fun. This snack not only captivates the kids visually but also satisfies their sweet tooth, making it a great Easter snack for preschoolers!
Easter Bunny Pancakes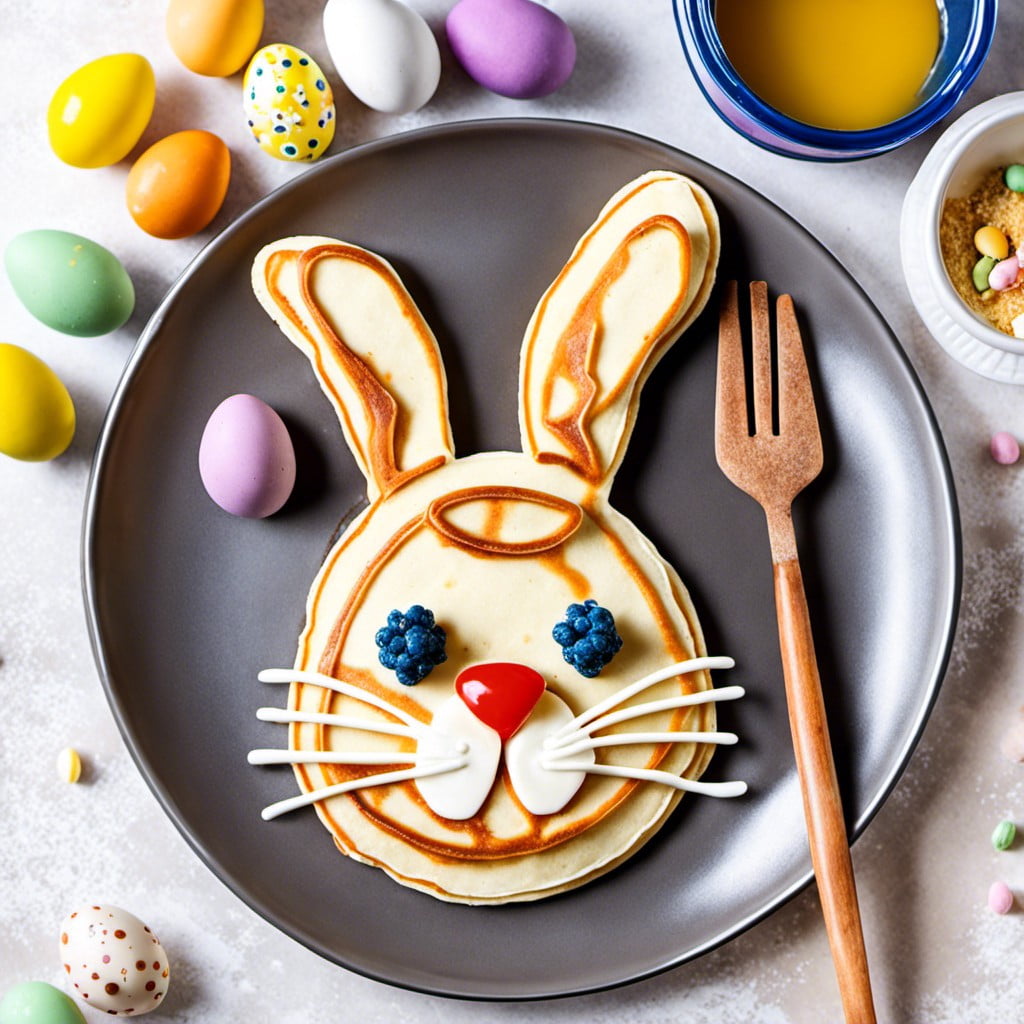 Whisk together a basic pancake mix and pour it into squeezy bottles for precision. Make one big round for the face, two smaller ones for the ears, and dollops for the eyes and mouth – kids will love helping with this.
Blueberries can serve as the eye pupils and a slice of banana as the bunny's teeth.
Place a plump, fresh raspberry at the center for the nose, adding a pop of color and a surprise tartness.
For an added nutrient boost, incorporate whole grains or oatmeal into the pancake mixture.
A delightful morning surprise that's not just aesthetically pleasing, but also delicious and nutritionally balanced!
Mini Egg Rice Krispies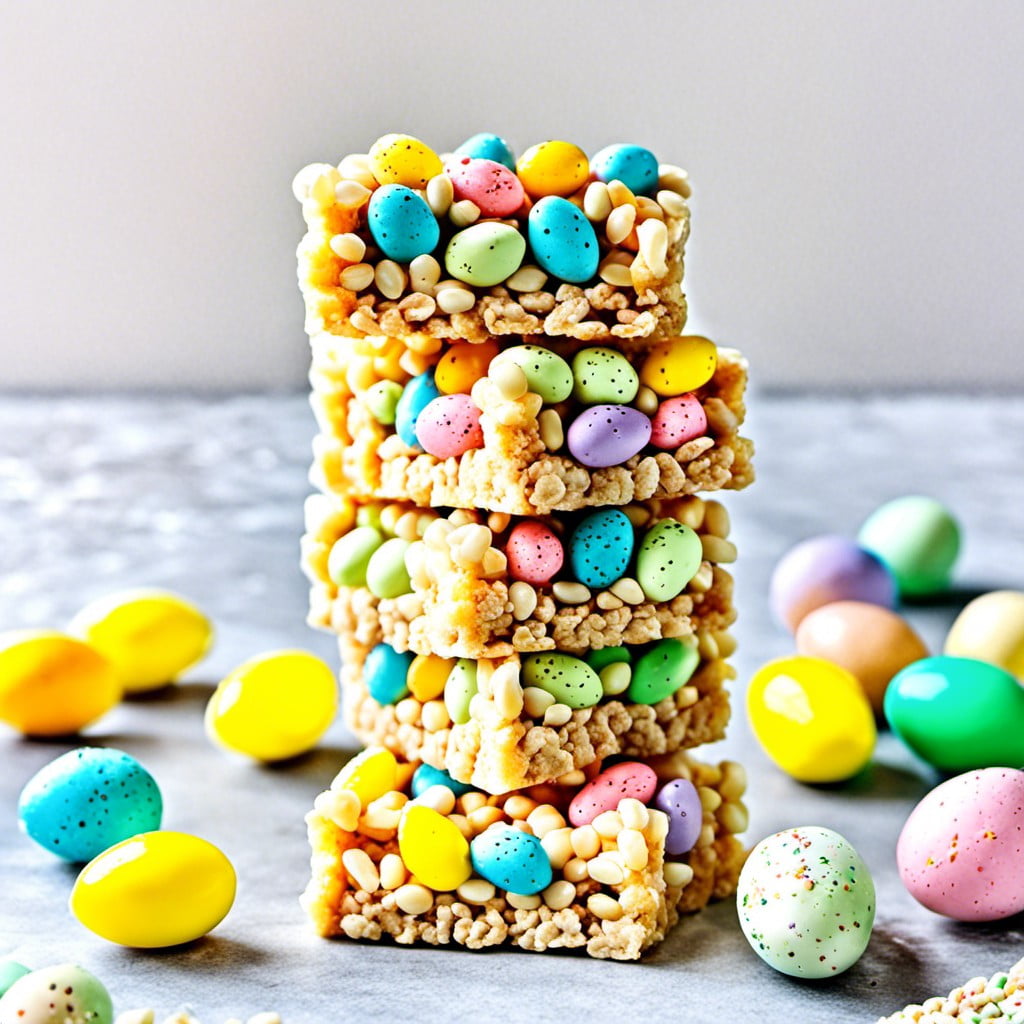 Let's dive in to create this wonderful snack. To begin, melt some butter in a large saucepan, then add marshmallows, stirring until well combined and fully melted. Next, pour in Rice Krispies and mix until the cereal is evenly coated with the marshmallow mixture.
Now comes the fun part! Pour the mixture into a baking tray, pressing down evenly. While it's still warm, press in mini Easter-themed chocolate eggs. Let it cool before cutting into squares.
Enjoy watching the spark in your preschooler's eyes when they bite into a cereal square and discover the hidden treat. Each bite offers a sweet surprise which will add to the festive spirit. Create a memory with this delightful snack, as colourful as Easter itself.
It's simple, easy to make, and absolutely delicious. Moreover, making this snack is a fun activity where preschoolers can help – under adult supervision, of course. However, do be mindful of potential choking hazards while serving this to younger children.
Cheese and Cracker Chicks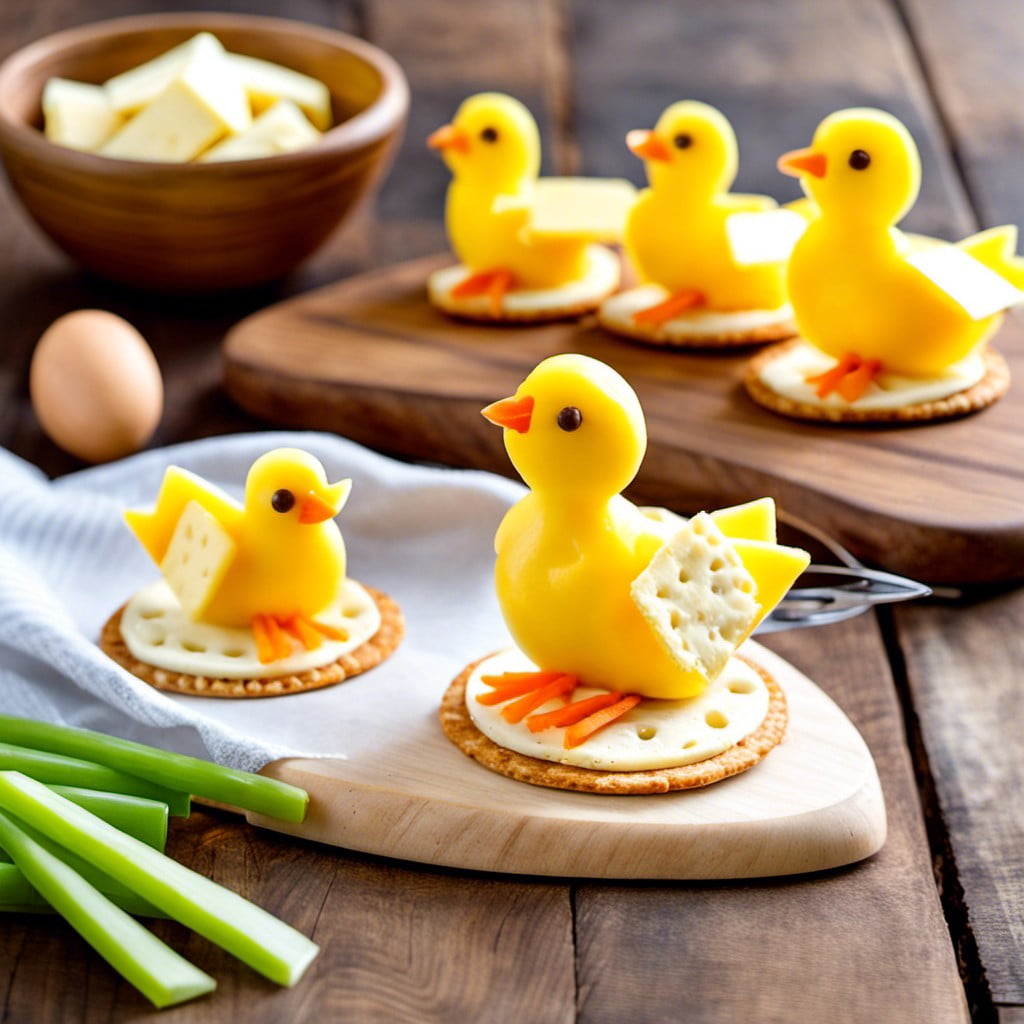 To assemble, simply lay out small, round crackers to act as the base of the chicks. The next layer will hold a slice of cheese, preferably cut in a circular fashion to perfectly accommodate the surface of the cracker. For added enjoyment, one could use a mix of cheddar for vibrant colors and mozzarella for muted tones.
Next are the intricate details essential for capturing the lovable essence of baby chicks. Use small pieces of carrots to create the beak and feet. Olives or small bits of raisins make perfect eyes.
Remember, the goal is to construct an adorable, bite-sized chick. While the process might appear daunting, it's incredibly satisfying once you see your preschooler's eyes light up at the sight of these edible creatures. Plus, they're a great way to incorporate nutritious elements like cheese and vegetables into your child's snack time.
Rainbow Deviled Eggs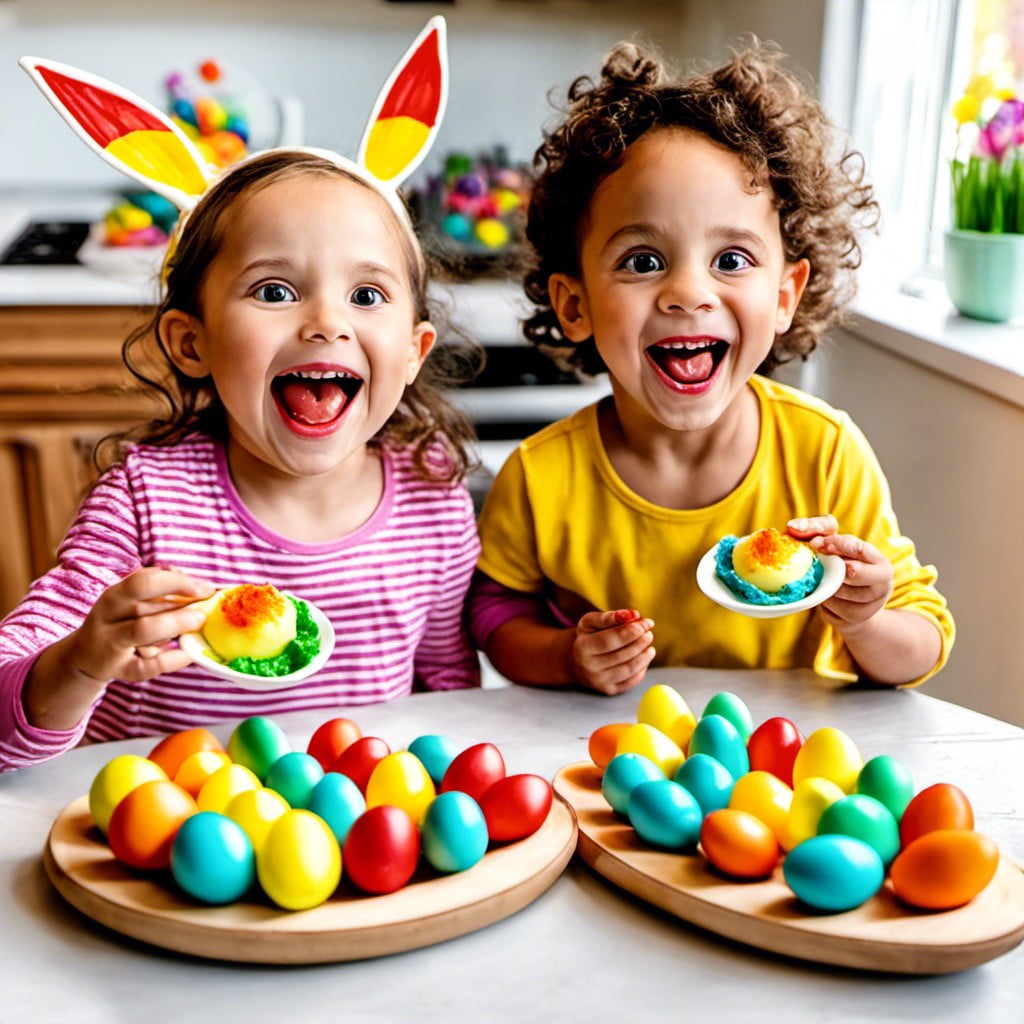 Creating these vibrant eggs involves two primary steps: the preparation of the egg whites and filling.
The egg whites are initially boiled and peeled as you would for any traditional deviled egg recipe.
The twist comes in when you add food color! Dividing the egg whites among separate bags filled with water and a few drops of food coloring (red, blue, yellow and green would work best) allows you to achieve multiple hues.
Let them soak until they reach your desired intensity.
Meanwhile, prepare the filling by combining egg yolks with mayonnaise, mustard, and a touch of vinegar for a kick.
Once your egg whites have dried, pipe in the filling.
You can even choose to garnish with paprika or chives for an upgrade.
Remember that the use of colors here can also be a fun and educational tool.
You can engage the preschoolers in preparing Rainbow Deviled Eggs by teaching them about color mixing and combinations to create these Easter-themed treats.
Easter Themed Sugar Cookies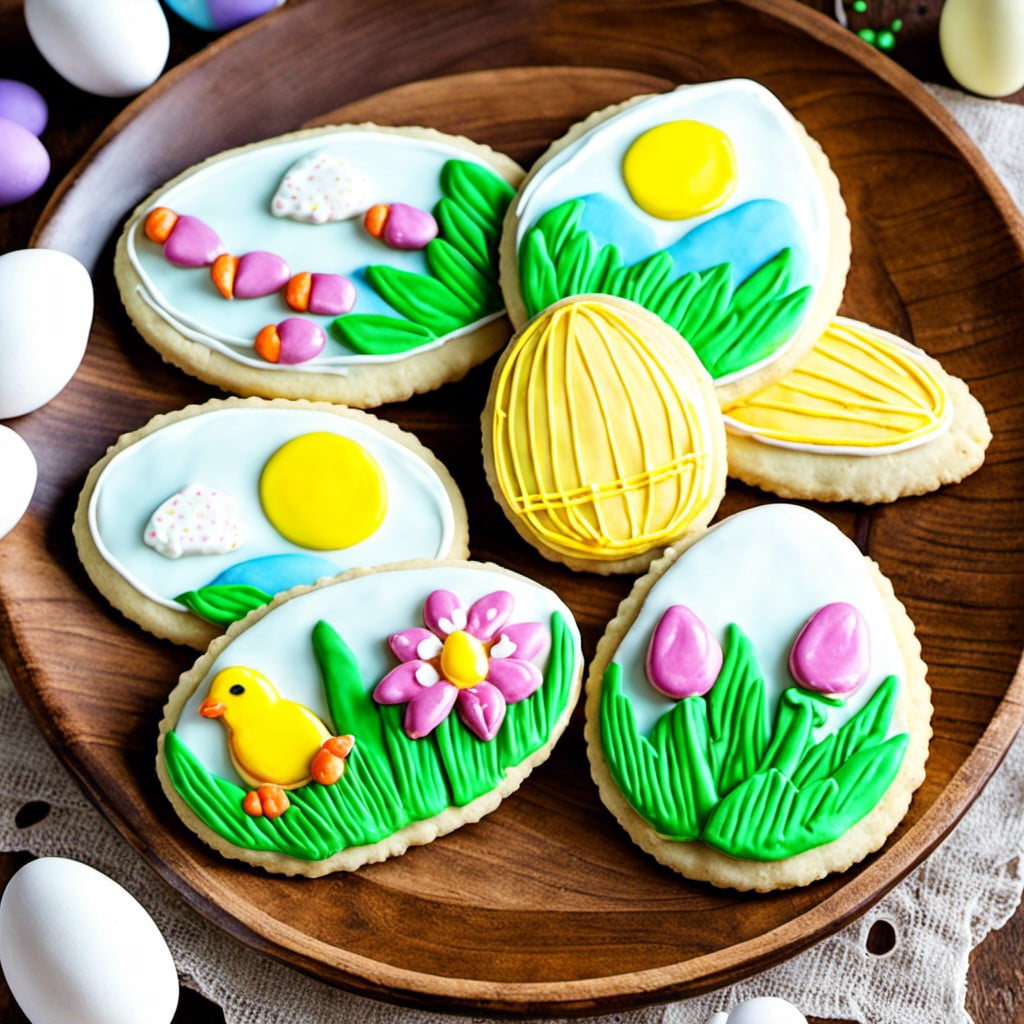 Whip up some simple sugar cookies using a favorite recipe or pre-made dough for convenience. Add a festive touch by cutting the dough with Easter-themed cookie cutters—think bunnies, eggs, chicks, and carrots.
Once the cookies have cooled post-baking, it's time for decoration, the part where children's creativity shines. Using icing in pastel shades and various sprinkles or edible glitter, preschoolers can create their unique Easter masterpieces.
Be prepared for plenty of joy – and maybe a little mess! It's not just a delicious treat; it's also an enjoyable activity that keeps little hands busy. Remember, the focus should be on fun rather than perfection.
Resurrection Rolls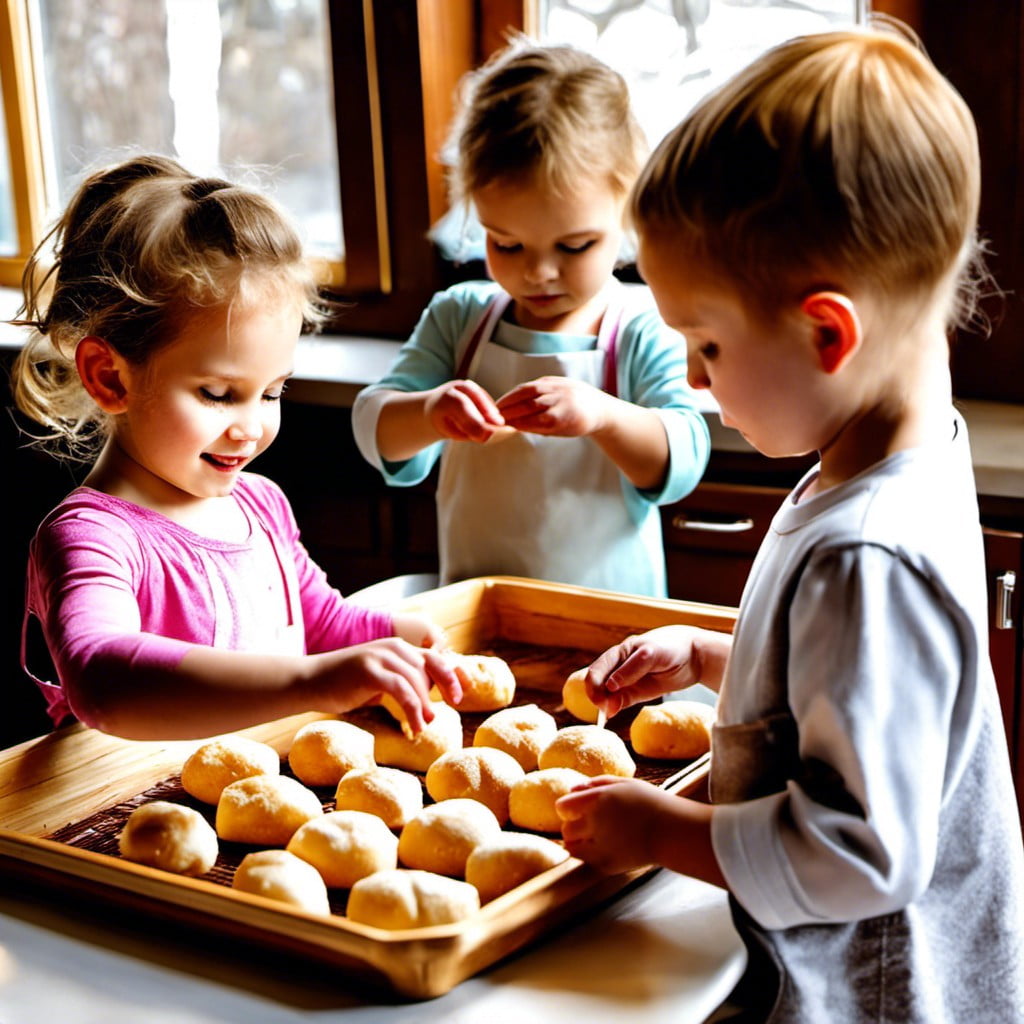 Making Resurrection Rolls is a fantastic way to involve children in baking while teaching them the story of Easter. The process is both straightforward and captivating.
First, preheat the oven to 375° and prepare a baking sheet by lining it with parchment paper.
Next, for each roll, separate canned crescent rolls and lay them flat. The dough represents the cloth that Jesus was wrapped in. A marshmallow is used to symbolize Jesus, which the children can dip in melted butter, then in a cinnamon and sugar mixture. This showcases the preparations for burial.
The marshmallow is placed in the center of the dough, which is then folded around it. It's important to seal the dough well by pinching the edges together. This step symbolizes the sealed tomb.
At this point, the Resurrection Rolls are ready to bake! They should take about 10 to 12 minutes until they become golden brown.
Once cooled, you'll notice that the marshmallow is gone – melted and soaked into the roll, leaving an empty space like the empty tomb. The kids will be surprised and enjoy this delicious treat, making it a memorable Easter snack.
The making of Resurrection Rolls can be a part of a broader discussion about the significance of Easter, forging deep connections through a creative and interactive way.
Bunny Ear Cupcakes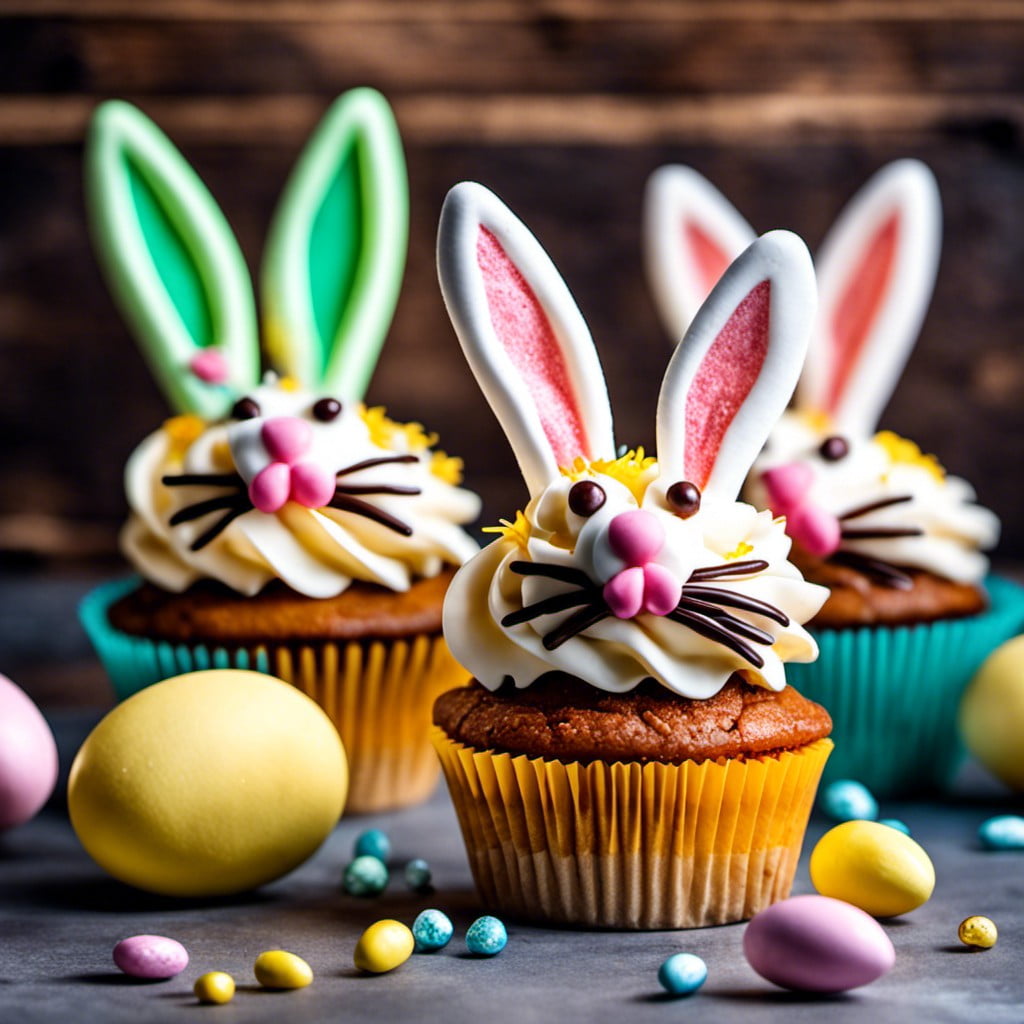 Delighting the little ones with these adorable treats is easier than it sounds! Start with their favorite flavor of cupcake, perhaps something fruity or classic chocolate. You can use a plain vanilla frosting to simulate the "fur" of a bunny, and for the distinctive ears, opt for the invention of white chocolate and marshmallows.
First of all, melt the white chocolate and roll the marshmallows into it until they are fully covered, then cut them diagonally and sprinkle some pink sugar crystals at the center to enhance the ears. Dip the bottom in the remaining chocolate and nestle two "ears" into the frosting on each cupcake.
Remember to teach the children that behind all the fun, the true spirit of Easter is a time of joy and renewal. Get them involved in the process of making the Bunny Ear Cupcakes, and watch their creativity thrive!
Carrot Shaped Veggie Platter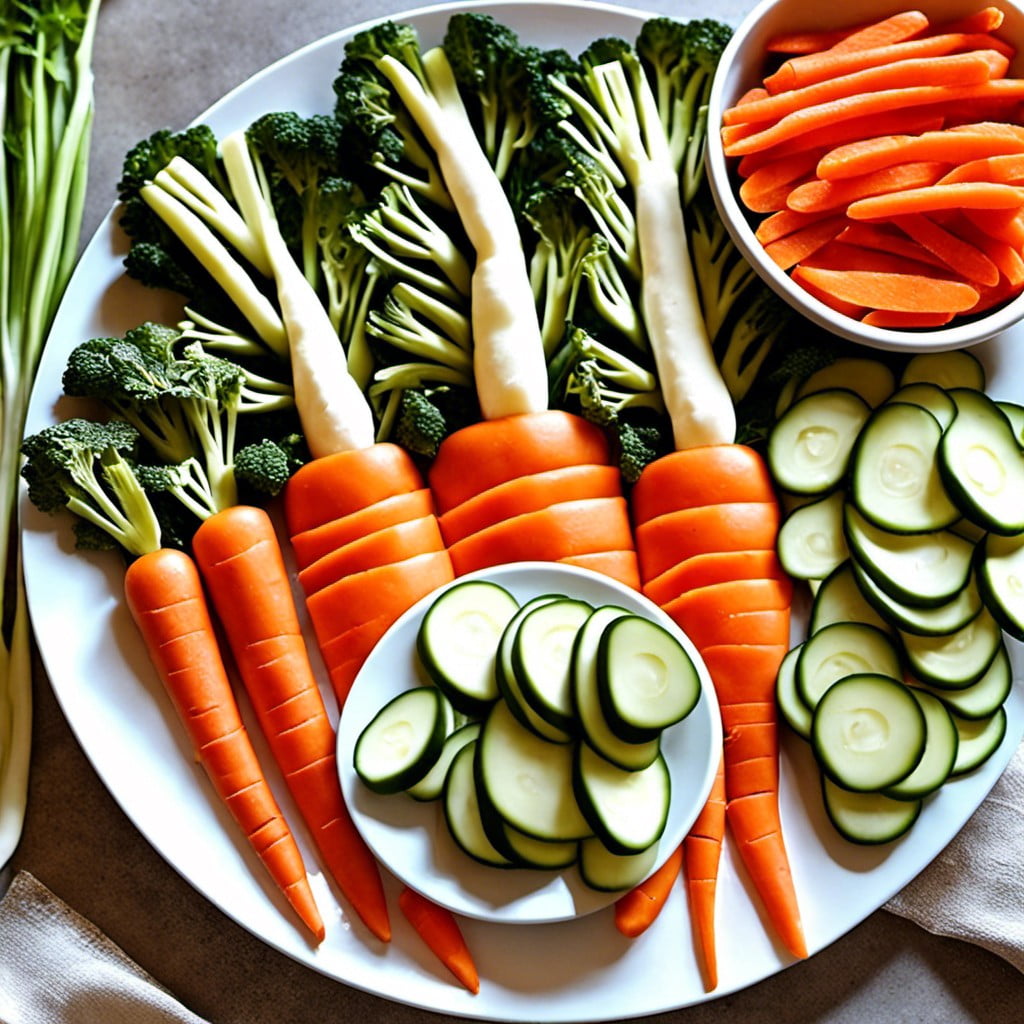 Crafting this creative treat entails arranging freshly sliced veggies like bell peppers, cucumbers, and celery into the outline of a carrot on an elongated platter.
The vibrant orange bell peppers go in the center, reproducing the irresistible hue of a carrot.
Green veggies like celery or cucumber slices – due to their neutral shade – form the leafy carrot top.
Even preschoolers who gaze suspiciously at vegetables might be tempted by this artistic, colorful arrangement.
Booster their vitamin intake by adding a side dish of their favorite dip – ranch or hummus would be perfect picks.
Remember, presentation plays a vital part in attracting your little ones to healthier snack selections!
Peep S'mores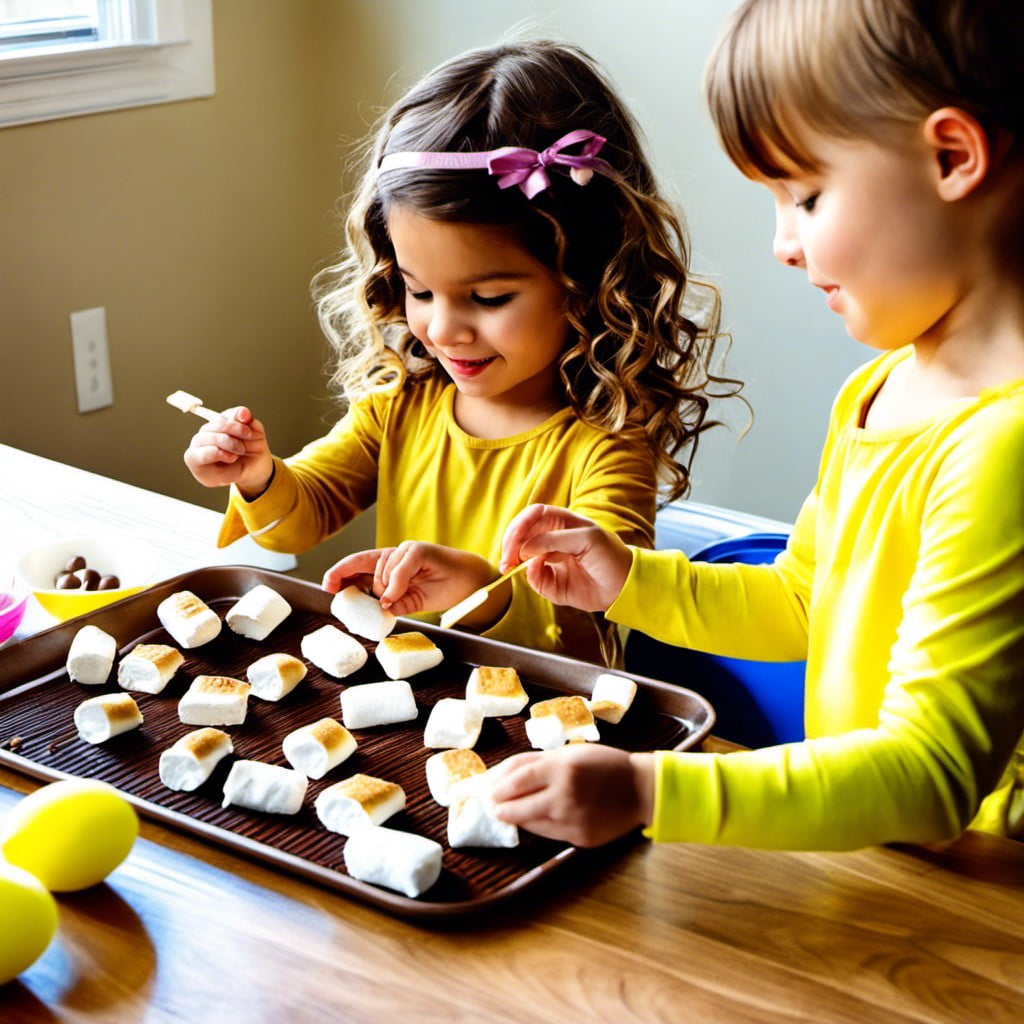 Harnessing the charm of the classic campfire treat, this fun adaptation involves everyone's favorite fluffy Easter candy- Peeps! Here's an easy walkthrough for this delightful snack:
1. Gather the requisite ingredients- Graham crackers, chocolate bars, and, of course, an assortment of colorful Peeps.
2. Arrange one piece of chocolate and one Peep on half a Graham cracker.
3. Place it in the microwave for about 10 seconds. It's more than enough to get your Peep puffy and the chocolate melty.
4. Once done, cover it with the other half of the cracker.
5. Repeat the process with different Peep colors for a visually appealing treat.
This not only creates a cute pastel-themed, festive dessert, but also a perfect activity to involve the kids in!
Bunny Tail Popcorn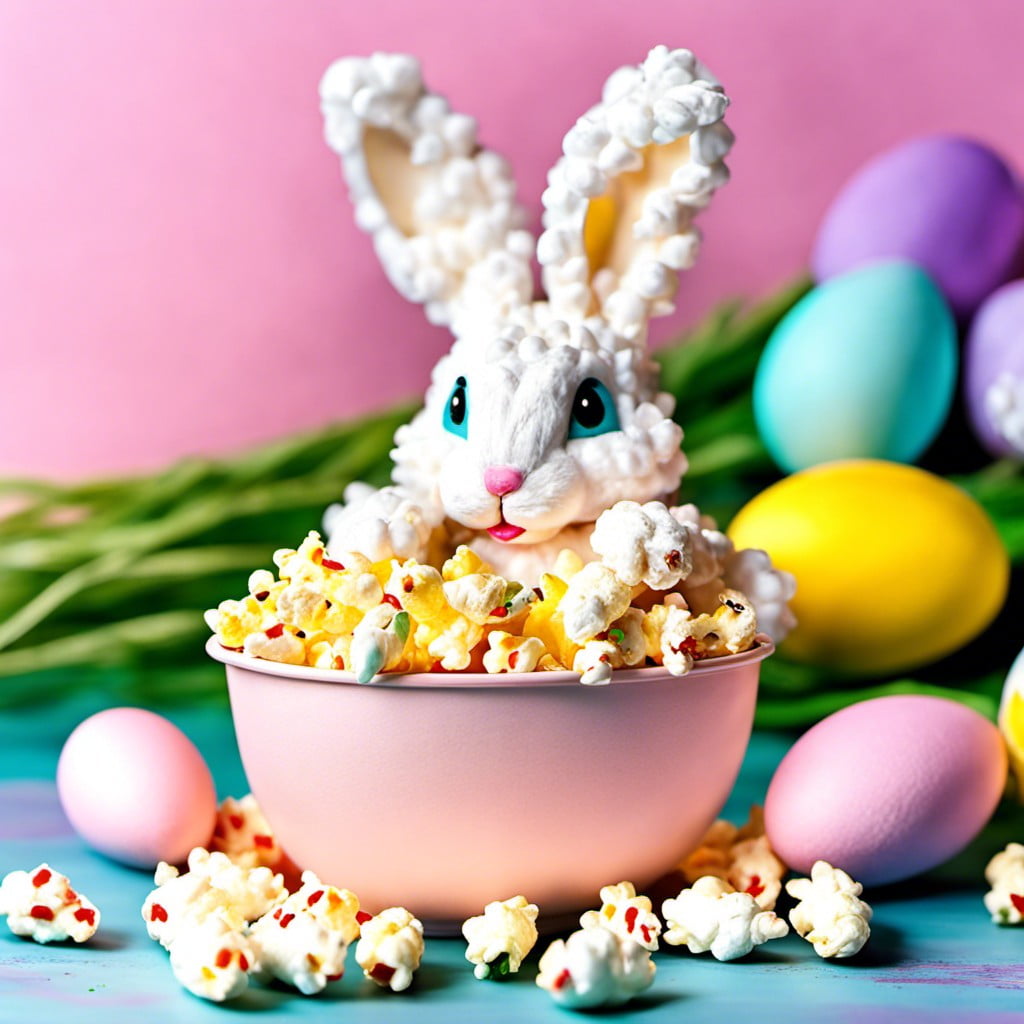 Light and fluffy, this delightful snack gains its unique appeal from a hint of white chocolate, imbuing an enticing sweetness that preschoolers adore.
It's almost like nibbling on actual bunny tails – except way tastier!
To create it, start by popping your favorite popcorn and let it cool completely.
Then, melt high-quality white chocolate and gently stir it into the popcorn, making sure to coat each kernel evenly.
After laying the popcorn out on a baking sheet, let it chill in the refrigerator until set.
Remember to serve in brightly colored Easter-themed cups for added fun.
This snack is not only delicious, but it's also a joy to behold: when arranged in a large bowl, the white chocolate-covered pieces look just like a pile of fluffy bunny tails.
It's a treat that's sure to capture the kids' imagination and taste buds!
Easter Egg Quesadillas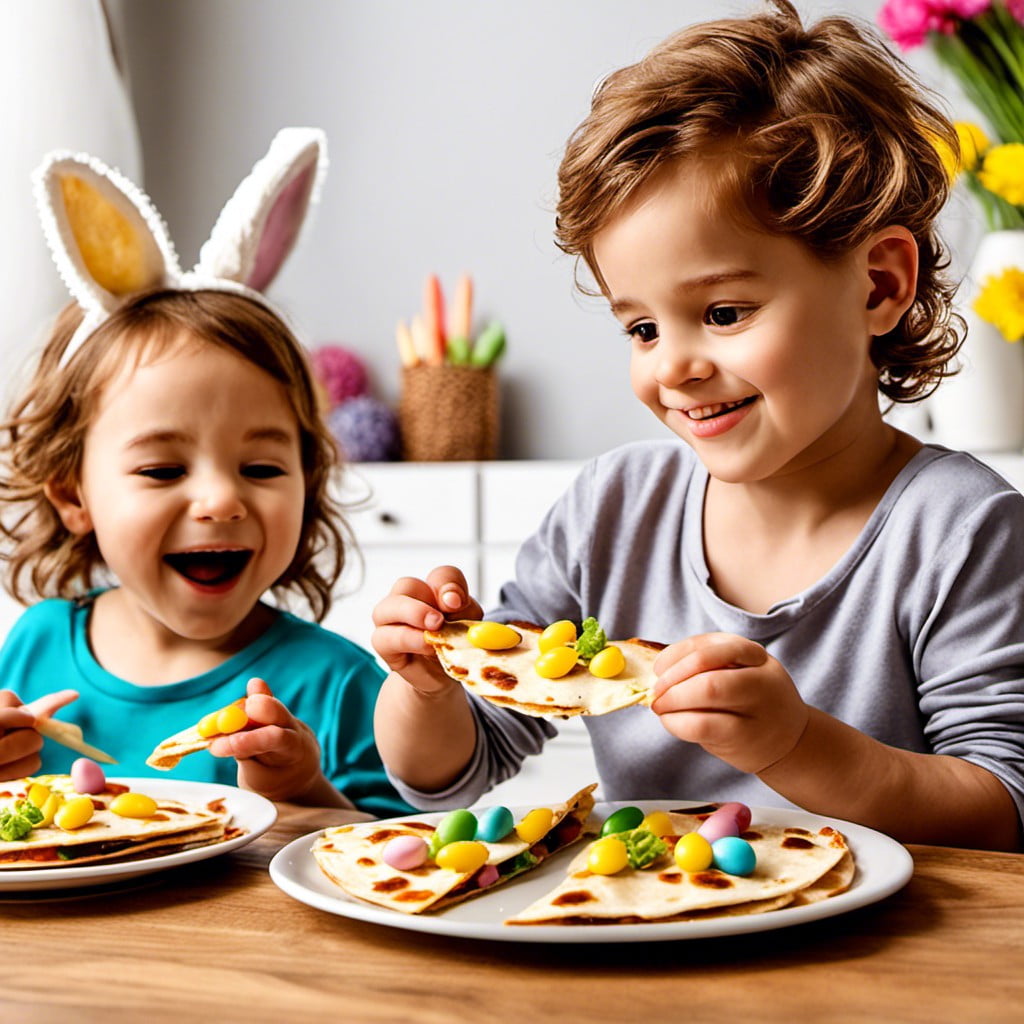 These kid-friendly treats are a delightful twist on a beloved classic. First, gather wholegrain tortillas, shredded cheese, food coloring, and mini egg cookie cutters.
Following this, color the cheese with food-safe coloring to resemble Easter eggs. Assemble your quesadilla, layering the colored cheese within the tortillas. Use a pan or a grill to heat until the cheese is gooey and the tortillas are crispy.
Once sufficiently cooled, utilize your mini egg cookie cutter to create a variety of bite-sized, Easter-themed pieces. A visually appealing snack, full of protein and whole grains, serving both fun and nutritional needs efficiently.
Funfetti Cake Batter Dip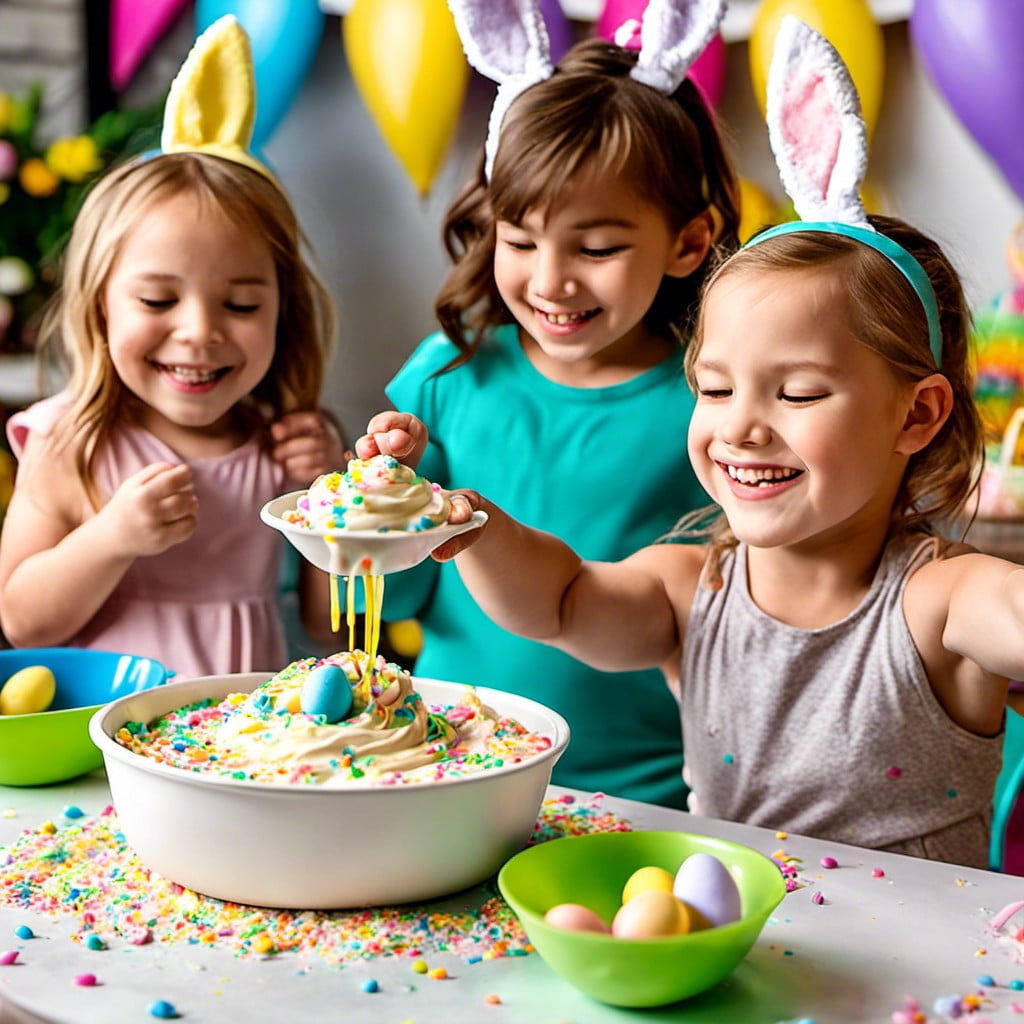 A favorite among children, this mouthwatering dip combines the sweet flavors of a classic birthday cake with a smooth, creamy texture.
To prepare, simply mix funfetti cake mix, plain yogurt, and cool whip together in a bowl.
The incorporation of the festive funfetti cake mix gives a playful pop of color, encouraging the little ones to try it.
It's not only an irresistible dessert but also a fun, interactive activity.
This dip is best served with bite-sized pieces of your preschooler's favorite fruits, cookies, or graham crackers.
Remember, the portion size and the dip-to-dipping-item ratio should be such that it's easy to handle and not too messy for your young ones.
The funfetti cake batter dip, truly an Easter delight that brings joy to the table with its colorful visuals and enticing flavors.
Chick Cheese Balls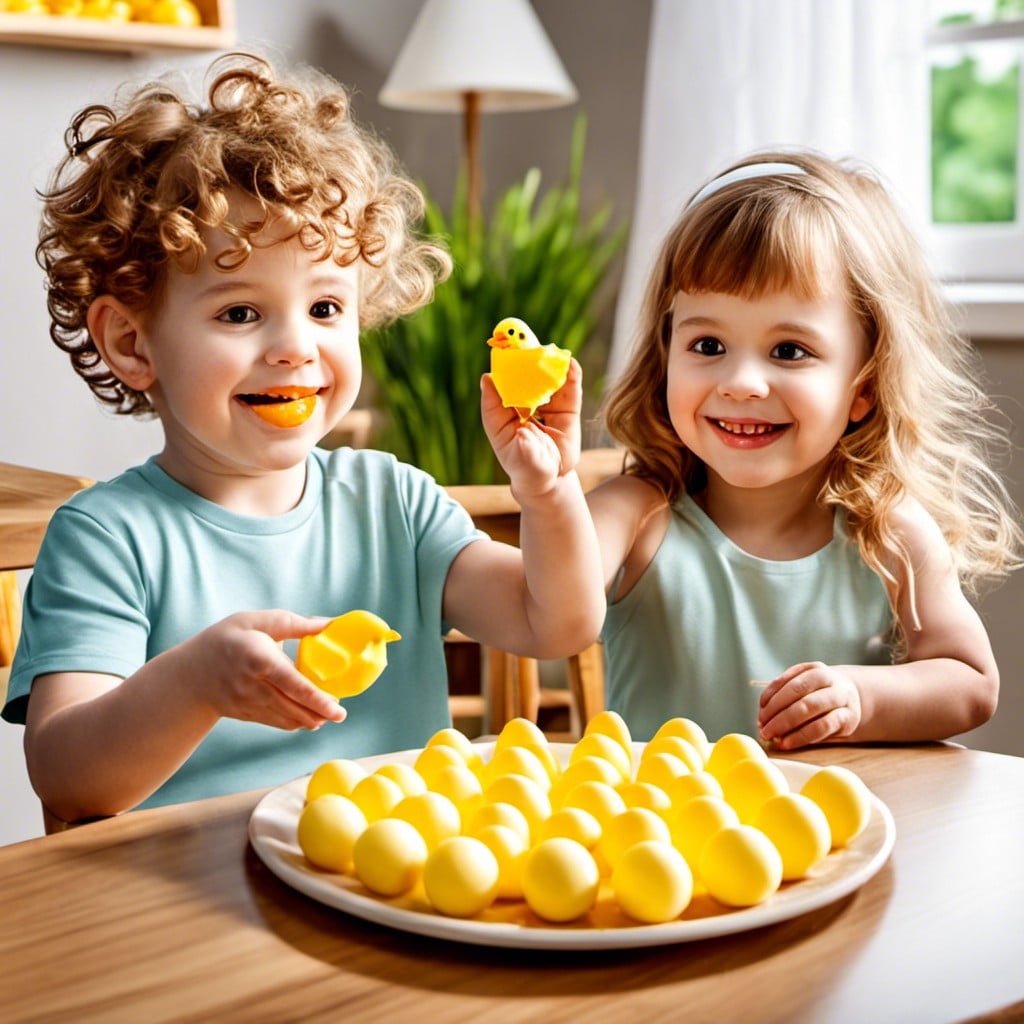 An absolute delight for the palate, these little orbs bring together the creaminess of cheese and the crunch of chopped nuts.
Make small balls from a mix of cream cheese, shredded cheddar, and mild spices.
For the ultimate chick-like appearance, roll them in finely crushed corn chips.
Adding mini pretzels as feet, peppercorns for eyes, and a small piece of carrot for the beak transforms each cheese ball into an adorable Easter chick.
Perfect to engage your little ones' creativity, these snacks can be easily prepped ahead and refrigerated.
They're fun, attractive, and absolutely delicious.
Ensure to keep the spices mild to make this treat preschooler-appropriate.
Easter Egg Pretzel Swirls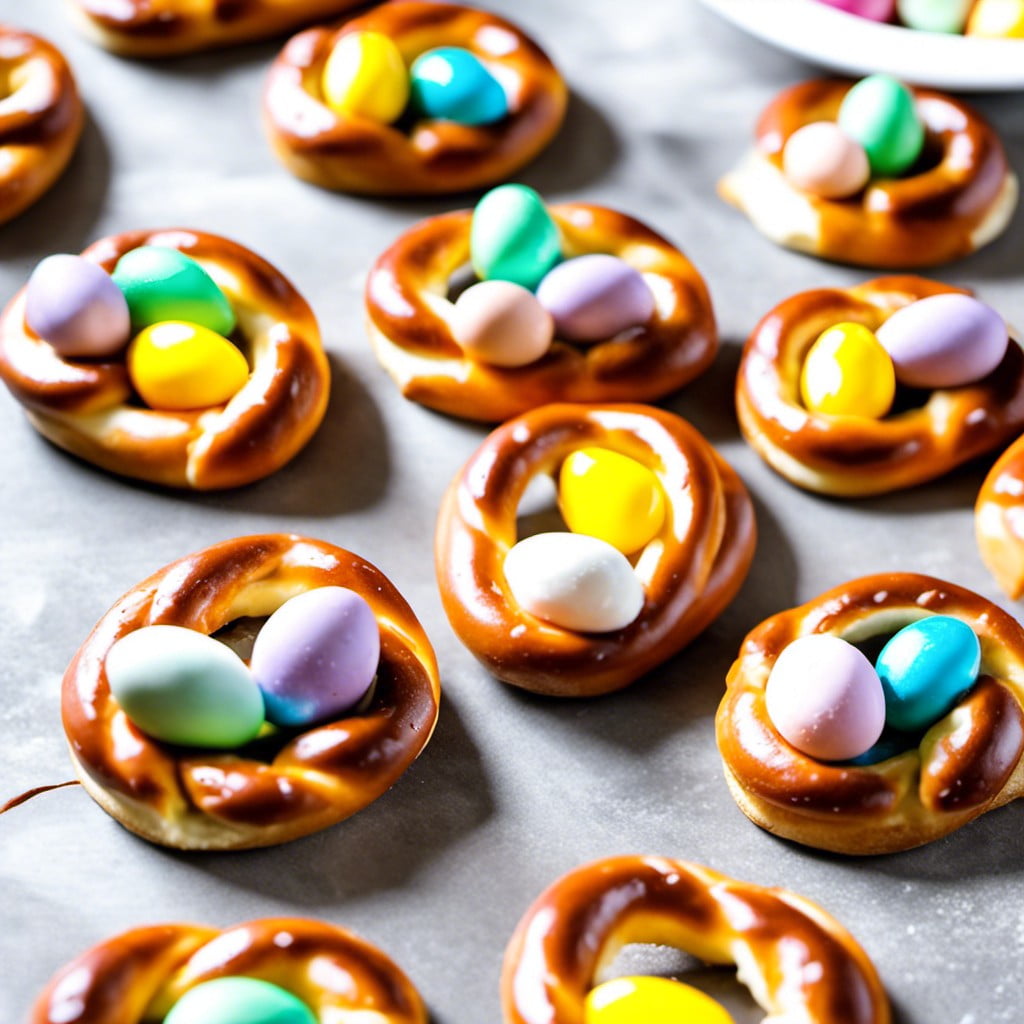 Pretzel swirls ideally blend the savory twist of pretzels with the sweet dash of chocolate. For a fun Easter spin, melt colorful candy-coated chocolates on top of each pretzel, creating a vibrant array of swirls.
To prepare this snack, place pretzels on a baking sheet lined with parchment paper. Top each one with a candy-coated chocolate. Bake at a low heat until the chocolates soften. Remove them from the oven and immediately press another pretzel on top, creating a delightful sandwich of colors and textures.
Let them cool and harden before serving. The interplay of textures – the crunch of the pretzel and the burst of sweet, melty chocolate – will surely delight little ones. And, the vibrant colors from the chocolates make for an eye-catching addition to any Easter spread.
Mini Muffin Bird Nests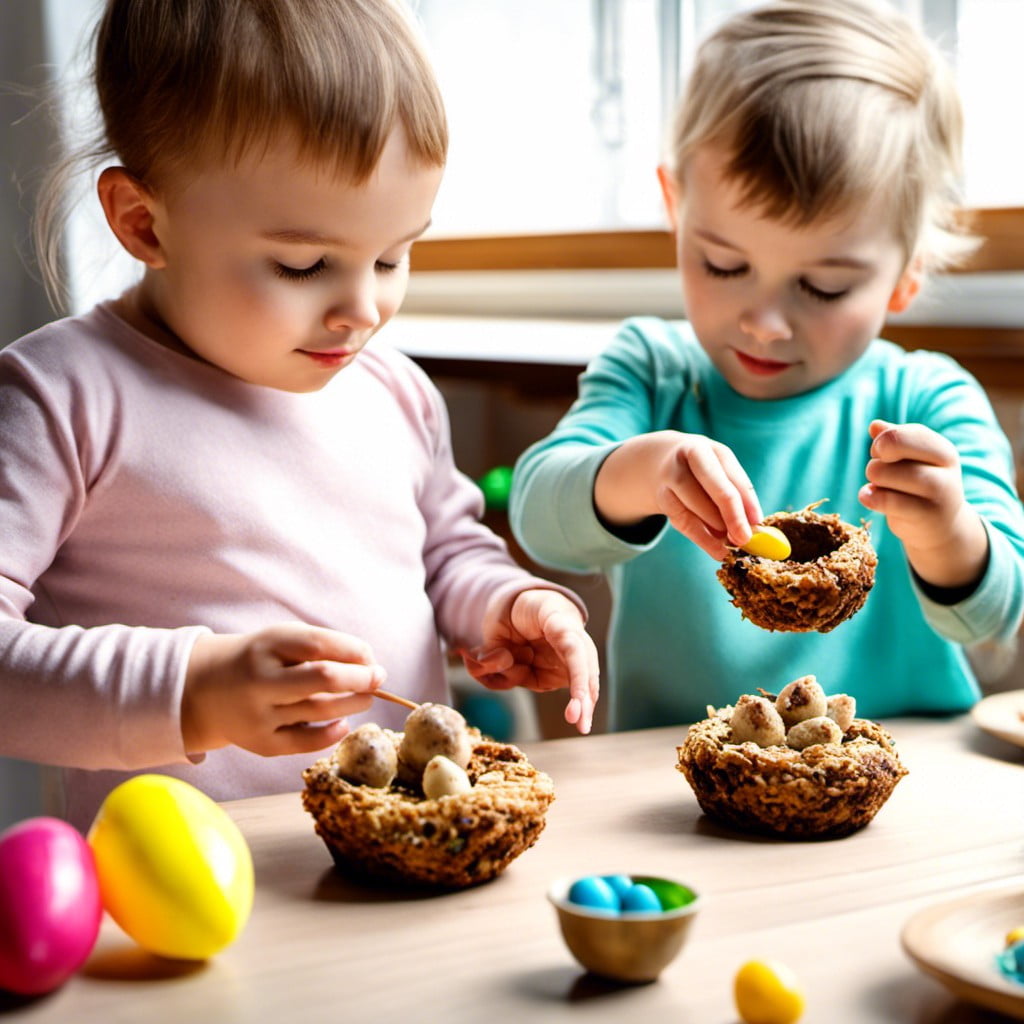 Creating these adorable snacks starts with a mini muffin tin. For the nests themselves, consider using shredded wheat cereal. You'll need to crush it into fine strands – simulating the texture of a bird's nest. Blend these bits with just enough melted marshmallows to hold everything together. Press this mixture into the muffin tin slots, creating a small indentation in the center to hold the "eggs". Refrigerate until firm.
Upon serving, fill those small hollows with tiny treat "eggs" which can be something like jelly beans or small dried fruits. Not only will the colorful specks against the nest make a captivating visual effect, but they'll also offer a burst of flavor when bitten into. Remember, these Mini Muffin Bird Nests are not only delicious, but they also spark kids' creativity and sense of fun. They might even inspire a lesson about birds and springtime changes in the natural world.