Explore the magical realm of Hundred Acre Wood with these delightful Winnie the Pooh-inspired snack ideas that are sure to tantalize your taste buds.
Immerse yourself in the charming world of the Hundred Acre Wood with these delightful Winnie the Pooh snack ideas. From honey-inspired treats to Tigger-themed nibbles, these snack suggestions are perfect for a themed party, a fun afternoon with the kids, or simply for any Winnie the Pooh enthusiasts.
Each recipe is easy to follow, ensuring a fun and stress-free cooking experience. Whether you're a novice in the kitchen or a seasoned chef, these snacks will bring a touch of whimsy to your day.
So, ready to explore these culinary creations inspired by Pooh and his friends? Let's dive in!
Honey Pot Cupcakes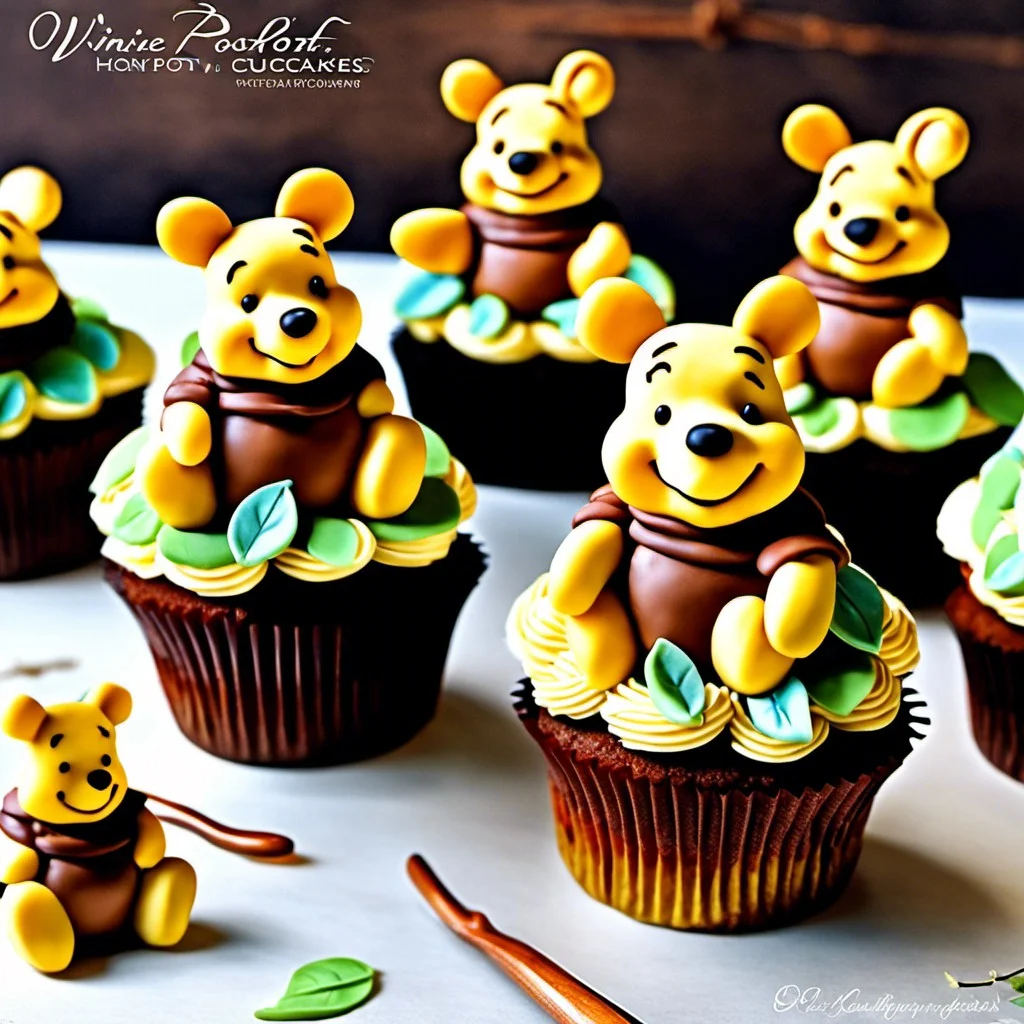 Capturing the spirit of everyone's favorite bear, these cupcakes offer a delightful, whimsical dessert option. They're simple to make, starting with your preferred cupcake base. Vanilla or honey-infused options are ideal to keep with the theme.
The key element to these snacks is the icing. A rich buttercream, flavored with honey, provides a sweet finish, nodding to Pooh's love for the sticky treat. Tinting the icing a soft yellow with food coloring nails the aesthetic.
The final, crucial touch is the miniature edible honey pots. Crafted from rolled fondant, these pots sit atop the icing. Dyed a pot-like shade of gray and marked with the word 'Hunny', they create the iconic look.
Not only do these cupcakes encapsulate key elements of the beloved character, but they also offer a delicious bite. Each element appears carefully designed to suit a children's party or Winnie the Pooh-themed event while ensuring flavor isn't compromised. Remember, the aim isn't only to create a beautiful dessert but to ensure a delectable taste.
Tigger Tails Pretzel Sticks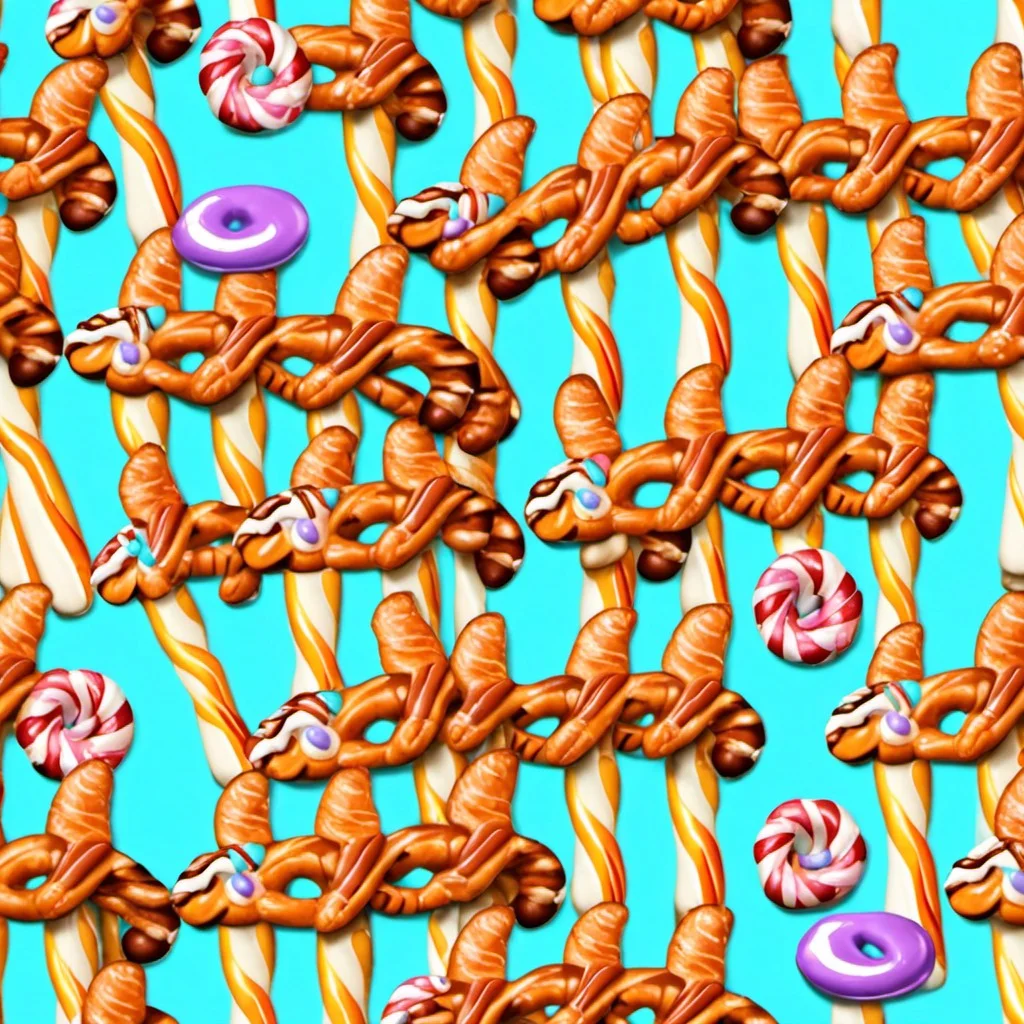 Adding a touch of Tigger's dynamic personality to your snack table, Tigger Tails Pretzel Sticks are a whimsical delight. Easy to assemble, these treats require just a few ingredients: large pretzel sticks, orange and black candy melts, and white fondant for detailed accents.
Melt the orange candy by following the package instructions. Dip each pretzel stick into the candy melt, ensuring it's fully coated. Let it dry before draping stripes with the black candy melt using either a piping bag or fork. Form small shapes out of white fondant for the eyes and a smile – a minute detail that breathes life into these delectable treats.
A perfect balance of savory and sweet, these pretzels are sure to capture the joy and fun of Winnie the Pooh's bouncy friend. Equally suited for a children's party or a nostalgia-filled gathering of adults, these Tigger Tails Pretzel Sticks never fail to impress. It's a simple, playful recipe that brings the charm of the Hundred Acre Wood to your snacks – and, inevitably, puts a smile on everyone's face.
Eeyore Donuts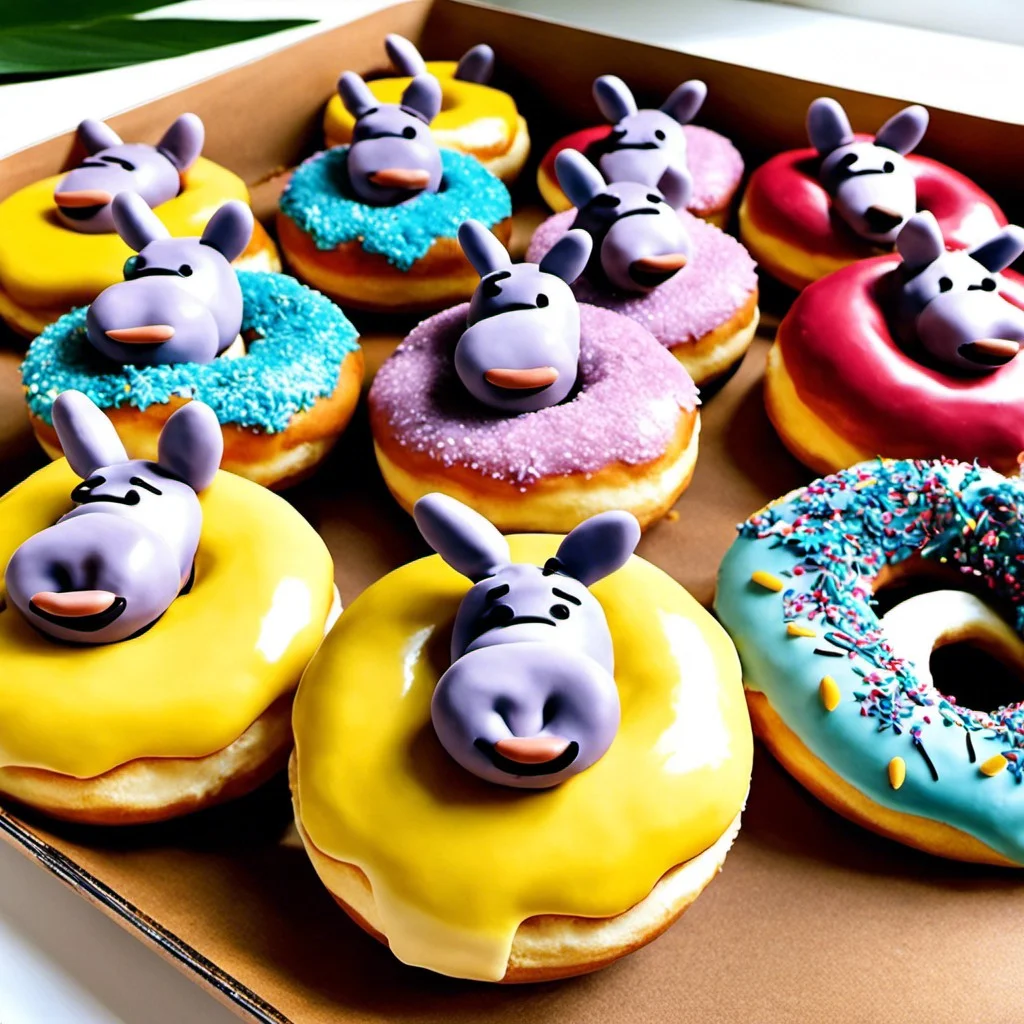 Drawing inspiration from our beloved somber donkey, these treats are far from dreary. Begin with plain, store-bought mini donuts, preferably chocolate to mimic Eeyore's color.
A quick dip in blue sugar crystals gives these delights a playful coat reminiscent of Eeyore's hue. Remember to exclude the tops! This establishes the look of his iconic mane.
The ears are a simple addition; tailored, marshmallow slices affixed with vanilla icing serve as a delectable foundation. Small candy eyes complete your charming Eeyore, eliciting smiles even before the first bite.
Despite the simplicity of the assembly, these donuts capture the essence of our cherished, cuddly character while offering a fun, delicious snack for your Winnie the Pooh themed event. Please note that this treat contains gluten, dairy, and sugar, making it unsuitable for those with relevant dietary restrictions.
On the flip side, it indeed makes it an exciting, engaging baking activity to involve children in the kitchen. Enjoy the creativity, the taste, and the joy these Eeyore Donuts bring!
Piglet Pink Lemonade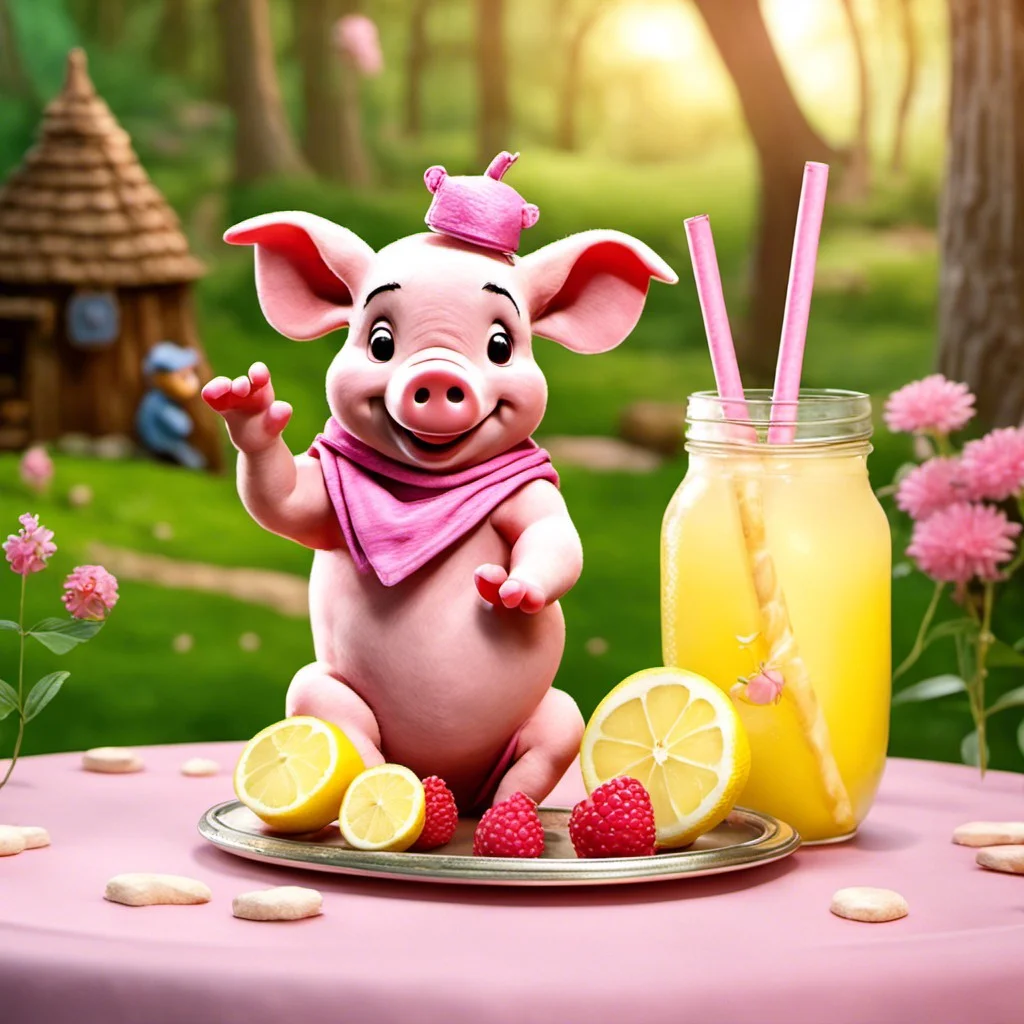 This whimsical refreshment is a sure-fire hit at any gathering. Enthral your guests with its rosy hue and delightful tang. The key is to balance the sweet and tart flavors, just like our beloved character Piglet.
Here's what you'll need:
1. Pink lemonade mix: For convenience, a premade mix can work wonders.
2. Fresh lemons: To add a dash of authenticity and brightness to your beverage.
3. Pink food coloring: This is optional, but it can be used to adjust the color to match Piglet's pastel tones.
4. Sugar: To taste. Remember, balance is key.
5. Ice: To ensure your drink stays refreshingly cool.
6. Garnishes: Consider adding a twist or wheel of lemon, a sprig of mint, or even a few fresh raspberries or strawberries.
To make this delightful lemonade, follow the instructions on your lemonade mix, adding fresh lemon juice, sugar, and optional food coloring to taste. Serve chilled over ice with your chosen garnishes. Luxury in a glass – completely enchanting!
Remember, presentation is key when hosting. To amplify the Winnie-the-Pooh theme, think about serving your lemonade in clear glasses or jars – every aspect lends itself to the overall ambience of your event.
In short, Piglet Pink Lemonade is a deliciously refreshing statement piece to brighten up your Winnie-the-Pooh inspired gathering.
Rabbit's Carrot Cake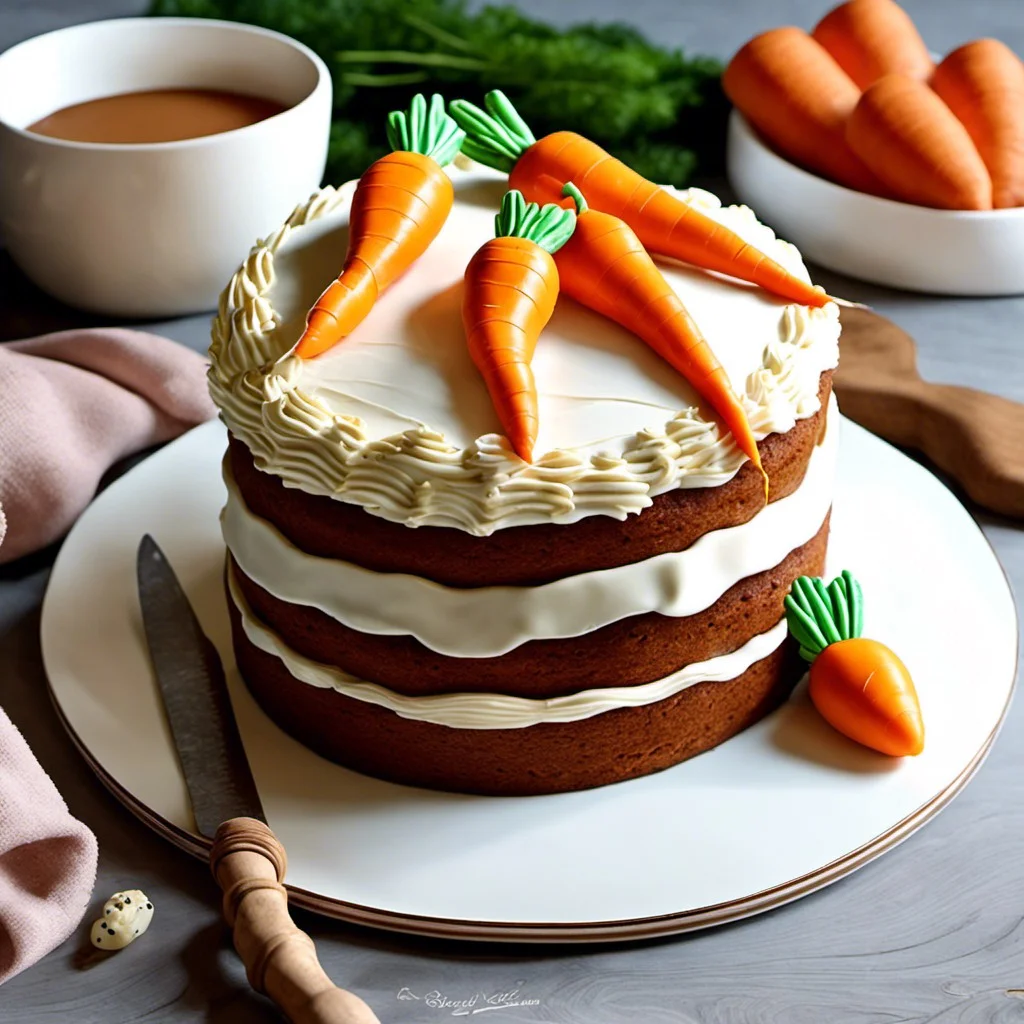 Whisking up a delightfully moist and aromatic carrot cake requires a few key ingredients – fresh, grated carrots, cinnamon, and a blend of granulated and brown sugar. The real secret, however, lies in the amount of carrots used. Too few will result in a dry, crumbly cake whereas an excess can make the batter too wet, spoiling the consistency. Finding the balance is critical.
To enhance the traditional carrot cake, consider adding golden raisins or chopped walnuts into the batter to provide a textural contrast. Cream cheese frosting is a classic pairing, adding a tangy, creamy layer that complements the sweet, spiced cake beneath. For presentation, consider piping little orange icing carrots onto the frosting. For an extra twist, lightly dust the frosting with cinnamon or use edible decorations.
Avoid the temptation to cut the cake immediately after baking. Letting it cool allows the flavors to intensify, resulting in a more flavorful, rich experience – worth the wait. Embrace the experimentation, the nuances that alter with each ingredient tweak, and let it be an adventure just as Rabbit would have navigating his garden.
Pooh's Honey Popcorn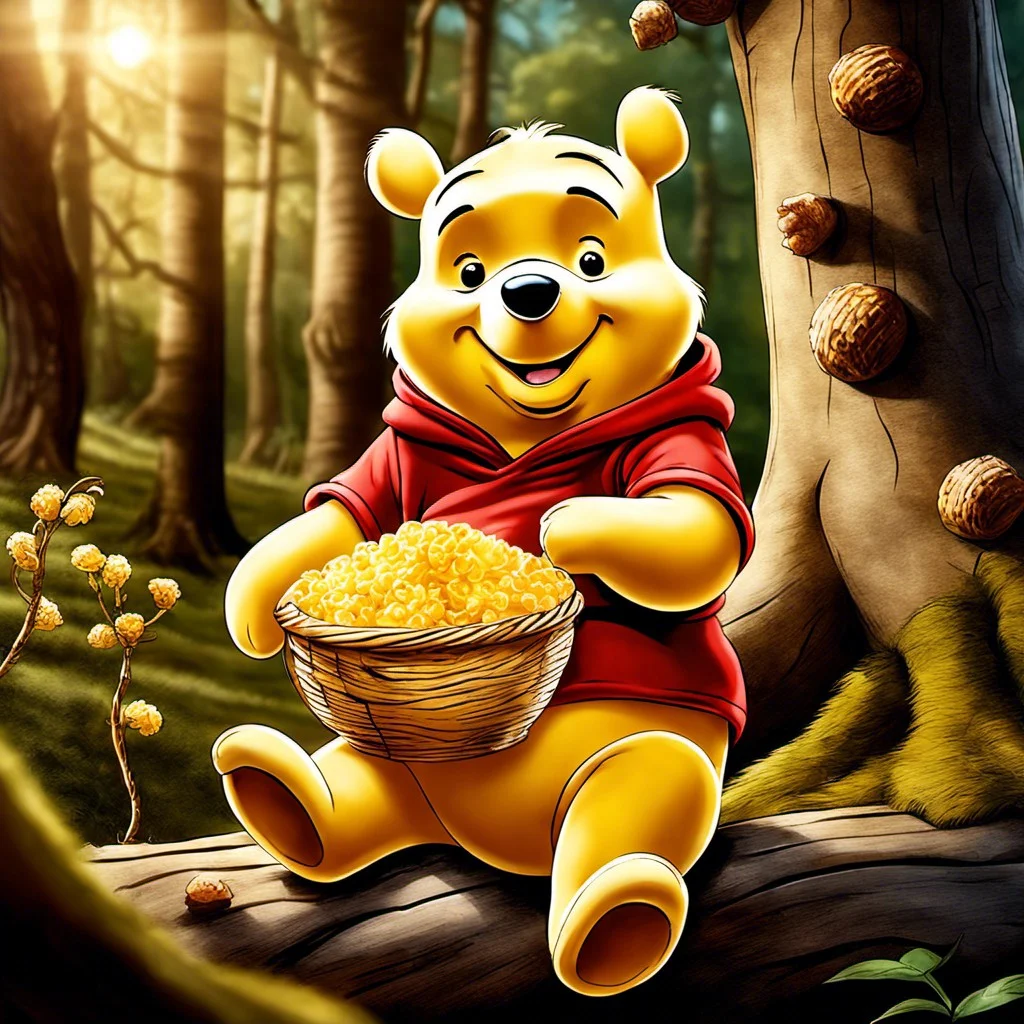 This delightful snack is a true homage to our beloved bear's favorite food – honey. An irresistible blend of sweet and salty, it pairs perfectly well with a family movie night or a themed party.
To create this delicious treat, you'll need popcorn, honey, salt, and butter. Begin by popping the corn kernels using your preferred method. While the popcorn is popping, melt butter in a saucepan and stir in honey until it forms a smooth, rich syrup. Once your popcorn is ready, drizzle the honey-butter mixture on top, ensuring an even coating. Sprinkle lightly with salt to balance out the sweetness.
For extra Pooh-inspired fun, serve your honey popcorn in DIY honey pot bowls. These can easily be created using yellow construction paper, decorated with the word 'HUNNY', staying true to the classic Winnie the Pooh style.
Remember, this snack is not just about recreating Pooh's favorite food but also about nurturing a warm, homely atmosphere that characterizes the Hundred Acre Wood. So, enjoy sharing this heartwarming snack, whether you're watching Winnie the Pooh or simply spending quality time with loved ones.
Owl S'mores Dip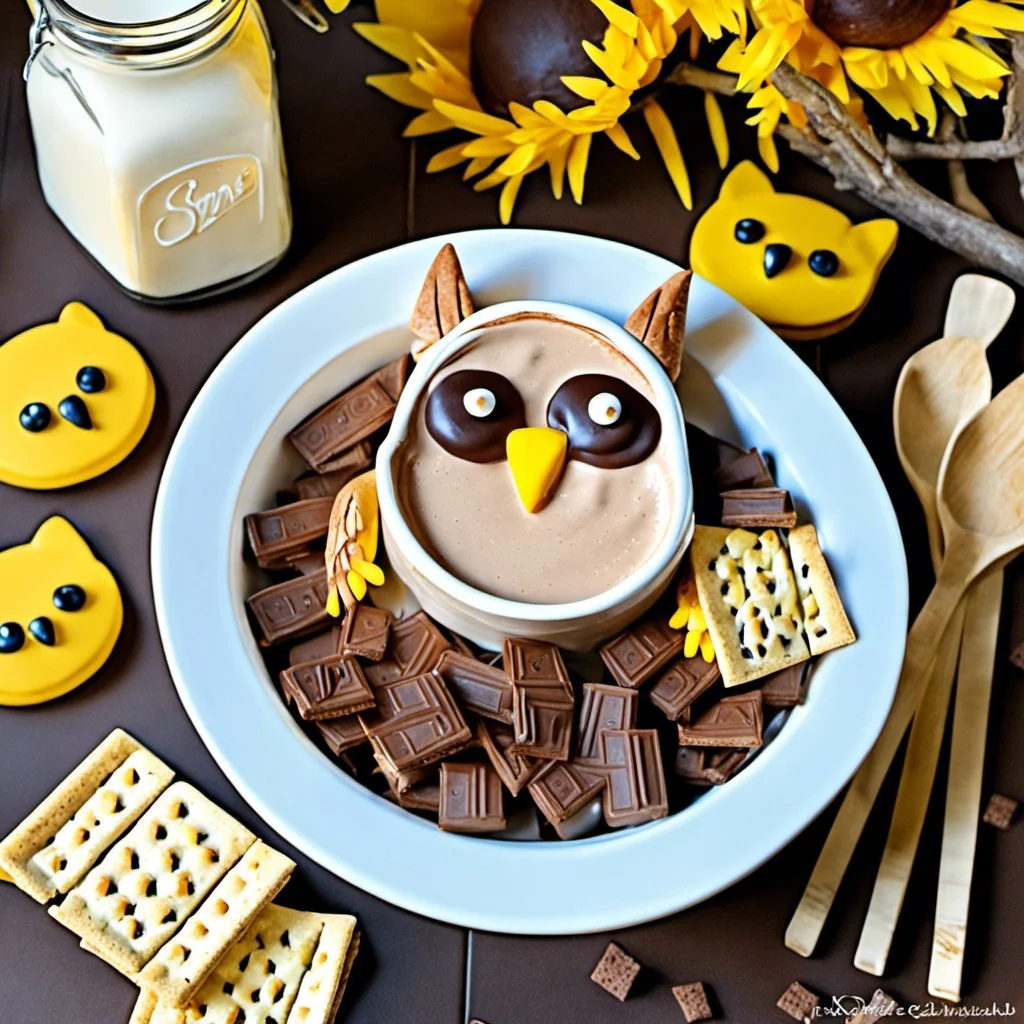 This perfect gathering treat is as delicious as it is charming. Start by blending a good dose of rich chocolate with creamier than clouds marshmallows. Assemble this tantalizing combination in a cast-iron skillet, or any oven-friendly dish, creating the base of our dip.
Next, use another batch of marshmallows on the top, arranging them meticulously like the feathers of our wise friend Owl. Watch as they melt and brown in the oven, their toasty fragrance filling the room. Share this sweet delight by serving with graham crackers, biscotti, or any dip-friendly sweet treat on the side.
For an extra hoot, try using a food paint or a bit of melted cooking chocolate to draw Owl's discerning look on a few marshmallows before popping them in the oven.
Kanga's Roo Sandwiches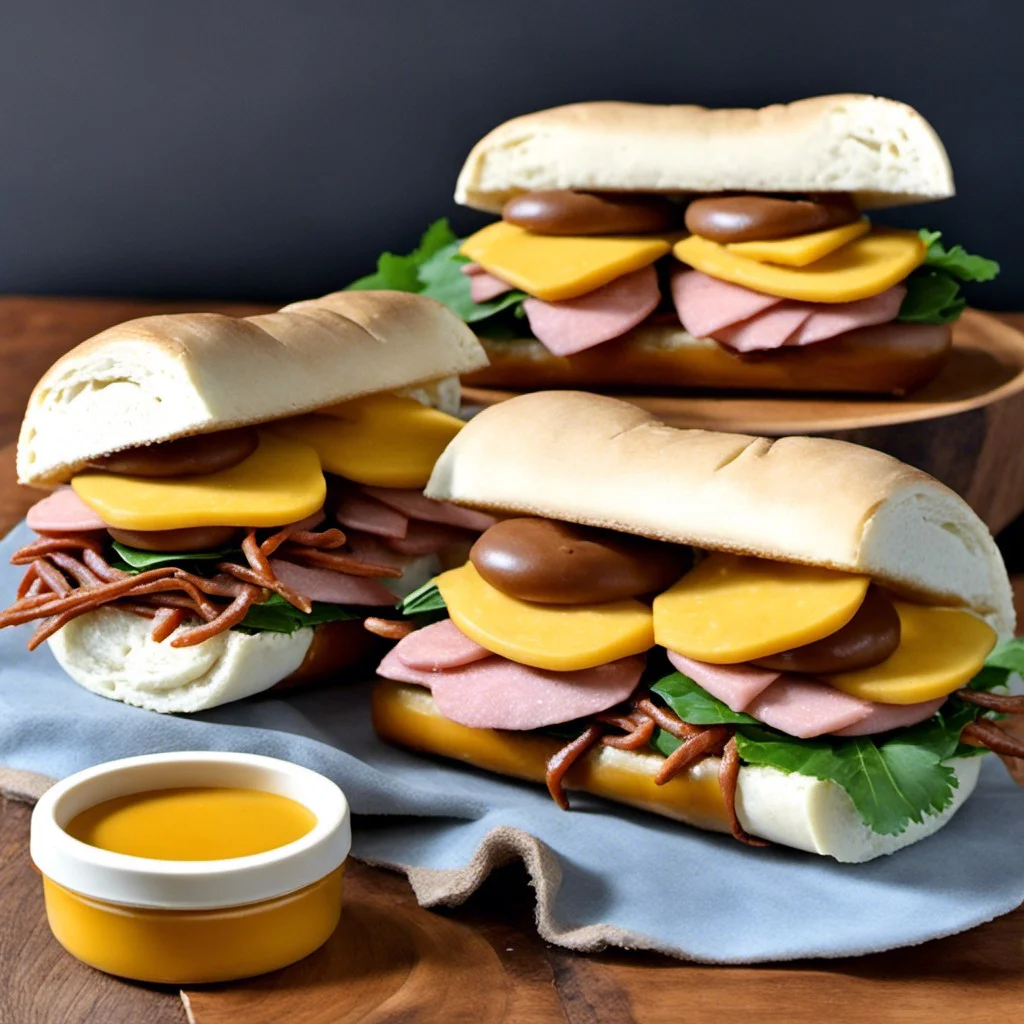 Taking inspiration from Kanga's motherly spirit, these sandwiches cater to both adults and their little 'roos.' Choose a variety of kid-friendly fillings such as ham and cheese, peanut butter and jelly, egg salad, or cream cheese and cucumber. Opt for whole grain bread to up the nutrition ante.
Shapes are all the rage in the Hundred Acre Wood. Use a kangaroo-shaped cookie cutter to stamp out the sandwich forms. This not only adds a playful twist reminiscent of Kanga and Roo's relationship but also makes the sandwiches more manageable for tiny hands.
The sandwiches can be served with a small side of honey mustard or a lighter option like a homemade hummus dip. It's all about offering a balance of flavors to cater to everyone's taste buds while staying true to the playful theme embodied by Kanga and her little Roo.
Don't forget to keep these sandwiches cool, especially if dairy or meat fillings are used. A smart idea is placing them on a tray above a shallow dish filled with ice. This keeps the sandwiches fresh while guests enjoy the other Winnie the Pooh inspired snacks.
Christopher Robin Tea Sandwiches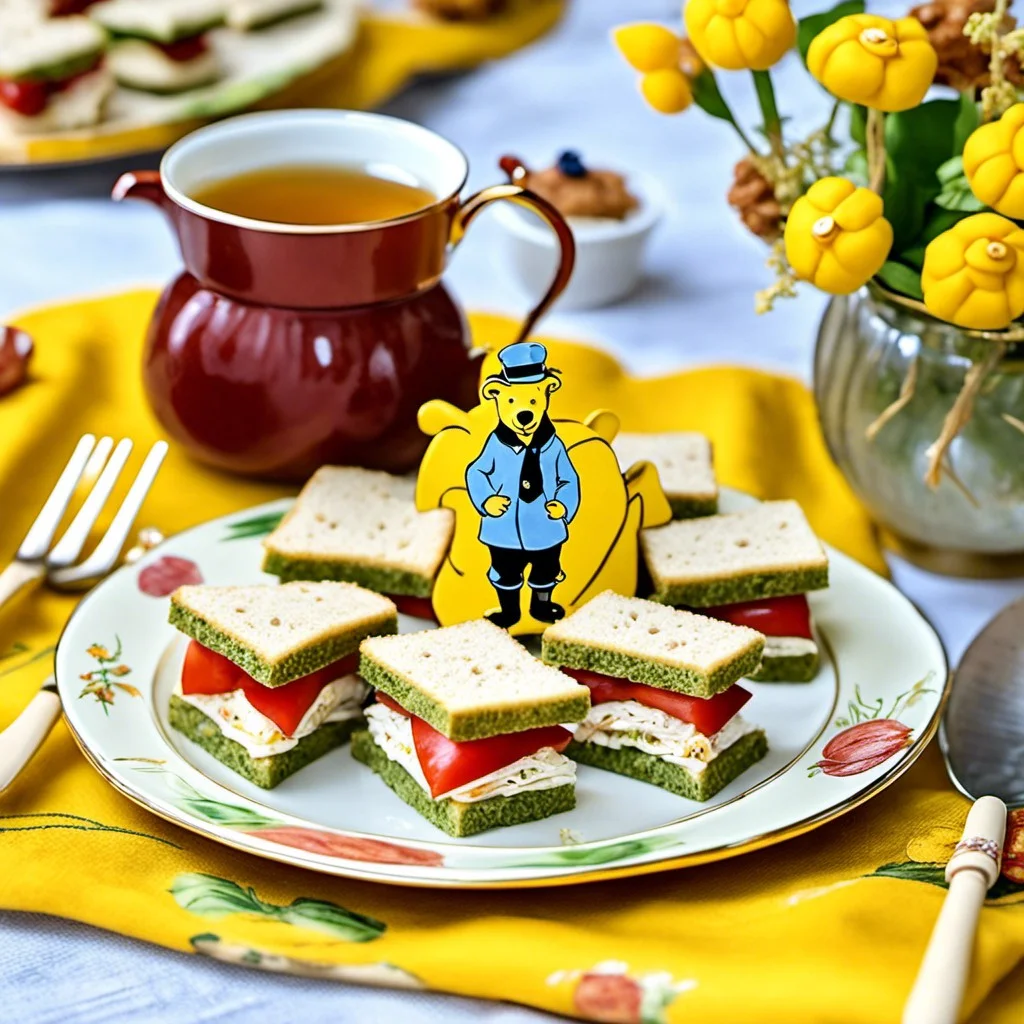 Continuing our exploration of Winnie the Pooh-inspired snacks, let's delve into something more traditional.
A staple of British teatime, these delightful bite-sized delights embody the personality of Christopher Robin – understated, reliable and thoroughly charming. Ideal for parties or casual snacking, the key to perfect tea sandwiches lies in simplicity.
1. Choose Soft Bread: Opt for softer varieties. Remove the crusts after assembly to ensure neat, tidy squares or triangles.
2. Keep Fillings Simple: Classic options like cucumber and cream cheese, egg and cress, or ham and mustard work wonderfully.
3. Thickness Matters: Apply a thin layer of butter on each bread slice to act as a moisture barrier. The fillings, too, should be thinly sliced or spread to maintain balance.
4. Freshness is Key: Prepare just before serving to retain freshness and prevent the bread from drying out.
Follow these guidelines and the spirit of Christopher Robin and his sense of companionship shines through. Bon appétit!
Hundred Acre Wood Trail Mix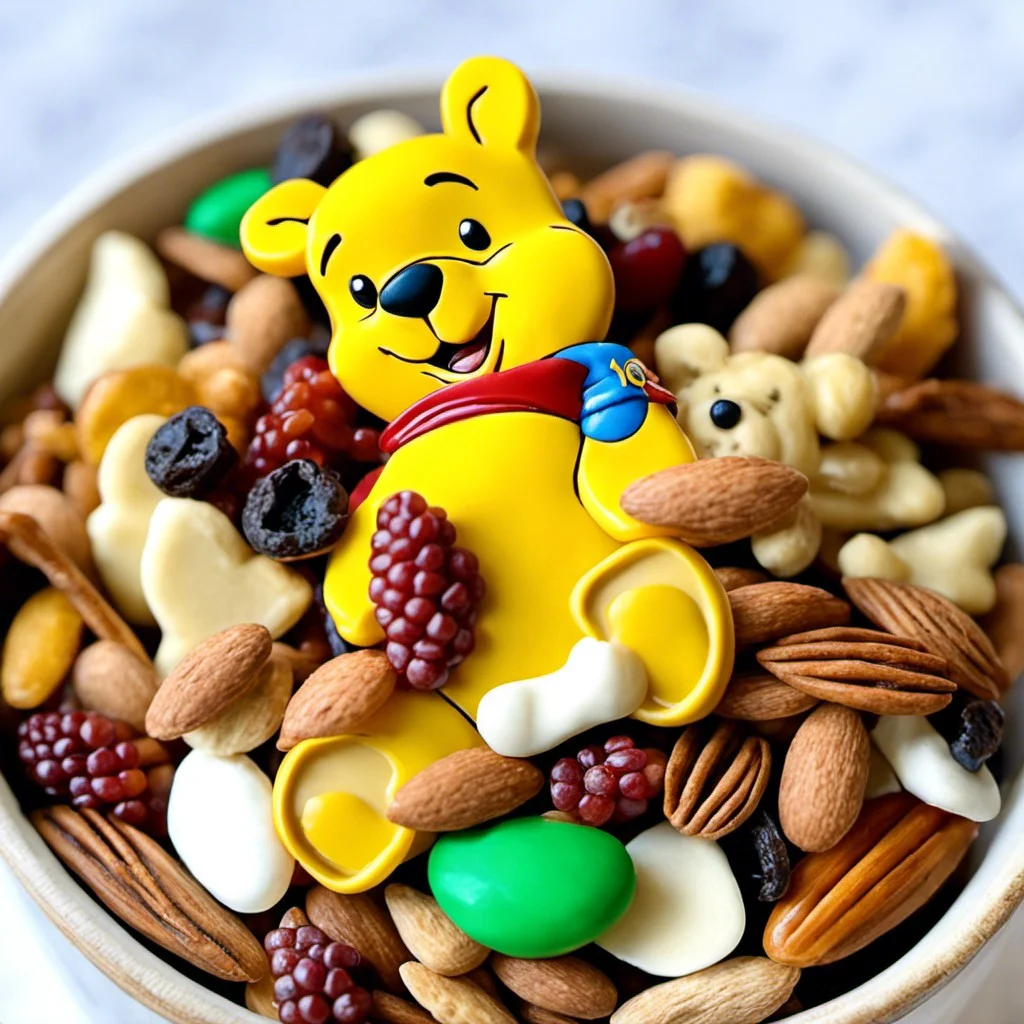 At its heart, this trail mix offers an exciting blend of flavors and textures. The mixture components are a nod to the beloved characters in the story with nuts representing the woody nature of the Hundred Acre Wood, raisins and other dried fruits symbolizing the sweet interludes of friendship, and honey nut cereal nodding to Pooh's favorite treat.
Here are some key aspects to remember:
Nuts: Choose a variety; almonds, walnuts, and cashews work well. Remember to either roast or buy pre-roasted for enhanced flavor.
Dried Fruits: Add sweetness and chewiness with a mix of dried cranberries, raisins, and perhaps, some apricots for a dash of color.
Cereal: Opt for a honey-nut flavored cereal, both for the crunch and to honor Pooh's love for honey.
Optional Extras: Consider scattering in mini pretzel twists or honey-flavored graham crackers for additional crunch.
Just measure and mix, and the playful, diverse, and flavorsome Hundred Acre Wood Trail Mix is ready. It provides flavors carefully chosen to appeal to all, just like the warm friendships in our beloved Winnie the Pooh's world.
Heffalump Hotdogs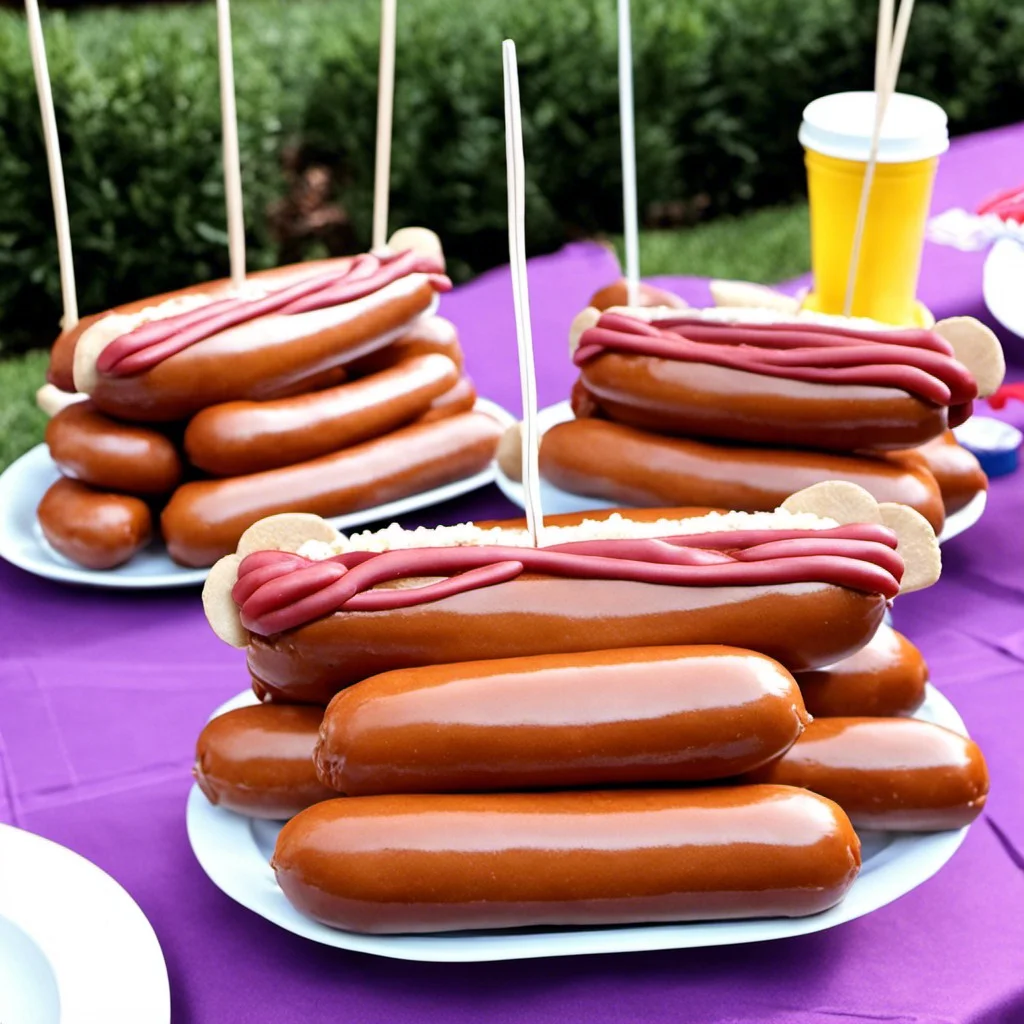 These fun-themed hotdogs are perfect for a mid-afternoon snack or an addition to a meal. Popular with both children and adults alike, they're simple to prepare and serve. The key lies in creatively presenting them to mimic Heffalump's trunk, thus providing a visual treat along with a delicious snack.
1. Choose quality hotdogs: It's important to start off with the finest ingredients. For this, select good-quality beef or pork hotdogs.
2. Trunk Curling: Before cooking, make a cut at one end of each hotdog, curling it to resemble Heffalump's trunk.
3. Cooking method: Grill, fry, or boil the hotdogs as per your preference. Remember to keep the curled end intact.
4. Bread Selection: Opt for soft buns that can comfortably accommodate the curled hotdog.
5. Extras: A dash of ketchup, a squirt of mustard, or a sprinkle of cheese can add that extra flavour.
6. Presentation: Do not forget the addition of googly eyes made of condiments or cheese to resemble Heffalump.
Within a matter of minutes, you can have a plate of attractive and tasty Heffalump hotdogs, much to the delight of Winnie the Pooh fans. Follow these simple steps and let your creativity unleash!
Tigger Striped Fruit Salad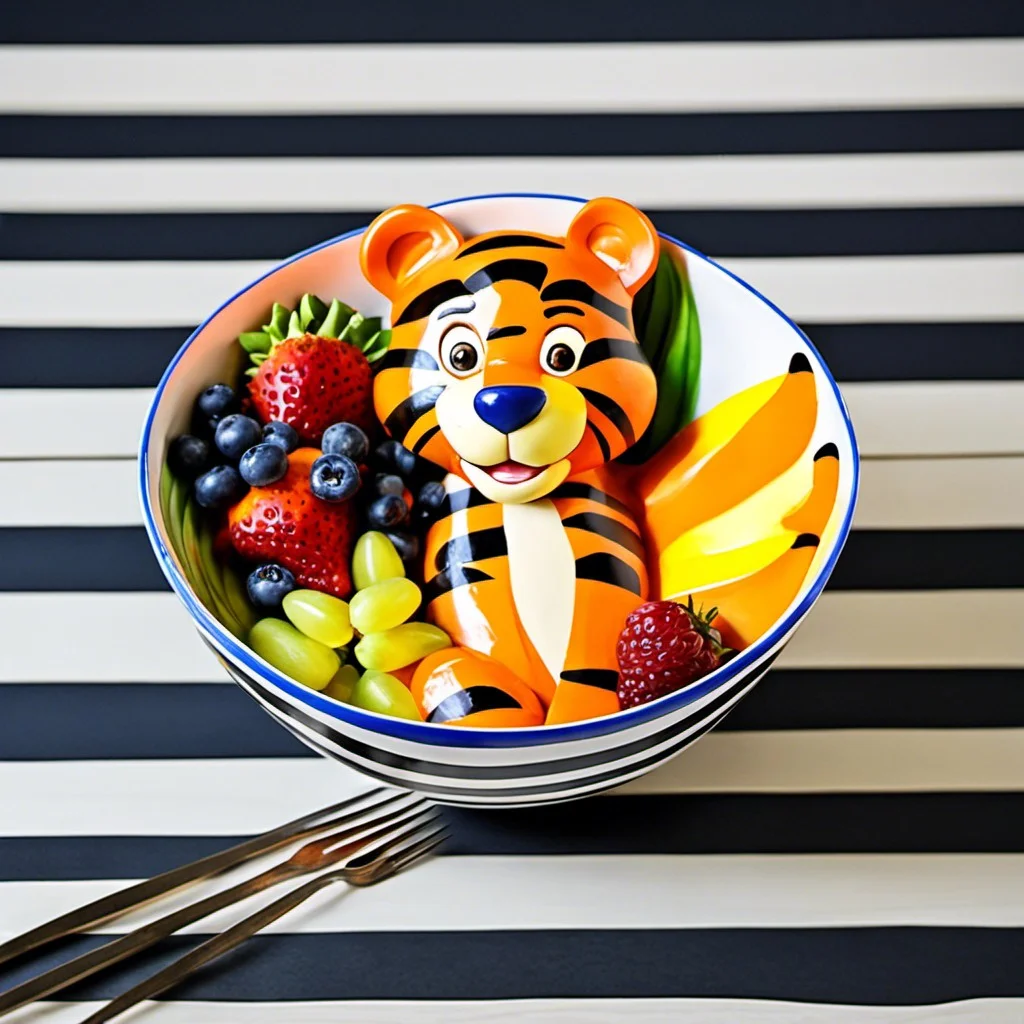 A vibrant assembly, this salad mimics Tigger's distinctive stripes with alternating layers of brightly colored fruits. It all begins with sweet ripe oranges, perfected with juicy strawberries, dotted by flavorful blueberries, and topped with crisp apples. Arrange these in sequential layers to replicate the playful hues of the beloved bouncing tiger.
For an even more tempting treat, why not incorporate a sweet citrus drizzle? A simple mixture of honey, orange juice, and lemon zest enhances the flavor further.
Remember, the key to a great fruit salad is fresh, high-quality ingredients. Always select ripe, in-season fruits for the best flavor combination. You may also consider personalizing your fruit choices to suit your preferences or accommodate any dietary restrictions.
Pooh Bear Honey Toast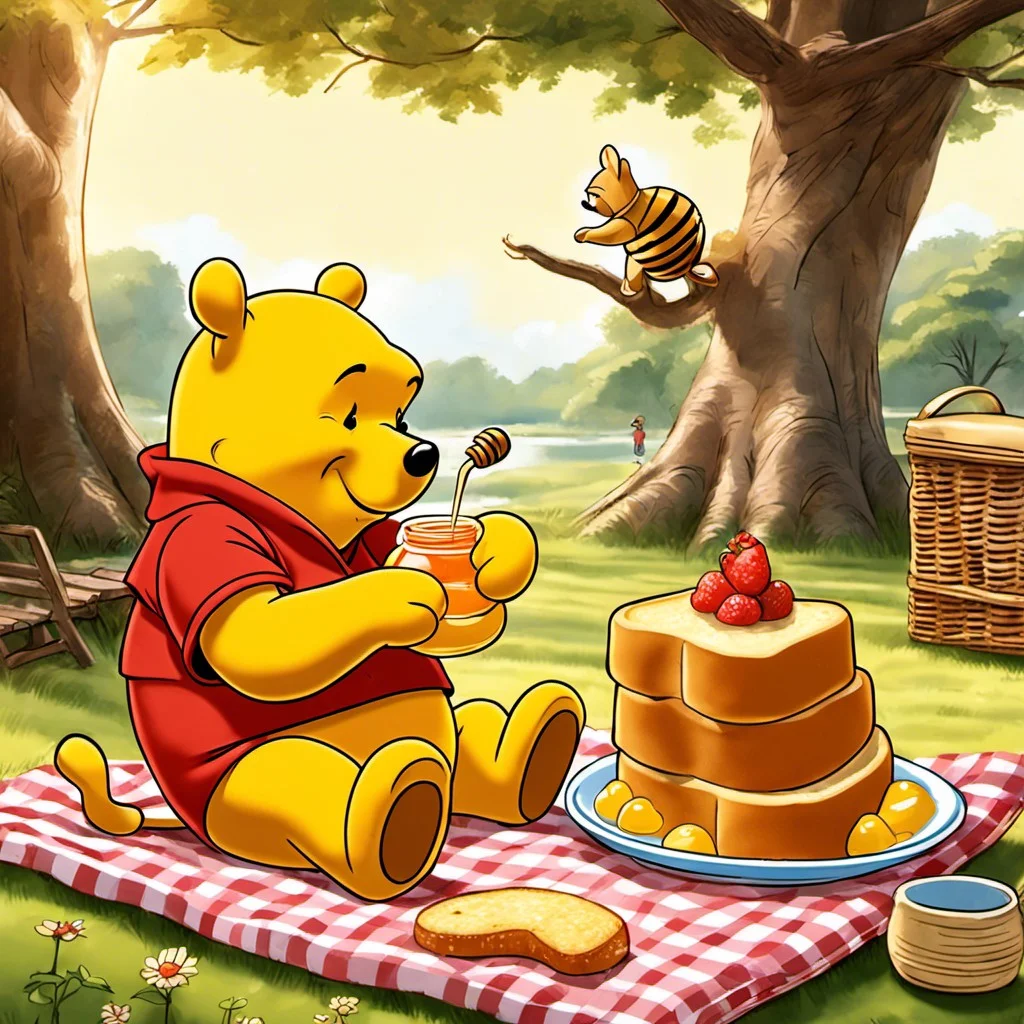 Begin this delightful snack by choosing your favorite type of bread – whole grain, sourdough, or even gluten-free will work. Toast it to your preferred level of crunchiness.
Meanwhile, heat up a small pot of honey on low, stirring it to prevent it from burning. The essence of this treat lies in the harmony between the warm, crisp toast and the liquid gold that is your honey.
Once your toast is ready, promptly pour the warmed-up honey on it. Aim for that lavish coating that Winnie the Pooh himself would appreciate, while not overwhelming the toast. It's all about balance.
Fine-tune this snack to your liking. Add thin slices of banana or a sprinkle of cinnamon. A dash of nutmeg could also enhance the flavor. The sweet simplicity makes it a versatile snack for any age and the perfect homage to everyone's favorite honey-loving bear.
Remember, every ingredient counts in this minimalist, flavorsome snack.
Rabbit's Veggie Platter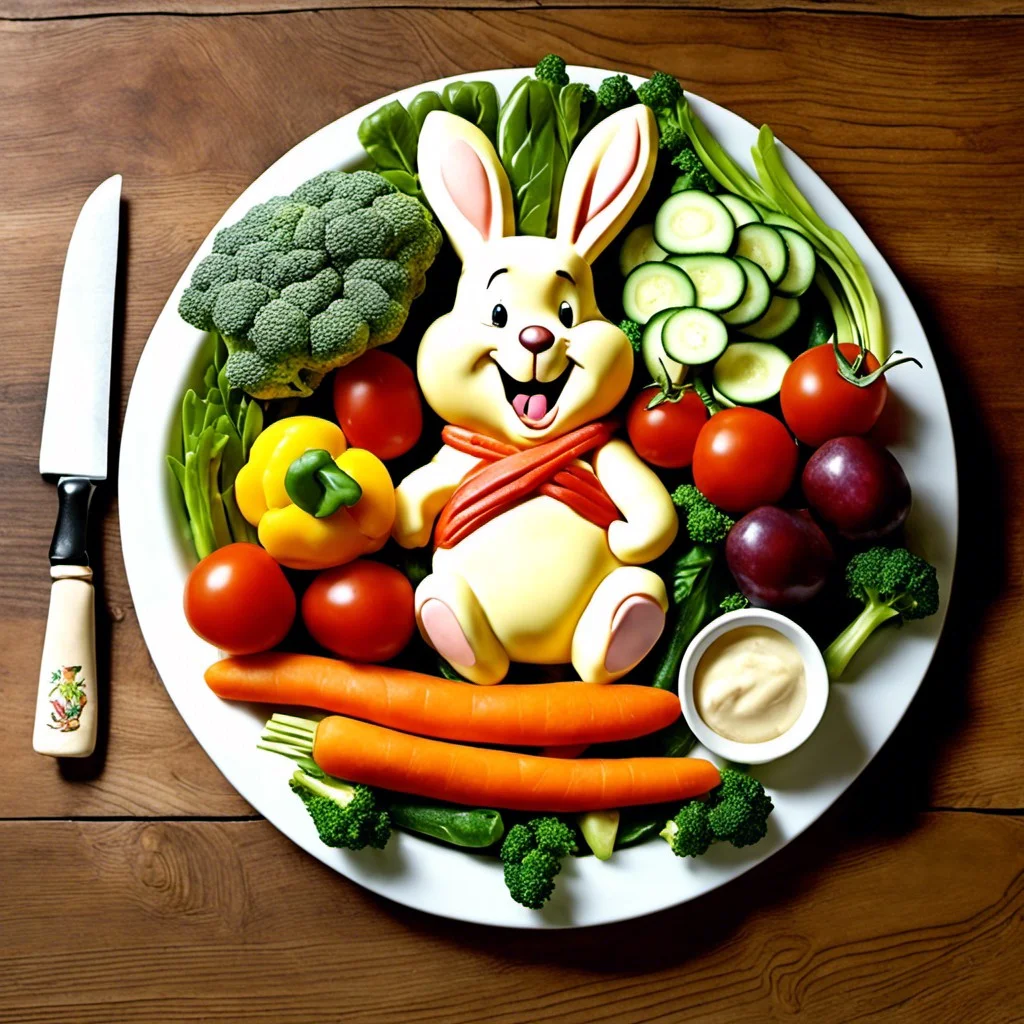 To honor our organized, vegetable-loving friend, an array of fresh produce is a must-have. Select colorful vegetables such as cherry tomatoes, cucumbers, bell peppers, and broccoli. Pair these with hummus or a fun ranch dip, to add a touch of indulgence.
Take it up a notch and cut some vegetables, like carrots or cucumbers, into shapes reminiscent of Rabbit's garden tools, such as a shovel or a rake, using simple cookie cutters. If you're in for a little extra creativity, arrange the veggies to resemble a vegetable garden plot, serving the dips as 'dirt'. It's a creative, healthy snack that adds fun elegance to the party, just like Rabbit would want.
Piglet Sugar Cookies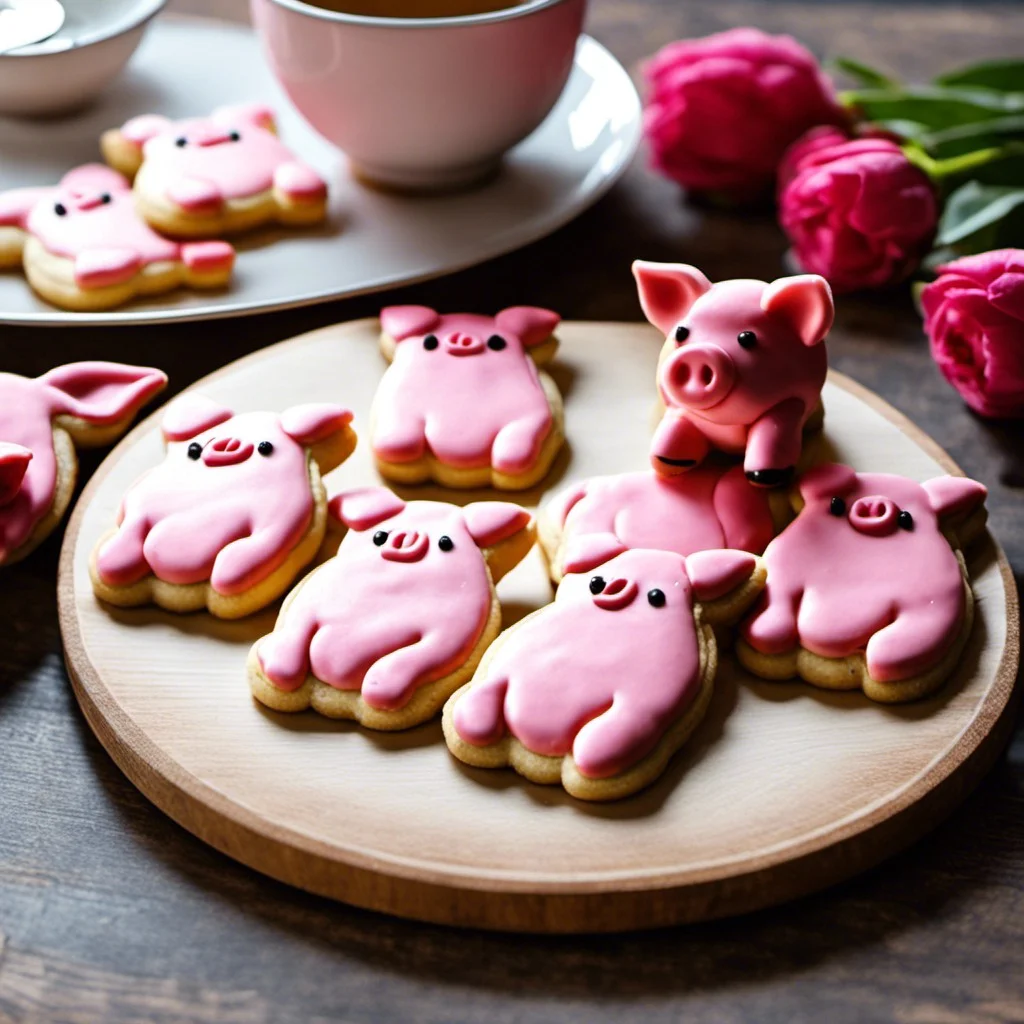 It's pretty simple to bring the delightful charm of Piglet into your snacks with these cookies. Start with your favorite sugar cookie dough, dye it a pale pink for authenticity.
For that crisp look, use a pig-shaped cookie cutter and then bake according to the recipe.
Whip up a batch of pink royal icing while your cookies cool. Once they're ready, pipe the icing onto the cookies, accentuating Piglet's features – don't forget his iconic striped jumper!
These cookies are not only a tasty treat but also a fun activity. You may even choose to add edible glitter for that extra sparkle!
But the magic isn't just in the look. The soft, sweet bite of the sugar cookie blends impeccably with the slightly hardened royal icing. The contrast of textures is just as charming as Piglet himself – delightful to the last crumb.
Whether savored solo or shared at a party, these are sure to be a hit!
Eeyore's Blueberry Muffins
Rich with the natural sweetness of ripe berries and a moist crumb, these treats are a Blueberry delight. The slight tartness from the fresh blueberries balances the sweet undertone perfectly. An addition of lemon zest enhances the fruity flavor while butter gives it a soft, luscious texture.
Keep to this quick and easy formula:
Start by creaming butter and sugar until light and fluffy.
Crack in one large egg, then mix in vanilla and lemon zest for an extra kick of flavor.
Blend in a combination of all-purpose flour, baking powder, and a pinch of salt.
Fold in the fresh blueberries, being careful not to squash them—a gentle touch is key here!
Divide the batter among paper-lined muffin cups, sprinkle the tops with a little sugar for a delightful crunch, and bake until golden.
Remember, the secret of a perfect muffin lies in not overmixing the batter. A few lumps are perfectly acceptable and ensure your muffins will have an ideal, tender crumb!
Lastly, why the name? Well, just like Eeyore's lovable personality, these blueberry muffins are sure to bring a sense of comfort and a smile to your face.
Owl Rice Krispie Treats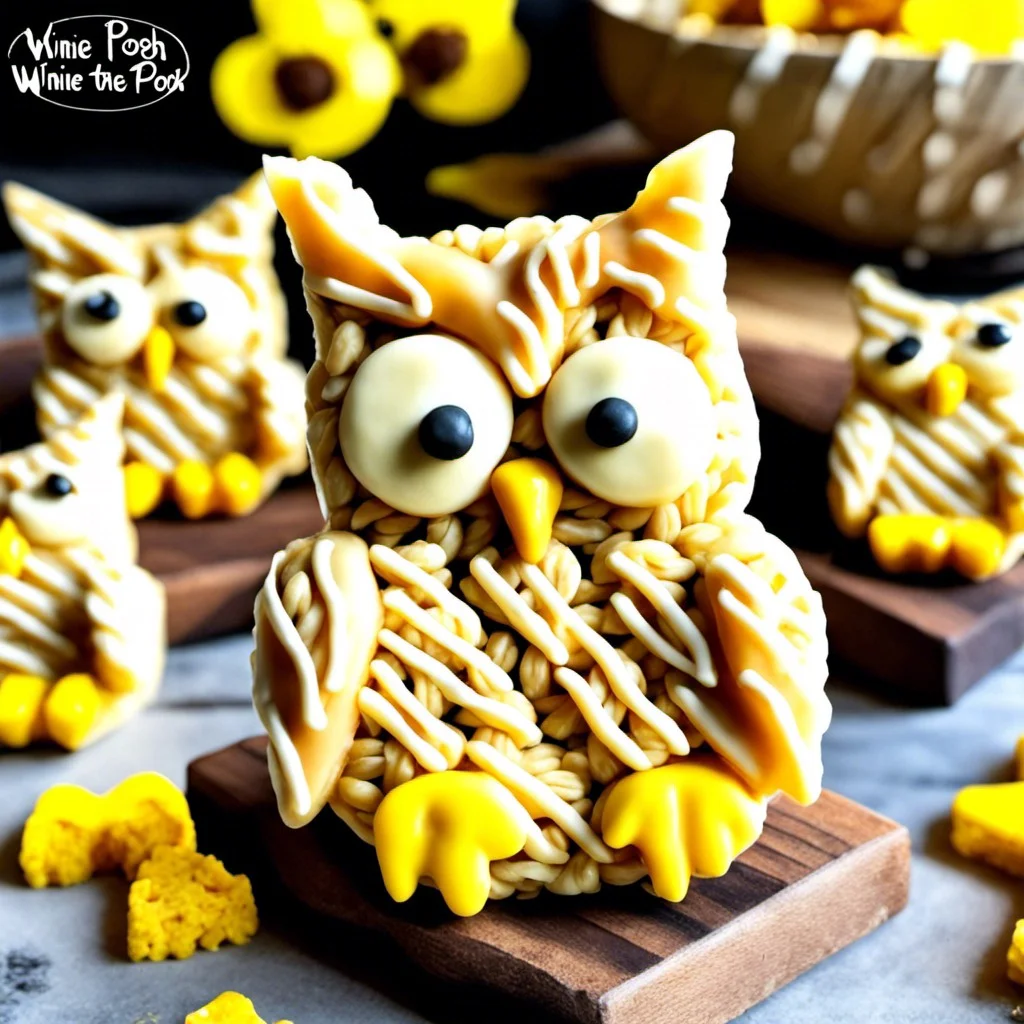 The beauty of these treats lies in their simplicity. They are a delightful combination of crunchy rice cereal and gooey marshmallows, a tried and true classic.
But here's the fun part: we're adding chocolate to recreate the wise Owl's dark brown feathers. The shapes too are easy to achieve, only requiring a round cookie cutter, which most kitchens have.
For the detailing, we'll use candy eyes, a yellow or orange chocolate button for the beak, and cut a marshmallow in half to mimic Owl's feathery eyebrows. This is where the kids can step in, let their creativity loose, and have fun!
Remember, it's not only about the end product but also the enjoyment of the process. Moreover, these don't require any baking which is perfect for afternoon snack projects.
These delightfully crunchy, sweet treats are a sure-fire win for anyone who tries them.
Tigger Tuna Wraps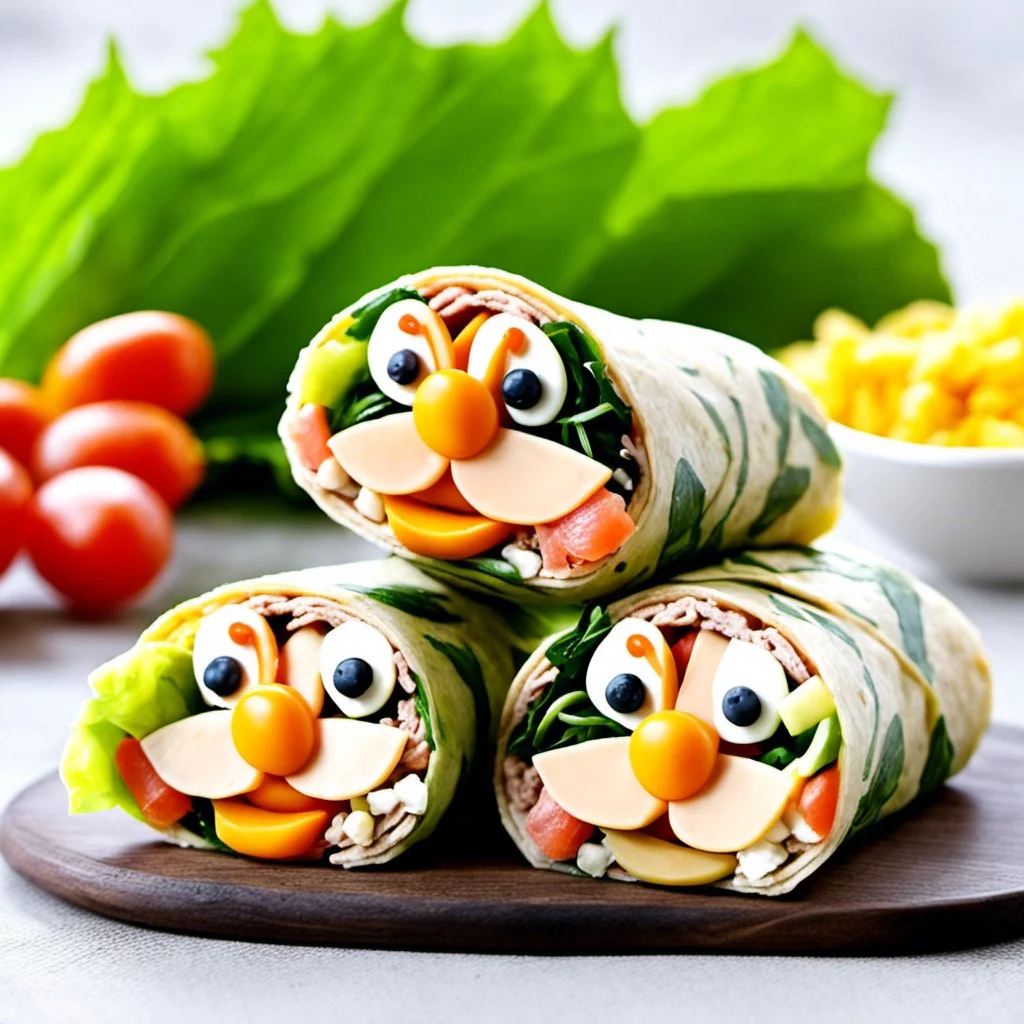 Borrowing Tigger's vibrant and zesty nature, these offerings incorporate delectable tuna salad wrapped up in tortilla shells.
For those seeking a nutrition-packed treat that harmonizes taste and health, Tigger Tuna Wraps are just the ticket.
The key here is to experiment with flavors, introducing crunchy lettuce and ripe, juicy tomatoes to elevate the wraps.
A dash of lemon zest for that tinge of acidity paired with creamy mayonnaise perfectly balances the flavors.
If one wishes to add an interesting twist, slices of sweet corn are a recommended inclusion.
Remember, the wraps taste best when served chilled.
For a playful presentation, feel free to cut them in bite-size pieces or into fun shapes using a cookie cutter: an inviting way to make snacking enjoyable for youthful fans of Winnie the Pooh.
Hunny Pot Dip and Veggies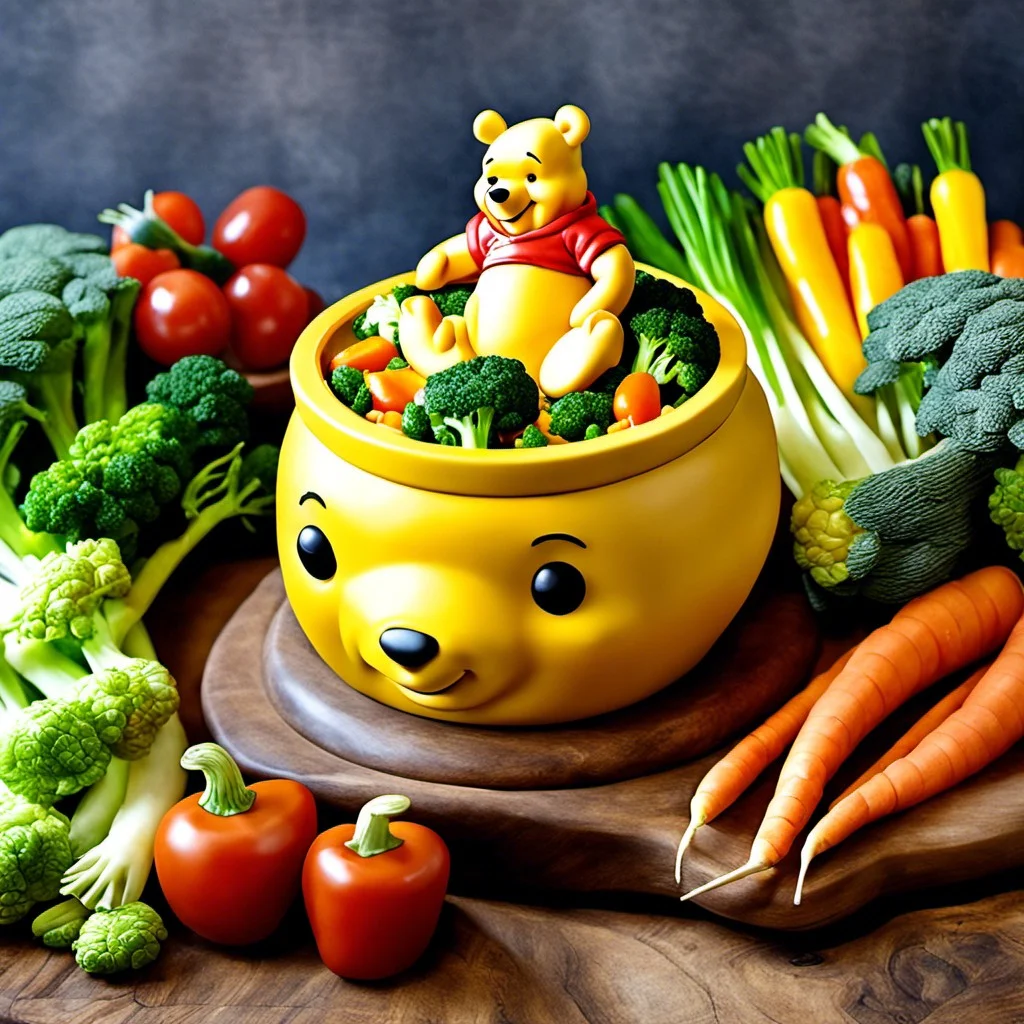 Creating this dish starts with the selection of a creamy honey-infused dip. Combine honey, cream cheese, and a dash of cinnamon to achieve a sweet yet balanced flavor reminiscent of Pooh's favorite snack. Add a touch of freshness by squeezing some lemon juice into the mix.
The next step is crafting your "hunny pot". Edible arrangements can be quite playful, so get creative in using bread or a hollowed-out fruit, like a melon or small pumpkin, as your pot. Alternatively, you can opt for a thematic food-grade container.
Pair your dip with assorted veggies predominantly featuring carrots, staying true to the Rabbit's garden essence. Other suggestions might include cucumbers, bell peppers, and cherry tomatoes.
Serve your hunny pot and veggie platter on a wooden cutting board or a rustic tray to emanate woodland vibes and bring the Hundred Acre Wood to life. This nutritious and whimsical dish not only pays tribute to our beloved Pooh Bear, but also encourages a healthy snacking alternative.
Winnie the Pooh Peanut Butter and Honey Sandwiches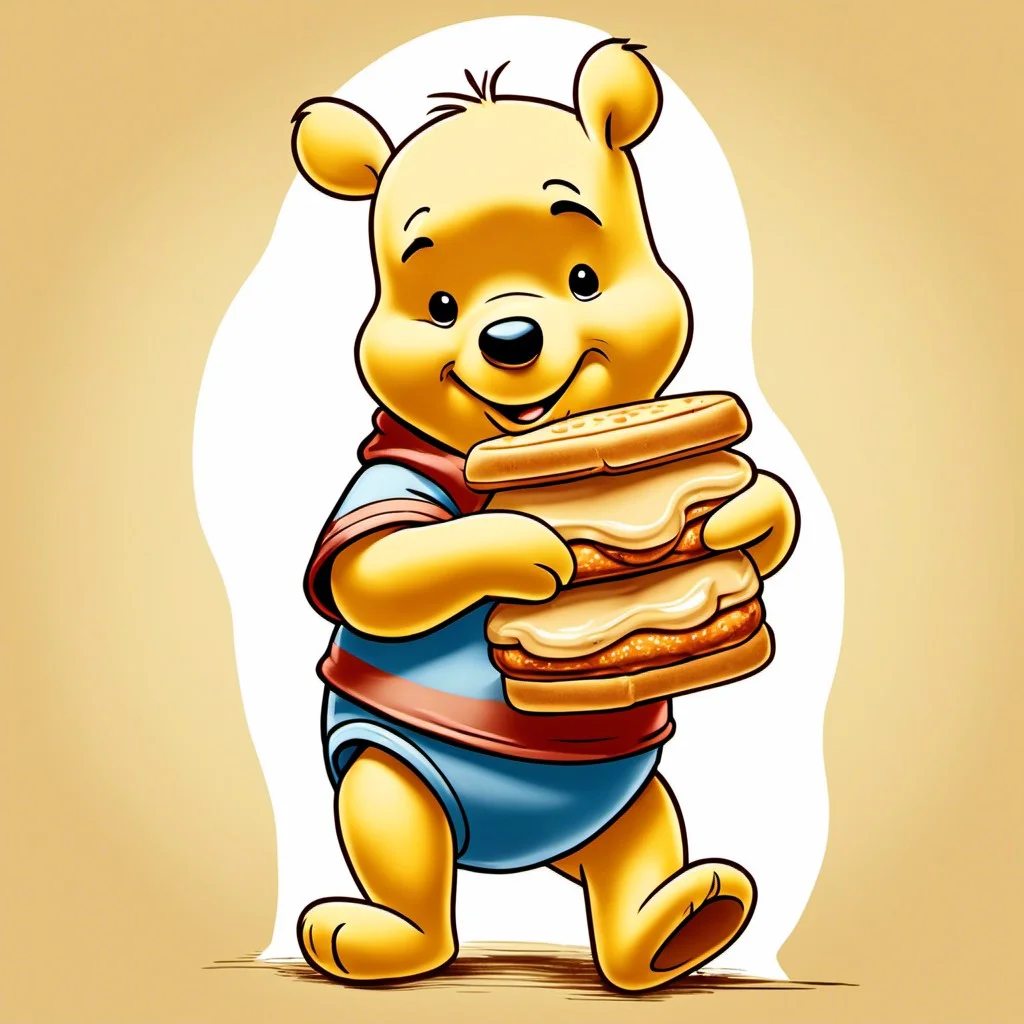 A classic snack that carries the essence of Winnie the Pooh, this simple and delightful sandwich goes beyond the ordinary. Simple to prepare, it only requires three ingredients: bread, peanut butter, and honey.
1. Quality is Key: Opt for a fresh, high-quality bread that's soft yet sturdy enough to hold the filling. Consider whole grain for a healthier option.
2. The Peanut Butter: A smooth variety works best for a creamy texture. For the health-conscious, a natural or low-sodium option would be good.
3. The Honey: Raw, organic honey adds a touch of sweetness as well as nutritional benefits.
To prepare, spread a generous layer of peanut butter on one slice of bread. Drizzle honey on top, then cover with a second slice. Cut into halves or quarters for easy snacking. This sandwich brings out the quintessence of our beloved bear—simple, sweet, and ever-so-slightly sticky, just like a good honey-inspired treat should be.