Explore these creative, classroom-friendly Thanksgiving snack ideas that are not only delicious but also easy to prepare.
Planning a Thanksgiving-themed classroom party? Look no further! This article is packed with creative, easy-to-make, and kid-friendly snack ideas that will make your Thanksgiving classroom celebration a hit.
From turkey-shaped sandwiches to Pilgrim hat cookies, these snacks not only taste great but also add a festive touch to the occasion.
With detailed instructions and tips, you'll have everything you need to whip up these treats.
So, roll up your sleeves and let's dive into the world of Thanksgiving treats that are sure to impress both students and teachers alike.
Turkey-shaped Cheese and Crackers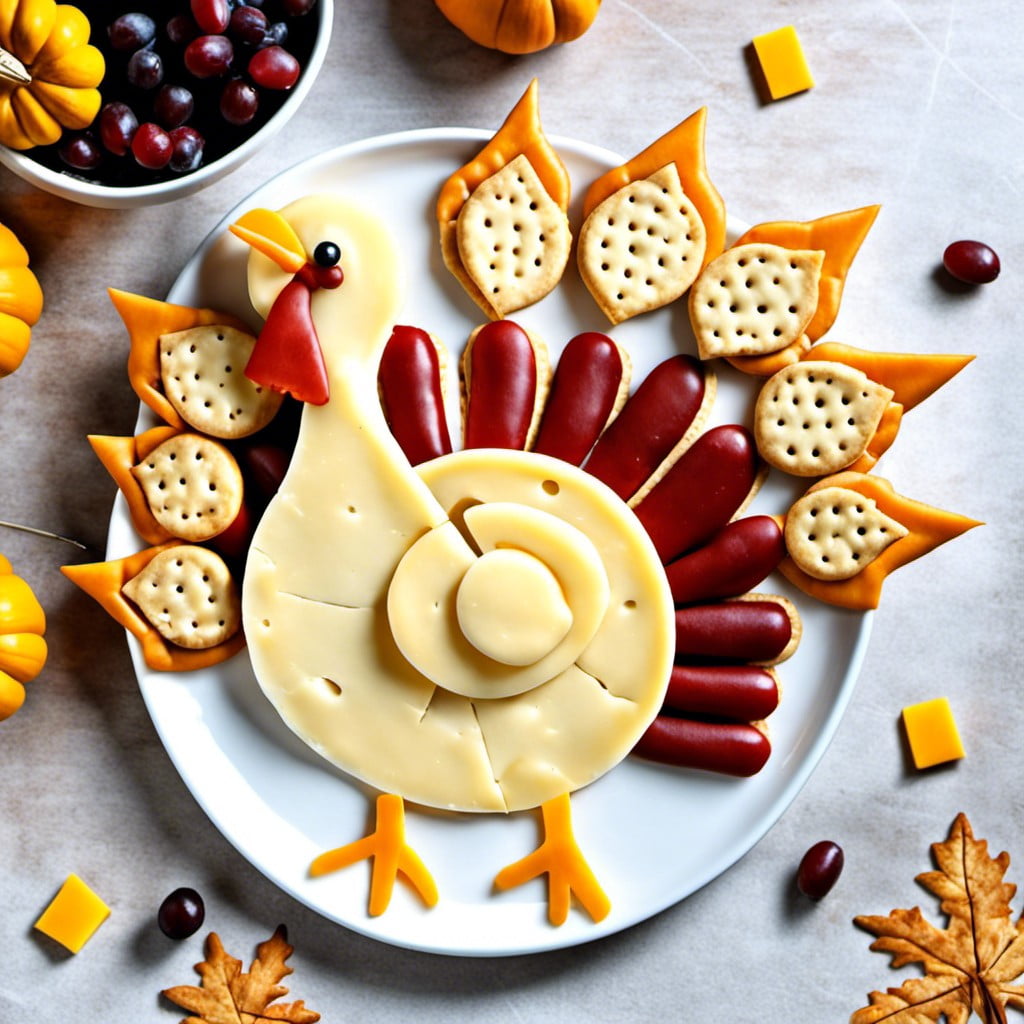 Creating this charming snack is quite straightforward. Start by arranging round crackers in a circular pattern on a tray, mimicking the outspread tail feathers of a turkey. Use different cheese varieties, cut into circles, for layered effect.
Next up, for the turkey's body, opt for a chunk of cheddar carved in the shape of a pear or oval. A piece of red pepper can serve as the wattle, bringing the cheeky bird to life. Use two olive slices for the eyes, and a small piece of carrot for the beak. The end result: a delightful, festive snack that will thrill your classroom!
Remember that one of the biggest appeals of this snack is its flexibility. Feel free to experiment with different types of cheese and crackers to cater to diverse taste buds. Similarly, you might choose to use edible markers to add more facial features or design details – whatever gets the kids excited and engaged!
Mini Pumpkin Pies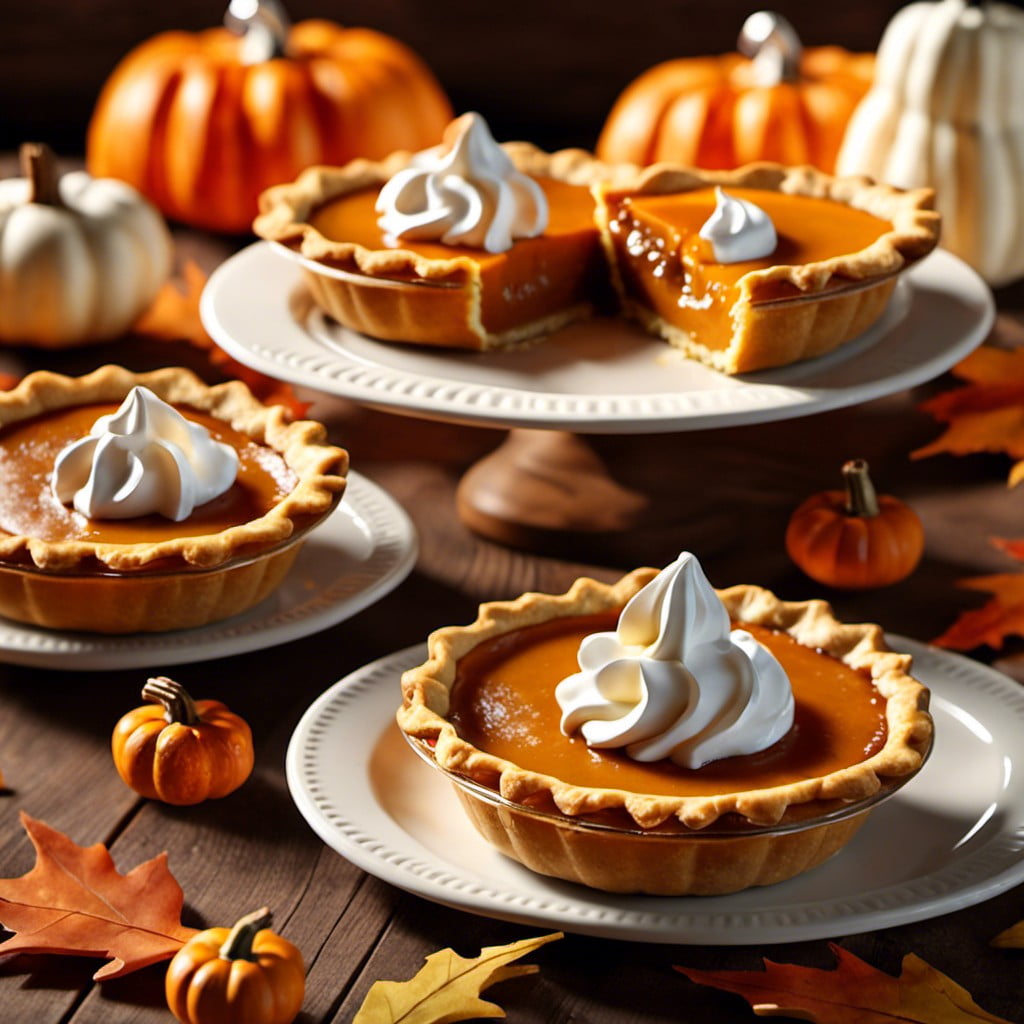 Creating these miniature versions of the classic fall dessert gives each student a personalized treat providing a dash of holiday spirit.
Starting with pie crusts in a muffin tin, fill each with pumpkin pie filling, and bake.
This balances the rich, creamy sweetness of the pumpkin with a crunchy crust.
A small dollop of whipped cream on top adds an additional indulgence.
These bite-sized delights are not only easy to eat but also manageable to make, even when preparing for a full classroom.
Keep mindful of potential nut allergies and ensure the pumpkin pie filling is nut-free.
When served, these mini pies are sure to bring a bright smile to every kid's face, completing the festive vibe in the classroom.
Corn Bread Muffins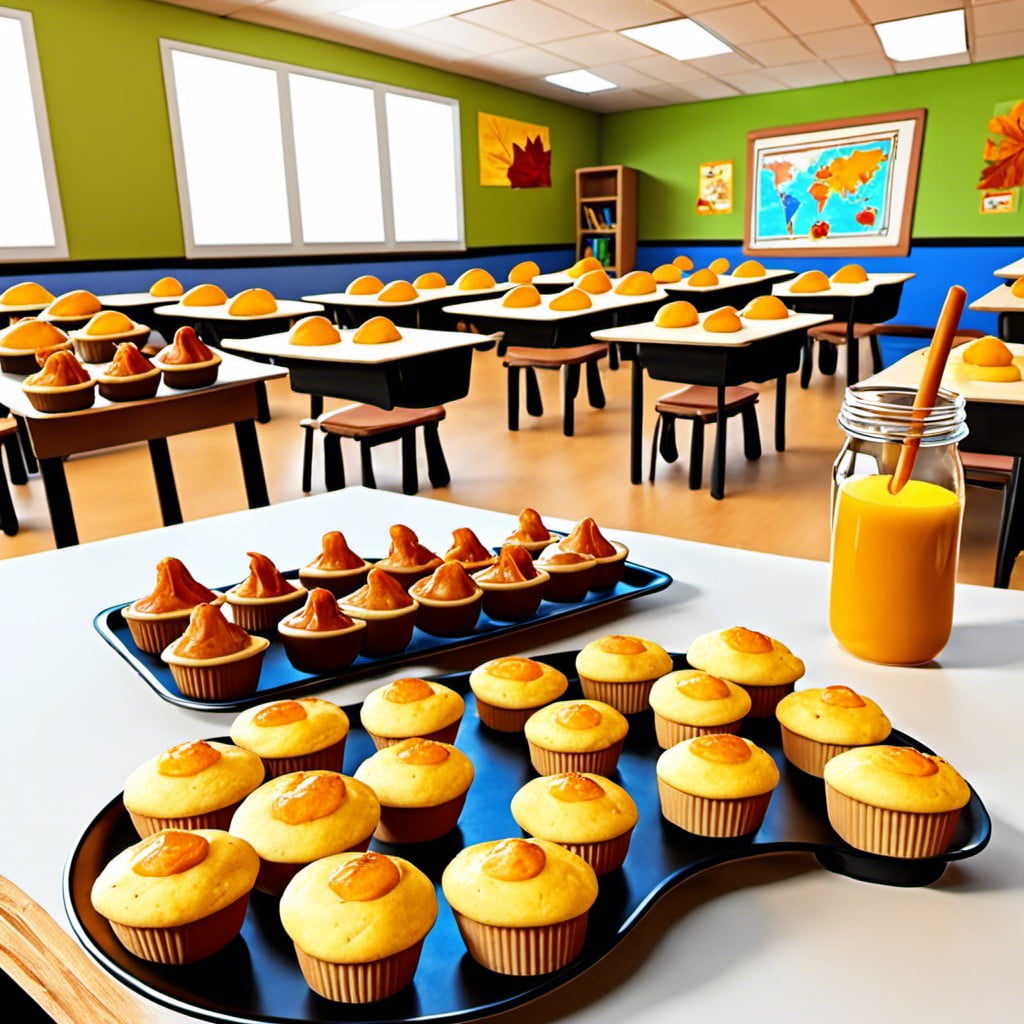 Baked with a blend of cornmeal and flour, these bite-sized treats offer a moist, sweet, slightly crumbly texture that's both satisfying and indulgent. They encapsulate the essence of Thanksgiving with their golden hue and rustic charm.
A basic recipe calls for cornmeal, all-purpose flour, sugar, baking powder, baking soda, a pinch of salt, melted unsalted butter, buttermilk, and eggs. Versatility is a key strength, allowing optional add-ins like shredded cheese, jalapenos, or even bacon for a richer flavor profile.
In a classroom setting, cornbread muffins serve as a convenient, non-messy snack. They're easy to distribute and dispose of, minimizing cleanup time. Moreover, they're an allergen-friendly option for those avoiding common triggers like nuts.
To make this treat more festive, consider decorative muffin liners with Thanksgiving-themed illustrations or patterns. Or introduce a food craft session, where students can use edible markers or food-grade decorations to add turkey faces or other holiday symbols.
Sweet Potato Fries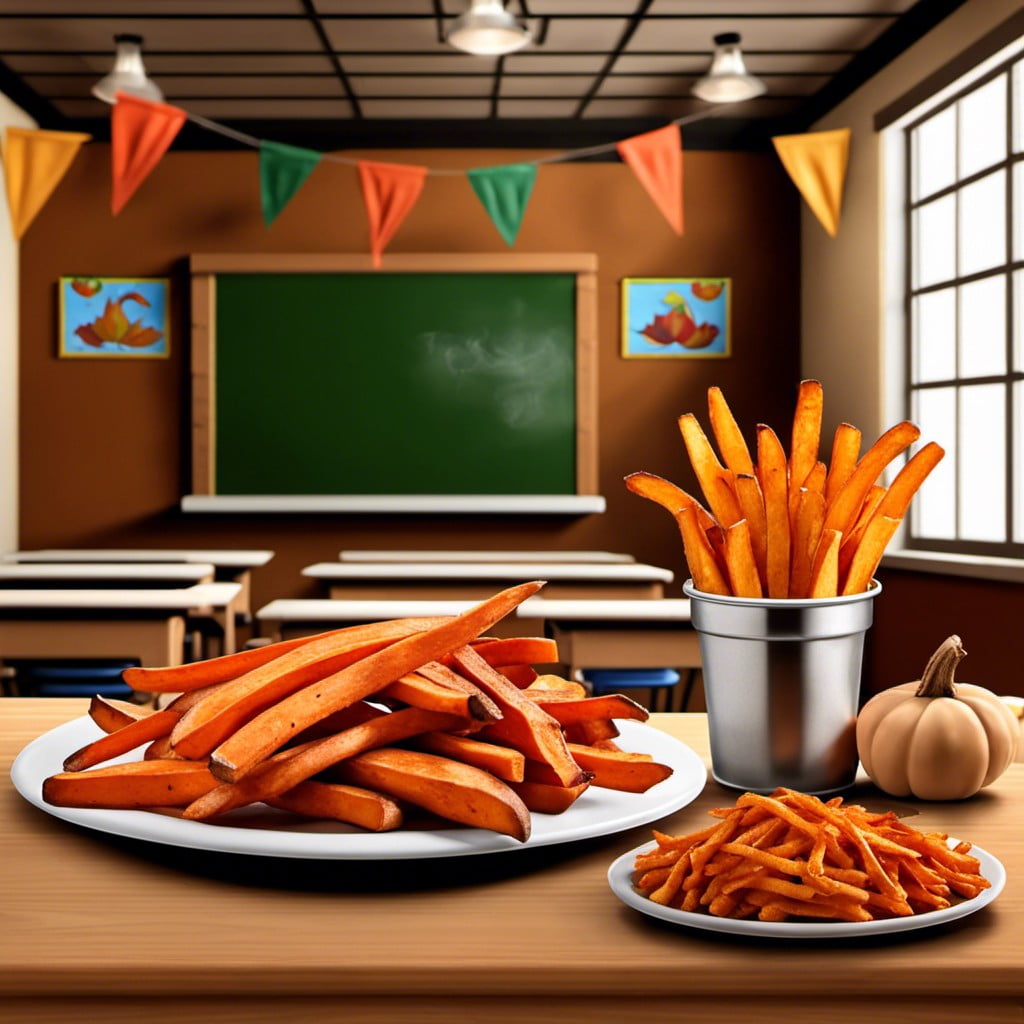 Begin by peeling and slicing the sweet potatoes into thin, stick-like pieces. Toss in olive oil, salt, and any spices of choice like paprika or cinnamon for added flavor.
Arrange them on a baking sheet, ensuring they are spread out evenly for consistent cooking.
Bake in a preheated oven at 425°F for about 20 minutes, flip them, then let them cook for an additional 10-15 minutes.
The fries should be crisp on the outside and soft on the inside. They are a healthier alternative to traditional fries and add a pop of color to a Thanksgiving classroom party. They also cater to those with dietary restrictions, as they are vegan and gluten-free.
Serve them plain or provide a variety of dips such as ketchup, aioli, or a cinnamon yogurt dip for a sweet twist. Consider cute, Thanksgiving-themed dishware for the fries and dips to enhance the celebrating spirit.
Always remember, when preparing food for a classroom event, ensure to check on any possible food allergies or dietary restrictions among the children. Safety first!
Popcorn and Candy Corn Mix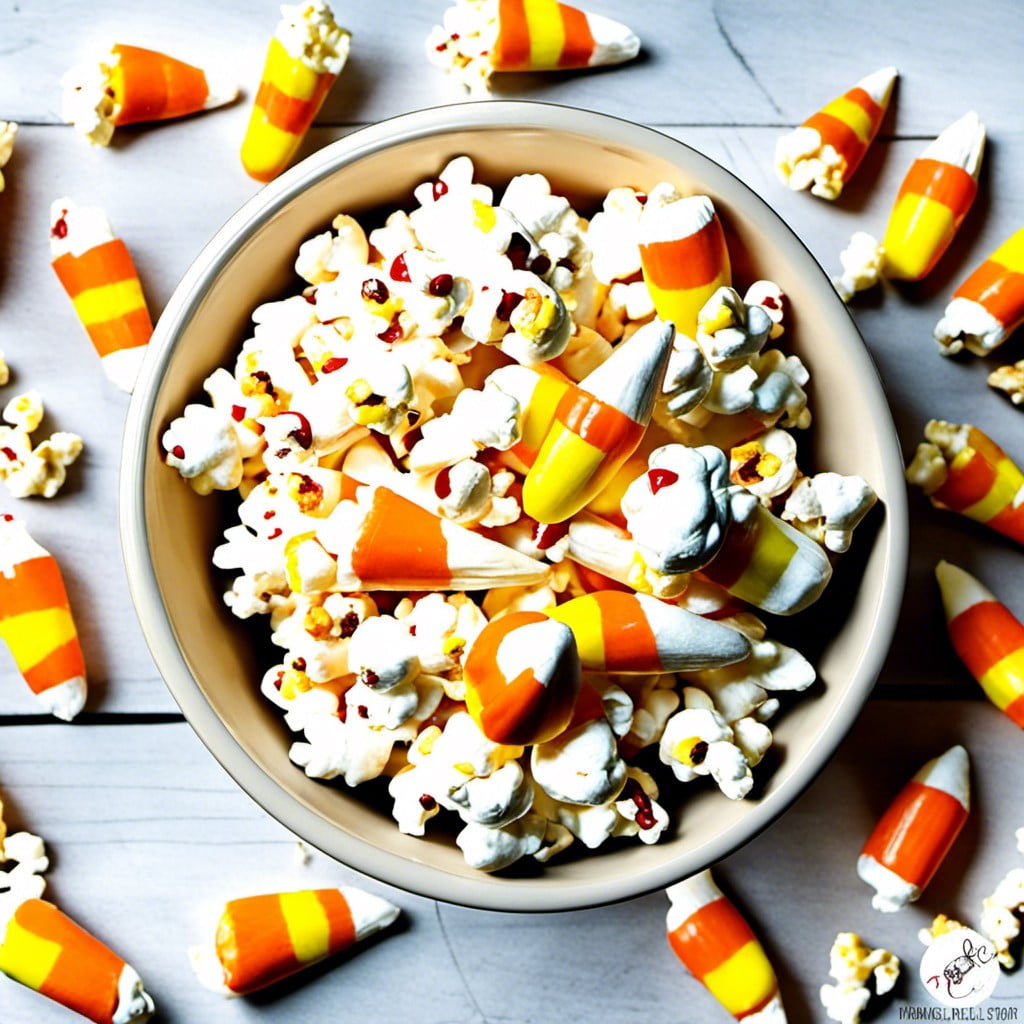 A fantastic blend of salty and sweet, this snack epitomizes autumn in a mouthful. Start with a base of freshly popped, lightly salted popcorn, a wholesome whole grain. Adding in the candy corn injects a burst of honey sweetness, giving the snack a colorful and fun touch, perfect for children.
You could even toss in a light sprinkling of cinnamon for some extra warmth and spice. The simple preparation makes it ideal for a classroom setting: just mix the ingredients in a large bowl, and it's ready to serve.
This snack offers an interesting texture contrast, delighting children with each bite. Its playful presentation and addictive flavor profile ensure it's always a hit with little learners. Just remember, moderation is key due to the sugar content of candy corn.
Veggie and Dip Turkey Cups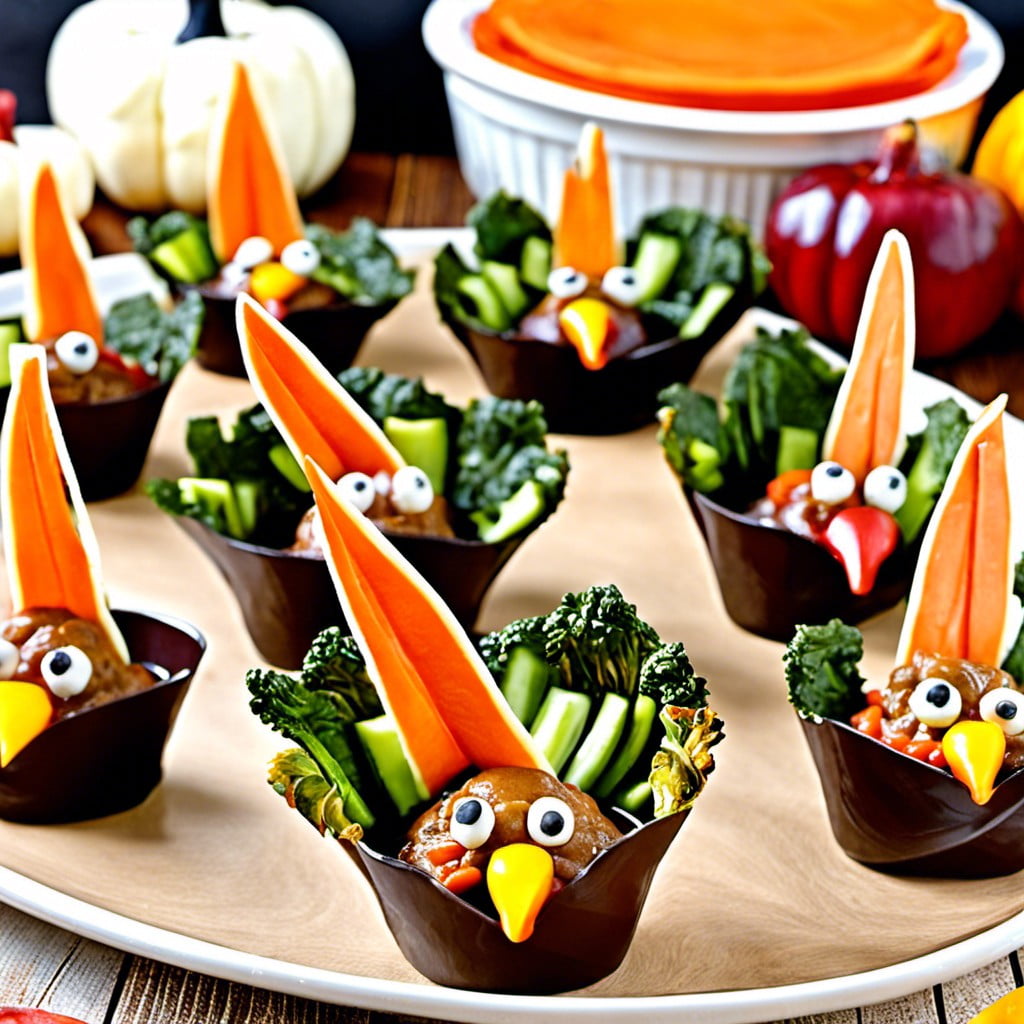 A creative, fun, and healthy alternative, these snack cups are easy to prepare and versatile.
Start by choosing small, clear cups.
Next, fill them with your choice of dip – ranch, hummus, or a yogurt-based dip are fan favorites.
Carrots, celery, and bell peppers can supply the 'feathers' in an array of colors while a slice of cucumber and two tiny pieces of carrot can create the 'head' and 'beak'.
The beauty of this snack lies in its adjustability according to dietary preferences or restrictions.
Plus, kids love the interactive, 'build-your-own' nature of this treat!
Thanksgiving-themed Cookies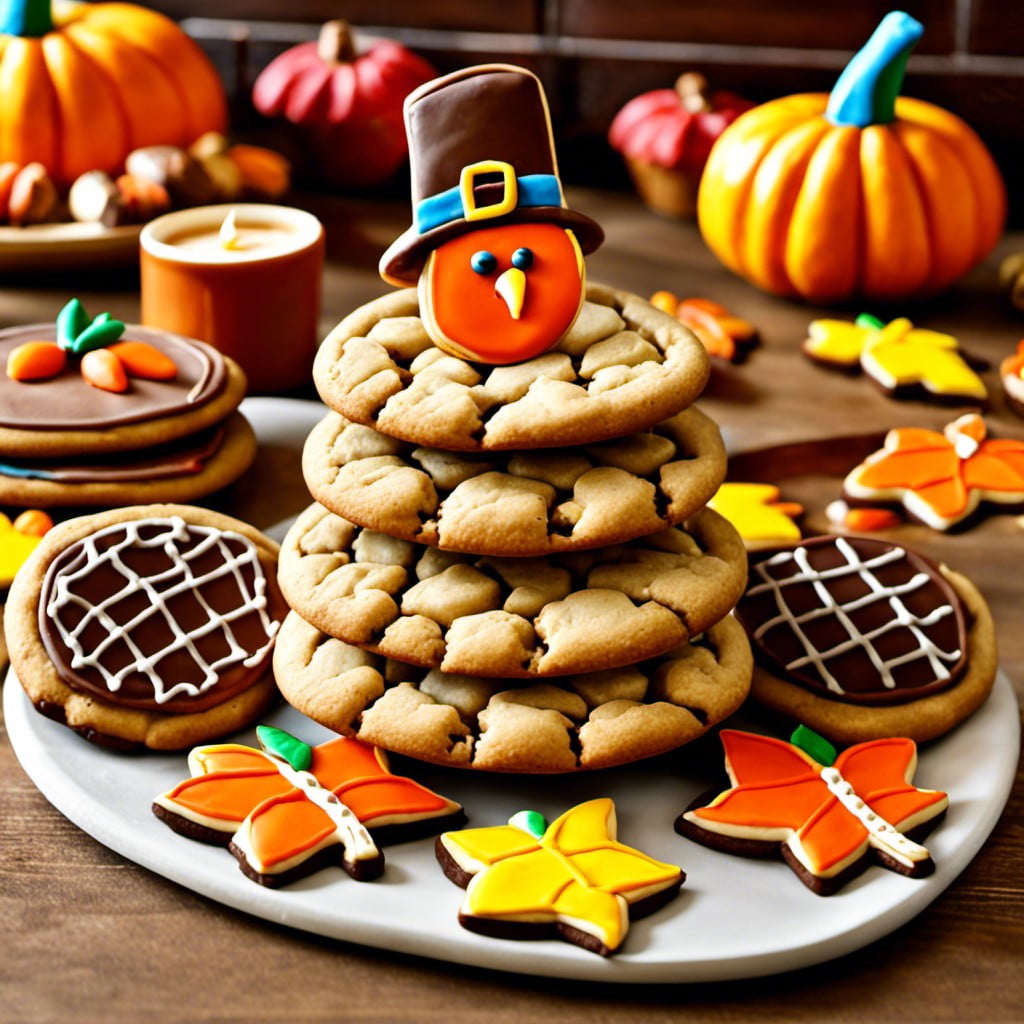 Venturing into the creative realm, fun-shaped sugar cookies decorated with royal icing can effortlessly embody the holiday spirit. You might consider leaf-shaped treats in all the warm tones of fall, or perhaps an array of traditional symbols like Mayflower ships, pilgrim hats, or a classic turkey.
An added bonus, if you're dealing with young ones, transforming the baking process into a fun-filled cookie decorating activity can prove a fruitful learning experience too, perfectly mirroring the essence of the Thanksgiving holiday.
To ensure ease and success, equip your cookie making arsenal with pre-prepared dough, assorted food colors, a range of cookie cutters, and perhaps some sprinkle variety for the final touch. However, do remember to account for potential food allergies in the classroom.
Classic Thanksgiving symbols – turkey, Mayflower, pilgrim hats.
Vibrant fall colors – yellows, reds, oranges, and browns.
Involve the kids – turn cookie making into a fun activity.
Allergy considerations – keep an eye on the ingredients list.
Tools needed – cookie cutters, pre-made dough, food colors, sprinkles.
Pumpkin Spice Snack Mix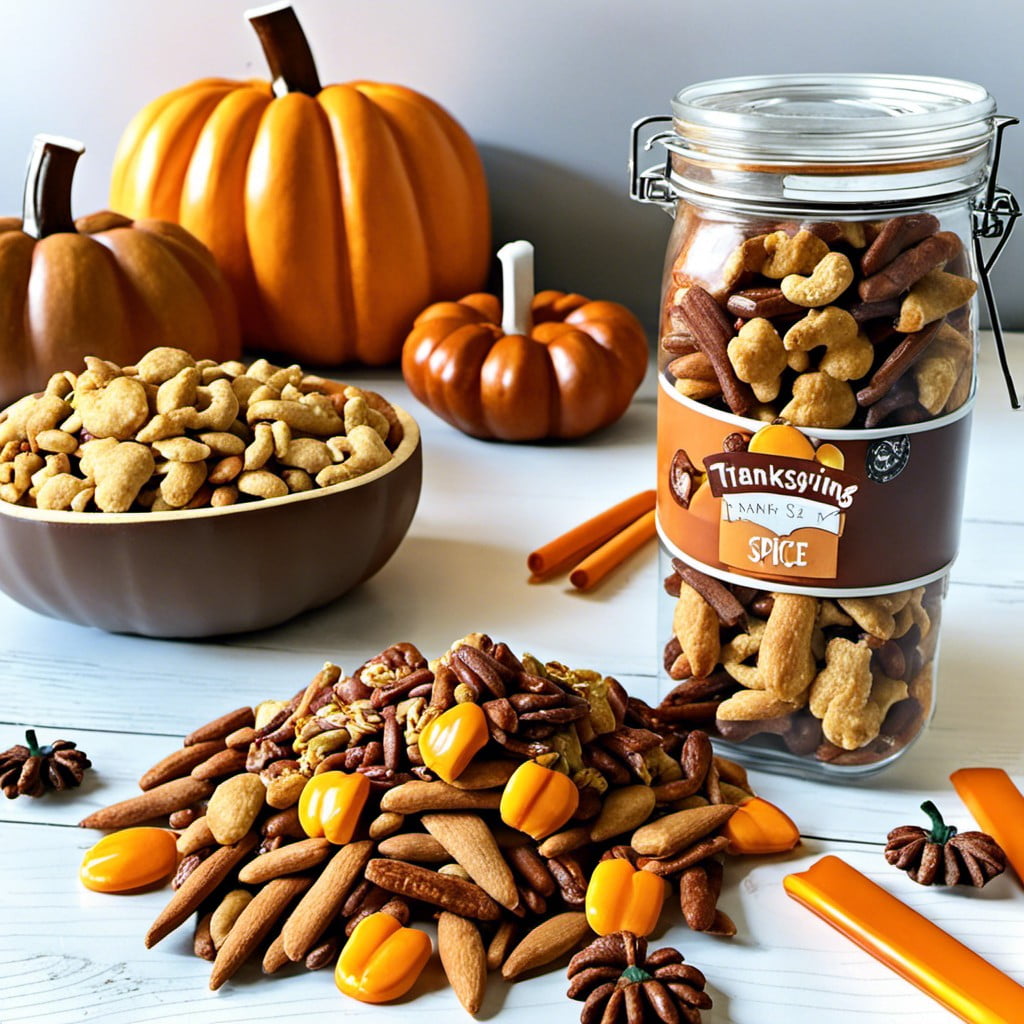 Delighting the palate with fall flavors, this easy-to-assemble mix begins with your typical snack mix ingredients. Add in pretzels and nuts to provide that much-loved crunch and balance out the sweetness.
Blend in some cinnamon cereal for that comforting spice note. The secret weapon? A generous dusting of homemade pumpkin spice (a flavorful mix of cinnamon, ginger, nutmeg, and allspice). As the blend bakes, every piece soaks up this savory-sweet blend, exuding delightful aromas sure to attract every nose in the room.
Finally, a smattering of dried cranberries adds color and a tangy zing, completing this classroom snack that effortlessly embodies the spirit of Thanksgiving.
Turkey Fruit Platter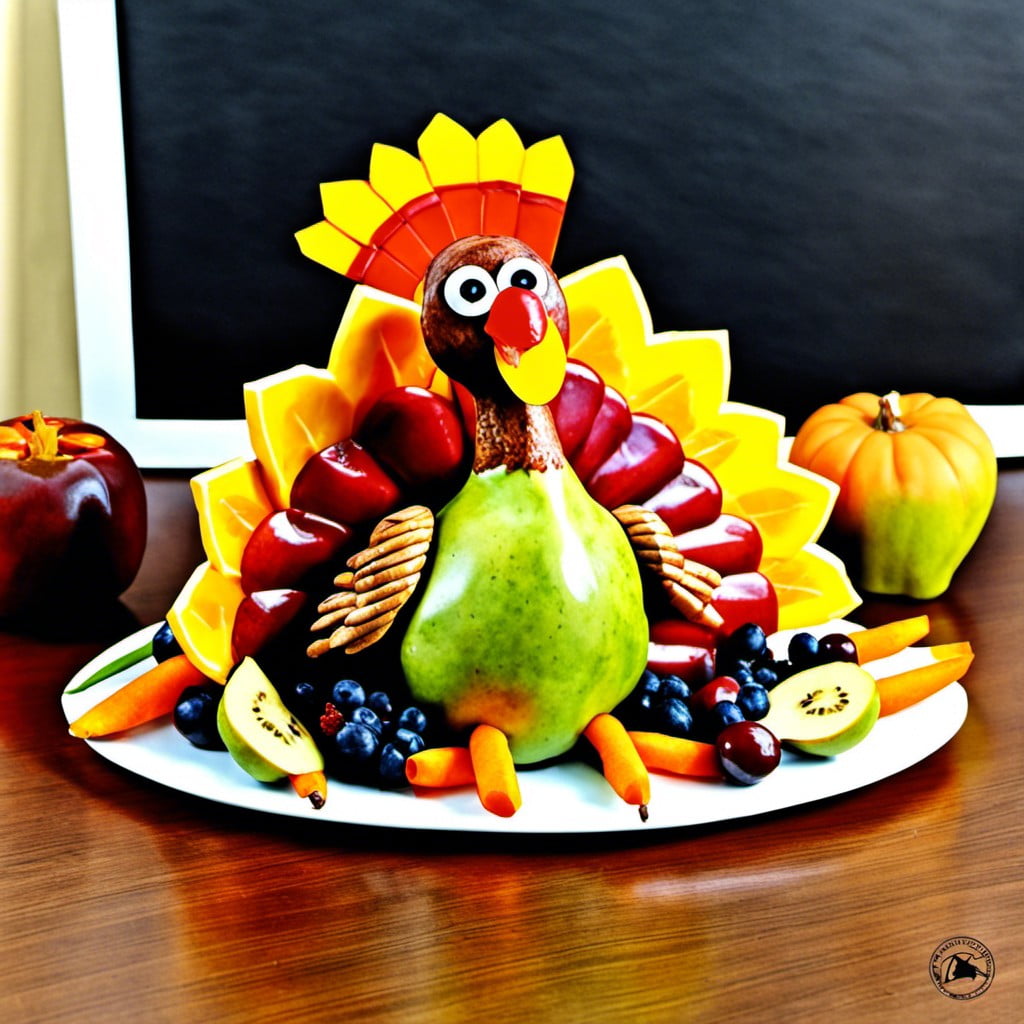 The charm of this offering lies in its visual appeal and nutritious components. Arranged like a festive turkey, it uses a plethora of vibrant fruits like strawberries, blueberries, kiwis, and melons. The 'body' typically consists of a pear or apple, providing a robust base to work with. The key is to arrange the additional fruit slices as 'feathers', mimicking the turkey's tail.
Children love the playful design and are enticed into enjoying the refreshing and healthy snack. Plus, it introduces them to a variety of fruits, broadening their palate. Preparation is easy, allowing teachers and parents to involve the little ones in assembling the platter. Demonstrating creativity, this snack fits perfectly into the Thanksgiving classroom party without adding to the heap of added sugars commonly found in holiday snacks.
Teachers can use it as a tactile learning opportunity, letting kids identify different fruits, their textures, and flavors. It reinforces the idea of food being fun and engaging. Just remember to account for potential allergies and preferences of students while choosing fruits.
Cranberry Muffins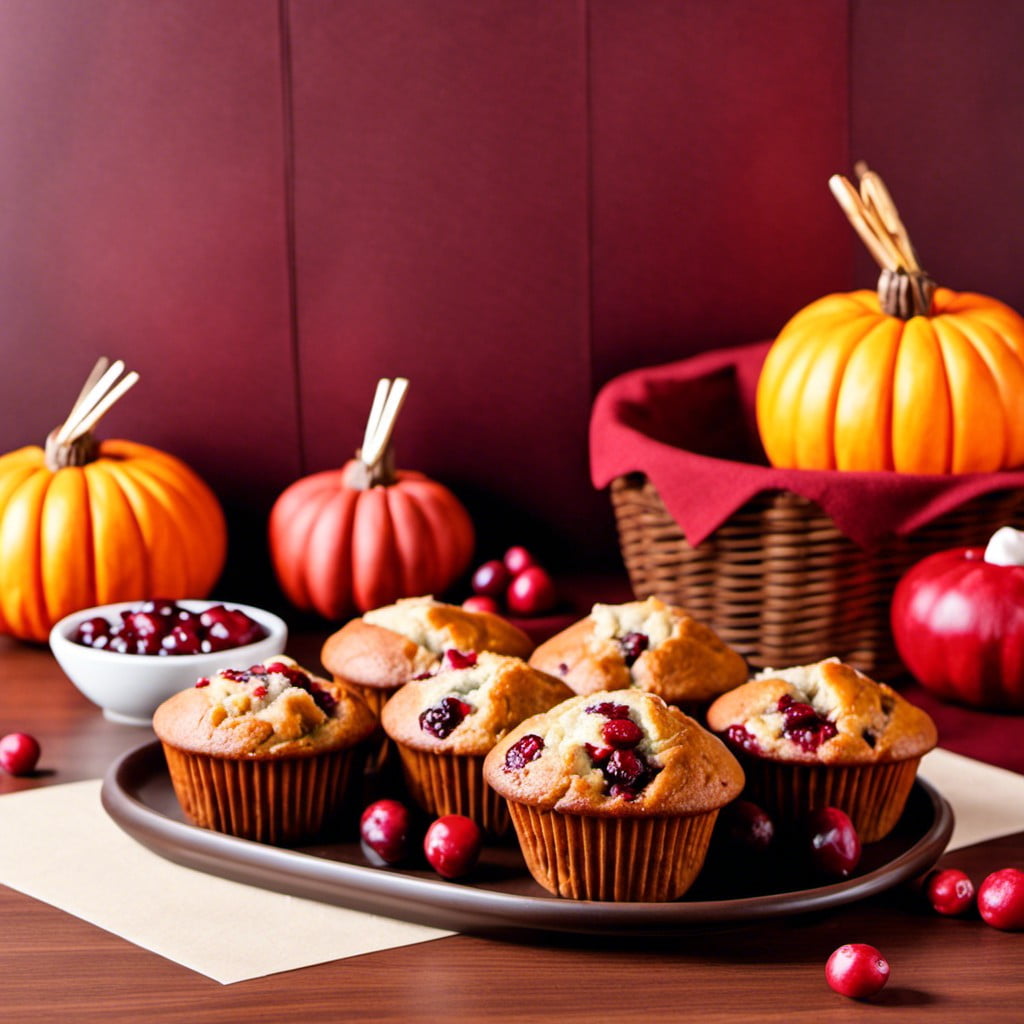 Offering a balance of tart and sweet flavors, these muffins are ideal for those who prefer a less sugary snack. The primary ingredient, cranberries, are a timeless Thanksgiving staple, naturally inviting a festive spirit into the classroom.
In terms of preparation, begin by combining fresh cranberries with sugar to accentuate their intrinsic tang. Blend this with a basic muffin mix to achieve the desired texture. Keep an eye out for a perfectly risen, lightly golden top, which indicates that the muffins are baked to perfection.
A key point worth remembering: while these muffins are delightfully flavorful on their own, you might consider increasing their visual appeal to entice young pupils. Fun frosting designs or other creative decorations can easily transform this snack into a charming turkey or a colorful autumn leaf.
Finally, allergen-conscious adaptations of the recipe can be carried out without compromising their deliciousness. Employ flaxseed as an egg substitute or use almond flour for a gluten-free variation. This ensures that every student can safely enjoy the treat—a real win for any classroom celebration.
Pumpkin Hummus With Pita Chips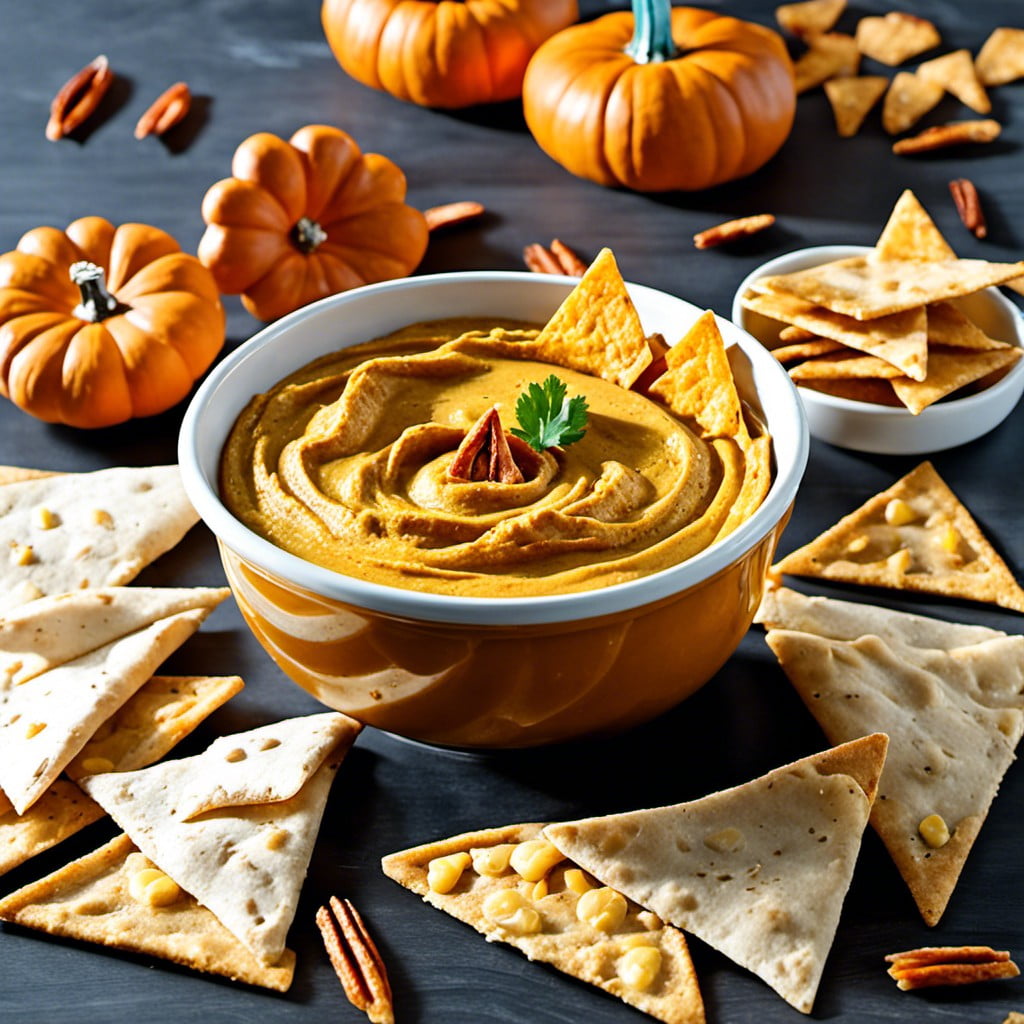 This tasty combination borrows its inspiration from the classic Mediterranean dip, but with an autumn twist! The base of our hummus is a rich, roasted pumpkin puree, which adds a vibrant orange hue and a hint of sweetness. A generous addition of tahini helps to maintain a creamy texture, while garlic and lemon juice contribute zest. For a warm, aromatic undertone, cinnamon and nutmeg are essential; they really carry the autumn flavor.
Preparing this nutritious dip is a cinch – simply toss everything into your food processor and blend until smooth. Arrange baked pita chips around a bowl of this pumpkin hummus for an inviting presentation. The dip's rich flavor and colorful presentation make it an irresistible bite-size snack. Students will not only delight in the flavor, but also benefit from the high fiber and protein content, helpful for keeping their energy levels up during class. High in Vitamin A and C, pumpkin hummus with pita chips is indeed a healthy snack choice with Thanksgiving flair.
Fruit Cups With Whipped Cream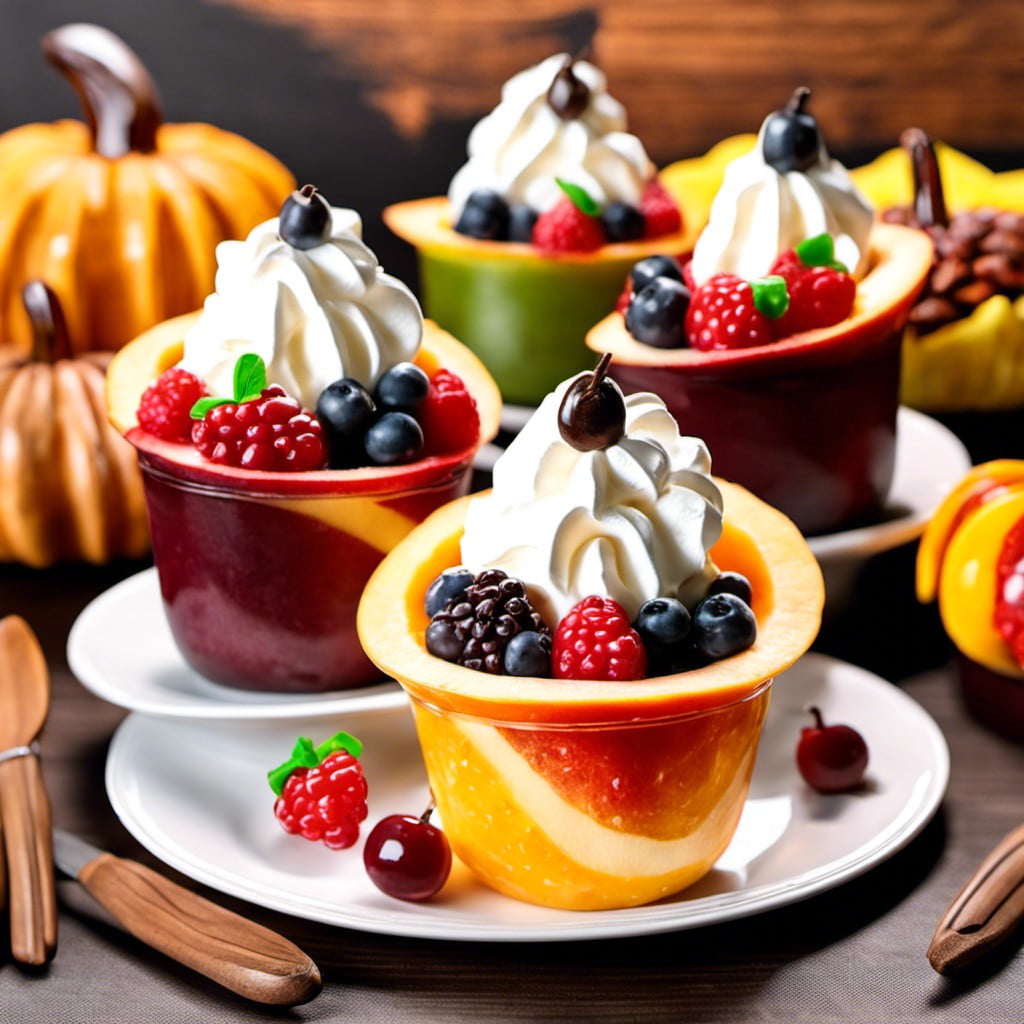 Utilizing seasonal fruits like pears, apples, and cranberries, this snack radiates festive vibes, while also offering a tasty, healthy classroom pickup.
Each cup is loaded with vitamins from fresh fruits, balanced with the airy silkiness of a dollop of whipped cream.
To prepare, first clean and dice the selected fruits into small, bite-sized chunks, appropriate for children's hands.
Opt for a mix of colors and textures to make it visually engaging.
Once the cups are filled with the concoction of fruit, a dollop of lightly sweetened whipped cream tops it all off, making it a delectable treat.
Teachers can also make this snack interactive by allowing students to choose their fruit combinations and top with whipped cream themselves.
This not only caters to their individual taste preferences but also makes the snacktime more exciting and fun.
Bear in mind, however, that some students may have allergies, so be sure to confirm any food restrictions beforehand.
Turkey-shaped Sandwiches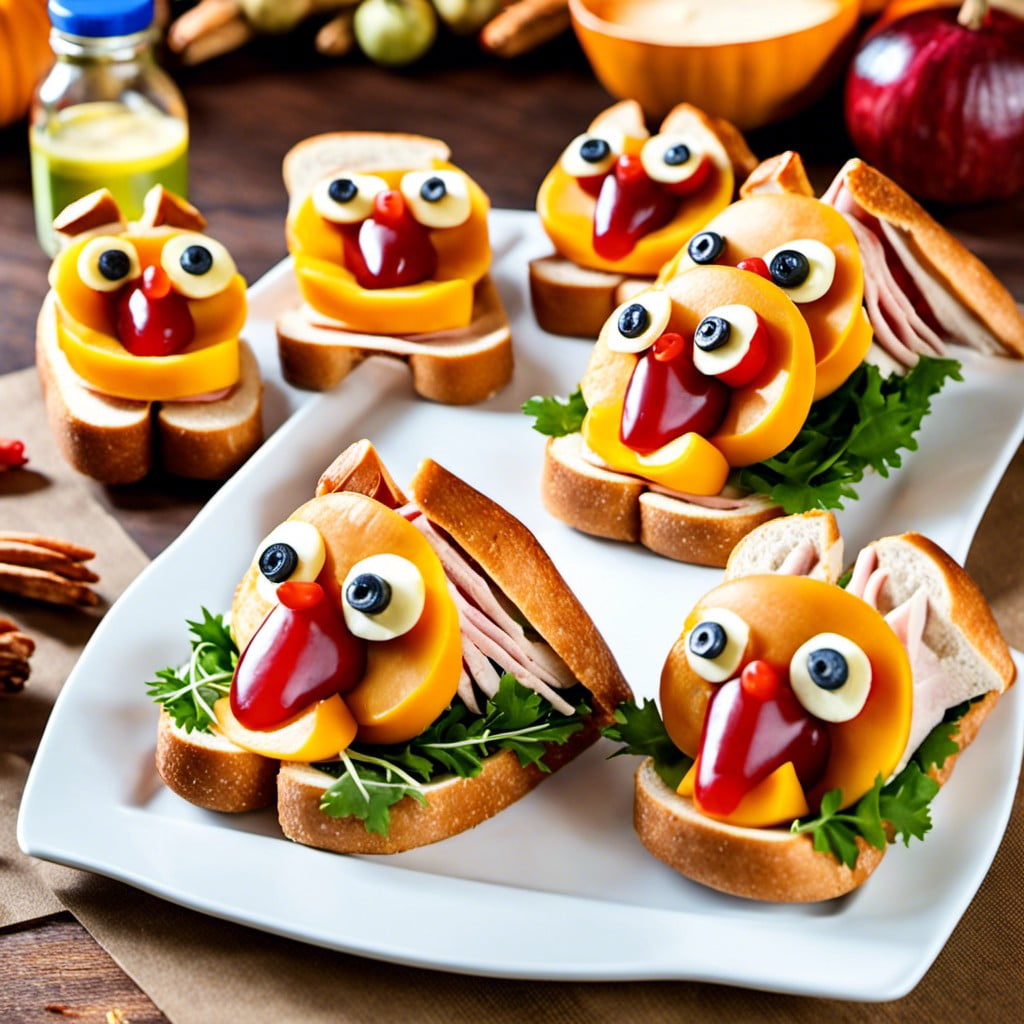 Crafting these festive treats requires minimal effort. Begin with your preferred type of bread—a whole wheat loaf is a healthier option that adds a beautiful, rustic appeal.
For the filling, you can keep it as simple as a classic turkey and cheese sandwich or kick things up a notch with unique additions such as sliced apples or cranberries for a touch of sweetness that pairs well with turkey's savory flavor.
Shaping the sandwich into a turkey is an enjoyable task, even for little hands. After making the sandwich, simply use a large, round cookie cutter to create the body of the turkey, and a smaller one for the head. Carrot slices double as the beak and feet, offering a crunchy, vitamin-rich component. Black olive pieces can serve as the eyes, and thinly cut pieces of bell pepper can mimic the colorful turkey tail feathers.
A delightful sight indeed, these sandwiches serve as an engaging and nutritious Thanksgiving snack in the classroom.
Caramel Popcorn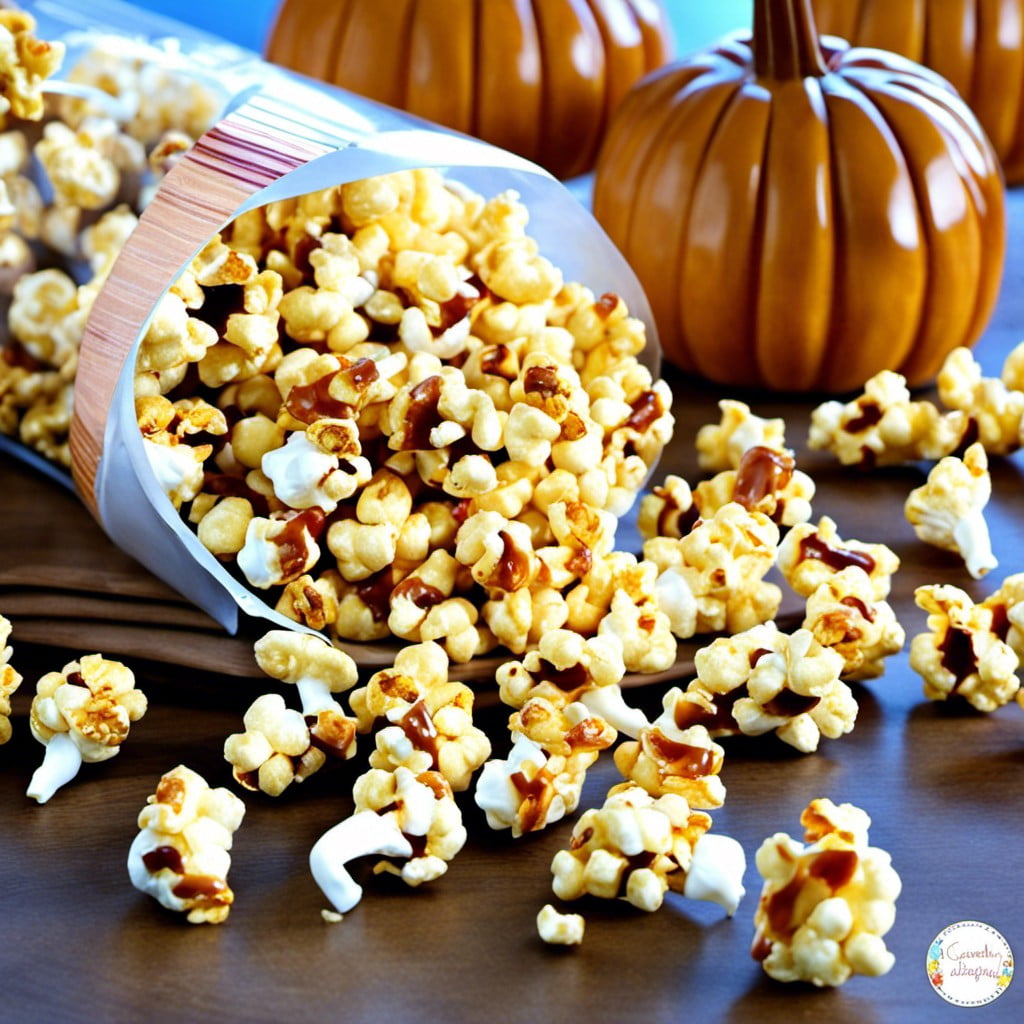 Inexpensive to make, yet delightfully indulgent, caramel popcorn manages to hit all the right notes. It provides a delightful crunch and is a guaranteed crowd-pleaser.
All you need to make it are popcorn kernels, a sweet caramel sauce, and a sprinkle of sea salt if desired. The key to perfectly-coated popcorn is to ensure the caramel sauce is well heated before being poured onto the kernels.
Watch the joy in the children's eyes as they savor this sweet and salty snack. Make sure to prepare in ample quantities as it's bound to disappear mysteriously fast.
A practical tip to bear in mind is to layout parchment paper beforehand – it lessens the mess and makes collecting every last caramel-drizzled piece an easy job.
Although a classic, each bite of this golden delight, especially if it is homemade, promises an undercurrent of Thanksgiving warmth.
Sweet Potato Chips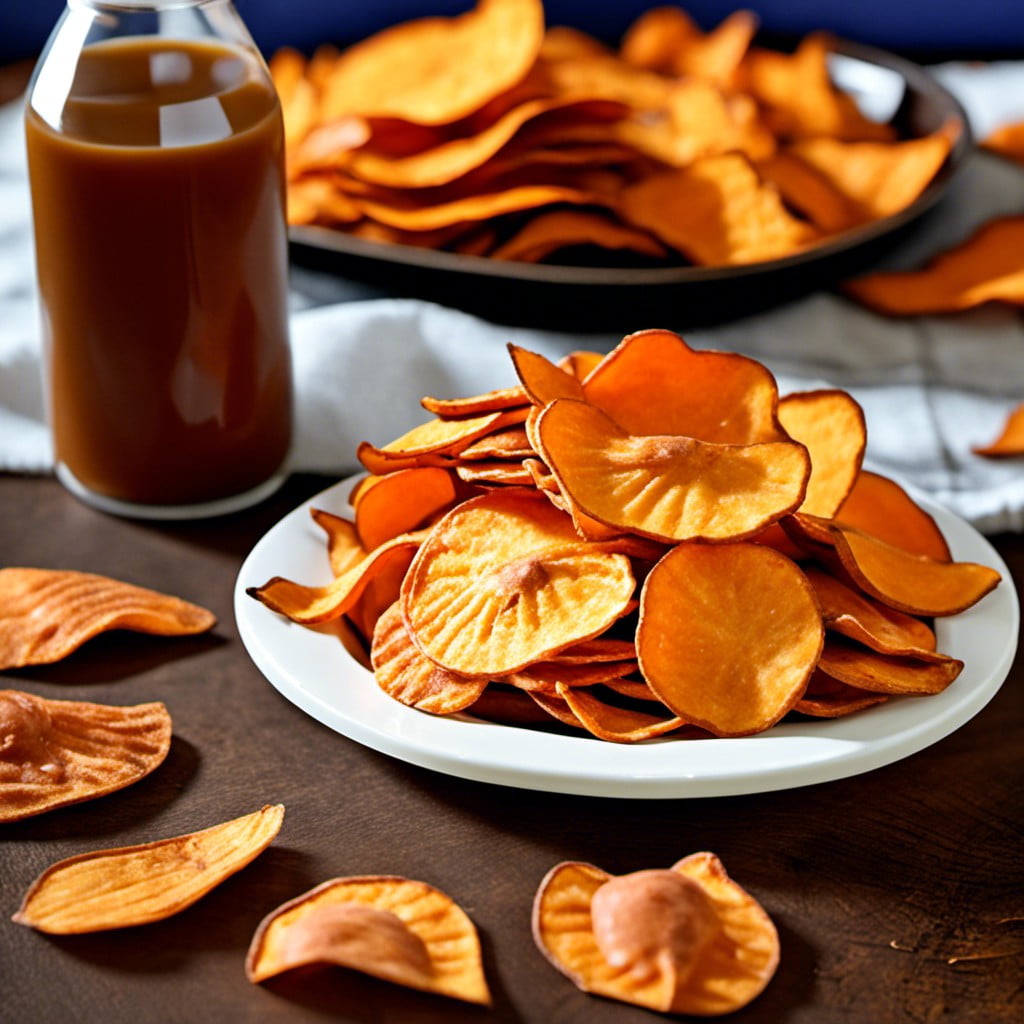 Perfect for a classroom setting, these delightful chips are light, tasty, and loaded with essential vitamins. Plus, they're incredibly easy to make.
Slice the sweet potatoes thinly, drizzle with a touch of olive oil, and sprinkle a smidge of sea salt. Bake them in an oven preheated to 200°C (around 400°F) until they're crispy.
Hold on till they cool down and then divvy up amongst your snack enthusiasts. Not only does this snack offer an interactive cooking experience for kids, but it's also a wholesome alternative to store-bought varieties that are often saturated with undesirable additives.
With their crunchy texture and natural sweetness, sweet potato chips sure have that potential to become a classroom favorite!
Harvest Trail Mix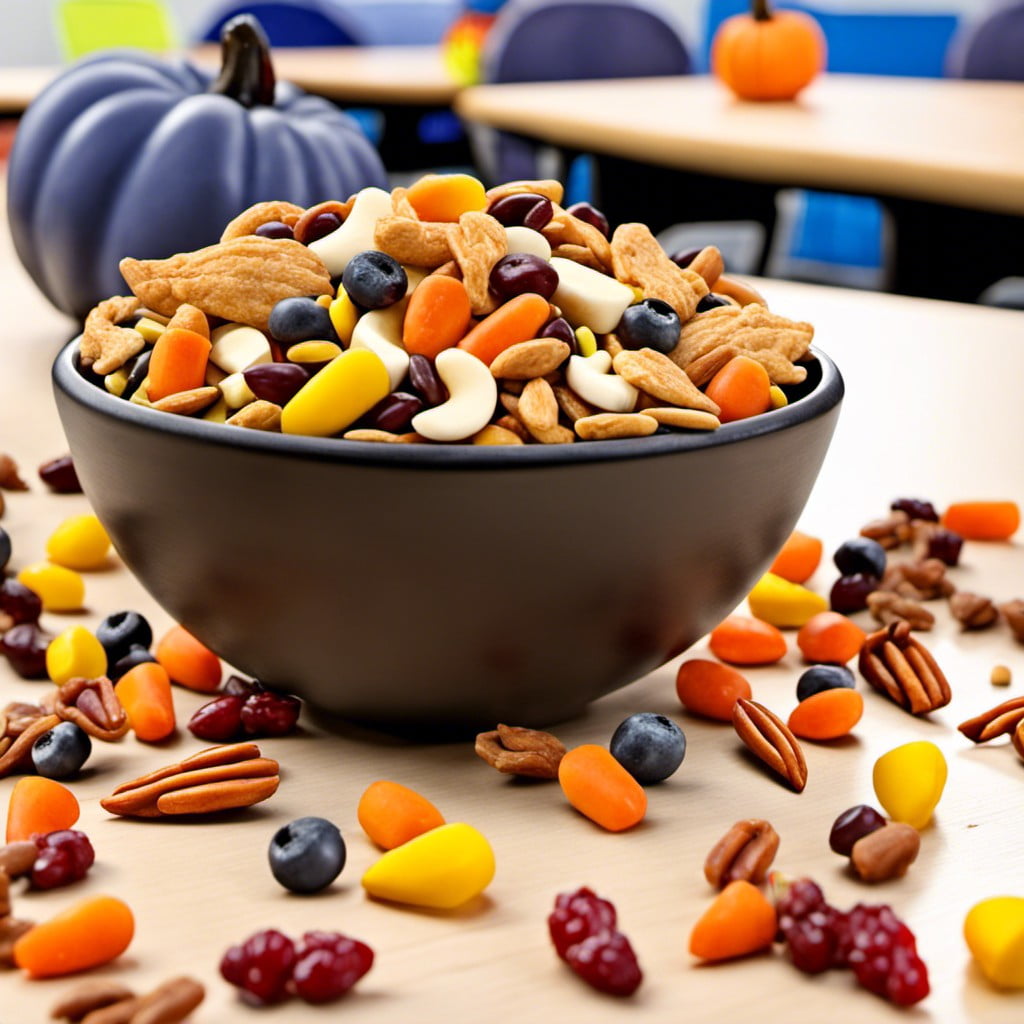 Consisting of a harmonious mix of items, the Harvest trail mix is the perfect embodiment of fall flavors. The ingredients typically include pumpkin seeds, dried cranberries, almonds, and dark chocolate chunks adding a sweet-savory kick.
The preparation is as simple as tossing these components together in a large bowl. Quantities can be adjusted according to each participant's dietary preferences and allergies. This snack isn't just delicious but also highly nutritious, providing a great balance of proteins, healthy fats, and antioxidants.
It's a wonderful treat to keep young minds energized. Make sure to portion them into individual snack bags for easy distribution.
Mini Apple Cakes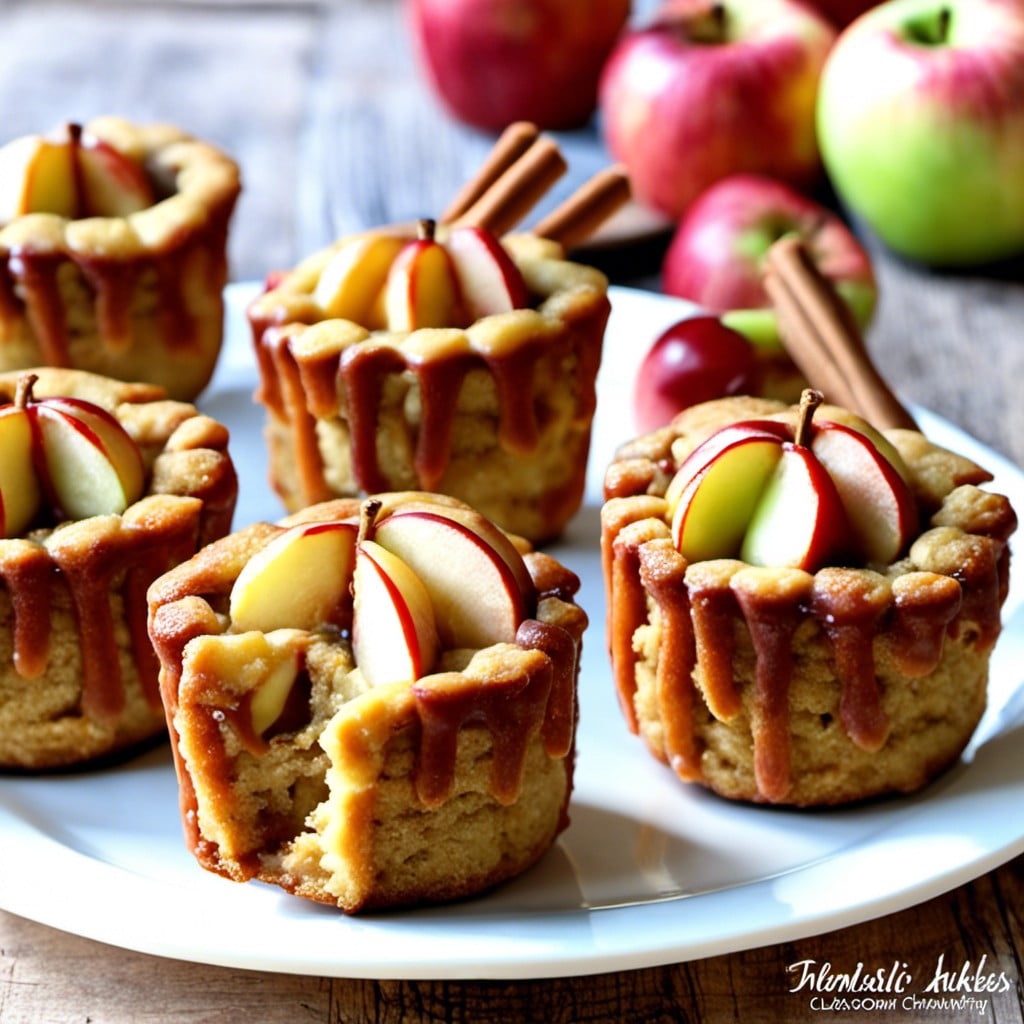 Embodying fall flavors, these bite-sized pieces of dessert-love provide the perfect balance of tartness and sweetness. They're made by combining fresh, diced apples with cinnamon and nutmeg, creating a mouthwatering apple filling. This is then spread over a light, fluffy cake batter, already divided into mini baking cups, and baked to golden-brown perfection. The outcome? Moist, fruity and cakey gems that kids can eat with their hands comfortably.
Not just delicious, these mini cakes are also nutritiously smart for young growing bodies. Apples are a great source of dietary fiber and vitamin C, while the cinnamon can help manage blood sugar levels.
Ensuring a fun yet healthy snack time, these mini apple cakes are a friendly nod towards the bigger Thanksgiving apple pies, but with portion control in mind, benefiting those classroom snack sessions marvelously. Make sure to have these slightly cooled before serving, as the apple-crumbs could be quite hot fresh out of the oven.
Finally, if there are any dietary or allergy needs in your classroom, gluten-free and nut-free versions can easily be made with a few simple tweaks to the original recipe.
Pumpkin Donut Holes
Deliciously fluffy and warmly spiced, these bite-size treats pack big flavors of fall into every morsel. Evelyn's easy-to-follow recipe transforms simple ingredients like flour, baking powder, additional spices, and pumpkin puree into these irresistible delights.
Begin by whisking together the dry ingredients; this provides consistency in flavor and texture. The pumpkin puree is then folded into the dry mixture, adding a note of natural sweetness and a moist, tender crumb to the donuts. After a quick stint in the oven, these converted autumnal staples become golden-brown on the outside, yet remain delightfully soft on the inside.
Finish them off with a dusting of powdered sugar or a cinnamon-sugar blend to heighten their allure. Bonus tip: while these donut holes are delectable on their own, consider pairing with warm apple cider for full-blown fall indulgence in the classroom.
Cinnamon Apple Crisps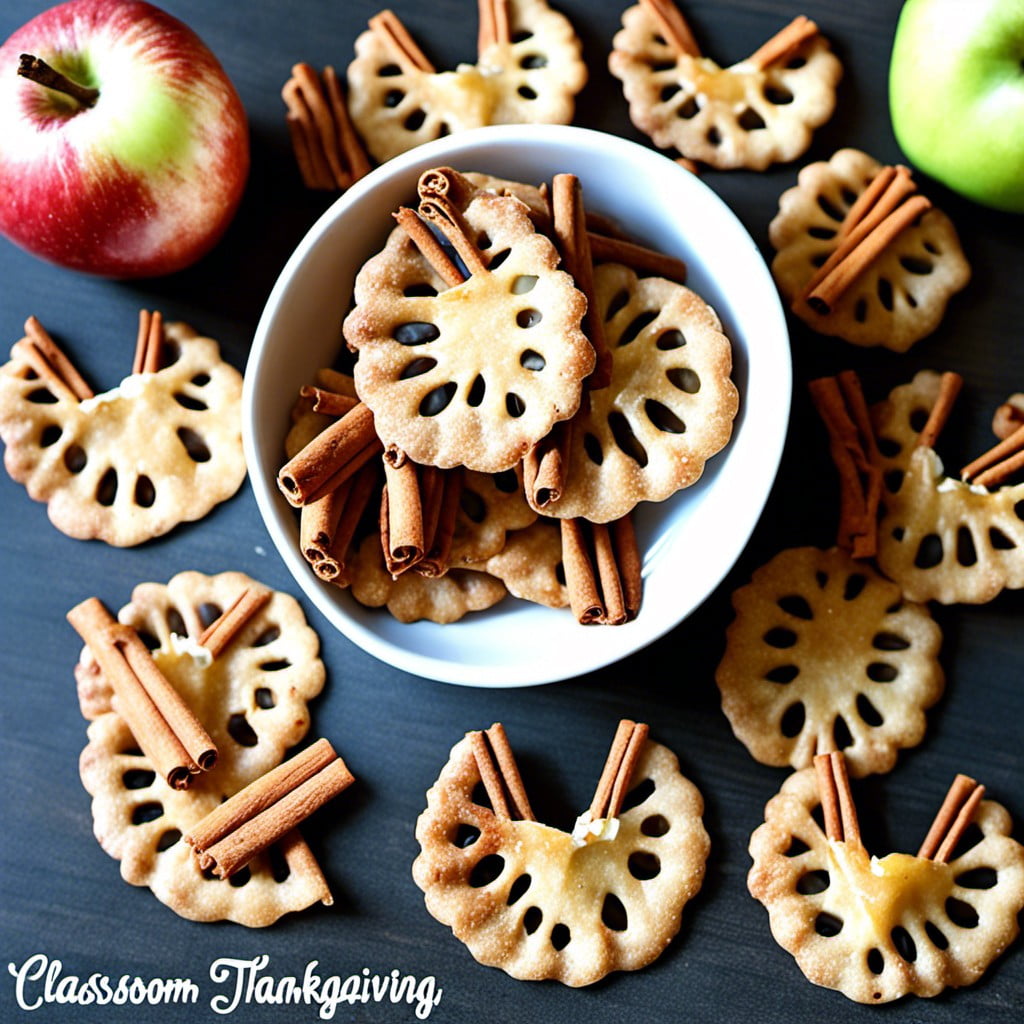 There's nothing more suitable for Thanksgiving than the intoxicating smell of apples and cinnamon wafting through the classroom.
Preparing these delightful crisps is quite a breeze. Just thinly slice some fresh, juicy apples and sprinkle them generously with a blend of sugar and cinnamon.
The slices then go into the oven until they turn golden and crispy. The result? An irresistibly crunchy snack packed with natural sweetness and a hint of warming spice.
It's a healthier snack idea, too, since apples are low in calories and high in dietary fiber.
These crisps are sure to be a hit, satisfying both the senses and the palate while embracing the spirit of Thanksgiving.
Moreover, storing these goodies is also simple. Just pop them in an airtight container, and they'll stay crunchy for days, allowing the kids to enjoy them through the week.
Finally, setting aside a few to take home could be a special treat for their families too!
Pilgrim Hat Cookies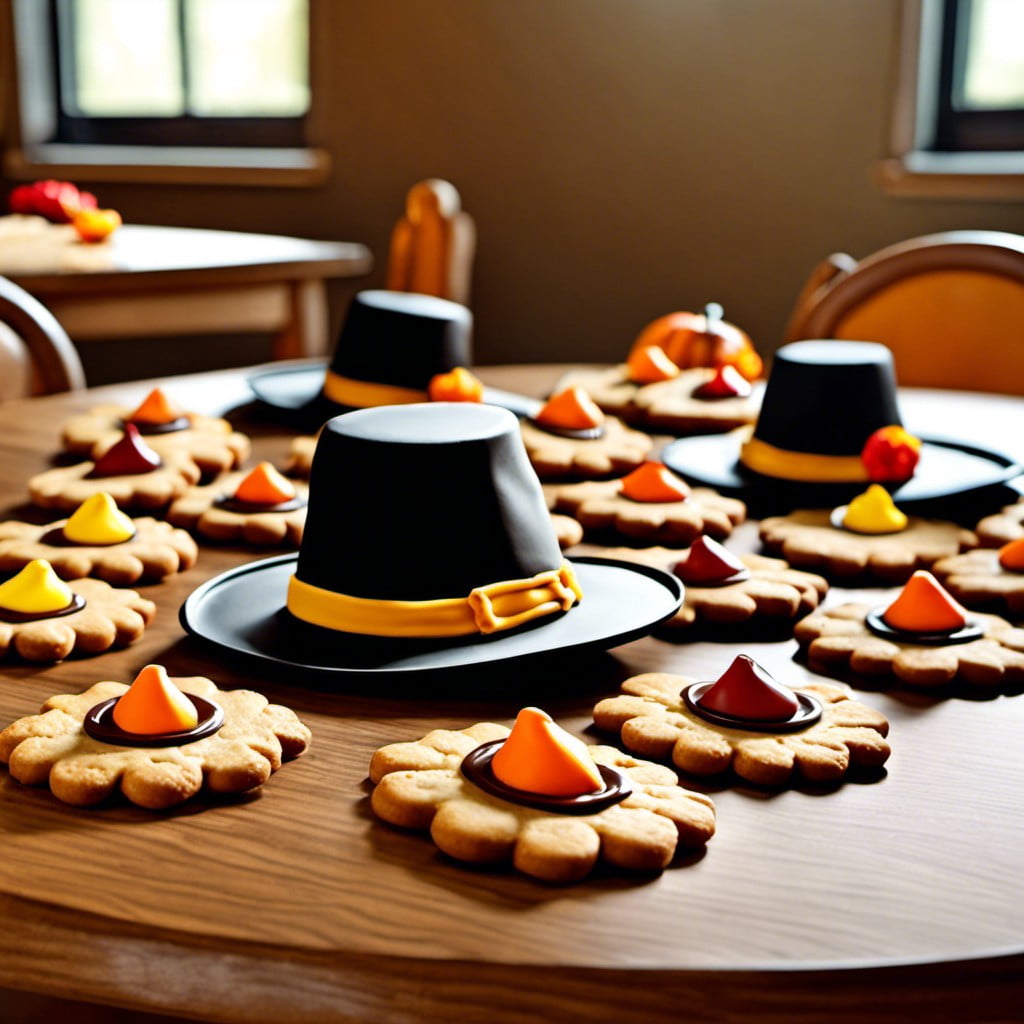 Creating these festive cookies is simple and loads of fun. Start by baking sugar cookies using your preferred recipe. The key lies in shaping the dough into small, round cookies and a wider brim to mimic a pilgrim hat.
The magic begins when it's time to decorate. Melted chocolate serves as the ideal adhesive and stands in for the main body of the hat. A touch of yellow frosting can create the hat's buckle for a final pop of color. Remember, these cookies are not just a delicious snack, they also add an element of playful décor to your classroom feast. Not to mention, the kids could even participate in the decorating process, making these cookies an interactive and sweet treat.