Sometimes you don't feel like prepping a full-blown dinner. It's one of those times. And a good set of snacks will just do. But only with these snack dinner ideas.
There's a whole technique to making a tray of snacks. It's not just a tray of appetizers. If we're talking about a snack dinner, it has to be filling and delicious for the whole family to enjoy. So it's not just about serving cold cuts or making a few bite-sized foods.
So we have a whole bunch of ideas for snacks that work as an easy dinner. These are easy to make, healthy, filling, and you'll be making them many times over. Our idea of snack dinner consists of the main parts – the dips and spreads plus finger foods, topped with a nice smoothie. Then we've broken down our recipes and snack ideas into sections for an easy choice. This way you can mix and match for different dinner ideas every time.
Filling Snacks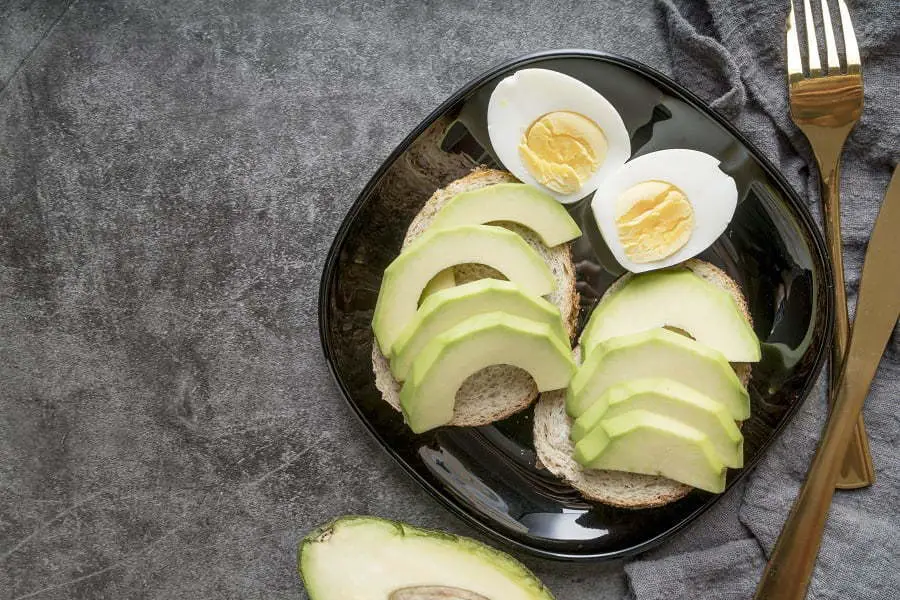 These are snacks that can fill you tummy and sub for a decent dinner. Better yet, they are easy to make.
Avocado Toast
Slice 1/2 avocado, remove the pi, and scoop out the flesh into a bowl. Add 1/2 tsp. fresh lemon juice, a pinch of Kosher salt, and a pinch of freshly-ground pepper. Using a fork, mash the ingredients until well-combined.
Spread the mashed avocado mix on a slice of toasted whole-grain bread. Drizzle with olive oil. Top with your preferred toppings.
Cottage Cheese with Pineapple
In a bowl, mix 1 cup cottage cheese with 1/2 cup crushed or sliced pineapple. Put in a serving cup or two. Enjoy!
Hard-boiled Eggs
Put eggs in a saucepan. Pour enough cool water to cover the eggs by an inch. Cover and allow to boil using high heat.
Once the water starts to boil, set the timer to about 6-7 minutes for creamy hard-boiled eggs, or 8-9 for a firmer yolk.
When done, remove the eggs from the pan and put them in a bowl with ice water to stop them from cooking.
Remove the shells, cut in half, sprinkle some ground pepper and herbs on top, and enjoy.
Dips and Spreads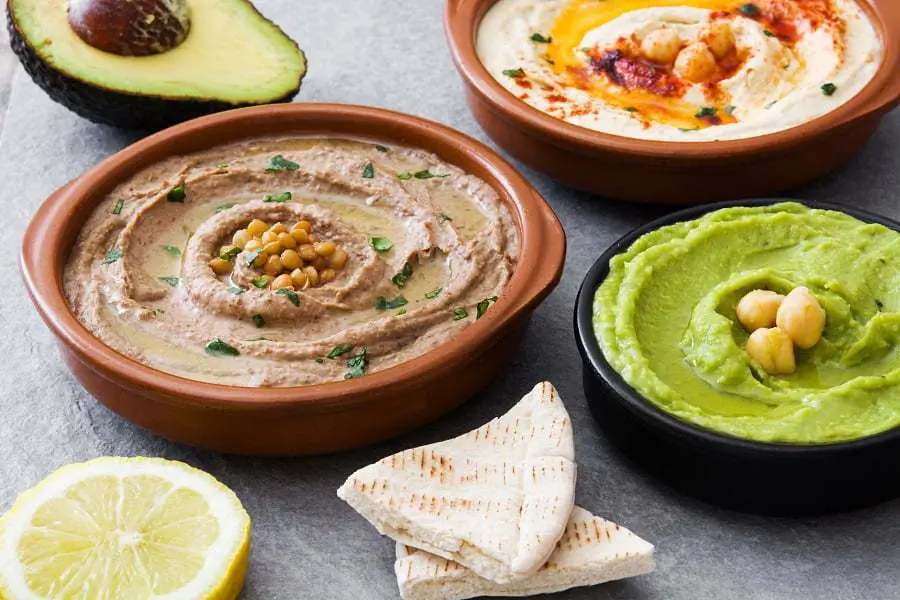 No well-made snack tray can do without dips and spreads. These are our favorites for dinner.
Hummus
Soak dry chickpeas overnight before cooking for 2 hours until tender. If using canned, simmer for about 20 minutes. When done, peel the chickpeas if you want a creamier version. If not, keep the skins on.
Using a food processor, puree 3 cups of chickpeas until smooth. Add 1-2 gloves of garlic, Kosher salt to taste, juice from 1 lemon, and 1/3 cup tahini. Blend for 3-4 minutes until well-combined and smooth. If the mixture is too thick, add a little hot water.
White Bean Dip with Fresh Herbs
Mince 5-6 cloves of garlic using a food processor. Add 3 tbsps. fresh parsley, 2 tbsps. fresh chives, and 2 tbsps. fresh dill and pulse until minced.
Add two cups cannellini beans, 2-3 tbsps. lemon juice, and 3-4 tbsps. olive oil. Blend until smooth. Add more lemon juice and/or olive oil if the mixture is too thick. Add salt to taste.
For added flavor, roast the garlic before blending.
Tzatziki
Grate one medium-sized cucumber. Using a sieve or cheesecloth, allow to drain. You can place the sieve with the cucumber in the fridge overnight to allow the cucumber to drain thoroughly.
Mince 2 large garlic cloves and set aside.
In a bowl, put the garlic, 2 tbsps. extra virgin olive oil, 1 1/2 cups plain Greek, full-fat yogurt, 1 tbsp. vinegar, and 1/2 tsp. salt. Mix to combine. Cover and chill overnight.
Combine the cucumber with the yogurt mixture.
Chop fresh dill finely to make 1 tbsp. and add to the cucumber-yogurt mixture. Combine and serve chilled.
Easy Appetizers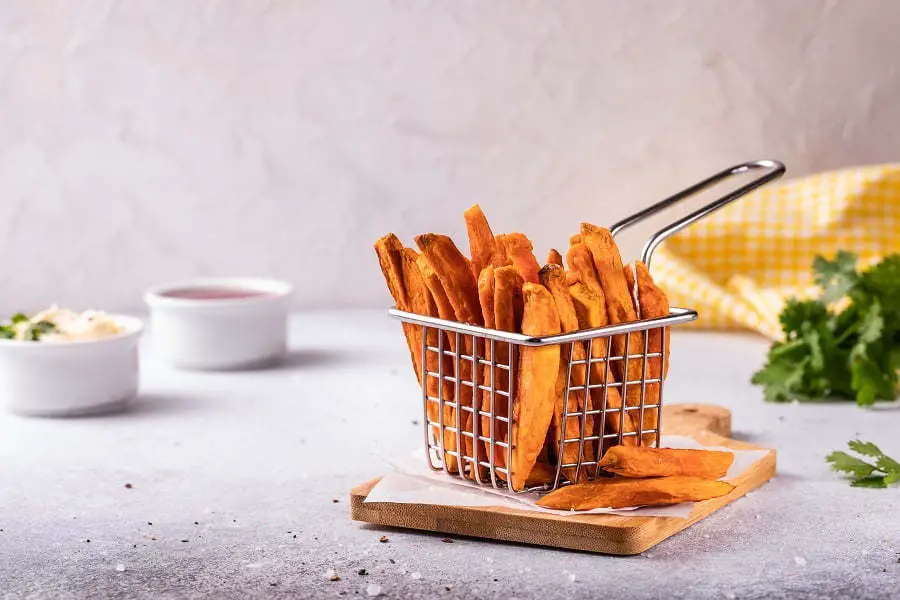 It doesn't have to be complicated to be good. And we will prove it.
Spinach Artichoke Zucchini Bites
Preheat oven to 400°. Lay parchment paper over a large baking sheet.
Drain and chop 1/2 cup canned artichoke hearts and 1/2 cup frozen spinach. Chop 2 cloves of garlic finely. Combine artichokes, spinach, garlic, 8 oz. cream cheese, 1/4 cup grated Parmesan, 2/3 cup shredded mozzarella, and a pinch of red pepper flakes. Add salt and pepper to taste.
Cut 3 medium-sized zucchini crosswise, about 1/2″ thick.
Spread the artichoke mixture on each zucchini round. Place the zucchinis on the baking sheet and bake. Wait until the cheese has melted and the zucchini is tender. This should take about 15 minutes. Let cool and enjoy!
Sweet Potato Bites
Preheat oven to 400°. Bake 4 thick slices of bacon until done. Pat using a paper towel to remove the oil. Let cool, then cut into dice-sized pieces and set aside.
Adjust the oven temperature to 425°. Place racks on the upper and lower positions in the oven. Line baking sheets with foil and brush the surface with olive oil.
Slice the 2 medium-sized sweet potatoes into 1/4″ or 1/2″ thick pieces. Lay these pieces on the baking sheets. Make sure the potato slices are in single layers so they bake evenly. Brush the slices with 2 tbsps. of olive oil and sprinkle with salt and pepper to taste. Bake the slices for 20-25 minutes. Halfway through, rotate the pans and change the upper and lower racks until the slices are golden brown. Remove the baking pans from the oven, flip the slices, then bake them for 8-11 minutes until the top is golden.
While waiting for the slices to bake, combine 2 medium-sized avocados, 1/2 tsp. smoked paprika, 1 tbsp. fresh lime juice, and 1/4 tsp. salt in a small bowl. Mash, leaving chunky bits and set aside.
Place the potato slices on a plate. Using a spoon, scoop an amount of avocado mixture on each potato slice. Top with bacon and cilantro.
Bacon-Wrapped Jalapeño Poppers
Cut 6 jalapeno peppers in half lengthwise. Remove the seeds and the white fibrous membranes.
In a bowl, combine 6 oz. of cream cheese, 1 finely minced green onion, 1/2 tsp. garlic powder, and 1.5 oz. shredded cheddar cheese. Using a spoon, stuff the jalapenos with this mixture.
Use a slice of bacon to wrap each jalapeno half. Make sure the stuffing is completely covered. Use a toothpick to secure the wrap.
Put the grill on medium-high heat and place the wraps cut-side down to cook. The bacon should be crispy after 6 minutes or so. Flip the jalapenos on the grill but lower the temperature to medium-low. Cook for about 10-12 minutes. Check to see that the bacon is done and that the cheese mixture has melted.
Healthy Savory Snacks

Some of us like it spicy and savory. Theses are the ideas for you.
Turkey Roll-ups
Mix 8 oz. softened cream cheese and 1/4 cup cranberry sauce in a bowl.
Lay a tortilla flat on a plate. Spread cream cheese over the top to the edges. Cover the middle part of the tortilla top to bottom with lettuce leaves.
On top of the lettuce leaves, place two slices of deli turkey and 4 slices of Swiss or Havarti cheese. Place slices of fresh tomatoes on top.
Roll the tortilla tightly from one end until you create a whole roll. Roll the remaining tortillas. Wrap each roll with a plastic wrap and chill. This recipe should be enough for around 8 (10-inch) tortillas.
To serve, cut any part of the tortilla that has no filling and slice the rolls into equal pieces.
Crispy Brussels Sprouts with Spicy Aioli
For the Crispy Brussels Sprouts:
Pre-heat oven to 425°.
Cut off the ends of the sprouts and slice each in half. Place the sprouts in a bowl.
Mix 3 tbsps. olive oil, 3 tbsps. maple syrup, and 3 tbsps. white balsamic vinegar in a small bowl. Pour this mixture over the sprouts. Add salt and pepper to taste.
Line a baking sheet with aluminum foil. Spread the sprouts evenly on the sheet. Do not overcrowd them so they will cook evenly.
Bake for 20 minutes. Check the sprouts and stir the sprouts. Continue baking for 15-20 minutes. By this time, the sprouts should be caramelized yet crisp. Transfer to a serving bowl.
Drizzle the spicy aioli over the sprouts and serve.
To Make the Aioli:
Combine 1/2 cup mayonnaise, 1/2 tsp. cumin, 1/2 tsp. smoked paprika, 2 tsps. Sriracha, 1 tbsp. finely minced shallot, and the zest and juice of 1 lime in a small bowl. Mix and add 1/8 tsp. of Kosher salt.
Chicken Avocado Roll-Ups
Mix 1 cup of cooked and diced chicken, 1 pitted and diced avocado, 1/4 cup shredded cheese, 1/4 cup diced tomato, 2 tbsps. minced onion, 2 tbsps. sour cream, and 1 tbsp. lime juice in a bowl. Add salt and pepper to taste and combine.
Lay a tortilla flat on a plate and spread the chicken and avocado mixture on top. Make sure to cover the edges. Roll the tortilla with the filling tightly. Place on a cutting board and slice in serving portions. May be served hot or chilled.
Healthy Smoothies
It's always best finished with a nice healthy smoothie. Here are some of our favorites.
Berry Spinach Smoothie
In a blender, add 1 cup fresh spinach and 1 cup water. Puree until the leaves are smooth. Add 1 cup mixed berries and blend. If you prefer, add 1 banana and puree.
Peanut Butter Banana Smoothie
In a blender, add 1/2 cup water or milk of your choice, 1 frozen banana cut in half-inch slices, 2 tbsps. peanut butter, 1 tbsps. and ground flaxseeds. Blend until the mixture is smooth. From time to time, scrape off the mixture from the sides of the blender so you get a consistently smooth result.
Add ice cubes one or two at a time. This will thicken the smoothie. Do not add too much or the flavor will be diluted. If you want, you can also add about 1/4 tsp. of vanilla.
Oatmeal Smoothie
In a blender, add 1/2 cup rolled oats. Pulse until the oats have turned to a fine crumb. Add 1 cup milk and blend until smooth.
If you like, add a frozen banana cut into slices and blend.
Healthy Sweet Snacks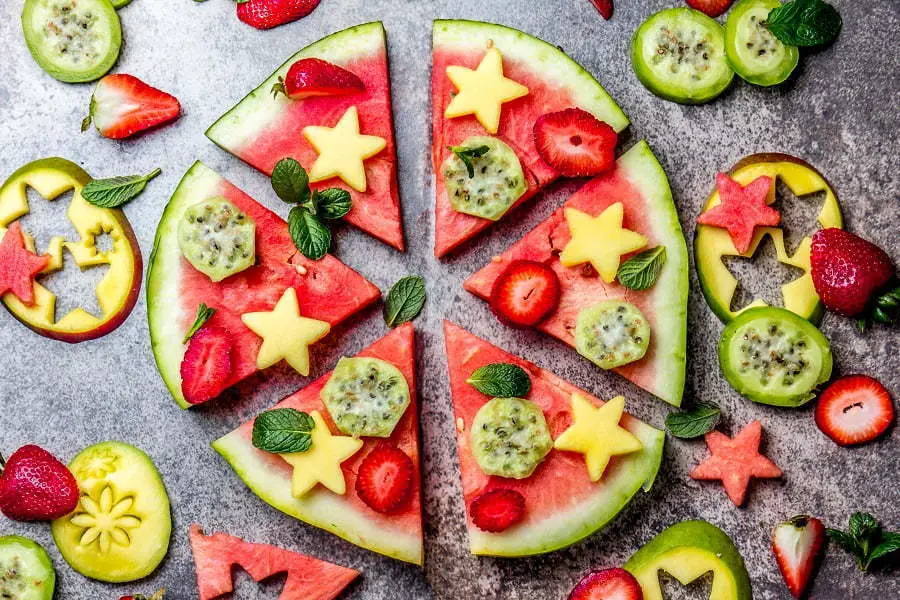 Healthy can be sweet too. Here's how – these our favorite ideas for sweet filling snacks that are healthy too.
Basil Watermelon Pizza
Slice a watermelon crosswise so you get a round slice. Cut this into wedges similar to pizza. Place the wedges on a board.
Add about 120 grams of pineapple chunks, chopped basil leaves, and 1 to 2 tsps. of toasted coconut flakes.
Mix 1 tbsp. of honey with the juice of half a lime. Use this to drizzle the top of the watermelon pizza. Sprinkle with a bit of freshly cracked or ground black pepper and the zest of half a lime.
Peanut Butter Stuffed Dates
Slice 6 large dates (such as Medjool dates) halfway through to remove the pits. Cut only to make a slit on one side.
Using a spoon or a piping bag, add about 1 tsp. of peanut butter into the date.
Add your choice of toppings such as berries or nuts, if desired.
3-Ingredient Maple Almond Fudge
Use muffin liners to line a muffin tin. Note that this recipe makes around 12 pieces.
Put 2 cups of smooth almond butter and 1/2 cup coconut oil into a microwave-safe bowl. Microwave until just melted. Stir in 1/4 cup natural maple syrup until fully combined.
Pour the mixture in equal amounts into the muffin cup liners and chill until firm.
Healthy On the Go Snacks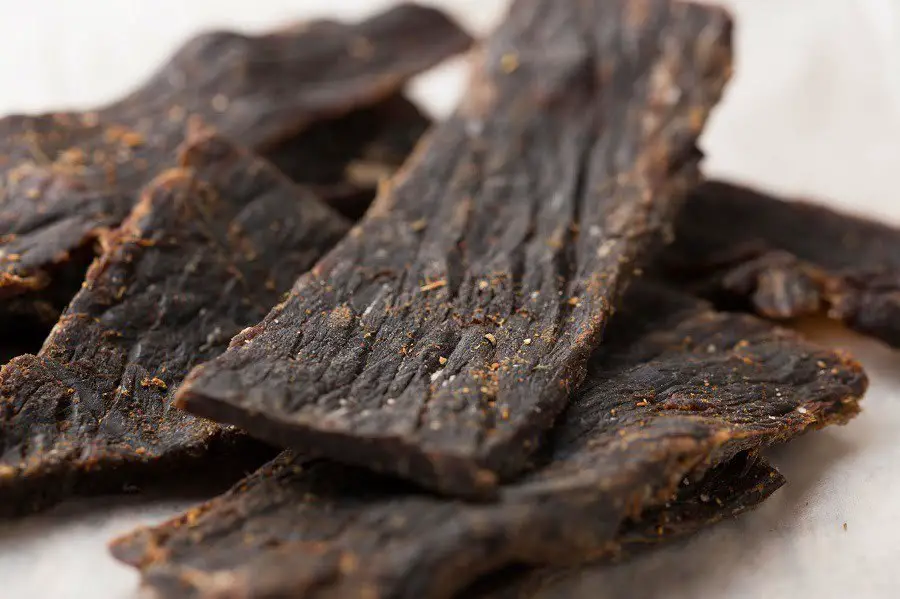 Sometimes you need to take your dinner on the go. Then you need snacks that are easy to take with you and eat on the move. These are our favorites.
Jerky
Jerky is a type of meat snack that consists of thinly-sliced pieces of meat (usually beef) that have undergone a cooking and dehydration process. This process allows the jerky to have a long storage life. The meat is usually pre-marinated to make it tasty. It is rich in nutrients and ready-to-eat.
Tuna
Tuna snacks are very filling and a great source of great quality protein. It is also very low in fat and has all the amino acids needed for lean muscle tissue growth and development. A 4-ounce serving of tuna, for example, contains about 150 mg. of omega-3. Tuna can be bought from wet markets but the canned version is far more popular and convenient. It can be made into sandwiches and salads or mixed with other ingredients to make tasty entrees for breakfast, snack dinner, and everything in between.
No-bake Energy Bites
Combine 1 cup rolled oats, 1/2 cup mini dark chocolate chips, 1/2 cup ground flaxseeds, 1/2 cup peanut butter, 1/2 cup honey, and 1 tsp. vanilla extract in a medium-sized bowl. Mix thoroughly and form into bite-sized balls.
Place the balls on a baking sheet or tray and freeze to set. This should take about 45 minutes to 1 hour.
Creative Snacks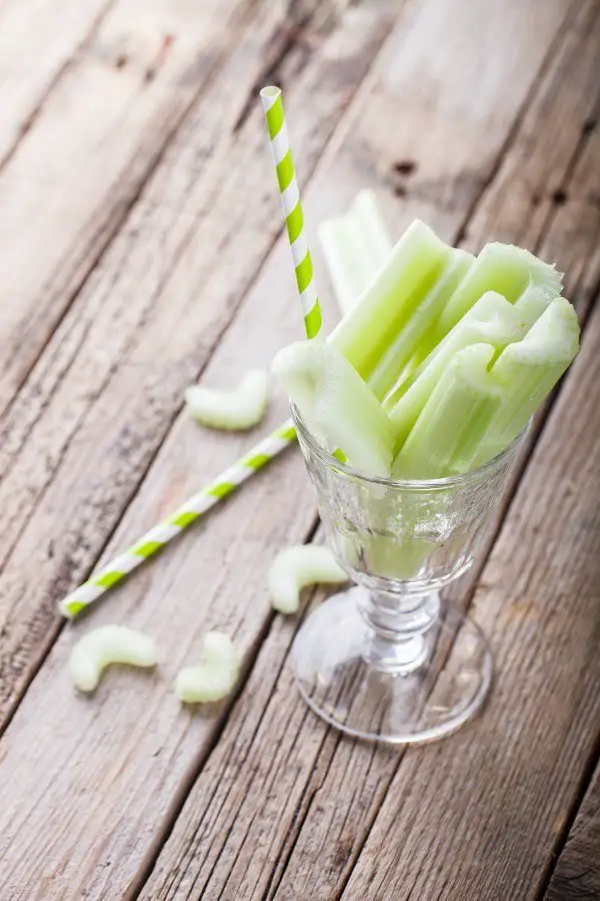 Some creativity makes it a lot more interesting for everyone. These are our wacky snack recipes.
Ants on a Log
Wash celery sticks and pat dry. Cut celery into four-inch long sticks or in half, depending on the length.
Spread peanut butter into the celery. Make sure to apply it on the concave part.
Arrange raisins, berries, or unsalted nuts on top to resemble a line of ants.
Ham and Celery Wraps
Whisk together 1/4 cup mayonnaise, 1/4 tsp. prepared mustard, 1 tbsp. milk, 3/4 tsp. sugar, 1/8 tsp. celery seed, and a dash of salt in a small bowl.
Lay two 10-inch flour tortillas on a cutting board or plate and spread the mayonnaise mixture on top. Make sure to spread evenly and cover the edges.
Layer thinly-sliced ham and shredded Swiss cheese on top and add shredded lettuce, seeded and chopped medium-sized tomato, and chopped green onion.
Roll the tortilla tightly and secure using a toothpick.
Dark Chocolate and Nut Bites
Melt 12 oz. dark chocolate chips in a microwave oven for 1-2 minutes until melted. Watch the chocolate so it does not burn.
Lay a good-sized piece of parchment paper on a table or flat surface. Using a tablespoon, scoop out the dark chocolate mix and pour it on the parchment paper, creating a circle.
With the dark chocolate still soft, top with nuts or trail mix. Allow the chocolate to cool. Once it is hardened, peel off the parchment paper and serve.