Explore the culinary world of pepperoni with these delicious, easy-to-make snack ideas that will elevate your parties or casual get-togethers.
Pepperoni isn't just for pizza anymore! This versatile, spicy Italian sausage can be the star of a myriad of snacks that are perfect for any occasion.
Whether it's a quick bite between meals, a unique appetizer for your next party, or a convenient on-the-go snack, pepperoni has got you covered.
This article will guide you through a variety of snack ideas featuring pepperoni, from simple and quick to gourmet and impressive, including all the necessary details.
So, get ready to explore the flavorsome world of pepperoni beyond the pizza box.
Pepperoni Pizza Bites
These bite-sized delights are mini versions of a classic favorite. They come together in minutes, perfect for those quick snack needs. All you need are baguette slices, marinara sauce, shredded mozzarella, and, of course, pepperonis.
1. Tools: Toasting these bites in a toaster oven will give you the perfect crust, but a regular oven will work just fine.
2. Preparation: Spread a spoonful of marinara on each baguette slice.
3. Assembling: Top with a generous sprinkle of mozzarella. Add one or two pepperoni slices, depending on the baguette size.
4. Cooking tip: Bake until everything is bubbly and a bit browned.
Remember, this is as customizable as its full-sized counterpart; add onions, olives, or even pineapples if that's your preference. After all, the beauty of cooking lies in making each dish your own!
Pepperoni Cheese Rolls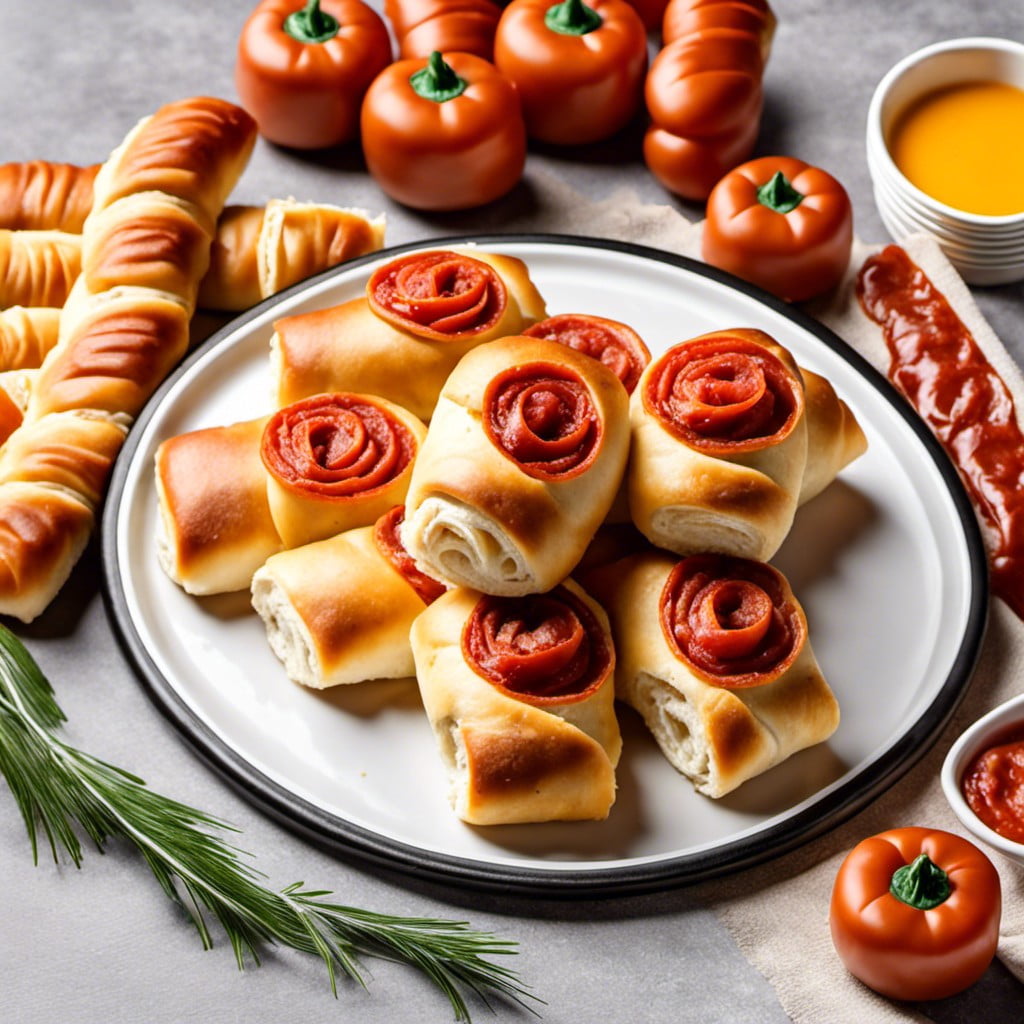 To create this savory delight, gather soft bread rolls, pepperoni slices, and a variety of cheeses. Mozzarella is a popular choice, but feel free to experiment with others such as provolone or Colby Jack for unique flavors.
The preparation is straightforward; just slice the rolls in half, layer the pepperoni and cheese, replace the top half of the rolls, then bake until the cheese is bubbly and the rolls are slightly toasted.
These make for a perfectly cheesy, bite-sized snack that hits all the right notes. Plus, they can be jazzed up with additional ingredients, like a sprinkle of Italian seasoning or a brush of garlic butter over the top before baking.
Remember, the key to the best Pepperoni Cheese Rolls lies in quality ingredients – the fresher the better. For an extra kick, serve with a side of marinara or ranch for dipping.
Pepperoni Stuffed Mushrooms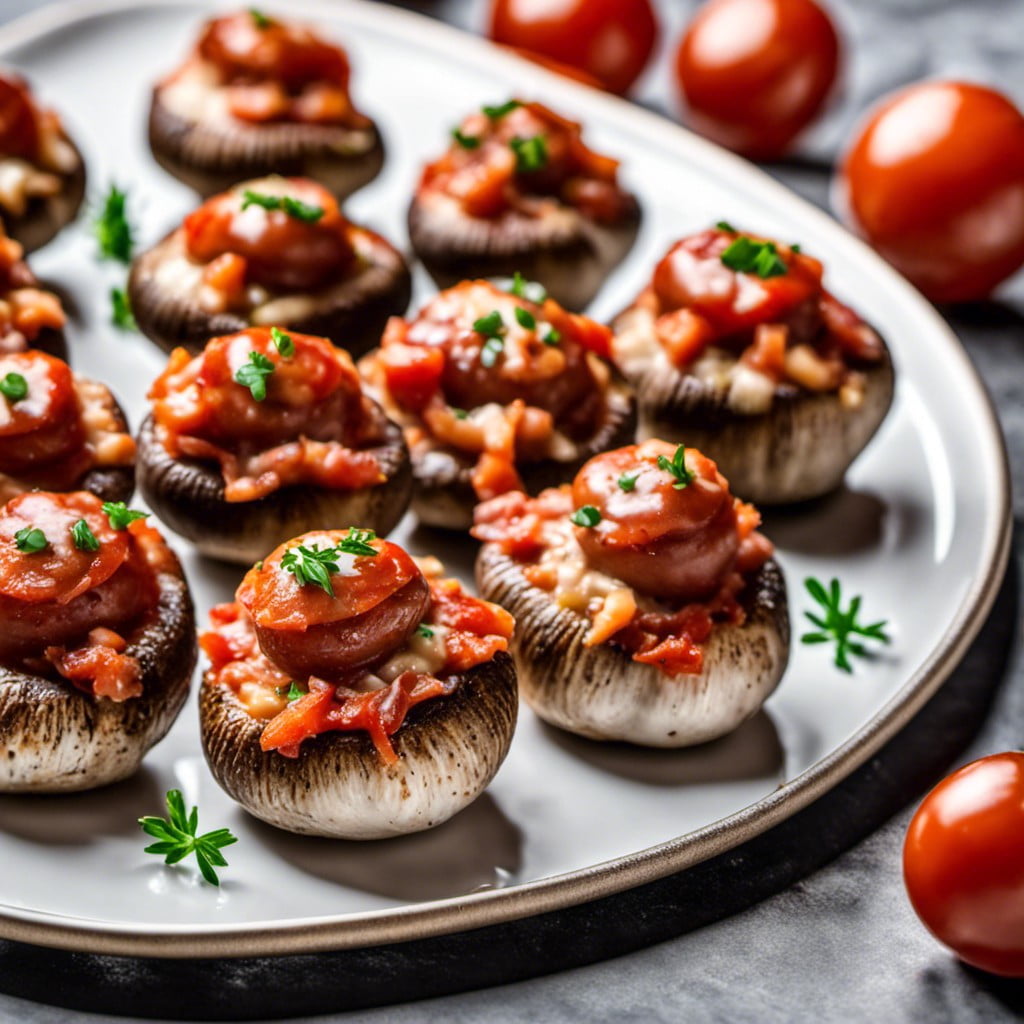 A savory indulgence of earthiness meets spiciness, a delightful dish that can be prepared in a few simple steps.
1. Mushrooms Selection: Choosing the right mushrooms is key. Opt for larger varieties like Portobello or button mushrooms for a hefty filling and a satisfying bite.
2. Pepperoni Preparation: Dice the pepperoni into small pieces. For a healthier twist, choose turkey pepperoni.
3. The stuffing: A simple mix of chopped pepperoni, cream cheese, garlic, and fresh herbs makes a tangy stuffing.
4. Baking Time: Bake them until tender and the stuffing is golden and bubbly to ensure the best flavor and texture.
5. Variation: For those seeking a vegetarian version, use pepperoni-flavored seitan or tofu as a substitute.
Each mushroom becomes a capsule of flavors. The soft, juicy mushrooms provide a delectable contrast to the spicy and crispy pepperoni. Promising a finger-licking experience, these pepperoni-stuffed mushrooms can transform snack time into an unforgettable culinary event. Best enjoyed warm, they are a guaranteed crowd-pleaser at any gathering.
Pepperoni Kebabs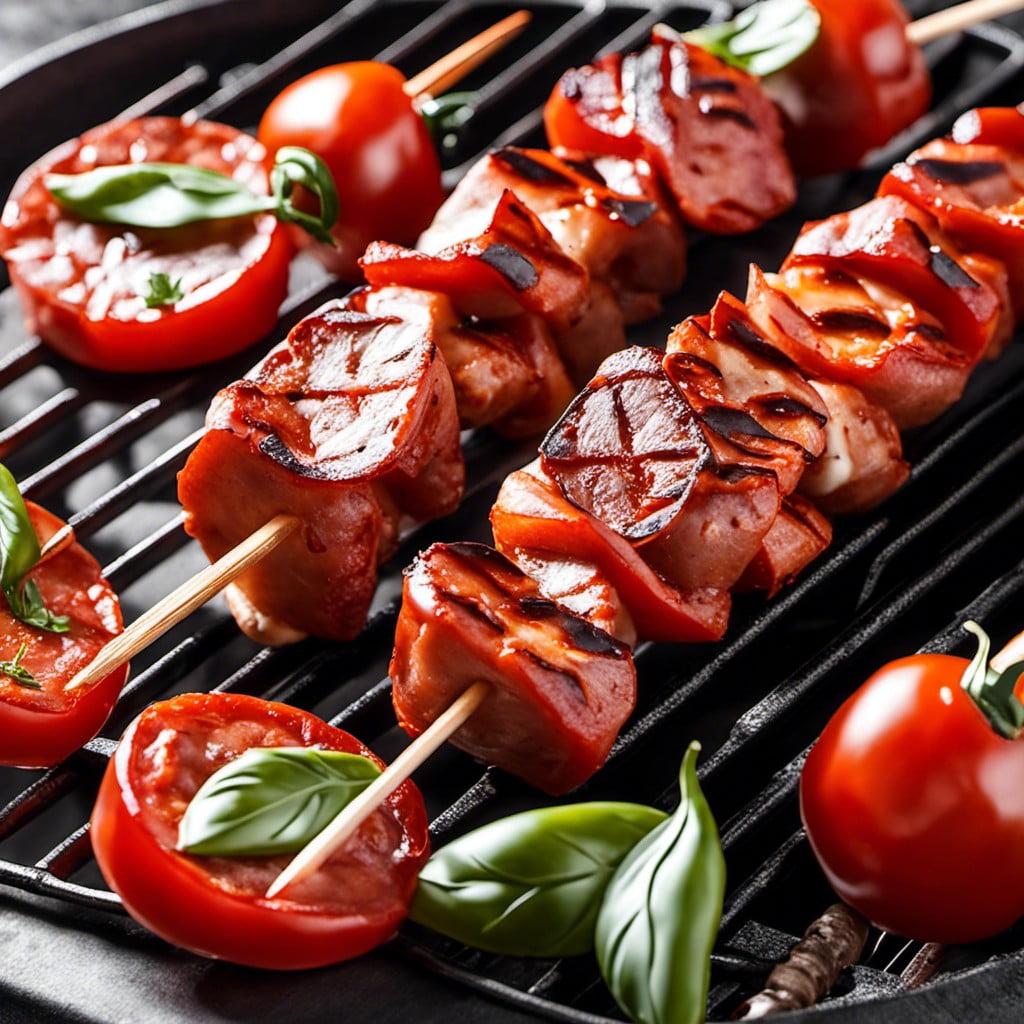 Grilling up some Pepperoni Kebabs can bring a fun twist to your usual snack menu. Marinate small chunks of pepperoni with your favourite spices and thread them onto skewers alternating with chunks of bell peppers, onions, and cherry tomatoes.
Letting them soak up the spicy marinade overnight adds to the flavor. Grill them until slightly charred for the perfect blend of smoky and spicy. These kebabs are not just easy to prepare but also act as a great finger food for parties.
Remember to serve them hot with a tangy barbecue or honey-mustard dip to balance out the flavours. Moreover, they are easily customizable as per individual taste preferences. Vegetarians can replace pepperoni with mushrooms or tofu.
A creative, colorful and appetizing snack option, pepperoni kebabs will have your guests coming back for seconds.
Pepperoni Pasta Salad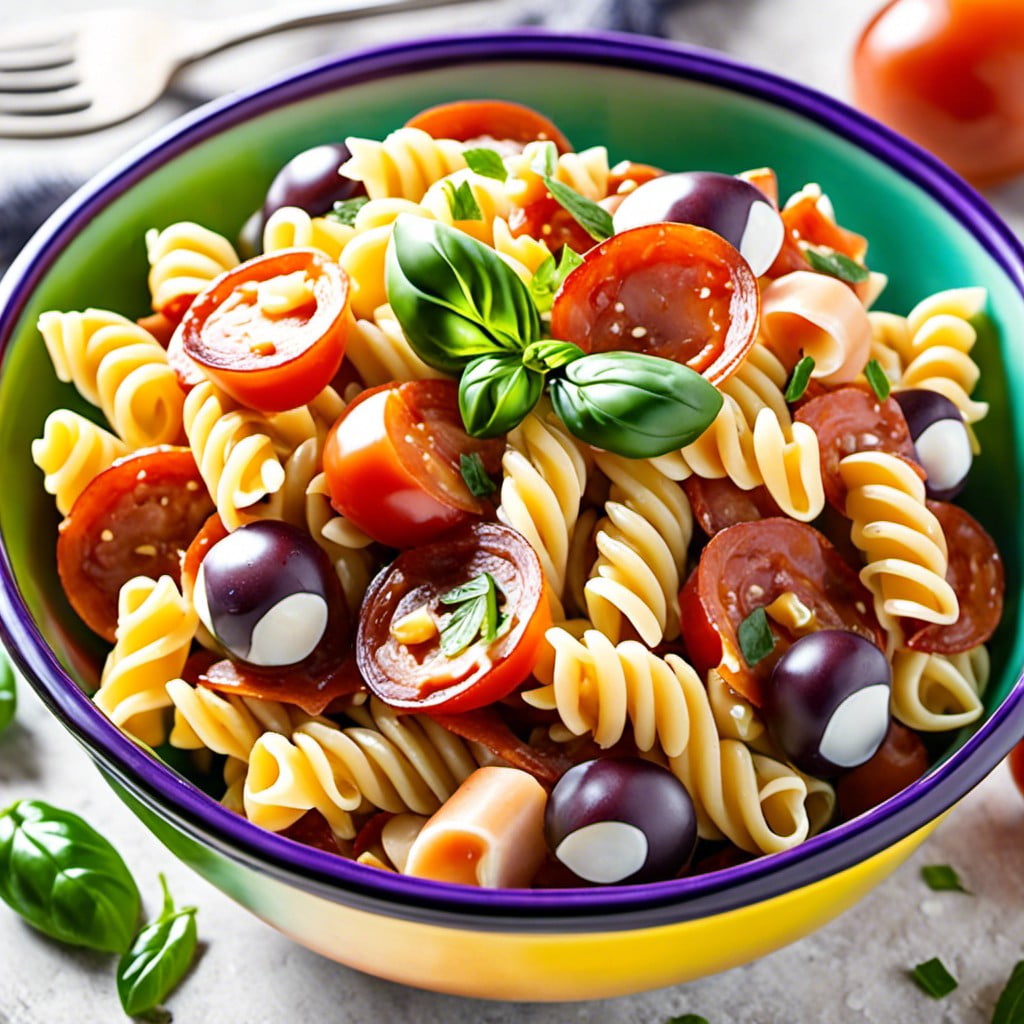 Incorporating pepperoni into a pasta salad adds a delightful and unexpected dimension of flavor. The fiery tang of pepperoni wonderfully contrasts with the gentle creaminess of pasta, creating a balanced medley of sensations on the palate.
To bring this dish to life, follow these simple ideas:
Choose a pasta shape, such as fusilli or farfalle, that holds the sauce well.
Combine bite-sized pepperoni slices with diced colorful veggies like bell peppers, cucumbers, and cherry tomatoes for a vibrant visual appeal.
A dressing of zesty Italian vinaigrette enhances the peppery bite of the pepperoni as well as introduces an element of freshness.
Top it off with a mix of shredded cheeses, mozzarella and parmesan would give an added depth of texture and flavor.
Remember, the best part about this dish is its flexibility—feel free to add or subtract ingredients based on your taste. This is a simple, yet delightful way to utilize pepperoni in a non-traditional manner while still savoring its distinct flavor. Consider serving it chilled as a side dish or as a light main dish on warm, lazy afternoons. You'd be surprised how this simple addition can transform your ordinary pasta salad into an extraordinary one.
Mini Pepperoni Quiches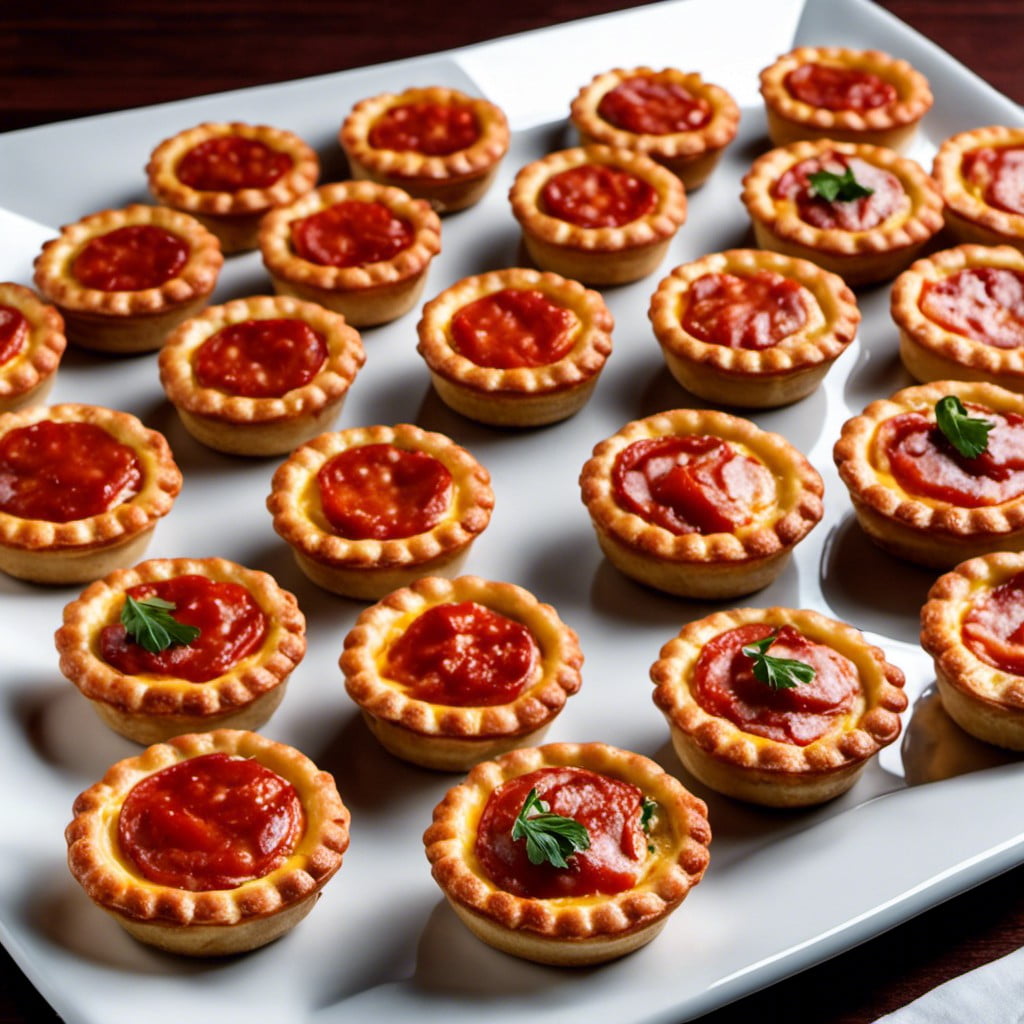 Bite-sized and bursting with flavor, these delightful mini quiches are perfect for parties or mid-day snacking. Rich, creamy eggs meet fiery pepperoni, accompanied by a flaky crust in a blend of savory satisfaction.
Here's how to create these enticing treats:
Preheat the oven and prepare the muffin tin.
Combine flour, butter, and cheese to make the crust, pressing into tin.
Sauté pepperoni to release its spicy oils, blend with the egg mixture.
Fill crusts with this egg mixture, bake until golden and puffed.
With its irresistible combination of textures and unabashedly tasty profile, these quiches promise a memorable snacking experience. Remember, the key to a perfect mini quiche lies in the balance of flavors – the spicy kick of the pepperoni, the mellow creaminess of the eggs, and the decadent crunch of the crust must all harmonize. Experiment with cheese varieties to bring a new layer of complexity. The serving size is joyfully adaptable, ready to cater to both small gatherings or larger crowds.
In the realm of pepperoni snacks, these mini quiches stand out as a classic choice, continuing to charm tastebuds and appetites alike. As versatile as they are delicious, they can be enjoyed hot from the oven, at room temperature, and even cold from the fridge. Guaranteed, once you've tasted these, they'll become a regular feature in your snack repertoire. Happy snacking!
Pepperoni Pita Pockets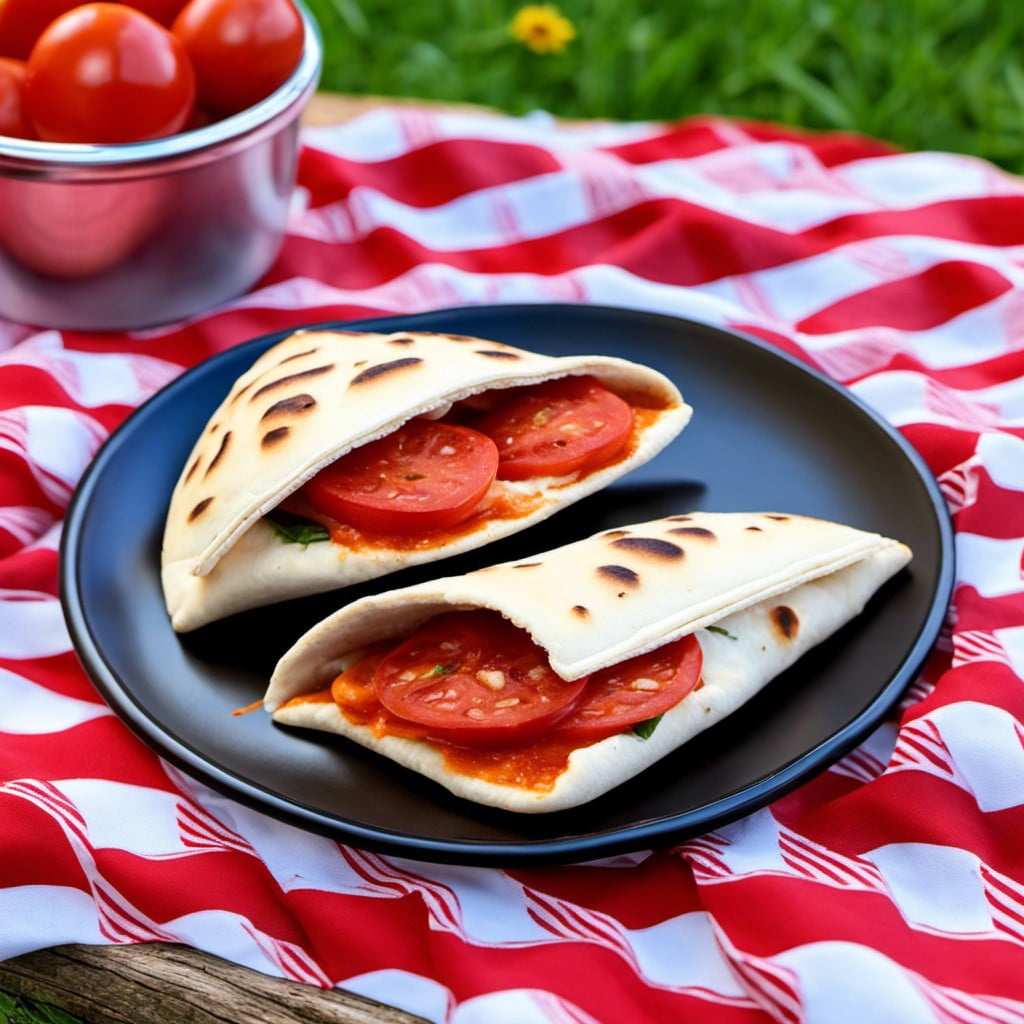 Crafting these snacks is as easy as pie! Savoring bite-sized pepperoni tucked inside warm pita bread ensures an explosion of flavors that tickles the palate. The slight tang from the marinara sauce harmonizes with the melt-in-your-mouth cheese, making it a delight.
Here are commendable points that make these stand out:
Simplicity: Assembling these pockets doesn't demand a culinary degree. With few ingredients at hand, it is a breeze.
Versatility: Play around by throwing in some veggies or swapping pepperoni for a preferred meat to meet individual taste.
Portability: Need a quick snack on the go? These pockets prove to be an excellent choice.
Quick to make: Time-constraint is not an issue. You'll have a delectable snack in a matter of minutes.
Satisfying: A couple of these pockets can be quite filling, making them perfect for tiding over between meals.
Remember, if you are not a fan of the thick pita bread, there's always the option to go with thin, whole grain or gluten-free varieties. Spice it up with a sprinkle of crushed red peppers or tone it down by opting for a mild cheese to tailor it to your taste buds. With these Pepperoni Pita Pockets, snack-time never looked so good!
Pepperoni Pin Wheels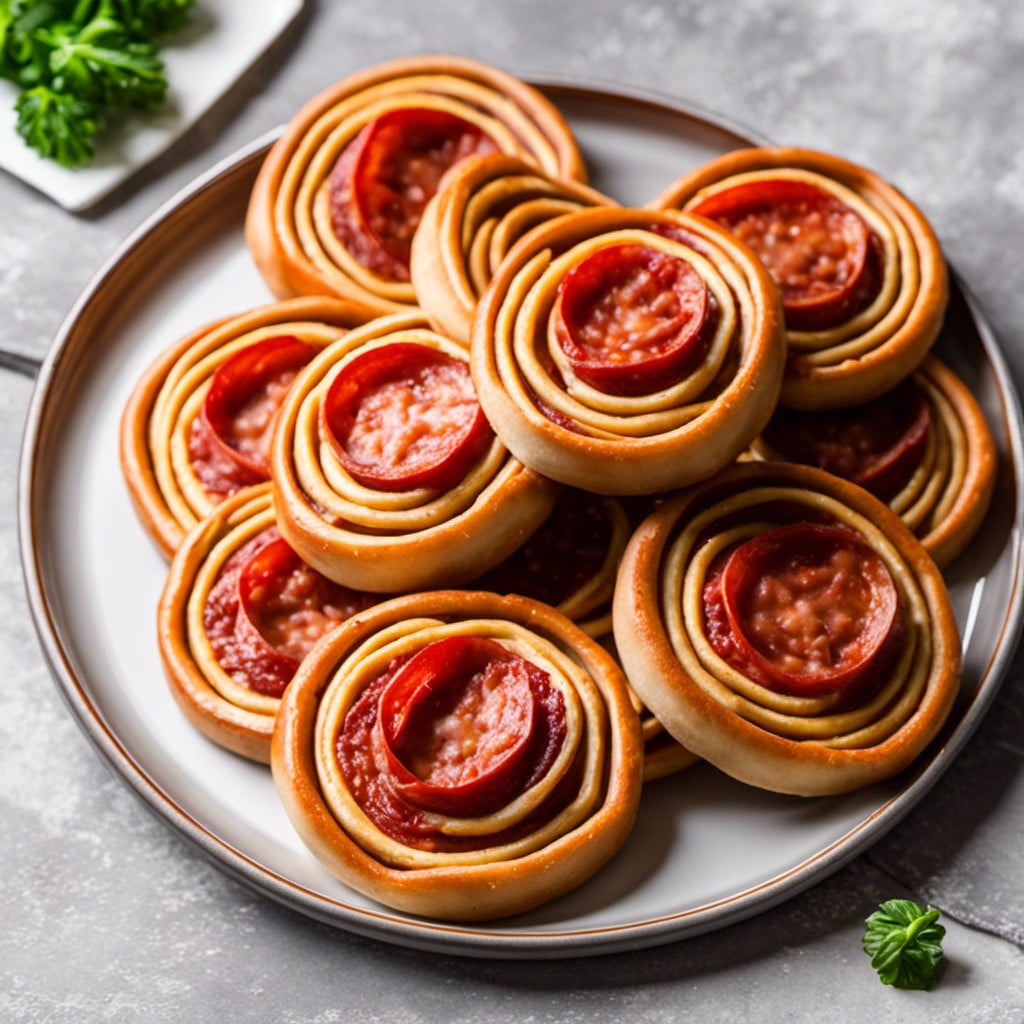 Crafted from puff pastry, these bite-sized treats are much like miniaturised versions of the classic pepperoni pizza. The dough swirls around a rich filling of marinara sauce, Mozzarella cheese, and of course, generously layered pepperoni. With every slice, you are creating an individual snack, presenting a mesmerising spiral view of the ingredients.
It's easy to whip up a batch, start rolling out any puff pastry sheets of your choosing, slather on your traditional Italian marinara sauce, following up with a criminally delicious layer of thin pepperoni slices and a hearty sprinkle of shredded Mozzarella. Make sure all ingredients reach close enough to the edges to ensure every bite has an equal share of flavour.
Roll it. Chill it. Slice it. Bake it. You'll have yourself a crowd-pleasing snack that's not just easy to make but also packed with flavours. Perfect for gatherings, parties, or a guilt-free midnight indulgence.
Remember, it's all about quality here. Choosing a good-quality pepperoni and cheese will do wonders for your Pinwheels. Happy munching!
Pepperoni Fries
Introducing a savory twist to the classic fries that we all love! This snack merges the crisp and salty charm of fries with the piquant bite of pepperoni.
First, the process involves baking or frying your potato strips until they are crispy. Traditionally, one would use russet potatoes but sweet potato fries could also provide an interesting variation.
Moving on to the pepperoni, select the thin-sliced variety which will make it crisp up nicely when baked.
To assemble, simply lay out the cooked fries on a baking tray, sprinkle them generously with shredded cheese before topping with pepperoni slices. Pop the tray in the oven just long enough for the cheese to melt around the fries and the pepperoni to crisp up. Pull them out of the oven and add a little sprinkle of Italian seasoning for an extra kick.
And there you have it, a fusion of flavors that can be dipped in your choice of sauce. It's an indulgent, satisfying snack that's effortless to prepare and hard to resist.
Quick tip: Go for a spicy marinara sauce for dipping to keep that pizza theme going!
Pepperoni Quesadilla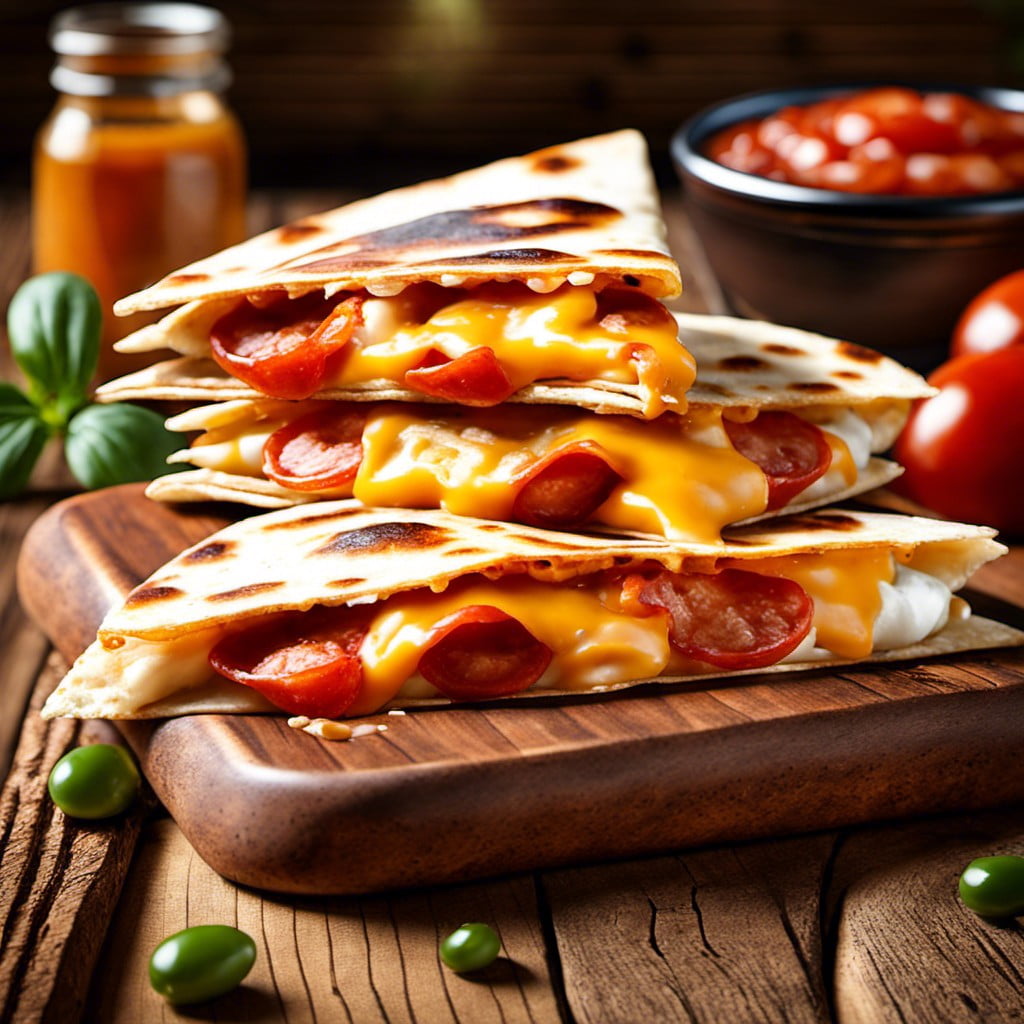 With a fusion of Mexico's staple, and Italy's favourite meat, the creation becomes not just quick and easy but delicious.
Thin tortillas are toasted crisp in a skillet and filled with an abundance of melted cheeses and slices of pepperoni.
The filling can be varied to satisfy any palate. Try adding some peppers, olives, or even some pineapple for a Hawaiian twist.
A dip on the side, like salsa or guacamole, complements the intense, spicy flavor of the pepperoni and adds a fresh touch to the dish.
It's a versatile snack, perfect for a movie night, as an appetizer, or even a light lunch. Plus, it's loved by kids and adults alike.
It's crucial to heat on low-medium temperature, to avoid burning the tortilla before the cheese melts.
Easy to assemble and with high flexibility in ingredients, this snack is a must-try for any pepperoni lover.
Pepperoni Cups
Crafting these delightful bites is surprisingly easy. Mini muffin pans are your secret weapon here; they help mold the pepperoni into cup shapes. First, arrange pepperoni slices into the muffin spaces, then bake until they hold their form and turn crispy.
While that's in the oven, prepare your filling – a succulent mixture of softened cream cheese, shredded mozzarella, Italian seasoning, and a little garlic powder for that perfect savory kick. Once the pepperoni cups are ready and cooled, spoon in this cheesy goodness, top each with a little marinara sauce, and there you go.
Remember, timing is key to ensure the cups remain crispy and the cheese filling is just melted. This snack provides a compact, exciting tasting of pizza, with a fun twist that leaves you craving for more!
Pepperoni Stuffed Baguettes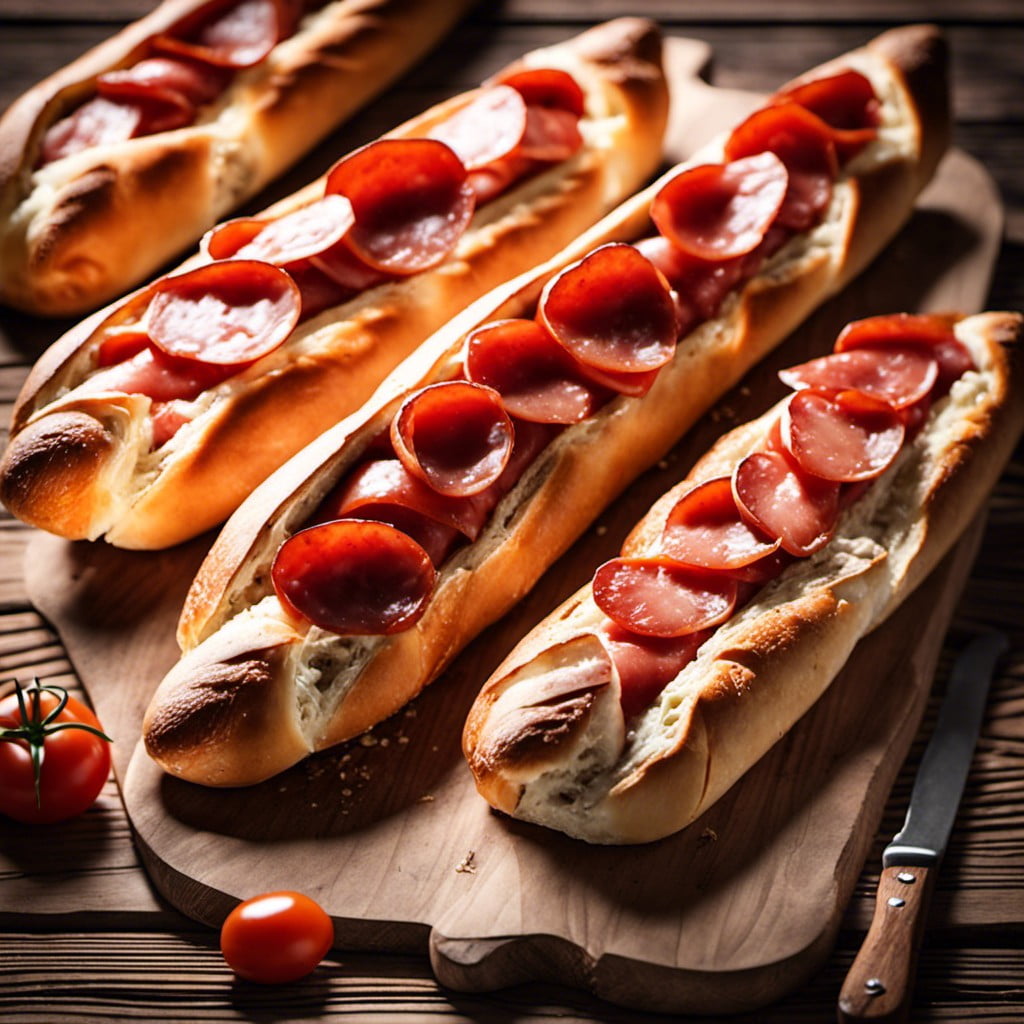 With a perfect combination of a fluffy French baguette and zesty pepperoni, this recipe is a crowd favorite. Ease and simplicity define the preparation: a baguette is sliced open, not entirely but almost, and the opening is laden with pepperoni slices. For a beautiful play of flavors, sprinkle oregano and shredded cheese, preferably mozzarella, atop the pepperoni to create a deliciously layered effect.
A quick pop into the oven and it's done!
Here are some essential guidelines:
Choose a fresh and crusty baguette for the best texture.
Opt for a high-quality pepperoni for the most flavorsome taste.
Moderate the use of oregano and other spices according to preference.
Melted cheese helps to bind together the pepperoni and the baguette, so don't skimp on it.
Baking times may vary; keep an eye on the baguette until it turns golden brown.
Remember, creativity is key too, with plenty of room for customization according to individual tastes and dietary needs. Enjoy food, experiment and find the perfect fusion that speaks to your unique palate.
Pepperoni Nachos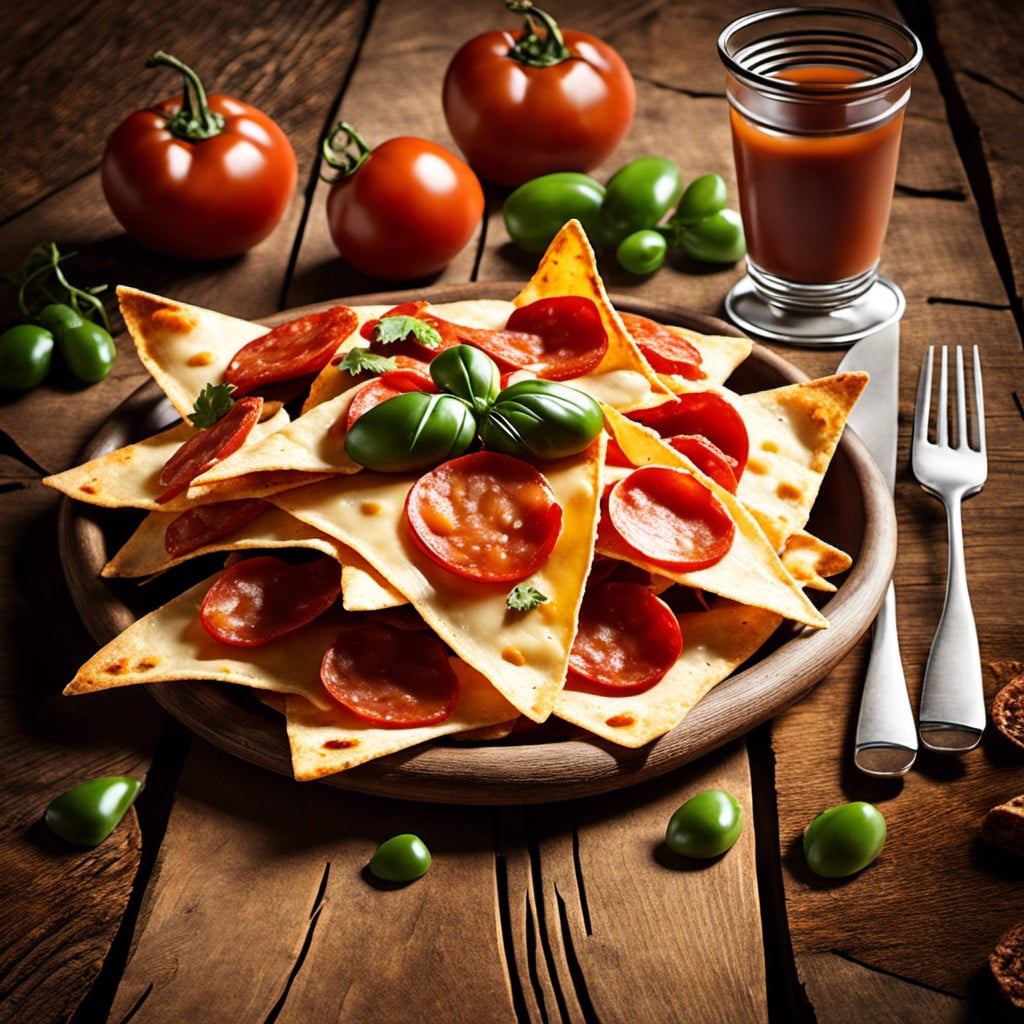 Swapping traditional tortilla chips with thin slices of pepperoni transforms the iconic nacho dish into a low-carb delight.
Begin by arranging these slices on a baking tray, and broiling till they reach the desired crispness.
Top it off with a generous sprinkling of shredded cheese before returning the tray to the oven until the cheese melts and becomes bubbly.
For added flavor, consider adding some diced bell peppers, sliced olives, or jalapenos.
Don't forget to serve with a side of guacamole and sour cream for an added depth of flavor.
A final touch of chopped cilantro or green onions allows for a fresh contrast to the pepperoni's rich, spicy profile.
This inventive snack idea is perfect for parties, game nights, or when you're simply craving some comfort food with a twist.
Pepperoni-Ricotta Toasts
Achieving the perfect blend of crispy toast, rich, creamy ricotta cheese, and bold, spicy pepperoni, these toasts are a versatile snack for any occasion.
Here's the essential breakdown:
Choice of Bread: Opt for a crusty bread like a baguette or sourdough. These types hold up well under the weight of toppings and provide a satisfying crunch.
Ricotta Mix: Combining the ricotta cheese with a hint of garlic or herbs like basil or oregano introduces complexity and complements the strong pepperoni flavor.
Pepperoni Slices: Thinly sliced pepperoni works best for these toasts. For a punchier flavor, consider lightly pan-frying the slices before adding them to the toasts.
The Bake: A short time under a broiler allows the ricotta to warm and soften, and the pepperoni becomes crispy.
Final Touches: A light drizzle of olive oil and a sprinkle of fresh herbs or parmesan takes these toasts to gourmet level.
Remember, the goal is achieving a balance of textures and flavors, all in one simple, delightful bite.
Pepperoni Wontons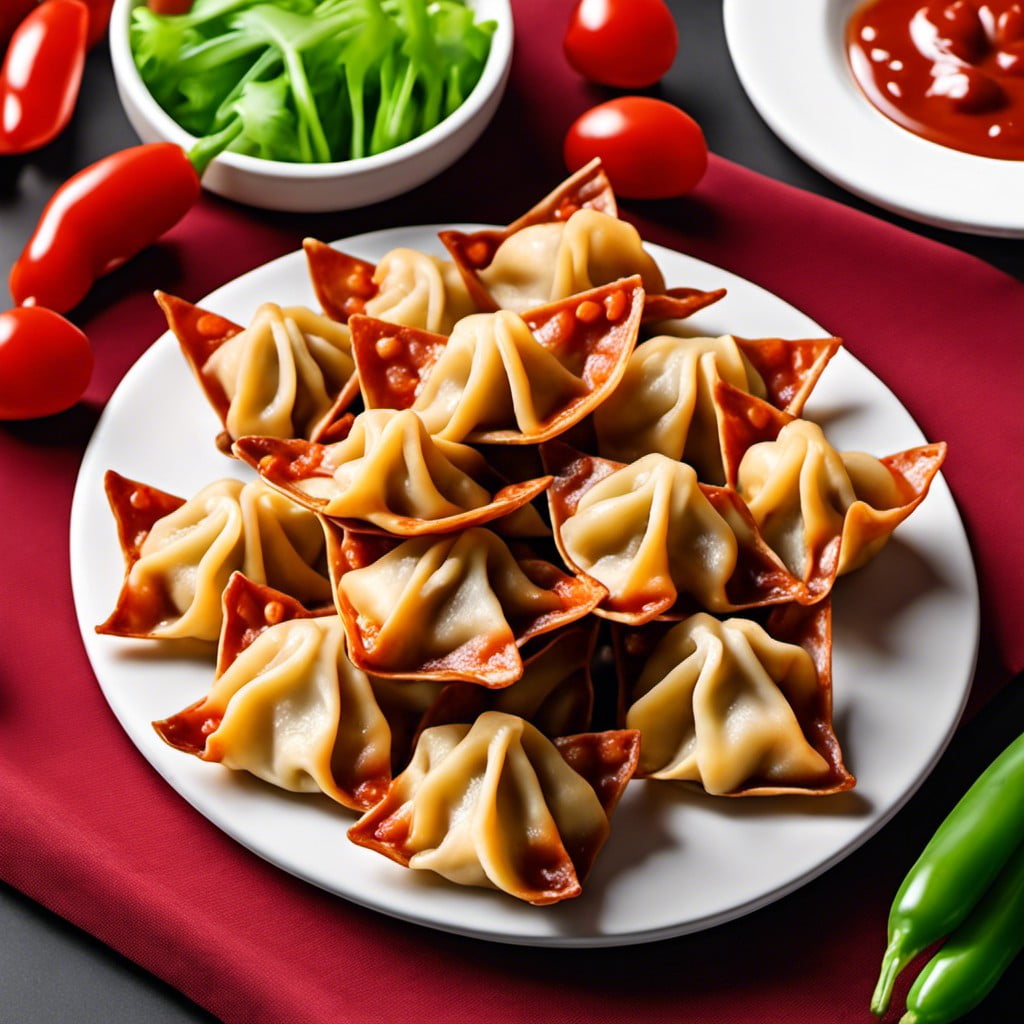 A fusion of East and West, this snack is a delightful surprise on the table. Here are four simple steps to creating this exciting dish.
1. Craft Your Filling: Combine diced pepperoni, cream cheese, and a touch of garlic for a robust, savoury finish.
2. Prep Your Wonton Wrappers: Lay out your square wrappers, remember, they dry out fast so ensure you have a damp cloth at hand.
3. Assemble the Wontons: Place a spoonful of the mixture in the center, wet the edges, and fold over diagonally to create a triangle. Be sure to press the edges together firmly.
4. Cook to Perfection: Fry them until golden brown or bake for a healthier twist. In any case, the result is a rich, crispy bite-sized treat packed with flavor.
Remember to serve hot and expect your guests to be pleasantly surprised by this unexpected culinary sensation.
Pepperoni Stuffed Peppers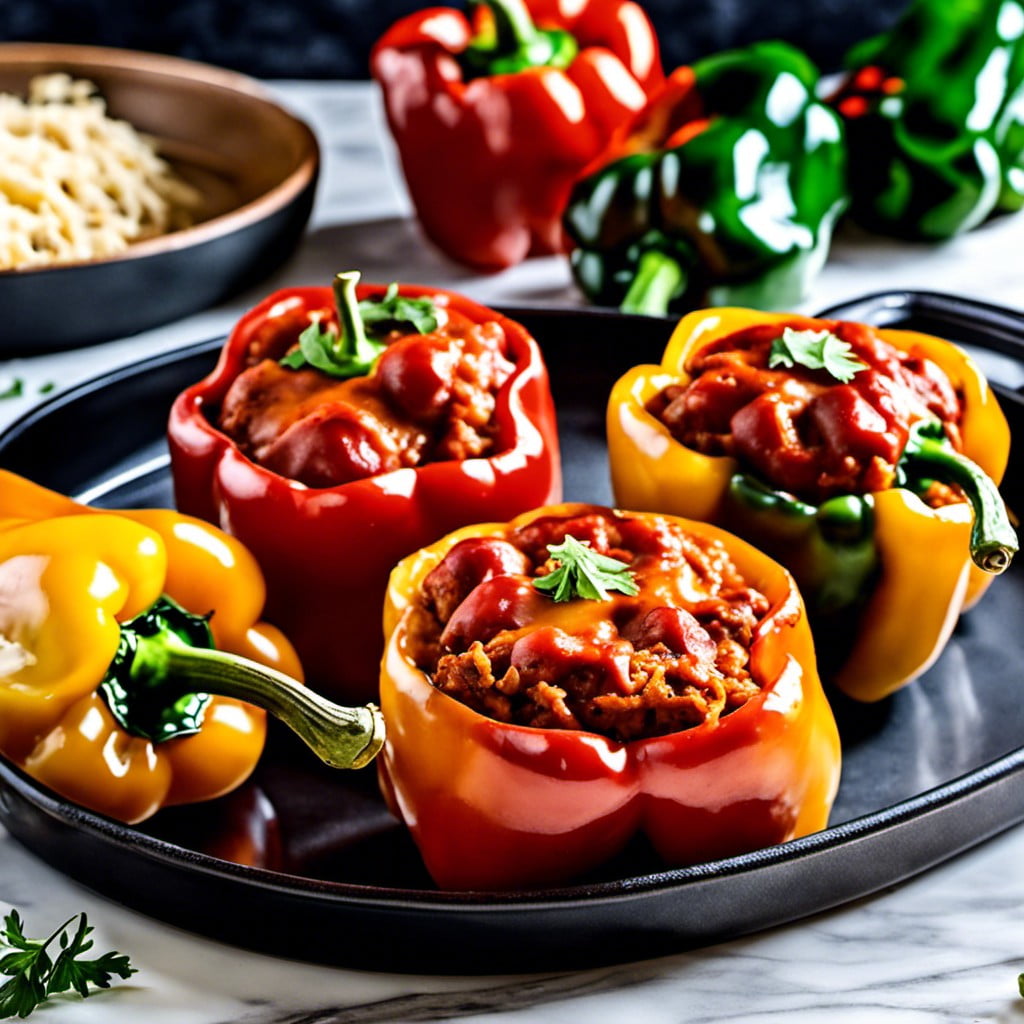 Moving forward with an intriguing twist on the classic stuffed peppers dish, let's turn the spotlight towards those pepperoni slices. This unique blend of ingredients capitalizes on the rich, savory flavors of pepperoni and is sure to delight your taste buds.
1. Choose Your Peppers: Consider bell peppers with flat bottoms for stability. Their size makes them perfect containers for generous servings of filling.
2. Stuffing Mixture: Combine diced pepperoni with cooked rice, onions, tomatoes, and spices. The pepperoni brings a blast of flavor that complements the mildness of the peppers.
3. Cheese Topping: A sprinkle of shredded mozzarella adds an echo of the classic pizza taste.
4. Cooking: A bake in the oven gives the peppers time to soften and meld flavors, transforming the ingredients into a satisfying, savory snack.
5. Serving: This dish is ideally served hot, allowing the rich flavor of the pepperoni and the melt-in-your-mouth texture of the cheese to truly shine.
Remember, this recipe is flexible, allowing substitutions based on personal preference or dietary needs, making the humble pepperoni-stuffed pepper a versatile snack option for any occasion.
Pepperoni Cheese Ball Bites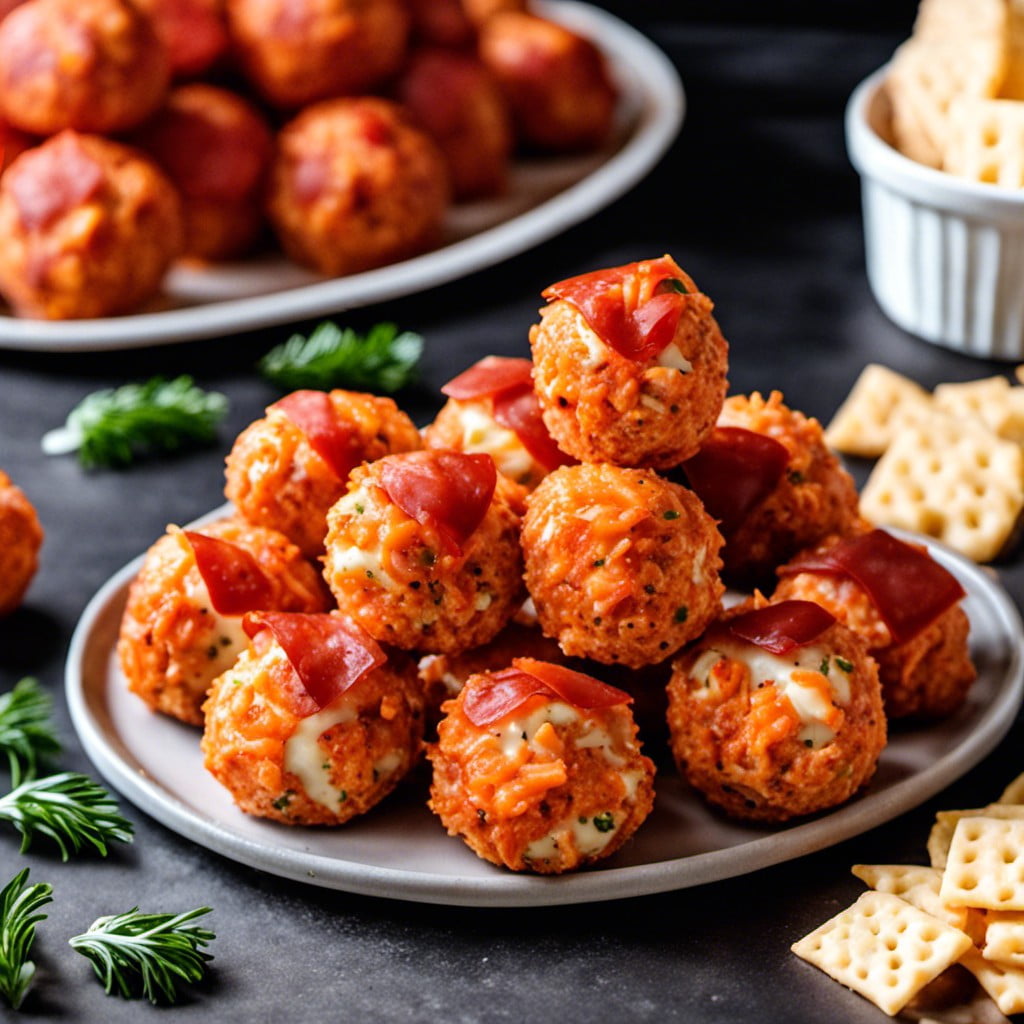 Crafted from a blend of rich cream cheese, aromatic spices, and salty pepperoni, these bite-sized delights offer an explosion of flavors that roll off your tongue.
They are easy to make; mix together diced pepperoni with softened cream cheese and shape into small balls.
Roll in a coating of your choice – chopped fresh herbs, crushed almonds, or parmesan cheese lend a pleasing crunch in contrast to the creamy center.
Once prepared, the cheese ball bites are perfect for refrigeration, meaning they can be made in advance for parties or quick snacks.
The sharp bite of the pepperoni marries impeccably with the soft cream cheese, offering a taste experience that leaves you reaching for more.
As they are served cold, they provide a refreshing yet indulgent treat on a warm day.
The compact size makes them perfect finger food, ideal for both formal and casual gatherings.
These points highlight the convenience, versatility, and crowd-pleasing aspects of this snack.
Pepperoni and Crackers Platter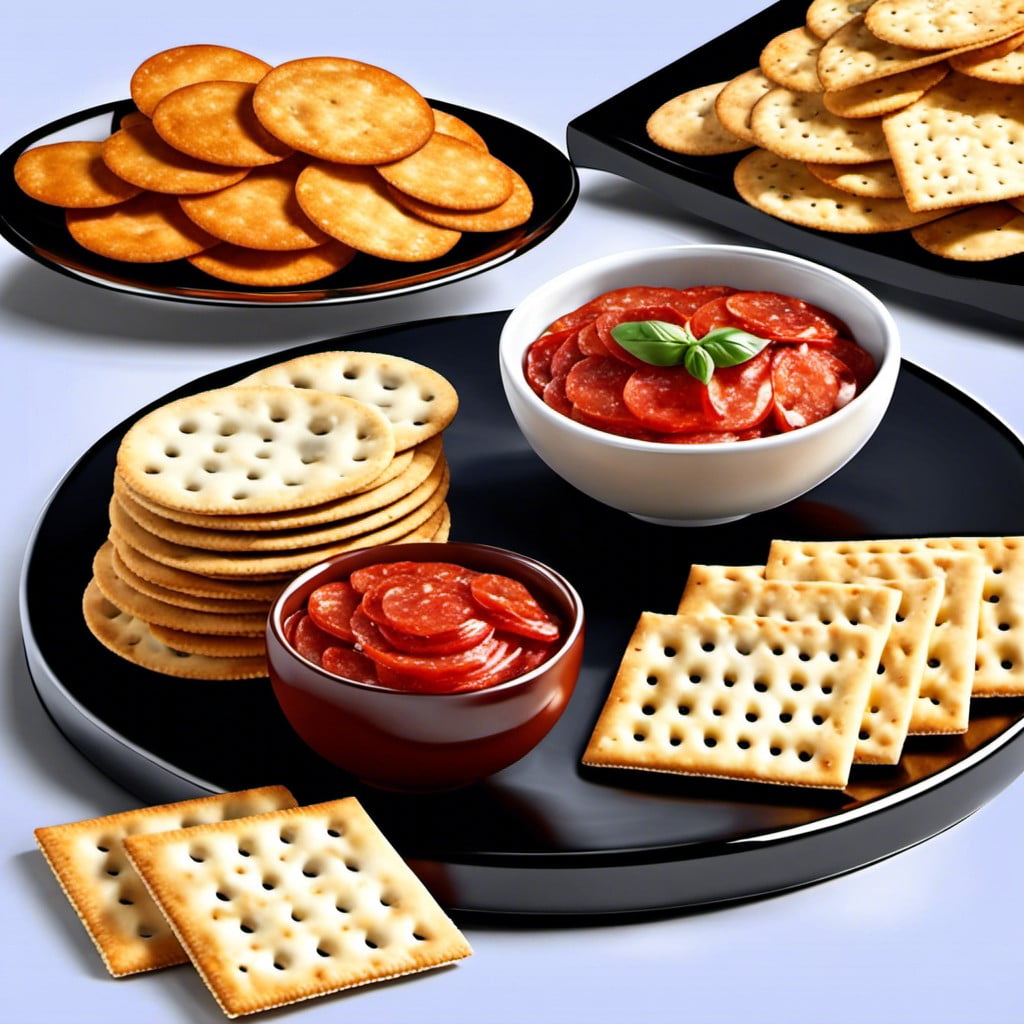 Traditionally, pepperoni and crackers platter is a simple concoction that focuses on the balance of flavors. Thinly sliced, slightly spiced pepperoni is paired with a variety of crackers, adding a level of crunch and making it an easy and quick snack.
1. Choice of Pepperoni: Use traditionally spiced or smoky pepperoni for a strong flavor. Whether you choose to buy in slices or slice it yourself, remember that thin slices make the snack experience more enjoyable.
2. Variety of Crackers: Experiment with different types of crackers – from classic butter crackers to multi-grain or flavored ones for extra kick. This allows each bite to be a unique experience.
3. Presentation: Arrange the platter in a visually appealing manner. Alternating rows or a circular pattern can elevate the overall look of the snack.
4. Accompaniments: Introduce additional sides such as cheese cubes, olives, or even a chili or barbeque dipping sauce for a different flavor profile for each nibble.
The key to a great pepperoni and crackers platter is combining diverse tastes and textures, while keeping it simple and effortless.
Pepperoni and Mozzarella Sticks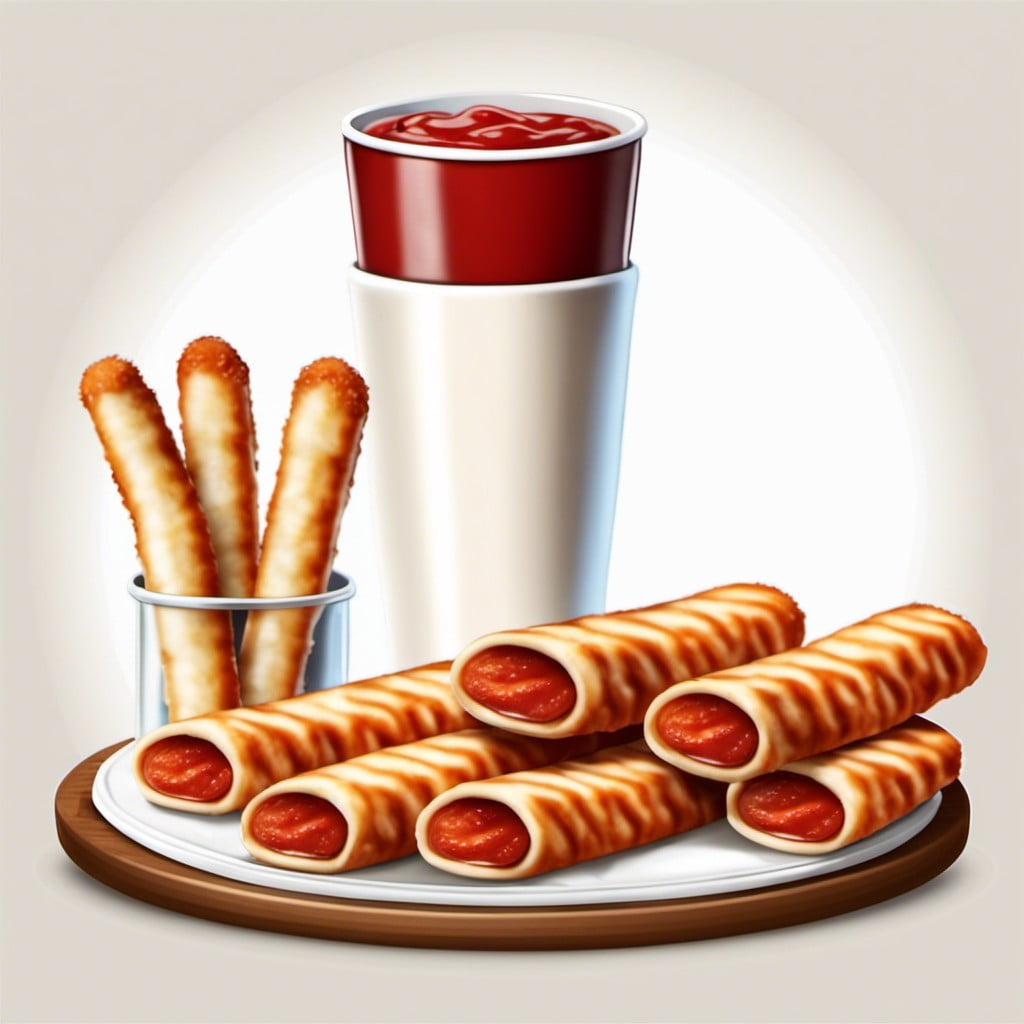 These delightful treats combine the rich, stringy goodness of mozzarella with the spicy tang of pepperoni, offering a burst of flavor in every bite.
The preparation process involves wrapping mozzarella sticks in pepperoni slices.
For an extra touch of crispiness, you might opt to bake them in the oven until the cheese starts to melt, and the pepperoni begins to crisp.
Offering versatility, you can enjoy them as a standalone snack or dip them in a sauce of your preference, such as marinara or ranch, for added depth of flavor.
They make the perfect option for an easy, yet appetizing, party snack or a quick lunch box filler.
The simple ingredients and quick preparation time make this snack a go-to option for those pressed on time but still wishing to enjoy a satisfying, tasty snack.
The mixture of textures, the softness of the cheese, contrasted with the slight crunch of the pepperoni, elevates these from simply filling a hole, to a genuine culinary treat.
For a healthier alternative, consider using low-fat mozzarella and turkey pepperoni.
Pepperoni and Olives Skewers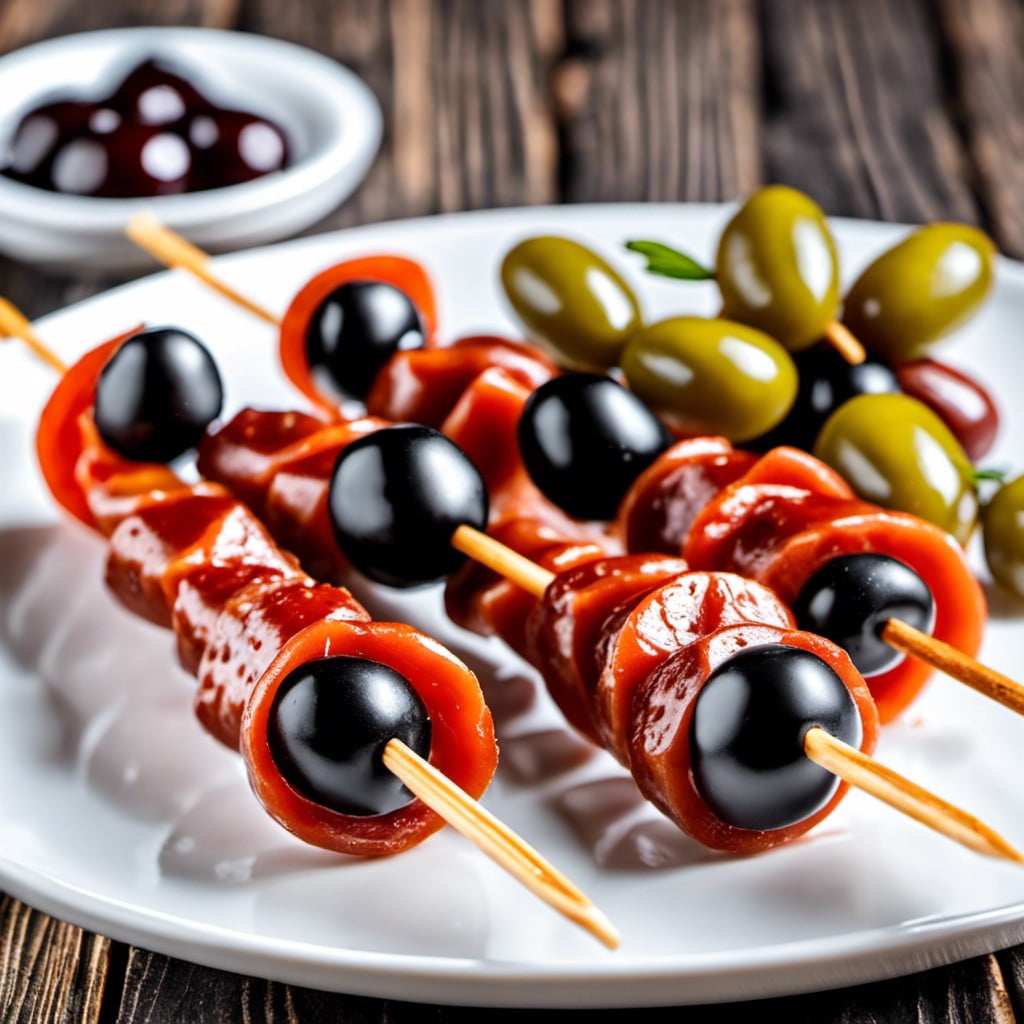 Skewering these bite-sized treats is an ideal way to serve a stunning and tasty snack without the hassle of complicated cooking methods. You will need a jar of olives, whether they're kalamata or green depending on your preference, and small bite-sized slices of pepperoni.
First off, all ingredients should be patted dry to prevent sogginess. Simply slide an olive, followed by a slice of pepperoni onto a small skewer or toothpick, and repeat until the skewer is filled. For an added flavour punch, consider including miniature mozzarella balls in the skewer mix. They complement the spices of the pepperoni and the briny tang of the olives.
If desired, these skewers can also be lightly grilled to add a smoky depth to the snacking experience. Always remember to keep your snack size manageable. When serving, a chili or garlic infused oil drizzled on top can elevate this snack from simple to gourmet. Lastly, before indulging, allow the skewers to rest for a few minutes to let the flavours meld together, enhancing the overall taste.
From prep to serve, this simple yet delicious snack requires no more than 15 minutes, making it not just tasty, but also time-effective. Perfect for parties, potlucks or even a quick movie snack, pepperoni and olive skewers are a sure way to impress and satisfy.