Explore a variety of delectable Passover snack ideas that not only uphold tradition but also tantalize the taste buds.
Seeking Passover snack ideas? Look no further. This article provides a plethora of snack options that adhere to the dietary restrictions of Passover. From savory matzo-based snacks to sweet treats made without leavened grains, there's something for everyone.
Not only will these snacks satisfy your cravings, but they also embrace the traditional ingredients and flavors of the holiday. Read on to explore the comprehensive list of easy-to-make and delicious Passover snacks that will keep your taste buds happy throughout the holiday season.
Matzo Ball Soup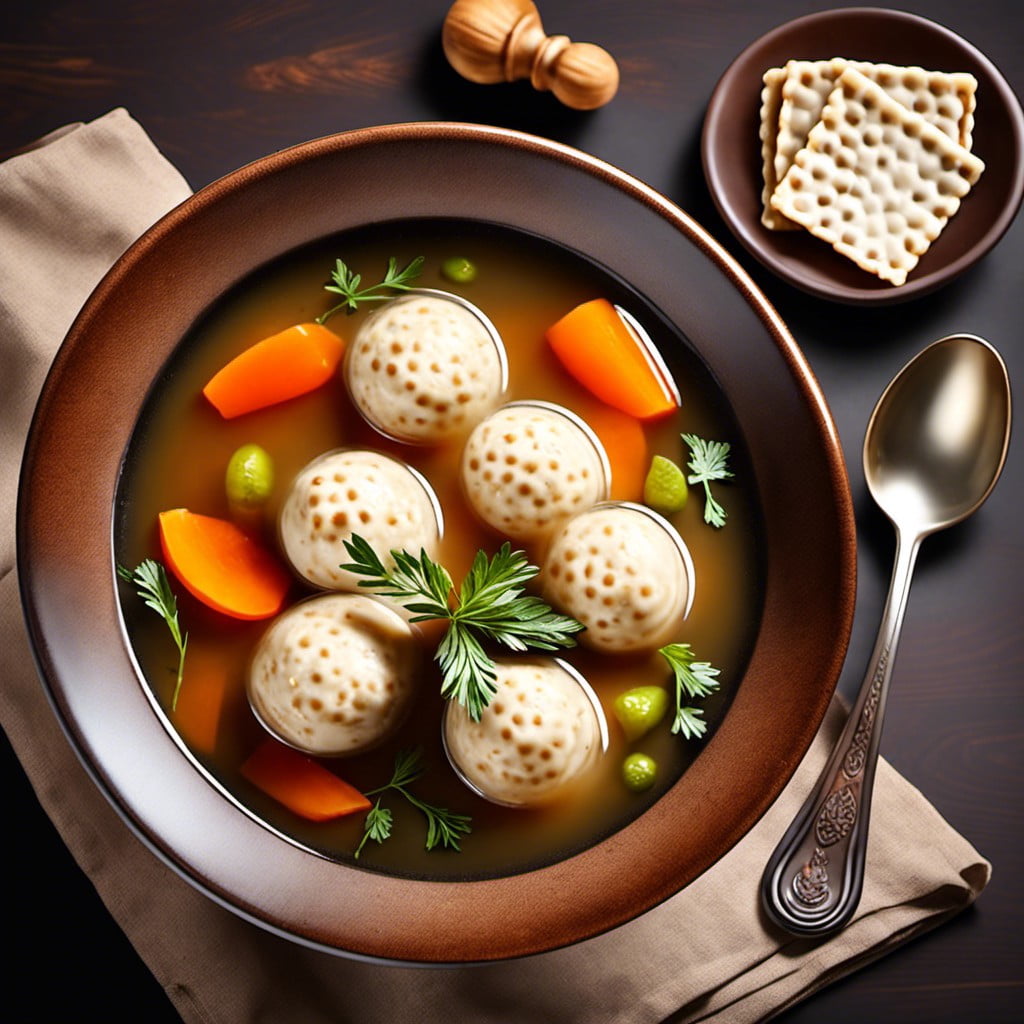 Aged to perfection, this culinary classic signifies more than just a tradition; it's a source of comfort that nourishes both body and soul. The process begins with a blend of eggs, matzo meal, and often, a dollop of schmaltz (chicken fat) to bind it all together. These ingredients create the quintessential dumpling or 'matzo ball'.
The matzo balls are then cooked in a pot of rich, flavorsome broth, usually made from chicken, onions, celery, and carrots. Some prefer their matzo balls light and fluffy while others enjoy them denser and heavier. The end result is a warming bowl of soup with the matzo balls soaking up the goodness of the broth.
In terms of its significance during Passover, matzo balls symbolize the unleavened bread the Israelites took with them during the Exodus. As such, it harmonizes the themes of freedom and redemption with culinary delight, serving as an appetizing reminder of the holiday's history.
Chocolate Covered Matzo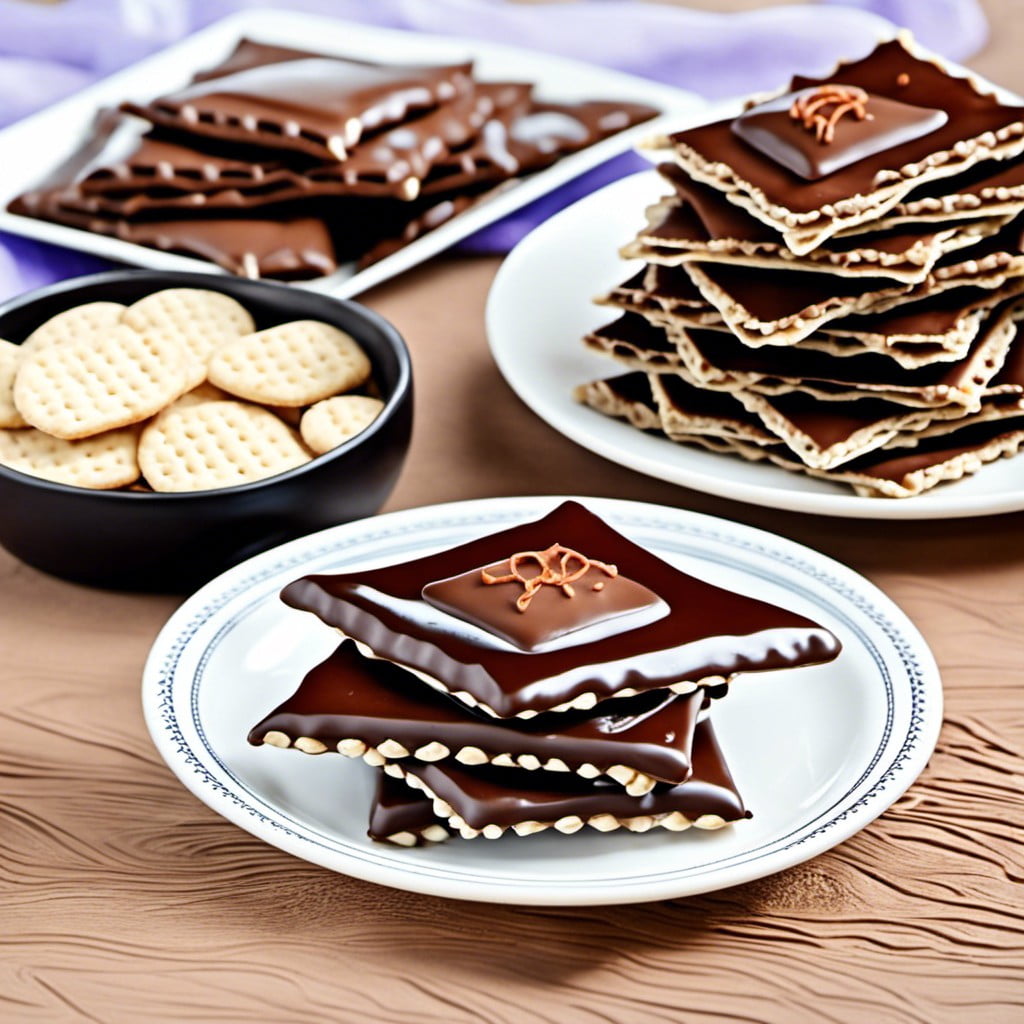 Equating simplicity with scrumptiousness, this snack is a prime example of Passover innovation. In essence, it harnesses the plain, crispy texture of matzo, transforming it into a sumptuously coated delight.
The process is a breeze – all it takes is melting kosher-certified dark chocolate and spreading it generously over each matzo piece. For added appeal, consider sprinkling sea salt, nuts, or dried fruits on top while the chocolate is still soft.
Once cooled, the result is an unforgettable, crave-worthy, and most importantly, Passover-appropriate snack. It manages to salute tradition while still satisfying those pesky sweet tooth cravings.
The balance of the salty matzo with the sweet, silky chocolate is a symphony of flavor not to be missed.
Matzo Pizza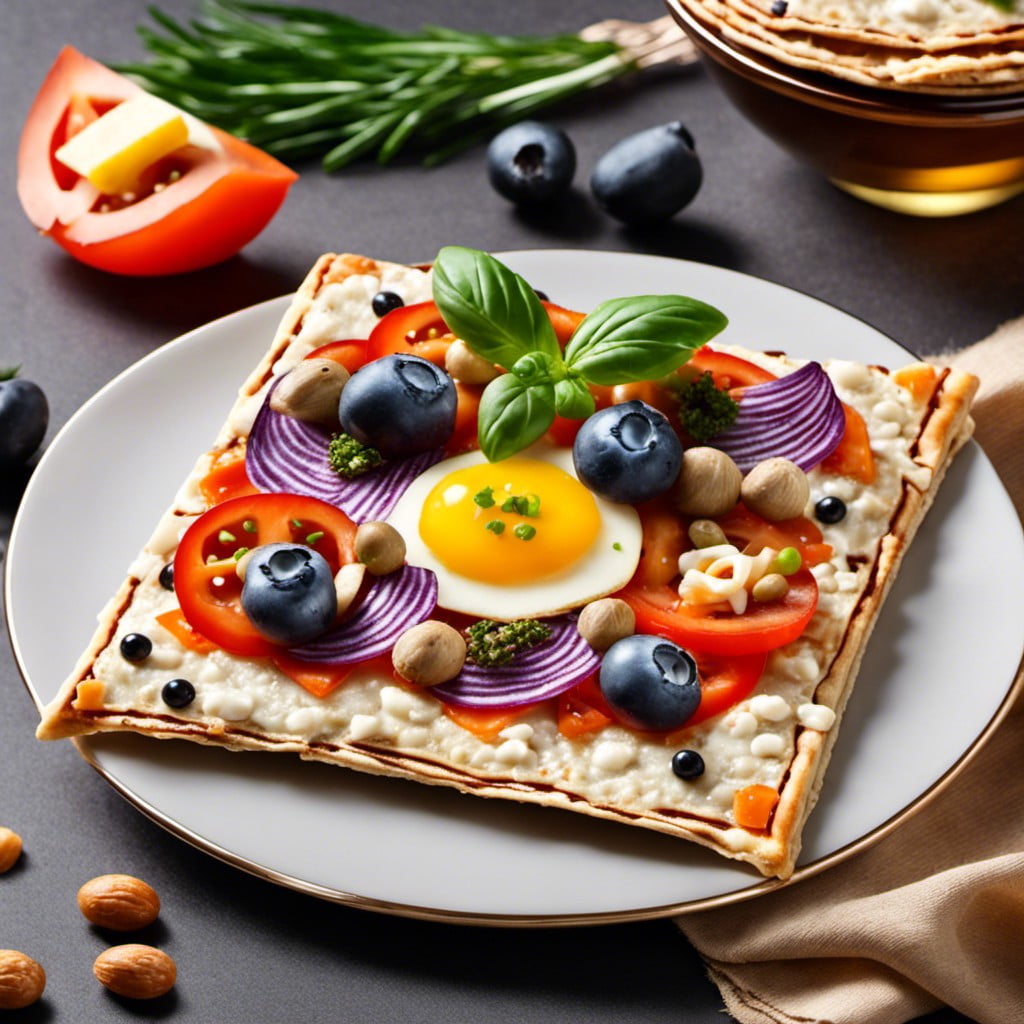 The beauty of this treat lies in its simplicity, adhering strictly to the dietary regulations of Passover while allowing for some culinary creativity.
Start with an unleavened matzo cracker which serves as the perfect thin crust base.
Spread a savory layer of kosher tomato sauce before generously sprinkling shredded mozzarella cheese.
The next step is where personalized touch comes into play – top this canvas with your favorite kosher-for-Passover ingredients.
Perhaps thinly sliced vegetables like bell peppers and mushrooms, or maybe some olives and onions.
Finally, pop into an oven preheated to 450°F (232°C) but keep an eye on it, as it only takes a few minutes to reach crispy, cheesy perfection.
The result is a delightful snack that's sure to satisfy any time you're feeling peckish during Passover.
A word of caution though – these are known to disappear fast!
Charoset Truffles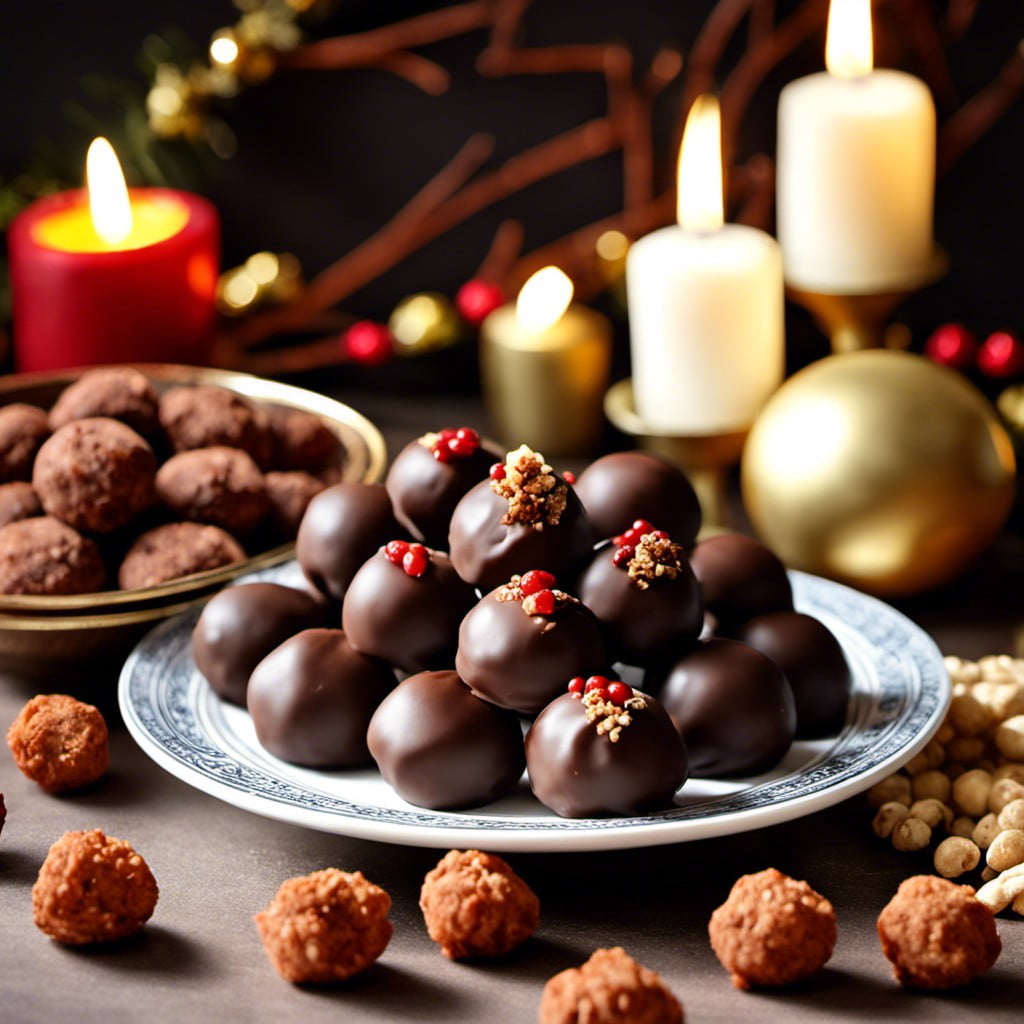 These bite-sized delights are known for their unique blend of textures and flavors. At its core is the traditional Charoset — a mix of finely chopped apples, walnuts, sweet wine, and warm spices like cinnamon and nutmeg.
The secret to making these truffles truly unforgettable lies in binding the Charoset into a rough ball shape and dipping it into a bath of smooth, melted chocolate.
Consider coating your truffles in various ways to add an element of surprise to each bite. Be it finely chopped nuts, coconut flakes, or even a sprinkle of sea salt – the exterior layer is another opportunity to play with flavors.
The result is a sweet yet slightly tart truffle, enriched by the full-bodied flavor of the chocolate. It's an indulgent yet deliciously balanced snack idea, offering a punch of flavors in a compact form.
Furthermore, they can be prepared in advance, making them an easy solution for those juggling the Passover meal preparations.
Passover Macaroons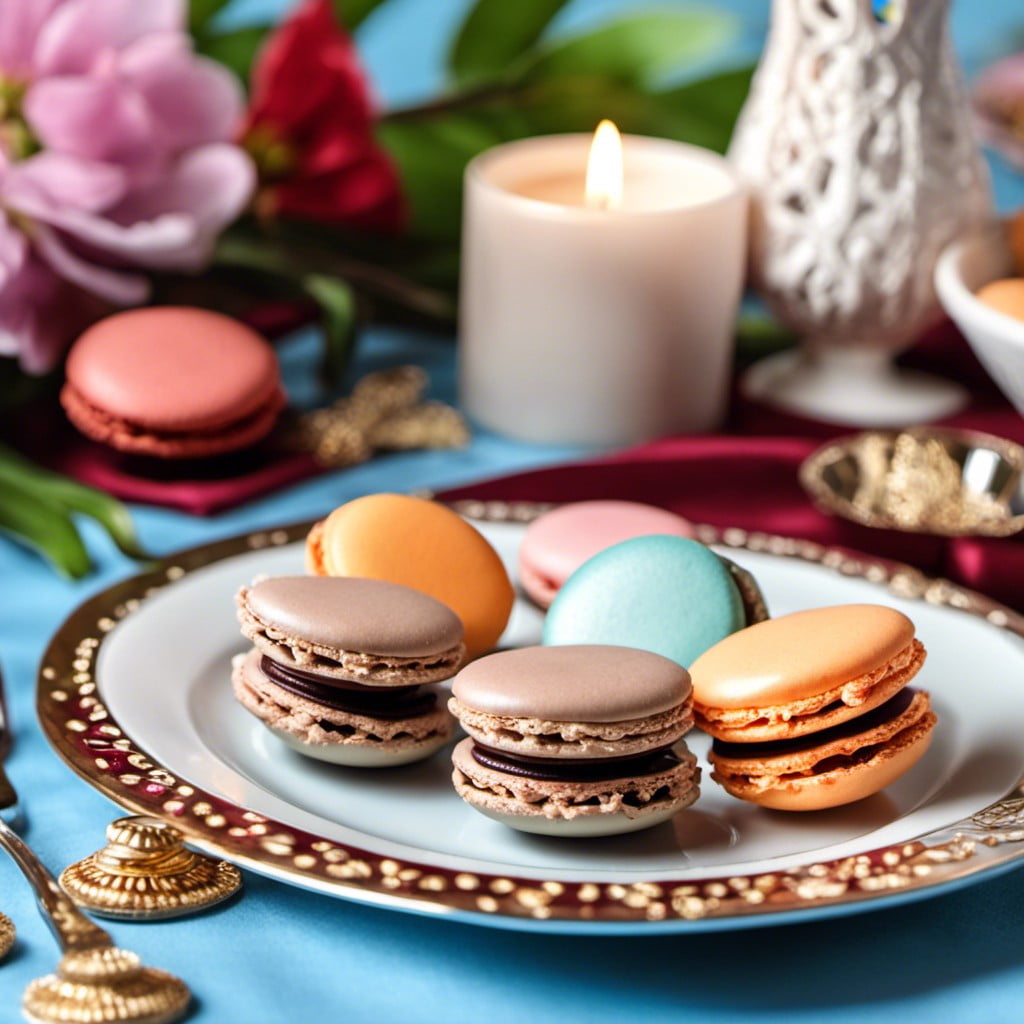 These delightful sweets are a Passover staple, symbolizing the unleavened bread consumed during the Jewish Exodus. They're typically made from shredded coconut, sweetened condensed milk, and egg whites, making them a suitable treat for those observing the holiday's dietary restrictions.
But these aren't just for the holiday; their light, airy texture and sweet, nutty flavor make them a delicious treat anytime. You can customize the basic recipe by adding chocolate chips, almond extract, or a chocolate dip.
The best part is they're easy to make, requiring only a few ingredients and simple baking skills. One bite and you'll be transported to a realm of crunchy, chewy delight, indeed a welcome contrast to an overload of matzo meals.
Quinoa Tabbouleh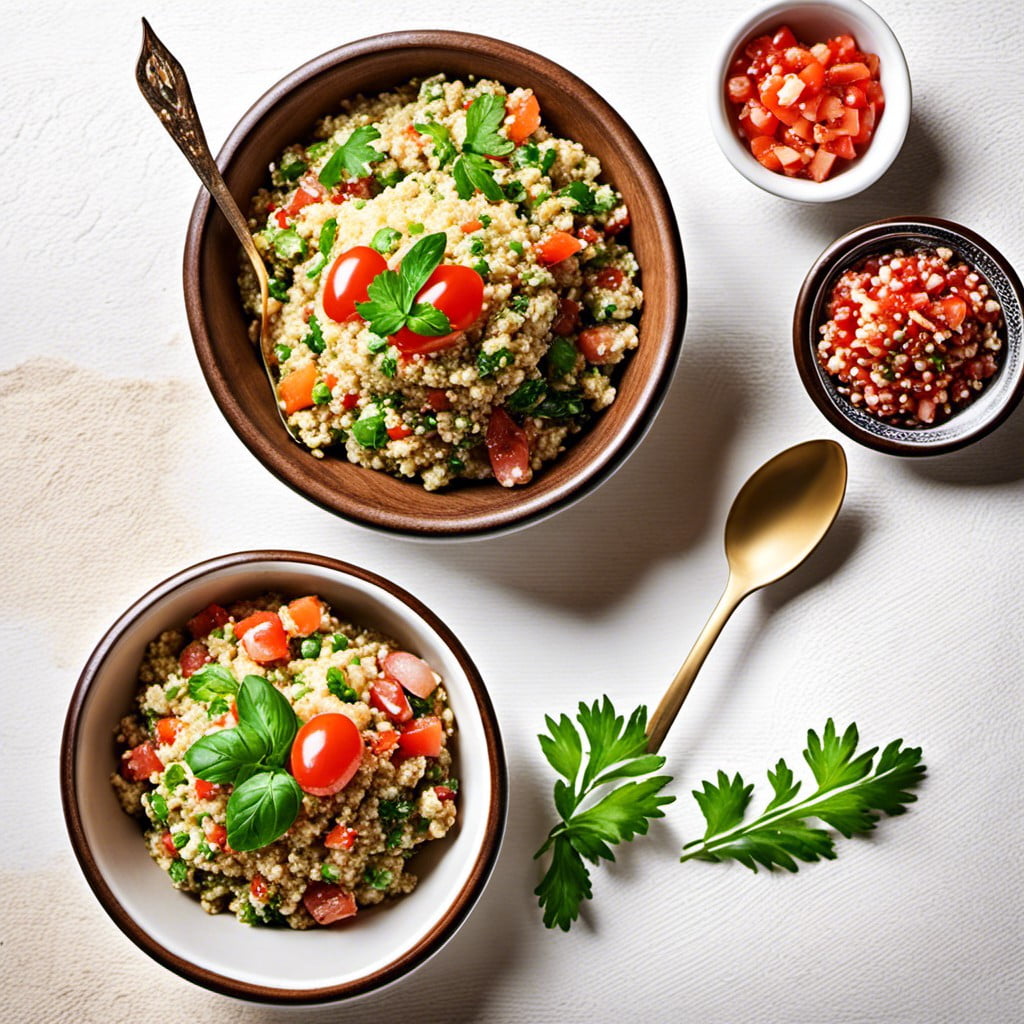 Loaded with raw veggies and fresh herbs, Quinoa Tabbouleh is a wonderful reinvented classic suitable for Passover. Quinoa, a pseudo-cereal, is a superb substitute for traditionally used bulgur wheat. This cool, refreshing salad is made even more delightful with a spritz of lemon juice, providing a tangy complement to the quinoa.
Firstly, cooked quinoa is left to cool before being mixed with fine-chopped fresh parsley, mint, tomatoes, and cucumbers to create a medley of flavors. A homemade dressing, typically composed of olive oil, lemon juice, garlic, and a dash of salt and pepper, basks the salad with a light, zesty tang. The result is a protein-packed, nutritious snack that can be prepared ahead of time, ready to be served chilled from the fridge.
To make it more enjoyable, consumers often experiment with ingredients, adding ingredients such as bell peppers for more crunch, or raisins for a subtle sweet touch. This makes Quinoa Tabbouleh not just a delicious treat, but also one that can be tailored to individual tastes and preferences.
Potato Kugel Cups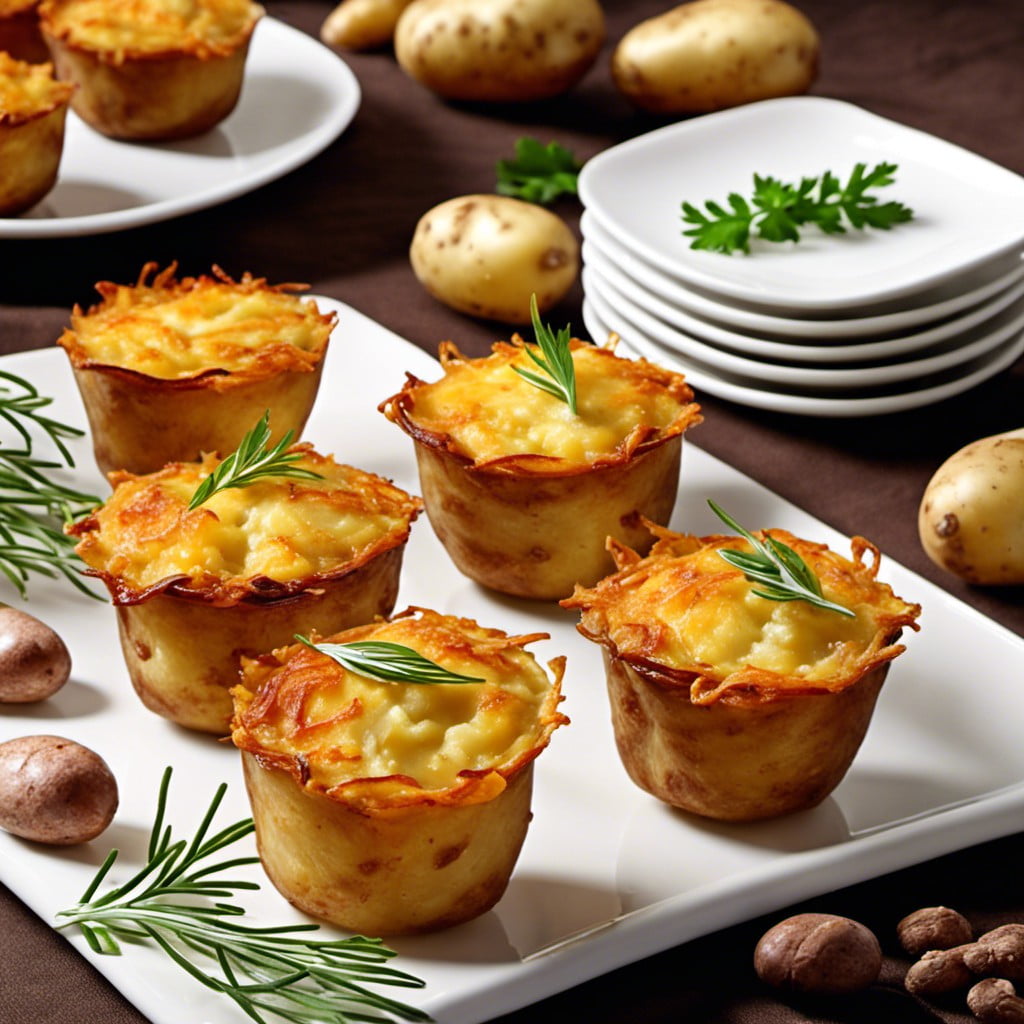 These savory mini-potato treats are a classic during Passover. Made from finely grated potatoes, onions and eggs, these delicious bites are baked until the top forms a delightful crust, while the inside remains soft and creamy. The beauty of these cups lies in their simplicity and versatility. They can be served warm or at room temperature, perfect for a snack anytime during the day.
One of the key points to achieving the perfect potato kugel cup involves removing as much moisture as possible from the grated potatoes. This helps to ensure a crispier texture. Also, the inclusion of onions not only adds to the flavor but also creates an overall well-balanced bite.
Feel free to add your own personal touches to the recipe – some prefer to add spices such as rosemary or thyme for an extra layer of flavor. However, they stand out perfectly well with just salt and pepper, letting the natural vegetal sweetness of the potato shine.
Apart from the taste, the compact and neat shape of these cups makes them an appealing, mess-free snack for children. Moreover, this individual-serving format can be a delightful, fun-sized addition to your Passover snack lineup.
Flourless Chocolate Cake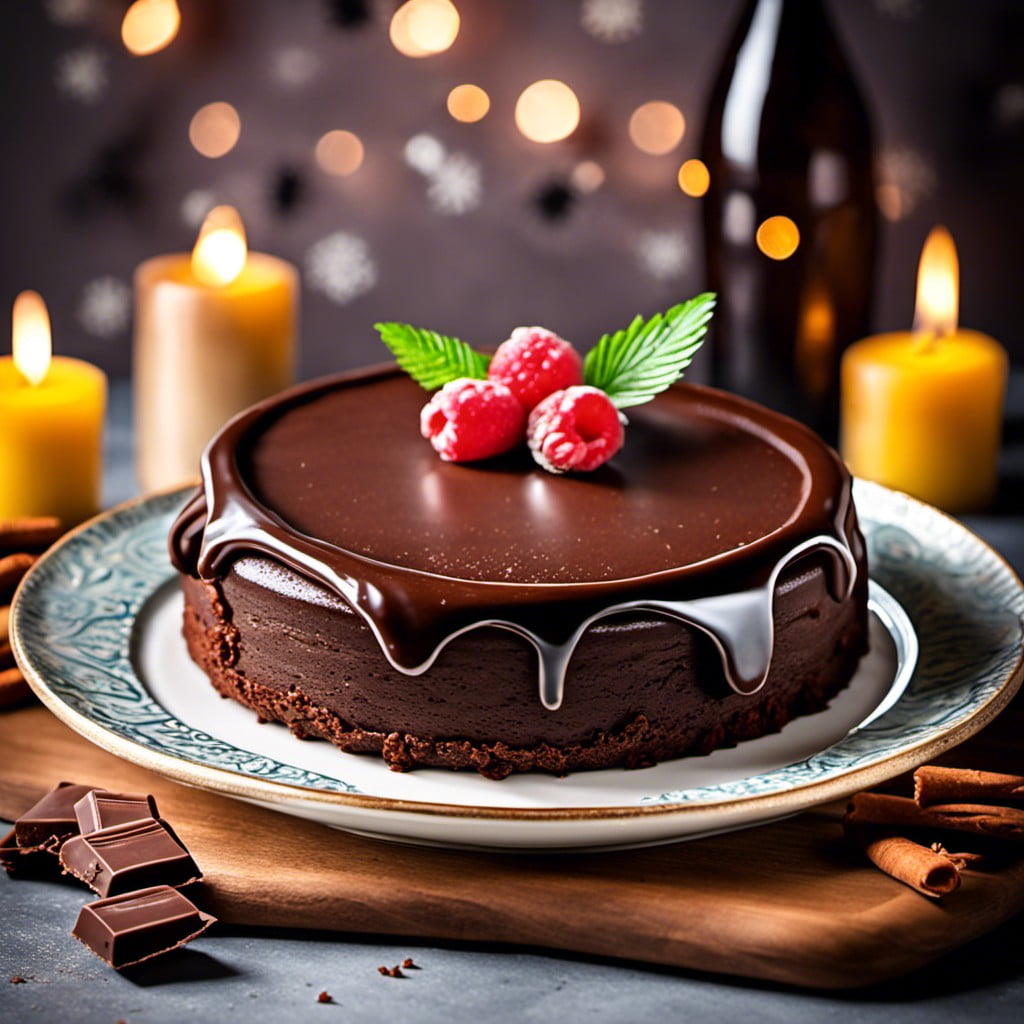 Rich, moist, and decadent, this dessert takes chocolate to a new level. Ideal for the Passover feast, its preparation omits flour entirely, aligning with dietary restrictions of the holiday. A combination of high-quality dark chocolate, butter, sugar, cocoa powder, and eggs creates a dense, fudgy consistency that chocolate lovers only dream of.
Here are the key pointers:
Quality of Ingredients: Since the ingredients are so few, each plays a significant role. Opt for a good quality dark chocolate and unsalted butter.
Importance of Cooling: Post-baking, allowing the cake to cool completely is vital. It helps in setting the cake and enhancing its flavours.
Serving Suggestions: A dusting of powdered sugar or a dollop of whipped cream pairs perfectly. Fresh berries add a splash of color and a tangy contrast to the rich cake.
An indulgent treat, it's a standout at any celebration meal. However, its simplicity and lack of flour make it a perfect choice for Passover.
Matzo Brei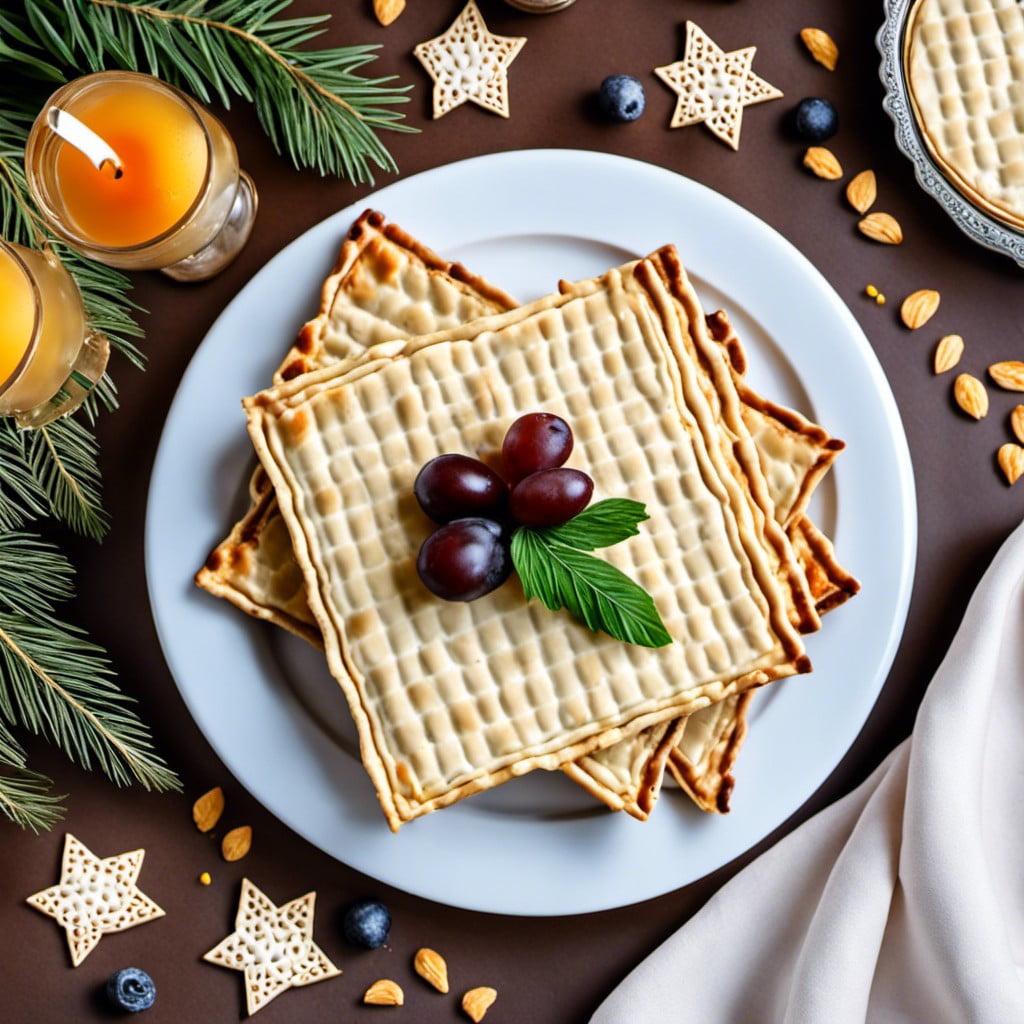 Traditionally a breakfast dish, Matzo Brei can effortlessly double as a satisfying snack anytime during Passover. It's essentially a simple mixture of matzo and eggs, fried until crispy. The matzo is first soaked in water until softened, then mixed with whisked eggs, and finally pan-fried to achieve a delightful balance of texture—crispy on the outside and tender on the inside.
The beauty of Matzo Brei lies in its versatility. It can be made sweet by adding ingredients like cinnamon, vanilla extract, or honey or made savory by adding salt, pepper, onions, or even smoked salmon. Furthermore, its preparation doesn't require culinary prowess, making it accessible to cooks of all skill levels. In the end, Matzo Brei is more than just a snack—it's a customizable tradition, and an absolute must-have dish during the Passover festivities.
Coconut Mango Popsicles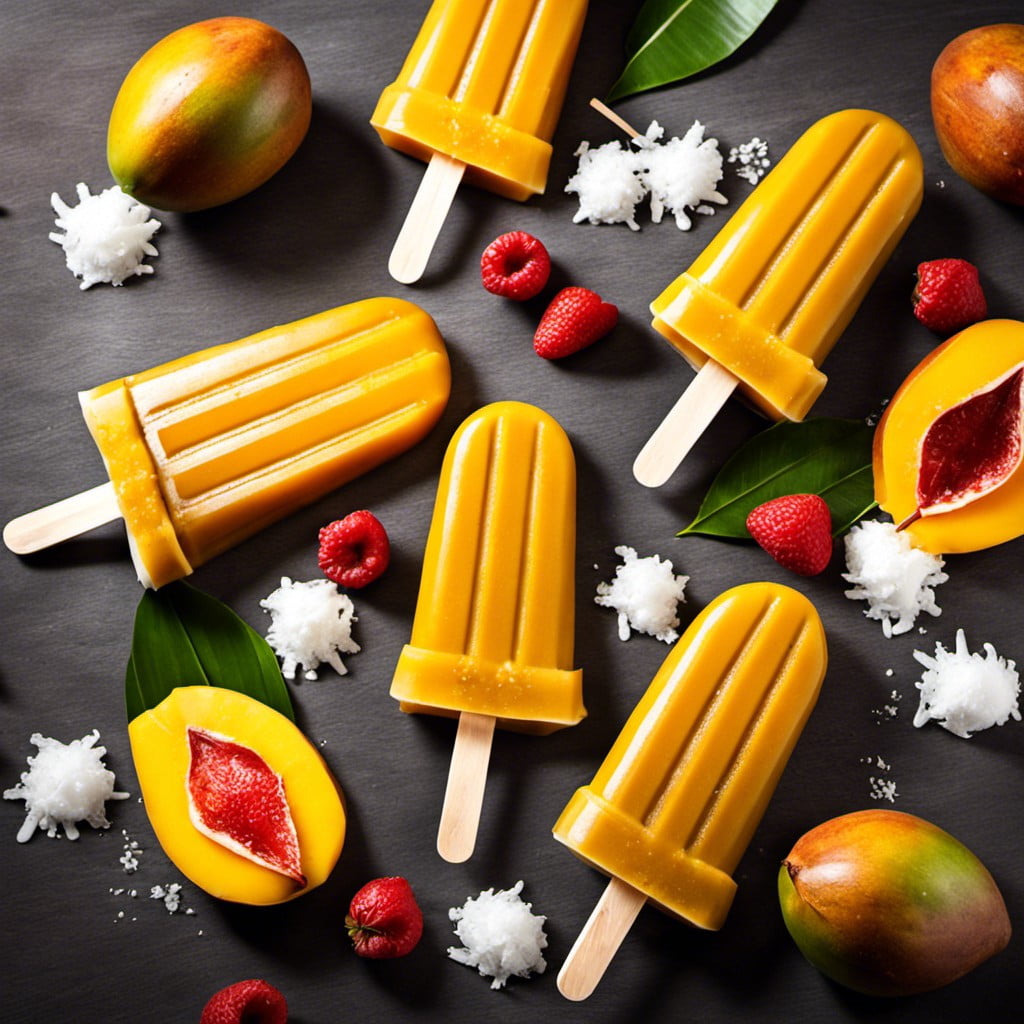 A perfect treat to beat the heat during the Passover season, these popsicles, made with a creamy blend of coconut milk and ripe mangos, embody simplicity and refreshment.
Here's what you need to know:
Ingredients: The primary components are juicy, ripe mangos, full-fat coconut milk, and honey or kosher for Passover sweetener. Optional ingredients could include vanilla extract or a pinch of salt to enhance the flavor.
Preparation: Blend together the mangos and coconut milk until smooth, then add your sweetener. Pour this mixture into popsicle molds and freeze.
Nutritional benefits: Mangos are high in vitamins C and A; coconut milk provides healthy fats.
Dietary restrictions: As a non-dairy and gluten-free snack, these are suitable for a wide range of dietary needs, while staying within Passover guidelines.
Customization: Consider adding crushed nuts or shreds of coconut on top before freezing for an extra crunch.
Remember always to choose ripe mangos for the sweetest result. They should give slightly when gently pressed. Enjoy this cool, tropical snack during this special time!
Apple-Walnut Haroset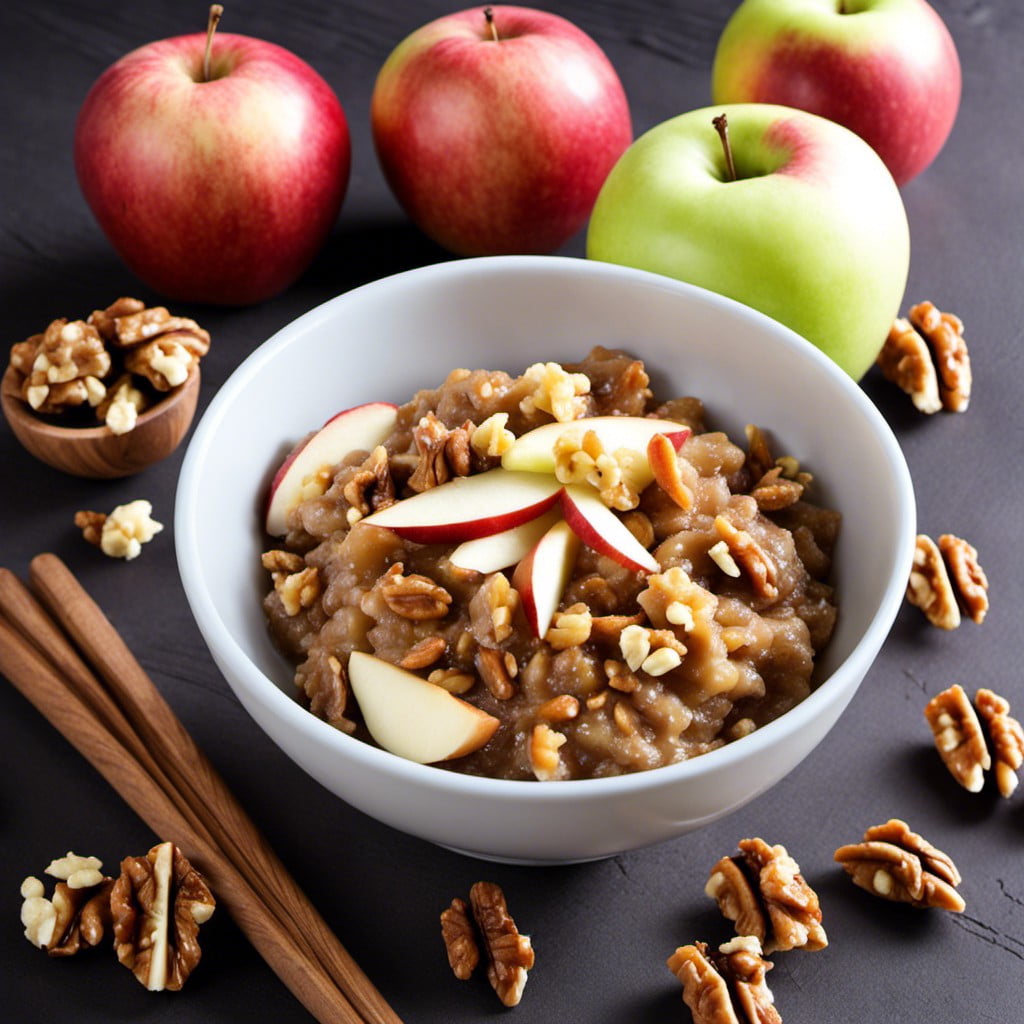 This delicious sweet dish is rich in texture and flavor. Carrying forward the meaning of Passover, Apple-Walnut Haroset is symbolic of the mortar the Jews used while enslaved in Egypt. It really couldn't be simpler to prepare.
Start by choosing your apples. Crispy, tangy varieties like Granny Smith or Braeburn, diced into small pieces, provide a wonderful contrast to the rich, crushed walnuts. Next, incorporation of honey and red wine adds a unique, palatable depth to the snack. Don't forget a sprinkle of ground cinnamon, which infuses the mixture with a warm, aromatic note.
The snack is ideally prepared a few hours ahead, allowing the flavors to meld together. The end result is a vibrant, tasty condiment perfectly served with Matzo. This offering is sure to impress your guests with both its poignancy and its scrumptious taste.
Sweet Potato Chips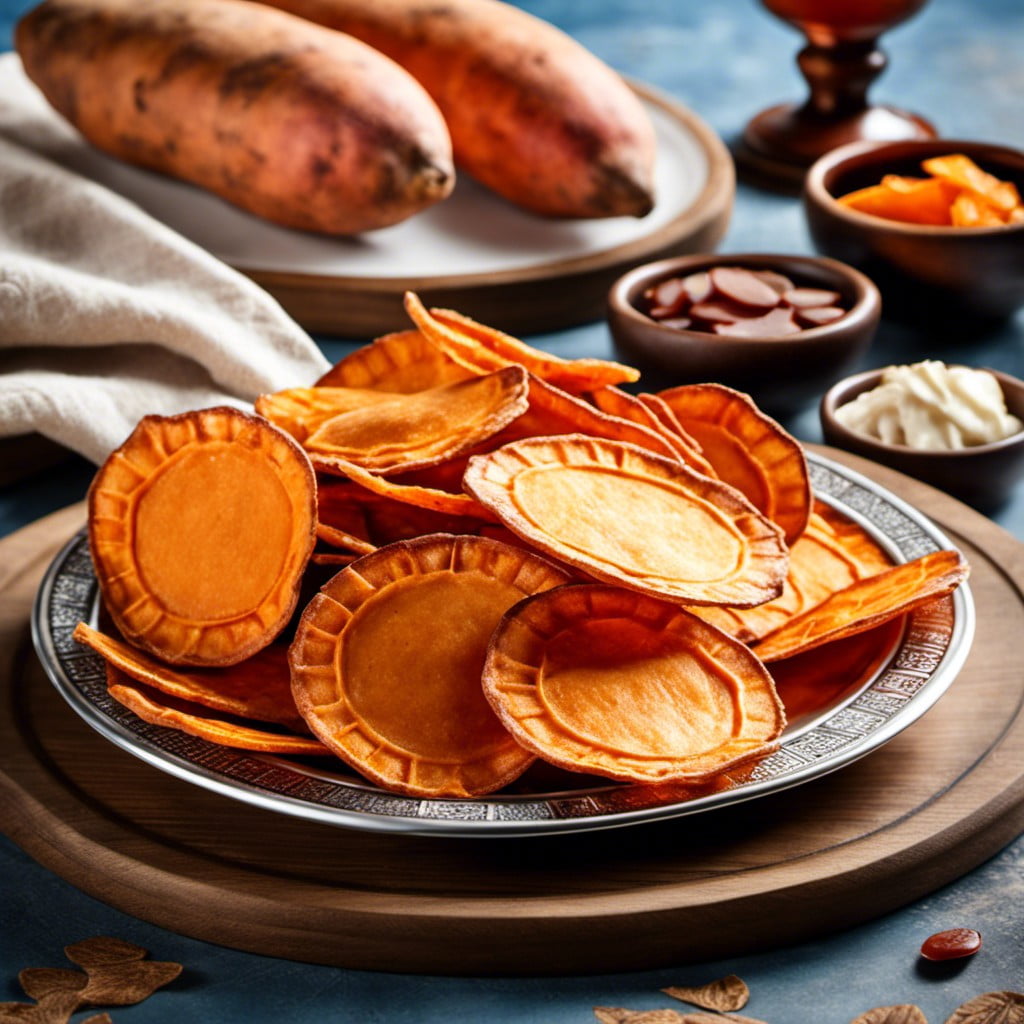 These palate-pleasing snacks are perfect for nibbling on throughout the Passover fasting period. A healthier twist on the traditional, these chips are made from sweet potatoes: an excellent source of vitamin A and fiber, promoting better digestive health.
Cooking them at home allows for control over the amount and type of oil used, meaning a guilt-free indulgence. While splendidly savory when sprinkled with salt, a dash of cinnamon can take them to new sweet and spicy heights.
Bake them in a single layer on a baking sheet for maximum crunch and make sure to give them a good toss halfway through cooking for an even bake. Consider serving these vibrant chips with a homemade dip; a tangy, yogurt-based concoction or a robust, avocado guacamole both pair wonderfully.
Almond Butter and Jelly Matzo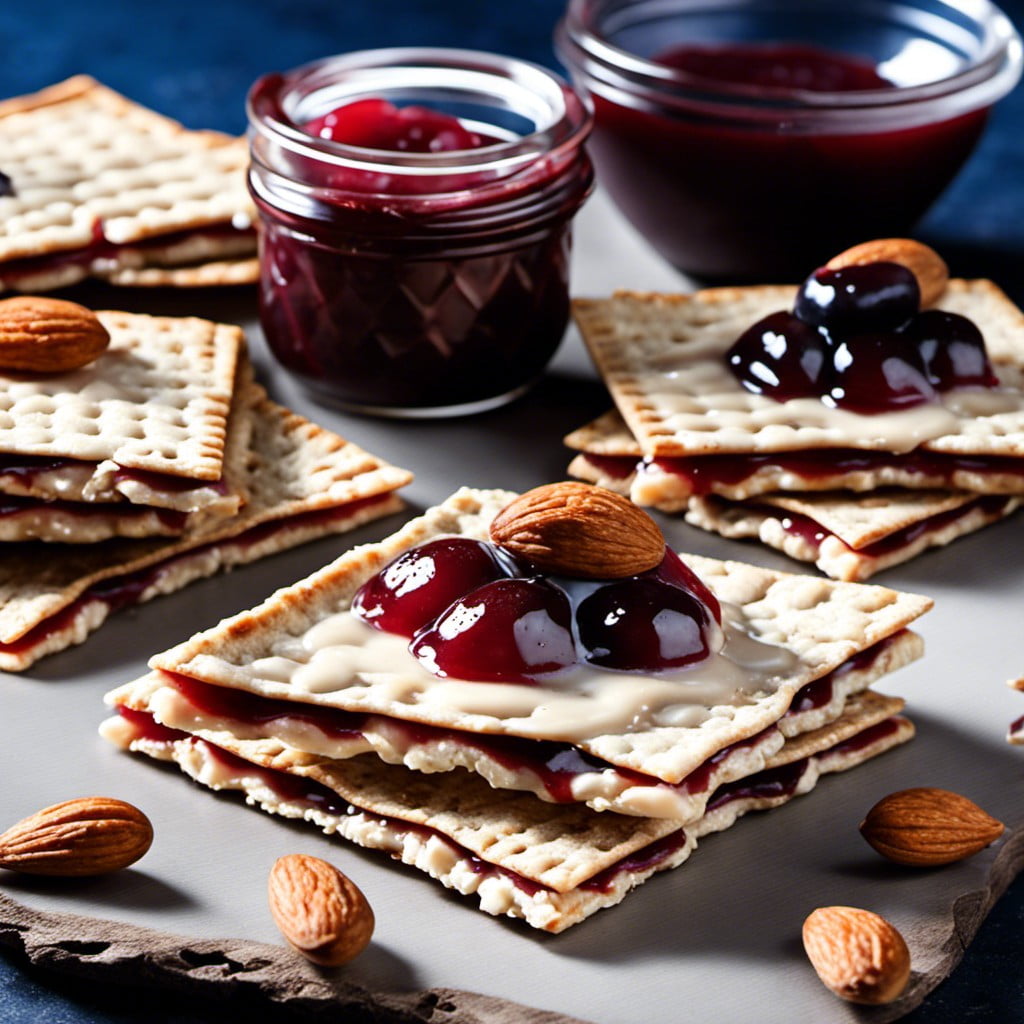 Adhering to the Kosher restrictions of Passover doesn't mean you have to compromise on flavor. Consider an inventive, yet simple twist on your traditional bread-based sandwich with the use of Matzo. Smooth almond butter lends itself to a creamy contrast against the crunchy Matzo, while a slick of your favorite jelly adds a burst of sweetness.
Here are some noteworthy points:
Use whole grain or spelt Matzo for added fiber and nutrition.
Opt for all-natural, unsweetened almond butter to avoid added sugars.
For a fun spin, instead of regular jelly choose flavor-packed fruit preserves or even fresh fruit slices.
To make it more filling, top with chia or flaxseeds, both of which are Passover-friendly.
For those with nut allergies, replace almond butter with sunflower seed or soy nut butter.
This easy snack requires minimal prep time and is something family members of all ages will appreciate.
Passover Rolls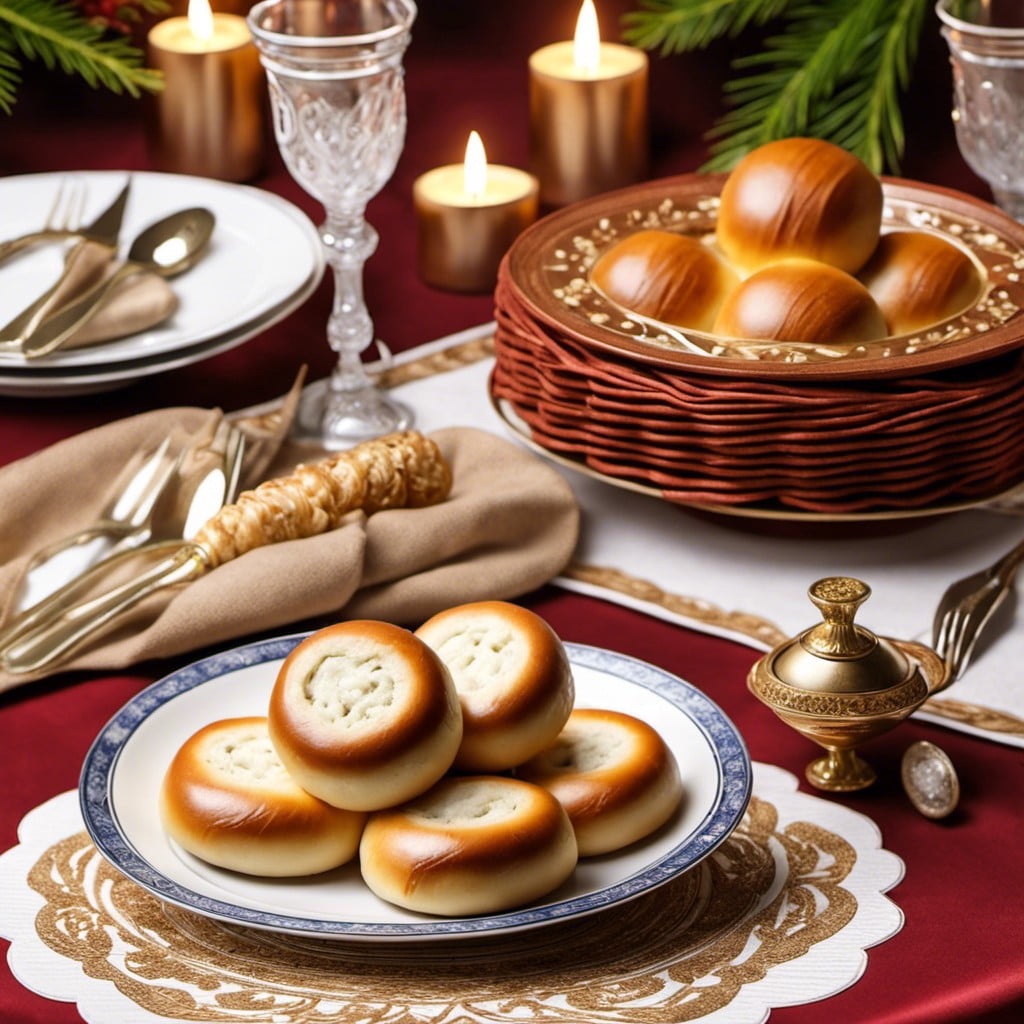 Traditionally fluffy and delicious, these bite-sized delicacies come into their own during Passover. Their versatility is a plus – serve them alongside your main meal or simply eat them on their own as a light, tasty snack. Made with simple ingredients like eggs, sugar, oil, water, and matzo meal, these rolls boast a unique texture and taste that sets them apart.
Baking is a key process in forming their light, airy textures. Drop spoonfuls of the batter on a baking sheet and you're halfway home—no kneading required. As the mixture bakes, it expands, creating a hollow center. This makes them perfect for filling with your favorite spreads or dips, adding a further dimension to their consumption. Bear in mind, due to their significance in the Passover, they're served without yeast, respecting historical and religious traditions that define this holiday. This is a definite snack staple for your Passover.
Don't be daunted by the idea of baking. The beauty of these rolls lies in their simplicity—no specialist baking skills required. So, whether you're an experienced baker or new in the kitchen, these delightful rolls are within reach. It's a great opportunity to get creative and put your personal spin on them, adding flavors or fillings that tickle your taste buds.
Cinnamon Sugar Matzo Crisps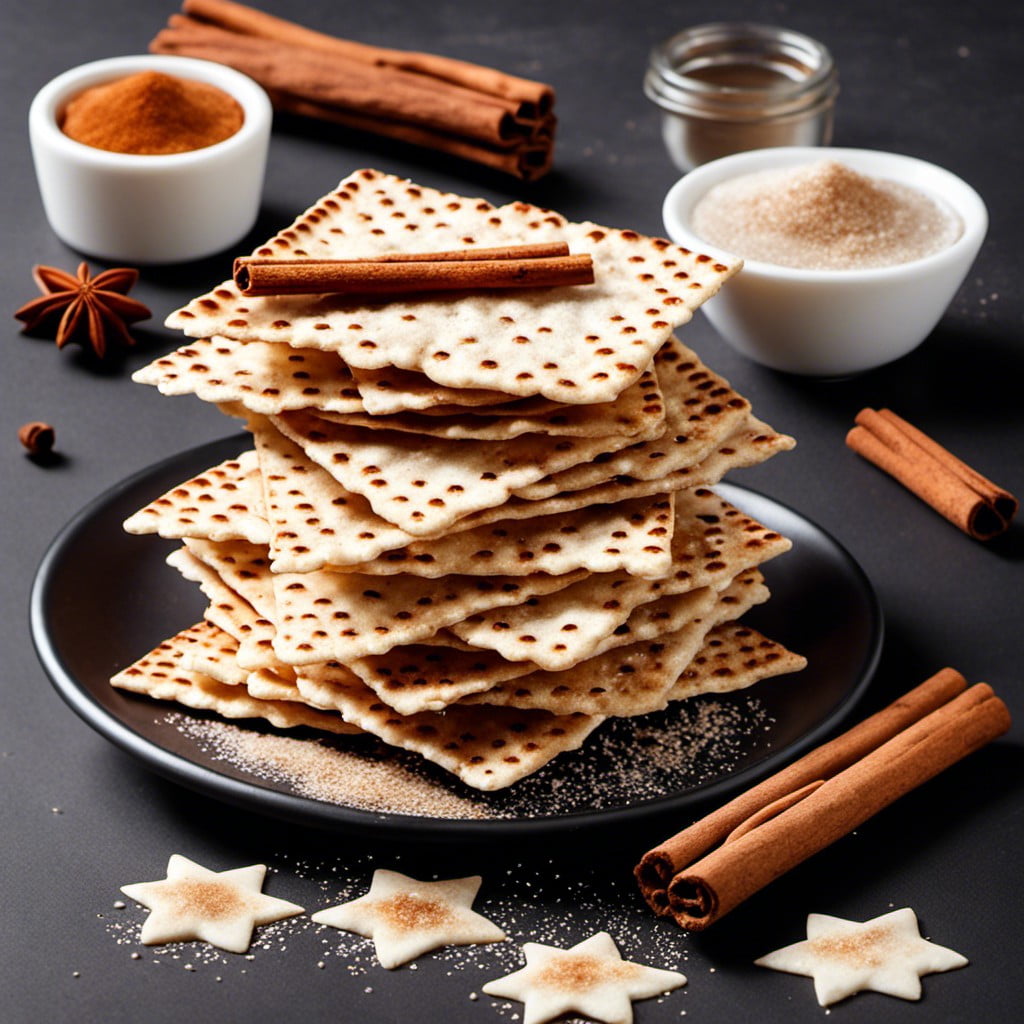 Ideally golden-brown and crisp, these enticing snacks are a delightful twist on traditional matzo. The topping is a remarkable blend of cinnamon and sugar for a sublime punch of flavor.
Make sure the matzo is coated generously with the mixture before baking so as to ensure that every bite is satisfyingly sweet, and just a bit spicy. It not only excels as a Passover snack but also combines brilliantly with a cup of tea, as a quick breakfast, or an anytime treat.
The process of creation is mesmerisingly simple: with a bit of melted butter, a sprinkling of sugar, a dash of cinnamon, and a few minutes in the oven, you're well on the way to a treat that balances taste and tradition perfectly. Simple, sweet, and delicious!
Greek Salad With Hard Boiled Eggs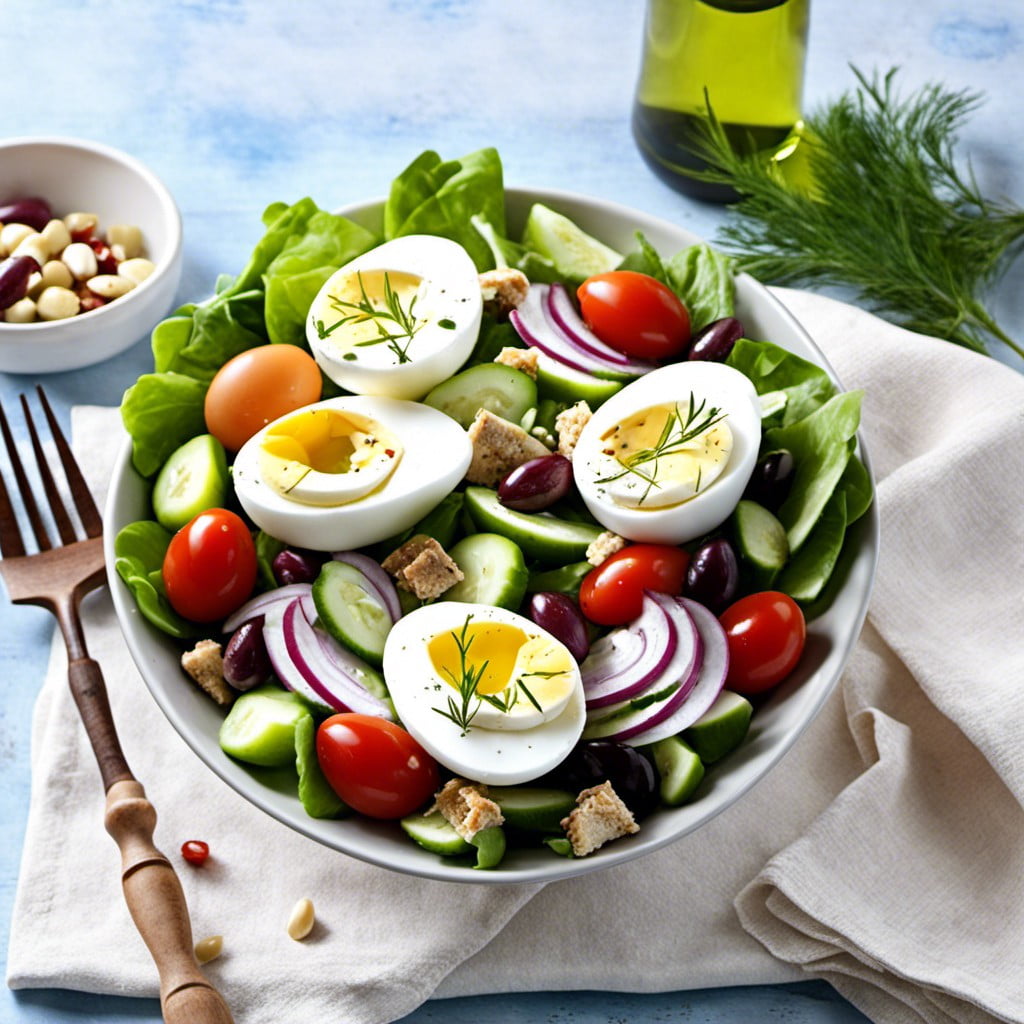 The harmonious blend of crisp vegetables, olives, feta, and protein-rich eggs make this dish a flavorful and filling snack option. It's particularly famous for its novel dressing, which is an exquisite mixture of olive oil, red wine vinegar, lemon juice, garlic, and dried oregano.
The hard-boiled eggs add not just a visual appeal, but a nutritional punch — rich in protein and vitamins. They also provide a contrasting texture to the crunchy veggies. This Greek salad provides a perfect balance between health and taste, making it an ideal choice during Passover.
It's an easy recipe that adds variety to the snack options. Preparation involves light chopping, whisking a simple dressing, and assembling — as easy as a snack should be!
Pro tip: For the freshest taste, always choose ripe and crunchy vegetables.
Lemon Pavlova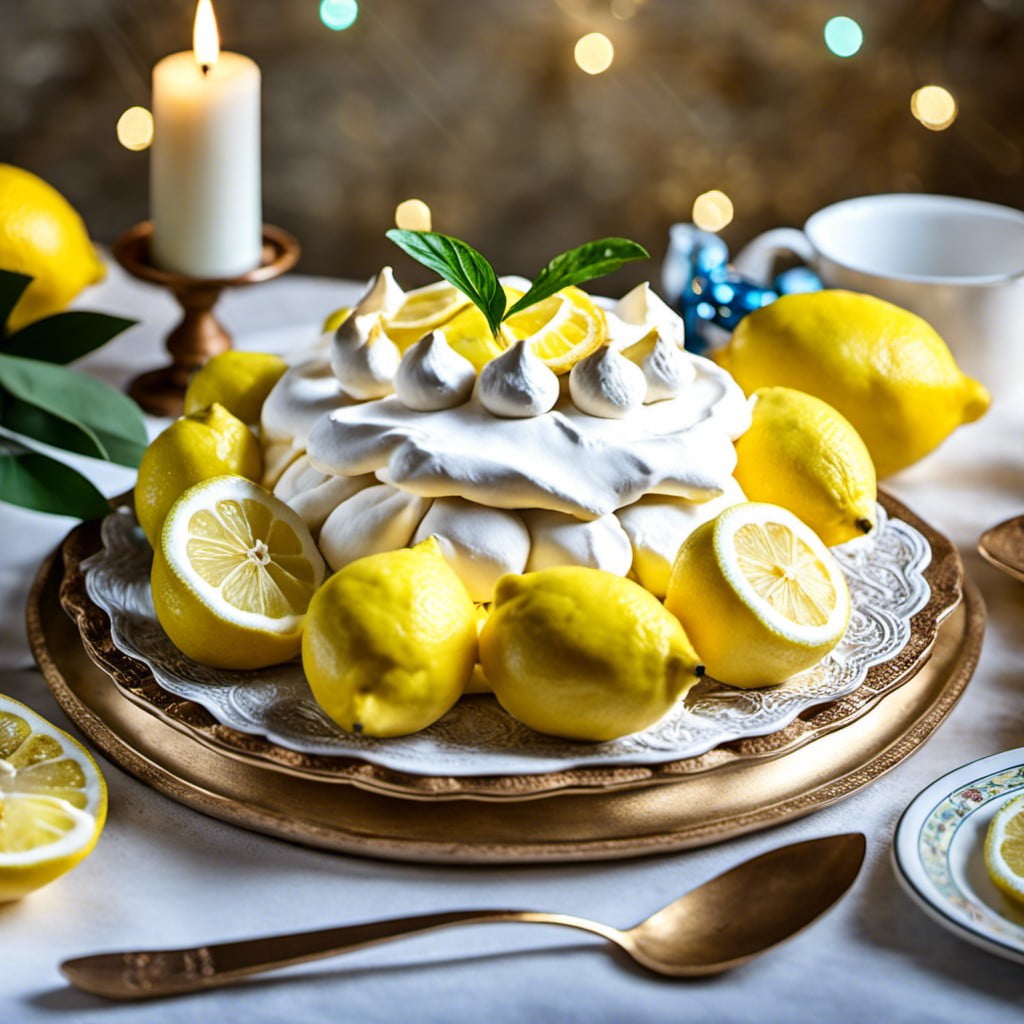 Imbued with the cheerful tang of citrus, this dessert is a delightful twist on traditional pavlova. The key component, a fluffy meringue base, boasts an ethereal texture thanks to the addition of white vinegar and cornstarch. Ensure to bake it at a lower temperature for a longer duration to achieve that delicate balance between a crisp exterior and a soft, marshmallowy interior.
Once baked and cooled, the meringue is topped with lemon curd – a thick, gooey concoction made with the zest and juice of lemons, sugar, and egg yolks – lending a vibrant, lip-smacking contrast against the sweetness of the meringue.
Thick layers of fresh whipped cream add a luscious creaminess to the dessert, while a sprinkling of almond flakes provides a satisfying crunch. For the finishing touch, a garnishing of fresh berries lends a dash of color and bursts of juicy sweetness. Assembled just before serving, this dessert is sure to be a memorable end to your Passover meal.
Almond Macaroons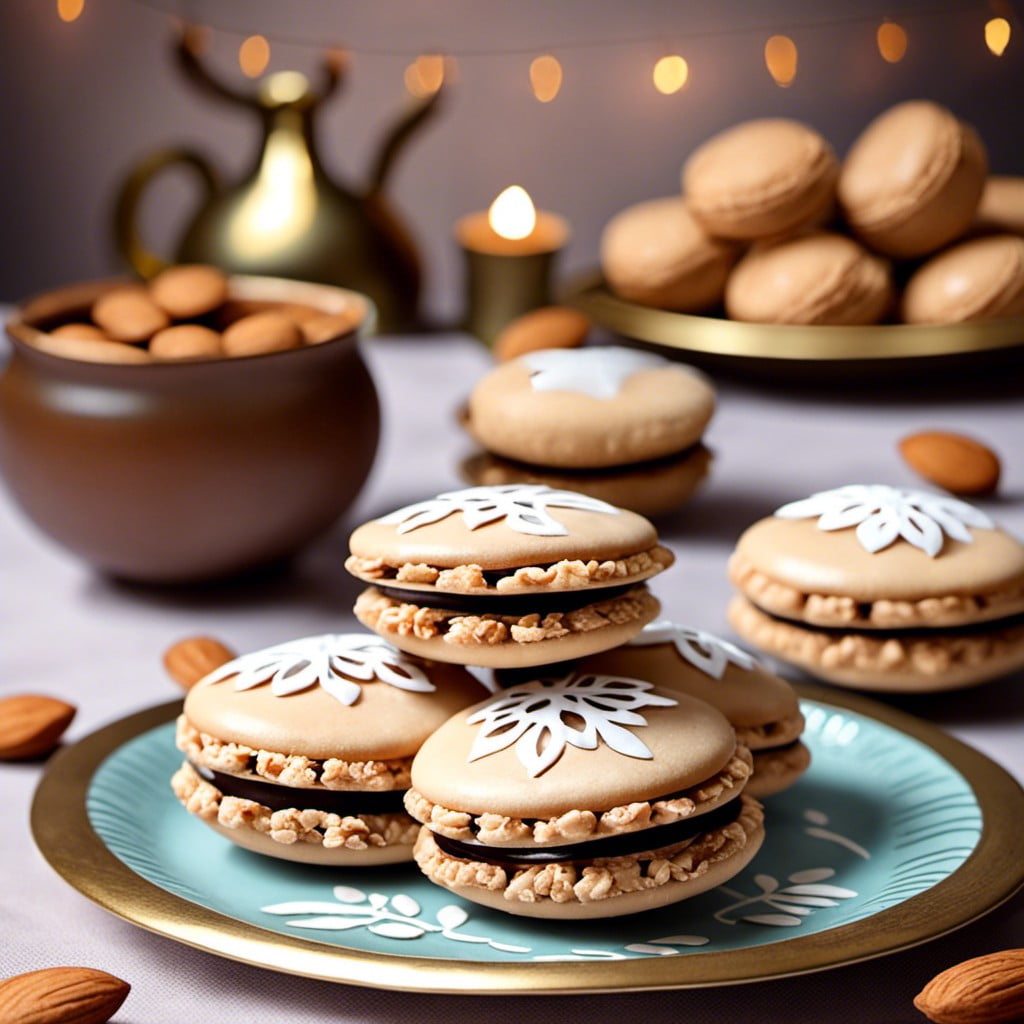 Famed for their chewy texture and delicate almond flavor, these scrumptious cookies require only a handful of ingredients. Start by beating egg whites into a frothy state before gradually adding sugar to form a glossy meringue. Natural almond extract complements this sweet base with nutty notes, while finely ground almonds lend the needed texture.
Upon shaping your macaroons and placing them onto a baking tray, a short stint in the oven results in a lightly golden exterior while retaining a moist, chewy center. Once out of the oven, the macaroons are best left to cool before serving, during which they firm up into their signature texture.
Despite their elegance, almond macaroons call for no extravagant equipment or ingredients. They can be made at home with ease, making them a reliable yet delectable addition to the spread of Passover snacks.
Test the versatility of these treats by incorporating variations such as a pinch of citrus zest or a surprise spot of fruit jam at the heart of each macaroon. Be prepared to see them disappear from your serving plate in no time!
Chocolate Dipped Fruit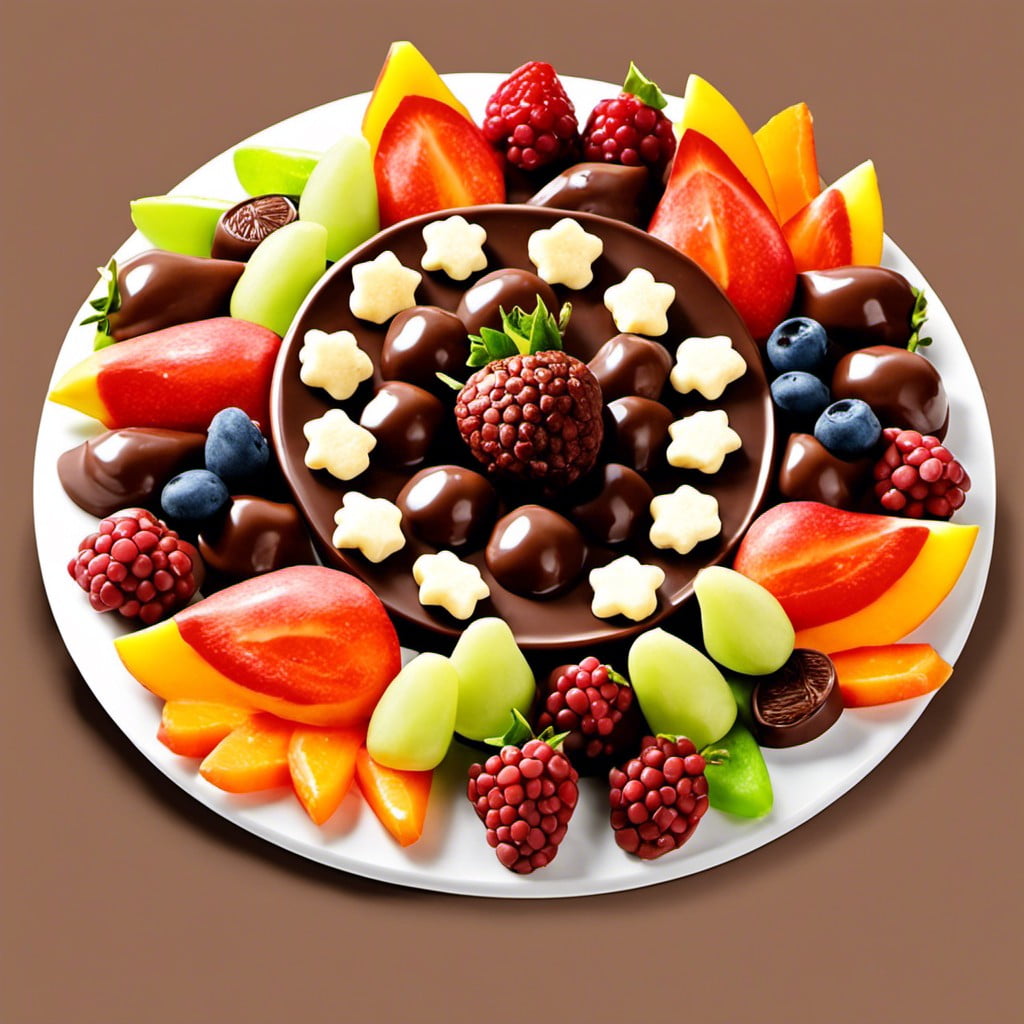 The fun part about these delightful bites starts with selecting the fruit. Bananas, strawberries, and apples make splendid choices due to their firmness and flavor profiles that pair excellently with chocolate.
The next stage is carefully melting kosher for Passover dark or milk chocolate. Make sure to stir the chocolate frequently to prevent it from burning, and achieving a velvety, smooth consistency is key.
Now, all that's left is dipping your fruit into the melted chocolate, before letting it cool off and harden on a sheet of wax paper. This particular Passover snack can be made as healthy or as decadent as you prefer.
Add a colorful dash by including freeze-dried raspberries or a handful of chopped nuts sprinkled over the chocolate before it dries, enhancing both its aesthetic appeal and the range of flavors in each bite.
Last but not least, remember to refrigerate your chocolate dipped fruit to ensure the coating stays in perfect condition.
Matzo Toffee With Almonds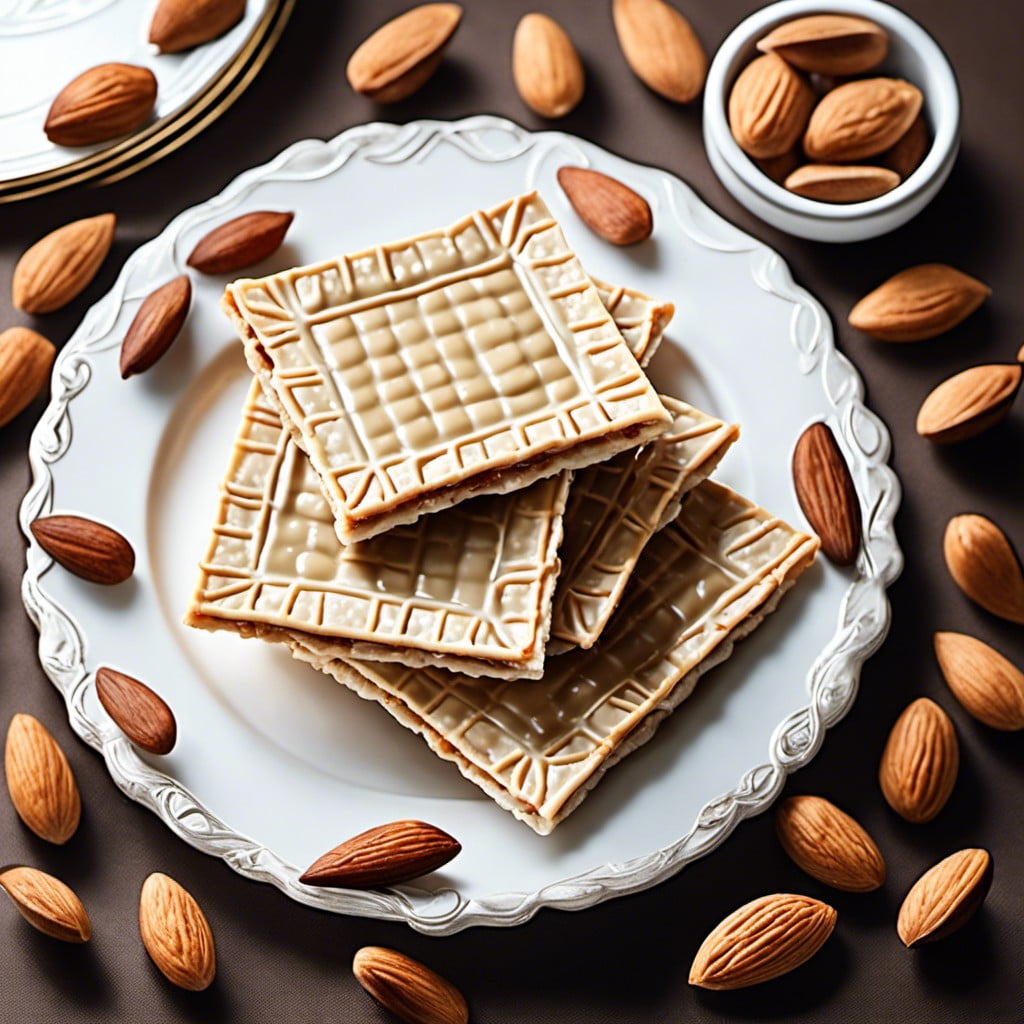 Adding a twist to traditional Matzo crackers, this toffee variation combines enticingly crunchy and sweet flavors, providing a charming confectionary treat. Toffee's caramelized sugar or molasses adds a rich taste, ensuring a delectable delight with each bite.
Almonds, slightly toasted, introduce a heavenly texture to the mix, embellishing the overall eating experience.
This simple recipe merely involves spreading a layer of toffee over your matzo, sprinkling almonds, and baking until golden brown. The result is a perfect blend of sweet caramel goodness counteracting the slight saltiness of matzo, interspersed with nutty notes from the almonds.
It's indeed a worthy addition to your Passover snack selection!