Celebrate your child's birthday with these creative and delicious Minnie Mouse-themed snack ideas that will surely make the event even more special.
Planning a Minnie Mouse-themed birthday party? You're in the right place to discover some delightful snack ideas that will surely wow your guests.
From adorable Minnie Mouse-inspired cupcakes to healthy fruit skewers that mimic Minnie's iconic bow, there's a wide range of creative and delicious options to choose from.
This article provides a comprehensive guide on how to create these snacks, complete with ingredients, instructions, and tips to ensure your Minnie Mouse party is a hit.
So, let's dive in and explore these fun, festive, and tasty snack ideas.
Minnie Mouse-shaped Cookies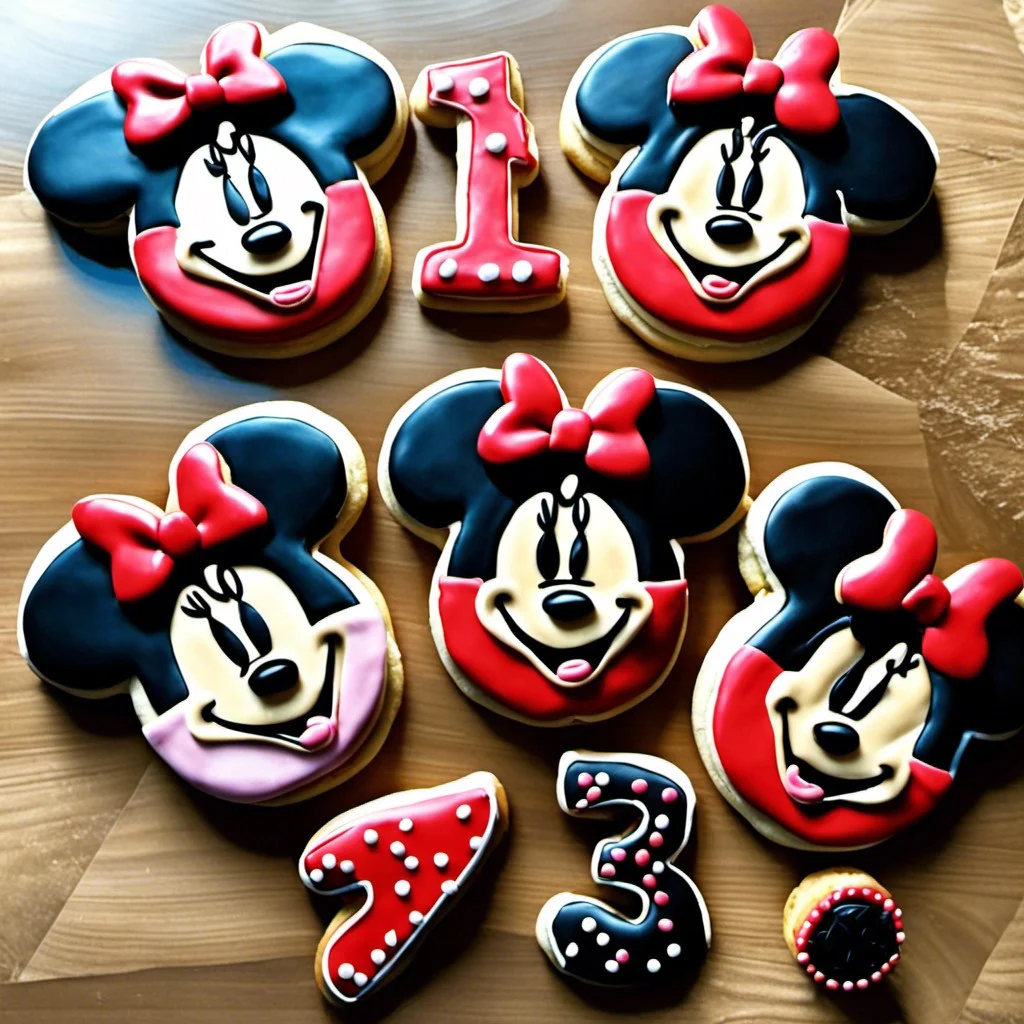 Crafting these adorable treats requires a simple sugar cookie dough, a Minnie Mouse cookie-cutter, and your choice of colorful icing.
Roll the dough and use the cookie-cutter to shape your cookies.
Bake until golden before allowing to cool entirely.
The fun part begins with decorating: black icing for the ears and a polka dot bow adds the essential Minnie Mouse touch.
Adding pink sprinkles or edible glitter can give a festive sparkle.
Remember, the icing bow is a crucial detail, don't skip it!
Not only are the cookies delightful to look at, but they also offer a sweet bite that'll definitely impress both kids and adults at the party.
Remember, though, that the cookies should cool completely before applying the icing.
Skipping this step could result in runny, messy decorations.
Indeed, these treats will bring the theme alive in the most delicious way.
Cheese and Crackers Shaped Like Minnie's Bow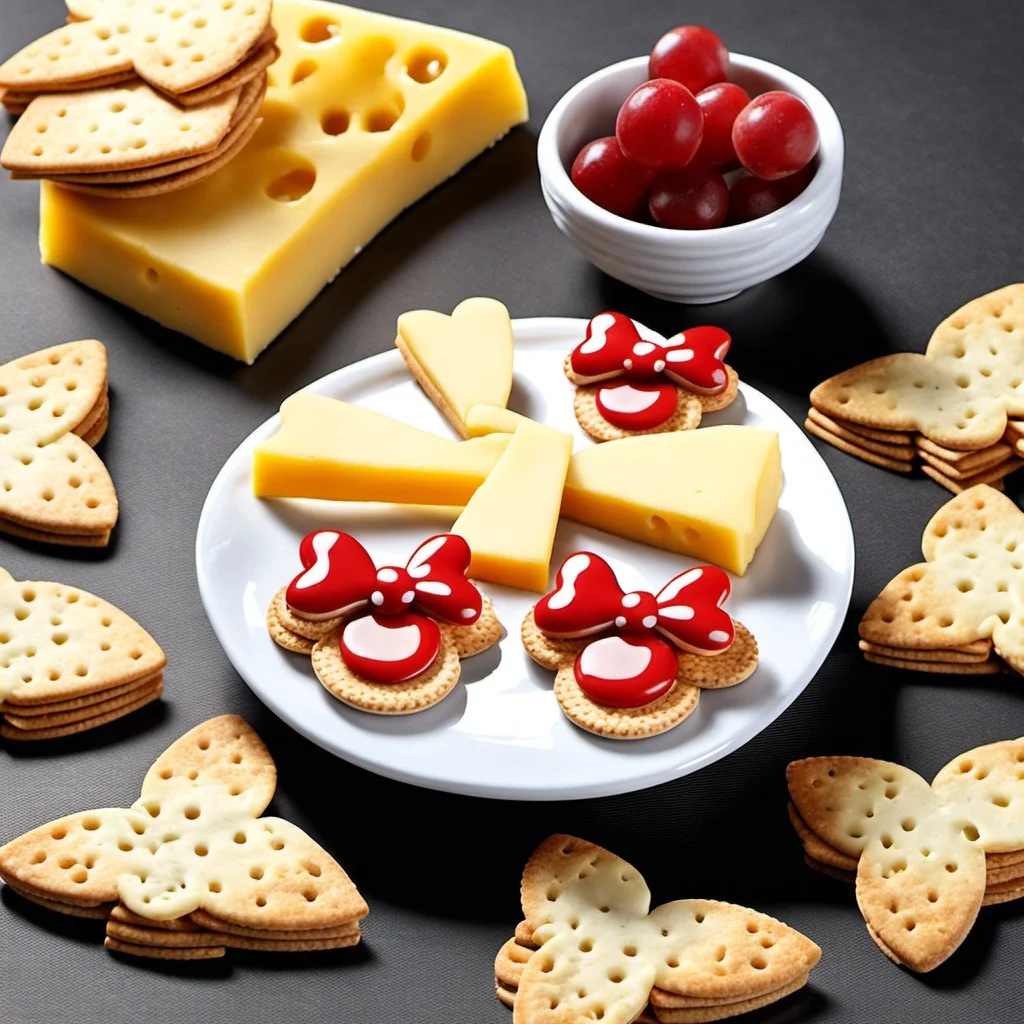 Creating these snack-size treats will surely bring a bit of Disney magic to any Minnie Mouse-themed birthday bash. Start with colored cheddar slices, cutting them into distinctive bow shapes, using a cookie cutter for consistency. The bright hue perfectly complements the Minnie Mouse color scheme.
Pair each cheese "bow" with a circular wholegrain cracker to add a nutritious crunch. Adding fine details such as polka dots to the bows using a touch of cream cheese transforms this ordinary snack into an instant crowd favorite. The key lies in playful presentation combined with attention to details — just what our iconic Minnie is famous for.
Plus, this aesthetically pleasing, simple yet delightful treat can be concocted effortlessly, even for larger parties.
Minnie Mouse Cupcakes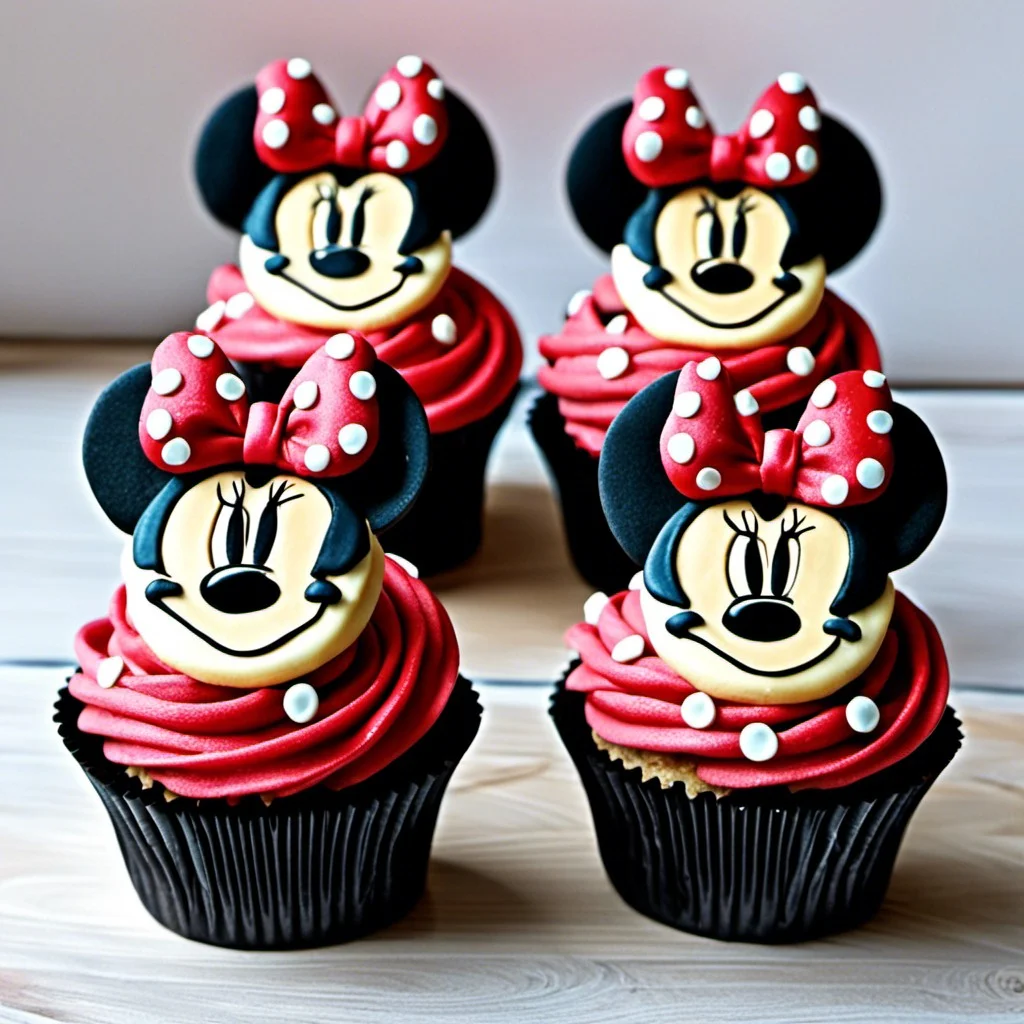 Firstly, you'll need vanilla cupcakes as a base, which you can make at home or purchase pre-made from a bakery. To transform these into our beloved character, top each one with frosting dyed the iconic Minnie Mouse red.
Next comes the fun part – decorating. You'll need Oreo cookies to mimic her ears. Simply break each cookie in half and gently press the pieces into the frosting at the top of the cupcake. They should be positioned side by side to resemble Minnie's silhouette.
Don't forget Minnie's distinctive bow. You'll need red fondant to make a small bow, a process that's made simple with any bow-shaped cookie cutter. Once the fondant bow is ready, it should be positioned in between the Oreo ears to complete our Minnie Mouse cupcakes.
Remember to pay attention to details – the bow's location, the orientation of the ears – everything contributes to bringing Minnie's character to life. They're sure to be the belle of your snack table!
Finally, remember that the end result doesn't have to be perfect. Part of the charm of homemade treats lies in their uniqueness. Each slightly imperfect bow or slightly off-center pair of ears will bring a personal touch to your party.
Bowtie Pasta Salad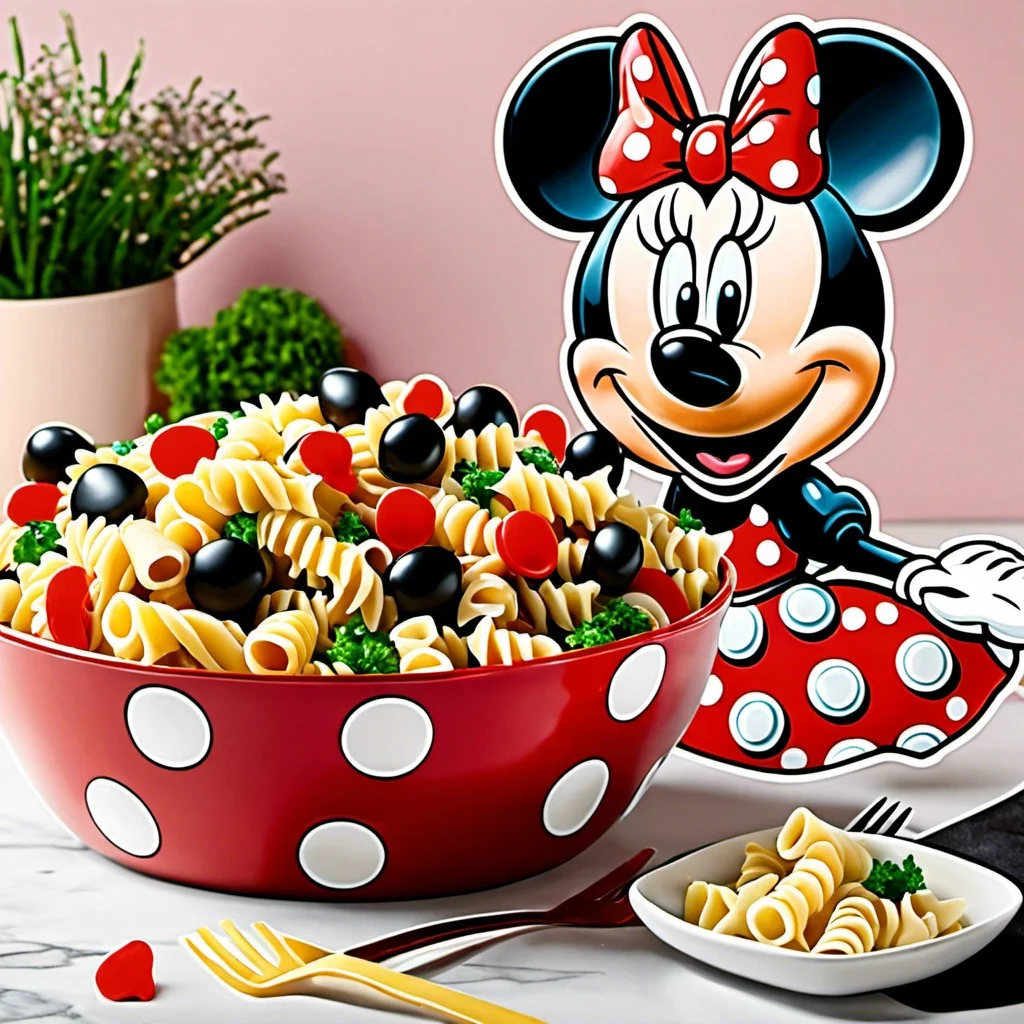 To bring this delightful dish to life, start by preparing your pasta according to package instructions, opting for a bowtie variety to stay in theme. After draining, toss it with a light vinaigrette of your choice for a zingy flavor.
To amp up the colors and nutritional value, add chunks of bell peppers in Minnie Mouse's signature red or pink. For extra crunch, consider tossing in some cubed cucumbers. Cherry tomatoes, halved, lend sweetness and mirror the round shape that embodies Minnie's iconic look.
For a sophisticated touch, consider adding capers or olives. To finish, sprinkle with shredded cheese, ideally white to contrast with the vivid veggies. Why not aim for a tangy feta or creamy mozzarella? Make sure to chill before serving, as this dish tastes best cool.
Remember, creativity in shape and color play a key role. Don't stress too much about precision, as a little whimsy makes your Minnie-motif pasta salad even more appealing to the party goers!
Strawberry and Marshmallow Skewers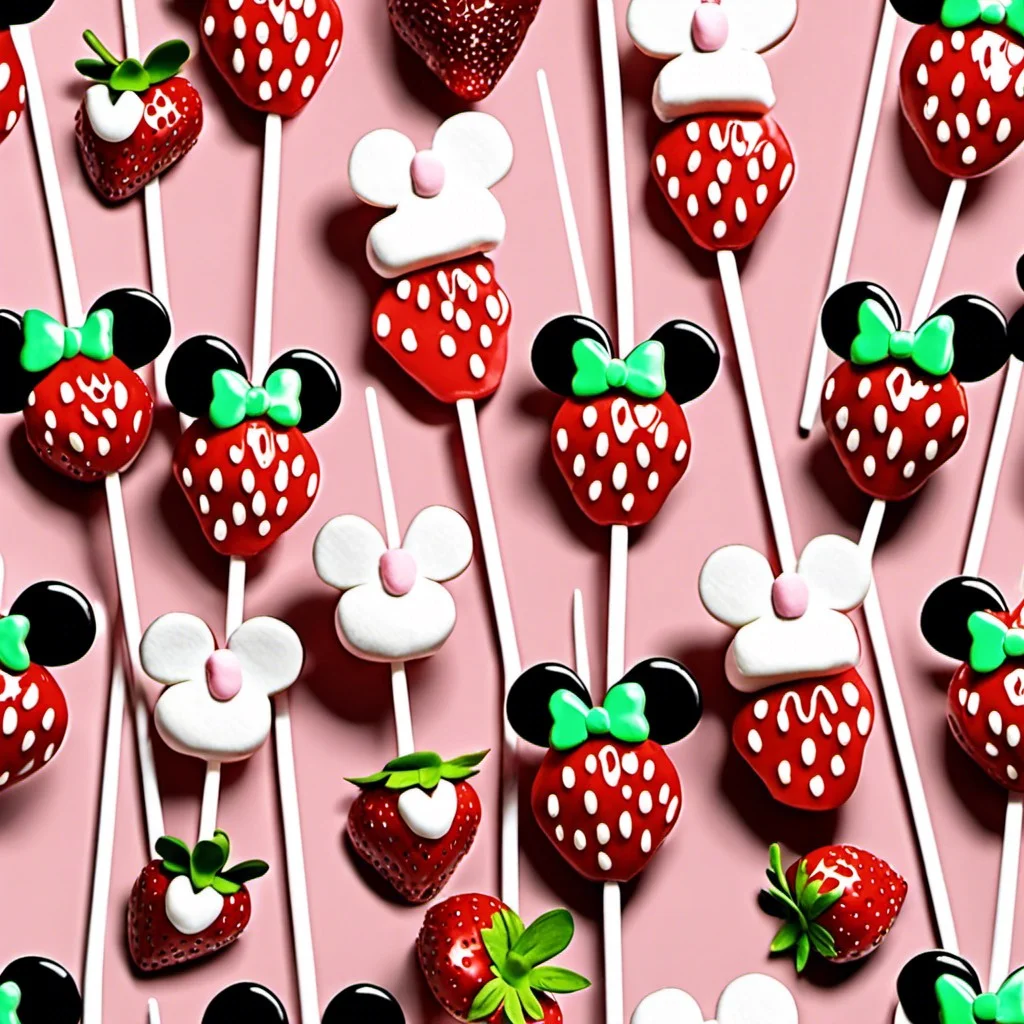 To create these delightful skewers, begin by washing and hulling fresh strawberries. The next step involves threading the strawberries and marshmallows alternately onto skewers. A fun tip to make them more Minnie-themed is to include two marshmallows at the top to represent Minnie's iconic ears.
For an added pop of color and extra layer of sweetness, consider melting some white chocolate, dyeing it a rosy pink to match Minnie's bow, then drizzle lightly over the skewers. The sweetness of the marshmallows and chocolate pairs beautifully with the tartness of the strawberries, making it a hit with both kids and adults.
Finally, remember to chill the skewers until the chocolate sets, then serve them on a plate or stand them upright in a glass. The end result is a striking and playful Minnie Mouse-inspired snack that's as eye-catching as it is delicious.
Pink Lemonade With Minnie Stirrers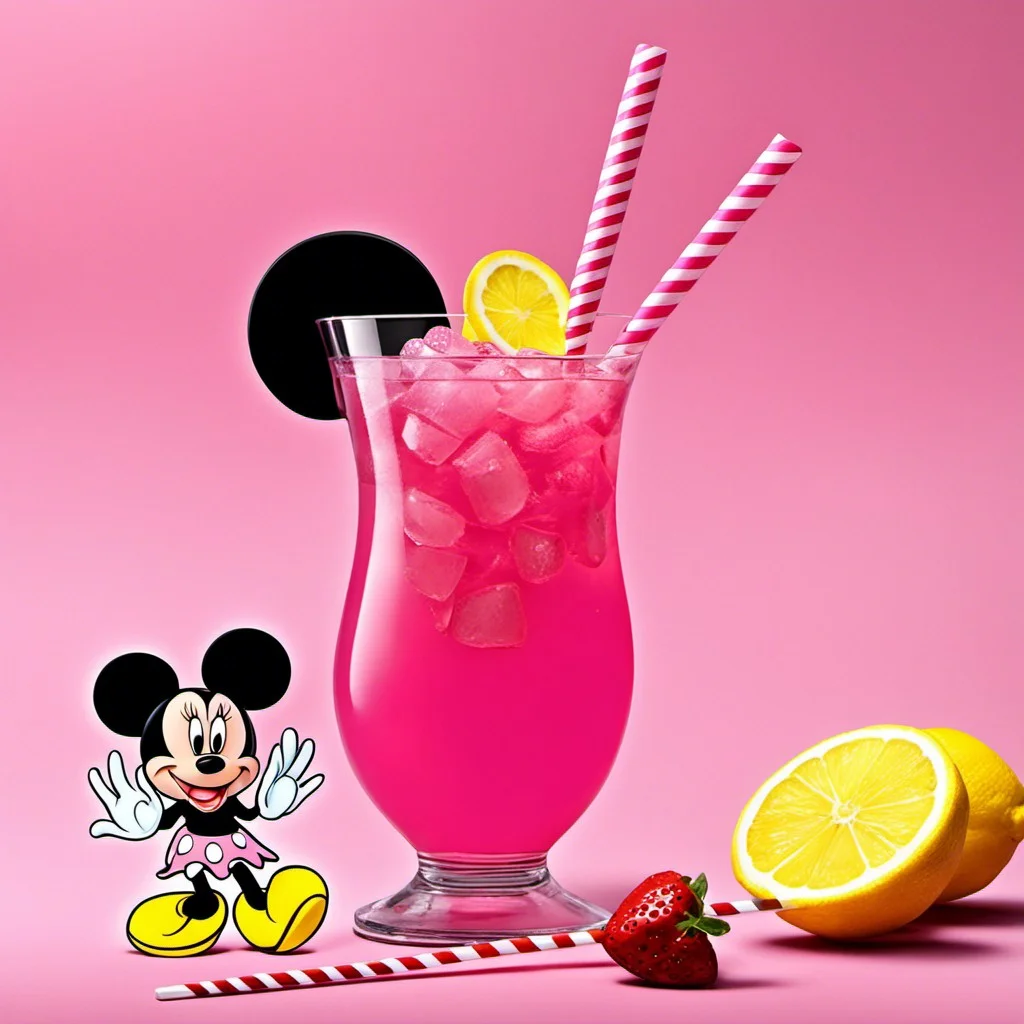 Beautiful, refreshing, and thematic, this beverage idea is much more than your typical lemonade. Opt for a delightful pink lemonade to align with Minnie's iconic color scheme. Preparing the lemonade is rather straightforward, you can buy a ready mix or make your own by adding a touch of cranberry juice to regular lemonade for that distinct pink color.
Notably, however, what really elevates this simple drink into a birthday special is the detail added: Minnie stirrers. Crafted by attaching circular stickers depicting Minnie on top of standard cocktail stirrers, these adorable accessories add that memorable touch, transforming every sip into a whimsical experience. It's essential to remember that a thoughtful presentation can significantly improve the party's ambiance and your guest's overall enjoyment.
But don't forget to prepare a non-pink version for attendees who may prefer traditional lemonade. With this festive beverage, refreshing hydration is not only provided but served in tune with Minnie's charm.
Minnie Mouse Watermelon Slices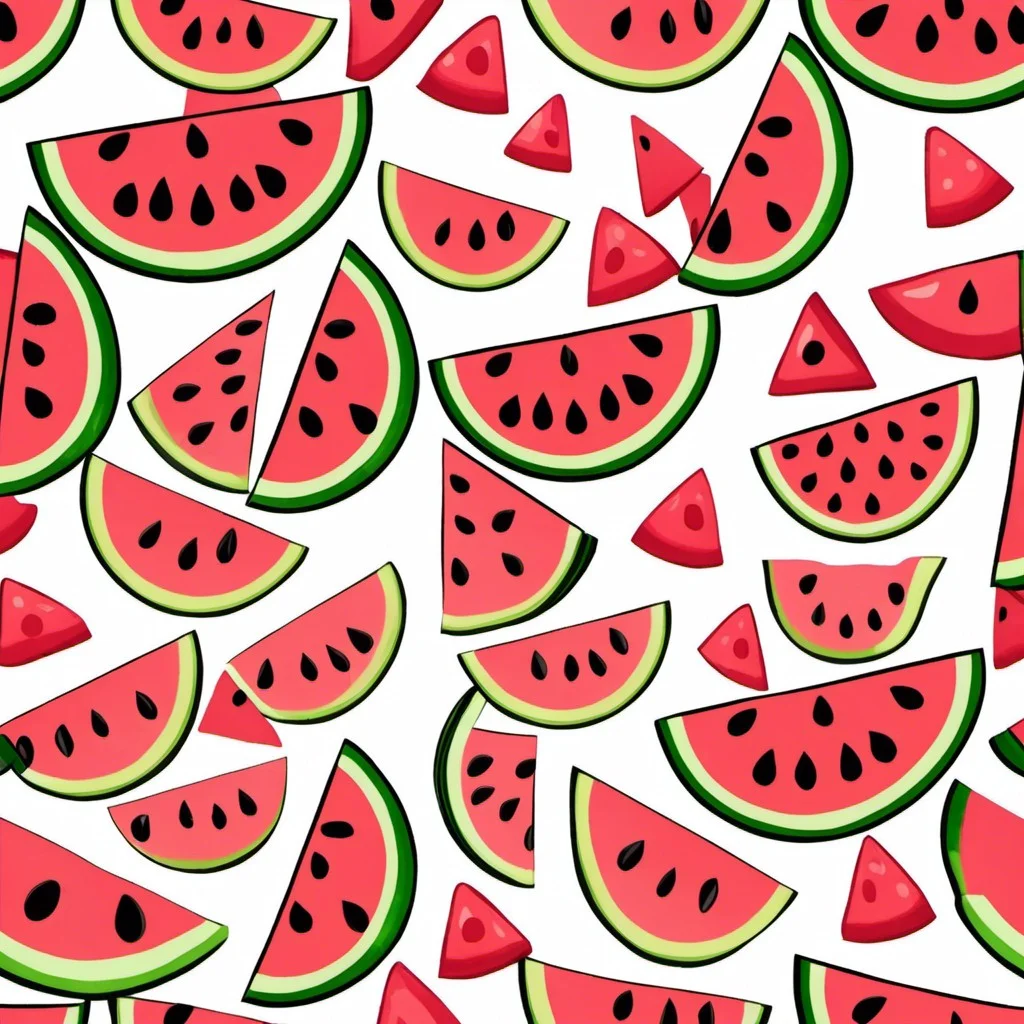 Giving a traditional summer fruit an imaginative twist, these delightful treats are not only refreshing but also fun.
Begin with a ripe, juicy watermelon.
1. Slice it evenly into 1-inch thick rounds.
2. With a Minnie Mouse-shaped cookie cutter, press out shapes from each slice.
3. To create Minnie's iconic polka-dot bow, small pieces of strawberries or other red fruits can be attached using toothpicks on top of the watermelon slices.
4. Keeping them chilled until ready to serve will help to maintain the form and enhance its rejuvenating properties.
This playful arrangement on a plate or stand can add up theme-oriented allure to the birthday spread.
It's a healthy, quick, and refreshing snack that can easily appeal to kids and adults alike.
Mini Sandwiches Cut Into Mouse Shape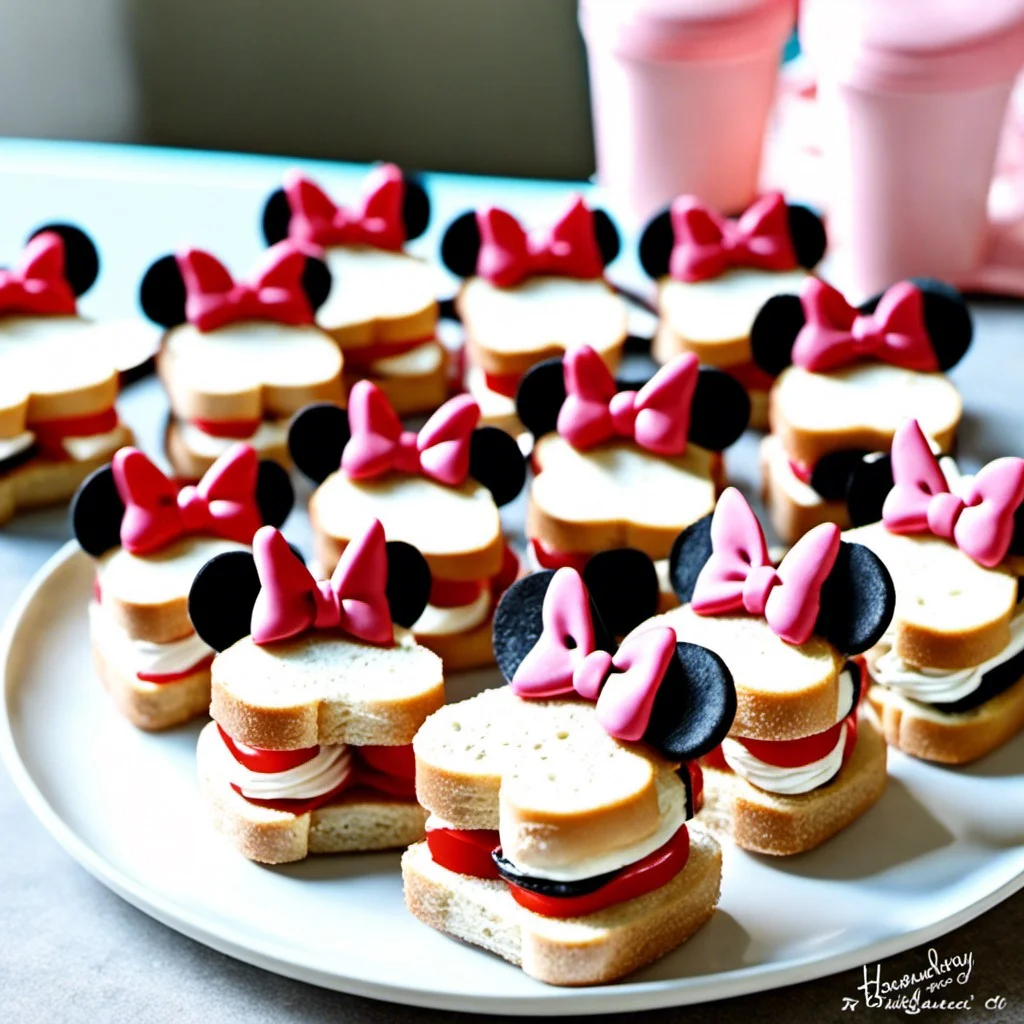 Creating these delightful nibbles is a fun and simple task. All you need is your favorite sandwich fillings, bread, and a mouse-shaped cookie cutter.
Here's how to do it:
1. Prepare your sandwich as usual, opting for kid-friendly fillings like ham and cheese or peanut butter and jelly.
2. Once assembled, use your mouse-shaped cutter to create the fun, Minnie-inspired shape. Don't forget to press down firmly to ensure a clean cut.
3. For a finishing touch, consider using an olive slice for the eye and a tiny cheese triangle for the nose.
Remember, these sandwiches are not just tasty, they double as a creative decoration enhancing the overall Minnie Mouse theme. Plus, small hands will find them easy to grab and enjoy – an undeniable win at any kids' party.
Bow-shaped Fruit Salad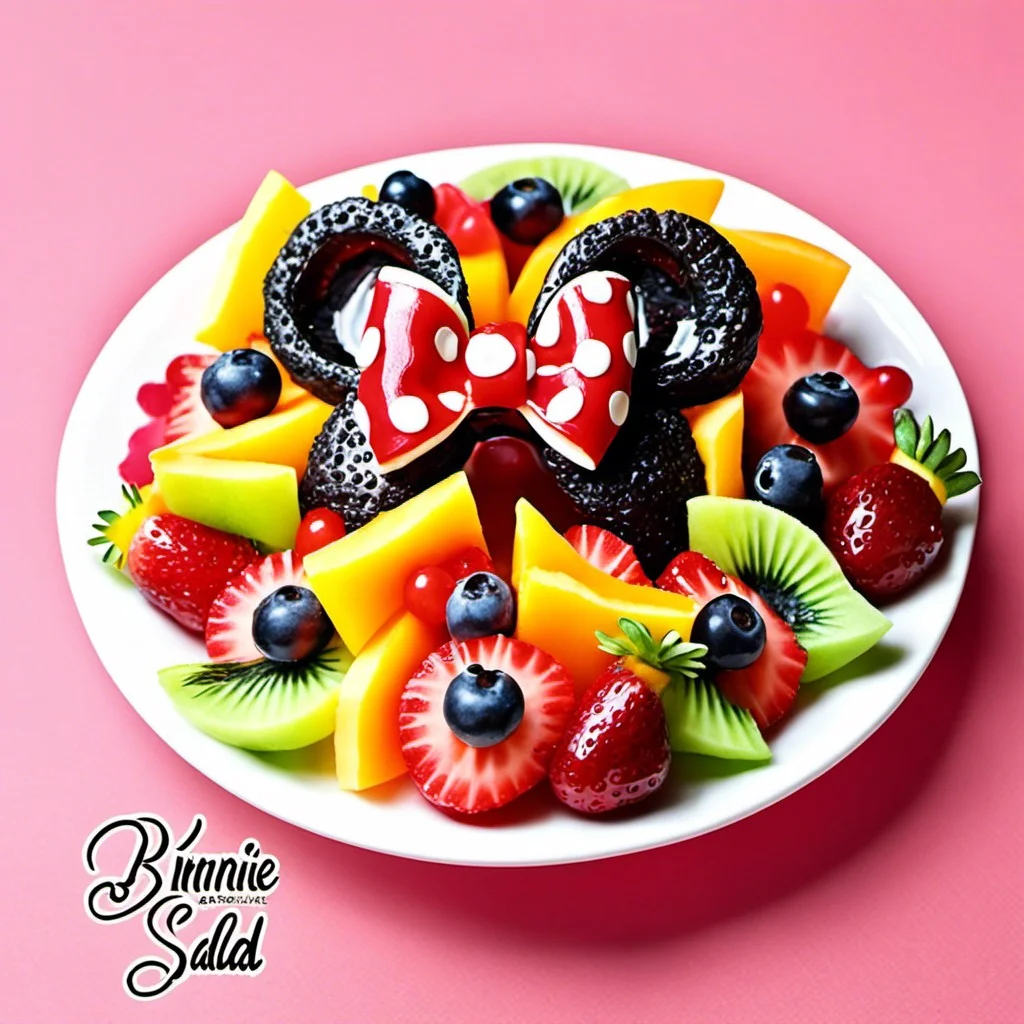 Start by selecting different fruits, preferably of various colors to resemble the lively palette of Minnie Mouse's world. Berries, melons, grapes, and kiwis are all great choices.
Firstly, chop them into small, bite-sized pieces. The entirety of the salad will have a mixed shape, but it's the bow-shaped melons that steal the show.
For making the bows, choose a dense fruit like watermelon or cantaloupe. Use a bow-shaped cookie cutter to achieve the shape and size you desire.
Once your bows are ready, mix them in with the rest of the fruit pieces. For a burst of extra flavor, you can add a squeeze of fresh lemon or lime juice.
As a final touch, you can add a small bowl of yogurt on the side for dipping. To match the theme, you could use strawberry or raspberry flavor to keep within the pink spectrum.
Remember, presentation is key. Serve your colorful, bow-themed fruit salad in clear glass bowls or on a large platter where all the beautiful colors and shapes truly shine through.
This delightful and healthy snack is an easy way to incorporate the Minnie Mouse theme while also providing a refreshing option for your party guests.
Minnie Mouse Cake Pops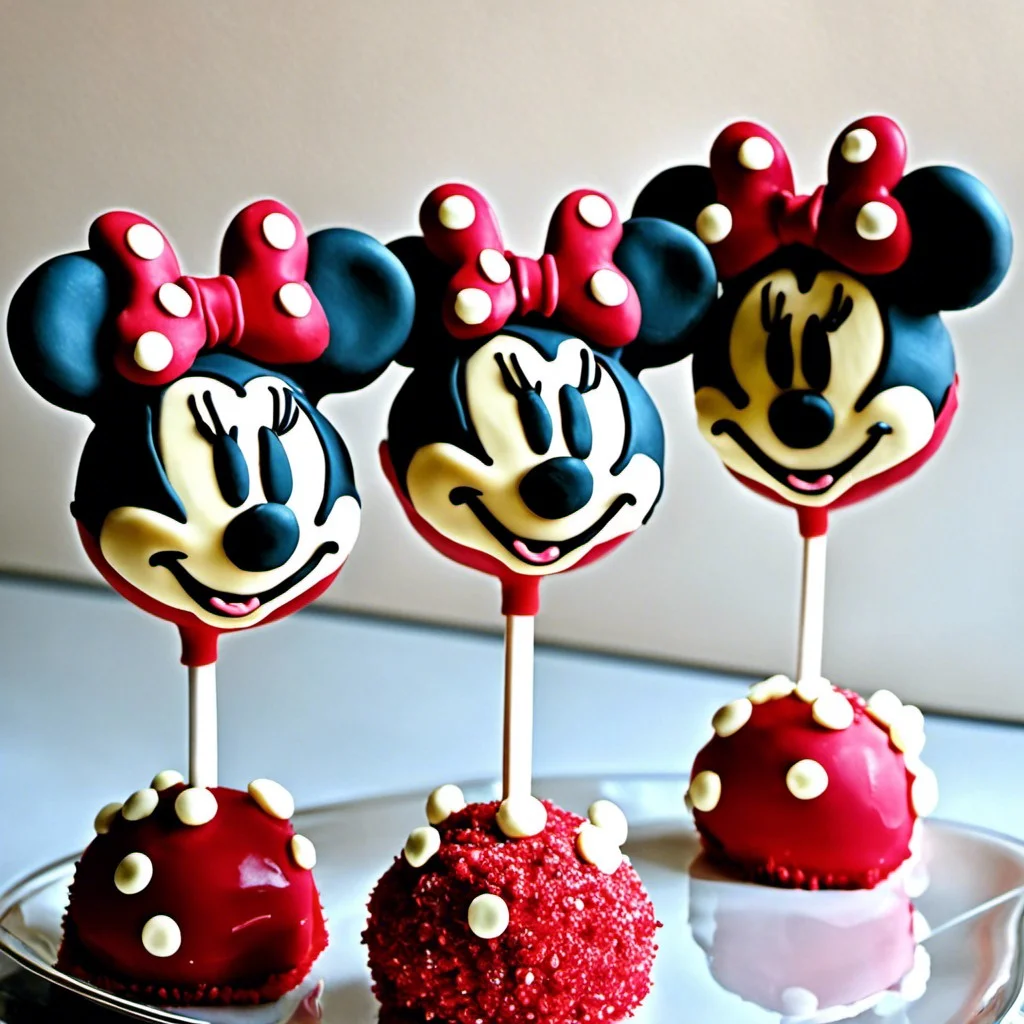 To create these delightful treats, start with your favorite cake recipe; remember, it's Minnie Mouse, so a charming pink or red velvet cake would work wonderfully.
Once baked, crumble the cake into pieces and mix it with a small amount of sweet buttercream frosting to bind them.
Shape this mixture into round balls that mimic Minnie's head, and add a smaller chocolate cookie on top for the 'ears'.
Next, comes the fun part – decoration!
Melt some red candy melts for the base of Minnie's famous bow.
Use a small piping bag to create the outline.
Then, allow everything to set before filling in the bow with more candy melts.
While it's still wet, sprinkle some white candy pearls onto it to make those iconic polka dots.
For the final touch, use white icing to create the rest of Minnie's face.
Remember, these cake pops can be made in advance to ease birthday party preparation.
They also double as cute party favors, ensuring your little guests remember this birthday long after the party has ended.
Cheese Ball Shaped Like Minnie's Head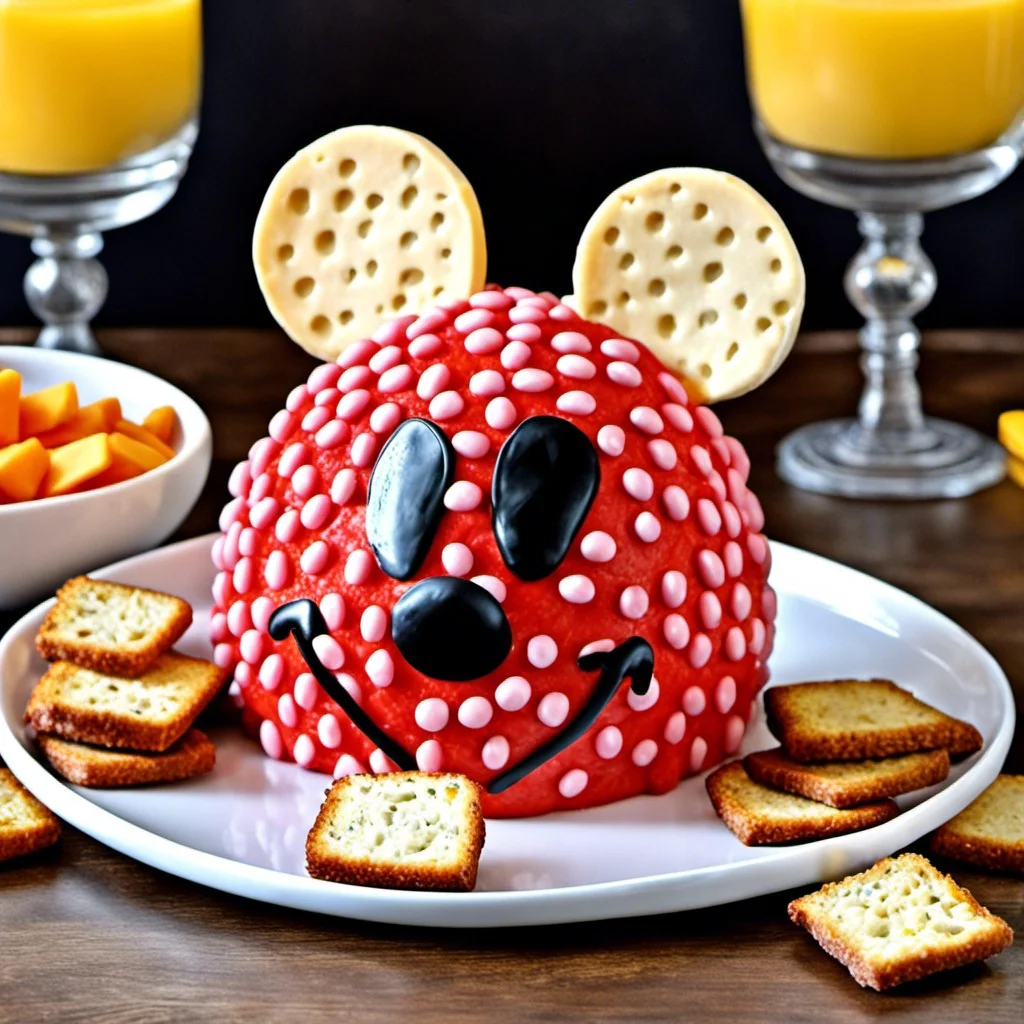 This creative snack brings a fun twist to the classic cheese ball, skillfully fashioned into the unmistakable silhouette of Minnie Mouse.
Preparing the cheese ball involves blending an assortment of cheeses, such as cream cheese, cheddar, and gouda, together with additions of finely chopped garlic, onions, and a touch of Worcestershire sauce for a punchy flavor profile. For the iconic shape, the mixture is chilled, then molded carefully into the head and ears of Minnie. It may take a bit of finesse, but the result is sure to be both visually striking and tasty.
Applying a coating of black sesame seeds provides the iconic dark covering to Minnie's head, and two crisp round crackers or pieces of bread can serve as her ears. Finish with a red pepper bow or similarly colored edible element to bring Minnie's stylish touch alive.
Remember, you can cater to individual dietary preferences by substituting vegan cheeses or gluten-free crackers as needed. Serve with an assortment of crackers, veggies, or bread slices for spreading, and watch this centerpiece take center stage at your event.
Minnie Mouse Pretzel Bites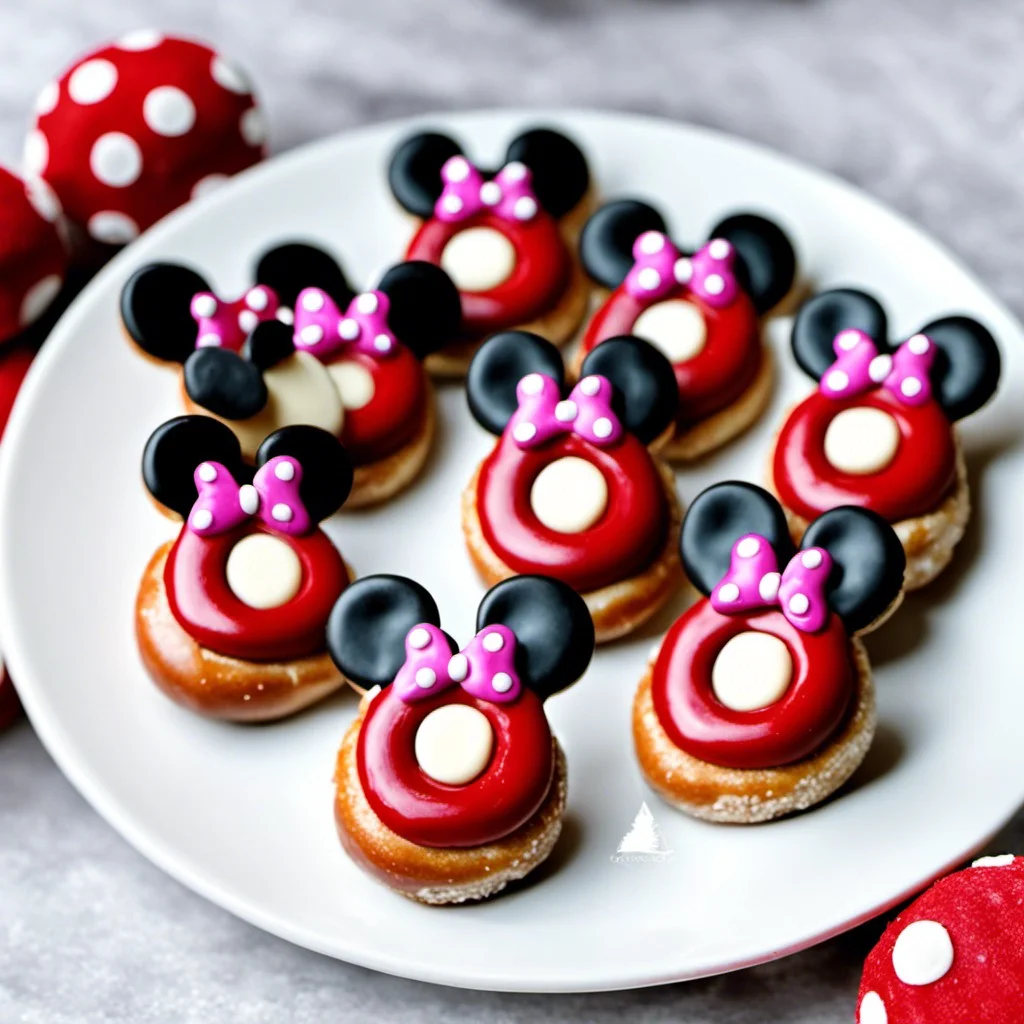 Creating these delightful snacks is surprisingly straightforward. Begin by mini pretzels and dipping them in red candy melts, found at your local grocery store. Let them dry completely before moving on.
The next step is the decorating process, where you'll be forming Minnie's iconic bow with icing. A pastry bag with a small tip will provide the precision you need. Use white icing to add polka dots for that signature Minnie Mouse style. For the finishing touch, insert two white chocolate chips on top of your pretzel for Minnie's ears.
These snacks not only serve as a tasty treat but also as an engaging centerpiece, adding a sense of fun to the table. Easy to grab and munch on, they'll surely be a hit among both the younger and the older party goers. Plus, the preparation can serve as a fun pre-party activity for kids to participate in.
Remember: the aim is to create snacks that are not just palatable, but also creative and theme-consistent. Getting the kids involved in the preparation process also adds an exciting layer to your party planning. After all, it's about crafting an experience, not just a menu. Your Minnie Mouse party is set to be a memorable event with such appealing and thematic snack options.
Pink Popcorn in Minnie-themed Cups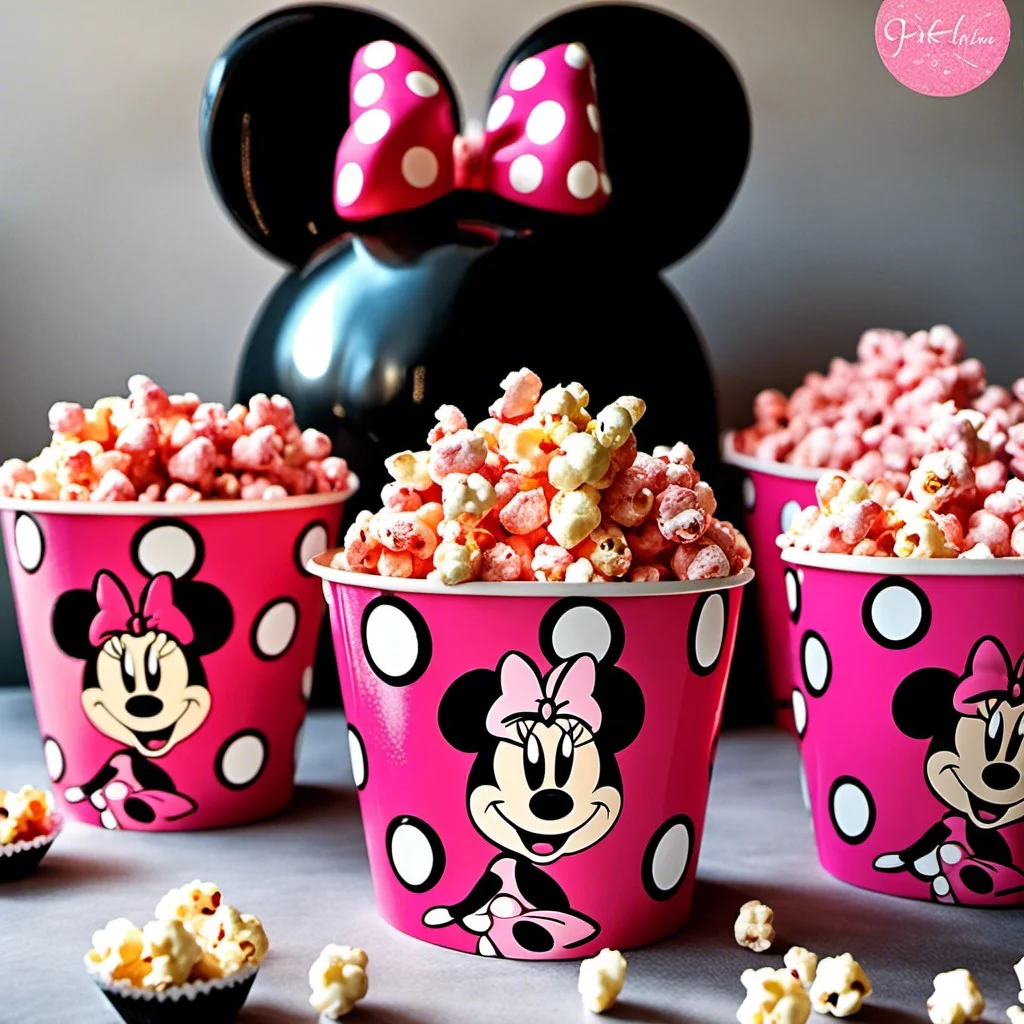 Dishing up pink popcorn is a breeze, adding a pop of color and thematic consistency to your Minnie-themed birthday party. To start, pop your regular popcorn in a popcorn maker or microwave. To achieve the preferred pink color, melt white chocolate and mix in a few drops of red food coloring. Drizzle this over the popcorn and mix well until all the popcorn is uniformly pink. Remember to let it cool before serving.
Now, for the presentation. Decorate white paper cups with Minnie Mouse stickers or drawings – the kids can even join in to make this a fun crafting activity prior to the party. Fill these decorated cups with the cooled pink popcorn. Serving snacks in individual cups not only controls portion sizes but also adds a touch of elegance to informal snack times.
This vibrant pink popcorn ensures the munching session remains fun, adding a sweet twist to regular popcorn. The blend of salty popcorn and white chocolate tinged with red doesn't just look good but tantalizes the taste buds too. The Minnie-themed cups inject the party's theme into the snack time, enhancing the overall Minnie Mouse birthday experience.
Mouse Ear Rice Krispies Treats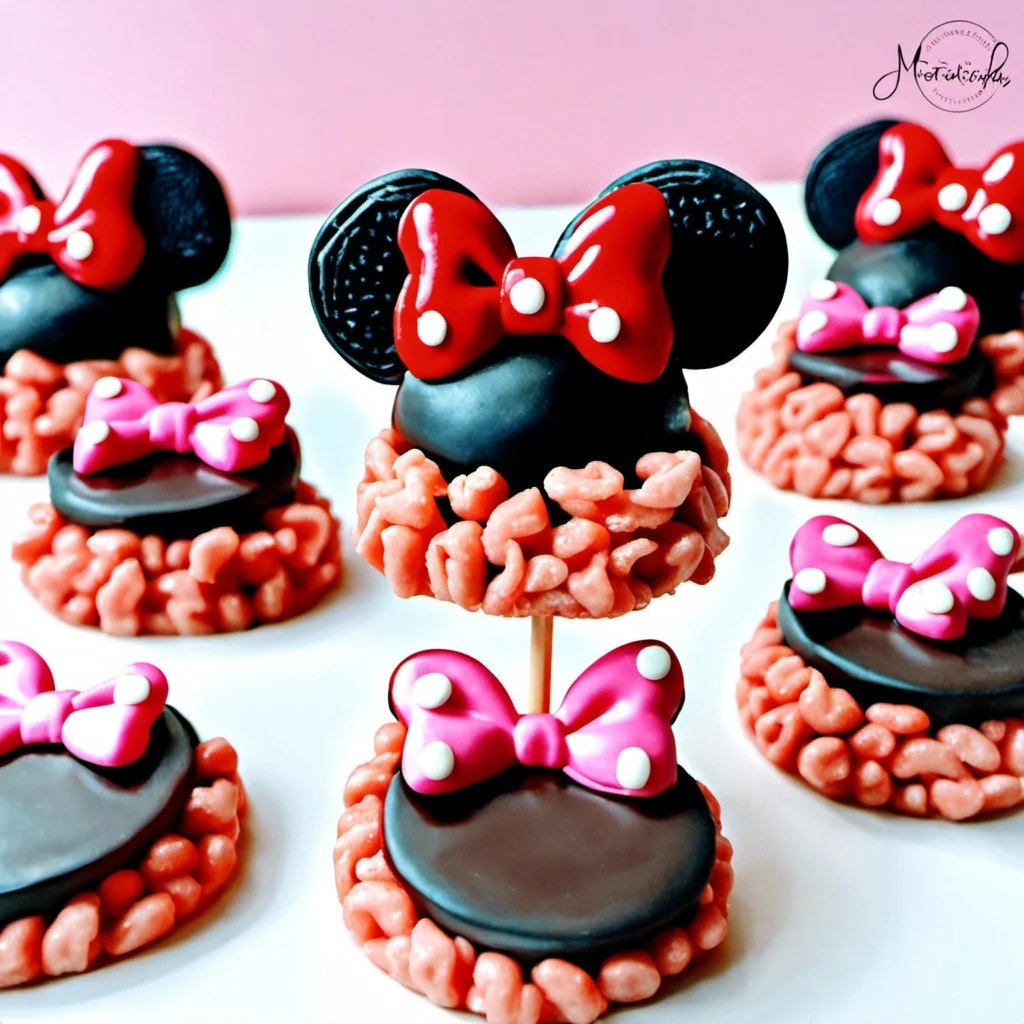 Keeping with the Minnie Mouse theme, these delightful treats pack a nostalgic punch that both children and adults will enjoy.
Begin by preparing your traditional Rice Krispies treat mixture, then shape the mixture into mouse ear pairs while it's still pliable. This quick, no-bake delight is not only tasty but fun to create. Make sure to get the mouse ear shape correct for instant recognition.
For added pizzazz, melt smooth white or dark chocolate in separate bowls. Dip the top side of each crispy snack into the chocolate and let it cool. Here's where the true magic comes in – once the chocolate hardens, use piped on red icing to create Minnie Mouse's signature bow.
Remember to let these treats fully cool before serving to let the decorations set. These crispy, whimsical morsels will be a hit at any Minnie Mouse-themed birthday bash. Be prepared to share your secret recipe and perhaps even host an impromptu Rice Krispy-shaping session in the kitchen. One bite and these treats might just become a permanent fixture at future family gatherings.
Red and White Polka Dot Jelly Beans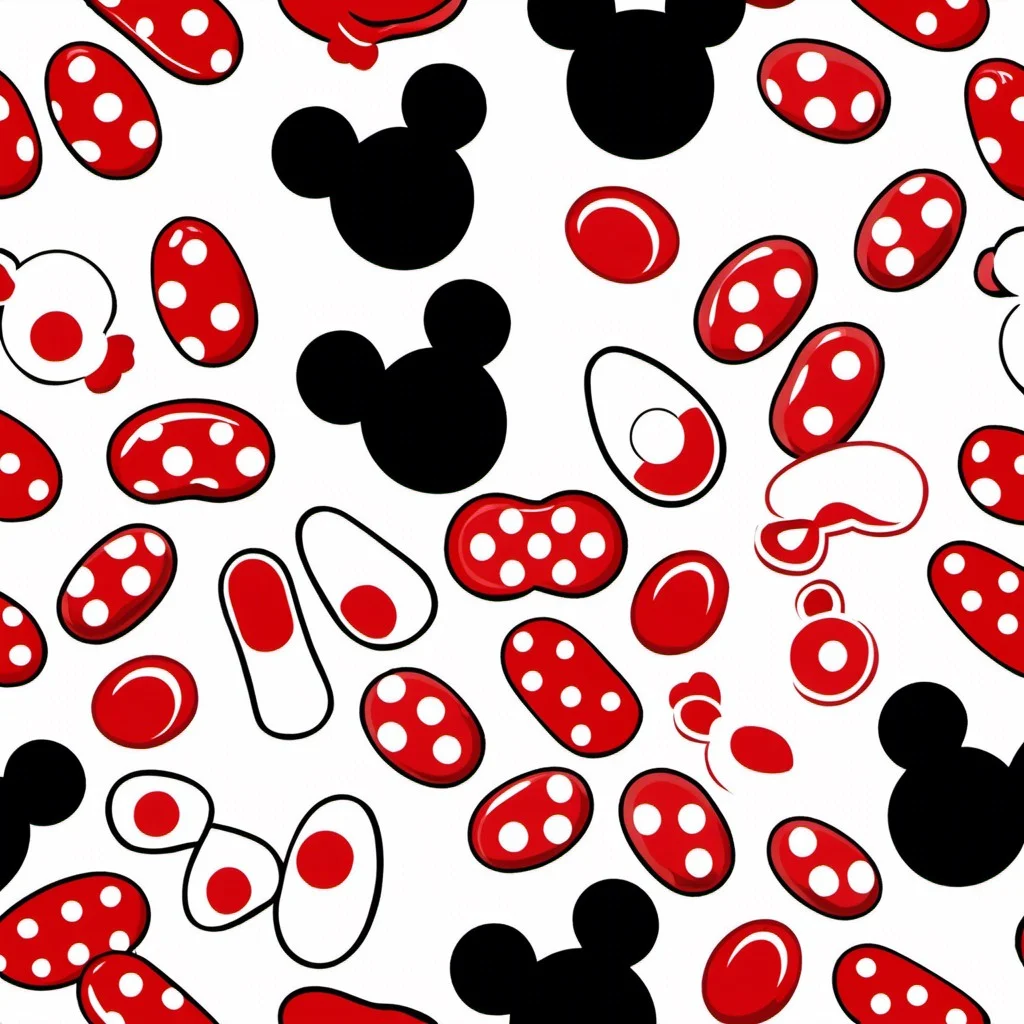 Continuing our exploration of colorful and delightful snacks, let's dive into the sweet world of polka dot jelly beans. Here's why they're an ideal choice for your Minnie Mouse-themed party.
1. Eye-catching: Their vibrant red and white polka dots are a direct nod to Minnie's iconic dress, guaranteed to spark joy on the snack table.
2. Sweet and tangy: These jelly beans carry a delicious blend of sugary sweet and fruity tangy flavors, making them a hit among both children and adults.
3. Creativity: One can use them as cake decorations, or they can be set in clear bowls or jars for a fantastic color pop effect. Consider adorning cupcakes or using them as the fills for your party piñata.
4. Portability: As a grab-and-go treat, jelly beans are easy for guests to snack on whilst they mingle or participate in party activities.
5. Customization: Not only are they cute, but they're also customizable. Many companies now offer personalized jelly beans – allowing you to cater to unique tastes or dietary requirements of your guests.
With the consideration of these points, you're ready to incorporate this fun and enticing snack into your Minnie Mouse-themed celebration.
Mini Hot Dogs or Corn Dogs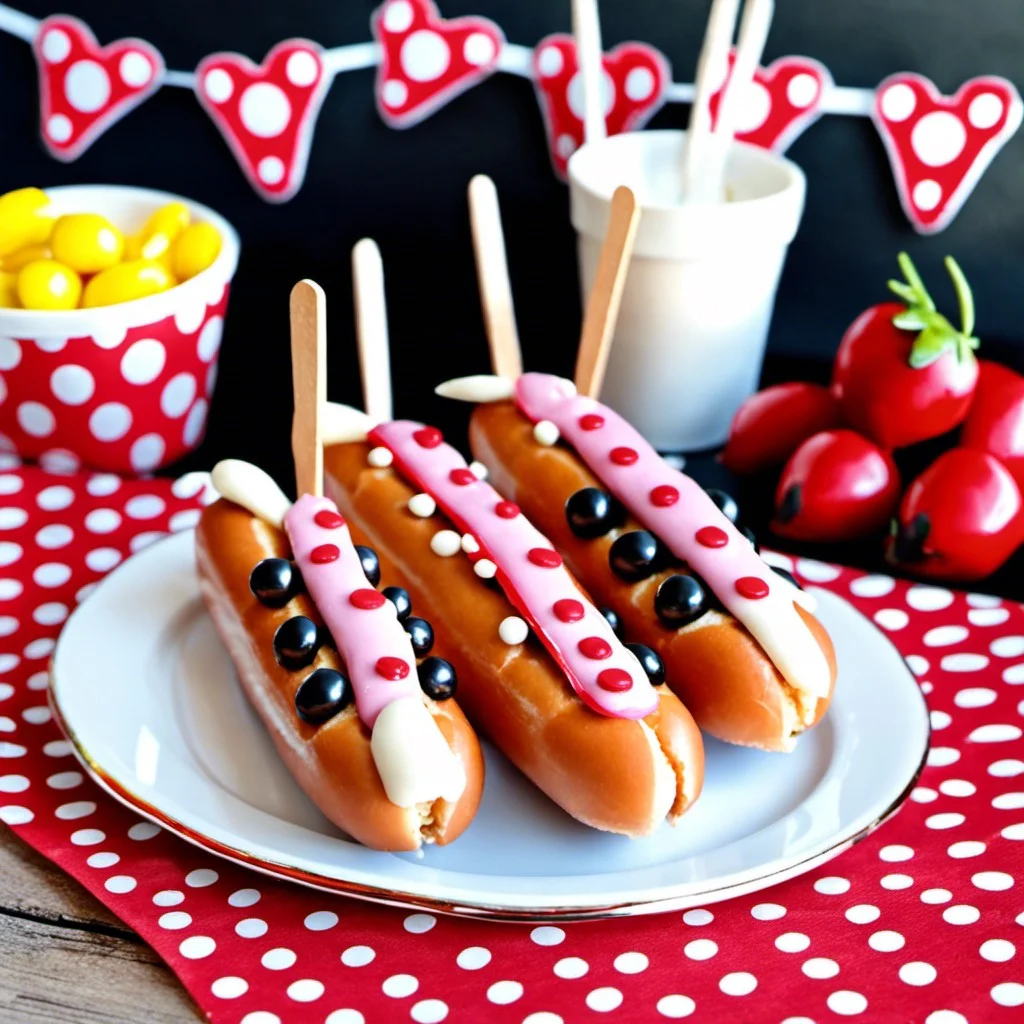 These bite-sized treats possess an uncanny resemblance to the beloved cartoon character's sidekick, Pluto. Make them by simply shrinking the classic American staple, hot dogs or corn dogs. Adding a tiny edible bow to each, you can infuse extra charm to adhere to the Minnie Mouse theme.
Remember, it's all about presenting the familiar with a whimsical twist. Use mini wooden skewers for easy serving and to maintain the theme, affix a small Minnie Mouse cut-out at the top of each skewer. Children and adults alike will love these small, fun and delicious snacks at your party.
Don't forget the mustard and ketchup for dipping!
Minnie-shaped Pizza Bagels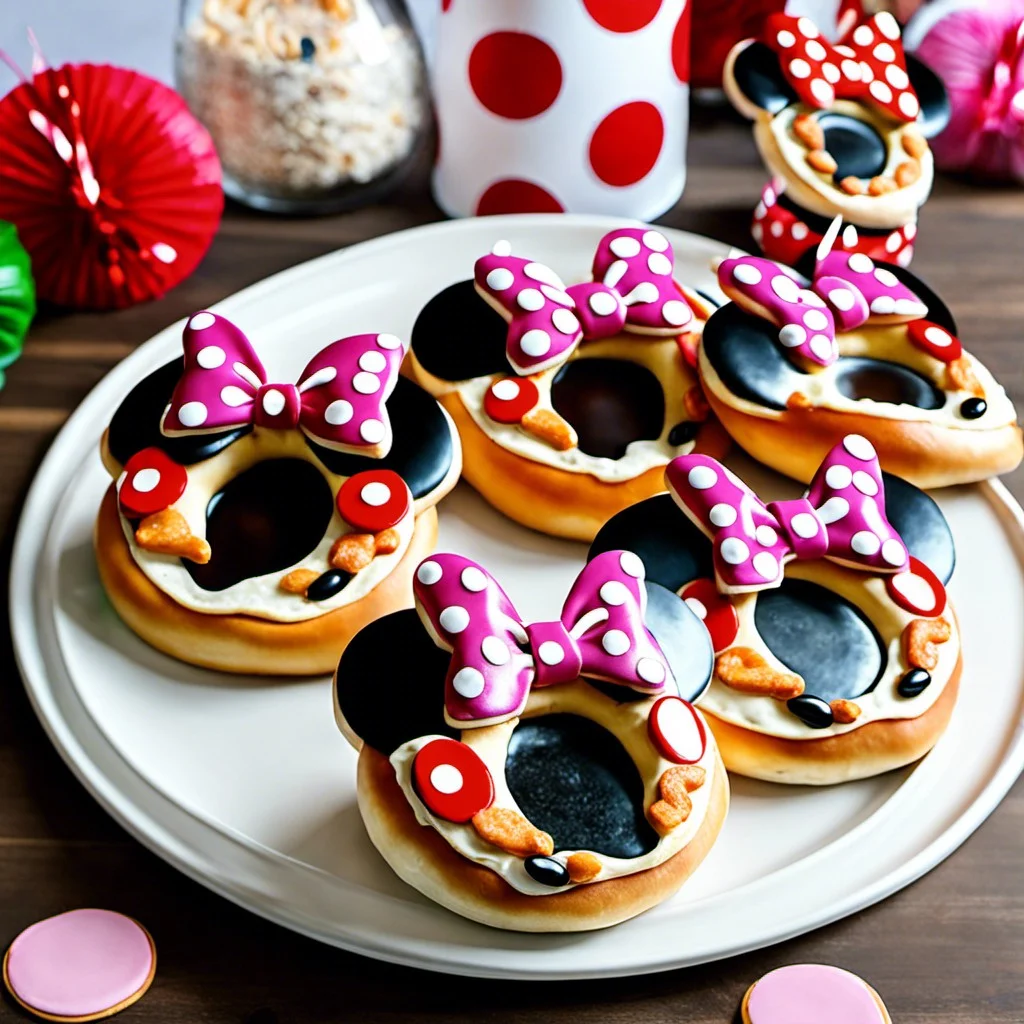 To start preparing the adorable edible delights, you'll need mini bagels, pizza sauce, mozzarella cheese, and black olives. First and foremost, slice the mini bagels in half and spread a generous dollop of pizza sauce on each one.
Next, it's quite imperative to shape the mozzarella cheese into thin circles that will make up Minnie's face. Place these cheese circles on the sauced bagel halves. For Minnie's iconic bow, use a cookie cutter or knife to shape the red bell pepper into a bow and position it on top of the cheese circle.
Use black olives slit into thin pieces for both the eyes and Minnie's mouth. Two larger olives can be placed at the top of the bagel to mimic Minnie's ears. Once all ingredients are in place, the bagels can go into a preheated oven until the cheese starts to melt and the bagel becomes toasty.
The transformation of regular ingredients into a spectacular Minnie-inspired snack is guaranteed to add fun and laughter to the party ambiance.
Red Velvet Minnie Cupcakes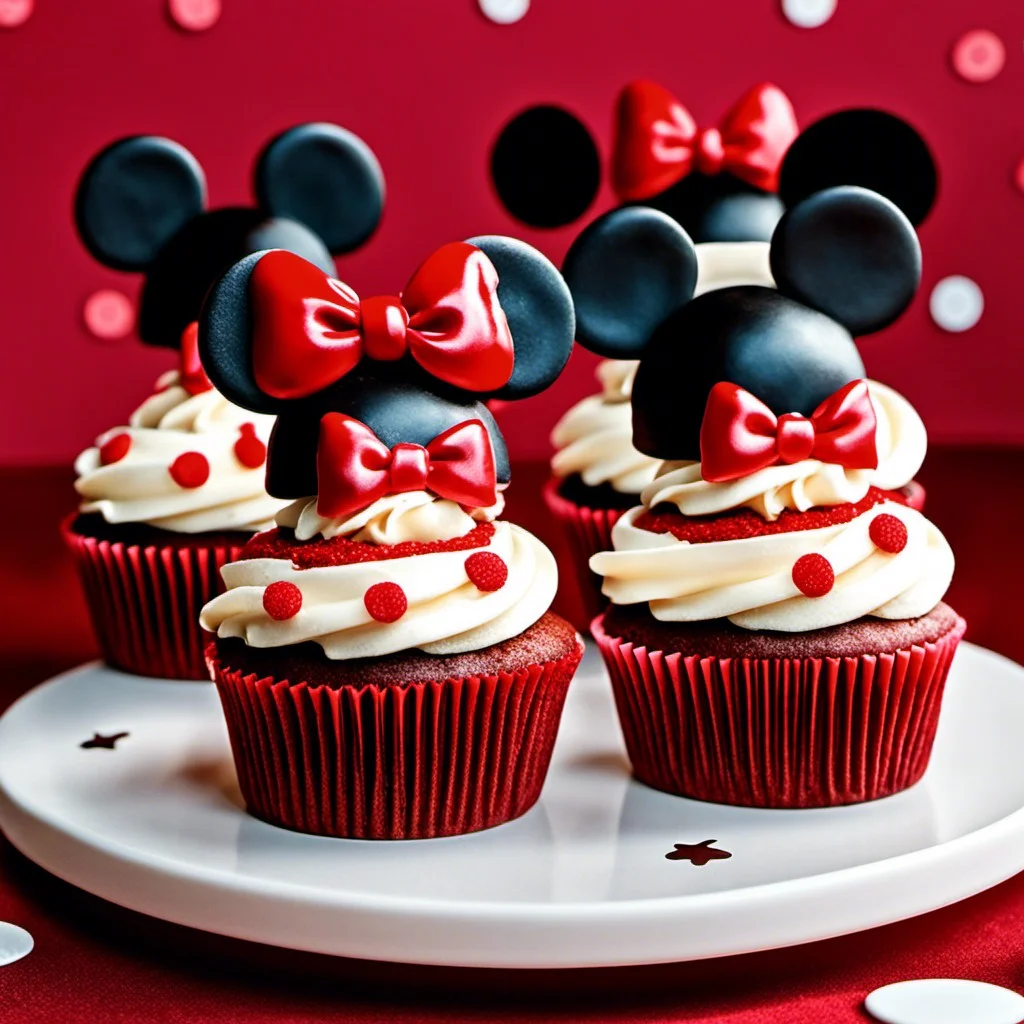 Red velvet as a flavor captures both sophistication and excitement, making it perfect for a Minnie-licious treat. Making these cupcakes involves baking a classic red velvet cake, using beetroot or red food coloring to achieve the signature color.
The little ones will undoubtedly love the rich, moist cake complemented by a hint of cocoa.
The Minnie twist comes in with the frosting stage. A swirl of classic cream cheese frosting on top serves as the backdrop for Minnie's iconic bow, which can be fashioned from red fondant. Creating the bows might require some artistic flair, but there are plenty of cookie cutters or forms available that can simplify the process.
For a finishing touch, two chocolate-covered Oreos, affixed atop the frosting, serve as Minnie's ears. Not only will these cupcakes taste delightful, but they'll also radiate the Minnie Mouse charm.
Enjoy the elegance of red velvet cupcakes paired with the playful allure of Minnie Mouse.
Minnie Mouse Macarons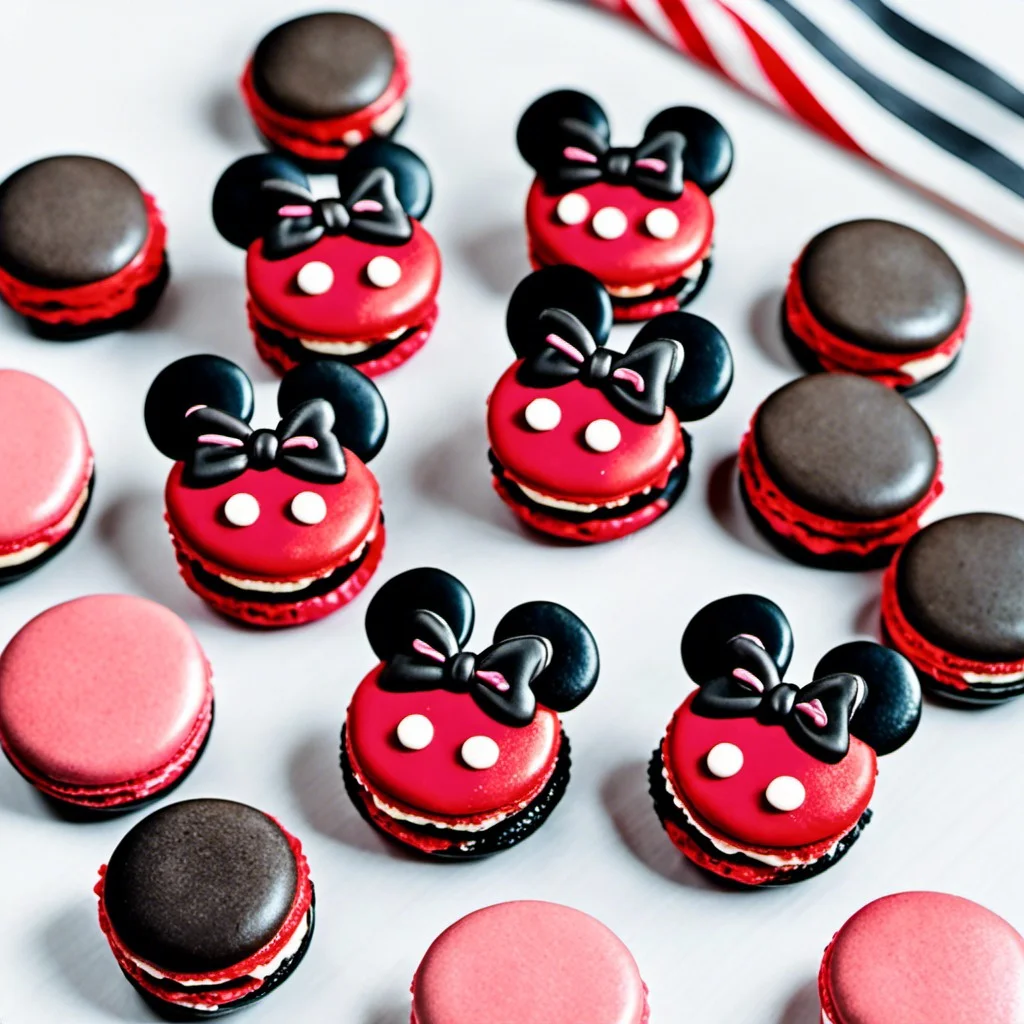 Making these delicate French pastries can be a fun activity and they perfectly align with a Minnie Mouse birthday theme. Opt for macarons in classic Minnie Mouse colors; think red and pink shells filled with cream or jam. With some creativity, the macarons can even be decorated to resemble Minnie's face or iconic bow.
Here are couple of points to consider:
Practice – Making macarons requires precision, so it's the perfect opportunity to hone your baking skills.
Decoration – Employ your creativity! Use edible paint or food markers to draw Minnie's face or bow on top of each macaron.
Fillings – Choose filling flavors that complement your color scheme, such as raspberry jam or strawberry cream.
Presentation – Arrange your completed macarons on a Minnie-themed serving tray to tie it all together.
Remember, it's all about maintaining that balance between the sweetness and the cute aesthetic of Minnie Mouse to delight the party-goers.
Muffins With Minnie's Bow Made From Icing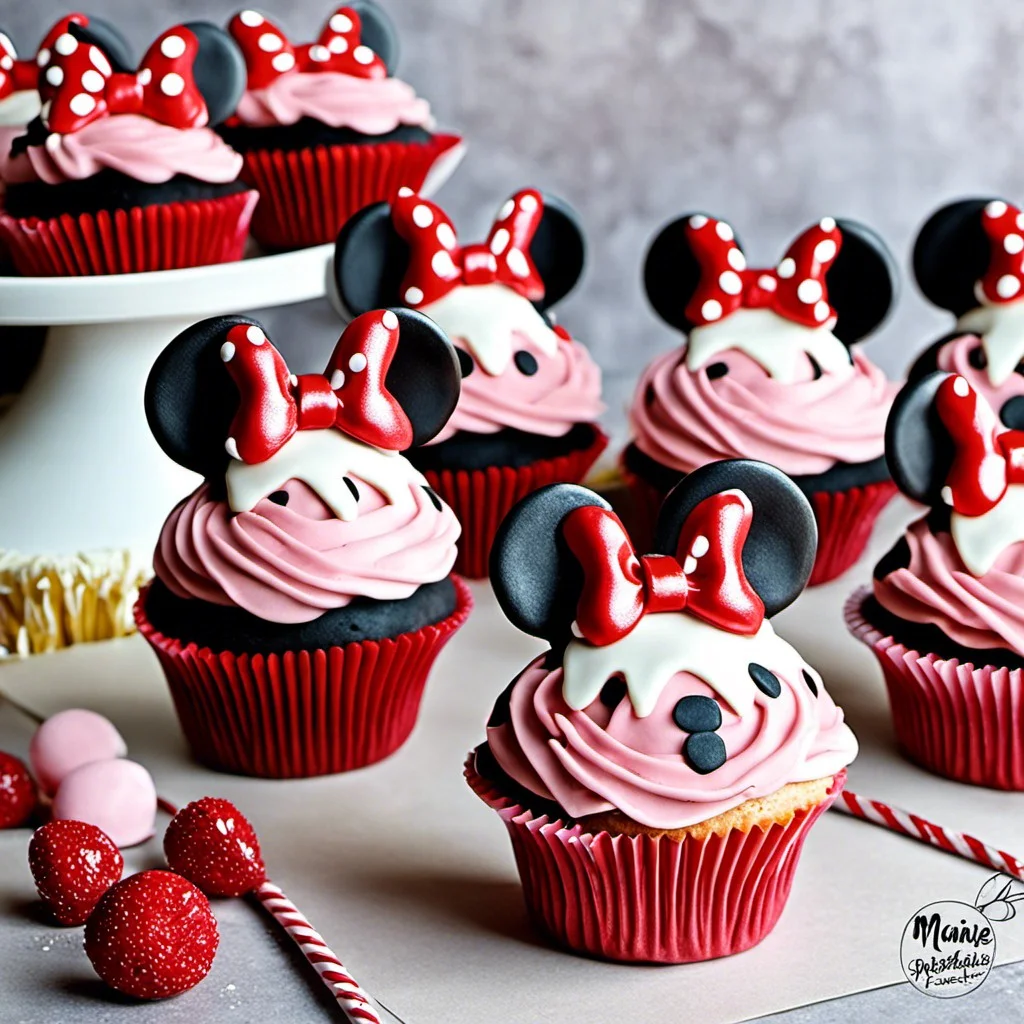 Starting the muffins preparation is quite fun and a beloved treat for the little ones. With a basic muffin recipe, the creativity starts in adding Minnie's signature bow using icing.
1. Use your favorite muffin recipe or buy ready-made ones for convenience.
2. Choose an icing color in line with your party's color scheme.
3. Make a piping bag by cutting a small corner off a plastic bag and use it to draw the bows.
4. If unsure about free-handing the bow, use an edible marker to outline the shape first.
5. Once the icing hardens, add an extra touch of sparkle with edible glitter.
Remember, perfection is not the goal here. Even if your bows aren't flawless, their charm lies in your attempt. Plus, they'll be devoured so quickly that no one will have time to scrutinize them!