Explore delightful snack ideas to turn your ladies' night into a delicious culinary adventure, from savory bites to sweet treats.
Planning a ladies night and looking for snack ideas? Look no further! This article is packed with delicious and easy-to-make snack options that are perfect for a fun and relaxed evening with your girlfriends.
From savory bites to sweet treats, and even some healthy options – we've got it all covered. So whether you're hosting a movie night, a wine tasting, or just a good old catch-up, these snack ideas will keep your guests satisfied.
Read on to find the perfect mix of snacks that will compliment your ladies night beautifully.
Chocolate Fondue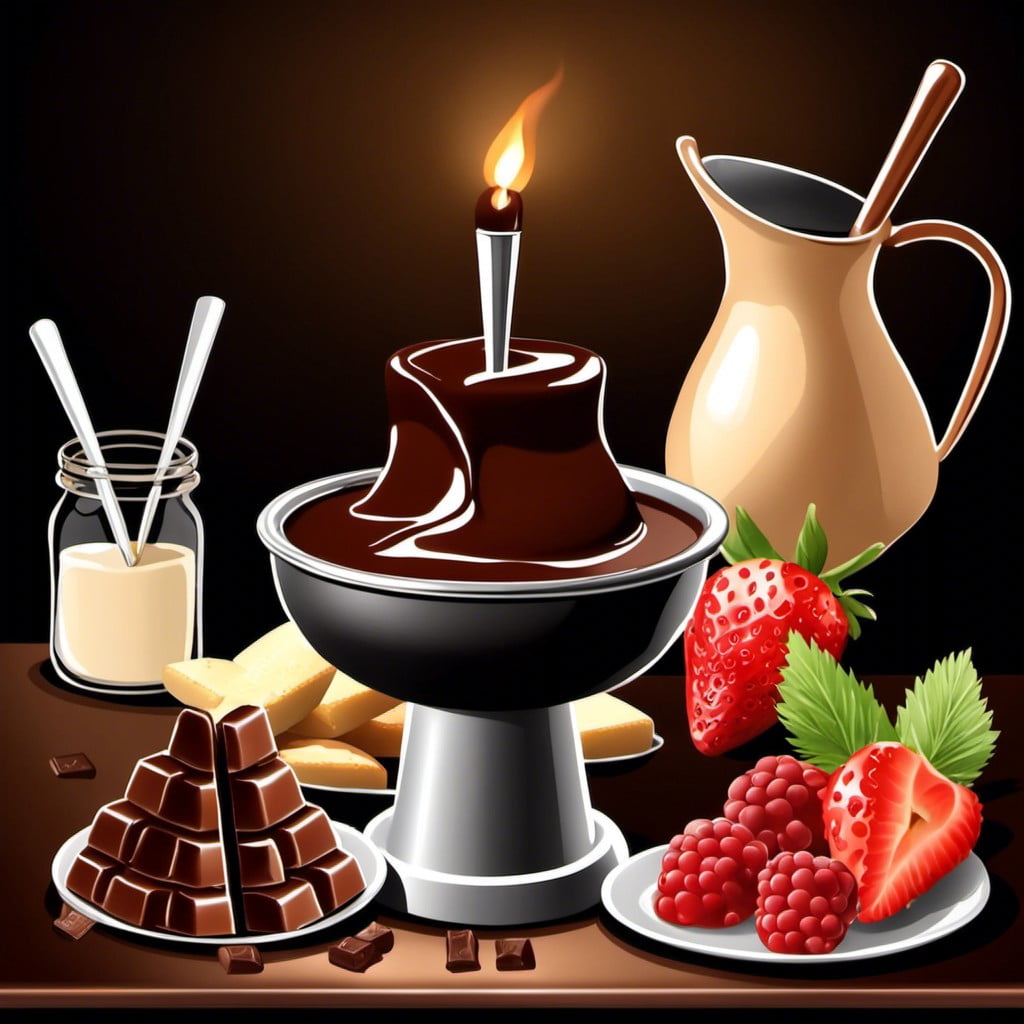 A melted mix of high-quality dark and/or milk chocolate creates the base for this delicious treat, with a hint of cream to form the smooth, velvety texture.
With an assortment of dippable treats arrayed on a platter, you can go traditional with strawberries, cherries, or banana slices.
Marshmallows, cookies, or pieces of cake can also be a delectable choice for those seeking a bit more sweet indulgence.
Guests can dip their chosen treats using long forks or skewers, allowing personalized taste experience every time.
It's an interactive and fun snack option that simultaneously feels elegant and indulgent.
For a unique touch, consider adding liqueur to the fondue for an adults-only flair.
Cheesy Popcorn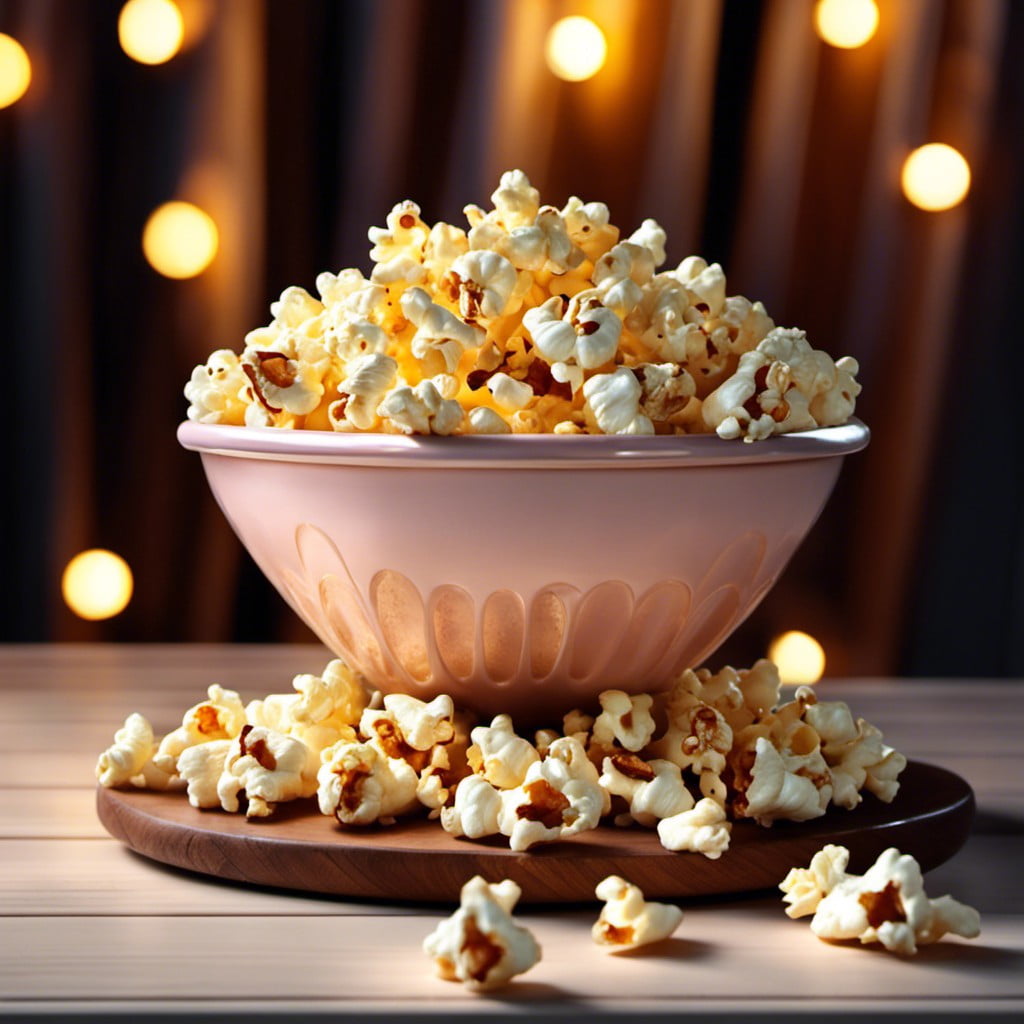 With its satisfying crunch and irresistible flavors, this treat is certain to be a hit at any ladies' night in. The key to perfecting this snack lies in choosing a high-quality mature cheddar, grated finely to ensure it melts evenly over hot popcorn.
Adding a sprinkle of paprika can elevate the flavors, making it hard to resist. To guarantee freshness, it's best to prepare this just before your guests arrive – it's so quick to make that you will not need more than a few minutes.
The recipe can be easily adjusted to cater to varying taste preferences and dietary restrictions. For vegans, for example, nutritional yeast can be used as a great cheese substitute. Just remember to keep serving napkins at bay because finger-licking is inevitable!
Mini Quiches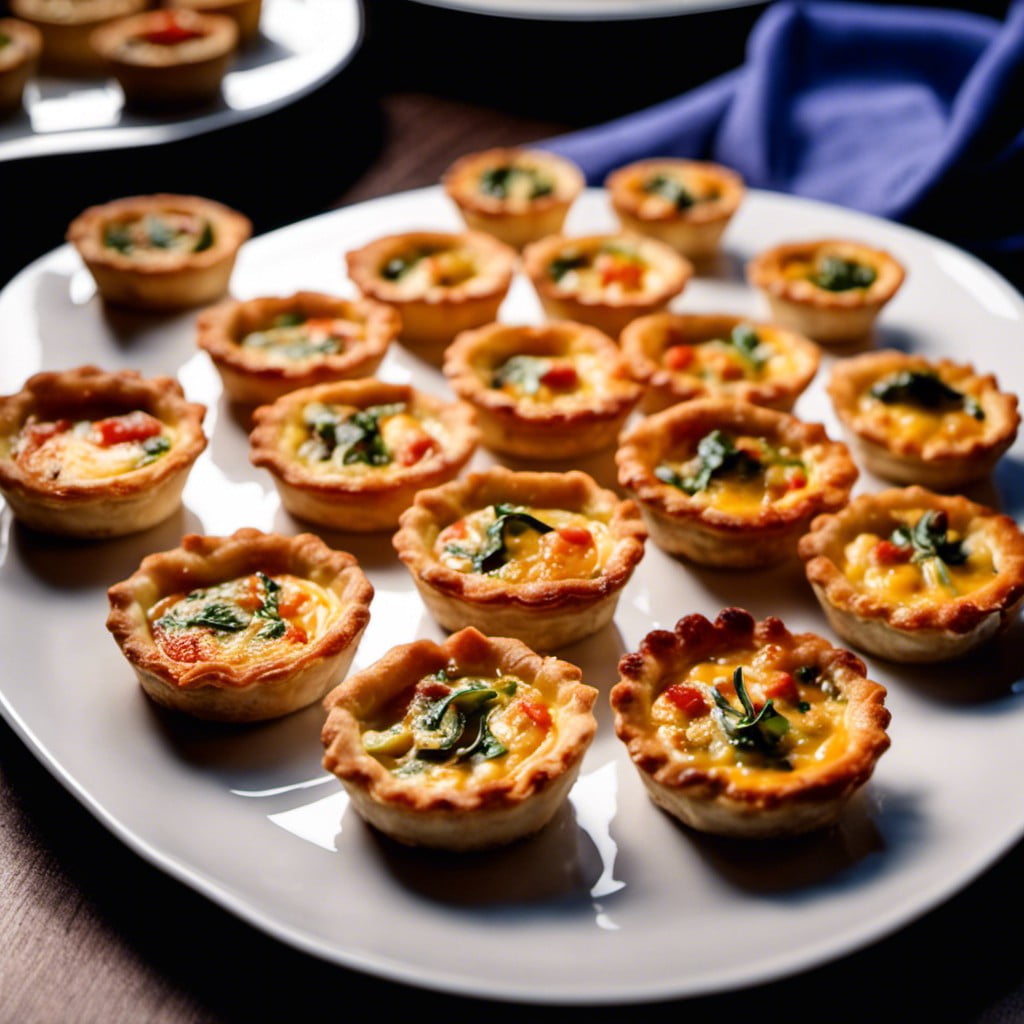 Delicate and flavor-packed, these small but mighty treats make for the perfect snack. They offer amazing flexibility where you can fill them with just about anything – think cheese, spinach, ham, bell peppers, bacon, or zucchini.
The quiches can be prepared ahead of time, giving you one less thing to worry about on the evening. Pop them into the freezer, and then just warm them in the oven when your guests arrive.
Delicious served hot or cold, these tiny pastries not only add a touch of sophistication to your ladies night, but also cater to different dietary needs, since they can be easily adapted to vegetarian or gluten-free versions with a simple adjustment to the ingredients.
Sushi Rolls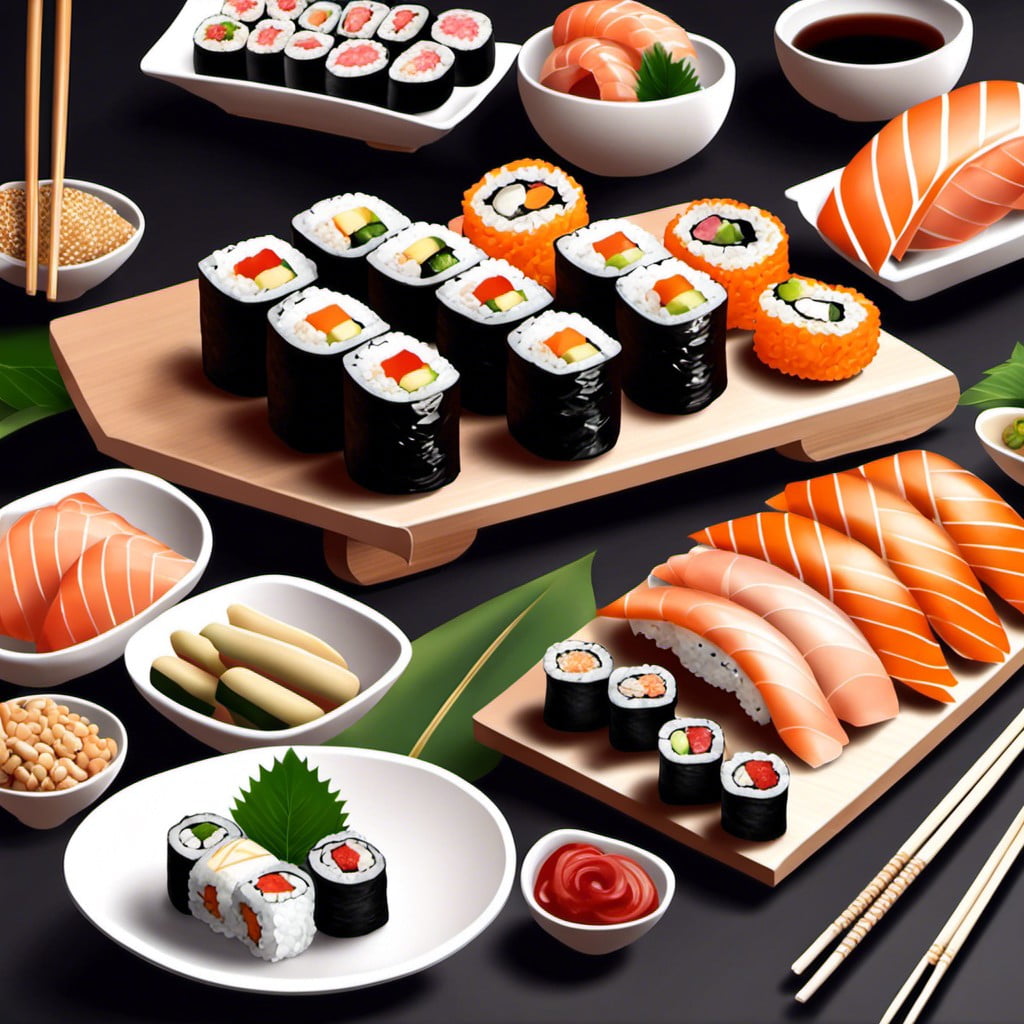 Boasting a blend of textures, flavors, and vibrant colors, sushi rolls are more than a delicious treat; they're a showstopper. Opt for a variety of fillings to cater to all tastes – from the fresh crunch of cucumber, the creamy luxury of avocado, to the subtle sweetness of cooked shrimp or crab. Ensure the sushi rice is adequately seasoned with a mix of rice vinegar, sugar, and salt for that unmistakable tangy taste.
To add an extra edge to your ladies night, consider a DIY sushi station. Provide a sushi mat, nori sheets, cut veggies, pre-cooked seafood or tofu for dietary preferences, and, of course, the sushi rice. It's a fun activity and allows each guest to customize their roll. Finally, don't forget the soy sauce, pickled ginger, and wasabi for a truly authentic experience.
Fruit Kabobs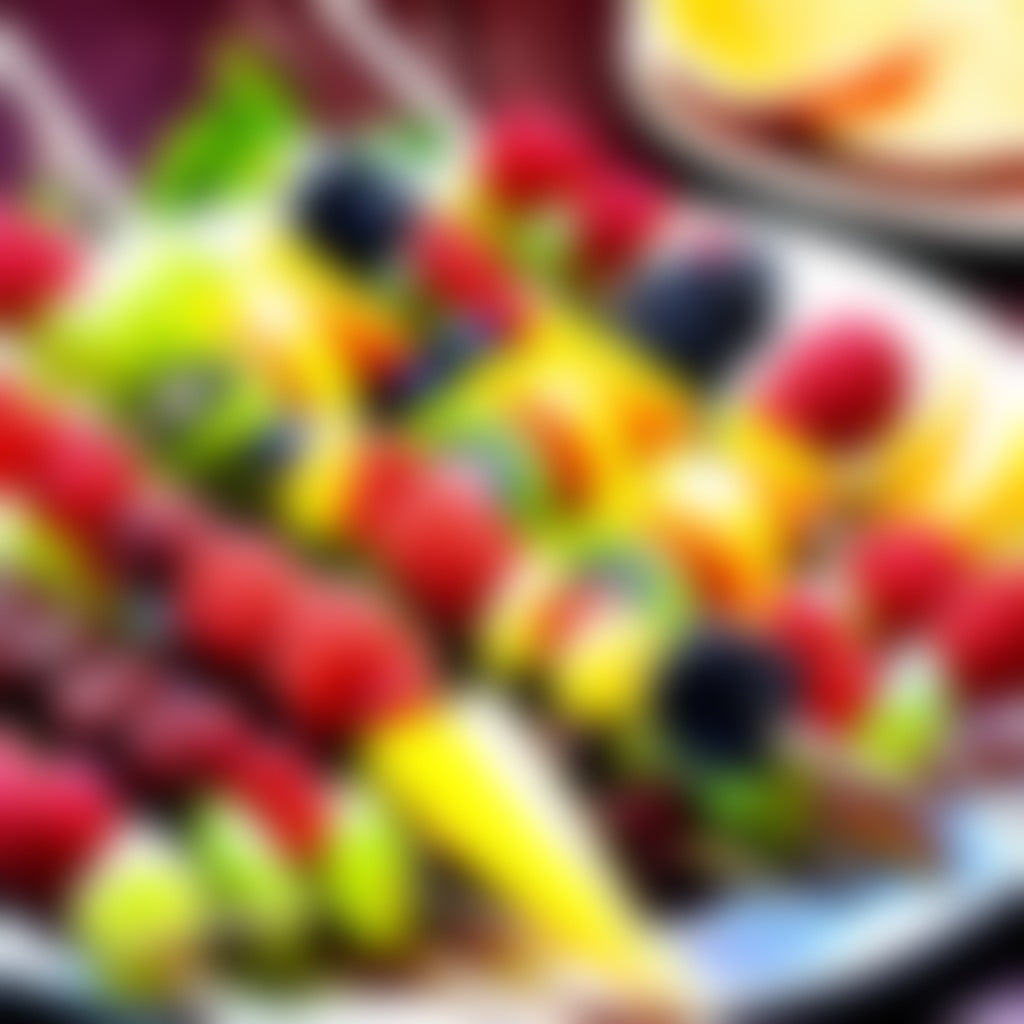 A fresh and vibrant mix of seasonal fruits makes for an ideal snack. No cooking is involved in this, just careful selection of ripe, juicy fruits. You could include a variety of colors to make it visually appealing – think watermelons, ripe strawberries, green grapes, or even blueberries.
Dice each fruit into bite-sized pieces, allowing even distribution of different flavors. After cutting, arrange them on wooden skewers, playing around with the colors for an attractive appeal.
To add a fun twist to this healthy, refreshing snack, consider a side of Greek yogurt enhanced with a hint of honey and a dash of vanilla extract for dipping. The tangy creaminess of the Greek yogurt effortlessly balances the natural sweetness of the fruits. This combination not only packs loads of nutritional benefits but also explodes with delightful flavors that hit the sweet spot in a light, refreshing way.
Remember to chill them in the fridge for a few minutes before serving to enhance the taste experience. The cool temperature elevates the sweetness of the fruits and gives an even more refreshing bite. Enjoy this low-calorie, nutrient-dense snack with your girlfriends, perfect for gripping in between sips of your favorite beverage and entertaining conversations!
Spinach Artichoke Dip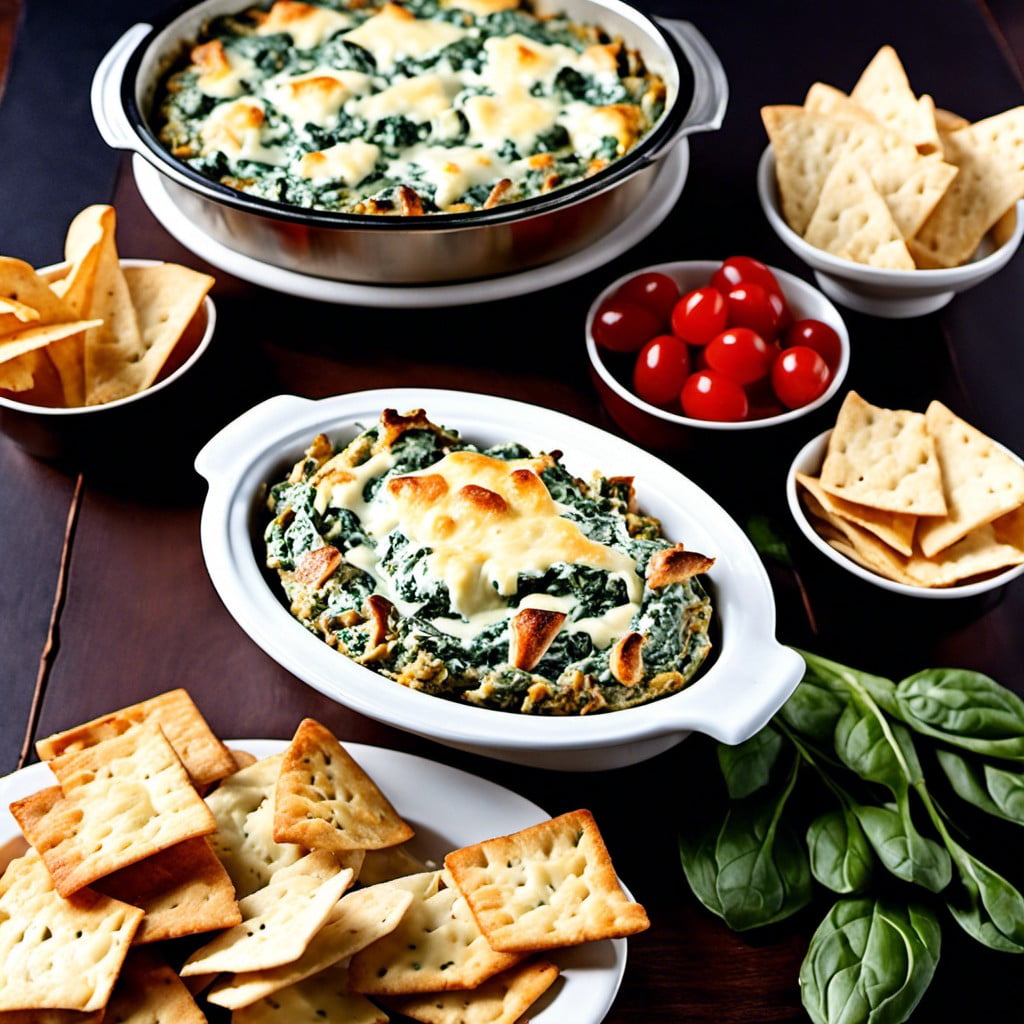 Packed with flavor and easy to prepare, Spinach Artichoke Dip is a popular choice for any ladies' night gathering.
Its creamy, cheesy base is filled with leafy spinach and chunky artichoke pieces, delivering a delightful contrast of textures in every scoop.
This versatile dip can be served with a range of accompaniments, from traditional crusty breads and tortilla chips to a variety of fresh vegetable sticks, which allows for customizing to dietary preferences.
Its warm, comforting nature makes it an ideal snack for both casual and elegant evenings.
Preparation can be streamlined by using canned artichokes and frozen spinach, without compromising taste or texture.
Caprese Skewers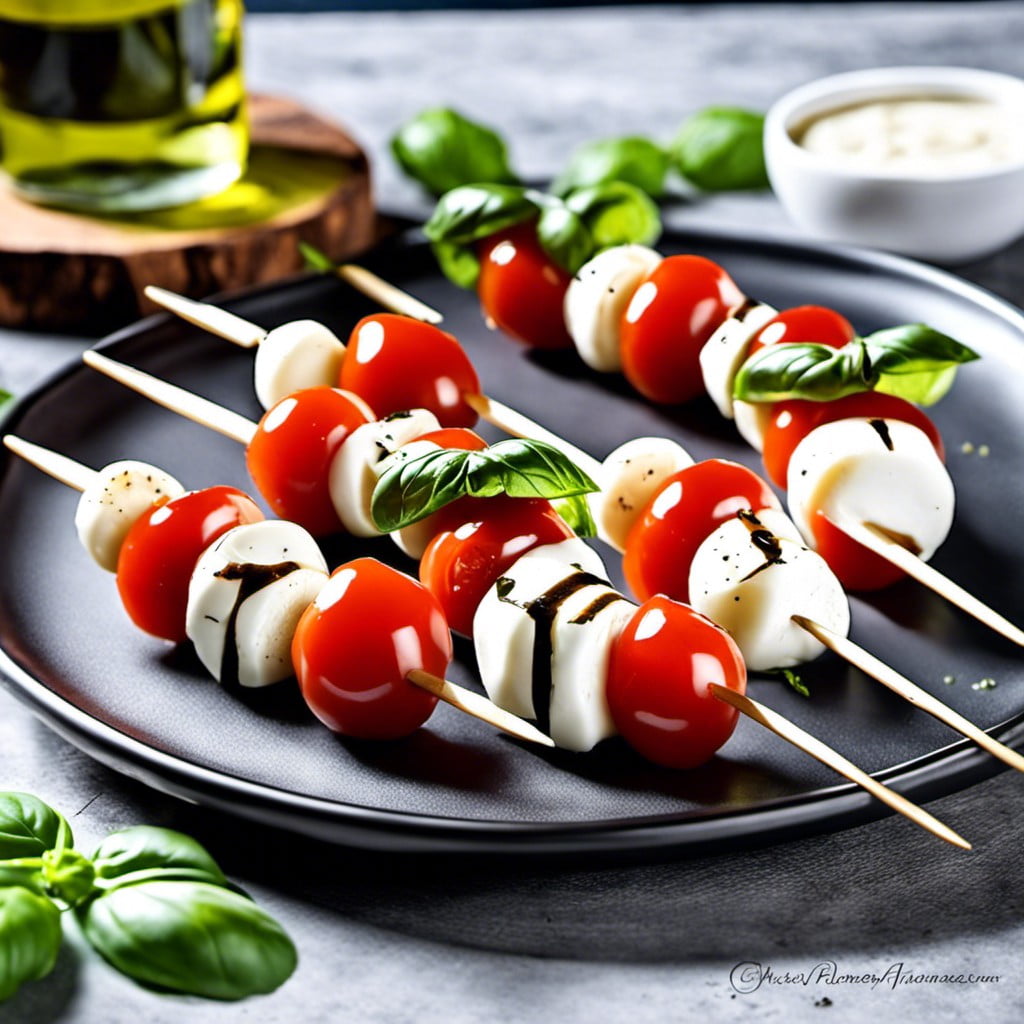 Bringing Italy's cherished flavors to bite-size portions, skewers offer a delightful blend of fresh tomatoes, milky mozzarella balls, and aromatic basil leaves. Simply thread these three ingredients on a skewer for an efficient assembly – perfect for large gatherings.
Drizzle each with a tangy balsamic reduction just before serving to enhance layers of flavor. These skewers embody the simplicity and freshness of Italian cuisine. They not only cater to those with vegetarian preferences but also make for a light, yet flavorful addition to your ladies' night snack options. Convenient to enjoy and riotously delicious, they paint a gastronomic picture nobody would refuse. Pair it with a crisp white wine to completely bring out the best of these skewers.
Bite-sized Tacos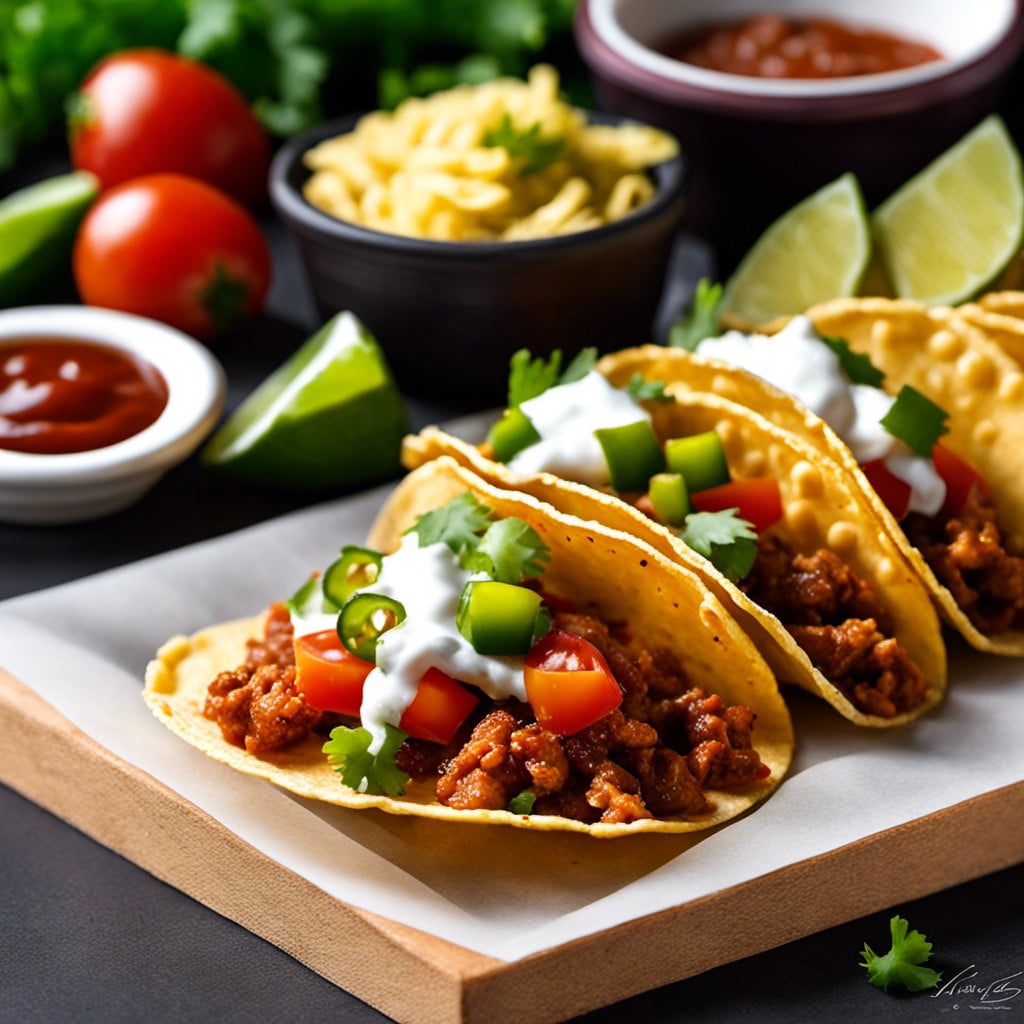 Bite-sized tacos deliver the full experience of a regular taco in a size perfect for a quick nibble. They offer all the tasty toppings and fillings, carefully nestled inside mini tortilla shells.
These include seasoned ground beef, shredded lettuce, diced tomatoes, a dash of salsa, and a sprinkle of shredded cheese. For a creative twist, consider chicken, fish, or vegetarian options for your fillings.
Preparing these snacks is straightforward and can't get any easier – just cook the proteins, carve out your veggies and compile them into the bite-sized tortilla shells.
The rules are there are no rules! Customize them however you and your girlfriends like them. Plus, they're inherently interactive; everyone can build their bite-sized taco to their preference!
Mini Cheesecakes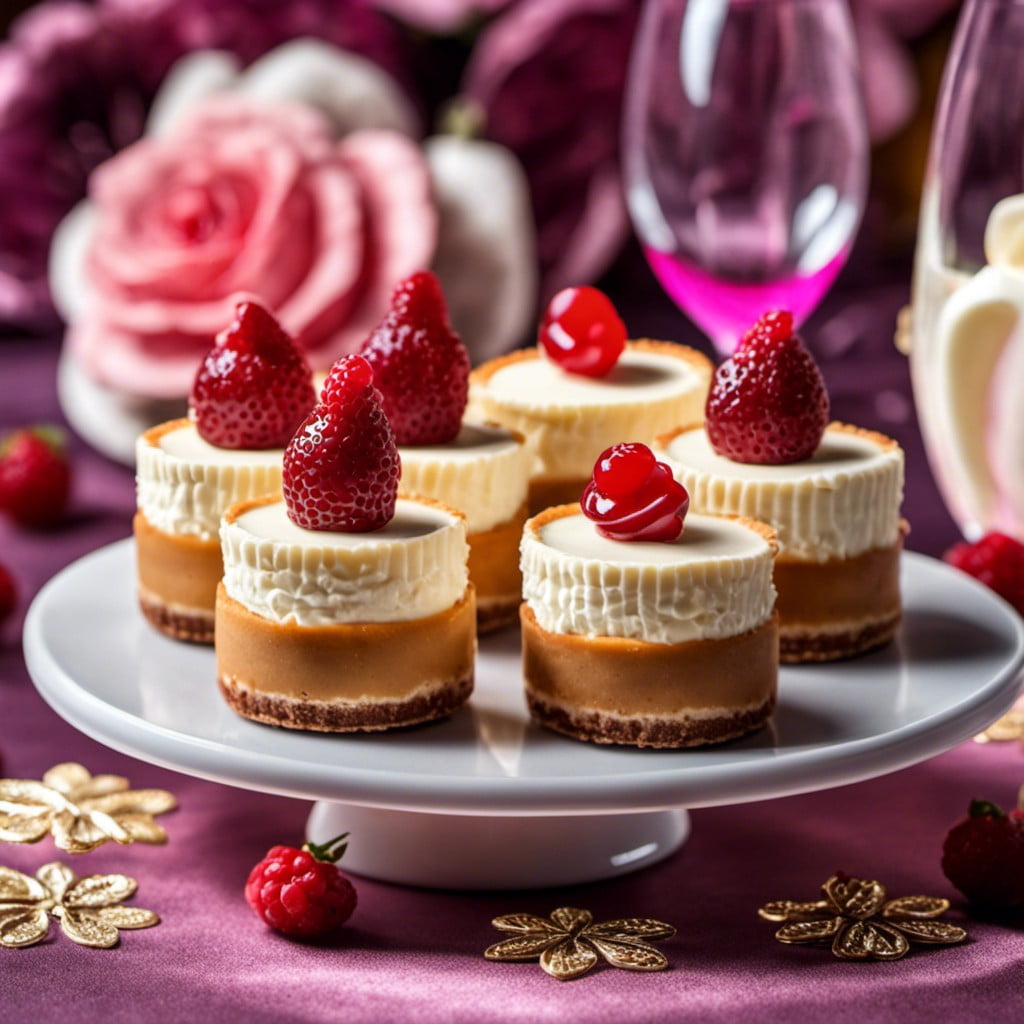 Boasting a delicate balance of sweetness and tang, these treats are as delightful to eat as they are simple to prepare. Their bite-sized nature makes them an ideal choice for occasions requiring finger foods.
With a basic graham cracker crust filled with creamy cheesecake, the possible variations are endless. Some might opt for the classic vanilla, while others might inject some creativity with flavored fillings like chocolate, lemon, or strawberry.
Remember, the key is to ensure the cheesecake is smooth and creamy while the crust is firm and crumbly. Baking them in a muffin tin provides the perfect proportions, avoiding the mess and fuss of slicing.
Finally, garnishing with a light dusting of powdered sugar, or a touch of fresh fruit, gives these mini treats a finished, sophisticated look that is sure to impress.
Prosecco Jello Shots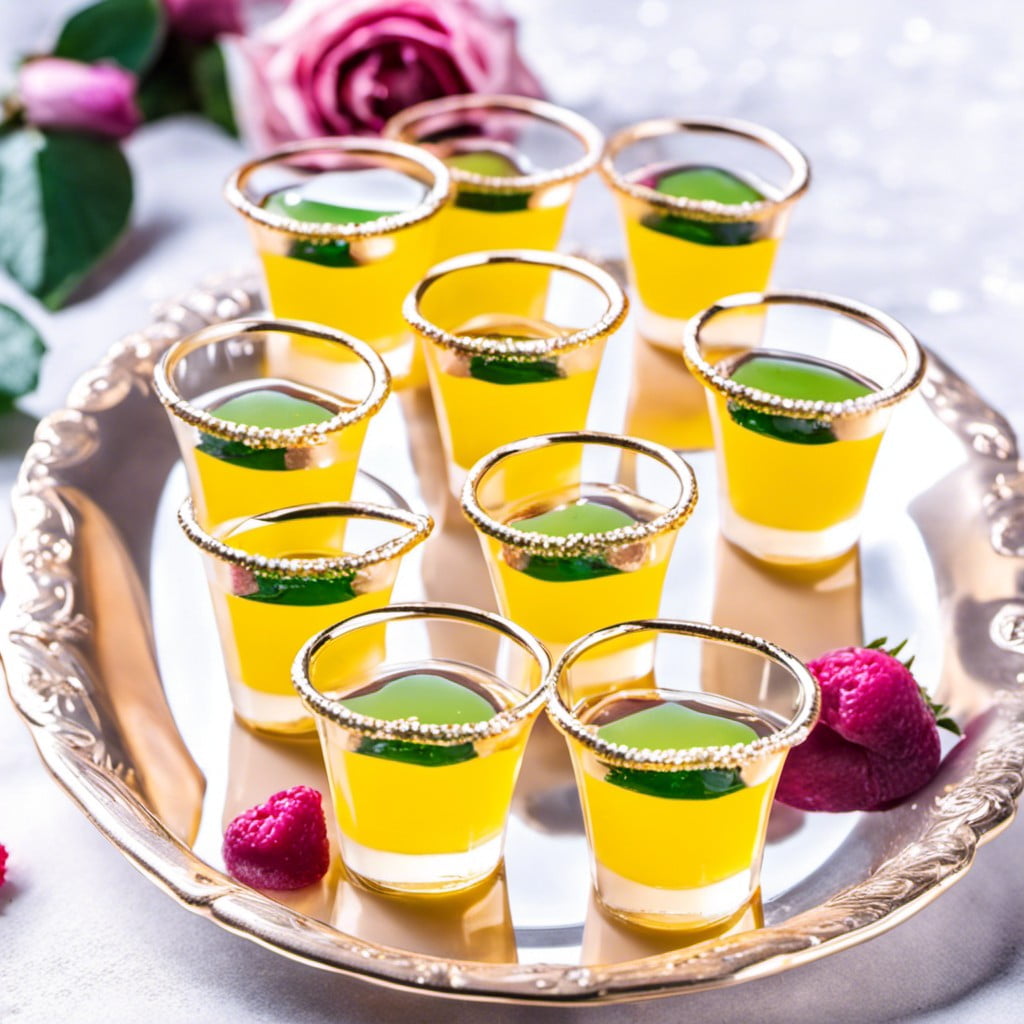 Spontaneous and vivacious, these jello shots add a unique twist to your snack list. Prosecco, celebrated for its crisp, light, and bubbly nature, is the star ingredient here, providing these shots a sophisticated touch. Add a hint of a sweet fruity flavor with a splash of peach schnapps, or go tropical with coconut rum.
Turning this elegant drink into a fun, jiggly snack is a simple process. It primarily involves allowing unflavored gelatin to bloom in the Prosecco, then heating it gently to dissolve it fully before adding the rest of the liquor. Pour the infused mixture into small plastic shot glasses and let it solidify in the fridge until the guests arrive.
To elevate its presentation, top each shot with a small dollop of whipped cream and a sprinkle of colorful edible glitter. This delicacy will certainly encourage lighthearted laughter and cheerful toasts around the room!
Chocolate Truffles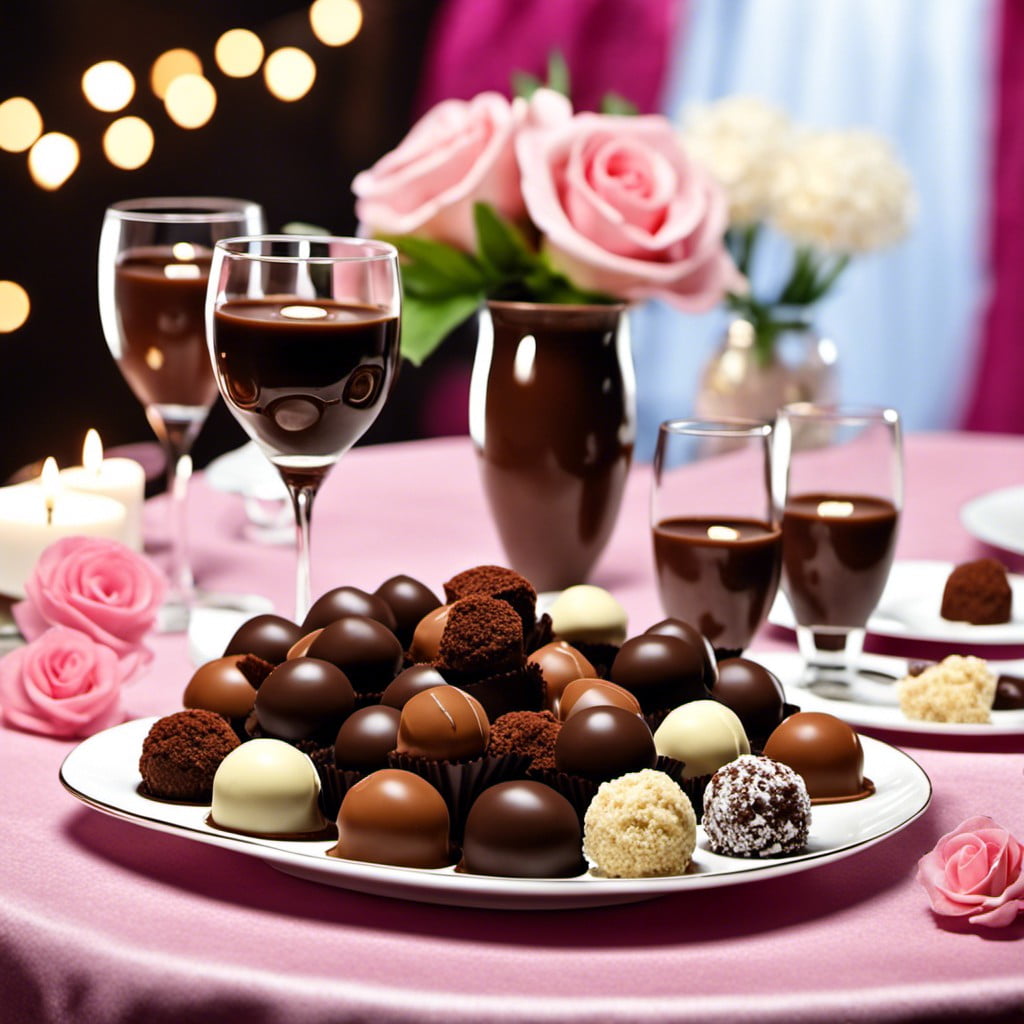 Delicious yet simple to make, chocolate truffles are the perfect treat for a ladies night in. Melted chocolate, heavy cream, and butter create the most delectable ganache center. From there, the fun begins with options to either roll the cooled, shaped mixture in cocoa powder, nuts, or even sprinkles for a touch of pizzazz.
These bite-sized delicacies are both rich and satisfying, translating into an indulgence that's perfect for sharing. For added flair, consider flavor enhancements such as orange zest, coconut, or a splash of your favorite liqueur. Remember, it's all about variety – offering truffles with different coatings and flavors ensures there's something for everyone's taste buds.
Greek Salad Cups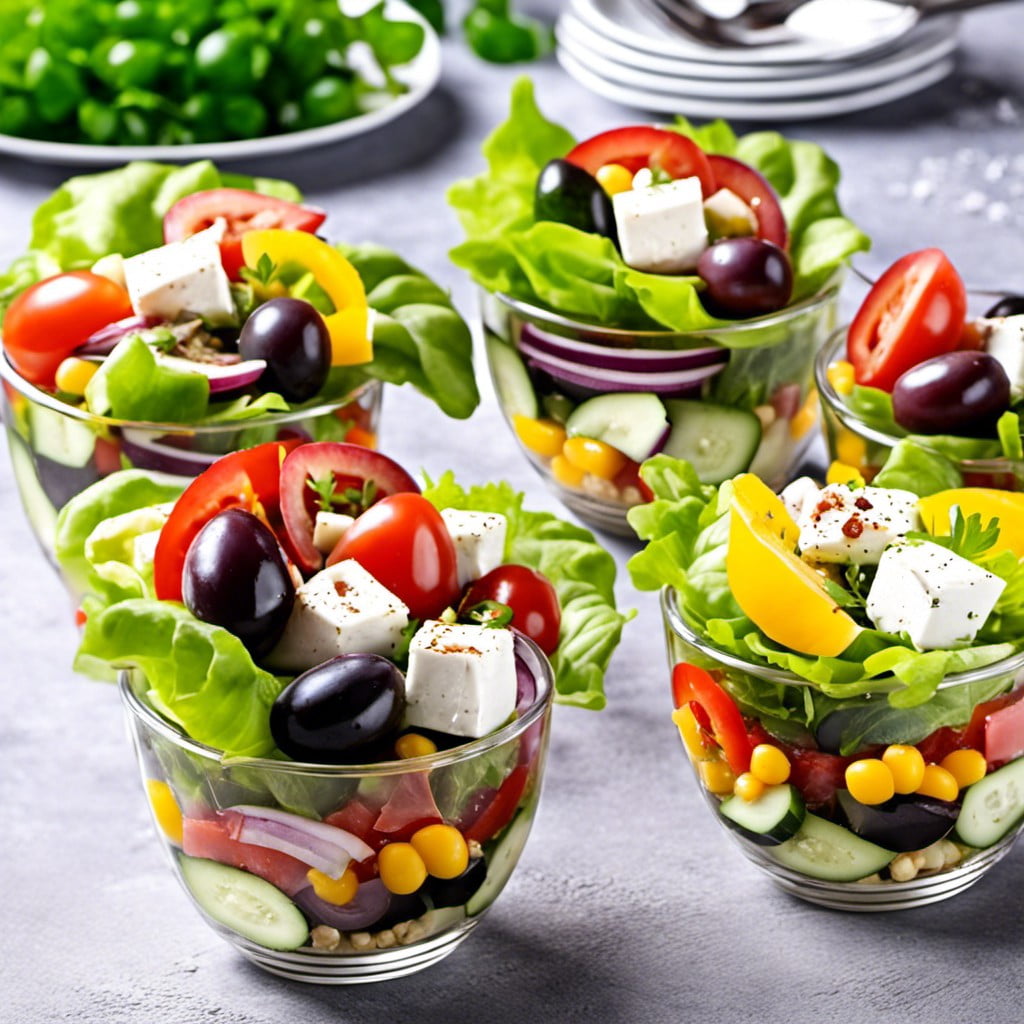 For a refreshing spin on traditional presentation, use lettuce cups to hold a mixture of diced tomatoes, cucumbers, red onions, and feta cheese.
Add a drizzle of high-quality olive oil, a splash of red wine vinegar, and a sprinkle of salt, pepper, and dried oregano to bring out the flavors.
Remember, the key to a Greek Salad is its fresh ingredients – so, ensure your veggies are as fresh as they come.
Ready in no time, these easy-to-make Greek Salad Cups can also be made ahead and stored in the refrigerator until guests arrive.
Not just delicious, they are also healthy and visually appealing, adding a touch of sophistication to ladies' night.
Mini Pizzas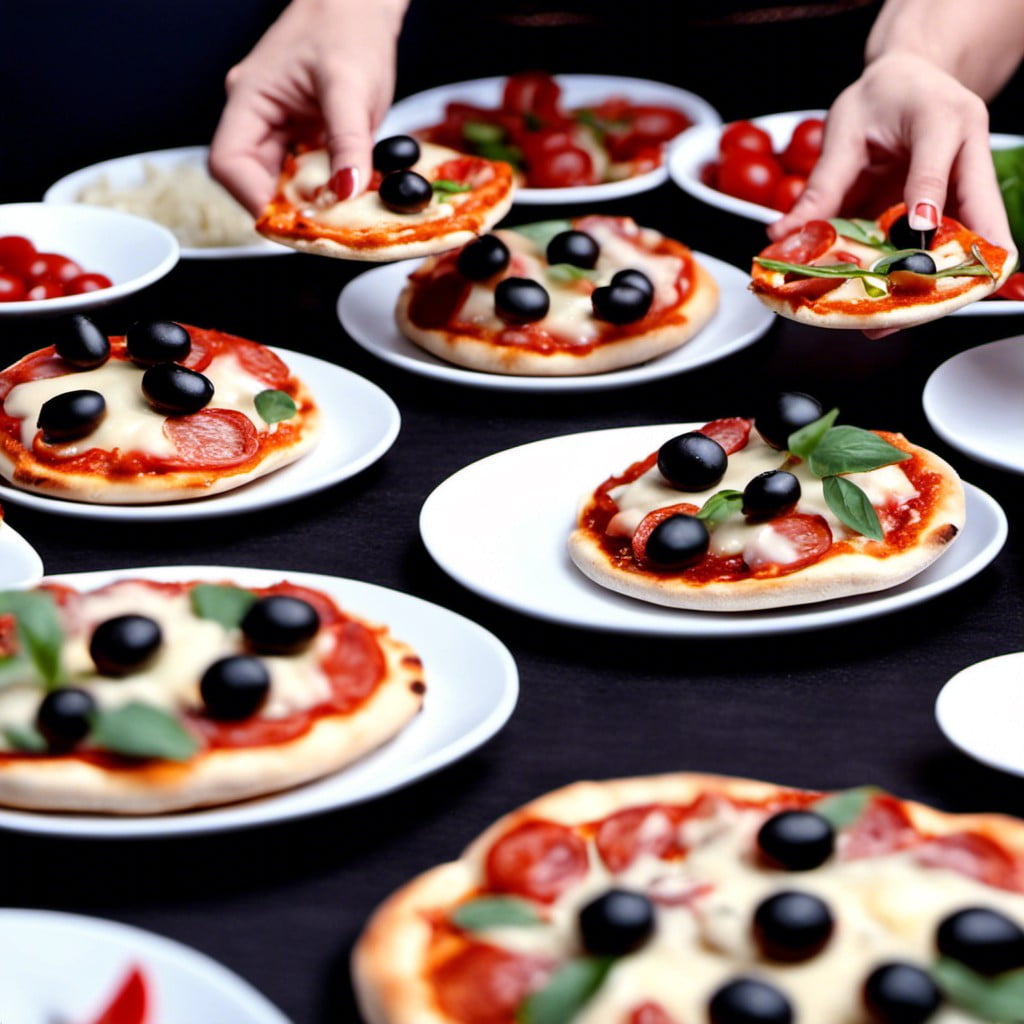 Filled with tangy tomato sauce, melted mozzarella, and a topping of your choice, these delectable bites take comfort food to the next level.
Prepare them using frozen dough or homemade dough, but make sure to roll it thin for a crispy base.
Pre-bake the crust to avoid sogginess.
Choose traditional toppings like pepperoni, bell peppers, and olives, or experiment with prosciutto, arugula, and figs for a gourmet touch.
The petite size ensures everyone can try different flavors without filling up too fast.
Just ensure they're served warm from the oven for ultimate gooey goodness.
Brie Bites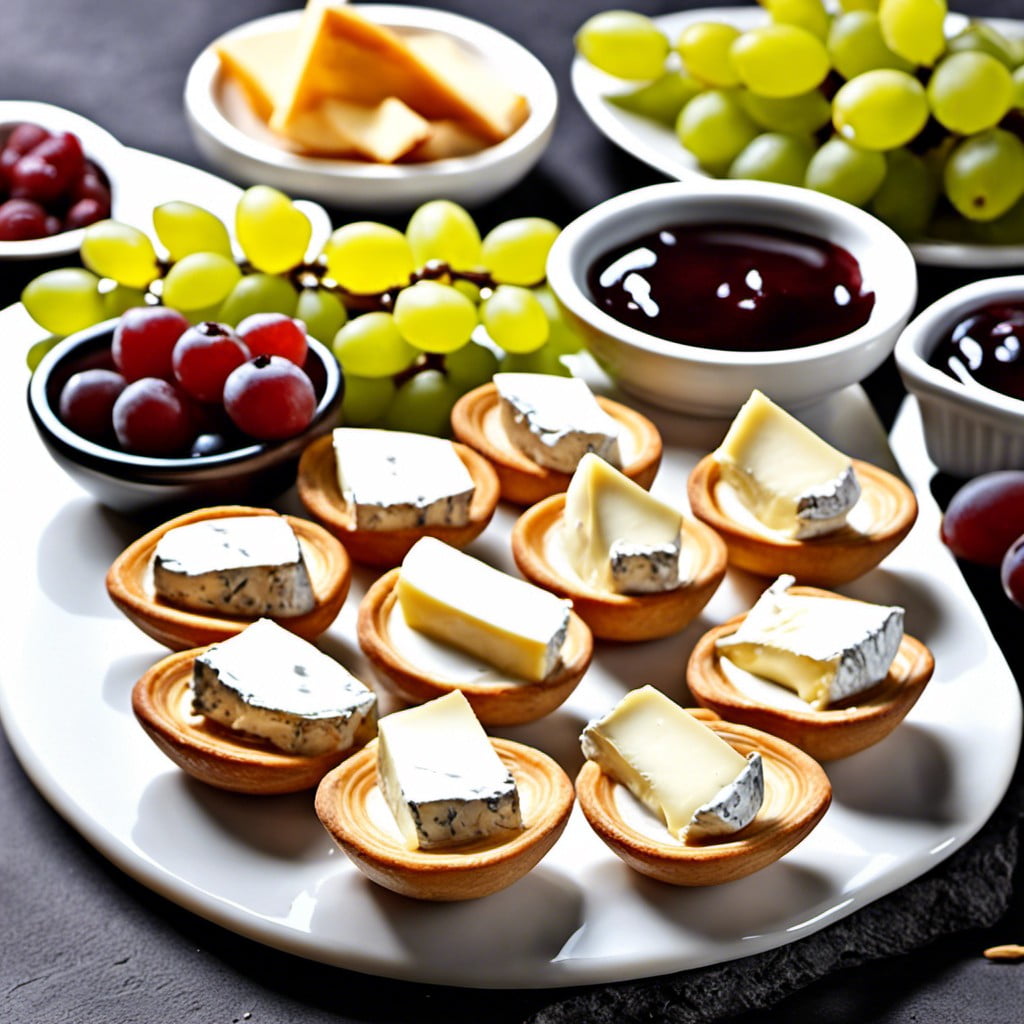 These heavenly morsels are exceptionally easy to prepare, offering a gourmet experience without the hassle. Each bite promises a combination of creamy cheese, crisp puff pastry, and a hint of sweetness from fig jam.
To prepare, start by preheating your oven. Once heated, unwrap the Brie and cut into small cubes. Next, roll out a sheet of puff pastry, cutting it into squares. Place a cube of Brie in the center of each square, followed by a small dollop of fig jam. Draw the corners of the puff pastry square together to form a parcel, and bake until golden brown.
Brie Bites offer a magical combination of textures and flavors, from the gooey cheese to the crispy, buttery pastry, with the fig jam adding a sweet contrast to the savoriness of the cheese and pastry. Platter presentation is a cinch – just remember to let them slightly cool before serving. Best enjoyed with a crisp white wine or champagne to balance the richness.
Shrimp Cocktail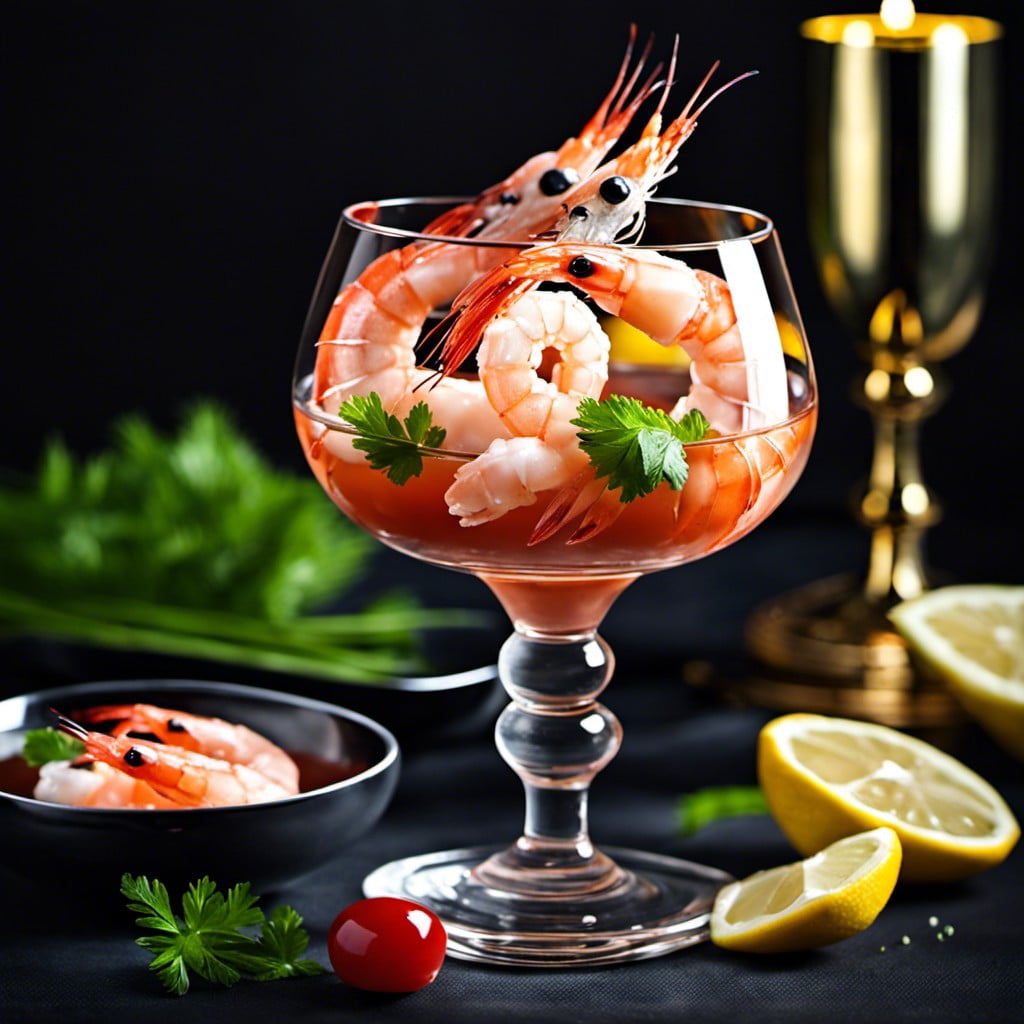 To prepare, you'll need fresh shrimps, classic cocktail sauce, and a platter. Ensure that the shrimps are thoroughly cleaned and de-veined before being boiled.
Once boiled, chill the shrimps for a couple of hours. They can be served atop a bed of ice to keep them cool.
Make the cocktail sauce by blending ketchup, horseradish, Worcestershire, lemon juice, and a dash of hot sauce. This tangy, fiery sauce elevates the rich, succulent taste of shrimps, making for a fun, interactive snack.
The ease of eating, coupled with a burst of flavors, makes it a favorite for social occasions.
Veggie Spring Rolls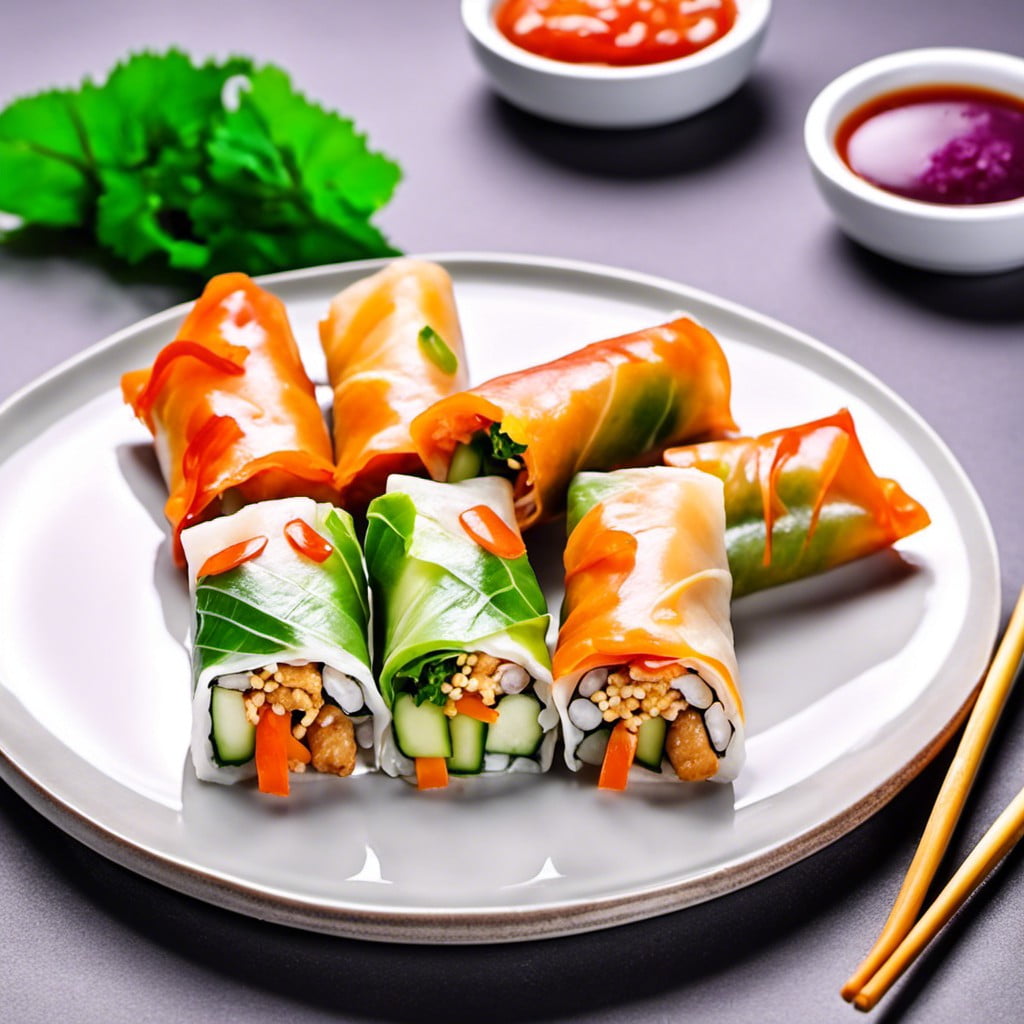 For a healthier option with a satisfying crunch, these delightful snacks are packed with an assortment of colorful, delicious vegetables. Choose components like shredded cabbage, julienned peppers, and grated carrots, combined with herbs like cilantro or mint for a flavorful punch.
Wrapped tightly in rice-paper, they offer a wonderful mix of textures from the tender crisp of the vegetables to the softness of the rice-paper wrap. Among the standout features is their versatility – include tofu or shrimp for those craving a bit of protein or stick to an all-veggie filling for vegan friends, each spring roll can be personally tailored.
All this freshness pairs incredibly well with a tangy peanut dipping sauce; the creamy, nutty zest setting off the natural flavors of the vegetables beautifully. Moreover, being bite-sized, they make for stress-free serving and relaxed dining.
Remember, the trick to making these rolls shine lies in the vibrancy of the vegetables, so opt for the freshest possible produce.
Avocado Bruschetta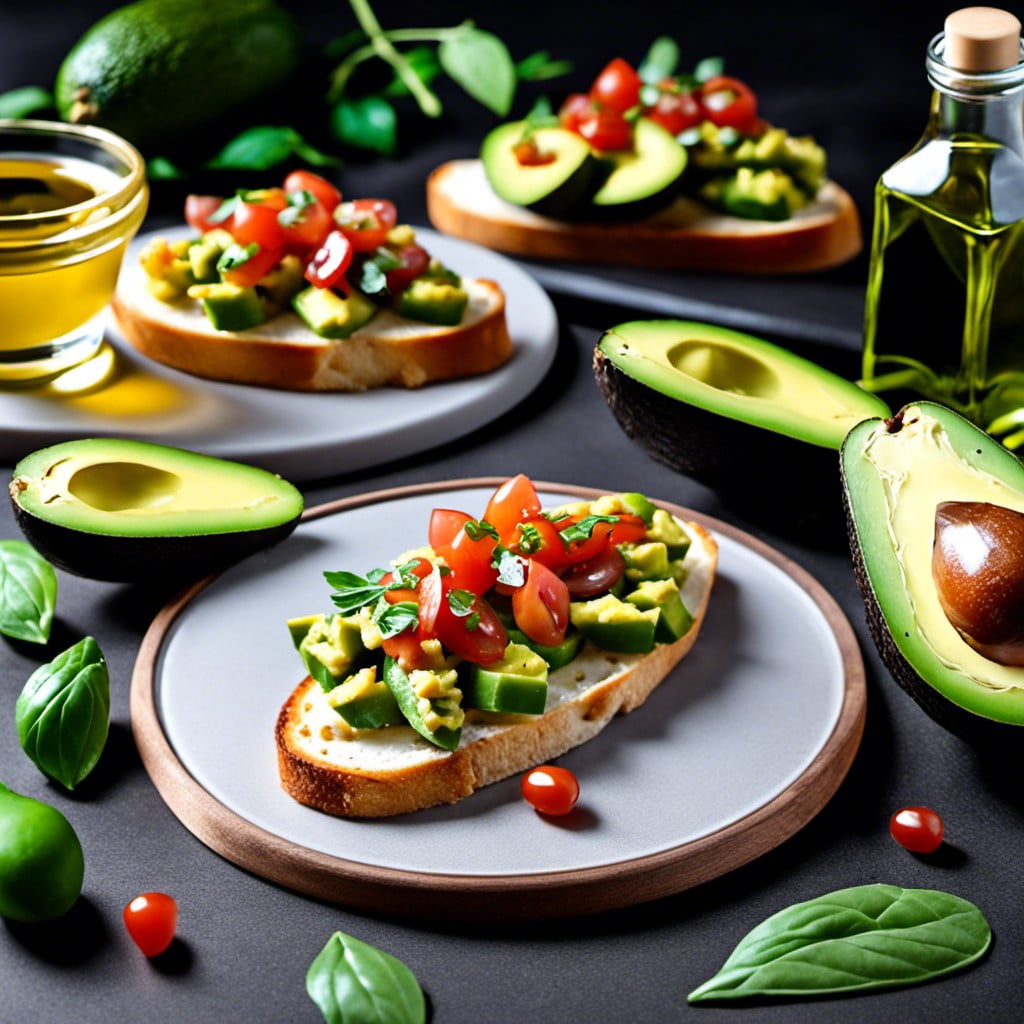 Creating this delicious snack requires a handful of nutritious and vibrant ingredients. The creaminess of ripe avocado pairs wonders with tangy balsamic reduction, sweet cherry tomatoes, and a sprinkle of fresh basil. A toasty and slightly charred baguette serves as the perfect vessel for these ingredients.
By following these easy steps, you guarantee a delightful taste experience:
1. Slice a baguette into thin slices and roast them until they're slightly crisp.
2. Mash the ripe avocados, keeping the texture slightly chunky for a rustic feel.
3. Scatter finely chopped tomatoes and fresh, aromatic basil leaves on the mashed avocado layer.
4. Drizzle over with balsamic glaze, adding a rich, tart, and slightly sweet element.
5. Season with salt and pepper to preference.
This appetizer is not only tasteful but is also packed full of beneficial nutrients provided by avocados, like heart-healthy monounsaturated fats and fiber. Due to its simplicity, this snack can easily become a staple in your ladies' night culinary repertoire, always being a hit among the guests.
Churro Bites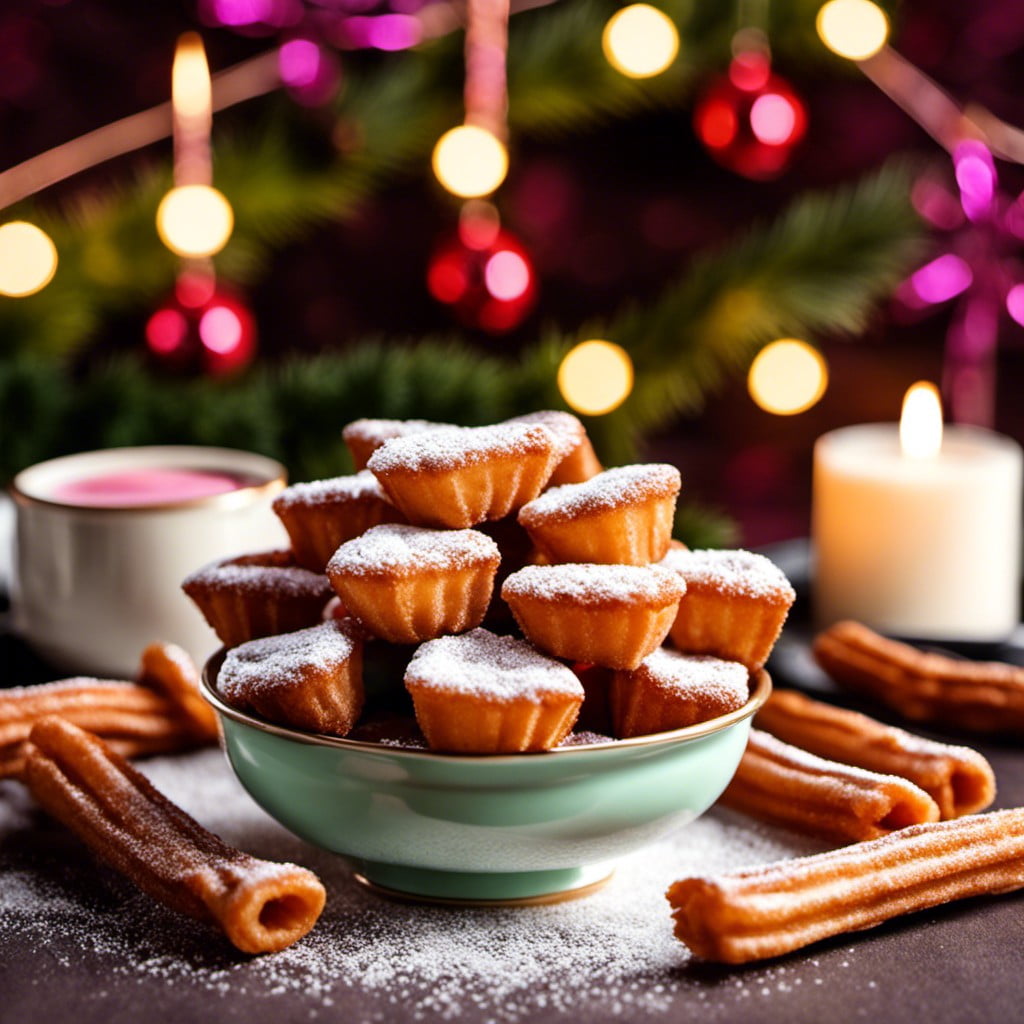 Featuring a satisfying blend of cinnamon and sugar coating, these petite pastries are perfect for a sweet tooth.
Bite-sized, easy to make, and daringly addictive, they are an ideal choice for a laid-back ladies night snack.
Paired with a delectable dip, such as chocolate or caramel sauce, the tastes come alive, creating a sumptuous dessert that everyone can enjoy.
To make churro bites, you'll need only four ingredients: water, butter, flour and eggs.
Begin by boiling water and butter together, then stir in the flour.
Once the dough pulls away from the side of the pan, transfer it to a separate bowl and mix in the eggs.
Pipe the dough into small blob shapes on a lined baking tray, then bake until golden brown.
While the churro bites cool, prepare a mix of cinnamon and sugar in one bowl and a chocolate or caramel dipping sauce in another.
Toss the bites in the cinnamon sugar mixture for an even coating and serve with the dipping sauce on the side.
This makes a delightful companionship of sweet, spicy, and melting flavors, offering a delectable close to any ladies night snack spread.
Edamame Hummus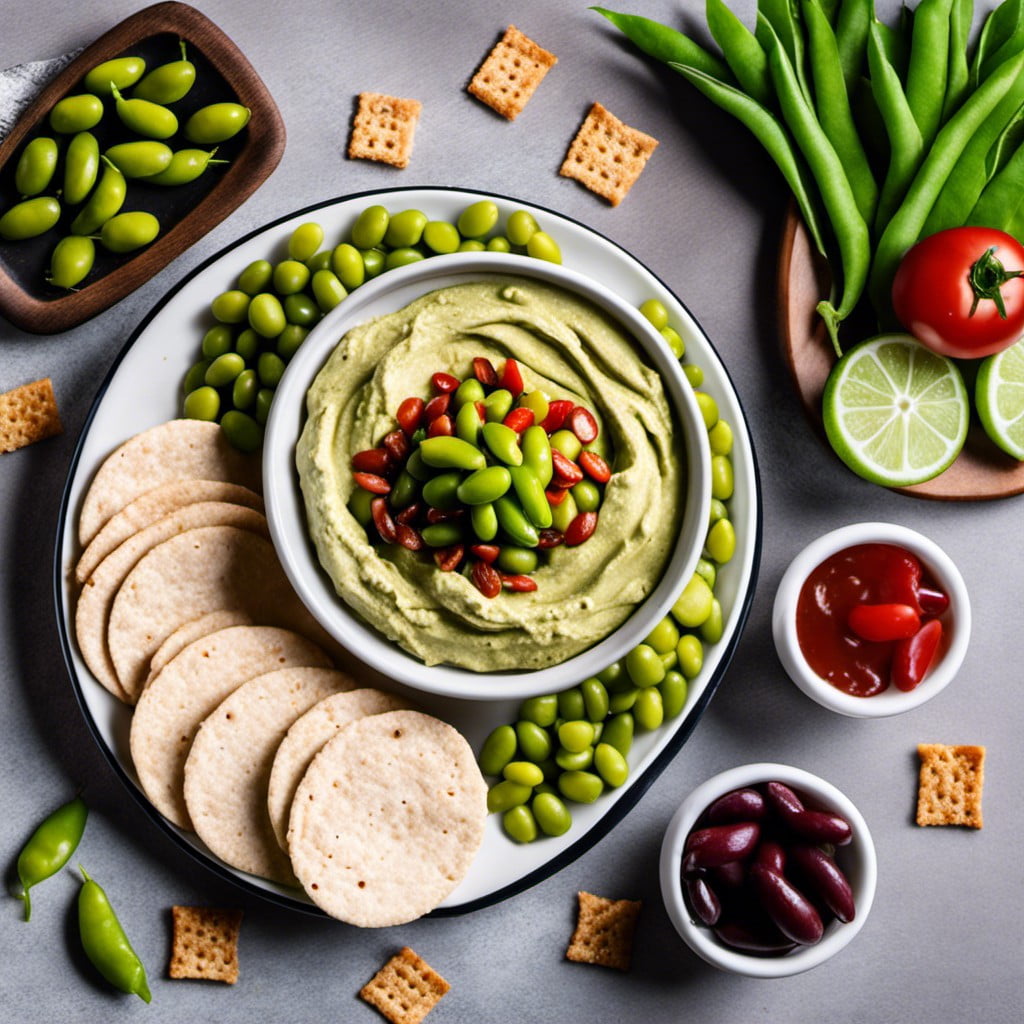 Packed with protein, this savory spread offers a nutritious and low-carb option.
To prepare, simply blend cooked edamame beans, olive oil, tahini, garlic, and lemon juice until smooth.
It can be enjoyed with toasted pita bread, sliced cucumbers, or carrot sticks, offering a versatile snack that even the most health-conscious guest will appreciate.
This hummus also pairs brilliantly with a crisp white wine or a fruity rosé, adding a sophisticated touch to any ladies night.
Olive and Feta Puff Pastries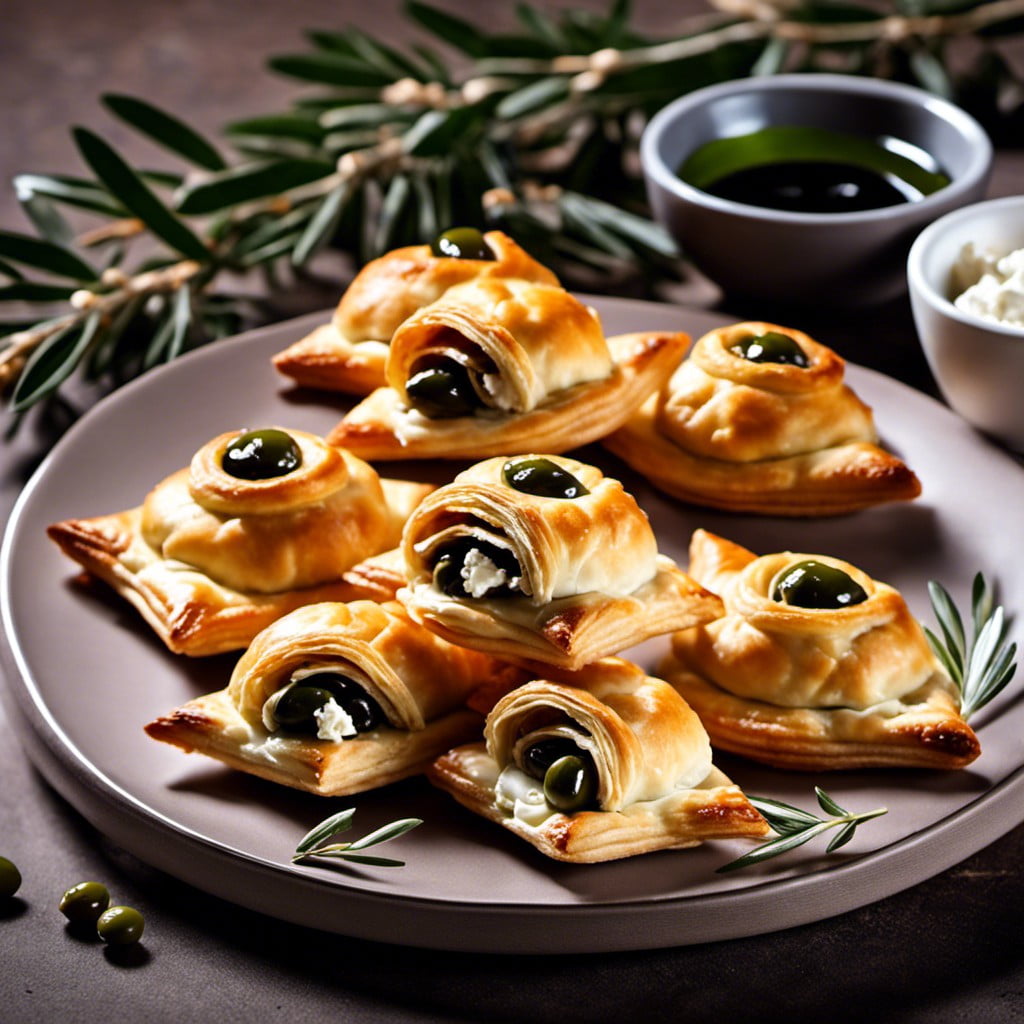 These flaky delights, a true treat from the Mediterranean, prove both rich in flavor and easy to prepare. First, the pastry – puff, golden on the outside and tender within, provides an excellent base for our savoury filling.
The said filling features none other than the famous, crumbly feta cheese. A favorite for its delicate balance of tangy and salty notes, feta infuses every morsel with a unique boldness. Paired with the mouth-watering aroma and taste of kalamata olives, it carves out a comforting, savory profile.
To prepare, simply spread a layer of your feta and chopped olive mixture over pre-rolled puff pastry sheets. Roll, slice into equal parts, then bake until puffed and golden. Serve warm for optimal taste.
This quick and easy recipe is not only a crowd-pleaser but also a tangible proof of how the simplest ingredients can result in an absolute flavor knockout. The combination of creamy feta and salty olives encased in soft puff pastry is a sure win for a ladies night in.