Discover a delightful array of Halloween snack ideas that are perfect for spooking up any school event.
Planning for a Halloween-themed snack day at school can be both fun and a bit daunting. This article provides a variety of creative, easy-to-make, and delicious snack ideas perfect for a spooky school celebration.
From ghostly bananas to pumpkin-shaped sandwiches, these snacks are not only tasty but also healthy, ensuring the children enjoy the festivities while maintaining a balanced diet.
The step-by-step instructions included will guide you through each recipe, ensuring you can whip up these treats with ease.
Plus, there are tips on allergy-friendly alternatives, making sure no child is left out of the fun.
Dive in to discover how to make this Halloween at school unforgettable with these fantastic snack ideas.
Pumpkin-shaped Sandwiches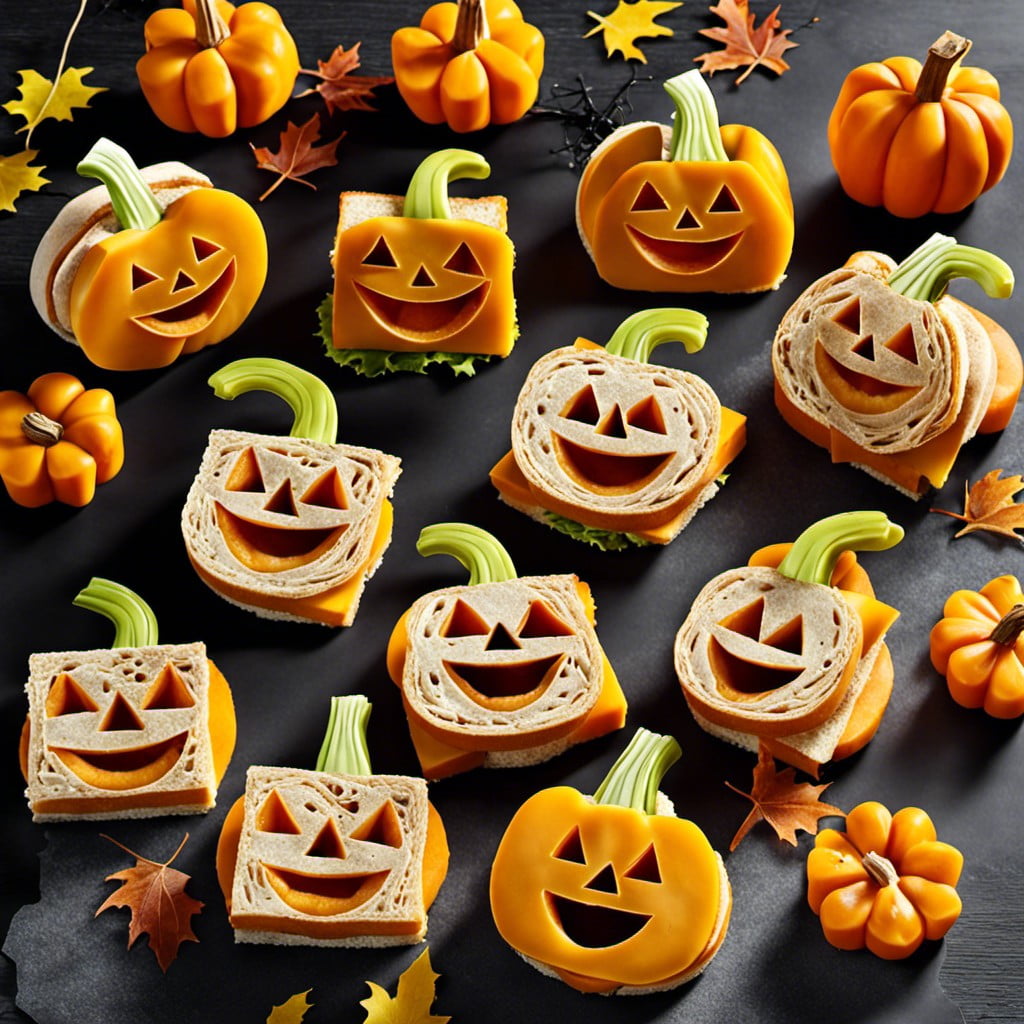 Begin by choosing your preferred type of bread; white, wholemeal, or even multi-grain, then decide on the sandwich fillings. Tuna, chicken or egg salad are all wholesome options and popular with kids. Even a simple spread of cream cheese and cucumber can work in this format. Grab a pumpkin-shaped cookie cutter, approximately the same size as the bread, to cut out the pieces neatly.
Align the sandwich fillings between two slices of bread, and voila, a pumpkin-shaped sandwich is born! Make sure to include a small piece of celery stick at the top to mimic the pumpkin stalk for that added Halloween touch.
Just bear in mind that while the sandwiches are quite easy to make, response from kids might vary. Not all of them are keen on sandwiches. However, the fun shape might entice them to try. You might even consider setting up a DIY station where kids can choose their own fillings to engage them further in this snack preparation.
Popcorn Witch Hands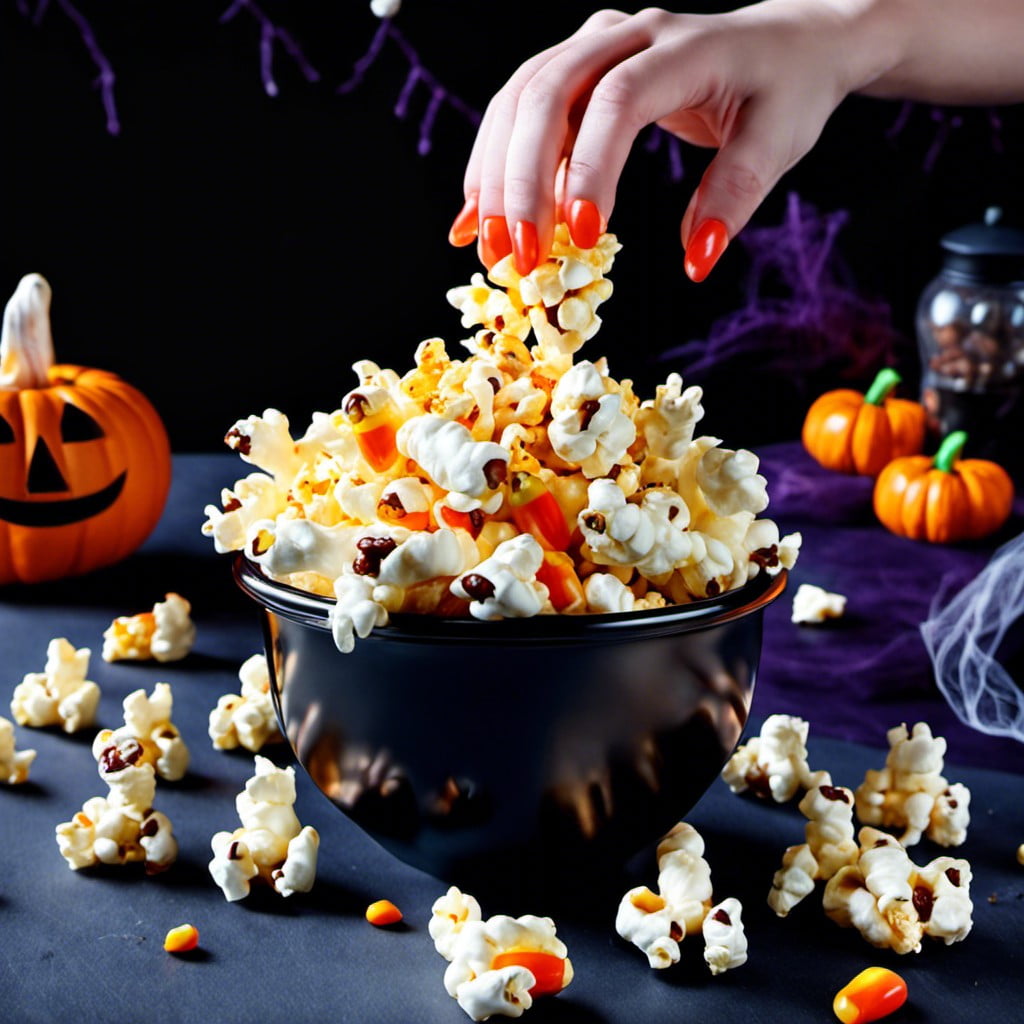 Crafting this spooky snack is fun and straightforward. Start by filling clear plastic gloves with popped popcorn. For an extra Halloween touch, place candy corn pieces into each fingertip to mimic eerie witch nails. Knot the ends of the gloves securely to ensure popcorn freshness.
These can be made a day ahead and served as a unique, portable snack for classroom enjoyment. It's an excellent mix of buttery, salty popcorn along with a hint of sweet from the candy corn – a concoction sure to tickle the taste buds of children and adults alike. It's both a treat and a neat decor idea, making snack time a thrilling experience.
Remember to use food-safe gloves and ensure the popcorn is cooled before packing to prevent condensation.
Apple Monster Mouths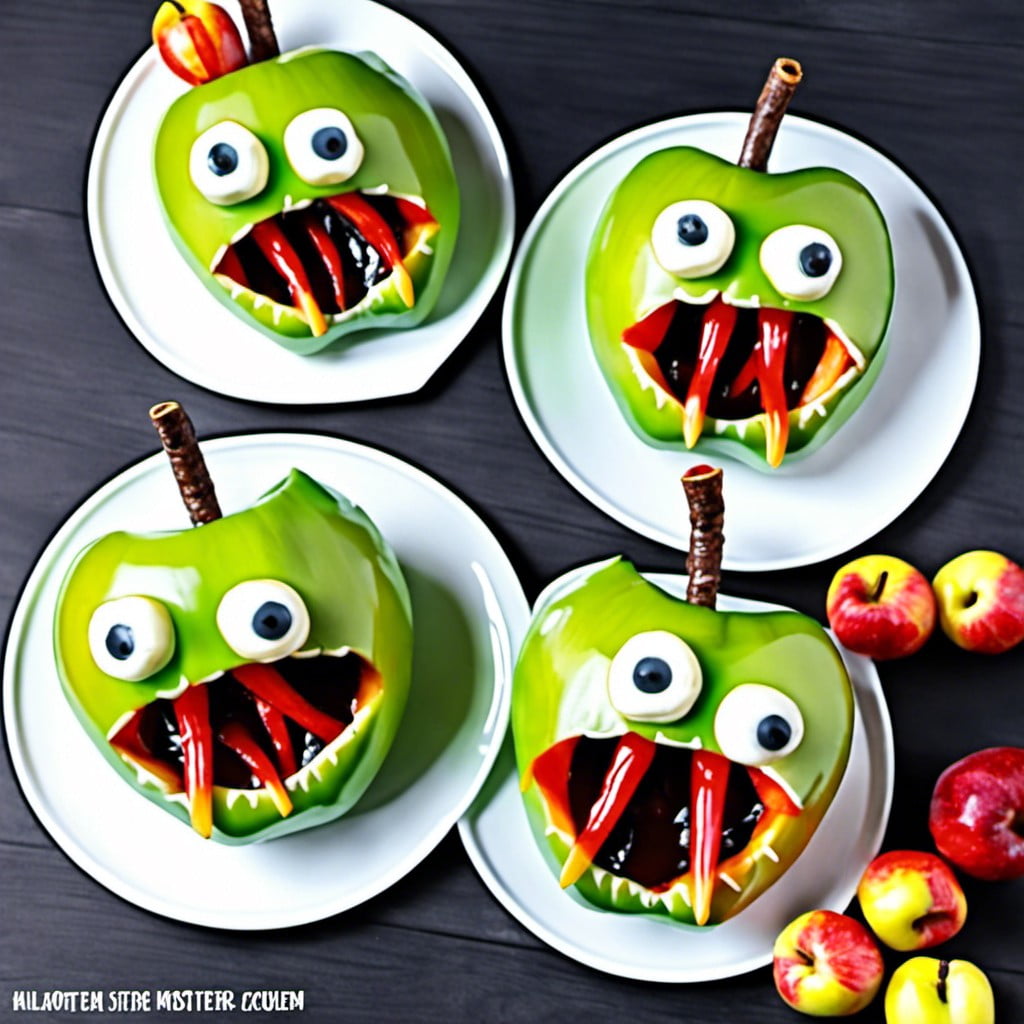 Creating these mouthwatering snacks is easy as pie. All you need are medium-sized green apples, nut or seed butter, and white mini marshmallows. The first step involves cutting the apples into slices – remember to discard the cores. Next, spread your chosen butter on one side of two apple slices and position the marshmallows along the edge of one slice. Then, just sandwich them together, with the marshmallows resembling teeth.
It's an interactive process, ideal for getting the little ones involved. They can have fun while learning about the different ingredients that go into making the snack, enhancing their culinary skills. Also, parents can use this as an opportunity to teach kids about dental hygiene in an enjoyable way.
Just remember, despite their monstrous appearance, these mouths promise a burst of flavors with every bite. Kids will relish the unique combination of crisp apples, creamy butter, and soft marshmallows – a treat that's as delicious as it is nutritious!
In addition to being a hit among the children, these 'Apple Monster Mouths' can also be aesthetically pleasing adornments to your Halloween snack table, adding a dash of creativity and colour.
Candy Corn Fruit Cups
A delight for the eye as well as the palate, these cups feature layers of diced peaches, pineapples, and topped with whipped cream to mimic the iconic Halloween treat.
Preparation requires minimal effort, making them an ideal option for your kid's school celebration.
Start by filling the bottom of a clear cup with diced pineapples, forming the base of your fruit corn.
The next layer above pineapple is peach, diced and carefully placed to keep the layers visible.
The fruity concoction is then topped with a dollop of whipped cream for a sweetly satisfying finish.
This snack is not only visually appealing but also packed with vitamins, making it a healthier alternative to traditional Halloween fare.
It's a fun and engaging way to involve the kids in preparing a festive snack, all while adding a fruitful twist to the Halloween snack array.
Remember to store these cups in the refrigerator until school time, to keep the fruits fresh and the whipped cream stable.
These cute and delicious candy corn fruit cups are sure to be a hit at any school Halloween celebration, arousing the curiosity and taste buds of children alike.
Ghost-shaped Pretzel Sticks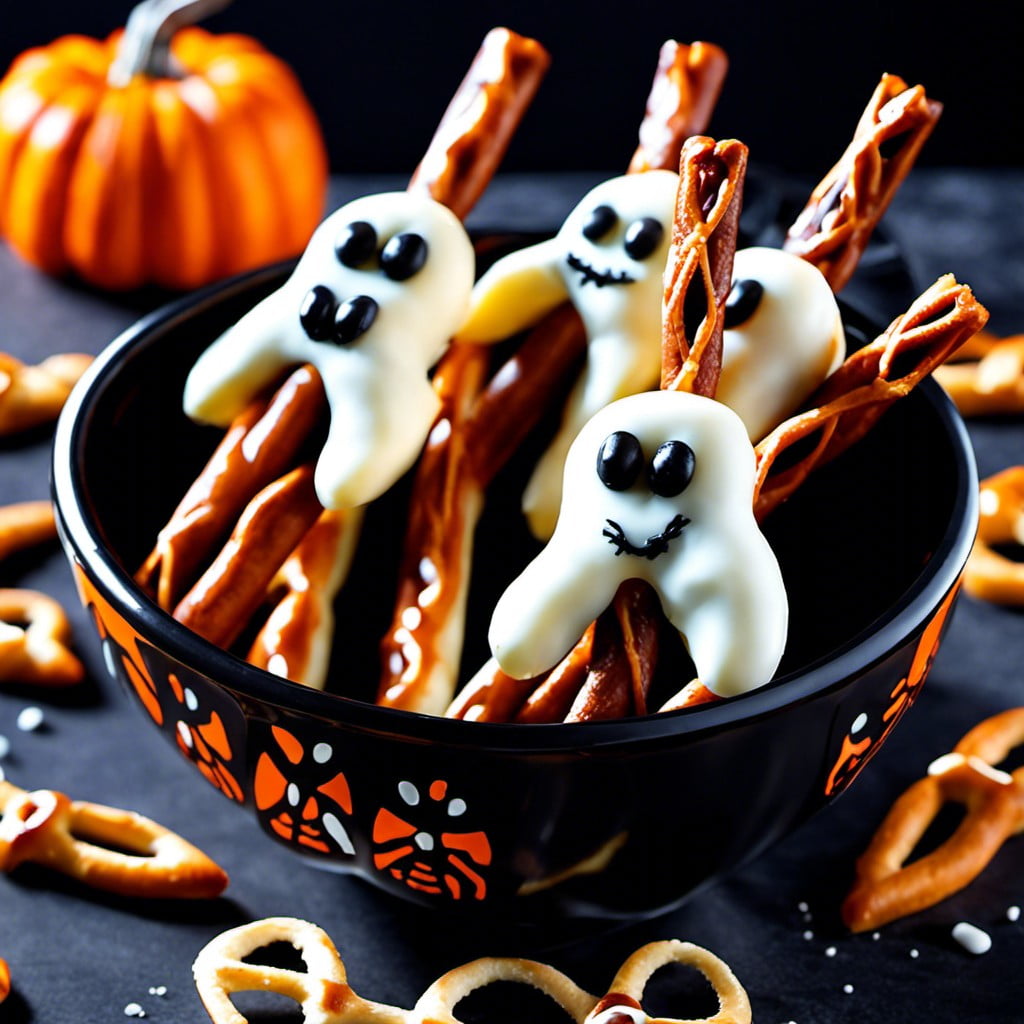 Creating this Halloween snack is both fun and straightforward. First, choose your preferred type of pretzel sticks. Melt some white chocolate in a heatproof bowl, either in the microwave or over simmering water, until fully melted and smooth. Ensure to stir frequently to avoid burning.
Next, dip each pretzel stick in the melted chocolate to cover about 2/3's of the length, leaving some space at the bottom for holding. Place the coated pretzel sticks on a lined baking sheet. Use miniature chocolate chips to form two eyes on each pretzel while the chocolate is still soft.
Allow these ghostly creations to set until the chocolate is firm. This tasty treat adds a touch of spooky charm that will delight your children and their classmates. It combines the sweet and salty flavors perfectly, a surefire way to put everyone in the Halloween spirit.
Spider Web Pizza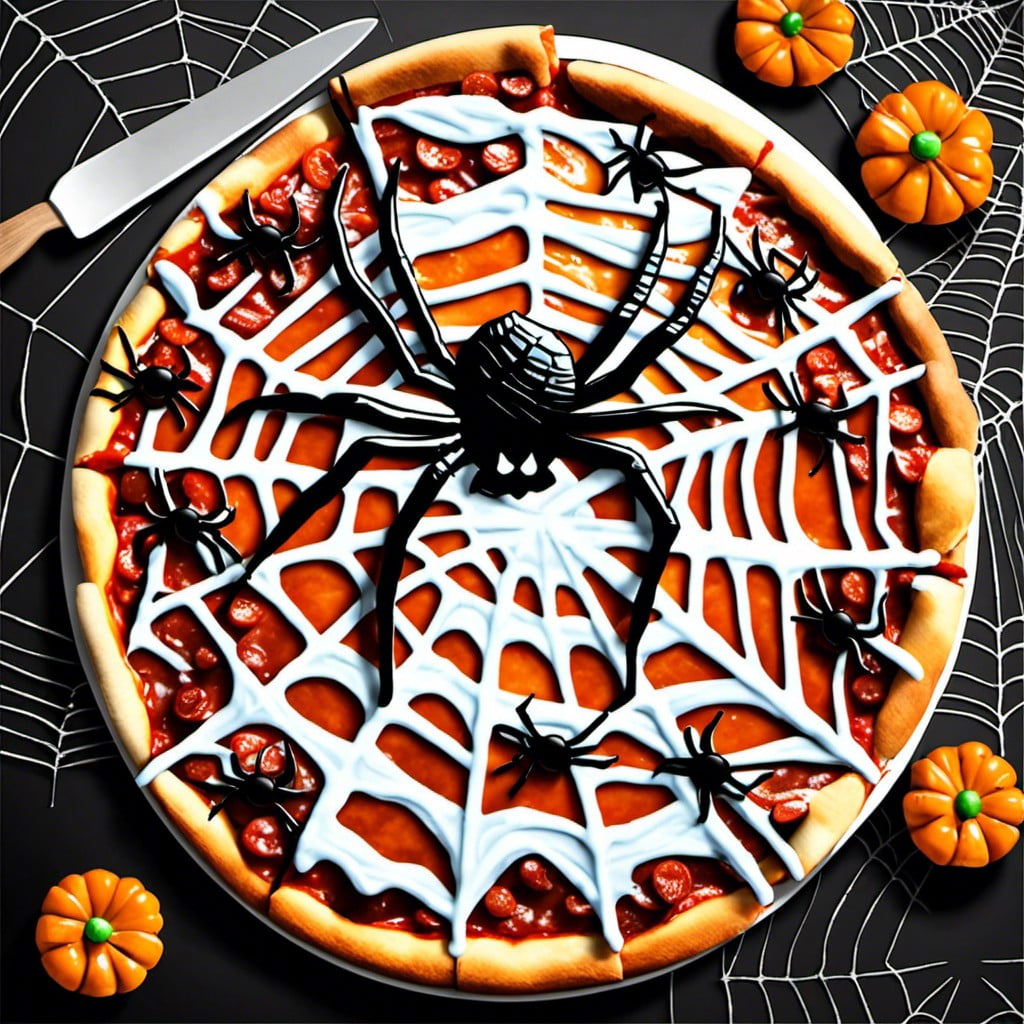 Taking a typical mini pizza to the next level, this creepy-crawly version incorporates a design element that's perfect for Halloween. The ingenious combination uses a classic marinara base, with mozzarella cheese strips arranged to emulate a spider's web. Adding a small olive 'spider' amps up the spook factor, making it a delectable, visual wonder.
Here are some easy steps to create your own:
1. Start with mini pizza bases or small, unseasoned flatbreads.
2. Spread a thin layer of pizza sauce or marinara on each base.
3. Cut mozzarella into thin strips and arrange them in circular and radial patterns to mimic the look of a spider's web.
4. For the 'spiders', slice black olives in half for the bodies and mince the remaining halves to create tiny legs.
5. Gently place olive 'spiders' onto the cheese webs.
6. Bake in a preheated oven until cheese is bubbly and slightly golden.
Your Halloween-themed pizza is ready to be devoured. This is a creative, tasty, and interactive exercise that seamlessly merges holiday-themed fun with snack preparation.
Mummy Hot Dogs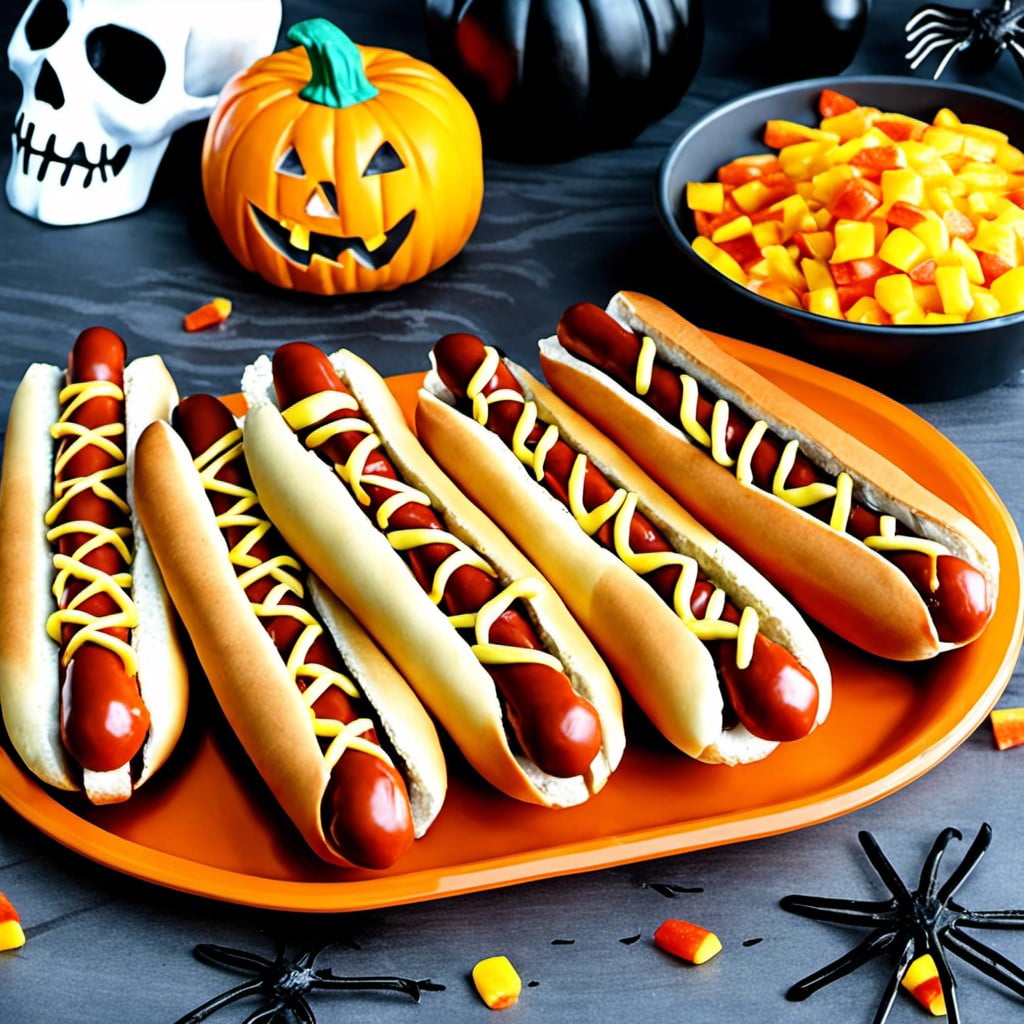 Easily the stars of any Halloween-themed lunchbox, these snacks are as delicious as they are fun to make. Starting with a package of hot dogs and a can of crescent roll dough, unwrap the dough and cut it into thin strips. Wrap these strips around the hot dogs in a "mummy-wrap" fashion, leaving a small portion of the hot dog uncovered for the "mummy's face". Bake these at 375°F for about 15 minutes, or until the dough is golden and the hot dogs are cooked through.
For an extra touch of Halloween spirit, add tiny mustard or ketchup eyes to your mummy after baking. Kids will find these treats irresistible, and they're a breeze to prepare!
Bat-shaped Cheese and Crackers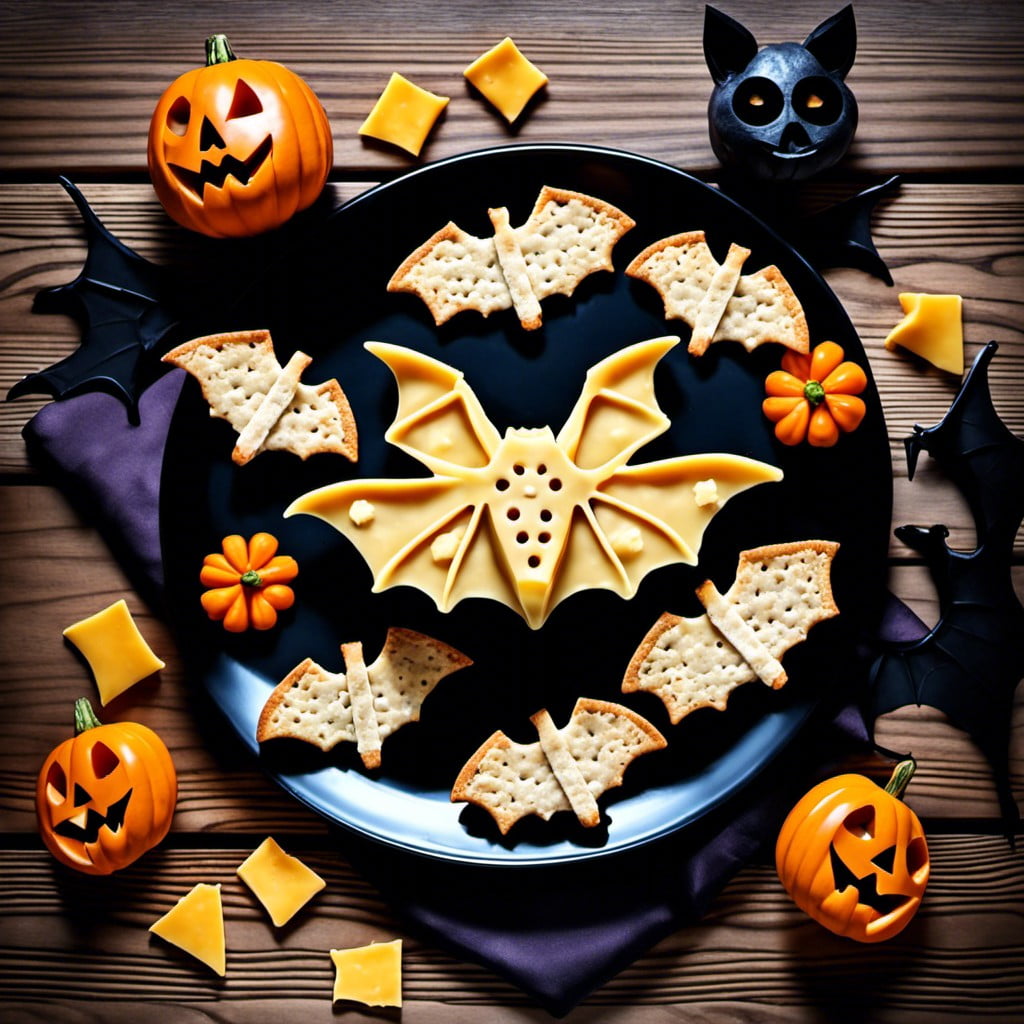 With their adorable design and delicious combination of flavors, these Halloween-inspired nibbles are a hit among kids. Start by selecting a sharp cheddar for the bats, as its tanginess pairs wonderfully with the savory and crunchy crackers. Crafting the bat shapes from the cheese might seem tricky, but simple bat cookie cutters make light work of this task.
Next up, arrange the bat-shaped cheese pieces on top of your choice of crackers. Consider using whole-grain or rye crackers for their robust flavor that doesn't overshadow the cheddar. For an extra fun touch, add edible googly eyes to the cheese bats, using cream cheese as a bind. Ensuring the snacks are as entertaining as they are tasty will no doubt have your young ones enthralled.
Remember, not only is this snack idea ridiculously cute, but it's also a great way to incorporate something on the healthier spectrum amid the candy-laden Halloween festivities. They are quick and easy to prepare and can be made in large batches, perfect for class parties or family gatherings.
Ghost Bananas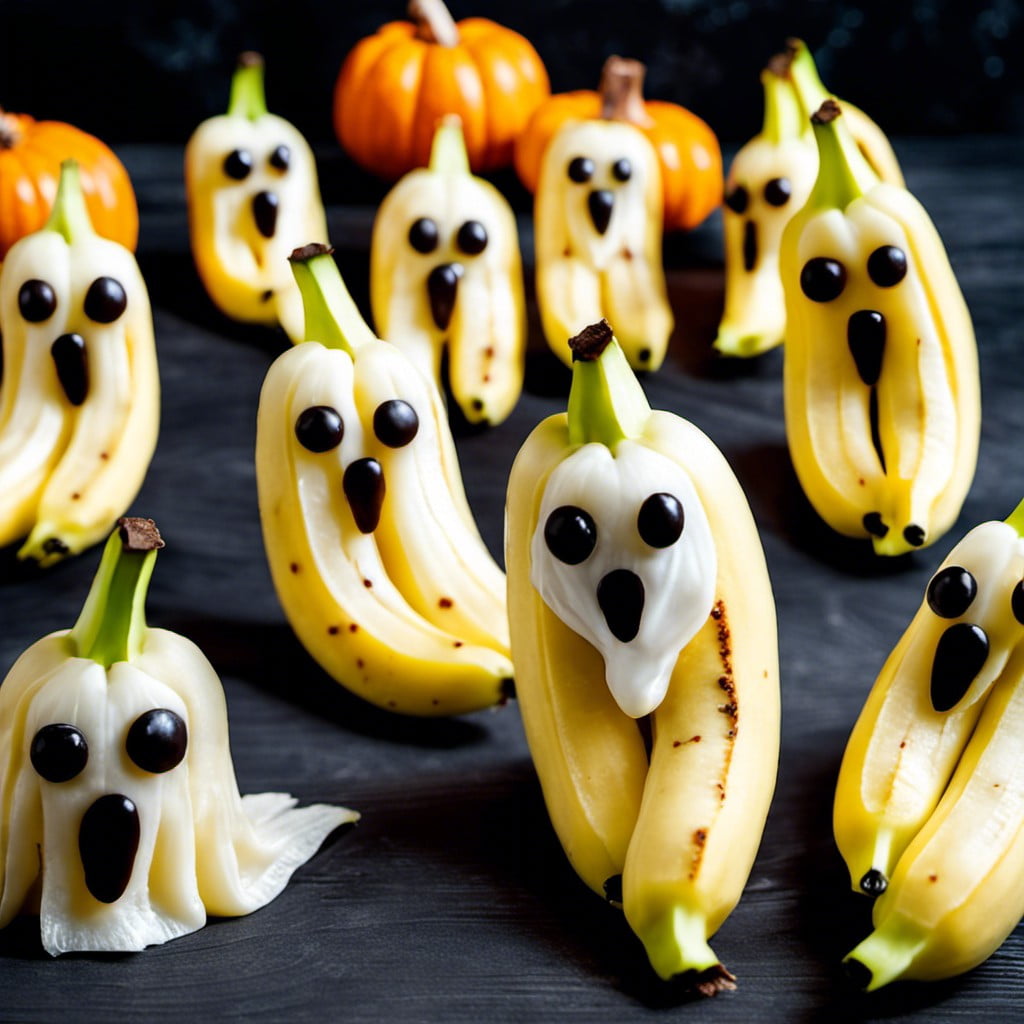 Making this snack is as fun as it is healthful – an excellent way to balance all those Halloween sweets. Start with ripe bananas but not ones that are too soft. Peel and slice them, then stick a popsicle stick half-way into the flat side of a banana half.
It's time for the decorating! Melt some white chocolate and dip each banana half to give it a nice, ghostly cover. Use mini chocolate chips to add the eyes and the mouth. Flaunting a festive vibe, it can serve as a creative medium to get the little ones excited about fruits.
Remember to freeze the ghosts for an hour or two before serving to ensure that they retain their ghostly shape when the children dive in. It's not just a snack; it's an activity that would get the little monsters howling with joy!
Jack O' Lantern Oranges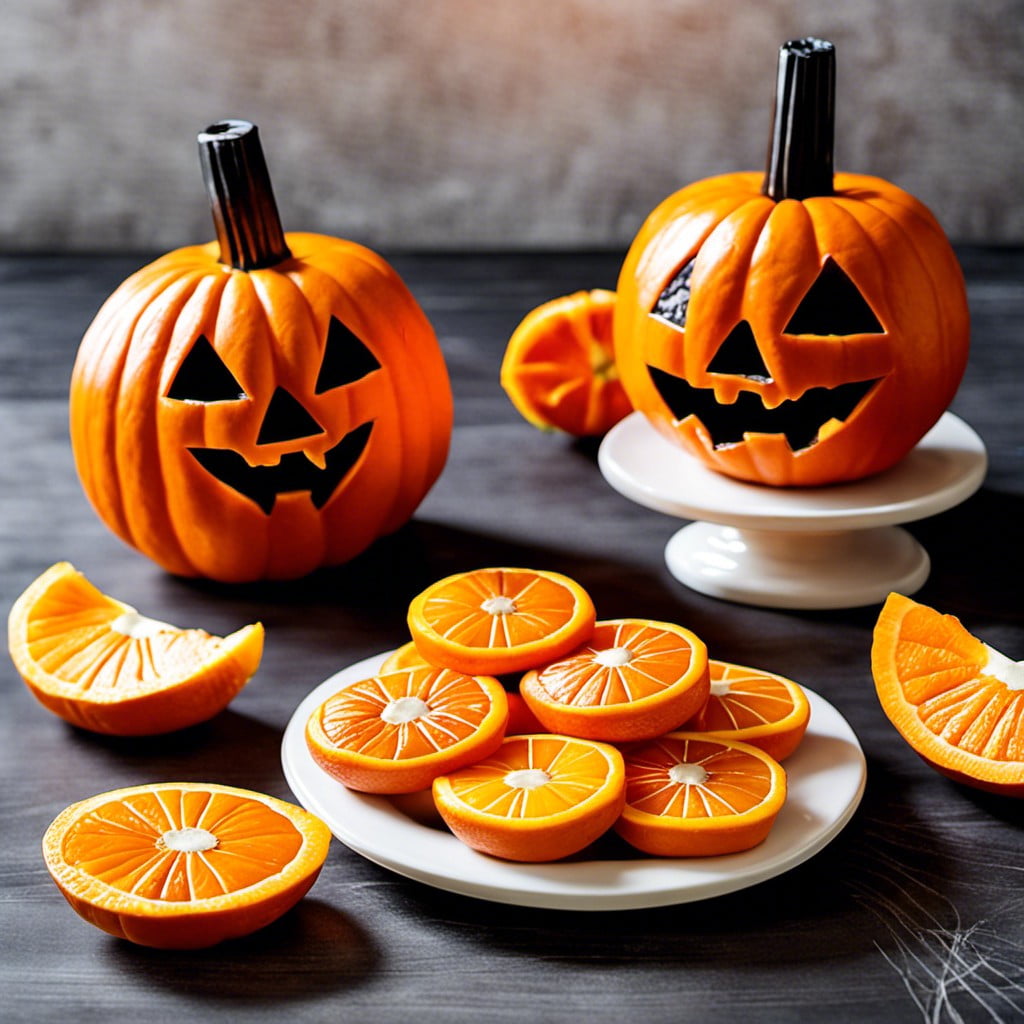 Dishing out these fun, fruity treats is a breeze! Start by selecting small, round oranges – clementines or mandarins work wonderfully.
Here's your game plan:
1. Slice off the top of each orange and scoop out the inside. Be careful not to pierce the skin.
2. Using a small sharp knife or food-safe markers, create your fun, frightful, or goofy expressions on each orange.
3. Once your carvings are complete, fill each emptied orange with healthy treats. Consider a fruit salad mixture or use the scooped-out orange segments themselves!
That's it! Bright, festive, and bursting with vitamin C, they're bound to make a splash in the classroom.
Remember: Always supervise young ones when using sharp objects, or do the carving yourself to prevent accidents.
Frankenstein Kiwi Pops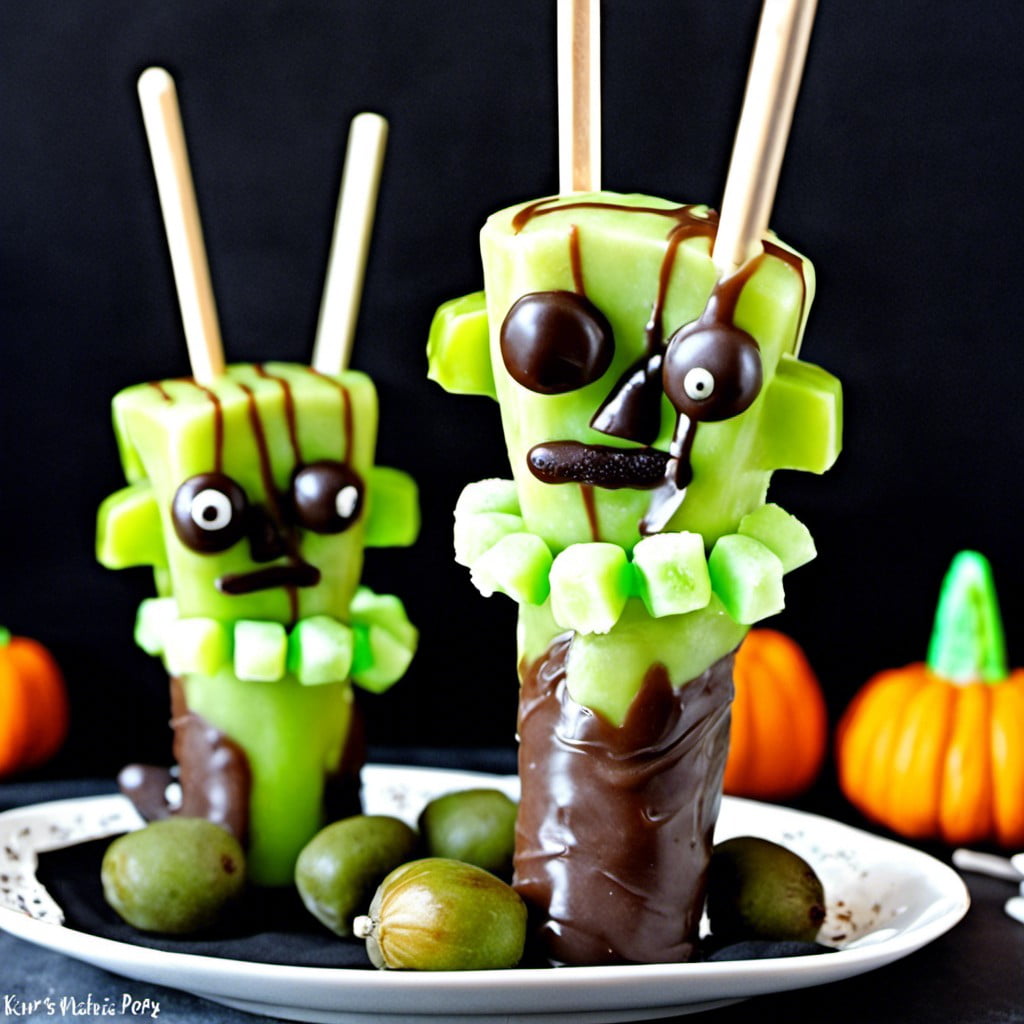 To bring this creature to life, you'll need ripe kiwis, popsicle sticks, melted dark chocolate, and candy eyes.
Begin by peeling and slicing the kiwi into thick rounds, pushing a popsicle stick into each piece.
Afterward, dip half of the kiwi pop into the dark chocolate, then press a couple of candy eyes onto the chocolate before it cools.
Refrigerate for about 15 minutes or until the chocolate hardens.
To suit all children's taste preferences, consider using both milk and dark chocolate.
It's a refreshing and fun snack with the thrill of Halloween and the goodness of fresh fruit.
A perfect party treat that kids will love to create and eat!
Eyeball Grapes On Toothpicks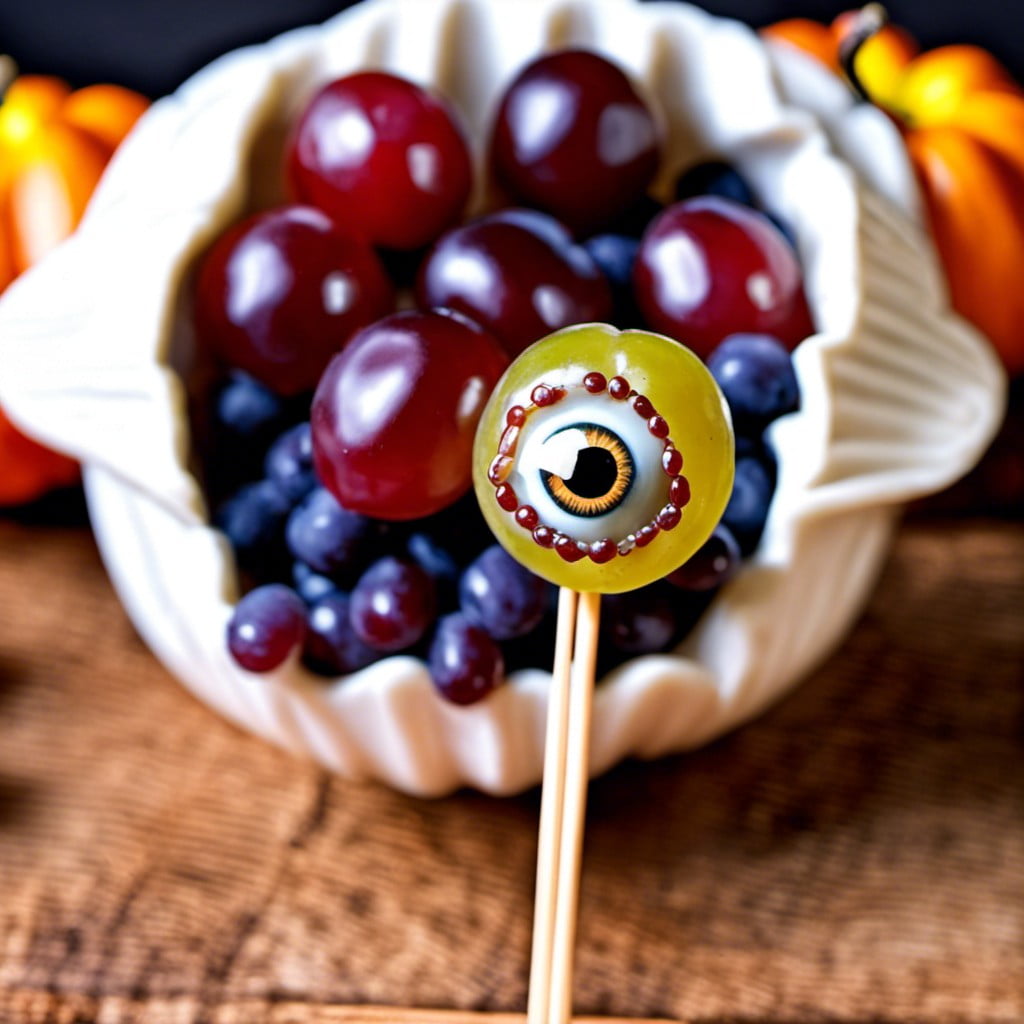 Creating these healthy, yet spooky treats is as simple as it gets. For this delightful snack, choose large, plump green or purple grapes. Rinse them thoroughly and pat dry with a clean kitchen towel.
Now for the fun part. Take mini mozzarella balls and carefully press them into the center of each grape – these will act as the 'eyeball'. You can use a food-safe marker or a drop of edible red dye to draw on the blood vessels.
Thread two 'eyeballs' onto a toothpick and you're done. Not only are these perfect for school snacks, but they would also be a hit at any Halloween bash. You can make them a day ahead and store in the refrigerator for convenience.
Remember to use seedless grapes for this recipe. For younger children, it might be safer to just serve the grapes and mozzarella cheese separately to avoid risks.
In a matter of minutes, these 'Eyeball Grapes' transform from ordinary fruit into a thriller of a snack, without losing their appealing and refreshing taste. They are sure to catch the attention of anyone, especially children, and make them enjoy their serving of fruit for the day in the most exciting manner.
Halloween-themed Trail Mix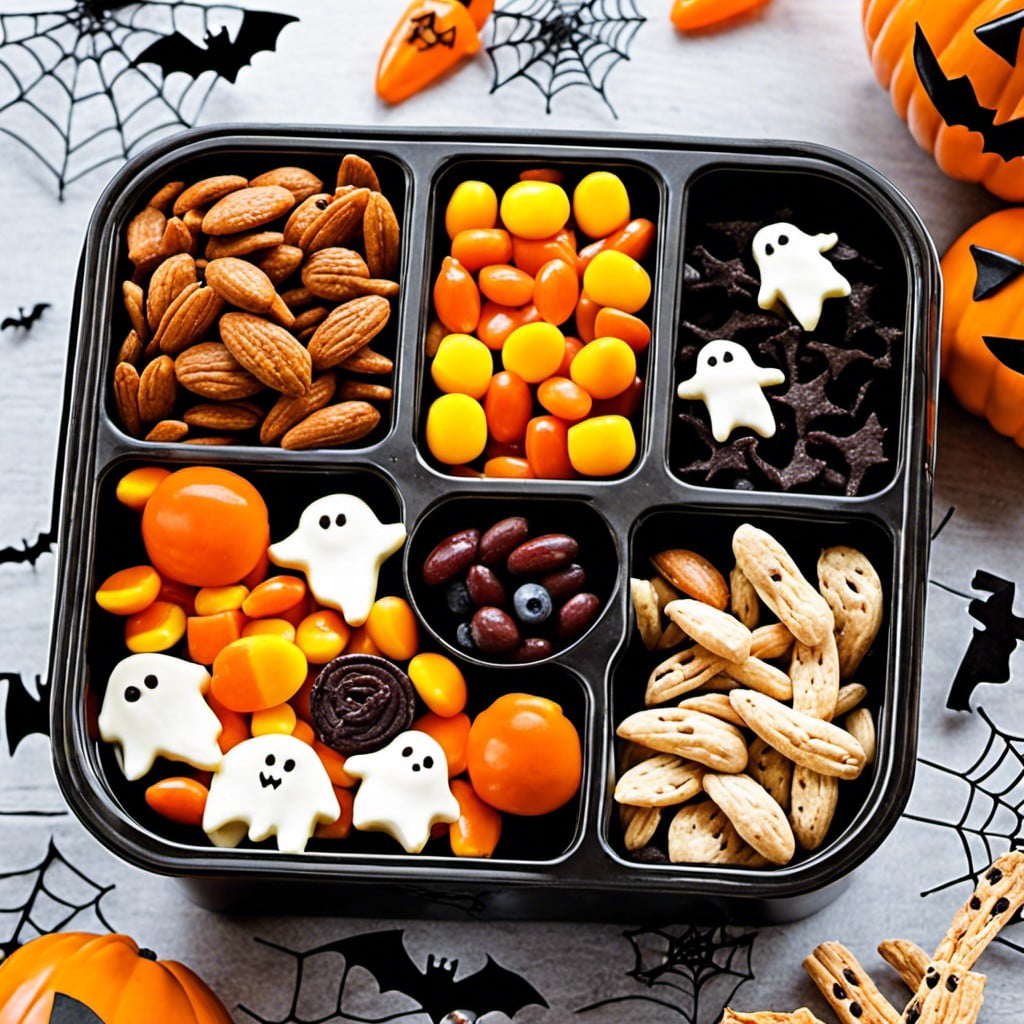 Bringing together a variety of flavors, textures, and eye-catching colors, this fun twist on a classic snack is sure to be a crowd-pleaser. To incorporate the spooky spirit, consider using ingredients that reflect Halloween's traditional color palette: black, orange, and white.
1. Start with roasted pumpkin seeds that provide a rich, nutty flavor and a pleasing crunch. Their bold orange color perfectly ties into the Halloween theme.
2. Next, toss in some dried apricots or orange dried cranberries for variety. These will add a slightly tart and sweet element, contrasting the flavors beautifully.
3. The addition of dark chocolate chips or dehydrated blueberries can work to represent the color black. Plus, they're a surefire hit among chocolate lovers and adds a sweet component.
4. Great news for marshmallow fans! Adding mini marshmallows can represent the color white, plus add a pillow-y texture to this mix.
5. Roasted almonds or peanuts can increase the protein content making the snack healthier and more satiating.
6. Last but not least, to imbue a dose of eerie excitement, you can throw in some Halloween-themed candies or gummies, which come in various shapes like ghosts, pumpkins, or bats.
Remember to keep the proportions balanced to create a harmonious mix where every bite delivers all of the flavors together.
Witch Broomstick Snacks (cheese and Pretzels)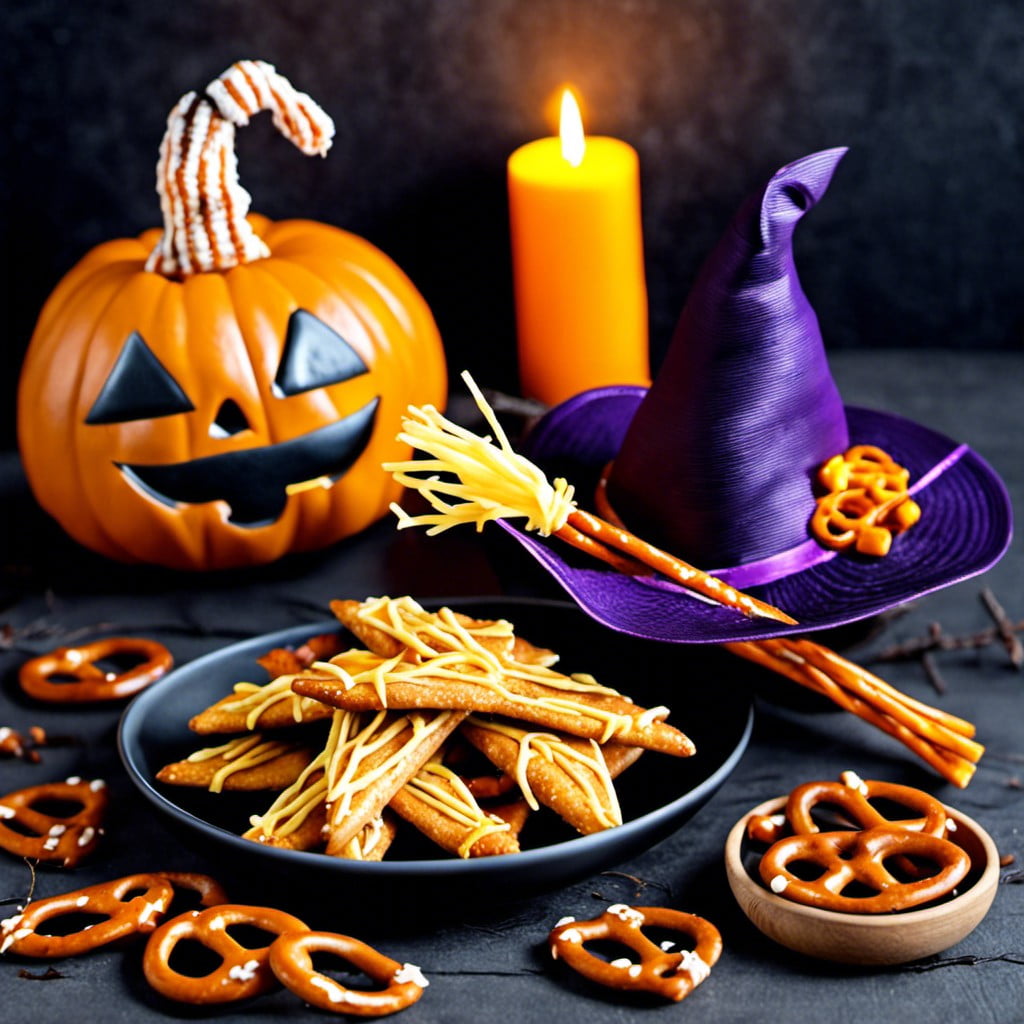 Ready to fly into spooky season with something crunchy and cheesy? Forming the bristles of the broom is a breeze, with the fluffy end of a string cheese serving as the perfect texture. Simply cut in half vertically.
On top, affix a pretzel stick, acting as the durable handle, using softened cream cheese to bind the two. Add a chive or green onion string for the finishing touch – a broom band holding it all together.
These salty, savory treats are a hit with the little ones, and they're incredibly easy to make for a classroom full of eager witches and wizards. Not to mention, they're a healthier alternative compared to traditional Halloween fare.
Have your broom and eat it too!
Vampire Donuts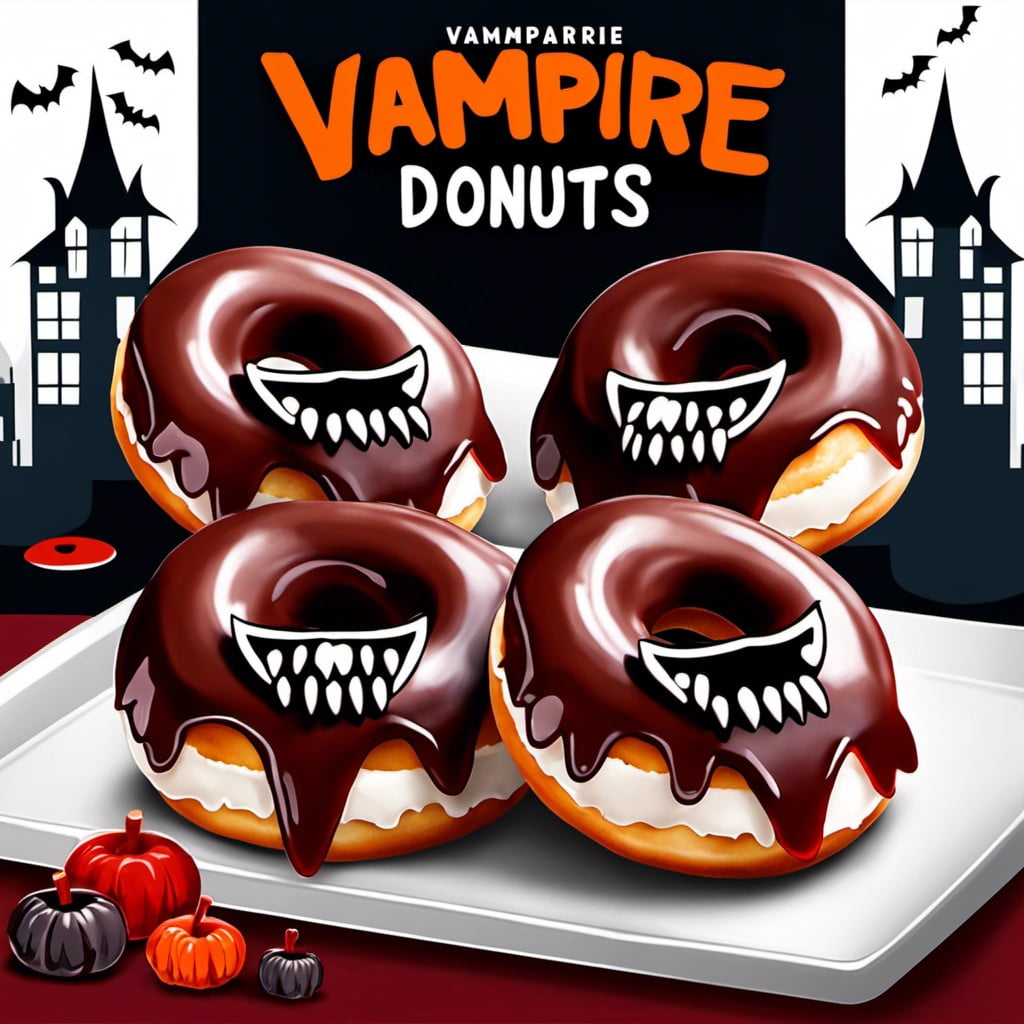 Surely a sight to behold, these sugary treats will be a hit with your little ghouls and goblins. Made with store bought donuts, you only need a handful of ingredients: plastic vampire teeth and small red or white candy eyes.
To assemble, squeeze a pair of plastic vampire teeth into the center of each donut. Next, using a dab of frosting, attach the candy eyes above the teeth. The frosting acts as a glue. And just like that, your ordinary donuts are transformed into a horde of adorable vampires.
This snack not only satiates a sweet tooth, but brings a dose of playfulness to Halloween festivities. Donut forget to add a touch of creativity and fun when preparing these treats!
Skeleton Veggie Tray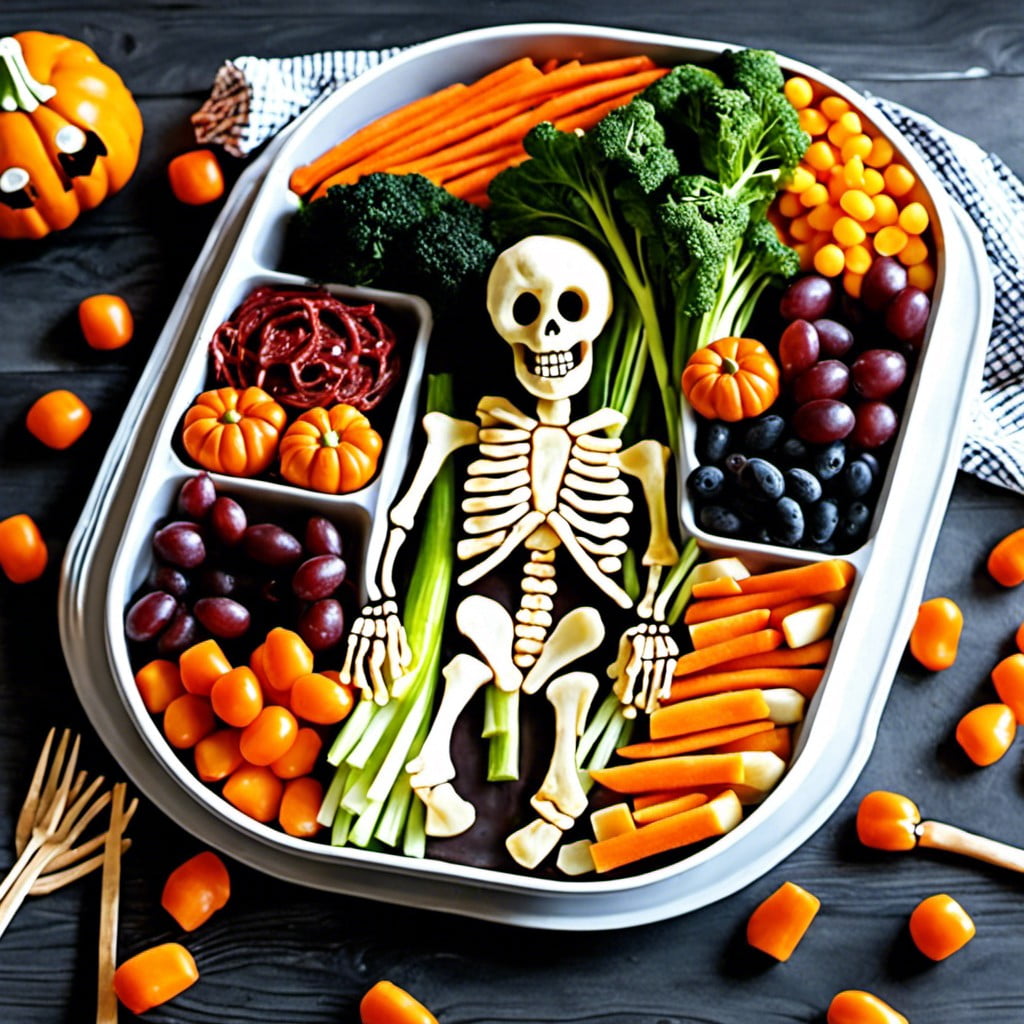 Equipped with a platter and an assortment of colorful vegetables, creating a skeleton veggie tray is a fun, healthy, and creative snack idea. Let's break down the concept behind this edible centerpiece:
1. Variety of Vegetables: Select a variety of vegetables to represent different parts of the skeleton. Bell peppers can form the ribcage, celery for the spine, and carrot sticks for the arms and legs. Don't forget cucumber slices for the joints and cherry tomatoes for the feet and hands.
2. Arrange the Skeleton: Lay the vegetables on a platter in the shape of a skeleton, creating a body that is not only appetizing but also visually entertaining.
3. Dips: Prepare a couple of different dips like hummus or yogurt sauce and place them on the side or at the top of the tray as the skeleton's head.
4. Experiment: Feel free to get creative! There are no hard and fast rules. If broccoli florets make better hair for your skeleton, go for it!
Remember, the idea here is to encourage kids to snack healthily while maintaining the fun, festive spirit of Halloween. It's a simple way to bring a bit of creativity to a holiday-geared diet.
Monster Jello Cups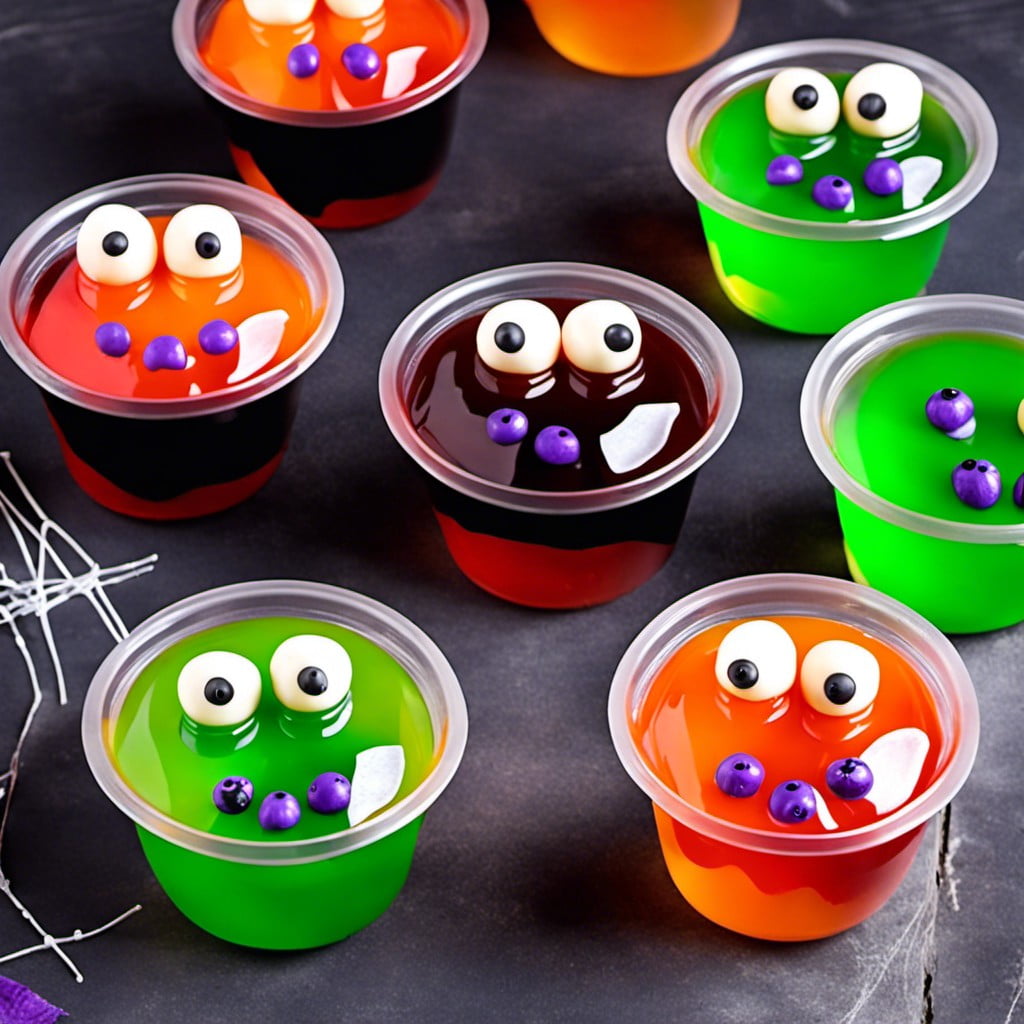 Boasting vibrant colors and a ghoulish twist, these cups are sure to be a hit among both children and adults. Simple to make, they require only a few ingredients – flavored gelatin in colors of your choice, whipped cream and edible googly eyes for the 'monster' effect.
The first step involves making your gelatin according to the package instructions and then pouring it into clear cups. Let it set in your refrigerator. Following this, an application of whipped cream on the top surface forms the base for your monster faces. Finalize your creature creation by placing edible candy eyes on the cream.
Remember, the best part about this snack is the flexibility it offers. Unleash your creativity and use a different number of eyes or various colored gelatin for each cup to display a variety of monsters. Simply put, it's a delicious treat that encourages artistic expression.
Spider Web Nacho Dip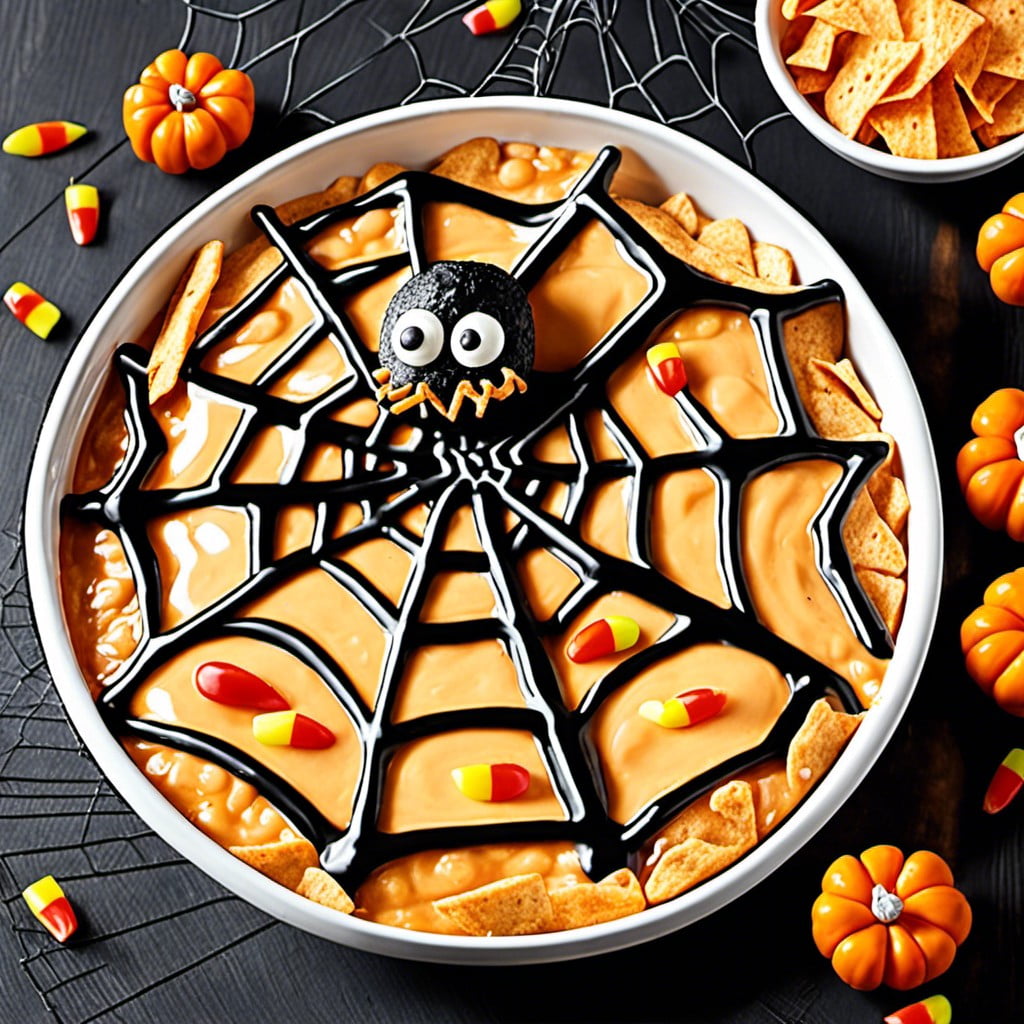 Whipping up this festive dish involves topping layers of mouthwatering ingredients with a spooky, stringy cheese-web design. Start with a layer of refried beans, then move on to a layer of ground meat cooked with a taco seasoning mix.
A subsequent layer of cheesy, creamy sour cream mixture provides a light contrast to the hearty meat and beans. Top it all off with a layer of spicy salsa, a sprinkle of shredded cheese around the edge, and a dollop of guacamole in the center.
For the crowning touch, pipe melted cheese onto the guacamole to mimic a spider web pattern. An olive cut in half, with one half used as the spider's body and the other half sliced to make the legs, adds the final creepy-crawly touch.
Serve it with a side of crispy tortilla chips and watch as your spooky spider web nacho dip becomes the star of the Halloween treat table.
Halloween Rice Crispy Treats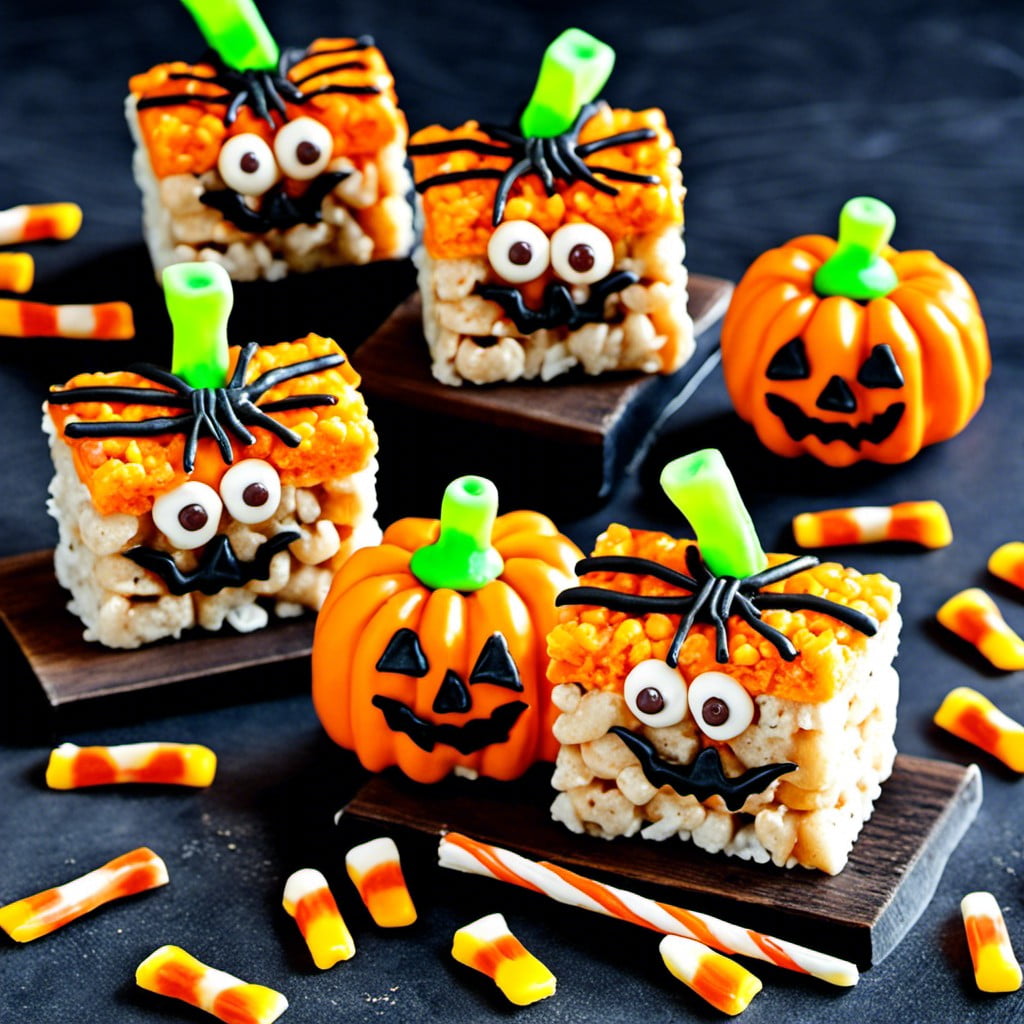 This take on the classic crisped rice treat brings in a festive twist. To begin, gather your ingredients: crisped rice cereal, butter, marshmallows, and orange food coloring. Not to forget, chocolate chips (or candy melts) and licorice for decorating.
First, melt the butter and marshmallows together, stirring until smooth. Tread carefully with the food coloring: remember, less is more. Aim for a light, pumpkin-like hue. Pour in the cereal, mix until evenly coated, and allow it to cool slightly.
Once cool enough to handle but warm enough to mold, form the mixture into pumpkin shapes. To complete your creation, use the licorice to form stems and chocolate chips (or candy melts) for the faces.
Remember, this treat provides a playground for creativity: every pumpkin can bear its own unique expression! Plus, it's an easy recipe children can assist with, creating memories along with the snacks.
Mini Chocolate Pumpkin Pies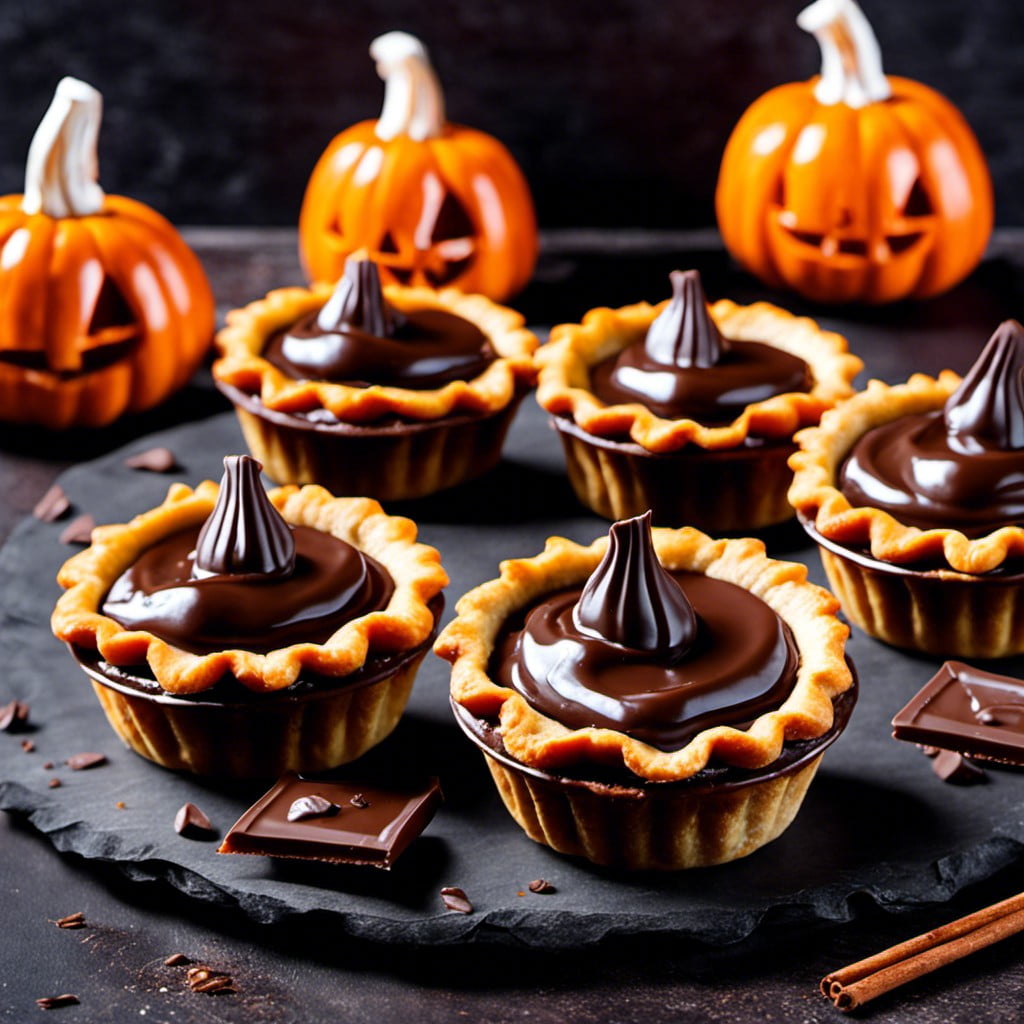 Crafting these delightful treats is a piece of cake, with ingredients like canned pumpkin, mini pie crusts and semi-sweet chocolate chips.
Start by making a traditional pumpkin filling with the canned pumpkin, evaporated milk, eggs, cinnamon, and sugar.
In the interim, melt the chocolate chips. Once it's a smooth consistency, start lining your mini pie crusts with it. This not only adds a delicious rich layer to your pies but also creates a barrier that keeps the crust from getting soggy.
After the chocolate has set, pour the pumpkin pie mixture into the crusts.
To add the finishing touch of Halloween appeal, use white icing to design the iconic Jack O' Lantern face on the chocolate before it sets. Pop them in the oven, allowing them to bake until the pumpkin filling is firm.
The end result? Delectable mini pies that embody the rich flavor of pumpkin pie with a surprising chocolate twist, and of course, that Halloween spirit kids love!