Dive into the spooky spirit of Halloween with these creative and delicious snack board ideas that will delight both kids and adults alike.
Creating a Halloween snack board can be a fun and spooky adventure that combines your favorite treats with the spirit of this festive holiday. Whether you're hosting a party or simply want to enjoy some themed snacks with your family, a well-curated Halloween snack board is a must.
From ghoulishly delightful cheeses and crackers to creepy-crawly candies and fruits, the possibilities are endless. In this article, you'll find a variety of snack board ideas, each designed to thrill and chill your taste buds. So, prepare to dive into the world of Halloween snack boards, where every bite is a delicious surprise.
Mini Pumpkin Pies
Starting with a rich, sweet pastry crust, these bite-sized treats embody the spirit of Halloween in every way. Keeping in line with their seasonal charm, the filling brings together classic ingredients – pure pumpkin purée, a touch of cream and a blend of warm autumnal spices like cinnamon, nutmeg and cloves.
1. To keep the pies petite, use a tart pan or a muffin tray. This will ensure each guest gets their own pie, making it a sanitary snack option.
2. For the crust, either homemade pastry or store-bought is fine. The latter is time-saving.
3. Whisk together pumpkin purée, cream (or evaporated milk), sugars, and spices – cinnamon, nutmeg, and cloves work particularly well.
4. Fill the pastry cases and bake until the filling has just set.
5. These mini pies are equally at home at a sophisticated, adult-themed Halloween party as they are at a kids' bash.
6. Serve slightly warm or at room temperature. For an extra dash of indulgence, top each with a dollop of whipped cream, a cinnamon stick, or both!
7. If you have any leftover, they refrigerate and reheat well, too. Just pop them in the oven for a few minutes to bring them back to their original mouthwatering state.
This Halloween, help your guests fall in love with the flavors of autumn, bite by bite.
Candy Corn Trail Mix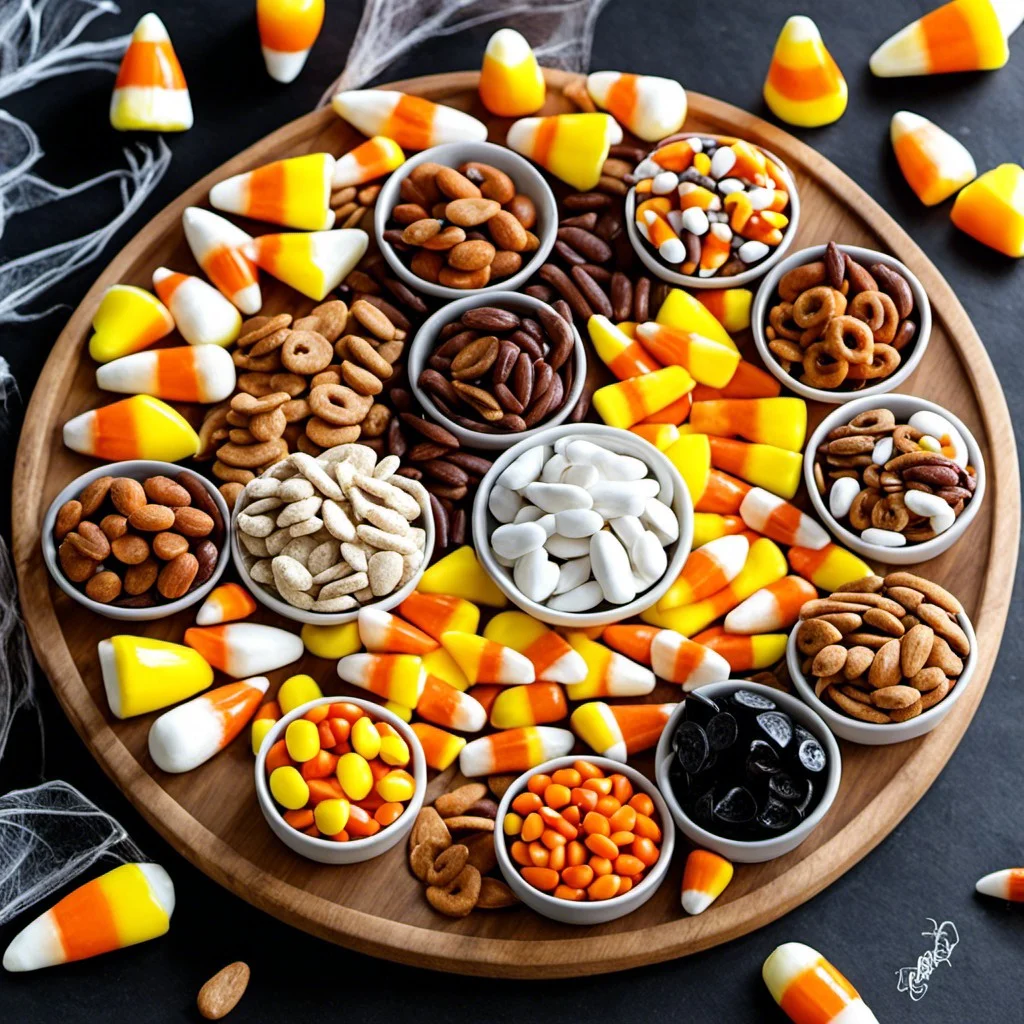 Creating this festive blend allows for both a taste of the classic autumn candy, coupled with some healthier offerings.
Combing candy corn with salty pretzels and roasted peanuts brings a delightful crunch and savory balance to the sweetness.
For an additional pop of fall flavors, add in dried cranberries, providing a tangy contrast.
Alternatively, chocolate chips can be incorporated for extra sweetness.
Not only is this a tasty snack, but it also mirrors the bright and vibrant colors of fall, enhancing the seasonal aesthetic of your snack board.
This mix is quick and easy to assemble, offering a treat that guests can casually munch on throughout your Halloween event.
Ghost-shaped Cheese Cuts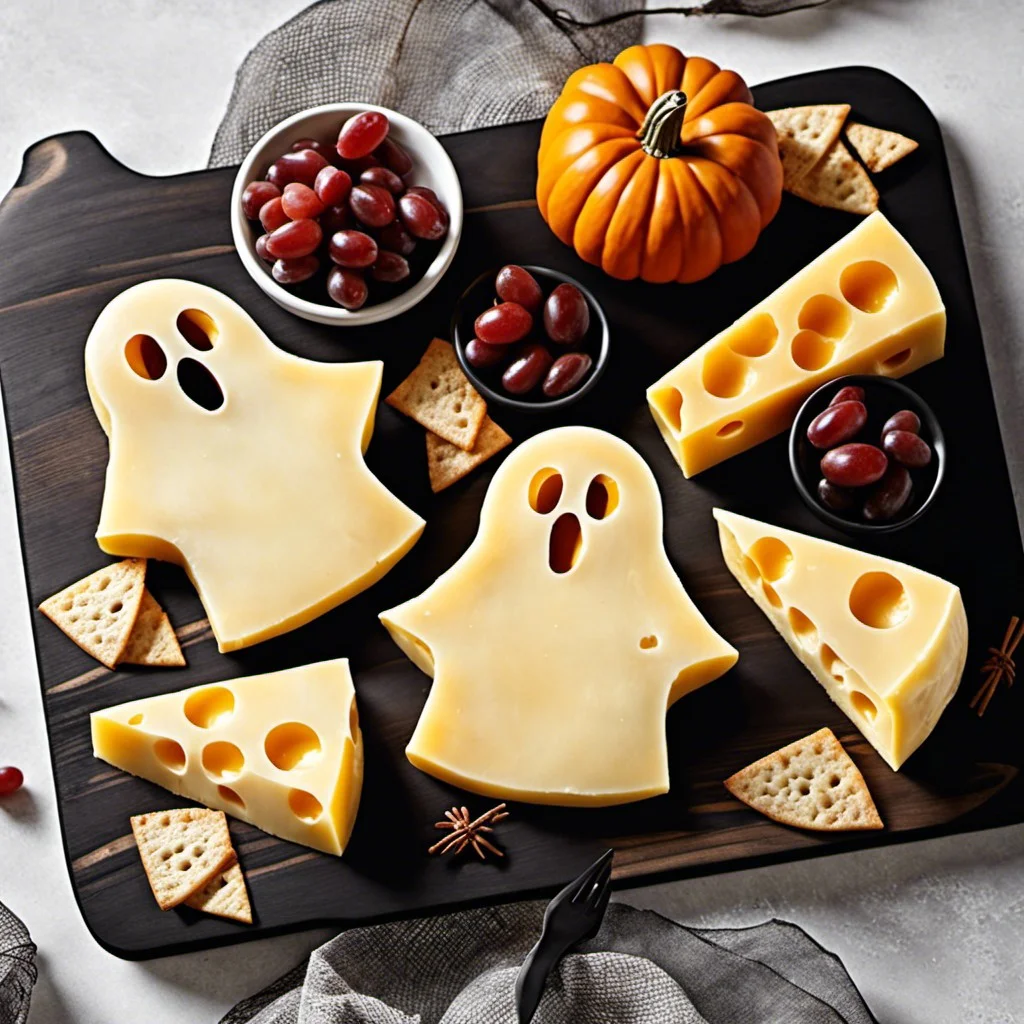 Creating these fun-looking treats involves a cheddar block and a ghost-themed cookie cutter. High-quality aged cheddar will result in sharp and tangy bites to contrast with the sweetness present in the Halloween snack board. Ensure the cheese block is well chilled before starting; it helps achieve clean cuts.
When using the cookie cutter, press down firmly and evenly to carve out your ghost. Consider adding small edible eyes, using cream cheese or a black olive slice to give your cheese ghosts friendly faces. These characterful cutouts are guaranteed to add playful charisma to your spooky spread.
Caramel Apples Slices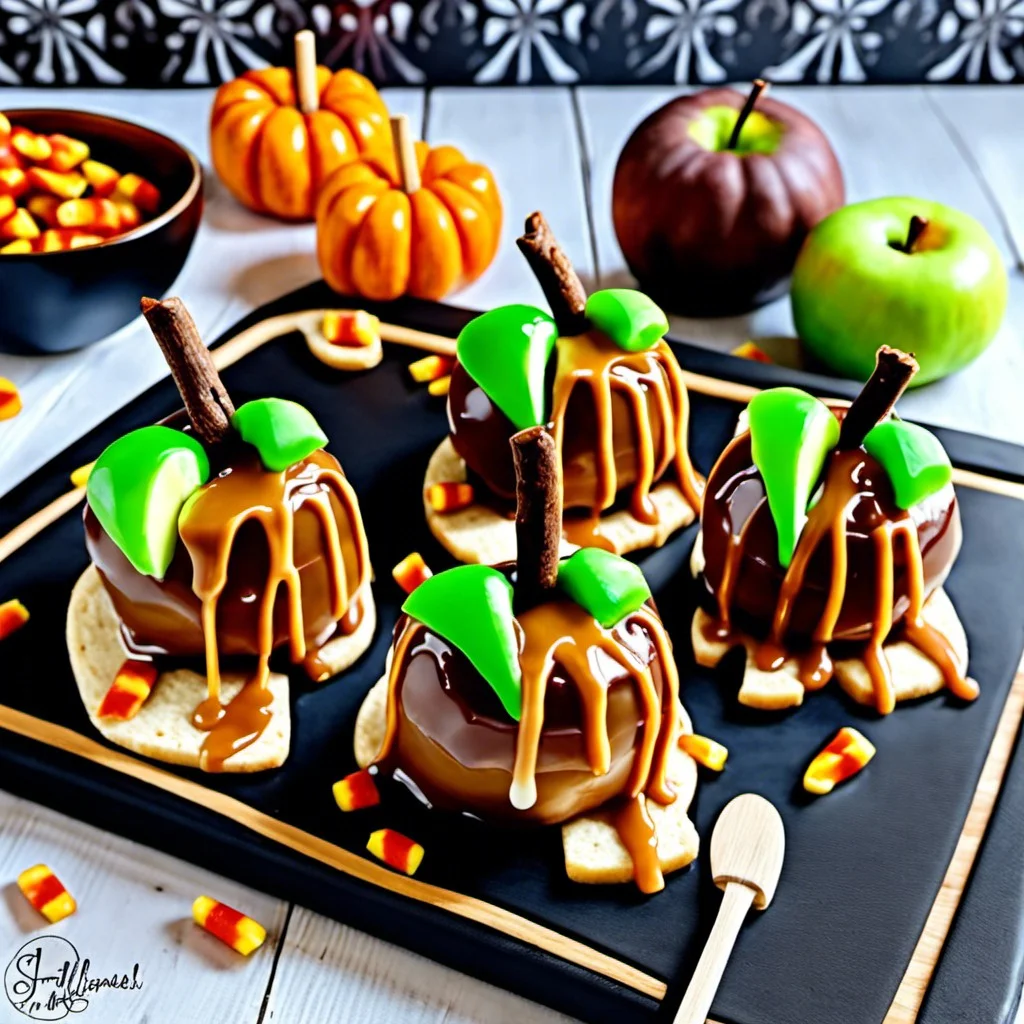 While classic whole caramel apples can be tricky to bite into, offering them sliced ensures a perfect blend of tart, crunchy apple with the sweet goodness of caramel in every bite. This is a popular Halloween treat, captivating both adults and children alike.
Here are some easy steps to prepare the dish:
Choose tart apples like Granny Smith to balance the sweetness of caramel.
Use a corer to create equidistant segments.
Dry the slices completely to help caramel stick better.
Melt caramel candies in a double boiler until smooth.
Plunge each apple slice into the caramel, ensuring a generous coating.
Let excess caramel drip off.
Place them on a baking sheet lined with wax paper to cool and harden.
For an extra Halloween vibe, you may want to drizzle melted dark chocolate over the set caramel, or sprinkle some crushed candy on top.
Remember, caramel sets fast, so have everything ready to go before starting the process. Happy Halloween prepping!
Chocolate Graveyard Pudding Cups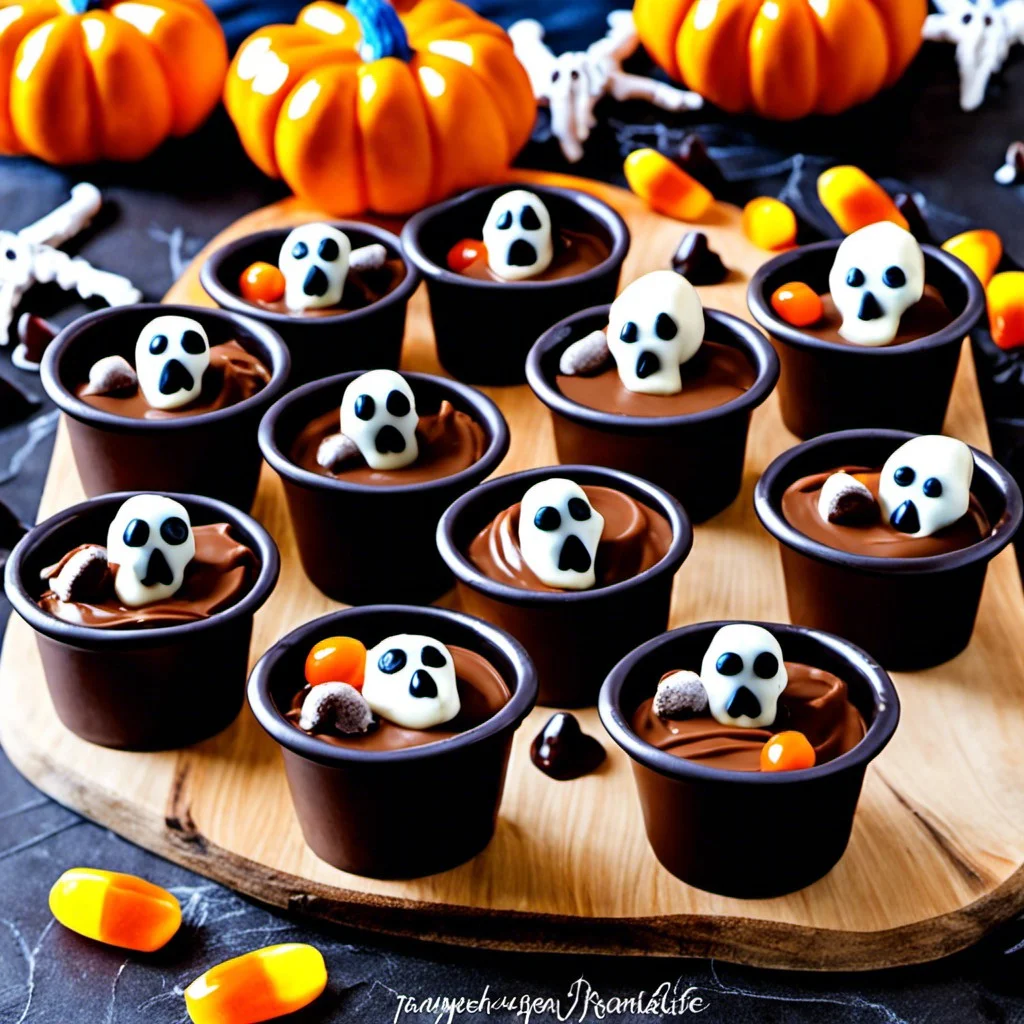 Mastering this delightful dessert involves layering chocolate pudding in small cups, using crushed chocolate cookies to mimic dirt, and creatively employing milky-chew sweets to represent the gravestones.
A dollop of whipped cream adds a delightfully spooky fog effect.
Distinguish your miniature gravesites with toothpick signs or even edible candy markers.
If you feel adventurous, gummy worms provide a great creepy-crawly surprise in the layers of chocolaty "earth".
This sinfully delicious sweet treat not only tastes heavenly but is also an interactive activity for kids, allowing them to partake in the Halloween festivities with gusto.
Halloween-themed Deviled Eggs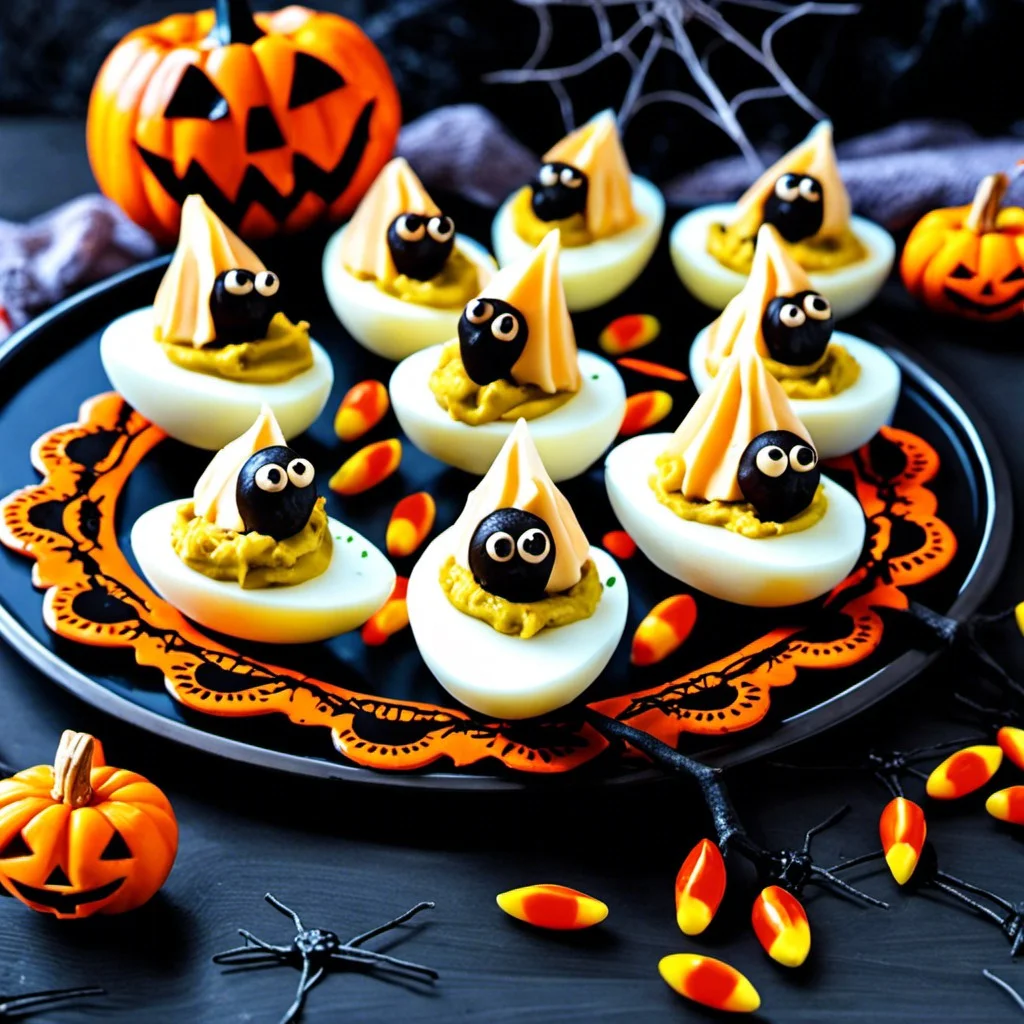 Creating Halloween-themed deviled eggs is easy and exciting. Essentially, you're transforming a traditional party appetizer into a festive snack.
Follow your go-to deviled eggs recipe for the filling. Then, for the spooky part, color the egg white with natural food coloring, such as beet juice for a bloody effect, or use black food coloring for a dark, eerie look. Let them soak until the desired hue is reached.
After the eggs are filled, you can get creative by using small black olives to make spider or creepy-crawly garnish atop the egg yolk mixture.
Not only are these eggs a whimsical addition to your snack board, but they also offer guests a savory break from the more sugar-heavy treats typical to the Halloween theme.
Plus, the hands-on aspect of garnishing your devilishly good eggs can be a fun task for children to partake in, truly making this a versatile and engaging Halloween option.
Witch Finger Pretzel Rods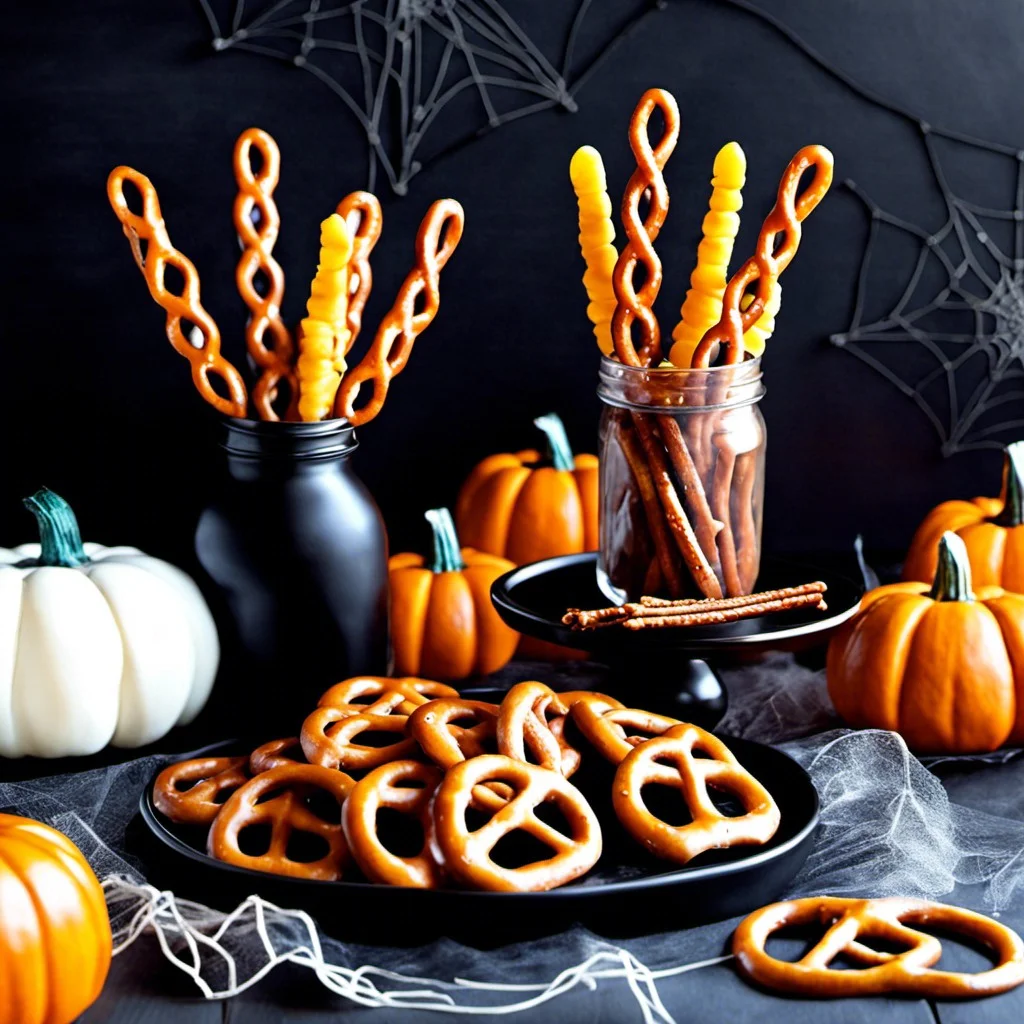 Creating these crunchy, salty treats requires only four ingredients: pretzel rods, green candy melts, sliced almonds, and red food coloring.
First, dip each pretzel rod into the melted green candy, leaving a small section at the bottom for "holding" the finger.
While the candy-covered pretzel is still wet, press a sliced almond at the tip to mimic the look of a fingernail.
For added flair, a brush of red food coloring under the almond creates a creepy, bloody effect.
These pretzel rods not only add a touch of whimsical horror to your Halloween snack board, but also provide a delightful contrast to the sweeter treats.
Remember, the devil is in the details, no pun intended.
So, get ready to charm your guests with these 'ghoulish' delights.
Plus, a visual instruction or creative time-lapse video could only further enhance the experience.
Pumpkin-shaped Rice Crispy Treats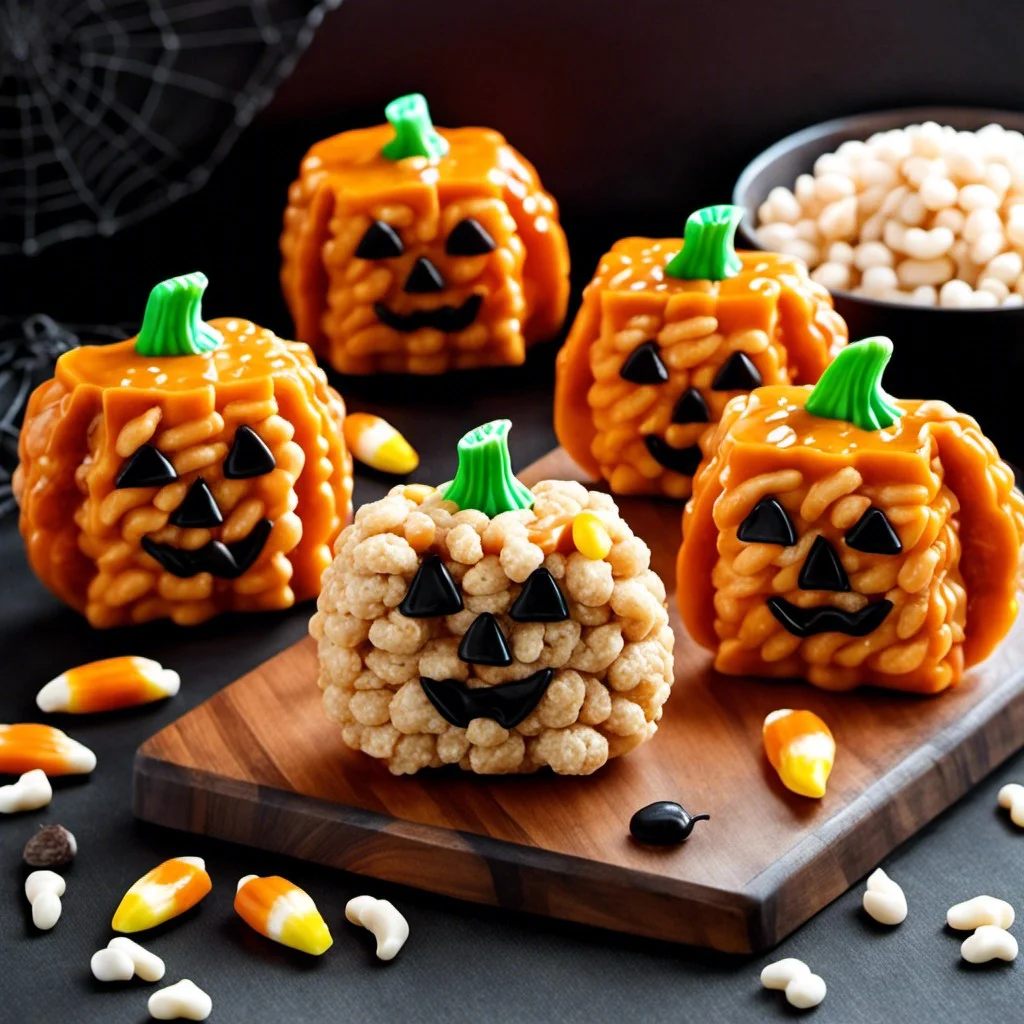 Starting off with a base of marshmallows and crispy rice cereal, a touch of orange food coloring directs our creation towards Halloween festivities. The dyed mixture is shaped into little pumpkins with the help of buttered hands to prevent sticking. This task, inviting participation especially from younger members, sparks creativity, and fun while they're at it.
Embed a miniature pretzel twist on top to emulate the pumpkin stalk, adding a crunch contrast to the chewy texture. For a further pop of color, vibrant green decorating icing piped around the pretzel stalk brings to life the pumpkin vine. Considered details like these, simple yet effective, amplify the "wow" factor.
Finally, pair these treats with hot chocolate for a cozy combo, or bag them as takeaways at your Halloween party! So, get set to carve out joy, sans the pumpkin mess!
Monster-themed Fruit Skewers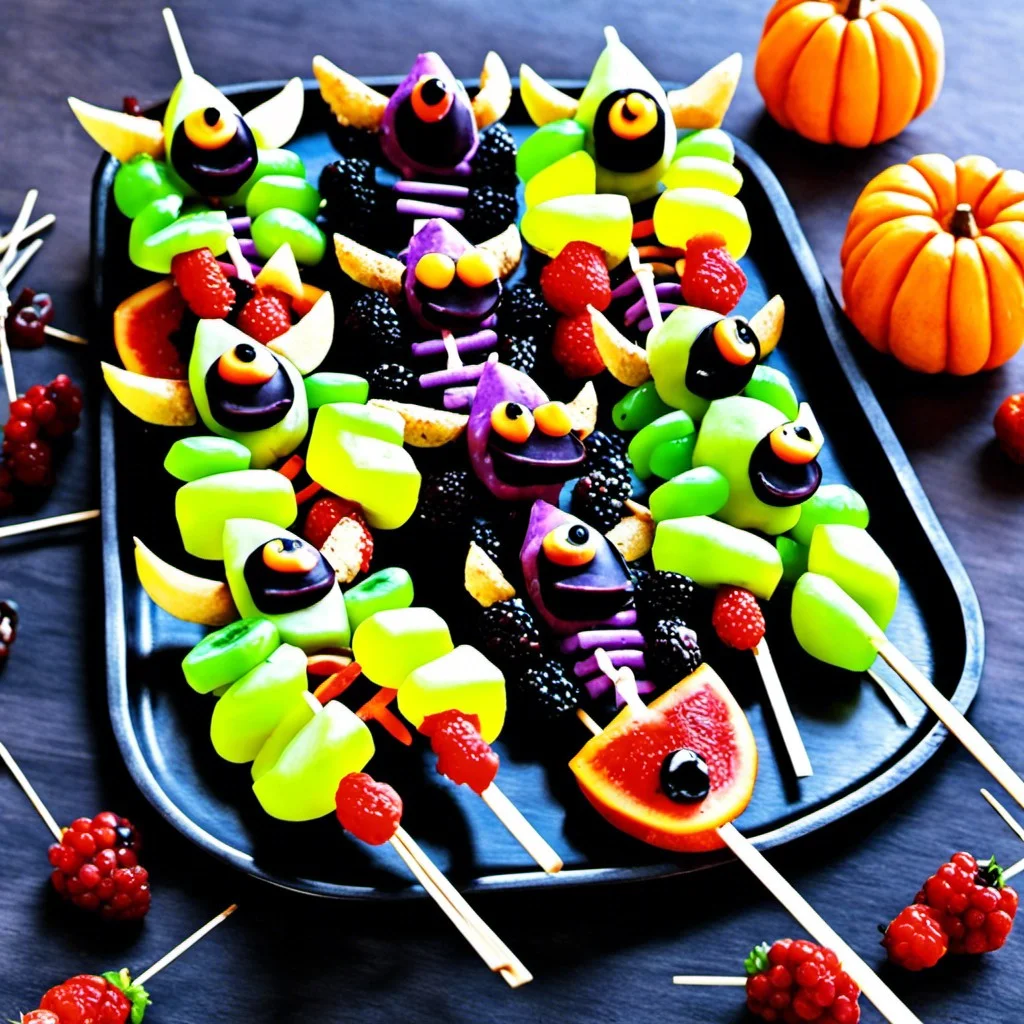 Creating these skewers is a fun and healthy way to add a touch of spookiness to your Halloween snack board. Start by selecting a variety of fresh fruits – grapes, kiwis, melons, and strawberries work notoriously well. Cut the larger fruits into bite-sized shapes using a small, sharp knife.
For a monster-theme, consider using a touch of edible dye on fruits like marshmallows or bananas to add that 'green monster' look. Then, stack the fruits onto your skewers, varying the order of fruits to create an array of colors.
The final touch? Make a set of googly eyes for each skewer. This can be done using mozzarella balls and a dot of black food coloring or with a slice of lychee and a blueberry placed in the center. Simply stick these 'eyes' on top using a bit of cream cheese or a toothpick and your monster-themed fruit skewers are ready to stare right back at you from the snack board.
Remember, kids especially find these monster-themed fruit skewers fun to eat and also make a healthy treat amid all the sweets and treats. It's a win-win for everyone!
Bat-shaped Sandwiches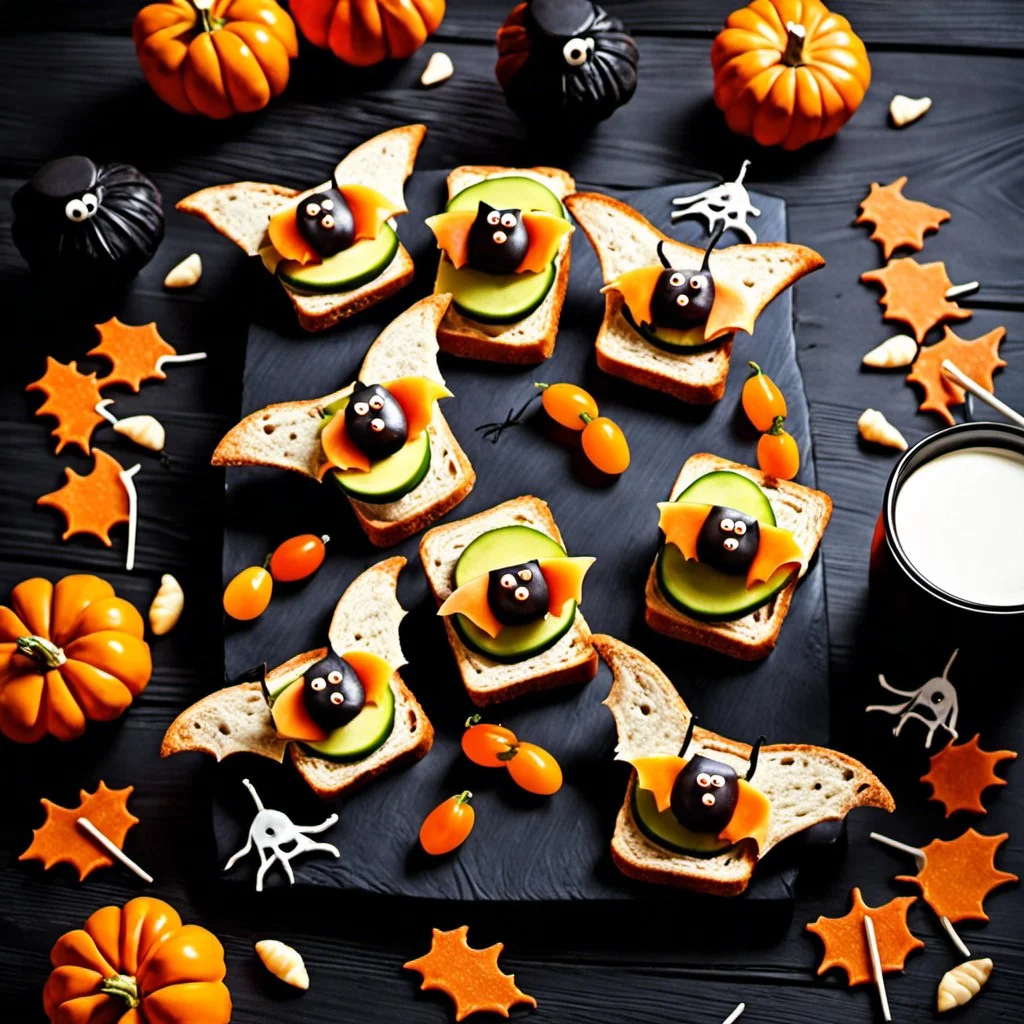 Turning an ordinary sandwich into a spooky Halloween treat can be as easy as deploying a bat-shaped cookie cutter.
Choose your preferred bread, whether that be whole grain, white, or gluten-free.
Layer the inside with your choice of cold cuts, cheese, or even a spread like peanut butter and jelly.
Use the cutter to shape the sandwich, and voila!
If you're feeling adventurous, use edible googly eyes or olives to add features to your bat, instantly elevating your board's scare factor.
Remember, the fun lies in the eerie transformation, not the complexity of your creation.
Spiderweb Cupcakes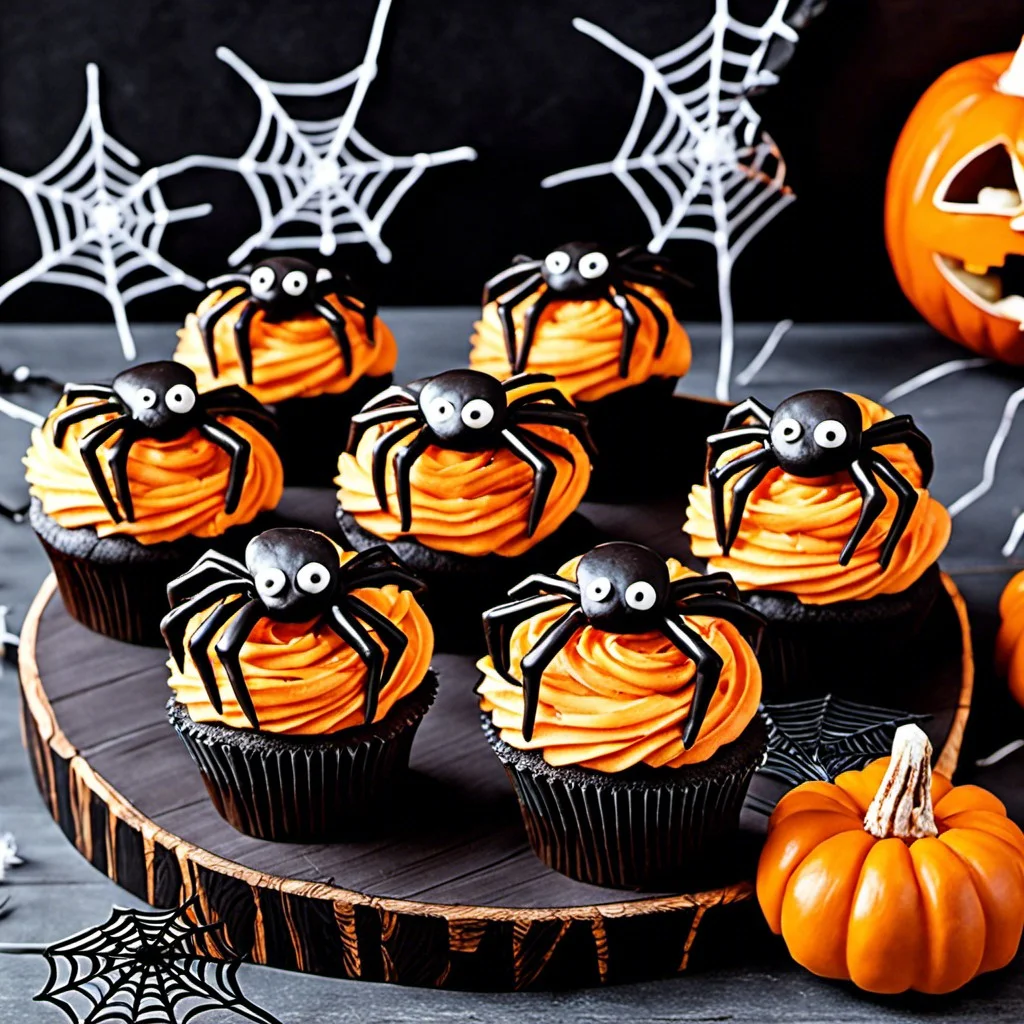 Creating these treats is not only fun but also quite simple. First, concoct your favorite cupcake recipe – whether they are chocolate, vanilla, or red velvet doesn't matter. After baking and cooling, ignite your creative spark with the frosting. Use a classic white buttercream, and spread evenly.
The real magic happens when the spiderweb design gets piped onto the cupcake's surface. This is achieved by using black or dark chocolate icing. Pipe concentric circles over the white icing, starting from the center and working towards the edge.
Next, using a toothpick, draw lines from the center circle out to the edge, mimicking the radial pattern of an actual spiderweb. Do remember to wipe the toothpick after each line to ensure a clean design. With this method, effortlessly transform any simple cupcakes into spooky spiderweb cupcakes perfect for a Halloween snack board.
For a touch of added Halloween spirit, complete this visual feast with candy spiders perched on the webs. This creepy-yet-enticing cupcake is sure to be a party hit!
Mummy Wrapped Hot Dogs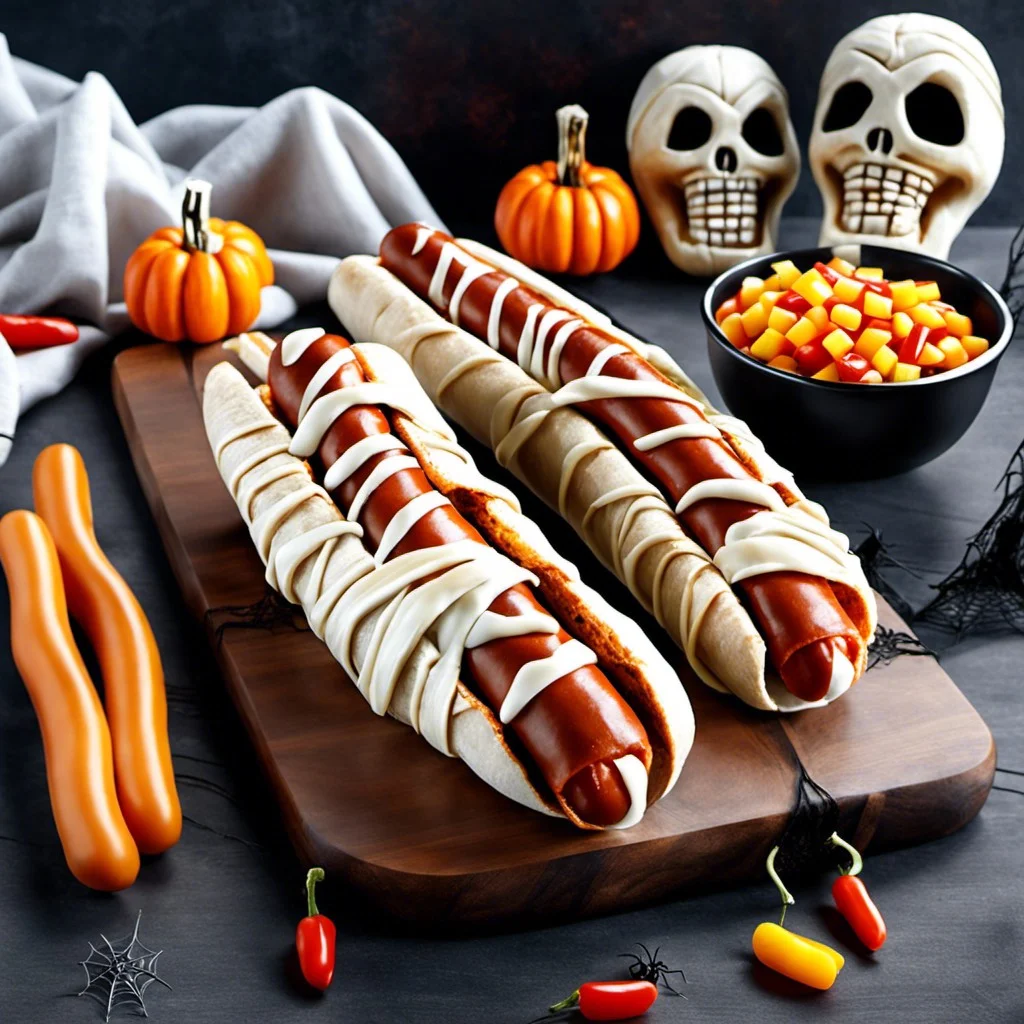 Crafting these spooky, yet irresistibly delicious snacks is quite straightforward. First, a basic hot dog is required, which can then be wrapped in croissant dough or pastry strips to mimic the appearance of a mummy. A gap is typically left at the top for ketchup or mustard eyes, giving them a playful look.
The hot dogs are then baked until golden brown, with the result being a tasty, Halloween-inspired snack that's both visually captivating and a delight to taste. Despite their intricate look, the entire process replicates making pigs in a blanket, an easy task even for culinary novices. What sets them apart is the creative presentation making them perfect for any Halloween gathering.
Skeleton Veggie Platter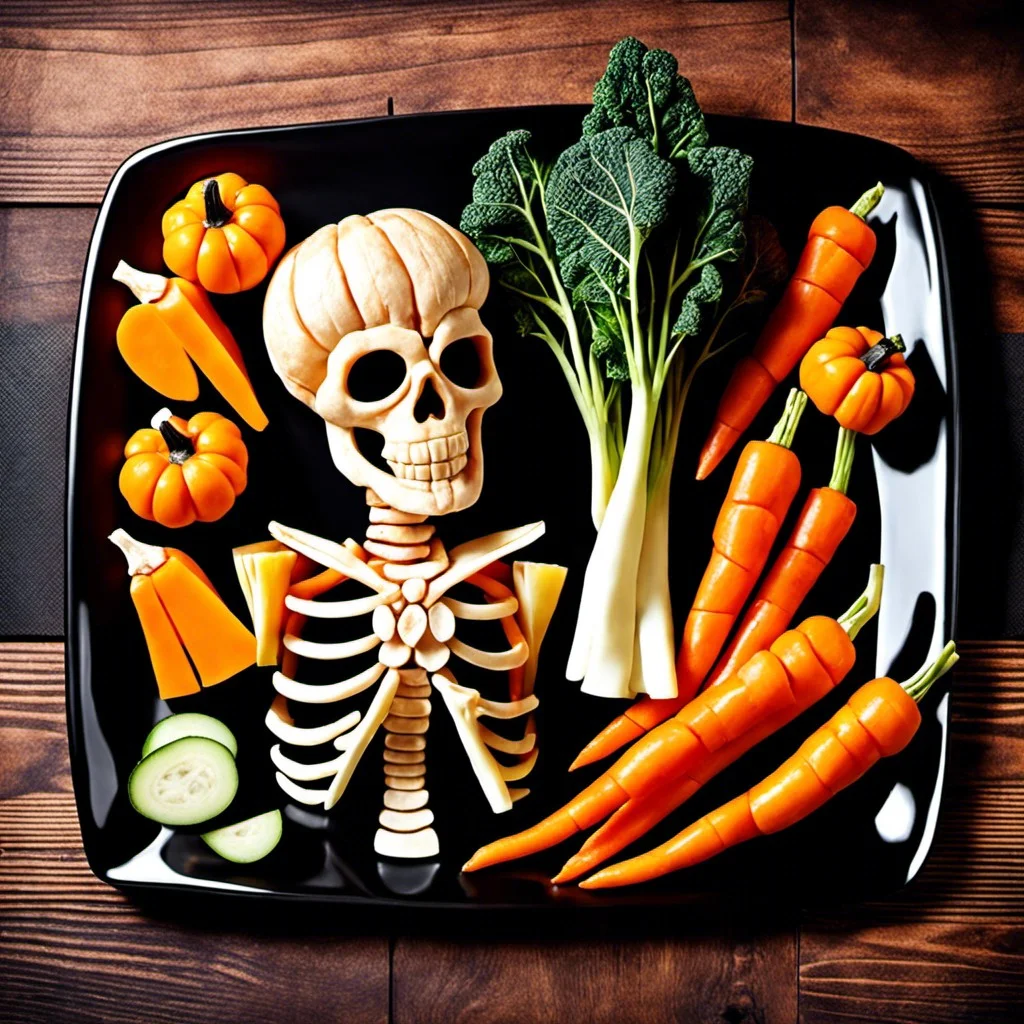 Whip up this bone-chilling delight that not only looks spectacular but injects a fresh, nutritious touch to your Halloween snack spread. Handy and versatile, this creative construction celebrates crisp vegetables, creamy dips and the endless potential of your own imagination.
Belly ribs are effectively formed by celery sticks, and bell pepper strips make excellent spine and arm bones. For some marrow-lous leg and foot bones, look no further than the vibrant carrots and refreshing cucumbers. Peppery radishes shine as bone joints, adding a delightful bite.
Centerstage is the skull, the key to pulling off this haunting visual. A hollowed-out cauliflower functions beautifully, particularly when filled with a rich, creamy dip of your choice – perhaps a garlicky aioli or a tangy tzatziki.
Keep in mind, assembling this skeletal creation should be a fun, relaxed process. The goal here is more festive than anatomically correct. Even if your skeleton appears more whimsical than scary, a good time being had by all is the true measure of success. So go ahead, give it a shot and bone appétit!
Halloween Sugar Cookies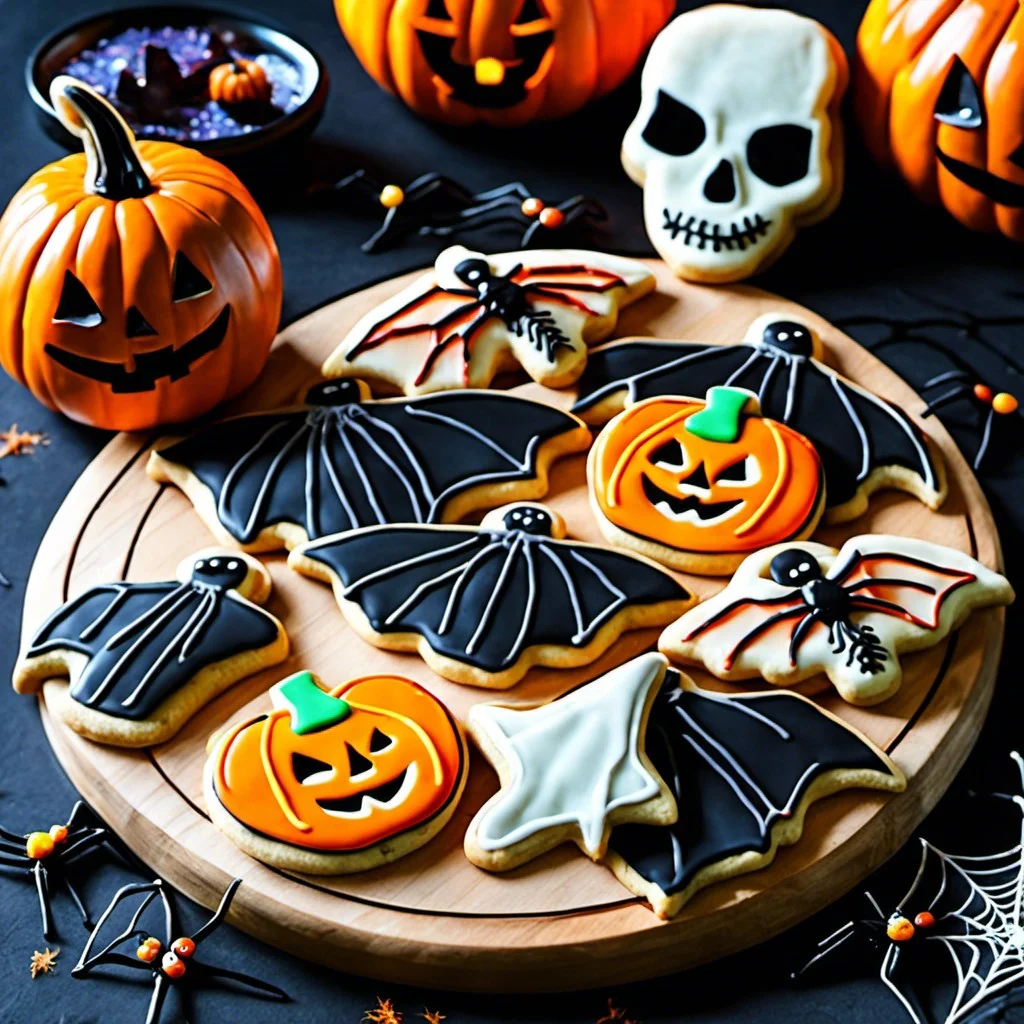 Every bite of these scrumptiously sweet delights imparts a sugary burst of Halloween spirit. Here's how you can create your own magic:
Choosing Your Cookie Cutters: Opt for Halloween-themed shapes – think bats, witches, pumpkins, and ghosts.
Decorating with Icing: Craft fun facial expressions or intricate designs using colorful icing.
Adding Edible Glitter: Sprinkle a bit on top to give your cookies a scintillating effect, perfect for any Halloween party.
Trying Sugar Cookie Variations: Infuse the dough with flavoring agents such as orange or cinnamon for a festive spin.
Remember, the goal is to make these cookies as spooky and delightful as the holiday itself!
Pumpkin Seed Trail Mix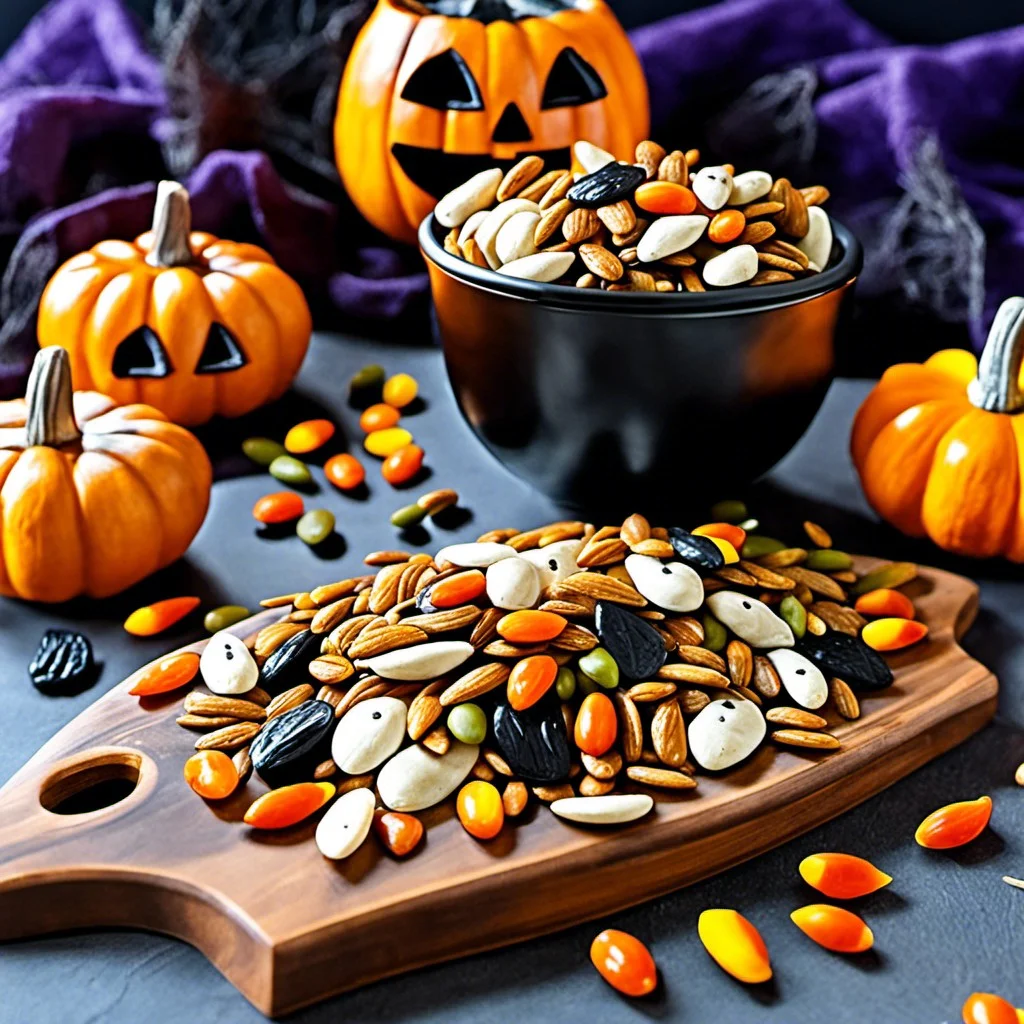 Packed with fiber, protein, and a bevy of minerals, pumpkin seeds come into their own as a healthful and flavorful component in trail mixes.
Toast the seeds lightly for enhanced flavor, toss them with spices such as paprika or cumin for a snappy kick, or opt for a sweet variant using cinnamon.
Pair these seeds with dried fruits – cranberries or apricots make good choices, and nuts – almonds or cashews add a crunchy texture.
Add a touch of chocolate with dark chocolate chips, if sweetness is preferred.
Experiment with different variations to create unique combinations that are not only pleasing to the palate, but also provide a fulfilling snack.
Bloody Cherry Cheesecake Dip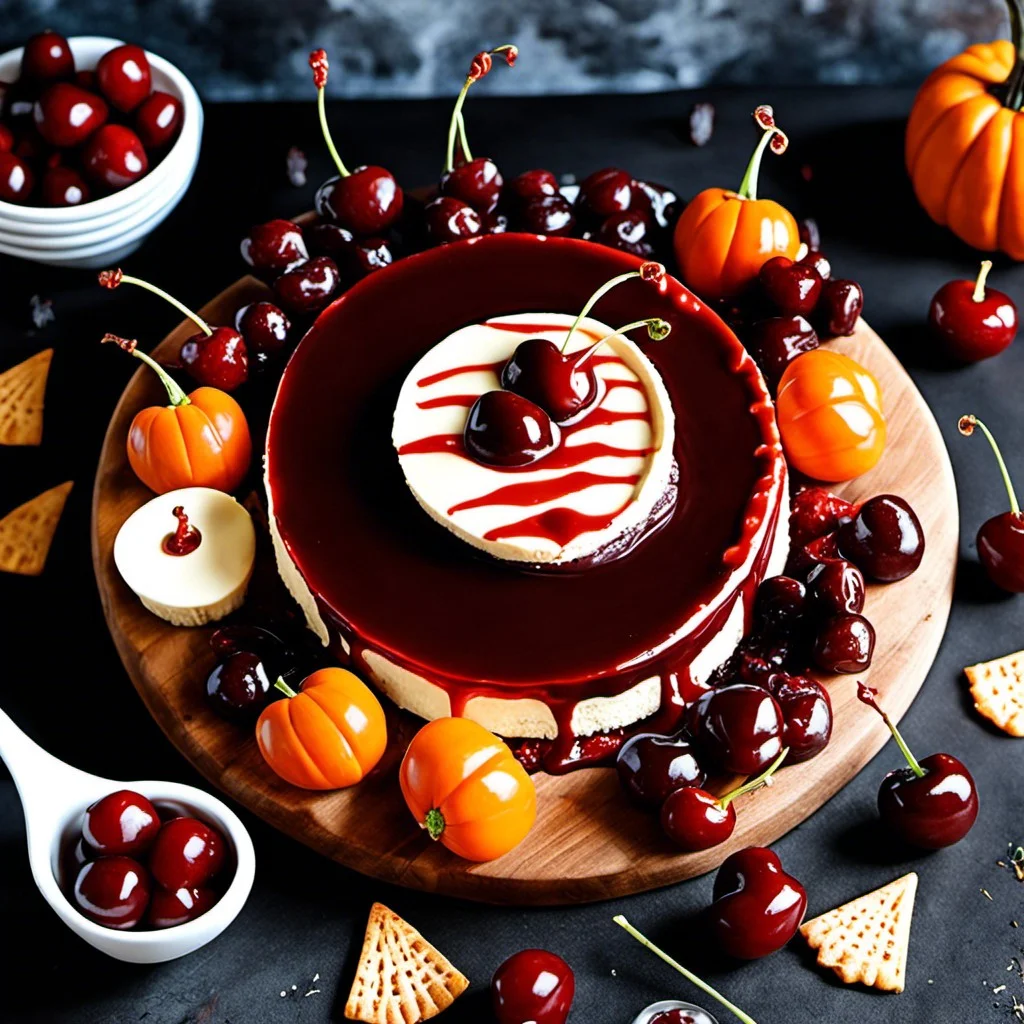 Preparing this snack is an exciting way to incorporate traditional cherries into your Halloween spread. Start with a classic cheesecake dip base – a mix of cream cheese, vanilla, and sugar.
The 'bloody' effect is created by adding cherry pie filling on top and garnish it with a sprinkle of crushed graham crackers as a crunchy contrast.
To enhance the spooky appeal, you could even shape the dip into a round, bloody eyeball or a scary, gaping mouth.
The tastiness of the cheesecake dip combined with the cherry topping will definitely make this a memorable addition to your board.
Ready in 10 minutes, it's perfect for those who love a hit of sweetness amongst the savory offerings.
Serve with graham cracker sticks or vanilla wafers for dipping.
Apple Monster Mouths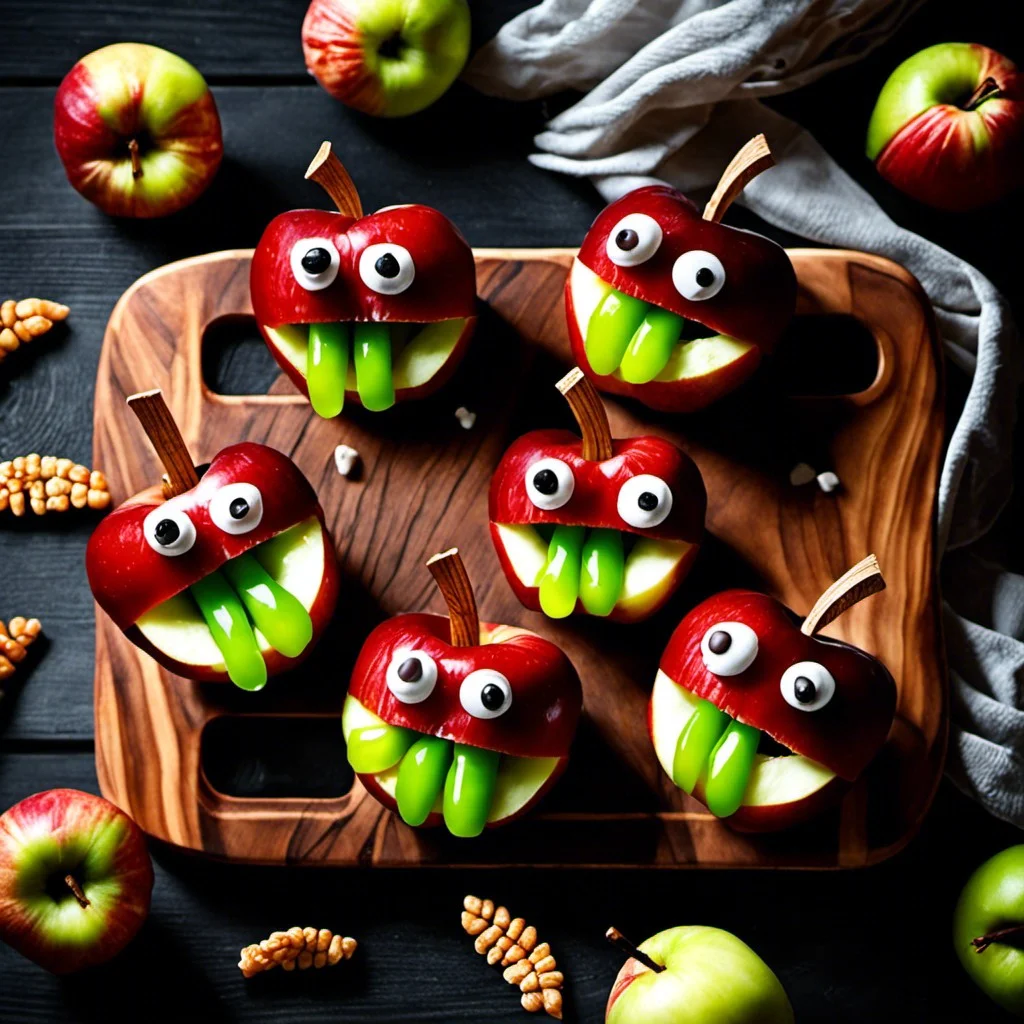 Peeling half an apple, slicing it into quarters and removing a sliver forms the mouth. Smearing peanut butter (or a nut-free alternative for those with allergies) across what becomes the 'inside' of the mouth secures the almond slivers in place for teeth.
For a bit more spookiness, strawberry jam can create a blood effect. Keeping the apple slice's skin on will provide a lively crimson edge and more nutrients too!
Remember to soak the apple slices in lemon juice to prevent browning if you're not serving them immediately. It's the perfect fruitful scare for a Halloween snack board!
Cheese Broomsticks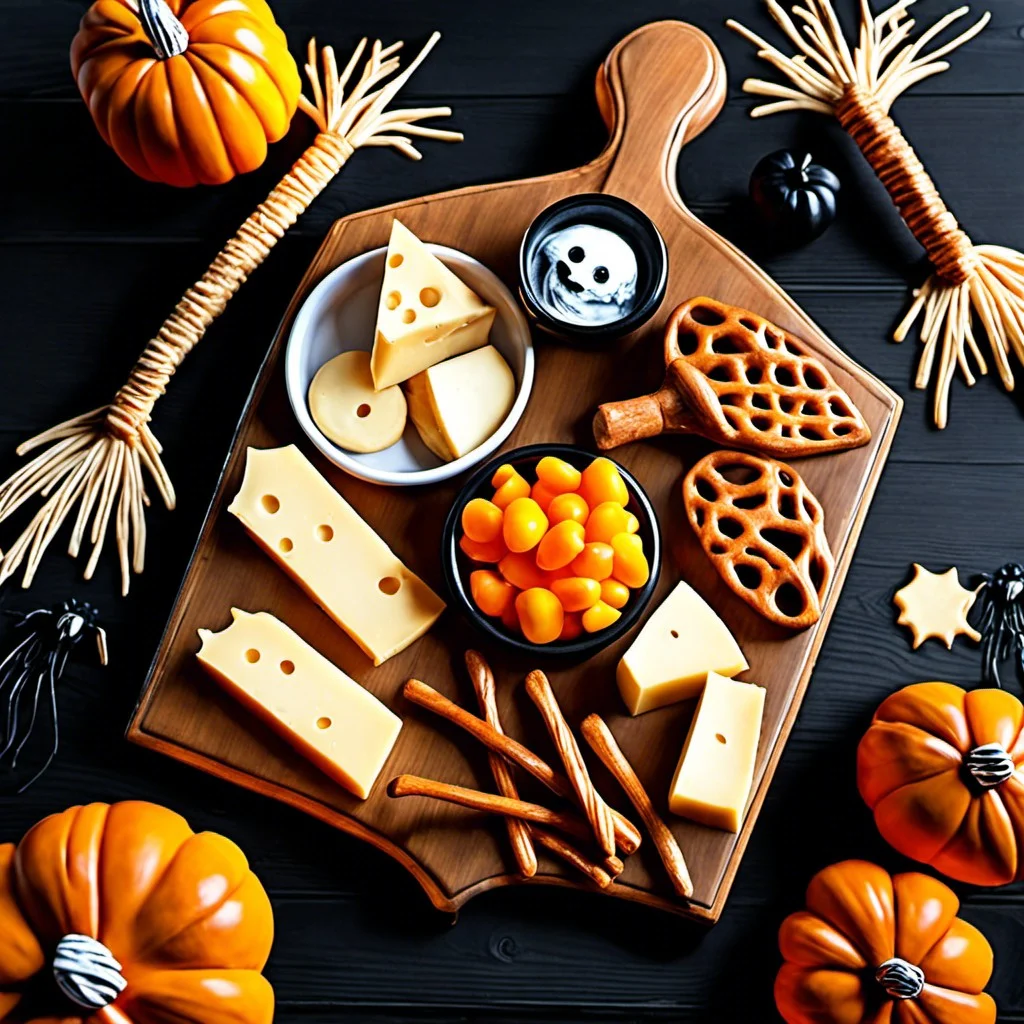 Creating these charming snacks is both easy and fun. You only require a few ingredients: string cheese, pretzel sticks, and fresh chives.
Start by cutting the string cheese into thirds. At one end of each piece, use a knife to make a fringe pattern, emulating broom bristles. Insert a pretzel stick into the uncut end to serve as the broom handle. Finally, tie a chive around the cheese where it meets the pretzel.
They make a delightful, healthy addition to any Halloween spread and can also be a wonderful craft project for kids.
Zombie Brains Guacamole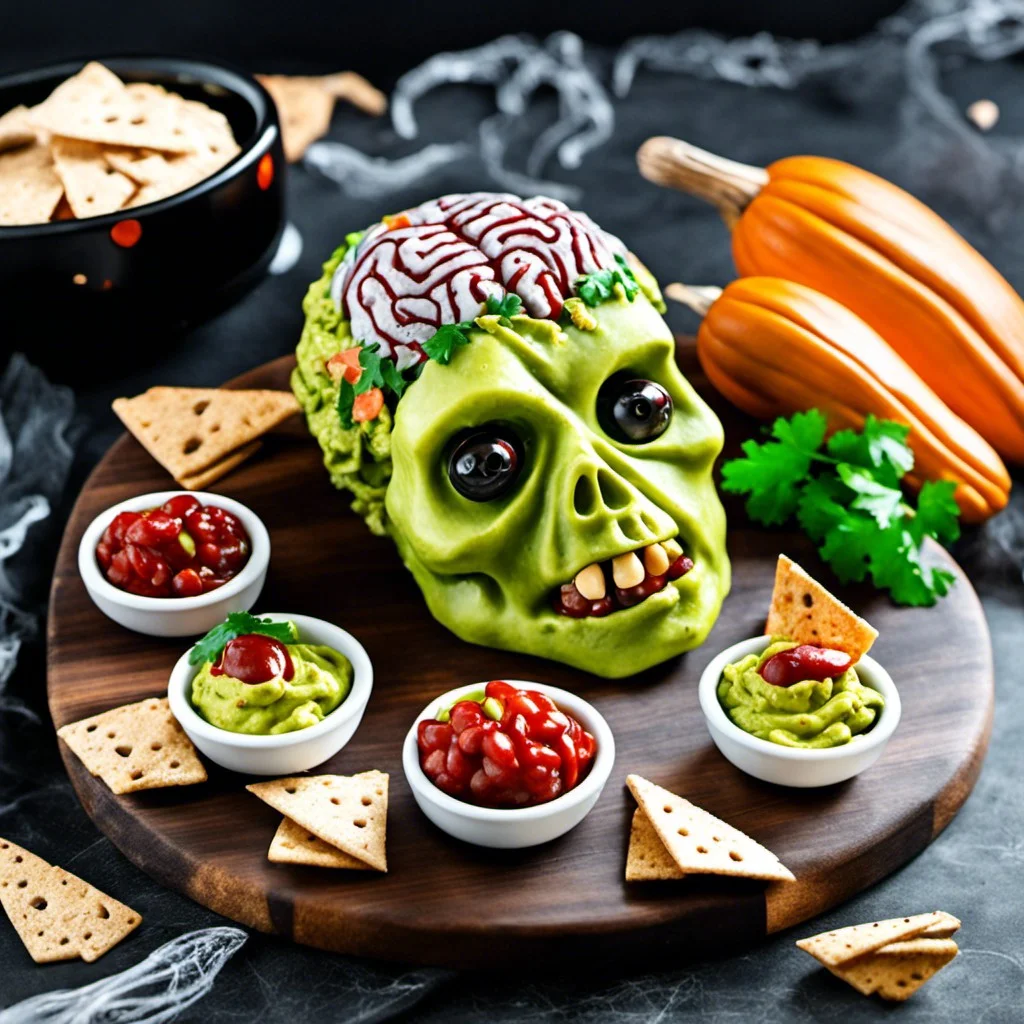 Create the perfect guacamole with ripe avocados, lime juice, cilantro, and salt, then add a touch of Halloween fun with a molded plastic brain to resemble a "zombie brain". Make sure your guacamole is a bit chunkier than usual to follow the brain-like texture.
Finally, use a small bit of salsa or hot sauce to make it appear bloody. This novel snack will both scare and delight your guests at a Halloween party.
Try serving it with black or orange tortilla chips for added festive flair.
Witch Hat S'mores Dip
Transforming classic s'mores into a witch-inspired Halloween treat is a magical idea. Ease of preparation is key: a simple, three-ingredient recipe starring chocolaty fudge dip, creamy marshmallow topping, and crispy, tender cookies shaped to resemble witch hats.
Begin by shaping the cookies. Cone-shaped sugar cookies are perfect, baked until golden and cooled completely. Next, prepare the fudge dip. Stringent on consistency, melt chocolate chips with condensed milk.
Your marshmallow topping could be store-bought or homemade, depending on your preference. If opting for the latter, be patient during the process of whipping egg whites, sugar, and cream of tartar until fluffy peaks form.
Assembly is where fun and creativity shine. Add a dollop of fudge dip on the base of the cookie, followed by a generous layer of marshmallow topping. Use the back of a spoon to create spirals, mimicking the texture of a witch hat. Chill until firm, allowing the flavors to meld beautifully.
For an added touch, encircle the based of the hats with Halloween sprinkles or candies. Serve this treat as part of your spooky snack board and watch as excitement fills the room.