Explore the world of game room snack bars, where fun meets flavor through innovative ideas that will level up your entertainment experience.
Creating the perfect game room snack bar can be an exciting task, especially when you're armed with the right ideas. Whether you're hosting a game night or simply enjoying a casual evening with friends, a well-stocked snack bar can elevate the experience.
From classic popcorn machines to mini fridges stocked with chilled beverages, and candy dispensers to gourmet snack stations, the options are endless.
This article will delve into the best game room snack bar ideas, offering a comprehensive guide on how to set up a snack bar that caters to all tastes and preferences.
Stay tuned for detailed insights and practical tips to transform your game room into a fun-filled, snack haven.
Popcorn Machine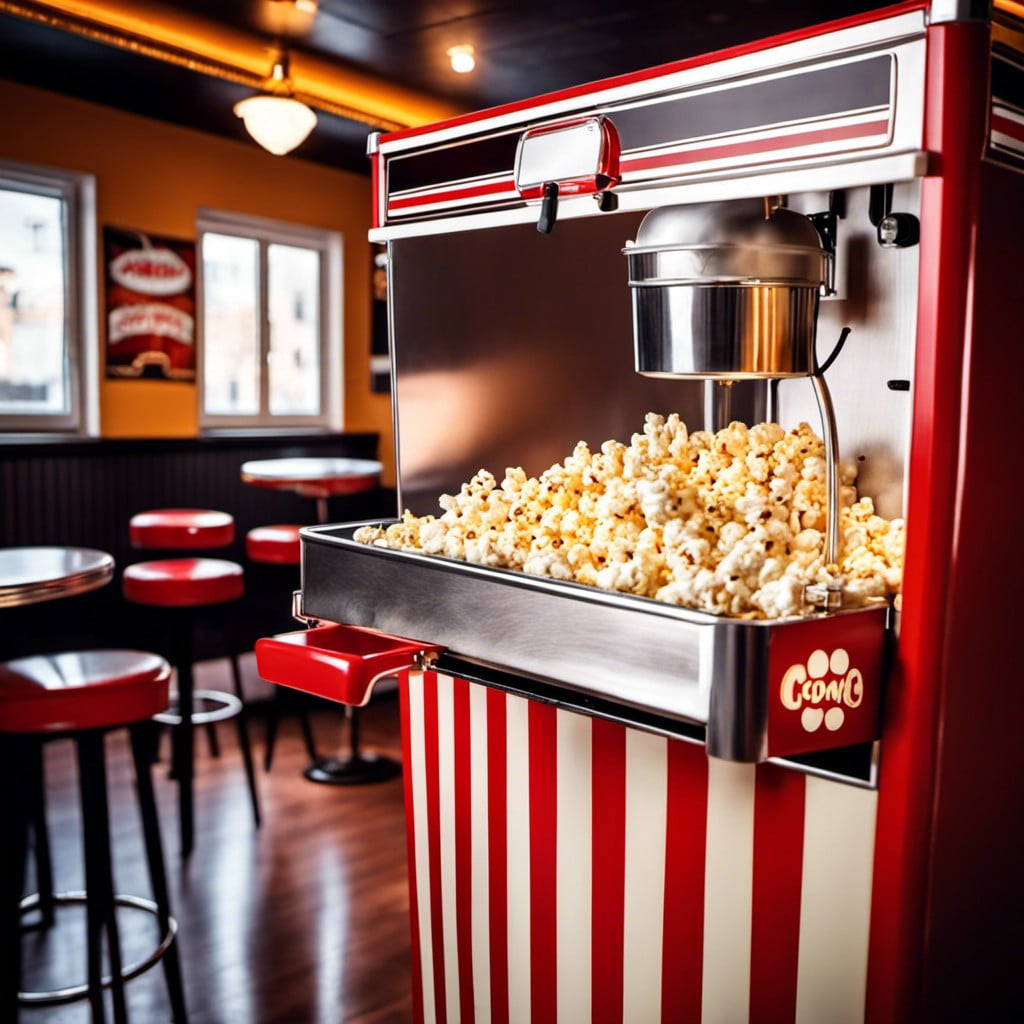 A high-quality popcorn machine is a must-have for any ultimate game room snack bar. It offers a classic, nostalgic touch, reminiscent of movie theaters and carnivals.
Not only does it fill the room with mouth-watering aroma, it's also an efficient choice for feeding a crowd. Plus, with a myriad of popcorn flavours available, like caramel, cheese or spicy jalapeño, there's bound to be a variety to satisfy everyone's cravings.
Just remember, easy cleaning features are key to avoid a sticky mess after use. Keep the popcorn kernels stocked up, provide a scoop, seasonings on the side and let the guests serve themselves to achieve the perfect snack bar experience.
Mini Fridge for Beverages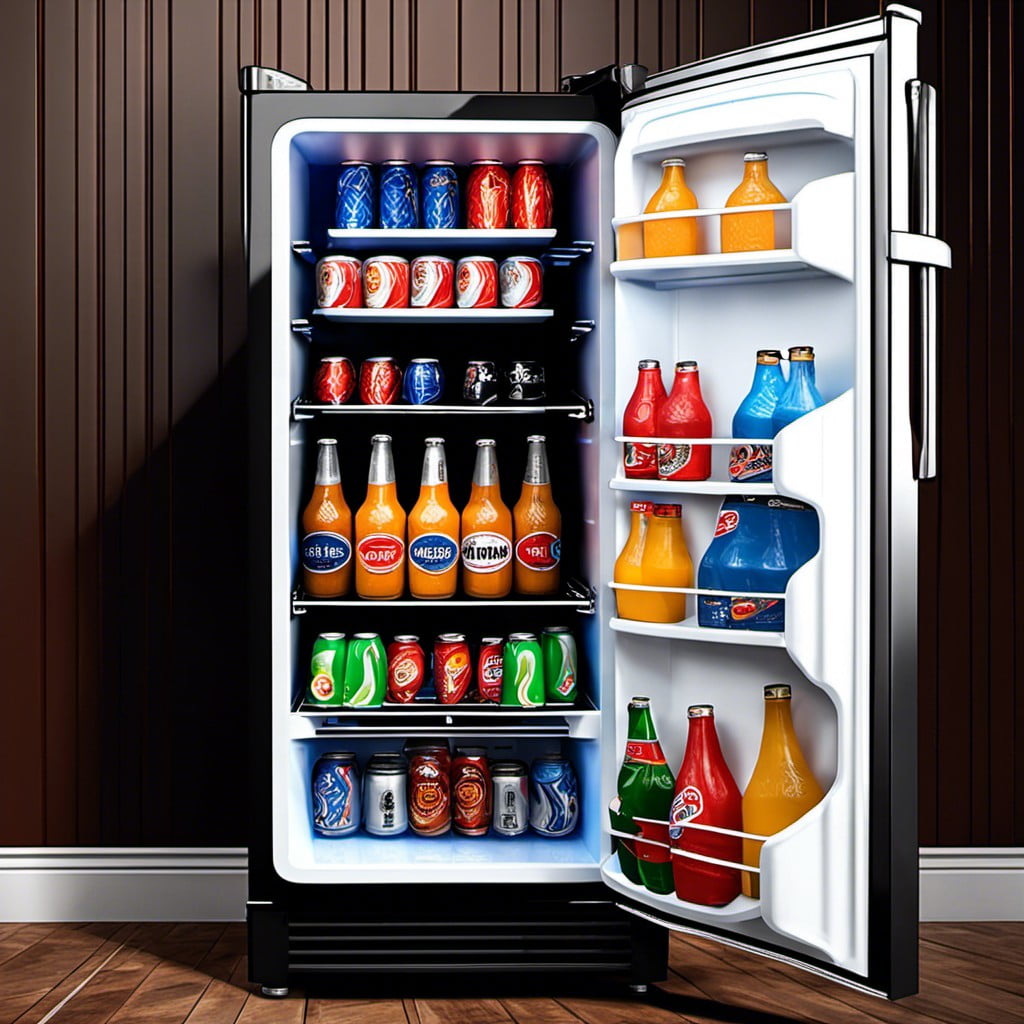 Stocking an array of cold beverages is a guarantee for a pleasurable gaming experience. A mini fridge is a must in a game room snack bar. Filled with water, soda, or even beer for adult game nights, it becomes an entertainment gold mine that keeps your thirst quenched while gaming for long hours.
Choose a model that fits your space and aesthetic. The compact size should be able to negotiate limited space without cramping up the area. The style could range from stainless steel for a modern look to a vintage design if you prefer a retro feel.
Mini fridges are also energy-efficient, keeping drinks perfectly chilled without burning a hole in your pocket. Opt for one with compartments for better organization. This would ensure a well-stocked mini fridge for hassle-free, spontaneous game nights. Keeping a balance of alcoholic and non-alcoholic beverages accommodates everyone's taste. Lastly, be sure to regularly replenish the stock, a point to note for uninterrupted fun and refreshment.
Candy Dispensers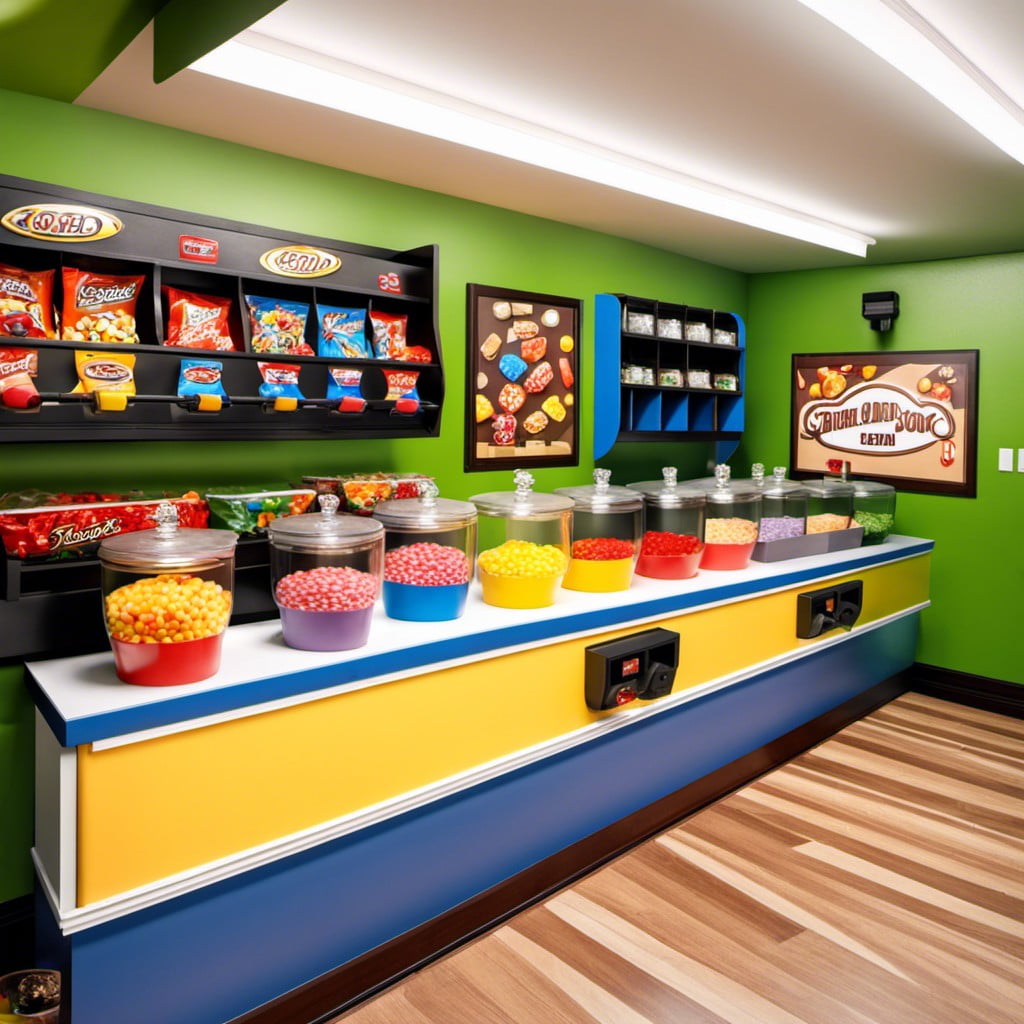 Perfect for a sweet tooth, candy dispensers add a fun, nostalgic feel to any game room snack bar. They come in a variety of styles, sizes, and colors to fit the mood of your place.
Here are some points to consider:
Aesthetics: Consider a vintage gumball machine or a sleek, modern dispenser to complement your décor.
Functionality: Some models offer portion control options to maintain everyone's health and dental hygiene.
Candy Type: Choose between dispensing hard candies, gumballs, or even chocolate depending on your preference.
Size: Determine how much space is available for the dispenser, as well as how often you're willing to refill it. Bigger ones need fewer refills but take up more space.
Convenience: Most dispensers are easy to refill and dispense without contact, promoting sanitation.
Theme: You could theme your dispenser to match your gaming experience, for instance, a Pac-Man dispenser for a retro-themed room.
A correctly placed and well-stocked candy dispenser can elevate the snacking experience in your game room bar to an entirely new level, adding a dash of color, fun, and sweetness.
Mini Pizza Oven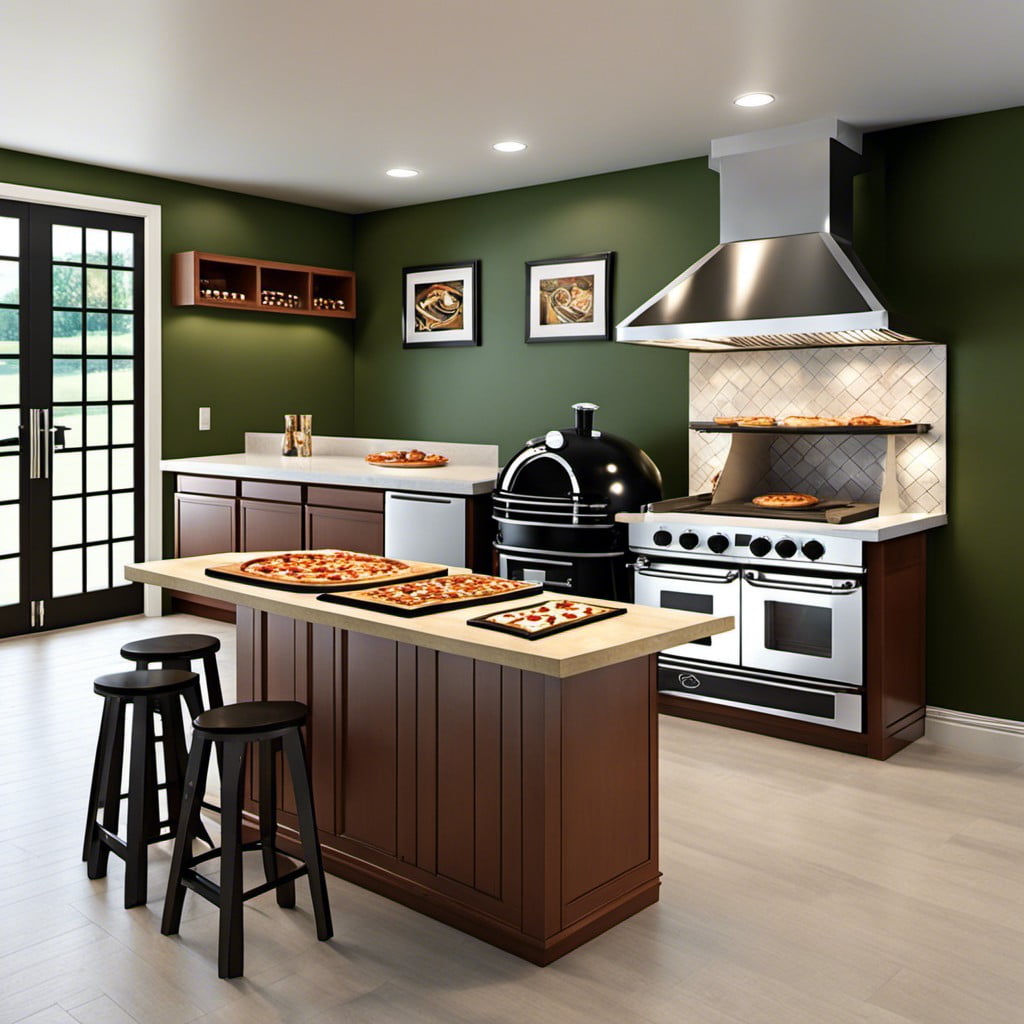 Having a mini pizza oven revolutionizes snack time in any game room. An asset for any pizza enthusiast, it provides freshly baked pizzas within minutes. The compact design ensures it doesn't consume unnecessary space.
With this appliance in your snack bar, organizing pizza dough and toppings of your choice can be a fun activity before game time. You get to decide – more cheese, less olives? Pepperoni or vegetarian? The possibilities are endless.
A mini pizza oven not only pleases the palate but also ramps up the entertainment quotient. Imagine the thrill of watching your pizza puff and bubble as it bakes, enhancing the overall game-night atmosphere.
Remember, it's not just about the nourishment, it's about creating memorable experiences while having something delicious to munch on. Keep this unique gadget high on the snack bar list. It brings variety and the charm of home-baked goodness directly to your game room.
Pretzel Warmer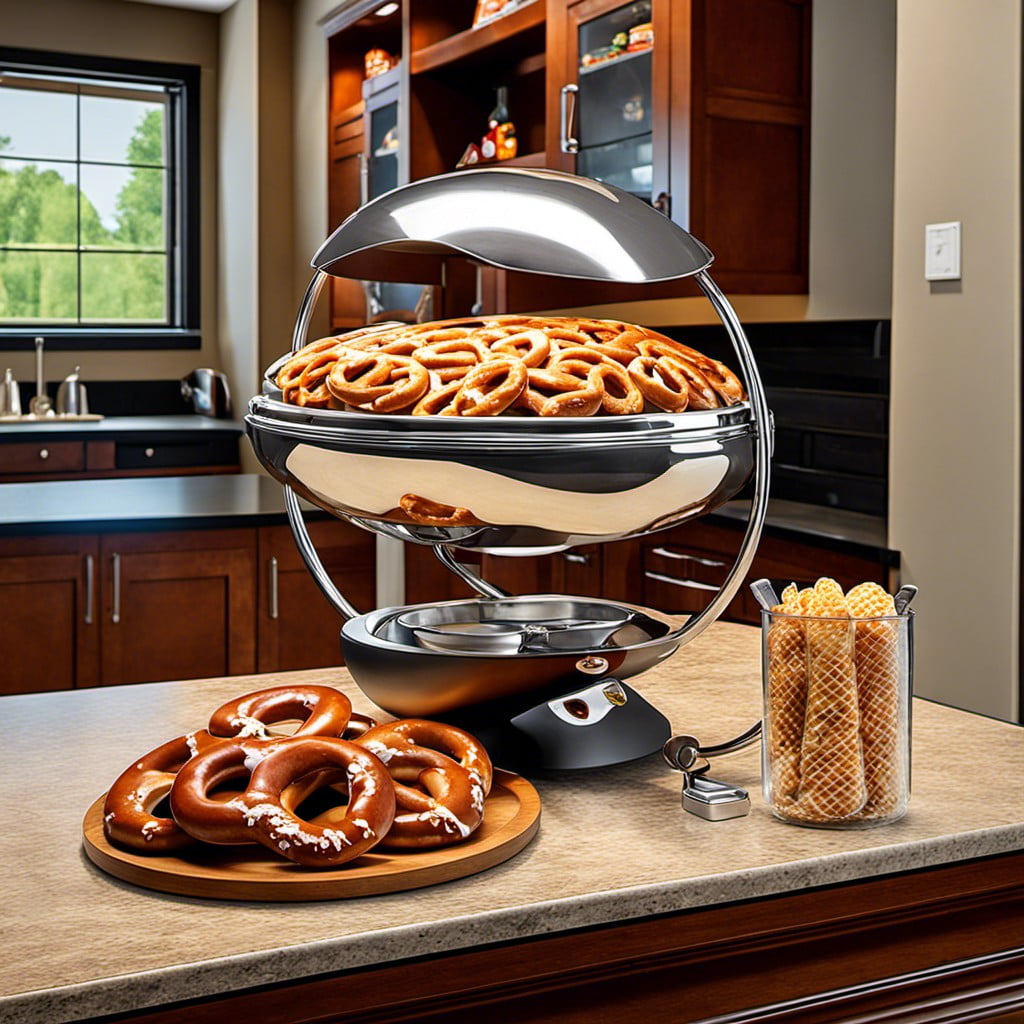 A warm, twisty treat is a classic favorite for any snack bar offering. Investing in a pretzel warmer keeps these baked goodies not only hot but also soft for prolonged periods. Additionally, it enhances their mouthwatering appeal by displaying them attractively, encouraging guests to grab one as they pass by.
There's versatility to consider too. The warmer can double as a holder for other baked treats like croissants or muffins. Several designs and sizes can be found in the market—some can be placed on countertops, others built-in, while larger ones are freestanding, perfect for a more substantial snack bar. All these features ensure your game room snack bar is equipped to provide warm, buttery pretzels whenever the craving strikes.
Nacho Cheese Dispenser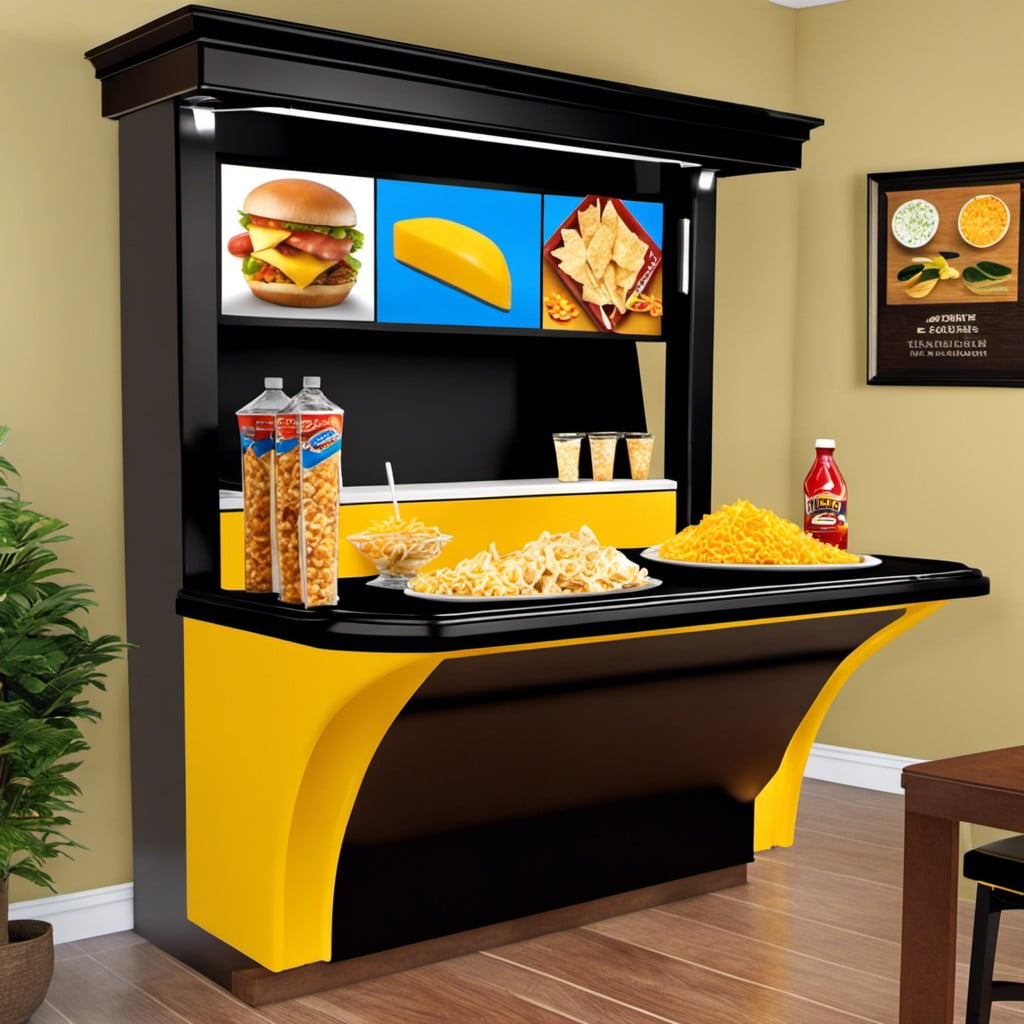 A Nacho cheese dispenser presents a simple, yet brilliant addition to your game room snack bar. Imagine not having to step away from a riveting game session just to visit your kitchen for a plate of nachos. This useful gadget warmed up can serve your favorite cheese, effortlessly dispensing it over crispy tortilla chips.
Choosing a dispenser with a heated pump is advisable, as it will keep your cheese at the optimal serving temperature. Not only that, but most dispensers also allow for easy refill and clean up.
Aside from nachos, the dispenser can drizzle melty, savory cheese over your pretzels, hotdogs, and maybe even popcorn for a twist. Invest in a quality dispenser, and you instantly multiply snack choices while adding a fun, movie-theater like vibe to your game room!
Retro Soda Pop Cooler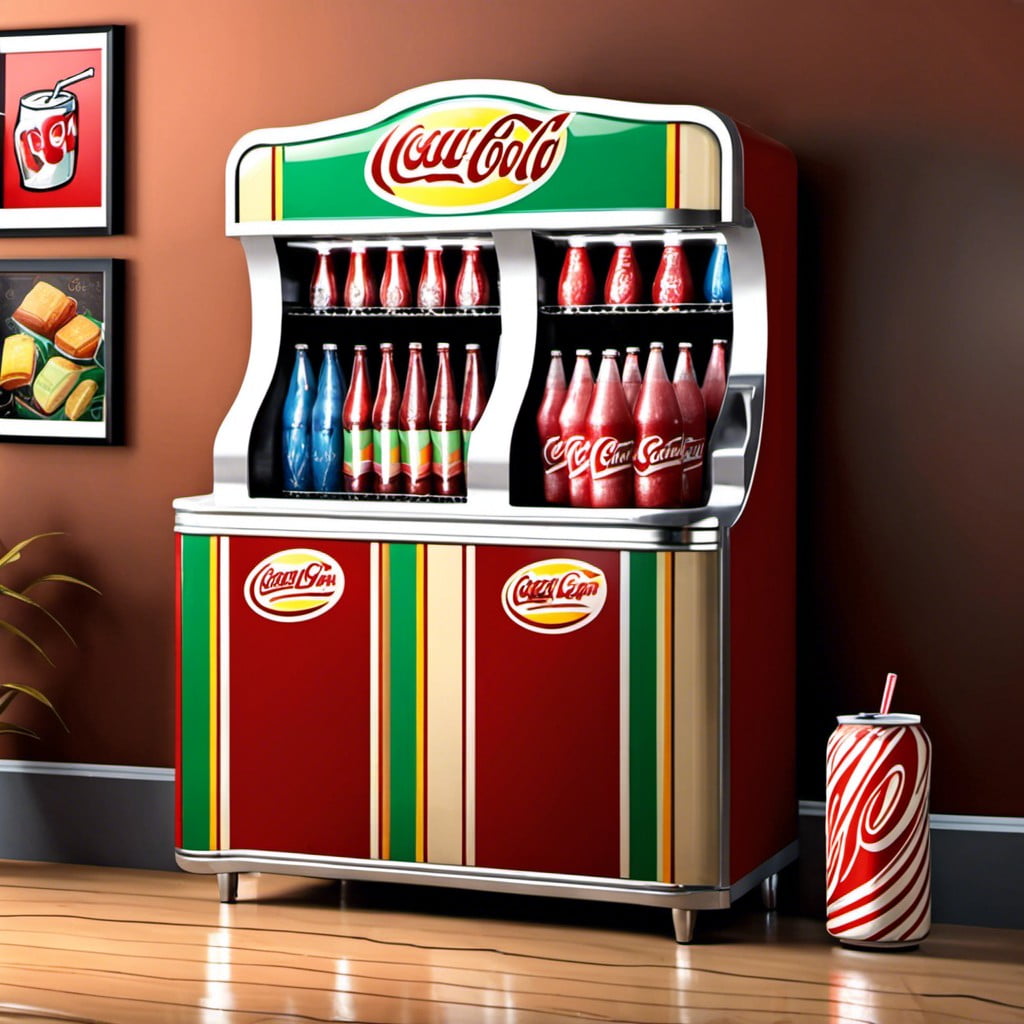 Keeping your favorite sodas cool and within hand's reach adds to your game room's convenience quotient. Vintage design, often colorful and adorned with classic logos, ensures these coolers are not only useful but also offer aesthetic appeal adding a sense of nostalgia to your game room decor.
A few things to consider while incorporating soda pop coolers:
Size and Capacity: You'll want a cooler that can accommodate multiple soda cans or bottles while not taking up too much space.
Energy Efficiency: Modern retro-designed coolers usually come equipped with energy-saving features.
Temperature Control: A cooler with adjustable temperature ensures your soda is at your preferred chill level.
Design: Pick a design that complements your game room theme. Brand centric designs offer an unparalleled vintage look.
Noise Level: Since it's in your game room, choose a cooler with a low noise level to avoid distraction during gameplay.
Pick 'n' Mix Sweet Station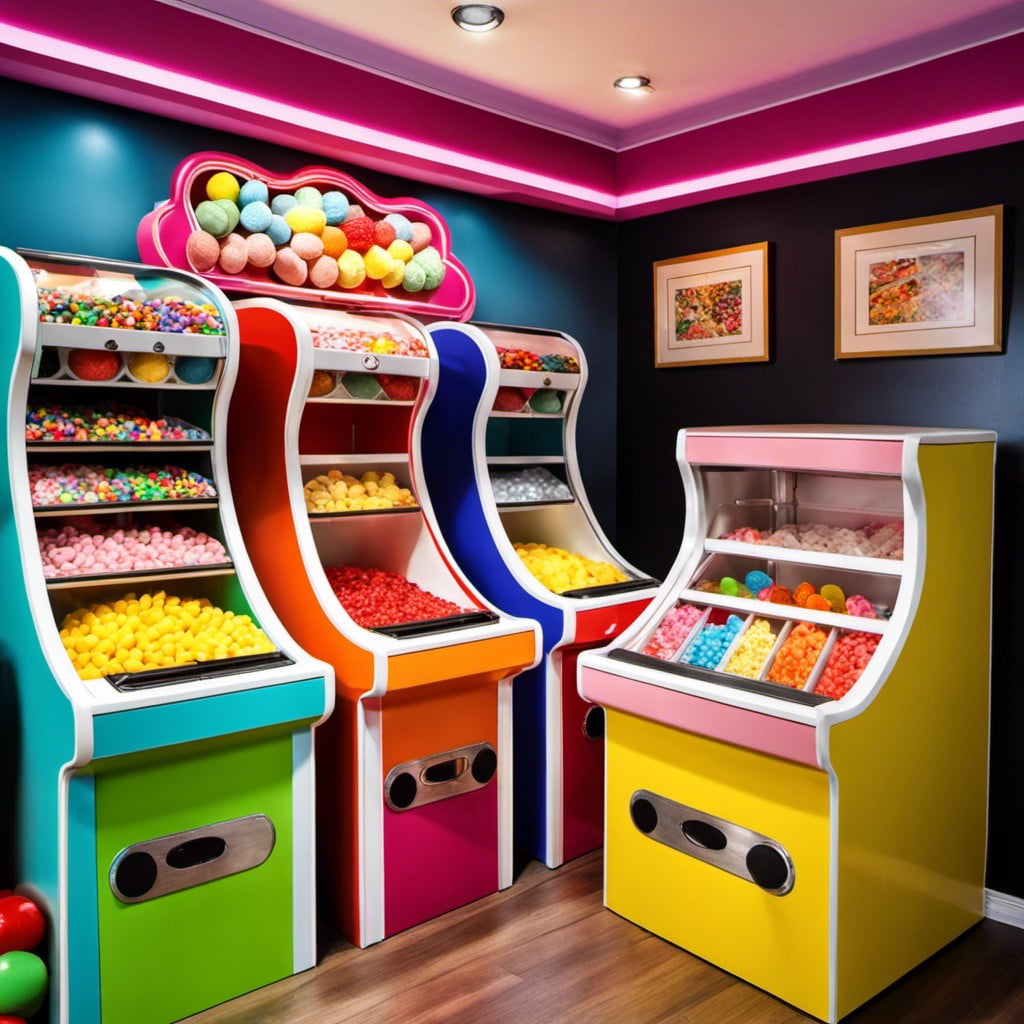 Perfect for both children and adults, a Pick 'n' Mix sweet station adds a touch of sweetness and nostalgia to any game room environment. Here are some prompt ideas to set one up:
1. Range: Offer various candies, to cater to all tastes. Include chocolates, gummies, lollipops, and classic candies.
2. Organization: Use clearly labeled, perspex bins for hygiene and visibility of the candy items.
3. Utensils: Provide scoops and tongs to ensure easy access and cleanliness.
4. Packaging: Have small paper bags available for guests. This enables guests to mix their favorites and keep snacking while their gaming.
5. Refill: Keep reserve candy to replenish the bins, ensuring you never run out mid-game.
Designed correctly, your Pick 'n' Mix station stands as both a mouth-watering option for game time and a visually appealing addition to your snack bar.
Ice Cream Maker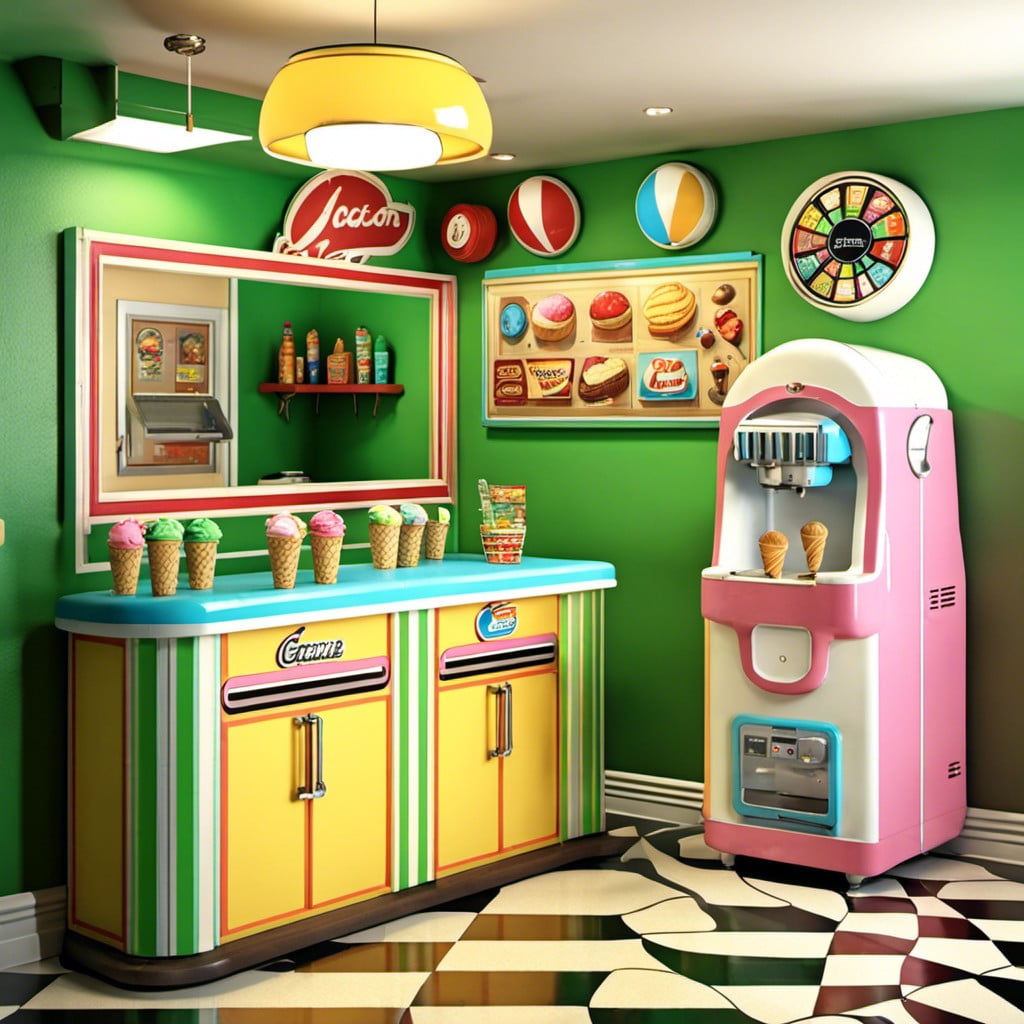 An ice cream maker is more than a novelty gadget – it's a gateway to creating custom flavors and satisfying sweet cravings at any time. From traditional vanilla to adventurous sorbet, the versatility knows no bounds. It's also an interactive activity, perfect for parties or family nights in the game room.
With a standard machine, the process involves pre-freezing the bowl, churning the ingredients, then leaving the mixture to set before serving. It's vital to carefully follow the manufacturer's instructions for precise timings to ensure the best texture and taste.
Consider serving your homemade ice cream with a selection of toppings. Nuts, berries, chocolate chips, and syrups can transform each bowl into a personalized treat.
Adding an ice cream maker to your snack bar not only lets you cater to various dietary needs or preferences but also adds an extra layer of fun to your game room experience. The satisfaction of making your own ice cream is second to none – an added perk to your eventful night of games!
Microwave for Quick Snacks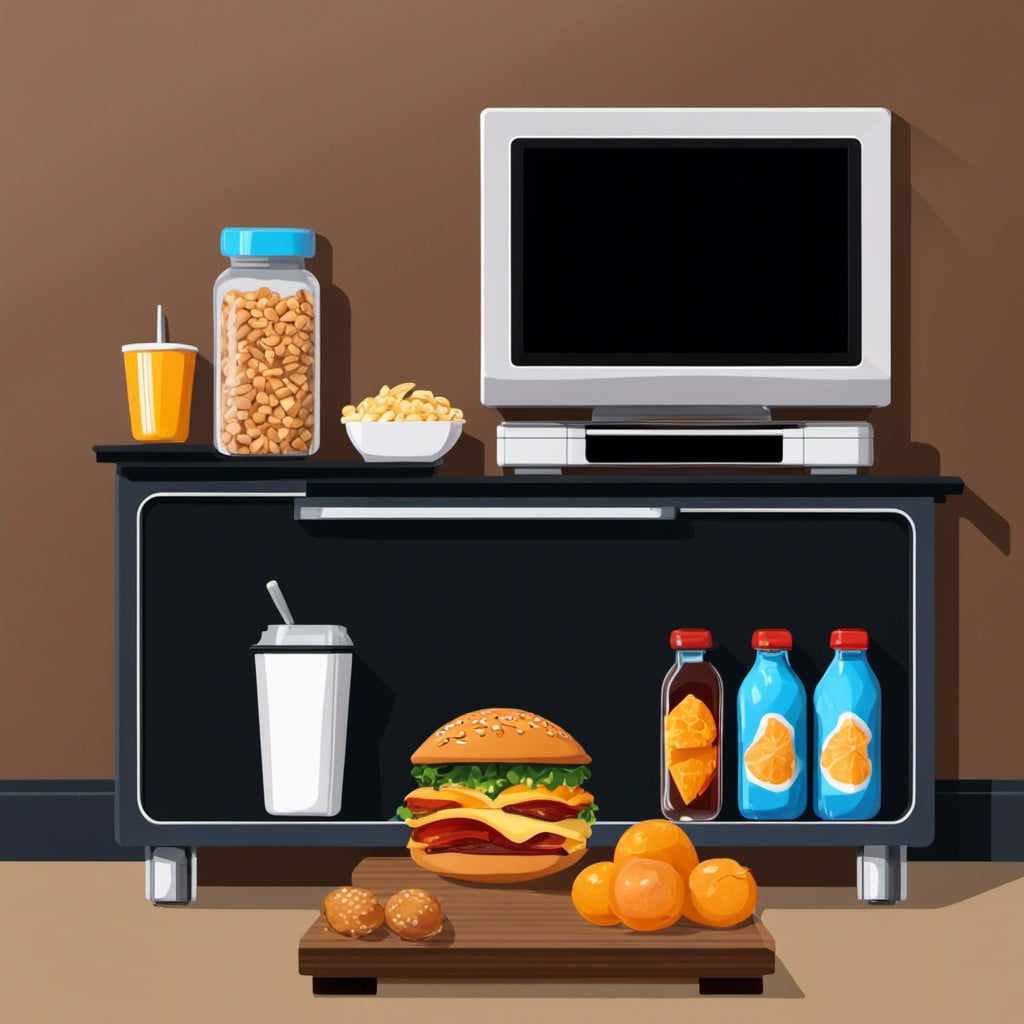 Microwaves are essential, making myriad snacks accessible within minutes. Ideal for catering both impromptu and well-planned game nights, their utility is unquestionable.
Firstly, heating up pre-prepared snacks is speedily managed by a microwave. Finger foods, dip accompaniments, or frozen items – all are easily warmed up. Chilled pizzas can sizzle in minutes, and bite-sized appetizers, like spring rolls or cheese sticks, crisp up rapidly.
Secondly, for the sweet tooth, pastries, cakes, or cookies can be baked in a jiffy. Mug cakes, for example, are a hit among gamers, offering a quick sugar fix.
Moreover, some pre-packaged microwaveable snacks boast excellent flavor profiles too. Popcorn is a classic example. Available in numerous flavors, it's a staple in game rooms. Notably, some microwaves possess a specific 'popcorn' setting for optimum popping.
Lastly, for health-conscious gamers, there's a large array of microwaveable options – from steamed vegetables to protein-packed meals, promoting healthy snacks and balanced nutrition.
To summarize, the microwave is a versatile device, accomplishing quick, tasty, and health-conscious snacking.
Hot Dog Steamer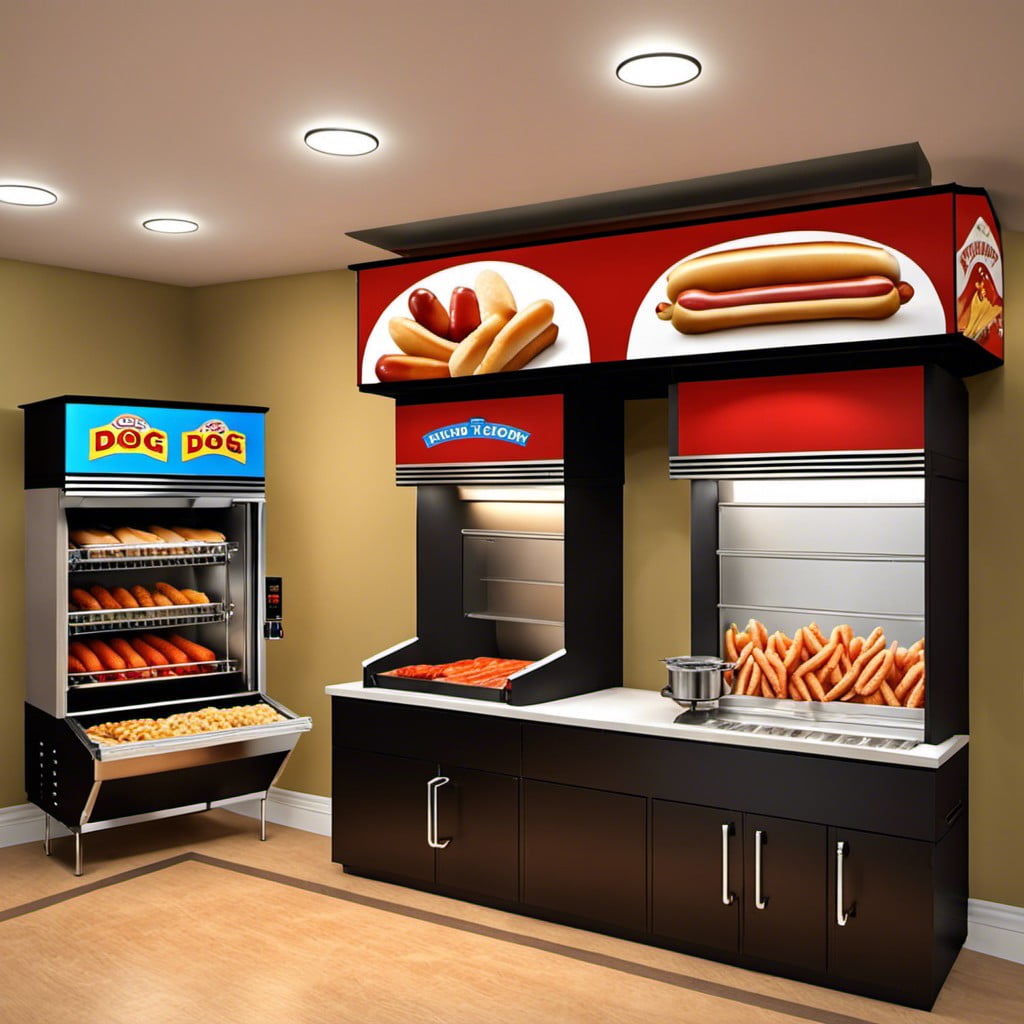 Loaded with nostalgia, the addition of a hot dog steamer can level up the game room snack bar experience. Here's why:
1. Quick and Easy: It cooks dogs and warms buns simultaneously in a matter of minutes.
2. Versatile: It can also steam other staples like bratwurst or breakfast sausages.
3. User-friendly: With a simple push-button operation, even guest gamers can manage.
4. Minimal Cleanup: Most models come with dishwasher-safe parts.
With a variety of designs ranging from classic to contemporary, you can find one that seamlessly blends with your game room's aesthetic. Make sure to keep an array of condiments nearby for the perfect customizable snack.
Cupcake Display Stand
A visual delight, the cupcake display stand offers a creative way to showcase these mini-treats. Choose from multi-tiered stands for added dramatic effect or single-level ones to keep it understated, each bringing a unique charm to the game room snack bar.
Here are some elements to consider when setting up your cupcake stand:
Placement: Position it for easy access but with care to avoid accidents, especially when the games get intense.
Variety: Feature an array of cupcakes, incorporating different flavors and frostings to cater to diverse tastes.
Theme: Leverage game-themed cupcake designs that can boost the fun and festive atmosphere.
Freshness: Ensure your cupcakes are always fresh. Opt for daily bake schedules as opposed to stocking up in one go.
Remember, the cupcake display stand not only serves as a snack station, it also adds a decorative touch to your game room.
Chip and Dip Station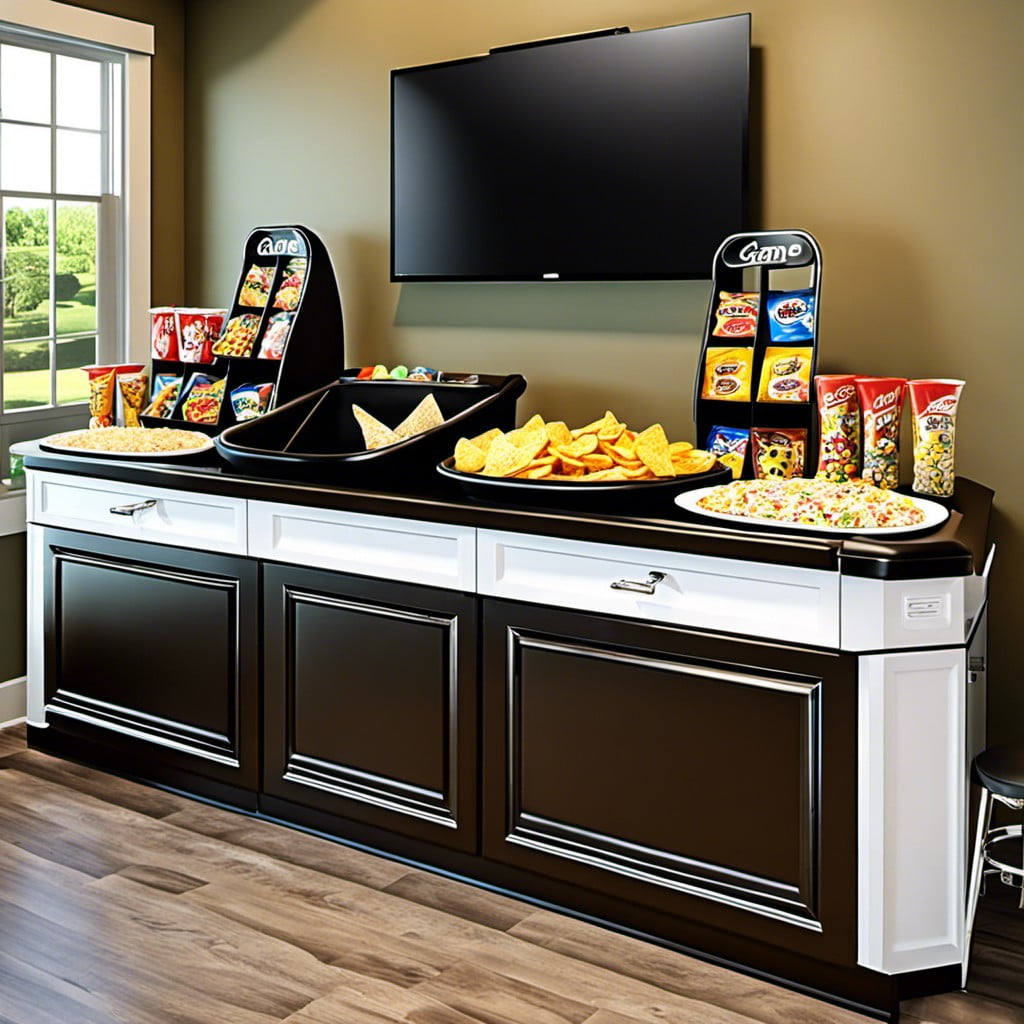 Dressing up the table with a dedicated area for chips and dip presents your guests with a savory option to munch on. A range of varieties can cater to different preferences with options such as tortilla chips, potato chips, or multigrain options. Pair each chip type with a complementing dip; salsa, guacamole, spinartichoke dip, and more.
Make it an enticing visual treat by using a chip and dip server set; these often have a central bowl for the dip surrounded by a ring to hold the chips. For ease, consider single-serving cups; this way, guests can take their snack back to their game. Use sturdy, washable or disposable ware to ease clean-up after the gaming sessions.
Chocolate Fountain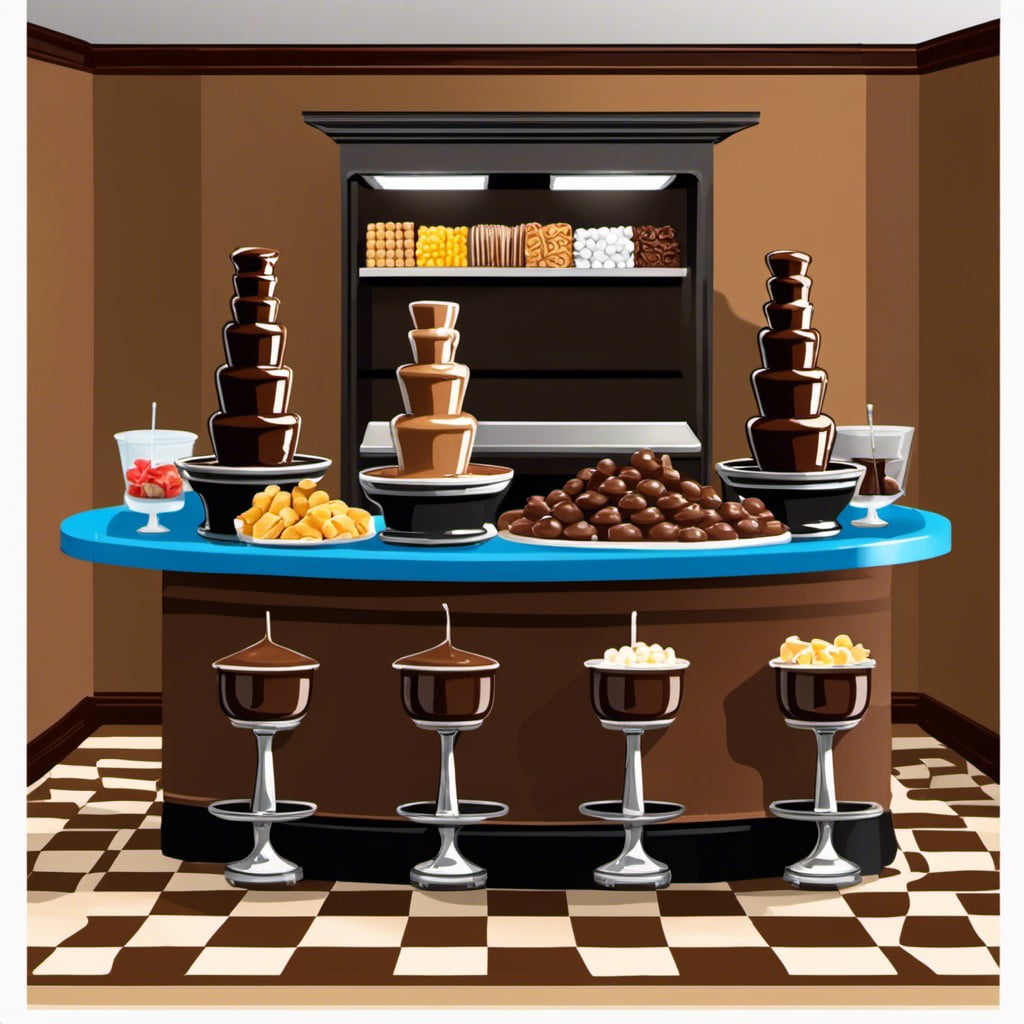 A beacon of delicious indulgence, a chocolate fountain enhances any game room snack bar with a touch of elegance. Primarily, they offer interactive fun while serving up a dessert favorite. The constant flow of warm chocolate invites guests to dip fruits, marshmallows, pretzels, or cookies, providing an unlimited array of treat combinations tailored to individual taste preferences.
Compact home versions are readily available, complete with adjustable temperature controls to keep the chocolate bubbly without scorching it. Plus, clean-up is typically a snap, since most parts are dishwasher safe.
Opting for a quality chocolate produces a smoother, tastier fondue. Dark, milk, or white chocolate – the choice is yours. Just remember to add oil or use a specialized fountain chocolate for a seamless flow.
A dynamic hub of sweet pleasure, a chocolate fountain is not just a dessert option; it's an experience, a focal point that brings people together as they engage in playful snack creation and easy conversation.
Fruit Basket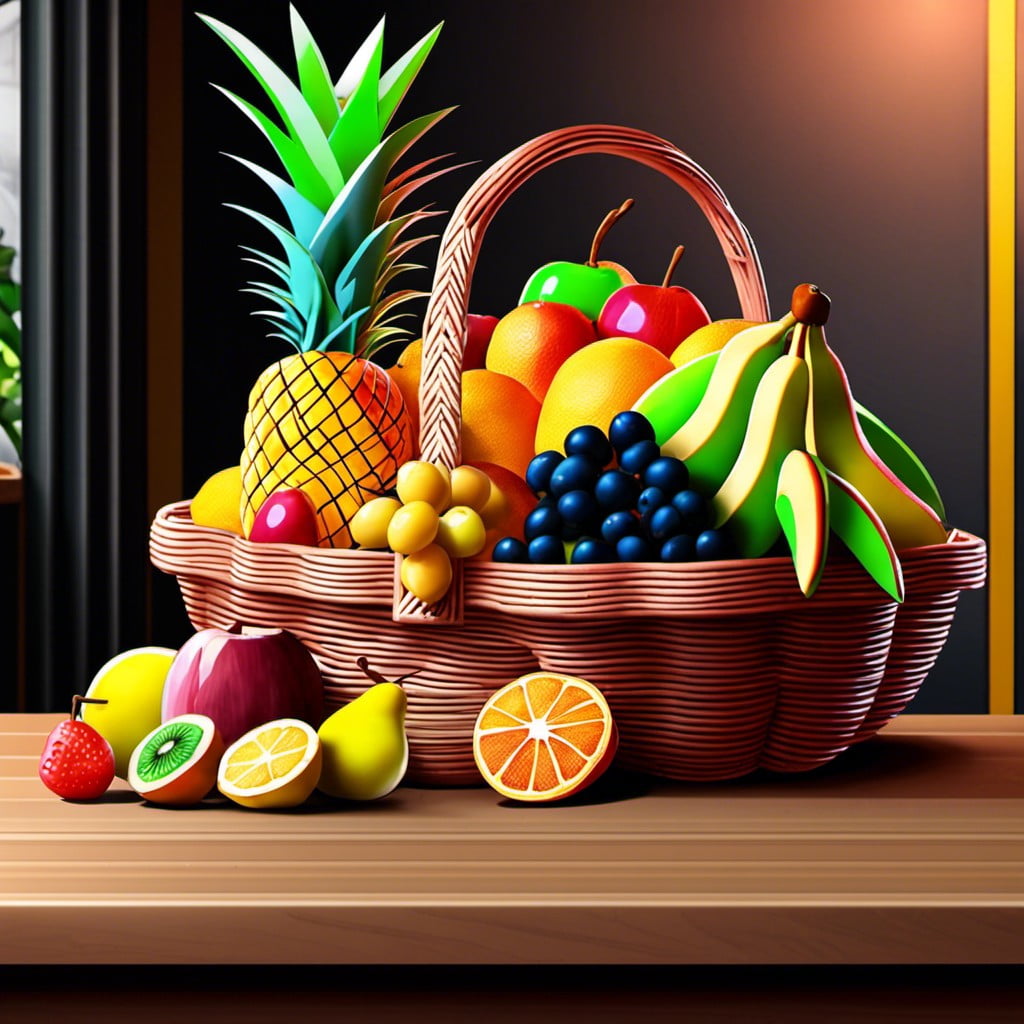 Brimming with vitamins and fiber, yet naturally sweet, fruits make the perfect snack during intense gaming sessions. A basket filled with fresh, colorful fruits can brighten up your game room, adding an alluring healthy option to your snack bar.
Consider a mix of whole fruits such as bananas, apples, and oranges for their long shelf life, and single-serving fruit cups for variety and convenience. Remember to have a small wastebasket nearby for any peels or pits. For a touch of crunch, granola or nuts can complement the fresh taste of the fruits. Having a small cutting board and a knife nearby will allow everyone to enjoy their snack without having to leave the game room.
Alternatively, you may want to include dried or dehydrated fruit options. They're less messy and easier to handle when gaming. However, be mindful of their higher sugar content comparatively.
Consult with your household or guests about their favorite fruits. Also remember to replenish the basket regularly to ensure the fruits are always fresh and inviting. Finally, not only do fruits provide nutritional benefits but having a fruit basket also encourages healthy eating habits among your game buddies. So, game on and snack healthfully!
Nuts and Bolts Mix Bowls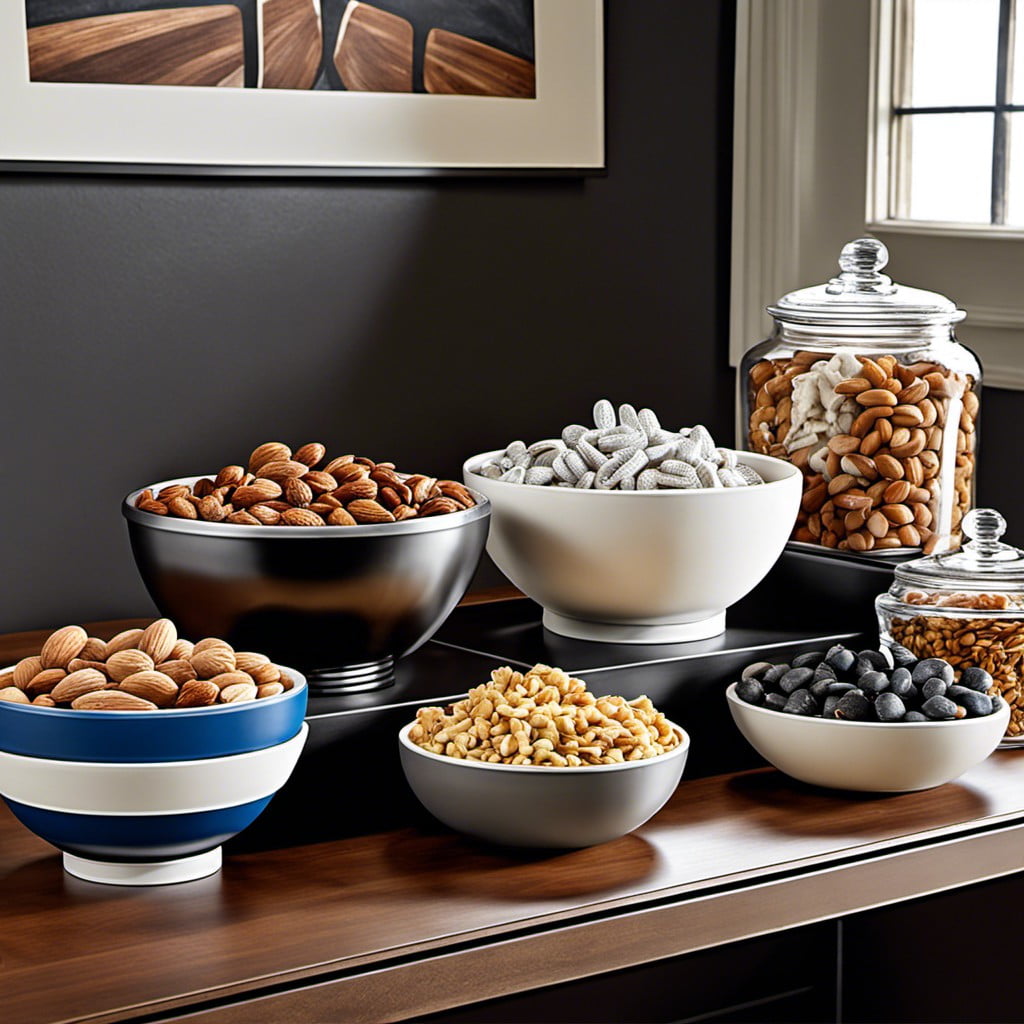 Ensuring a variety of tastes and textures, Nuts and Bolts mix bowls are a delightful addition to your snack bar. They're quick to assemble and easily customizable. An ideal mix often includes a selection of nuts such as almonds, cashews, and walnuts, offering a protein-packed snack to keep the gamers energized.
Consider incorporating a mix of pretzels, cheerios, and Chex to add a whole new crunchy dimension. For a savory twist, a shake of garlic and onion powder, or a bit of cayenne for spice enthusiasts can do wonders. For those with a sweet tooth, consider a mix of chocolate-covered raisins or yogurt-coated pretzels.
Remember, the best part about these snack bowls is their versatility. All of these ingredients can be mixed and matched to create the perfect blend for your guests' taste preferences. This way, you guarantee a snack that caters to all, creating an even more appealing and enjoyable game room experience.
Hot Beverage Station for Coffee and Tea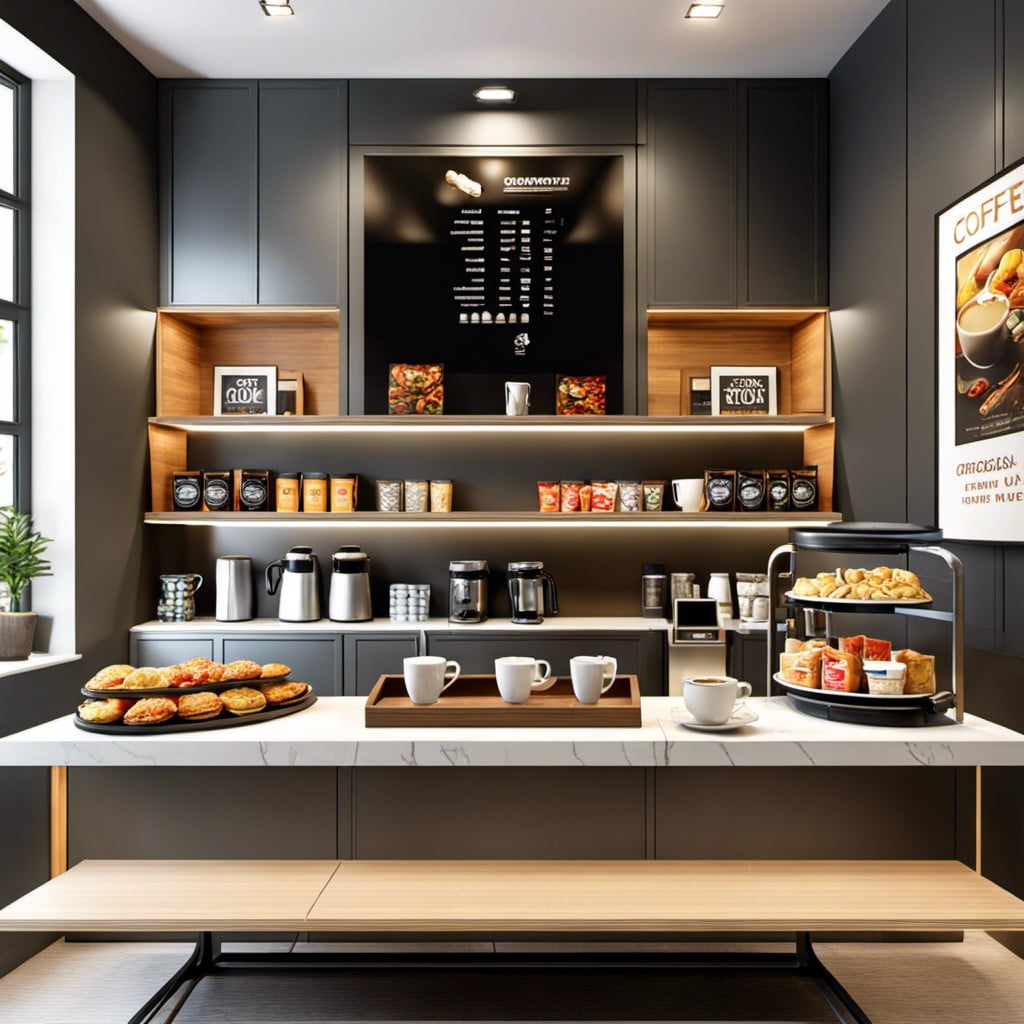 Taking a break from vigorous gaming, a well-maintained hot beverage station provides much-needed warmth and comfort. This corner could feature an electric kettle, a coffee maker, a variety of tea bags, coffee pods, hot cocoa packets, and Honey Sticks. Additionally, consider adding a few mugs or disposable cups, stirrers, sugar, creamer, and perhaps flavored syrups for those desiring a gourmet touch.
Don't forget to keep this area clean and neat for the users to enjoy maximum convenience with their beverage choice.
Mini Doughnut Maker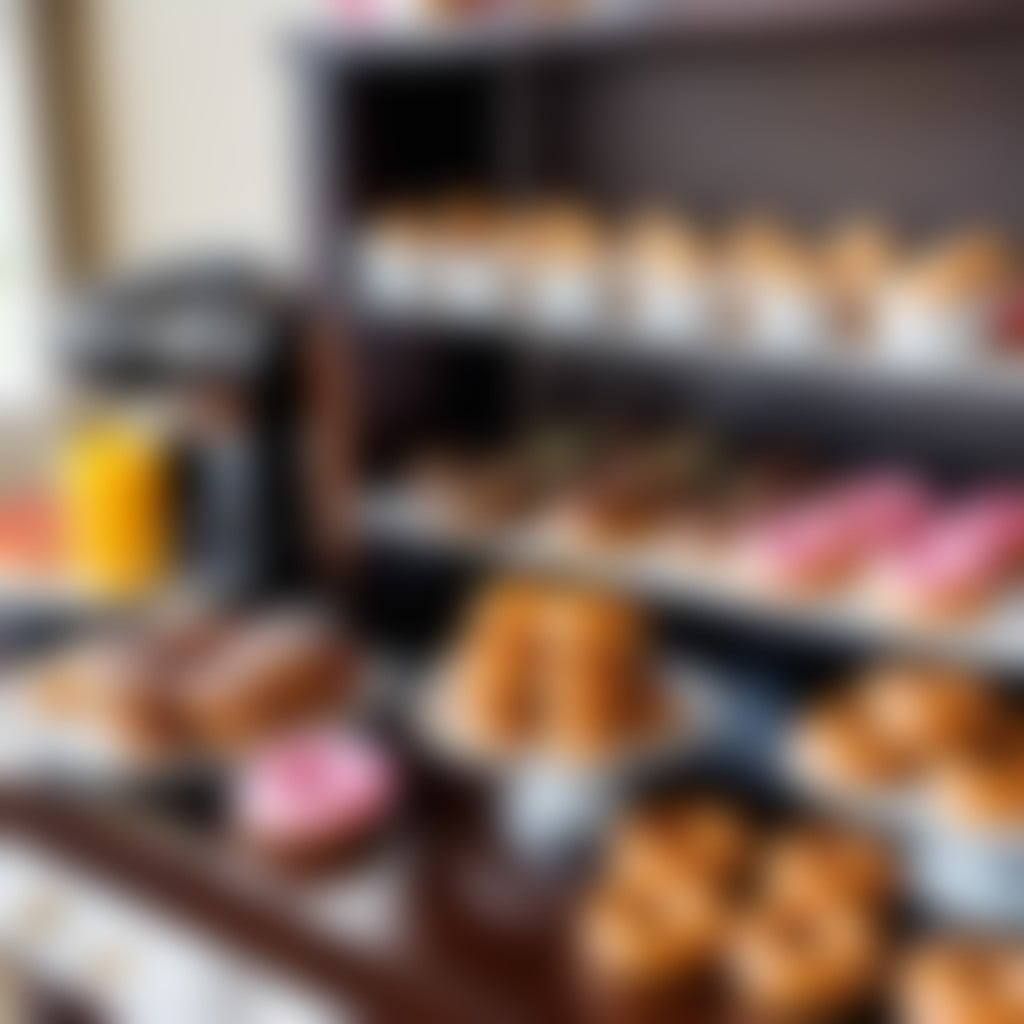 A mini doughnut maker in your game room snack bar is an exquisite delight for sweet tooth lovers. Far from the hassle of deep-frying, this handy appliance churns out perfect mini doughnuts in a blink.
It's not only easy to use and safe, but also allows you to experiment with various recipes from traditional cinnamon sugar to glazed chocolate or even matcha flavored doughnuts.
Moreover, unlike store-bought doughnuts, homemade ones can be customized to cater to dietary preferences, such as gluten-free or vegan.
Wrapping up a competitive game with warm, fresh doughnuts is an unmatchable delight. Add to this the enticing aroma of baking doughnuts, and the gaming fun is sure to double!
Healthy Snack Bins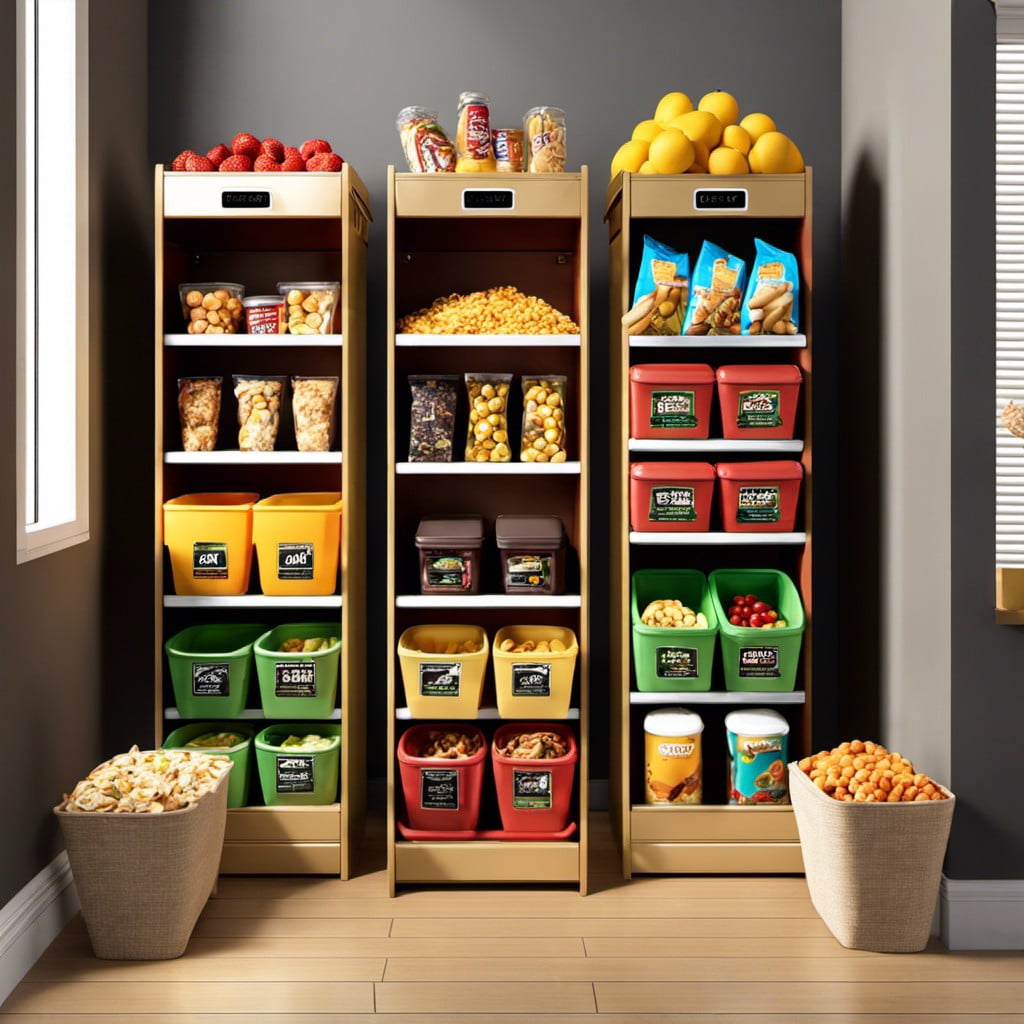 Having a selection of nutritious options amid the abundance of munchies in your snack bar is key. Stock up bins with a variety of granola bars, dried fruit and vegetable chips; these provide a healthier alternative to traditional snack foods.
Nuts and seeds, like almonds, walnuts, or sunflower seeds, are also excellent choices due to their high protein content and heart-healthy fats. You can additionally consider whole grain crackers or rice cakes.
Not only do these snacks offer nutritional benefits, they have the added advantage of long shelf lives for quick and easy grab-and-go snacking during intense gaming sessions. Remember, colorful snack bins can add a playful decorative touch to your game room, while keeping it tidy.
Adjustable Bar With Stools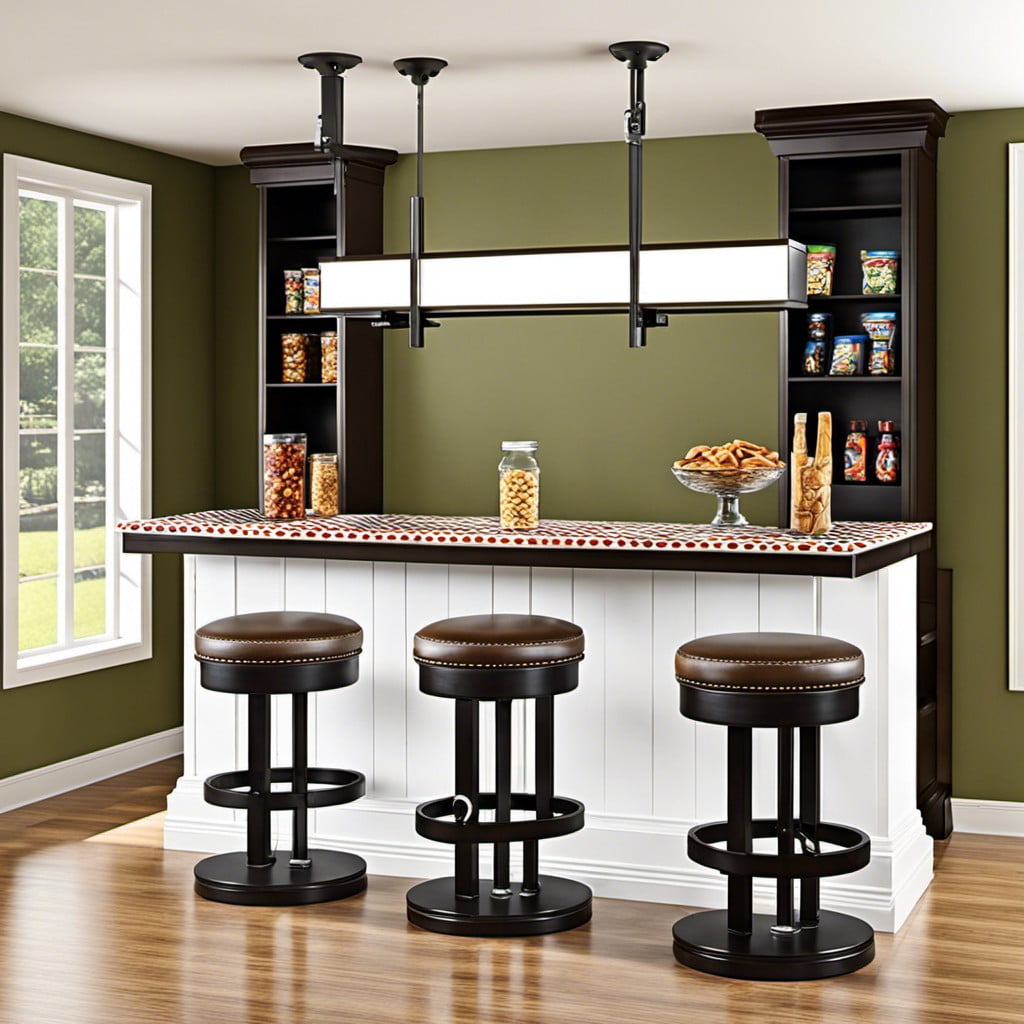 Going beyond the provision of snacks and beverages, the adjustable bar with stools adds an element of class and authenticity. Not only is it a practical choice but also a stylish one, elevating the experience of a casual game night to that of an elegant evening.
Creating a custom-designed corner within your game room has several advantages:
A designated place: It organizes the snacks and beverages in one place. Your guests know exactly where to go when they want a refill.
Space-efficient: The bar's adjustable feature allows you to make space when you need it and conserve when you don't. This optimizes the layout, particularly in smaller rooms.
Comfort: The stools provide seating options adjacent to the snack area. It's an excellent spot for those taking a break from the games but still want to stay within the room to socialize.
Variety: There are countless styles, designs and materials available for bars and stools. It allows you to choose something that complements your game room's theme perfectly.
Not to mention, it gives the game room a centerpiece, a gathering spot for talks, laughter, and memorable moments!