Explore a world of adorable and tasty fox-in-socks themed snack ideas, perfect for children's parties or just a fun afternoon treat.
Channeling the whimsical world of Dr. Seuss's "Fox in Socks," creative snack ideas can turn ordinary afternoons into extraordinary fun-filled feasts.
Whether it's a themed birthday party or a casual day at home, these snacks are sure to delight fans of the tongue-twisting tale.
From fox-shaped sandwiches to sock-inspired cookies, the following paragraphs will detail a variety of snack ideas that are as delicious as they are playful.
With easy-to-follow recipes and tips for presentation, these ideas will provide everything you need to create a "Fox in Socks" snack experience.
Fox-shaped Sugar Cookies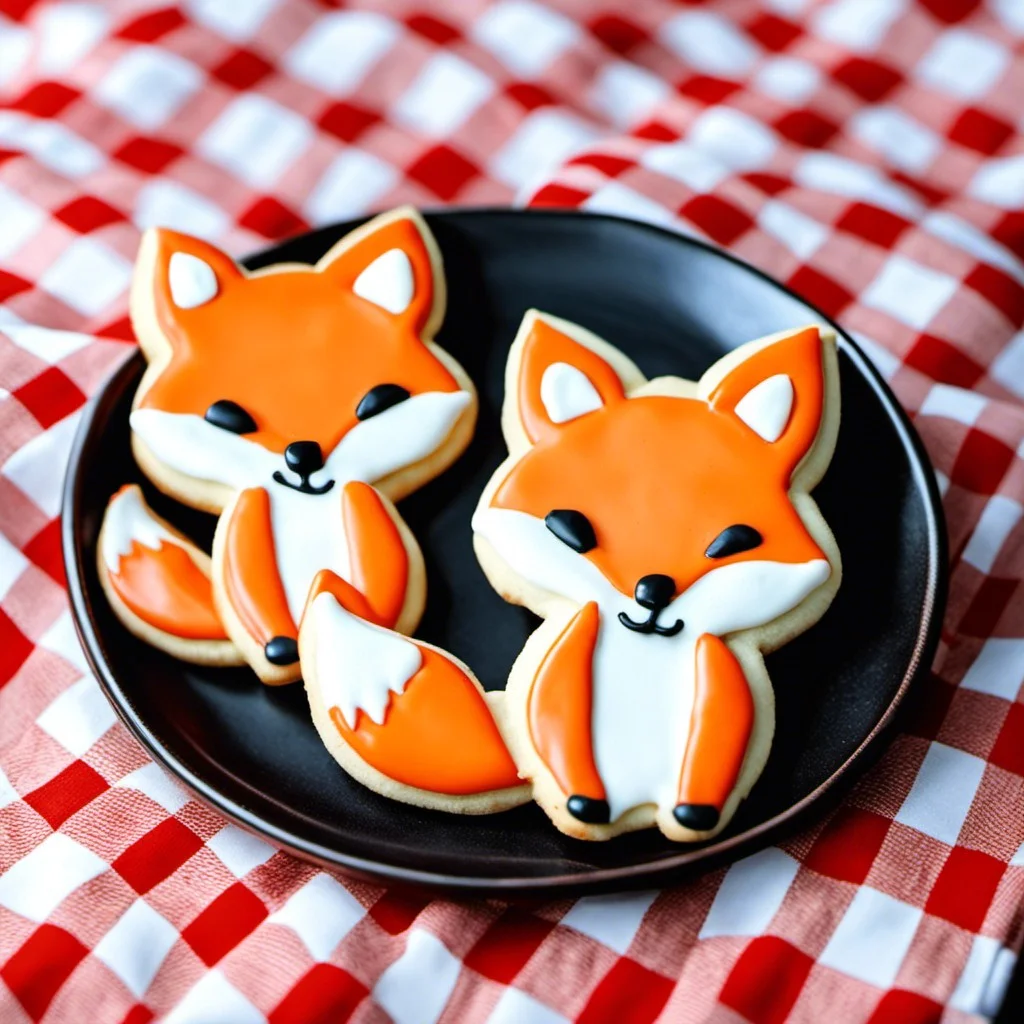 To commence baking, it's essential to make a simple sugar cookie dough flavored with a hint of almond extract.
Shaping your cookies requires a uniquely designed fox-shaped cookie cutter.
For the artistic touch, once your cookies have cooled post baking, use royal icing.
Having three separate colors on hand—orange, white, and black—will help distinguish the various elements.
The orange icing is for the body and tail, the white for the fox's iconic features, the belly and tip of the tail, while the black icing smoothly adds depth to the eyes and snout.
Such eye-catching, whimsical cookies are not only appealing aesthetically, but the mix of sweetness from the cookie base and the subtle nuttiness from the almond extract provides a delightful taste sensation.
It's a fun baking project to engage in, especially for themed parties or gatherings.
Each bite transports you to the imaginative world of Dr. Seuss while satisfying your sweet tooth simultaneously.
Sock-shaped Sandwiches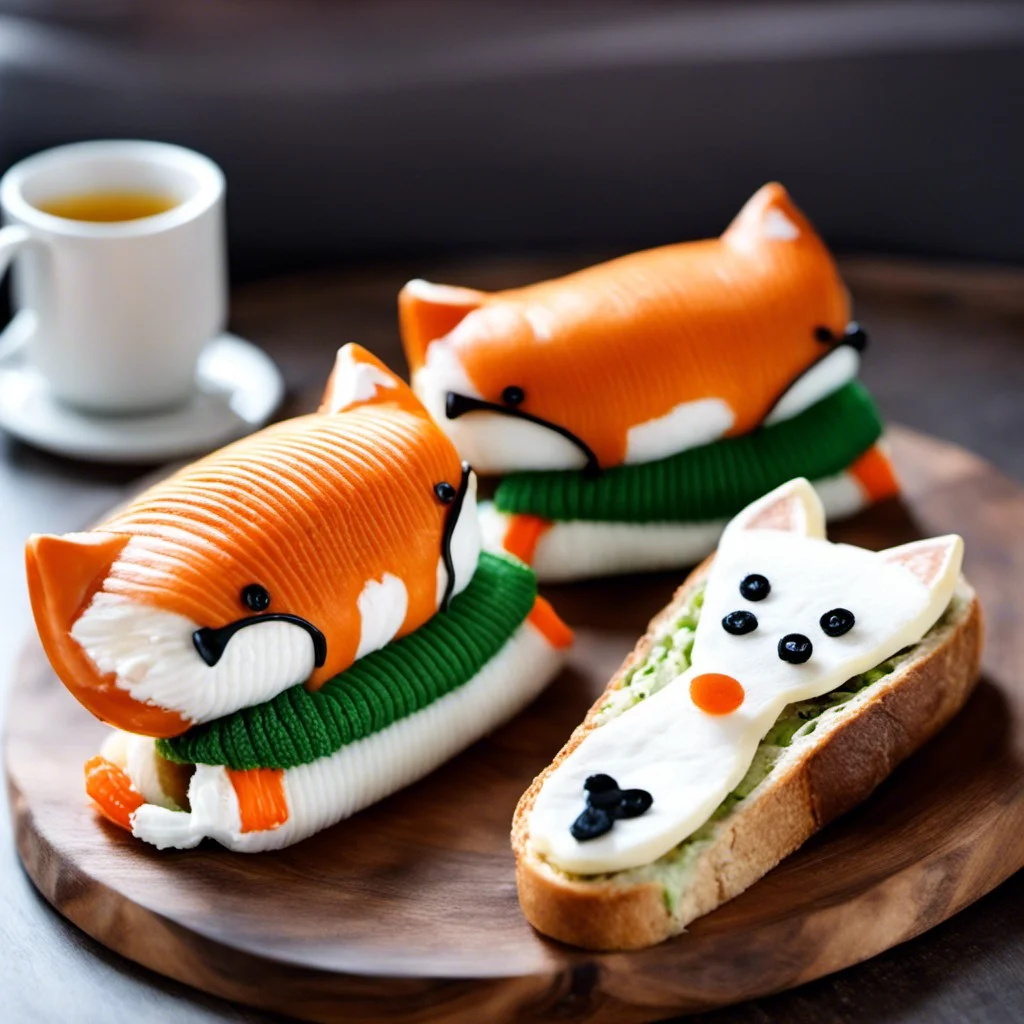 Transitioning into an amusing, yet practical snack idea, take ordinary ingredients like bread, cheese, turkey or ham, and dress them up as adorable, sock-shaped novelties. To achieve this, utilize a sock-shaped cookie cutter to effortlessly shape your sandwich components.
Here's a simple process for creating these palate charmers:
1. Lay out two slices of bread and cut each into the sock shape.
2. Utilize the same cutter on your chosen condiments – cheese, deli meat, and even lettuce or thin tomato slices.
3. Assemble your sandwich, ensuring all elements align nicely for the complete sock effect.
This approach not only adds creative fun to snack time but also encourages a hands-on experience for children, instilling an early appreciation for culinary art. Plus, it offers an opportunity to incorporate various food groups into your little one's diet. By switching up sandwich fillings, each sock sandwich promises a unique flavor combination, never running out of exciting options for those picky eaters!
Fox-shaped Cheese and Crackers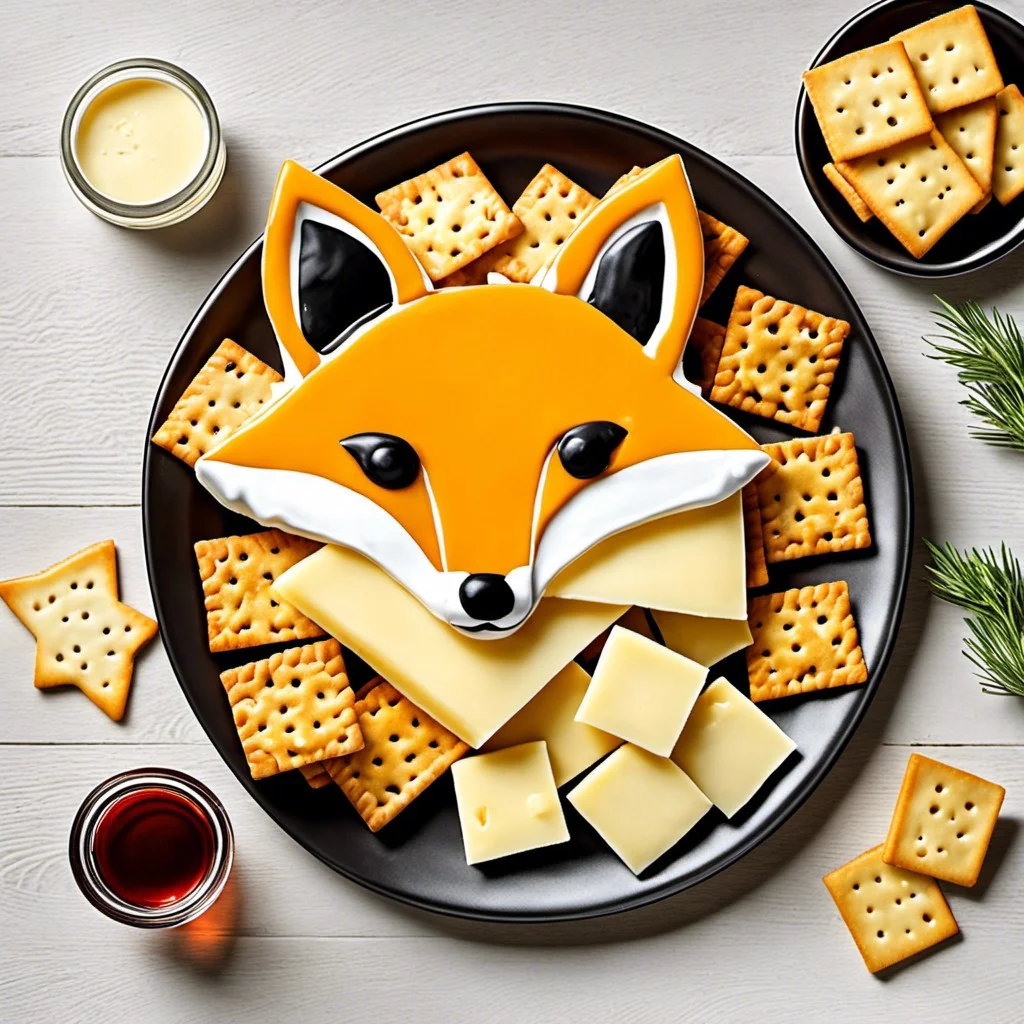 Depending on the age of your children or the event you're hosting, you can choose either harder or softer cheeses. A simple cheddar or mozzarella will work wonders, while gouda or fontina can add some flair to the snack.
Then, armed with small fox-shaped cookie cutters, start carving the cheese. As with the cheese, go for whole grain, salt-free or your favorite crackers as the base.
Next comes the joy of creating the fox's facial features. Sliced olives or mini cucumbers adapt well for the eyes, while a small slice of red pepper makes a great nose. Arranging thinly sliced almonds just so can create the appearance of the distinctive pointy ears.
Don't stress if it's not perfect – the fun is in the process and the imagination it sparks! Remember, the purpose is not only to satiate little tummies but also to encourage creativity, make eating fun, and instill a love for healthy snacks from a young age.
Fruit Salad With Melon Ball Foxes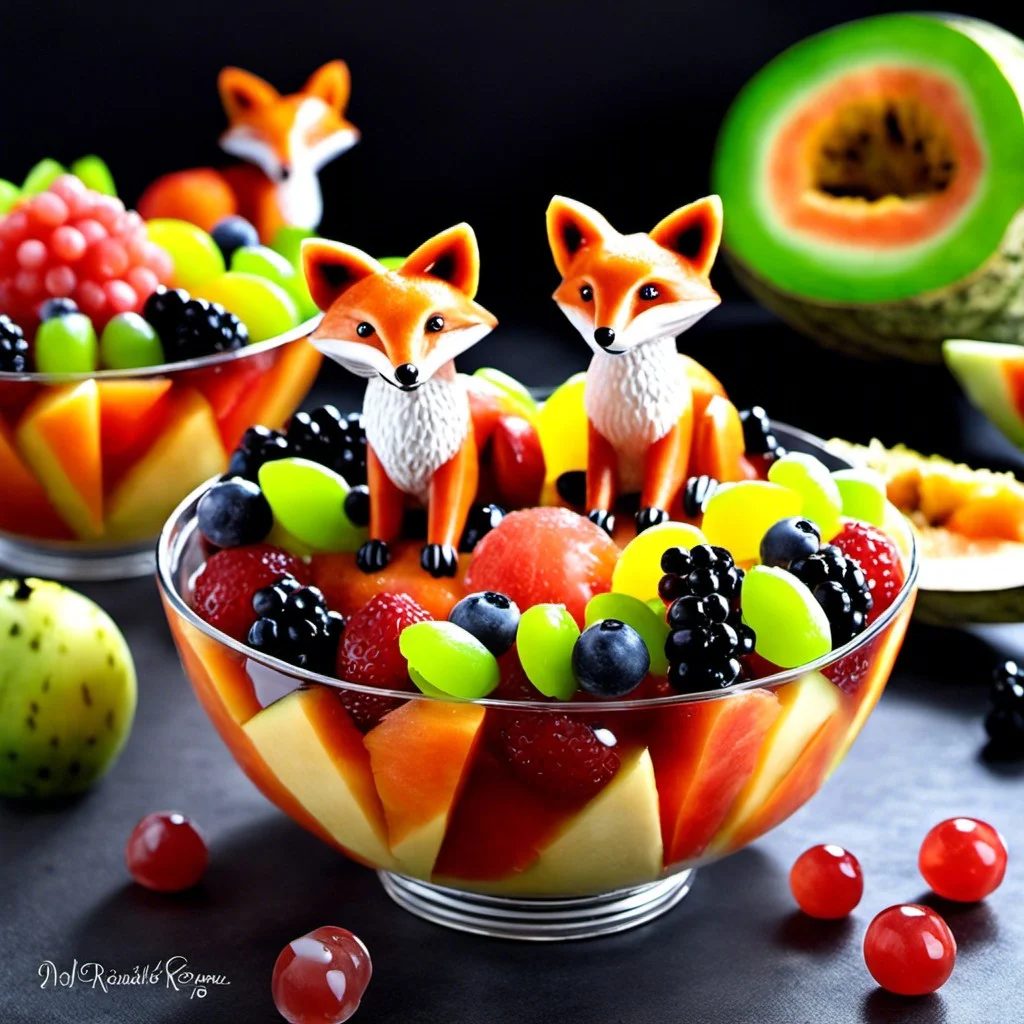 Opt for cantaloupe or watermelon to create your fox-shaped melon balls. This adds a pop of color, and the sweet, juicy taste of these fruits wonderfully complements the rest of the salad.
Next, use a tiny piece of a black or blueberry for the eyes. Add raspberry for the snout; it's the perfect size and texture. A thin slice of banana will serve as the ears, and voila, your little fox is ready!
For the salad, incorporate a variety of fruits compatible with melon such as strawberries, grapes, kiwis, and blueberries. You could also sprinkle some lime zest to enhance the flavors.
This playful and visually delightful snack offers a balanced mix of important vitamins and nutrients. It is as nourishing as it is appealing, making it a surefire hit at gatherings, especially with children!
Fox in Socks Popcorn Mix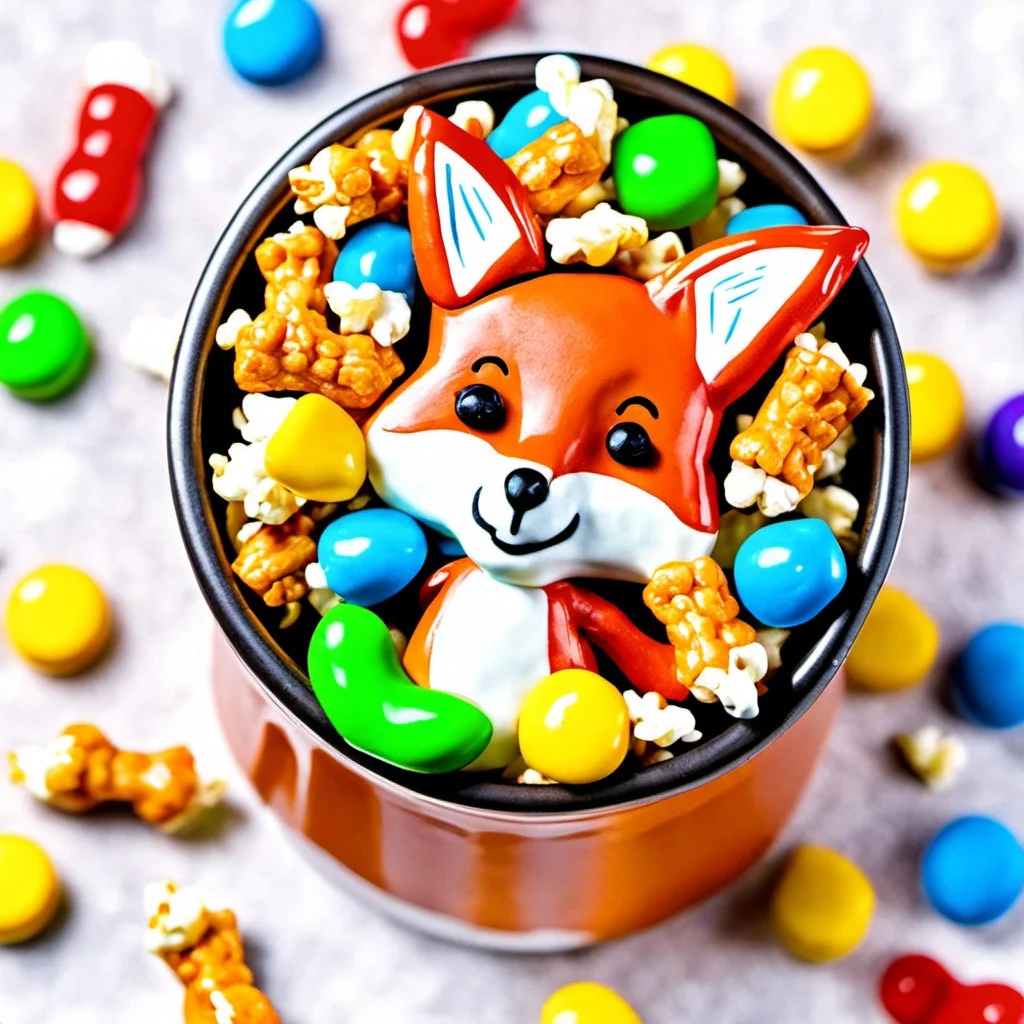 Creating this delightful snack is as easy as ABC! Start with a base of plain, air-popped popcorn, low in fat and high in fiber. Now let's add color reminiscent of the titular fox with a drizzle of melted red and white chocolate. Toss the popcorn around for even coating, ensuring that every piece gets a good bit of chocolate.
Looking for that extra crunch? Sprinkle some pretzels into the mix. Their receiving a coating of chocolate as well will create a unified flavor profile for all components of the mix. Remember, the key lies in distribution, so keep tossing.
The socks in our Fox in Socks Popcorn mix comes in the form of miniature marshmallows. Their soft, chewy sweetness will offset the crunch of the popcorn and pretzels, adding variety in texture.
Do not forget your artistic side! Organize the mix in an enticing way that hints on the theme. Maybe form a fox face out of the marshmallows and pretzels on top? Or better yet, let your imagination roam wild! There is no limit to how creative you can be with your snack display.
The result is a visually appealing, tasty snack that everyone can enjoy while celebrating or discussing Fox in Socks.
Cherry Tomato and Mozzarella Foxes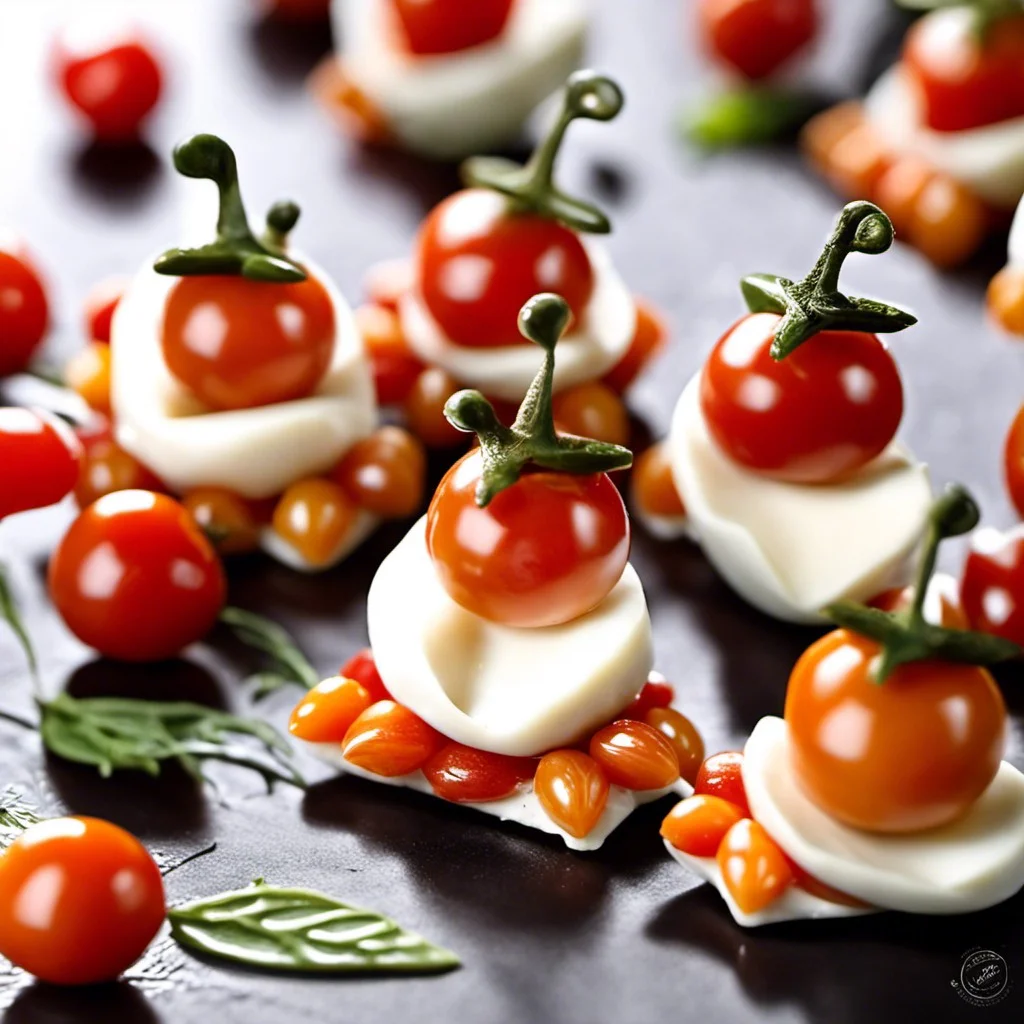 Using cherry tomatoes and mozzarella balls is a creative way to bring the "Fox in Socks" theme to a healthier snack option. The process is straightforward and fun:
First, wash and dry the cherry tomatoes. These juicy, red delights impersonate the fox brilliantly.
Choose small mozzarella balls. They will serve as the fox's snout, mimicking the white facial fur.
Use whole black peppercorns for the fox's eyes and nose, carefully pressed into the mozzarella balls.
Skewer a cherry tomato, followed by a ball of mozzarella onto a toothpick maintaining balance between the colors.
Create a serving platter full of these easy, tasty foxes and watch them disappear!
This snack is not only nutritious, it instantly adds character to your fox-themed party. Remember, food safety is important, keep these mozzarella foxes cold until serving. Plus, individual portions on skewers are perfect for social events. Kids will love them, and adults will appreciate the clever nod to Dr. Seuss's classic.
Incorporate creativity and fun into food, and even the pickiest eaters may find themselves reaching for a "Fox" or two.
Fox Cupcakes With Sock Frosting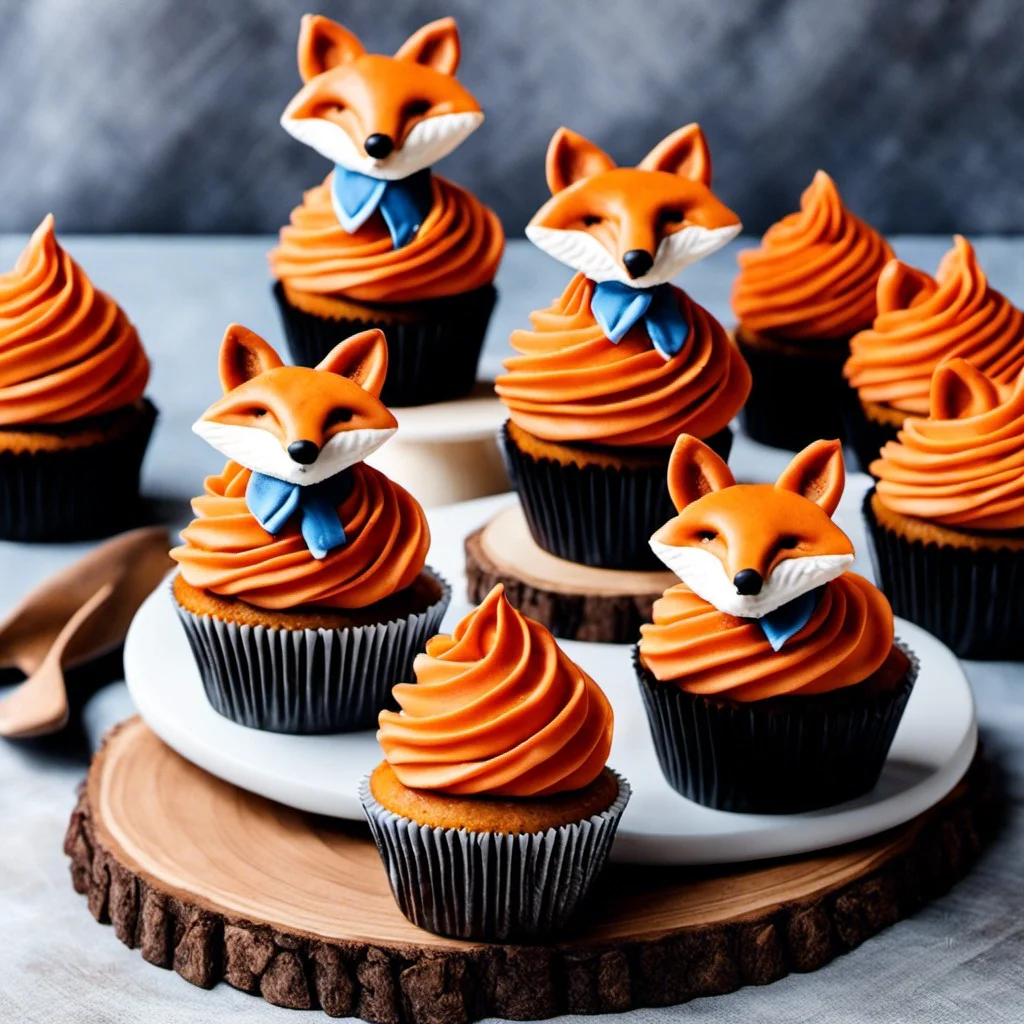 Begin by baking your preferred cupcake flavor. While they cool, mold pairs of little fox face and tail out of orange, white, and black fondant. Next, whip up a batch of your favorite frosting, focusing on creating a balance between sweetness and buttery creaminess that will complement your cupcake base.
To create the sock aspect, use a piping bag and add stripes of blue and white frosting down the sides of your cupcake. These should be the sock pattern Dr. Seuss imagined for his Fox in Socks character. The combination of vivid colors and distinct patterns will make these cupcakes stand out on any table.
Once your cupcakes are frosted, gently press the fondant fox face and tail onto the top of each one. The end result is a decoration that is every bit as sweet and fun as the story that inspired it.
Enjoy crafting these delightful snacks as much as your guests will enjoy devouring them! They are fantastic for themed parties, book club gatherings or simply for the joy of baking something delightful. Every bite echoes the fun, creativity, and whimsy of Dr. Seuss' Fox in Socks.
Mini Sock-shaped Pizzas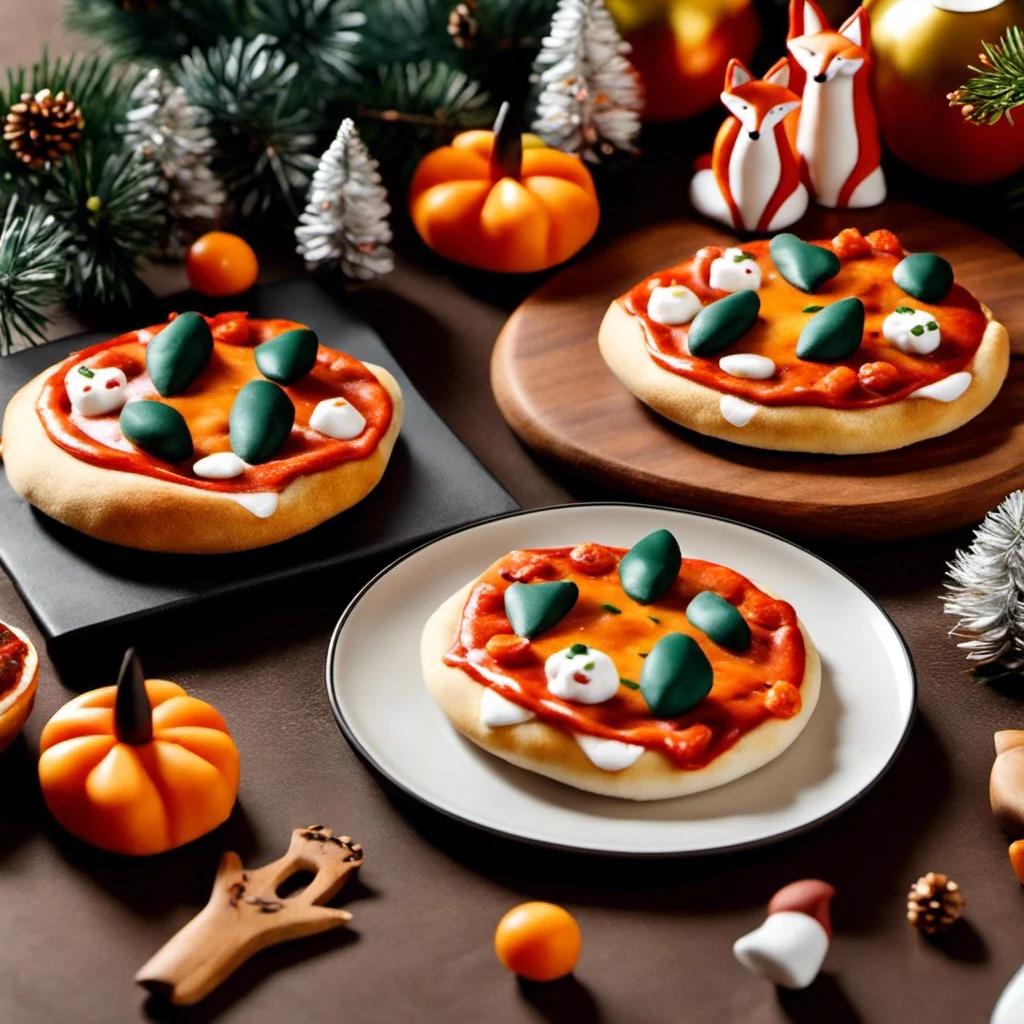 Whipping up these tiny treats is nothing short of fun. Start by using a sock-shaped cookie cutter to shape your pizza dough into miniature socks. Apply a thin layer of marinara sauce, making sure to cover the entire surface of the 'sock'. Sprinkle a generous amount of mozzarella cheese, ensuring an even distribution.
For a burst of color, top with finely diced bell peppers, or if you prefer a meatier version, mini slices of pepperoni work equally well. Pop them into a pre-heated oven, and bake until the cheese is bubbly and slightly golden.
When they come out of the oven, delight in the aroma and look of your sock-shaped creations. Expect the kiddos to be equally thrilled. A delicious, playful snack enjoyed by both children and adults, they are perfect for any Fox in Socks themed party.
Fox Paw Print Pretzels
To begin, gather some standard pretzels and melted chocolate. The distinctive shape of pretzels effortlessly represents the unique fox paw print, making them an ideal choice for this snack.
Crafting these delights involves the following steps:
1. Melt your chosen chocolate in a bowl, using a microwave or water bath, ensuring it remains smooth without burning.
2. Once completely melted, carefully dip each pretzel into the chocolate, coating it on all sides. Using a fork can simplify this step, helping to minimize mess.
3. Once coated, place the pretzels onto a baking sheet lined with parchment paper, allowing the chocolate to set and harden. For a bit of extra flair, sprinkling some edible glitter or colored sugar on top before the chocolate completely hardens adds a bit of eye-catching charm.
4. Finally, let cool until the chocolate is completely set. This can be expedited by placing the tray in the refrigerator for a few minutes.
The end result is a simple yet creative snack that beautifully encapsulates the fox paw prints found in the famous "Fox in Socks" story. Just remember to mind the chocolate – it's the key to ensuring the pretzels resemble fox paws. These treats are sure to impress at any Dr. Seuss themed gathering!
Blueberry Sock Muffins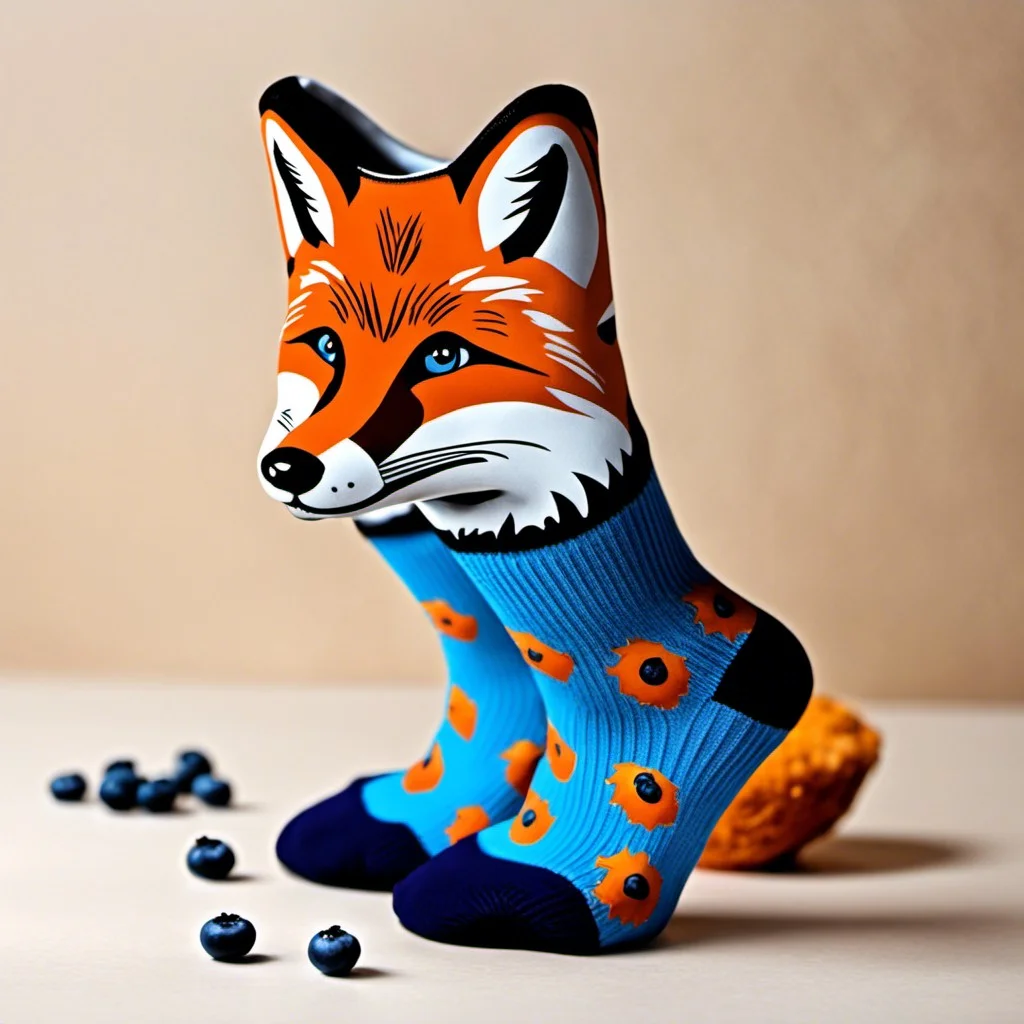 For a fun twist on a morning classic, these muffins offer a delightful surprise. The recipe involves a simple batter, rich with the tanginess of blueberries, but the magic lies in the presentation. A little preparation, you'll shape the dough to mimic the contour of a sock before baking.
Use your favourite blueberry muffin recipe, but be sure the batter is not overly thin to maintain the sock shape while baking.
You'll want to formulate a sock-shaped muffin mold. If you're handy with crafts, try shaping aluminum foil around a real sock as a homemade solution. Alternatively, you might find suitable silicone molds online.
Once your molds are ready, fill them about two-thirds full with batter to leave room for the muffin to grow.
Bake as per the recipe's instructions, remembering that the unique shape might require a different cooking time. Always do the toothpick test to ensure they are fully baked.
Let your sock muffins cool before removing them from the molds to retain their shape.
The result? Deliciously moist, sock-shaped delights that are a perfect homage to our theme, Dr. Seuss' Fox in Socks. Not only a treat for the taste buds but also a visual feast!
Fox-shaped Ham and Cheese Sliders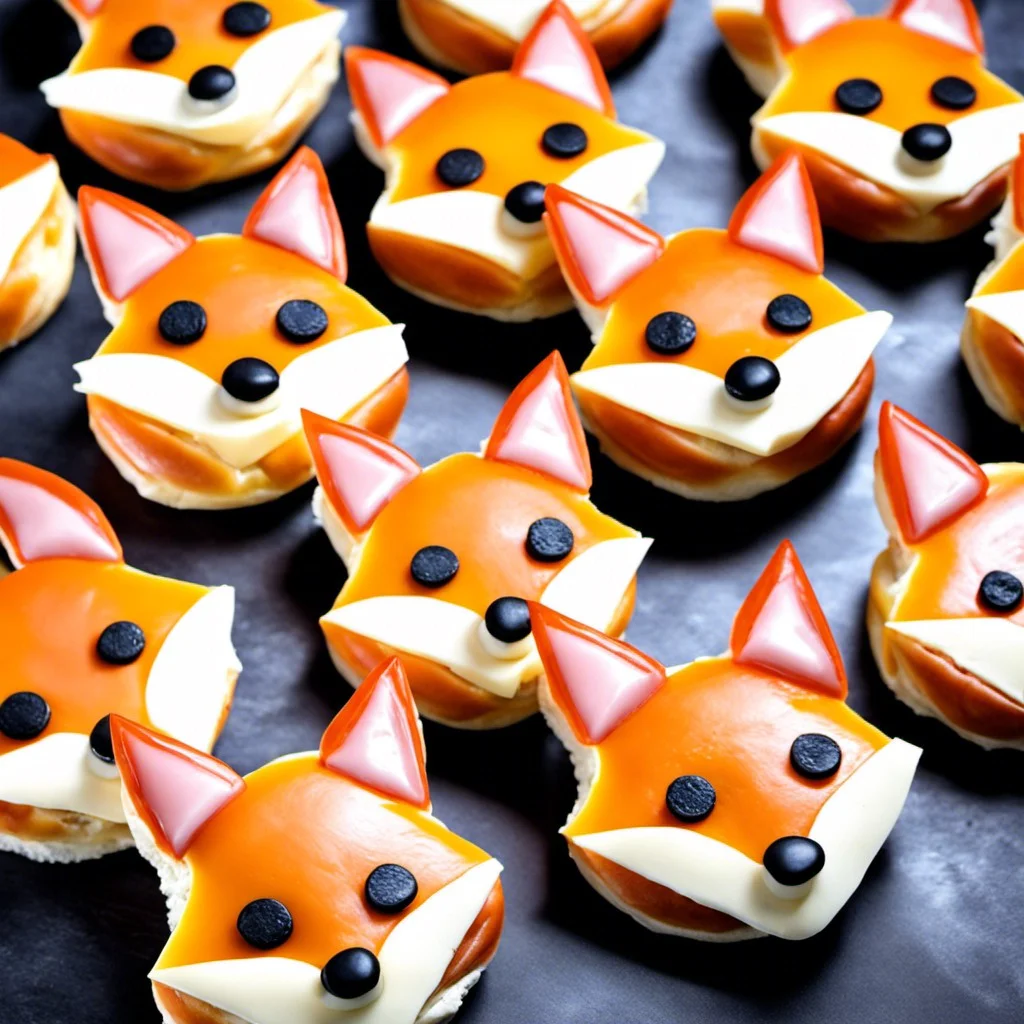 Starting with small dinner rolls, use a fox-shaped cookie cutter to form your base. Layer thinly sliced ham, Swiss cheese, and a touch of whole-grain mustard on half of the cut out rolls. Cover with the remaining halves to form your sandwiches.
Before baking, add a slice of carrot to each slider to mimic the fox's snout. For the eyes, use bits of black olives while shredded lettuce can work for the ears, creating a visually appealing snack that is not only fun but appetizing.
A simple garnish of cherry tomatoes adds a vibrant pop to your platter, serving as an eye-catching centerpiece at your table. A fun, quick, and easy-to-make snack, these fox-shaped sliders are both delightful to look at and delectable to taste.
Red Velvet Fox Cake Pops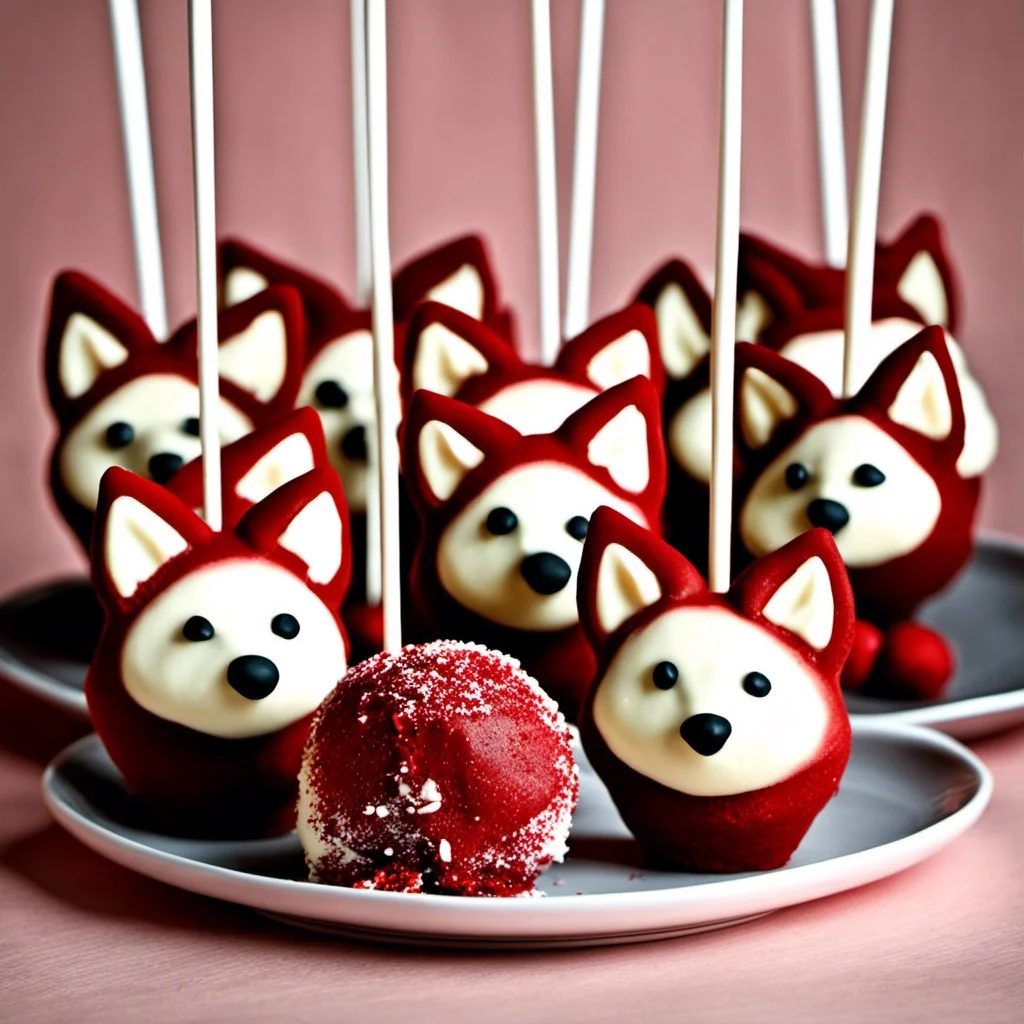 Crafted with precision and a touch of creativity, these tiny delicacies are a hit at parties. A perfect blend of rich red velvet cake and creamy icing forms the base, before being chilled and shaped into adorable fox faces.
They are then dipped in a tinted white chocolate coating, transforming them into an appealing shade of fox-orange.
For added intrigue, features such as eyes, ears, and snouts are shaped from fondant and carefully placed atop.
The quintessential bushy fox tail, created out of intricately piped icing, adds the final flourish.
This mouthwatering treat is not only delicious but also visually appealing – a fantastic way to make your snack time fun!
Sock-shaped Chocolate Dipped Strawberries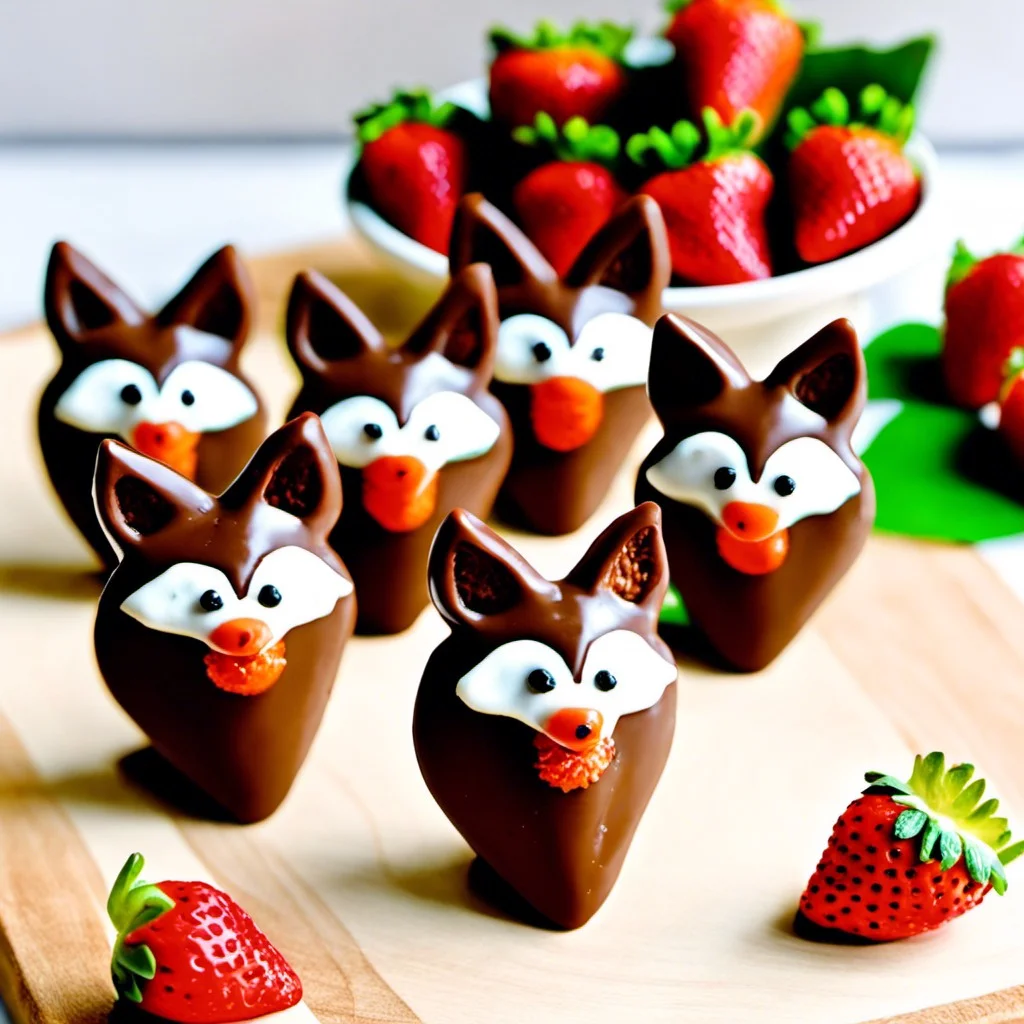 Creating these delicious treats requires little more than fresh strawberries, white chocolate, and a steady hand. Begin with selecting the largest, most symmetrical strawberries. Remember, the strawberries represent the 'sock,' so they should be as sock-like as possible.
Melt a generous amount of white chocolate. Be sure that the process is done slow and steady over a double boiler to ensure a smooth and even consistency. Avoid scorching the chocolate, as it will significantly alter its taste and texture.
Once your strawberries are thoroughly washed and pat dried, dip each one into the melted chocolate, ensuring to coat up to the stem for a sleek 'sock' look. For a fun twist, consider using edible food coloring to dye your chocolate different sock-like patterns before dipping.
Finally, lay out the dipped strawberries on a sheet of wax paper and let them harden at room temperature, or accelerate the process by popping them in the fridge. This fan-favorite snack, full of fruity goodness and decadent white chocolate, is not just visually appealing but also strikes a sweet note on the taste buds. Be sure to serve them the same day for the best quality and freshness.
Fox in Socks Veggie Tray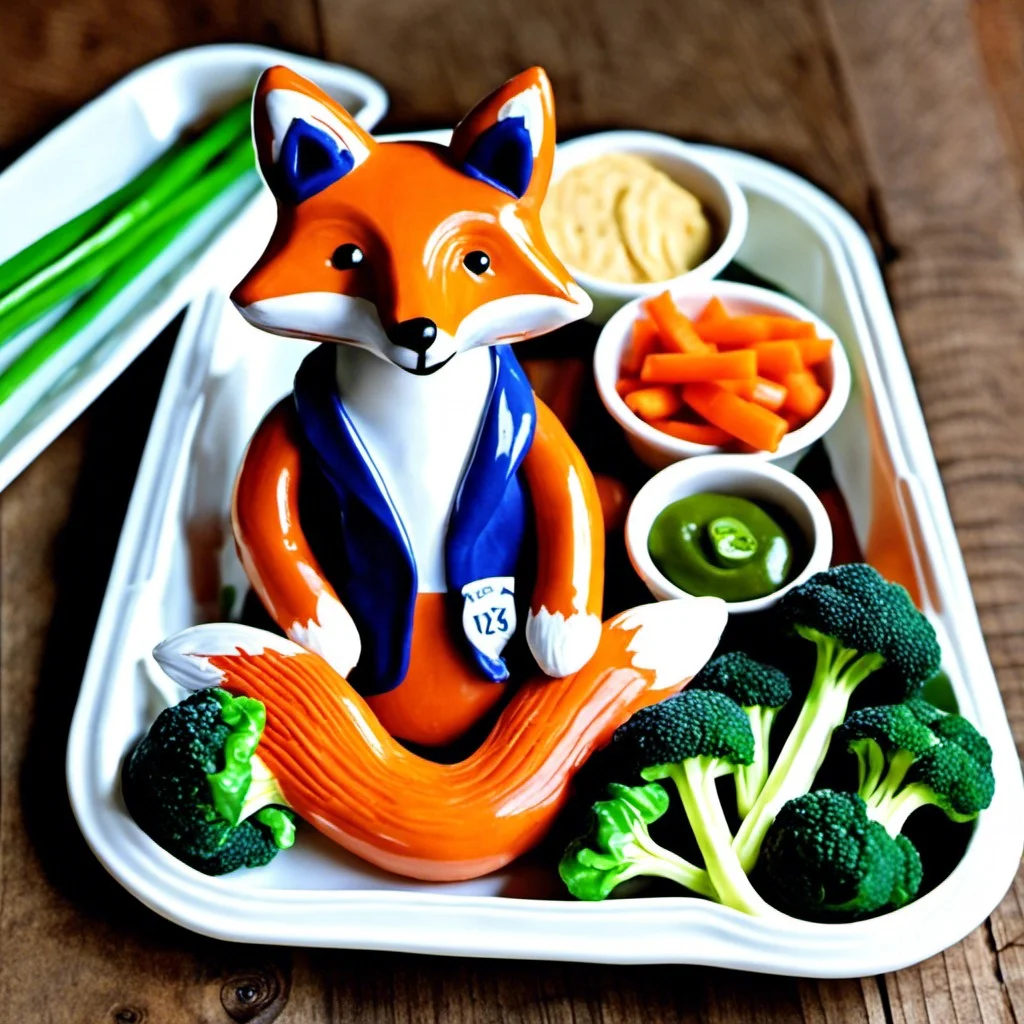 Creating this centerpiece begins with select veggies embodying the vibrant color palette associated with foxes, including bell peppers, carrots, and cherry tomatoes. Prioritize your creativity in forming a fox face. You could employ a canapé technique, using a whole bell pepper as the head, sticking two slices of cucumbers as the eyes, and adding olives into the slices to complete the look. Carrot sticks can achieve the perky ears, tomatoes can serve as the nose, and pepper strips as the whiskers.
Don't forget the socks! These can be easily replicated by cucumber or zucchini slices, efficiently laid out on each side of the tray, mimicking socks. This delightful, healthy platter not only encourages fun eating but also instigates interaction between the food and the children. Ensure to provide a couple of tasty dips like hummus and ranch to add some zing to those crunchy bites.
Ultimately, this is your canvas to paint on with a variety of vibrant veggies. Variations on this concept could include different vegetables or even a fruit version, giving you a dynamic choice for a Fox and Socks themed party.
Fox-shaped Pancakes With Sock-shaped Bacon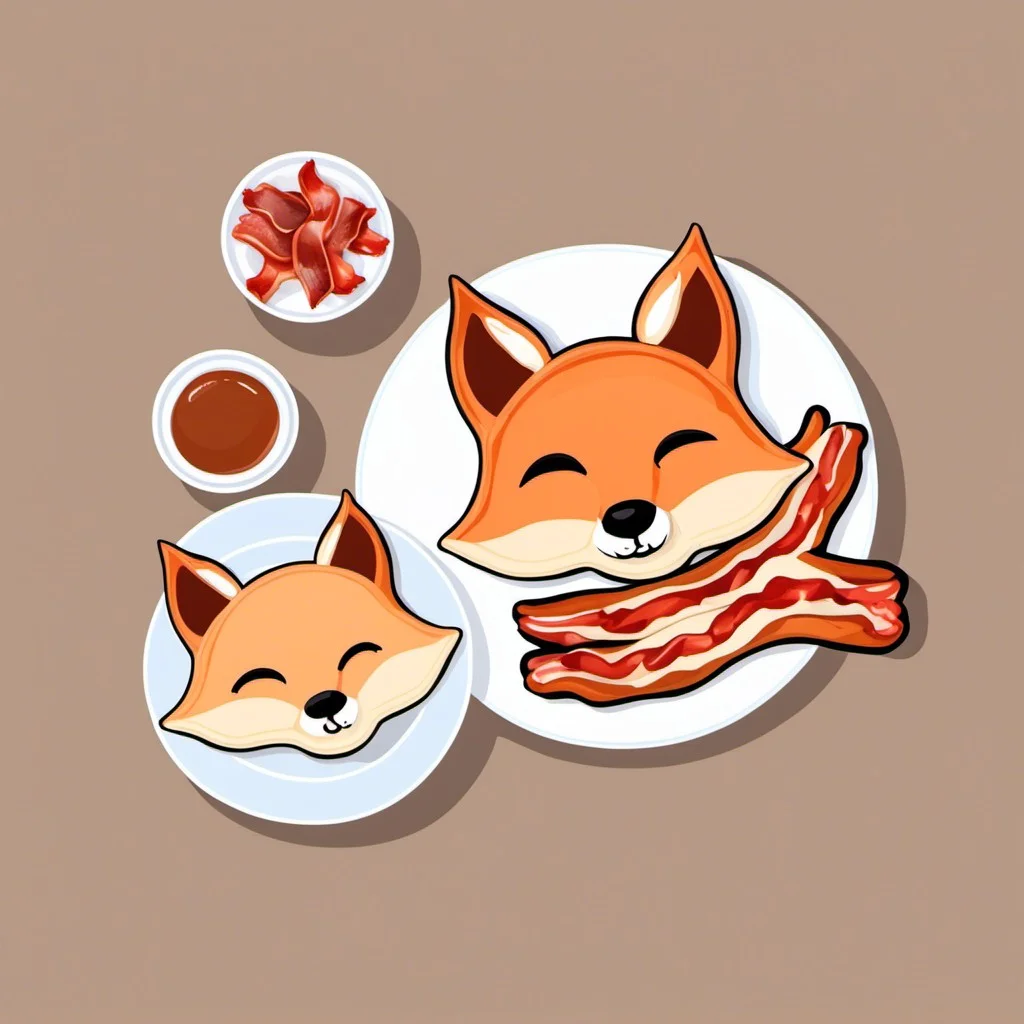 To create the perfect breakfast treat for any Fox in Socks fan, start by making your favorite pancake batter. Once it's ready, pour it into a squeeze bottle. This will give you better control to make intricate shapes of foxes. Don't forget to include the details of the fox's face such as the snout, eyes, and ears.
For the sock-shaped bacon, cut each slice in half and weave the pieces together before cooking to mirror the look of a woven sock. As bacon tends to shrink while cooking, consider this when you're shaping your sock. If it's too tricky, you might opt to simply arrange cooked bacon slices into a sock shape on the plate.
In creating this thematic breakfast, don't just keep children's tastes in mind, but think of adult preferences as well. For instance, add a little spice to the pancake like cinnamon or nutmeg. For the bacon, consider varieties like applewood-smoked or peppered for a gourmet twist.
With food coloring, you can add a dash of red to your pancake batter and a bit of white to give color to your fox and sock shapes, making your breakfast dish visually appealing and fun without straying from the Fox in Socks theme.
Dr. Seuss Inspired Fox-and-sock Decorated Donuts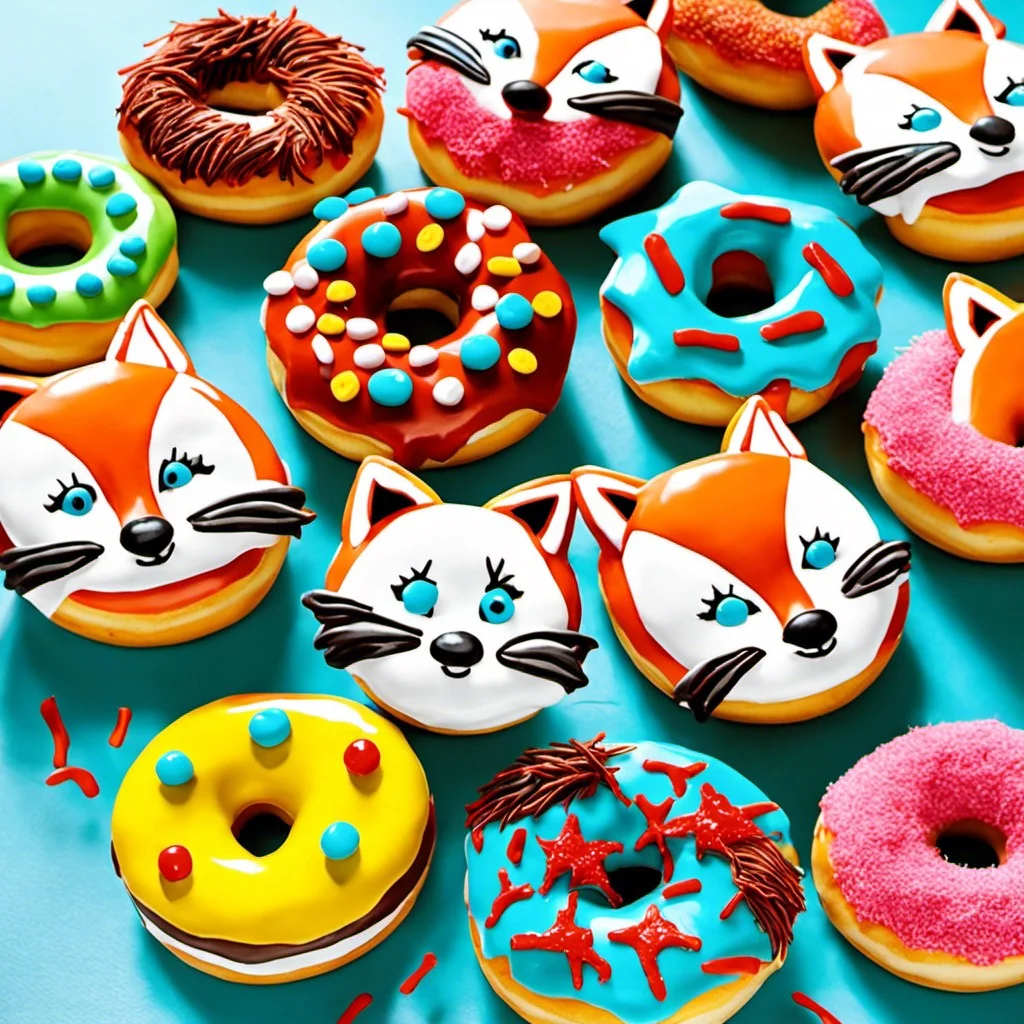 Start by preparing your favorite homemade donuts or save time with store-bought ones, glazed and ready for decoration.
Whisk together your desired shades of icing – vibrant red for the fox and a soft pale hue for the socks.
Using a piping bag, carefully trace the fox and sock shapes onto each donut.
For the fox, focus on the delicate detailing in the face to bring the character to life – eyes, snout, ears, and that charming tip of the tail.
For the socks, add stripes or polka dots for a fun element.
Kids will adore assisting in the icing process, stenciling the iconic fox and sock imagery onto the blank donut canvases, sparking not just their creativity but a love for Dr. Seuss's imaginative world too.
Remember, the beauty of this tasty creation lies in its playful mimicry of the beloved 'Fox in Socks' book and there's no need for absolute perfection.
Invite enjoyment and laughter into this snack preparation.
After all, who thought you could taste the whimsy of Dr. Seuss in a donut?
Fox Tail Caramel Apples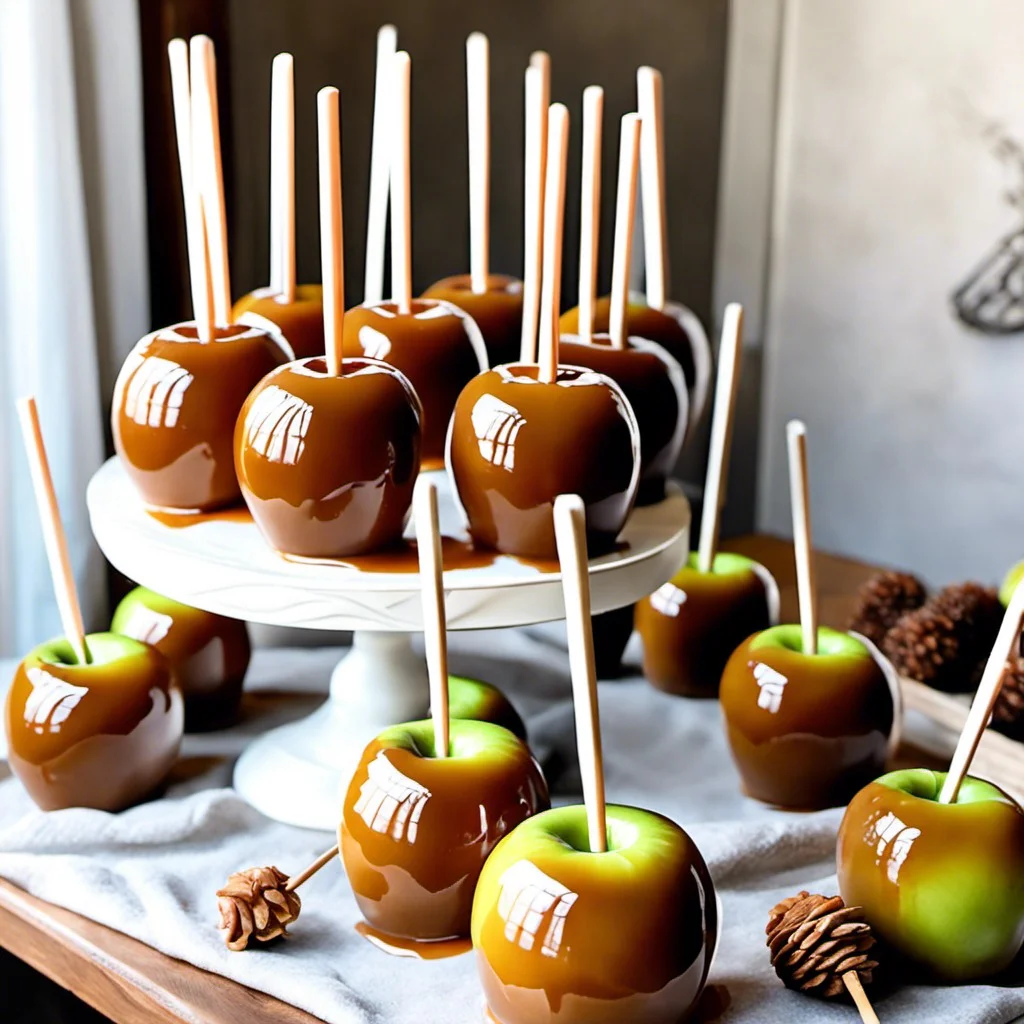 To create these deliciously whimsical treats, select medium-sized apples for easy handling. The first step of the process involves washing and drying the apples thoroughly, followed by inserting a stick into each apple's core. Dip each one into melted caramel, ensuring it is fully coated and let gravity do the work by turning each apple to remove any excess caramel.
The trick to achieving the fox tail effect lies in the creative use of shredded coconut. While the caramel is still wet, sprinkle or roll the apples in the shredded coconut. This gives the caramel apples the fluffy appearance of a fox's tail.
Afterwards, place your apples in the refrigerator so the caramel hardens completely. Once set, use melted chocolate to make eyes, a nose, and a mouth: your fox caramel apples are now ready.
Finally, remember that creativity is key — not every fox tail caramel apple needs to look precisely the same. Foster your culinary creativity for a more engaging, fun, and delicious snack experience.
Fox and Sock-shaped Sugar Coated Jellies
Starting with your favorite jelly or gelatin recipe, use food coloring to achieve a vibrant red for your fox-shaped treats and a baby blue for the socks.
Procure your fox and sock-shaped cutters to form your jellies.
Allow them to cool and set properly according to your recipe's instructions.
For a finishing sweet touch, roll your shaped jellies in a bowl of granulated sugar, ensuring full coating.
With the shimmery sugar crystals not only adding to the taste but also enhancing the attractiveness of the jellies – it is a surefire way to catch the eye of both children and adults.
This snack is not only fun to look at but also delivers a delightful punch of sweetness with each bite.
Just remember to make enough, as they are likely to disappear from the snack table quickly!
Fox-themed Hot Chocolate With Sock-shaped Marshmallows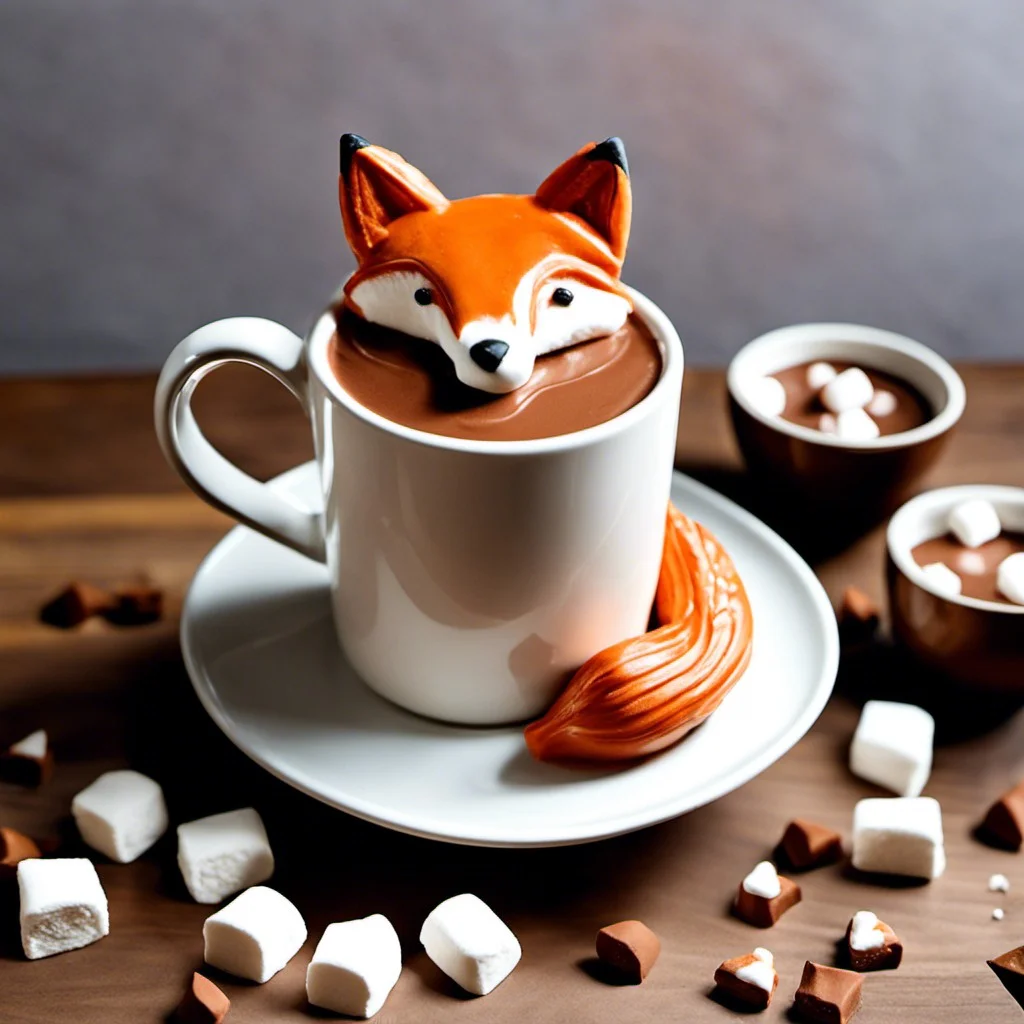 Drawing inspiration from our beloved character, we'll incorporate some creativity into a comforting cup of hot chocolate. Let's transform an ordinary marshmallow into a mini sock-shaped delight. With the use of edible markers, detail the marshmallows with lines to resemble the texture of socks.
Next, pour your favorite hot chocolate into a mug. Orange food coloring can add a hint of fox color to the usual brown hot chocolate. Top the hot chocolate off with whipped cream and sprinkle with crushed orange-colored candies to create a fox fur effect. Place the sock-shaped marshmallows on top.
Remember, the edible markers are optional. You can serve the sock-shaped marshmallows as is and let imaginations fill in the rest. Is there a more delightful way to enjoy the chilly season than a fox-themed hot chocolate paired with sock-shaped marshmallows? So, reinspire your reading of "Fox in Socks" with these whimsical hot chocolates.
Fox and Sock-shaped Rice Crispy Treats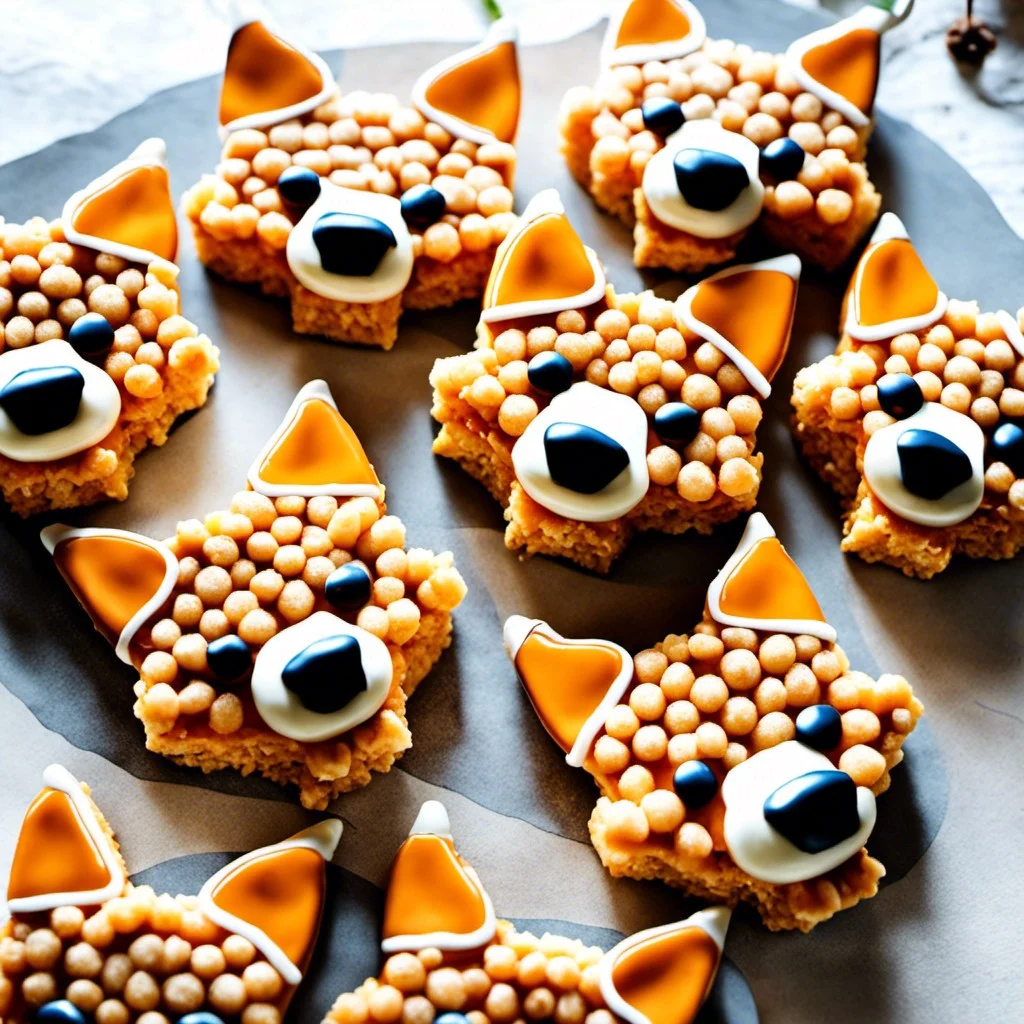 Moving towards the crunchier spectrum of our snack options, these delightful crispy treats adapt wonderfully to various forms, thanks to their malleable and cooperative nature. Shaping them into cute little foxes and socks will surely enhance the visual appeal at your gathering and invite compliments.
Here's a quick rundown of the process:
Start with a classic rice crispy treat recipe. You'll need marshmallows, rice cereal, and a bit of butter.
Once the mixture is ready, let it cool slightly. It needs to be warm enough to shape but not so hot it's difficult to handle. This balance is key.
Use fox and sock-shape cookie cutters to cut out the desired shapes. If you're feeling creative, you could even try freehand shaping.
Once the treats have solidified a bit, decorate them as needed. The foxes could benefit from some orange food coloring or sprinkles, and the socks might look particularly festive with stripes of icing shaped to mirror the lines of a sock.
Let them sit until they've completely cooled and hardened, then serve your delicious, custom made fox-and-sock rice crispy treats!
Now that's a snap-crackle-pop of fun in every bite!